Some designs never create any hype but they are always there reigning like the kings. Ombre nails are something like that. You will not hear so much buzz about them but they are used in thousands of salon every single day. You can have ombre nails all by yourself too.
Adding glitters to ombre nails is something new and trendy. If you want to stun everyone around your surroundings by wearing simple nail designs, having glitter ombre nails is the best solution.
How to Do Glitter Ombre Nails at Home
Another reason why ombre nails are popular is they are very easy to have, even at your home.
You can have the graceful beauty of glitter ombre nails at your fingertips by following some thumb rules. But to design them efficiently you need some tools and materials which are as follows.
Bottom Coat
Top Coat
Nail Polish
Loose Glitter
Small Brush
Cosmetic Sponge
If you have the materials, you can proceed with the act of designing. A few easy steps will do the trick while having glitter ombre nails done on your nails.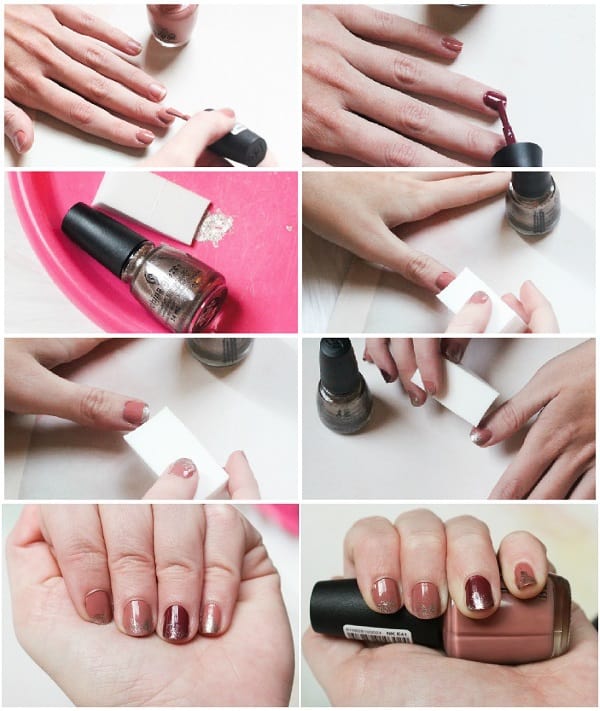 Apply a base coat or top coat to protect your natural nails from any side effect.
Then paint your nails with your desired colored nail polish.
Tap out a bit glitter on a small tray and smear them on a cosmetic sponge.
Dab those glitters on the nails before the nail polish dries using the cosmetic sponge.
Now, let the polish dry and apply a top coat to prevent any harm to your glitter ombre nails.
Glitter Gradient Step By Step Video Tutorial for New Year's Eve.
Glitter Ombre Nails To Rock The Floor
Glitter ombre nails have the required shine to attract the crowd. You will stand out among everybody around you if you carry glitter ombre nails. A good color combination and contrasting colored glitters will give the best outlook to your nails.
I have tried to depict such amazing designs in this article for your consideration. Hope you will find the best fit for your precious nails. Let's move into the depth of these glitter ombre nails.
#1. French Ombre Nails with Glitter
#2. Glitter Ombre Acrylic Nails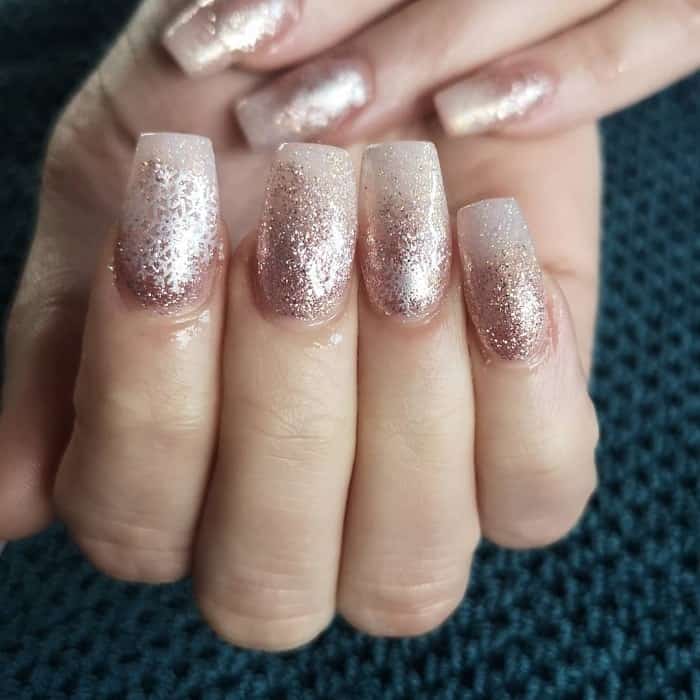 #3. Pink Ombre Nails with Glitter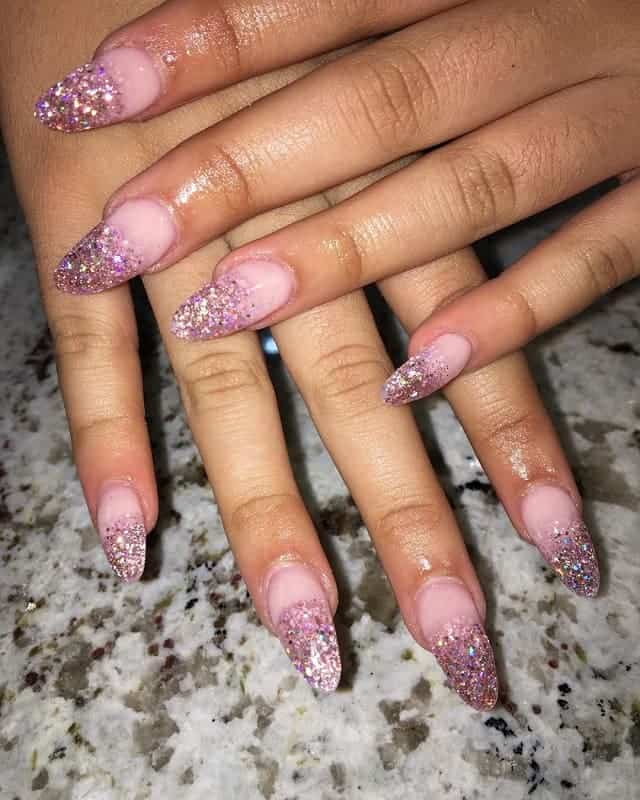 #4. Glitter Ombre Coffin Nails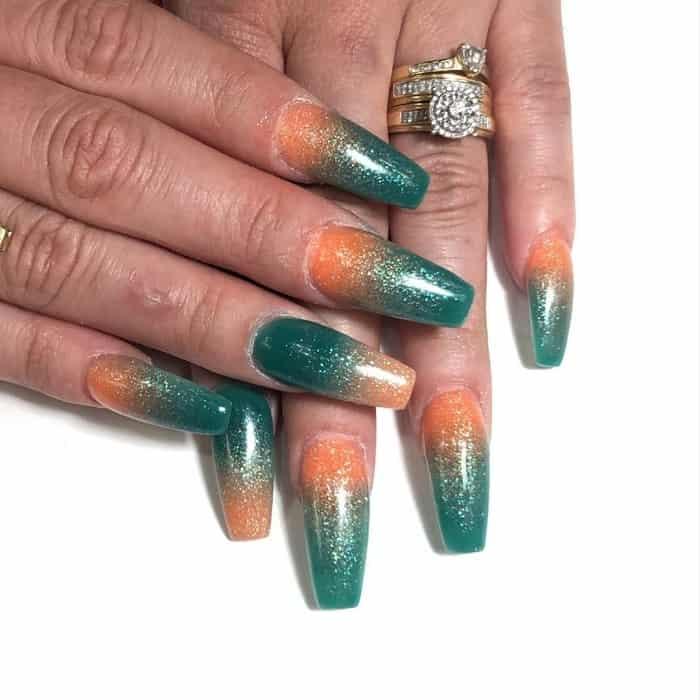 #5. Glitter Ombre Nails with Diamonds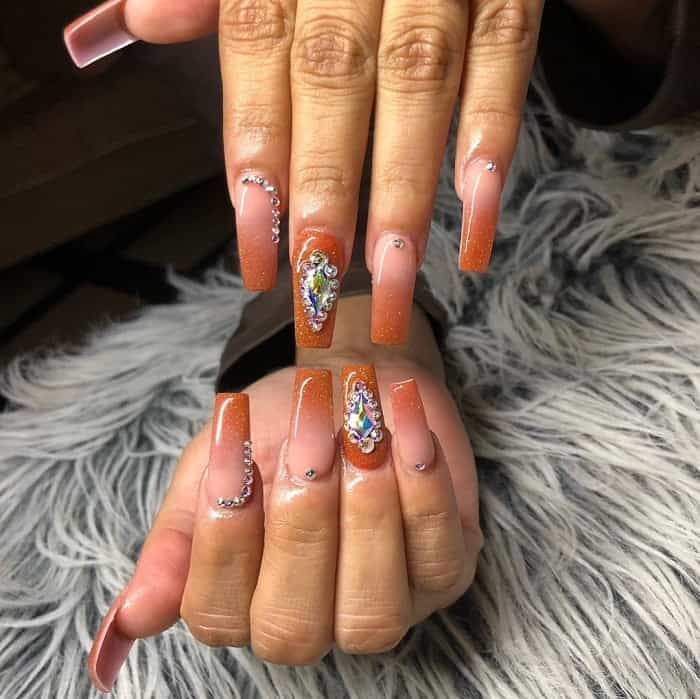 #6. Rose Gold Glitter Ombre Nails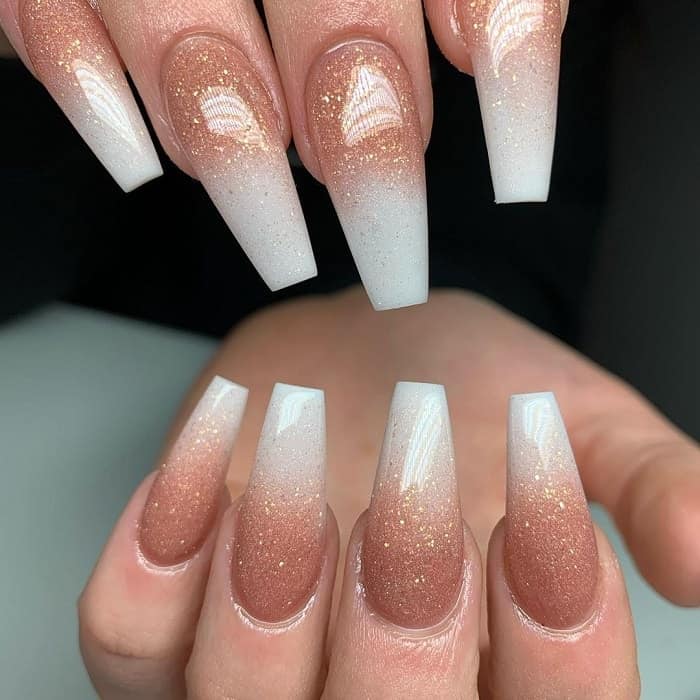 #7. Reverse Glitter Ombre Nails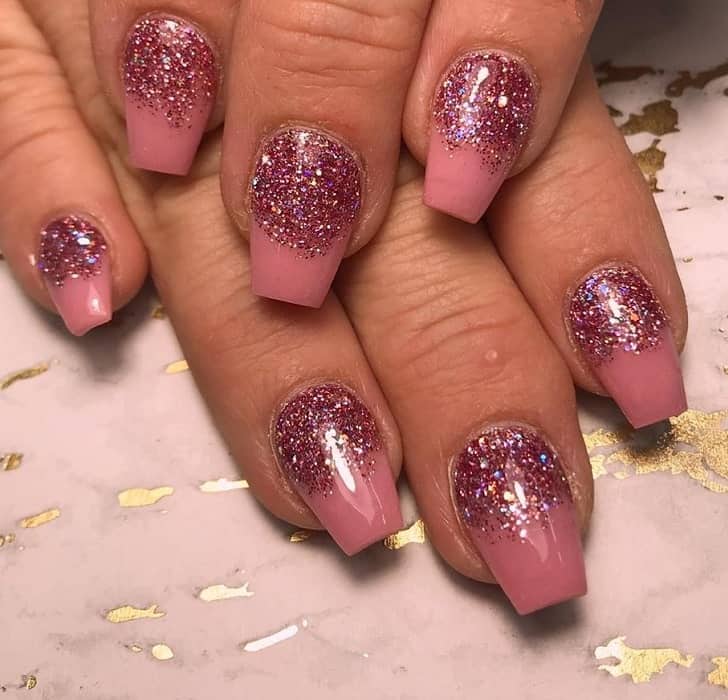 #8. Short Glitter Ombre Nails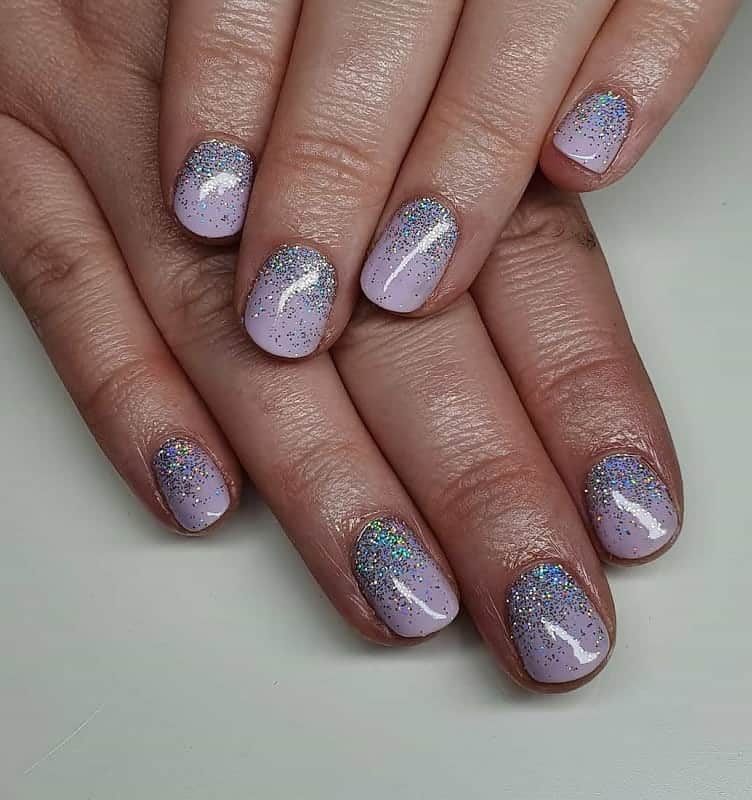 #9. Red Glitter Ombre Nails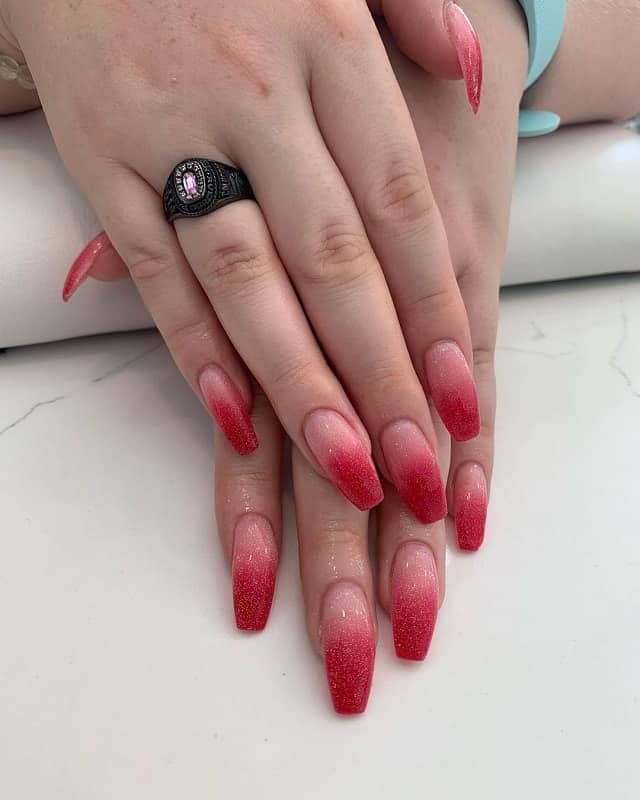 #10. Clear Ombre Nails with Glitter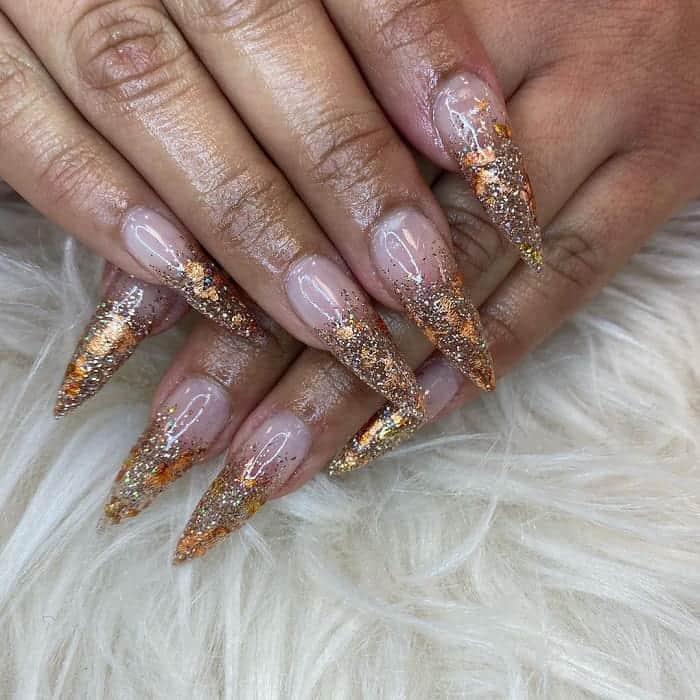 #11. Peach Glitter Ombre Nails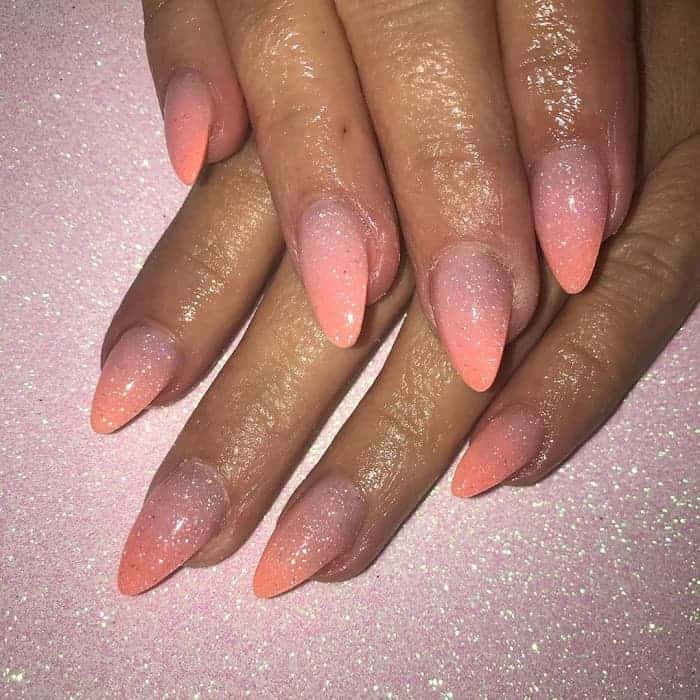 #12. Pink and White Ombre Nails with Glitter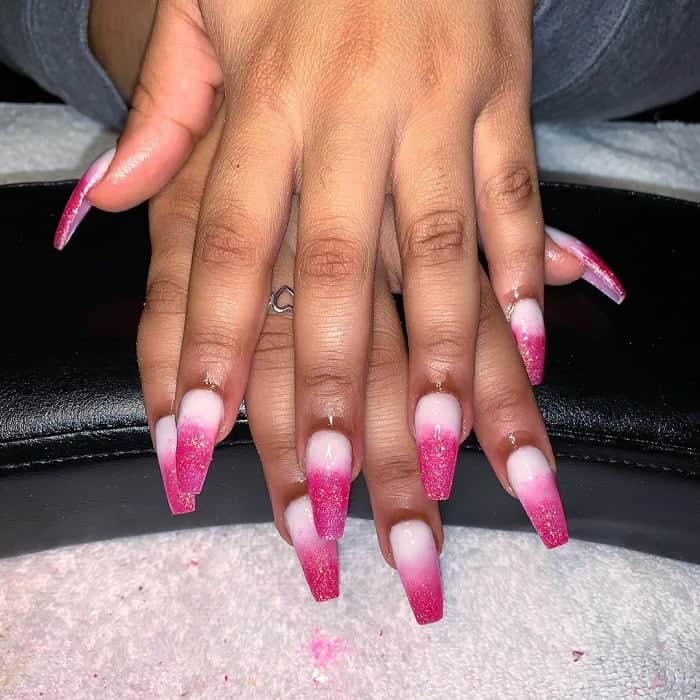 #13. Ombre Gel Nails with Glitter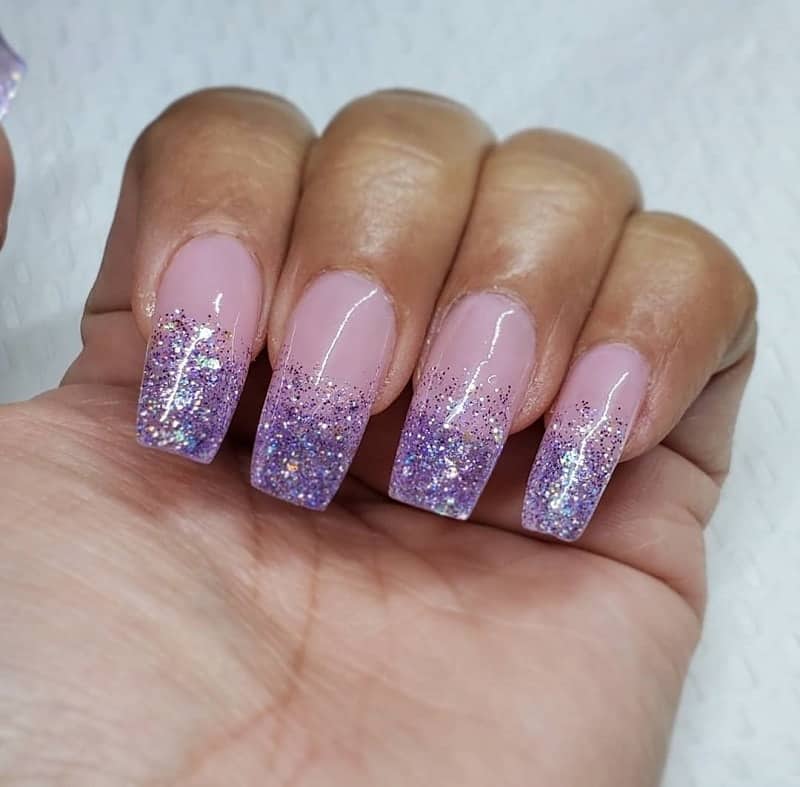 #14. Mermaid Glitter Ombre Nails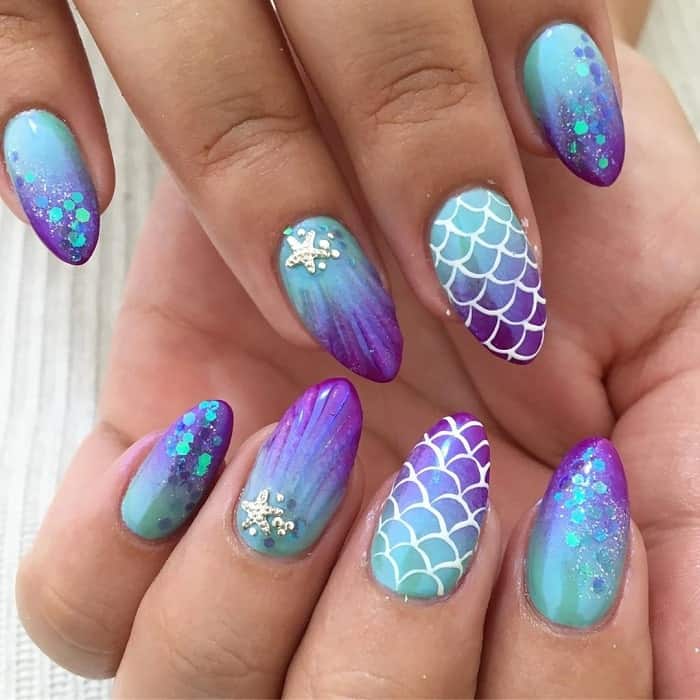 #15. Glitter Ombre Nails on Ring Finger
#16. Blue Glitter Ombre Nails
You can dab blue shiny glitters on the baby blue base to have this glitter ombre nails.
Glamorous Ombre Nail Design to Fall in Love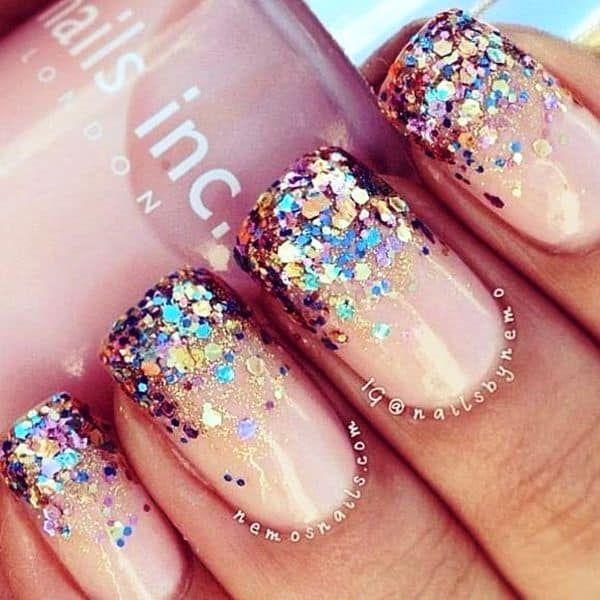 Some designs create a sense of delight when we look at them. This is such a design. You can have this design done by applying colorful tinsels associated with golden glitters to your nude nails.
#18. Peaceful Nails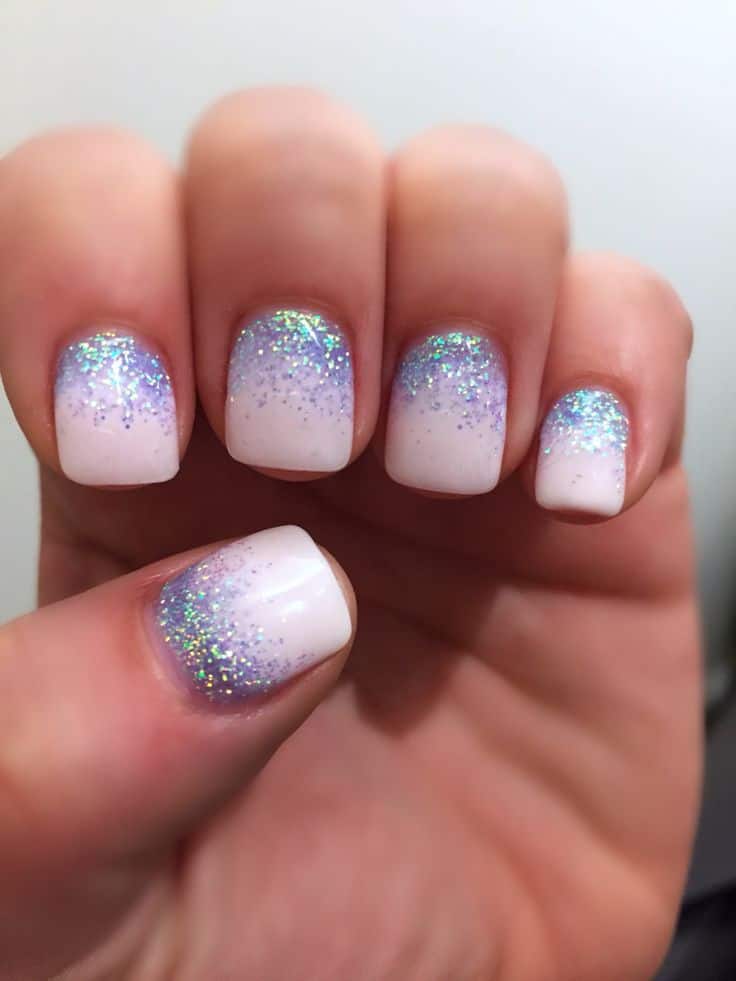 This mild color is soothing to the eyes. This design looks so peaceful that I feel like looking at them for a long time. You can have this design as glitter ombre nails.
#19. Purple Beauty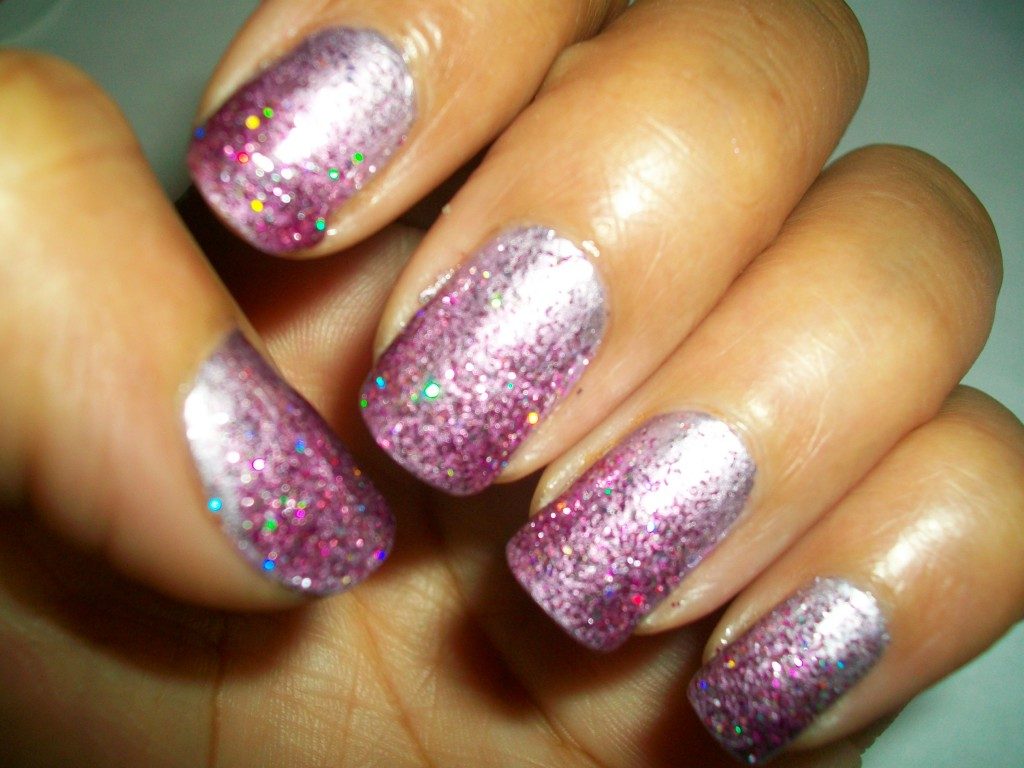 Purple nails are beautiful. You can have this design by dabbing purple glitters on shiny silver base.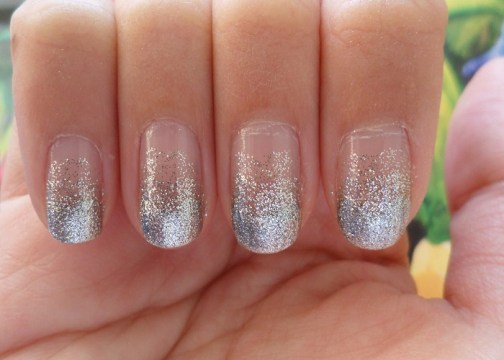 This design is so simple yet gorgeous looking. Use thin silver glitters on clear nails to have these glitter ombre nails. This design looks so pure and holy.
#21. Gold Glitter Ombre Nails
This is shiny golden design for your glitter ombre nails. Golden glitters are used on black base for this design. You can paint a nail wholly with golden glitters like accent nails.
Ways to Rock Gold & Black nails
#22. Glittery Coffee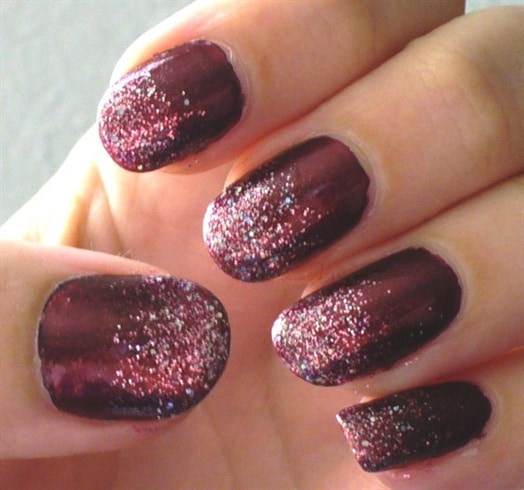 These coffee color nails look good when they are properly designed. You can make the best out of them by dabbing some glitters on the coffee color base. These glitter ombre nails will look amazing on your nails.
#23. Blue Elegance
The charm of blue is everlasting. No matter how much blue color is used in every design, it will look good and never lose its appeal. You can have these blue glitter ombre nails without any second thought.
#24. Orange Glitter Ombre Nails
The Orange color in nail design is not used that much talked. You can use this color while possessing glitter ombre nails.
Dab some orange glitters on the surface of white nails to have the glow of orange at your fingertips.
#25. White Glitter Ombre Nail Art
This design looks so calm and quiet in white color. You can have these glitter ombre nails by applying white glitters to the nude nails. The overall look of this design is perfect for brides as it looks so angelic in white color.
#26. Glitter Ombre in Turquoise Nails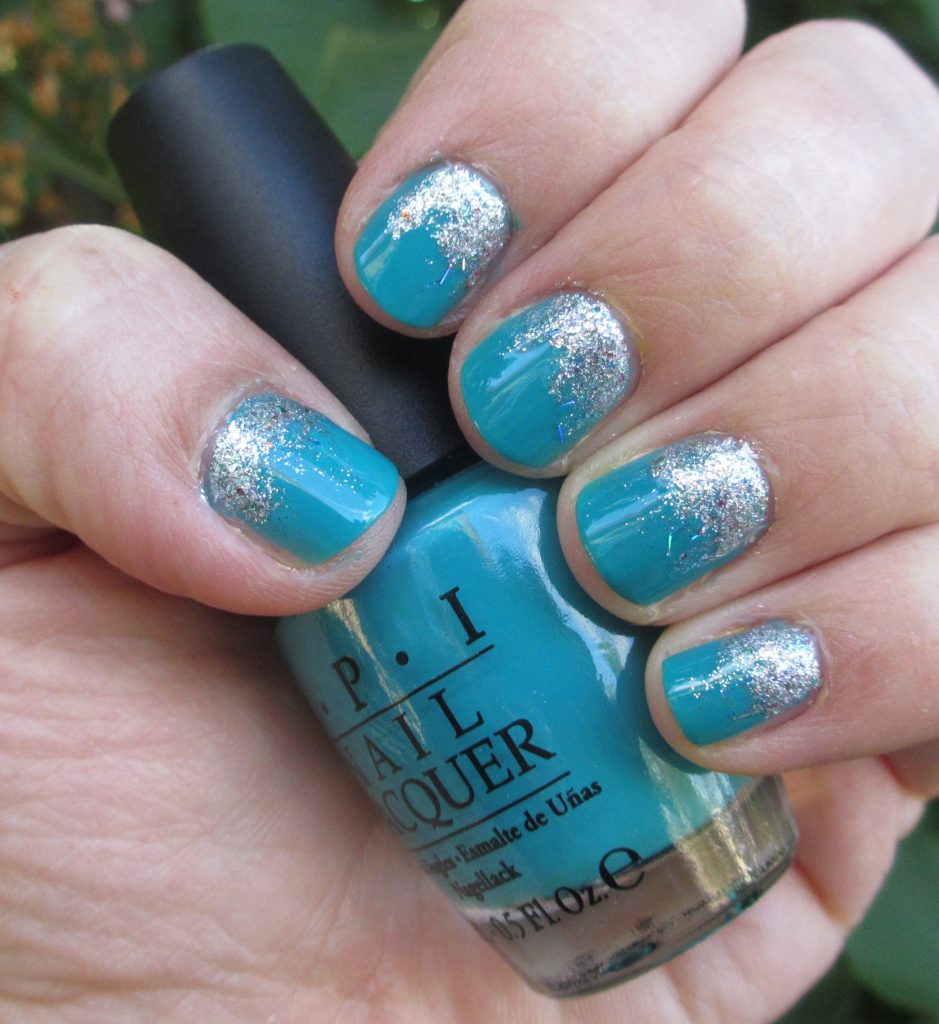 Turquoise is a bluish green color that suits any nail designs. You can add golden glitters on the lower side of your nails to have these glitter ombre nail designs.
#27. Deep Blue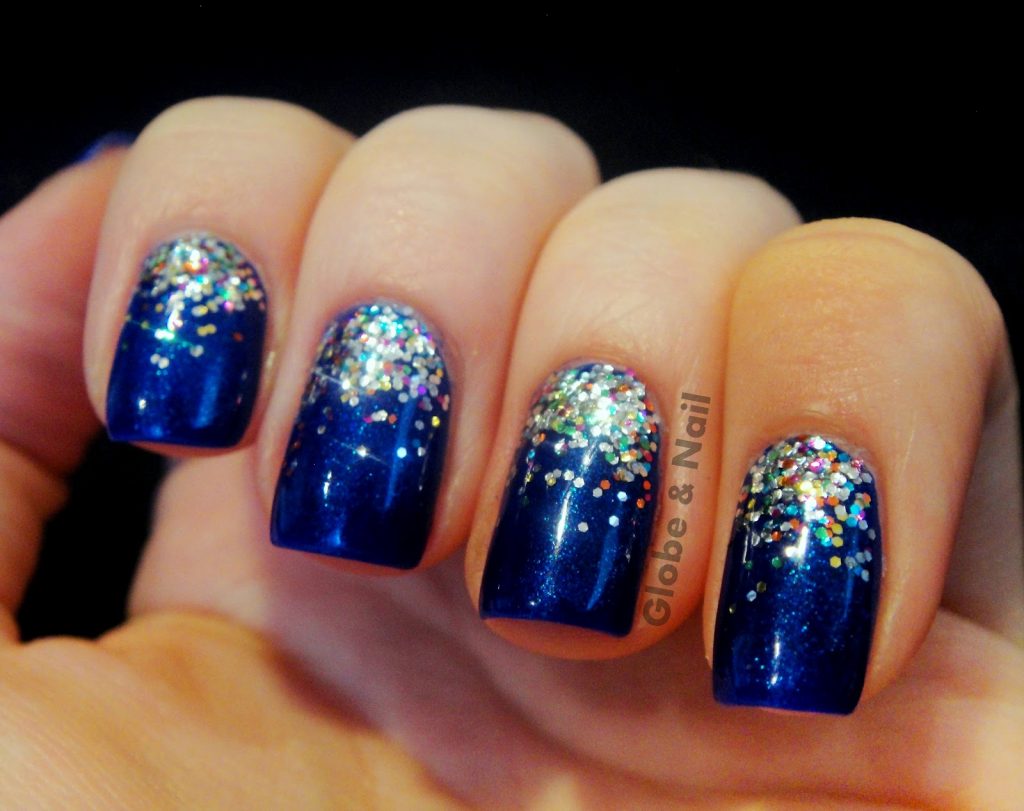 The variety in blue color is really worth mentioning. You may have seen a lot of usage of blue color in different nail designs. Using colorful glitters on deep blue color can be a good choice to paint glitter ombre nails.
#28. Colorful Ombre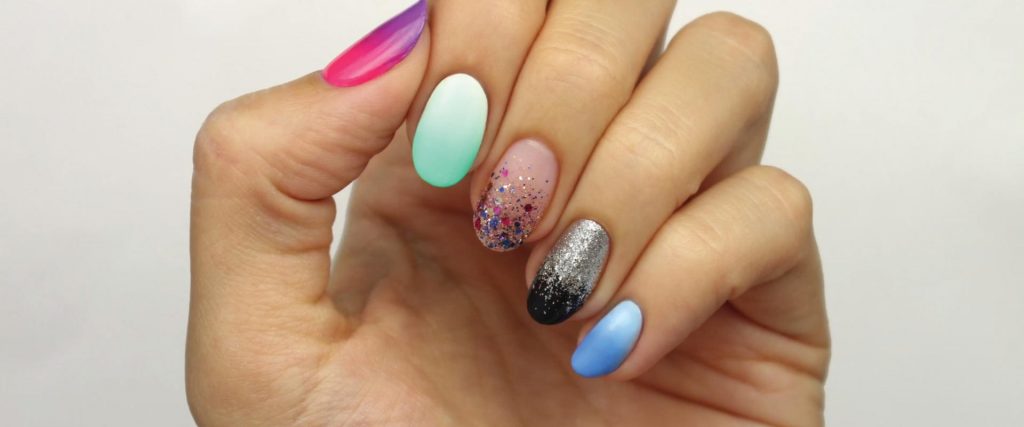 It's not mandatory to use ombre designs only on one color. You can paint your nails with different color. Adding some glitters in ombre style will do the rest for these glitter ombre nails.
#29. Glitter Gradient
As the name suggests, ombre means two colors getting mixed smoothly. You can have these magenta nails sprinkled with golden glitters in order to have glitter gradient ombre nails.
#30. Fading Ombre Nails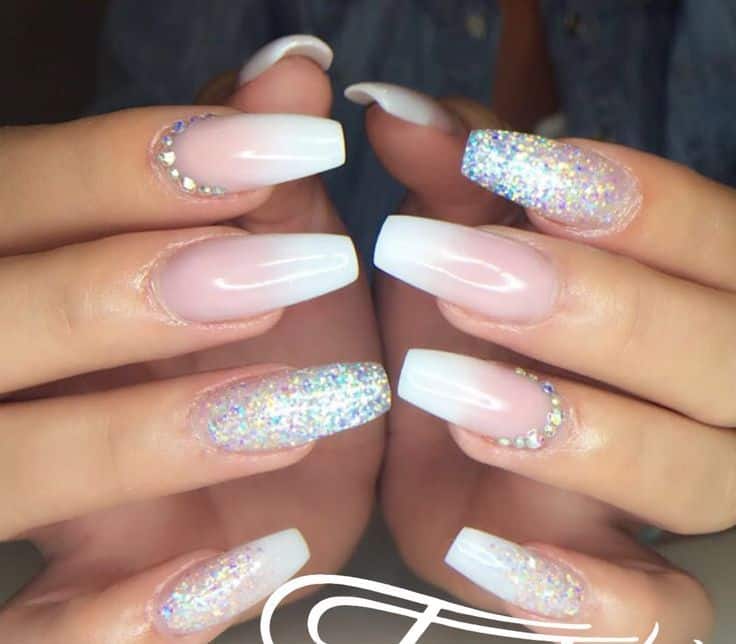 Some ombre nails give the look so as it looks like it is getting faded gradually. These nails are called faded ombre nails or fading ombre nails. You can have these nails as glitter ombre nails.
#31. Reverse Ombre Nails
Reverse ombre is the technique when two different colors get mixed keeping the brighter color at first in terms of the order. So, these nails resemble two colors where the order is a light color to a dark color.
You can add some shiny glitters on the nails painted with dark nail polish to have reverse glitter ombre nails.
#32. Black Glitter Ombre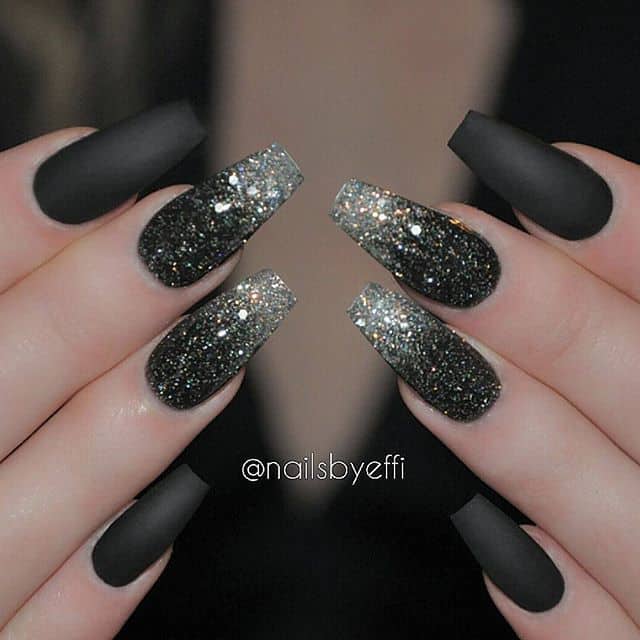 Glitters look shinier on matte nail polish. You can add silver glitters on your black nails to have glitter ombre nails like this one.
#33. The Festivity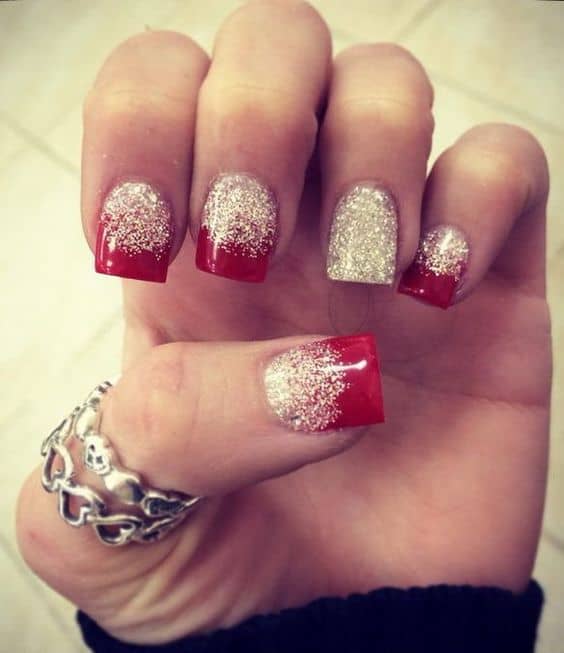 You can illustrate the theme of festivity on your nails. These glitter ombre nails look so eye-catching as if they were bragging about the beauty they possess. You can have these glitter ombre nails in any festive like the Christmas day.
#34. Glitter Accent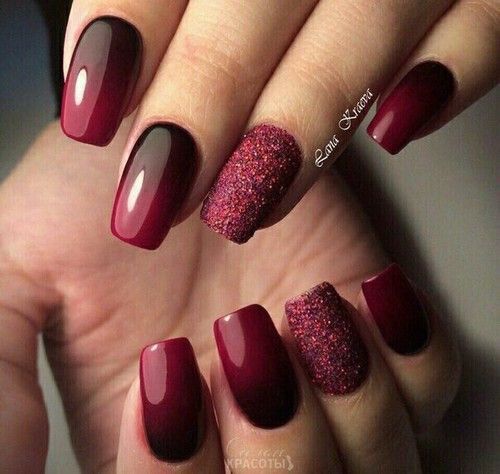 You can have glitters ombre nails in the other way. Paint all your nails in the ombre style. Maroon color will suit the nails best in this case.
Then accentuate the nails by filling any one of the nails with maroon glitters. That's it. Glitter ombre nails are ready.
#35. Sprinkling Purple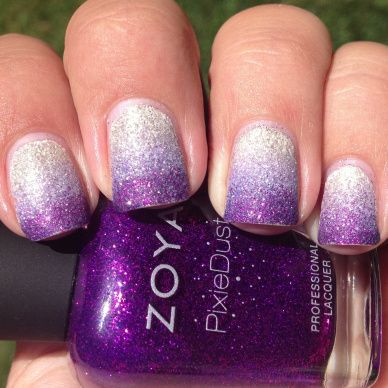 These ombre nails are producing extra shine because purple PixieDust is used to paint these nails.
The nails are looking so gorgeous. It looks like glitters are sprinkled on the nails to add the extra shine. You can have these nails on your fingertips as glitter ombre nails.
Remove Glitter Nail Polish Easiest Way
Lovely Glitter Ombre Nails to Try
Glitter ombre nails are some decent nails to have. There is no exaggeration about these nails.
If you can balance the amount of glitters and the intensity of the colors, these will become the perfect nails to carry all around the year. Try your own ideas or you can try out the designs I have discussed in this article.