A lot of women don't know how to remove glitter nail polish. Glitter nail polish is one of the prettiest nail polishes you can go for. It comes in so many beautiful vibrant colors and is practically impossible to choose which one to go with. It is also perfect for anything formal because of its shine and looks super cute and ladylike. But at the same time, it has its downsides. The removal process.
Remove Glitter Nail Polish at Home
Besides the glitter nail polish, any type of a stronger and more well-made nail polish can be hard to remove. Especially if you mess with OPI, Essie or Sally Hansen, their quality is undeniable. So, if you want to have a quick removal process from home, just continue reading.
Watch out the video tutorial to get glitter nail polish off your nails
Get The Supplies
If you want to remove the glitter nail polish properly, gather around:
a nail polish remover
a cotton ball
ten elastics (at least)
an aluminum foil.
You will be needing approximately 30 minutes of your time as well.
#1: Soaking Time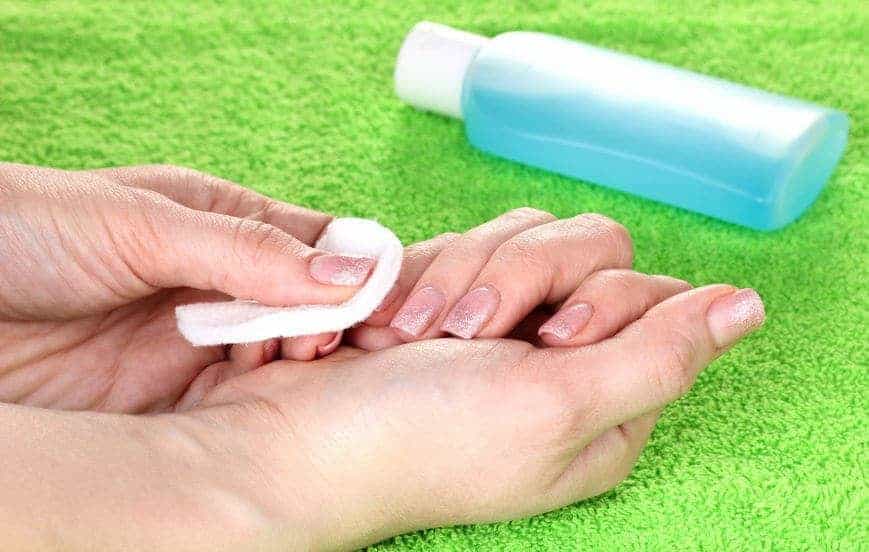 Take your cotton ball and dip it in a nail polish remover. It would be the best if you had an acetone based on. Don't remove your nail polish too often with this acetone since it is very drying, so only turn to it when necessary. Like this time!
Remove Acrylics without Acetone
#2: Crift Craft
This part can get super fun and crafty, so you better enjoy it while you can. Take your aluminum foil and make ten little strips with it and with the help of your scissors. Those pieces should be as big as your palm. However, if you don't have an aluminum foil or if you want to use something else you can also grab some elastics, and you should have at least ten of them.
#3: Wrap It Aluminum
Firstly put the cotton balls which have been dipped in acetone on your fingernails. Then, take your foil and wrap all of your fingernails. Go around your nails a few times so that they stay firm. The picture above is telling you exactly how they should end up looking.
Glamorous Nail Designs for Ring Finger
#4: Wrap It Elastic
Or, if you choose to go with the elastics, you won't need to be that precise and crafty, but you will have to make a lot more of the circles and tie down motions. You will need one elastic for each of your ten fingers. Place them around the cotton balls and go around as many times as you need to. Your bands will need to be tight so your cotton balls stay in place.This option or the aluminum one is totally up to you and based on your preferences.
#5: Let It Be
After approximately five minutes of that nail polish remover soaking into the glitter, you can remove the foils or the rubbers (depending on what you've used.) Take off the foil and apply some pressure onto the cotton. If you are dealing with the elastics just untie one by one and press down the cotton balls and do the swiping motions once again. Throw all of your equipment in a trash can.
And that's it, you are a glitter free person!
Right Way to Remove Gel Nail Polish
Now you know how to remove the glitter nail polish without struggling. You can switch up your manicures quite more often now without avoiding the glitter. Also, always make sure to let your nails breathe in between the manicures. These types of manicure removals can really dry your hands as well as nails, so give them a proper break, vitamins, oils, and a hand cream to bath in.