20 Ultra Metallic Nail Designs Have Got Us Grooving!
Metallic nails are for those who are not in the mood for something too petite and feminine- no florals, no pretty lace-work. We are talking about bold statements, that leaves everyone awestruck. Yes, that is the kind of effect of nails will have get going for you.
What are Metallic Nails
Metallic nails are a concept which made a departure from the matte finish popularised by the Kardashians. Far from being muted, these nail designs are glaringly shiny. This can be traced to the tiny glittering pieces that make up these nail paints. They are usually too small to come within your range of vision. When you apply them, they leave your nails with a reflective, mirror-like surface.
How Do You Do Metallic Nails?
Metallic designed nails are not hard to do. In fact, you can treat them like any other nail polish. Here is a step-by-step direction for getting these beauties on your nails.
Apply Base Coat: The first step is to prepare the nail and make it ready to accept the several layers of polish. Start by applying a layer of strong base coat, so that the subsequent layers of nail paint adhere well to the nail. Let the layer dry out completely.
Apply the Metallic Nail Paint: Now apply a thin layer of the metallic nail paint. Make it a three-stroke process, viz. pull a flat stroke down the middle of the nail, followed by a stroke each to the right and the left. Make sure that the strokes do not overlap, as that can leave behind lumpy spots. Allow this layer to dry out. Follow this with another layer of the nail paint, in similar strokes and let it dry.
Apply Top Coat: Seal the paint with a layer of the topcoat. Your metallic designed nails are done and sparkling!
Top 10 Ideas for Metallic Designed Nails
Now that you know how to get such nails, it is time to explore some jaw-dropping ideas for metallic nails.
1.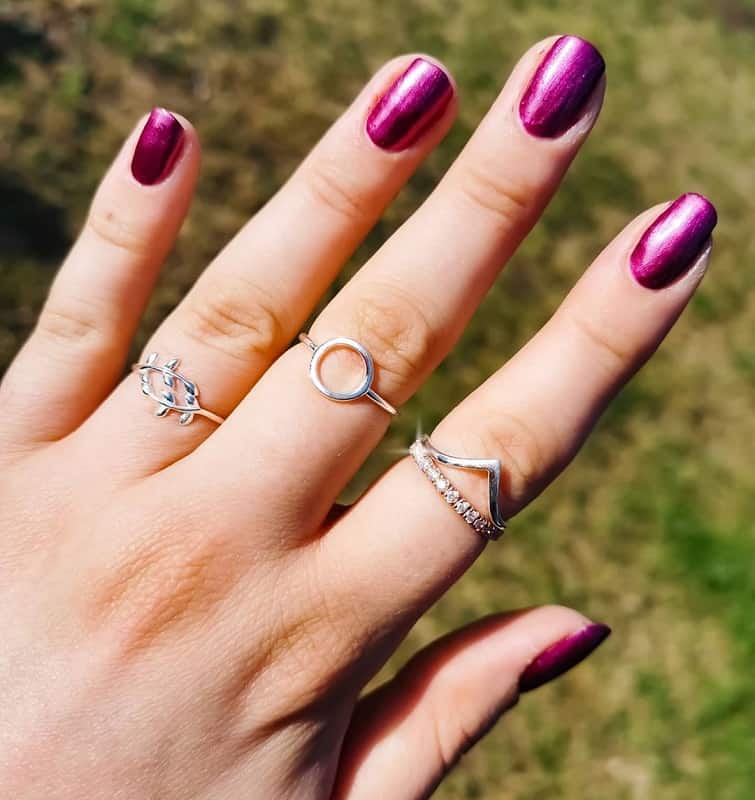 metallic purple nail designs
2.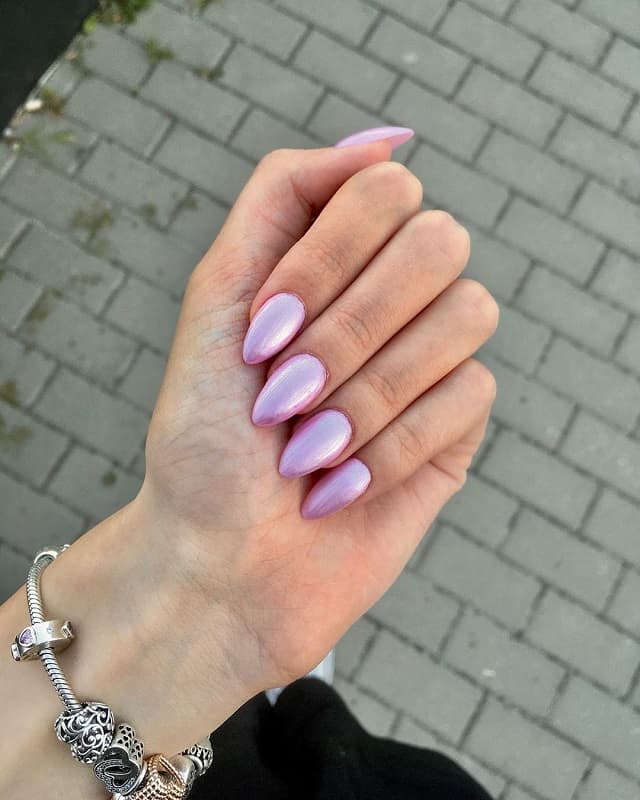 metallic pink nail designs
3.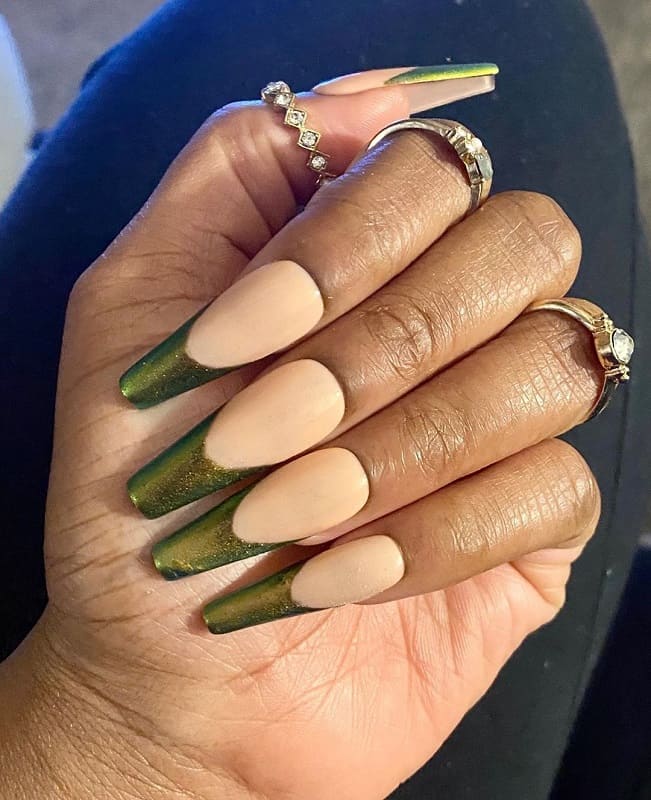 metallic coffin nails designs
4.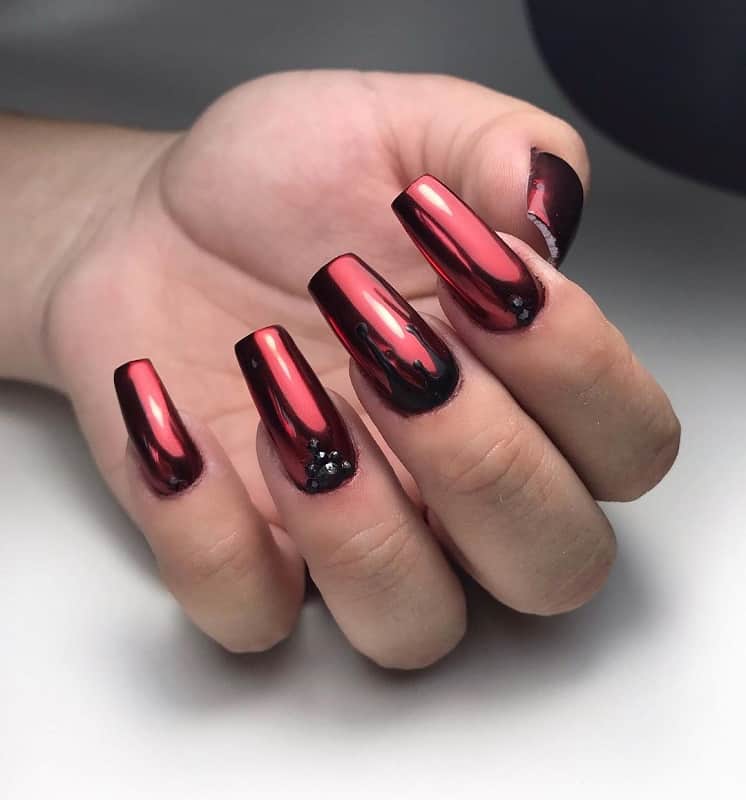 metallic red nail designs
5.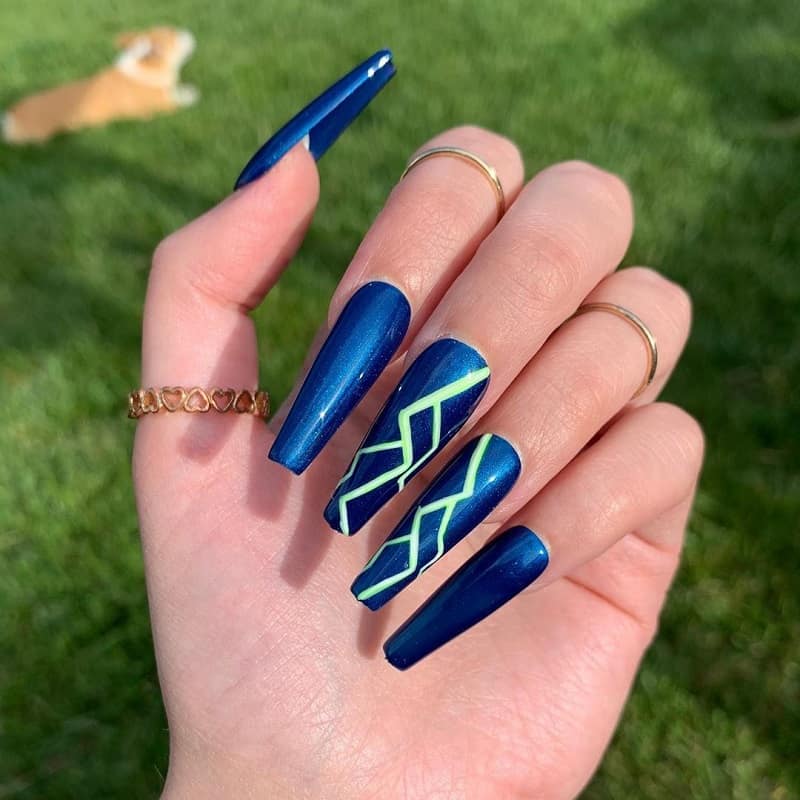 metallic acrylic nail designs
6.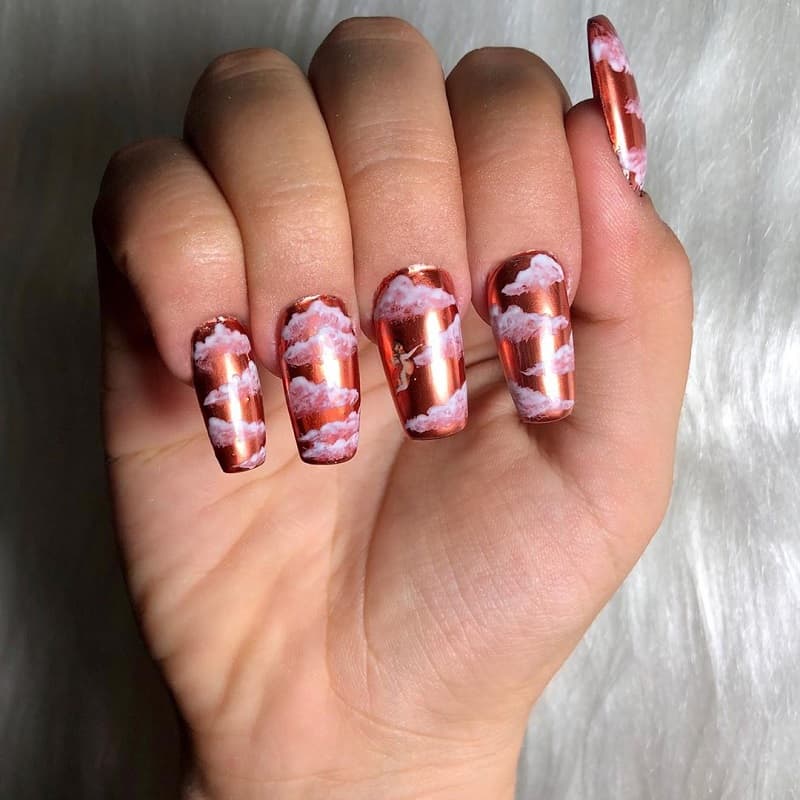 metallic gel nail designs
7.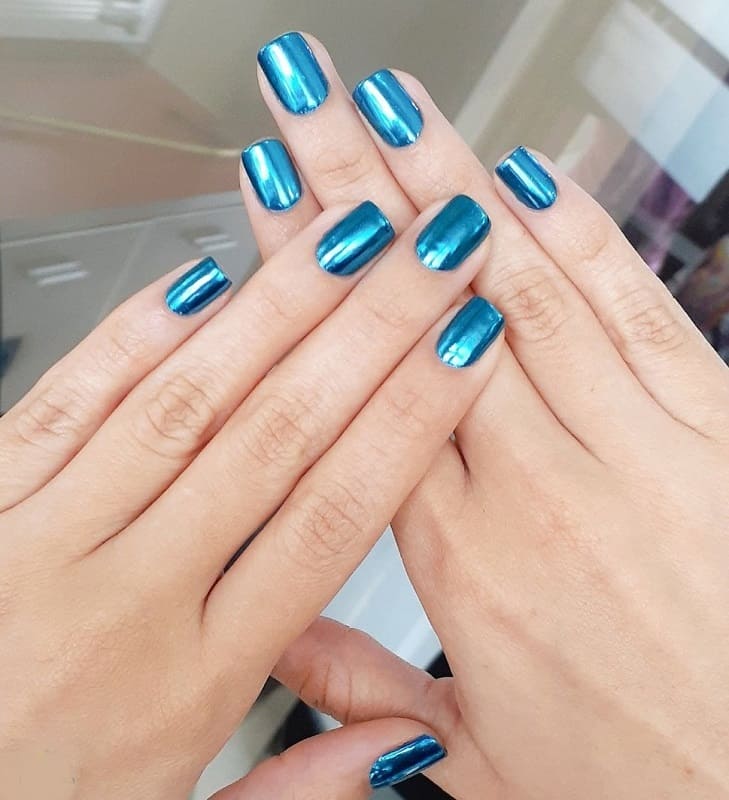 metallic blue nails designs
8.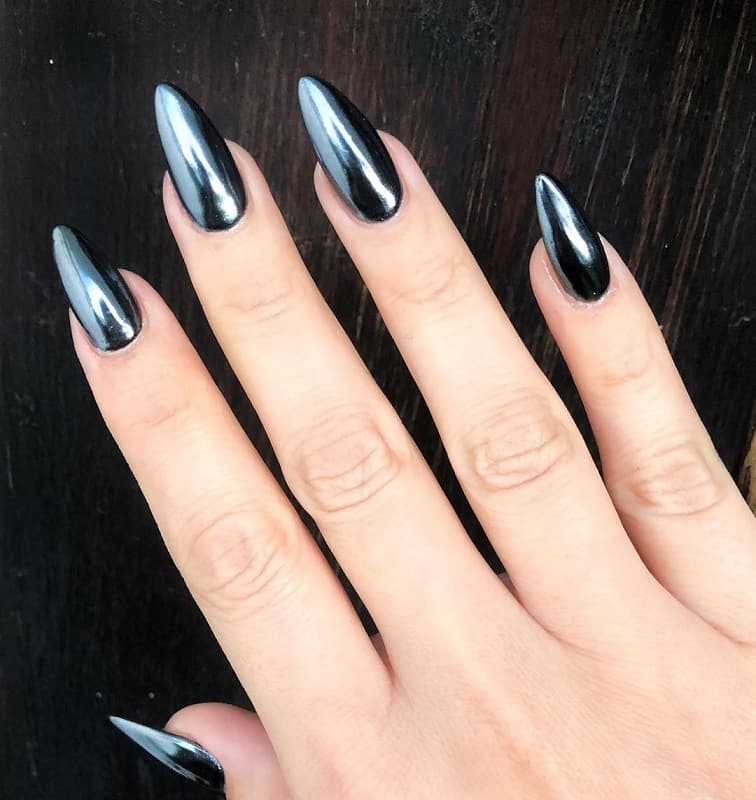 black metallic nails
9.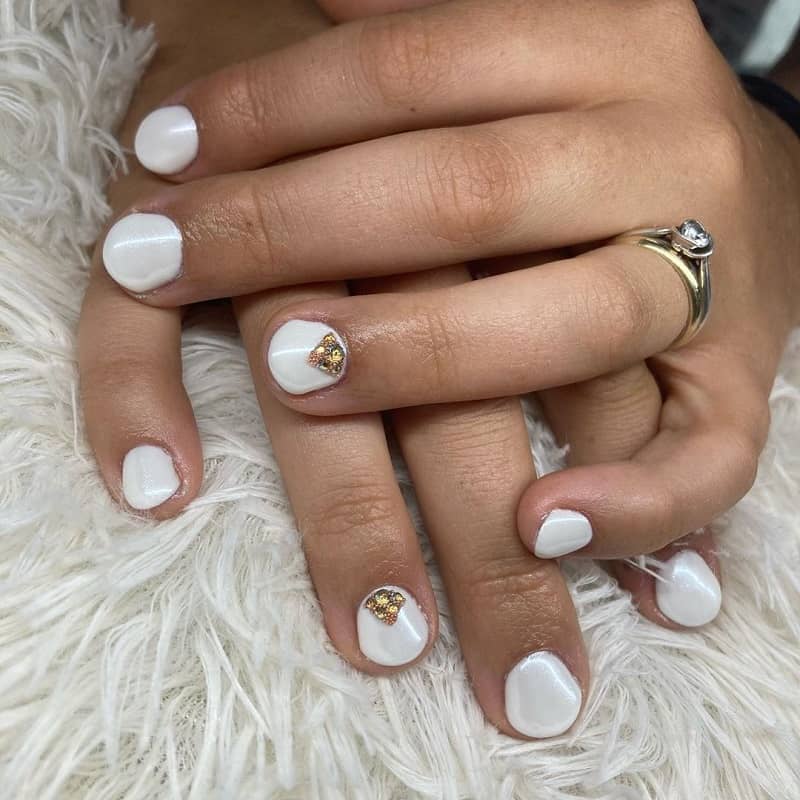 white metallic gel nails
10.
metallic fall nails
11. The Mirror Effect
The mirror effect is something that comes automatically with all nails. What we mean here is that your nails look literally like a mirror. A silver-tinted metallic nail paint creates this effect beautifully. You can actually see your face on your these nails!
Gleam Admirer? Try Chrome Mirror Nail Arts
12. The Mother-of-Pearl Effect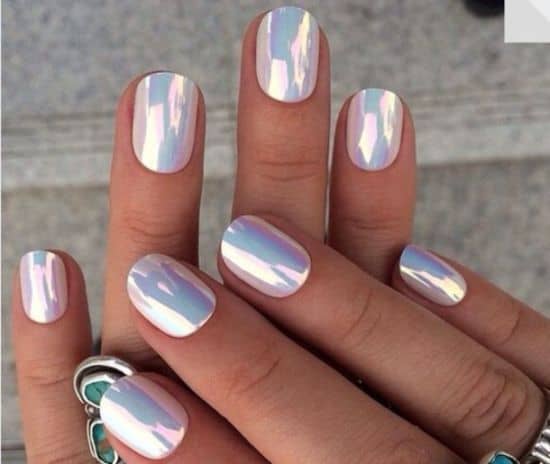 Some metallic nail paints are so designed as to glow with different hues when the light falls on them a certain way. With a whitish or ivory base, this effect makes your nails look like they are made of chips of mother-of-pearl.
13. Matte and Metal
Some of you may find all metallic art nails to be too much, with all the glare and the shine. In that case, you may choose to tone down the effect by using matte-finish nail paints on some of the nails and metallic nail paints on the others. The matte-effect effectively blunts out the glare of these nails.
14. Metallic French Manicure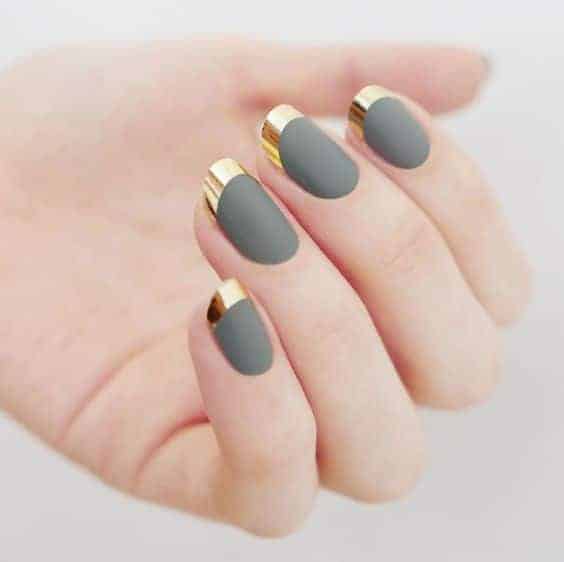 You can never go wrong with a French manicure. However, some of you may complain that it can get a tad dull, especially if you are headed for the party. For french manicure aficionados, metallic nails can be quite an interesting experience. Instead of the nude nail shade, you can choose a dark metallic shade and paint the tip of the fingernail in ivory. Alternatively, you can leave the tip in a metallic shade while the rest of the nail is matte. If you like it, you do the whole nail in metallic nail paint.
15. Metallic with Rhinestones
This one is for those who know how to up the oomph. Metallic nails in themselves are flashy enough but if you are reaching for eye-grabbing, we suggest embellishing your nails with rhinestones. Complement this with chunky jewelry and eyes will follow you everywhere.
16. Shattered Glass Nails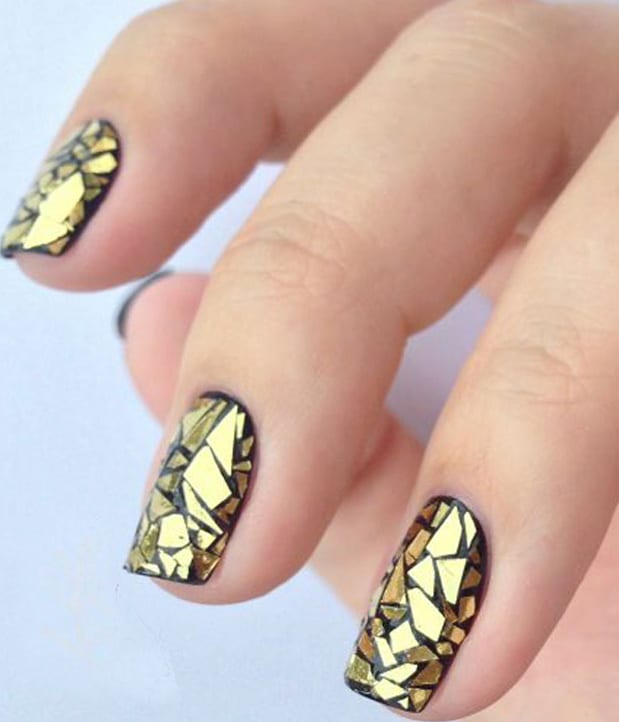 Shattered glass is an up-and-coming trend these days. It does create quite a dramatic effect and can be brought about by practically any kind of nail paint. However, this style looks best with metallic nail paints. The breakage, however, serves to deaden the glare a bit, so those of you who like it flashy, this may not be your style.
Glint Your Nails with Korean Nail Art
17. The Barbie Nails
You need not look next-gen with chrome nails. Metallic nails have the option of colors. If you want to make a statement and look cute, pick metallic rose gold nails. They really make the nails look factory-polished and doll-like.
18. Glitter and Metallic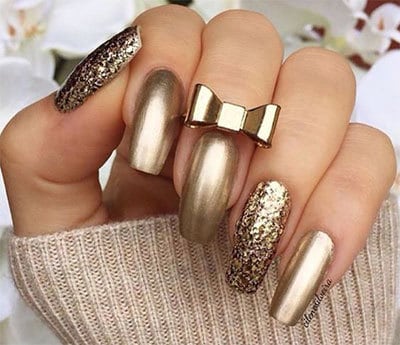 Not exactly like rhinestones, glitter can be used to add texture to metallic art nails. Adding glitter to these nails may not always work though. One way is to pair the metallic with some matte ones. The glitter nail can be added to the matte portions. The closer the shade of the glitter to that of the metallic nail paint, the more coherent the look.
19. Patterned Nails
While metallic nails are a statement in themselves, you can choose to make them more unique by adding a simple pattern on them. A flowery pattern in black is a very subtle way of adding class to metallic designed nails. You should, however, avoid heavy designs as that steals the thunder of the metallic nail paint.
20. Negative Space Metallic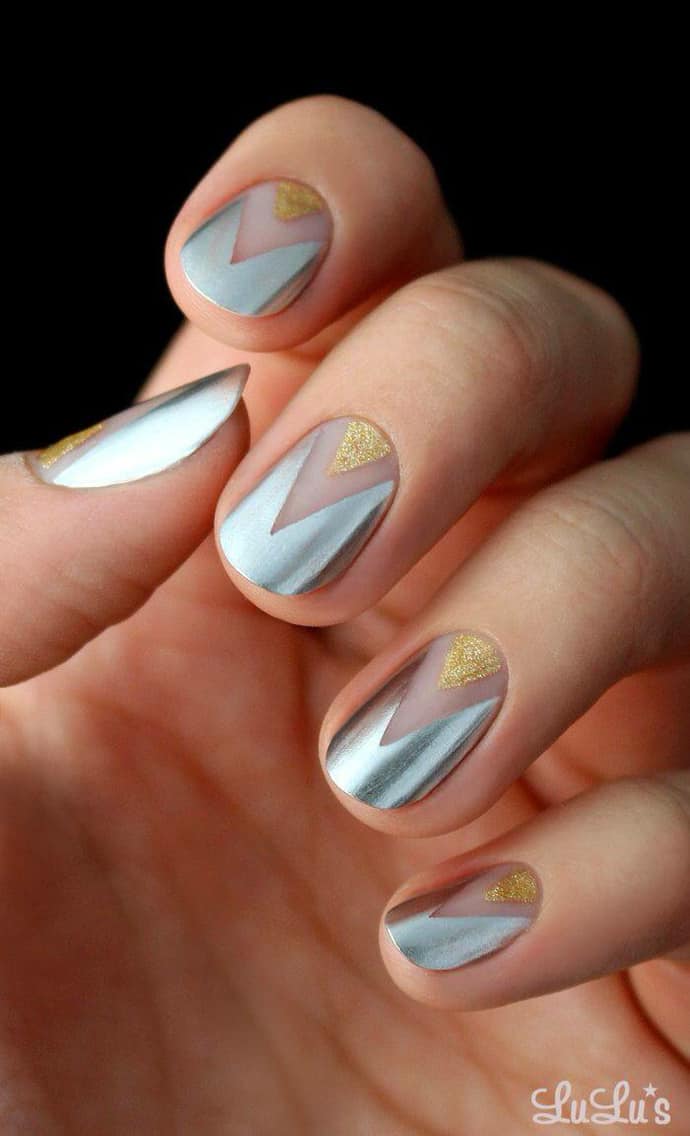 Your nails can be all and none at the same time! Negative nail art using metallic nails paint is a great way of appearing both cool and classy. Since negative nail art hinges on minimalism, the use of metallic nail paints helps to make that small portion of art eye-popping enough.
Extra-Ordinary Holographic Nail Designs
Lovers of metallic nails paint are spoilt for choices. There are far too many ways in which you can use these nail paints and however basic may the application be, they never fail to grab eyeballs. So you go girl, and dazzle the world!