Of course, buying a matte nail polish is the easiest way to have it painted on your nails. But, it's not wise to buy a whole new bottle of matte nail polish when you hardly need one. You can turn your usual nail polish into matte very easily.
From now on, there is no need to invest money in buying expensive matte nail polish. Do it at home, do it yourself.
How to Make Matte Nail Polish at Home
There are a lot of ways to make matte nail polish. Using fine and thin powder is the best way if you are going to have matte nail polish. Because you can turn the exact number of nails into matte by this process.
Just dab some powder onto the nails which you want matte. There are some other ways too. Check the list below.
#1. Dip in Baby Powder
One of the easiest and popular ways of making matte nail polish is using any kind of powder. You can use baby powder to have the impact of matte nail polish on your nails.
Take a clean and small bowl and pour a few drops of nail polish into it. Now put some baby powder in it and mix the polish and powder thoroughly. Don't mix too much powder at a time.
Mix it carefully so that the nail polish doesn't become excessively clumpy. You should concentrate on the consistency of the nail polish. The polish will be thicker than usual and at the same time, you have to be able to apply it easily.
#2. Mix with Baking Soda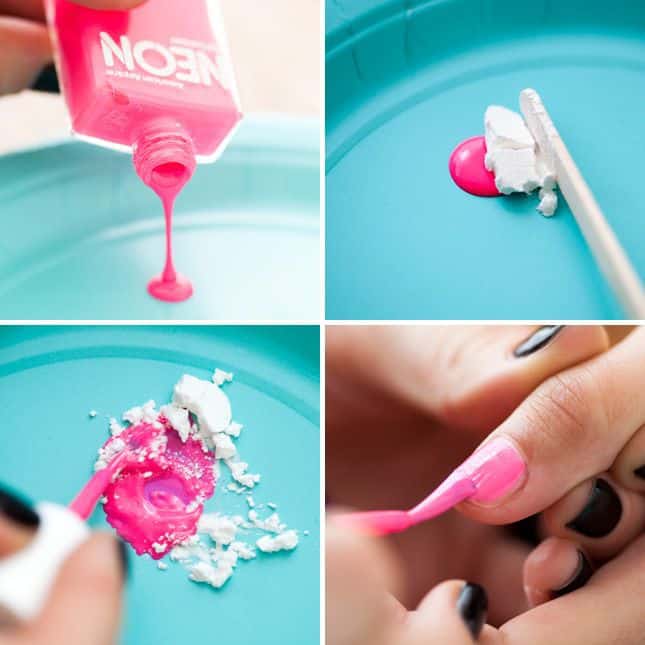 Who knew that baking soda can be used in other works rather than cooking? You can use baking soda as the mixing component of matte nail polish. But you need an extra supply for this process.
A sieve is needed to make the powder as thin and applicable as possible. Make sure that there are no clumps or lumps in the baking powder. Before applying the powder, paint your nails with the desired nail polish that you want to make matte.
Dip the nail brush in baking powder or soda and dab the powder onto the wet nail polish. Wait a few minutes and clean the residue and extra baking powder using clean water. That's it. Your nail polish is now a matte one.
#3. Add Cornstarch
This process is exactly similar to the above one. Every step is all the same except the core material.
Use cornstarch instead of baking soda. Use a sifter to sieve the cornstarch to have the best matte effect from thin and smooth cornstarch.
Make sure you are dabbing the powder onto the nails evenly. Don't keep any gap in the coating. Thus, you will have the best matte effect.
#4. Try Eyeshadow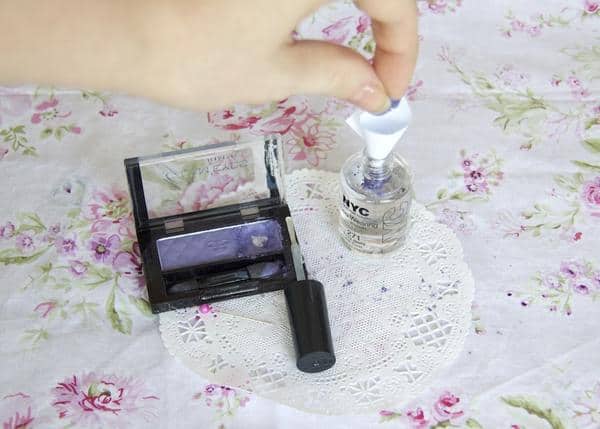 If you want a full bottle of matte nail polish, this is the right process. The above-mentioned methods are only just for a specific manicure. This method will do good for a whole bottle of nail polish.
Take half bottle of a clear base coat. Now, put in your eyeshadow to fill the half-empty nail polish bottle. Don't go overboard. Excessive eyeshadow will make the polish clumpy and inapplicable.
And it's better to use a funnel while putting the eyeshadow in. Mix the eyeshadow and matte base coat to turn the entire bottle into matte nail polish. You can actually make basecoat on your own.
#5. Steam It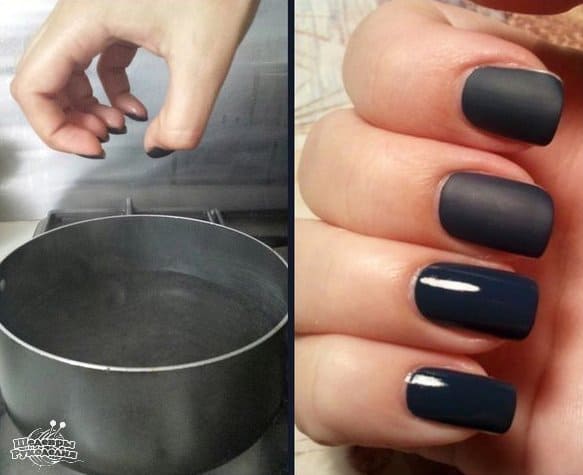 This is the easiest and cheapest way to make your nail polish matte. Actually, this method costs nothing at all. All you need is a pan, some water, and a heater to make the steam.
Apply your desired nail polish on the nails as usual. Once you are done with the polish, place your nails as well as hands over the steam for about 5 seconds.
Move your fingers and hands back and forth as you are holding it over the steam. Make sure your hands get even direct contact with the steam to have an even matte coating.
Saving Alert! Make Fake Nails at Home
Be very very watchful while using eyeshadow or powder. Make sure these are sifted and not clumpy or lumpy.
The matte will be even and beautiful only if you use fine and thin powder and eyeshadow. Now you know how to make matte nail polish at home.