The key to a festive and elegant holiday manicure is the right colors – that's why red and silver nails should be your first choice!
Red and silver are almost always chosen for a stylish holiday manicure. The combinations that can be made from a bright or dark red polish with solid or glittered silver are endless and all of them are stunning. And those of us who are nail experts know that a great nail design is all about the details!
Wearing red and silver together on your nails will get you in the holiday spirit in no time, so glitter it up or add as many rhinestones as you want. As long as you feel beautiful with your new nails, that spirit will shine through. Here are a few dynamite ways to wear your red and silver nails.
Gorgeous Red and Silver Nails
A colorful holiday nail design is a must for style and a cheery feeling. For the best manicure, choose from our list of 21 trendy red and silver nail designs!
1. Feeling the Love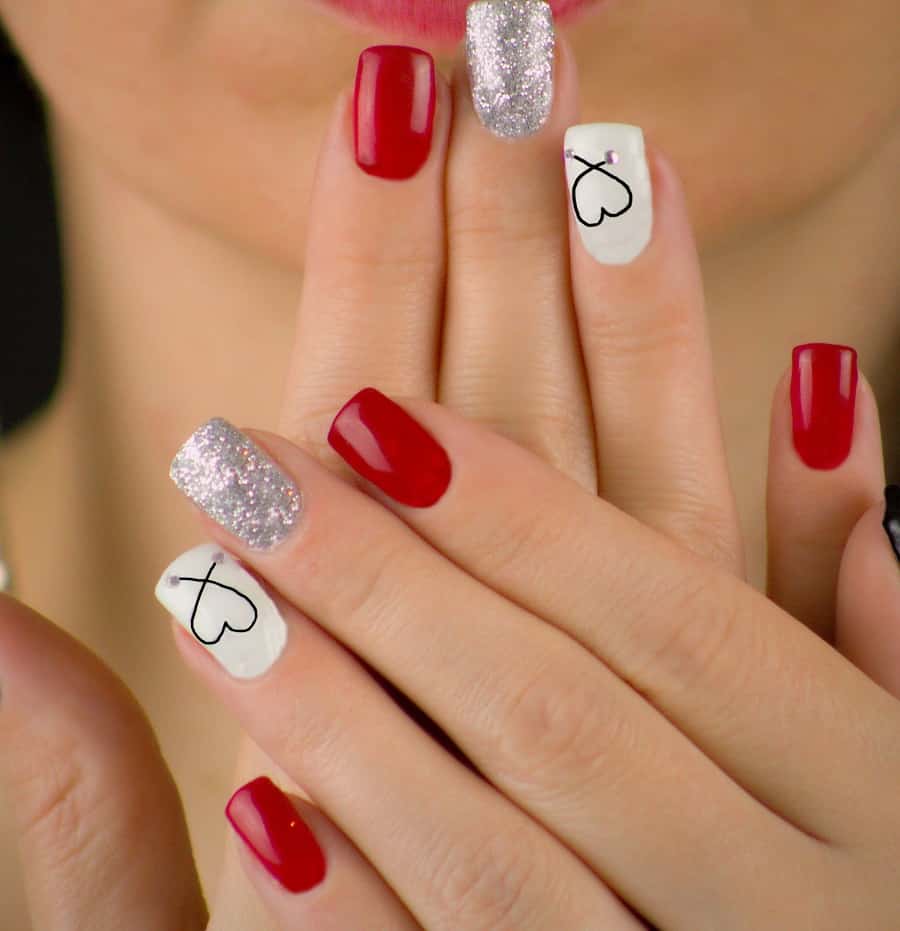 Valentine's Day or any other special occasion where love is in the air is the perfect opportunity to use red and white on your nails. Alternate the colors with a glittered accent nail, then draw hearts on the white nails.
2. Gold Accents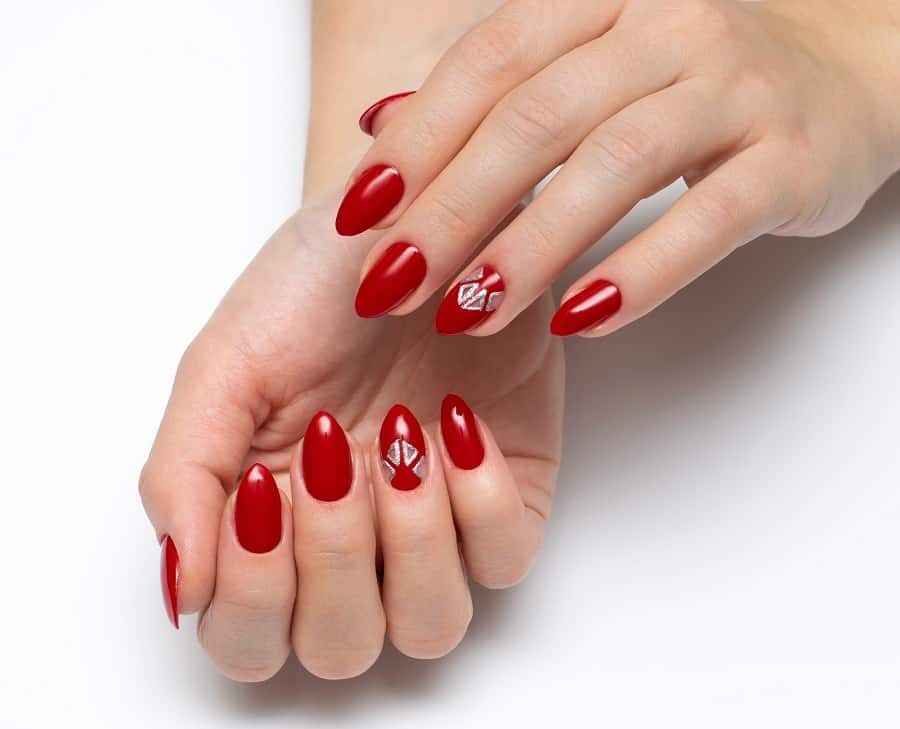 A little bit of sparkly gold on your ring fingernails is just the detail to give your manicure some shine. Try the design on medium-length stiletto nails.
3. Silver French Tips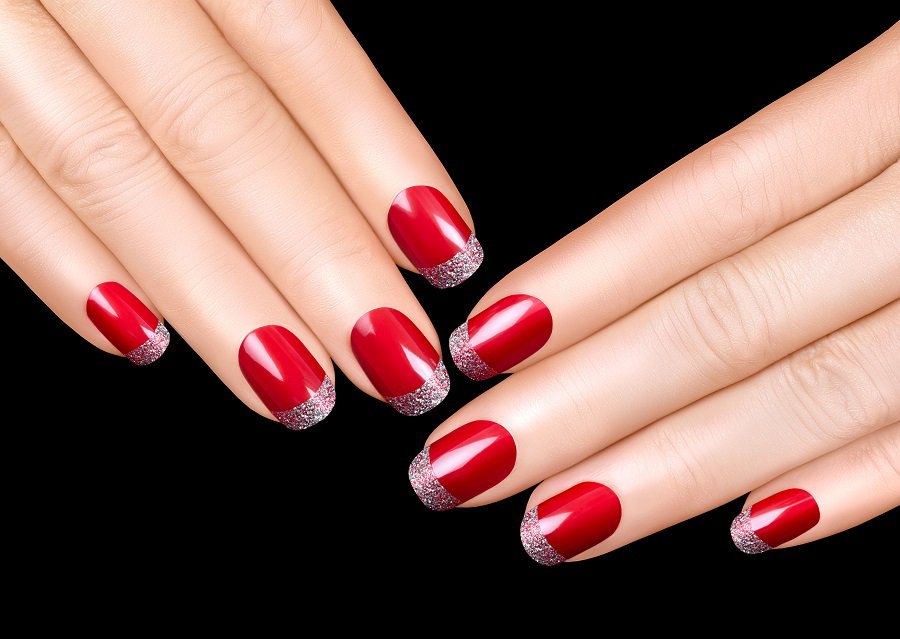 Traditionally, French tip nails are white, but we love this updated version featuring red nail beds and glittery silver tips. For the best look, make sure your nails have a little length.
4. Red and White Hearts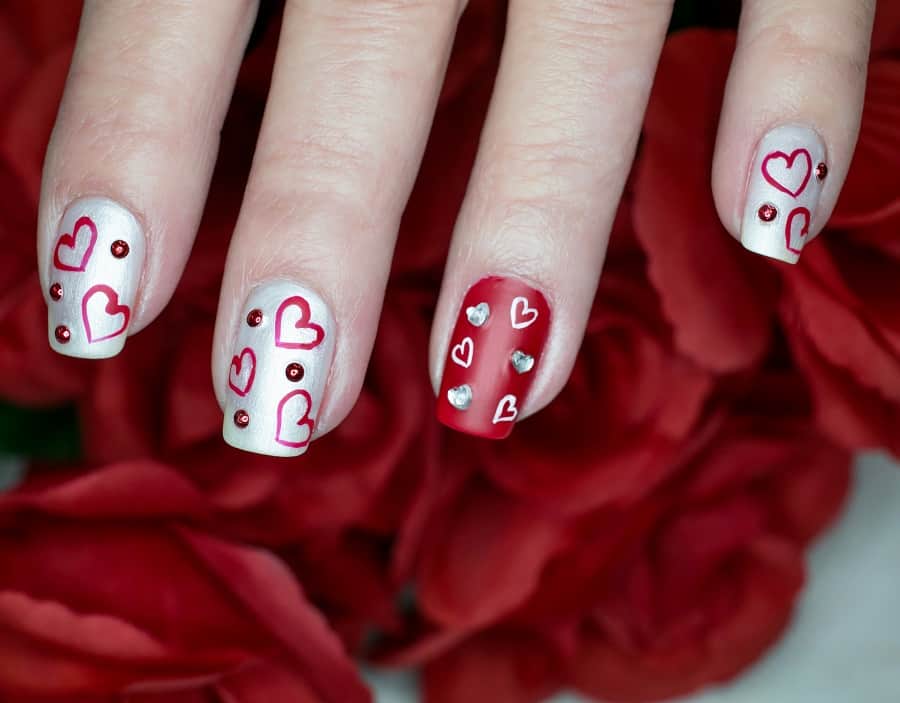 Looking for a nail design you can do right at home? Paint your nails in alternating red and white, then draw on tiny red and white hearts. You can even add red or silver nail jewels for sparkle.
5. Silver Squiggles
Line designs are a cool way to feature two colors in your manicure. Start with red fingernails (or half red and half pink) and paint thick white vertical stripes on the two middle nails. Finish with silver squiggles.
6. White Dots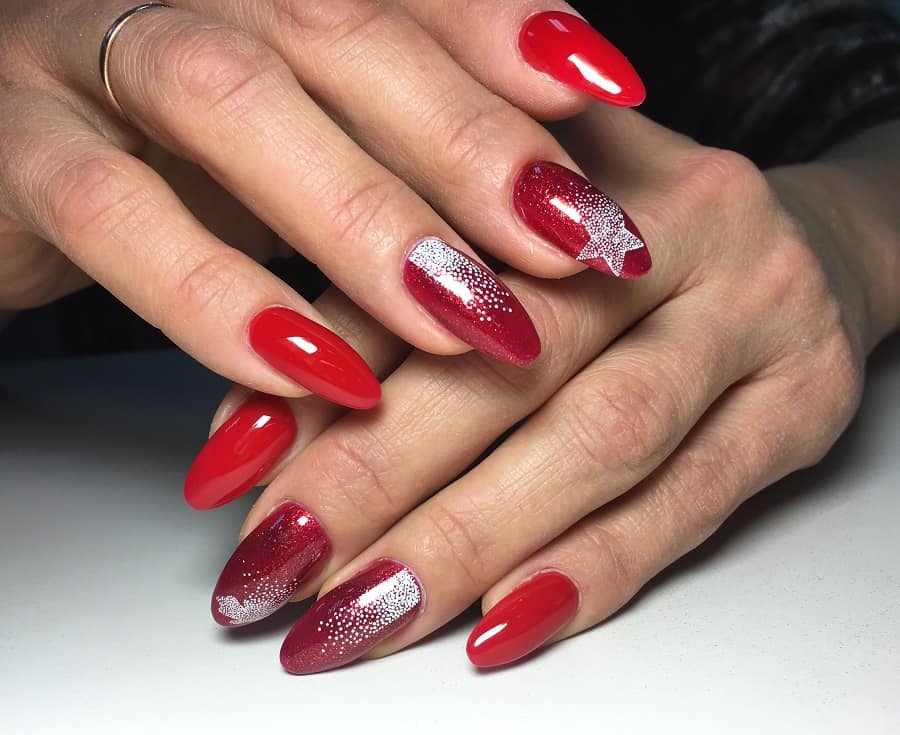 Two shades of the same color give any manicure quick dimension. For example, a light and dark red shines up long oval nails while tiny white dots can make a cool gradient or star accent.
7. Pretty in Plaid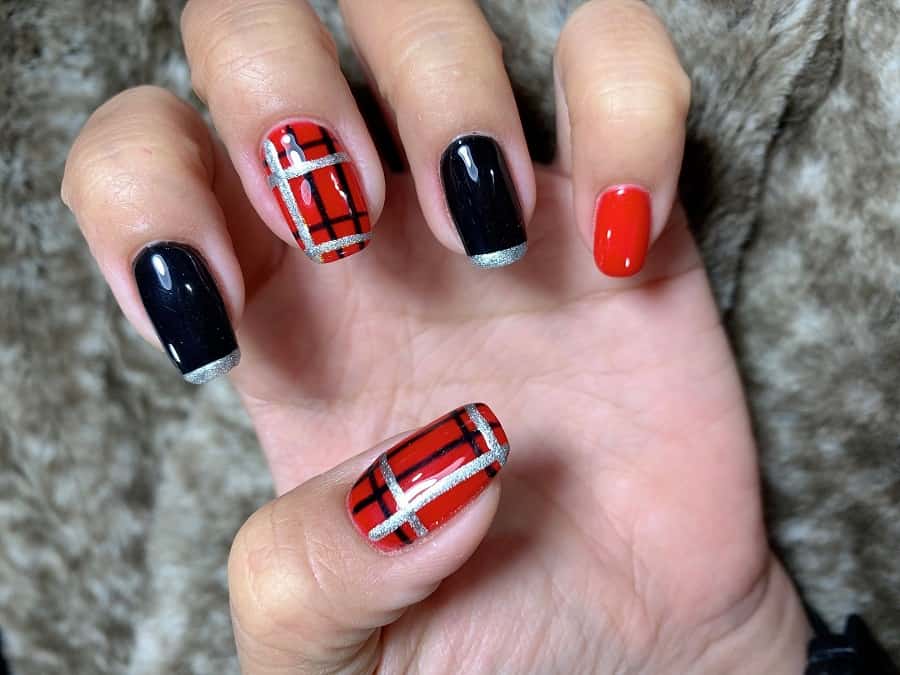 If you have a little more patience, this plaid design is a beautiful unique choice. Just paint criss-crossing black and silver lines over red nails. Leave a few nails all black, defining tips in silver.
8. Dark Red with Silver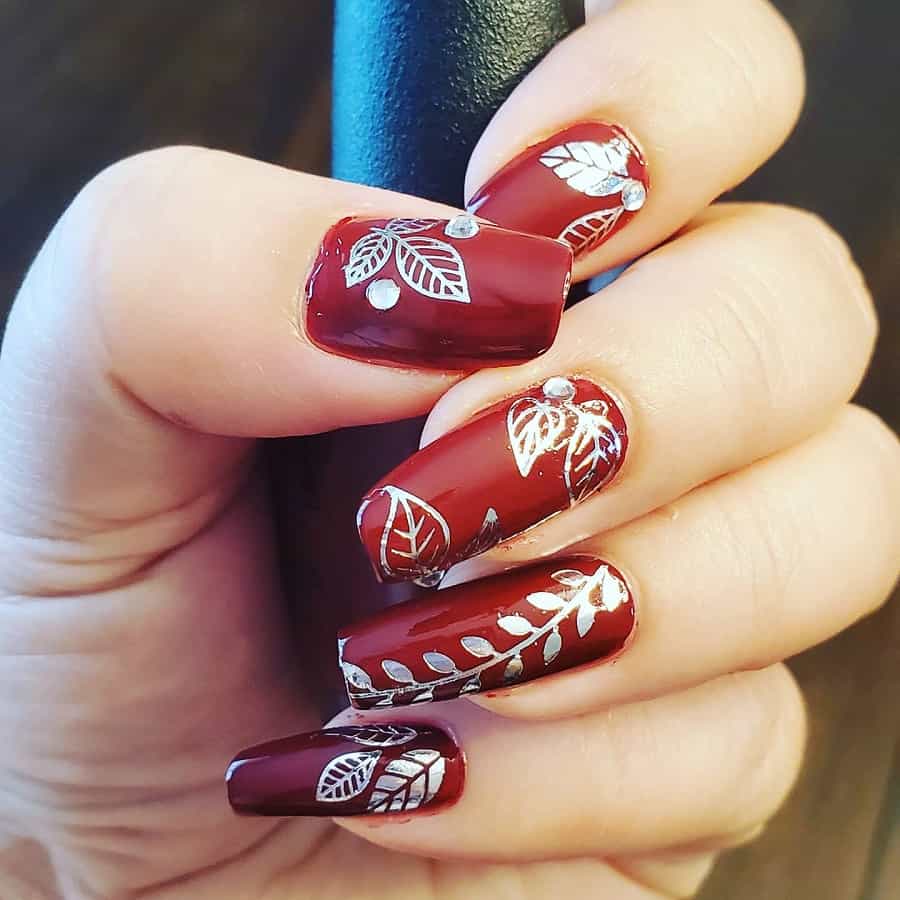 Dramatic is the only word that comes to mind when we see these long square nails. Dark red coats their beds, helping silver leaf designs pop. Use gems sparingly for extra sparkle.
9. Silver and White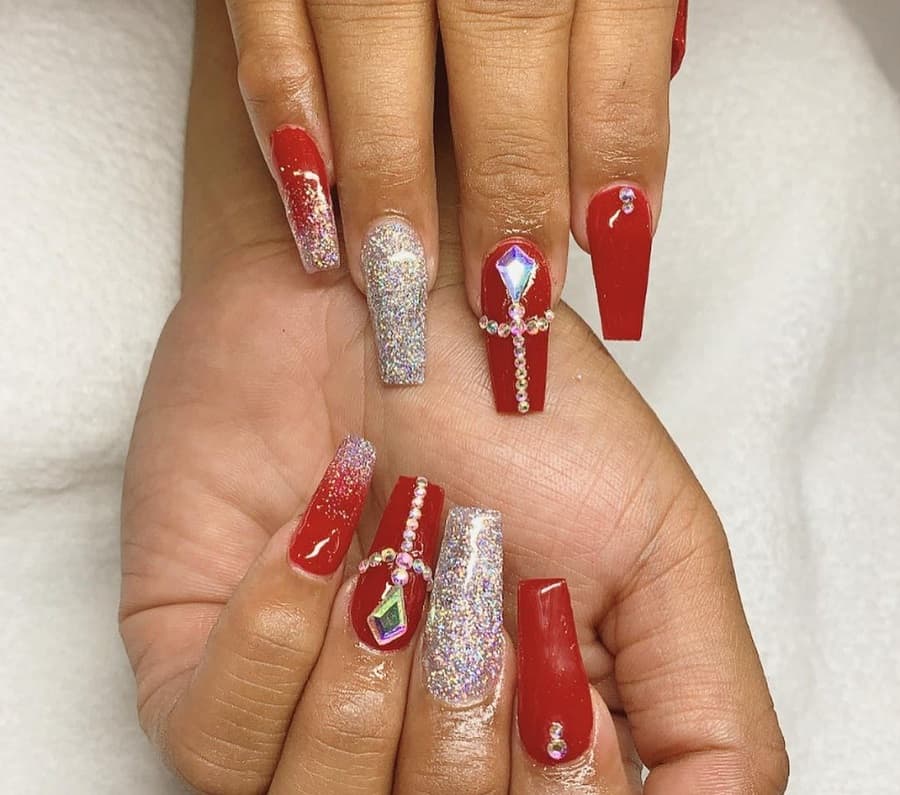 Pack a punch in your manicure by off-setting red nails with glittery silver and white polish. You can also make accent designs with a combination of large and small nail gems.
10. Red And Silver Acrylics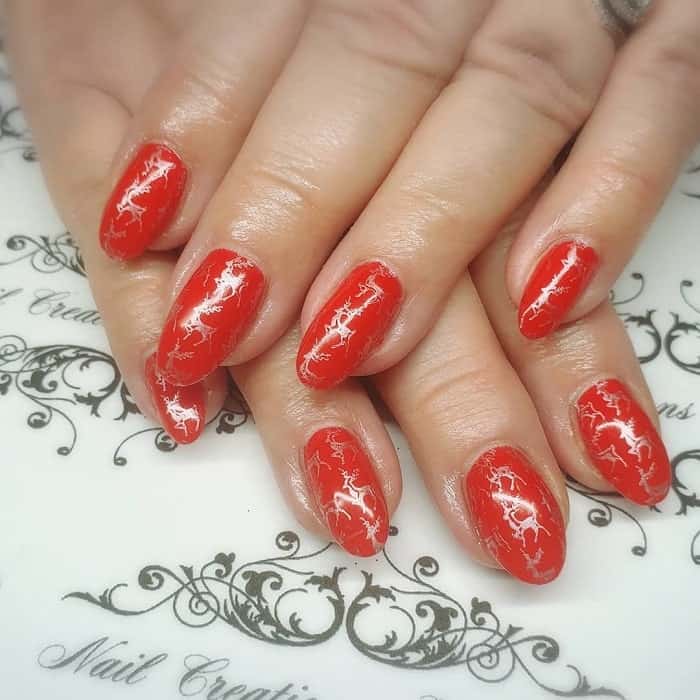 These long almond nails show how beautifully a bright red with silver swirl detailing can be! To get a precise swirl, see a nail tech. At home just take the brush and swirl it around your red nail.
11. Red Nails with Glitter Silver Tips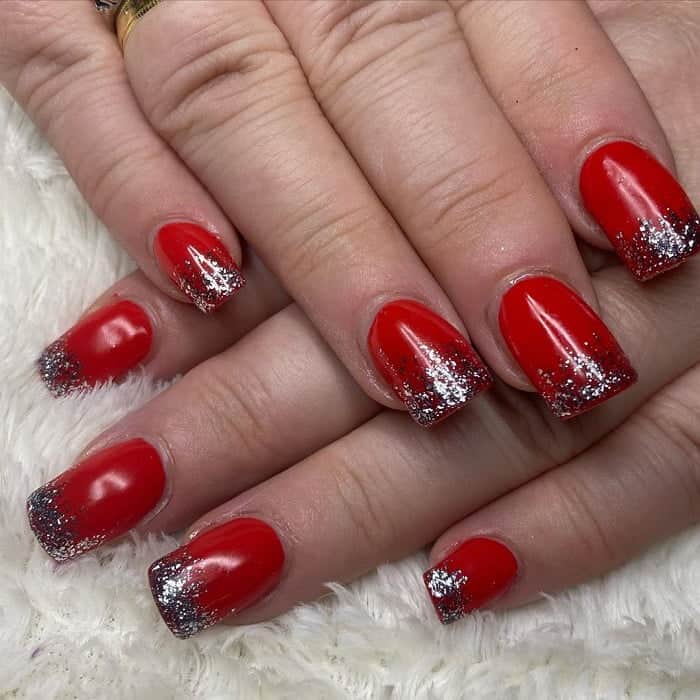 For that holiday coming up, go for these red long square nails! They're tipped in sparkly glitter silver, so you're sure to catch the eye of anyone under the mistletoe.
12. Silver And Dark Red Ombre
Another festive holiday nail style includes these dark red round beauties. The glitter ombre nail is shimmery all over but the real action is at the sparkly gold tips!
13. Dark Red and Silver Square Nails
Long square nails will give you the largest "canvas" to flaunt dark red and silver nails. Alternate the colors or use the silver polish on just the accent nail. The dark red nails can be tipped with silver glitter for their own sparkle.
14. Silver and Bright Red with Jewels
These bright red coffin nails look gorgeous with a very sparkly accent nail. To bling up the red nails, add silver jewels in various shapes and sizes at the top.
15. Red and Silver with Black Detailing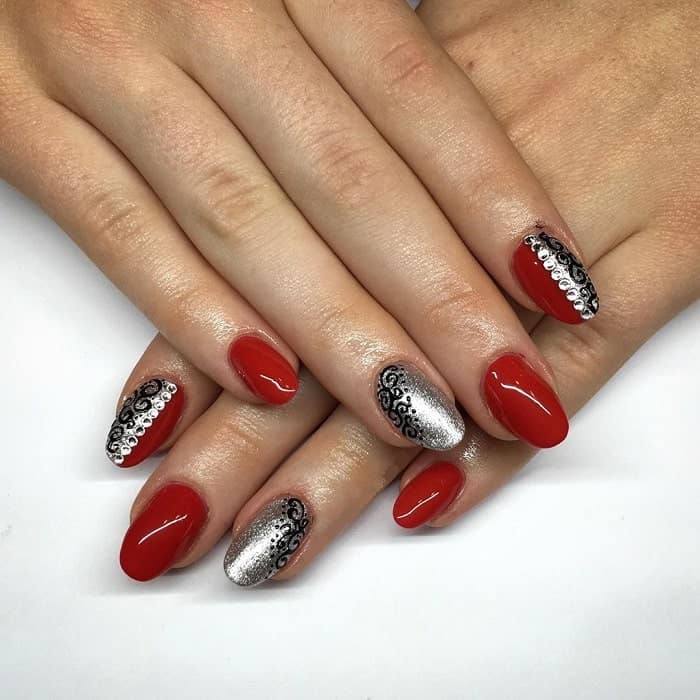 These red and silver almond nails leave a little more room for creativity. Start by painting nails red, leaving the accent nail in only silver.
Using nail stickers, add swirled detail in black on half the nail. Tiny rhinestones will also jazz up these nails.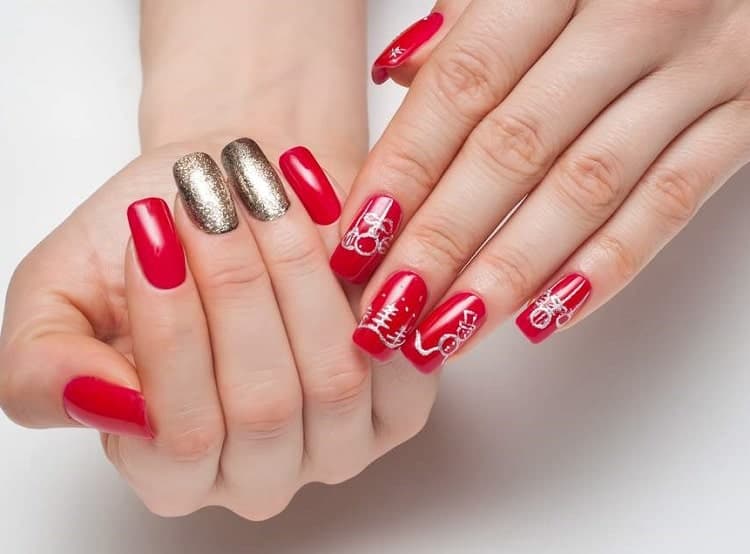 Bright red square nails are sure to pop, especially when you add a sparkly gold nail or two. On a few of the red nails, try your hand at drawing on silver scenery like Christmas trees or snowmen.
17. Red and Silver Holiday Nails
To be ready for the holidays, choose bright red for long squoval nails. Use silver glitter to dress up the ends and bright white to draw large snowflakes with a jewel for the center.
It's easy to get these shiny red Christmas nails. Just color half the tips with glittery silver, draw a thin white line for the border, then add tiny white snowflakes and dots on just the accent nails!
19. Dark Red with Silver Tips
Define the curved edge of round or almond nails by first painting them dark red, then defining the tips with solid silver. The solid tips will make the nails, and consequently, your fingers, look longer.
20. Red and Silver Chevron Toe Nails
Bring that red and silver design to toenails as well! To get the above design, start with dark red, then draw on alternating thin silver stripes and chevrons, filling in some of the nails with solid glittery silver.
On extra long square or coffin nails, choose a bright red to make them stand out better.
Paint 3/4 of the center and ring fingernail with a transparent glittery silver, and finish by adding small and large rhinestones to the red nails!
Just looking at these gorgeous red and silver nails has us feeling festive already! Bookmark our list of 21 favorites above because we're sure you'll want to come back for another hot red and silver nail design soon!