Panda Nail Designs: 30 Cutest Ideas for 2021
Pandas are a symbol of gentleness and strength, and they are the cutest animals on the planet. They are also known as a good luck charm, a symbol of peace and of an ability to take the time to reach your goals. Pandas resemble the image of a baby with their cute and round faces, big black eyes and snub noses.
Pandas are native to south-central China.  Pandas are very important to the Chinese people because they are one of the rarest animals of the world which are critically endangered and are on the red list of threatened animals. And Chinese people are aware of the existence of their very own animals.
Pandas have become a component of nail designs because of their cuteness. You can have cute panda nail designs on your nails to adore them.
Panda Nail Designs to Cherish the Innocence
The cute face of a panda is enough to make your nails look beautiful. Panda nail designs are mostly associated with the image of the pandas, bamboos and a family picture of the pandas. Bamboos are so dominant in panda nail art because their diet is almost 99% bamboo.
With our simple and easy advice, you will have these kawaii cuteness overloaded nails in no time. But be aware of little children, since they will probably see a true trendsetter in you because these panda nails are so approachable, soft, and gentle.
#1.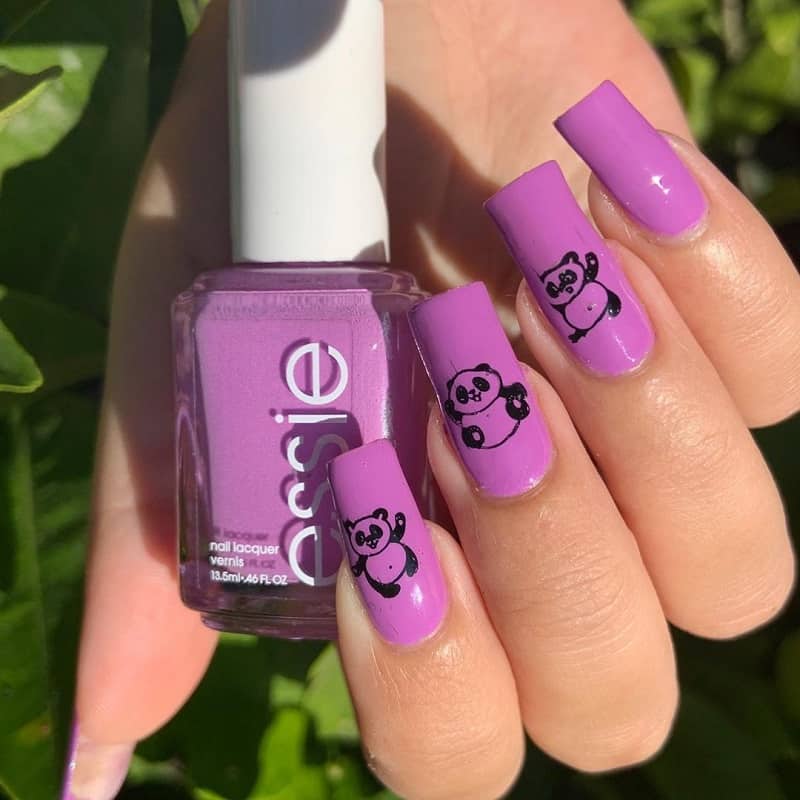 panda gel nail designs
#2.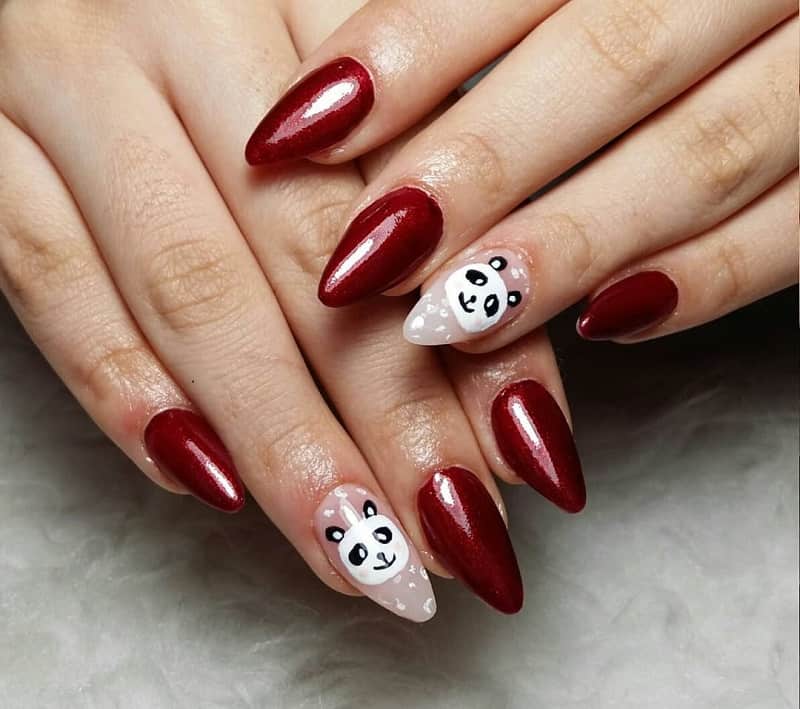 red panda nail designs
#3.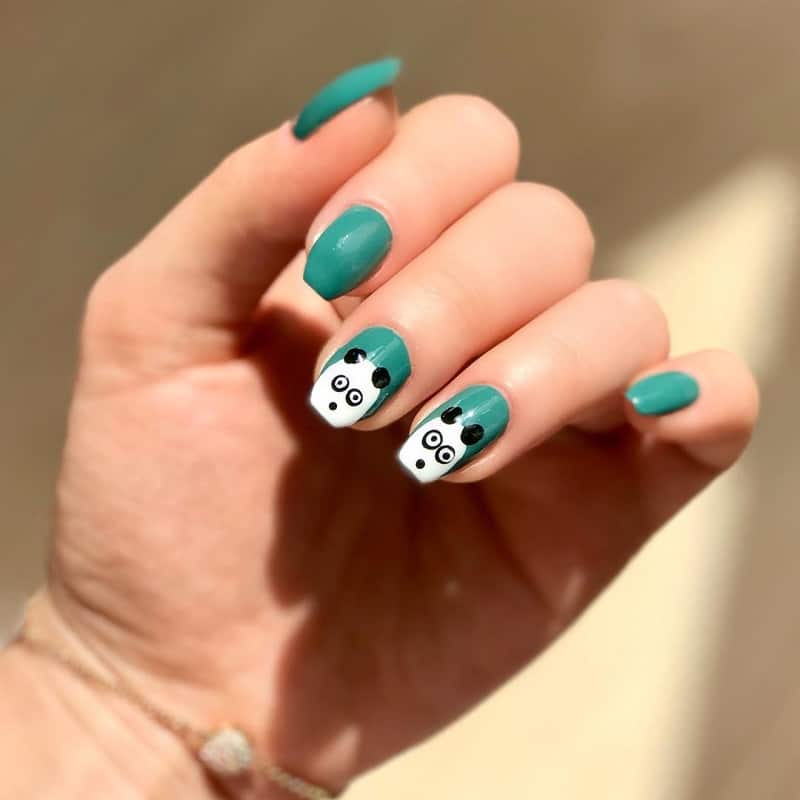 panda acrylic nail designs
#4.
panda face nail design
#5.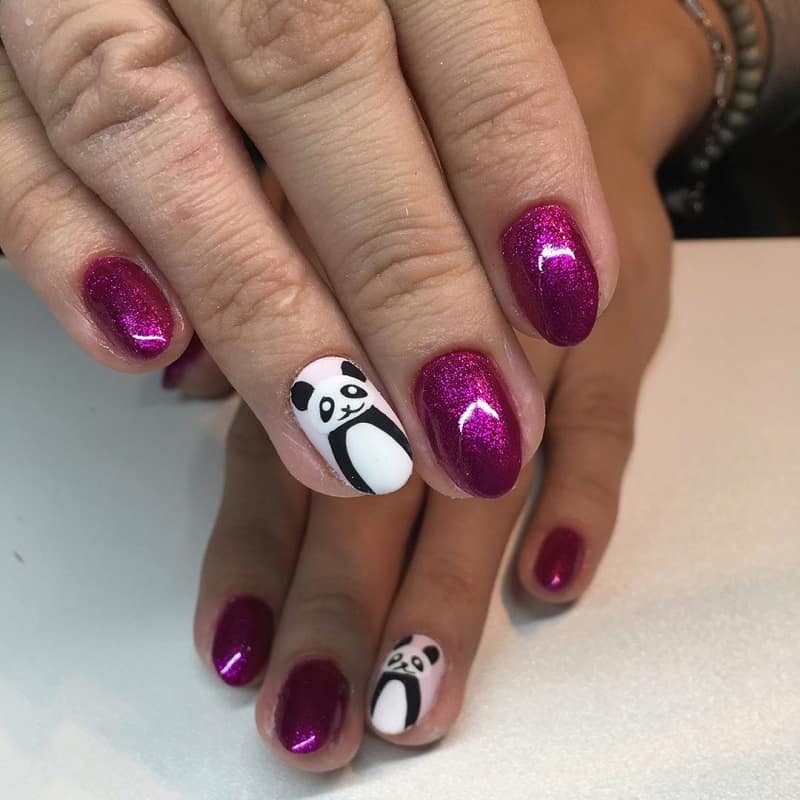 sns panda nail design
#6.
kungfu panda nail art
#7.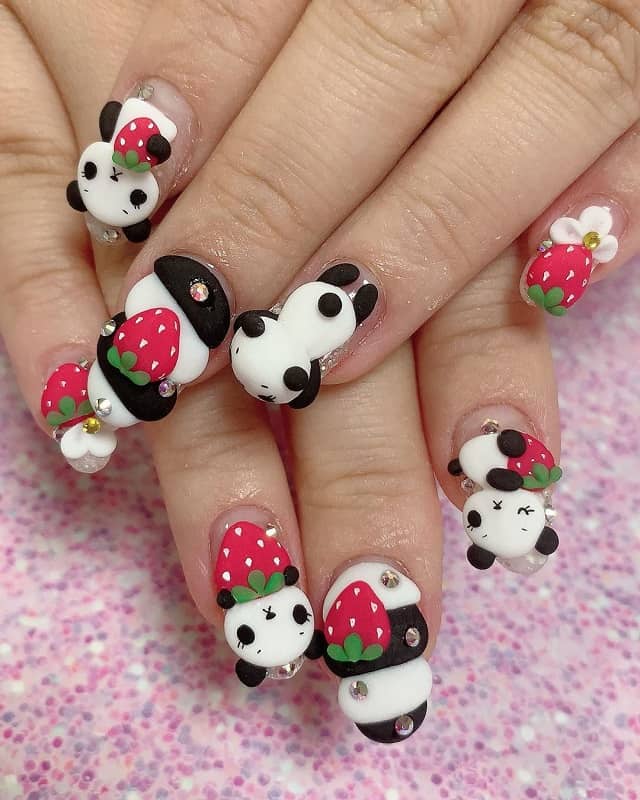 3d panda nail art design
#8.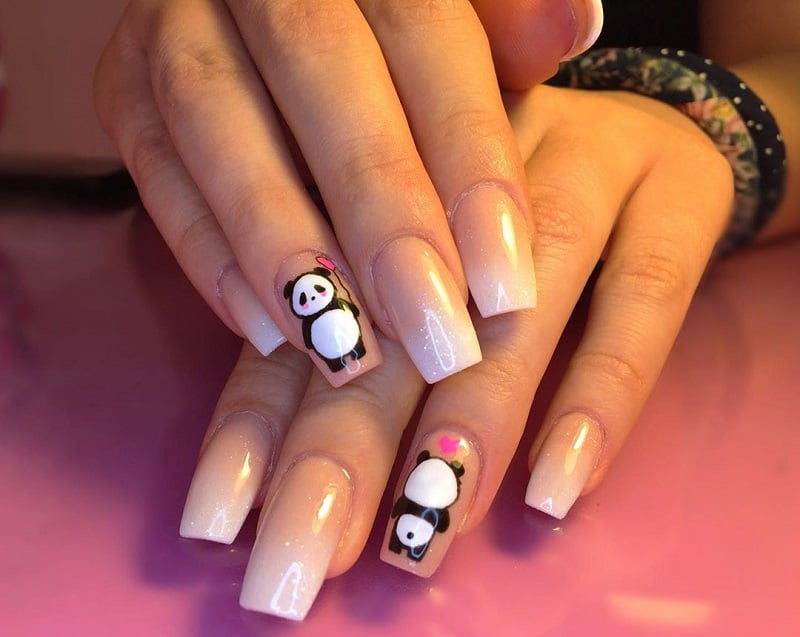 panda nail art stickers
#9.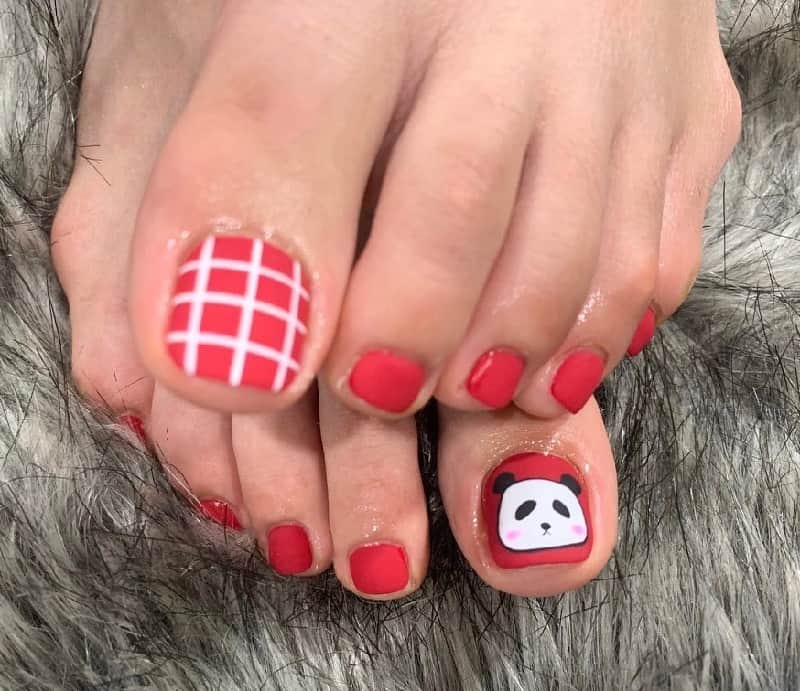 panda toe nail designs
#10. Little Panda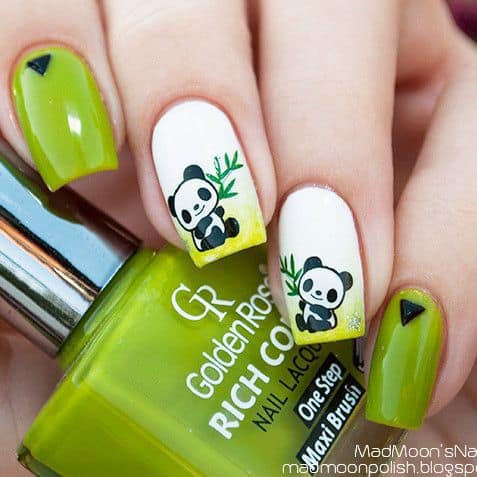 This design is so adorable. Two little pandas are giving a happy look holding bamboo leaves on their hands. If you can do this designs properly, it will surely win the heart of your folks.
#11. Sad Pose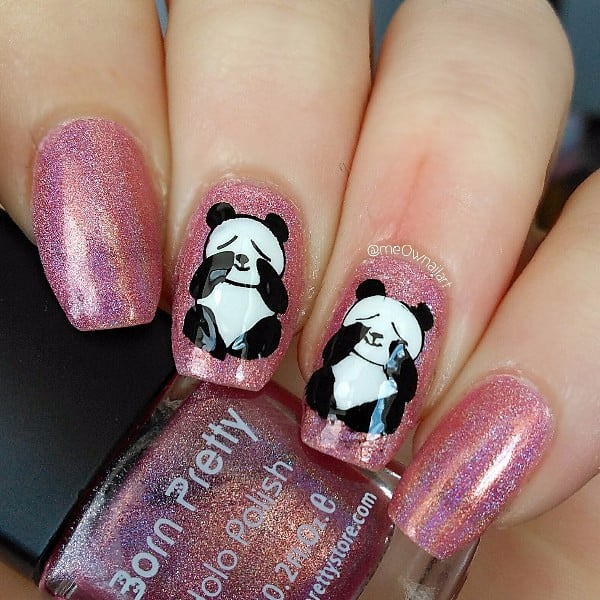 Pandas are usually cheerful. But they may get upset too like other animals. If you want to express your inner sadness by using panda nail designs, you can choose this sad pose.
#12. The Parenthood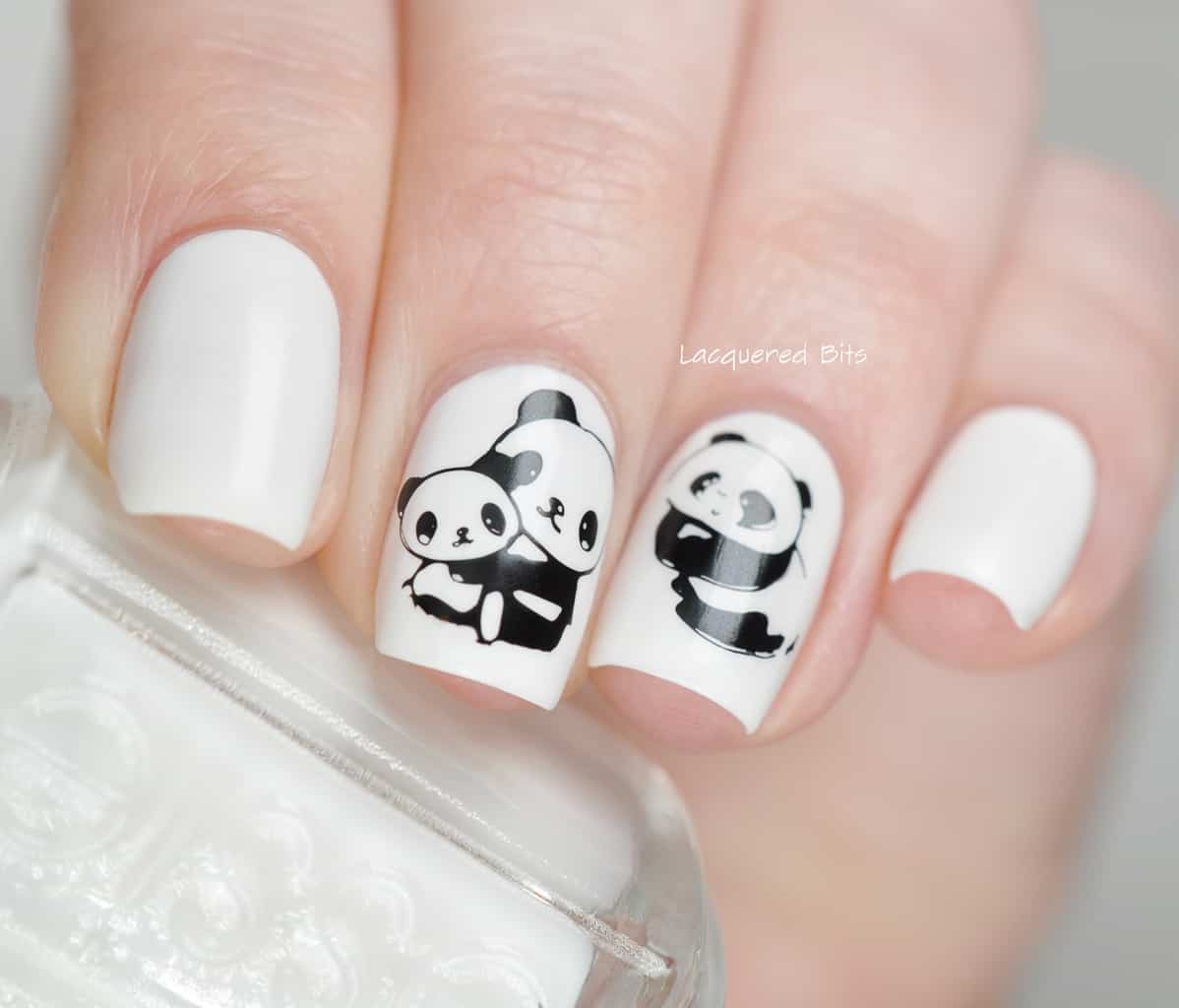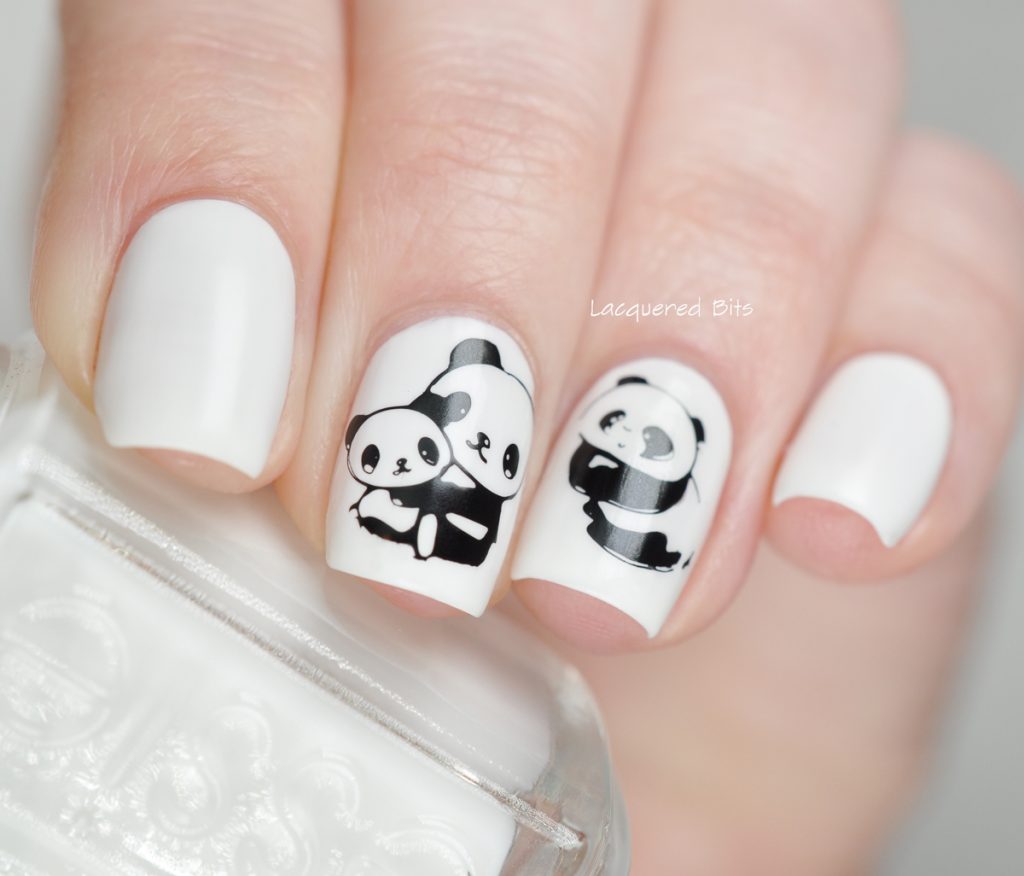 They are a very familial animal. Most of the panda mothers are often seen around their babies. You can illustrate panda parenthood on your panda nail designs.
#13. Babies in Baby Blue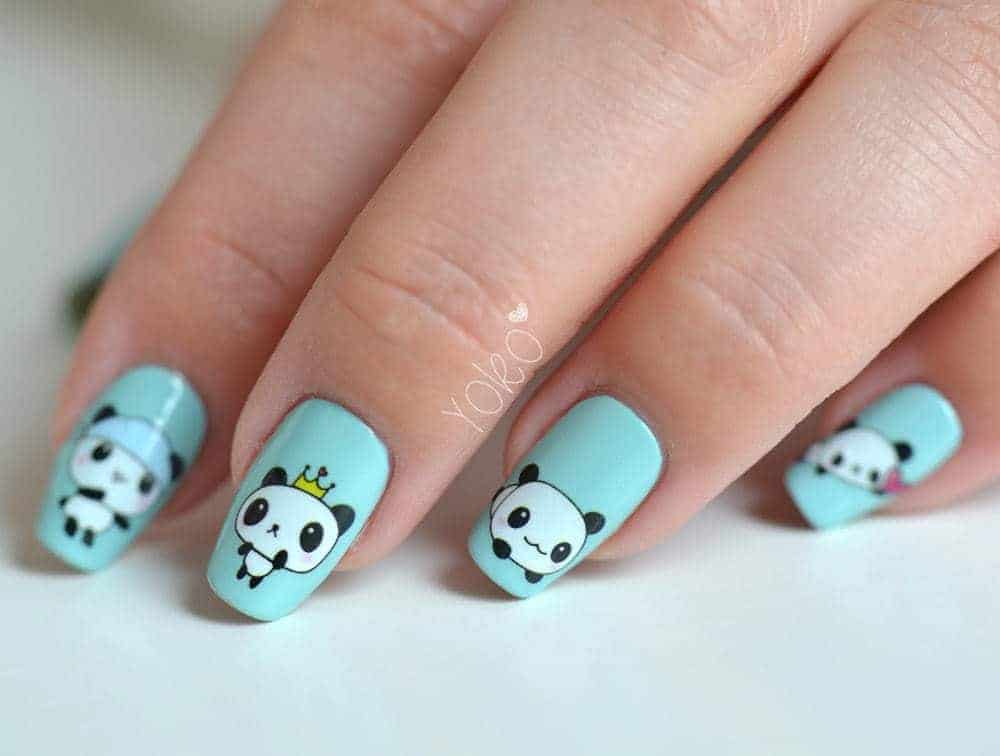 This design is so cute. You can draw some baby pandas on your baby blue nails to have this design. You can paint each nail with different images of baby pandas to create variations.
#14. Bamboo Lovers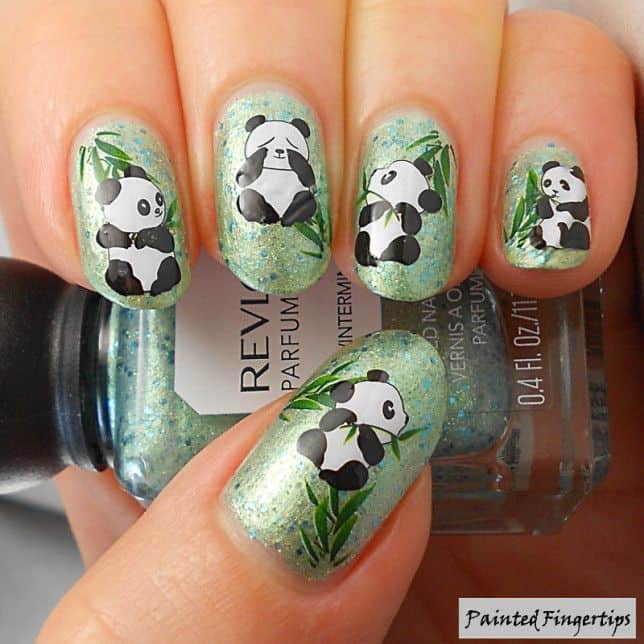 Bamboo is the only thing they love the most. Their diet is all about bamboo. Bamboo and Pandas are so integrated with each other that I can't imagine panda nail designs without the presence of bamboo.
#15. Panda Accent Nails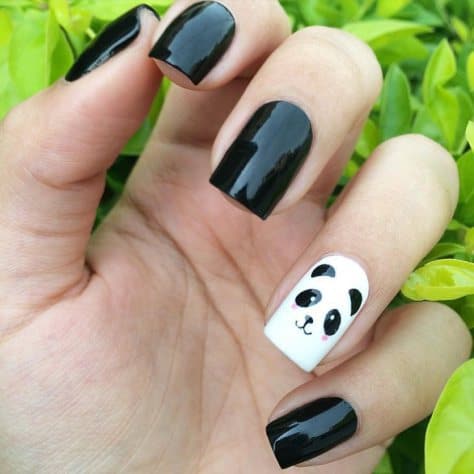 Paint all your nails with black and keep one reserved for a panda. Draw the image of a giant panda on the left out white nail to accentuate the whole nail design.
#16. Love for Pandas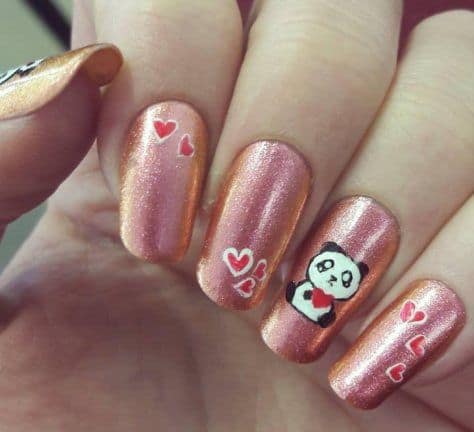 You can show your love for pandas by this design. Or a sad face of panda can be the way to melt the iron heart of your beloved if he gets mad at you. So, have the image of a panda drawn along with heart shapes for panda nail designs like this one.
#17. Panda Nail Art for Short Nails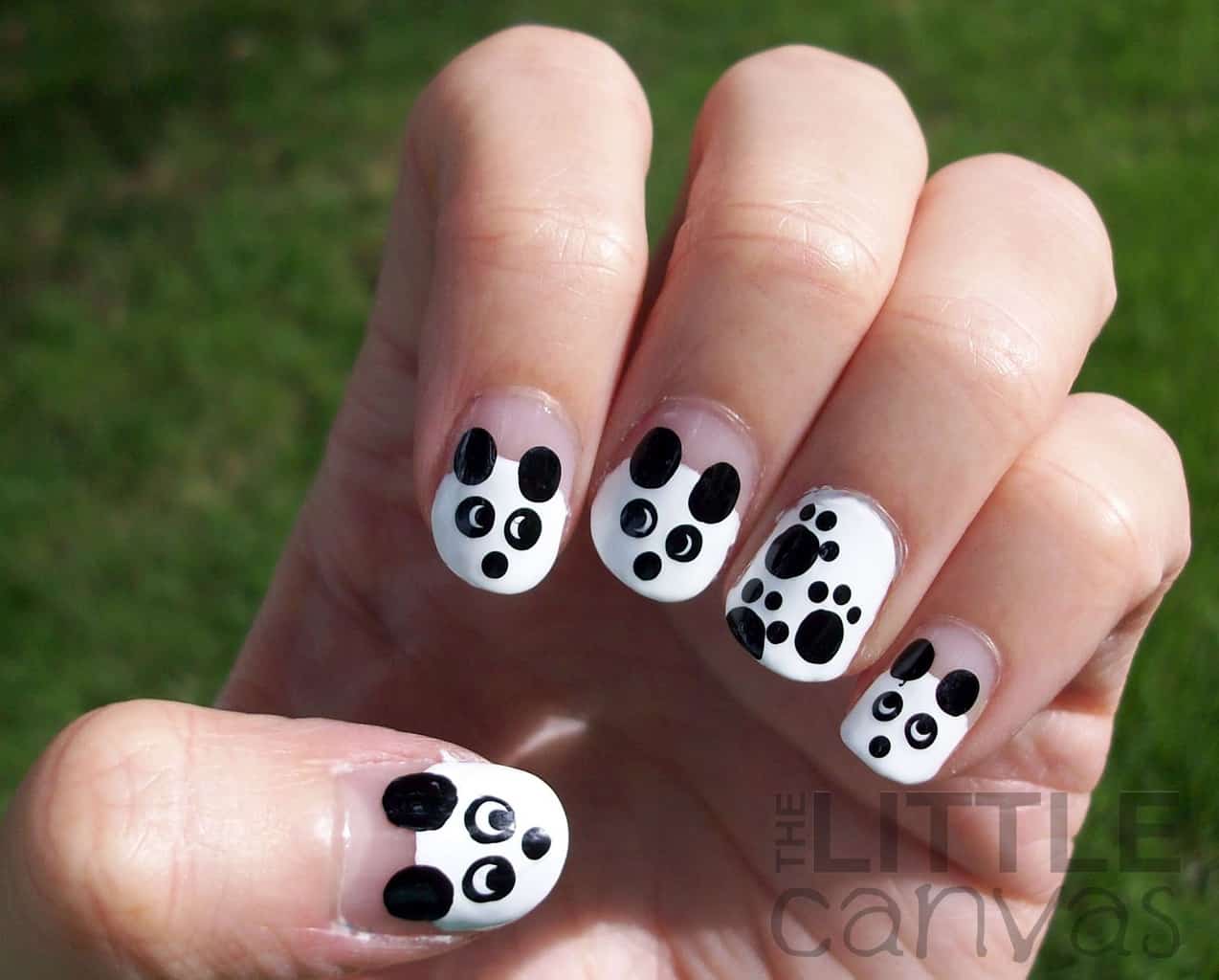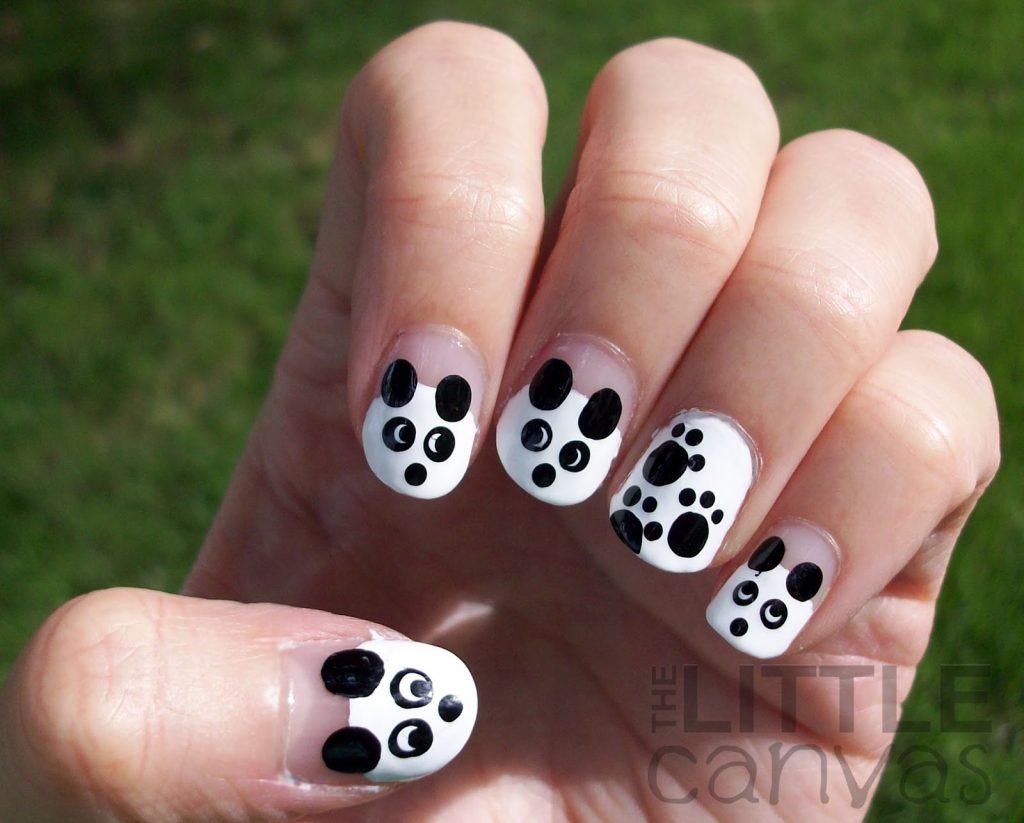 Short nails are perfect for panda nail art. The round head of pandas complements the short nails. Draw the images of the panda on your nails keeping the black patches as much realistic as you can.
#18. Peeping Pandas
Pandas are shy animals. You can illustrate their shyness in panda nail designs. Draw some peeping pandas to get these nails done on your nails.
#19. Into the Wild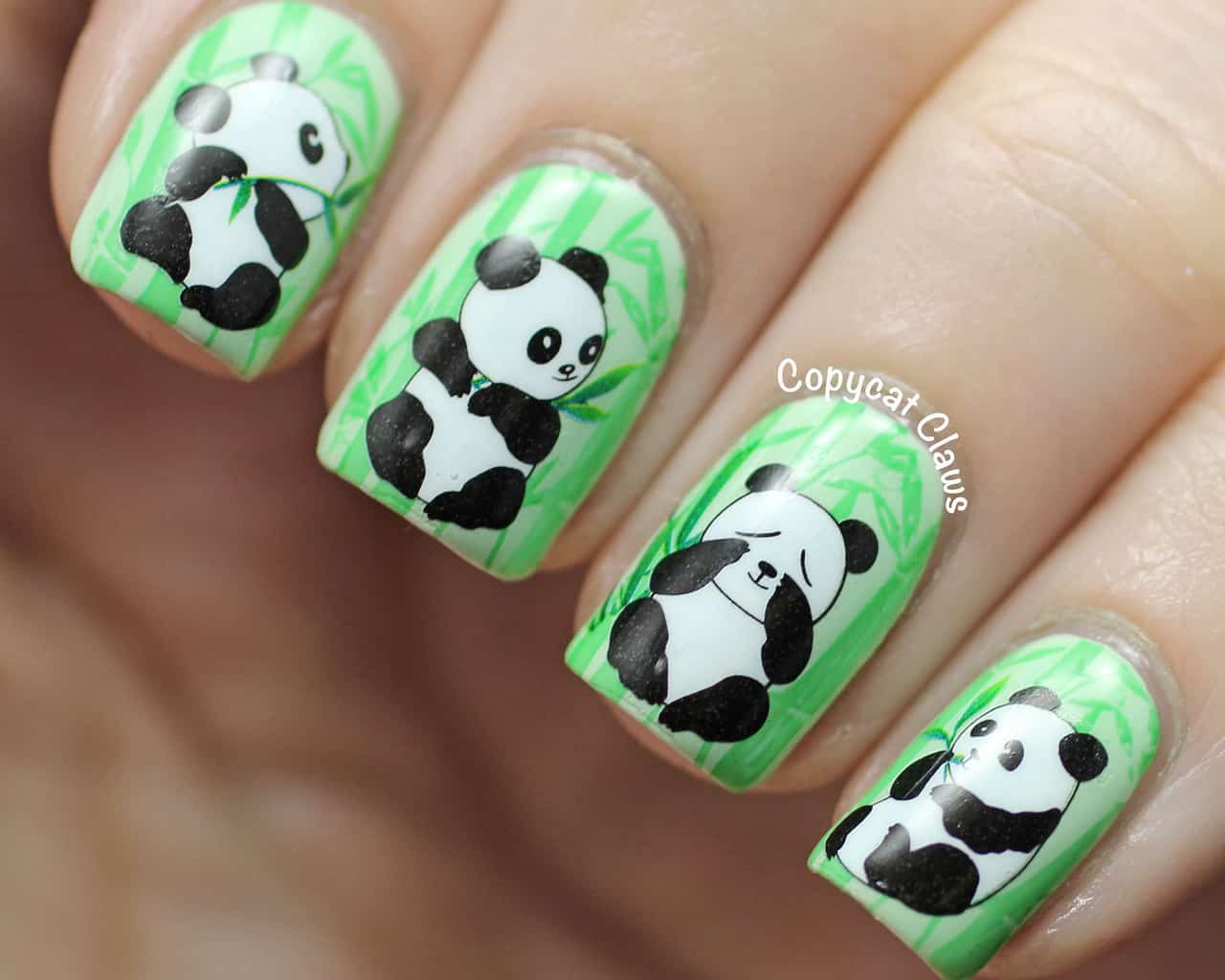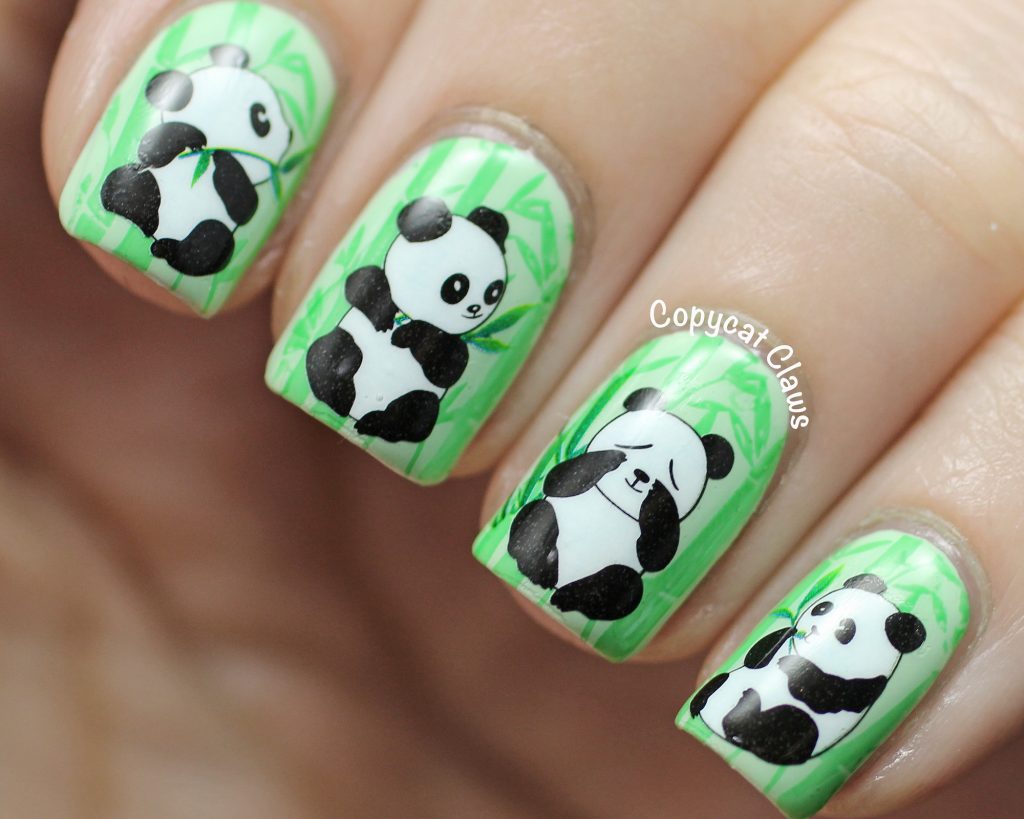 You will find a panda surrounded by bamboos if you ever go into the wild. Pandas leave in a place where bamboos are available. Their love for bamboo is recognized worldwide.
#20. A Lonely Panda
Pandas are one of the most endangered animals. They are at the threat of extinction. Who knows? Someday there might be no panda left. This lone panda creates the sense of loneliness without its fellows.
#21. Lazy Panda
Pandas are lazy in nature. They like to eat and take rest. This picture is the perfect depiction of the life of a lazy panda. You can draw panda images on your sky blue nails to have panda nail designs.
#22. Panda Nails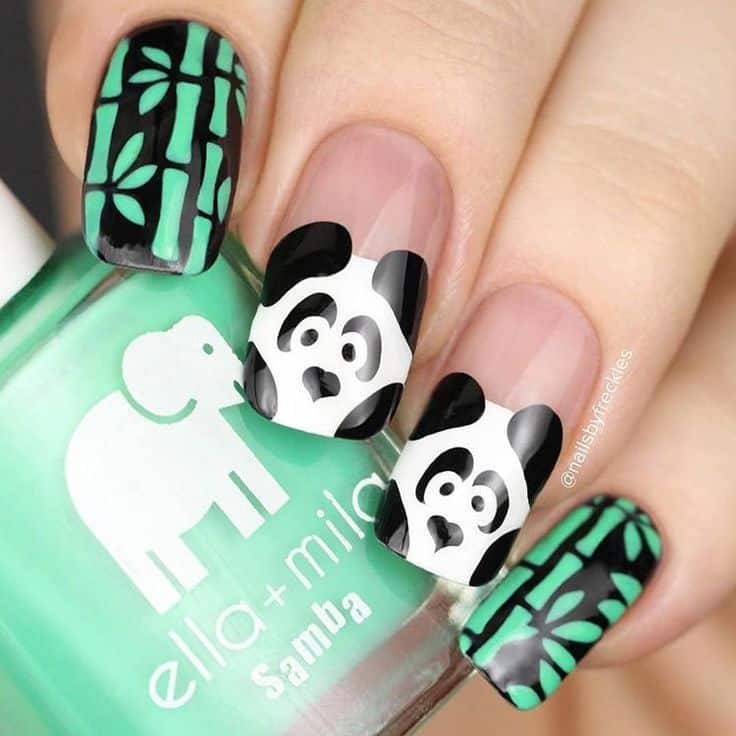 The images of pandas and bamboo are enough to draw panda nails. You can keep it simple and accurate.
#23. Feminine Panda
This panda nail art is especially done for the female. The feminine grace of this design will suit traditional women who have the tenderness and shyness in their nature.
#24. Colorful Panda Nails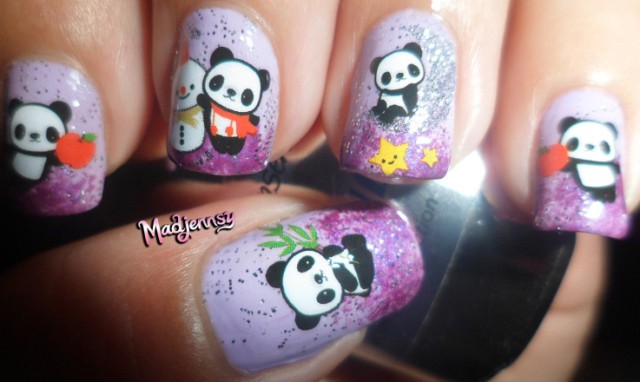 Most of the panda nail designs are either black and white or green. If you want them to be colorful, you can choose this design. Black and white panda are looking great here on the purple nails.
#25. Cute, Short & Black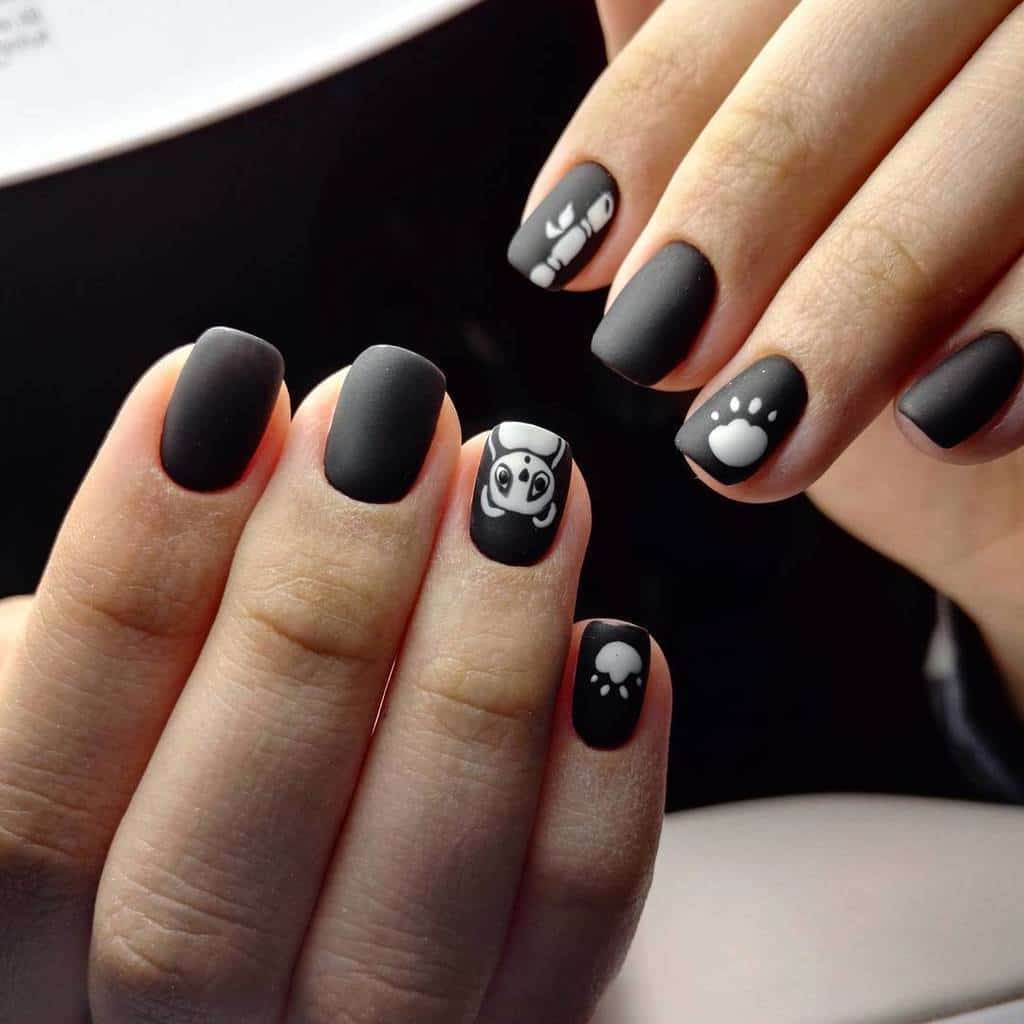 This panda nail design is too cute to handle. You can even see how precise the lines are, and the details are stunning. This is also a perfect example that you can look extra cute with only one panda print on your nail, so it is' not always the quantity but the quality.
#26. Big Panda
This cute hidden panda nail design is perfect for the younger audience. It just looks fun and is suitable for a kids birthday party. You can get them done for yourself, your kids, siblings or nephews since they will all want to match you.
#27. Polka Panda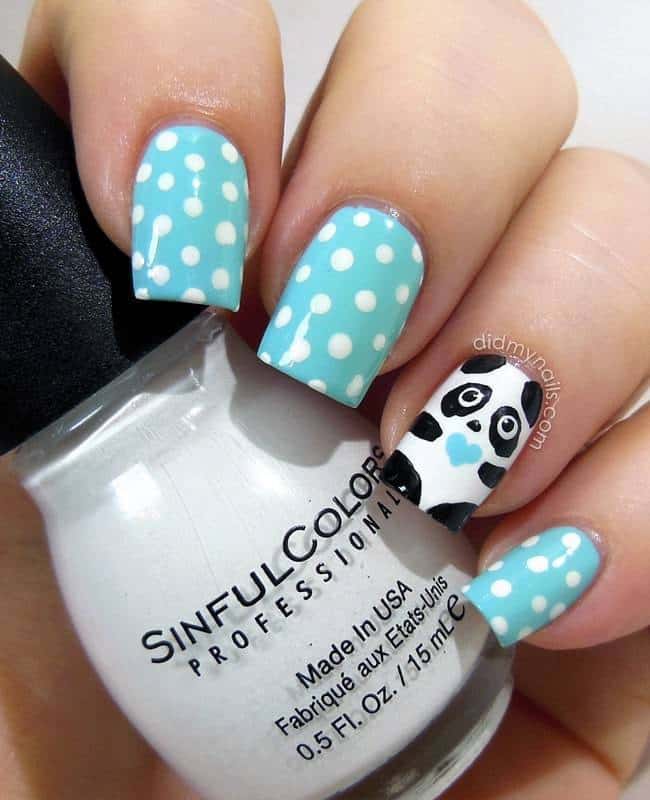 This little blue buddy came out of nowhere. If your favorite color is blue, and panda is your spirit animal, then what are you waiting for? Get the exact same nails ASAP. They look so soft and heartwarming with these light colors and these timeless polka dots.
#28. Panda Is Tipsy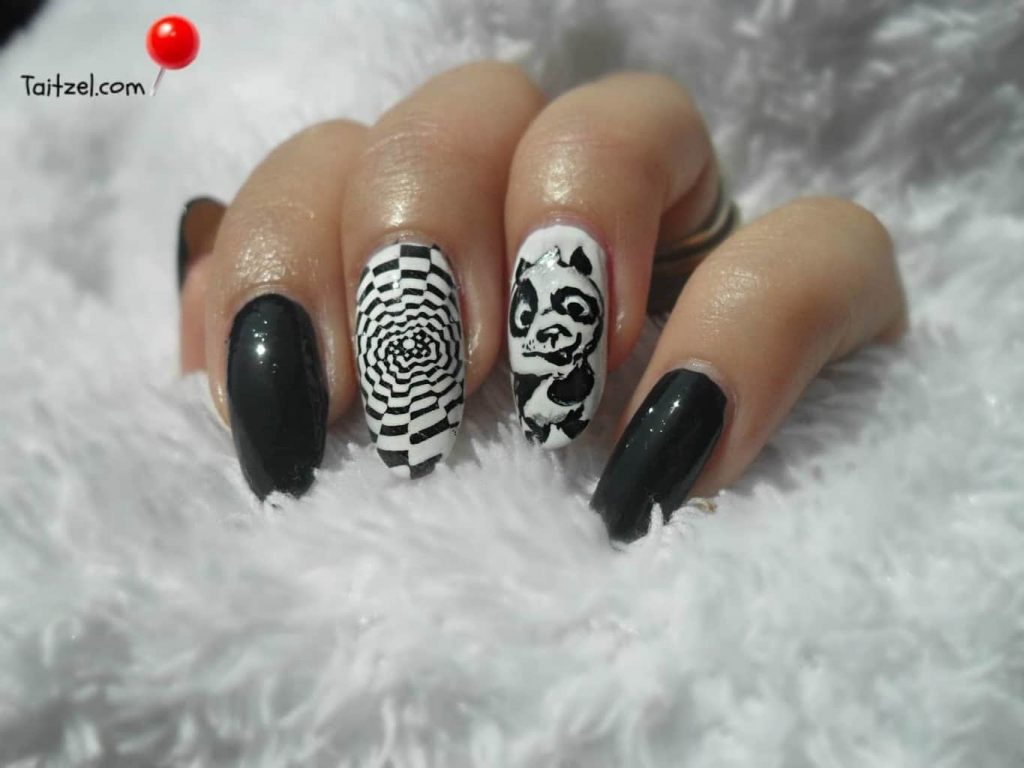 This crazy looking nail art of a swirl and a funny looking panda is very unique, and that's why it is on our list. You can tell that the panda had a lot of fun, and so will you while rocking these panda nail designs!
#29. Princess
Can they get anymore kawaii? Panda nail designs are out of this world, just look at our green princess. These nails are perfect for a baby shower, or just Valentine's since they are fulfilled with happy, lovely and positive vibes.
#30. Hi There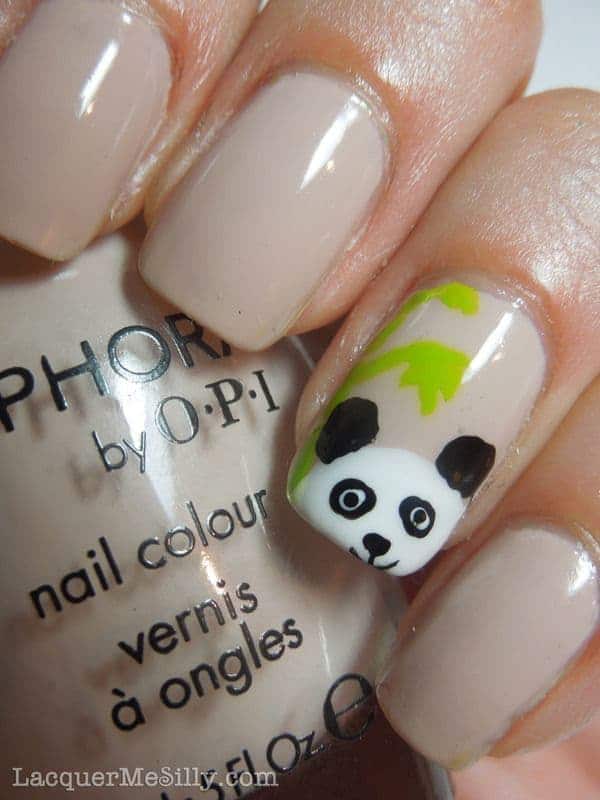 I feel like I'm being watched, and you? This little guy is constantly in my sight and we do get along. Probably because he is so cute looking and gentle.
Teach Me How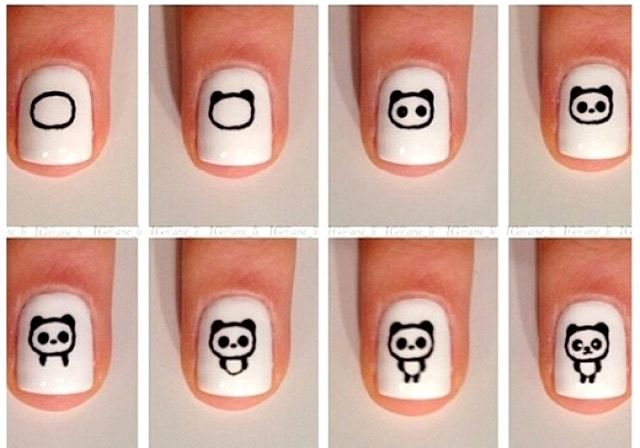 In this picture, you can actually tell how easy it is to achieve these panda nails. A step by step tutorial for all of the beginners. You just need to have a dotter and a liner brush and you will get the job done in no time.
Don't confine your thoughts only on designing panda nails, do something to save the animals from getting extinct. We should be careful about the bio-diversity of our nature. In the end, we hope we've made your little heart melt because we sure felt softer in the middle. Have fun choosing and rocking your good luck charms.