Square, oval, round and squoval shape, no matter what shape you have, snowflakes designs are suitable for each of them. Let's celebrate this winter with amazing nail designs.
The Best Snowflake Nail Designs
#1. Snowflake Acrylic Nails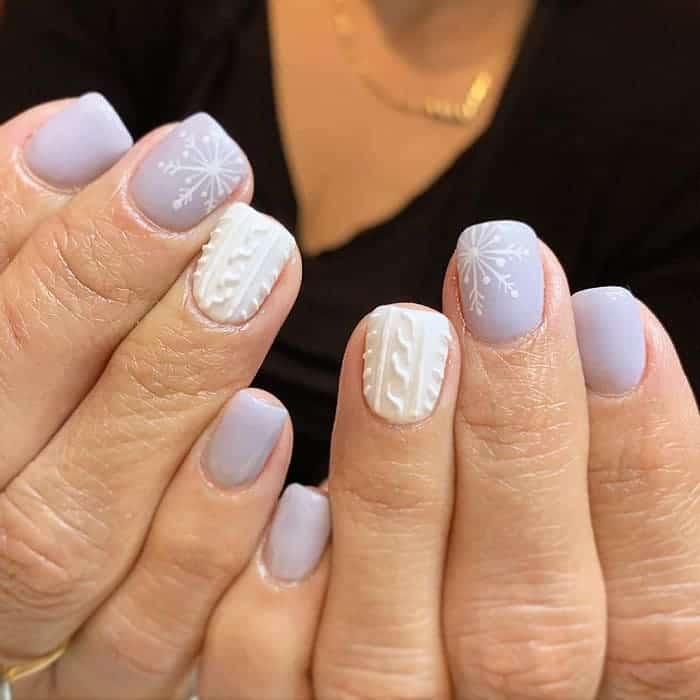 #2. Snowflake Coffin Nails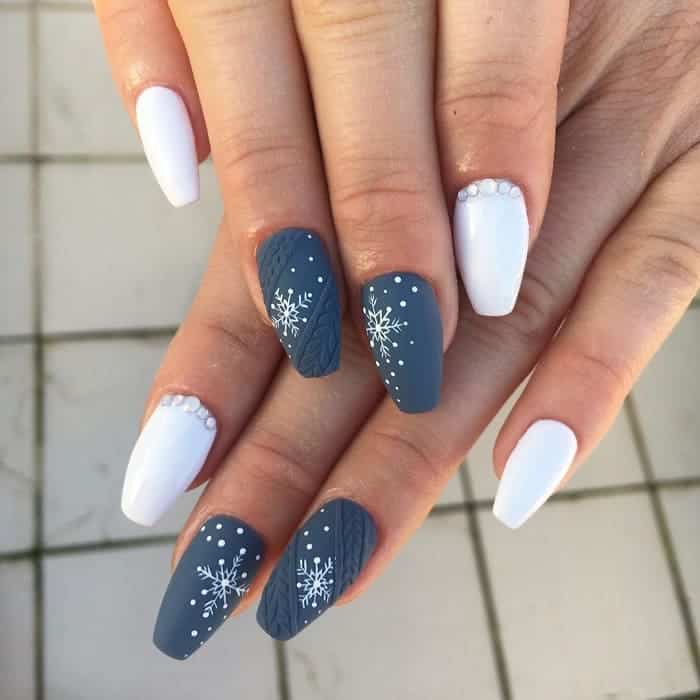 #3. Snowflake Nail Art with Stickers
#4. Snowflake Gel Nails
#5. Clear Snowflake Nails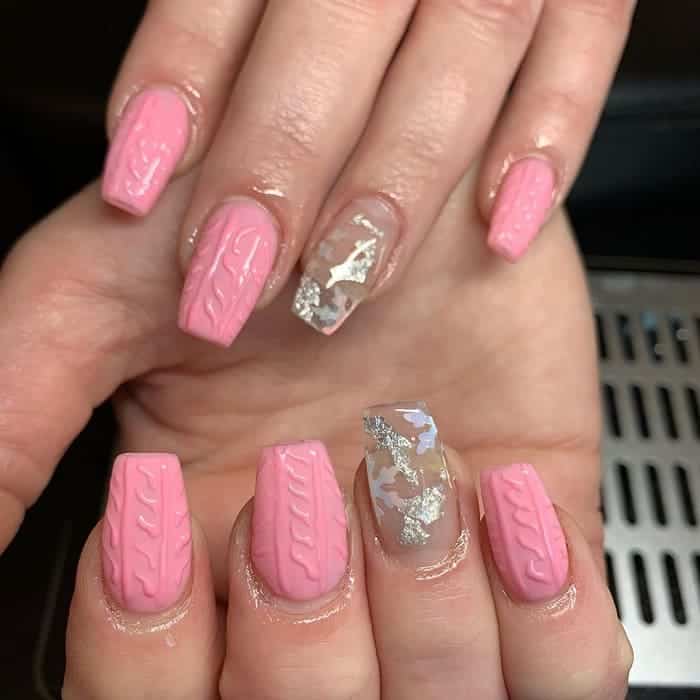 #6. Grey Snowflake Nails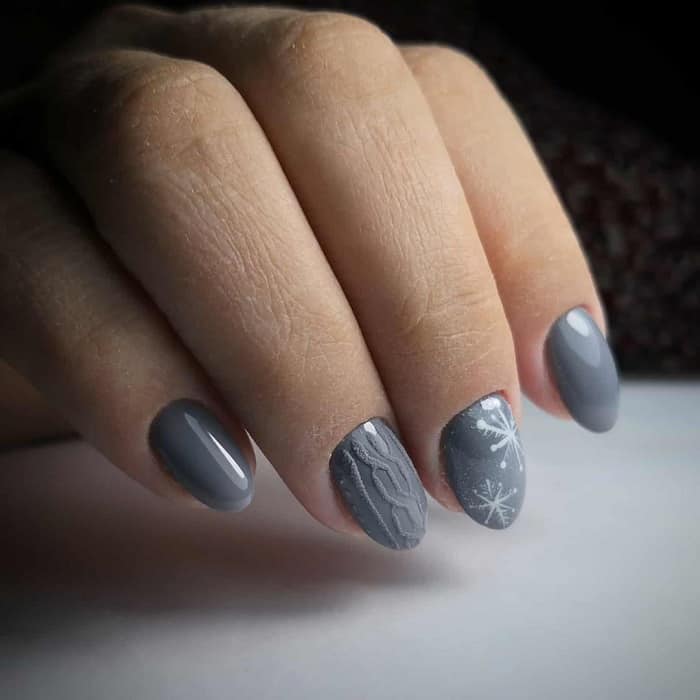 #7. Blue Snowflake Nails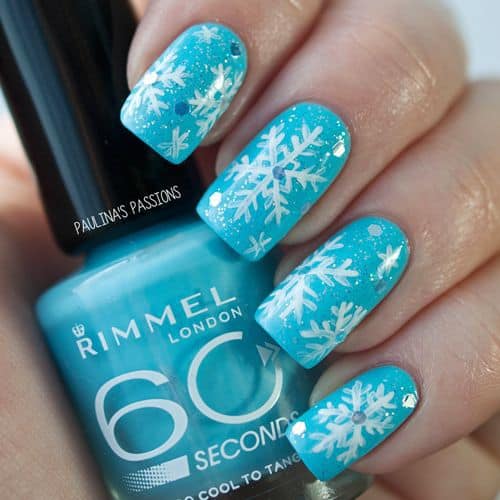 You can use shiny sky blue nail polish as the canvas for snowflake nail designs. Draw the patterns as directed in the second paragraph of this article. You can draw more than one patterns after determining more than one central point of your pattern.
Delightful Nail Art With Flowers
#8. Pink Snowflake Nails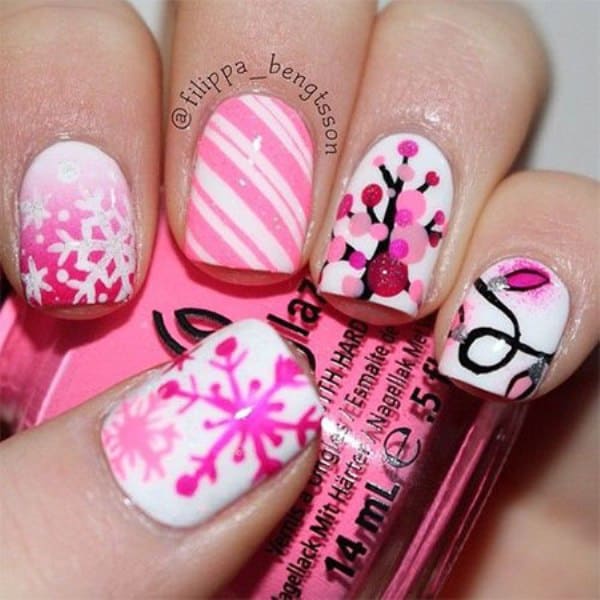 This pink nail design is a bit different. It has a striped design of white and pink and a snowy tree of black and red. These different designs help conventional snowflake nails to make a difference.
#9. Snowfall on Black Nail Art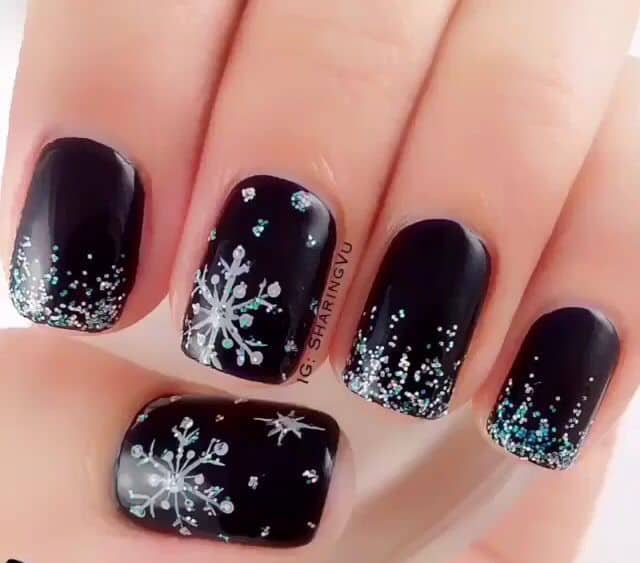 White or silvery snowflakes on black look really marvelous. To have the best output use silver shiny glitters for this design.
#10. Red Nails with Snowflake
Red is the hottest color for any occasion. You can use this red and hot color to add some warmth to the cold of winter. Draw the edge of the red acrylic with glitters to give a glitzy look to your snowflake nail design. Then draw some tiny snowflakes and polka dots to give the finishing touch. Now spread the hotness!
#11. Colorful Winter
You can simply adorn your nails with snowflake nail arts with different colors. Use your favorite colors to draw snowflakes on a white base.
#12. Golden Snowflakes
This design is simple to have but it looks so stunning. Create snowflake arts on the black surface of the nails. You can design one nail differently if you want like this picture.
#13. Mr. Snowman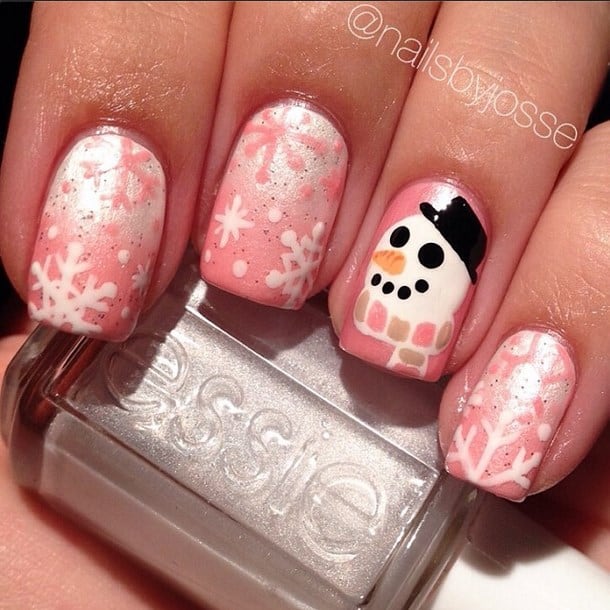 Snowflake designs are often used together with an image of a snowman. This snowman is an immensely popular character of the animation movie 'Frozen'. Since the release of this movie, this has been used in feminine designs. You can draw this snowman in between the snowflakes.
Paint Your Nail Purple This Season
#14. Violet Breeze
You can use violet and purple to draw snowflakes. Use blue acrylic in two or three nails and snowflake designs on the other nails for your snowflake manicures.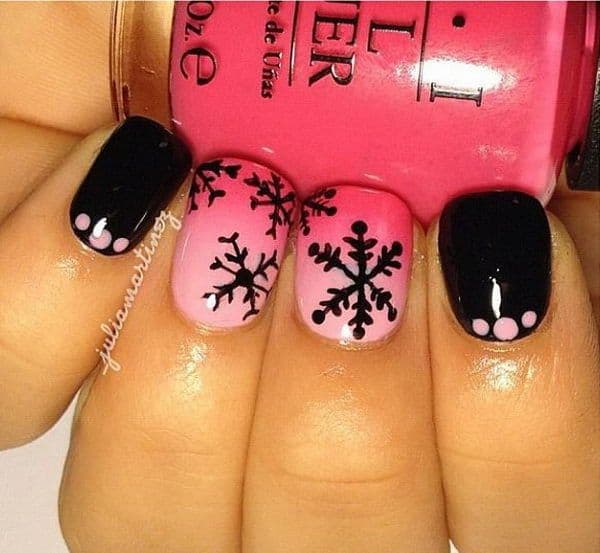 Very simple design. Paint snowflakes in black color on pink nail polish. You can fill some nails with solely black and draw some dots in pink for diversity.
#16. Nude Snowflakes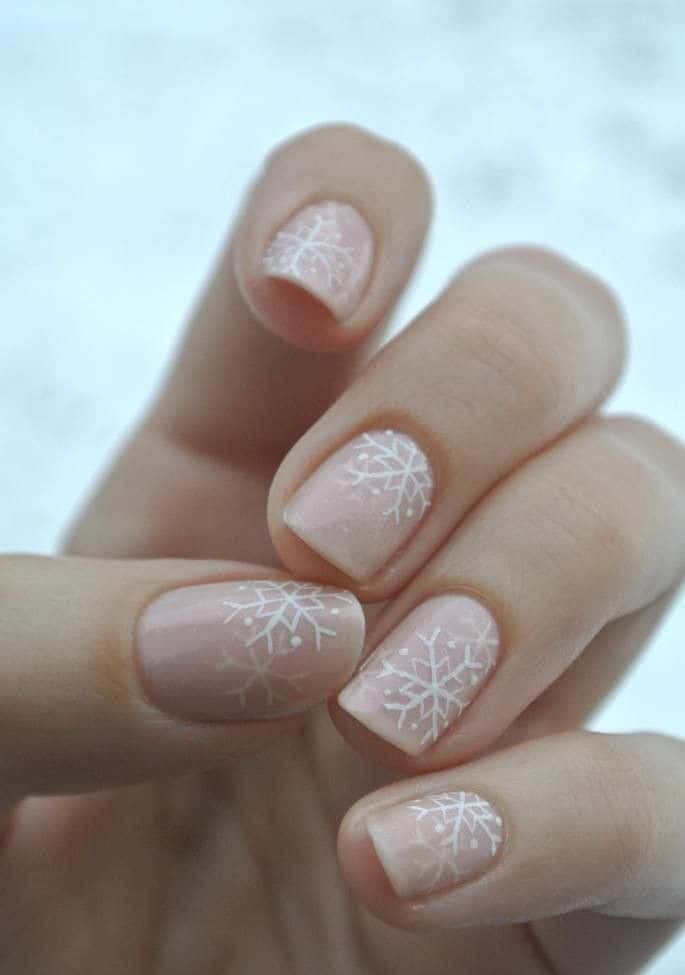 You can have snowflakes on a nude base too. Use glitters to make it attractive as it will not look beautiful if only a nude color is applied.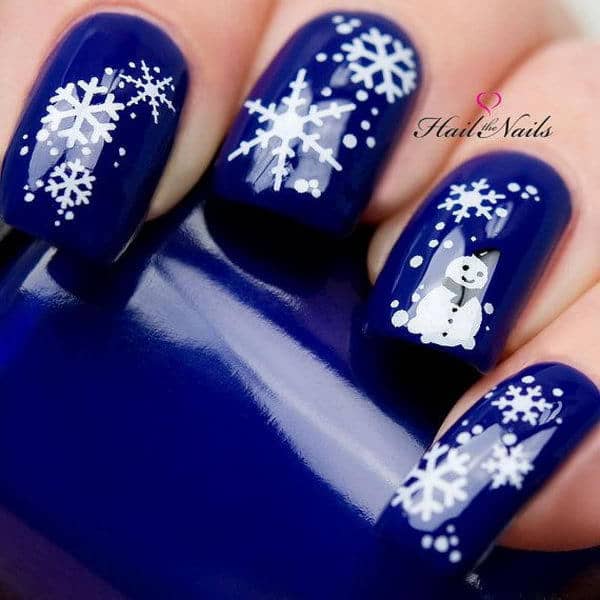 This design will be a big hit if you can accomplish the task successfully. Both the snowman and snowflakes are drawn in this design. You can use deep blue nail color. Then draw the patterns and image with white color for having a deep blue snowflake on nails.
#18. Winter Snowflake Nail Art
This design itself upholds the idea of winter. It will give a snowy look on your fingertips. You can use teal and blue color for the patterns.
#19. Blue Gradient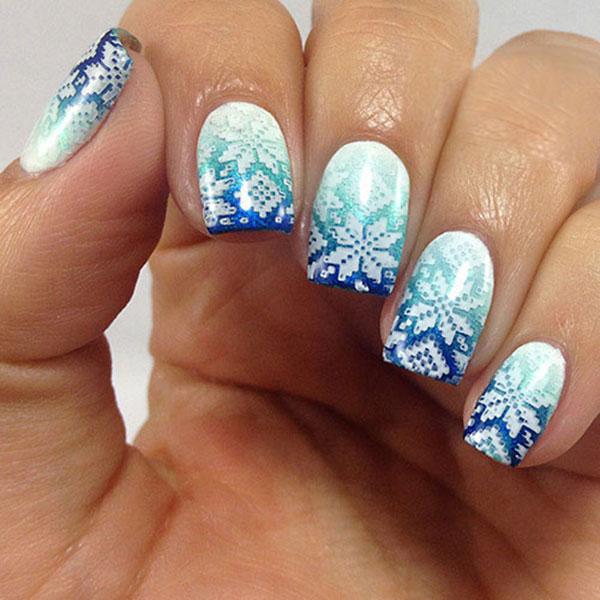 This gradient design is entirely inspired by the pattern of snowflakes. You can draw your nails like this picture to have the blue gradient snowflake nail designs.
#20. Polar Bear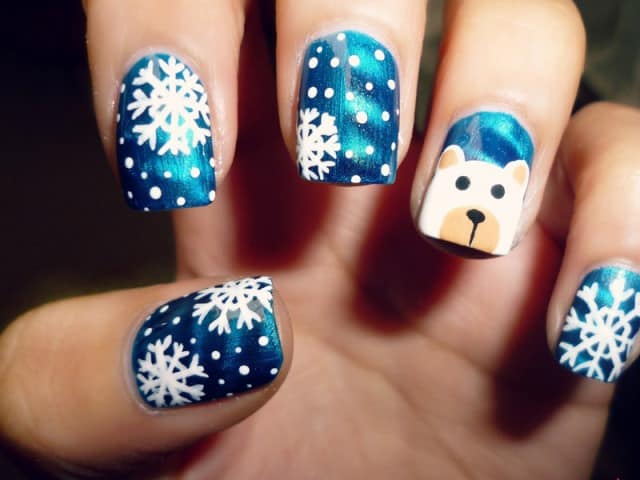 This design is simply outstanding! Polar bears are related to the idea of snow and cold. If you can draw a bear in between the snowflakes, it will do the trick for you. Draw the bear carefully as if it peeped through your nails.
#21. White Snowflake Nails
Solar nails also look beautiful with the snowflake designs. You can give the tips of your white french style nails a shiny look by using silver glitters. Then draw the white snowflakes on the nude surface. You can use stones on the central point of the snowflake nail designs.
#22. Reindeer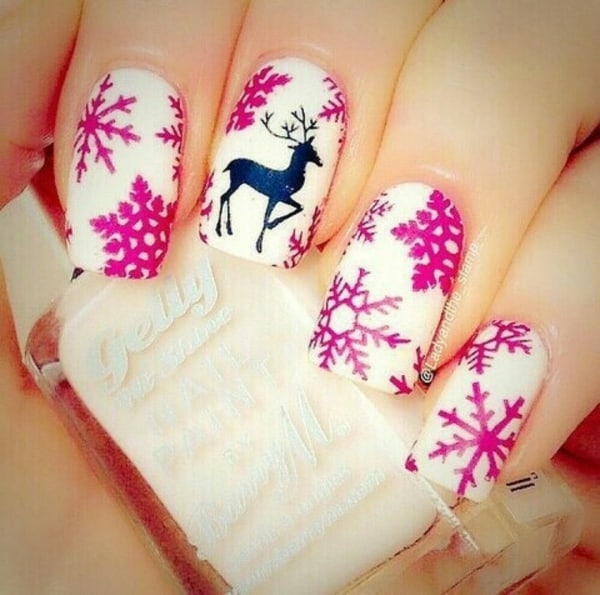 Reindeer live in icy areas. So, it is very relevant to use the image of this deer with your snowflakes design. Draw the snowflakes on nails except the middle one. Then draw a nice reindeer on that nail to have this design done.
#23. Three Shades of Blue
This design is kind of different from the others. Use different shades of blue to paint the nails. You can use glitter on some of the shades. Then draw snowflakes or two or three different patterns to finish the final touch.
#24. Striped Snowflakes
The snowflake design is a bit modified here. But the basic is the same. You can draw red and black stripes on the nail. Then draw snowflake patterns on top of them.
Experiments with Lines on Nails
#25. Candy Color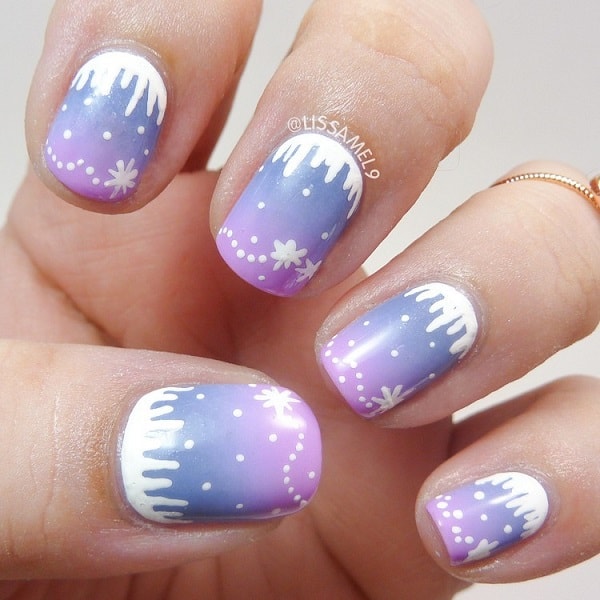 This is a simple snowflake design, especially for kids. Lavender candy color is very favorable to the kids. Then drip some white color at the bottom of the nails. Kylie Jenner will love this dripping wink wink! Draw simple structured snowflakes and dots to have the lavender candy-colored snowflake nails.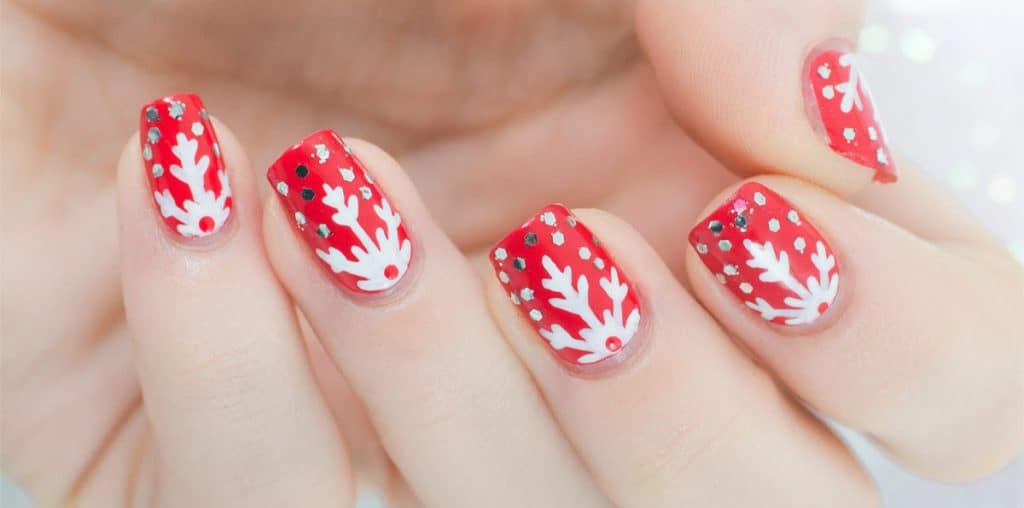 Snowflakes look very beautiful on this neon red color. The contrasting white snowflake patterns complement the existence of the intensity of this red color. So, draw the snowflake designs on neon red base. You can put some dots aside too.
#27. Light Blue Snowflake on Polka Dots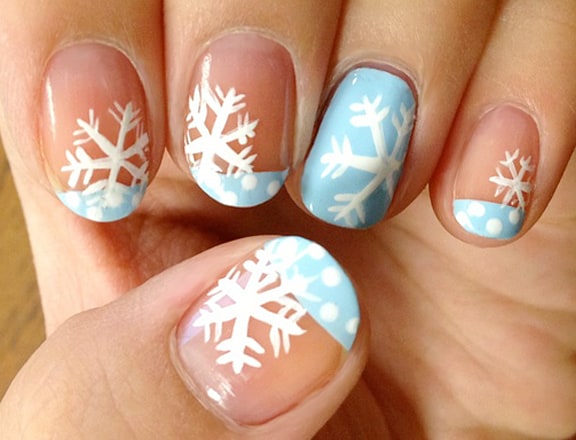 This nail art with polka dot is very simple. Use a thin white brush to create snowflake arts on a nude nail. Use light sky blue as a helping hand in order to enhance the beauty.
#28. All That Glitters
All that glitters is not gold but that surely is golden glitters. Use these glitters to give a shiny look to your snowflake nail designs. Draw golden snowflake designs on white coat base. Fill one or two nails with shiny golden glitters.
#29. Frosty B&W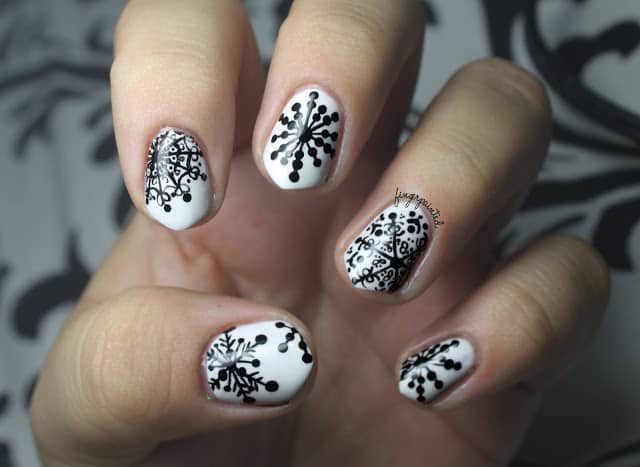 Black and white are used universally for every kind of designs. Snowflake nail arts are no different. You can draw black snowflake patterns on a white surface for this design. A different pattern along with the snowflake will do no harm, so have a go.
#30. Maroon Snowflakes
Maroon is the color of elegance and class. These nails look stunning if designed with proper care. You can have snowflake designs done on these maroon nails. Use silver glitters to give it a luxe and eye-catchy design.
#31. Lightest Pink
Black snowflake designs on light pink matte are the main components of this design. You can use thin silver glitters for an entire nail to have a shiny surface. A black nail, a silver nail and black snowflake designs on the light pink base coat will do the trick for this design.
Magnetic Owl Nail Designs to Try
Get Ready for Winter With These Simple Snowflake Nail Art Designs. Watch a useful video tutorial below:
Here are some more nail design ideas inspired by Snowflakes.
Snowflake nail designs are the best ways to spend a trendy winter. As the pattern is similar in almost every case, you have to experiment with colors to add diversity to this design. Try out our designs and ideas to ignite your innate creativity.