Pikachu and pokemon nails will remind you of your childhood and are very unique and cool. You can use nail stickers or just hand paint the anime yourself. Also, if you use your imagination, you can combine all sorts of techniques and add the pokemons on any nail length.
Pokemon Nails Ideas
Pokemon nails are certainly eye-catching and not a design you see every day. Besides regular water stickers, you can glue to your nails the 3D pokemons, it other decorations that will match your mani. Add glitter, pearls, and rhinestones, and even get a full mani-pedi if you want everything to match.
Check out the best ideas for Pikachu and pokemon nails below and tell us which one you want to get ASAP.
#1. Handpainted Pokemon Nails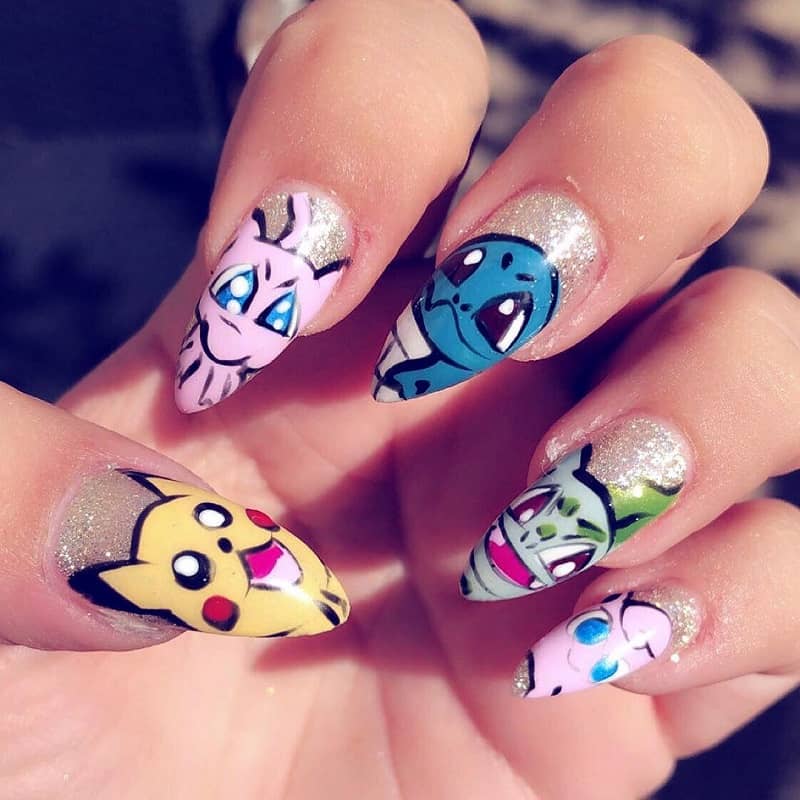 If you are good at painting, pokemon stiletto nails with handmade drawings will look so unique. Use vivid colors, and for the base, apply nail polish with golden glitter.
#2. Pokemon Nails with Stickers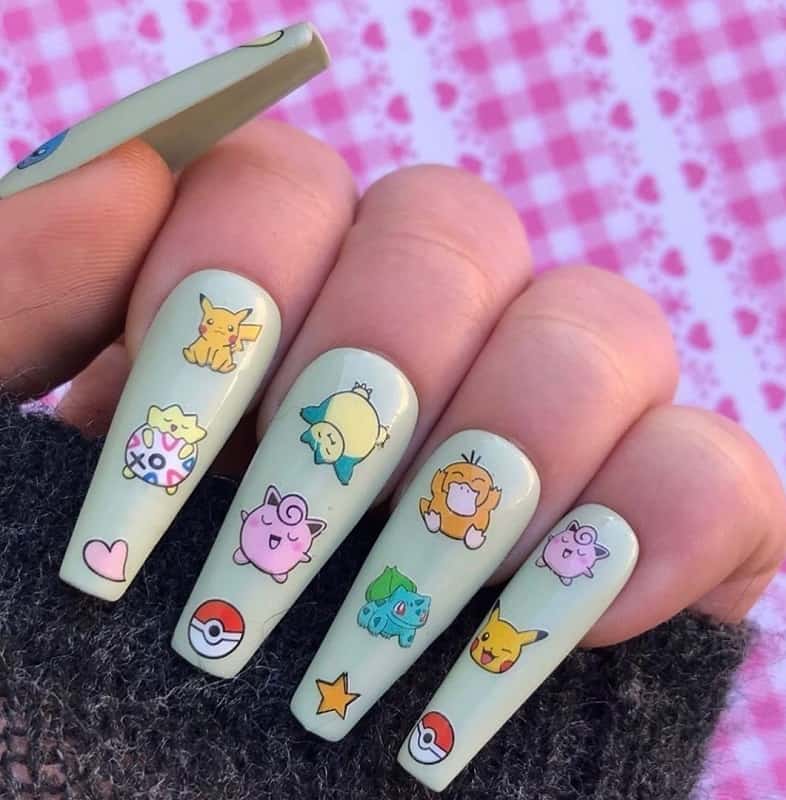 If you adore long and bold nails, these coffin-shaped pokemon nail sticker nails are just the thing you need. Find the proper way to apply the pokemons; choose from water or full nail stickers.
#3. 3D Pokemon Nails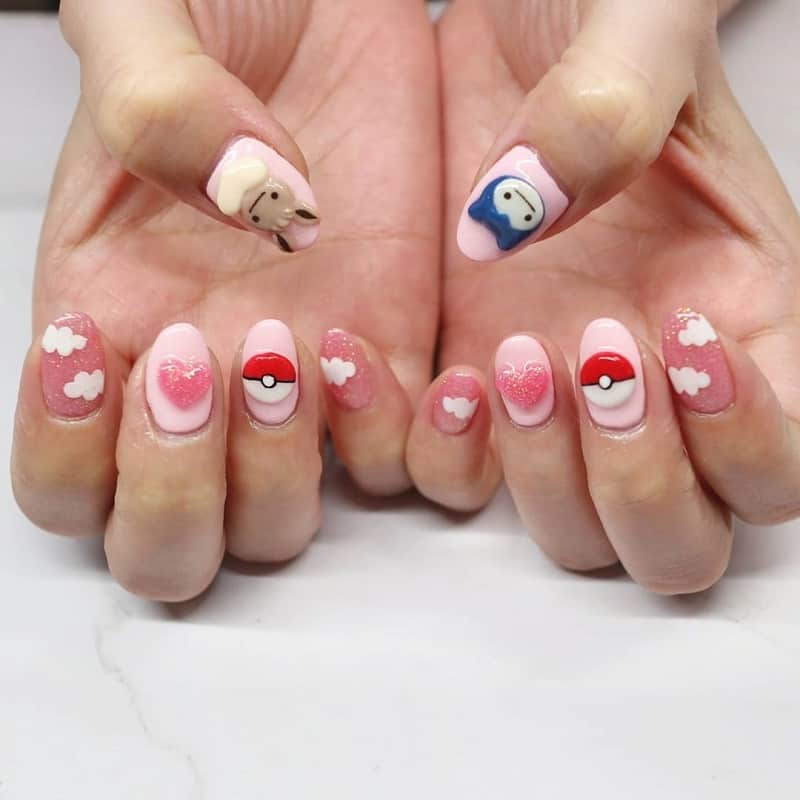 Pokemon 3d nail art for small nails shows off your love for these great anime that rocked all of our childhood. Use your favorite pokemons for the thumbs and apply 3D hearts and pokeballs on the rest of the nails.
#4. Long Pikachu Nails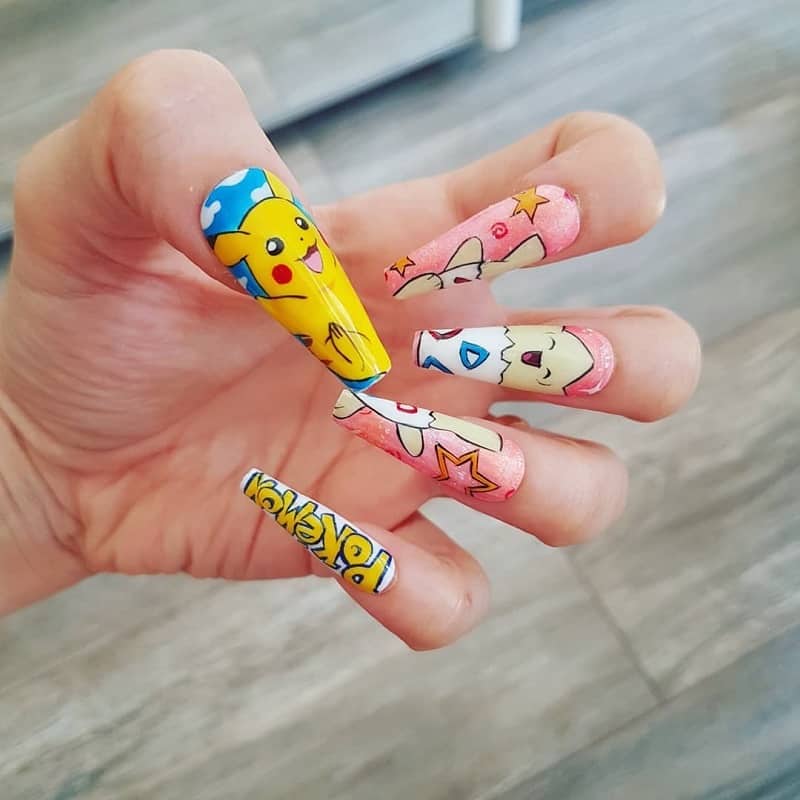 Pokemon and Pikachu nail stickers are so vibrant and colorful and will certainly make your mani stand out. If you love long nails, give them a coffin shape, allowing the design to look bigger and pronounced.
#5. Pokemon Toe Nails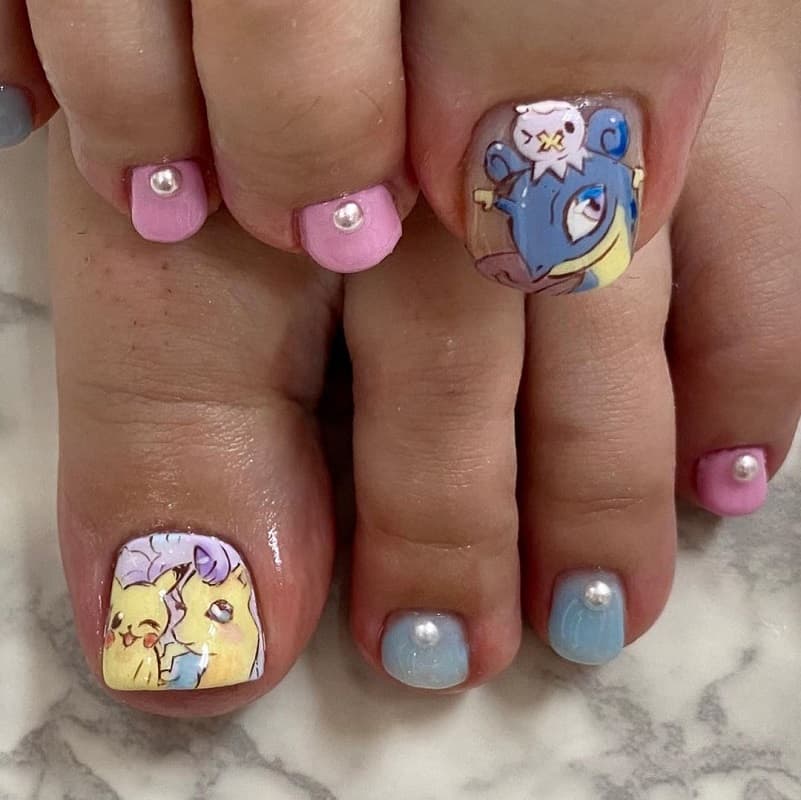 Pikachu toenails with pokemons and small pearls applied on every nail will take you back to those amazing childhood years. Paint your favorite pokemons and style a squared shape.
#6. Cute Pikachu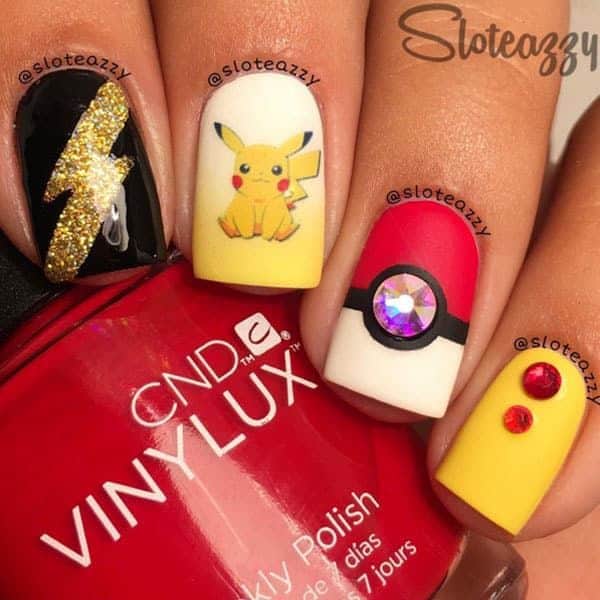 This design looks gorgeous with the charm of red and white rhinestones. The gold glitters also added extra shine to this design. But, among all of this, the image of this cute little Pikachu grabs the attention. You can have Pikachu and Pokemon nail art by drawing the image of Pikachu.
Reminiscence Childhood with Cartoon Nail Art
#7. Only Pikachu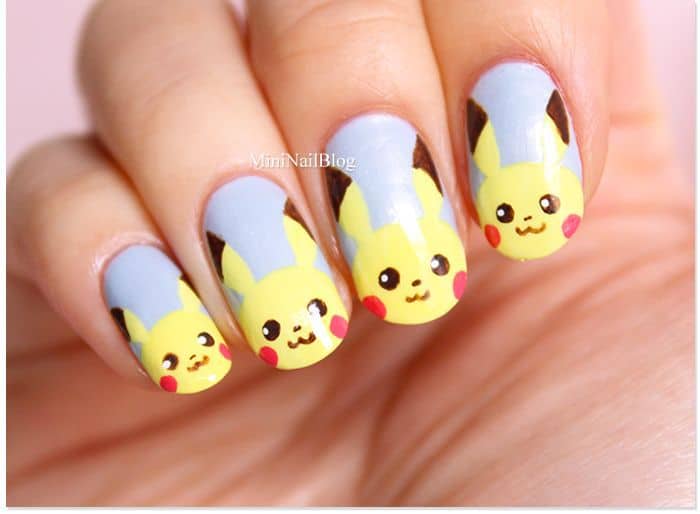 There are hundreds of character in the Pokemon animated series and Pokemon cards. People know Pikachu only all over the world. You can paint its faces on your nails while having Pikachu and Pokemon nail art.
#8. Laughing Monsters
Pikachu is a happy character. He is always busy with her pals making fun of them. This design is illustrating a fun-loving attribute of the pocket monsters.
#9. Happiness
If you think yourself unhappy, you may find happiness now. These happy-looking images of the Pikachu create a sense of happiness in my mind. Design your nails with blissful Pikachu and Pokemon nail art.
Try These Nail Design for Your Little Munchkin
#10. Blue Pokemon Nails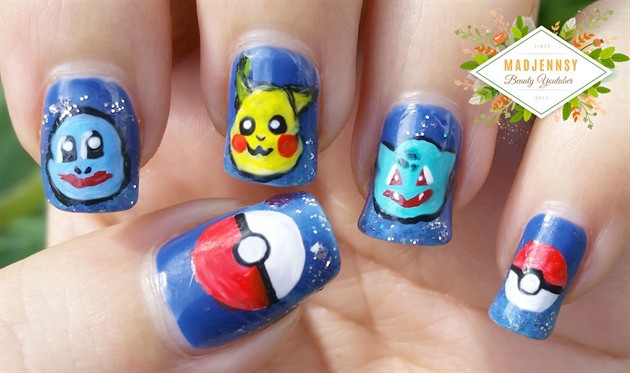 The logo and some faces of the Pokemon anime series can be painted on your blue nails to have blue Pokemon nails. This Pikachu and Pokemon nail art will look amazing on your nails.
#11. Pokemon Nail Art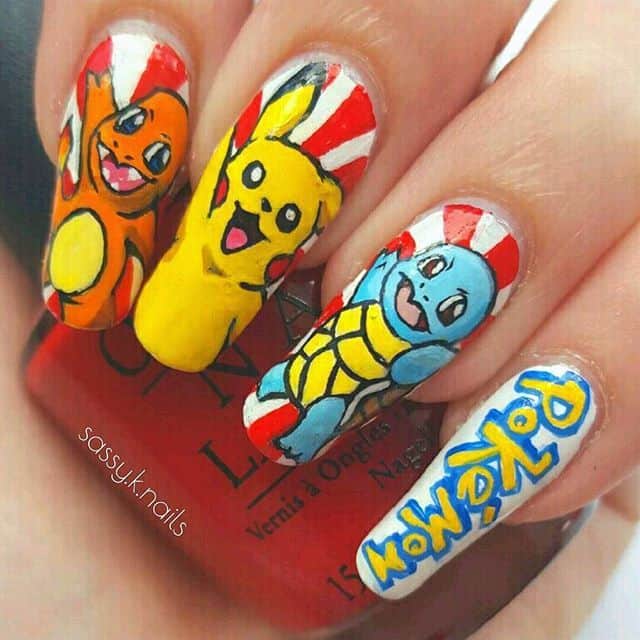 This design is the perfect illustration of Pokemon nail art. The name of Pokemon is painted with some Pocket Monsters. What could be the best design to have as Pikachu and Pokemon nail art?
#12.Pikachu Accent Nails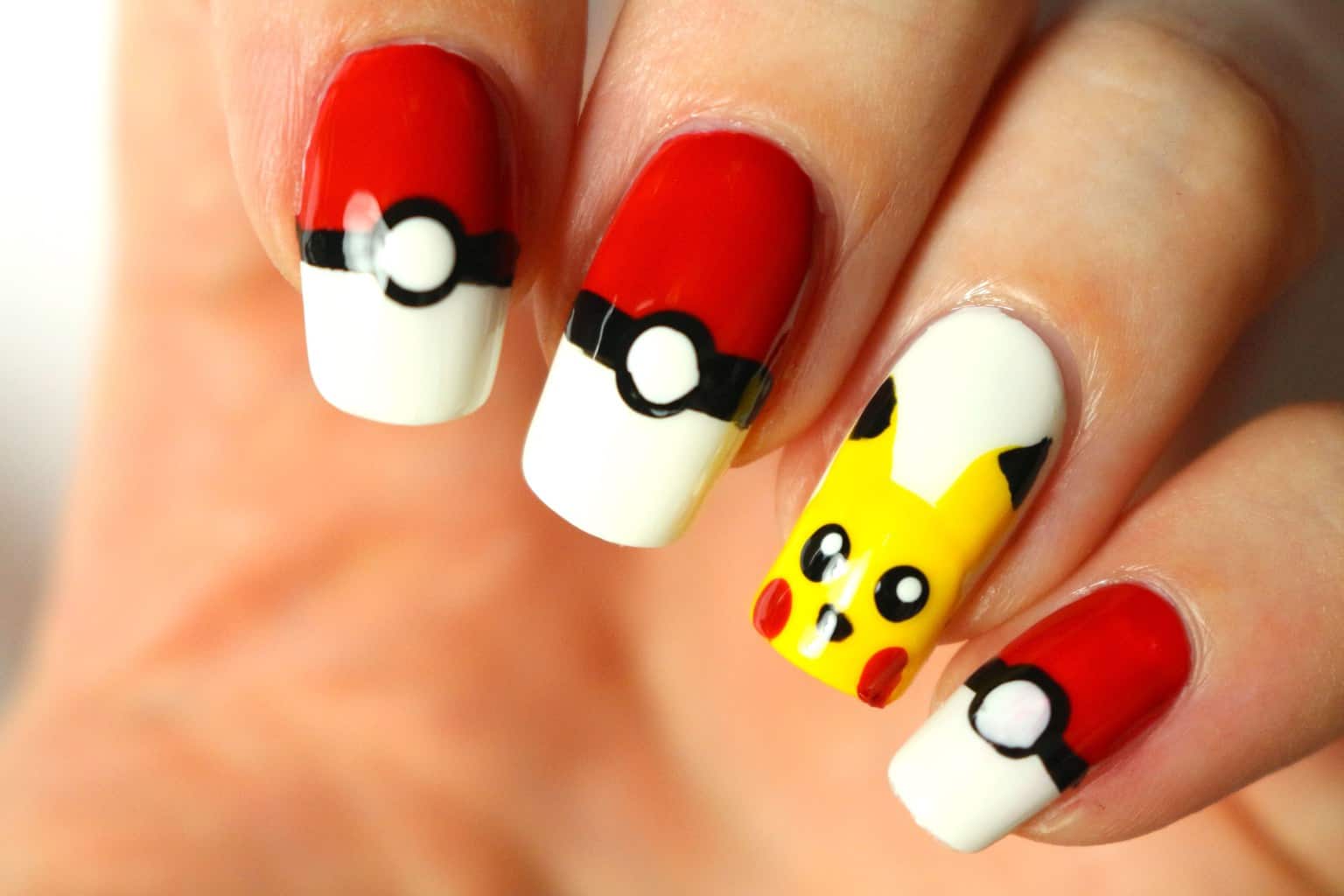 Red and white have been widely used in Pokemon nail art. You can add the image of a lone Pikachu, paint other as Pokeball nails to have your ultimate pikacho accent nail.
Most Adorable Disney Nail Design
#13. Yellow Pokemon Nails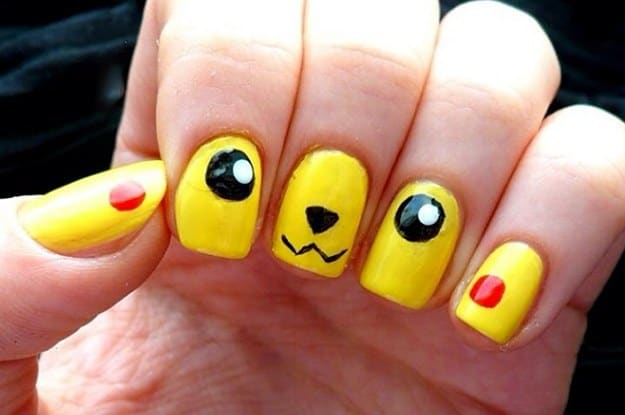 Yellow is a dominant color in Pokemon nail art. You can paint your yellow nails in such a way as if they were resembling the image of a Pikachu. All the five nails create a Pikachu together. This is a different Pikachu and Pokemon nail art.
#14. Starter Pokemons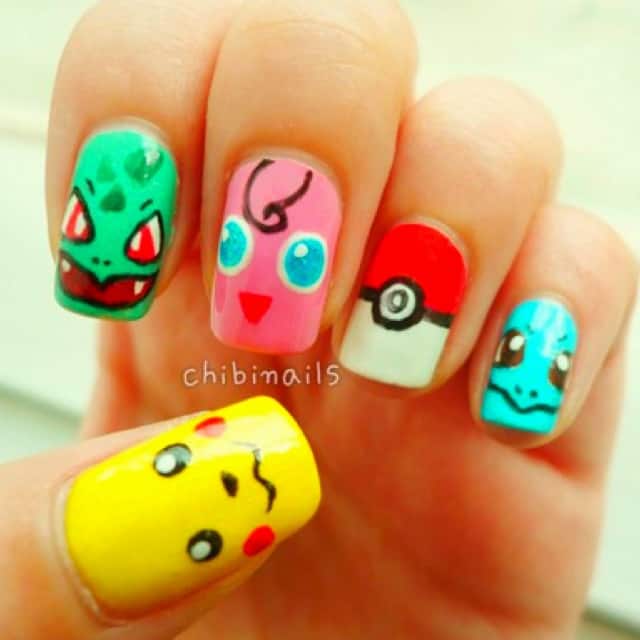 Pikachu itself is a starter Pokemon. You can make a team of starter Pokemons on your nails by painting other starter Pokemons like Charmander, Squirtle, Mudkip etc.
#15. Pokemon Go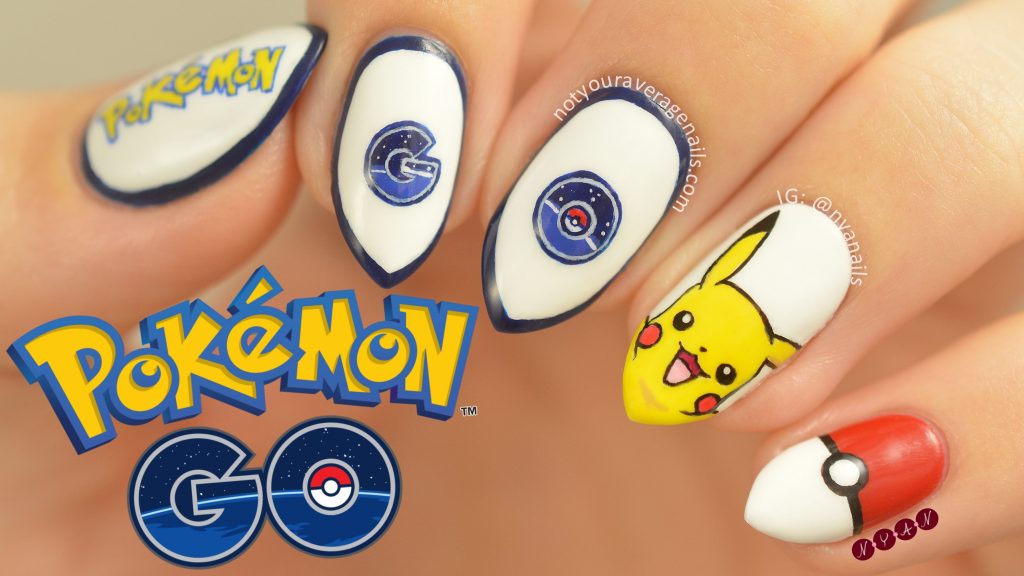 Pokemon Go is the recent edition of Pokemon games. It's a location based free game released in 2023. This game has become immensely popular overnight. You can have Pokemon Go nails painted on your nails while having Pikachu and Pokemon nails.
These Minion Nail Designs Are Not So Despicable
Though Pokemon is originally a Japanese anime series, it has earned fame from every corner of the earth. You can paint the most famous character from Pokemon, Pikachu, to design your nails. Some sample designs are enumerated for you, hope you'll like them.