Sometimes all the nail designs in the world can't offer you what you want. That's when it's best to turn to hand-painted nail art. Even those of us who aren't "artists" or even remotely good with drawing a simple circle can create beautiful, unique nail art by free hand.
Using thin nail polish brushes, you can create flowers, faces, abstract art, and more. You can also use your hand-painted art in combination with stickers to create nail art no one else has. All you need to do is set aside some inspiration!
How to Do Hand Painted Nails: Step by Step
A few easy steps are enough to have these nails at your fingertips. There are hundreds of ways to have hand-painted nails but using colorful floral designs is often the easiest and is always on-trend.
You can draw simple floral designs associated with an aesthetic color combination for these designs.
The steps are very simple but, of course, you need some tools and materials to get hand-painted nails at home. The following tools are needed to do the designs efficiently.
Base Coat
Nail Polishes
Thin Paintbrush
Toothpick
Glitters
Top Coat
Don't wait for anyone when you are done with the arrangement of the tools and materials. Let's go to work and apply hand-painted nail designs by following the steps given below.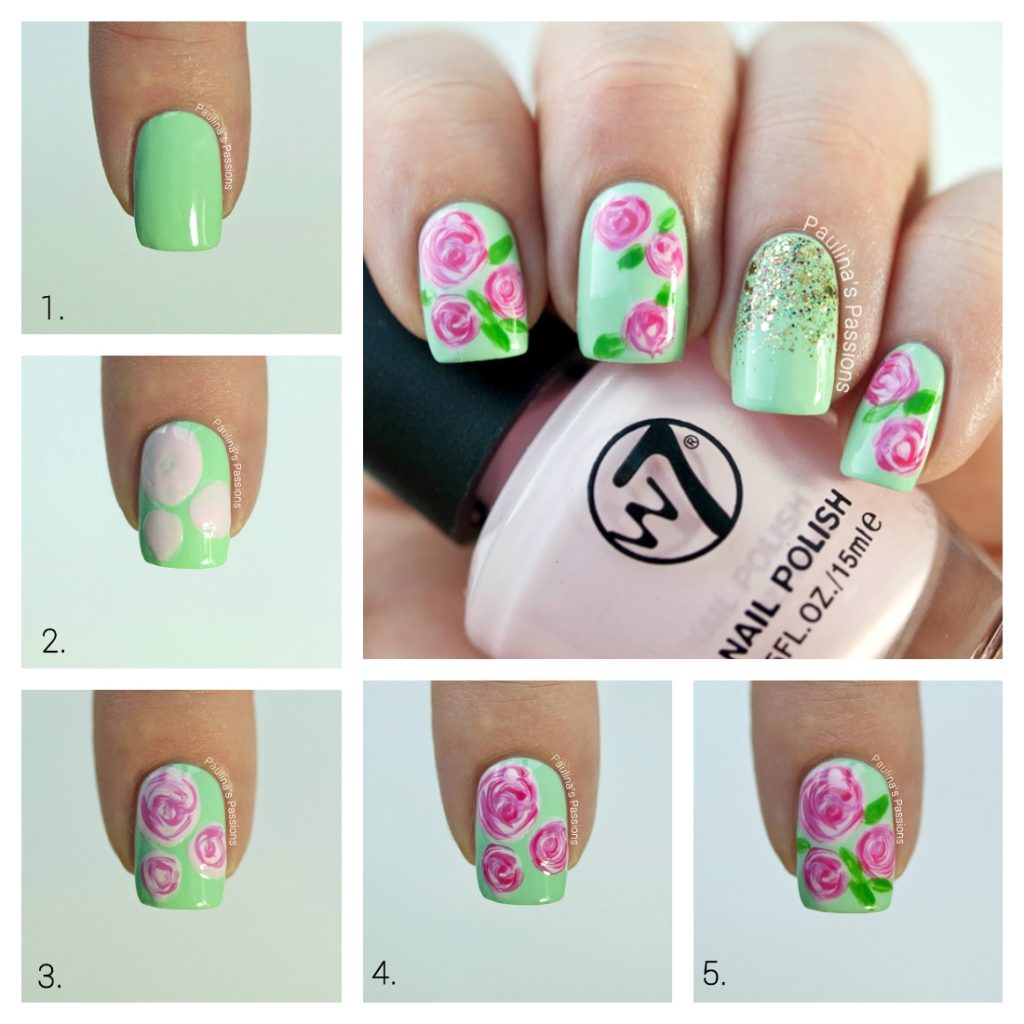 Apply a base coat on your nails to protect them from the bad effect of acrylic nails and prevent from chipping.
Fill the surface of your nails with the base nail polish on which the designs will be drawn.
Put three white color drops on your nails and spread them a bit with a toothpick.
Dab a pink nail polish over the white color and swirl both of these colors in a way so that they resemble the patterns of rose petals.
Use bright green nail polish to paint some green leaves around the floral designs.
You can use some golden glitters if you want these hand-painted nails to shine.
Hand Painted Nail Designs to Design Your Mind
Hand-painted nail designs will look stunning if you can paint them with the correct patterns along with a compatible design.
So, having ideas about nail designs is a must to have a trendy nail design. That's why we are here to help you find the perfect design for you. You can design your mind on your nails and hope that our designs will be inspirational for you.
#1. Deep Red with Flowers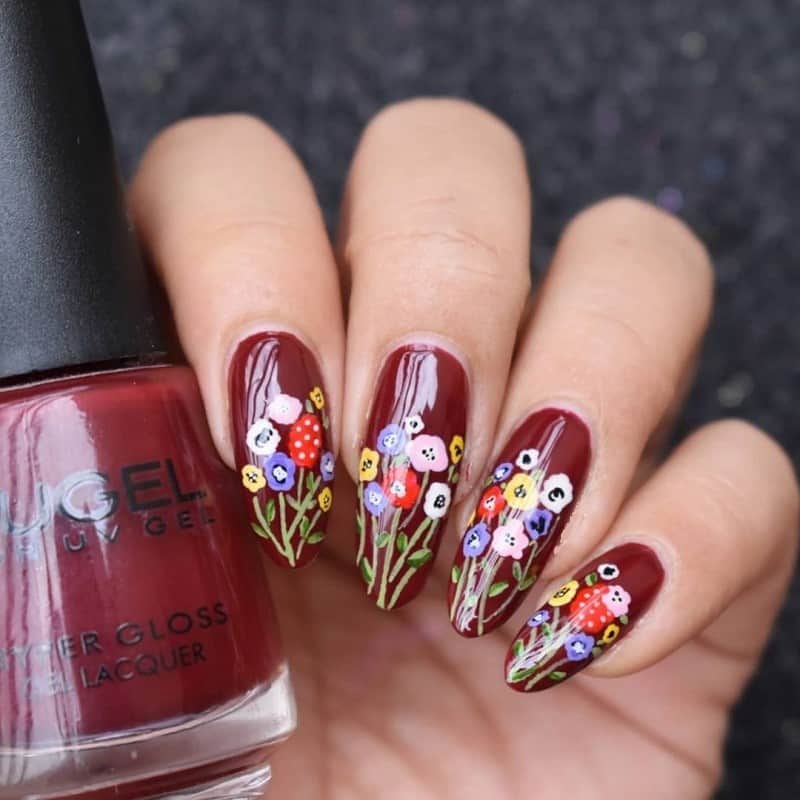 Who doesn't like a deep shade of red? To make the colorful flowers seen here stand out, avoid choosing a bright red. Dark will help flowers show up best and make the white pop.
#2. Blue Geometric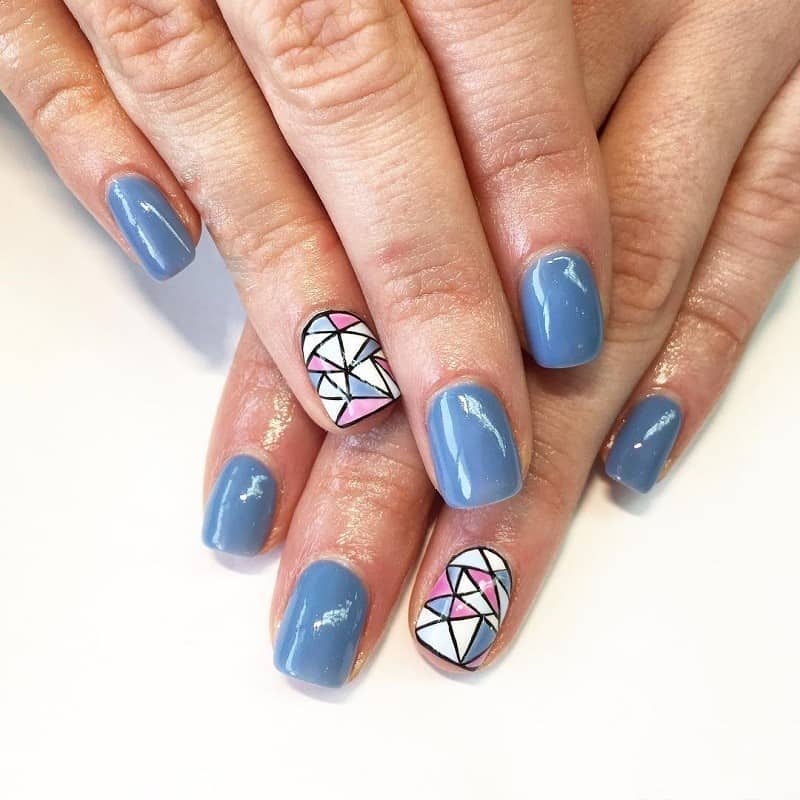 Periwinkle blue is a stunning shade to pair with geometric hand painted nail designs. Simply use black to create small squares, then fill in with different colors.
#3. Pale Pink with Roses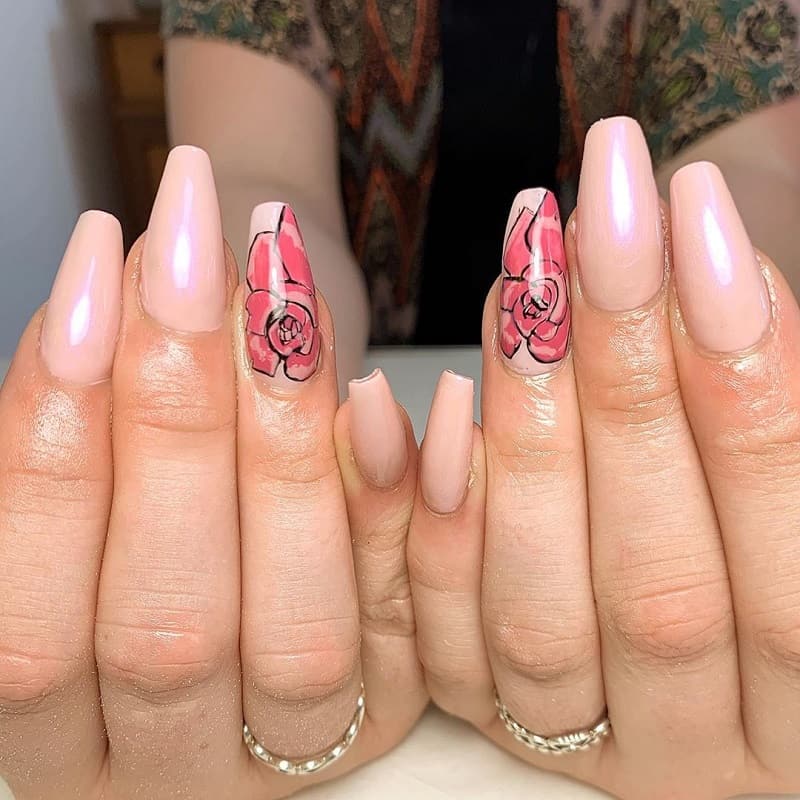 A pale pink or beige looks beautiful with hand painted roses. The trick to the rose is to start with small squiggly circles, then make them bigger as you add to it, filling in with red and pink.
#4. Design by You
For cheerful toe art, use turquoise and white. Using black and white, you can draw a combination of curved lines and dots to make your own hand painted design.
#5. Dalmatian Design
Are you and Cruella de Vil on the same page when it comes to loving Dalmatian spots? Create this fun hand painted nail art using simple black and white.
#6. Eyeballs
No need to paint the whole nail for these truly funky hand painted nails. Use white for the eyeball, then fill in with a small black dot and another colorful dot on top, adding long eyelashes to finish off the style.
#7. Winter Birds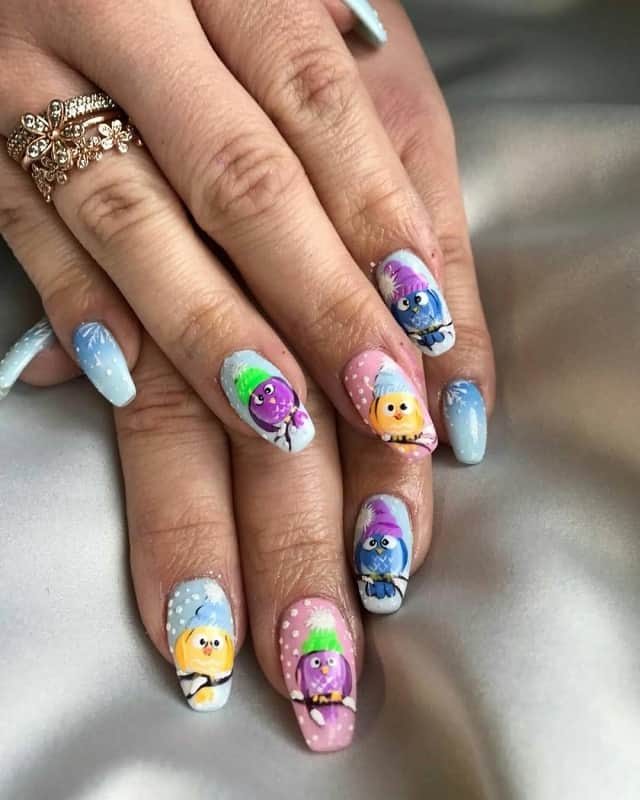 Do you like making your nails match the season? Choose these colorful hand painted cheerful birds who are wearing cute fuzzy hats.
#8. Long Halloween Nails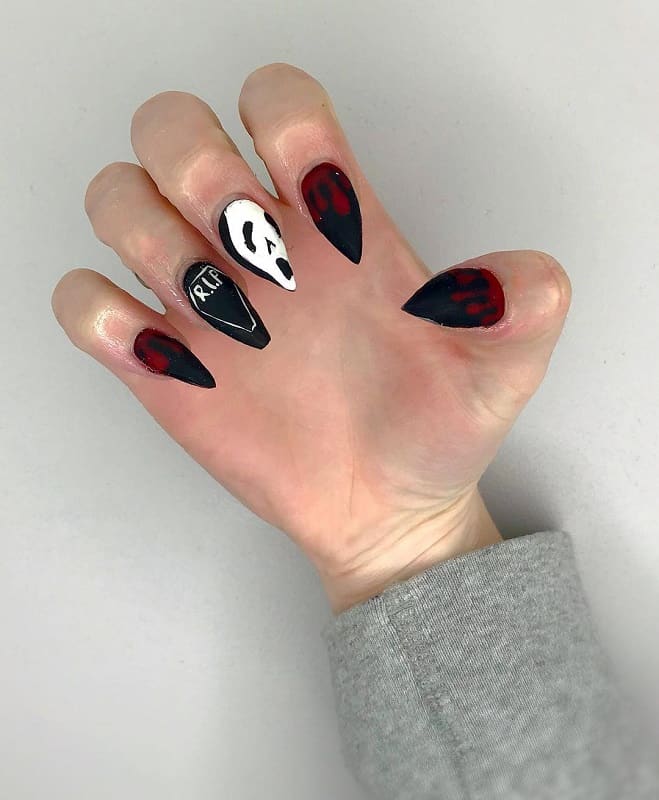 When Halloween rolls around, these hand painted nails are perfect. The black nails feature Scream, RIP, and dripping red blood.
#9. Disney
Bring out the child in you with hand painted Disney art like this Beauty and the Beast design.
#10. Christmas Nails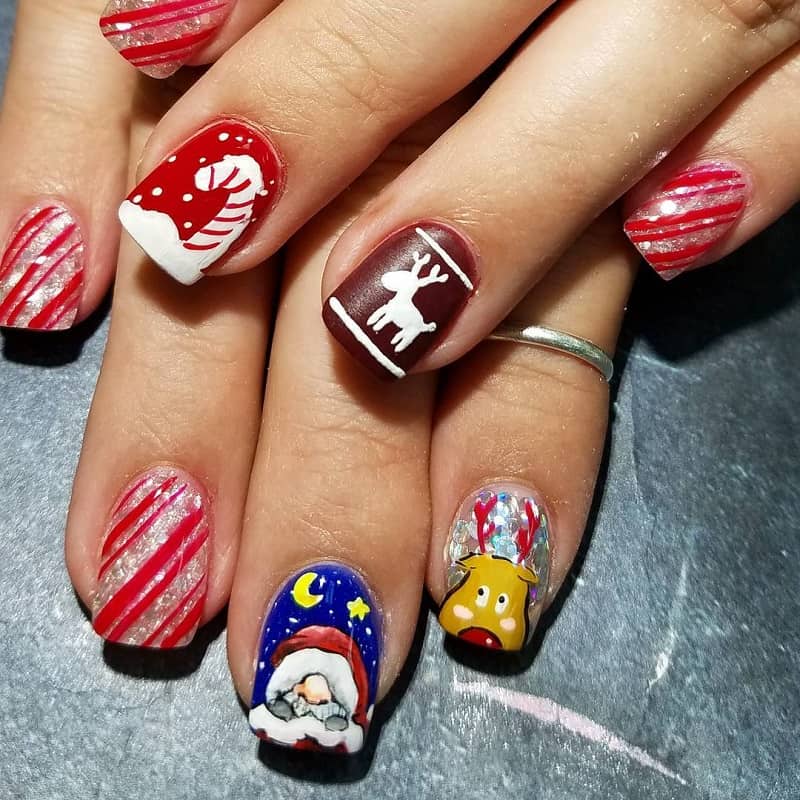 For everyone's favorite time of year, red and white nail polish is all you need aside from a few Christmas nail stickers.
#11. Leaves on the Edge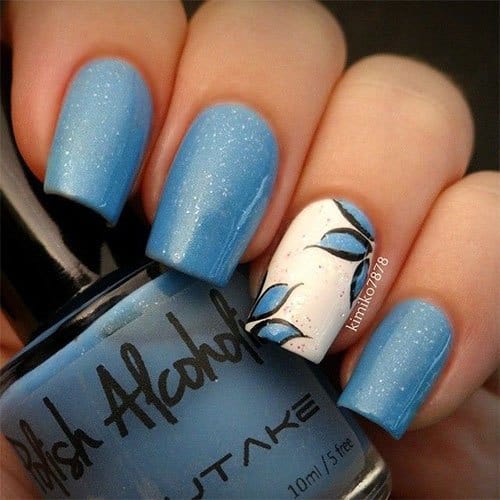 You can paint some leaves deriving from the edge of your nails. Paint all your nails with baby blue keeping one in white color.
Add some thin silver glitters on the top. Draw some leaves on the white nails. That's it. Your hand-painted nails are ready.
#12. Hello Bunnies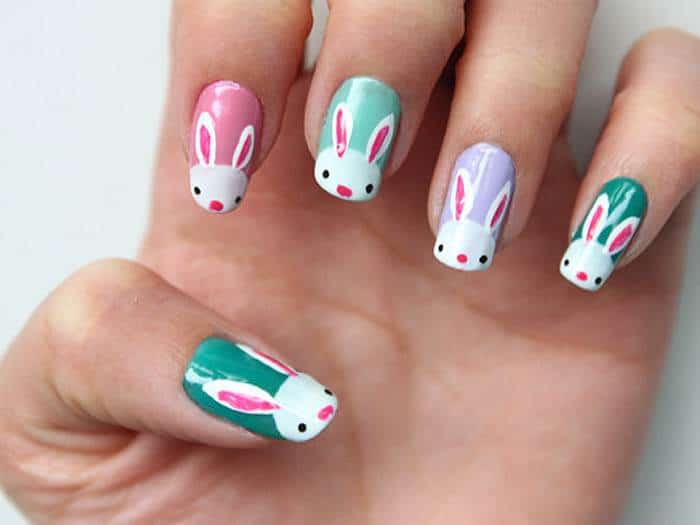 This design is so cute that every girl must like this one. Draw a face of a bunny on each of your nails. You can use pastel colors for this design. These little bunnies will draw the attention of the people around you.
There is nothing more exciting than colorful designs. If you are an expert in nail art you get to love the playful display of colors.
Paint your nails with different colors maintaining some patterns. You'll love the colorful paradise drawn on your nails.
#14. Owl of the City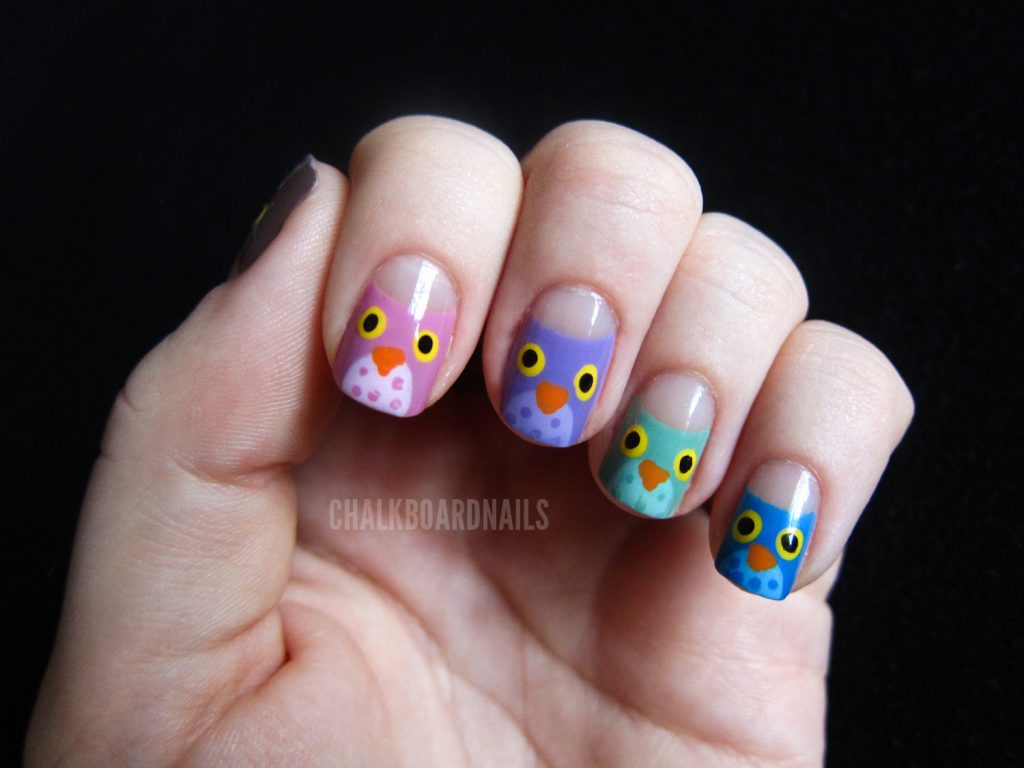 Owls are normally alone and active at night like city people. They are well known for their upright stance sitting in an upper place. Draw some images of the owl on your nails to have this hand painted nail designs done.
#15. Peacock's Feathers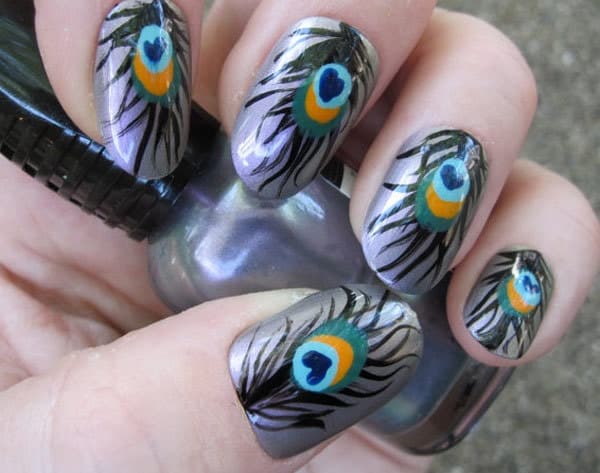 Peacock is one of the most beautiful birds. They look astonishingly beautiful while opening their colorful feathers.
Designers from all over the world are inspired by the patterns of peacock feathers. You can paint them on your nails while having hand-painted nail designs.
Dope Nails: Be A Trendsetter with These
#16. Random Nail Art
You don't have to follow any grammar book to design your nails. Sometimes, being a bit messy adds spices to life.
This is a random nail art like that. No specific patterns need to be followed, just have your hand-painted nail designs done.
#17. Black Branches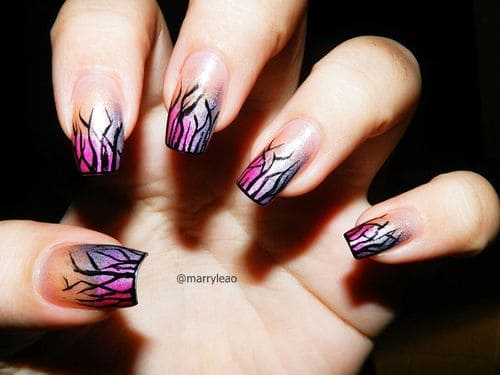 You can have this beautiful hand-painted nail design on your nails. At first, paint your nails with light pink, silver, and light orange colors. Then draw some black branches as if they were growing from the outer edges of the nails.
#18. Floral Art
Nothing looks greater than floral art if you can design them correctly. Paint some hand painted floral designs on your french nails to have this design.
#19. Glitters And Patterns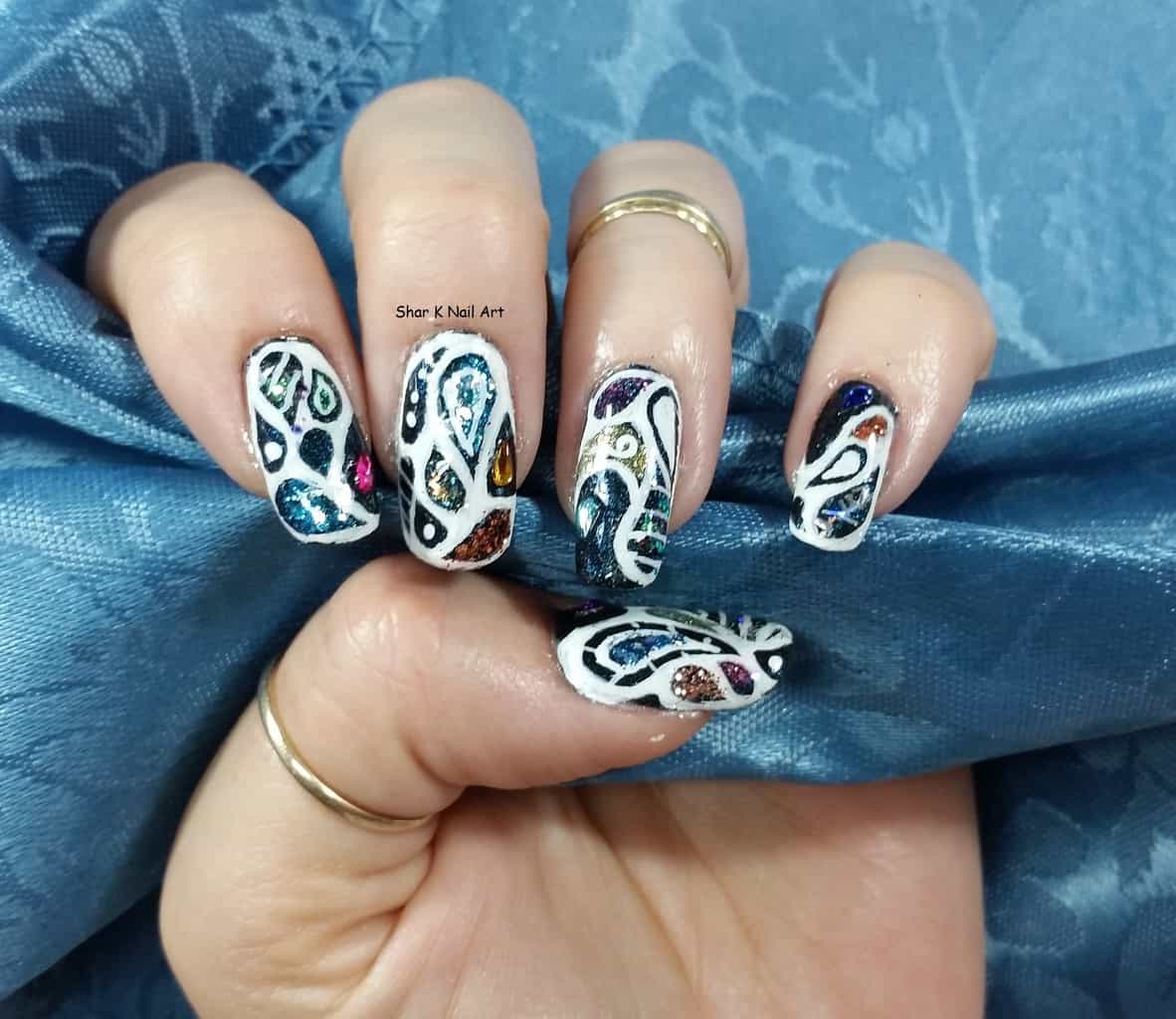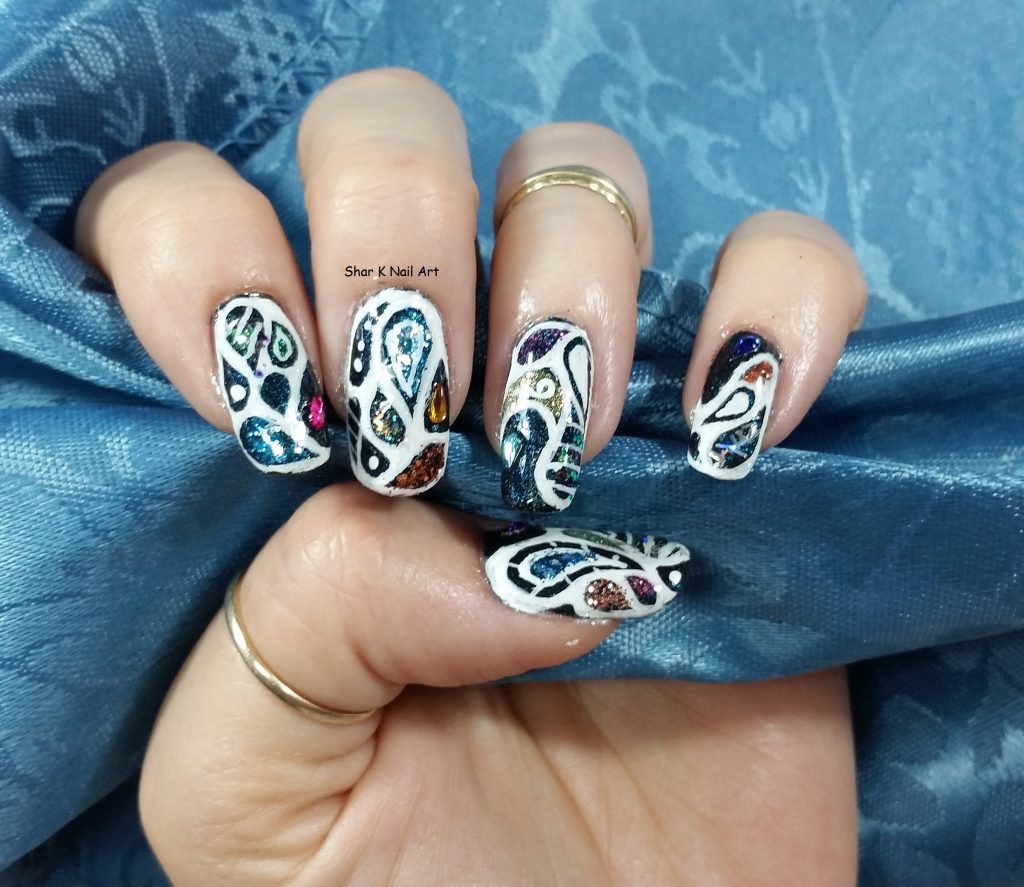 If you want your hand painted nail designs to shine, this is the one you are looking for.
Use glitters and any patterns repeatedly to have this design done on your nails. You can also wear rings which will complement the whole design.
Panda Nail Design: These Are The Cutest
#20. Hand Painted Minions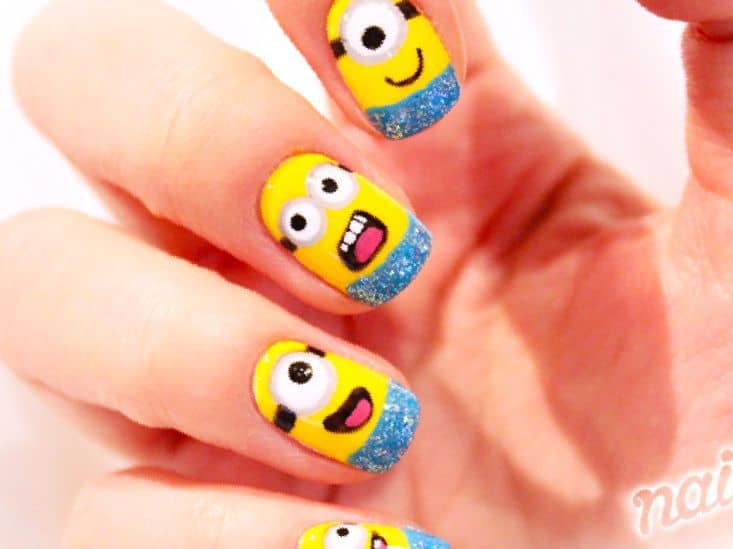 Minions designs have become vastly popular recently. You can paint the images of these minions on your nails while having hand painted nail designs.
#21. The Bugs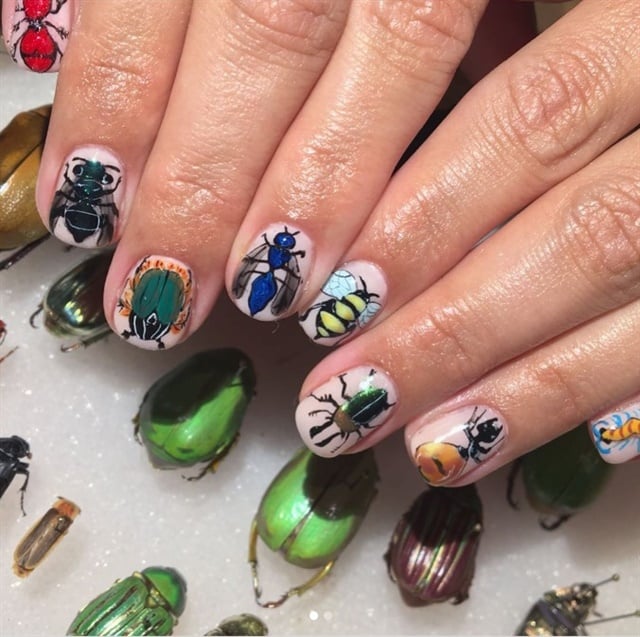 Some girls like to express themselves as daring girls. They adore bugs whereas most of the girls fear them. If you are a bug lover you can have these images drawn on your nails as hand-painted nail designs.
#22. Dripping Colors
This design is a bit different from others. At first, the nail beds are filled with a colorful base.
Then, another color is applied to the top of the nails in a way so that it seems that the color is dripping from the edges of the nails.
#23. Have Some Ice-cream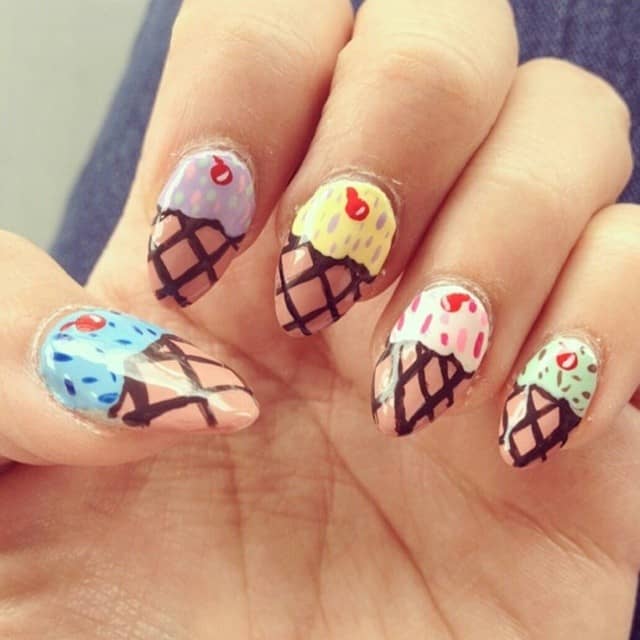 Almost every girl loves to eat ice cream to a great degree. If you are an ice cream lover, this design is only for you. You can draw these ice-cream cones on your nails while doing hand painted nail designs.
#24. Rainbow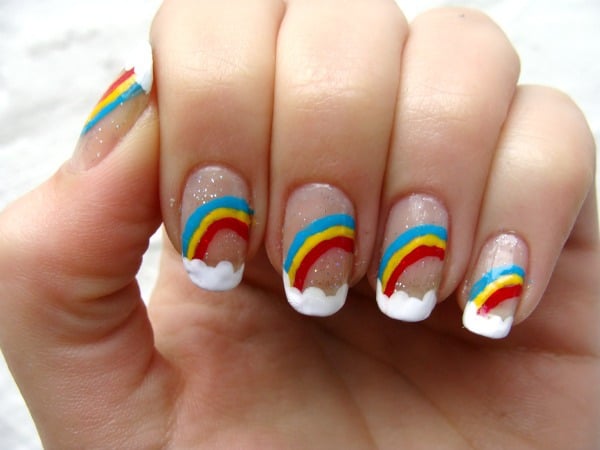 Rainbow patterns look good if they are done with proper care. There are seven colors of a rainbow but you can paint three or four for nail designs because seven colors will look congested.
The image of a rainbow floating on the white clouds will look amazing on your nails.
#25. The Lone Butterfly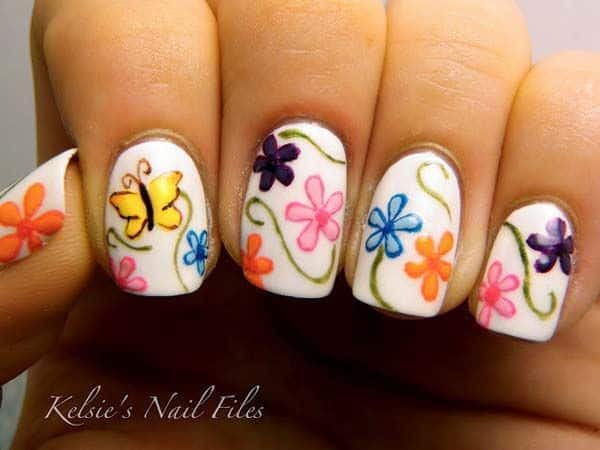 Girls love butterflies for their beautiful shape and colors. Butterflies are found in flower gardens in nature. You can depict this on your nails.
Draw a butterfly in between colorful flowery images. This design is a good one to have as hand-painted nail design.
Nail designs are becoming enriched day by day. More diversity is added every day. The trend is changing so rapidly that you must be careful about what is in vogue right now.
In this regard, hand-painted nail designs have an advantage. As you're doing these designs yourself, you can modify them in whatever ways you want. Who knows? Your whimsical designs might be the next trend.