We're guessing math probably isn't your favorite subject, but its symbols can actually be used to create some pretty awesome geometric nail art! Triangles, squares, diamonds, and even hearts are all considered geometric shapes.
Used correctly, your nail art can become intense, detailed, and three times as interesting than a simple style that features a plain, one-color nail design.
One great thing about geometric nail designs is it is one style that allows you to really delve into your sense of creativity by using shapes and colors in intriguing designs. You can copy one of the designs below or use them as inspiration in making your own art.
Geometric Nail Designs
Everything from arrows and parallel lines to triangles and diamonds make up the 35 artistic geometric nail designs below.
#1. Warm Colored Triangles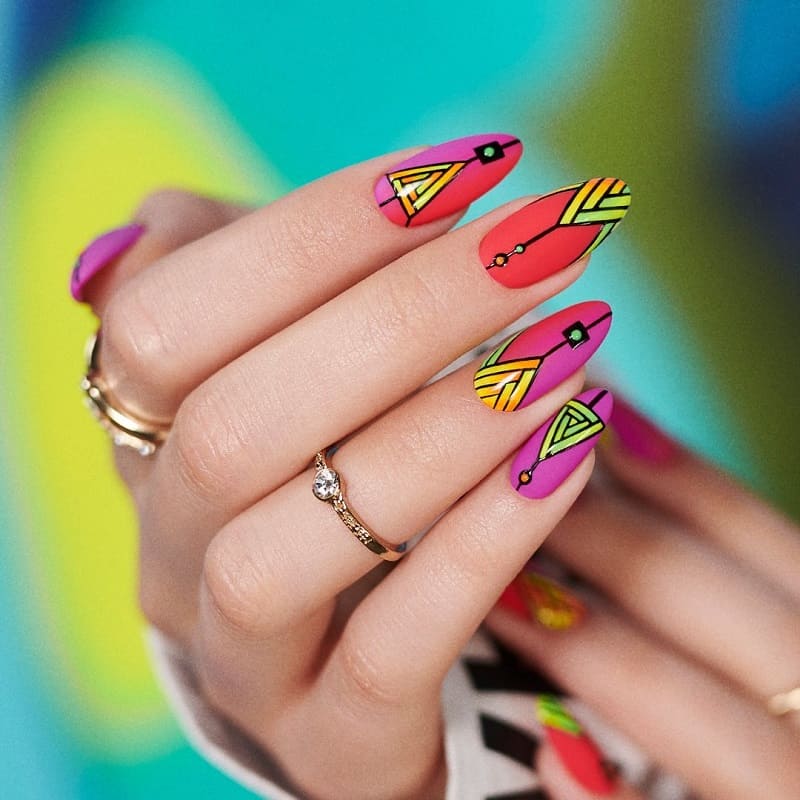 Using nail stickers, you can get a bright geometric nail design like this one. Bright pink, yellow, red, and green combine to make lined triangles come to life.
#2. Geometric Toe Nails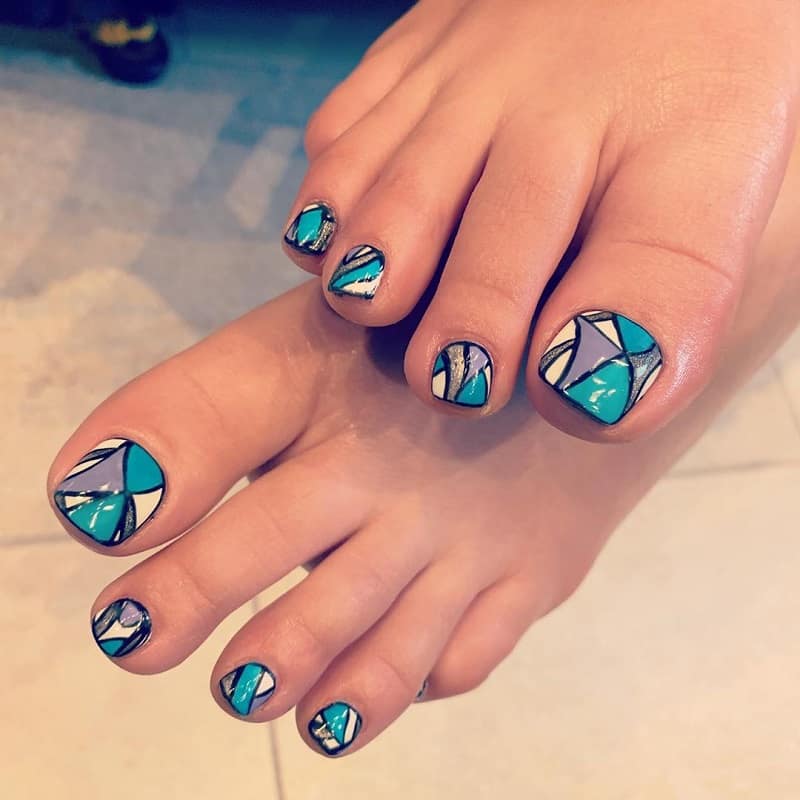 Light blue and pale purple fill in the small triangles on geometric toenails. Use white to break up the color and line each shape with black for definition.
#3. Goth Geometric Nails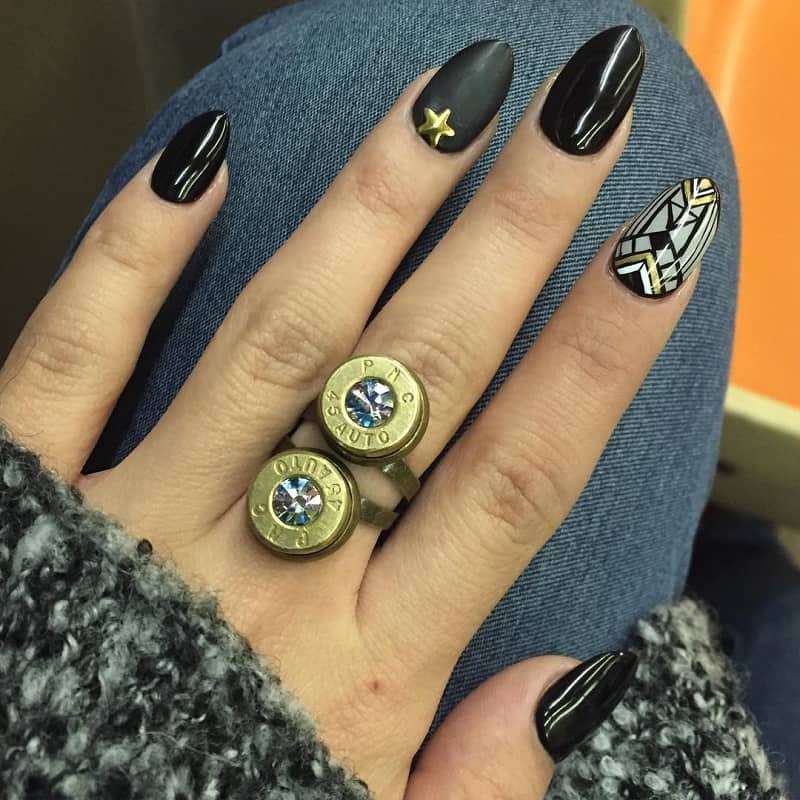 On long goth black nails, use grey or silver with white and gold to create a geometric design on the pointer finger. This one features squares and triangles with both thick and thin lines.
#4. Orange Ombre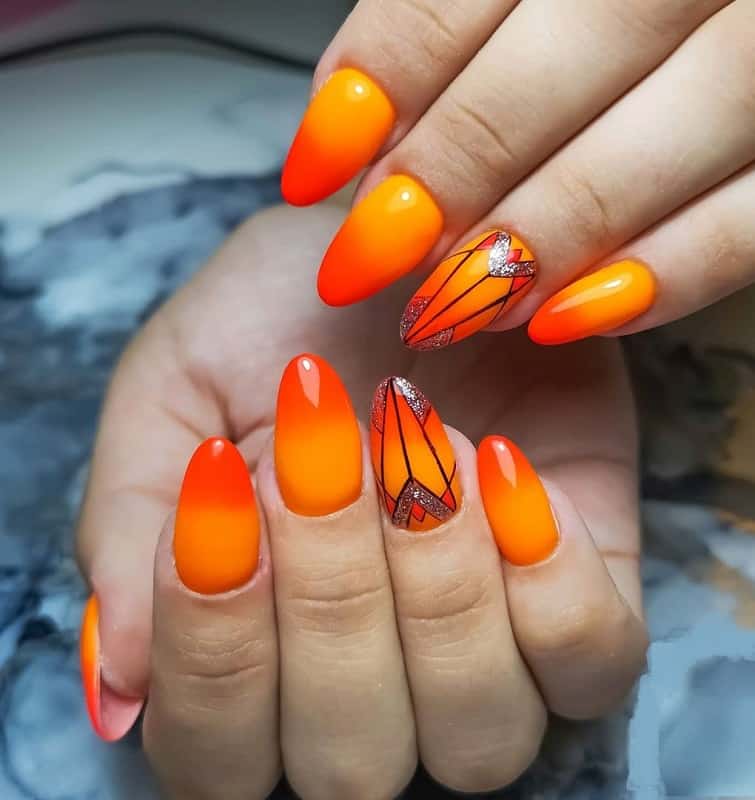 For summer or fall, use a bright eye-catching color like orange to make an ombre geometric nail design.
If you're steady with your hand, use a thin black brush to draw the long slender triangles seen here on the ring finger. Fill in part of it with glittered polish.
#5. Light Colored Geometric Nails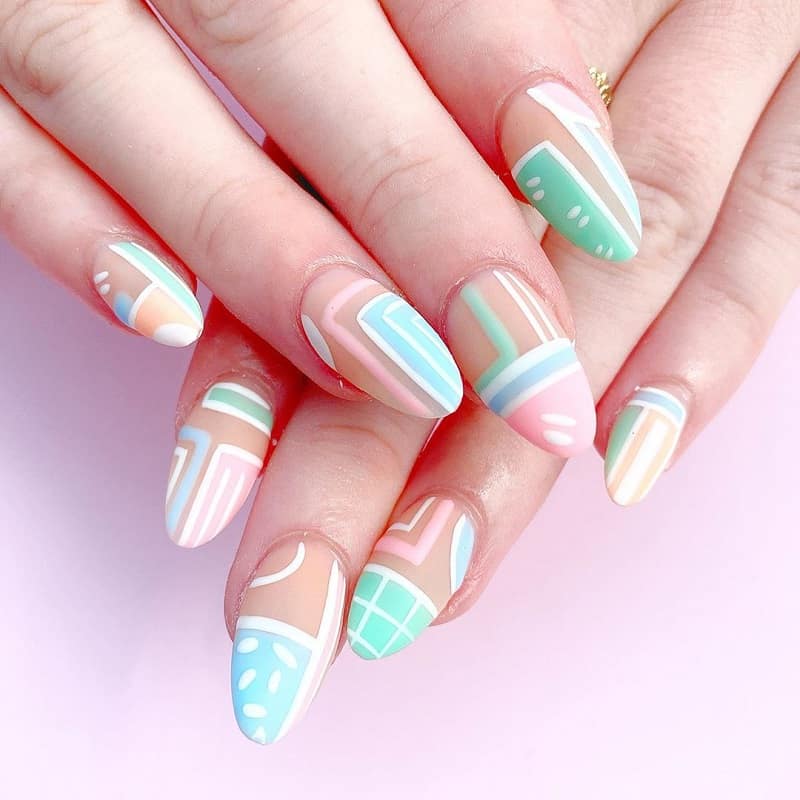 If you're all about light colors in your style, this geometric nail design may be for you. Mint green and sky blue are perfect complements to peach or nude nails with thick white line art.
#6. Dotted Pink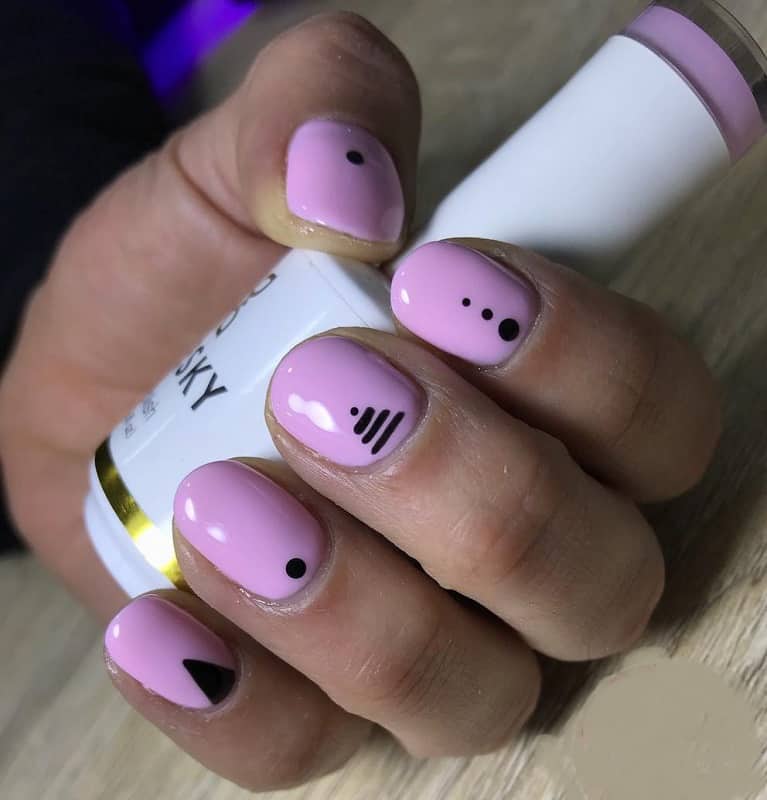 These bubblegum pink nails prove that not all geometric nail art has to be complicated. Simple black dots, stacked horizontal lines, and triangles near the cuticle are simple but still fit the bill.
#7. Geometric Nails with Negative Space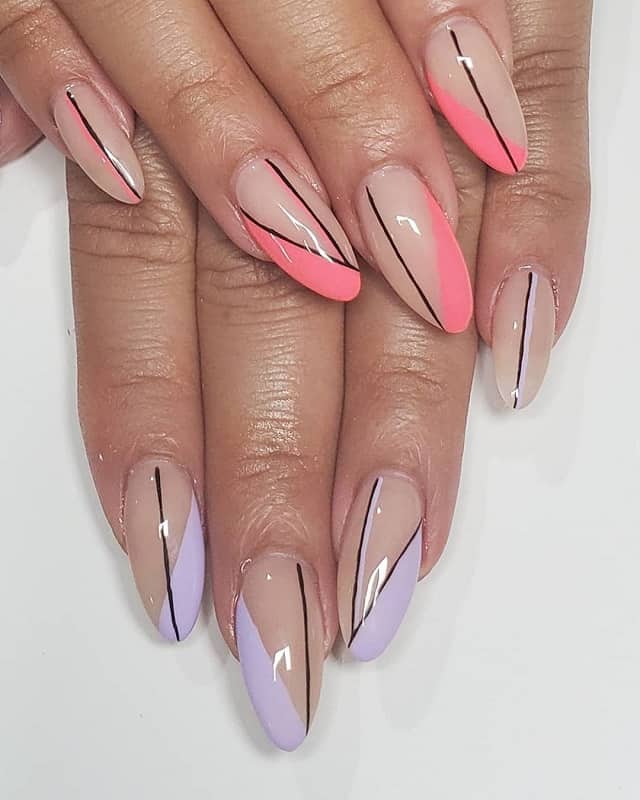 On a mostly nude nail, line the sides with a bright color like pink or orange. Then draw straight and diagonal lines in black that may or may not connect.
#8. Matte Black and Salmon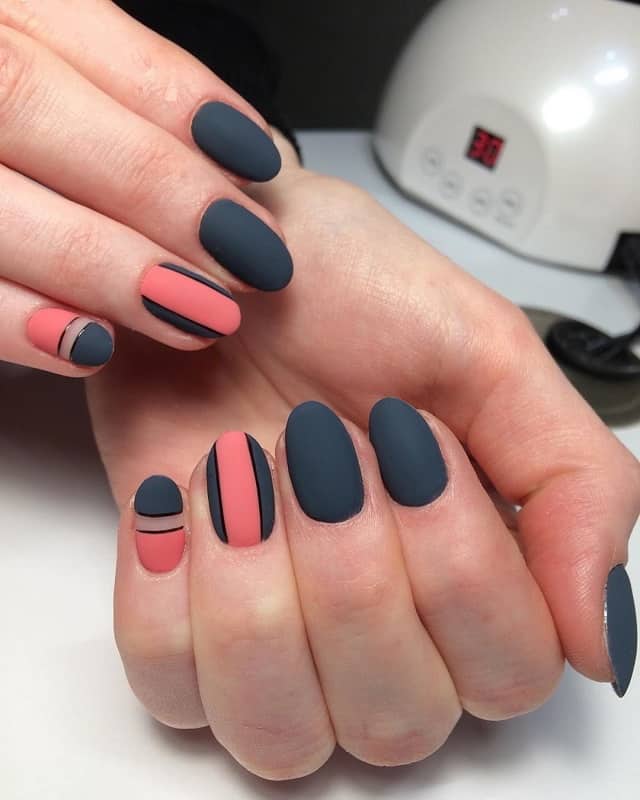 Just two colors, one light and one dark, work together on short rounded nails to create a geometric design.
#9. Dark Red Almond Nails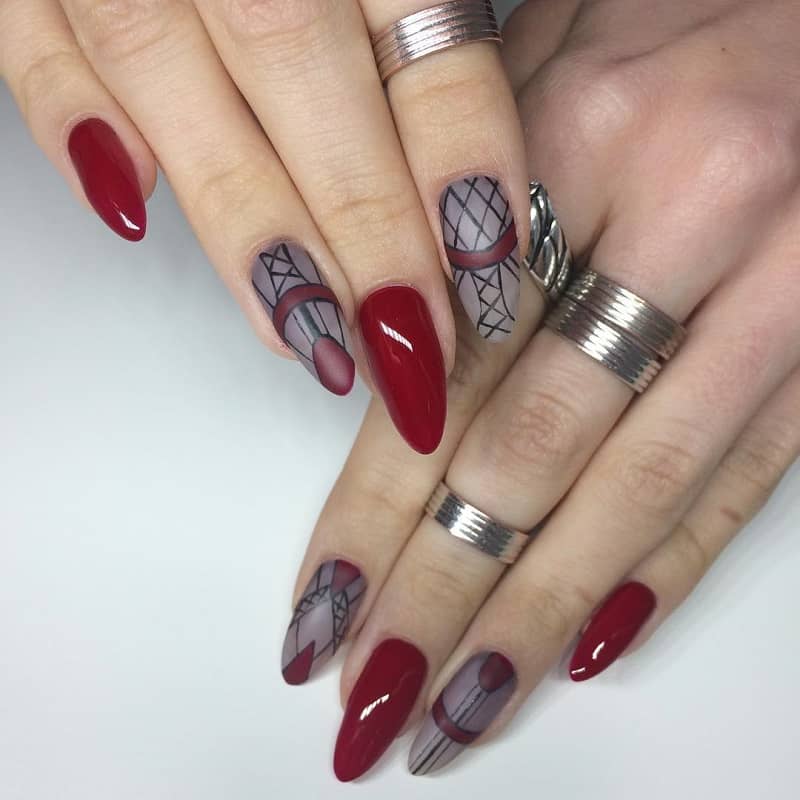 Make almond nails the star of the night by choosing a deep red and pairing it with grey or silver to make geometric art.
#10. Solid and Empty Black Squares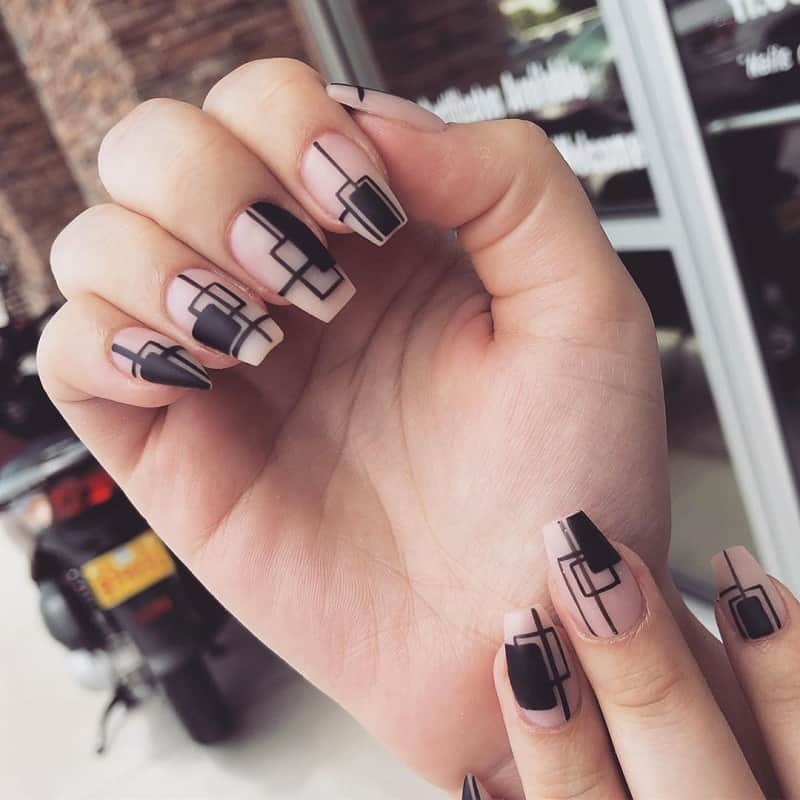 At the sides, tips, or tops of your long square nails, draw black squares and alternate filling them in with leaving some empty. Use a thin black line to connect them.
#11. Grey and Black Square Nails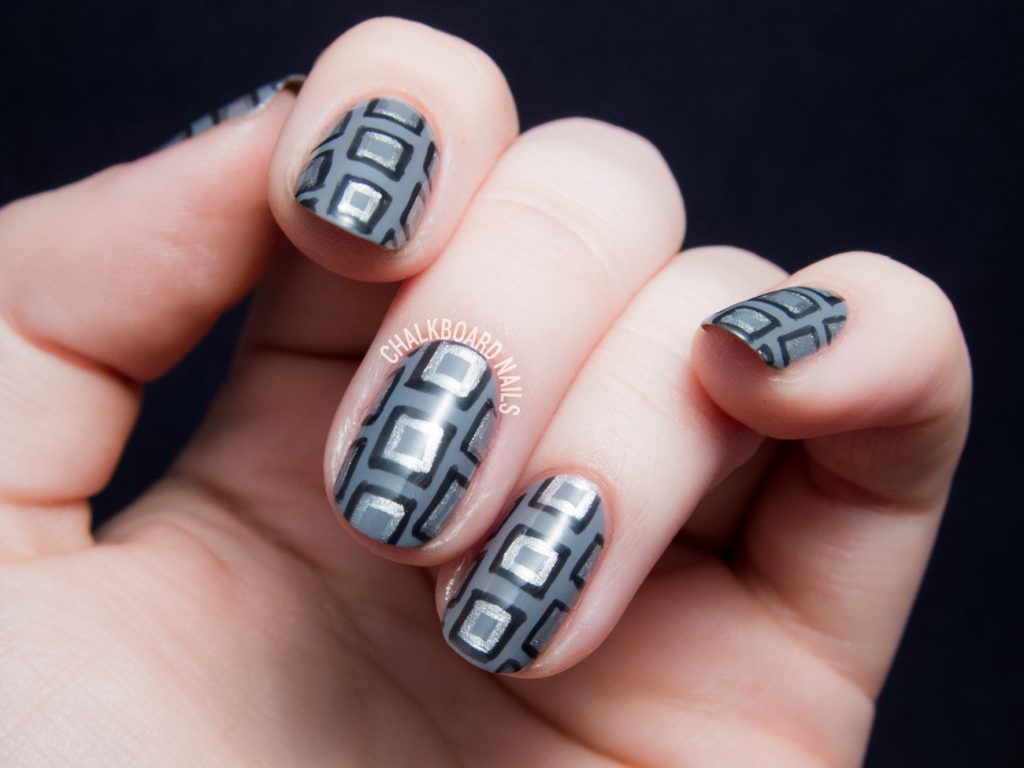 This design is based on the square shape which is a prominent shape of the quadrilateral. You can choose a mild color on the base, then draw black and silver squares on the surface.
Draw full squares on the middle and half squares on both sides of the nail beds as there is not enough space to draw full squares.
#12. Geometric Nail Design – Various Shapes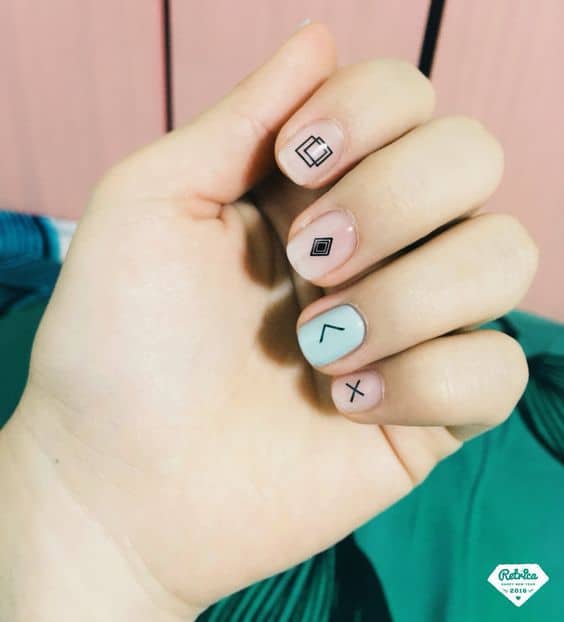 One of the cutest geometric nail art. Two overlapping squares and a few overlapping rhombuses are painted along with an angle and intersecting lines. Any math geek would love this geometric nail art.
#13. Different Patterns and Geometric Shapes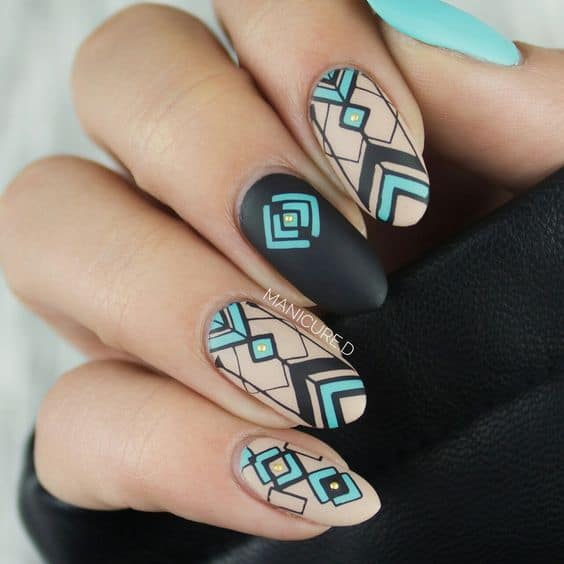 The salient components of nail design are its patterns. If the pattern is drawn with a perfect sequence it gives the best output.
This is that kind of design. Different patterns are organized nicely in black and sky blue colors. This geometric nail art looks dynamic.
#14. The Angles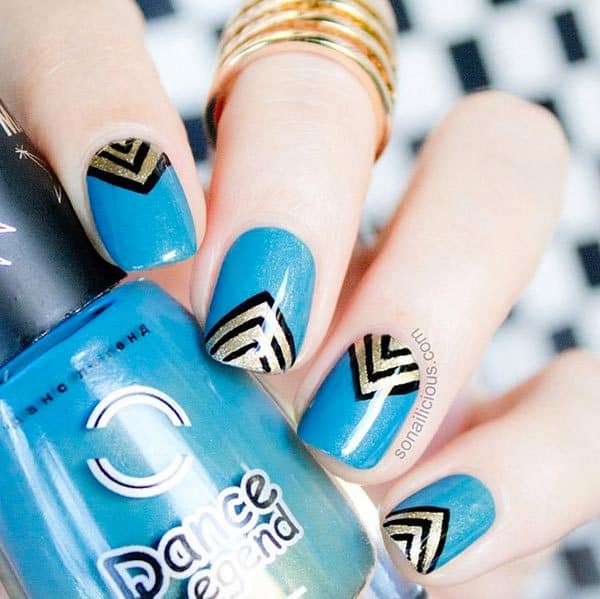 How a few angles can change the whole look of a nail art is the best instance for that. At first, fill the nail surfaces with a blue color base. Then draw some angles in black and golden color to have this nail art.
#15. Black & White Lines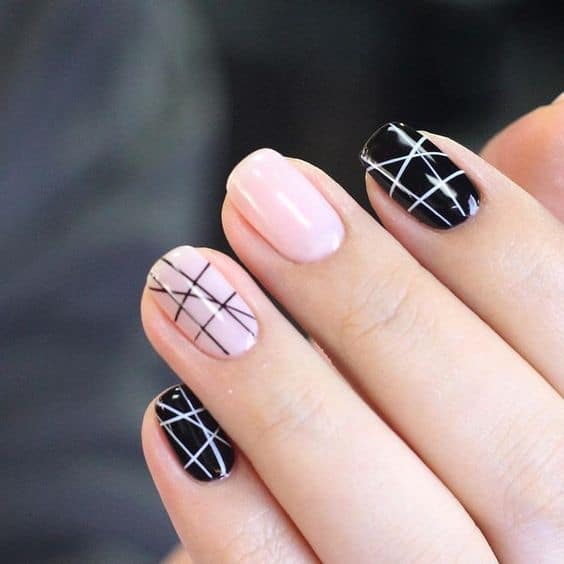 You can use the ultimate combo of black and white in geometric nail art too. Draw some intersecting straight lines on your nails. Use black on nude color base and use white on black color base while drawing the lines.
#16. Scattered Shapes

Different shapes have been scattered across the whole nails in this design. You can draw the shapes randomly like it is done in the picture for this geometric nail art.
Carry your Luck with Ladybug on Nails
#17. Overlapping Triangles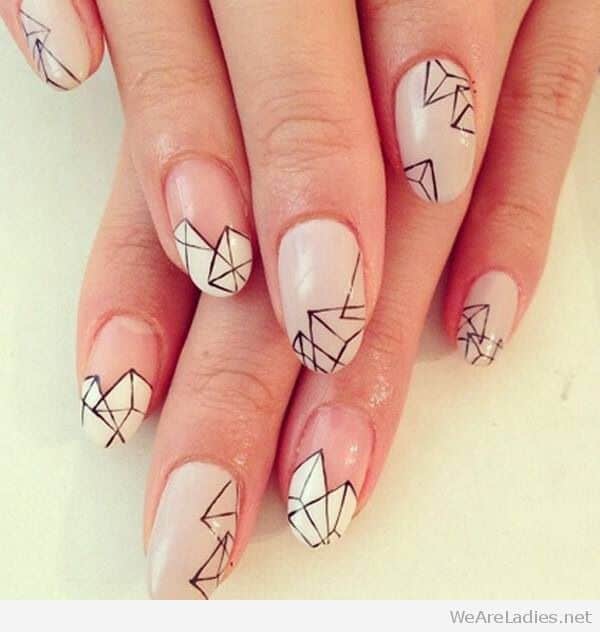 Triangles having different shapes and sizes have been painted for this geometric nail art. You can have them in your nude nail with an overlapping order to give a trendy look.
#18. Swirling Angles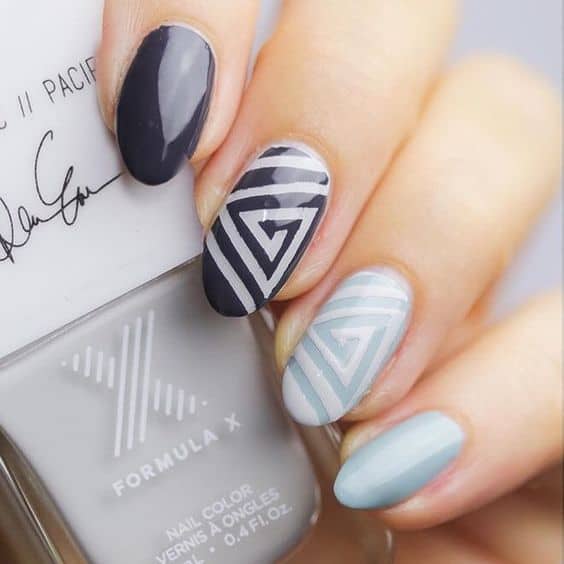 Swirling Anges, this title is saying everything about this design. Draw the angles as if they were swirling in the central point of the nail beds. This geometric nail art looks stunning if designed with the proper color combination.
#19. Golden Charm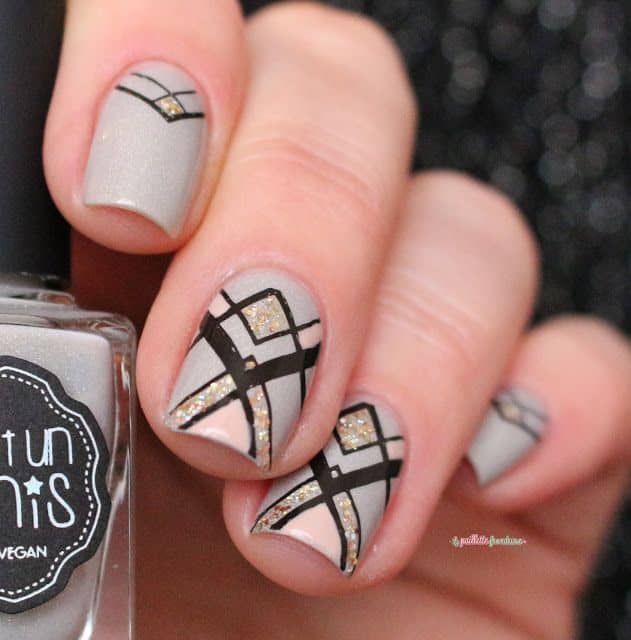 You can use golden glitters in between the geometric patterns which will be drawn on your nails. After drawing geometric patterns, some spaces are always kept alone. You can fill them with the charm of gold glitters.
#20. Abstract Geometric
If you or your nail technician is an expert at nail art, you can have geometric shapes and patterns drawn as abstract art.
Combine the colors, shapes, and patterns in a way so that they mean something and complement each other.
#21. Shiny Surface
You can have this shiny geometric nail art on your nails by drawing a few angular shapes deriving from the bottom edge of the nails. Use glitters to have shiny surfaces.
#22. The Quadrilaterals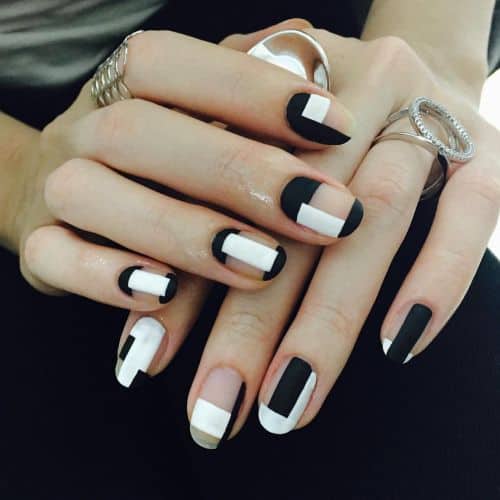 This design is all about quadrilaterals. Black and white have been used effectively to depict quadrilaterals of different sizes. You can wear rings on the ring fingers to have this geometric nail art.
You can have wonderful geometric nail art just by using straight lines. First, paint your nails white color.
Then draw lines from different points of the nail bed. The nails can be perpendicular, intersecting or striped to add diversity to the nail art.
#24. Black And White Squares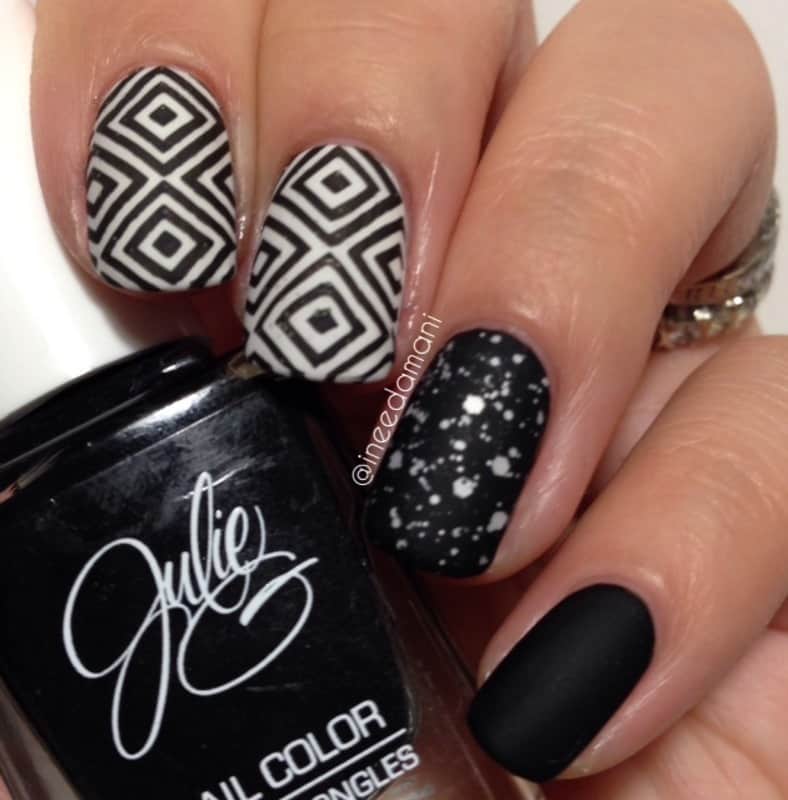 Back and white squares associated with black nails look attractive in this geometric nail art.
#25. Pointy Triangles
You can draw some pointy black triangles on your grey nails to have this geometric nail art. White tips give these nails extra beauty to show off.
Gold glitters and maroon can give amazing output with respect to geometric nail art. Draw different shapes on your nails and fill the spaces in between them by using gold glitter and maroon color.
#27. Triangles And Bow
Draw some triangles on all the nails of your fingers. You can use a rhinestone on the central point of a bow. Then place this bowl on the nails to have this geometric nail art.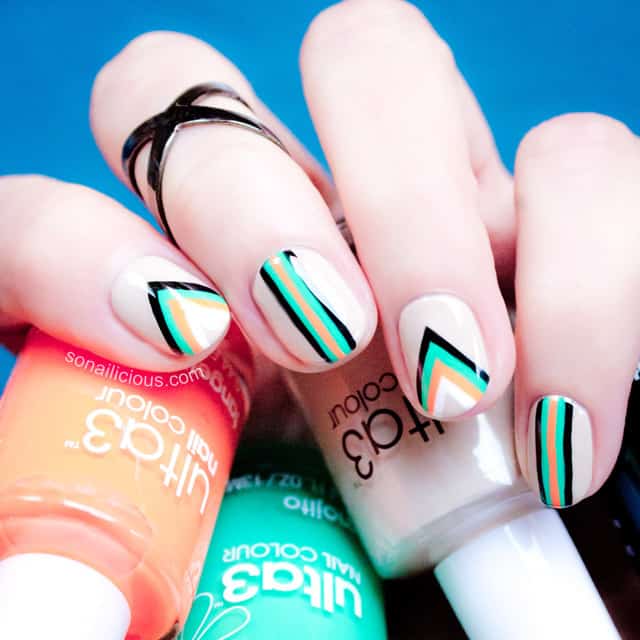 If you like bright colors, this is the perfect geometric nail art for you. Draw some angles and lines on the nails using neon colors for a radiant look.
Make Your Own Neon Nail Polish at Home
#29. Red Patterns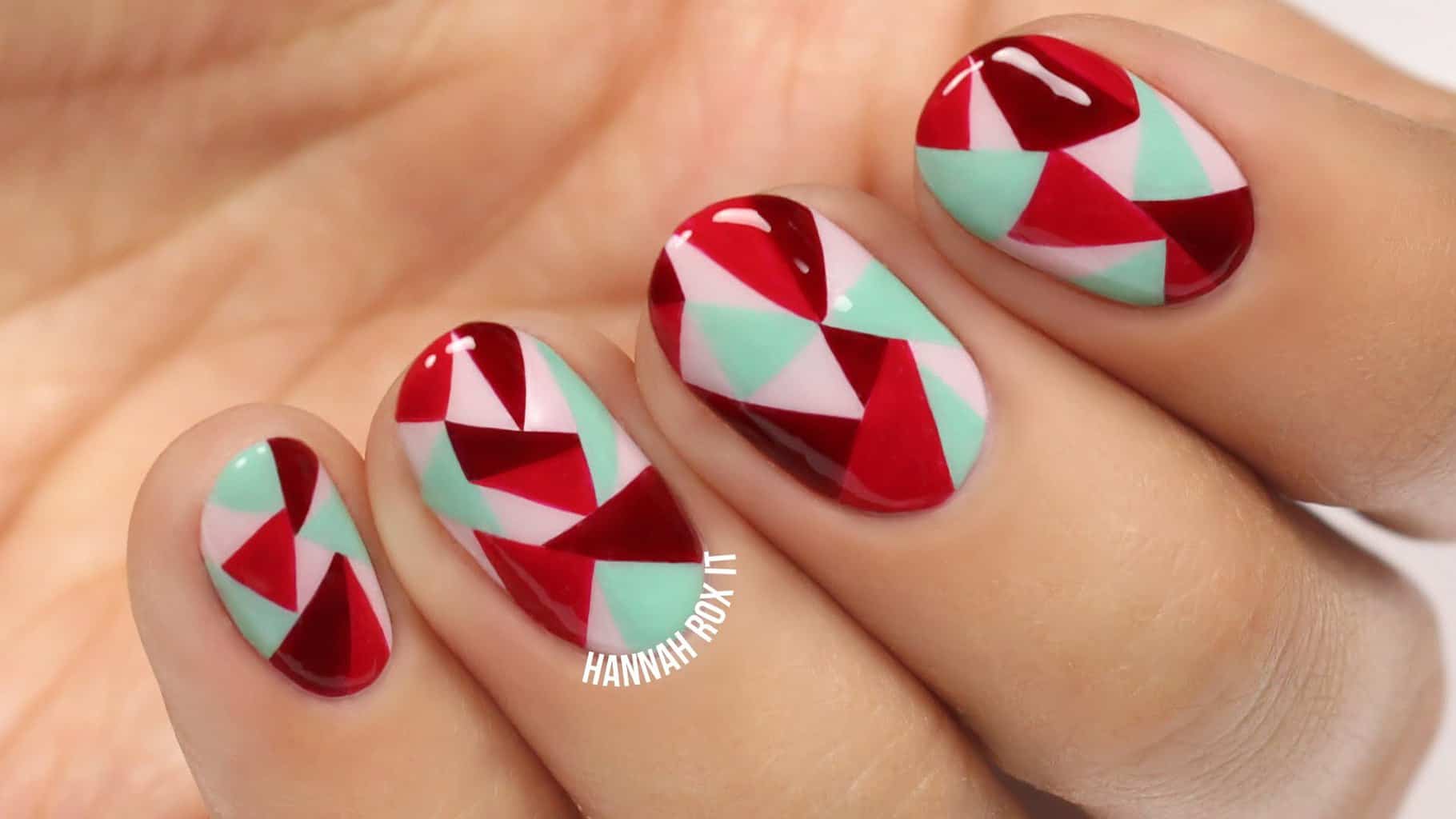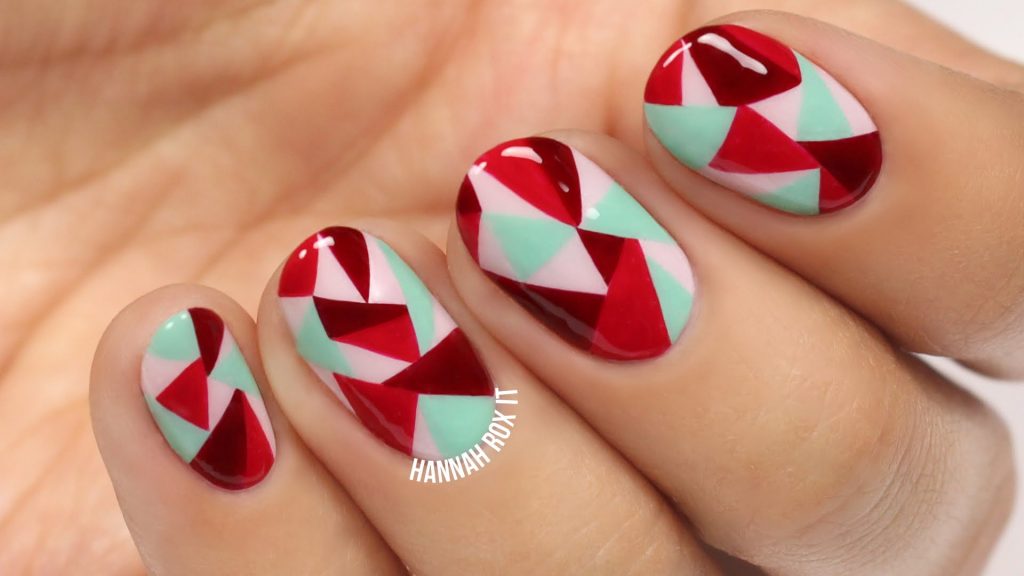 Red is a universal color while speaking of any designs in the fashion industry. You can use red patterns along with other colors to have this geometric nail art.
#30. Negative Space Nail Art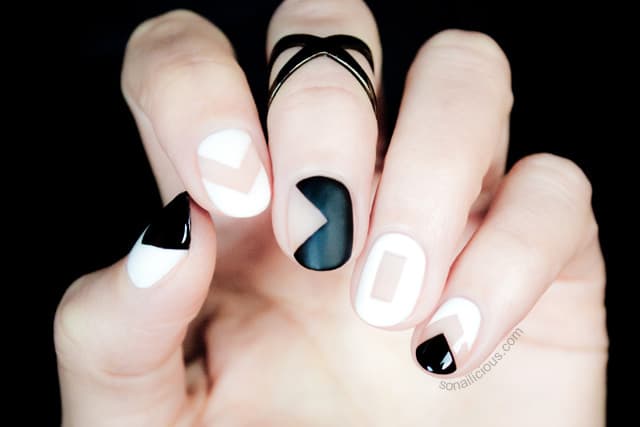 Negative spaces can be used with great efficacy to draw geometric nails. You can use black and white to draw angular and rectangular shapes keeping negative spaces between the patterns.
#31. Parallel Lines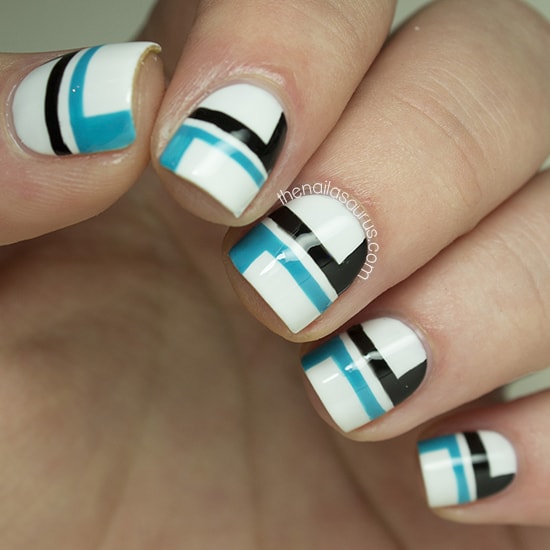 Parallel lines are one of the most discussed topics in geometry. Use them for perfectly straight lines in geometric nail art. Here, black and light blue complement each other beautifully on a white base.
#32. Triangle on the Top
This arrow-like design features triangles that branch off a straight line to resemble an arrow. Use black for the line art against a light-colored base like white with a sage green undertone.
#33. Just Straight Lines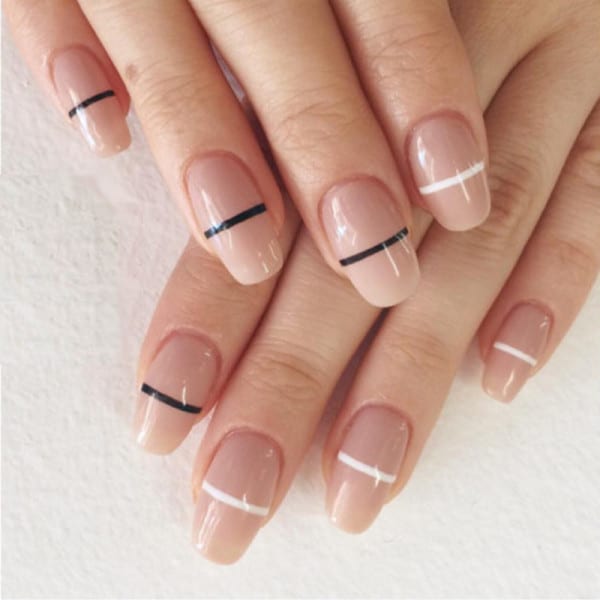 A straight horizontal line in the middle of the nails creates simple geometric nail art. You can draw these lines in black, white, or any other color you like.
#34. Colorful Geometry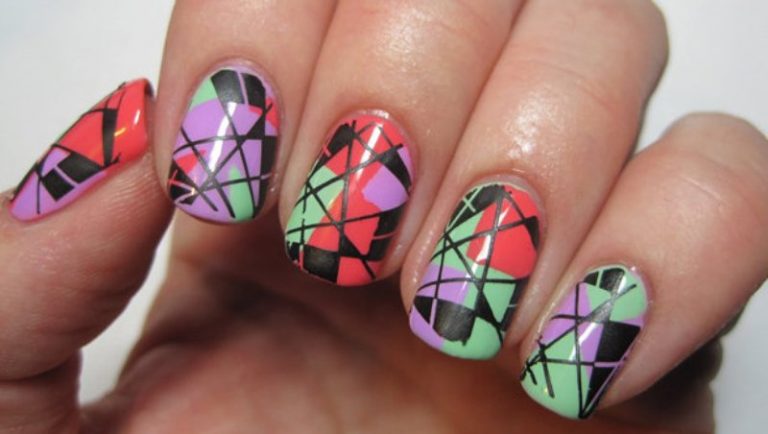 The prime colors of a geometric nail art are black and white, but you can use colors if you are a fan of colorful designs. Draw some random patterns on your nails and fill in with your favorite colors.
#35. Complex Geometry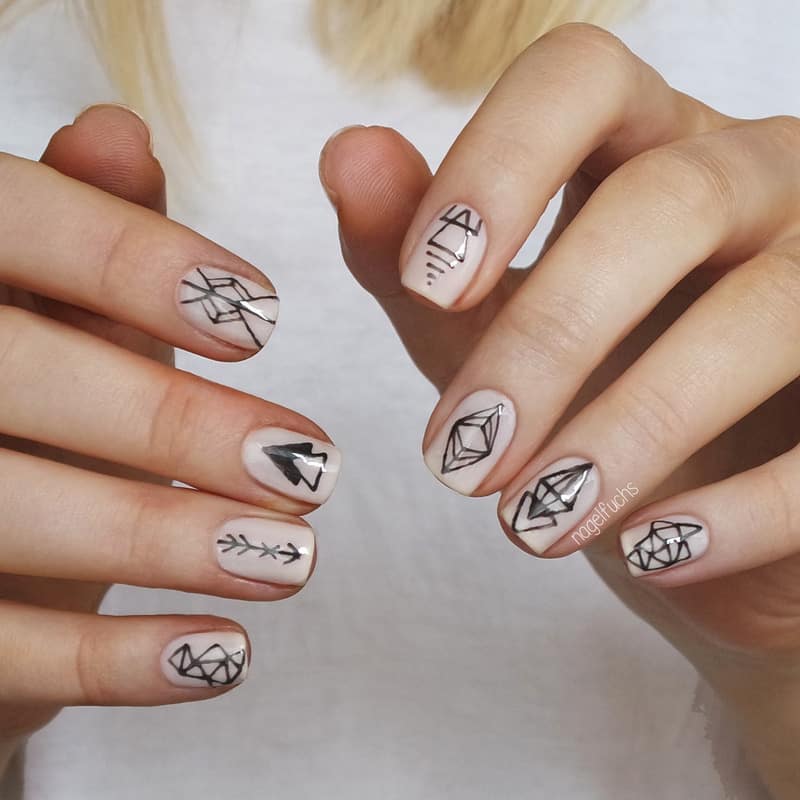 This geometric nail art refers to the complexity of geometry. The shapes and patterns are not simple as depicted before and almost look somewhat tribal.
Celebrate Valentine's Day with These Nail Designs
Some Innovative Geometric Nail Design Ideas
Innovation is the attribute of a true fashionista. Being creative and using your imagination is one of the best parts of nail art. The above geometric nail designs should help you on your way to interesting, eye-catching nail art!