There's nothing more gorgeous than a fresh tan, so don't choose the wrong nail color to ruin your style.
When summer is knocking at the door, everyone runs off to the beach to catch the golden sun rays in their skin. Just to turn their pale skin into a bronzed, tanned tone to feel more attractive and boost their confidence with the complexion. Colors like citrusy or neon look undeniably gorgeous on golden skin.
So do the bright and vibrant nail colors. Mismatched nails are enough to destroy the sun-kissed look they desire. So, you've to be very attentive to choose the best nail color for tan skin.
If you really want to pop the beachside look flawlessly, we've listed the best hues for you! From hot coral tints to warm subtle nail paint, everything is here.
Best Nail Colors for Tan Skin
When you're on the beach, you should always go for nail shades that are out of your comfort zone. The more contrasted your nails are with that bronzed or tanned skin, the more noticeable the tan tone will be.
There are a variety of colors that complement your skin's tan tone. Let's put them to the match!
1. Bright Orange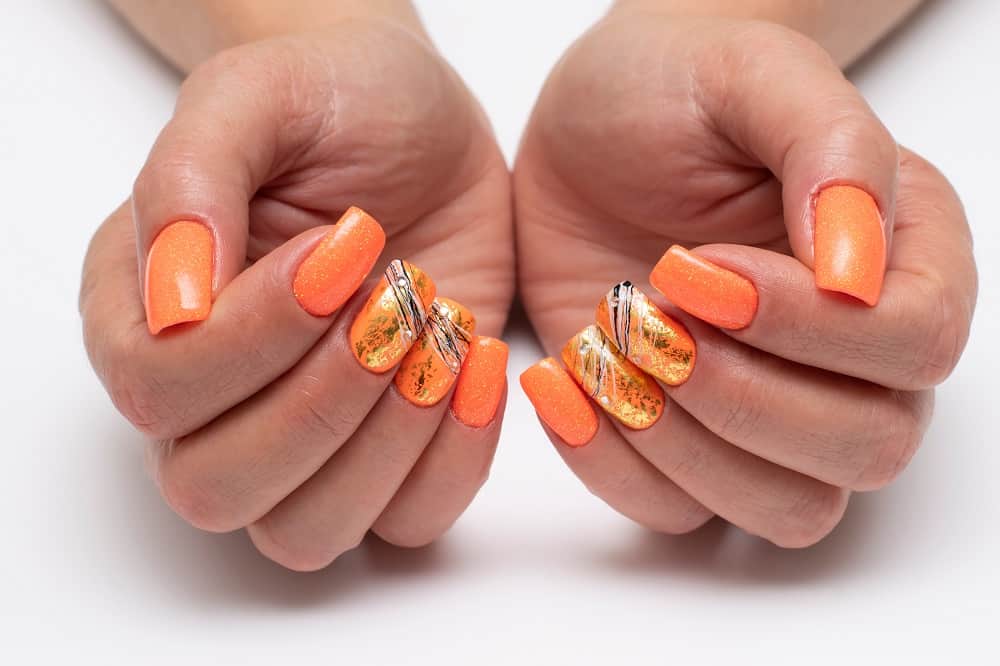 No other color looks so fabulous as orange on tanned skin. The color has its different individual effects on melanated skin. The tease tangerine tint blends very well with the summer weather and hot breezes.
You can try it from a variety of ranges; coral peach, carrot orange, or just some tangerine bright. For fresh, newly tanned skin, these colors are bliss!
As medium to dark skins has beautiful undertones and pigmentation, the bright, vibrant orange nails look gorgeous on them. You'll see celebrities and cosmetic enthusiasts often wear this shade on their way for beach or beach photoshoots. The color complements every dark skin complexion. So, why not give it a try?
Bright orange nails speak the language of boldness. Not too overpowering, not too subtle; just the perfect right hue to show off. So, don't forget to wake your inner junkie with this eye-catching shade. The perfect nail design for beach parties and holidays!
2. Neon Green
Green pops beautifully against medium to dark tanned skin tone. If you want to sharpen the attractive tan skin, try the green neon nail paint. It creates the perfect contrast with the temporary melanin-enriched skin.
Neon green is the symbol of freshness & growth, and also the hue is close to nature. So, it can never fail your efforts to look luxurious. The pigment is fun and versatile. You can wear it with literally anything. You can even try French tips design on the nail with it, and there'll be nothing wrong.
Furthermore, if you don't think neon green is for you, you can lighten or darken the shade by using any of the green color varieties: olive green, emerald, or dark green. Trust me when I say that all colors of green look fantastic on golden skin. So be choosy, it's fine, but don't get rid of this color!
It's the eye-catching, dramatic tone you're looking for. Everything is complemented by this color, from your nails to your skin and the outfits you wear!
3. Fuchsia
Fuchsia is called one of the best nail shades that flaunt on dark skin amazingly. It'll easily jazz up your beautiful summer-toned skin. With this gorgeous bright tone, your tan will look hot and lavish like never before.
The striking bright color is kind of similar to neon shades. It's like a hot neon pink that'll strike right into your eyes.
No other nail paint will catch the attention of others like fuchsia. To get the best out of it, use one white coat underneath the color to flaunt it more vibrantly. It brightens up the hue. There are a ton of nail polish brands that have this color in stock, so don't forget to pick one up as soon as you come back from the beach.
This color will appeal to girls who consider themselves to be the Barbie girl of their Barbie world. If you're looking for something creamy and vivid for your nails, this is the one to go with!
4. Hot Pink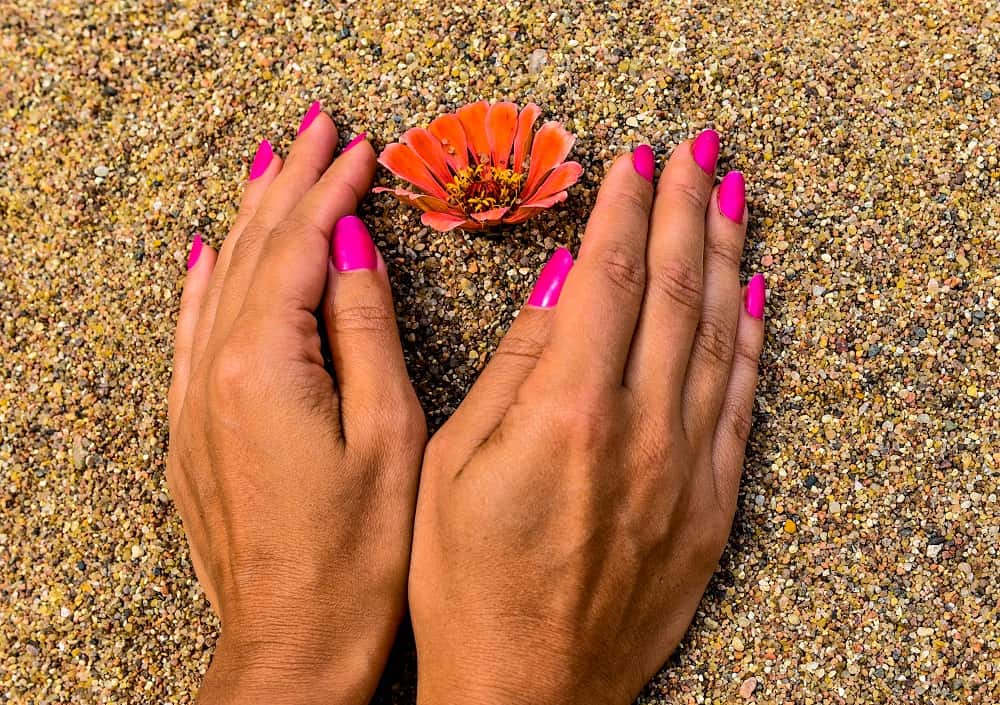 Here comes another bold and vibrant shade that looks amazing on tanned skin. Hot pink is the color of courage and bravery. Pink, as we all know, is the most authentic feminine color out there, and every girl adores it. However, not everyone can pull off this color as well as those with tanned skin! It looks fantastic on them.
The richest nail color is bright or hot pink, which has been popular for years. It's the timeless shade for everyone, aside from red or neutral nail colors. It was only recently discovered that this color looks great on folks who have just gotten a tan. One coat of it is all you need; two coats is the most you can go.
And guess what? The pleasing pink nail color is available and is one of the most basic shades for every nail polish brand out there. There's also a wide range for this shade. So, you won't feel any difficulties finding this gorgeous hue for you.
5. Ocean Blue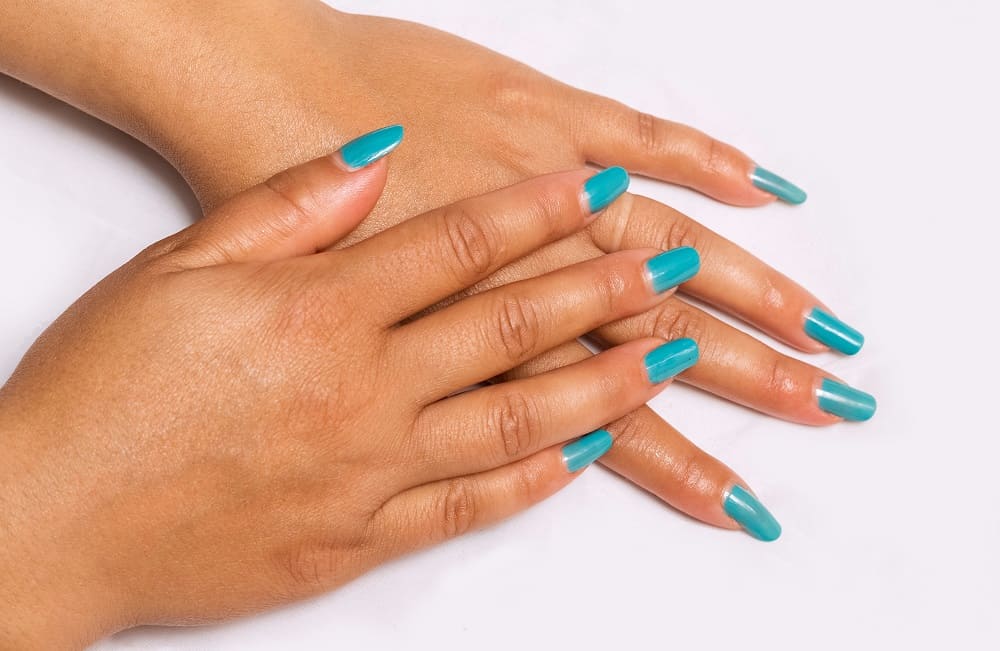 This particular tint with a shiny, non-glittery touch looks great on brown to dark skin in the summer and isn't too flashy or fancy. Blue nail color is itself fresh and exciting, but it's also a daring pick.
Everyone knows blue is the heavenly tint for any person who has a medium to dark skin complexion. So, when it comes to bronzed skin, this color will undoubtedly exhibit the best of it.
The shades of blue strike and pop beautifully against tan skin. This hue goes perfectly with everything; short or long hair, with oval or square nails, everything will be covered.
As the hue ocean blue is close to a mixture of blue and turquoise, it even looks more gorgeous. It's both the warm and the cold shade that you really pull off in any season.
For summer skin tone, it should be number one on your go-to nail colors list. If you really want to turn heads and stand out on a warm evening or at a party, this color is an excellent choice.
6. Citron Yellow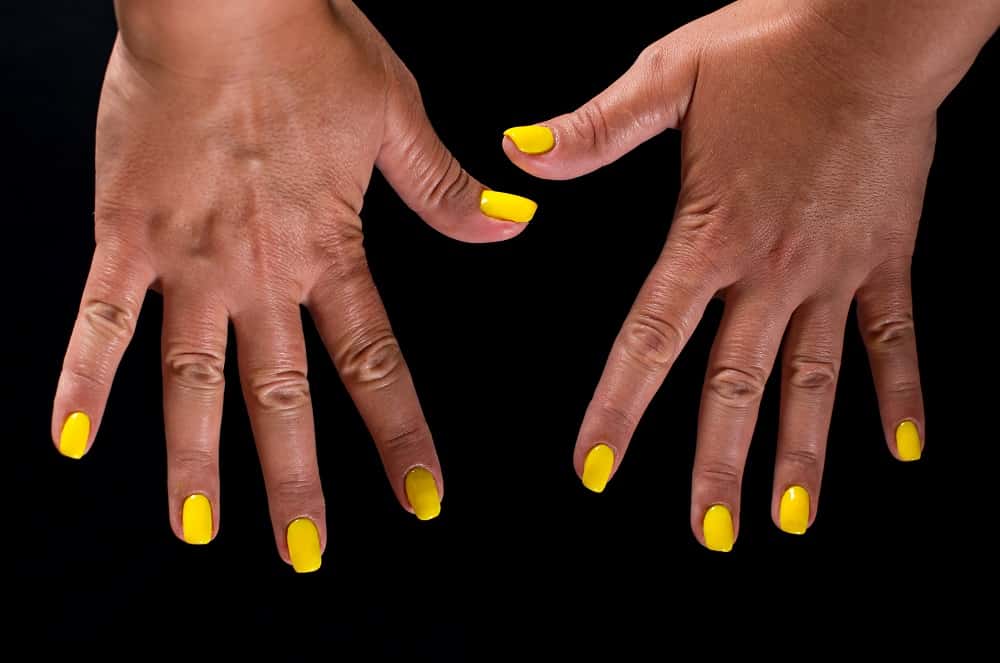 This is a color that can't be pulled off by everyone but also the picture-perfect, never-go-wrong shade for beach lovers. Yellow is said to be the ideal hue for any dark skin complexion. It gives the neon effect and contrasts with tan skin. A few coats of lemon-lime yellow on those gorgeous nails will never ruin the fresh tan.
It creates the saturation that goes sublimely with the suntanned skin tone. Moreover, the yellow tone resembles the sun rays & the warm summer vibes totally.
Summer is all about having a good time in the sun while sipping cool drinks and talking about new adventures. Between them, there's no room for drab, unsightly nail polishes. The yellow nail polish will add a pop of color to your glass, allowing you to lift it higher and toast! It's a cheerful color at its best.
To elevate the fashion trend and to go bold in style, you can blindly trust this hue on your way to the beach. It'll definitely steal the show for you!
7. Coral Red
It's not possible to leave the red out from the list of nail colors for tan skin. Red nail goes with every skin tone, whether it's pale, fair, medium, or dark. It's the most versatile shade you can find out there. And, of course, this bold hue works wonders against tanned skin too!
Coral red is the classy traditional color. The color has two sides; bold- rich & elegant. Both ways, no other color can beat this tint. When it comes to tanned skin, though, a conventional red swatch does a fantastic job of emphasizing the tan and complementing your complexion. For a highly melanated tone, this is the perfect and most vintage shade.
The color won't fade or get chipped no matter how much you flash it into salty beach water or under the burning hot sun. To have the perfect eye-catching shine, coat it with a glossy transparent polish. You'll be thrown away by the final result.
8. Lavender/Lilac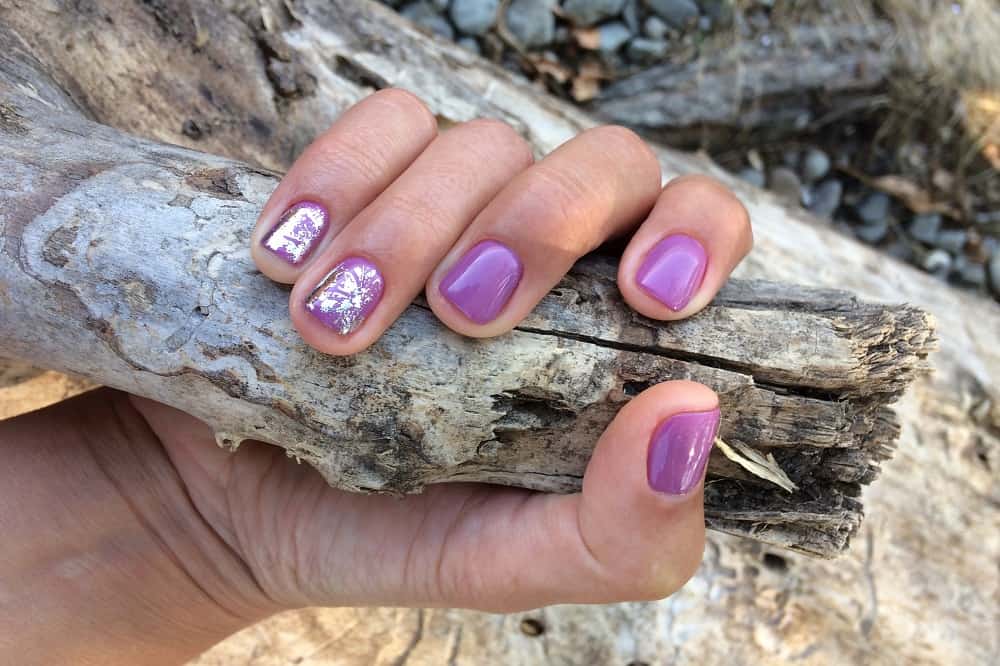 Lavender is the shade of relaxation. Among all these bold nail colors, it's the calm one to make you feel comfortable. When you're not in the mood to get bold, or fierce you can be in your comfort zone with this tint. The quiet tint makes your tanned hands look elegant and warm.
You can choose a minimalistic nail design or just go for a simple coat of light paint with it. Both ways, it looks great on medium to dark or freshly tan skin tone. As it seems like a shade of pale pink or something almost similar to a nude hue, it can never go wrong with your summer fashion sense.
The tint will definitely make it up to the mark to flatter your gorgeous tan. Moreover, the lilac or lavender shade is the prettiest nimble purple tint you can find out there.
One More Shade
Among all the skin complexions, bronze is a new beauty. Celebrities spend a lot of money to obtain the ideal tan on their skin in trying to appear more appealing. So do people like you.
In a nutshell, we always should pay a little extra attention to painting the nails so that they don't ruin the tan rather help to show off the tan even more.
It's tough to wade through the hundreds of options for the appropriate shade to match your tanned skin. You can't just take a chance with the time and work you put into soaking up the sun on your skin. Now the nails are posing a problem? Certainly not!
All of the best nail colors for tan skin that we've listed here have shown to be effective and will make it simple for you to choose. You can't dispute how stunning these painted nails look on golden skin. They're therefore highly recommended for you if you're heading to the beach or have a tan appointment coming up soon.