If you've ever seen the movie "Confessions of a Shopaholic," you know the effect dark green can have on a woman, and that's just a scarf the ladies in the movie go crazy for! If you're looking for a way to bring instant style to your fingertips, you have to choose dark green nails!
There are many colors to wear with dark green to make a bomb nail design. White, black, silver, and gold are all bold colors that make the best accents. Your green nails don't have to be super detailed to be stylish either. A few gold dots on one or two nails of each hand is sometimes all it takes for a gorgeous design. It's up to you!
Don't worry, we've pulled together the top five best green nail designs. We can't wait for you to see them!
Gorgeous Dark Green Nail Designs
Make your friends green with envy by choosing one of these five gorgeous dark green nail designs!
Mix light green and dark green by alternating the colors on acrylic squoval nails. The glittered nails will help make the glittered accents on solid green nails pop!
2. Dark Green Matte with Gold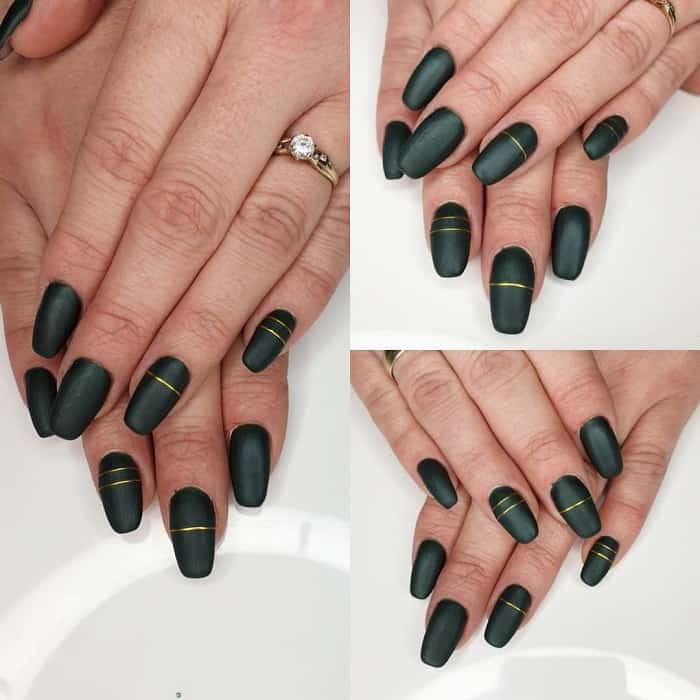 A shiny gold makes the perfect color for line designs on dark green nails. Just make the lines super thin and horizontal, making one line on some nails and two lines on others.
3. Dark Green with Gold Tips
Around the holidays, add some sparkle to those dark green nails with two glittered horizontal lines at the tips in the corners. Be sure to make these lines thin as well so avoid the design looking cramped.
4. Dark Green Gel Nails for Christmas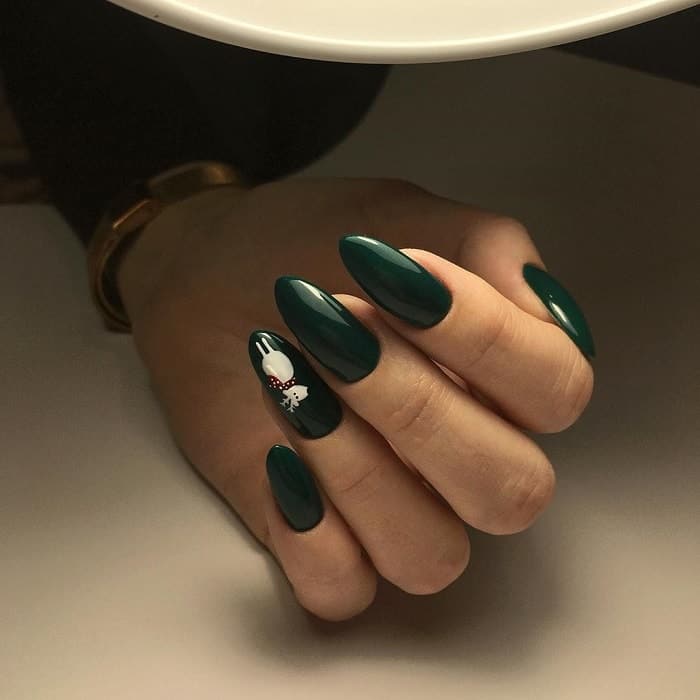 When Christmas comes around, make sure your festive nail design does too! These long stiletto nails are brushed with dark green gel polish. The accent nail features a cute little white reindeer, but you can make a snowflake, little white dots for snow, or another cute detail.
5. Dark Square Nails with Glitter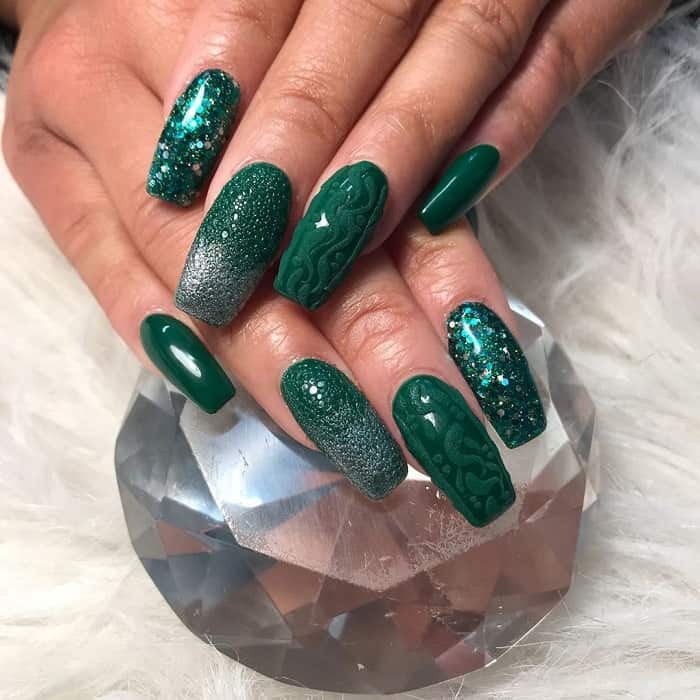 To get the most bang out of your nail design, choose both a traditional shiny dark green polish and a glittered green and use the color on long square nails which have the most space to cover. This nail design flaunts different textures which makes it the ultimate dark green manicure!
We bet even you're green with envy just looking at these nail designs! We definitely are! Will you opt for shiny dark green, dark green nails in matte, or glittered dark green? Whether you choose one or all, your nails will look fabulous!