Summer is on the door, knocking and waiting for you to let it in! But sure, you don't wanna greet the summer season with a cliche look! All you need is a cute girly tropical nail design full of summer vibes and summer breeze.
Best Tropical Nail Designs For Summer Days
Summer has just arrived! But are you ready to greet the summer days with your daily and ordinary look? Do you think that is enough? Well, of course not! Try tropical nail designs to blend with the summer vibes.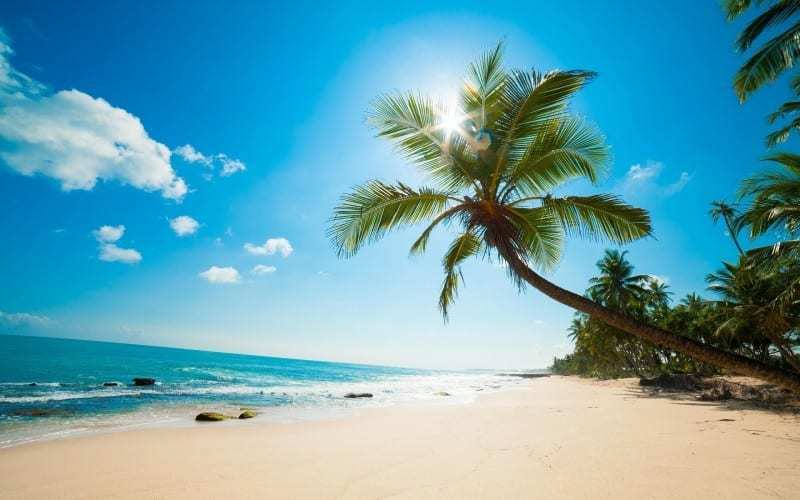 Summer days are full of joy and fun, so to be suitable for such a mood all you have to do is to wear an outfit that goes with the beach, night parties, friend hangouts, and others. However, for some summer hangouts, you feel that your outfit is not enough for summer breeze satisfaction.
All you need is a little extra special touch for your nails look that makes you have a better summer view, and this can happen by wearing one of the tropical nail designs from our below list of top 18 tropical nail designs below!
#1. White Tropical Nails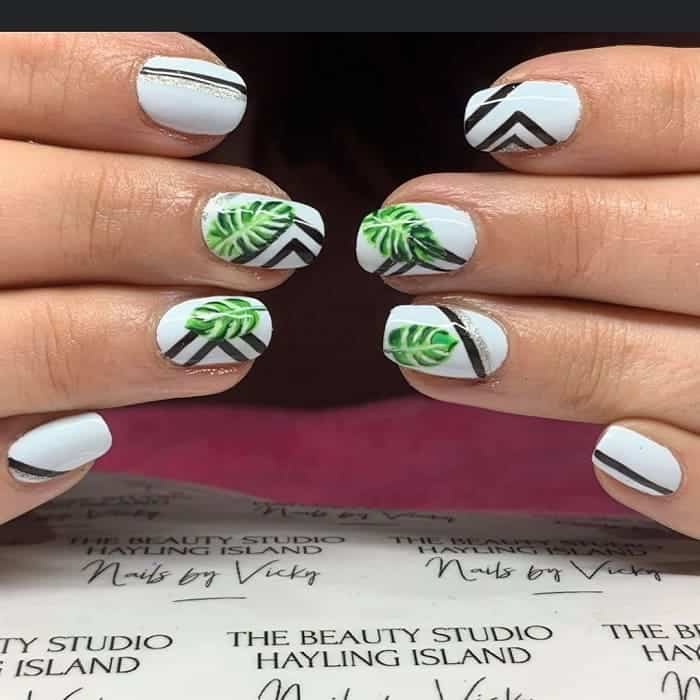 A split philodendron leaf is a common theme for tropical nail designs, whether you're going on a vacation or just want a daily beach reminder for your manicure.
For those who don't have drawing skills, you can apply a sticker on a white base color and paint a few black thin lines that highlight your look.
#2. Tropical Flower Nail Design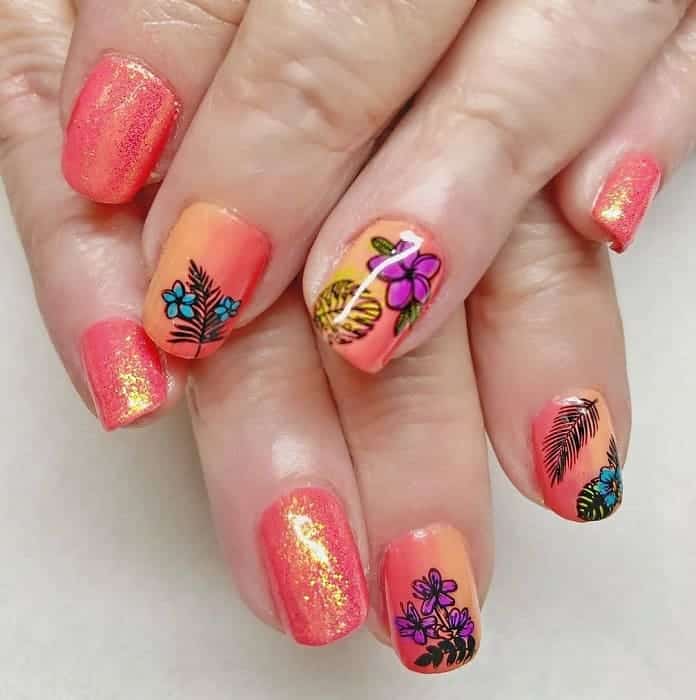 Love a manicure with complex paintings? Then you should definitely consider these short nails with a horizontal light ombre, palm leaves, and colored flowers.
To make the manicure look dazzling, apply a glitter coat on the ring finger and outline the flowers with black polish.
#3. Tropical Toe Nails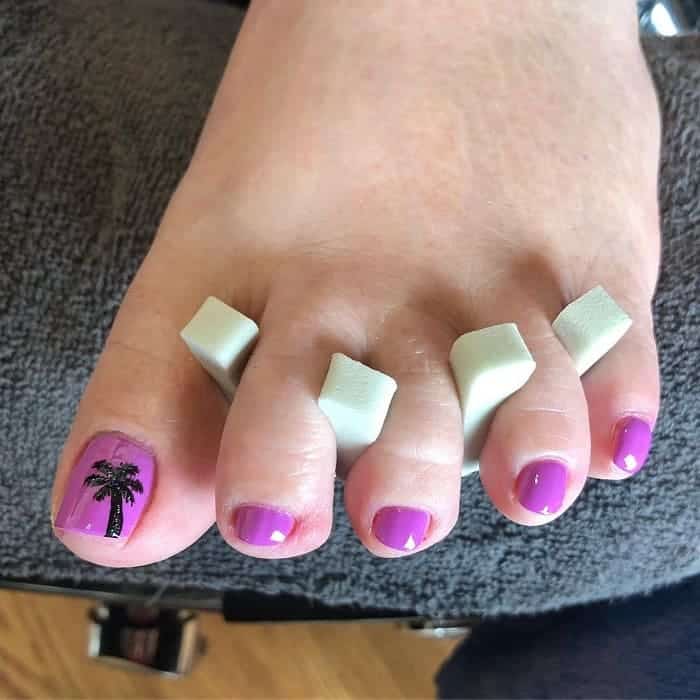 If you're going to a tropical area, you'll wear your sandals and flip-flops daily, exposing your manicure. And it has to be flawless!
Keep your toenails short, paint them in a beautiful light purple color, and use semi-permanent polish. It will last better than regular products.
#4. Tropical Beach Nail Art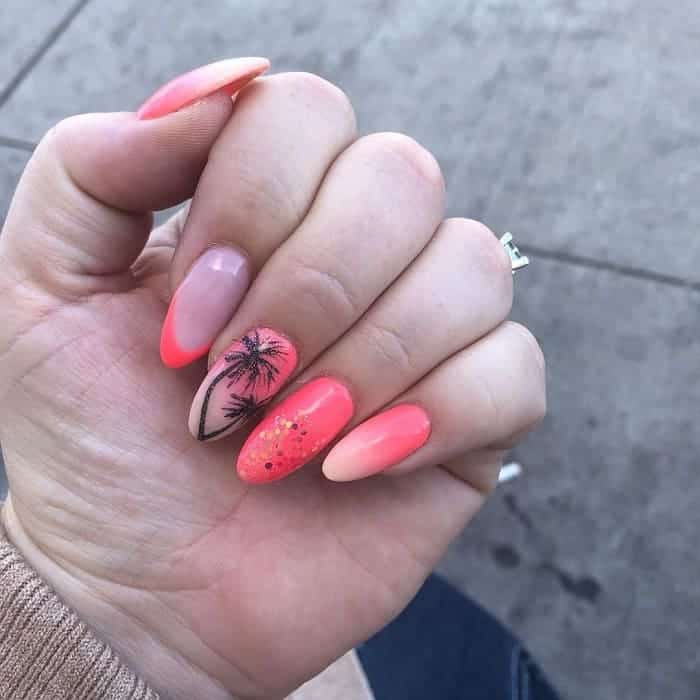 For this tropical nail design, you need to use acrylic gel and give those nails an almond shape. Try a different approach and style for each nail: ombre, French mani, full color with glitter, and palm drawings.
#5. Tropical Leaf Nails
A pale pink color with white palm leaves design will look outstanding on short almond nails. This mani is cute and delicate and a great idea for any outfit and style.
#6. Tropical Summer Nail Design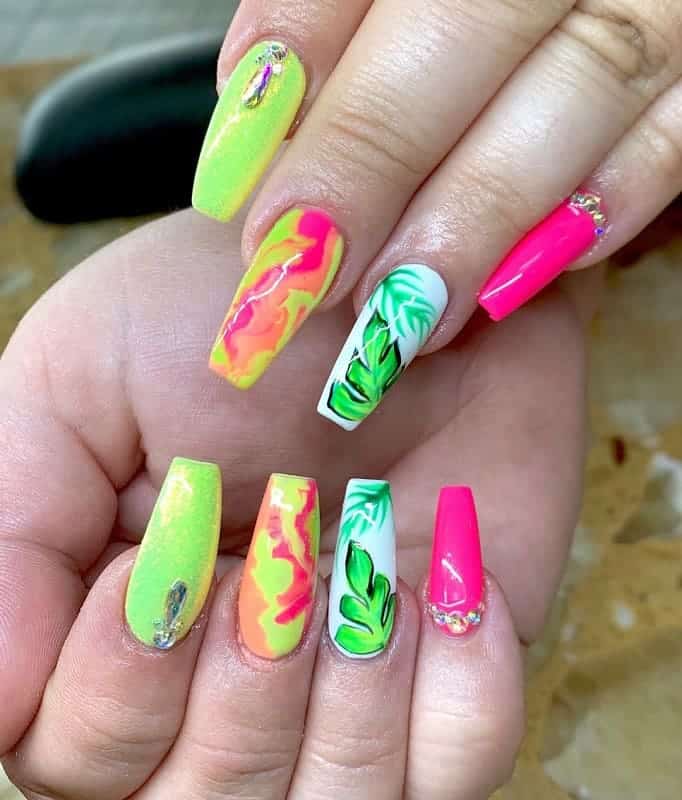 There is a lot going on for this manicure, and it will certainly require some time to recreate it. First, get long, coffin-shaped acrylic nails. Each nail must have a different electric touch, so be picky when selecting your colors, making sure they match.
Decorate with rhinestones and hand-painted palm leaves. You can even go further and style an easy marble effect on the middle finger.
#7. Neon Tropical Nails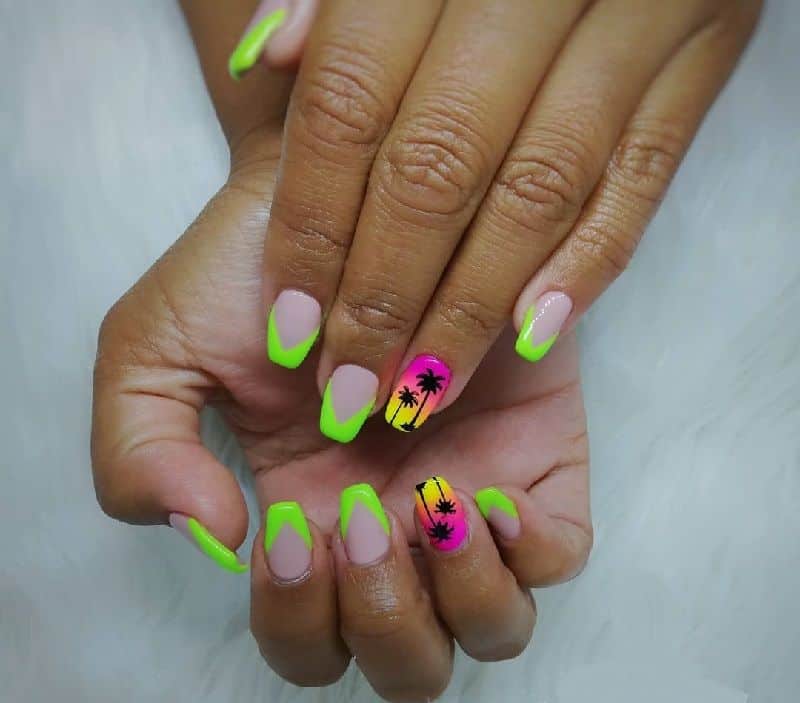 Neon tropical nail designs are perfect for darker skin! Get acrylic gel nails with a coffin shape and do pointy French tips.
On the ring finger, switch to a pink and orange ombre that resembles a beach sunrise and paint small palm trees.
#8. Tropical Gel Nails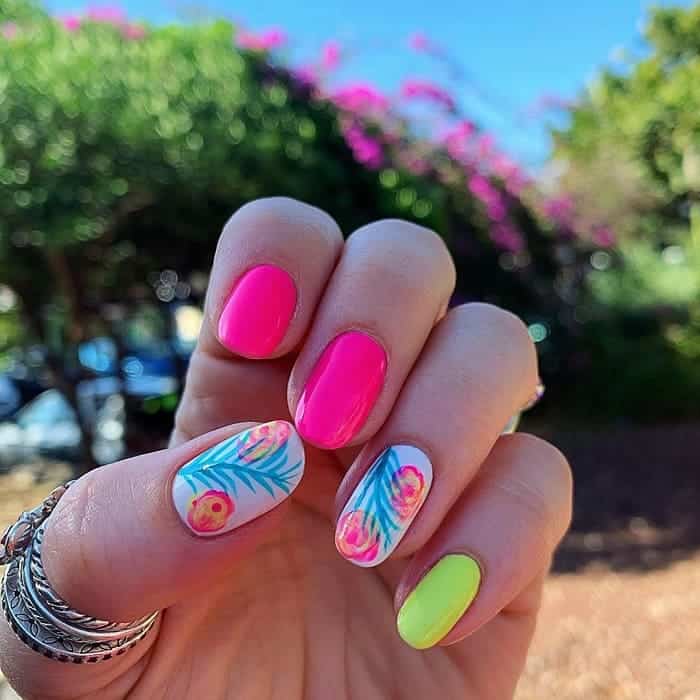 Bright neon colors are the best for summer activities and days spent at the beach. Choose electric yellow and pink colors for full coverage, and a white base for the nails where you plan to create designs.
#9. Aloha Tropical Nails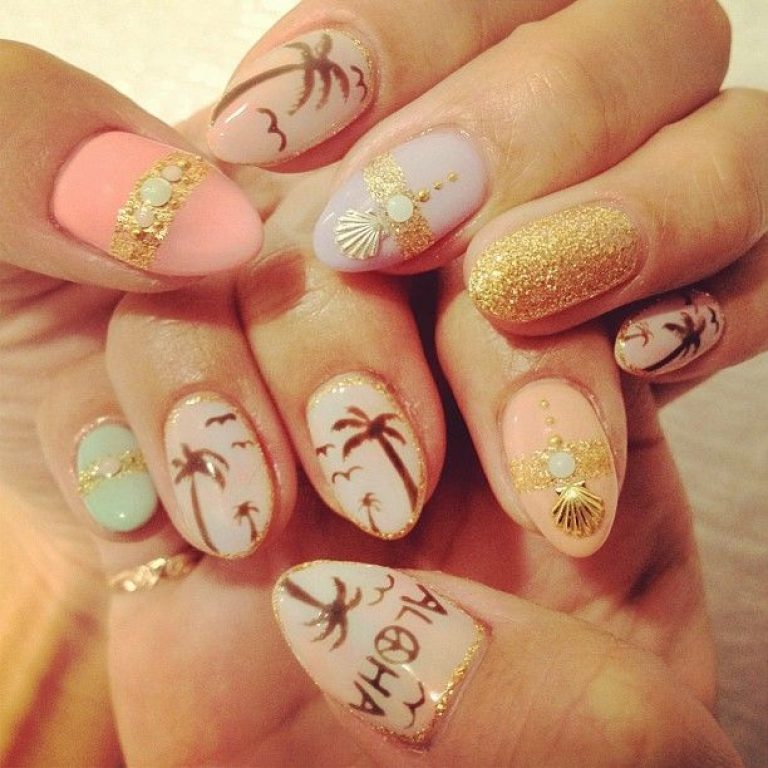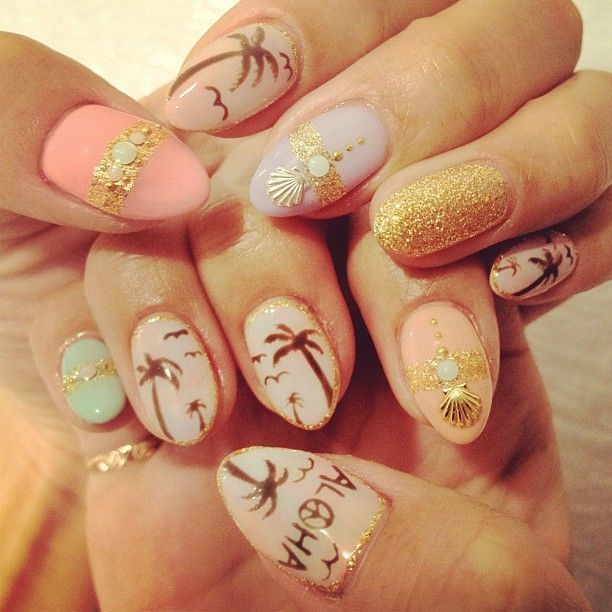 Hawaii is the country that everyone dreams to visit in the summer vacation. The word "Aloha" is a word used in Hawaii country and it is mentioned in the thumb fingernail.
In addition to that, the palm trees in the ring finger nail and in the middle finger nail give a perfect summer breeze and a cool mood for a tropical atmosphere on the sea shore of a summer day.
#10. Tropical Hot Pink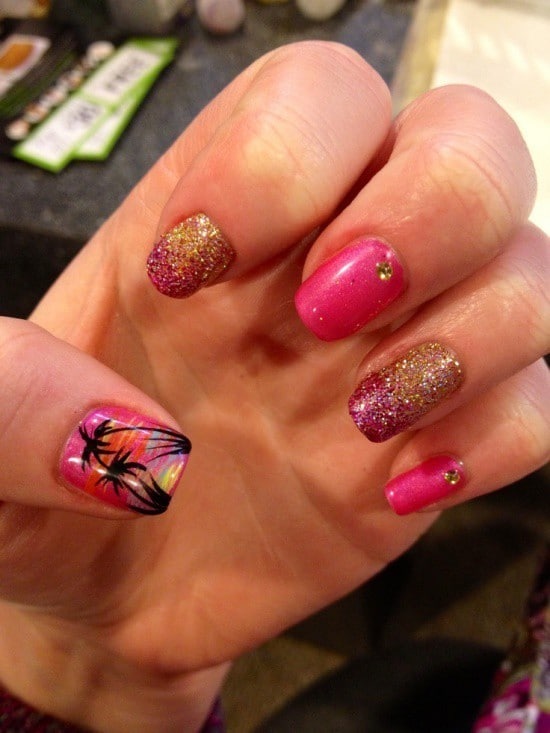 Laying under the tall and stiff palm trees while enjoying the summer breeze requires you, girls, to look sexy and girly enough in order to live the summer spirit.
So if you wanna be the first woman who enjoys this fresh and calm spirit, you better hurry by wearing a tropical nail design like this!
#11. Jasmines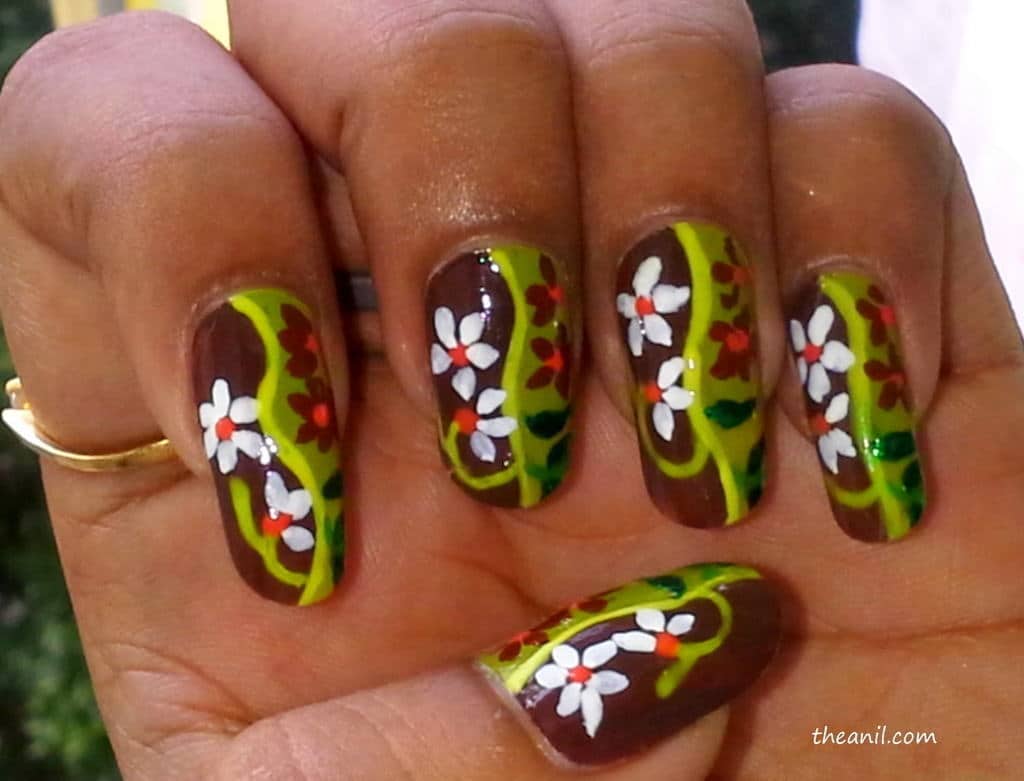 Jasmines are the smallest and the cutest types of flowers, they reflect the personality of a calm girl and a shy one.
However, a girl compared to a jasmine flower is a girl that sprouts from her the odor of flowers and the beautiful smell. So if you are in love with such cute plants, this nail design is all you need.
#12. Pinky Lilly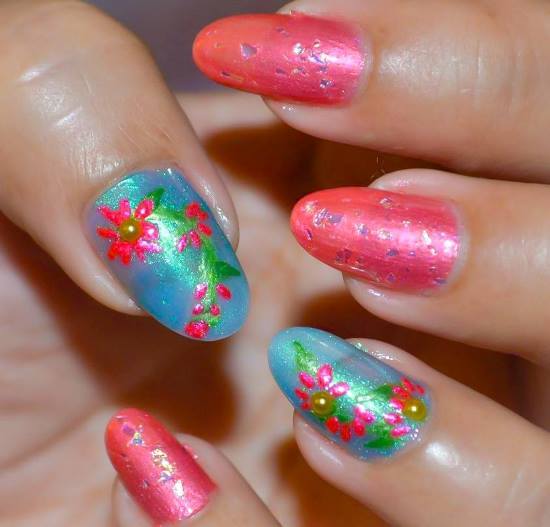 As you all ladies know, summer follows a very important and loving season which is spring!
Moreover, spring is well known for its sprouting flowers and colorful elements and this cute tropical nail design is full of the spring breeze and color vibes.
#13. Blues Clues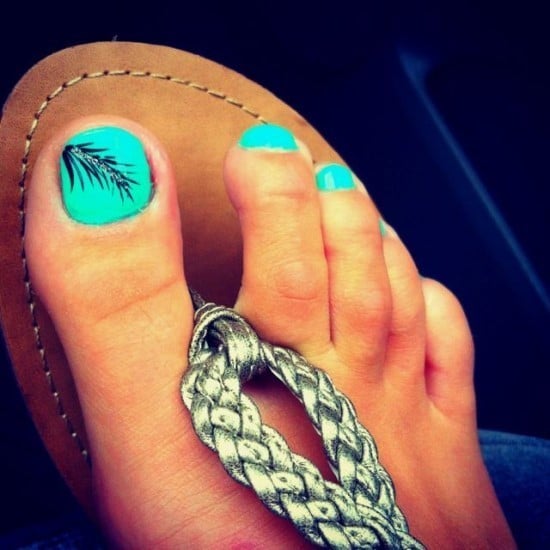 Summer is on doors, so when you wear your sexy and cool bikini, you gotta wear a fresh tropical nail design that suits the summer vibes at the beach, not to mention that blue is the best color to choose to design your two nails with.
#14. Hawaii Vibes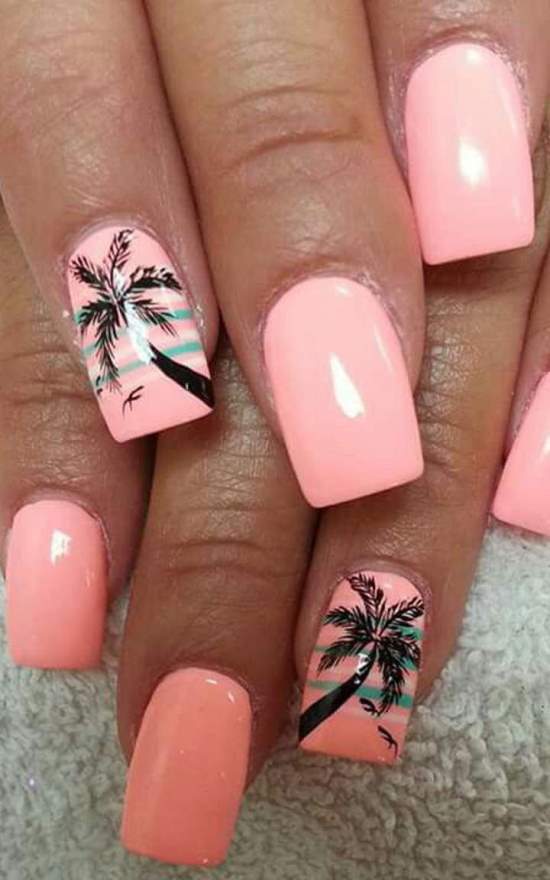 When things come to summer and beach, the place you wish to visit at that period of time is the Hawaii beach where palm trees cover the sand and protect it from the burning sunlight near the clear and fresh ocean.
So the best way to be ready for Hawaii visit, you must wear this beautiful tropical nail design that puts you in a summer beach day mood!
#15. Tropical Fruits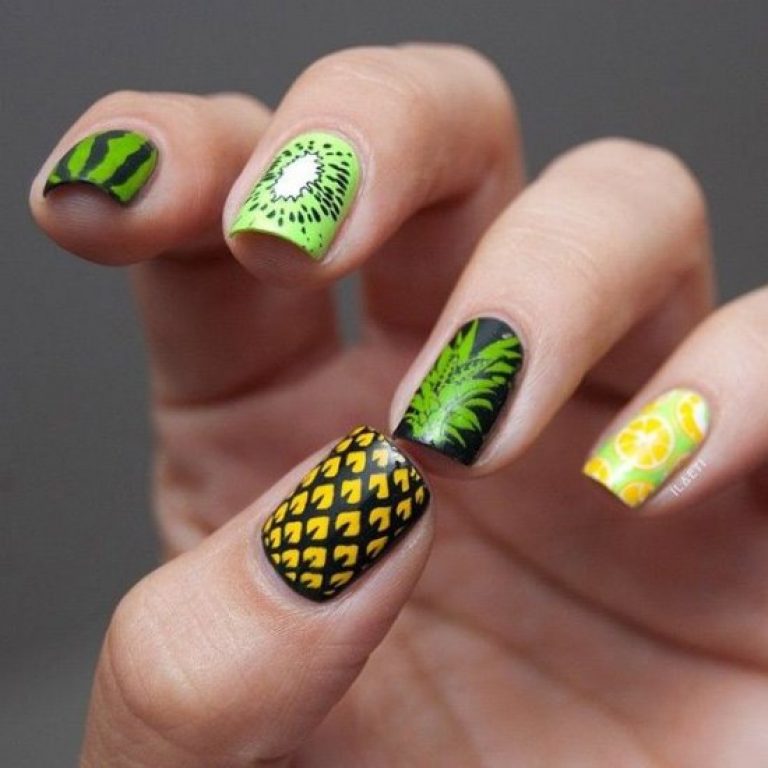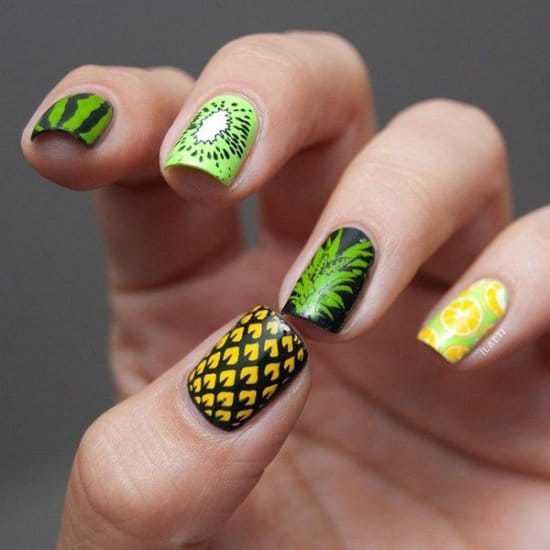 When life gives you no boyfriend, you ladies prefer to date food instead of men and especially fruits, tropical ones.
So if you are a fan of tropical fruits, this tropical nail design provides you with a cute style to transform such fruits into nail polish designs.
#16. The Chamber Of Secrets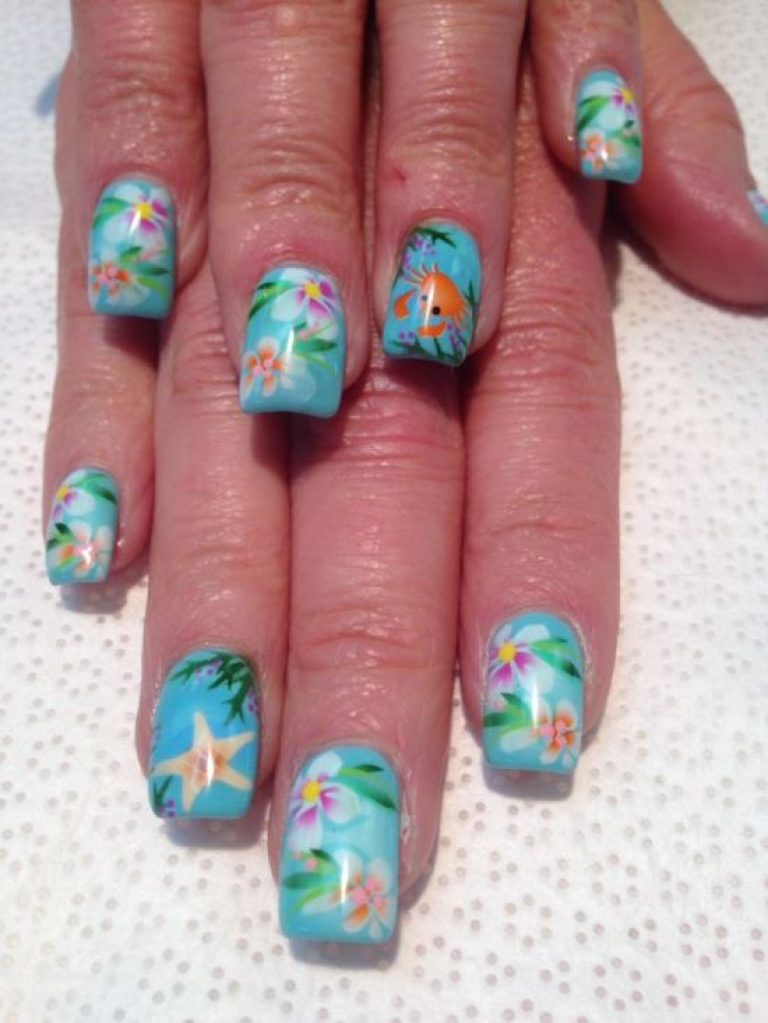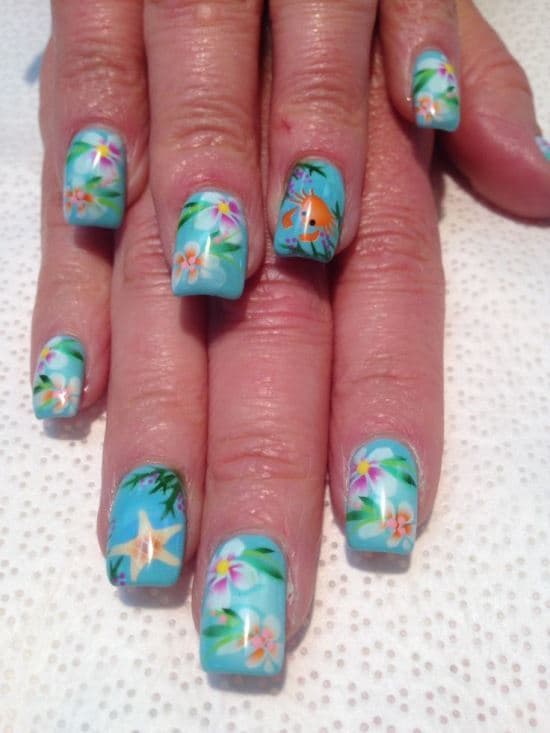 Many people are in love with the ocean because it is considered as an enormous box full of secrets. However, the deep blue ocean has many secrets that no human kind has discovered before.
#17. Fading Blue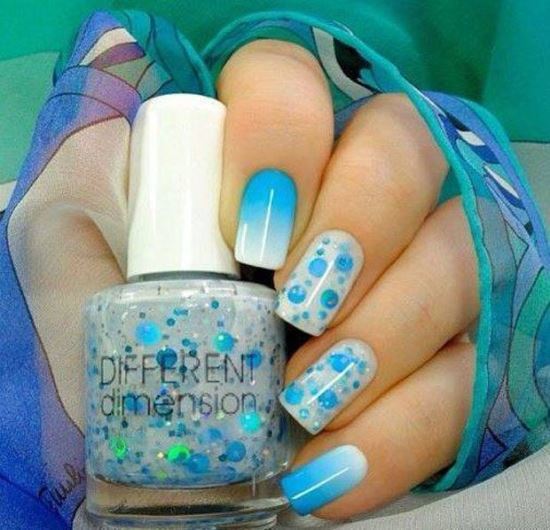 When you say the word "Summer" the first thing that comes to your mind is that sunlight that reflects towards the sea and gives the clear blue ocean its sparkle.
This fading blue nail design reflects your calm personality but at the same time the charming sea!
#18. Tropical Pineapple
One of the most delicious and best tropical fruits is the pineapple we all adore! So if you love to taste this tropical fruit, it is not enough to express your love by wearing a dress full of pineapples, wearing a pineapple nail design would be totally perfect.
In conclusion, summer is the season where fashion and beauty build up a competition between all ladies around the world! At first, things seem hard for you women in order to wear the perfect look that is full of freshness and coolness and at the same time the summer breeze that summer beach days require.
But wait, nothing seems to be so difficult anymore because, by the help of this list of 18 cool tropical nail designs, you are going to look sexy and girly as always wanted!