20 Magnificent Peacock Nail Designs to Embrace the Beauty
Peacocks are mainly popular because of their beautiful-looking feathers. The feathers are splendiferous and often they are associated with many cultural and religious symbols. There are age-old myths about the patterns of the peacock feathers. In Greek mythology, people believe that Peacock was made from Argus who had 100 eyes.
In Roman mythology, peacock symbolizes the females of the reigning house. The Hindu people associate peacocks with goddess Lakshmi and the Buddhist people consider it a symbol of openness as they spread their tail wide open. According to Christianity, it symbolizes renewal, resurrection and immortality. Apart from all these things, the images of the peacock are used in the fashion industry to a great degree. Read this article to know about peacock nail designs.
Check Out This Quick Video Tutorial on How To Do Peacock Nail Art
Uploaded by Tina Thomas on 2016-08-04.
Peacock Nail Designs to Depict Beauty & Grace
The best thing about the peacocks is they have beautiful multicolored feathers. The male peacock tends to display these tail feathers with a view to attracting the female peacocks. And we get the opportunity to see the magnificent display of color in the process. Peacocks are native to Asian region mostly. You can design your nails with the magical touch of peacock feathers which will allow you to carry mystical symbols too. Let's see how you can design your nails the best possible ways.
#1. Simplified Peacock Feather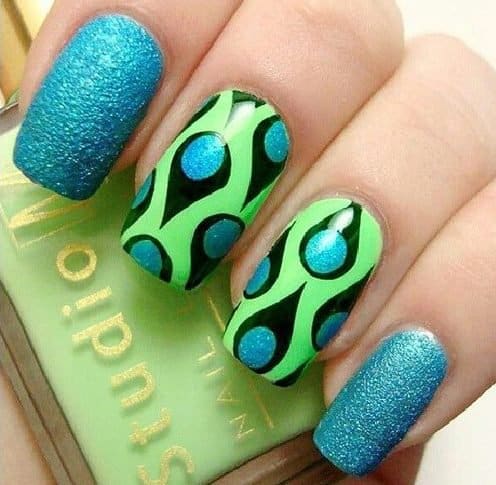 The pattern of peacock feathers is not easy to be drawn by a novice nail artist. You can customize your nail designs by making things simple as per your choice and skill. This is a simplified version of peacock nail designs.
Refreshing Mint Green Nail to Try This Summer
#2. Peacock Accent Nails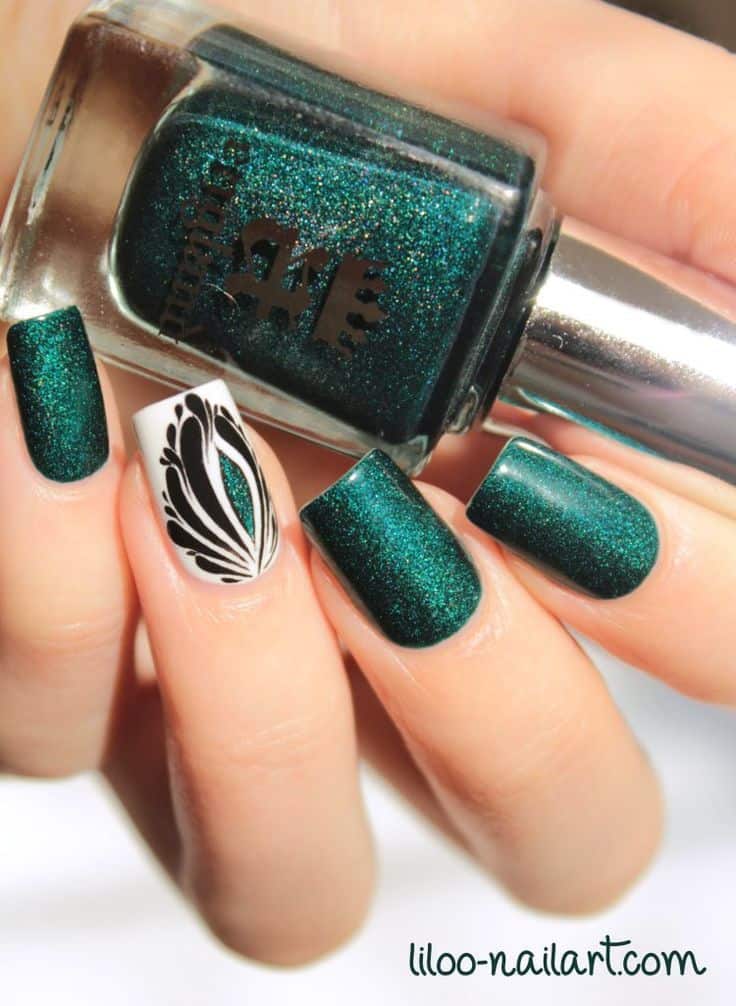 This is another simple design of peacock nail designs. Paint all your nails with green glitters then accentuate them by applying peacock pattern on a single nail of each hand.
#3. The Tail Feathers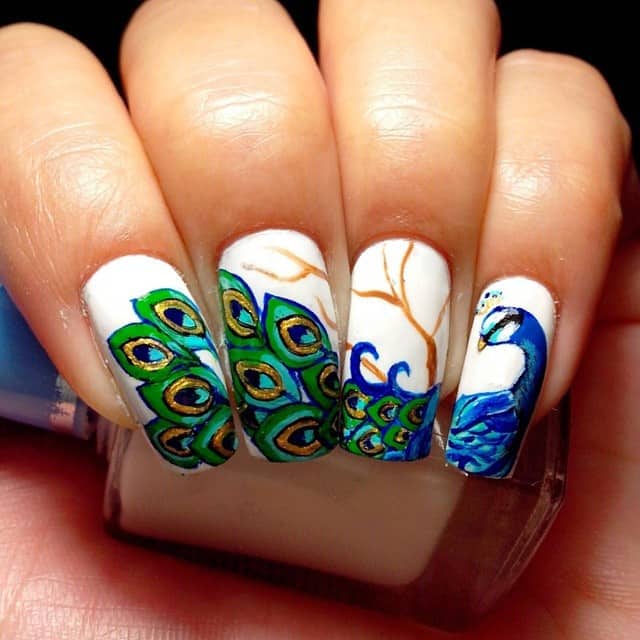 A peacock looks the most beautiful when he spreads his feathers in an attempt to impress the females. You can depict the state of spread tail feathers on your peacock nail designs.
#4. All-seeing Eyes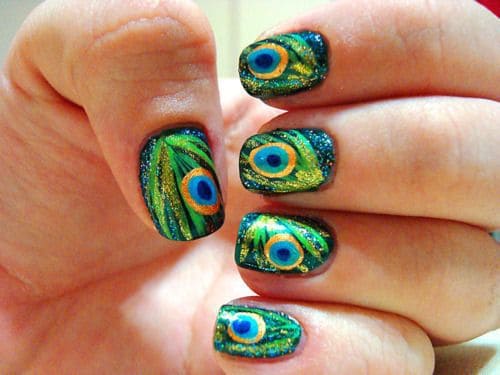 The eyes of peacock feathers are considered all-seeing eyes as per some myths. They are also believed to save you from evil eyes. You can paint your nails with these all-seeing eyes.
#5. Flying Feathers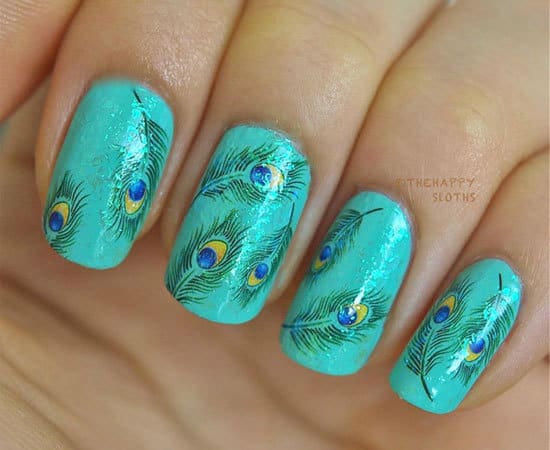 Paint your nails with sky blue color then paint some peacock feathers on them. This will resemble the flying feathers as if the feathers were floating in the air.
#6. Peacock Nail Decals
If you are worried about how you can have peacock nail designs perfectly, I am here to bring an end to your worry. You can use peacock nail decals in this regard. They are very easy to use.
#7. Teal Peacock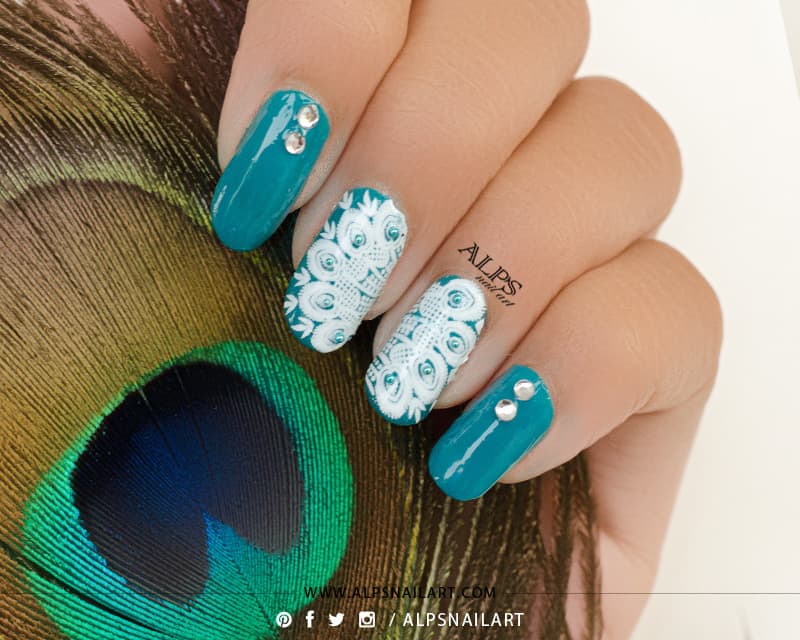 You can draw some white peacock patterns that are compatible with a teal. This is a different peacock nail art.
#8. Peacock Nail Art Step by Step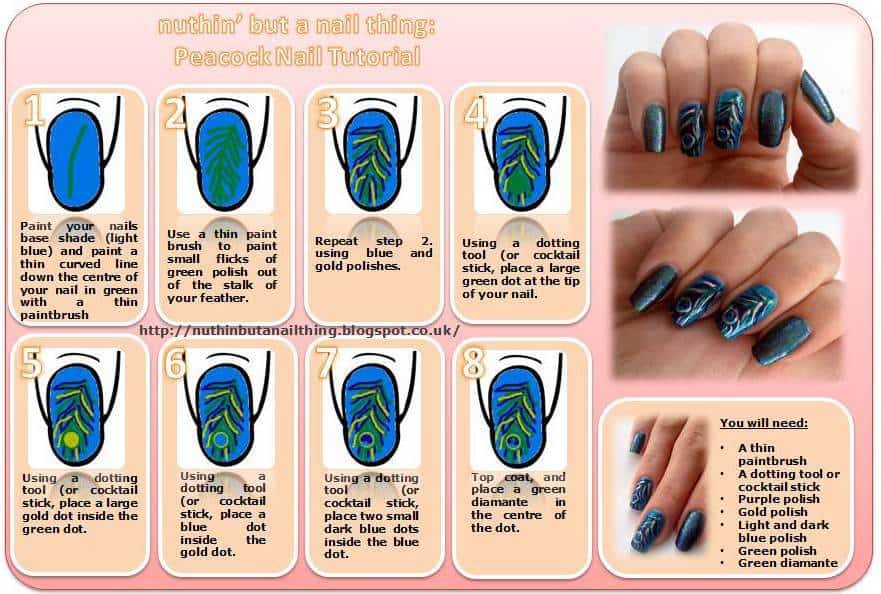 If you are wondering how to do them, here is the solution for you. Follow the steps carefully to get your nails done with the best peacock nail designs.
#9. Natural Setting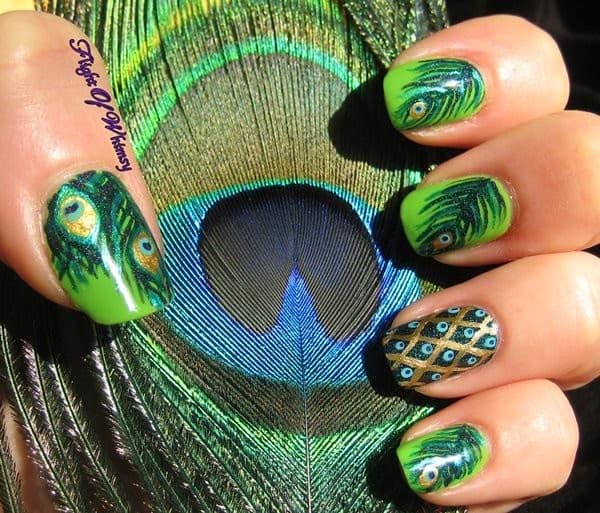 This design looks so natural as it has been painted with the shade of natural peacock feather colors. You can also choose the colors tactfully to create a natural setting for the peacock nail designs.
Wear With Poise: Chanel Nail Designs
#10. Feathers & Glitters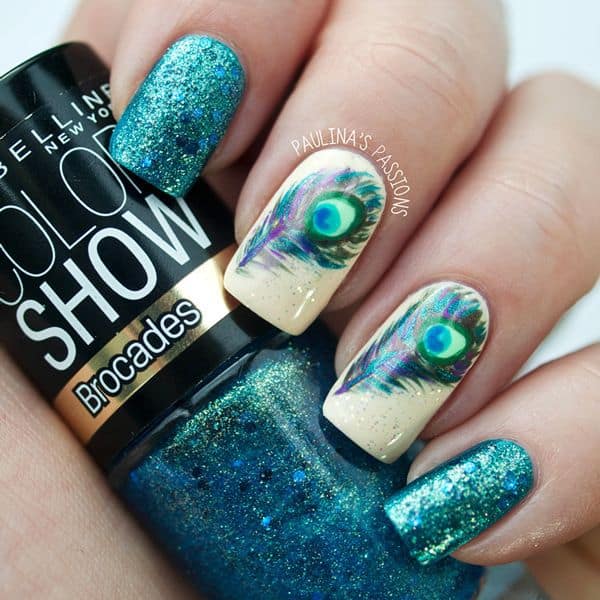 Paint your nails with the texture of peacock feathers and fill the surface of some of the nails entirely with glitters. This will allow you to have a super shiny peacock nail art.
#11. Keep It Simple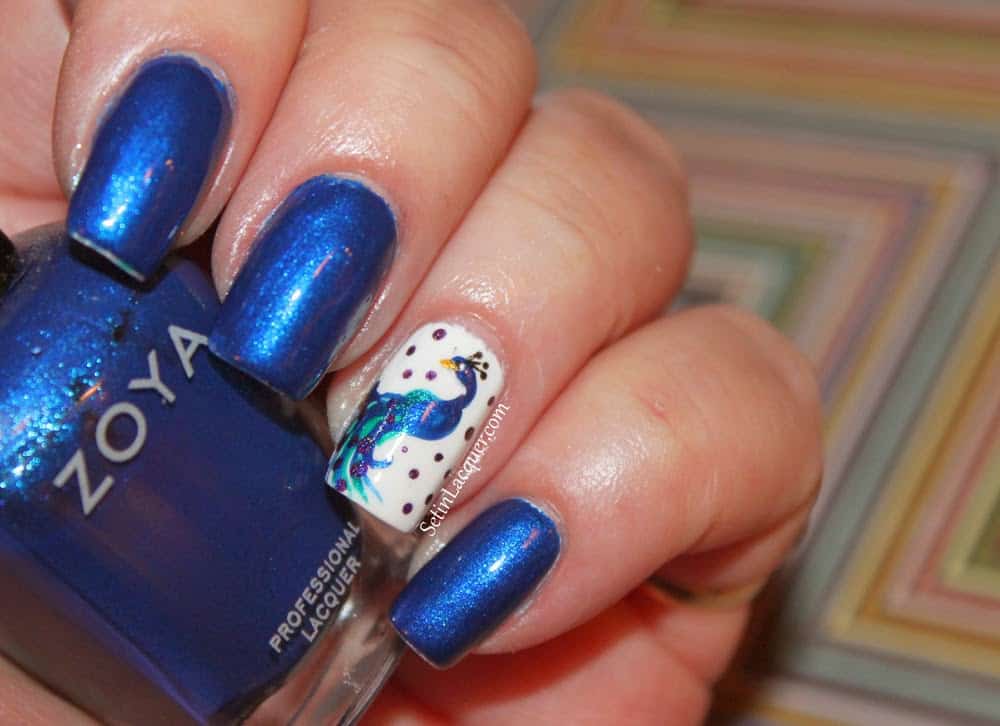 If you want to avoid the complexity of a design, you can try this simple design. Paint all the nails with a shiny blue color and draw a simple peacock on one of the nails to have peacock nail designs.
#12. The Aristocracy
This design is completely different from other peacock nail designs. You can use a maroon or burgundy color instead of the conventional blue and green colors of a peacock nail art. And, the studs and rhinestones will do the rest to help you get these super aristocratic peacock nail designs.
#13. Single Nail Decal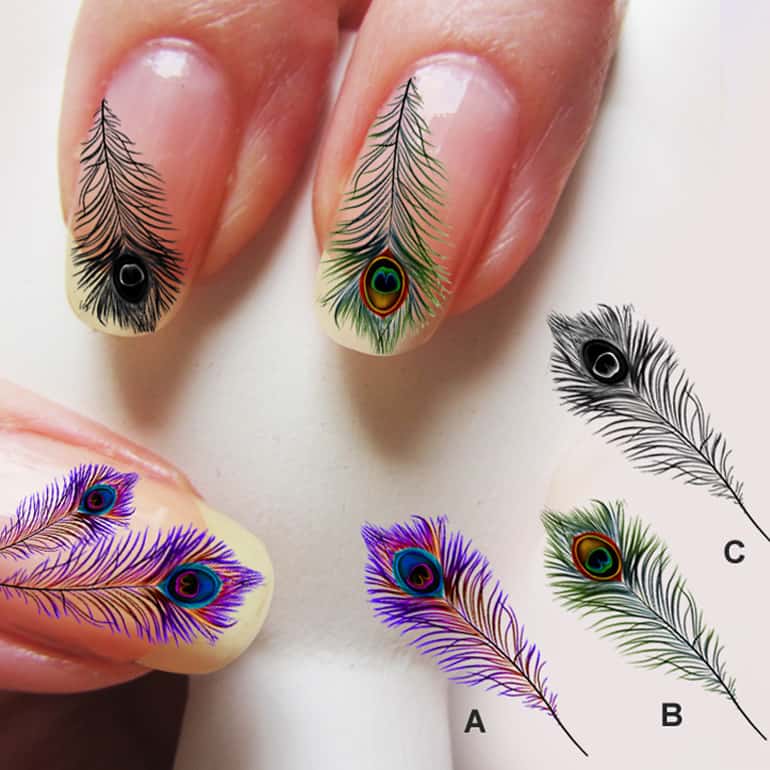 If you want to keep it simple and tidy, this is for you, You can use these readymade nail decals while having peacock nail designs.
#14. Glittery Peacock Nail Designs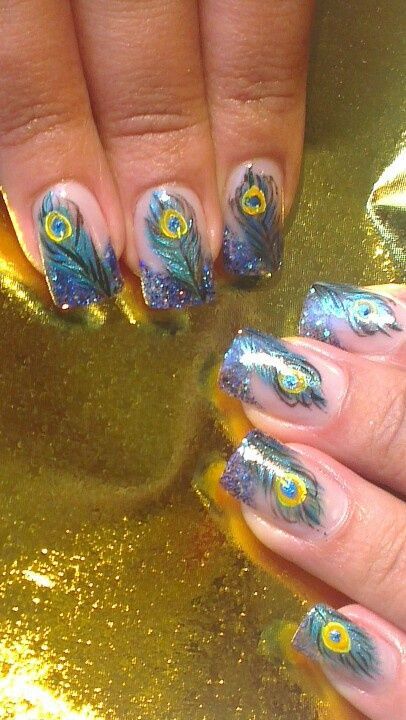 If you want your nails to look glittery, these peacock nail designs could be the best fit for your nails.
#15. Peacock Feather Nail Art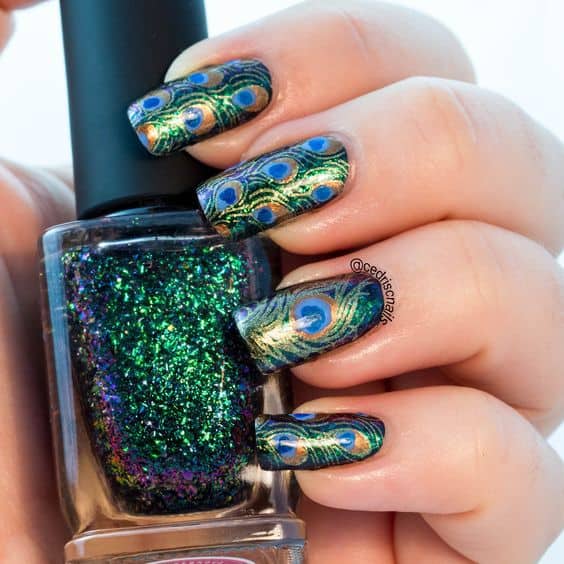 Peacock feather nail art is the basic design of all the peacock nail designs. If you can draw the feathers nicely, your nails will look amazing for sure as the patterns and color are extremely beautiful.
#16. Peacock Ombre Nails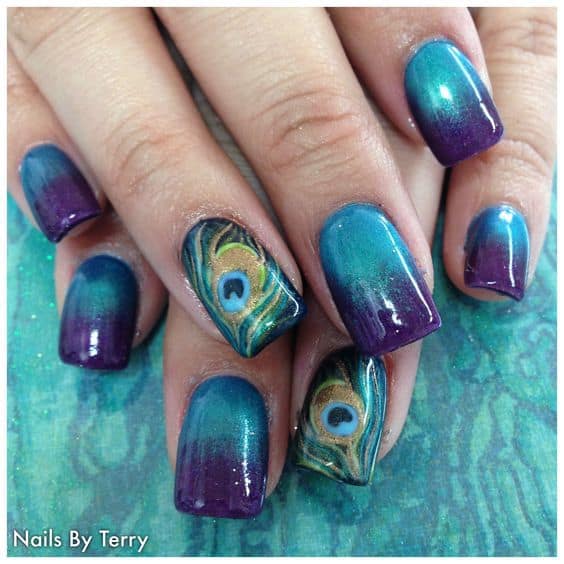 Paint your nails in ombre style then accentuate them by peacock nail art. Make sure you are using the same colors for the ombre effect and the peacock feathers. Both these nails will create a stunning peacock nail art.
This design is one of the conventional peacock nail designs. A slight modification has been made here. You can draw white thin lines touching the edges of the feathers to have this type of peacock nail designs.
#18. The Lone Warrior
This design is especially for the shine lovers. Fill the surface of all your nails with green and gold glitters and paint a peacock on one of the middle fingers. The peacock will be reigning as a lone warrior.
#19. Delicate Peacock Nail Art

This design looks so delicate that you ought to be a fan of this at the first sight. You can try these rose gold nails when you are having peacock nail designs.
#20. The Ruling King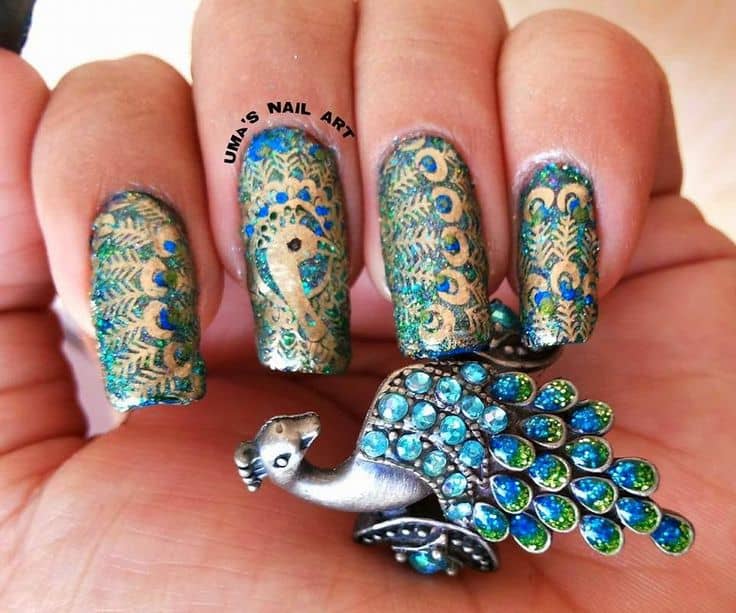 This is something out of this world. The peacock is drawn so sincerely that it creates a notion of Peacock King in my mind. The peacock is spreading its tail feathers to the fullest as if it were the ruling king of your nails. This is an excellent demonstration of peacock nail designs.
White & Pink Nails AKA French Nail
Elegant Peacock Nail Designs to Enhance Your Beauty
As you have already guessed that the prime element of peacock nail designs is the feather. The beauty of your design depends on how well you can draw the feathers. So, be cautious while drawing them. You can be inspired by our designs or modify them slightly as per your needs.