20 Thanksgiving Nail Art to Celebrate the Holiday
Thanksgiving is a federal holiday in the United States. This is a part of the broader holiday season and celebrated on the last Thursday of November together with Christmas and New Year. This day has historical, religious and cultural significance. It was originated to thank God for the crops which had been harvested. Basically, this is a harvest festival which is due to be celebrated in Autumn. But, the most popular reason behind this ceremony is having a grand Thanksgiving dinner party. All these things together have made this day a wonderful festival to the people of the west. And you have to design your nails to celebrate this holiday keeping the theme in mind and, of course, on your nails. We have gathered a wide range of designs in a single place for your convenience.
Thanksgiving Nail Designs to Try Out
Thanksgiving is associated with the harvesting season and the grand dinner. So, the designs are also planned according to the theme. The most preferred menu of Thanksgiving is roasted and stuffed turkey. And pumpkin pie is served as the dessert. Besides, this holiday comes in Autumn. Summing them all up, a Thanksgiving nail art consists of the images of turkey, pumpkin and the leaves of Autumn season. And the colors are saliently orange, red, brown etc. If you want to have Thanksgiving nail art on your nails, keep these things in your head. You know the theme, you know the colors, now execute the plans. We have depicted our ideas and designs in this article to induce you to give thanks to us on the Thanksgiving ceremony.
Cute Easy Turkey Manicure Tutorial. Video Instructions on The Way
Want more nail ideas? Check out my entire playlist to see all of my tutorials! http://www.youtube.com/playlist?list=PL2BF6E1304B0F6E0E -My BEAUTY BLOG: http://polishandpearls.com/ -VLOG CHANNEL: http://www.youtube.com/MissJenVLOGS -TWITTER: http://twitter.com/MissJenFABULOUS -FACEBOOK: http://www.facebook.com/MissJenFABULOUS -PINTEREST: http://pinterest.com/missjenfabulous -INSTAGRAM: http://instagram.com/missjenfabulous ♥ ♥ ♥ Subscribe to my boyfriend! http://www.youtube.com/Frankiezzy ♥ ♥ ♥ ____________________________________ FAQ: What camera do you use?
#1. Polka Dot with Turkey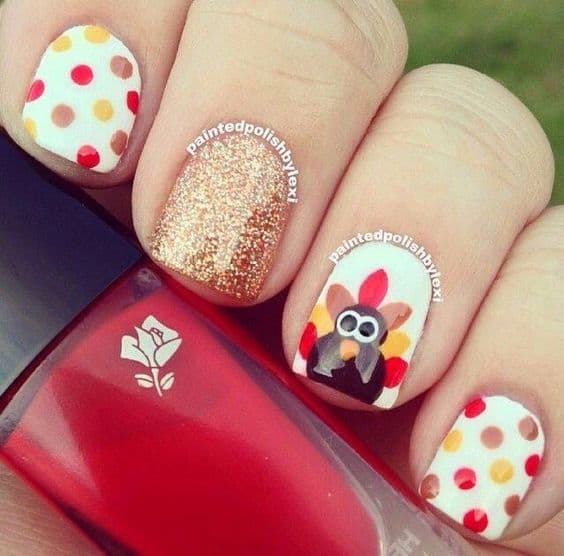 A lone turkey drawn with polka dots will do the trick for Thanksgiving nail art. You can use red, yellow, caramel brown and orange color on a white base coat for this design. Use golden glitters on a single nail for a shiny look.
Trend Alert! Winter Nai lDesign
This color is simple yet gorgeous to be looked at. You can draw fallen leaves in orange, red and yellow colors on a nude surface. Use full red color on two or three nail beds to stun the eyes of the beholders.
#3. Pure Pumpkin

You can draw these pumpkins on a light pink or white base to have your Thanksgiving nail art done. The look of this pumpkin seems so pure and real that you will feel the crave for special pumpkin pie of the Thanksgiving dinner. This can be a cool idea for Halloween too!
#4. Colorful Turkey

Colorful turkey is the main attraction of thanksgiving nail art. This image is the most used design in this regard. You can use deep yellow or orange as the base color. Now draw a brown turkey with red, orange, yellow and green feathers.
#5. Chicken Drumsticks
You can not ignore the presence of chicken meat in any grand feast. Thanksgiving is no exception. Draw some chicken drumsticks before attending the dinner party. Everyone will look at your nails when you will be eating delicious foods. Draw the drumsticks on a golden glittery surface for a glitzy look.