Sure, you may be rocking Valentine's Day, Halloween, and even Christmas nail art, but have you given much attention to Thanksgiving nail art? When many people think of Thanksgiving, they think of the big dinner with all our favorite foods, football, and being thankful for the good things in our lives.
Since your nails are the perfect canvas for showing love or support for holidays, when Thanksgiving rolls (ha, see what we did there?) around, think fall colors like orange, yellow, red, and brown. You can also add in fun pictures of cartoon turkeys, pumpkins, and autumn leaves.
Thanksgiving Nail Designs to Try
You know the theme, you know the colors, now execute the plans! Here are 25 festive Thanksgiving nail art ideas to try!
Cute Easy Turkey Manicure Tutorial
#1. Turkey Nails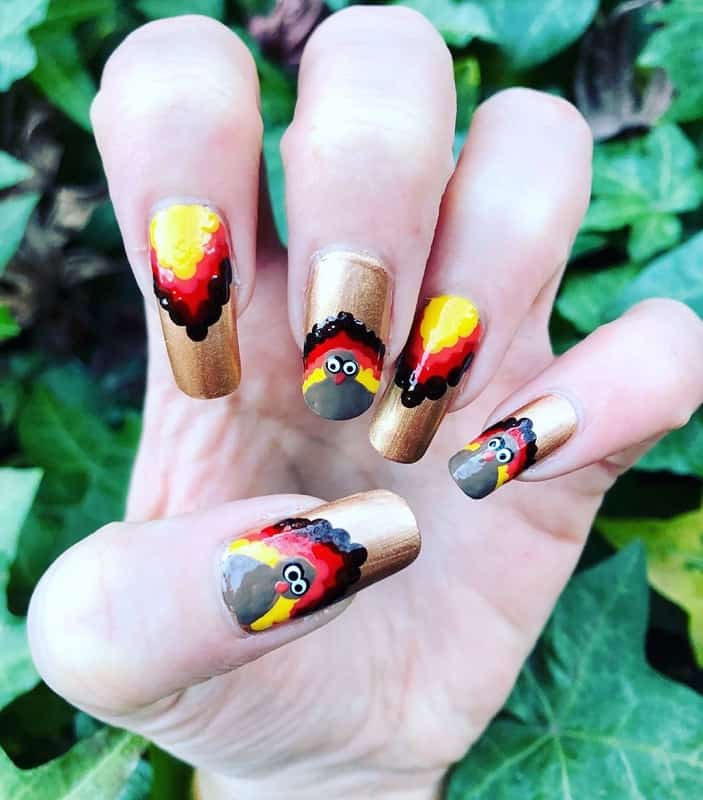 On long rounded acrylics, try your hand at some turkey art for Thanksgiving nails! A chrome bronze background is a great shiny background for a cute, colorful turkey.
#2. Turkey Toes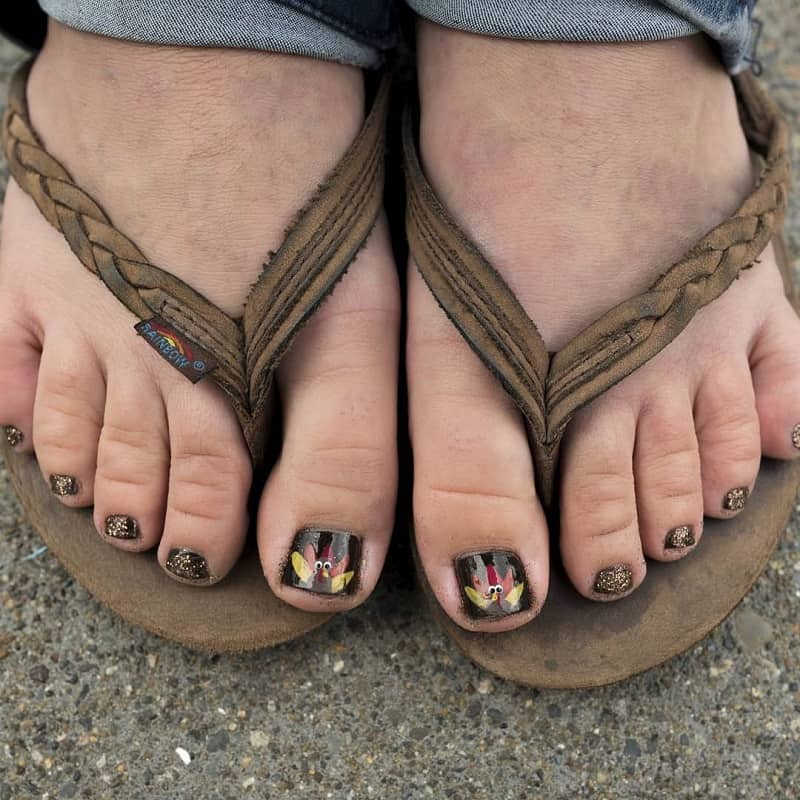 On your little toes, add a dash of sparkle with glittery brown. The big toe is where it's at with a brown base and red, orange, and yellow turkey.
#3. Cloudy Charlie Brown
If you don't watch Charlie Brown Thanksgiving when the holiday comes around, who are you? If you do, flaunt your love of the classic characters by adding Snoopy and Charlie Brown art to a sky blue background.
#4. Short Thanksgiving Nails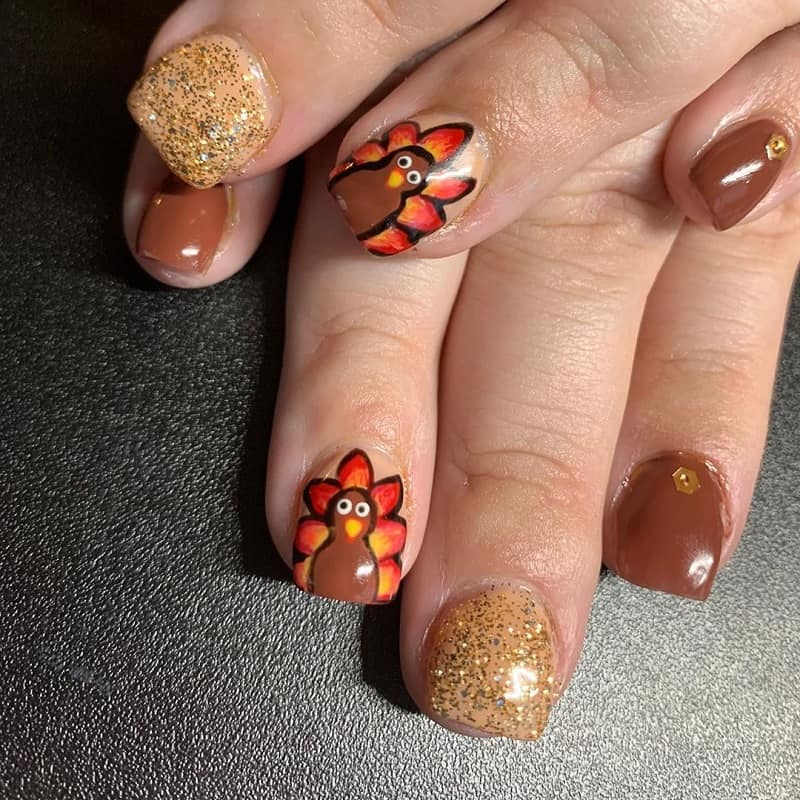 On short nails, use brown, glittery beige, and a rusty red for Thanksgiving nail art. The feature nail will be a brown turkey with orange and yellow feathers outlined in black.
#5. Thanksgiving Coffin Nails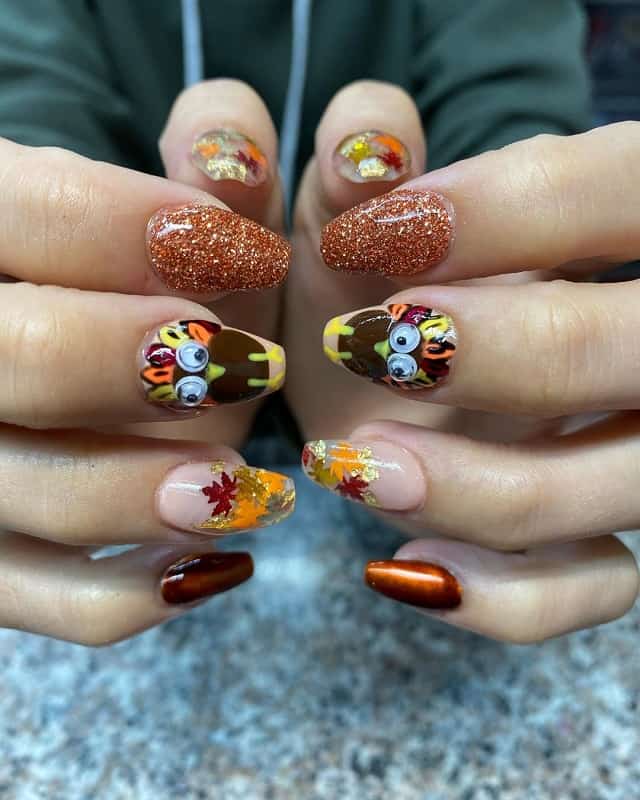 It's all in the details for these Thanksgiving nails. Paint each nail a different color – chrome red, brown, glittery gold, and leave one nail nude. Then add the shiny leaf detail and googly-eyed turkey.
#6. Polka Dot with Turkey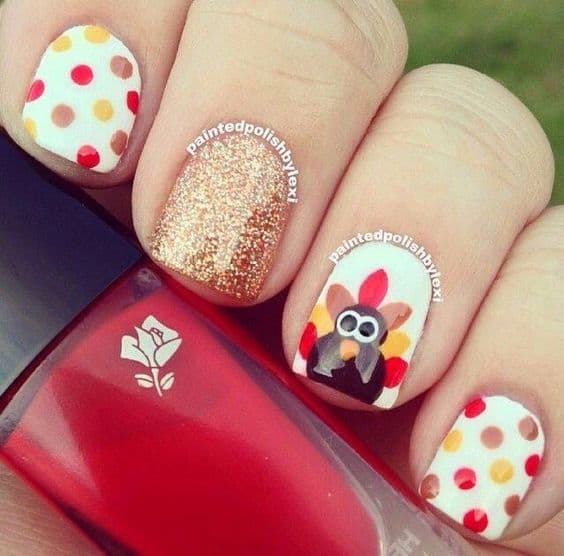 A lone turkey drawn with polka dots will do the trick for Thanksgiving nail art. You can use red, yellow, caramel brown and orange color on a white base coat for this design. Use golden glitters on a single nail for a shiny look.
Trend Alert! Winter Nail Design
This color is simple yet gorgeous to be looked at. You can draw fallen leaves in orange, red and yellow colors on a nude surface. Use full red color on two or three nail beds to stun the eyes of the beholders.
#8. Pure Pumpkin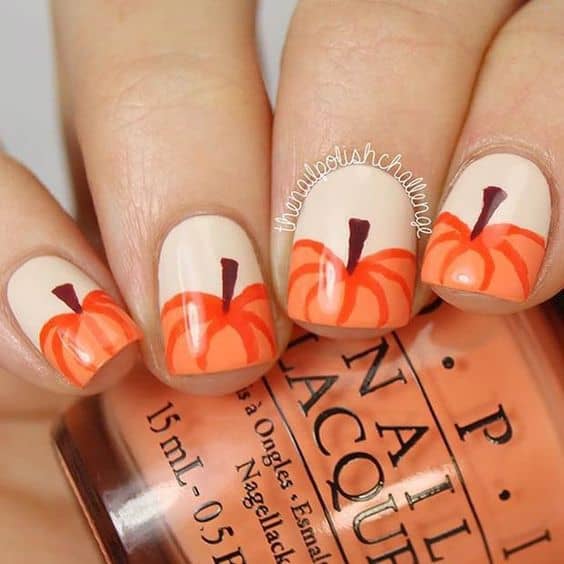 You can draw these pumpkins on a light pink or white base to have your Thanksgiving nail art done. The look of this pumpkin seems so pure and real that you will feel the crave for special pumpkin pie of the Thanksgiving dinner. This can be a cool idea for Halloween too!
#9. Colorful Turkey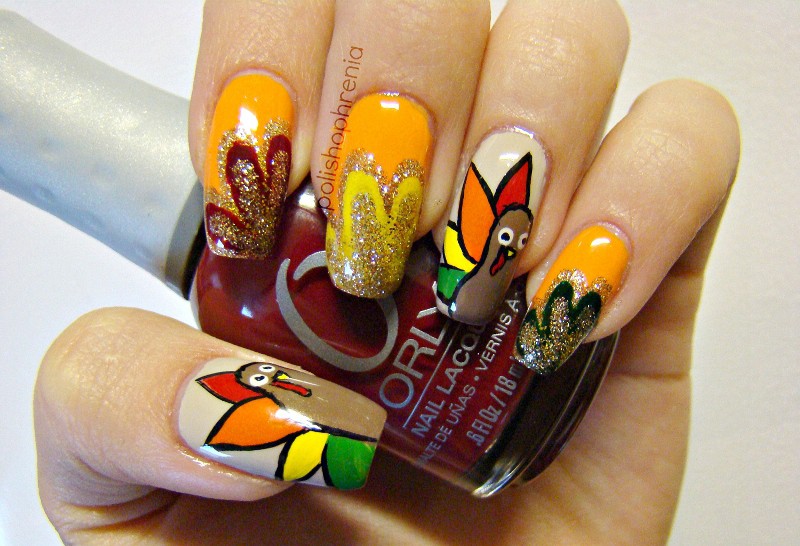 Colorful turkey is the main attraction of thanksgiving nail art. This image is the most used design in this regard. You can use deep yellow or orange as the base color. Now draw a brown turkey with red, orange, yellow and green feathers.
#10. Chicken Drumsticks
You can not ignore the presence of chicken meat in any grand feast. Thanksgiving is no exception. Draw some chicken drumsticks before attending the dinner party. Everyone will look at your nails when you will be eating delicious foods. Draw the drumsticks on a golden glittery surface for a glitzy look.
#11. Chevron And Turkey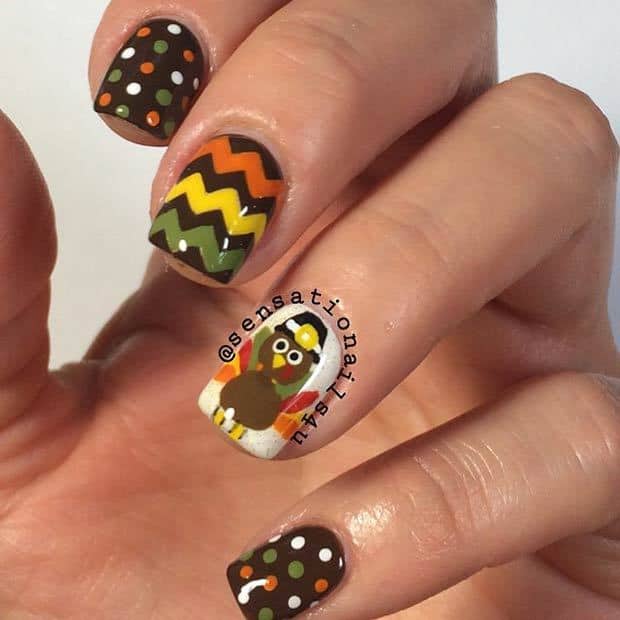 A hat-wearing turkey along with chevron patterns are the prominent elements of this nail design. You can have this Thanksgiving nail art for the holiday.
#12. Dazzling Colors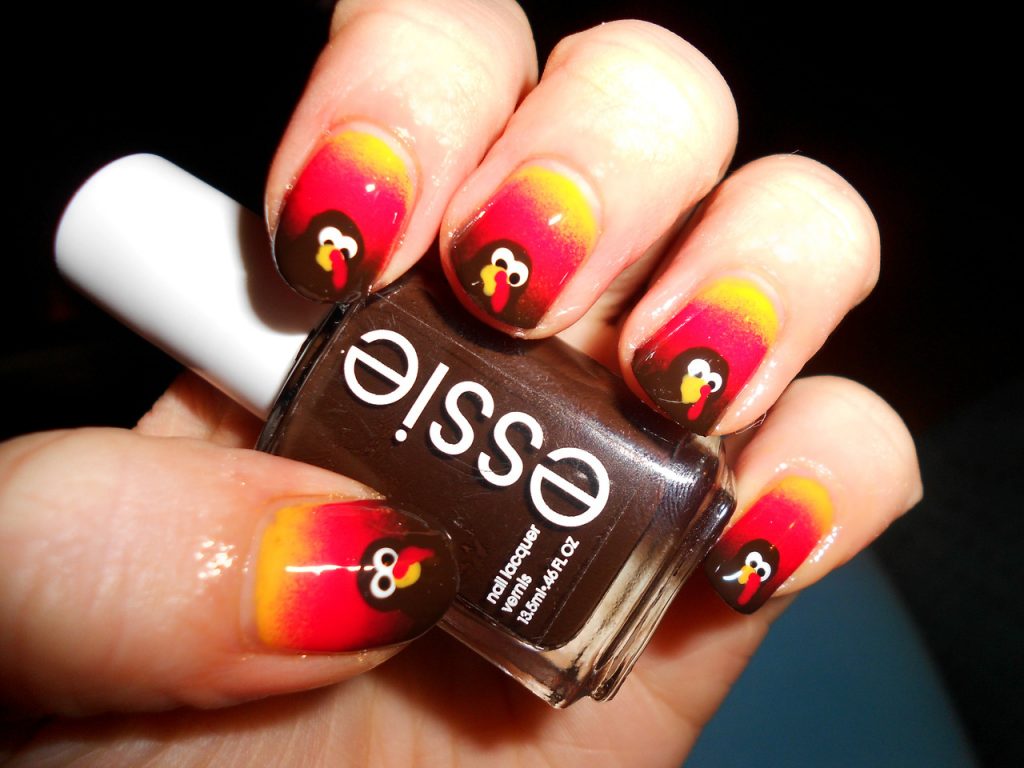 You can use bright shades of the Thanksgiving colors, such as red, orange, yellow and brown. Buff these colors on the base then draw the images of turkey to complete the Thanksgiving nail art.
#13. Thanksgiving Minions
Minions lover? We have a good news for you. You can have your favorite minion characters drawn on your nails to celebrate Thanksgiving. Just draw them in a manner so that they somehow resemble the image of a turkey.
#14. Lone Pumpkin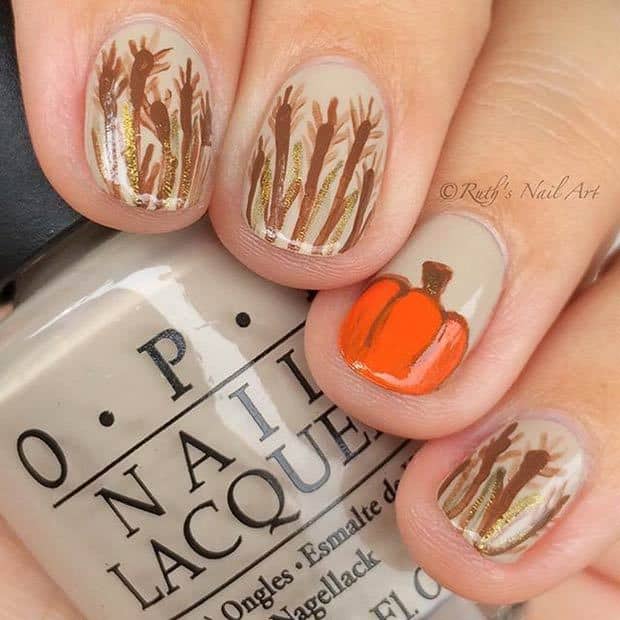 A simple Thanksgiving nail art is given here for your nails. Draw a lone pumpkin on your nude nails. You can draw some branch-like brown patterns like the picture If you want to have this exact design.
#15. Give Thanks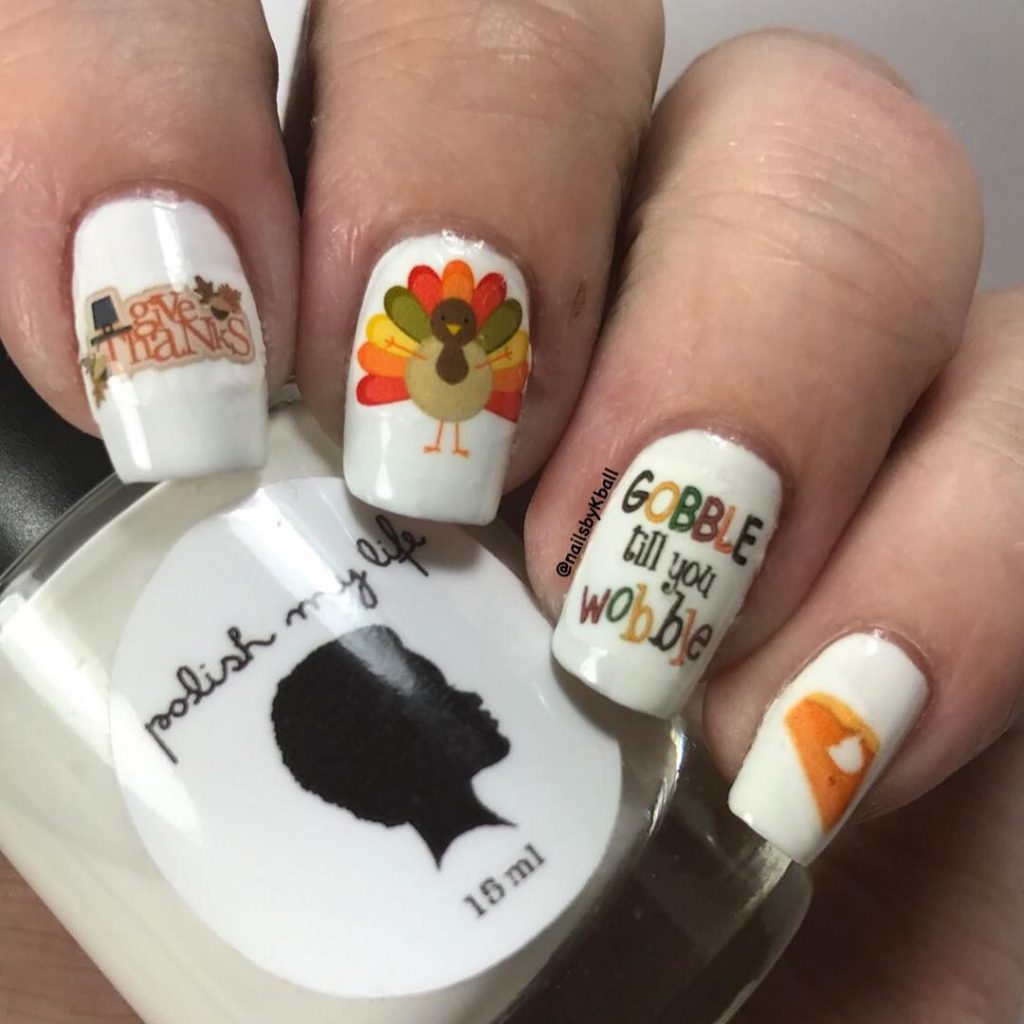 A perfect design is presented here to celebrate the Thanksgiving day. An image of a beautiful turkey, a piece of pumpkin pie are drawn on white nails. Two very relevant messages are also inscribed, One says to eat turkey til you can move and another is advising you to convey thanks to the people who deserve it.
#16. Glitters
You can draw pumpkins adorned with glitters on ring finger to give a twist on Thanksgiving art for your nails.
#17. Thanksgiving Colors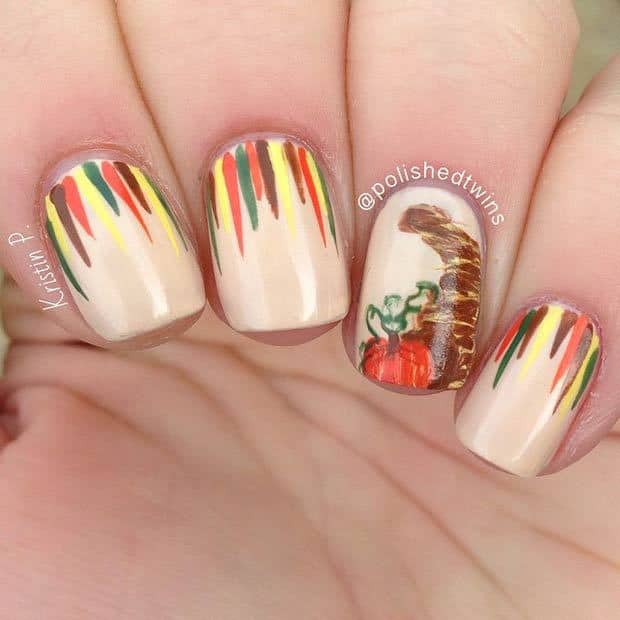 Painting the shades of Thanksgiving colors can be a good choice for your nails. Red, orange, yellow, green and brown colors are mostly related to the Thanksgiving ceremony.
#18. Lovely Turkey
You can draw an adorable turkey in between golden glitters. Use golden glitters for all the nails and keep any of them blank to draw the turkey. Paint the feathers with different colors for a contrasting look.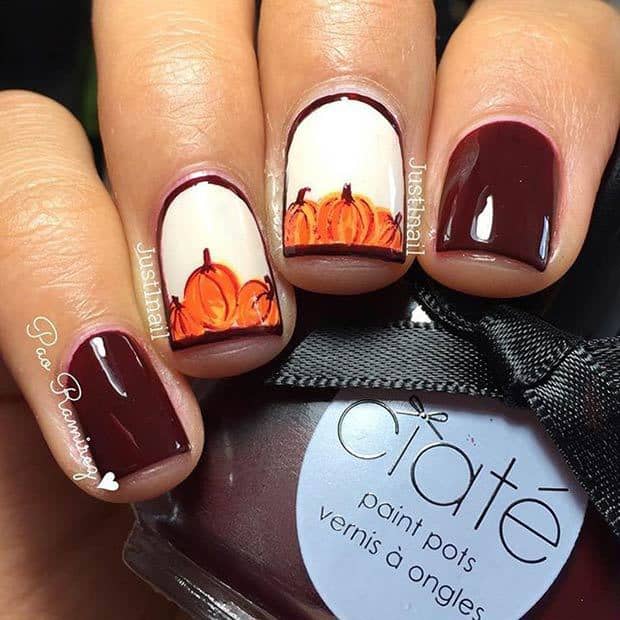 Marron is a magical color, it enhances the beauty of the nails to a large extent. And the conventional pumpkin design of Thanksgiving looks beautiful with this color at the edges of the nails.
#20. Autumn Nail Art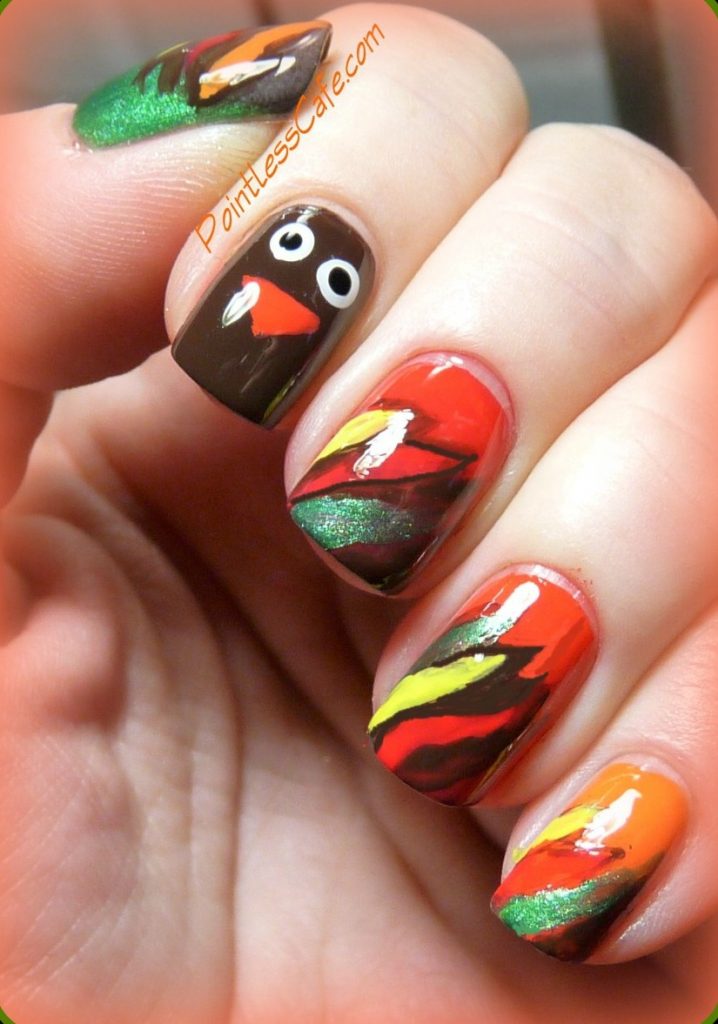 Autumn nail art can be blended with the theme of Thanksgiving ceremony. Just use an image of a turkey along with the colors.
#21. Meat Lovers
Most of the people like to eat meat very much. Thanksgiving can be the best occasion to show our gratitude to the animals who provide us with meat. This design says, " Eat beef, give thanks."
#22. Black Patterns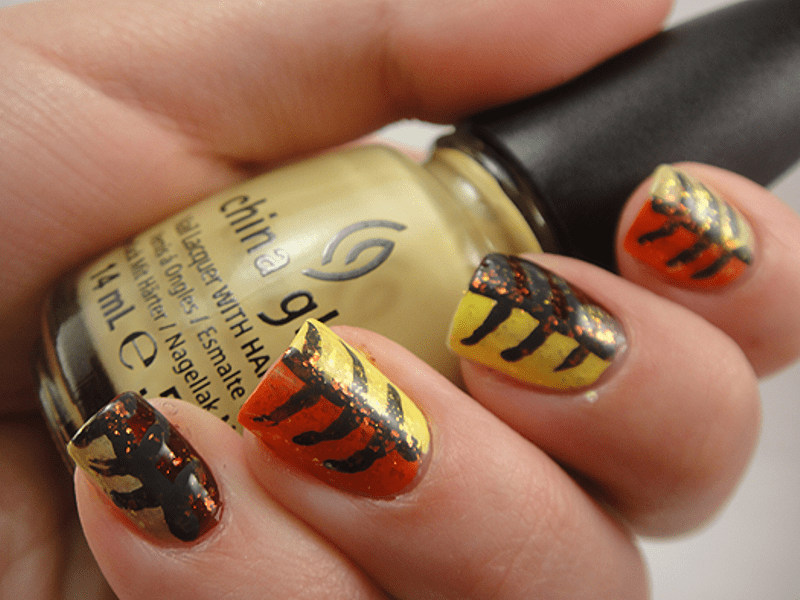 This design with black nail polish combined with Thanksgiving colors is perfect evening parties. You can draw some black patterns within the colors. Use glitters to make it shine.
#23. Be Thankful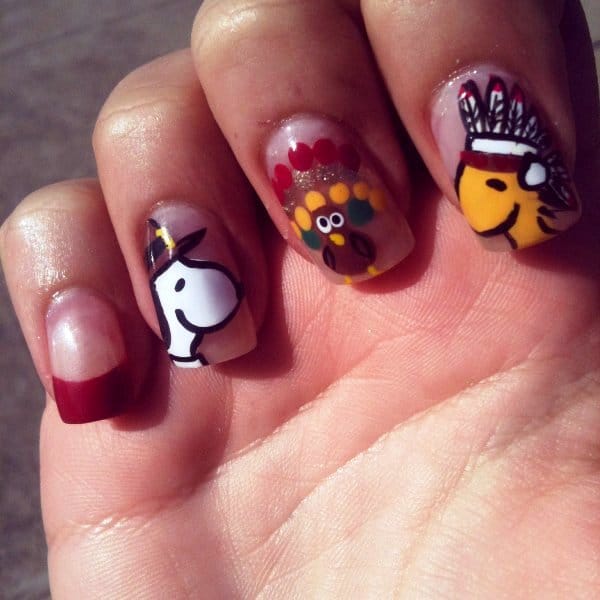 If you want to be thankful to the animals we eat, this design is rightly for you. Draw the image of a sheep or a goat along with turkey to show gratitude to the animals.
#24. Delightful Turkey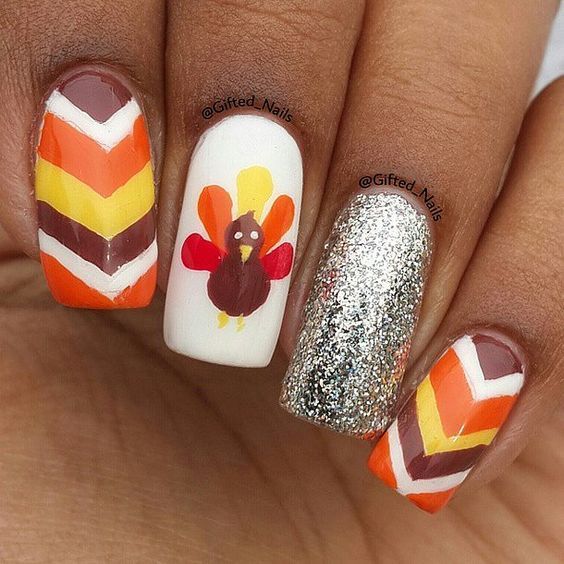 You can draw a cute image of delightful turkey on your white nail as Thanksgiving nail art. Draw angular patterns of the Thanksgiving colors to create a happy ambiance on your nails. You can use silver glitters to make it more appealing.
#25. Pinkish Charm
This design proves that if you are innovative enough, you can bring out the best of pink color in a Thanksgiving nail art. Pink has been used very efficiently in this design which complements the overall beauty of the design, especially, the turkey. You can use this color if you are already bored with the same set of colors used for Thanksgiving nail art.
Jingle Bells! Christmas is Here
Fun & Cute Thanksgiving Nail Designs for Festival
Thanksgiving is a traditional occasion for the American people. Designing something for a traditional program is troublesome as you have to follow the tradition in your designs. That is why our ideas are somehow related to the norms of Thanksgiving day. You can design your nails creatively but never forget to maintain the traditional thing in any of your designs. We are here to guide you to the right way. Try out our designs to make your nails ready to be displayed on the Thanksgiving day.