You probably recognize the name Chanel for its branding on everything from perfumes and handbags to jewelry and makeup. It's everywhere and just the name encompasses a high class feel.
If you consider yourself a fashion lover, and especially of all things Coco Chanel or brand name, you definitely need to try the new trend of Chanel nail art.
Chanel Nail Designs to Show Off
Chanel fashion is French luxury and features classy, elegant style. Bringing its vibe to your nails can mean the Chanel logo, lots of black and white, and sometimes gold. Take a look at the 15 styles below and let your classiness carry you away.
#1. Colorful Stickers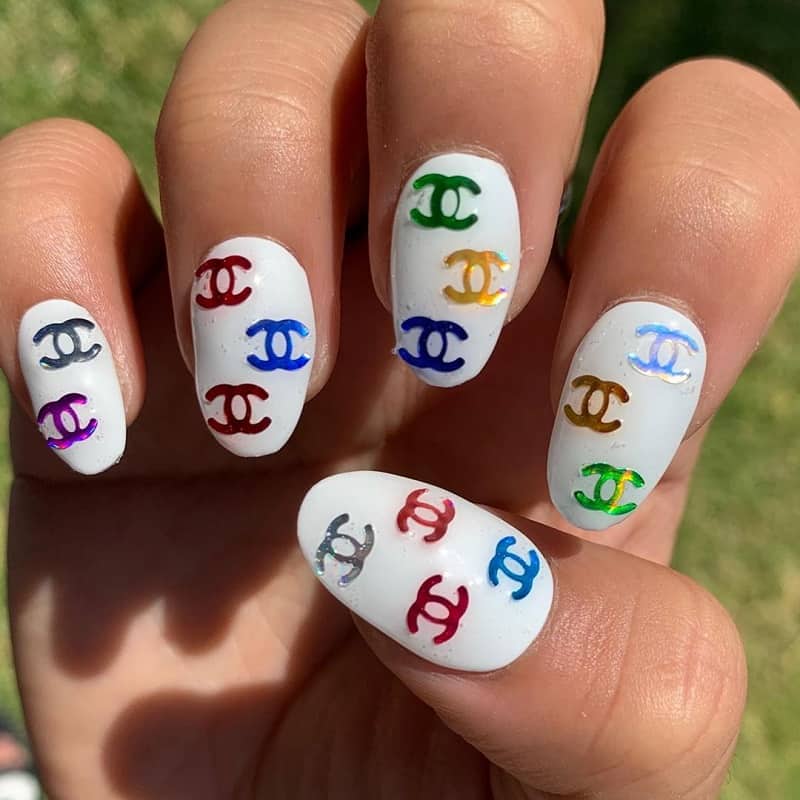 These tiny colorful Chanel logo stickers are easy to place on your nails. Since they boast red, blue, green, and silver, you'll want a plain white or gold nail polish as your base.
#2. White Marbled Gel Nails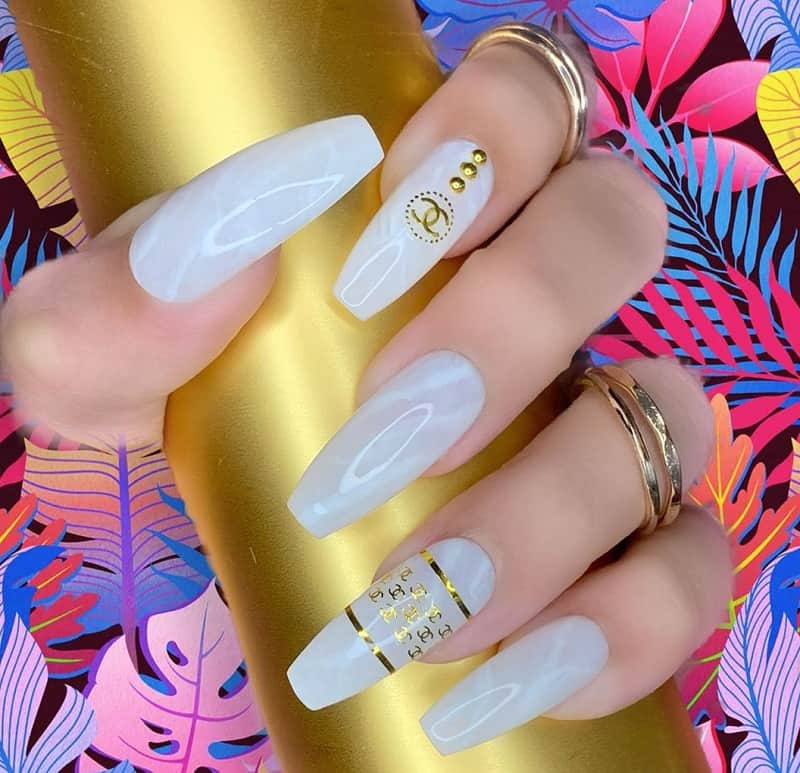 On long gel nails, choose a beautiful marbled white nail polish. Add the Chanel logo in gold with matching gold line art on your pointer and ring fingers.
#3. Dark Red with Black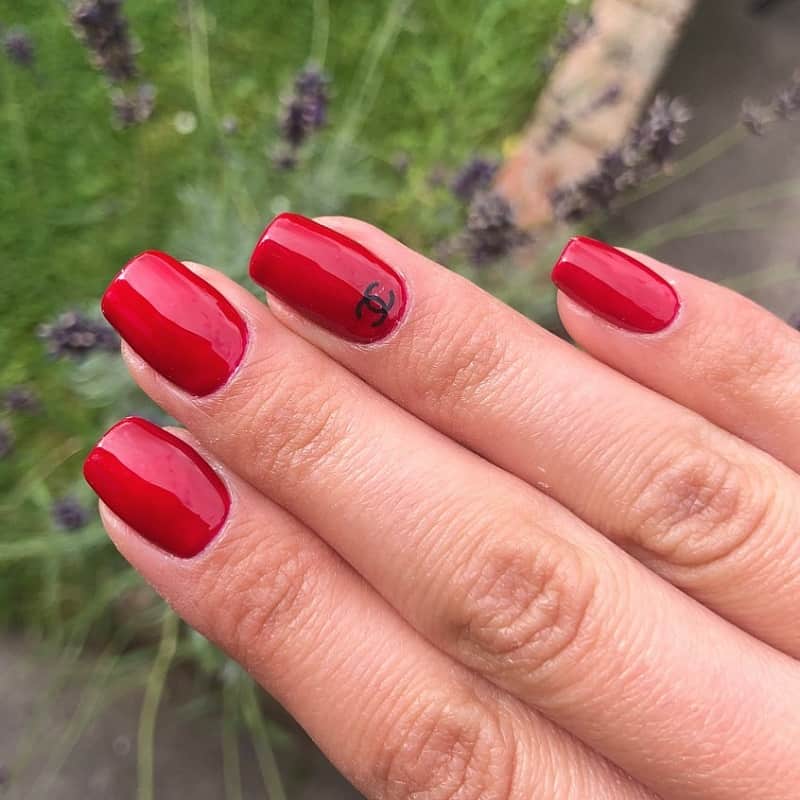 On deep red polished short nails, opt for the Chanel logo in black. If you want a lighter and more friendly feel, you can choose white instead.
#4. Pastel Acrylics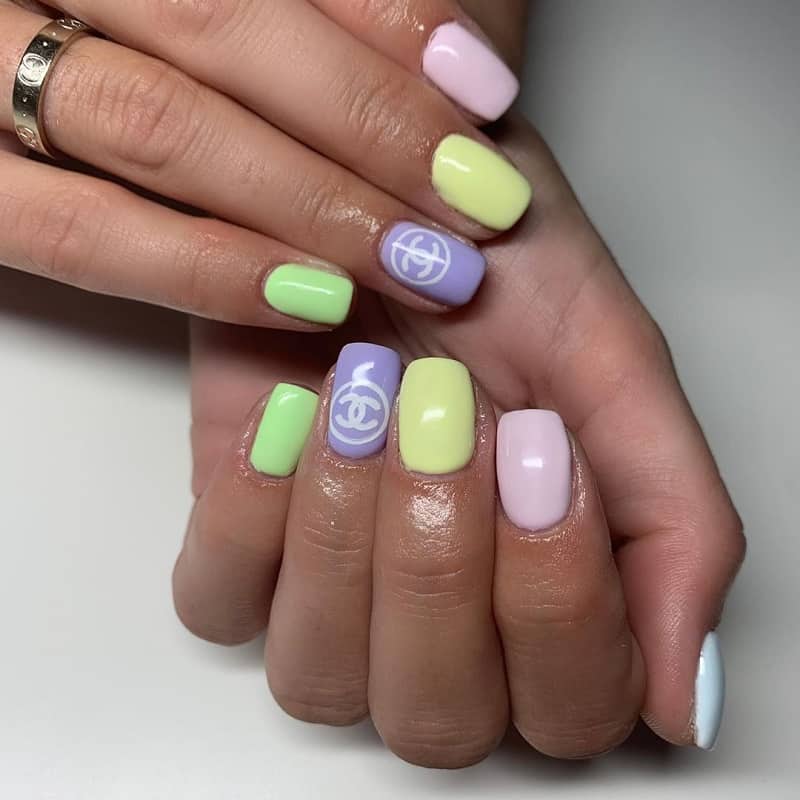 The soft greens, blues, and purples here are not what we would normally expect for Chanel nail art, but they work beautifully on acrylics. An encircled white Chanel logo is placed only on the ring fingers.
#5. Marbled Baby Blue
If blue is your favorite color, you need to try this pairing of marbled blue and pastel blue with a black Chanel logo.
#6. Short Hot Pink Nails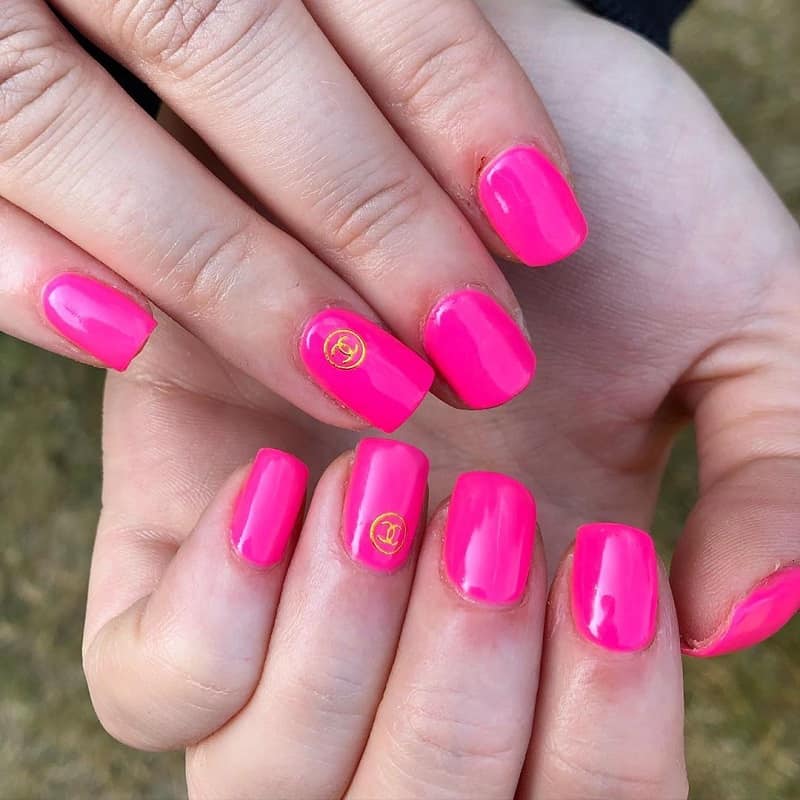 Consider yourself a girly girl? You'll love this pairing of hot pink and a gold Chanel logo on short nails.
#7. Metallic Gold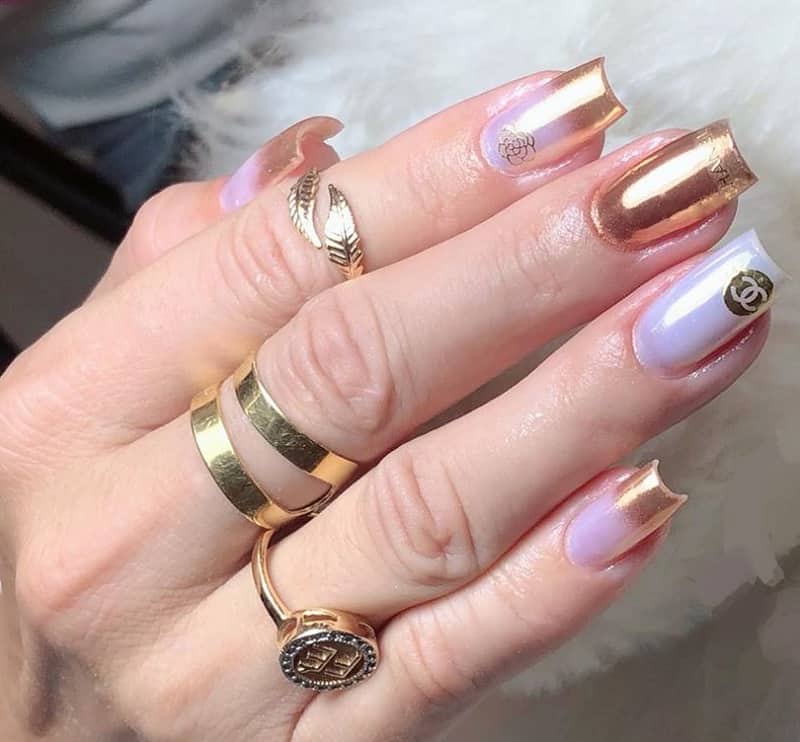 A pale purple pairs beautifully with metallic gold. Mix the two on every other nail and accent them with solid-colored ones.
#8. Bright Yellow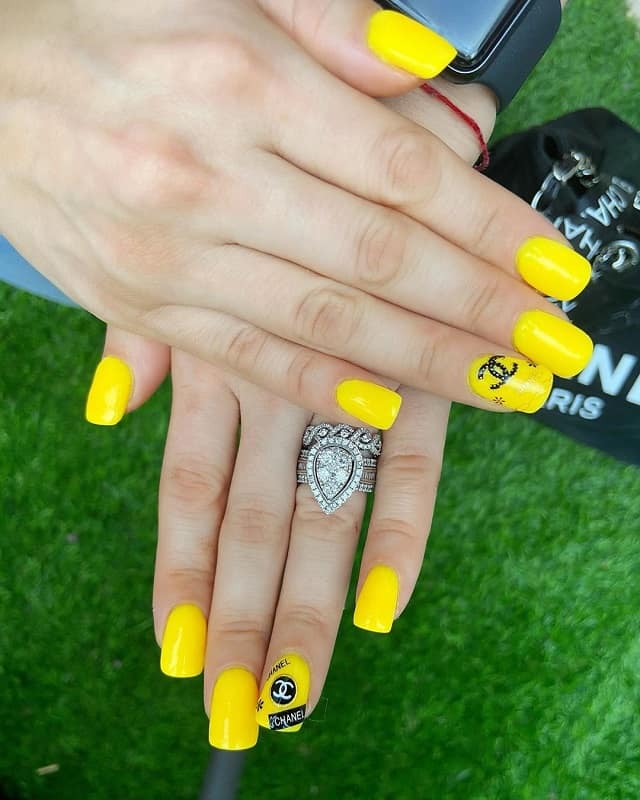 For women who consider themselves the sunshine of life, bright yellow nails with a black and white Chanel logo is the art for you.
#9. Dazzling Channel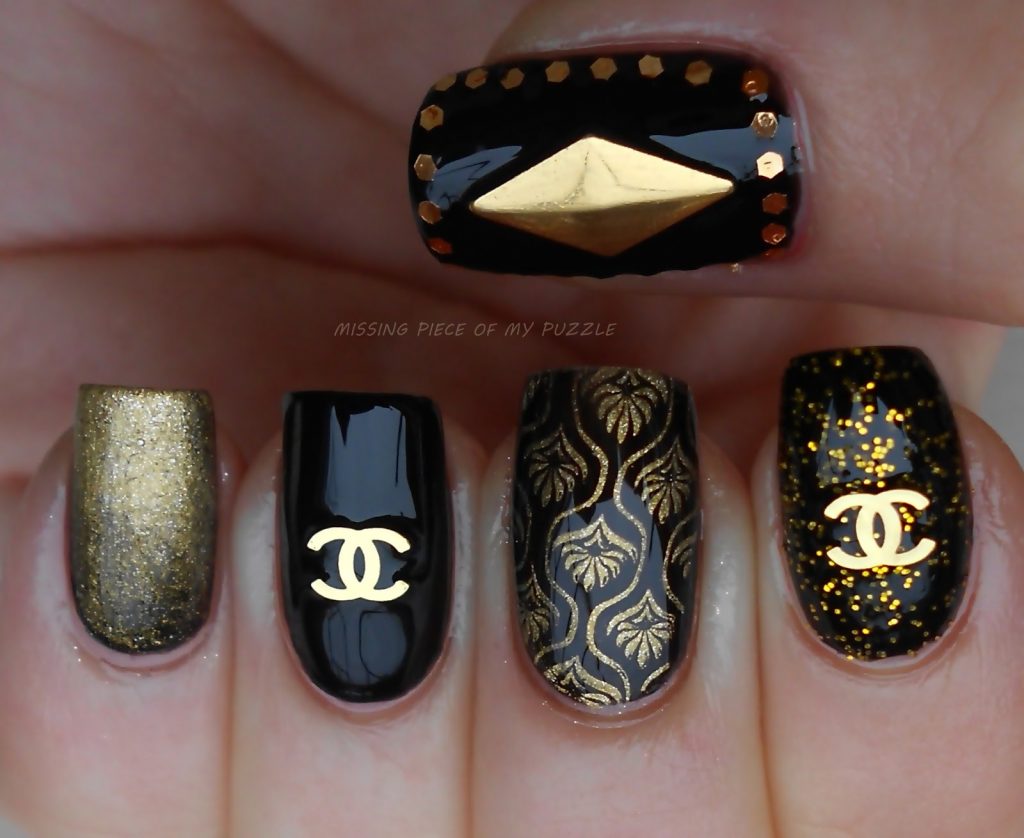 This design is based on the golden color of Chanel-themed products. You can use big quadrilateral golden rhinestones referring to the vastness of Chanel industries.
Draw the logo of Chanel on two of the nails. Use black color on the golden surface, and gold color on black. Shiny glitters can make the nails look bright.
Exceed Reality with Abstract Nail Art
#10. Patterned Chanel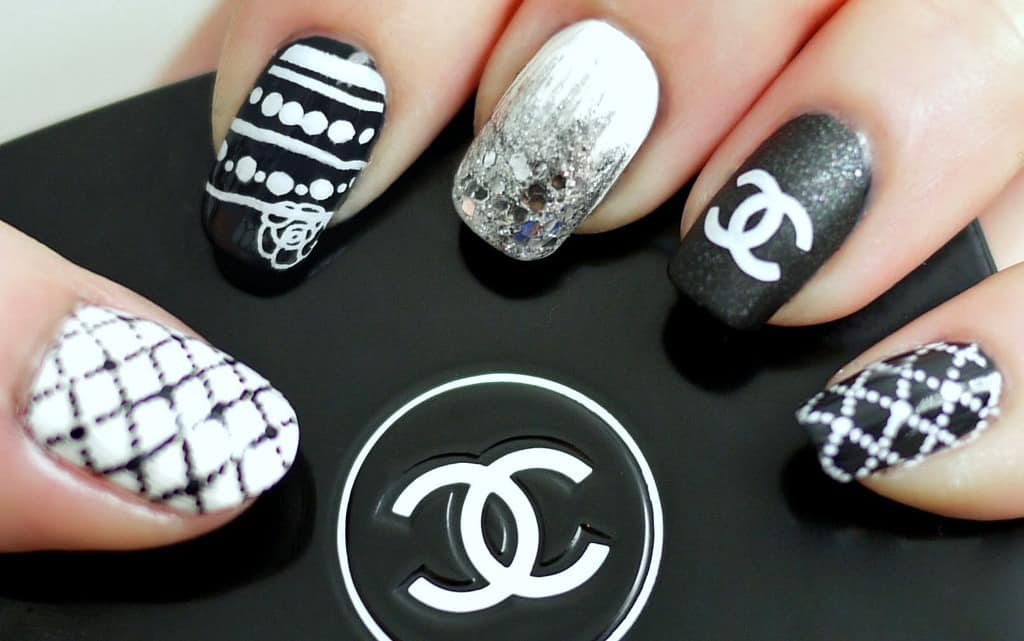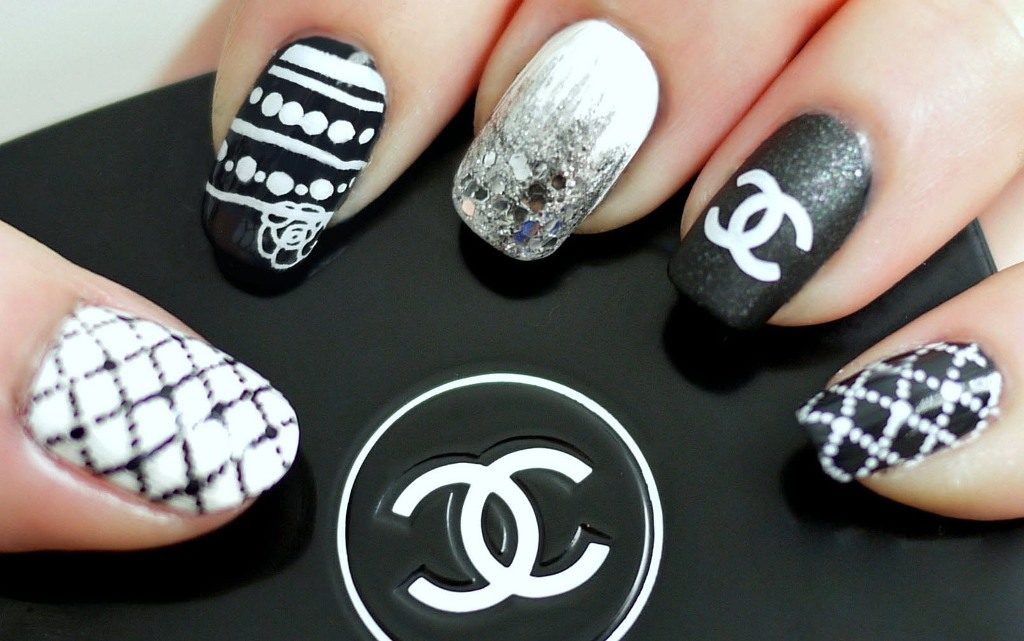 You can draw black and white patterns along with a signature logo of Chanel S.A. Use silver glitters to give it the glitzy look a Chanel nail art deserves.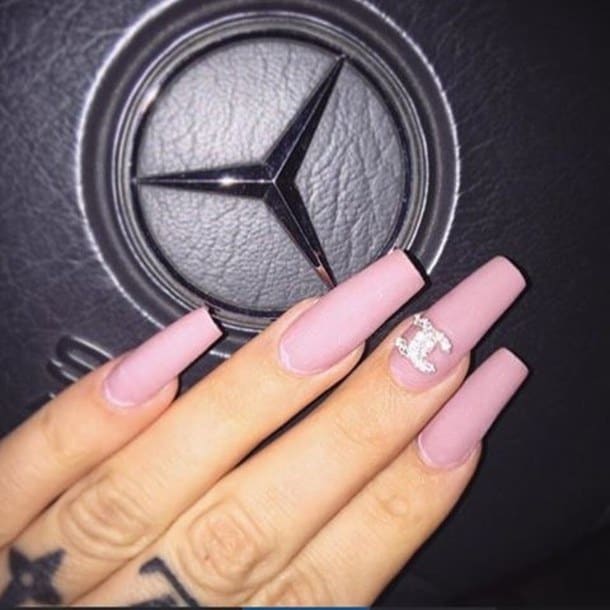 Though Chanel designs look the best in black and white nails, you can try them on your pink nails.
This photo best describes a true fashionista with Louis Vuitton tattoos on fingers and chanel logo on the ballerina nail.
#12. Classic Chanel Flap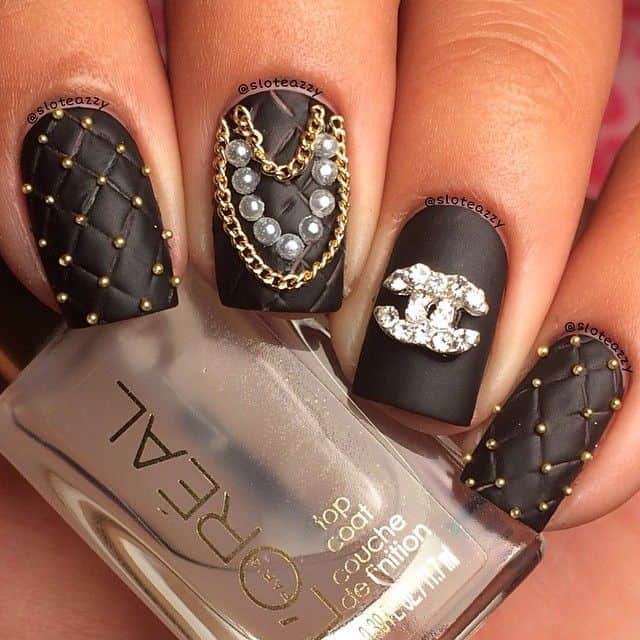 This gorgeous Chanel nail design will stun the eyes of the beholders. This could be the finest design resembling the whole idea of a classic Chanel flap bag. Use matte black as the base nail polish then put rhinestones in every corner of the rectangular shapes.
Use a tiny golden chain and pearl necklace in one nail. Adorn one nail with a heavily stoned logo of Chanel. That's the best of Chanel nail designs.
#13. All About Chanel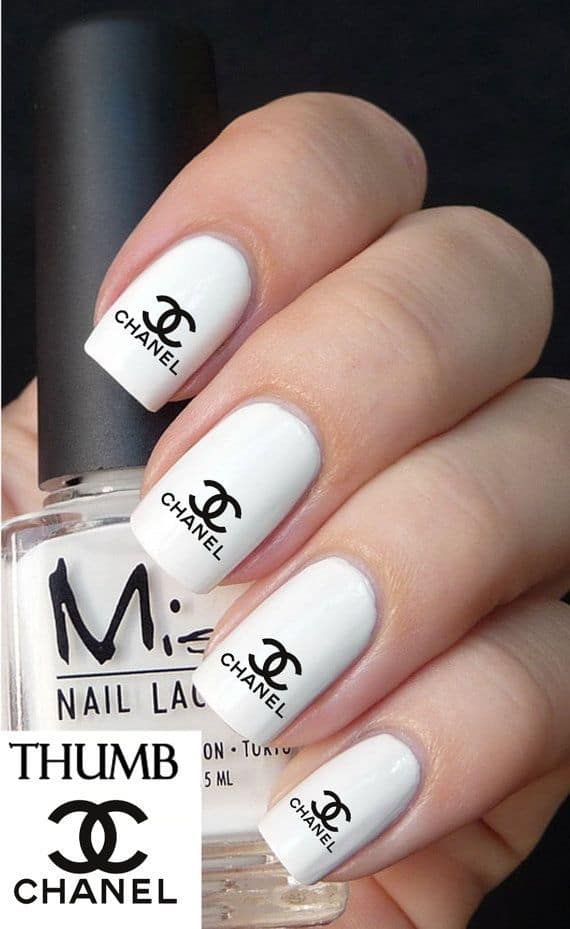 This design is simply identical to the Chanel. The combination of the black and white pattern is something used with almost all Chanel nail designs. Draw a logo of Chanel on each nail to complete this Chanel nail art.
#14. Chanel Nail Art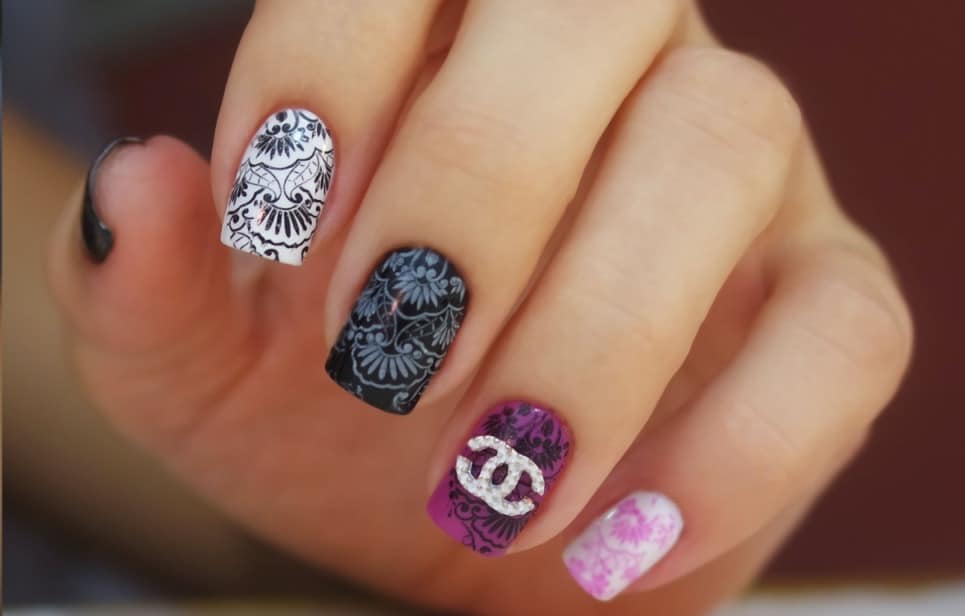 A different Chanel nail design is depicted here. You don't have to use the same color and pattern for every Chanel nail design.
First, paint your nails with flowery designs of different colors. Then attach a Chanel logo to one of the nails to have these Chanel nail designs.
#15. Chanel No. 5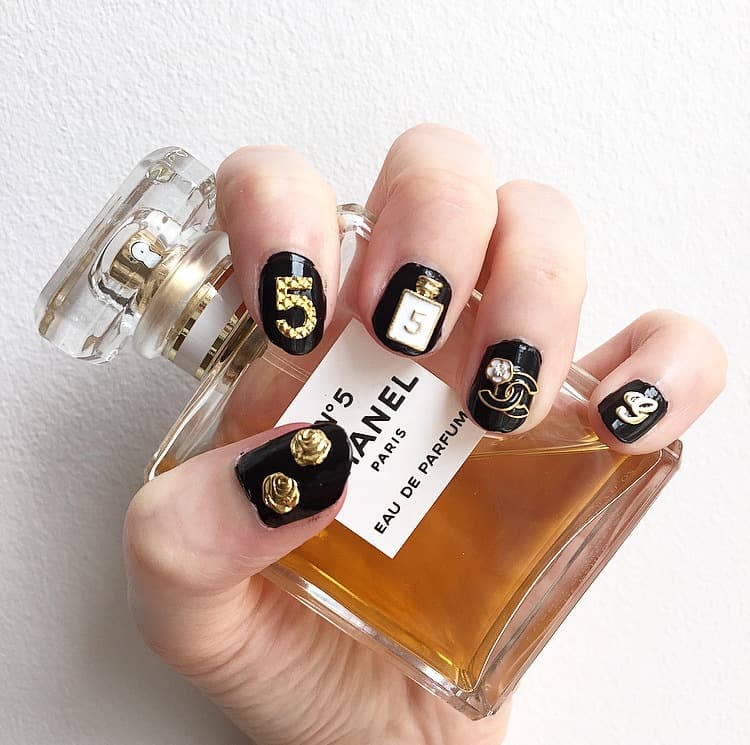 Chanel no. 5 is the first fragrance introduced by Chanel S.A. This perfume was a massive hit and still, the demand is so high. If you want to show off your branded perfume, this is the right fit for you.
You can draw a tiny bottle of No. 5 on your nail bed. Inscribe the number 5 one nail. And draw a logo of Chanel to complete the Chanel nail designs.
Upscale Your Style With These NexGen Nail
Fashion market and designs are highly influenced by heavyweight fashion companies.
The trend of illustrating reputed brands in various designs is not anything new. If you want to adorn your nails with Chanel theme, this article will be of great help.