Simple and easy nail designs: Pedicuring, manicuring, choosing nail designs… All these are accessorizing options transformed to a necessary styling key to ensure your status as a fashionable modern woman from head to toe. A key we all got up our sleeves.
Doing our own nails and designing them by ourselves instead of all those nail-salon trips, is no big of a deal or a hard task.
Get your own nail polish rainbow, designing needles and embellishments…. And you'll need nothing more but a steady hand and a bit of patience my friend.
The Simplest And Easiest Nail Designs
Having cute and simple nails need neither professional manicurist or extravagant equipment that cost a fortune.
Designs are plenty and various for your behalf, so you can find the ones that'll match your manicuring abilities and your artistic skills.
Thus, it doesn't mean that if you're willing to create your own simple nails you'll settle for basic color coats.
Don't undermine your abilities, cause a bit of creativity on your pedicured canvas is all you need to say goodbye to good old plain nail designs.
Here below we've got some simple nail designs that are simply gorgeous. If you are getting married, don't forget to look at these wedding nail designs!
#1. Simple Christmas Nails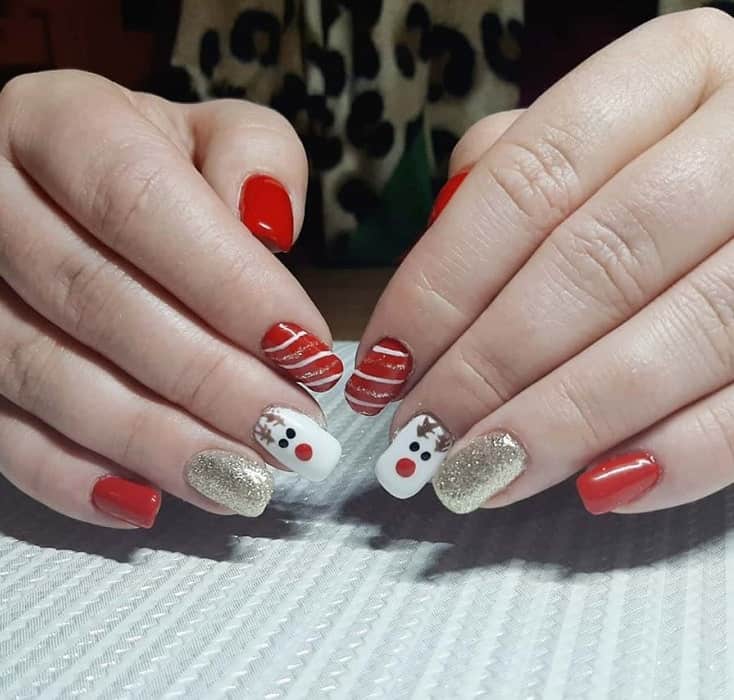 #2. Simple Fall Nail Art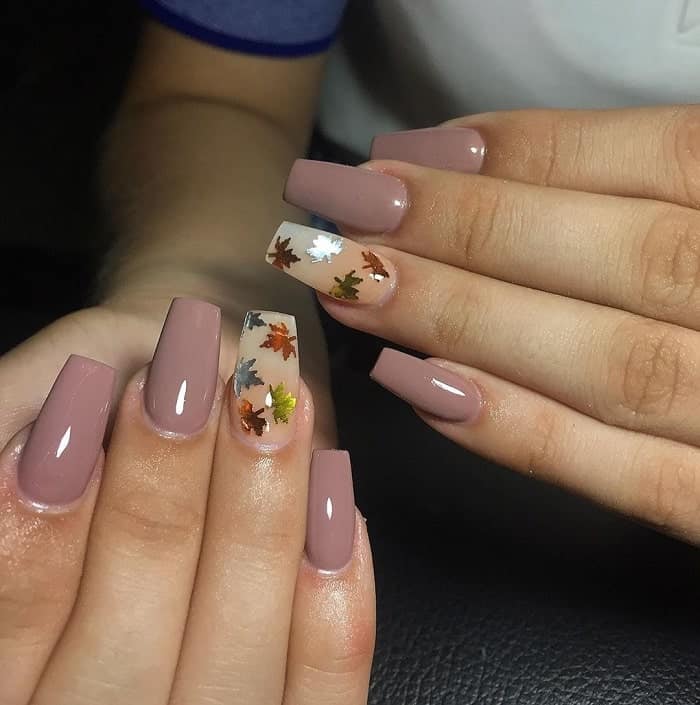 #3. Coffin Nail Design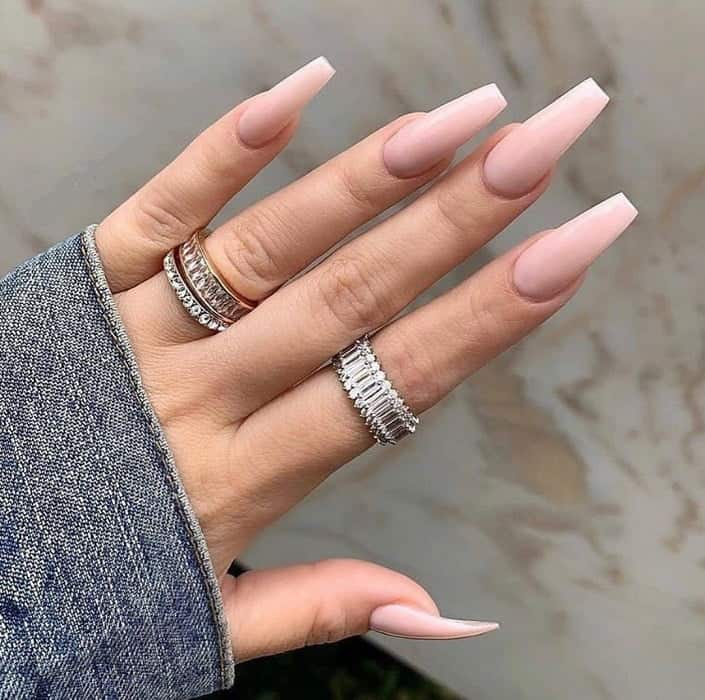 #4. Gel Nail Art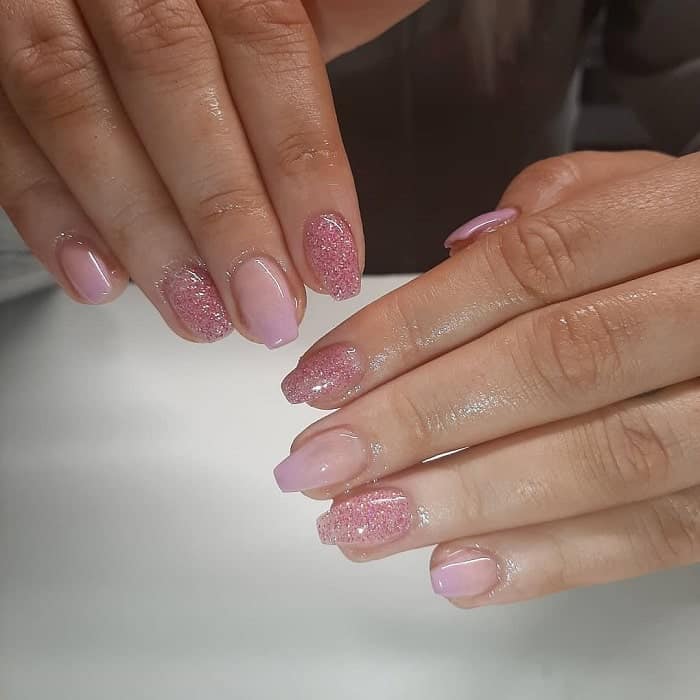 #5. Simple Nails with Rhinestone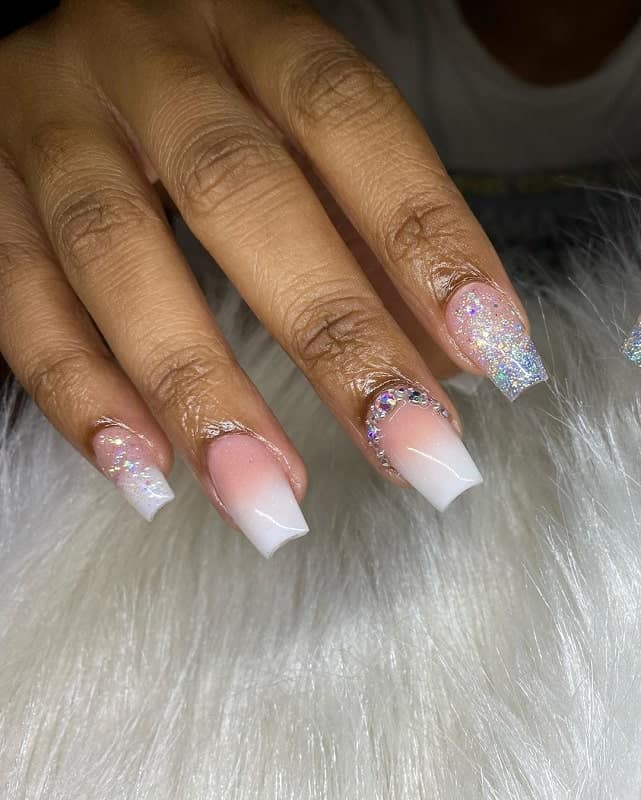 #6. Easy Nail Design for Kids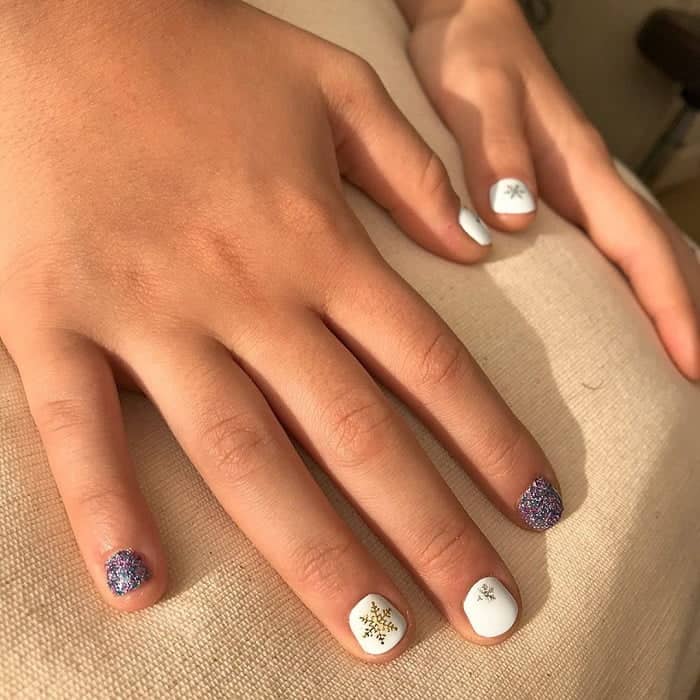 #7. Short Easy Nail Design
#8. Simple Nails for Wedding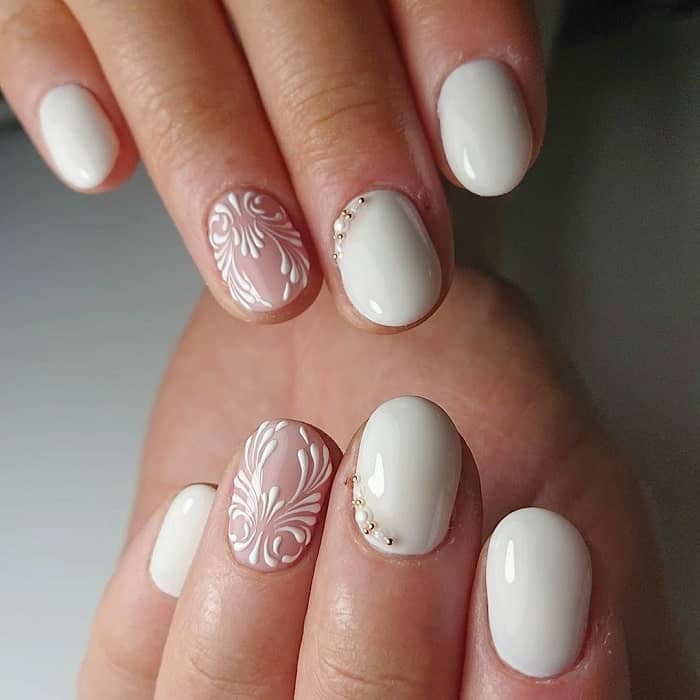 #9. Back To School Nails
#10. Easy Spring Nail Design
#11. Thanksgiving Nail Design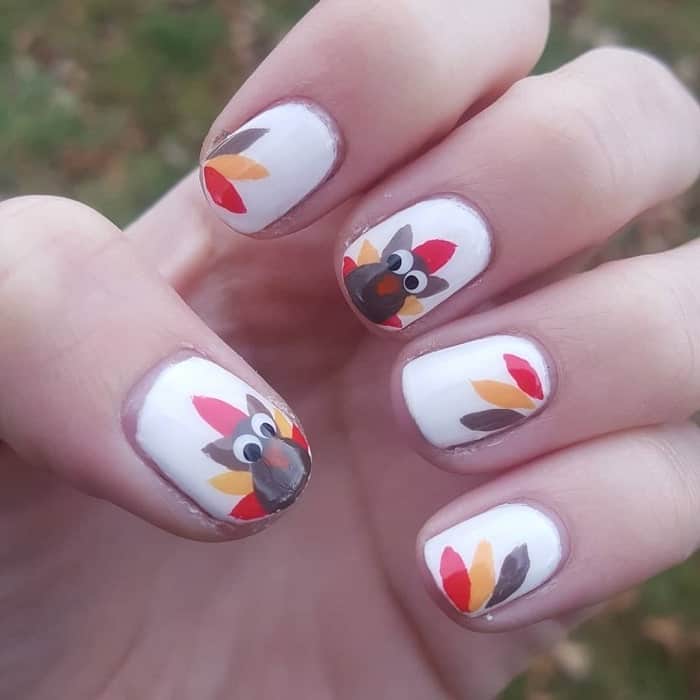 #12. Simple Holiday Nails
#13. Sunflower Nail Art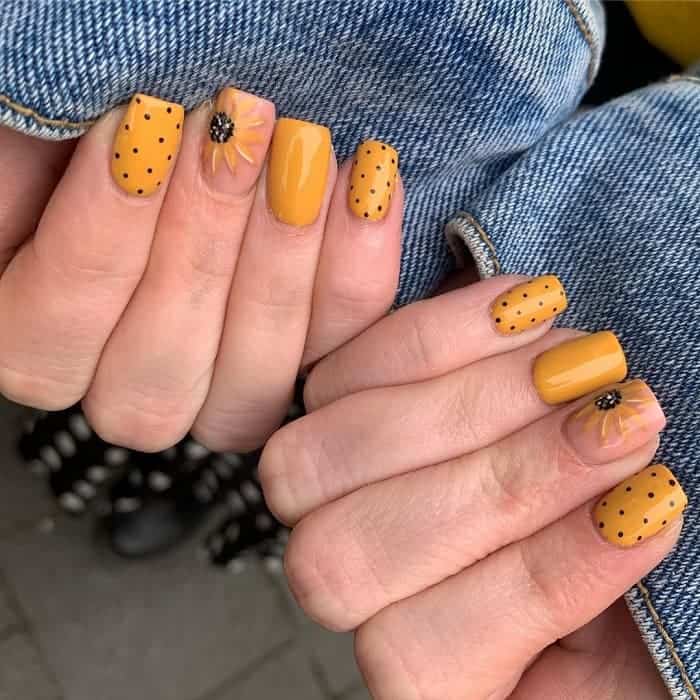 #14. Simple Winter Nails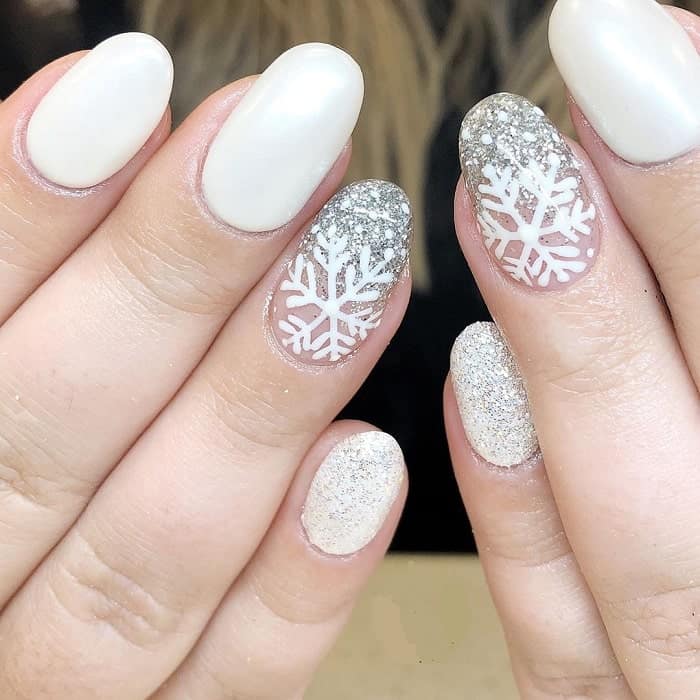 #15. Beach Nail Design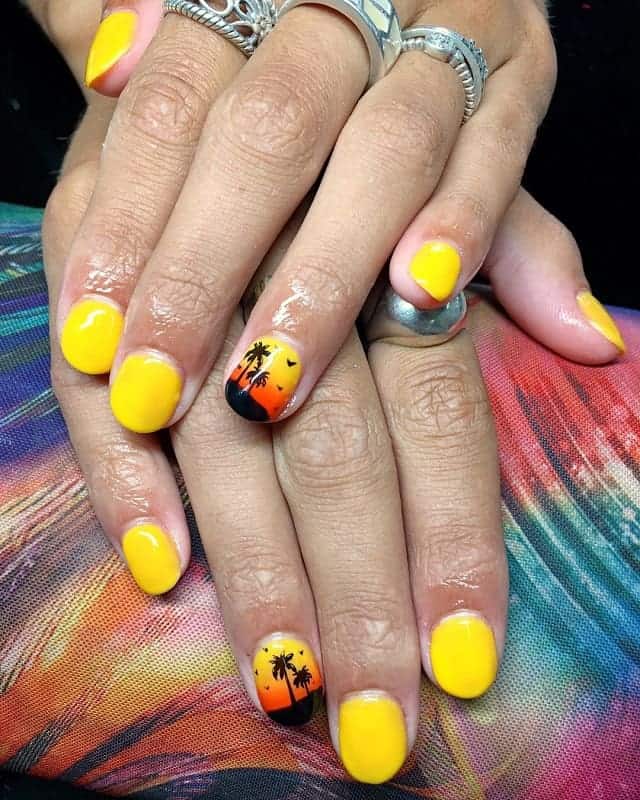 #16. Clear Nail Design
#17. Simple Nails for Prom
#18. Simple Disney Nails
#19. Goth Nail Art
#20. Easy Unicorn Nail Design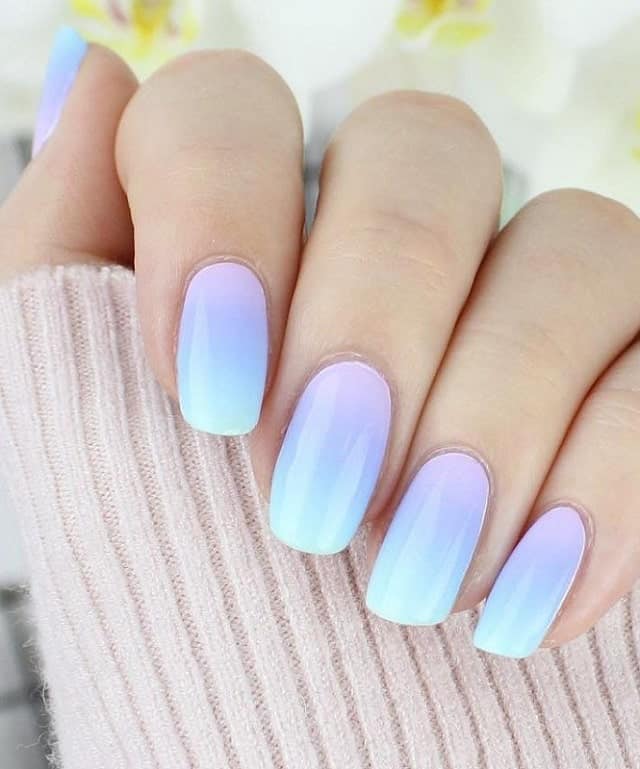 #21. Simple Glitter Nails With Old Hollywood Vibes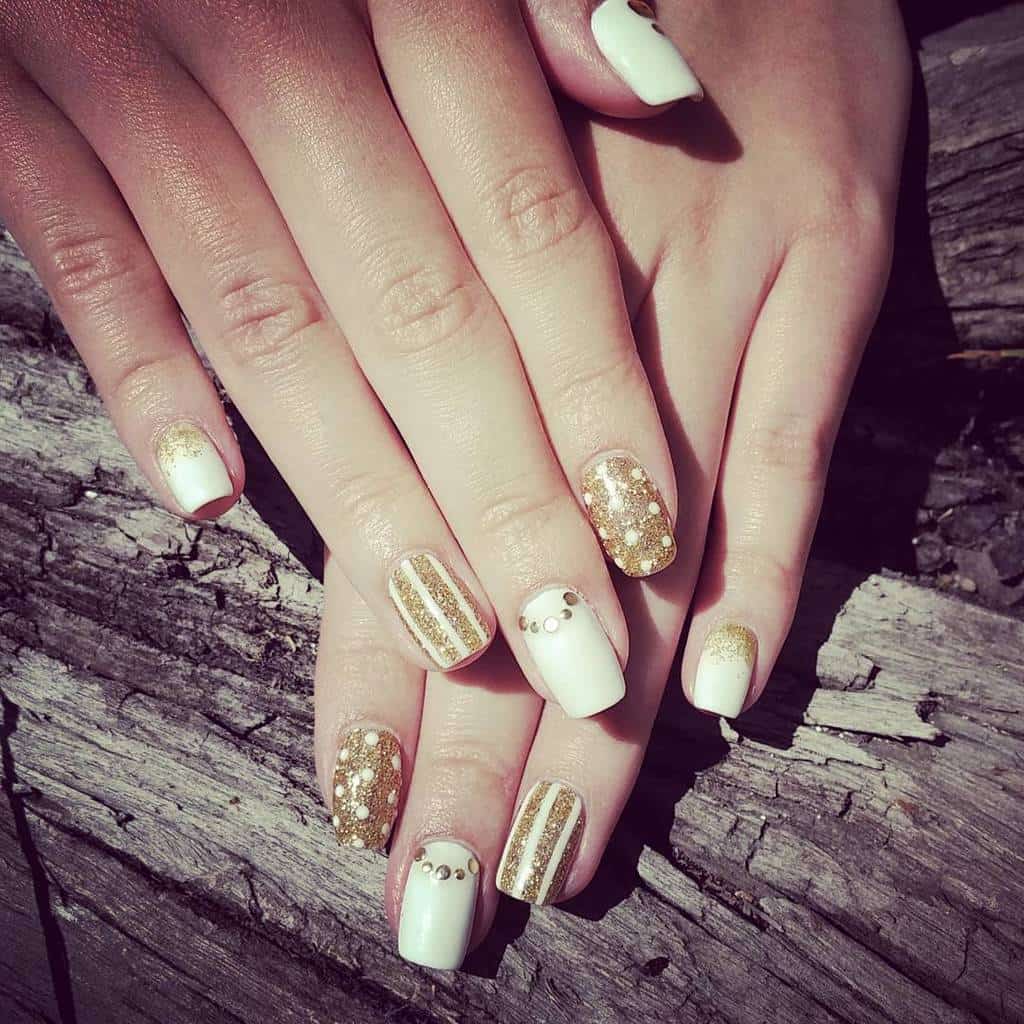 Give a wonderful tribute to Hollywood's great stars that dazzled us for years and years on the red carpets, with this red carpet-worthy easy nail design.
Get this Couture vibes by gathering your white and glitter-gold nail polish, your lining needle, and gold embellishments and unleashing your creativity.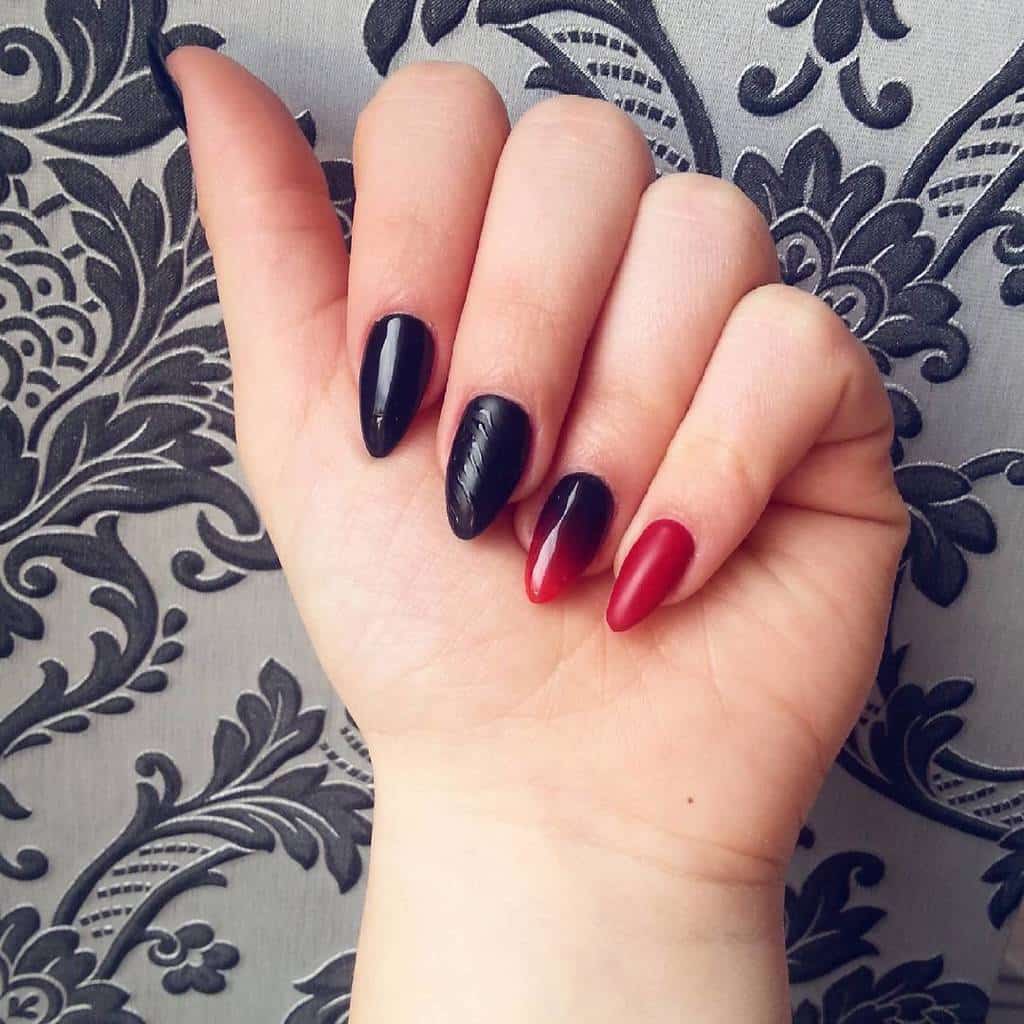 Get a sassy but classy claw nail by selecting degraded shades of red for your mani.
Flaunt each nail with unique simple and easy nail design that'll match its brothers.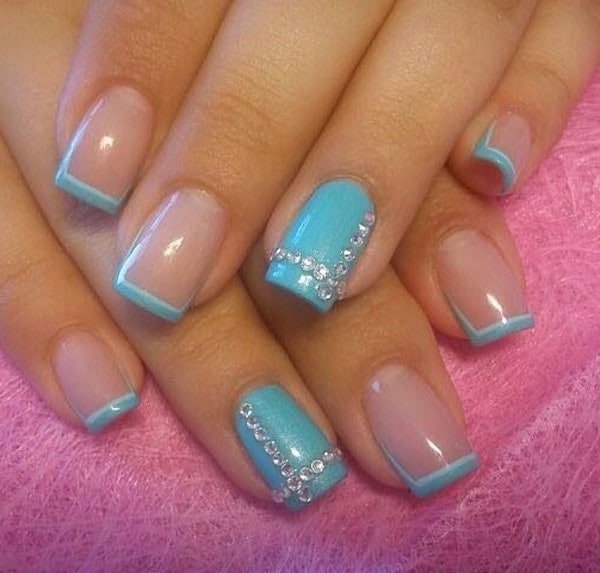 When going for acrylic nails, gel, shellac, or any nail technique that last weeks, not days, be smart to choose a beautiful yet simple nail design that'll match your outfits days and days to come.
#24. A Simple Coat For Simple Look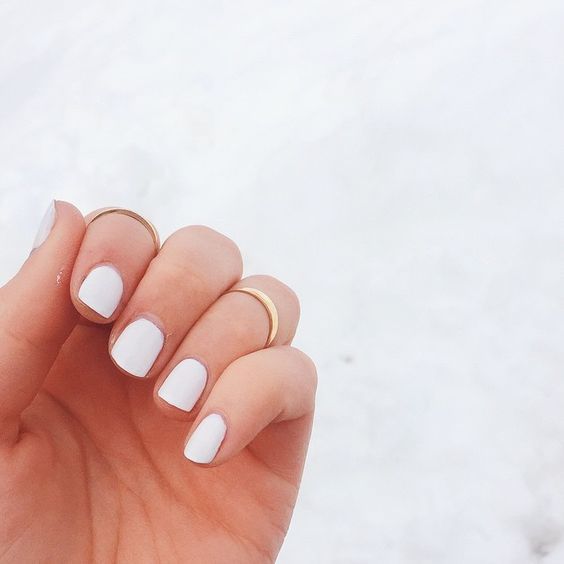 You can always go with varnishing your nails with your favorite color, nothing is wrong with this easy and simple nail design!
Give your glossy black nails a unique identity by adding these silver polished stamps or any other personalized detail to end up with such the above simple nail design.
#26. Nude Nail Color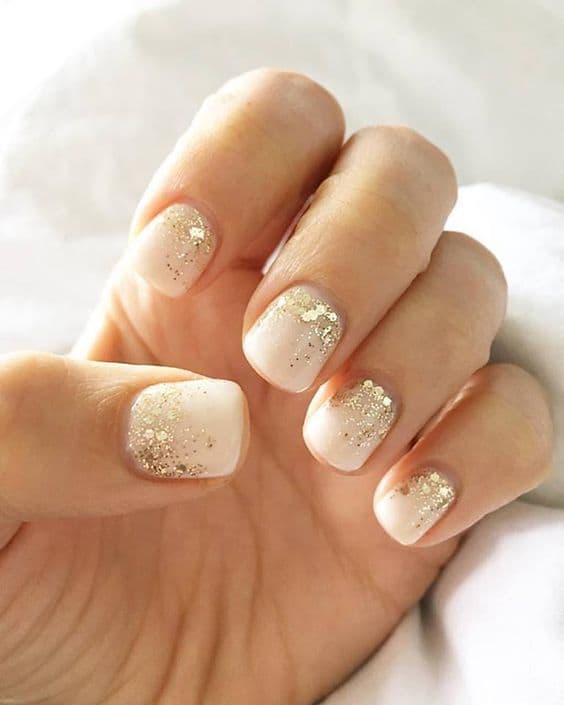 Nude nails are a design that suits every nail style whether short, tall, almond, square, oval or any nail style.
Here is a simple and easy nail design in cream nude with massaged beds in gold gradients.
#27. Fancy Leopard Easy Nail Design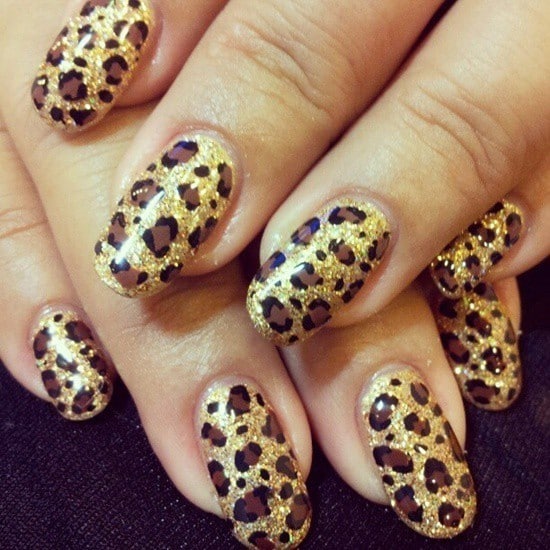 Why not take a wild print and make it a bit fancy? Use a glitter based nail polish as your primary base coat before creating the traditional tiger pattern.
#28. The Three designs Combo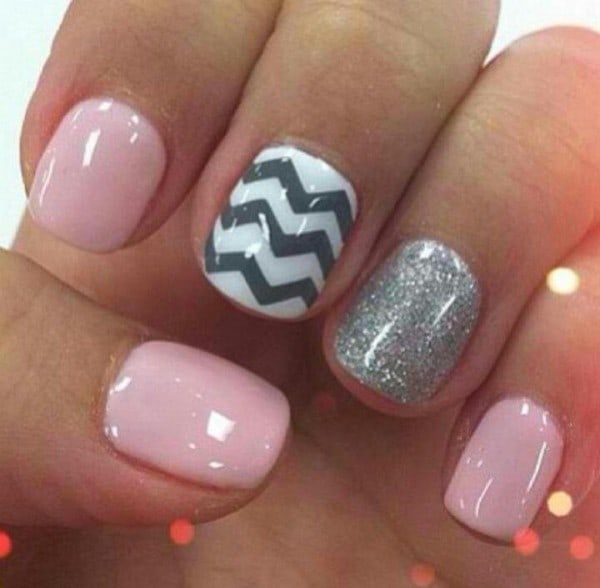 Plain color, chevron style, and glitter gradients combined for an interesting yet contrasting design.
Three simple nail designs within a singular one, that are all easy to master.
#29. Summer Nail Design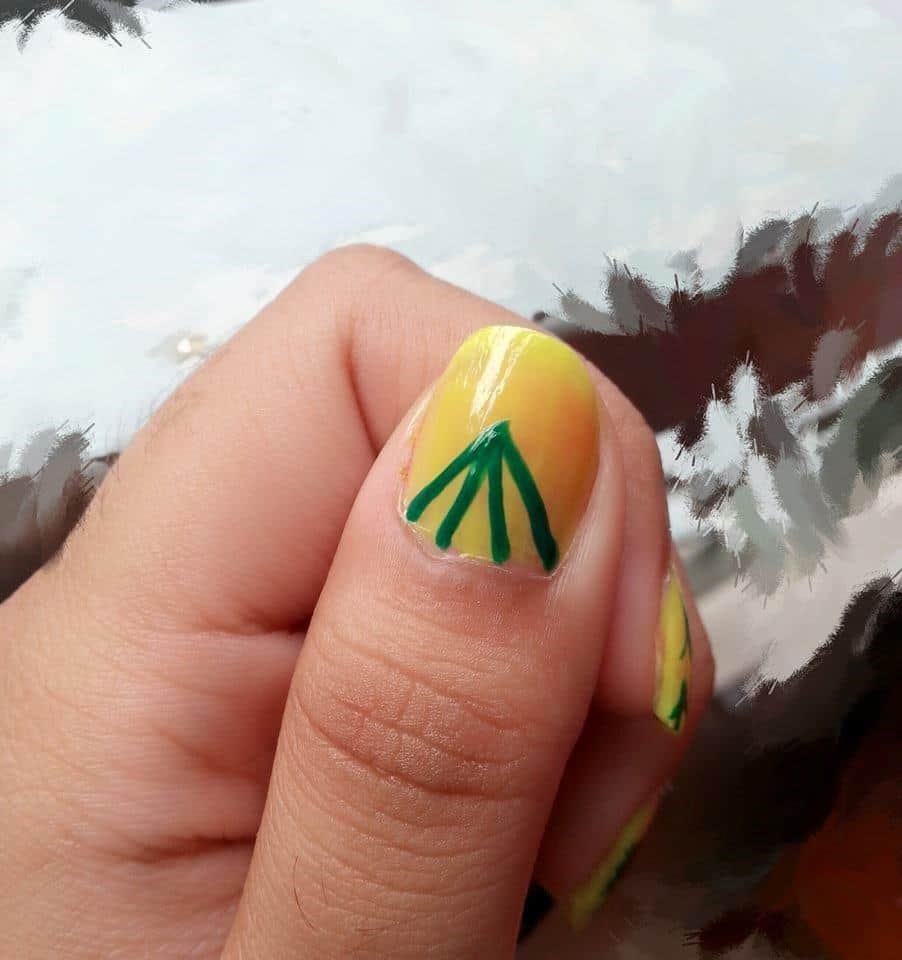 Get summer vibes into your simple nail design with these vibrant shades of lemon-yellow and green.
#30. Rainbow Nail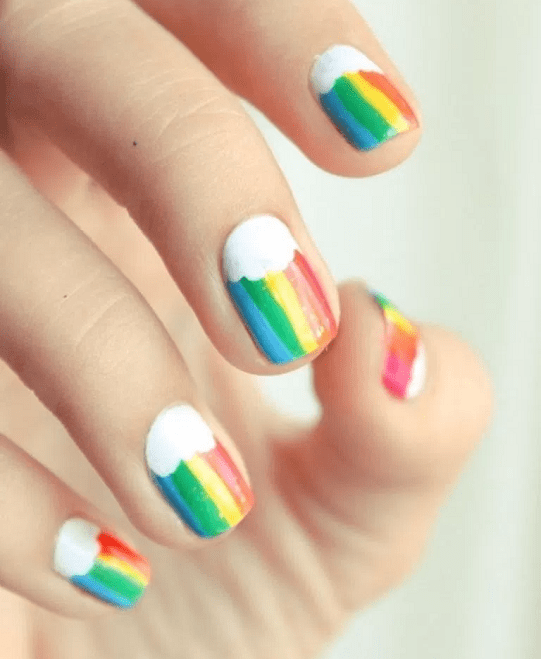 This is the perfect representation of the colors which are present in a natural rainbow.
Purple, blue, sky blue, green, yellow, orange, and red colors have been kept in the right order in these rainbow nail designs.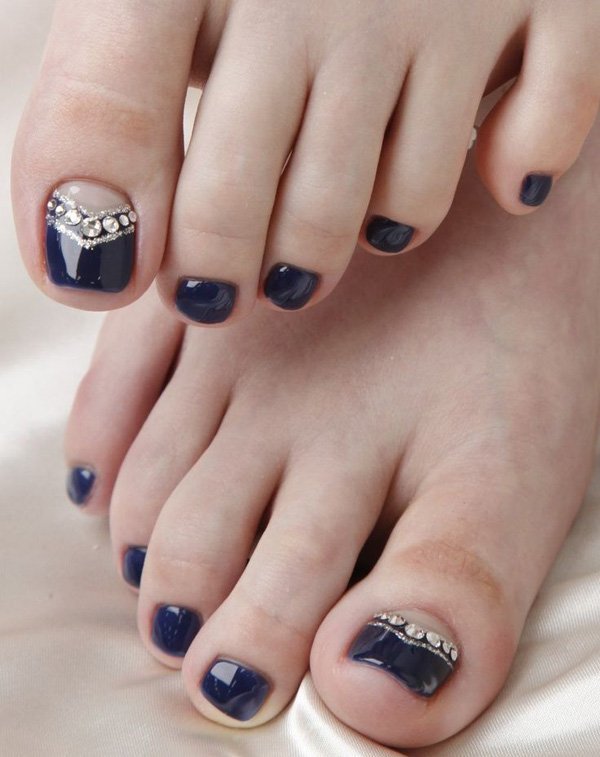 Celebrate the sandals' season with winter shades. Varnish your toenails this summer with dark blue nail polish, and bedazzle those pedicured toenails with gems and glitter lines for a fabulous summer outfit from head to toe.
#32. Hello Kitty
Nothing is as cute and adorable as the Hello kitty's nail design. Reflect your personality in your appearance with this design in shades of pink.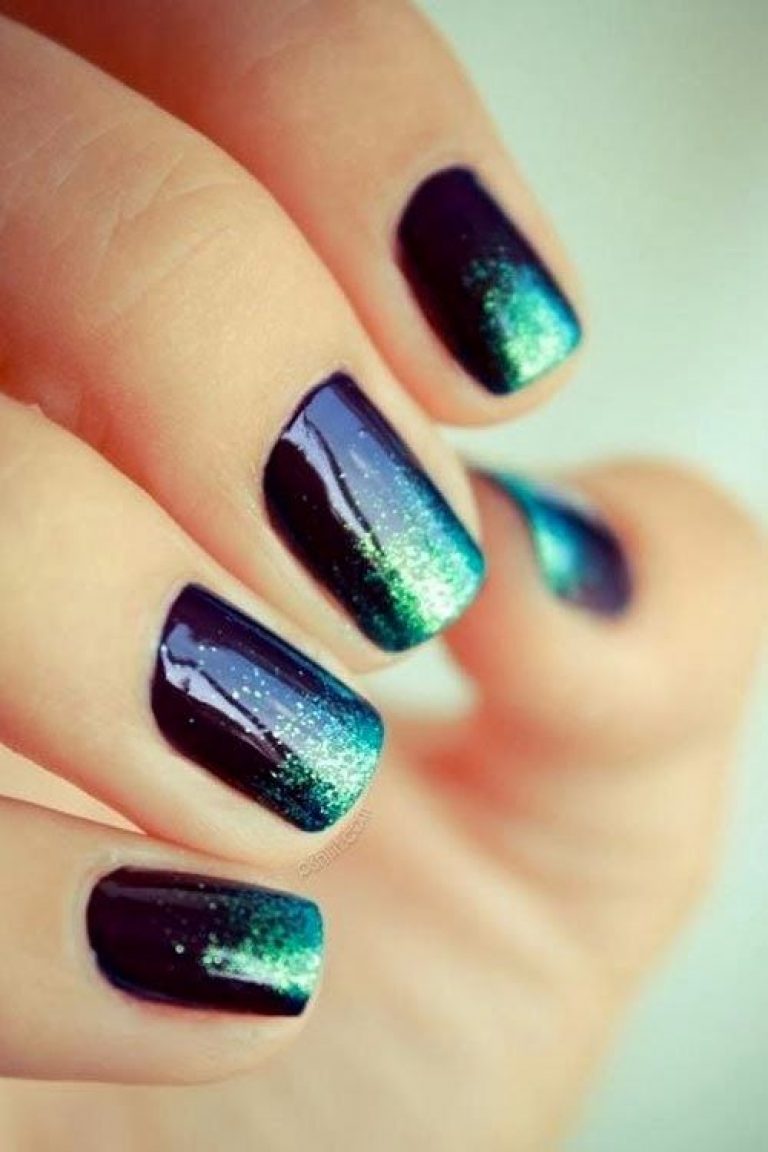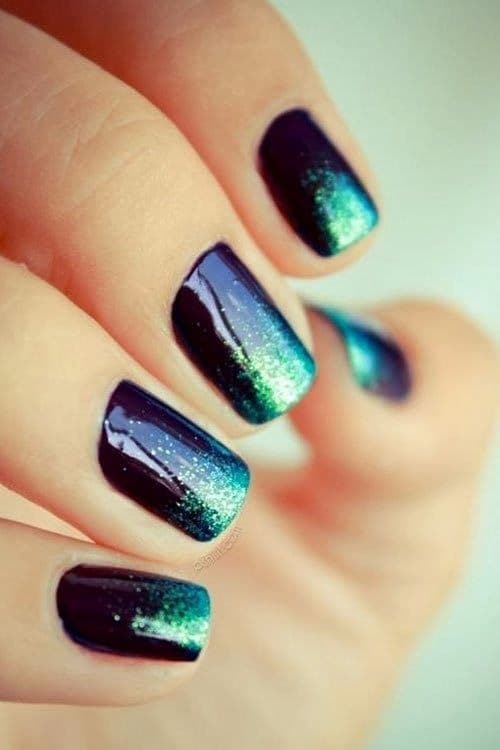 Why always top your nail with traditional French tips when you can top your manicure with a splash of sparkle? All the fancy equipment you'll need is a sponge to create this ombre easy nail silhouette.
#34. Dotted French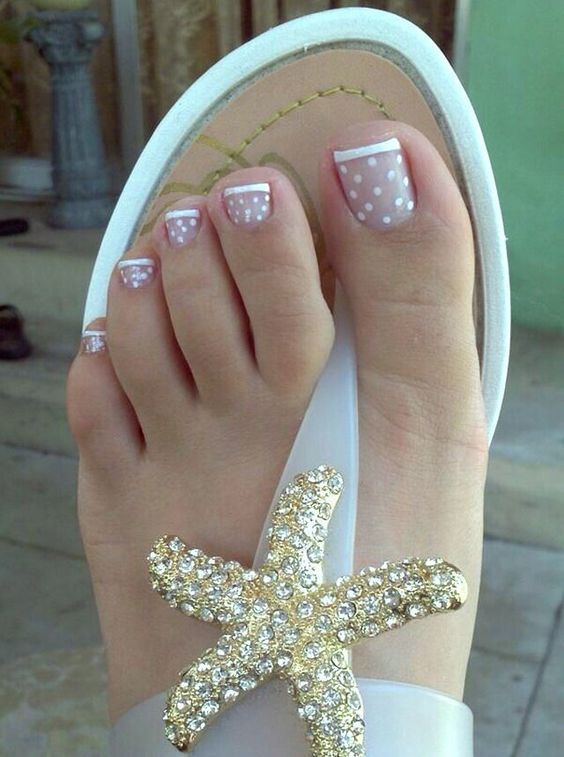 Get your toenail out of that boots cause winter is over, and summer is at the door. Layer white dots with the classic french mani for a cute alternation to this classic simple nail design.
#35. Everyday Style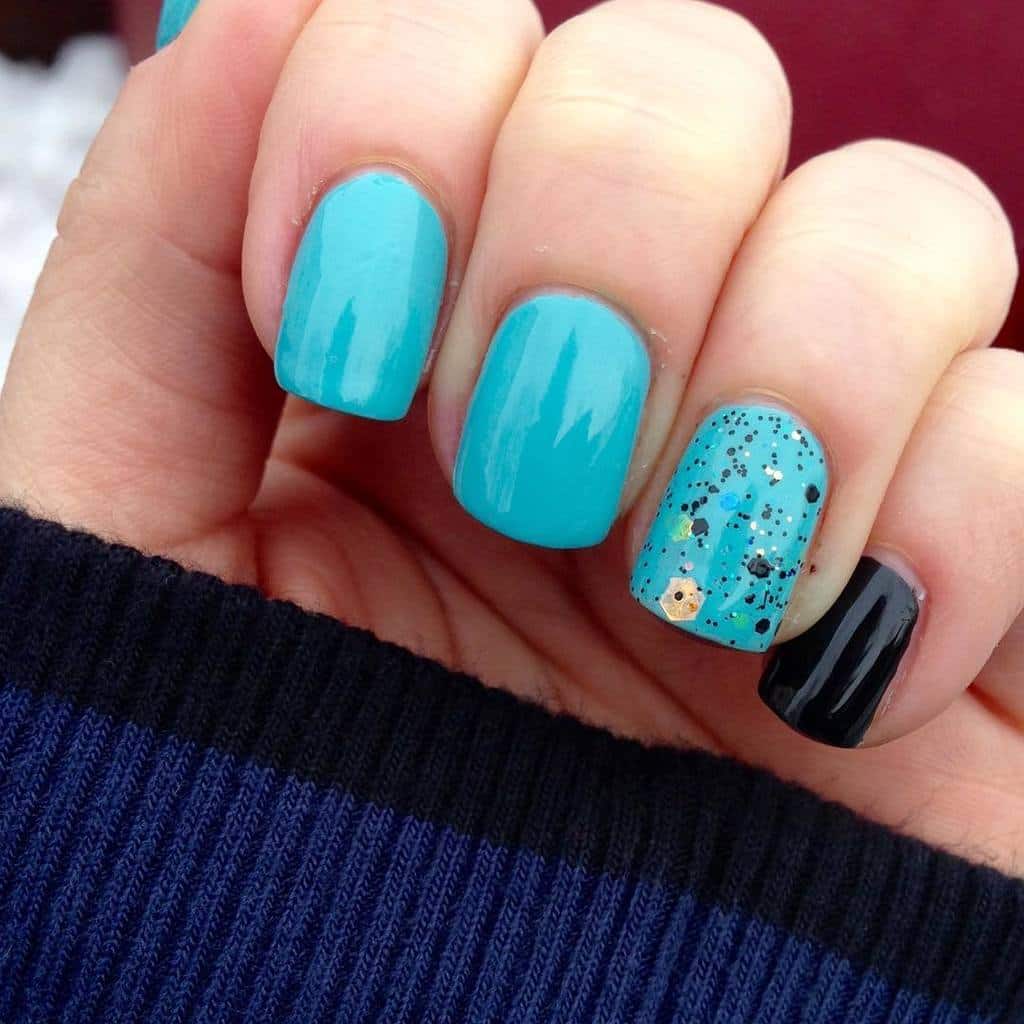 In the market for a quick nail design to get before heading out and starting your busy day?
Go with such a simple and easy nail design as the picture above cause it's undoubtedly simple for everyday looks yet interesting enough with these 2 distinct accent nails.
#36. Mesmerizing Blue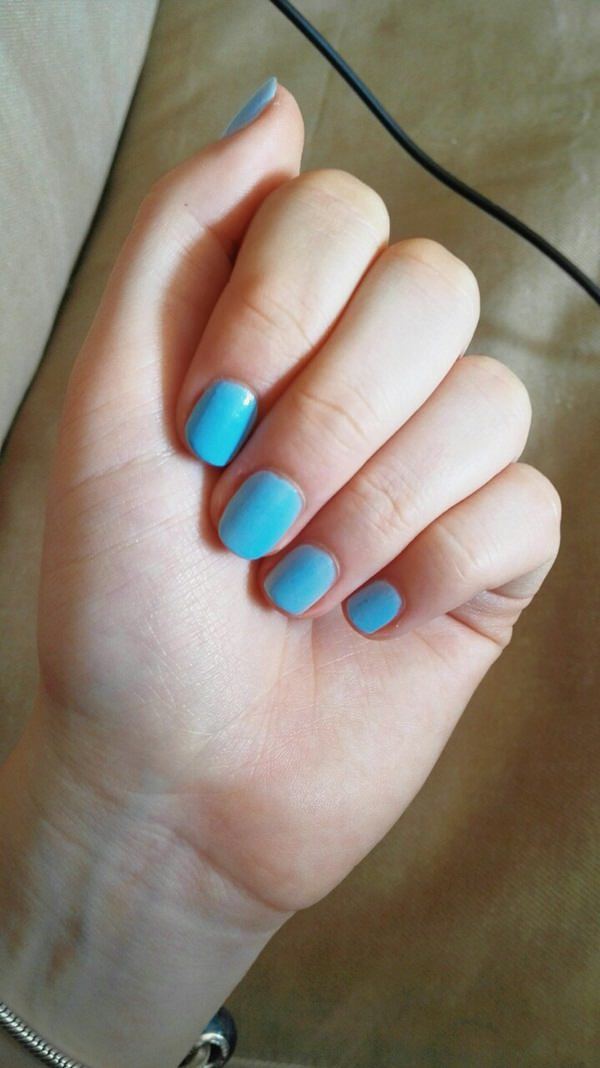 If you're a minimalist and adore subtle designs, a solid colored simple nail design lacking a detail burden would be just enough.
#37. The Accent Nail Element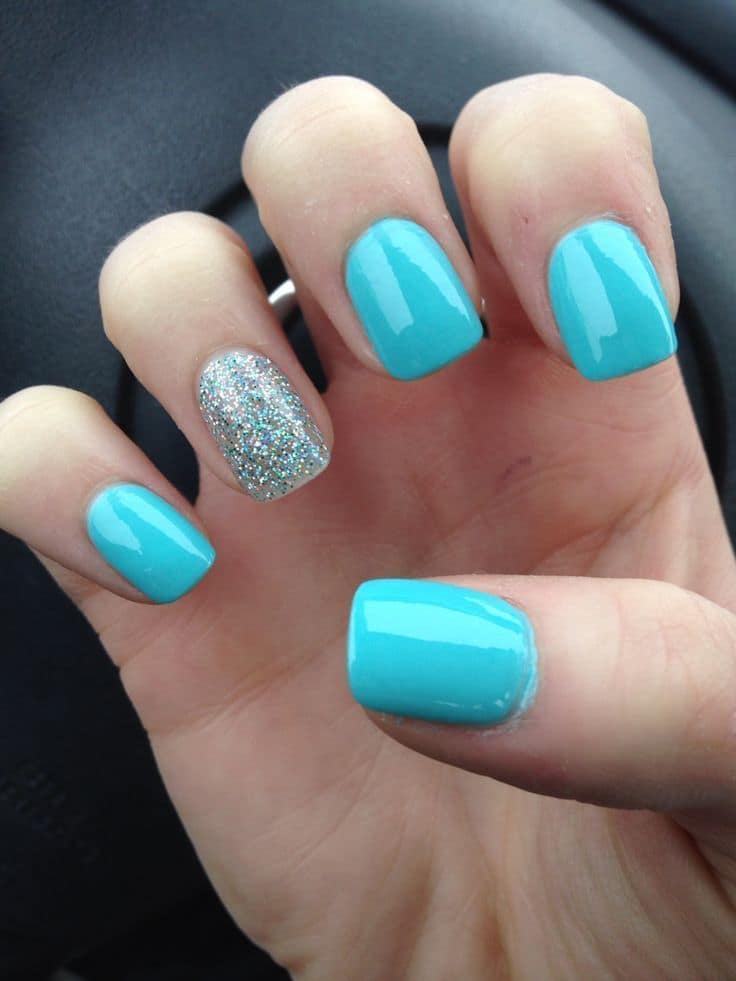 When trying to avoid dull, boring nail designs, don't overthink and, therefore over do it. Creating an easy accent nail design is the key element to adding further beauty and interest.
#38. Easter Nail Design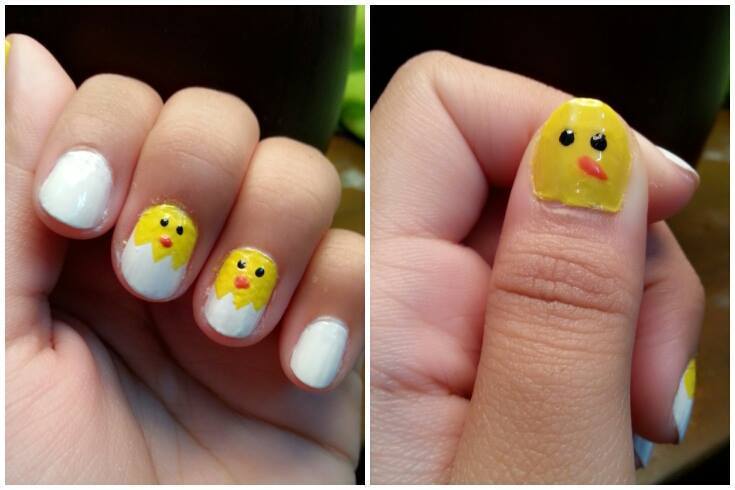 Give in to your precious childhood memories. Flashbacks to egg hunting and Easter bunnies don't have to remain just memories, but you can inspire them and create an Easter-themed simple nail design.
#39. A Work Of Art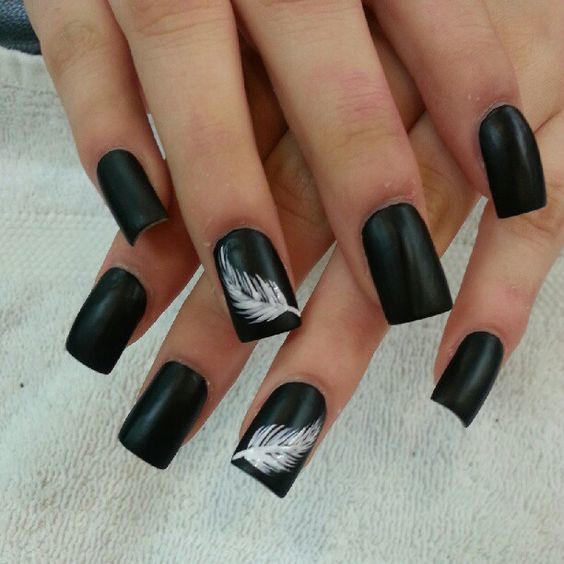 Have you encountered an easy nail design that radiates creativity in the most straightforward drawings?
Invest in to your artistic skills to create a drawing of your choice and decorate your plain colored nails.
#40. Golden Beds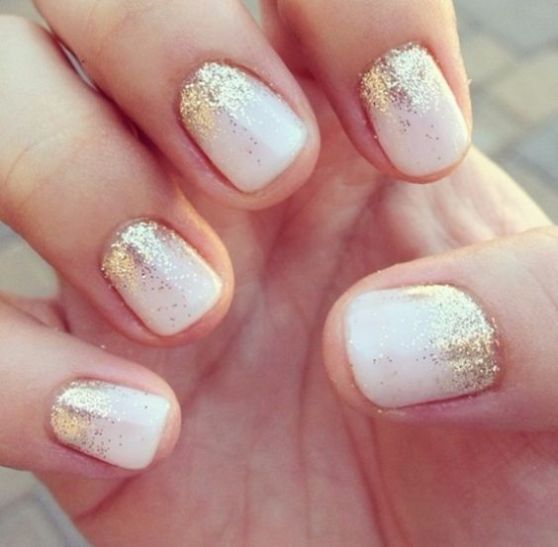 Get that sponge, dip it in gold glitter and massage the beds of your nails. The simple addition of this sparkly detail is all you need to give this simple nail design a royal touch.
#41. Bejeweled Simple Nail Design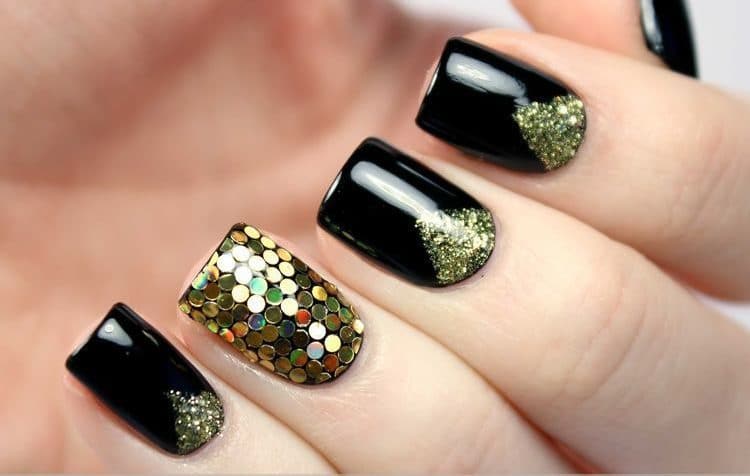 Accessorize your black nail beds with some golden jewelry, to get your nails ready for that special party you're heading for.
#42. Fashionable Dots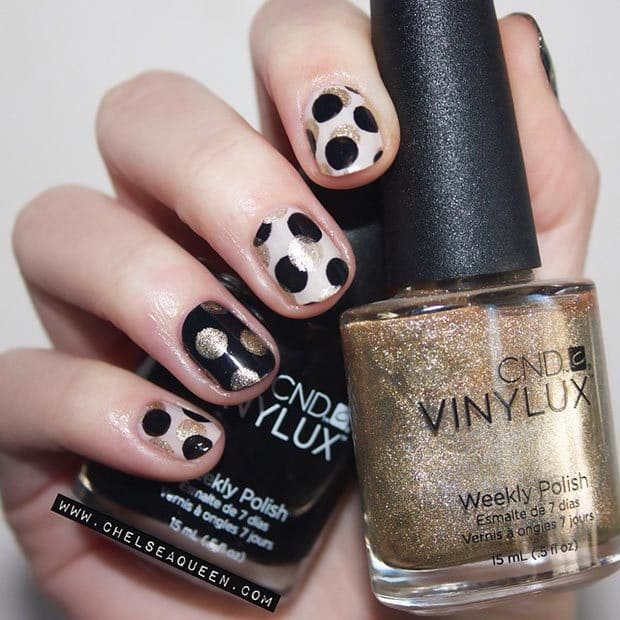 Why not settle for the famous color combo; of white, black, and gold to create this fashionable polka-dotted simple and easy nail design?
Amazing Flower Themed Nail Designs
#43. The LOVE Design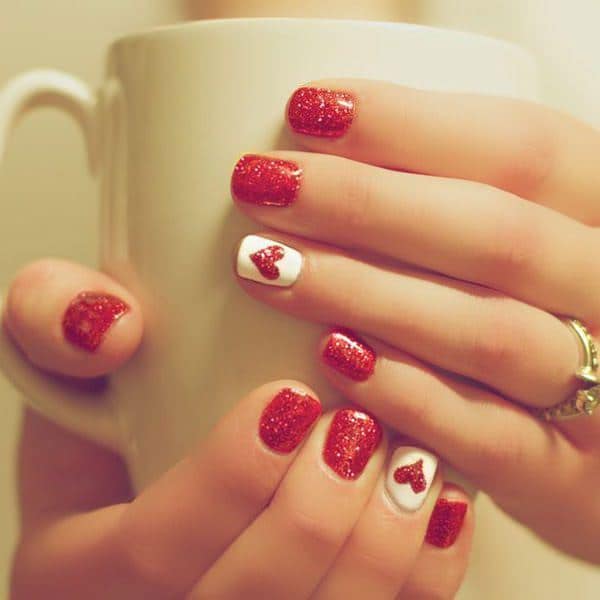 Just mentioning the word love, drowns us with a thousand red hearts.
So why not carry those hearts and get a simple red themed nail design that stores the love we hold and the romance we crave on this Valentine's in the easiest designs?
#44. Soft Spectrum As Simple nail Design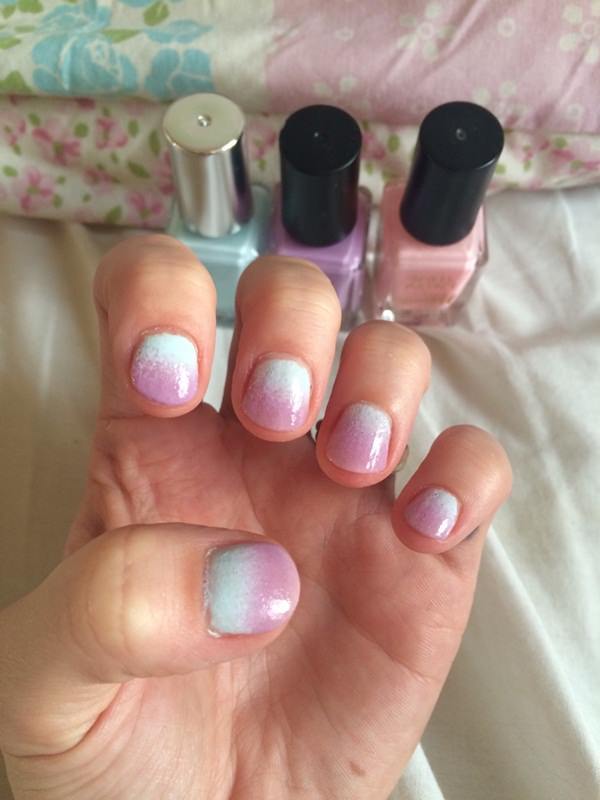 Ombre nail design has won the heart of many nail art lovers. A style that needs almost no particular skills nor a lot of practice.
Somehow anyone that tries it ends up with a canvas of fading spectrum as a manicure.
#45. Clubbed designs
No need to choose a singular nail trend when you can get them all in the same design.
However, preserve the use of the same colors throughout these different designs to ensure a subtly sophisticated end result for this simple nail design.
#46. Pink Nail Design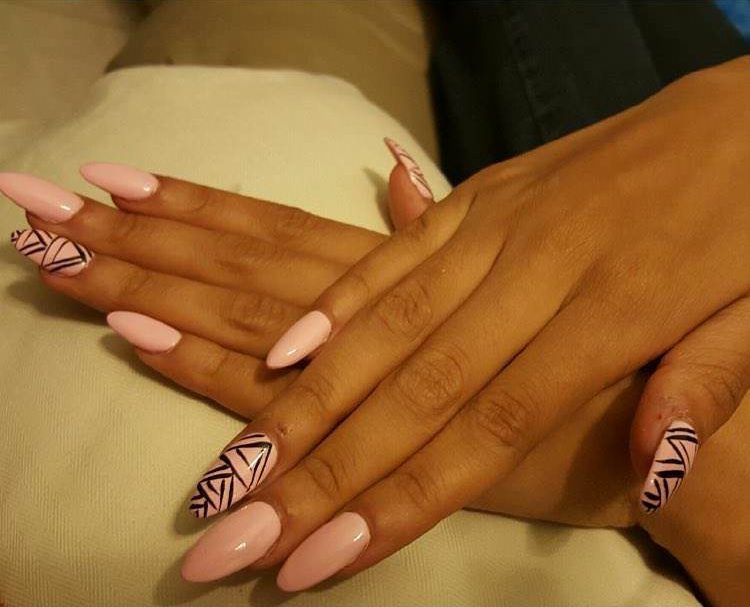 What can complement your perfect summer tan better than a soft pastel color?
Choose a light shade such as baby pink to contrast your bronze skin for your simple nail design.
#47. Extravagant Easy & Simple Nail Design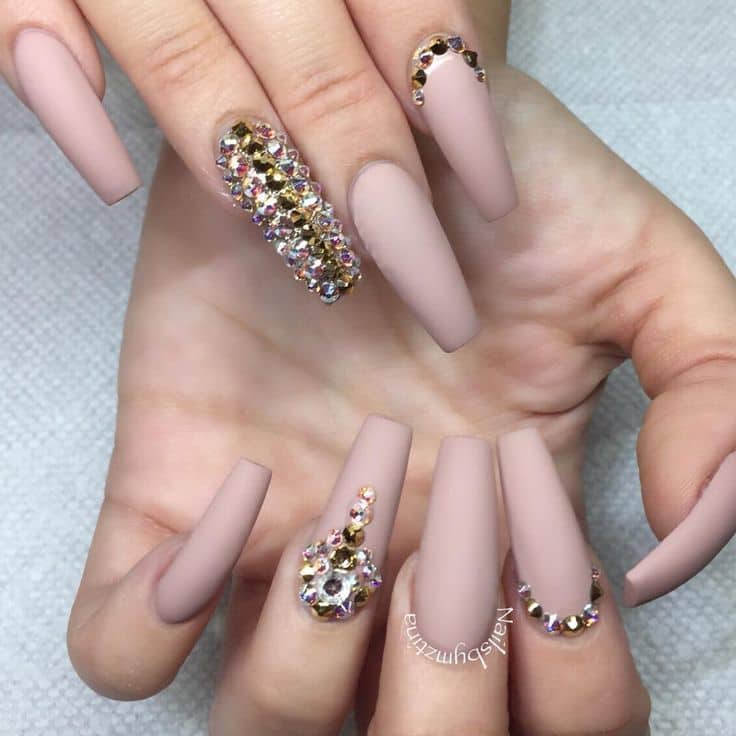 Short on the artistic skills, but still trying to get an extravagant twist to your basic nude nails? Nothing beats gems and strass with doing that work for you.
#48. Hearts For Valentine!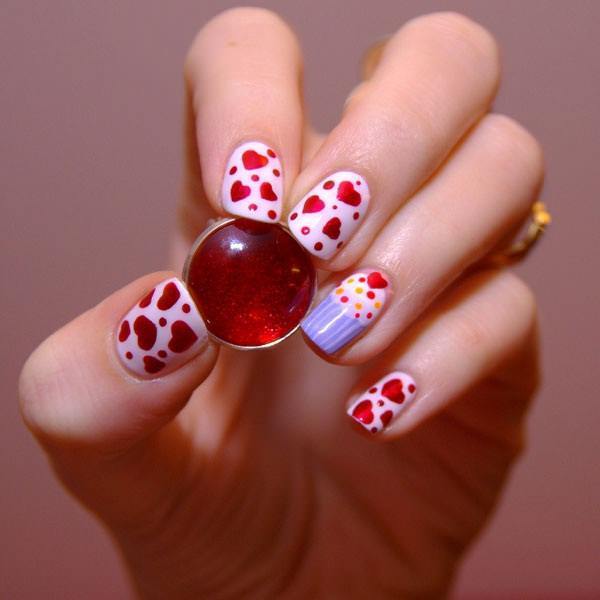 Only a few designs have got the versatility to match a certain celebration or a holiday.
From red Christmas nails with mini trees and Santa drawings, reaching Independence Day's patriotic nails.
And here we've got a Valentine-worthy easy nail design to show love and adoration not just with words and gifts, but with your nails as well.
#49. Colorless Class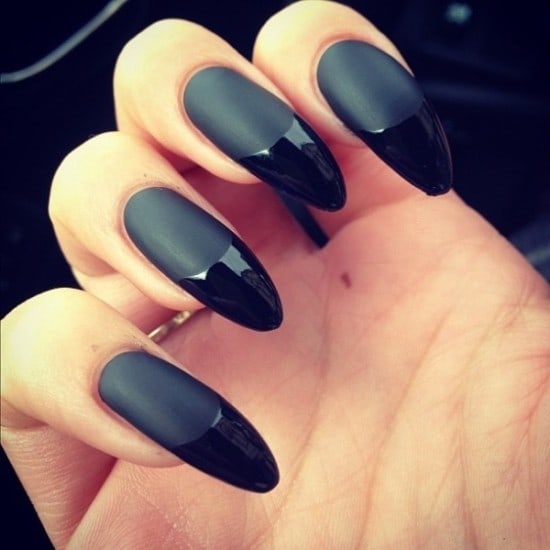 A sophisticated twist to the French nail design. Black French having shiny glossy tips sitting on a clean matte background on these claw nails.
Simple elegance with a colorless color is all you need to gaze eyes as you walk by with your simple and easy nail design.
#50. Dipped Tips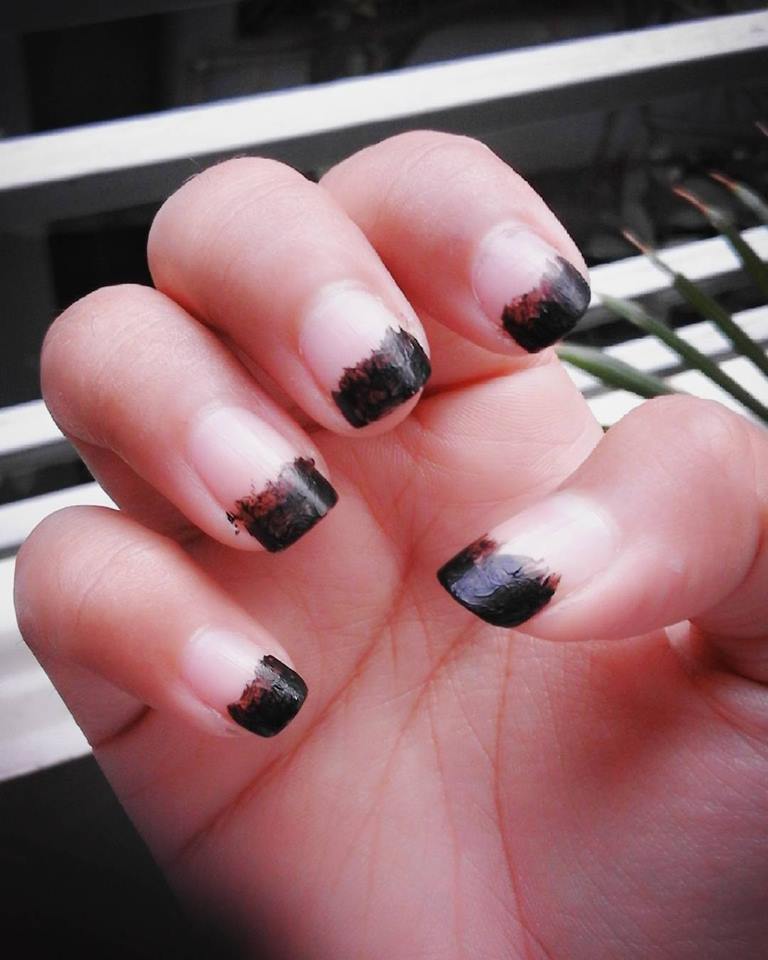 Dip your nude nails with a color you favor, and you'll get an easy nail design that is both simple and attractive simultaneously.
#51. Playful Cuteness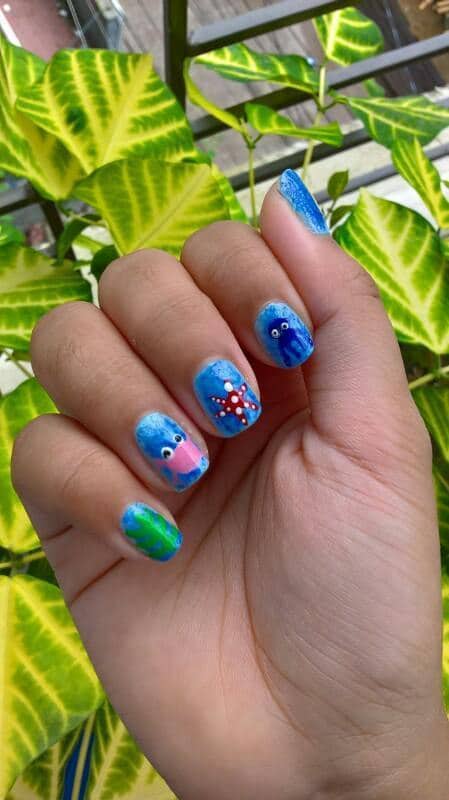 Put your childish playfulness to good use and paint on the cutest drawings on your nails to create this adorable design.
#52. Simple Stiletto Nails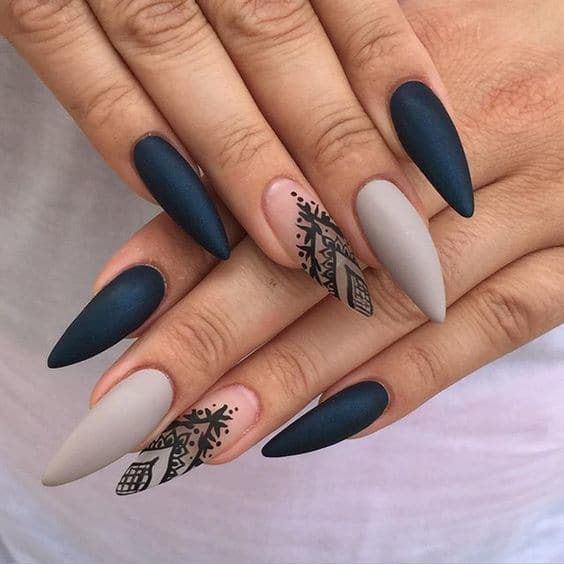 Trying to find a simple mani that is bold and elegant to get ready for that date you've been looking forward to?
Look no more because this classy matte stiletto silhouette is what you're looking for.
#53. Simple Polka Dots On Nails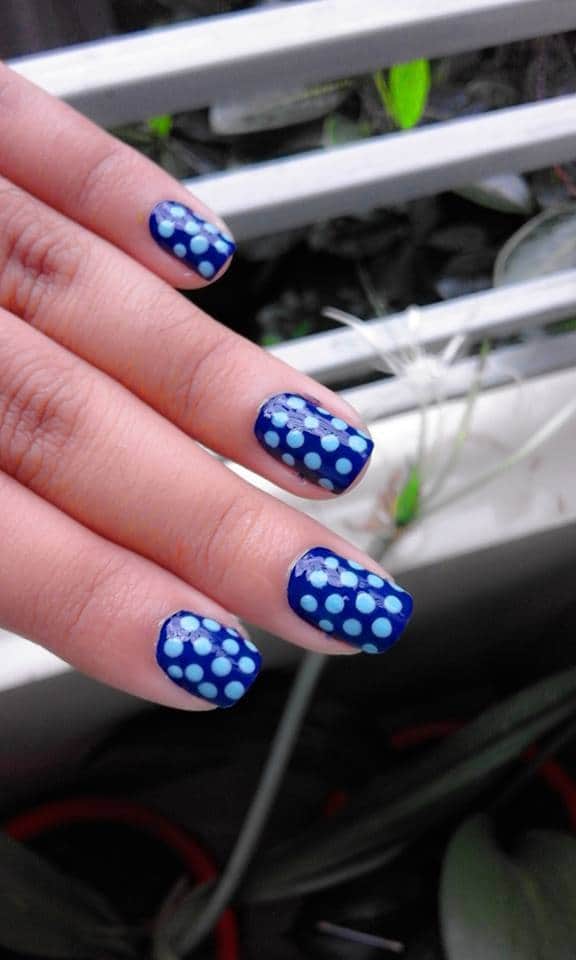 Hands down the most favored pattern. Polka dots with all its fun and appeal decorate this navy-blue base coat. Nothing easier or simpler!
#54. Glamorous Accent Nail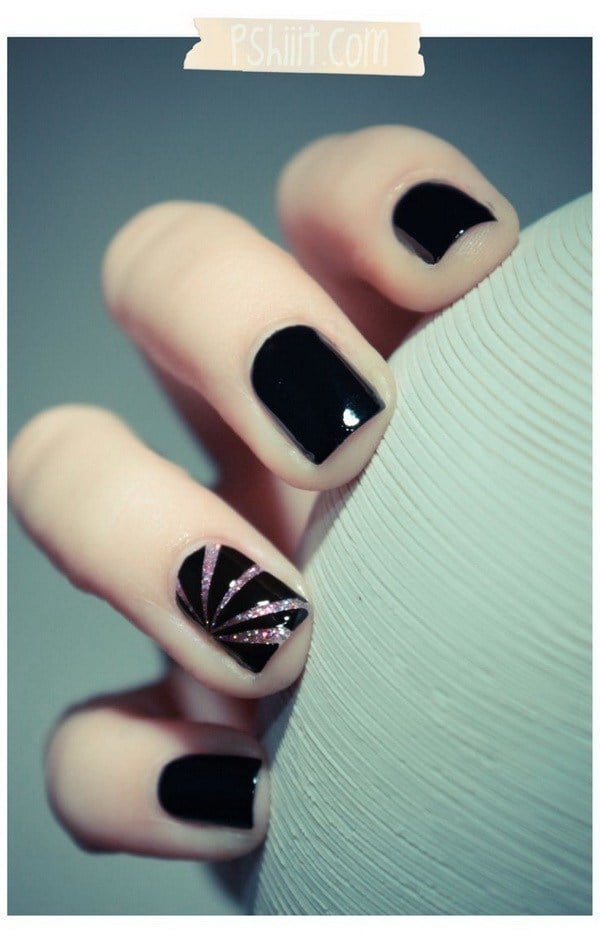 An alternative to the plain glossy black mani we're all addicted to.
Add an accent nail design for your ring finger to give some sense of glamour to your basic easy nail design.
#55. Glossy & Matte Simple Nail Design
We all love black nail polish, so sophisticated and elegant. We love it glossy and we love it matte.
So why not combine both with such design having a matte base with accent glossy tips.
#56. Simple Halloween Nails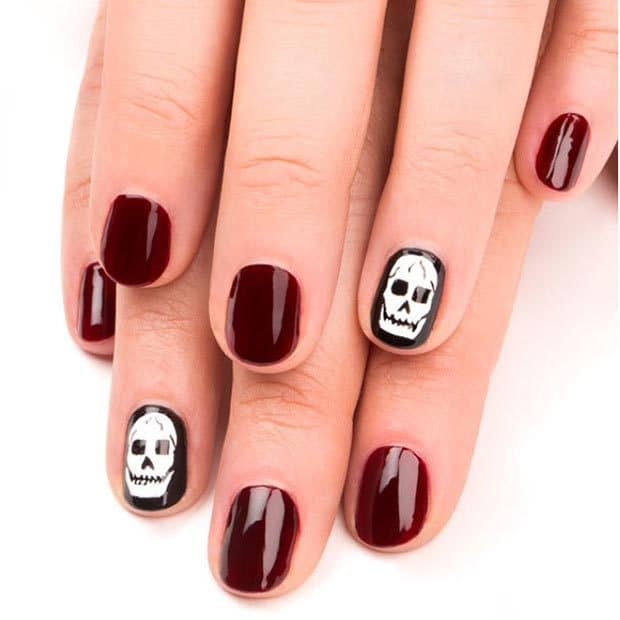 Are these the bloody claws of a vampire? Or nails dressed for Halloween?
Either way, whether you're a vampire lover with a dark passion, or just a girl who's trying a new gothic design, this nail art is simple and basic.
All polished with a dark wine shade and penetrated with a scary drawing of a skull on a singular nail – you'll like these.
#57. Easy Leopard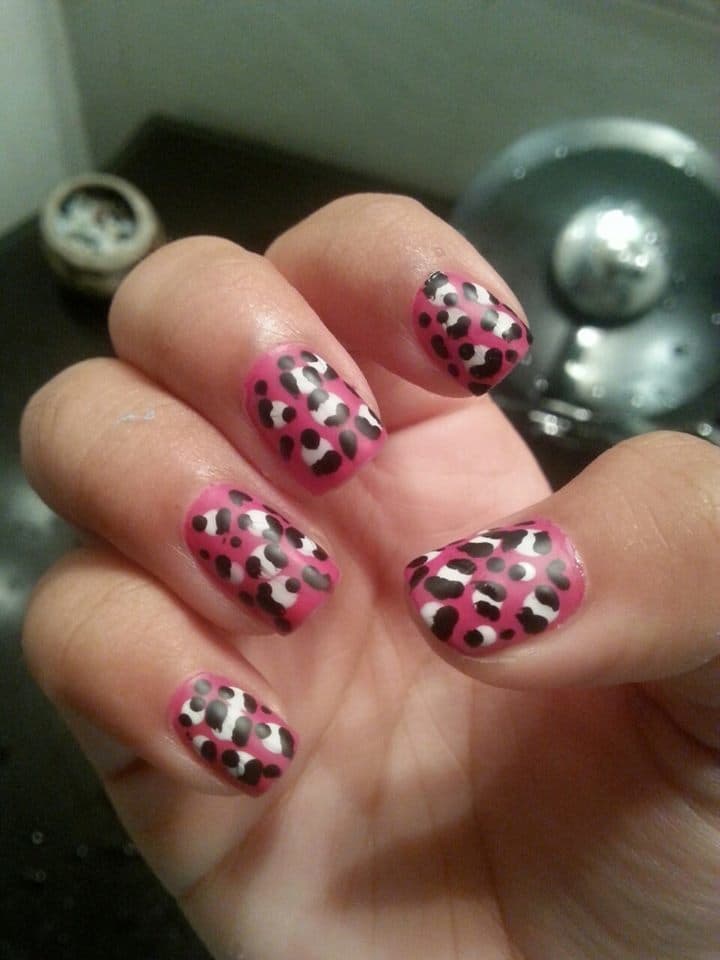 A fabulous nail design that is no trouble for newbies. Gather your polishes, your needle, and use your steady hand to produce this work of simplicity.
After coating your nails with a clean coat of polish, add various white dots all over the nail surface.
Finally, to transform these dots into a real leopard pattern, frame the dots with brown arcs, and you're good to go.
#58. Fashionable Leopard
When the leopard pattern has been invading the fashion world for a while now and preserving its status as our favorite print, it's only a matter of patience and practice for us to carry this print into nail art world as well.
#59. Wild Tips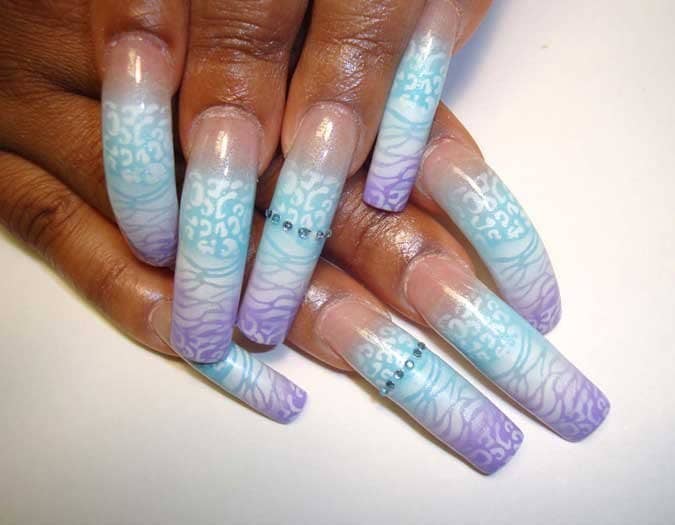 Looking for a method to accentuate those fierce tall nails? Why not go fierce all the way with a wild animal pattern varnished at your nail tips?
#60. White Tipped & Black Lined
Give a further dramatic appeal to your French tips by a simple brush of black nail polish to line those white tips.
Don't worry you won't struggle to get this attractive end result, for this is an easy nail design anyone can master.
#61. Easy & Complicated Design
Play with your sticky tape and zigzag stickers to get this complicated design in the easiest methods provided in the world of nail art.
#62. Simple Blue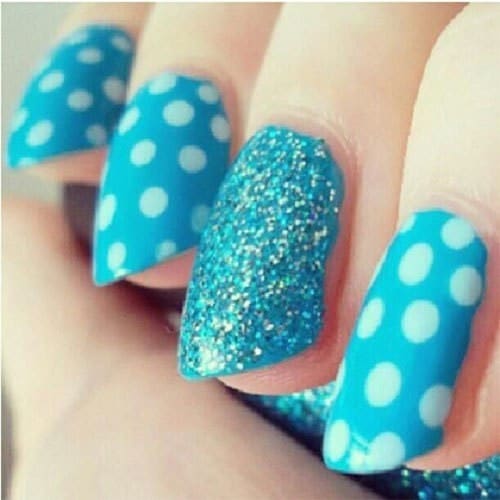 Nothing as sweet and cute as simple white polka dots to decorate your blue-based nails.
Add an accent glitter polished nail in blue to end up with complete fun and fabulous simple and easy nail design.
#63. Fashionable Toenails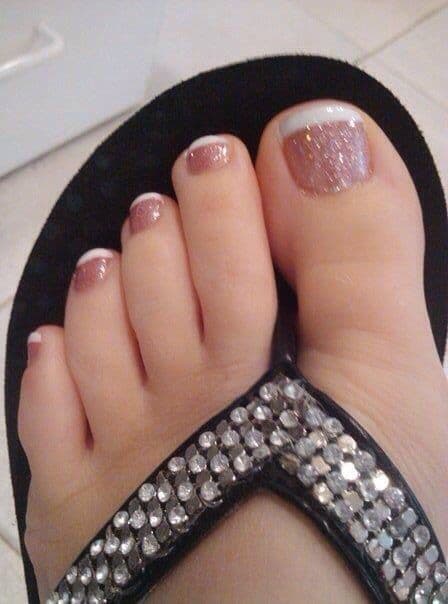 Create a nail design to dress up your toenails up fashionably. Here a French design with an interesting choice of glitter-based nail polish as a background.
#64. Fun Dots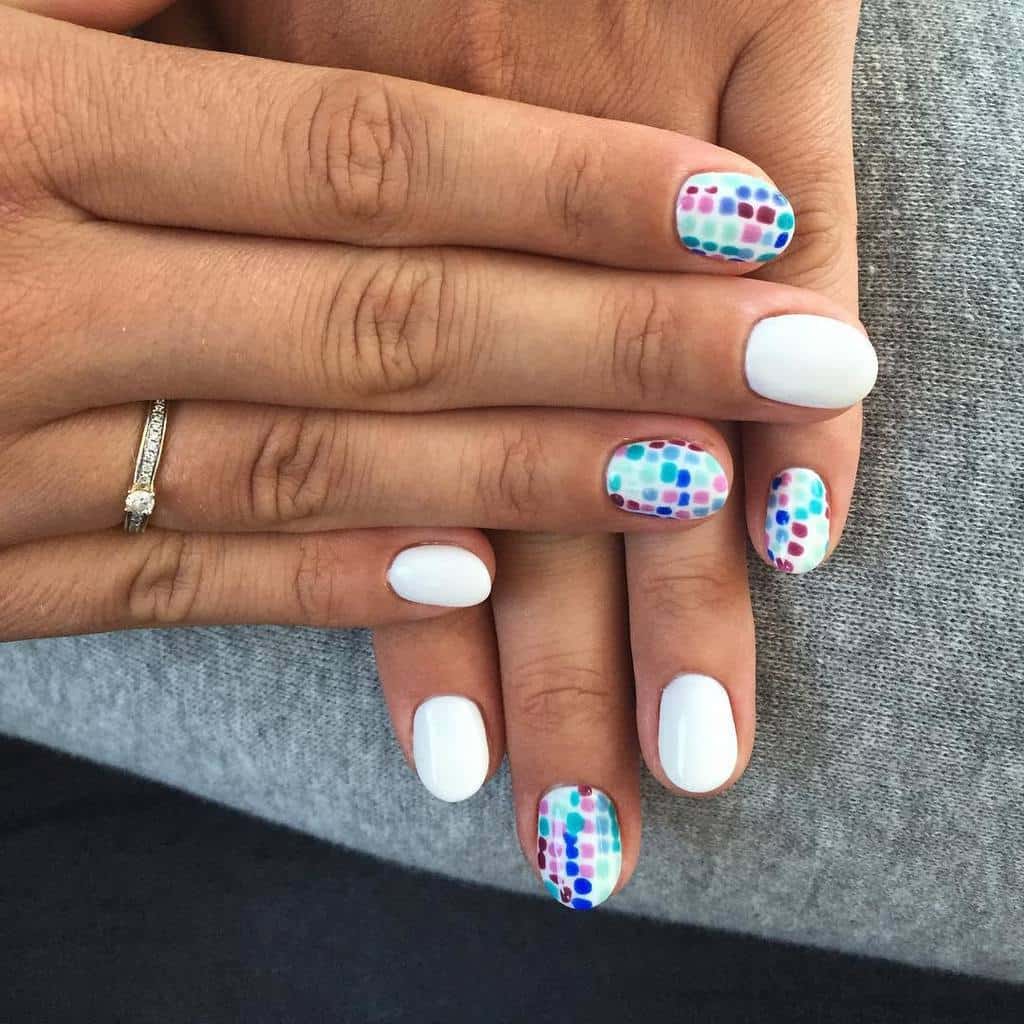 Give your plain simple nail design an escape from boredom with the addition of fun, colorful polka dots on one or two accent nails of your choice.
#65. Lace with French Tips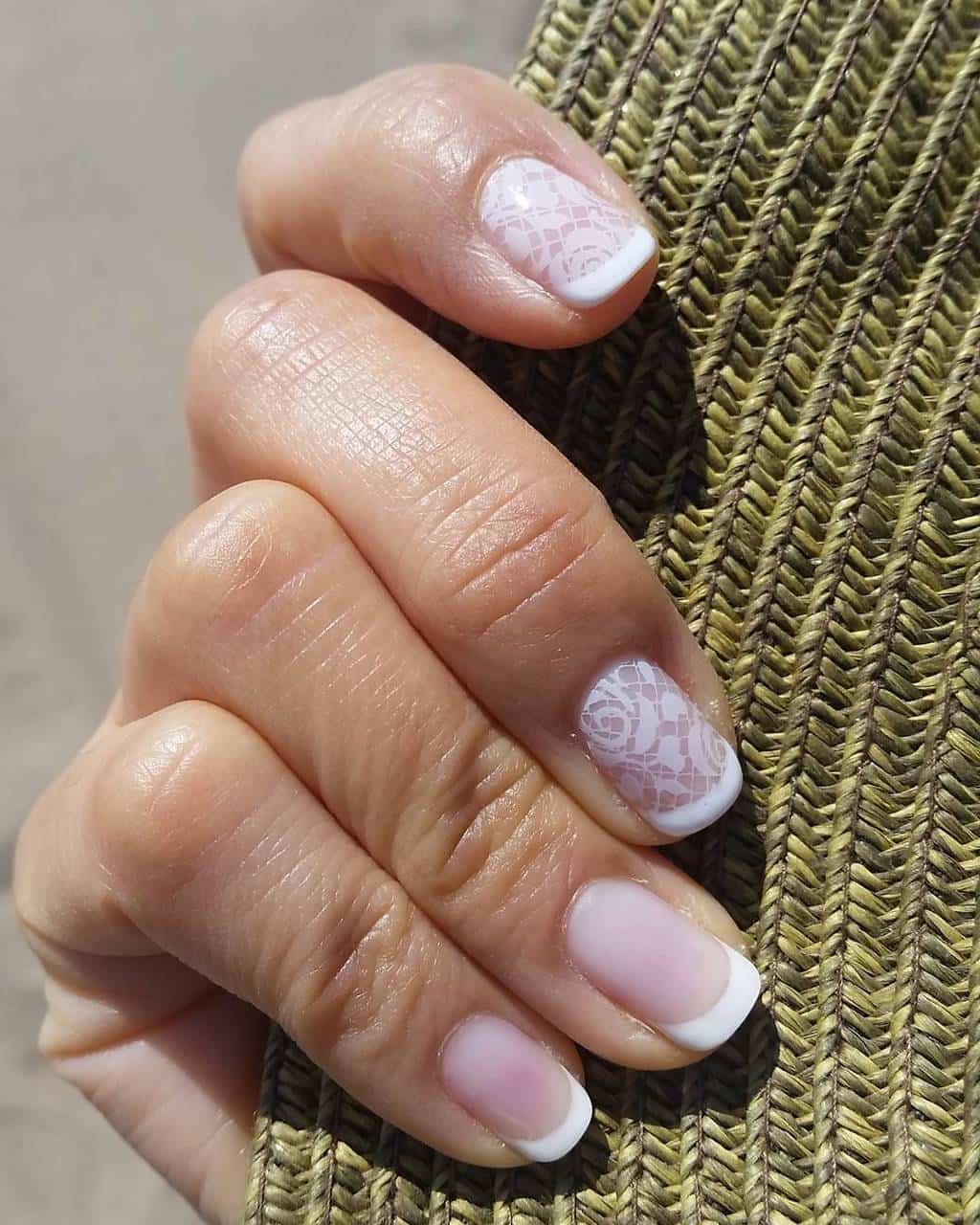 French nail style has preserved its status as the number one elegant nail style, after all, it's French!
Here penetrated with an accent lace ring finger for an even classier final look.
#66. Hearts Nail Design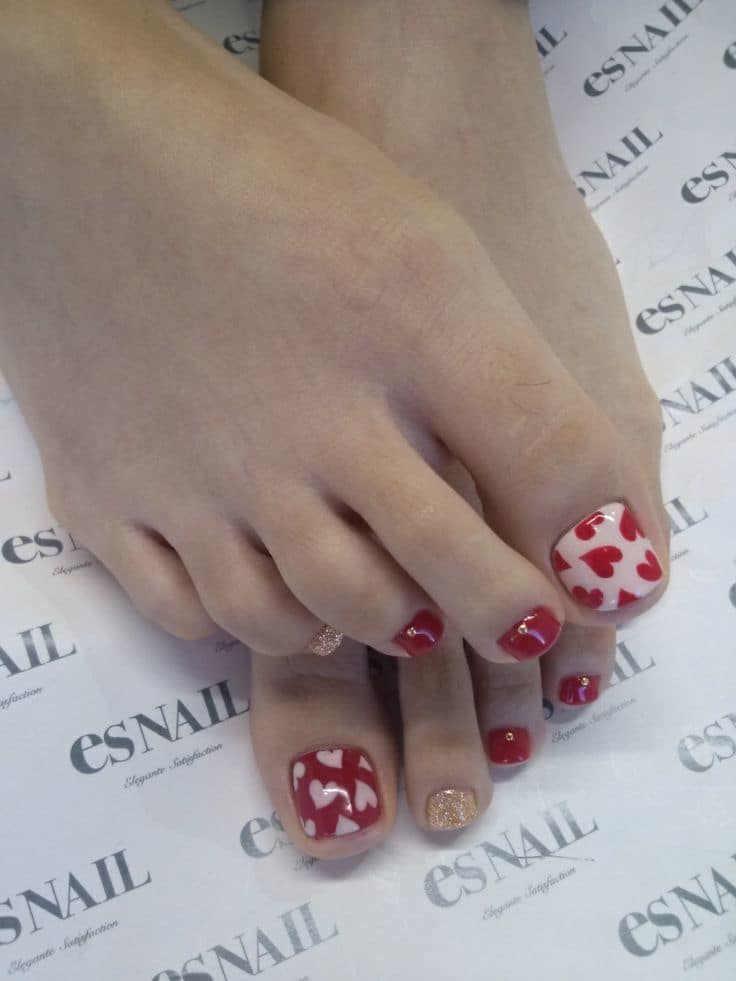 Heart pattern design seems so complicated yet so easy to master.
To recreate these pretty hearts, start with a singular dot of nail polish, then follow that with a strike of a needle or a toothpick across the axis of this dot and you'll end up with the tiniest heart drawing on your nails.
In this design, we've got toenails painted with red and alternated with a singular gold polished toenail and other accent heart patterned one.
#67. Artistic Passion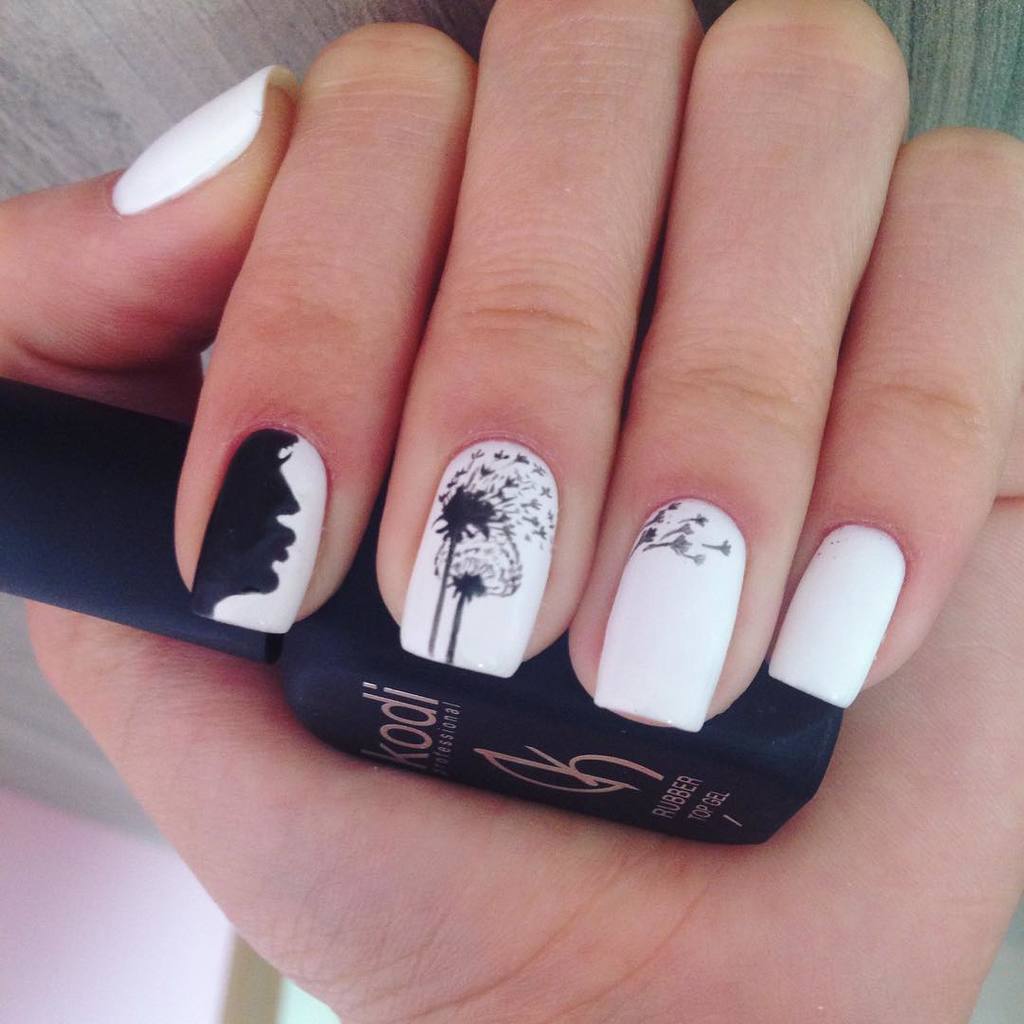 Express your passion for art with these drawings above a matte white background. Just choose a drawing that won't challenge your artistic skills and go with it.
Don't worry if it doesn't work at the first trial, with a bit of patience and practice, you'll get there.
#68. White & Stripes Easy Nail Design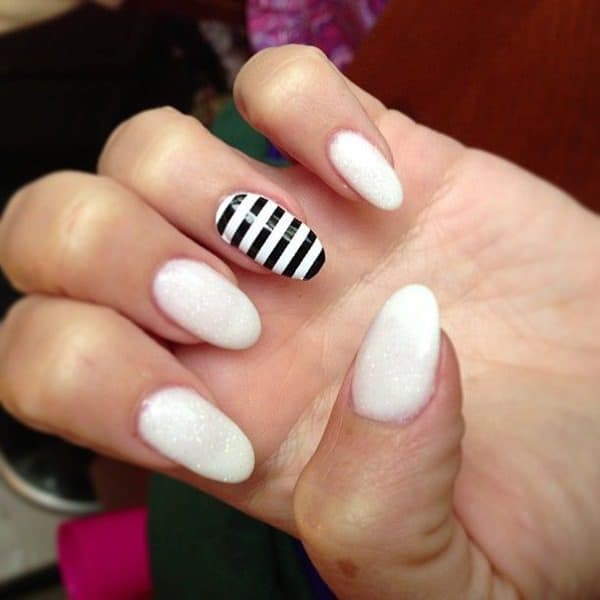 Show off your round nails with frosty white nails with a sparkly shimmer.
Add an accent nail of horizontal black and white stripes design to transform these nails from basic and simple to just simple to apply.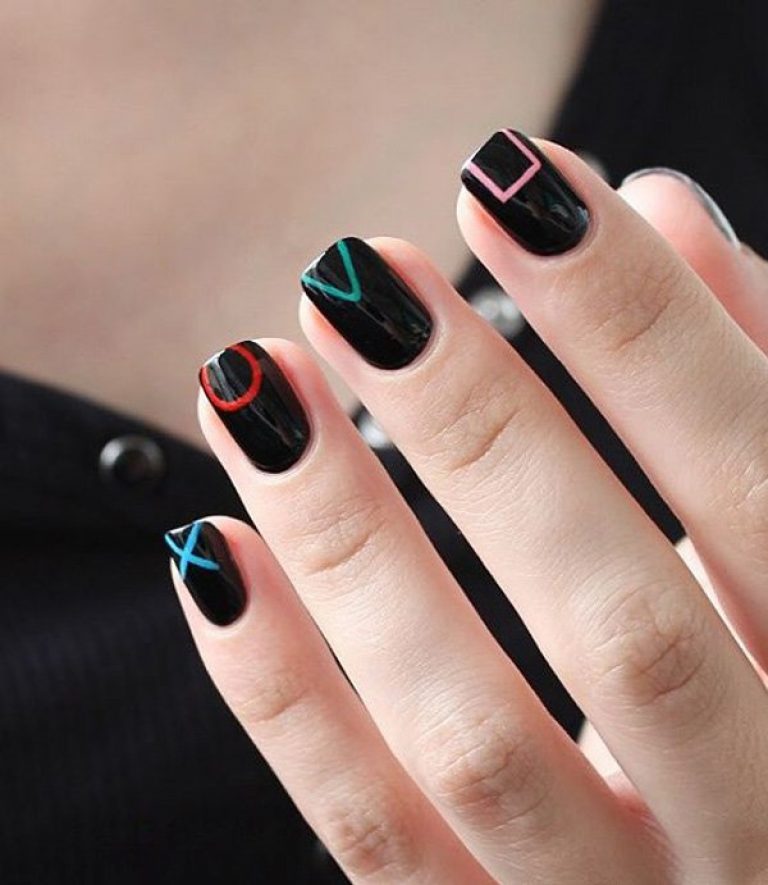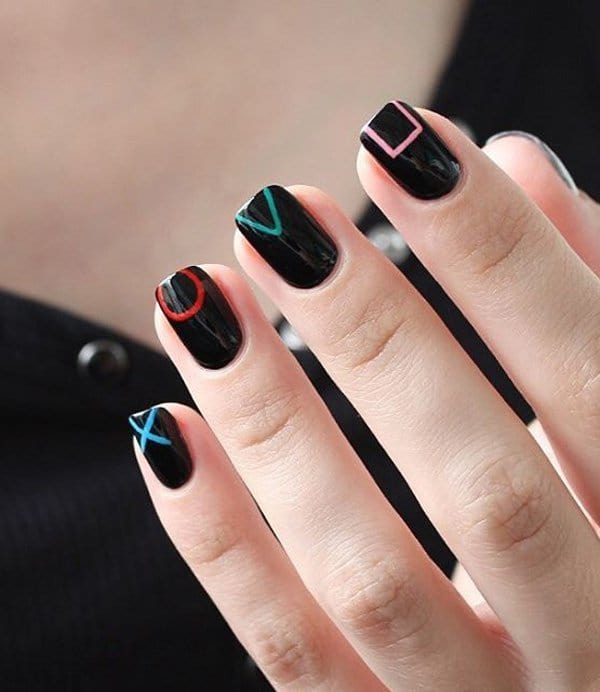 Get your joyful boyish personality to penetrate through to your nails.
Add fun, colorful geometric shapes, circles and triangles to decorate the tips of your black simple nail design.
#70. Tipped With Circles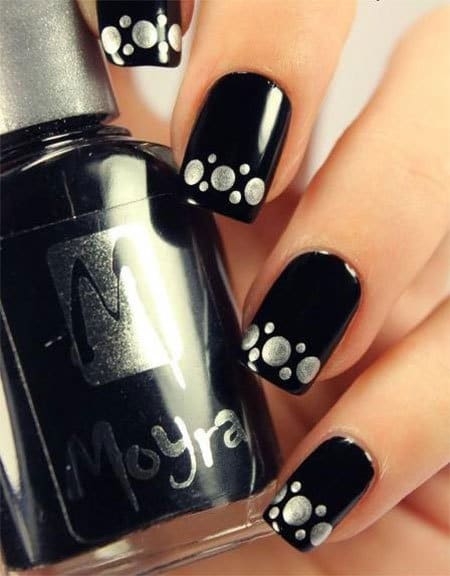 Accessorize the tips of your black nails with accent silver circles for this creative simple nail design.
#71. White & Silver Design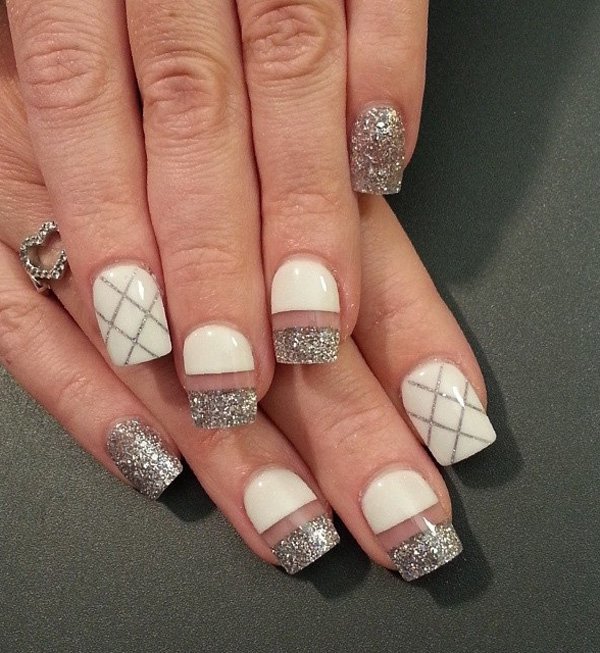 Play with positive and negative space using white and silver glitter varnishes.
Accentuate the design with a singular silver gradient nail and another cross lines-designed white one on each hand.
Looking for a nail design to wear on your date, a design to express your love and affection with every move of your hand?
This simple and easy nail design is what you're looking for.
#73. Sophistication!
When sophistication lies in simplicity, only a simple coat of this deep grey gradient polish would be enough to WOW.
#74. Pop Of Color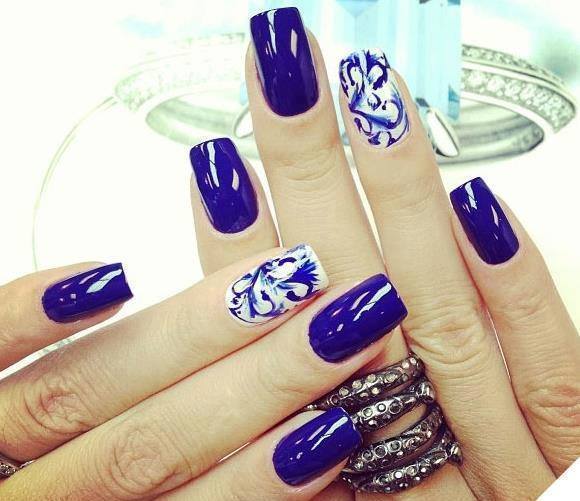 Why not celebrate your perfect nails with a beautiful pop of color and an artistic accent nail.
Choose colors that gaze the eyes and your simple nail art will get you into the spotlight.
#75. Special Color Choice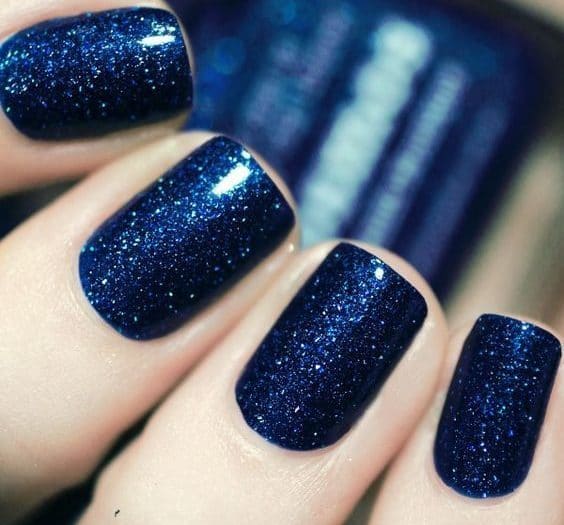 When you're running out of time, in a hurry and late for a special evening…
Choose a color that dazzles on its own to varnish your beautiful nails. Easy, quick, and gorgeous!
#76. Modern Tips
Play with black and white nail polishes to end up with a personalized, simple nail design that'll suit your style and match your personality.
Here is a modern twist to the normal straight tips with somewhat triangular black tips above a white background.
#77. Wild Silhouette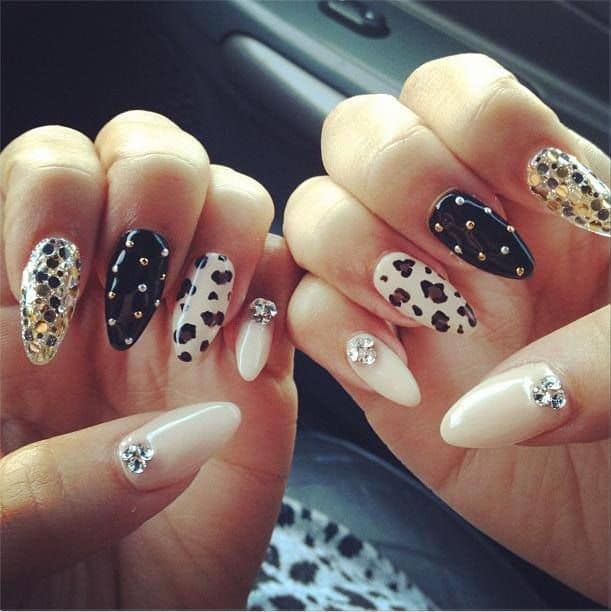 This design is simple to apply yet not so simple to the eye. Create this style for your almond pedicured nails by creating different nail designs that fall perfectly together.
#78. Cozy Grey For Simple Nail Art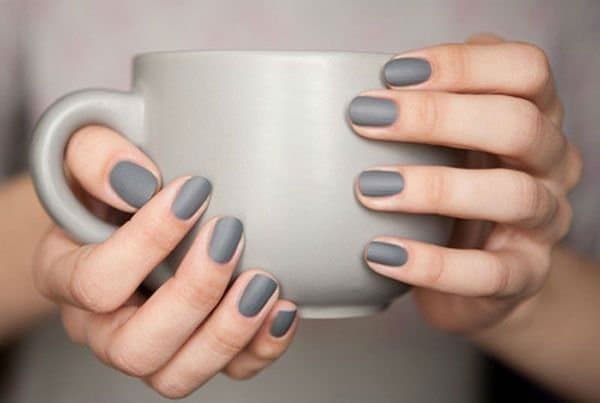 Get your nails polished with a simple matte grey coat this season, and your nails will get as cozy as those warm winter sweaters.
#79. Feminine Mix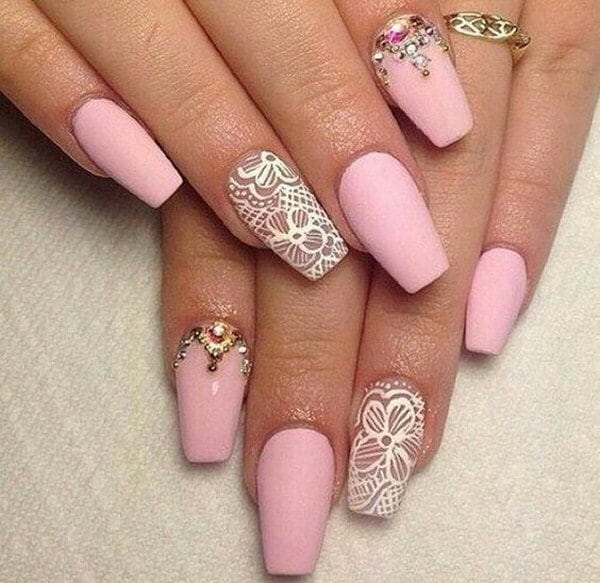 If simplicity and elegance are your goals, then lace nail art is what you'll adore.
Add a bit of glam to your soft pink mani by adding a singular lace nail design.
So easy! Don't get overwhelmed by its beauty, just a sense of art and a thin brush to create this design.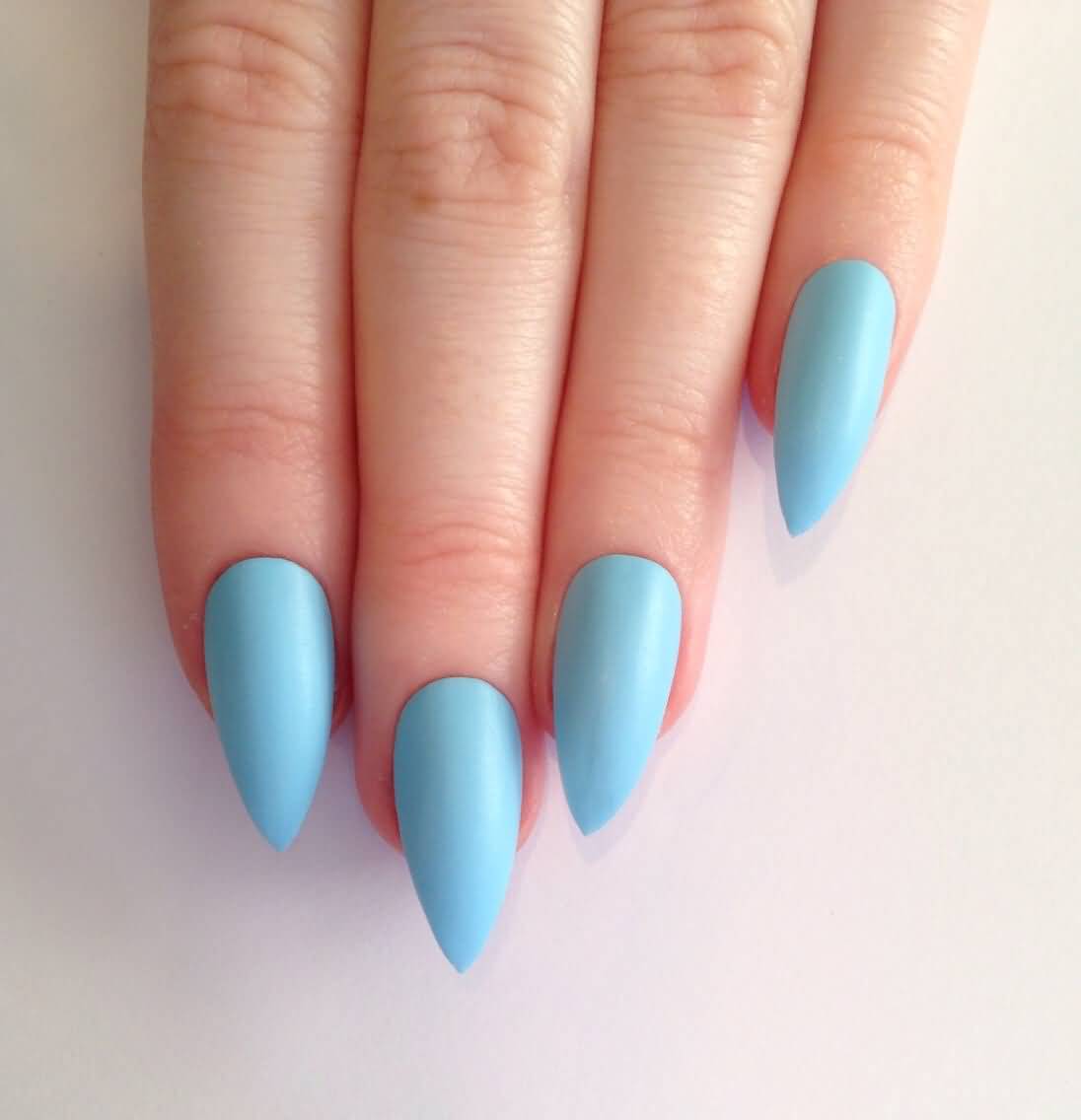 With nails as sharp and fierce as these, nothing but a pastel color can soften their appeal.
#81. Floral Themed Simple Nails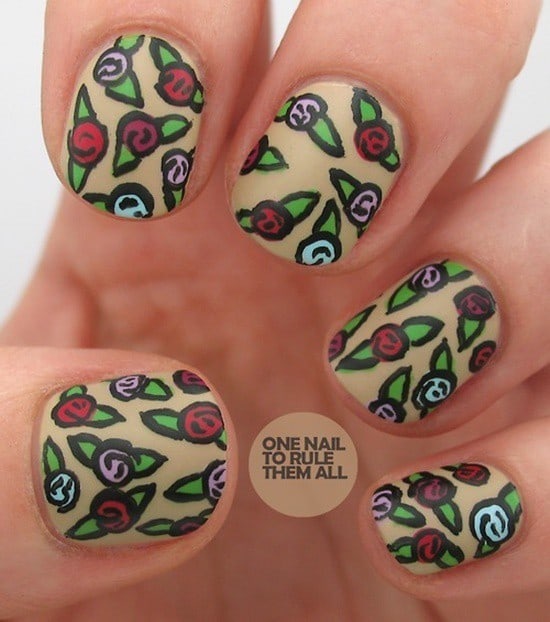 The floral pattern that has ruled past season as well as this one; and trending today more than ever is always a choice for a cute and simple nail design.
Keep on track and create these colorful flowers using a thin nail art needle or a toothpick above a matte beige base coat.
#82. Black Nail Design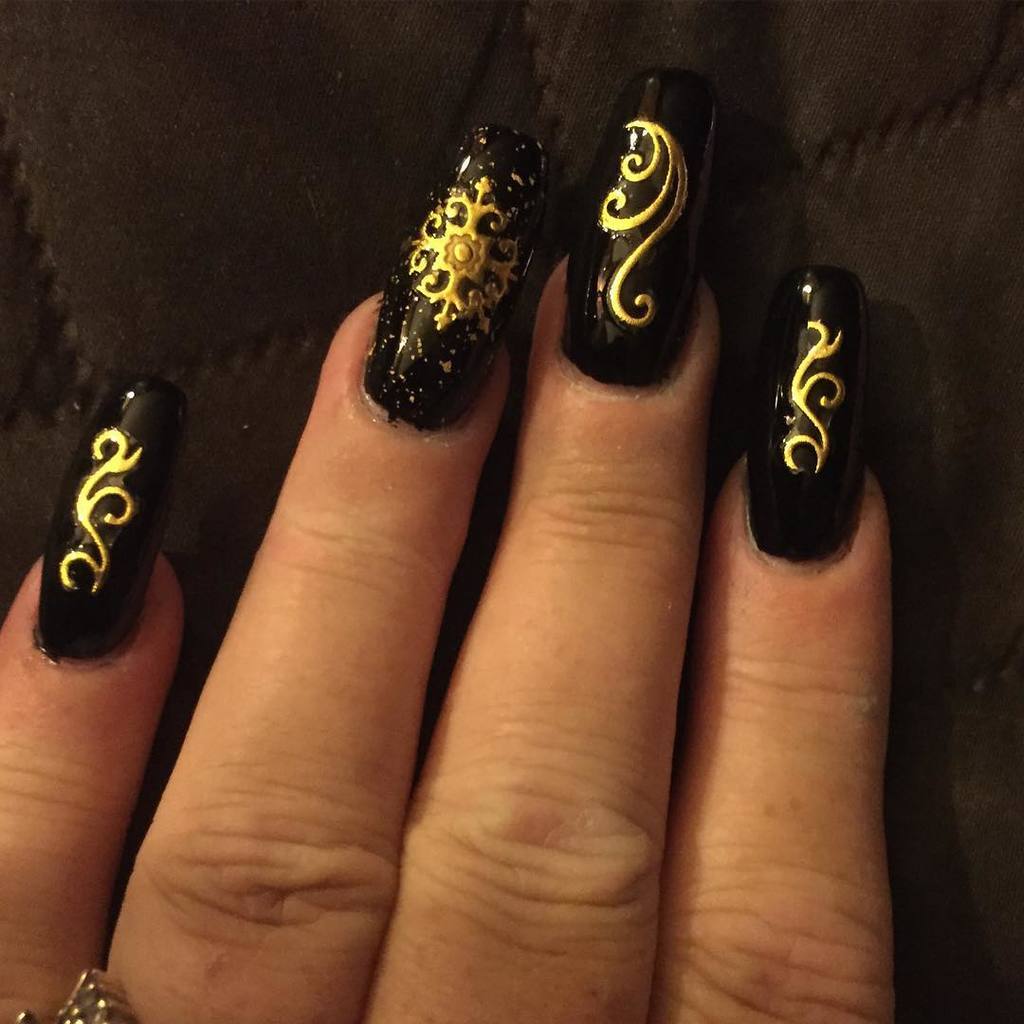 If you're dwelling on an artistic yet easy nail design that won't challenge your modest skills, go with these abstract golden spirals above your glossy black background.
#83. Harmony Of Colors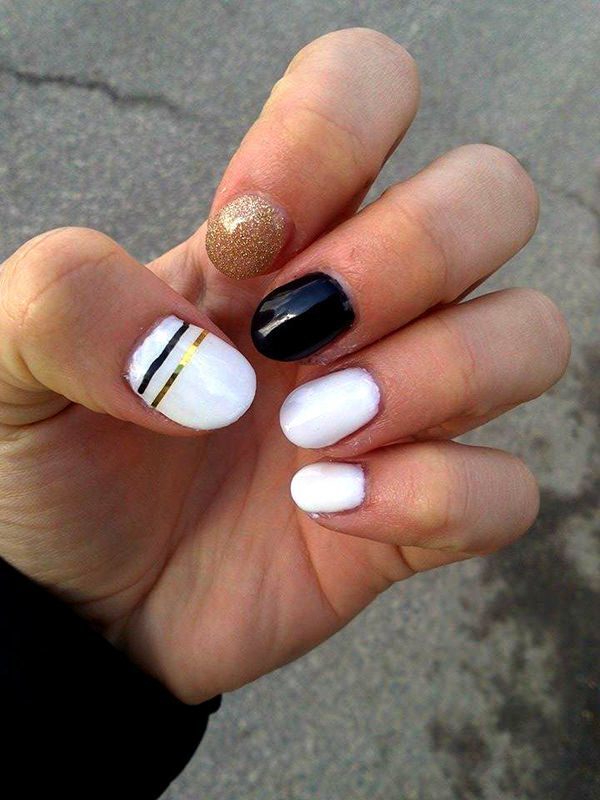 Combine these beautiful shades black, white, and gold to create this harmony of royal shades for your simple round nail design.
#84. Simple Red Nail Design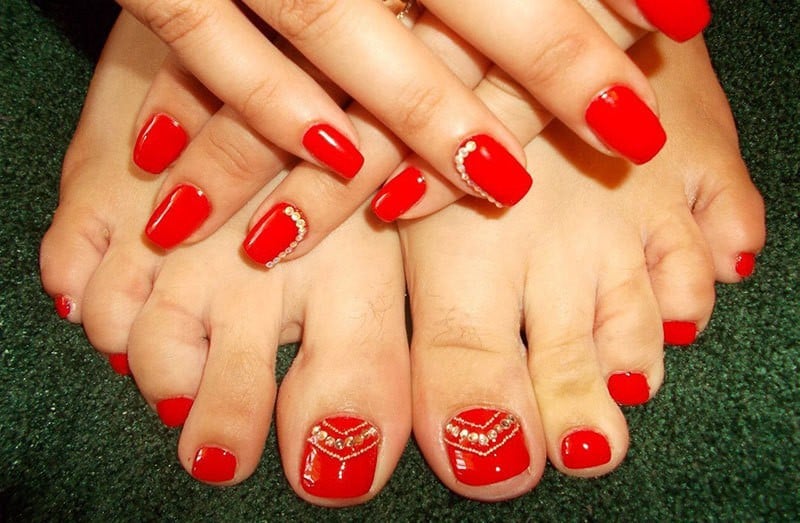 It's simple to apply, yet nothing simple with the color red. The color of love, lust, Color of blood and sacrifice… Such loud color needs nothing but its shimmer to dazzle.
Complete your outfit with this splash of color. Get your toenails to match your red nail for a further full look.
#85. Checkered Print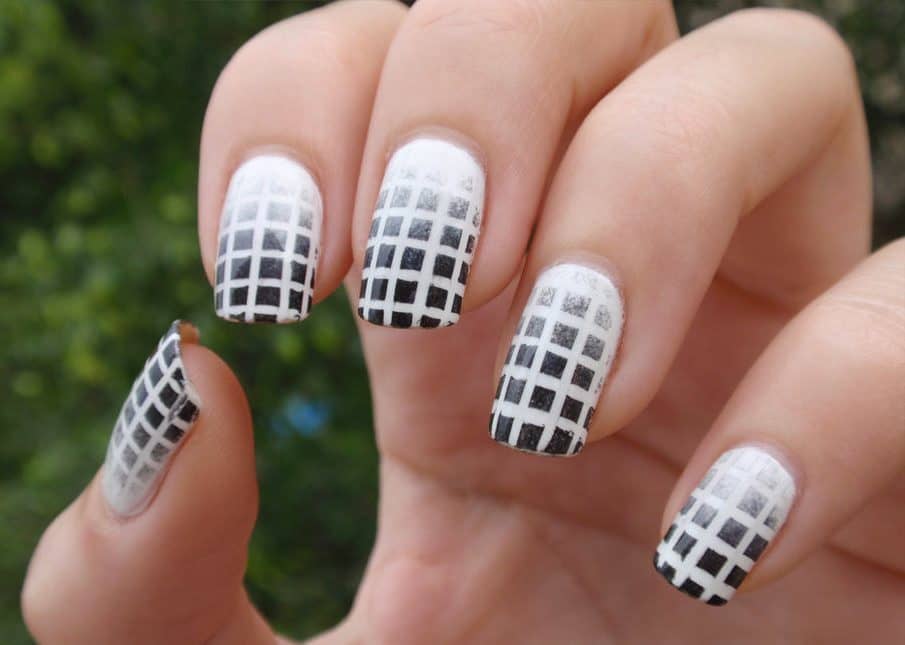 The ever famous checkered print as a choice for your nail design can never go unnoticed.
Dress your nails with this pattern starting with a clean white coat, followed by a black and white ombre method using a sponge.
Then, add vertical and horizontal white lines to create those squares. Finally, add a glossy coat and you're ready to go.
#86. Royal Blue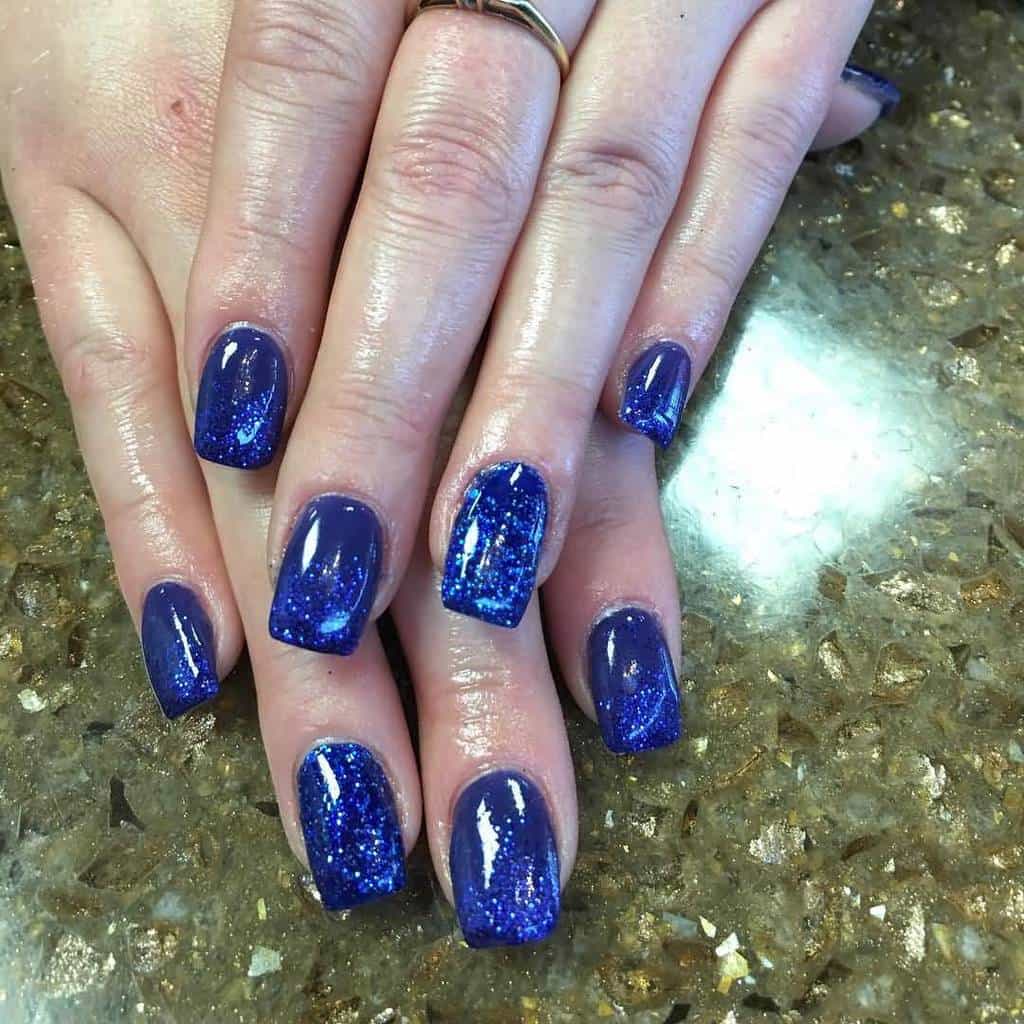 Royal blue with a splash of glitter is your go-to color choice if you're looking for quick easy nail art yet ensuring grace and beauty.
#87. Natural Simple Nail Design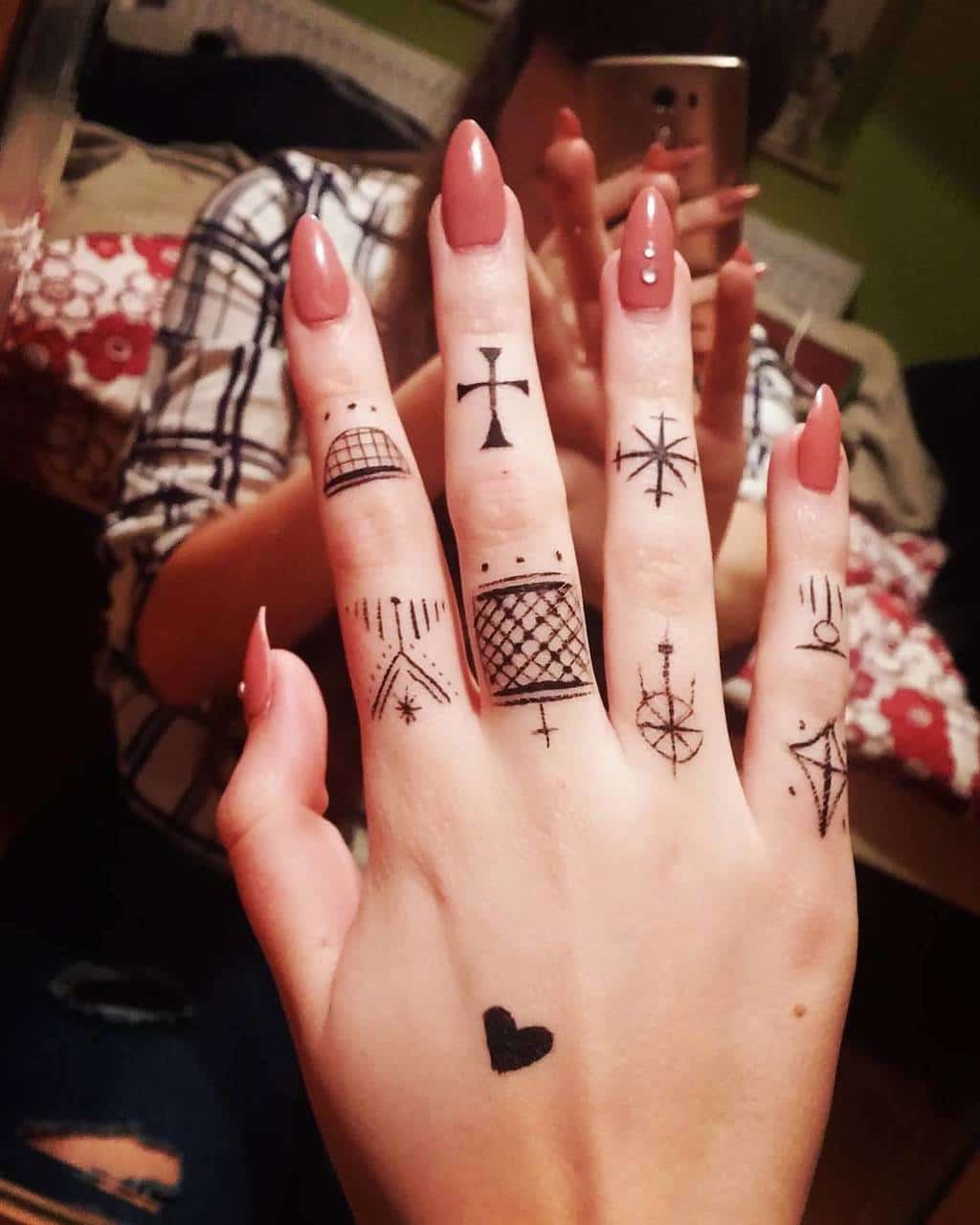 Sometimes., only sometimes, all you need is a clean coat of a natural shade to glamour your fingertips.
Red and Black Nail Designs to Upscale Your Fashion
#88. Royal Simplicity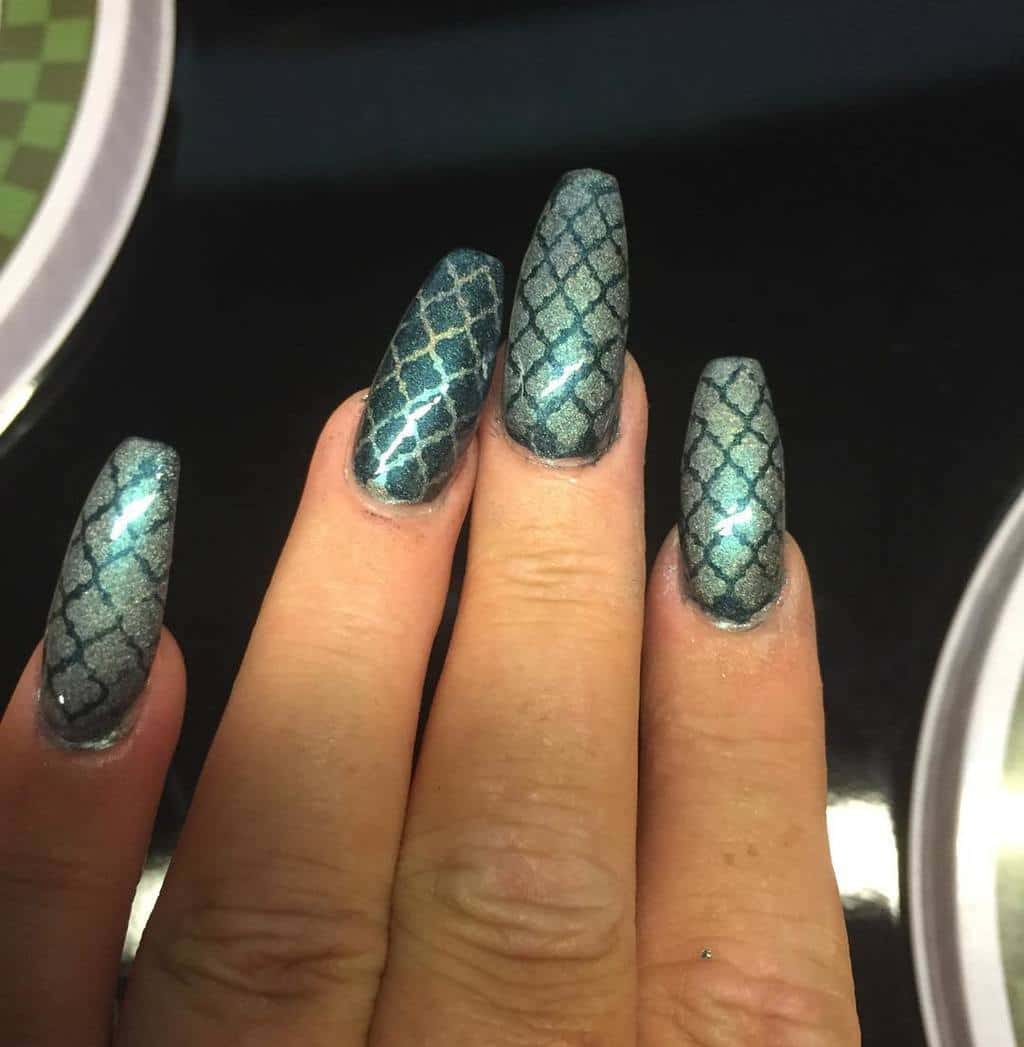 One of the basic tools you should have to ensure you've got all the necessary equipment to create simple nail designs are nail stamps.
A palette of various patterns to choose from, and hence create these printed nails using the nail polish of your desire.
In this design, we chose for you a royal pattern to match the majestic shades of grey and petroleum-green
#89. The Easy Mesmerizing Marble Design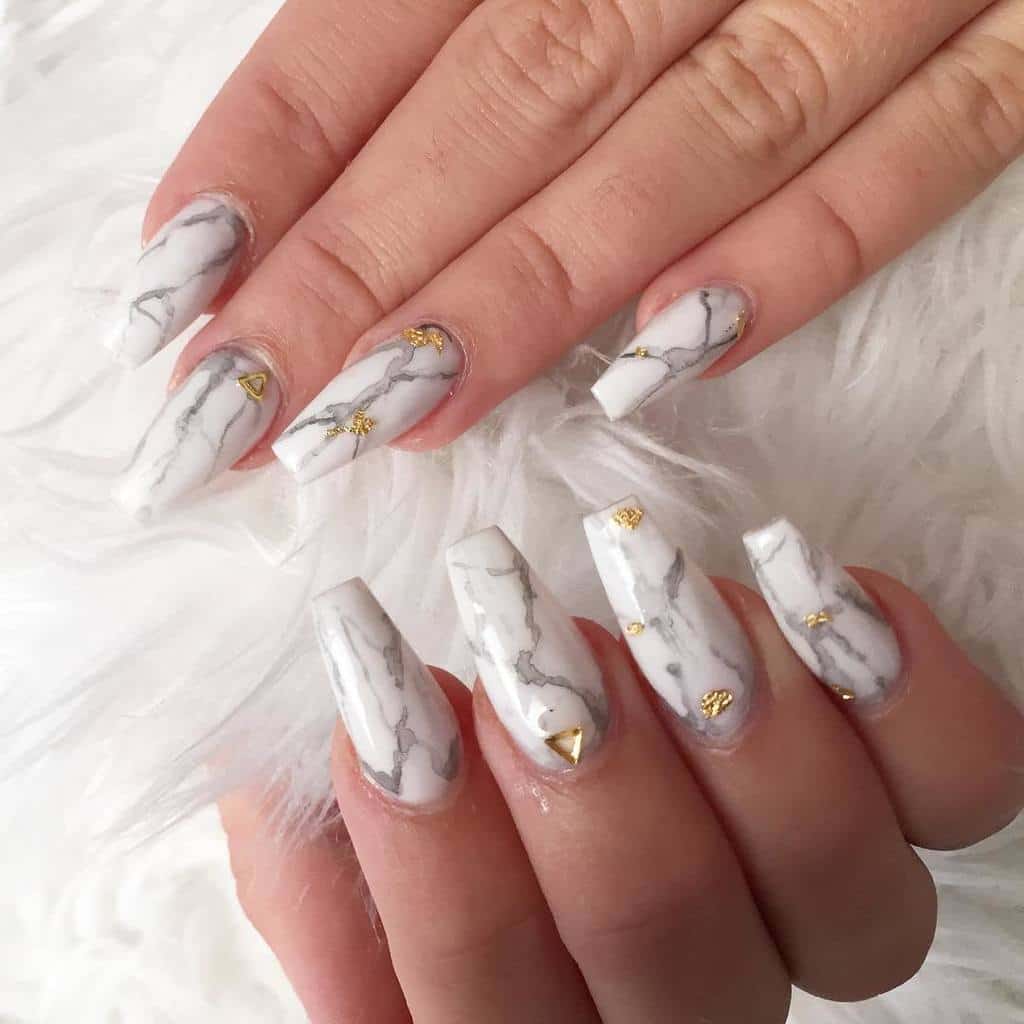 It's one of the easiest nail methods to master, yet mesmerizing and beautiful; the marble nail art.
Here, created with white and grey to mimic real white marble and accentuated with golden flakes for a royal touch.
#90. Geometric & Simple Nail Design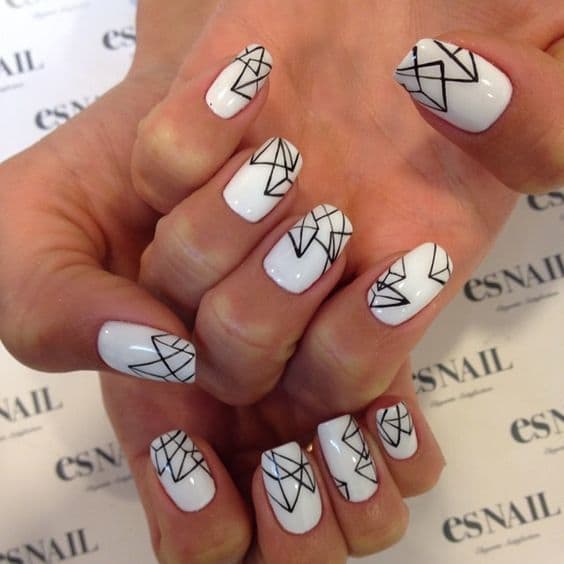 Give that fresh layer of glossy white polish an artistic vibe with the simplest geometric lines for your modern patterned nail tips.
Some Lovely Easy Nail Designs to Try
Always whining you've got no time to hit the nail salon? Wearing your nails plain, complaining that having them designed require lots of work and a lot of skills?
Let the whining and complaining stop. After checking this entire list above, you can't say that having nail art is a styling luxury you can't master.
With a bit of practice and patience, the prettiest nail designs can be on your nails with nothing but a spoon of a brush.
A conclusion is clear to us all; with all these designs and the increasing appearance of new ones and new methods and styles, one can't simply have bare nails.
Dear girl, never accept to be under-dressed for any occasion, and that includes your nails!