Nail designs with rhinestones help you channel your inner diva. They make you feel fierce, sassy and they look so damn imposing.
Whether you choose long nails with multiple constructs and decorations or a simple short mani with a touch of sparkle, these designs are something you must try at least once.
Best nail designs with rhinestones
Nail designs with rhinestones will step up your mani game and make you feel so sophisticated. They come in all shapes, sizes, and colors, and you can combine them to create stunning acrylic nails with decorations.
If you are searching for ideas that will inspire you, below, you can discover the cutest and trendiest options for all tastes and personalities.
#1. Navy Blue Nails with Rhinestones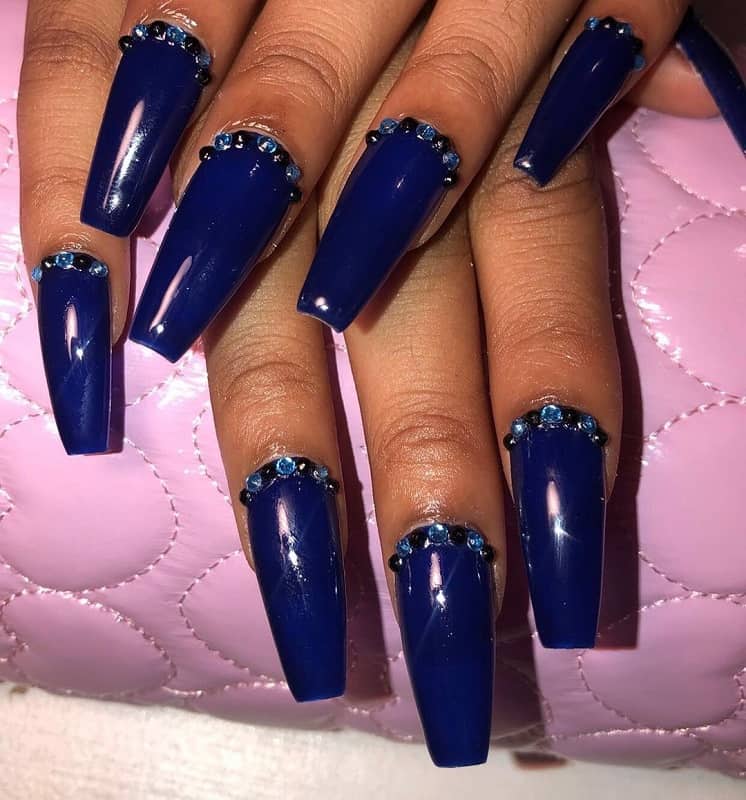 If you love outstanding nails that yell confidence and sass, a blue nail design with rhinestones is just the thing you need in your life. Style a coffin shape and make sure that you can do your job while sporting these beauties.
#2. Pink Marble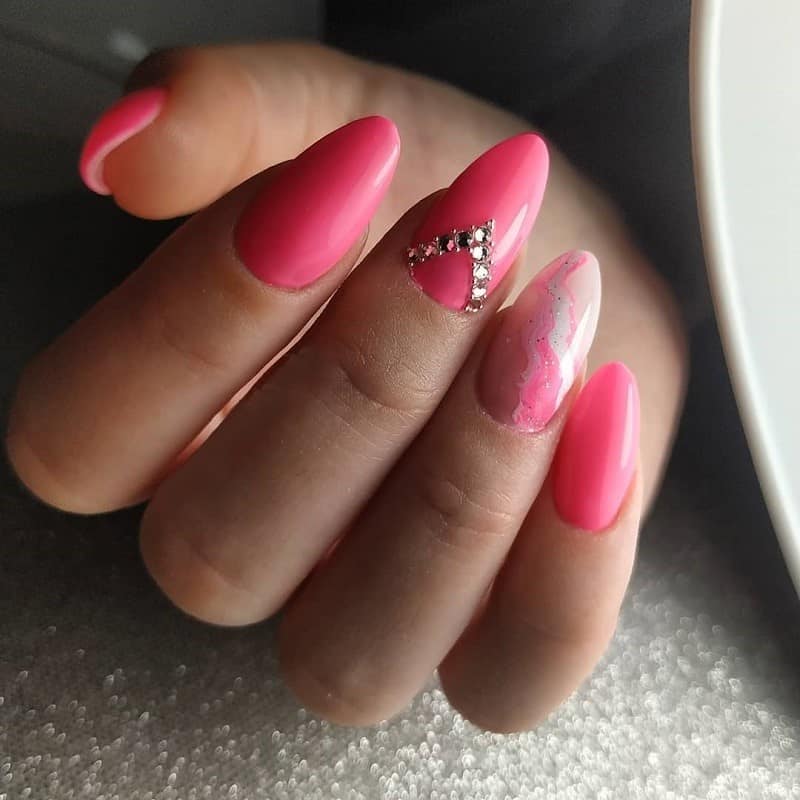 Hot pink nail designs with rhinestones are vivid and perfect for spring and summer. To achieve more sophistication, create a white and pale pink marble blend and paint it over with a glittery top coat.
#3. Pointy Nails with Decorations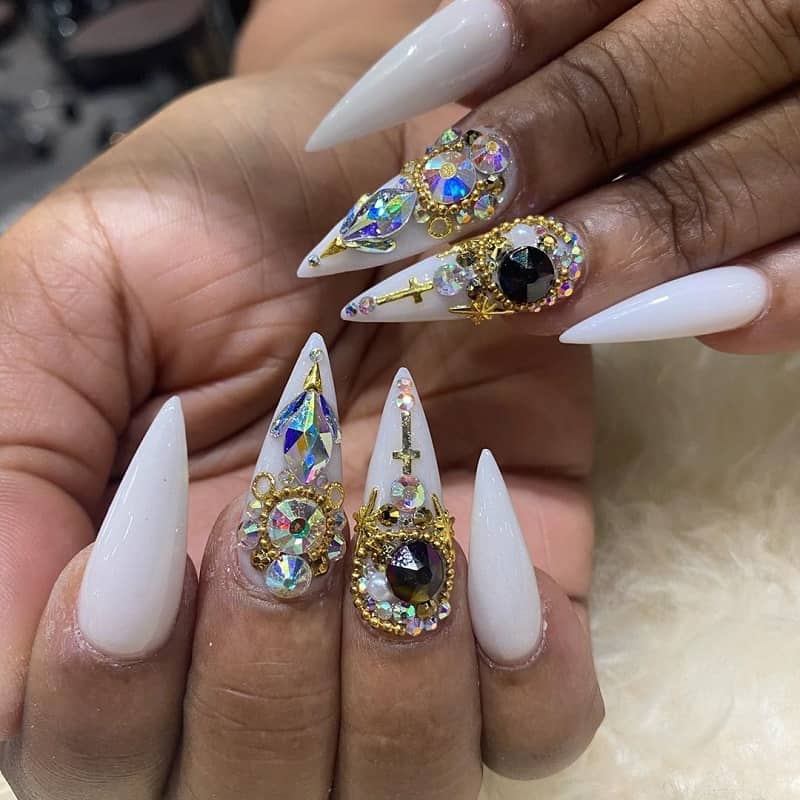 Inspired by Cardi B, this white nail design with rhinestones is the right approach for a real diva, just like you. These pointy nails with golden applications will help channel your inner sass.
#4. Acrylic Nails with Rhinestone Contour
Such natural nail designs with rhinestones should be the best choice for women who want a sparkling mani. The shape, combined with the sparkling stones, creates a glamourous appearance that no one can ignore.
#5. Leopard Print Nails
Cheetah nail design with rhinestones is certainly going to be adored by all animal lovers. It features a nail full of dark golden rhinestones, a feline print, and eye-popping coral squared-shaped nails.
#6. Royal Nails
This spring nail design with rhinestones represents the ultimate sophistication. It combines blue and white matte polishes with rhinestones, 3D flower petals, leaves, and rhinestones. However, if you need more glam, apply a golden thin foil.
#7. Ombre Pale Pink Nails
Ombre nail designs with rhinestones are the latest trends in manicures. Use acrylic to build a pointy shape and start from a pale pink color that fades into an immaculate white. Apply a glittery topcoat and decorate some of your nails with small shining stones.
#8. Bows and Crowns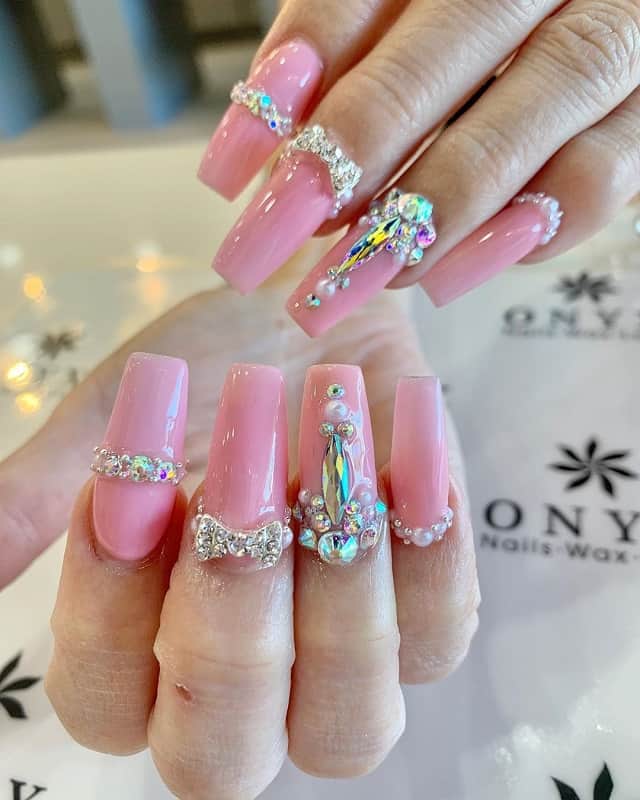 Use acrylic to sport long coffin pale pink nails. Opt for a nails design with a bow and rhinestones. Attach a few pearls and other applications for more glamour.
#9. Pale Teal Fake Nails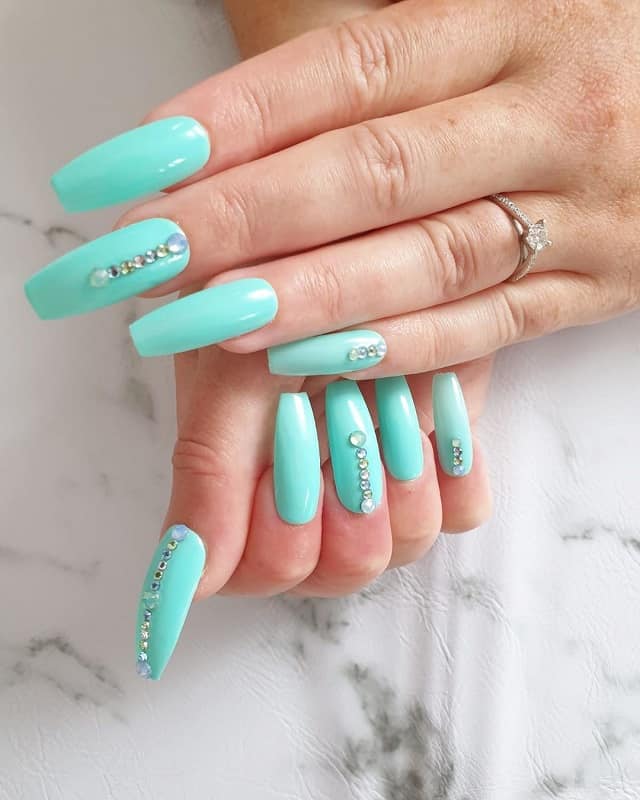 Glue-on nails can look as marvelous as acrylic constructs or natural nails. If you fancy a flamboyant look, winter nail designs with rhinestones are just the idea to give your hands the attention they deserve.
#10. Coffin Electric Yellow Nails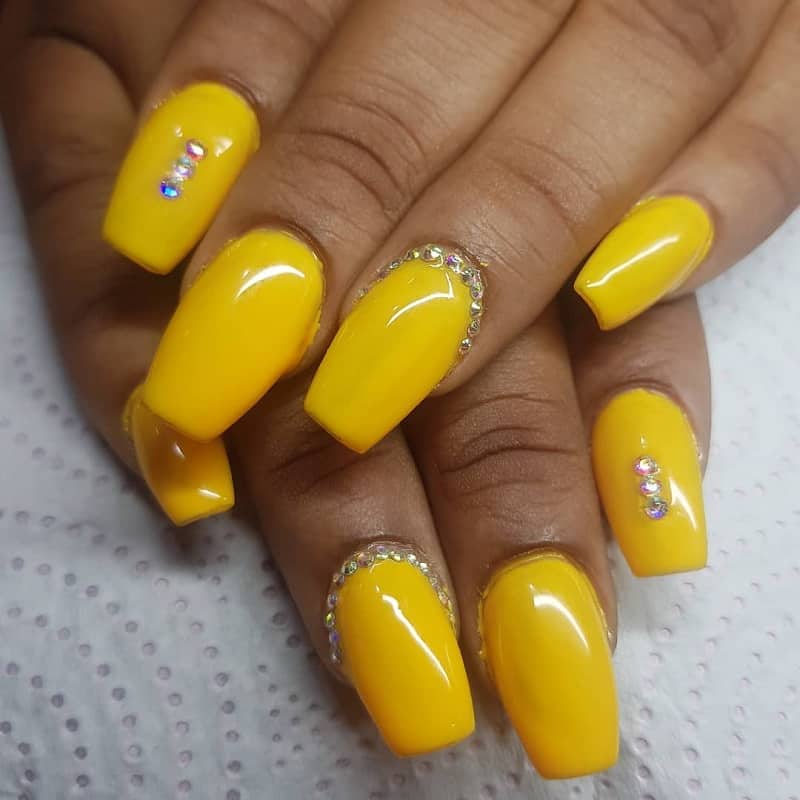 Summer nail designs with rhinestones applied at the base will create a sparkling contour for the cuticles. Also, apply three glittery stones to the center of the pointer nail.
#11. Frozen with Rhinestones
Tonight, you ladies are about to turn things upside down by wearing a glowing white nail design with rhinestones. Meanwhile, the above nail design is made up of the fading white, that looks like your nails are freezing gradually.
It is decorated with many shiny silver decals and a large white flower, that look like it was covered with snow.
Startling Nail Designs With Diamonds
#12. Princess Diana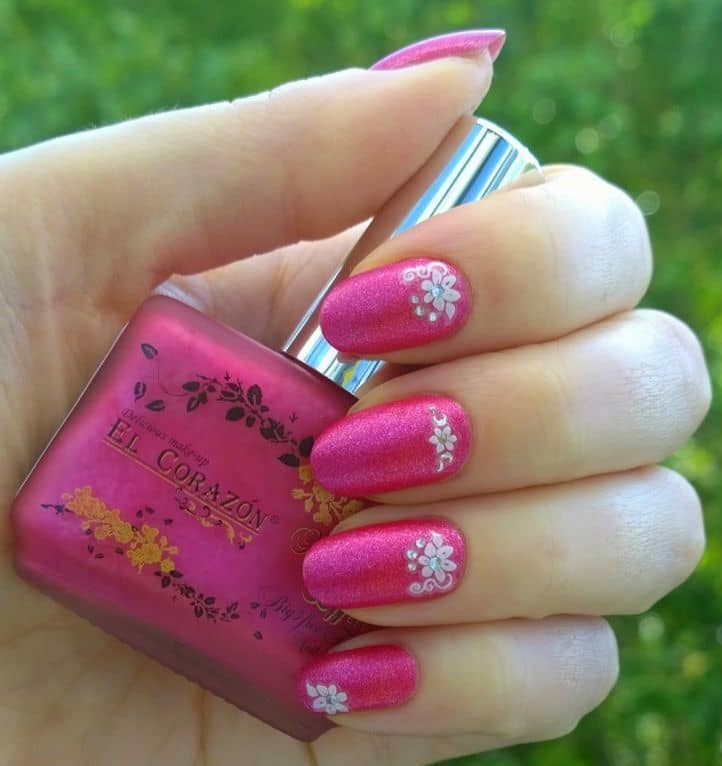 Are you a girl that loves to be a princess or a queen? Well if you are, do not try to miss wearing this hot pink metallic nail design with rhinestones, decorated with a floral pattern at the tip and at the bottom of each pink shiny nail.
So here is the chance to have the princess Diana look, don't miss it!
#13. Merry Christmas Nail Design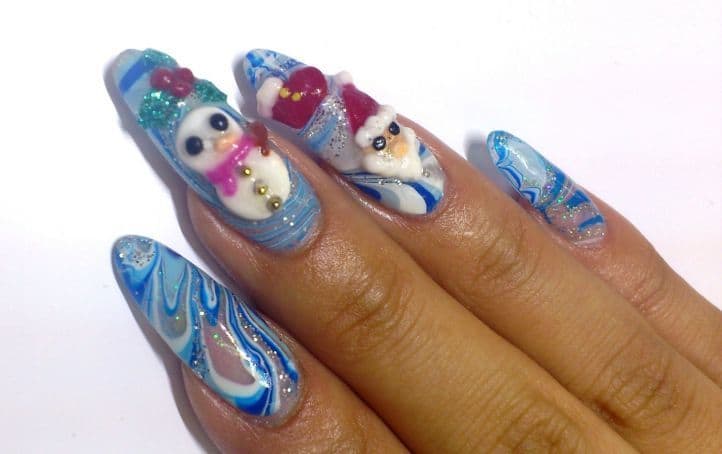 Season greetings include a cheerful spirit, so if you are wondering about how to greet Christmas in a joyful way this nail design with rhinestones made up of the mixed blue and white nail polish, in addition to snowman and Santa with shiny decals is all you need to show that the Christmas spirit is deep inside your heart.
#14. The Cross Plus Rhinestones
Are you too connected to religion? Do like to visit the church at one time and another? Well if you do, try wearing a cross nail design made up from the black, white, and glittery golden colors.
Popular Black and White Nail Design Ideas
#15. Periwinkle Twinkle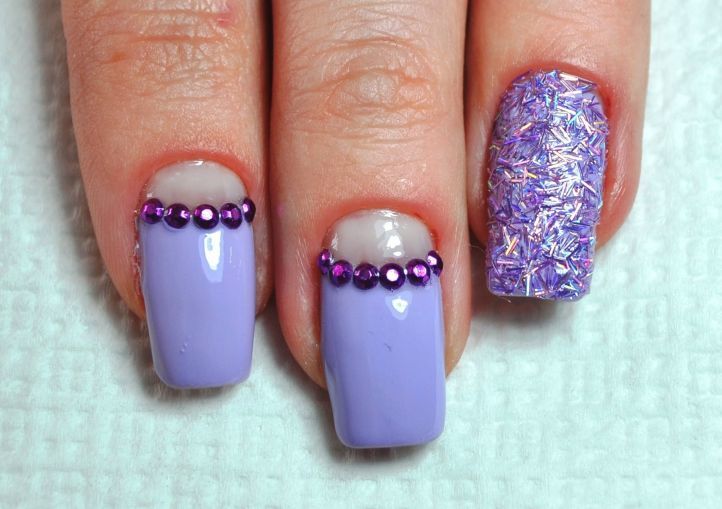 Purple is the color that has the greatest number of fans all around the world, especially its periwinkle shade of it! It is a very calm color that has much precious meaning deep inside of it.
And since it's too calm you gotta add some purple decals in order to give your nails a sense of motion. Such a nail design with rhinestones can be worn anywhere!
#16. Swirly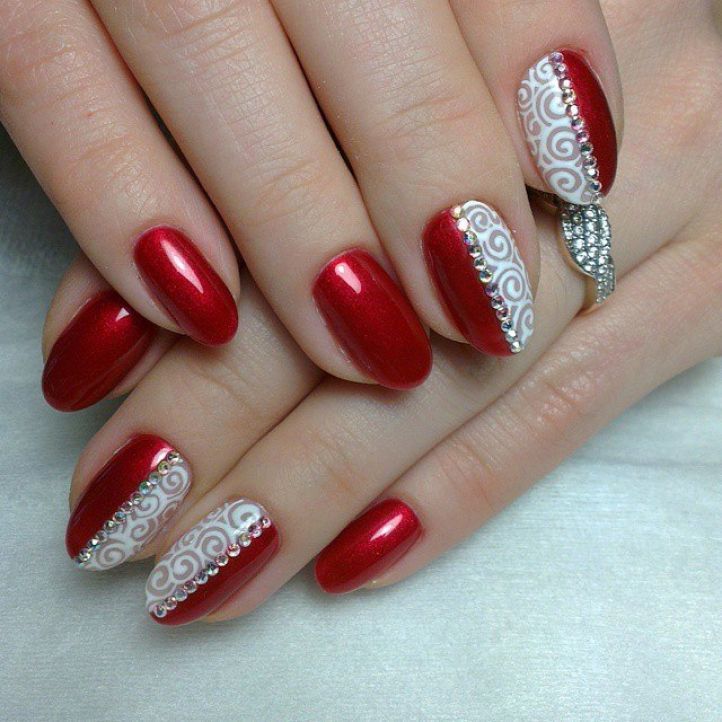 Your nails are short and you are in severe need of a red nail design that fits your engagement party dress?
No worries, because this nail design with rhinestones provides you with a creative red nail design with swirly white shapes and shiny silver decals.
Best Short Nail Designs To Create The Buzz
#17. Stone Cold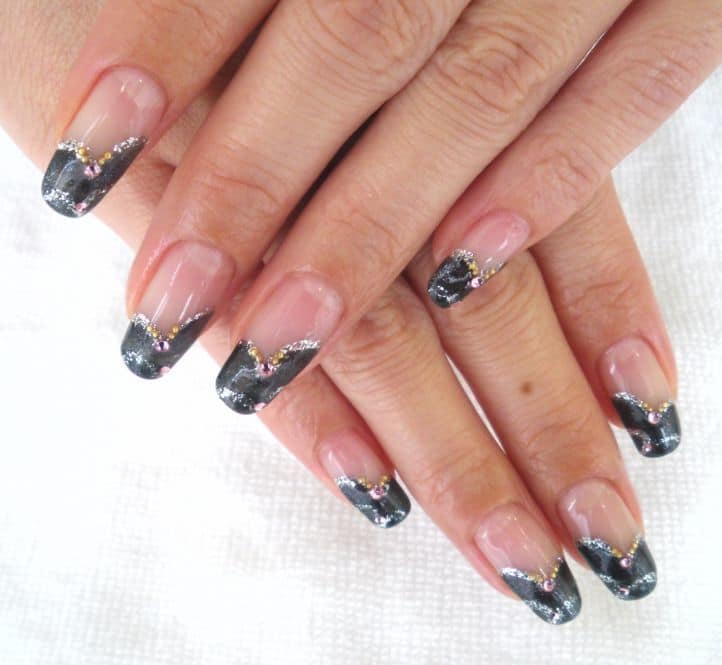 Unlike all other french tip nail designs made from a transparent base and a white simple tip, this time tips have a lead gray color similar to the color of stones designed with a pink decal and some traces of silver glittery nail polish.
However, this kind of nail design can be worn at all kinds of parties on occasion and it fits a variety of colors.
#18. Navy Wavy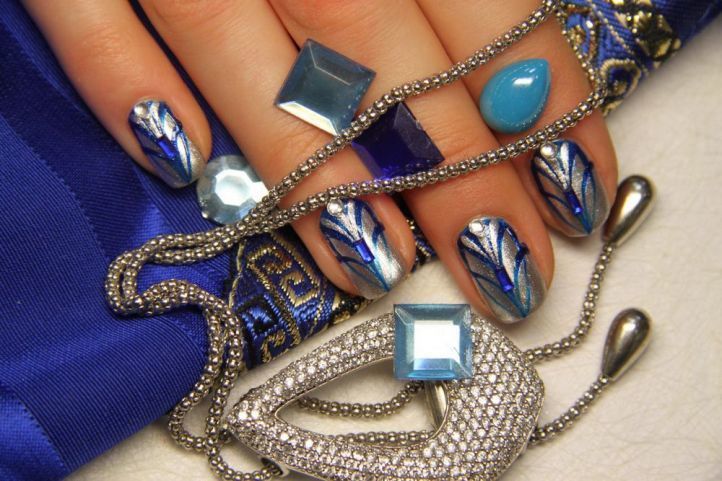 Above a classy silver shimmery nail polish, traces of navy blue that are similar to the wings of a butterfly are applied centered by a square navy blue decal and a white decal at the bottom, all together to make up a classy navy nail design with rhinestones.
#19. Carolina Glitter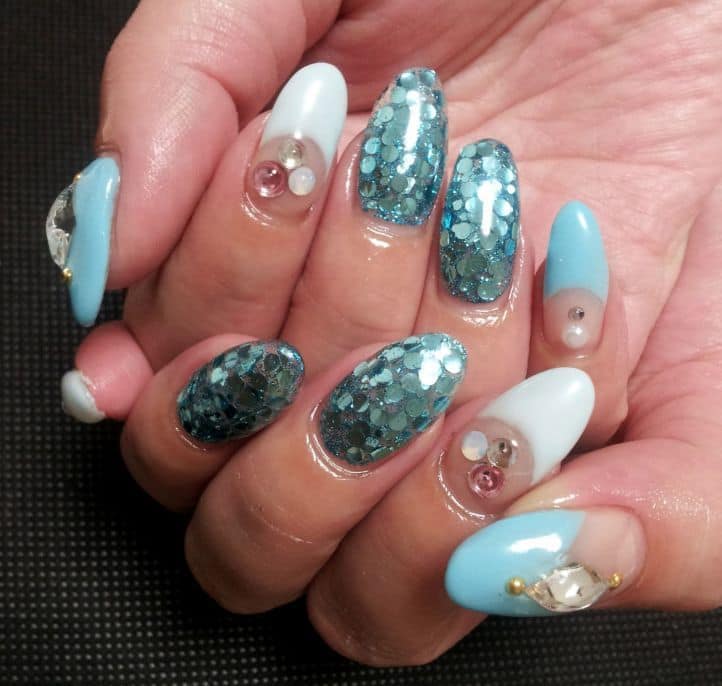 Blue is the calmest color! However, it is the color of smartness and intelligence.
So if you wanna look geeky chic all you have to do is to wear this Carolina blue nail design associated with blue glitter on some nails, white tips with rhinestones on some other nails, and blue tips with a white decal on others.
#20. Rose Red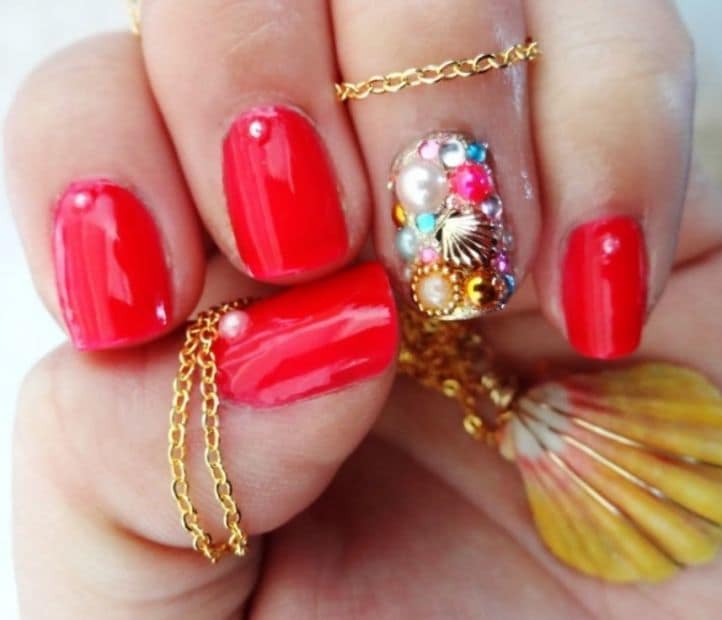 Before arriving at tonight's party you better call 911 in a hurry because this rose red nail design with rhinestones is going to light up enormous flames of jealousy.
But be careful because those flames might hurt you too, so be cool and let others burn up while you are burning up the heart of your crush!
Easy Red Nail Design to Give a Try
#21. Rhinestones Frenzy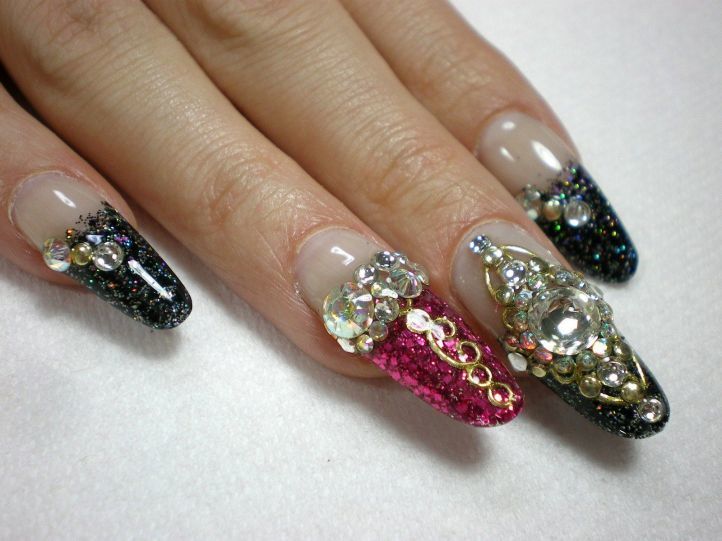 Go wild and unique by wearing this nail design with rhinestones.
Don't worry about being different by having that large amount of shiny decals in your nail design because sometimes being original makes others in the love with you, sometimes jealous of you, and other times make them want to copy you in your fancy nail designs.
#22. Sharp Stiletto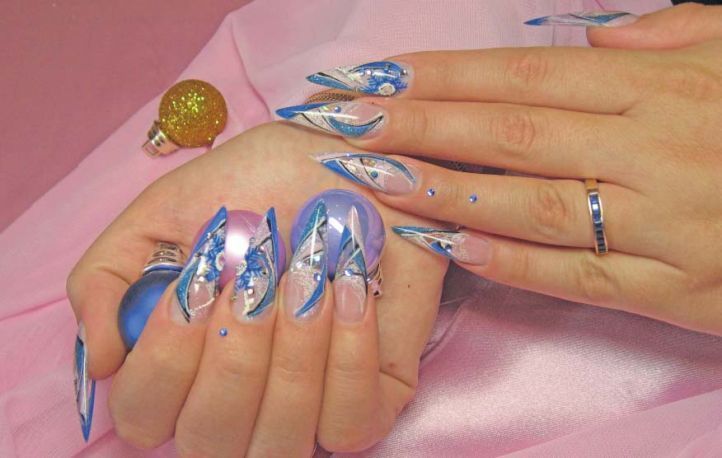 As a first look at this nail design, all you can see is a mess! In fact, the combination of those stilleto shaped nails adding to it such a fancy pattern is not a mess, but a fancy nail design with rhinestones.
#23. Mirror Mirror On The Wall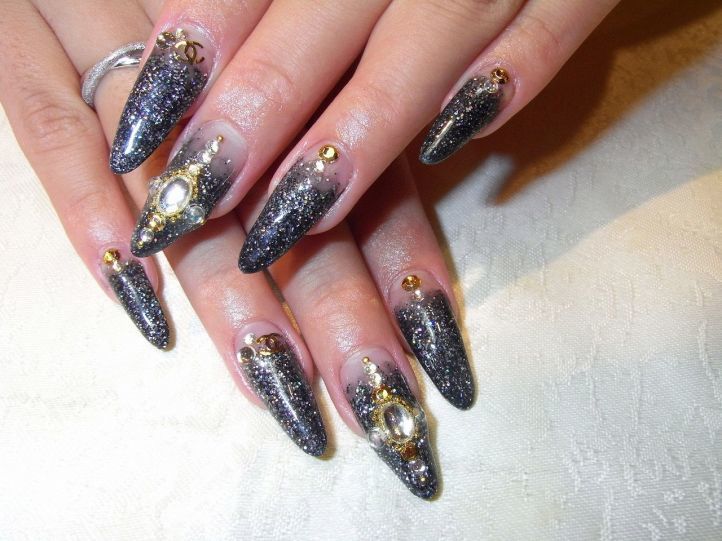 In this nail design, the slate grey is used in its shimmery state designed with many white and golden shiny rounded decals that make it suitable to be worn on a fancy dinner or night occasion.
Besides, the mirror shaped like shiny decals in the middle finger makes the center of attention in a fancy nail design with rhinestones.
Excellent Black Nail Arts to Style
#24. Zip It Up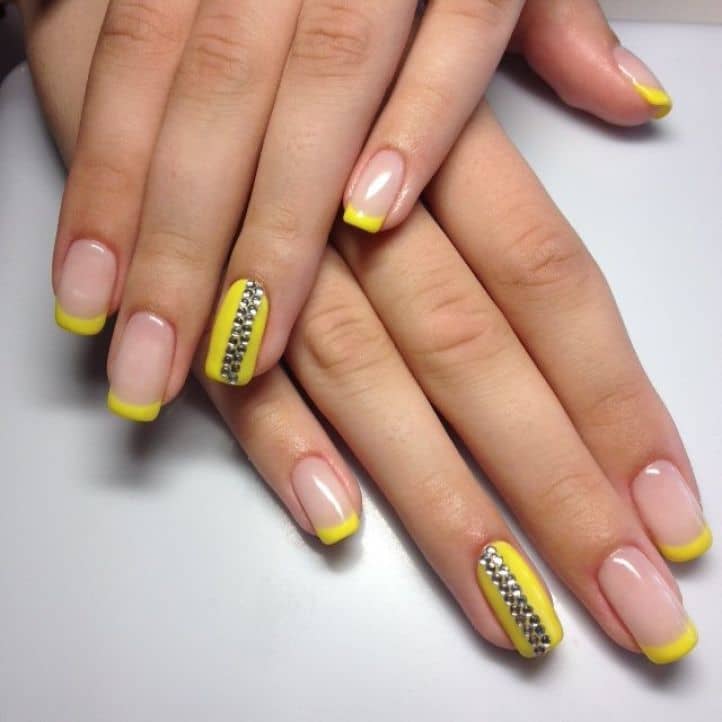 Yellow is the color that is full of joy and energy, so using a yellow color in a nail design definitely says that you are an energetic person and at the same time a cheerful one.
Thus, wearing this french yellow-tipped nail design with a ring finger with a zipper in it means that you are a person that loves things to be all shiny and joyful but at the same time, it totally means you are jealous person!
#25. Maroon Vibes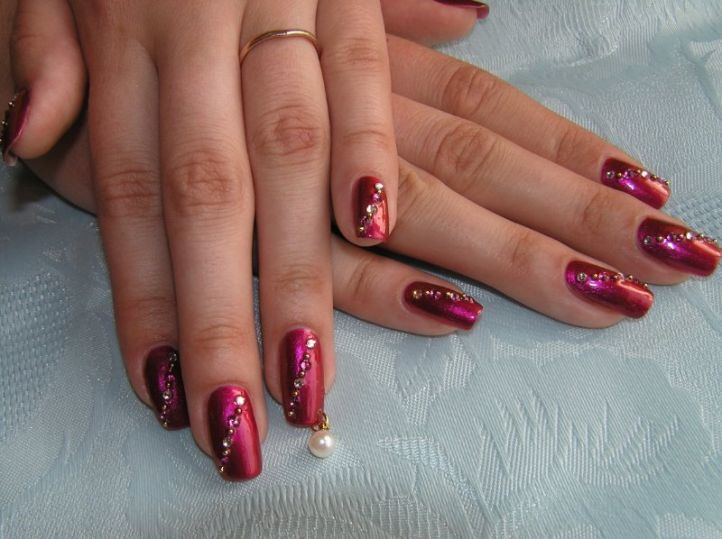 Maroon is the most elegant combination that ever happened between the pink, purple, and red colors.
On the other hand, maroon looks fancy and nice in all ways, even when some colorful decals are added to make up a maroon nail design with rhinestones.
#26. Eyes Everywhere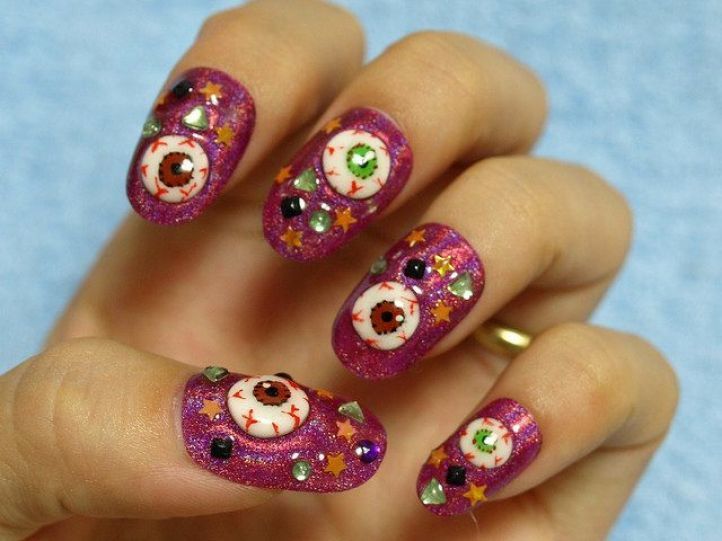 Some say that the eyes are the most attractive part of a woman's face. So if you are a lady with an eye beauty, this nail design with rhinestones provides with a funny way to express that by having 3d eyes all over your nails surrounded with shiny colorful decals of a glittery base.
#27. The Vow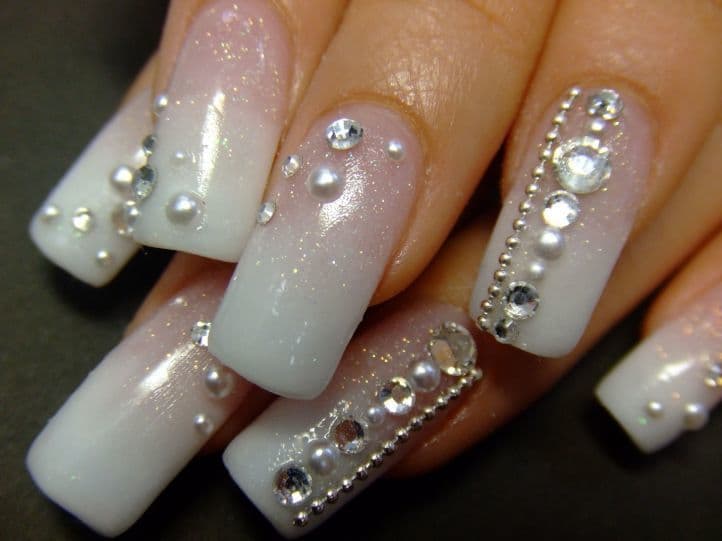 Your big day is knocking on its doors but you still didn't choose a suitable nail design for your wedding dress?
Cheer up, because this nail design perfectly fits a white and classy bridal dress because it is full of white decals and shiny touches that make you look like a real princess on your biggest day.
#28. Floral Vibes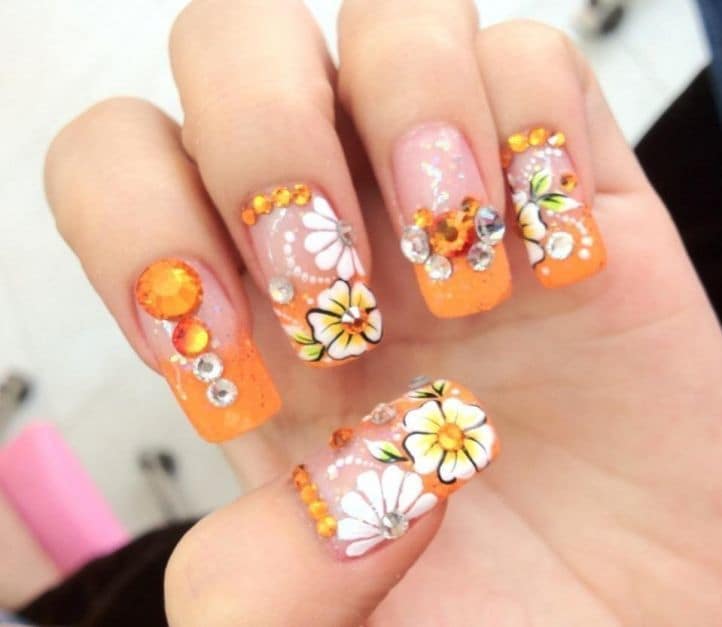 Girls adore flowers! And it is well known that flowers can bring a woman to her best mood.
So if you are a flower lover, now and with this nail design with rhinestones, you are able to express your flower love by just wearing it on daily occasions and friends hangouts. Check out these flower nail designs you may love.
#29. Wild & Classy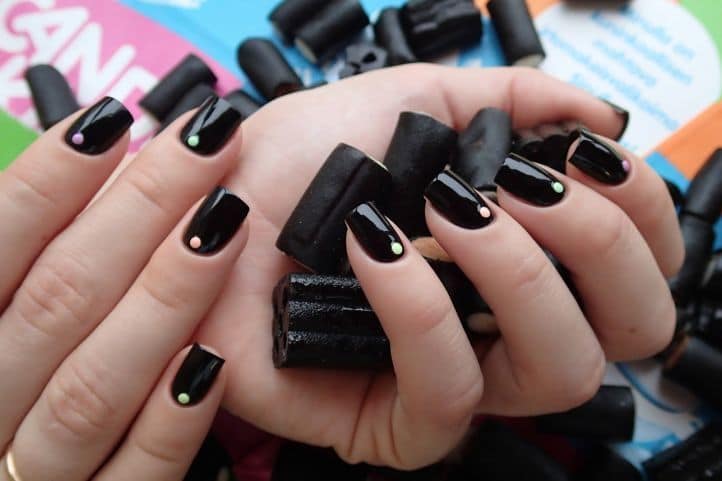 Black is the chicest and the most classy color ever known! On the other hand, there is a shopping rule that says:" If they are not black, put them all back".
So if you are a mysterious girl that wants to look chic for tonight's party, don't regret wearing this black nail design with rhinestones.
#30. Flamingo Pink
Wanna look cute and girly at the same time? Try wearing this calm and light-colored nail design that is going to satisfy your fashion needs for today's occasion.
Incredible Purple Nail Design Ideas for Women
More Nail Designs with Rhinestones That You Can't Ignore
In conclusion, simplicity is not always the key to elegance. Besides, sometimes nail designs with rhinestones are the only ones that can give you the fancy and the party animal looks you are searching for.
Consequently, if you are really searching for a nail design to wear that fits your dress for any recent party, I hope that the above list of 30 nail designs with rhinestones gave you what you need!