20 Stunning Studded Nails to Add Extra Glam
Studded Nails give you a perfect manicure to make yourself noticeable. The beauty of these nails will satisfy the aesthetic need and the studs will help you to stand out from all other manicure patrons.
How to Do Studded Nails
You can get the studs in different shapes, sizes, and colors. The application process is very simple. A dotting tool and an eye-liner are enough to design the nails with studs. Use a drop of clear polish on the right spot of the nail plates where you want to put the studs.  Pick the studs using an eye-liner and place them as per your choice to get a luxe look. Apply a top coat to seal the design. That's how you can easily get studded nails done at your fingertips.
Studded Nails to Stun Everyone
Once you have decided to design your nails with studs, we are always here to enlighten on the latest trendy designs. There are many patterns and shape of studs. You can apply any of them that is compatible with the certain design you are having. Two most used variant of studded nails are studded diamond nails and nail art studs and spikes. Follow the below list of some inspirational designs and ideas:
#1.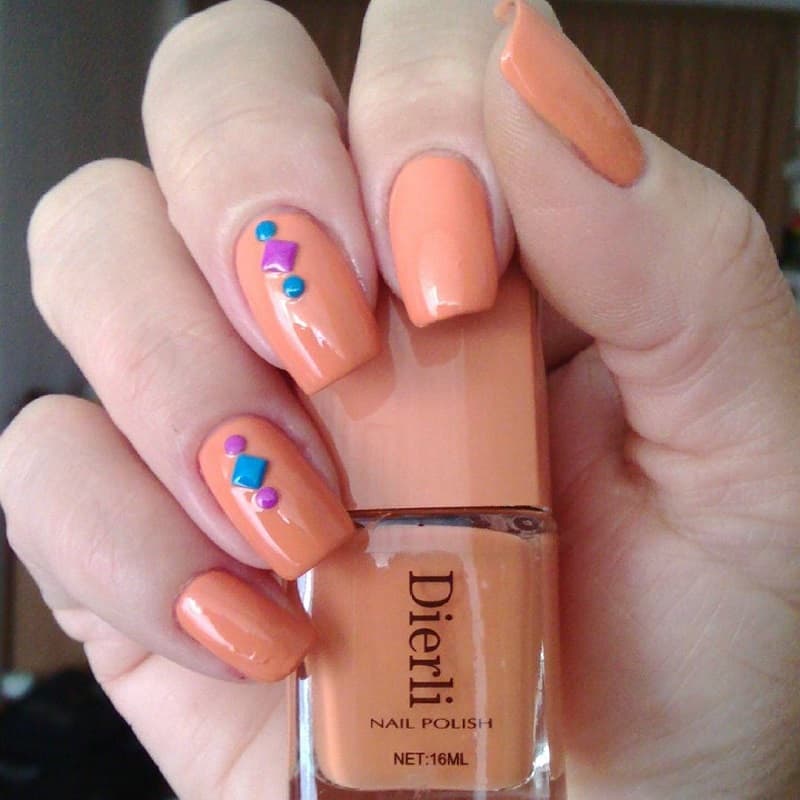 square studs nails art
#2.
metal studs nails
#3.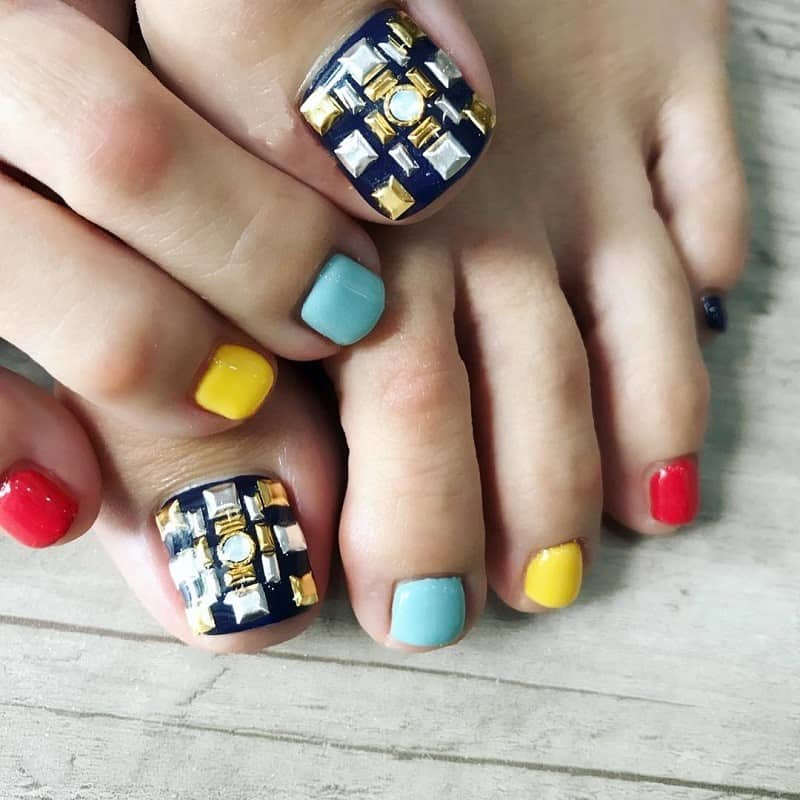 studded toe nails
#4.
3d studs nail art
#5.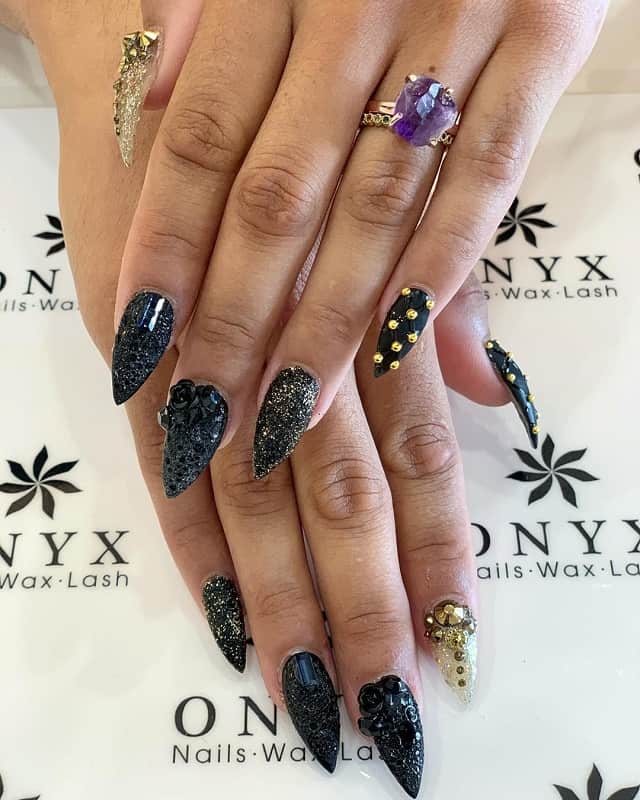 stiletto nails with studs
#6.
pyramid studs for nails
#7.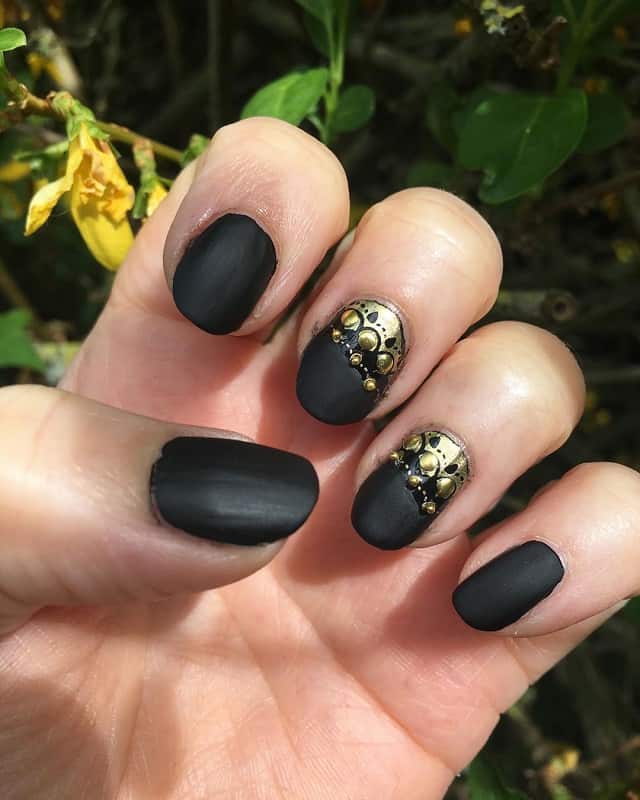 black matte nails with gold studs
#8.
burgundy nails with studs
#9.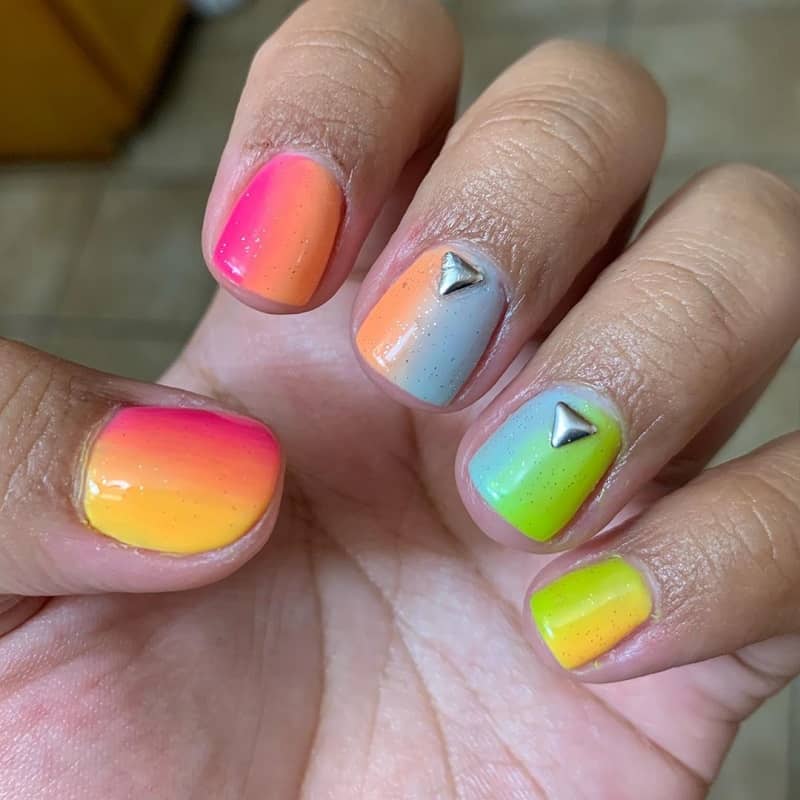 silver studs nail
#10.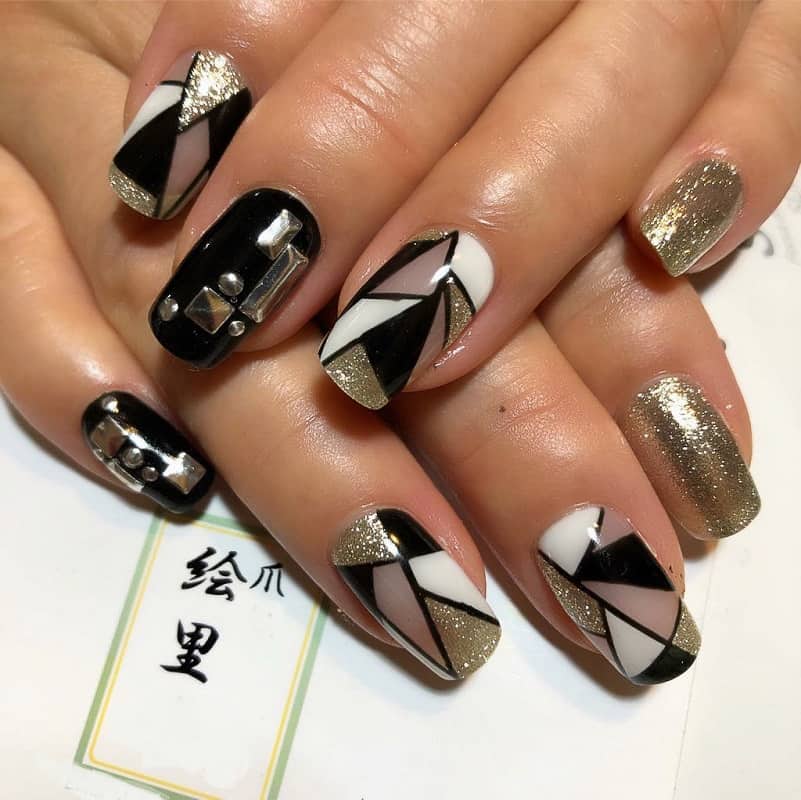 acrylic studs with nails
#11. Chevron Studs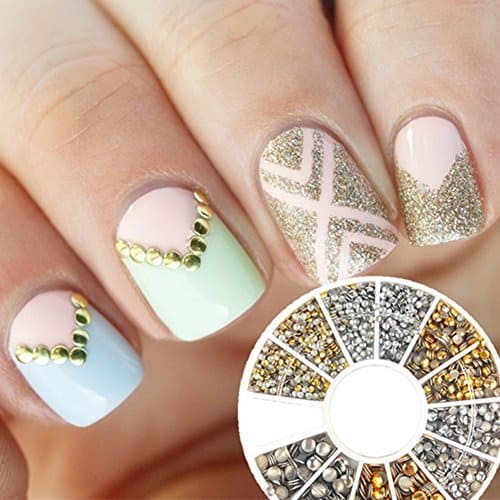 Gold and silver have always been used together to make an aristocratic impression. You can use silver glitters and gold studs while for this design. Put the studs resembling a chevron pattern.
Newspaper Nail Art to Make Statement
#12. Studded Rose Nails
You can add studs with a floral design. Paint half of your nails with a plain green color and the rest half with a flowery design. Then, add studs in the middle to have the floral charm with studded nails.
#13. Nail Jewelry
If you are planning to adorn your nails as if they were wearing nail jewelry, this design is the right fit for you. The studs are placed and shaped differently to add diversity to the designs. This could be a great choice regarding studded nails.
#14. Diamond Studded Nails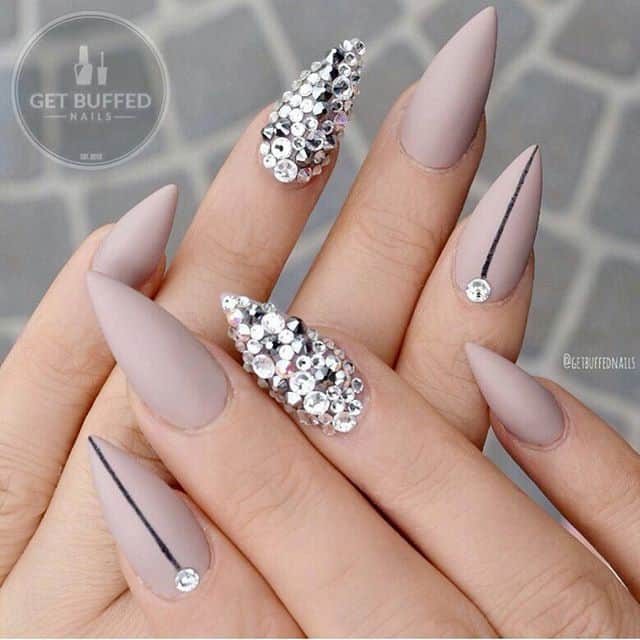 You may think these are not studs, these are diamonds. Well! The definition depends on you. But a large number of people consider rhinestones as a variant of studs. And diamond studs are hugely popular. You can have these extra shiny nails with studs to stun everyone.
#15. Get Inspired by Your Cloths
You can have a nail design that is compatible with your outfits. Here is an example of some nails which are inspired by the studs from the jumper of the patrons. You can also customize your nails this way.
#16. Studs And Spikes
There is also the scope for having extreme nail designs. You can use spike studs in this regard. But, watch out the spikes as it can be harmful to you & the people around you.
Shine Like Never Before with Diamond Nails
#17. Pastel Nails with Studs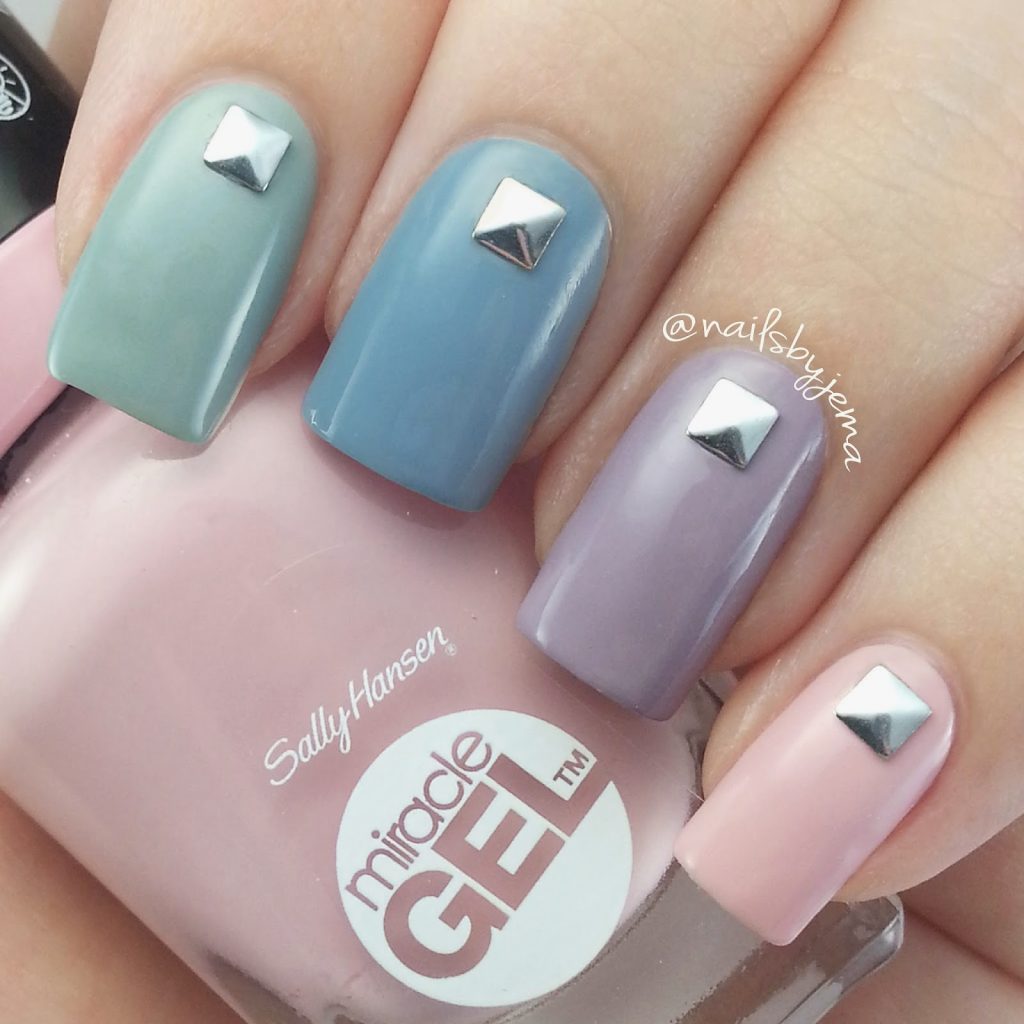 If you love it calm and quite you can have pastel nails. And if you want to add glamour to them, studs can be a very good option to be used. Put some tiny square studs on your pastel nails & get these studded nails.
#18. Perfect Placement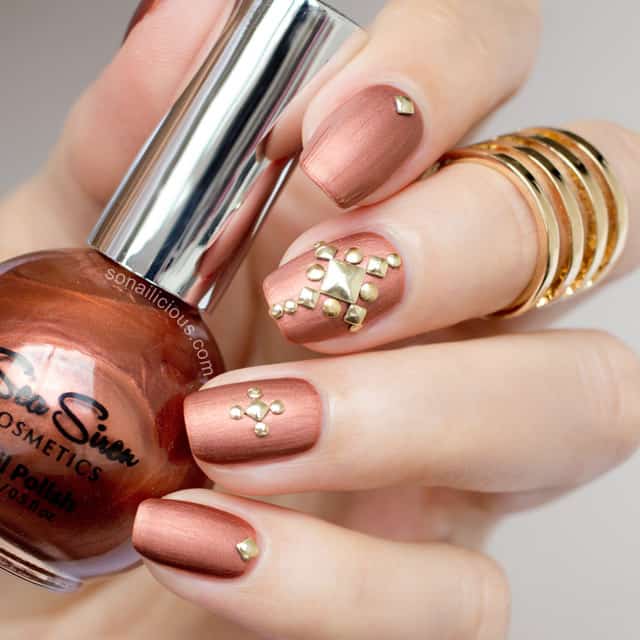 Rightly placed studs will surely enhance the beauty of your nails. This design will increase your outlook & get you a classy attire. And, a compatible nail polish will make the maximum impact on your nails.
#19. All Black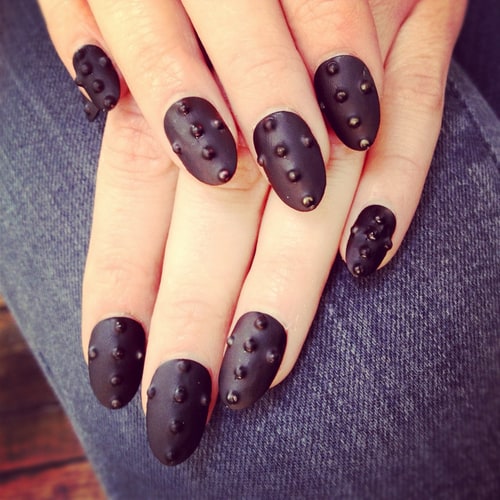 This is a different version of studded nails. If you want to have the dotted effect of studs but don't want the shine, this can be a good choice. Apply a base coat on your nails after placing the studs.
#20. The Variety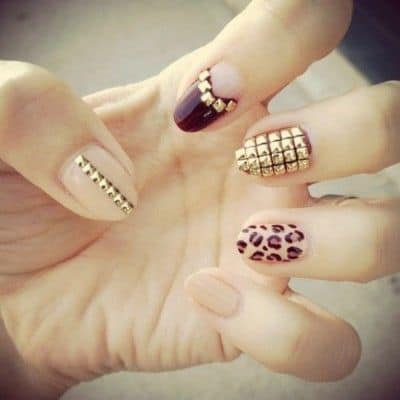 You don't have to design all your nails in the same way. Innovation is the best thing about fashion and trends. You can blend more than one nail art while having studded nails. Here is an excellent demonstration of variety for you.
Learn to Apply Nail Decal Like A Pro
Studs are largely used in nail design industry. But, you have to know how to use them to get gorgeous designs done on your nails. You will be inspired by these designs for sure & rock them hard.