Studded nails need no introduction. We've seen them, liked them, and certainly want them. These applications can step up your mani, you can create numerous 3D designs, and can be easily placed with tweezers, or a toothpick dipped in nail polish.
Best Studded Nails Ideas
Studded nails leave plenty of room for imagination. First, choose the length and shape you want—secondly, the nail polish. Decide upon the design, texture, and the event you're planning to wear them. Finally, choose the shape and color of the studs and apply them carefully. Below you will discover stud nail ideas suitable for those who love both extravagant nails or a simple but effective mani.
#1. Pale Orange Mani with Studs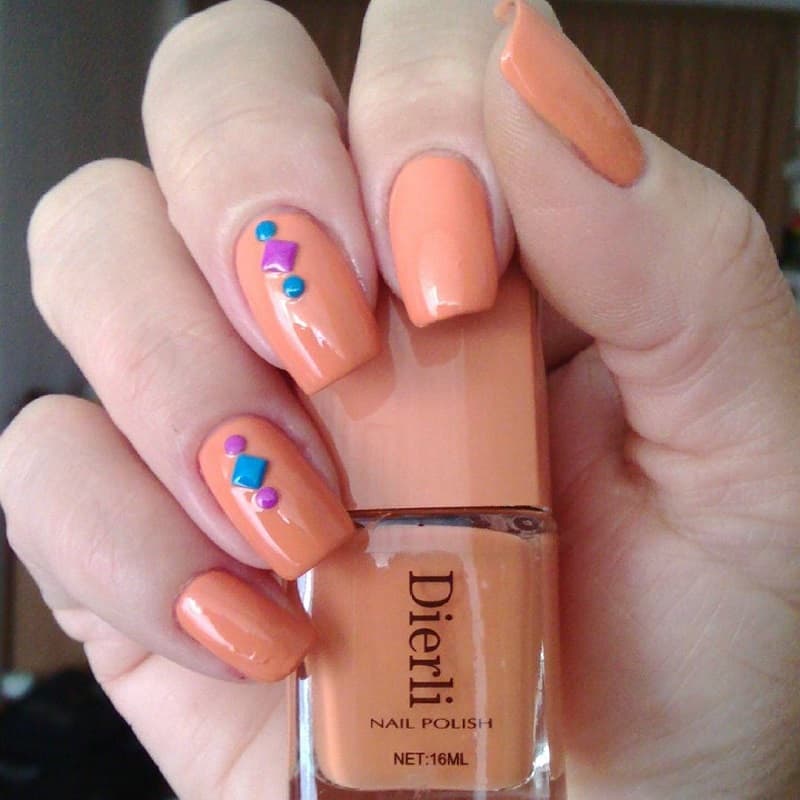 Square studs nail multicolored art is ideal for warm seasons like spring and summer, and autumn. Use diamond and rounded applications while the polish is not completely dried.
#2. Stars and Chains Nail Art
These metal stud nails feature chains that are being applied all around the nail, a double unique french mani type, stars, and other applications. Combine a full black nail with the translucent areas where you reveal your nail.
#3. Silver and Gold Studs for Big Toe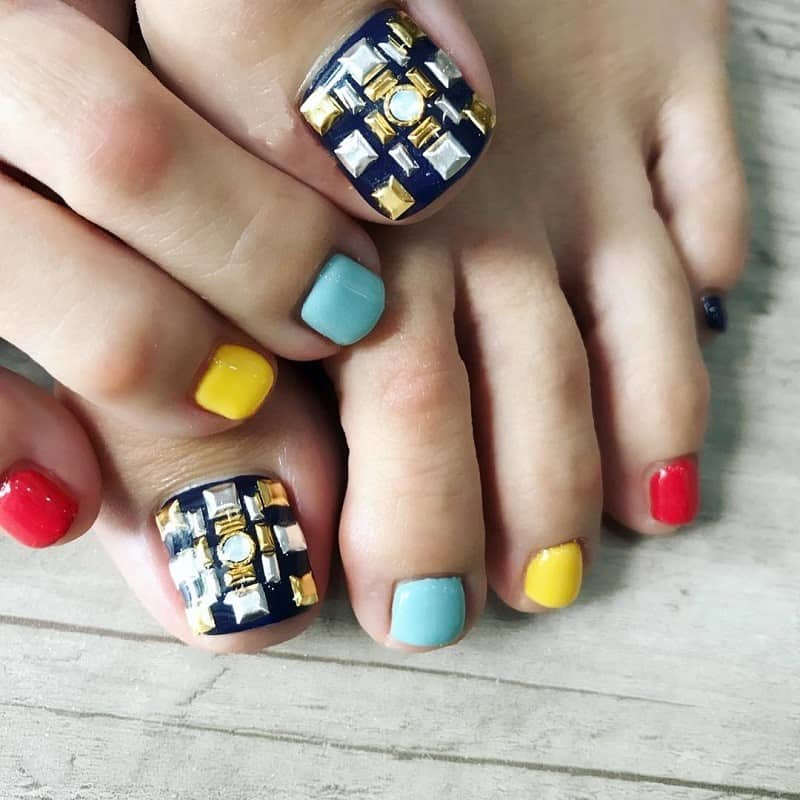 Studded toe nails look best if you apply multiple decorations on the bigger nail. For the rest, you can keep them simple, in the same color, or panted in multiple electric nuances to fit all your outfit ideas.
#4. Dark Blue Nails with Golden Studs
Dark blue nails are certainly real attention grabbers, especially when you apply golden studs. To create this 3d studs nail art, you'll need to keep the nails short and create the stud pattern you desire.
#5. Extravagant Ponty Nails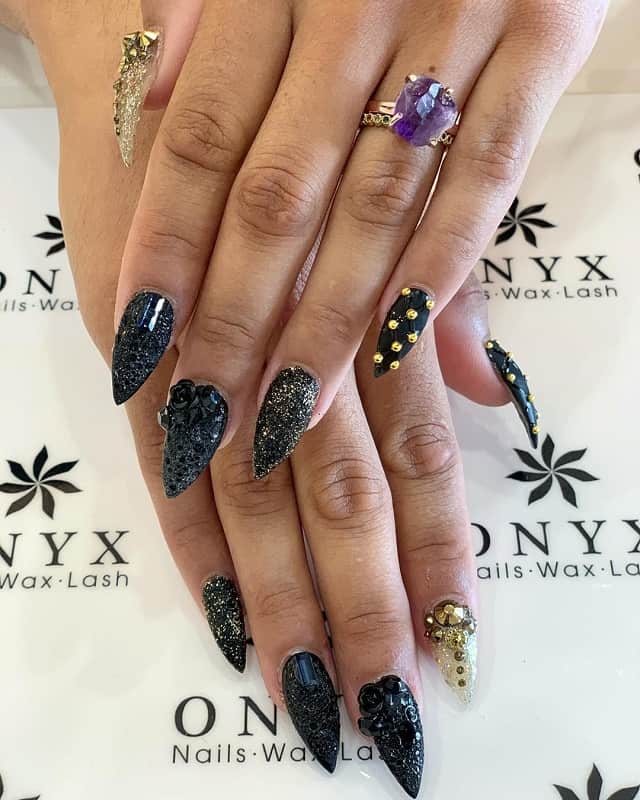 Stiletto nails with studs are fierce and sassy. Women who love to stand out with their looks will certainly love them. Build the nail with acrylic and use several types of nail polishes with glitter. Apply rhinestones and studs.
#6. Ombre Nails with Studs
These ombre nails look so gothic and have that witchy vibe. Use acrylic and give them a coffin shape. If you also apply pyramid studs for all nails, your mani will totally complete your all-dark look.
#7. Matte and Gold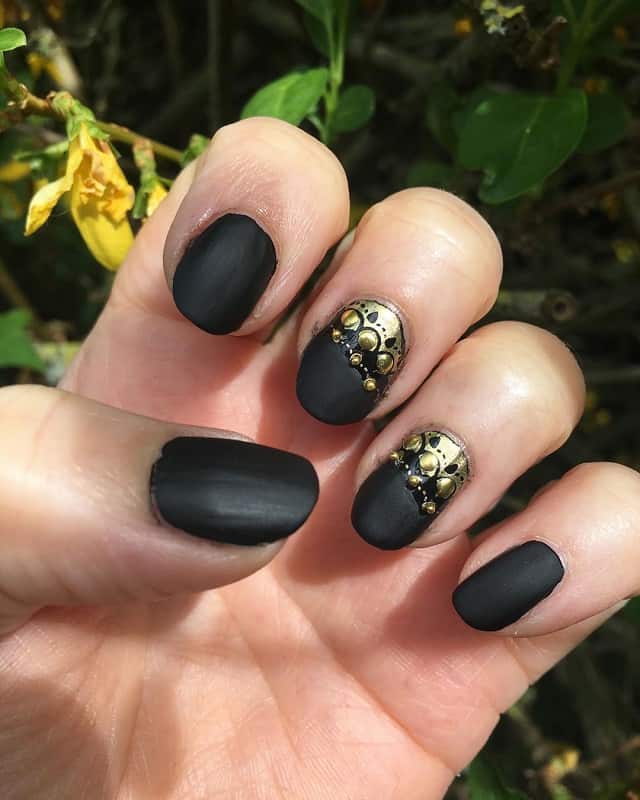 Black matte nails with gold studs are the pitch-perfect choice for elegant outfits or moments you need a simple yet sophisticated mani. Apply a black polish and use a matte finish. Finally, place the studs and fill the gaps with shining gold polish.
#8. Burgundy Nails
Long almond shape burgundy nails with studs won't pass without notice. In the center of the nail, using a toothpick or tweezers, place a golden diamond shape stud. Make sure you apply it while the polish is still moist.
#9. Rainbow Nails with Studs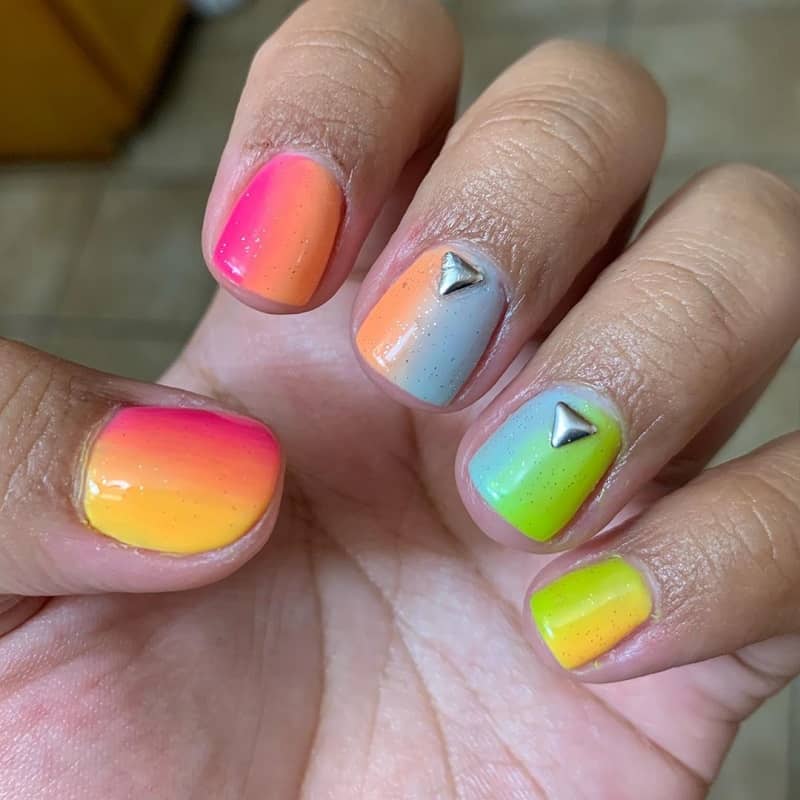 Silver studs on nails give a whole look a more glammy touch. Use your favorite colors and style horizontal rainbow gradients. Apply two triangle studs at the base of the nail.
#10. Abstract Studded Nails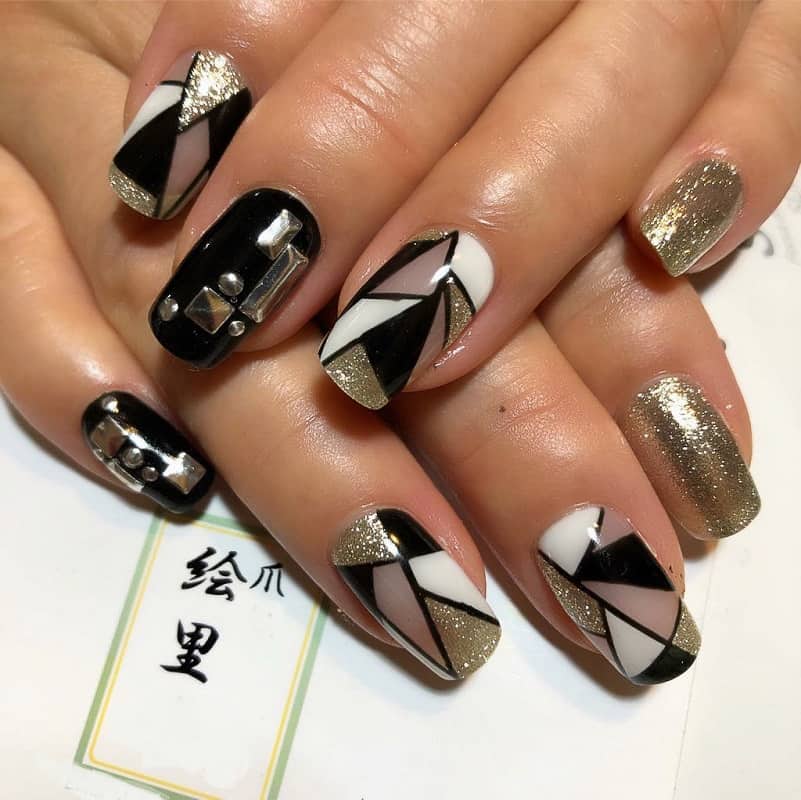 Acrylic studs with nails that simply catch your breath every time you see them include numerous painting techniques. Firstly, build a base with black or glitter nail polish. Secondly, create the abstract design. Lastly, apply the studs with a toothpick.
#11. Chevron Studs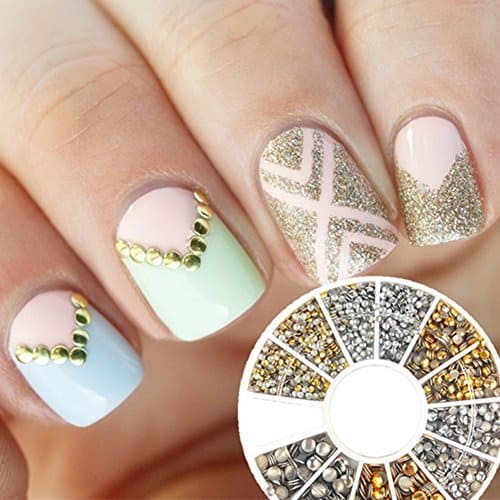 Gold and silver have always been used together to make an aristocratic impression. You can use silver glitters and gold studs while for this design. Put the studs resembling a chevron pattern.
Newspaper Nail Art to Make Statement
#12. Studded Rose Nails
You can add studs with a floral design. Paint half of your nails with a plain green color and the rest half with a flowery design. Then, add studs in the middle to have the floral charm with studded nails.
#13. Nail Jewelry
If you are planning to adorn your nails as if they were wearing nail jewelry, this design is the right fit for you. The studs are placed and shaped differently to add diversity to the designs. This could be a great choice regarding studded nails.
#14. Diamond Studded Nails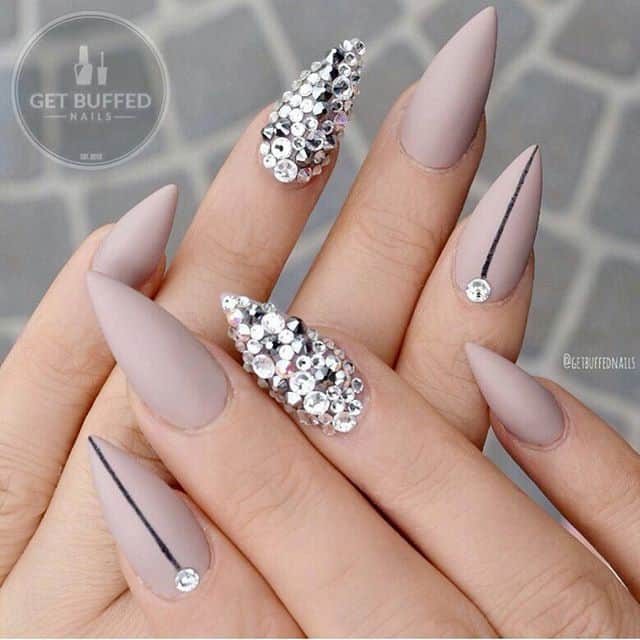 You may think these are not studs, these are diamonds. Well! The definition depends on you. But a large number of people consider rhinestones as a variant of studs. And diamond studs are hugely popular. You can have these extra shiny nails with studs to stun everyone.
#15. Get Inspired by Your Cloths
You can have a nail design that is compatible with your outfits. Here is an example of some nails which are inspired by the studs from the jumper of the patrons. You can also customize your nails this way.
#16. Studs And Spikes
There is also the scope for having extreme nail designs. You can use spike studs in this regard. But, watch out the spikes as it can be harmful to you & the people around you.
Shine Like Never Before with Diamond Nails
#17. Pastel Nails with Studs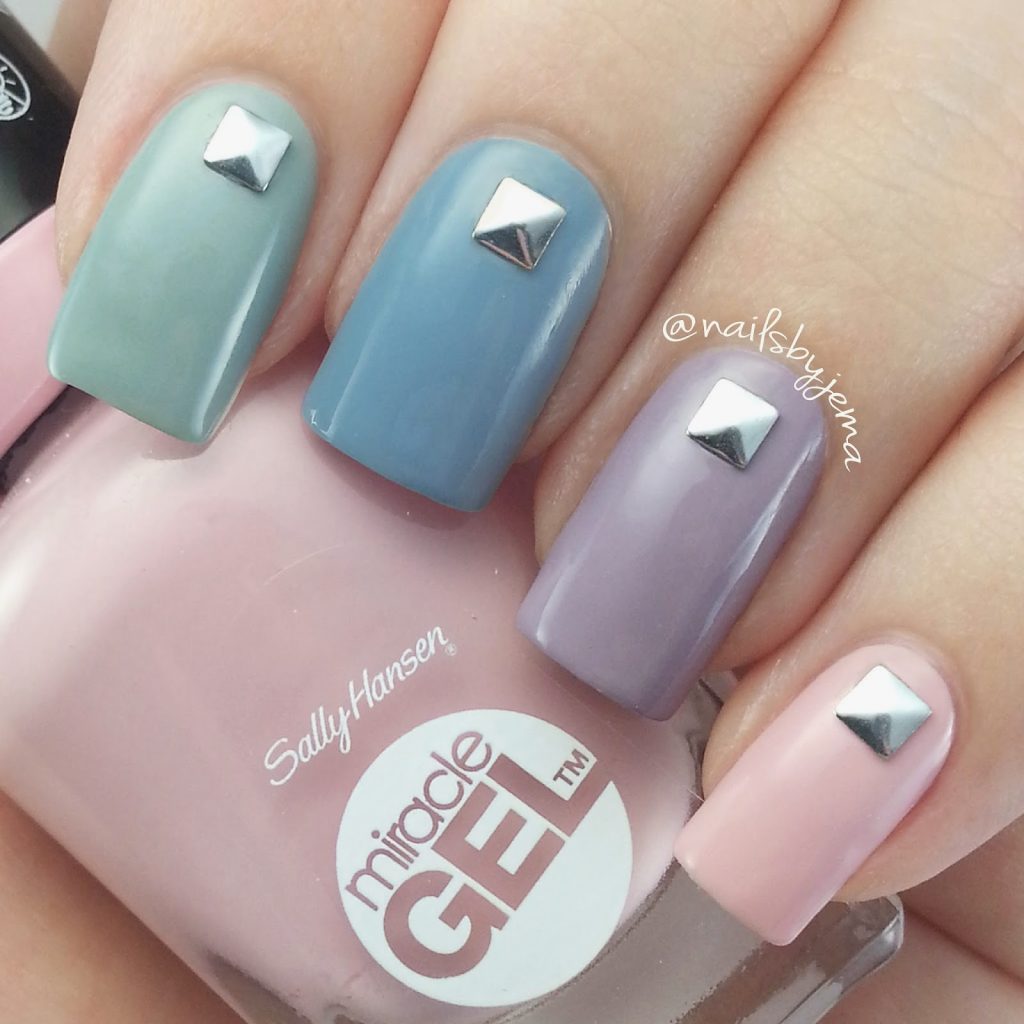 If you love it calm and quite you can have pastel nails. And if you want to add glamour to them, studs can be a very good option to be used. Put some tiny square studs on your pastel nails & get these studded nails.
#18. Perfect Placement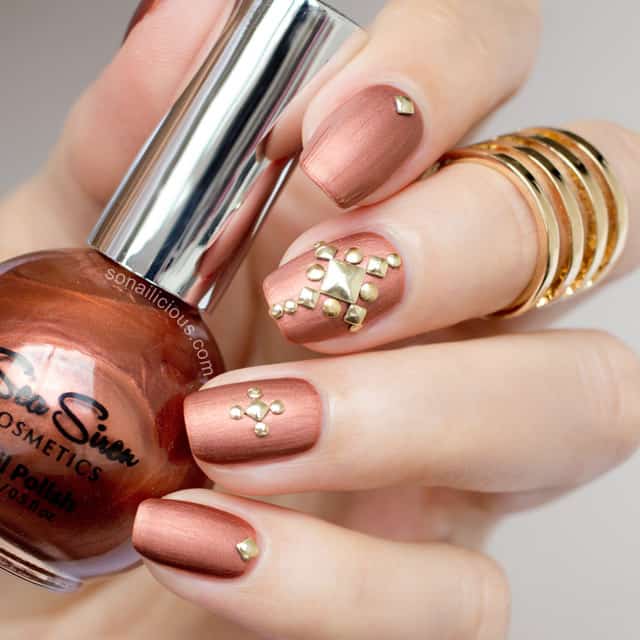 Rightly placed studs will surely enhance the beauty of your nails. This design will increase your outlook & get you a classy attire. And, a compatible nail polish will make the maximum impact on your nails.
#19. All Black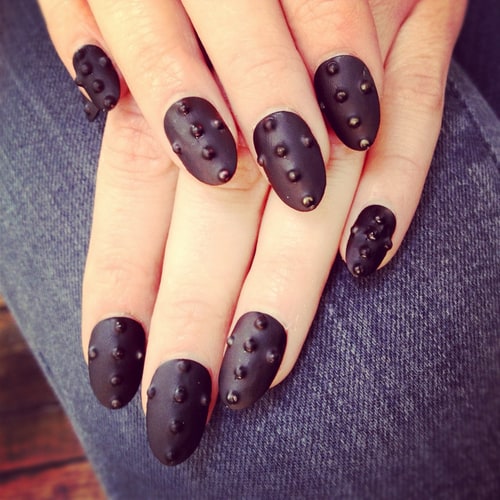 This is a different version of studded nails. If you want to have the dotted effect of studs but don't want the shine, this can be a good choice. Apply a base coat on your nails after placing the studs.
#20. The Variety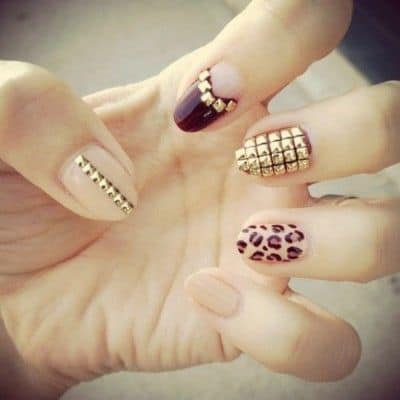 You don't have to design all your nails in the same way. Innovation is the best thing about fashion and trends. You can blend more than one nail art while having studded nails. Here is an excellent demonstration of variety for you.
Learn to Apply Nail Decal Like A Pro
Studs are largely used in nail design industry. But, you have to know how to use them to get gorgeous designs done on your nails. You will be inspired by these designs for sure & rock them hard.