If there is one sure-fire way to get your manicure noticed, it's by painting them with a purple glitter nail design! Purple on nails is typically seen as a strong color, but it can actually create soft nail designs as well, especially when the purple is glittered!
For ladies who consider themselves creative, ambitious, and independent, but like a little bit of shine to their style, purple glitter nails are a must! There's a pretty nail design for every lady who likes purple, but there's no need to load up the nails with glitter. Just a little bit will do as well!
Add a few dabs of glitter to purple nails for a subtle effect or paint each nail solidly in purple glitter. It's up to you!
There are some key ways to wear purple glitter nails, so make sure you choose wisely! We'll show you our favorites to help steer you in the right direction.
Stylish Purple Glitter Nail Designs
Give an air of mystery and independence with purple glitter nails. Your next trendy manicure is just a few scrolls away!
1. Purple Glitter Coffin Nails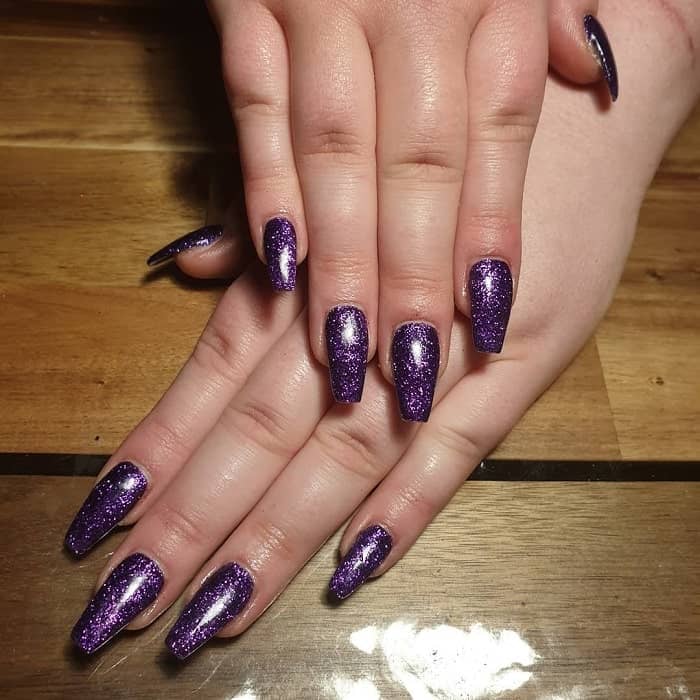 It's pretty much guaranteed that a long coffin nail in glittery purple will catch the eye of everyone no matter where you're going. Load up the sparkle with multiple coats!
How to Do Chrome Nails with Glitter
2. Light Purple Acrylic Nails with Glitter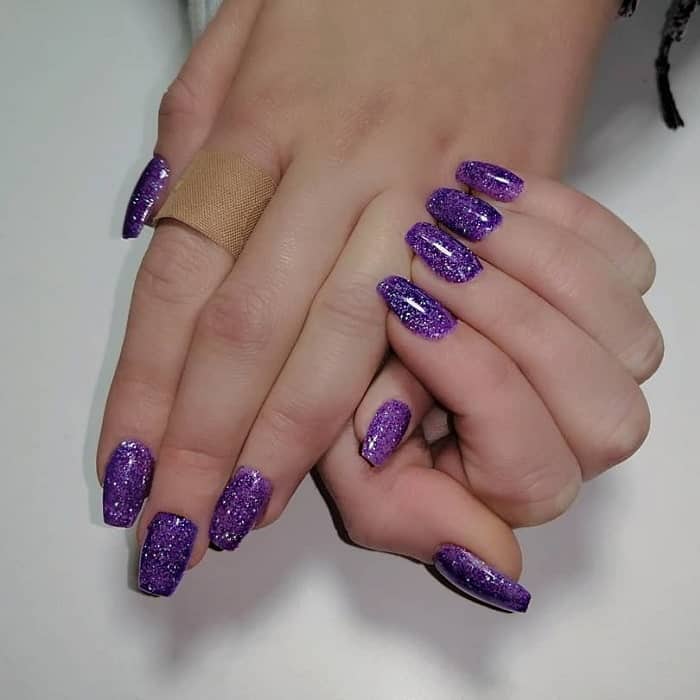 Don't have a purple glitter polish? You can still get this design for long acrylic nails! Find a light purple polish and paint your long nails with that first before layering on a clear coat of sparkly polish.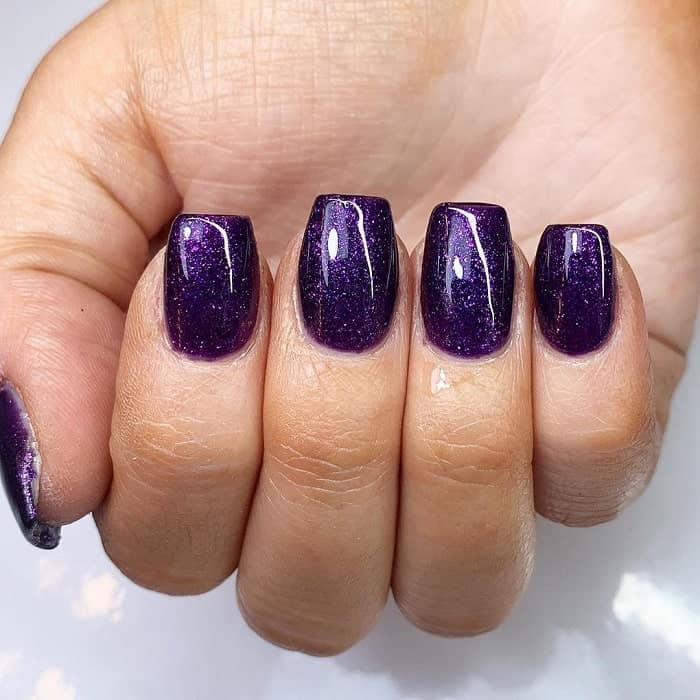 Show long square nails some colorful love by painting them a dark purple with glitter. Dark shades always look great against light and pale skin tones so you know your manicure will look gorgeous!
4. Long Light Purple Glitter Nails
Looking for a great wedding day manicure? A light purple glitter nail design will look stunning with your special white dress. If you're not a fan of dark shades, light purple glitter polish is your best friend!
5.  Light Purple Glitter Ombre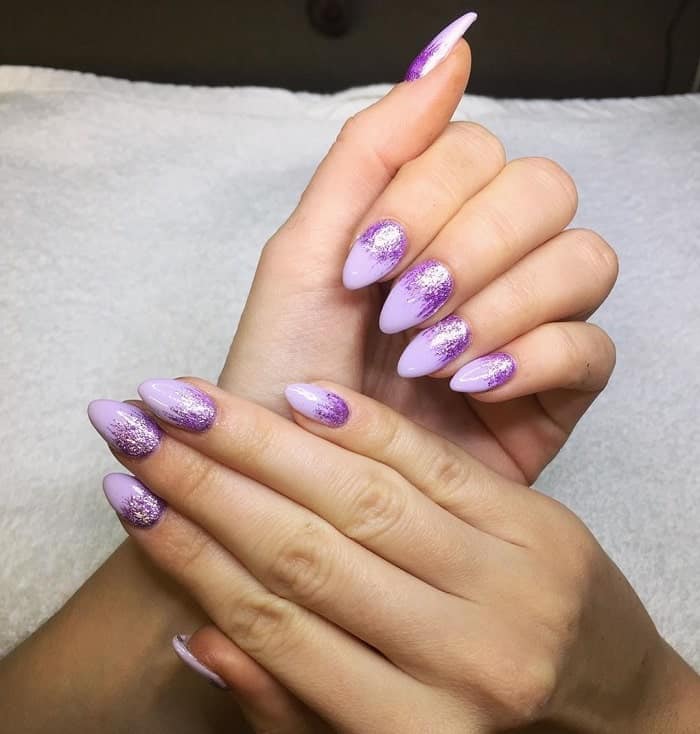 Stiletto nails can oftentimes come across as a harsh nail shape, but by keeping them short and choosing a light purple glitter design, they'll stay soft. Paint the glitter at the top of the nail for a cool purple glitter ombre.
6. Black and Purple Glitter Nails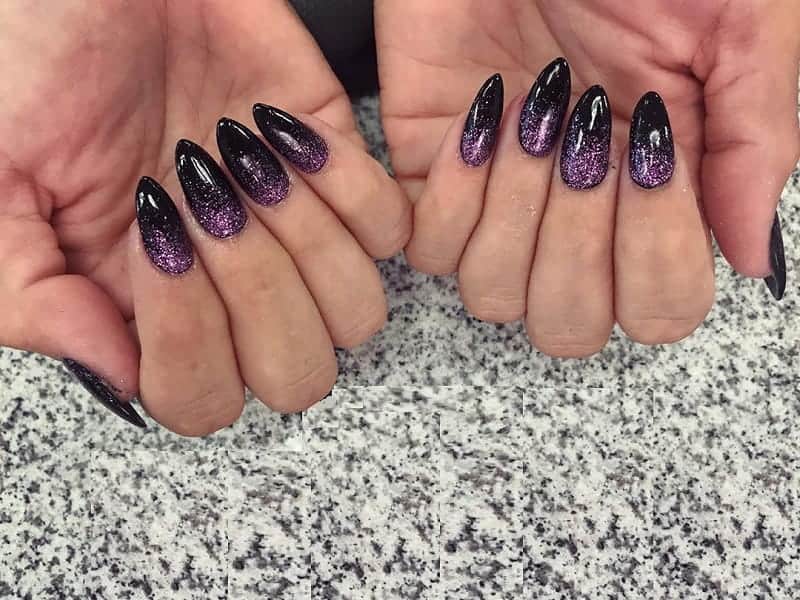 When Halloween comes around, these black and purple glitter ombre nails are perfect for that sexy witch costume you've been waiting to wear. Rock the style on long stiletto nails.
7. Pink and Purple Glitter for Stiletto Nails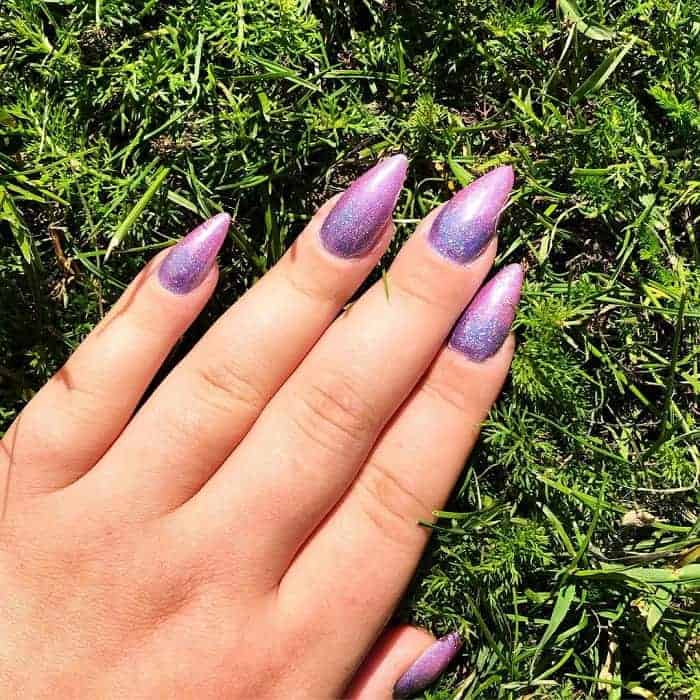 True girly girls will appreciate this light pink and purple glitter ombre nail design. Maximize the ombre effect by adding the design to long stiletto nails.
8. Dark Purple Glitter French Tips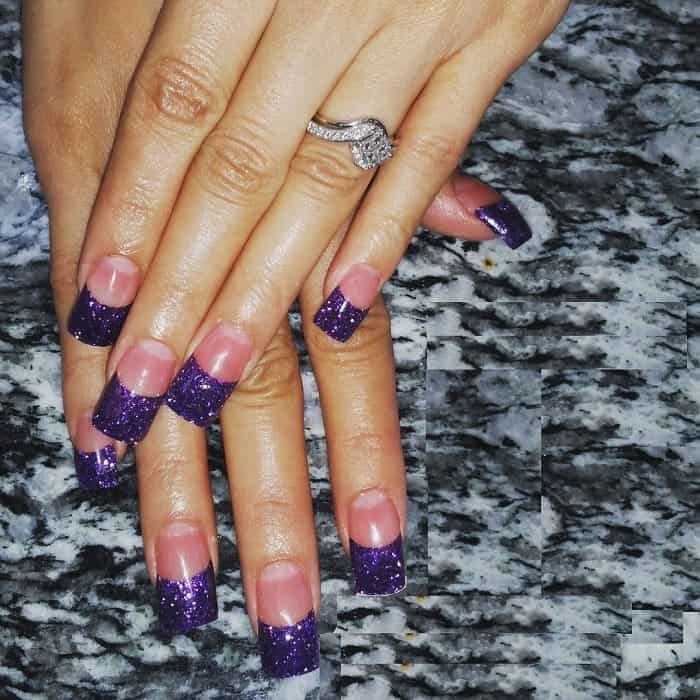 The traditional white French tip becomes colorful when you opt for dark purple glitter polish! These long square nails feature a nude base with dark purple glitter tips, but you can choose nude or white to wear instead.
It doesn't matter whether it's light or dark purple glitter nails, it's all about the way you wear them! Flaunt short nails with a solid coat of purple glitter or go with just a partially purple glitter nail with ombre. Just give the trendy style a chance soon!