Skull nail designs are great for when you want edgy nails or you're just looking for something worthy of Halloween. Classic black with silver, grays, and whites combine to make some truly mysterious, punk styles. While skull designs are mostly scary and dark looking, that doesn't mean there isn't room for alterations to suit your own style.
For example, using lighter shades instead of traditional black, using shimmery crystals or jewels, and even bringing in some glittered nail polish easily adds a sexy, feminine touch. If you prefer the traditional spooky styles with dark colors, we have some options for you as well!
Creative Skull Nail Designs
Whether you're new to the skull nail design game or you're a pro just looking for a design you haven't tried, reading through our list of 25 awesome ideas is a must!
#1: Pink Sugar Skulls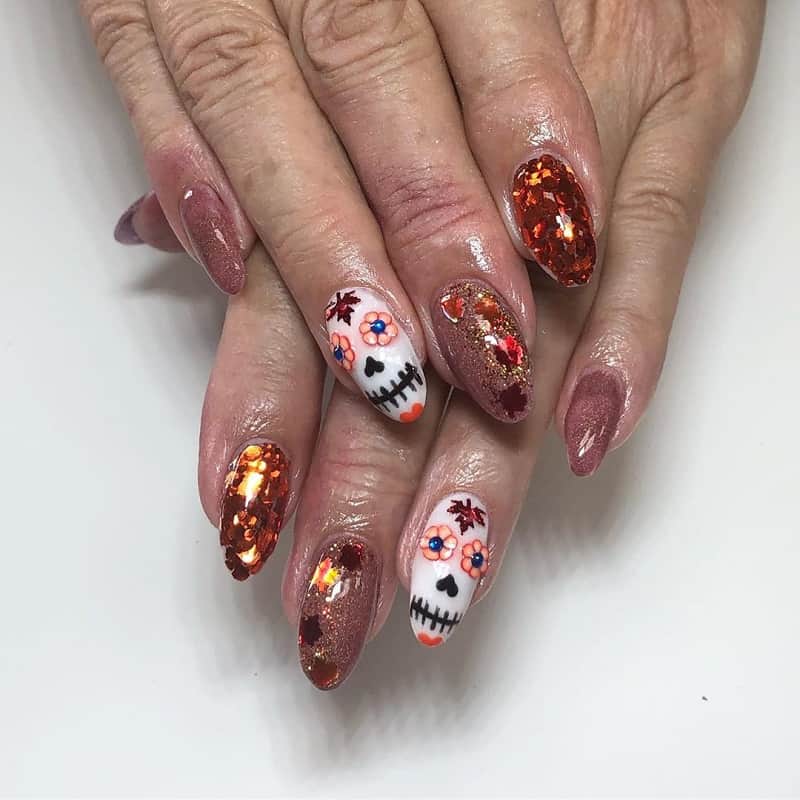 It really wouldn't be a proper skull nail design list if we didn't include the beloved sugar skulls! Create your own sugar skull face on a plain white nail and surround it with shades of pink in glitter, matte, and gel polish. Sequins or crystals are perfect for shine and razzle dazzle.
#2: 3D Skulls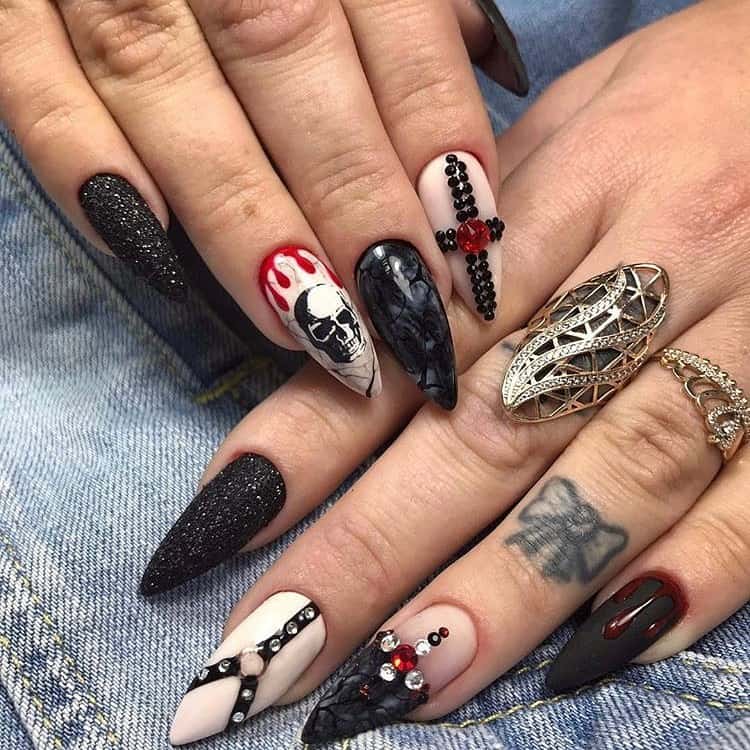 If you love a 3D nail design as much as we do, then the short stiletto nails above were made for you! Soft white, glittered black, and a half nude nail are all equally detailed. Red and silver crystals lead to a cracked nail tip while a black crystal cross is that touchable detail.
#3: Hot Pink Skulls
Make a traditionally dark skull nail design girly and feminine by using hot pink! Then add your skull nail sticker or draw one yourself using black polish. A sparkly crown is the finishing touch.
#4: Skull and Bones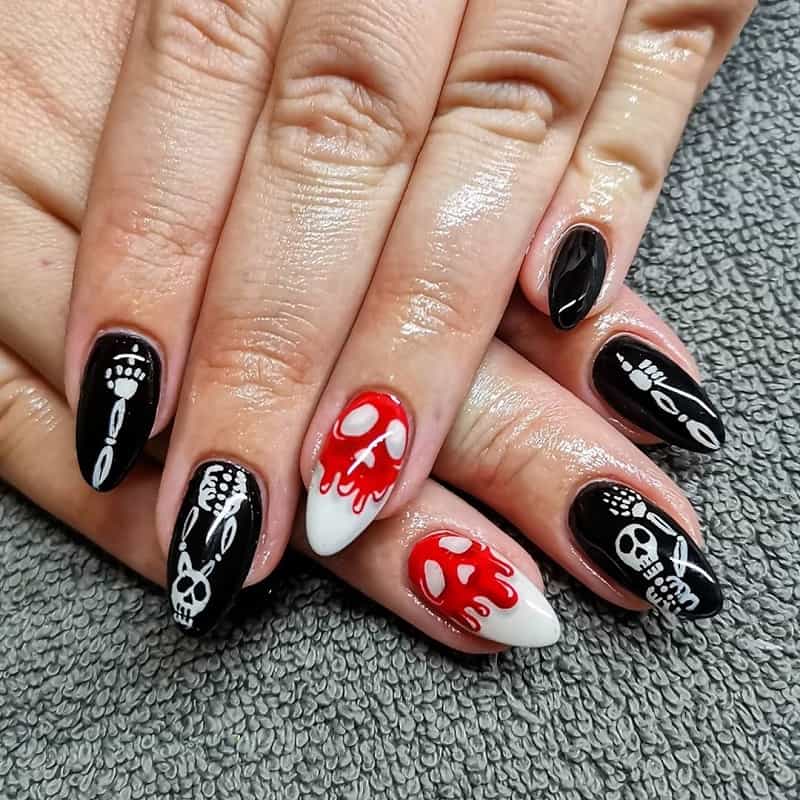 Use the human skeleton as your inspiration on long black nails. Again, nail decals or stickers will help you with the white bones. When it comes to the bloody red skull face, try your hand at it since the dripping look doesn't have to be perfect.
#5: Long Stiletto Skull Nails
Visiting a professional nail tech is your best bet at getting the detailed long stiletto nails seen here. We love the use of an ombre nail with glossy black, dark roses, and a cracked skull accent nail.
#6: We Look Famous
These nails are actually quite posh looking with some hidden dark edge and spiciness. Very long and pretty, these nails could easily be worn by top Hollywood actresses and would steal the show in a blink of an eye.
#7: Barbie Gone Punk
Barbie went a bit darker than usual we'd say. Some pink skulls with crowns and beautiful stars make these dark nails not too dark. If you are kind of in the middle, that is not being too ladylike nor being a rock chic, get this mani and have a blast.
20 Most Exciting Nail Designs with Rhinestones
#8: Barbie Gone Emo
This time Barbie had gone full metal and emo. This skull nail design looks like something that Avril Lavigne would wear back in 2009 when the "Skater boy" was on top of the charts.
#9: Chanel Skull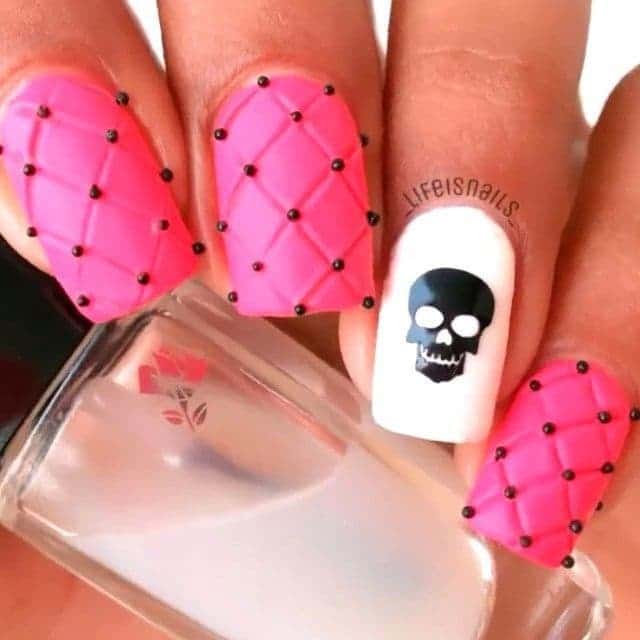 Inspiration can be found anywhere, and these skull nail look like they've been inspired by an authentic Dior or Chanel handbag. The pink base looks like it's been made out of real leather, and the black studs look smoking hot. The skull has some character and gives out that "Do not approach me" vibe. If you are not into people and would rather approach them instead of being approached, get this mani. You are in control of everything, and that is the most important part.
#10: Hippie Skull
Little hipster skull heads are so cheerful and vibrant. They actually look anything but scary, which is a good example that proves that skulls aren't always intimidating. These nails would also be a great choice if you are going to a party, Coachella, or just festivals in general.
#11: Delicate
Little more delicate than what's usually expected with the skull nail designs. The light pink base is elegant, while the skull print gives some "ump" to the whole picture.
#12: Blue Babe
If you are a blue color lover, and also like edgy original prints, this manicure looks just right for you. Blue color has that friendly tone, while these drawn prints are scary looking. Pretty much you are stuck somewhere in between with these nails. Neither too cute or too hectic.
#13: Matte Is Mad
Madness is just the word for these matte skull nails. If you want to be noticed and to be the main attraction, you will succeed with these nails. Matte base with just one skull sticker is fierce enough to awake the fire inside of you.
#14: Fun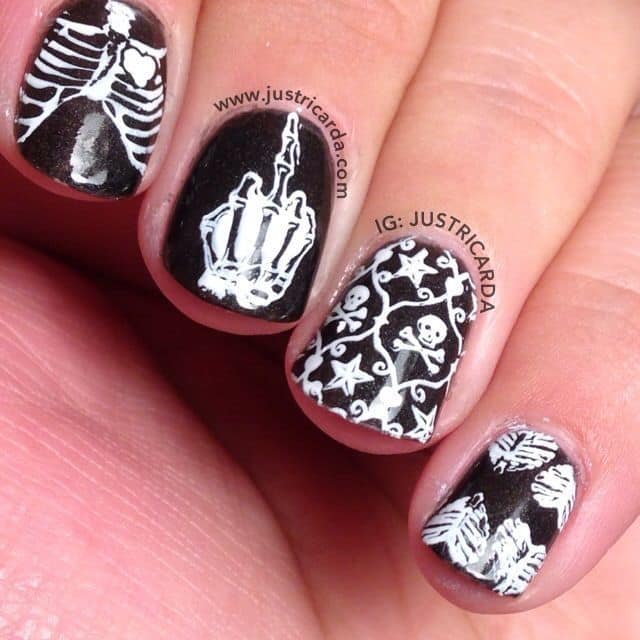 If you are a true metal lover, a dark queen inside of your heart, or you just love to look as edgy and scary as possible, then what are you waiting for? This skull nail design has got a lot of mean vibes but at the same time original ones. Be as bold as your nails and show everyone who's the boss.
#15: Funk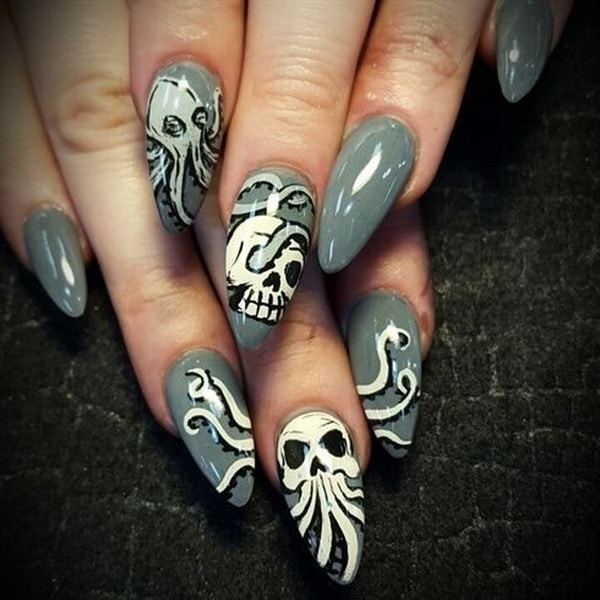 This gray nail polish base and a skull have got a mind of their own. Looks like someone had found inspiration at the bottom of the sea since besides the skull we also have an octopus. An interesting combo we might add, and totally worth the effort.
#16: Tip Time
By now you already know how we feel about the glue down nails. This skull nail design, or so to say this method, should be your choice especially if you don't like to spend a lot of time while drawing on these skull heads. This way you will have your spooky nails ready in less than 10 minutes.
#17: Little Jackie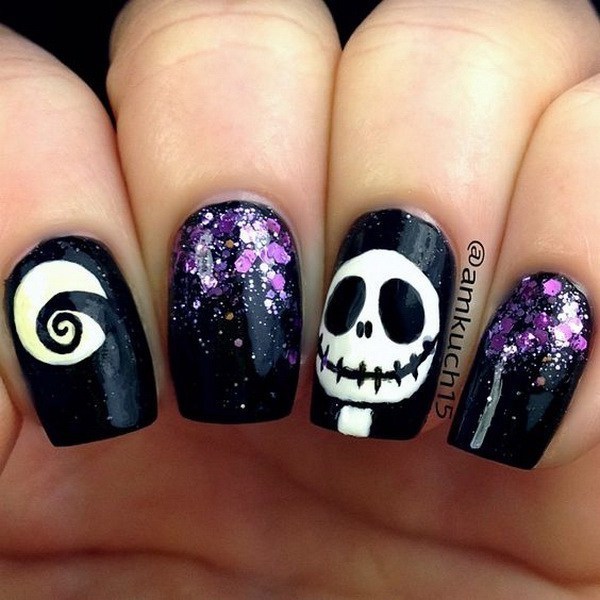 Jack the Skeleton looks a lot friendlier than we are used to. His first appearance was in "Nightmare before Christmas" in 1993. And look at him now, still being a nail inspo 24 years later.
#18: Oh Oh
Oh oh, looks like this skeleton has some body issues. But do we really mind? Considering the fact that he is so neat and fresh looking I'd say we give him a pass this time.
#19: Rose Print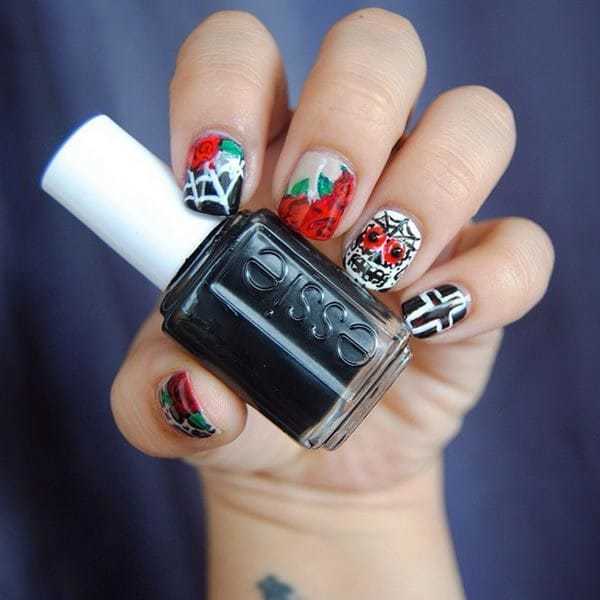 Roses are the most sold flowers worldwide, so no wonder we'd put them on our list. They look so rock like when paired up with the skulls. They also give out some Ed Hardy moments, which is a good news for all the tattoo lovers out there.
#20: Colorful As It Can Be
There is nothing scary looking or dangerous with this skull nail design. They are also a great representation of how you can turn a scary skull print into a ladylike and gentle manicure. You could easily let your younger sibling wear these as well, just with the shorter length.
#21: High
If you are a rebel, then why not be a rebel all the way? This high looking skull nail design got an inspiration out of the Snoop Dogg's music video, and we are impressed by the originality.
#22: Pirates
This list would be incomplete without the Pirate print next to the skull. Did you know that the Pirates actually wore eye patches? But they didn't actually make people walk the plank. Although walking the plank is common in contemporary pirate lore, most pirates just killed people straight away. So in honor for these long extinct hunters, get this manicure.
#23: XXX
Watch out for these poisonous nails! If you are a heart thief 50% of the time and men think of you as a heartbreaking machine, get these poison looking nails just to give out a clear message. If you get it sorted out at the beginning, you will make it way easier for both sides.
#24: Miniature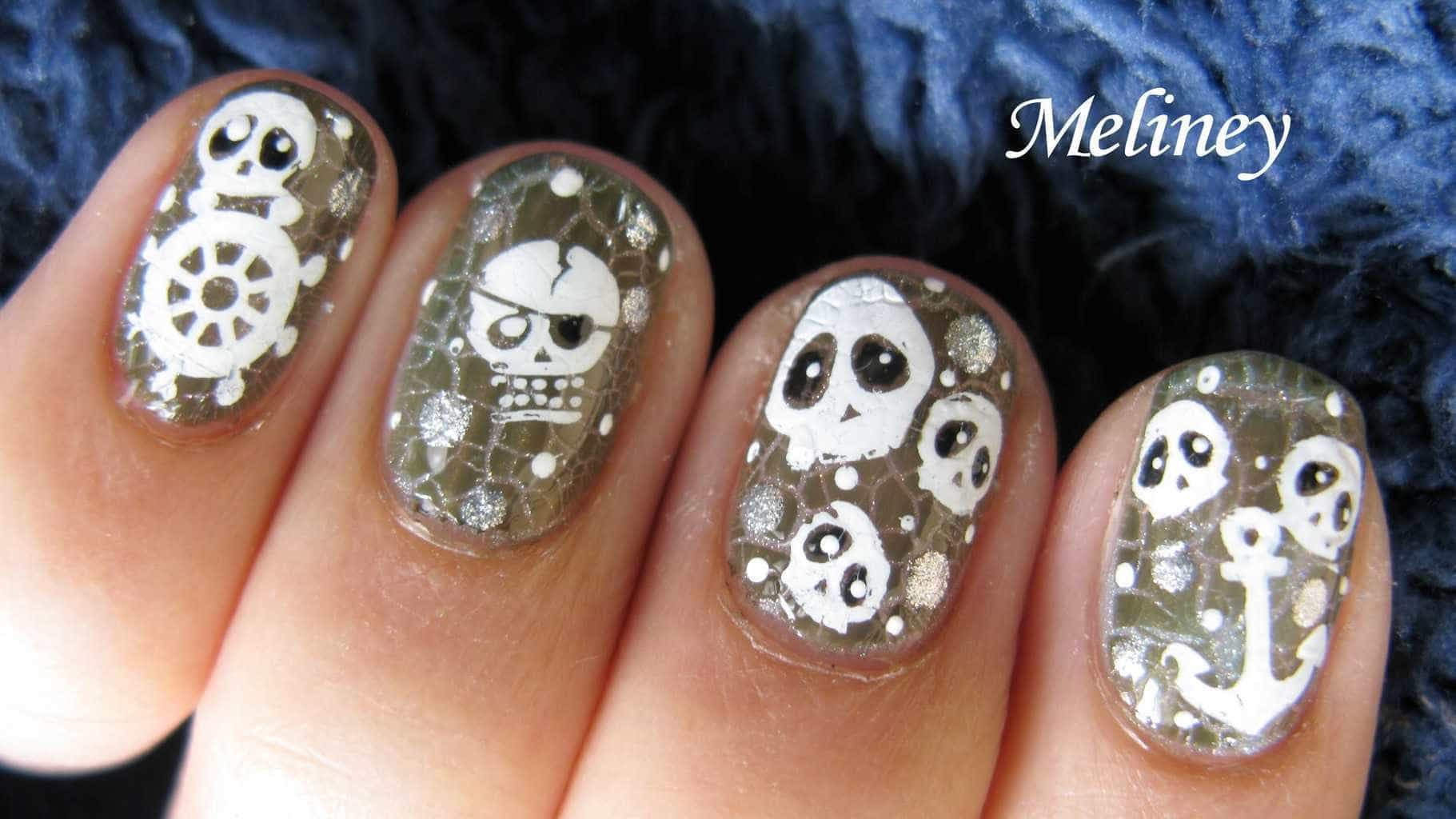 Mini nails and mini skulls are cute and perfect for the younger audience out there. These natural nails don't look intimidating and could be styled by anyone.
#25: The One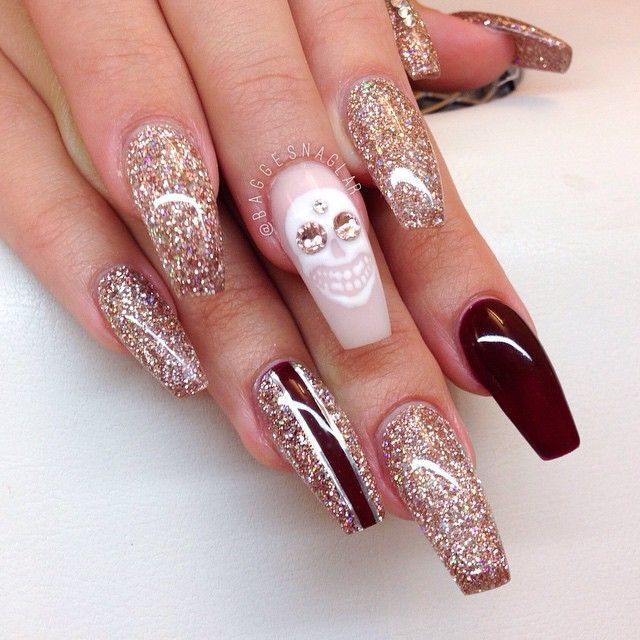 Last, but not least, we have this princess' pink skull nail design. These nails could easily be a star of the show no matter where you at. Although we find them to be the most suitable for prom if you are in a long dress made out of sequin.
The Coolest Almond Nails for This Season
Some Killer Skull Nail Designs That Will Catch Your Eye
Since now you know a bit more about the skull's, how about you slay them from now on? On our list, you can find longer or shorter nails, fake or real, and you can definitely adapt them per your preferences.