Being innovative is the prerequisite of being a fashionable person. The trends in the fashion world are changing overnight. So, you have to adapt to the new things as quickly as possible to cope up with the ongoing trends. Nail stripping tape is a trendy and handy tool to add glam to the nails you always have. Just a simple striping can make a great difference in terms of the look and shine of the nails. Striping tape nail art is easy to do, and they can produce a stupendous beauty.
How to Do Striping Tape Nail Art at Home
A lot of the girls are now becoming self-reliant while doing their makeups and other beautifications. Girls are preferring to have these at home rather than having these at a beauty salon. You can do striping nail art very easily if you can arrange or buy nail striping tape. Nail striping tape is available in almost every cosmetic shops and you can buy it from online shops like Amazon, eBay, Walmart etc. You'll need some other tools too which you need for every nail art.
Bottom Coat
Top Coat
Nail Polish
Nail Striping Tape
Scotch Tape
Small Scissors
Look for The Video Tutorial Below to Get A Complete Idea of How to Do It
Let's move to the next steps of doing striping nail art. The steps are very easy, you will not need any second chance to do them correctly.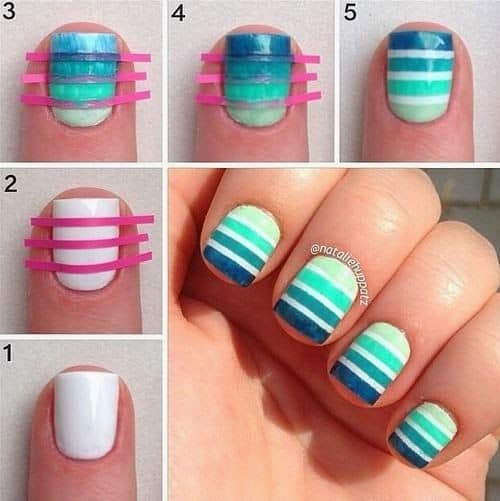 Apply a top coat to protect your natural nails from any side effect.
Then paint your nails with your desired colored nail polish which will work as the base.
Place a scotch tape or nail striping tape on the nails where you want to do the design.
Paint the nails with other colors covering the striping tape. When the nail polish application is done, remove the scotch or nail striping tape.
Now, let the polish dry and apply a top coat to prevent any harm to your striping tape nail art.
Astonishing Striping Tape Nail Art
You can change the overall look of the nails by using a simple nail striping tape in the usual process of doing nail art. Nail striping tape can easily make a difference in the existing nail designs. All you need to know is how to design them. That's why I am going to enumerate a few beautiful striping tape nail art in this article. Hope you all will find it easy and useful.
#1. Silver Shine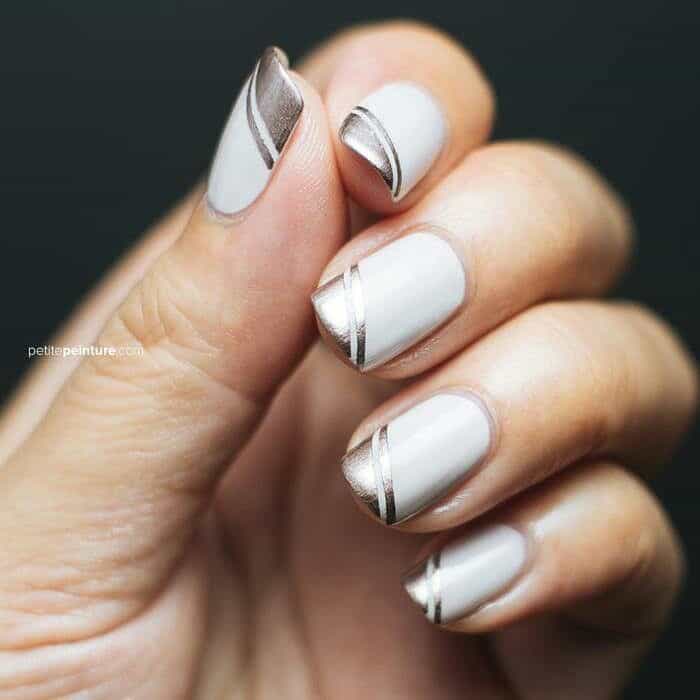 A very simple way to look gorgeous. This design is the first choice of many girls out there who love to stay classy in simple ways. You can easily have this striping tape nail art by applying silver nail polish on a white base.
Alluring Line Nail Design to Try This Year
#2. White And Blue Combo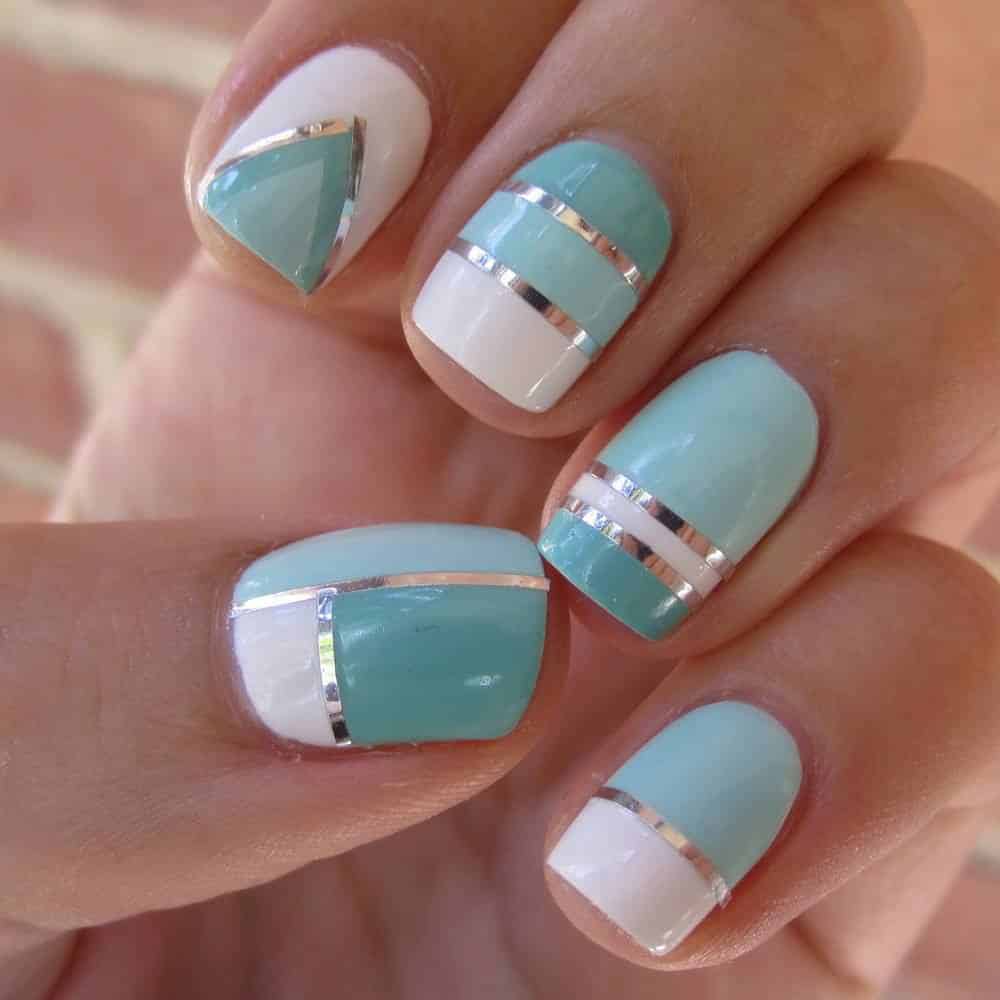 This striping tape nail art is done in another way of doing striping nail art. In this process, the striping tape isn't removed rather it is kept to add extra shine to the designs. You can use the combination of tiffany blue and white for this beautiful design.
#3. Ultra Stripes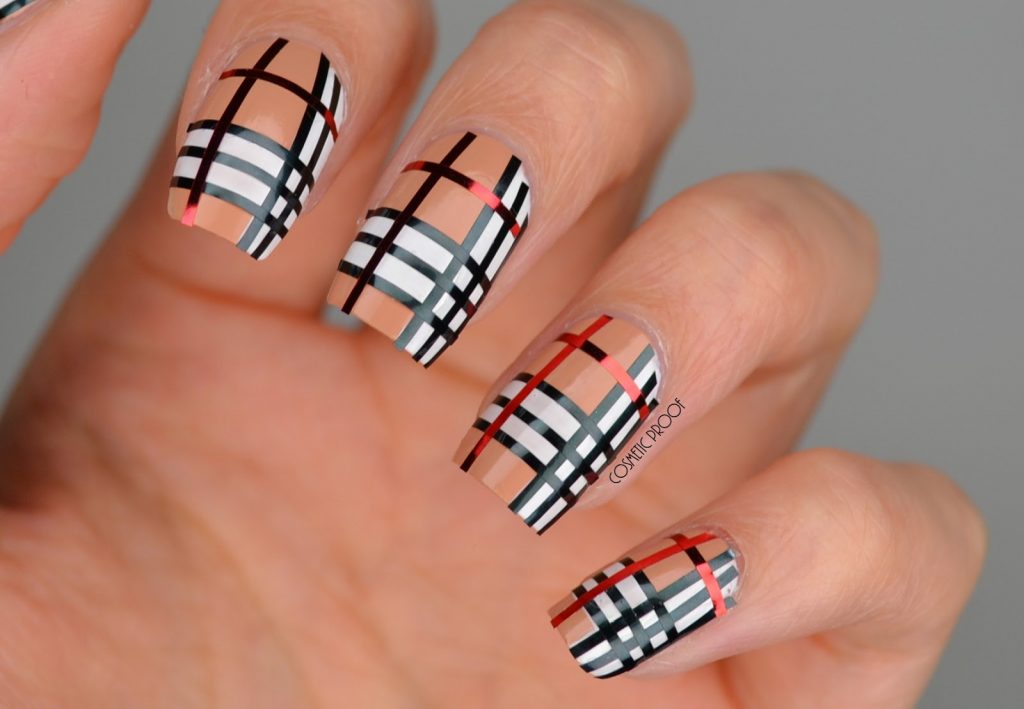 If you are an extreme fan of striping tape nail art, you can try striping nail art like this one.
#4. Glitters And Stripes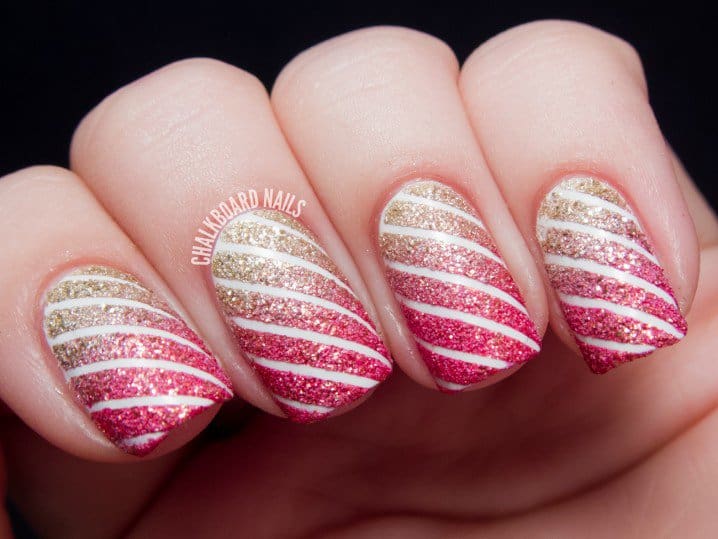 You can add a heavenly charm to your nails by using nail striping tape in glitter nail designs. Glitter nails look more beautiful in striped designs than the usual glitter nail we are used to having.
#5. Colorful Stripes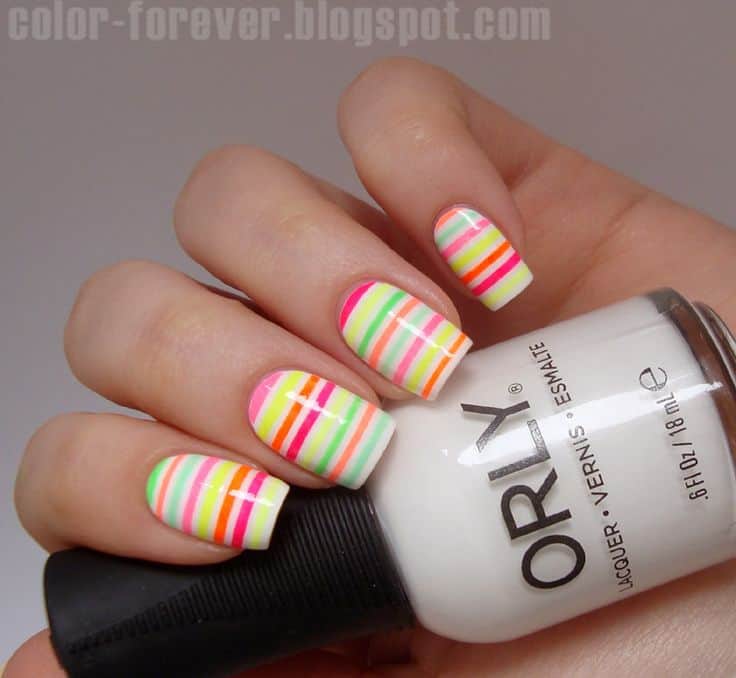 You can have these colorful nails if you like them to be bright and vibrant. Choose any color you like. Thes are your nails, your rules.
#6. Shiny Blue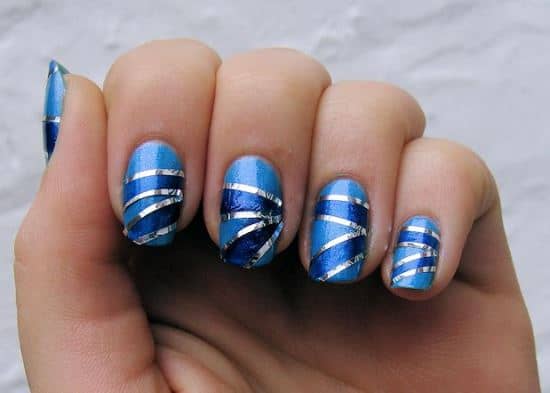 These blue nails are naturally beautiful. You can make them chicer by applying shiny nail striping tape on top of the blue nails. This striping tape nail art will enhance the beauty to a great degree.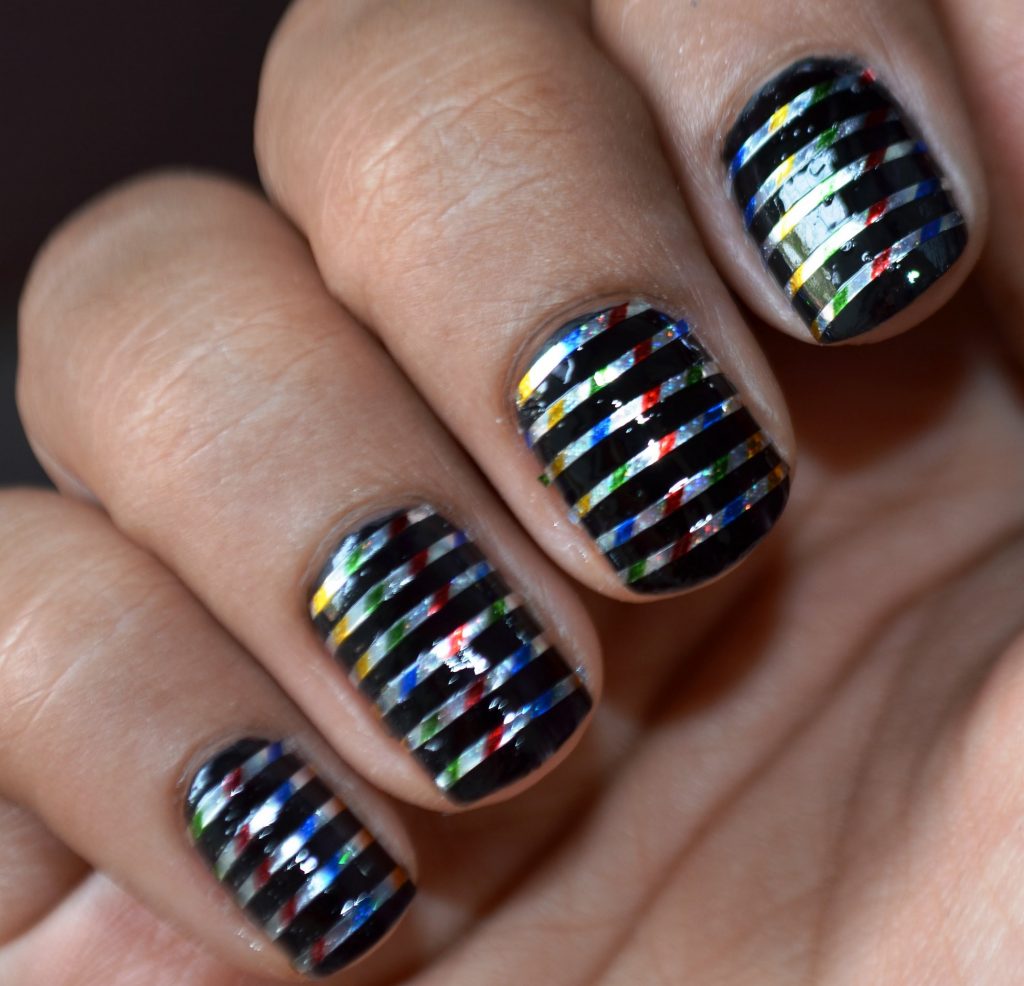 As the name suggests, this design resembles a glowing darkness. Place shiny silver nail striping tape on the black nails to have this striping tape nail art.
#8. Stripes And Glitters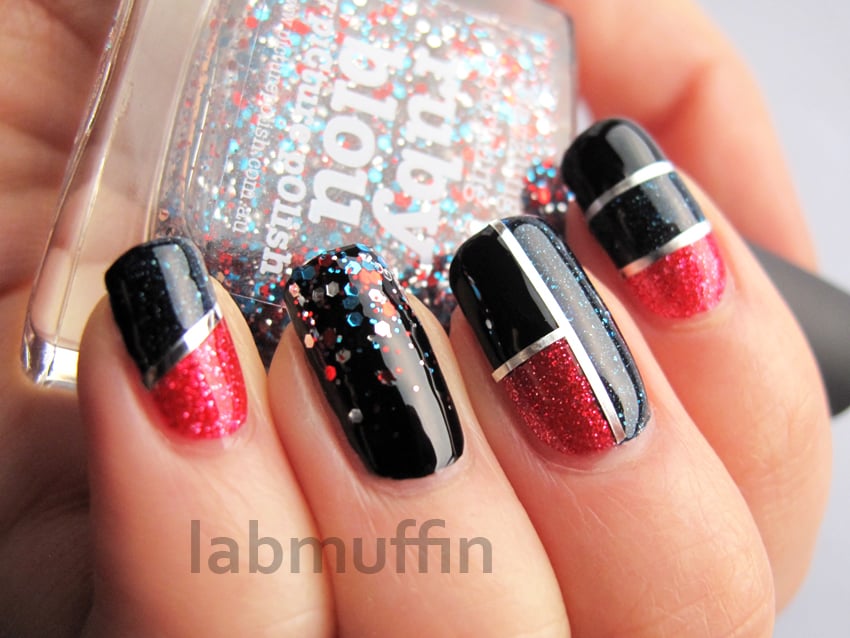 Stripes and glitters can be used together to create luxe-looking nails. And this design is the perfect example of this statement. You can use black and red glittery nail polish to have this striping tape nail art done on your nails.
#9. Wide Stripes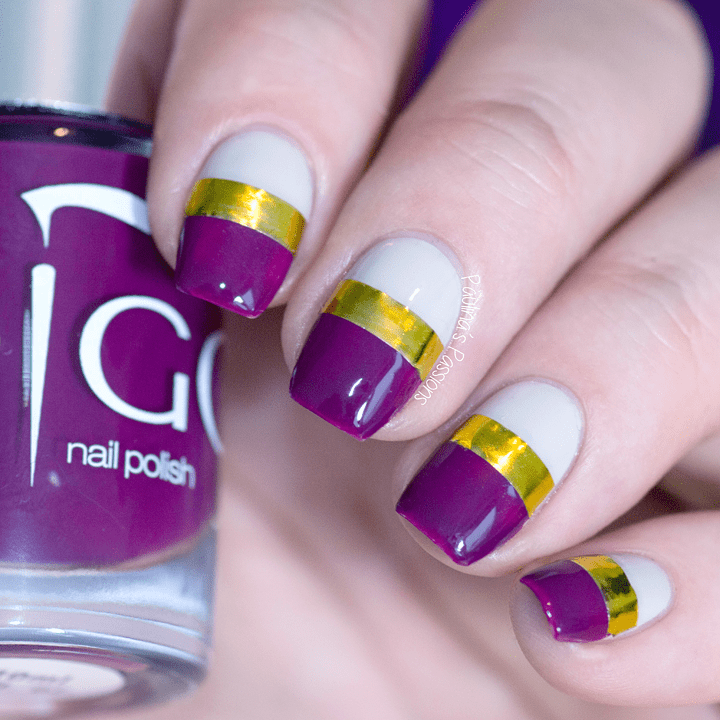 Stripes are normally kept narrow in most of the designs. But, you can use wide stripes too. Look out this design to know how wide stripes can be used in striping tape nail art.
#10. Blue Elegance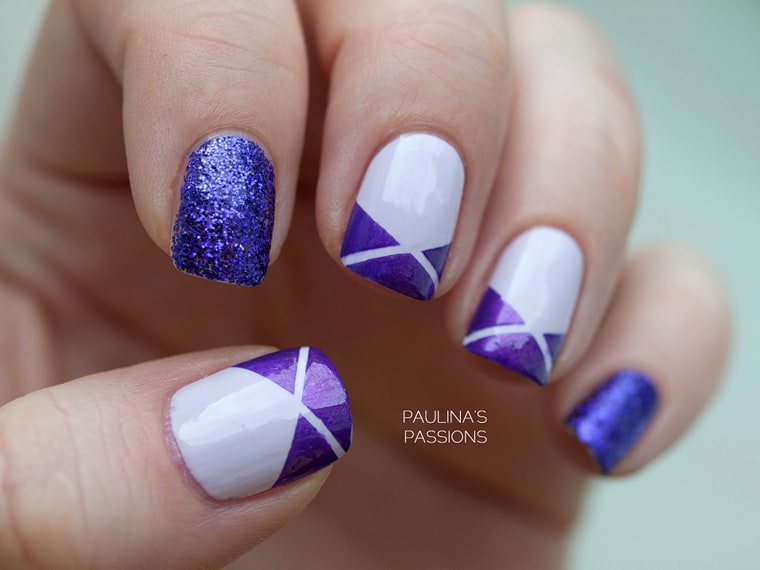 This design is looking so elegant. At first, paint all your nails in white. Then apply a blue color in between the nail striping tape. The nails will look like this after the removal of the tape.
#11. Intersecting Stripes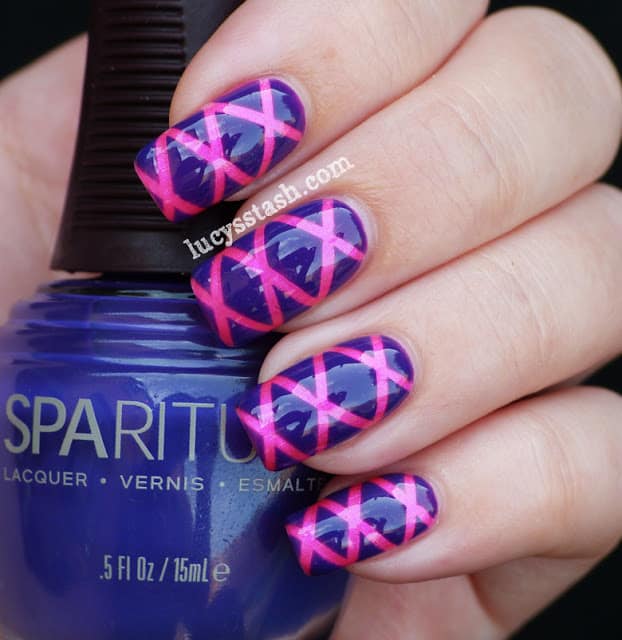 These nails are a bit different from other striping tape nail art. The stripes have intersected each other to create cross-like patterns.
#12. Bisecting Golden Stripes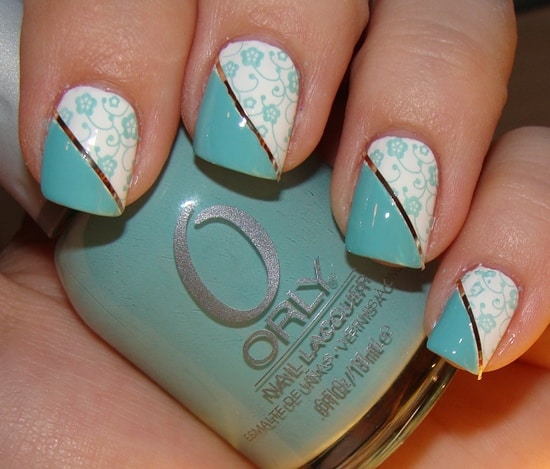 The teal nails have been bisected by golden stripes in this nail art. The two sides of the nails are differently designed and a golden stripe stands like a wall between the two countries.
#13. Parallel Stripes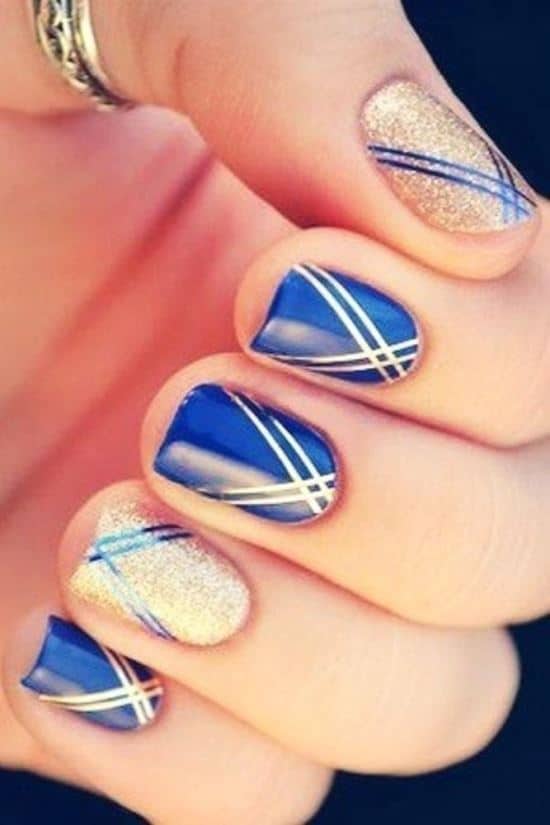 Parallel stripes like that of a rail line can be used to create beautiful nail designs. Look at this design. It looks simply outstanding. The glittery parallel stripes are complementing the whole beauty of all the nails.
#14. Pastel Colors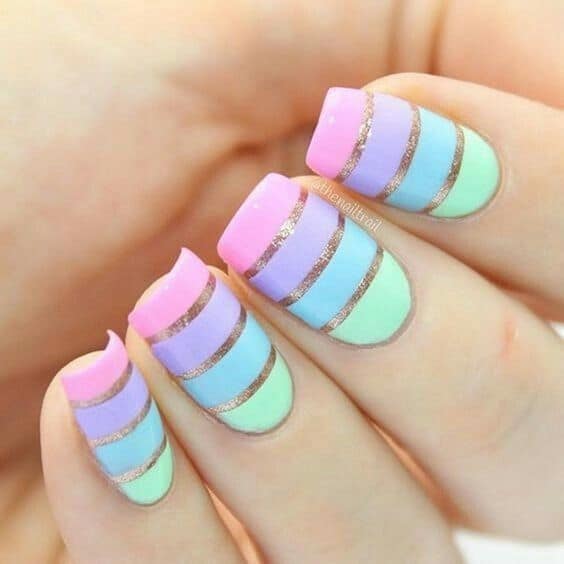 You can use pastel colors while designing striping tape nail art. These pastel nails look amazing with the gentle touch of these gold glitter stripes.
#15. Stripes at the Edges
Purple nails look astonishingly beautiful if they are designed rightly. You can add glam to these nails by placing golden stripes at the top edge of these purple nails. This is a better way of having striping tape nail art.
Jewel up Your Look with Swarovski Nail
Every single nail design deserves proper care and attention at the time of the application. There is no exception regarding striping tape nail art. Be cautious, otherwise, you may end up with ugly looking nails. Hope this article will prevent you from doing any mistake.