Rose nail art becomes very popular each year, especially during the spring and summer seasons. Creating a rose nail design is a gorgeous way to celebrate flowers and these unique-looking blossoms.
Who should pick rose nail art?
Rose nail art design is ideal for women who adore girlie looks. If you are a true romantic, a manicure that includes these gorgeous flowers is going to show off your sweet, lovable side.
Choose your colors, stickers, and shape and build an outstanding rose nail art that will get all the admiration it deserves.
Below we gathered numerous ideas to make you fall in love with this floral rose nail design, so scroll down and discover all the cute romantic manicures.
#1. Electric Green Nail Art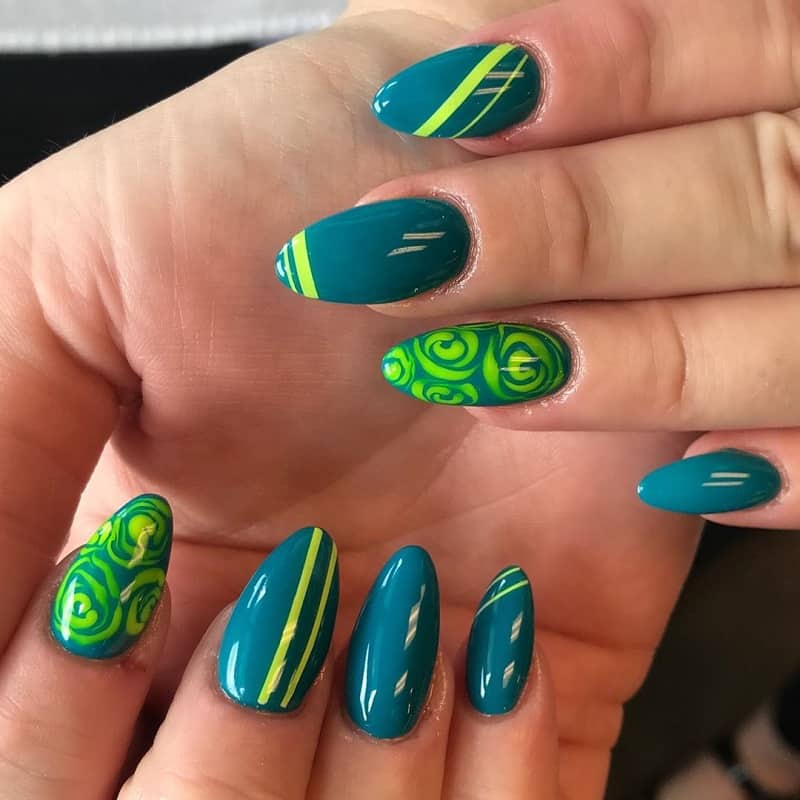 Opt for acrylic medium pointy nails. Paint them in a shiny teal color and use an electric vivid nuance to get that green rose nail art. Also, add some horizontal and diagonal lines to spice things up a little.
#2. Rose Nails Art with Stickers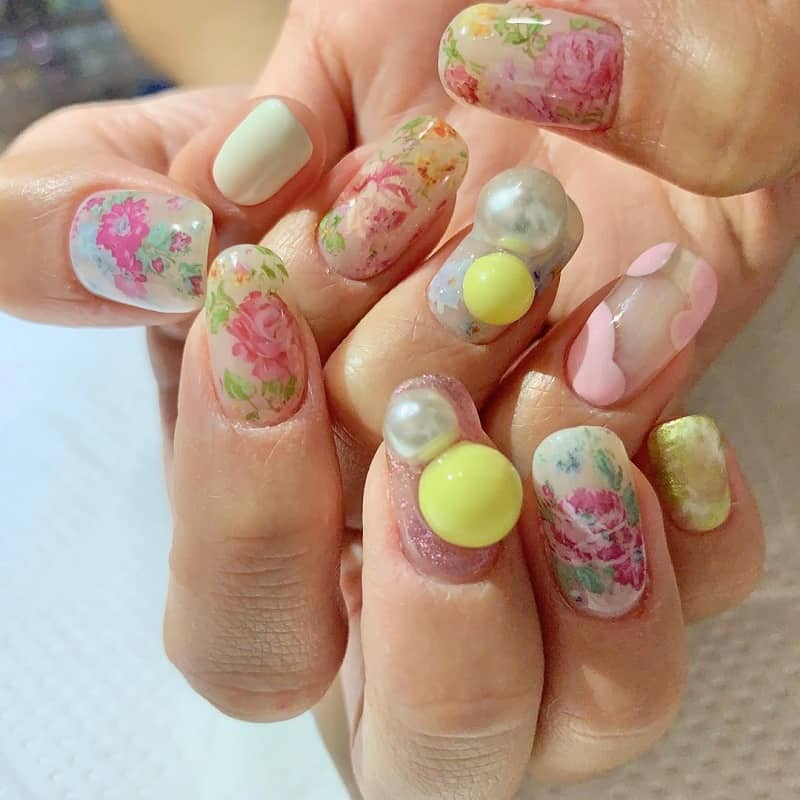 Bubble rose nail art will certainly show off your personality! Once you painted your nails, apply the floral, 3D stickers and bubble applications. The outcome is a joyful mani that is perfect for both the spring and summer seasons.
#3. Red Rose with Glitter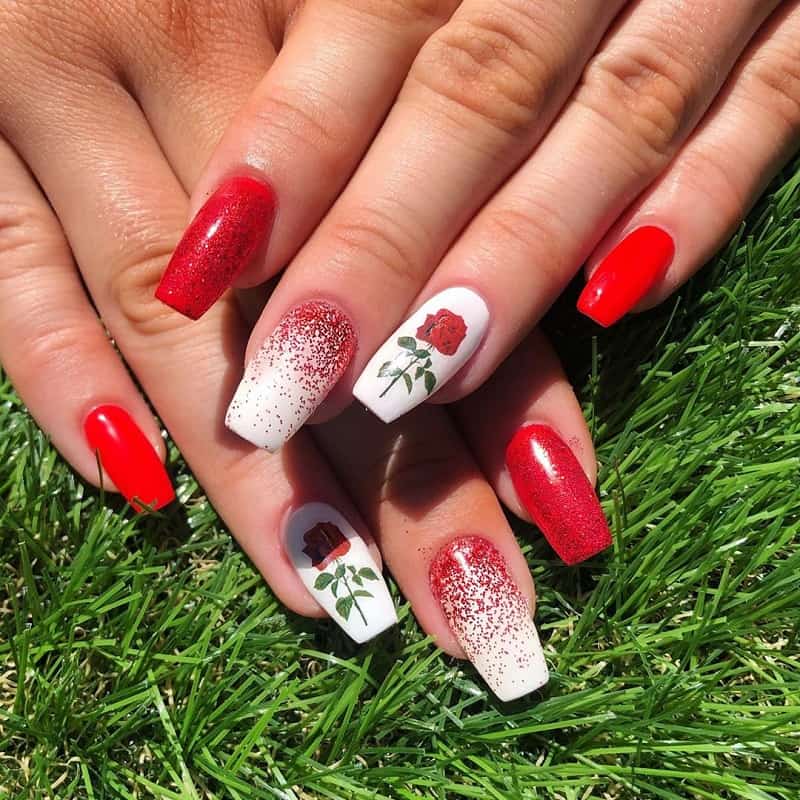 Rose gel nail art is very popular at the moment. Build your nails with acrylic gel and color them differently. Use red and white nail polish. Apply glitter and place a red rose sticker on the center of an immaculate nail.
#4. Blue Rose Painting
To get this one stroke rose nail art, you must use a specific technique. Load your brush with two colors and draw the floral design. This way, you will achieve the shading and highlights needed to create your art.
#5. Short Pale Pink Nails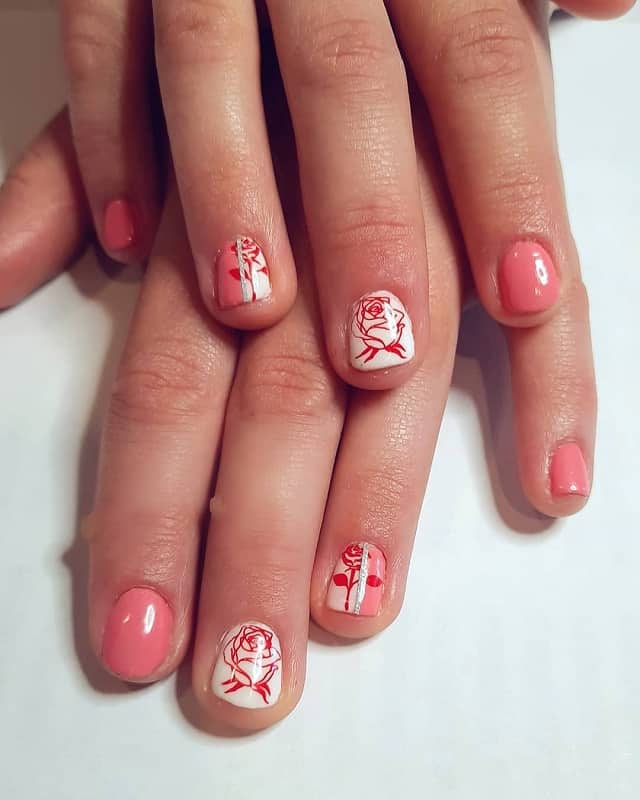 You can apply rose nail art stickers on all kinds of nails: long, pointy, almond, or square shape. And they certainly look fab on short pink and white nails. Apply the stickers and draw a vertical silver line.
#6. Pointy Nails with Roses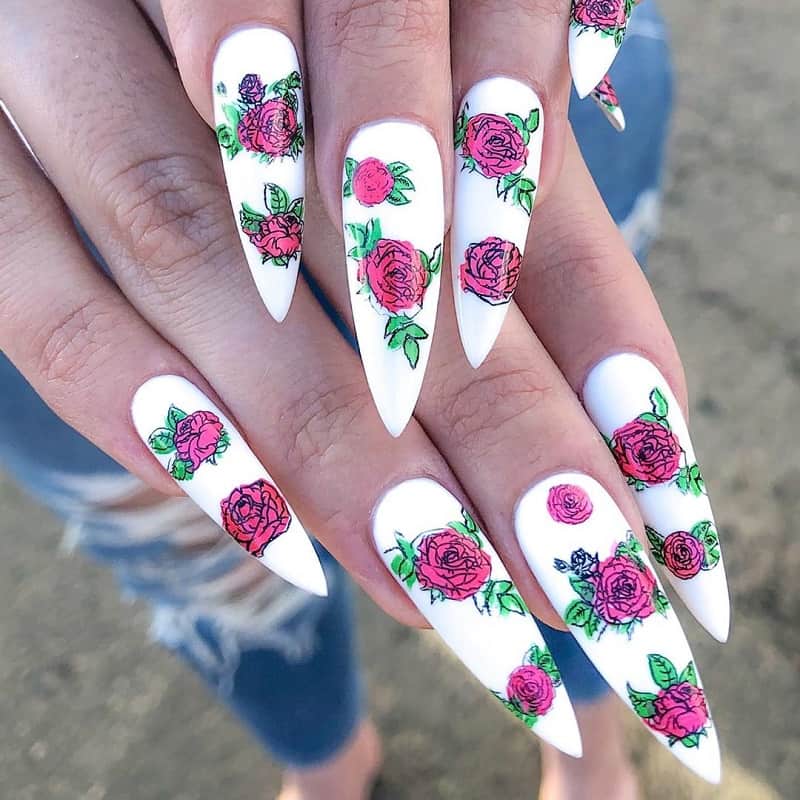 White rose nail art creates such an outstanding contrast between the base color and the stickers applied on each nail.
The roses have a pink color and a black contour that highlights them. Apply two or three pieces depending on the space available in each nail.
#7. Pointy Red Nails
This acrylic rose nail art surprises with various textures and designs. The nails have a ponty shape, and they are suitable for fierce ladies who are not afraid to express their personalities.
Combine matte, glittery, and shiny nail polish with a stunning double-red rose design.
#8. Toxic Free Nail Art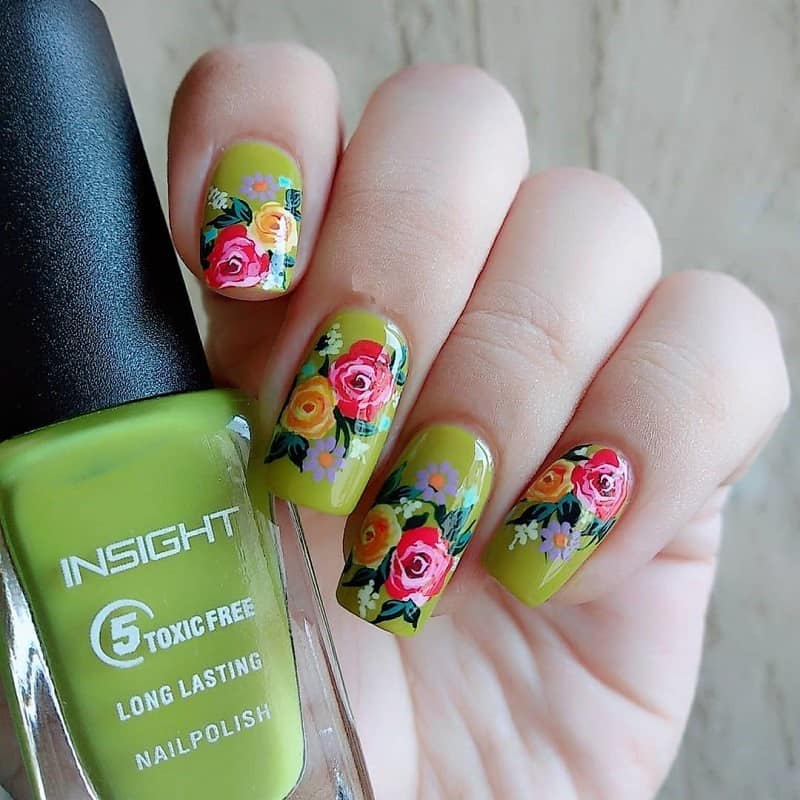 Hand-painted roses nail art is probably the most impressive. These acrylic square-shaped nails require some creativity, a steady hand, and a little bit of talent. Not everybody can draw such gorgeous roses, that's for sure.
#9. Almond Rose Nail Art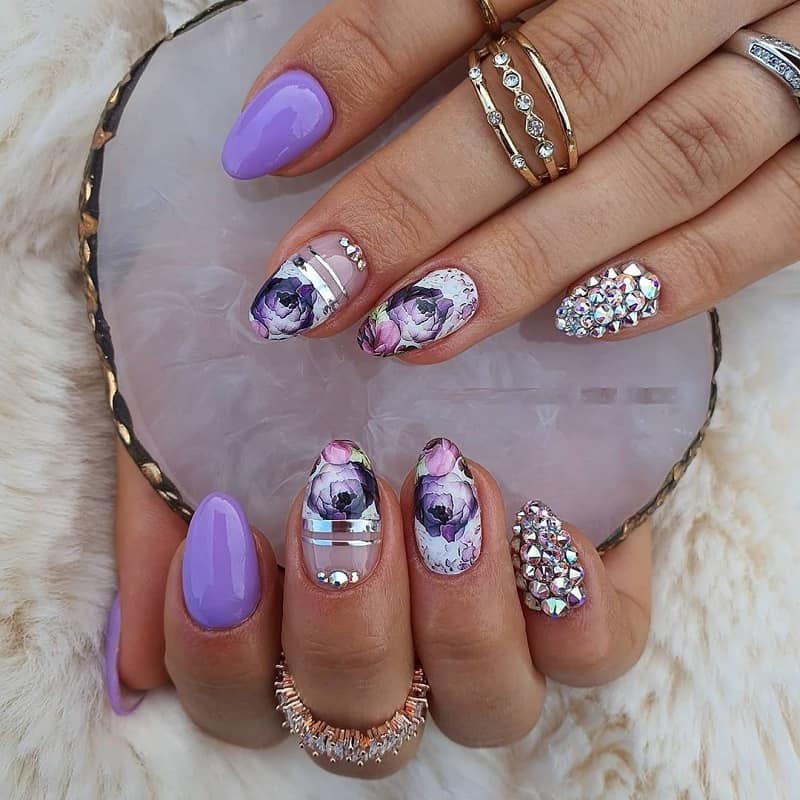 Get lavender rose nail art on medium almond-shaped nails. Combine designs and colors to obtain an eye-catching mani. Use pale mauve nail polish, stickers, and rhinestones to recreate this work of art.
#10. Coffin Shaped Red Nails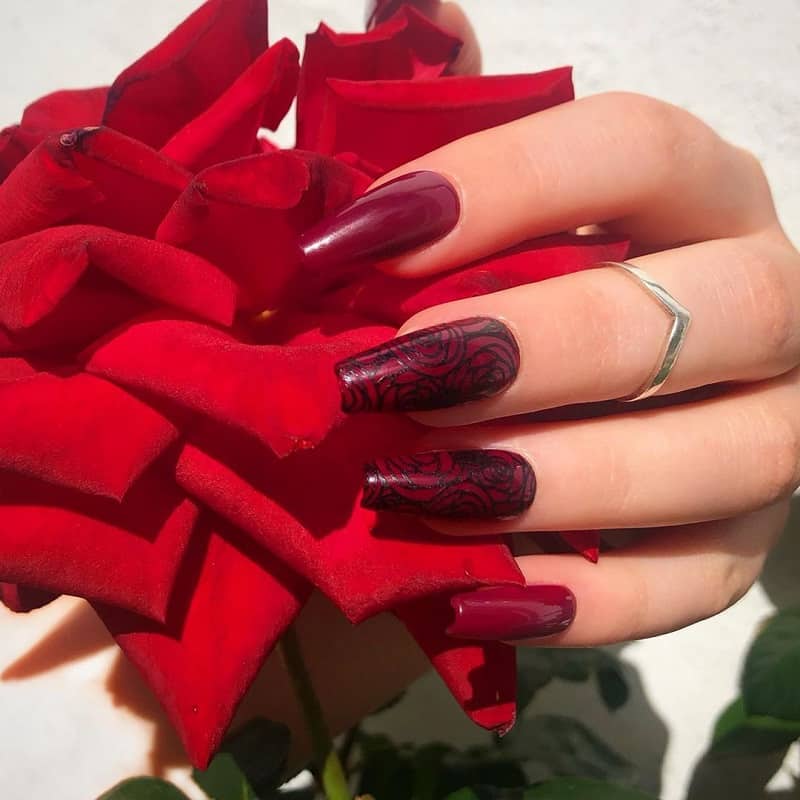 Coffin-shaped nails give your hands that elegant and romantic vibe. Roses valentine nail art needs a dark red base and rose pattern stickers to cover the acrylic constructs fully.
#11. Simple Rose Nail Art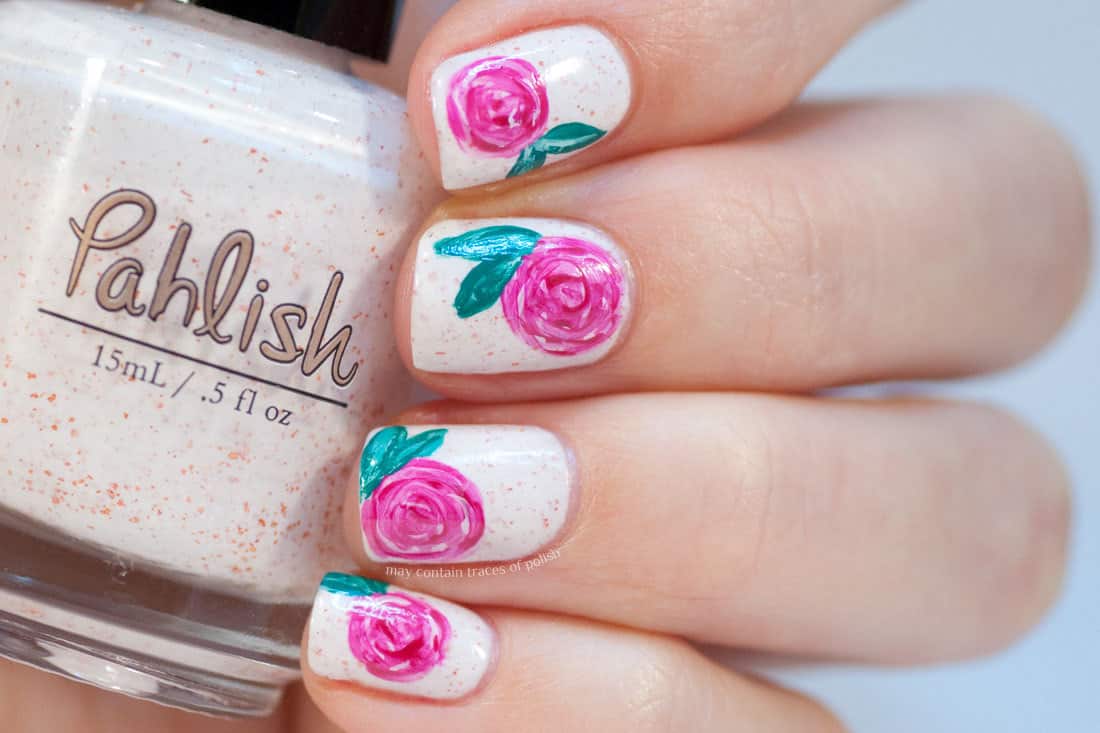 If you find nail designs difficult to do correctly, you can choose comparatively easy nail art. This is a simple rose nail art. The pink roses look beautiful on white nails.
#12. Pretty Roses
This design is looking so cute. You can use press-on nails for such designs. Because it's really tough to draw pretty roses like the picture. Applying press on nails is an easy and effective way to have wonderful rose nail art.
#13. Red Rose Nail Art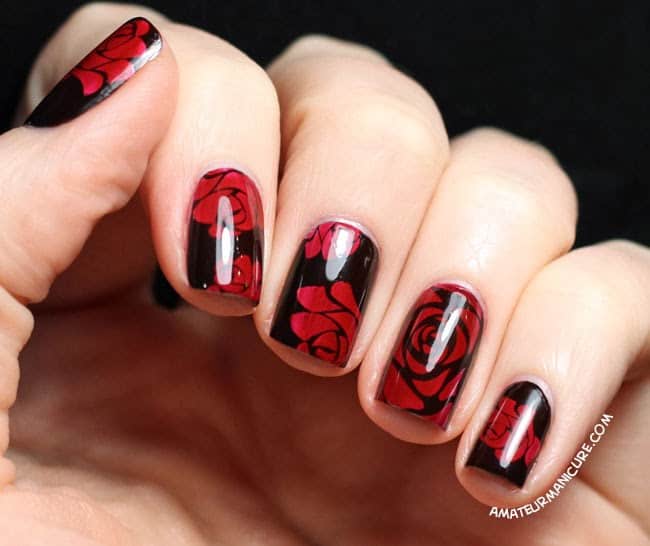 Primarily, the rose was famous for its red color. People used to think red rose a symbol of love and affection.
Nowadays, other variants of roses have become popular too. Yet the demand for the red rose is the same. Draw some red roses on your nails for this rose nail art.
#14. 3D Nail Art Roses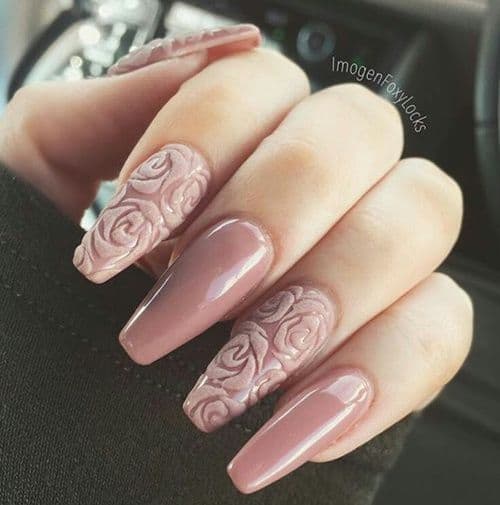 3D floral designs are common in nail designs. This 3D nail art looks so realistic that you may feel a rose garden at the top of your fingertips.
3D nail art roses look stunning on light pink nails. The following video shows how can you create a matte 3d rose nail design on your own.
#15. Polka Dot Roses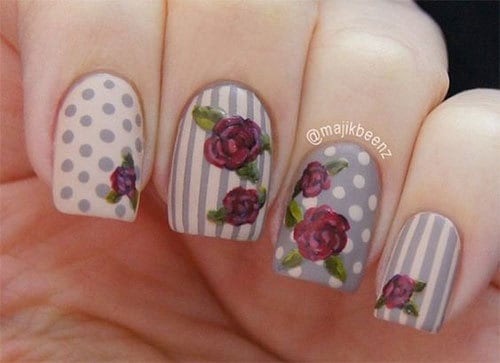 Paint your nails with white color. Draw some red roses on them to have rose nail art done. Some white polka dots will do good to increase the beauty of your nails.
#16. Roses of Different Colors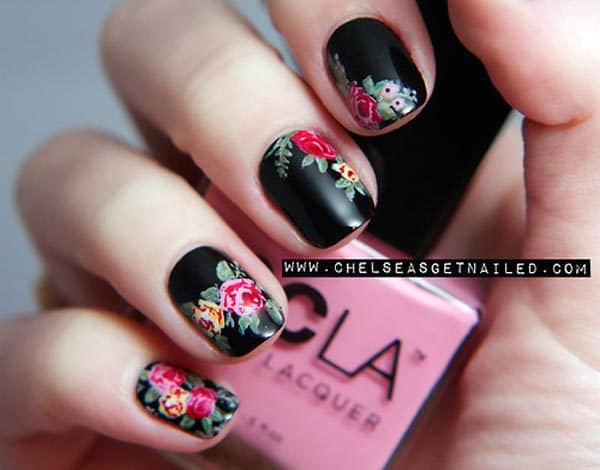 You can draw roses of different colors on your black nails to have such designs. But, this sort of nail art is difficult to do manually. You can use nail extensions or nail art decals to do rose nail art like this one.
#17. Roses And Rhinestones
Roses and rhinestones can create a wonderful design together. You can have a gorgeous design in this way. Roses will add beauty and rhinestones will add extra shine to your rose nail art.
#18. Black Rose Nail Art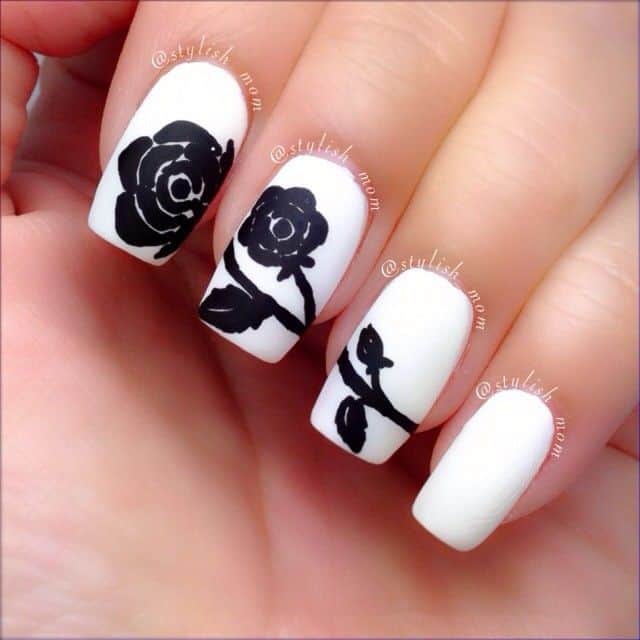 Black roses are a rare variant of the roses. You can draw black roses on the white nails of yours to create a contrasting design. These black roses will look good on your nails.
#19. Rosy Roses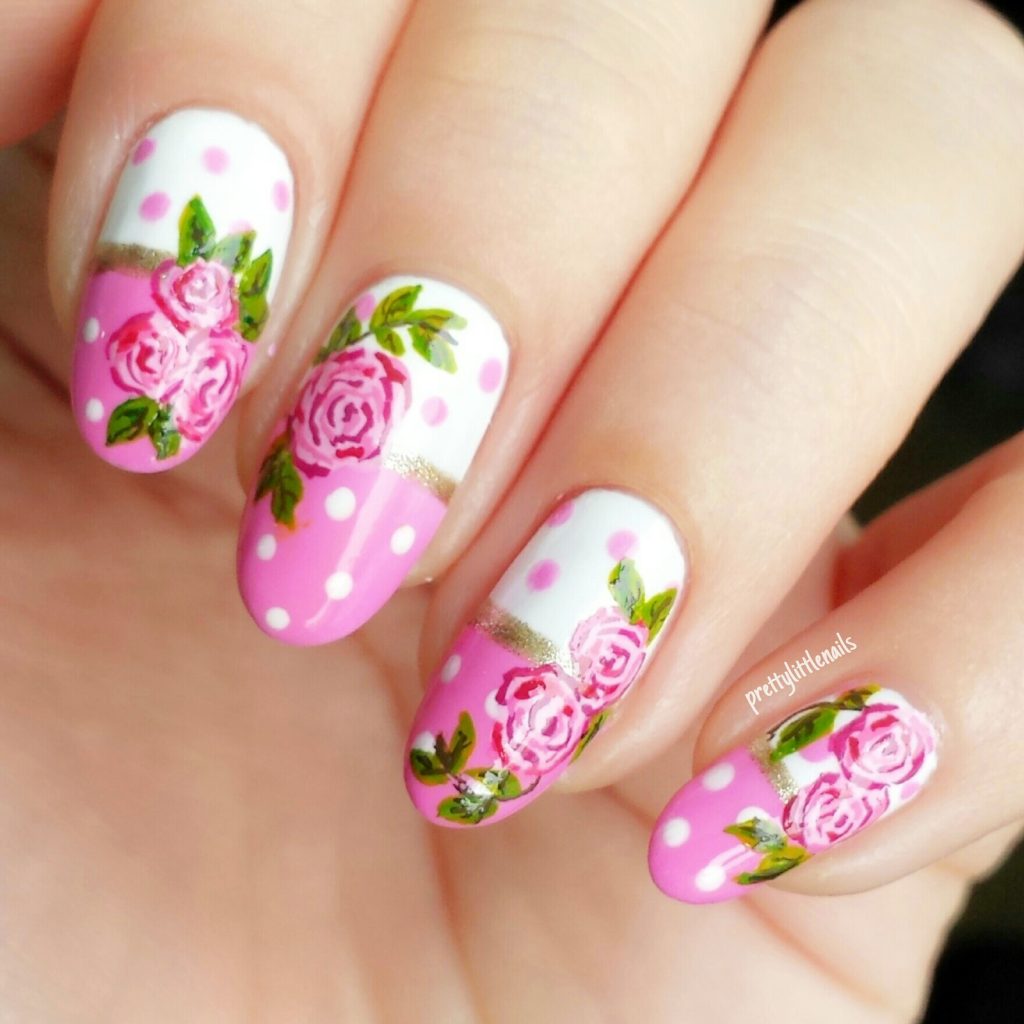 Rosy is the other name of a shade of pink color. This name derived from the natural color of the roses. You can draw rosy roses for your rose nail art.
#20. Rose Nail Art Designs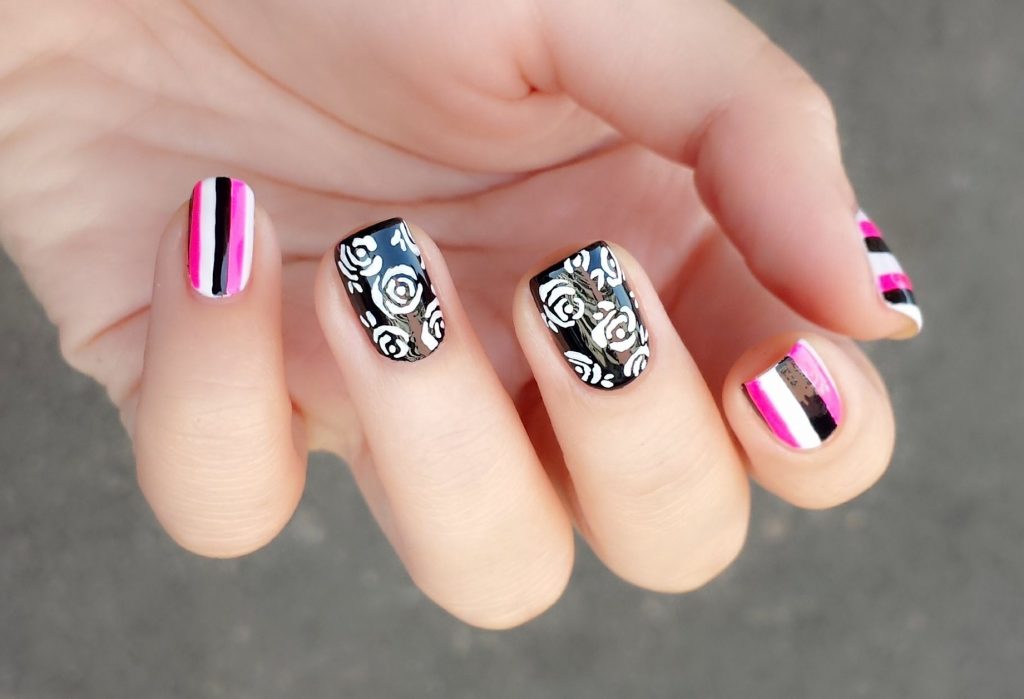 There is actually no end to nail designs. You can modify each design in many ways to create new designs. These rose nail art designs can be inspirational for you to invent new designs.
#21. Symbol of Love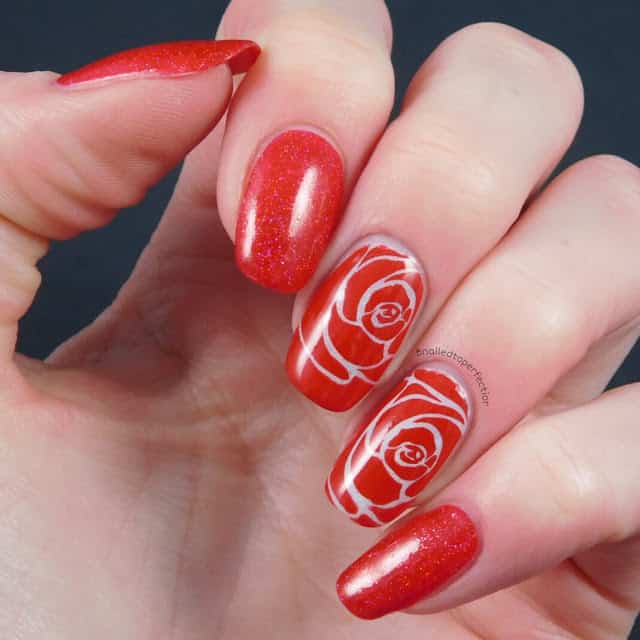 Red roses are considered as the symbol of love to the people of almost every country. The appeal of red roses hasn't decreased a bit since the beginning of the practice of sending roses as a token of love.
#22. Blue Roses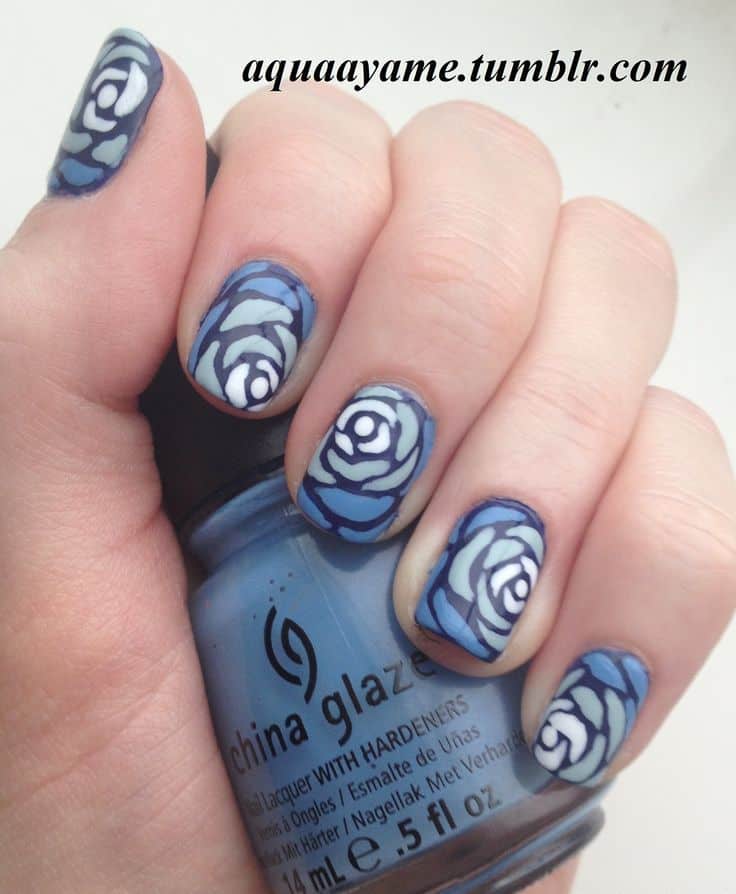 Blue roses have become popular lately. They are admired for the eye-soothing color and moderate size of the flowers. You can paint your nails with blue roses to have a good looking nail design.
Flowers always create a sense of happiness and peace in my mind. They represent both nature and beauty together. You can have this flowery charm on your nails by painting your nails with rose nail art.
#24. Love for Roses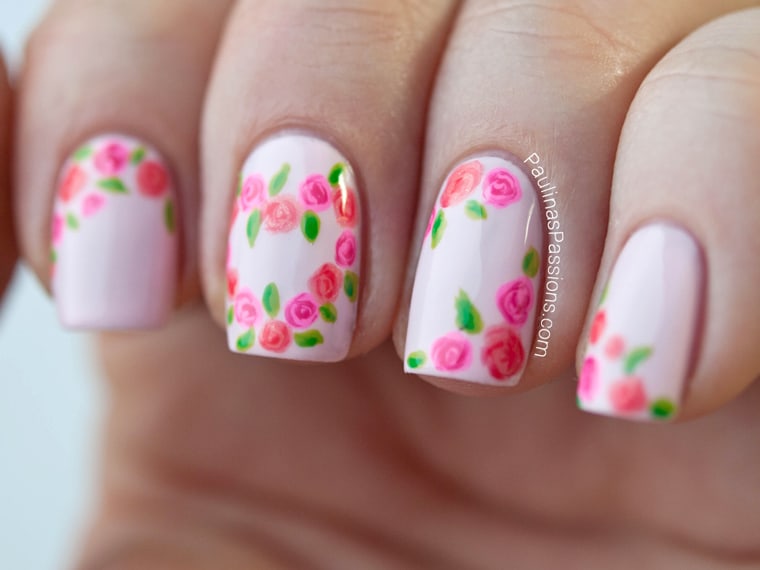 These pink and peach nails look stunning on the white nails. A love or heart shape painted with the flowers can help you express your love for the flowers or for someone very special.
#25. Vintage Rose Nail Art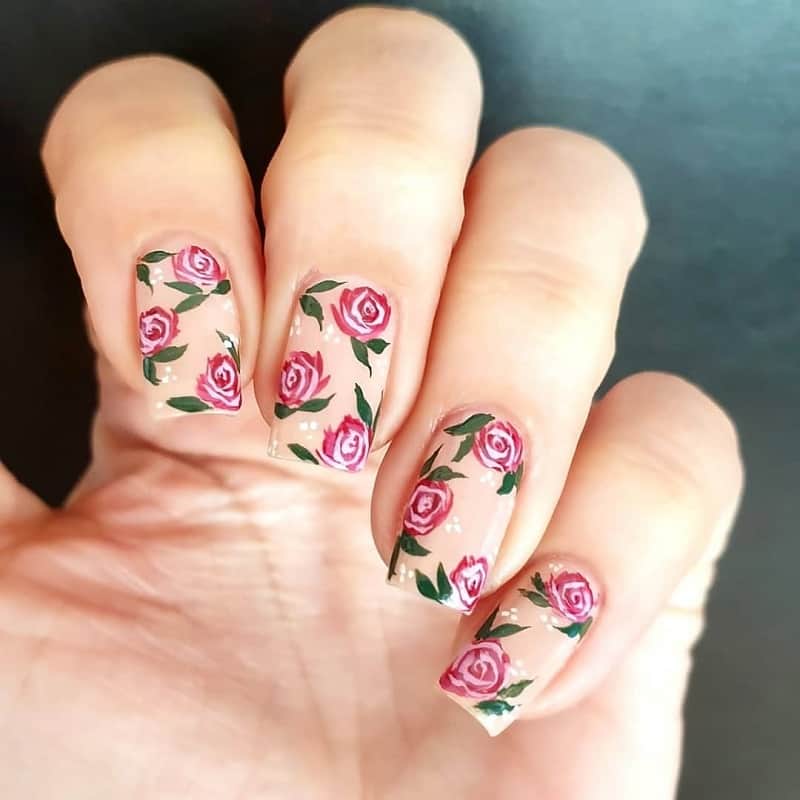 This video shows an easy peasy vintage rose nail art that you can actually create at home. You can wear this simple vintage nail art with your everyday look.
Dreamy Daisy Nail Art from Out of The World
The floral beauty of nails complements any nail design. Some people have a sheer weakness for anything that is related to the roses.
If you can depict the beauty of roses on your nails, it will surely look gorgeous and beautiful. But, like the difficulty created by the thorns of a rose, you have to undergo a great deal of patience to have rose nail art.