25 Rose Nail Art to Adorn Your Pretty Nail
Rose represents a lot of virtues and attributes by its diverse colors and various species. Some people use rose to express romantic love, some use it just to convey best wishes. Or you may get a bunch of roses as a token of love from your employer.
So, the uses of rose flowers know no bound. Desire, enthusiasm, love, respect, greetings etc many important things are expressed through roses of different sizes and colors. You can easily carry rose nail art at your fingertips as there will be some admirers of rose at any place wherever you will go.
Step by Step Rose Nail Art 
This a simple rose nail art hack that you can actually do by yourself. All you need to use you r imagination and some nail polishes of your choices. That's it, you are ready to start gal. Let your creative juices flow on your suave white nails. Start by putting a dot since everything starts from zero!
Rose Nail Art for The Floral Frenzy
Floral designs are used in almost every fashion designs. Shoes, attires, cosmetics etc everything has the influence of rose in their designs. In most of the cases, the rose petals are drawn in a well-organized way so that they resemble the image of roses.
Rose nail art differ from each other in terms of colors and patterns. The petals are not drawn similarly in all the designs. Let's take notice of some rose nail art.
#1.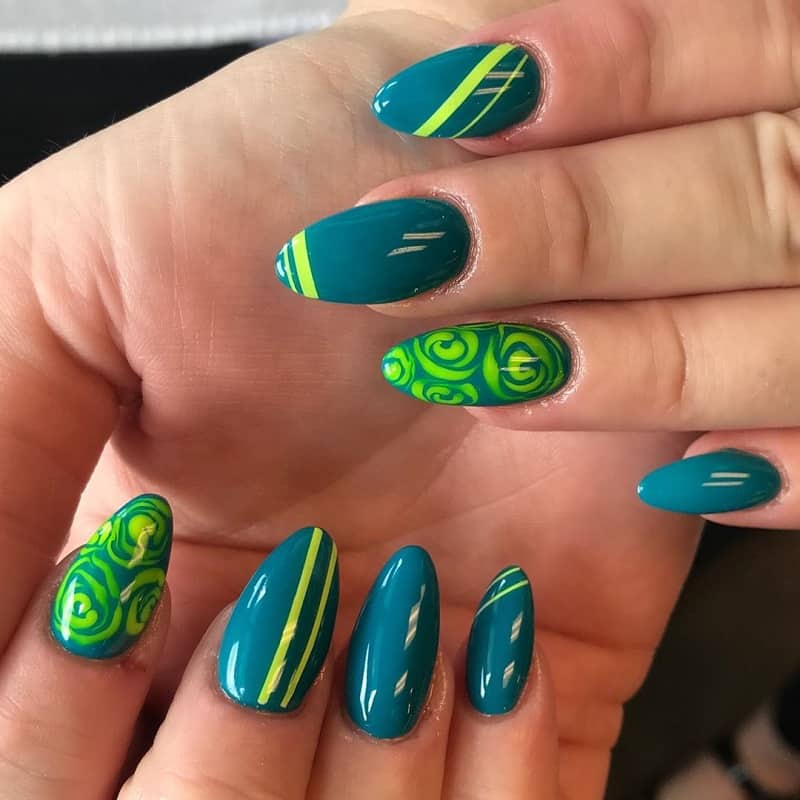 green rose nail art
#2.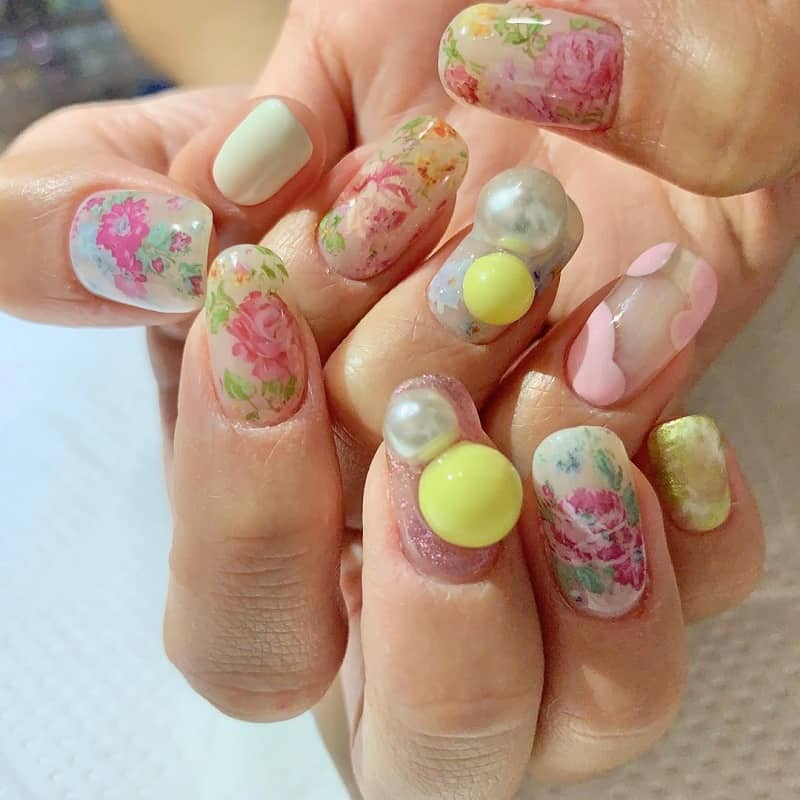 bubble rose nail art
#3.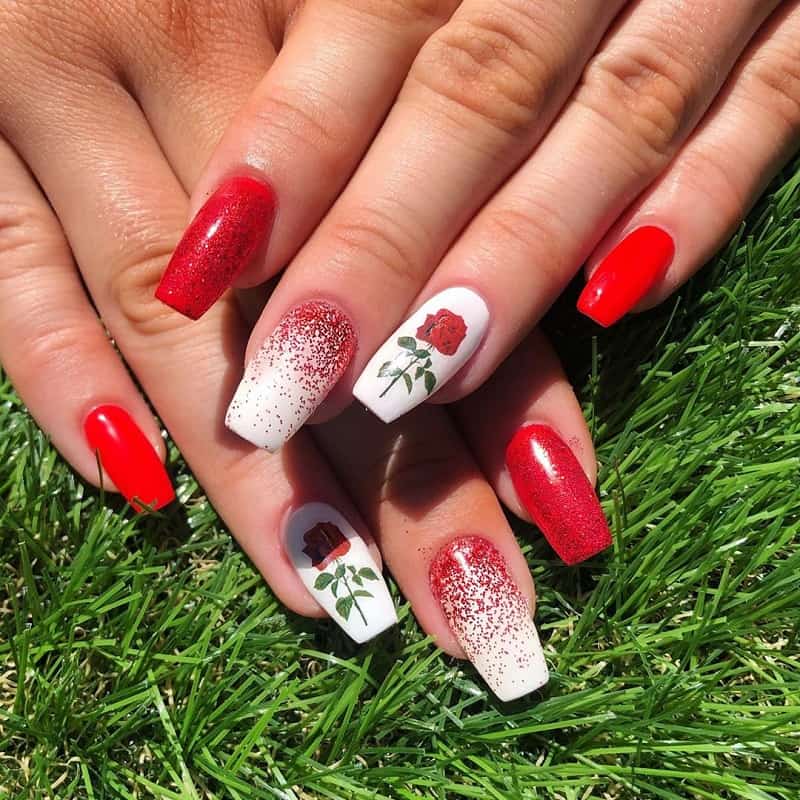 rose gel nail art
#4.
one stroke rose nail art
#5.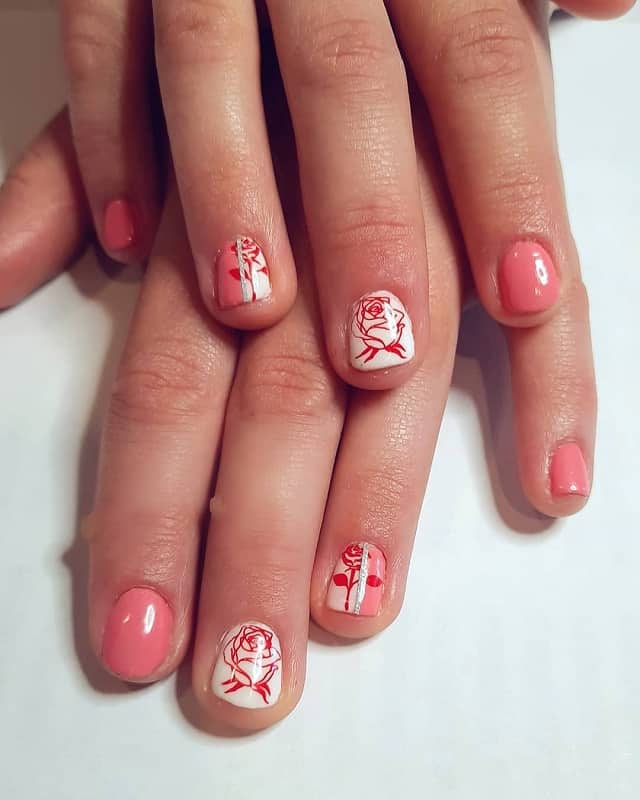 rose nail art stickers
#6.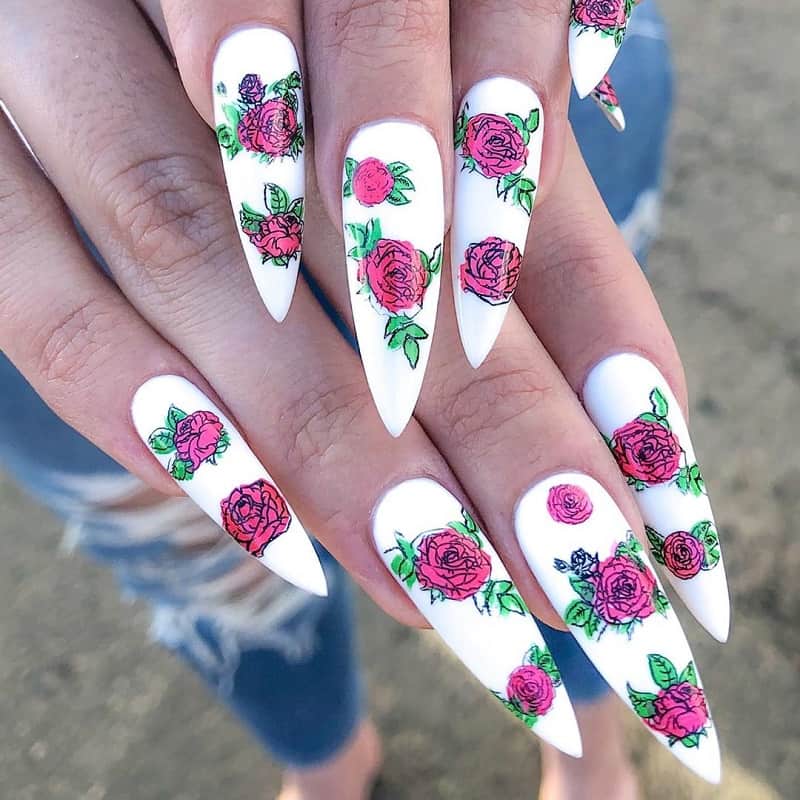 white rose nail art
#7.
acrylic rose nail art
#8.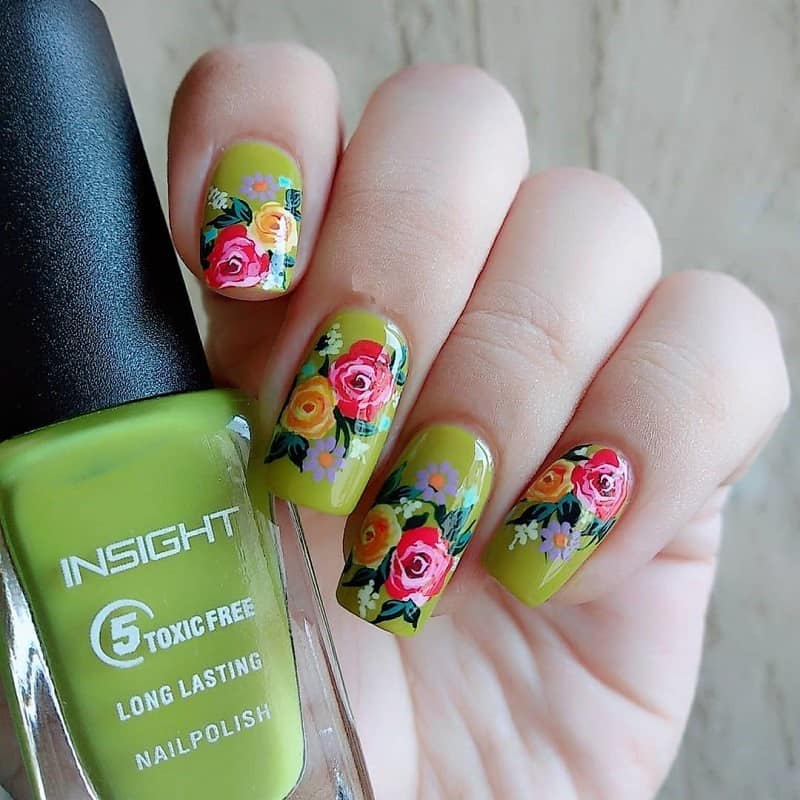 hand painted roses nail art
#9.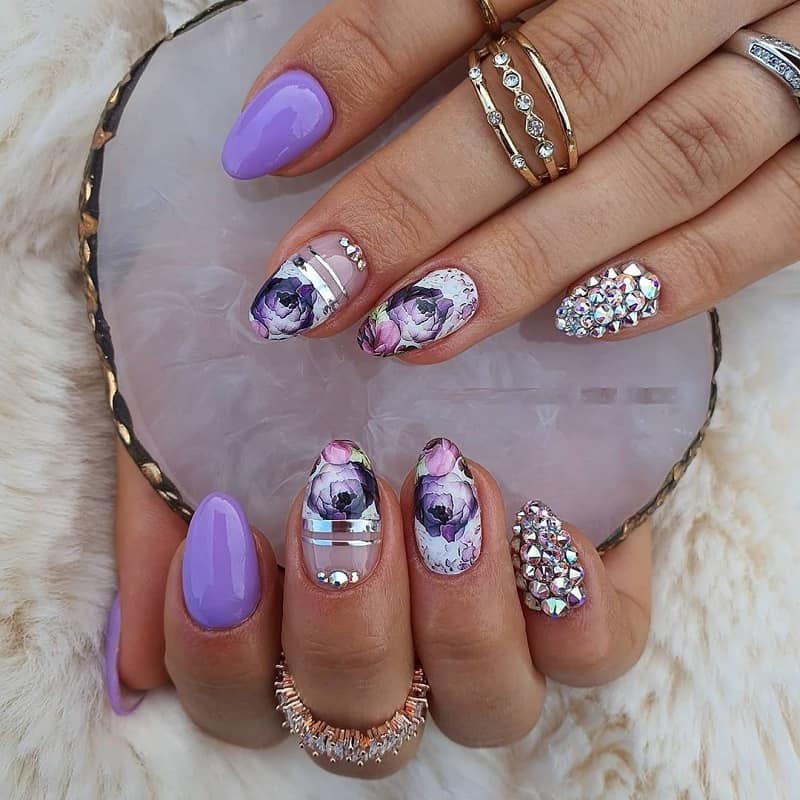 lavender rose nail art
#10.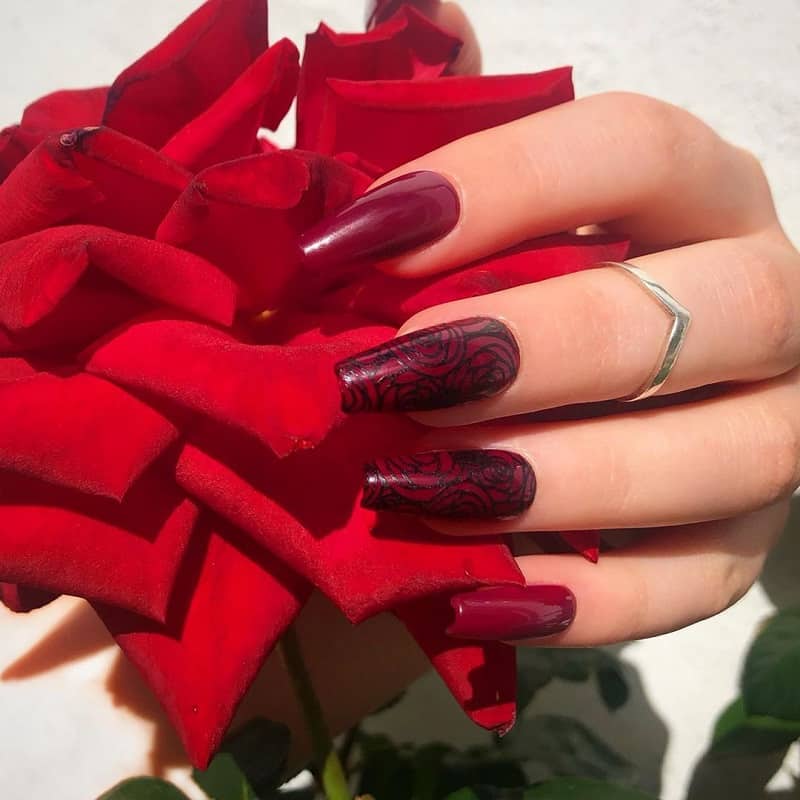 roses valentine nail art
#11. Simple Rose Nail Art

If you find nail designs difficult to do correctly, you can choose comparatively easy nail art. This is a simple rose nail art. The pink roses look beautiful on white nails.
#12. Pretty Roses
This design is looking so cute. You can use press on nails for such designs. Because it's really tough to draw pretty roses like the picture. Applying press on nails is the easy and effective way to have wonderful rose nail art.
#13. Red Rose Nail Art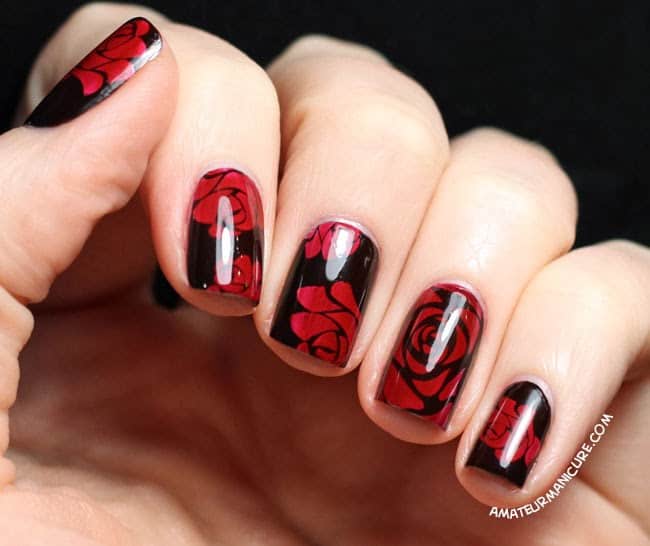 Primarily, the rose was famous for its red color. People used to think red rose a symbol of love and affection. Nowadays, other variants of roses have become popular too. Yet the demand for the red rose is the same. Draw some red roses on your nails for this rose nail art.
#14. 3D Nail Art Roses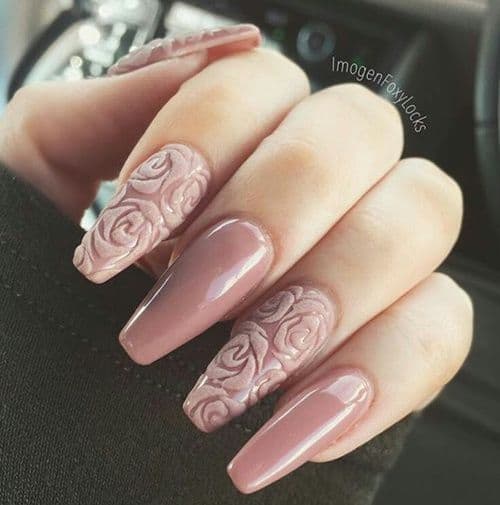 3D floral designs are common in nail designs. This 3D nail art looks so realistic that you may feel a rose garden at the top of your fingertips. 3D nail art roses look stunning on light pink nails. The following video shows how can you create matte 3d rose nail design by your own.
#15. Polka Dot Roses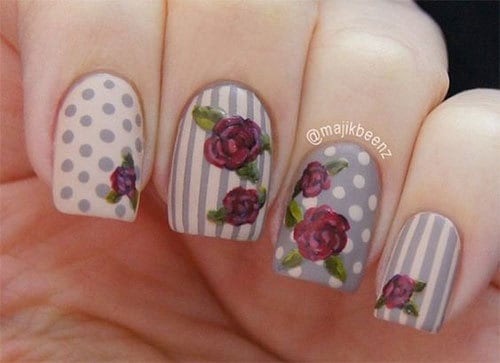 Paint your nails with white color. Draw some red roses on them to have rose nail art done. Some white polka dots will do good to increase the beauty of your nails.
#16. Roses of Different Colors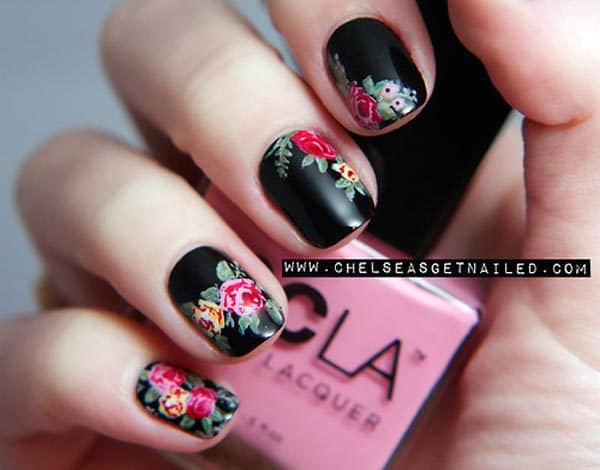 You can draw roses of different colors on your black nails to have such designs. But, this sort of nail art is difficult to do manually. You can use nail extensions or nail art decals to do rose nail art like this one.
#17. Roses And Rhinestones
Roses and rhinestones can create a wonderful design together. You can have a gorgeous design in this way. Roses will add beauty and rhinestones will add extra shine to your rose nail art.
#18. Black Rose Nail Art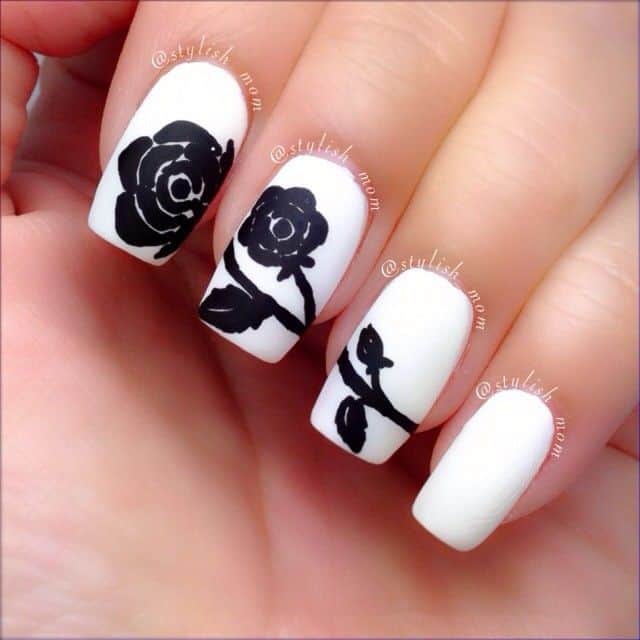 Black roses are a rare variant of the roses. You can draw black roses on the white nails of yours to create a contrasting design. These black roses will look good on your nails.
#19. Rosy Roses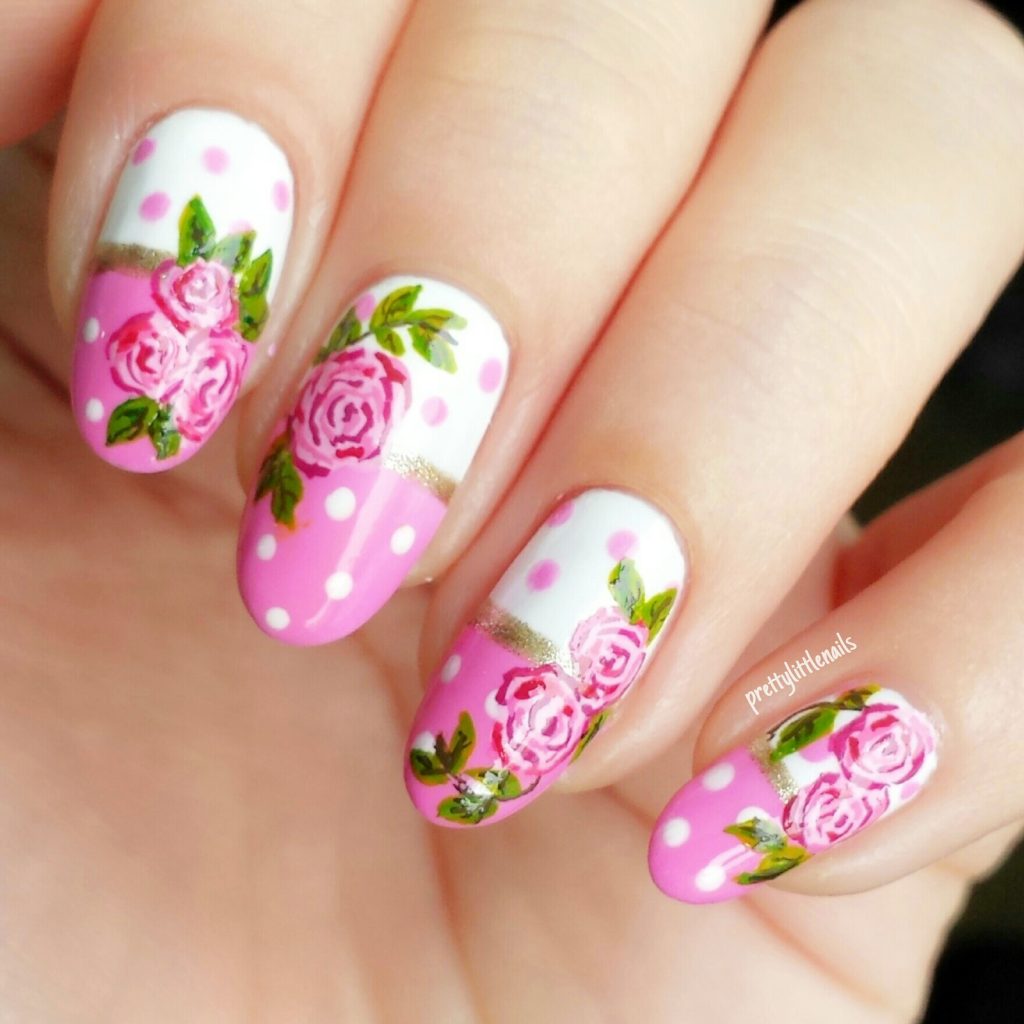 Rosy is the other name of a shade of pink color. This name derived from the natural color of the roses. You can draw rosy roses for your rose nail art.
#20. Rose Nail Art Designs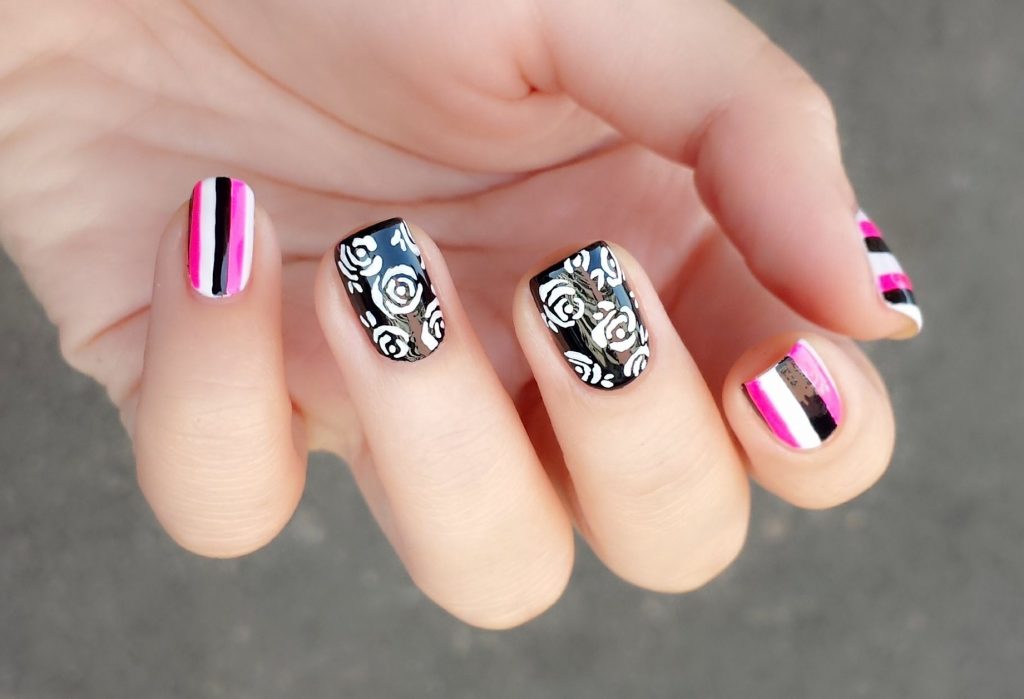 There is actually no end to nail designs. You can modify each design in many ways to create new designs. These rose nail art designs can be inspirational for you to invent new designs.
#21. Symbol of Love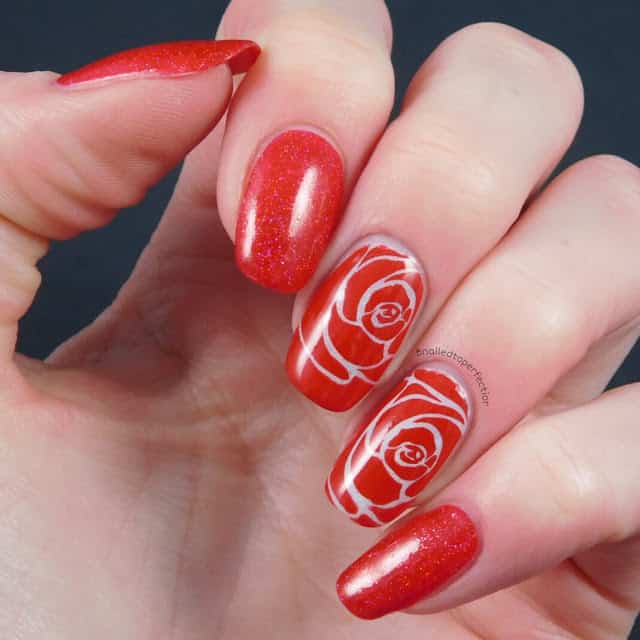 Red roses are considered as the symbol of love to the people of almost every country. The appeal of red roses hasn't decreased a bit since the beginning of the practice of sending roses as a token of love.
#22. Blue Roses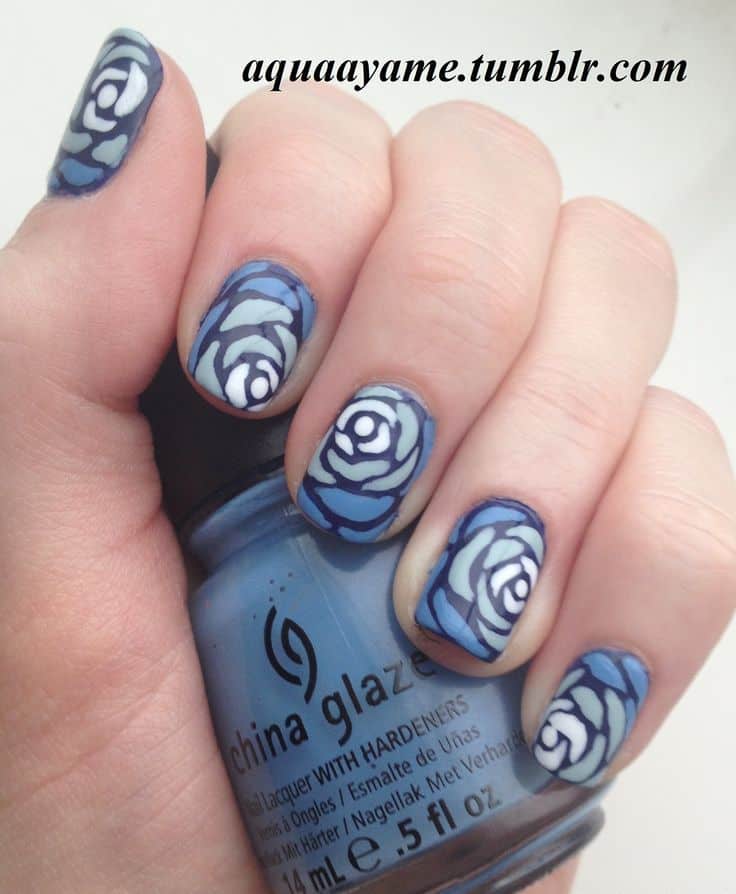 Blue roses have become popular lately. They are admired for the eye-soothing color and moderate size of the flowers. You can paint your nails with blue roses to have a good looking nail design.
Flowers always create a sense of happiness and peace in my mind. They represent both nature and beauty together. You can have this flowery charm on your nails by painting your nails with rose nail art.
#24. Love for Roses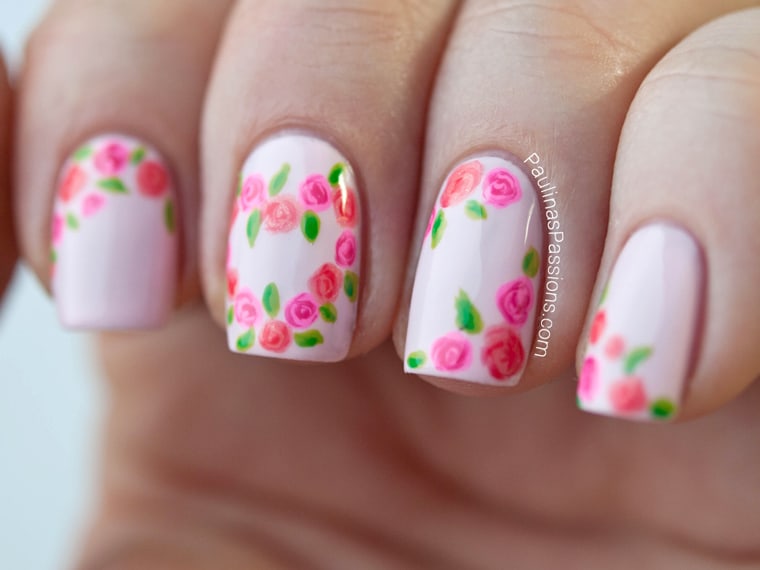 These pink and peach nails look stunning on the white nails. A love or heart shape painted with the flowers can help you express your love for the flowers or for someone very special.
#25. Vintage Rose Nail Art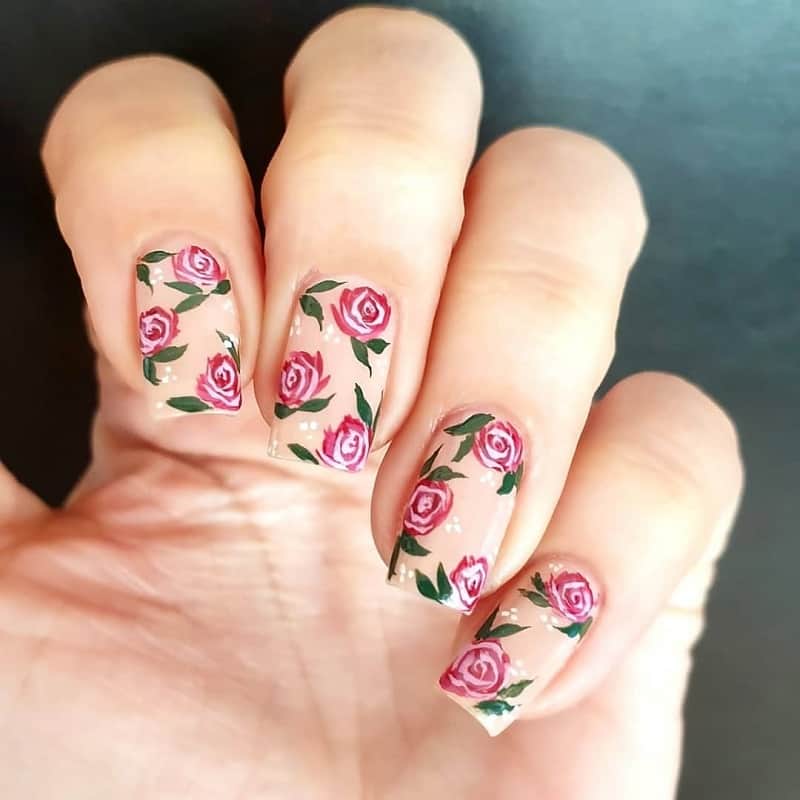 This video shows an easy peasy vintage rose nail art that you can actually create at home. You can wear this simple vintage nail art with your everyday look.
Dreamy Daisy Nail Art from Out of The World
The floral beauty of nails complements any nail designs. Some people have a sheer weakness for anything that is related to the roses. If you can depict the beauty of roses on your nails, it will sure look gorgeous and beautiful. But, like the difficulty created by the thorns of a rose, you have to undergo a great deal of patience to have rose nail art.