The Best Long Almond Nail Design Ideas
Long almond nails are feminine and can be styled however you like! You can create a Frech manicure, loads of beautiful designs and amazing gradients that will make your bed nails look astonishing.
Long Almond Nails
Long almond nails give you the possibility to even create different textures or design those high-class logos of your favorite brands.
#1.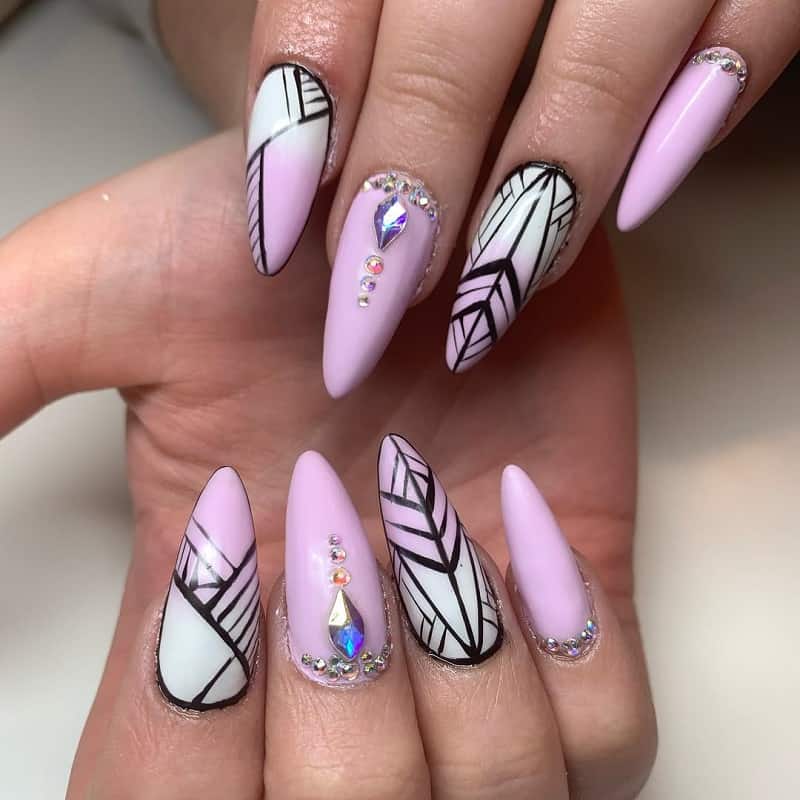 cute long almond nails
#2.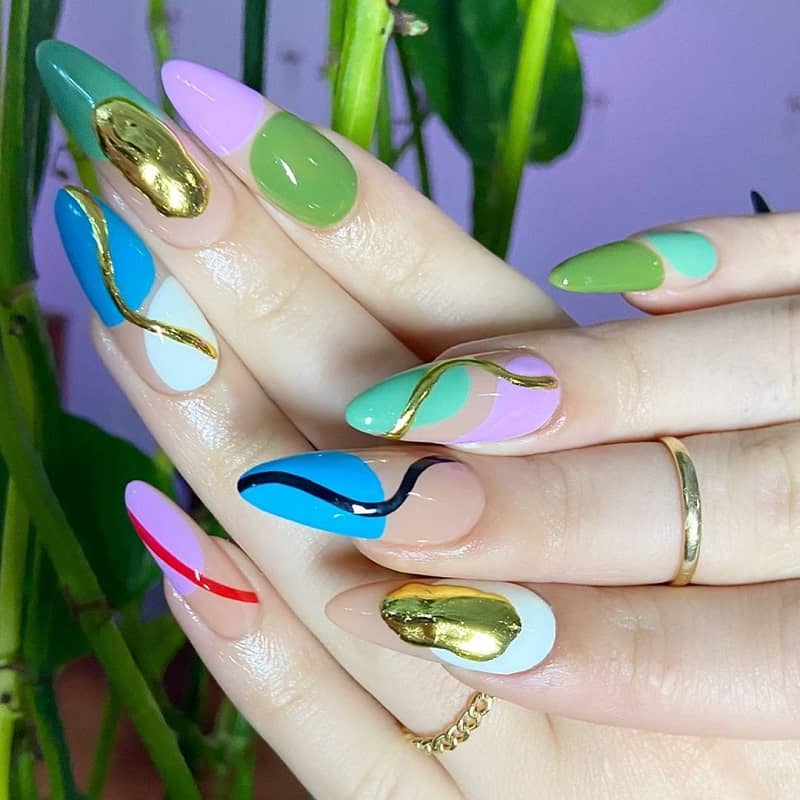 extra long almond nails
#3.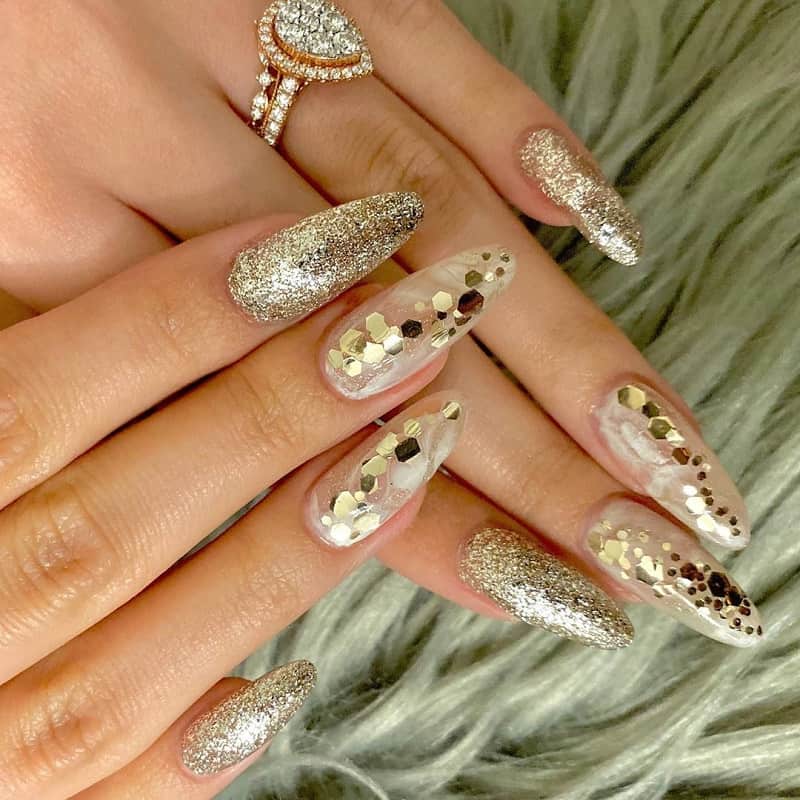 clear sparkly long almond nails
#4.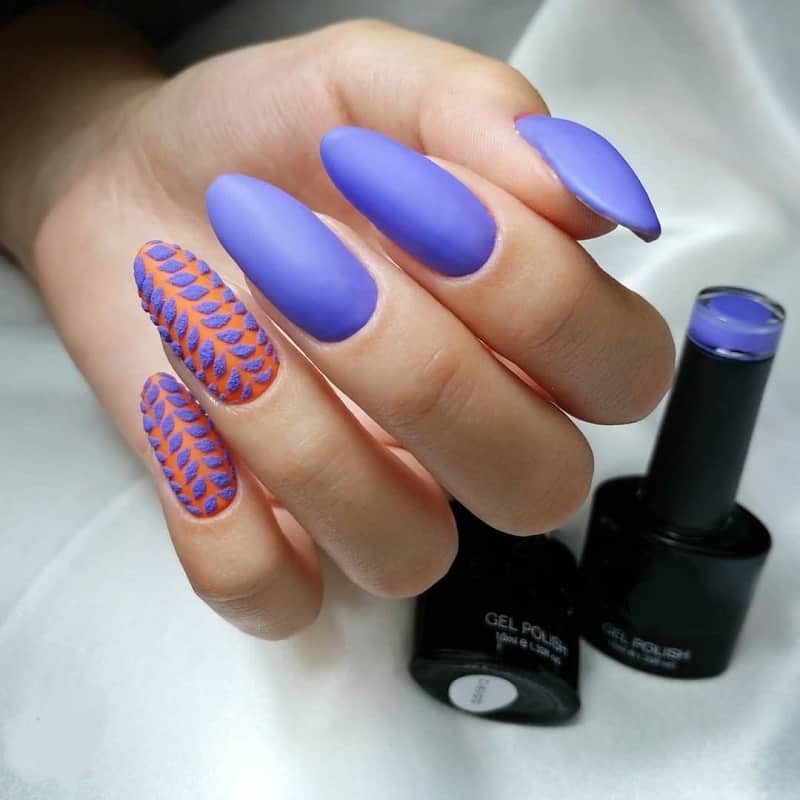 long almond summer nails
#5.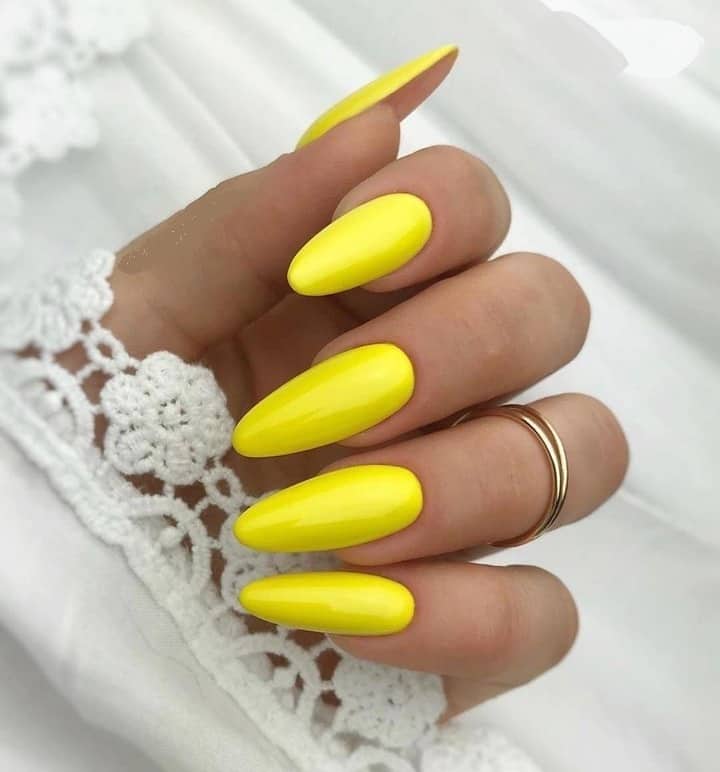 long almond yellow nails
#6.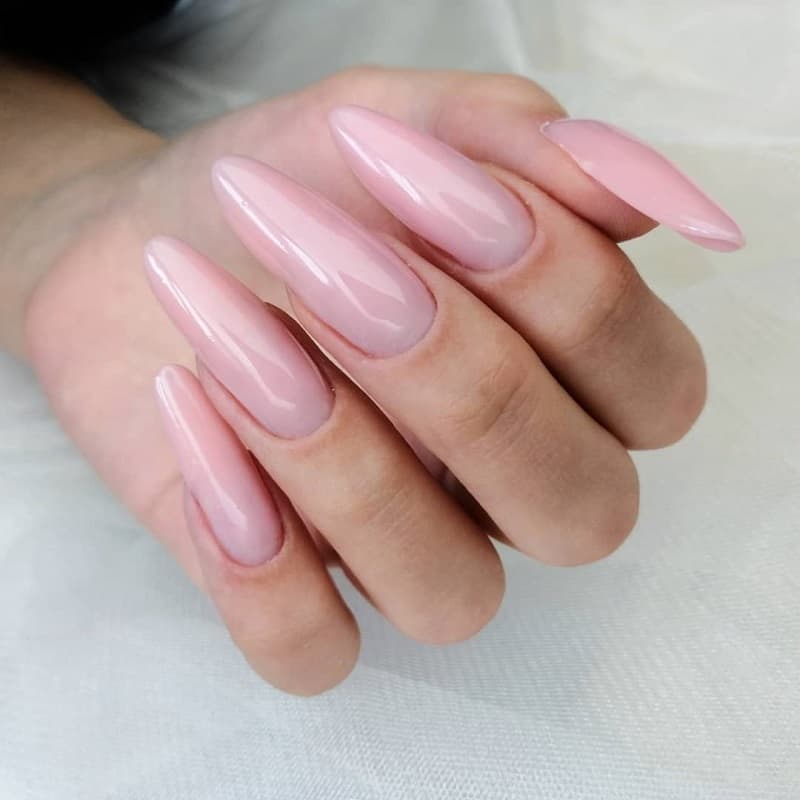 nude long almond nails
#7.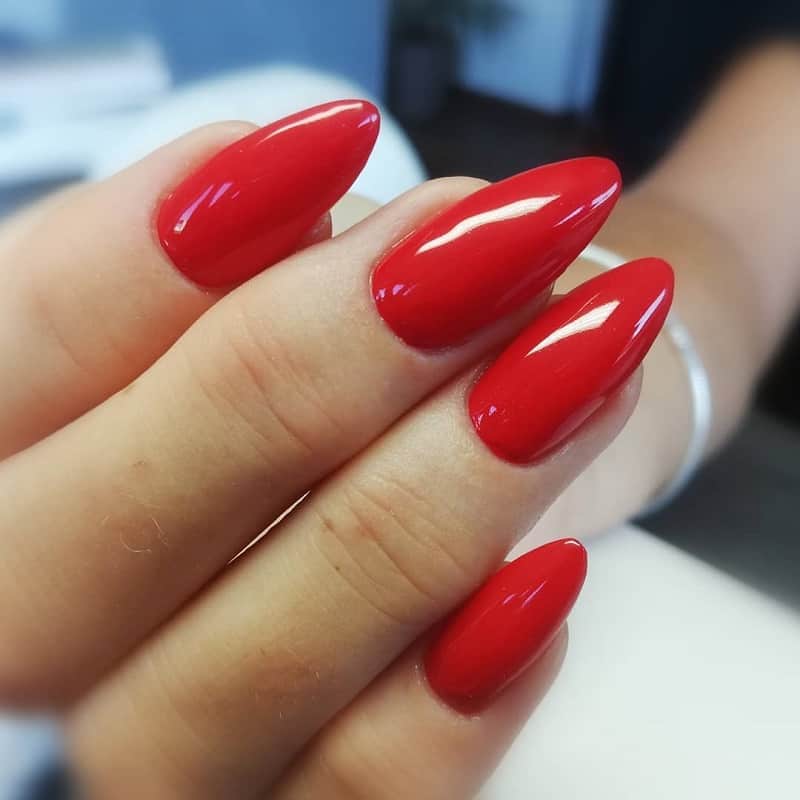 long almond red nails
#8.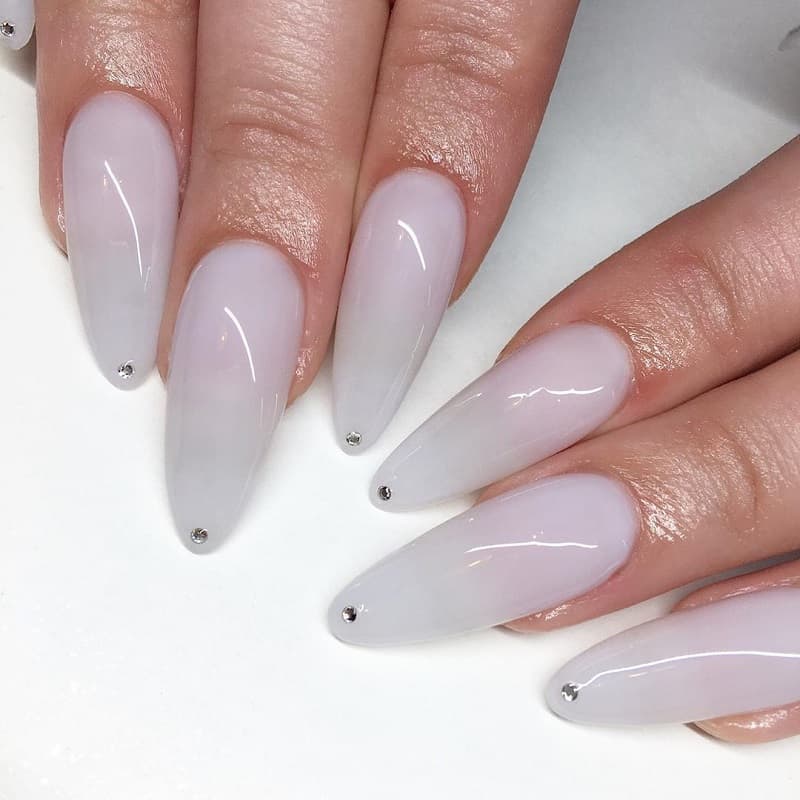 long almond white nails
#9. Long Almond Acrylic Nails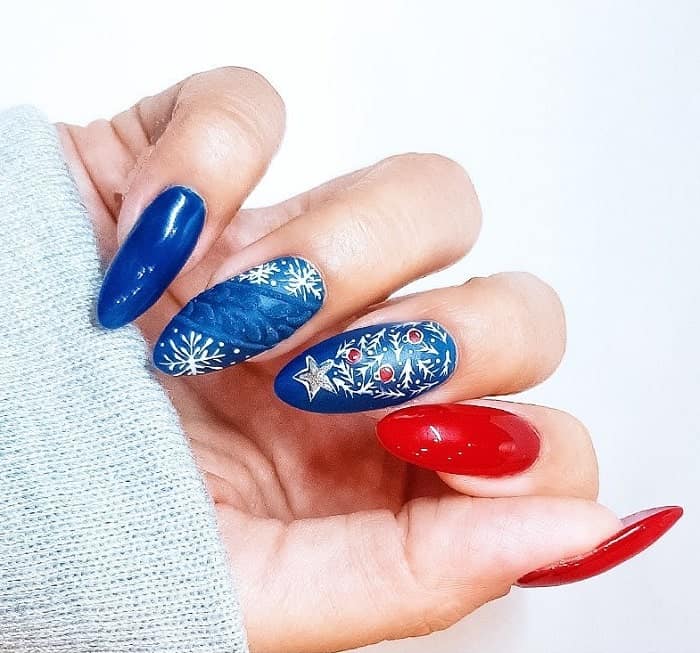 For these long almond nails, you will need acrylic gel if you need them to last longer. This spectacular design is perfect for the Christmas period. 
#10. Long Almond Nails with French Tip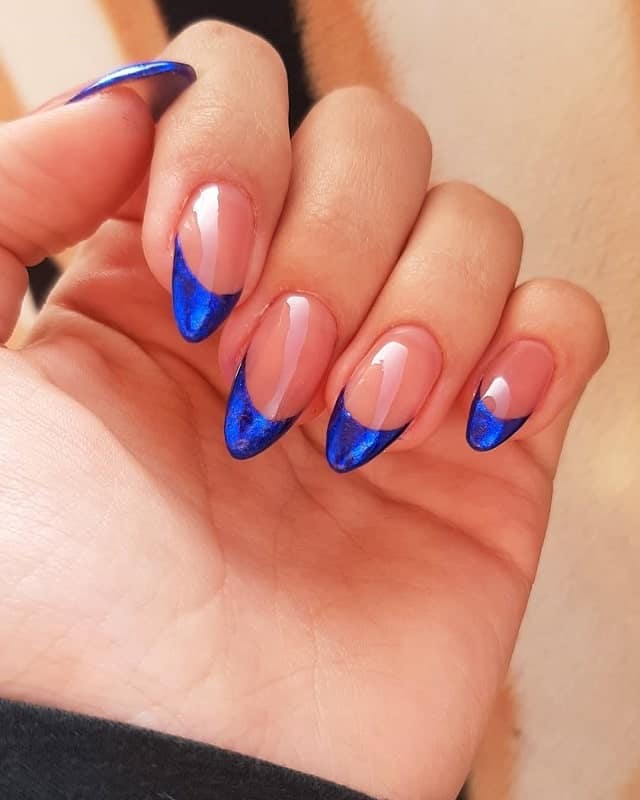 If you love French manicure, you don't need to keep it in a regular way, with white tips. Use your favorite color, in this case, a glittery blue nail polish. 
#11. Long Almond Ombre Nails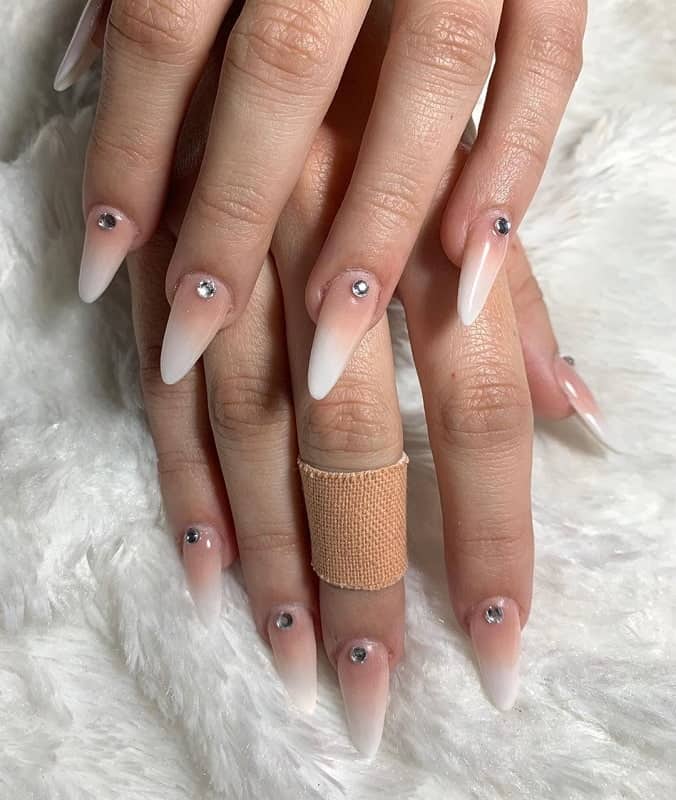 If you thought ombre is suitable only for hair, think again! Create some long almond-shaped nails and make a beautiful transition from a nude color to white. Also, you can add some sparkling rhinestones. 
#12. Long Natural Almond Nails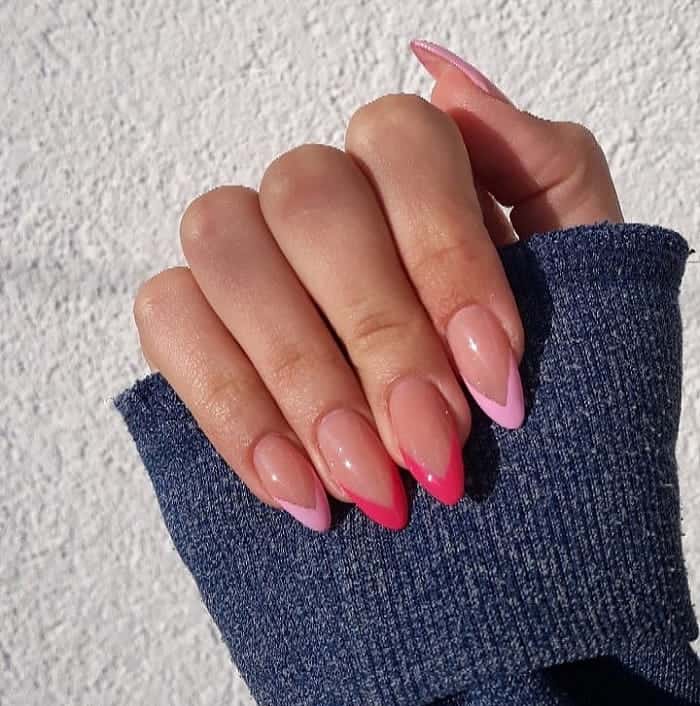 #13. Long Almond Gel Nails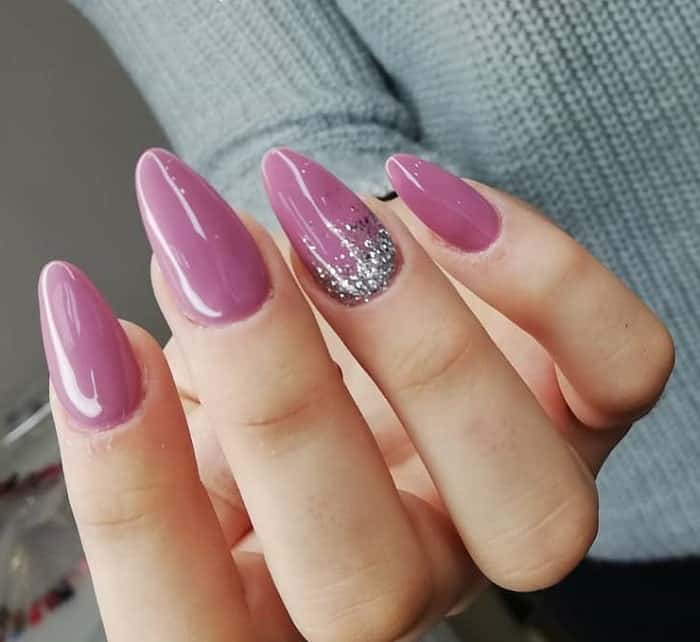 #14. Diversity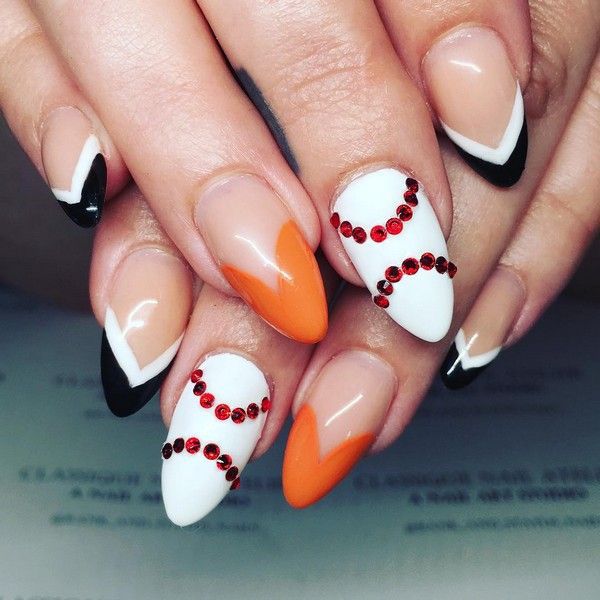 Having only one pattern or design on nails is a long gone practice. The more modernism gets us, the more we love variations in every aspect of our lives. Nails are not different too. This design has three different designs to be drawn. Use black and white on edge for two or three fingers. Put some red stones on the white base. Or you can have a marginal orange color to make it different.
Sneak The Peak into Almond Nail Designs
#15. Runway on Your Nails
Some girls are fans of lavish brands. They use original products from reputed fashion lines. If only using them is not enough to show your immense love for these brands, you can have the logos drawn on your nails. There are no specific suggestions for logos from us. It depends entirely on your choice. Use a black matte to fill the base then draw the logos with white color to make it noticeable.
#16. Pastel Nails
Pastel nails are something worthy of having the attention of stylish girls. These colors look too good on nails and have a pleasant appearance. You can choose the colors according to your choice and paint them on your nails like a rainbow. You can keep negative space for a different shade of color. Or, you can shape the space as heart if you want. The first letter of your name can be glued to a nail as a unique style.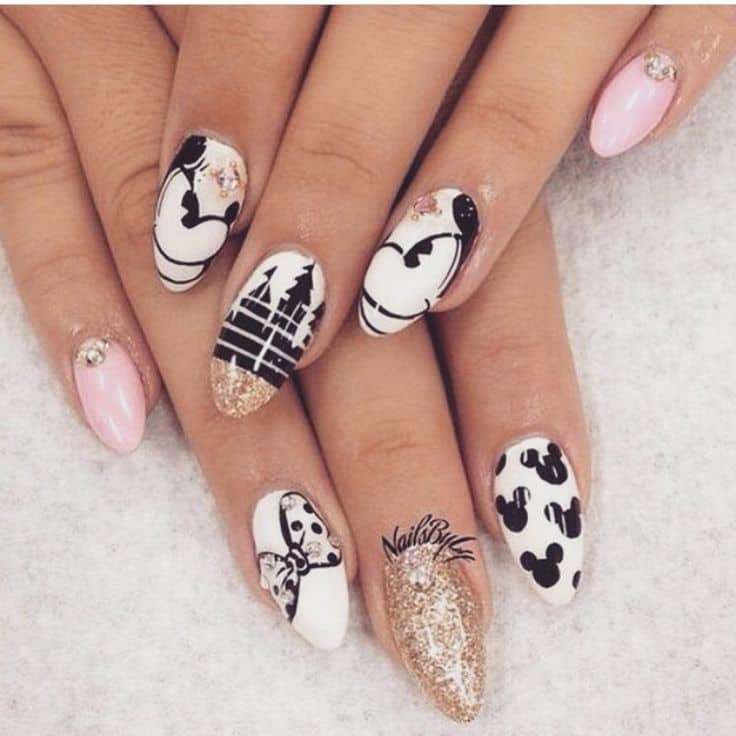 If you are a nineties kid and often feel nostalgia remembering the golden childhood you have spent, this design is for you. Every nineties kid used to wait for the cartoons of Disney. Mickey Mouse is the most famous cartoon series. What if you have these characters drawn on your long almond nails? Here it is! This is a Disney design for you. You can use black, white, light pink for the base and some glitters to express the shiny childhood you had.
#18. Eye-catchy Almond
Want eye dazzling designs for your long almond nails? Use vibrant orange color to stun the audience. Everybody will stare at your nails if you have this design. Use shiny orange color for the base and golden glitters to enlighten the orange. The combo of golden and orange will be shining as flares on your party night.
#19. Reigning Rings
If you are a diehard fan of various kinds of rings and want to have a compatible nail design, it is already designed for you. Watch this breathtaking long almond nail designs where rings are ruling the kingdom. Use light purple color nail polish which will complement the antique rings on your fingers.
#20. Maroon Five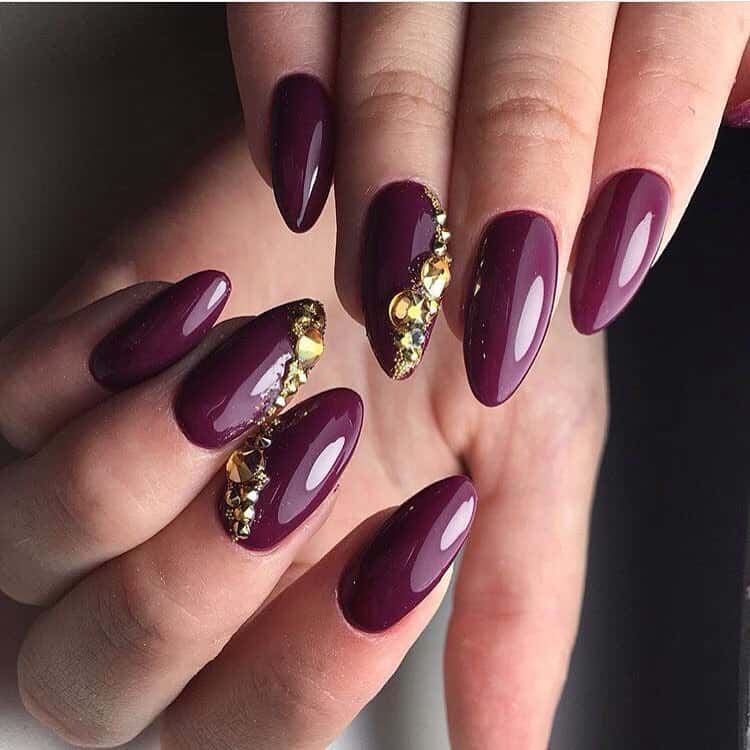 If you are a fan of Maroon 5, you can choose this design. You have five fingers on each hand to color with maroon. Which may resemble your favorite band Maroon 5. Use golden rhinestones for a shine.
Get Perfectly Shaped Almond Nail
Our aim is to help the individual in choosing the right design for the right shape of nails. We have depicted some of the most trendy ideas here. Hope you will find the best fit for your long almond nails.