Lace nail designs make you look stand out in the crowd. So if you are one of those people who like to be noticed, you will definitely succeed that with these lace nails!
#1: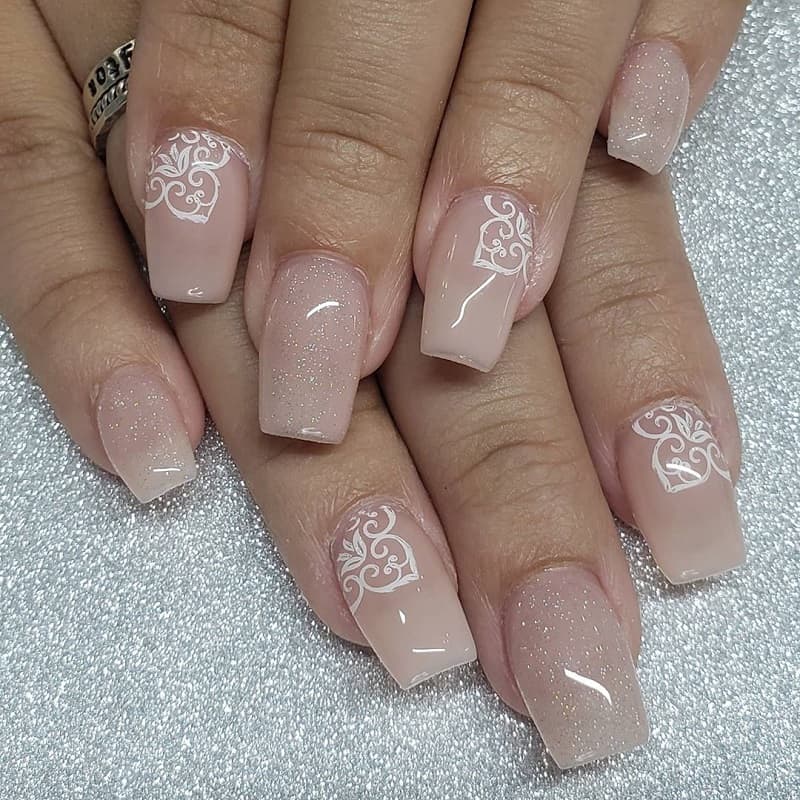 lace gel nails
#2:
lace stamping nail art
#3: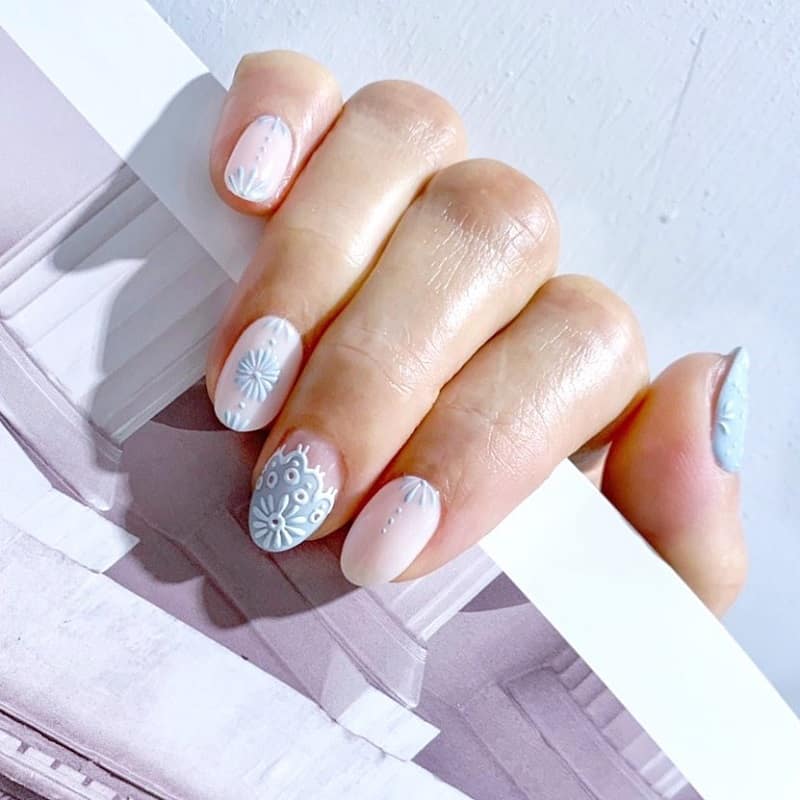 3d lace nail
#4: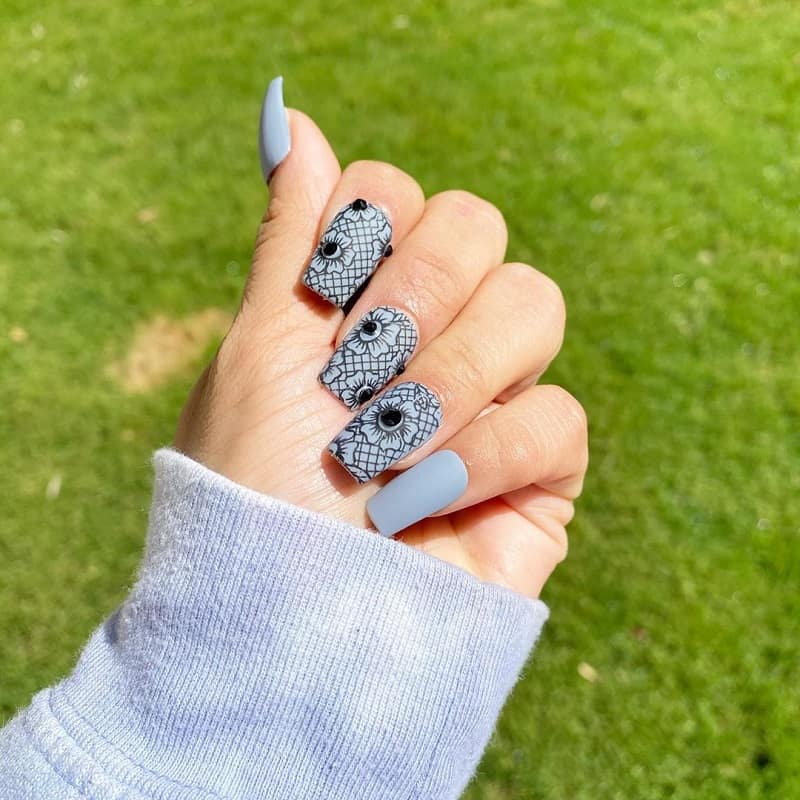 lace acrylic nails
#5: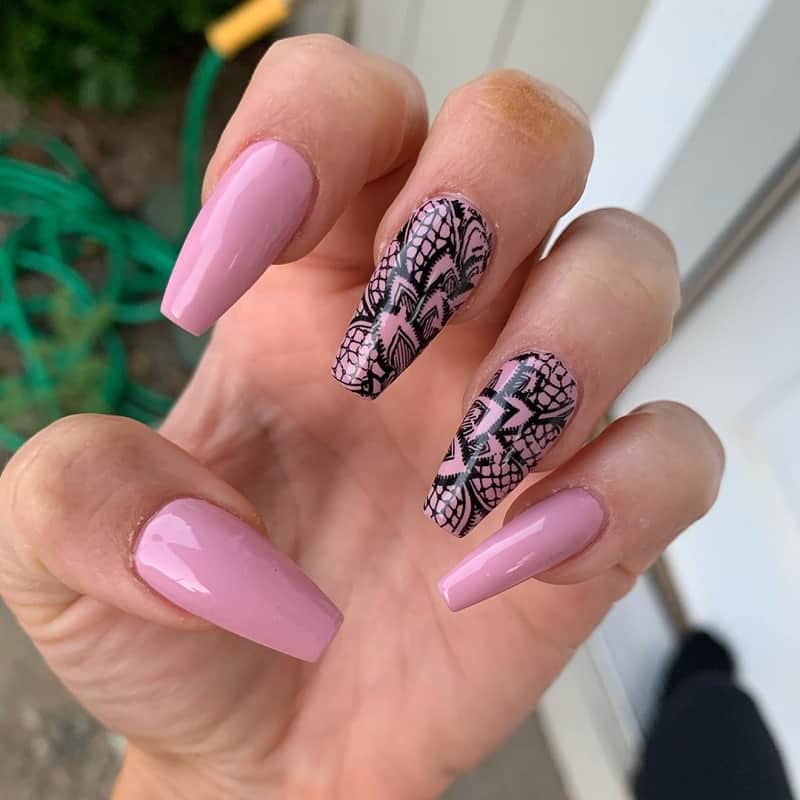 lace coffin nails
#6: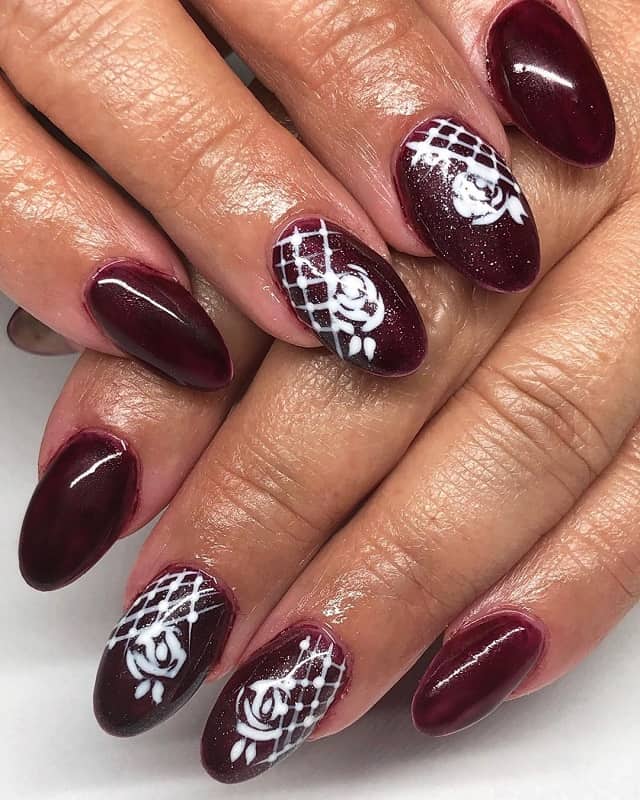 maroon lace nail art
#7: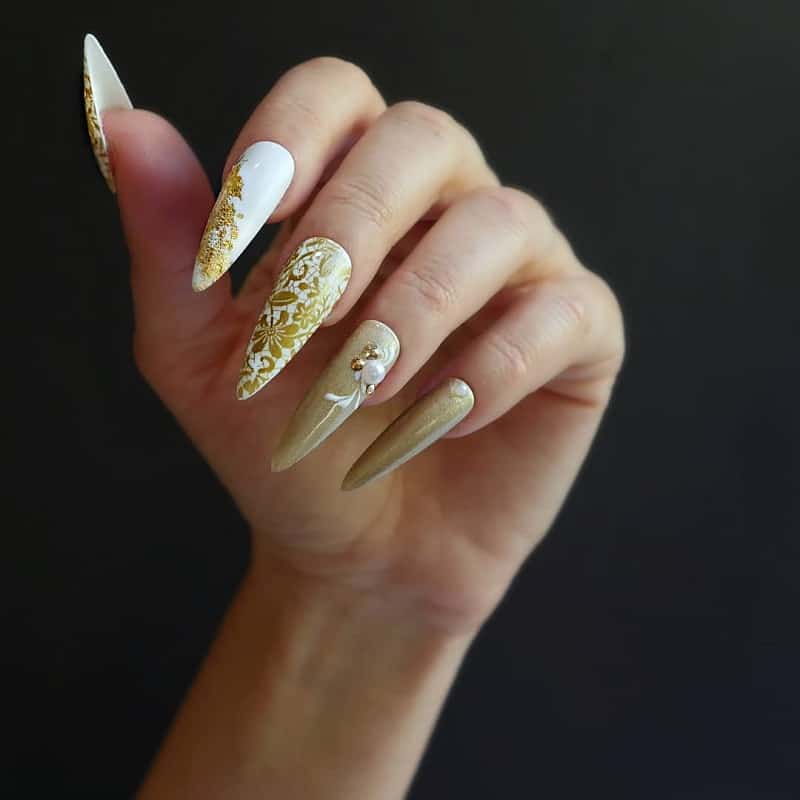 gold lace nail jewelry
#8: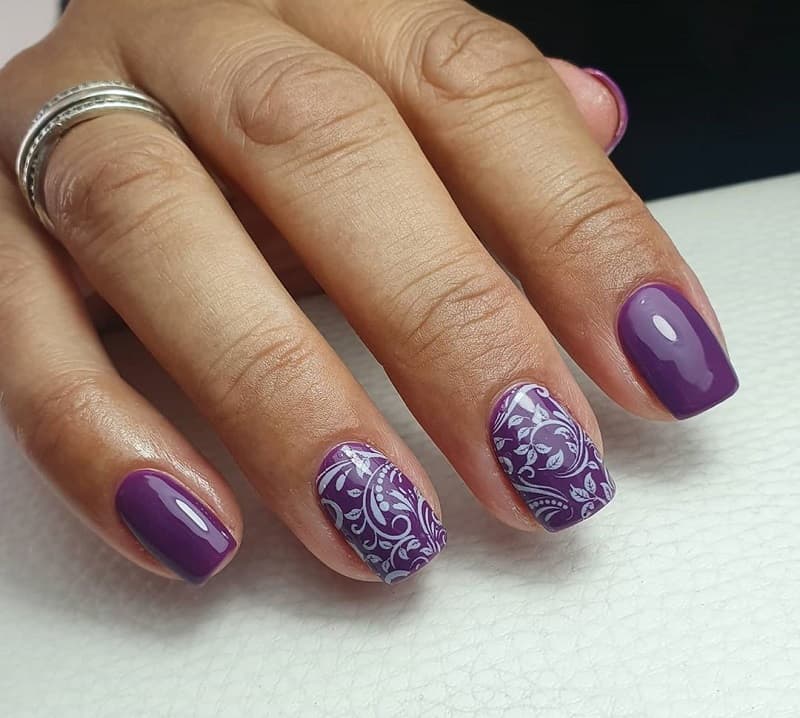 lavender lace nail art
#9: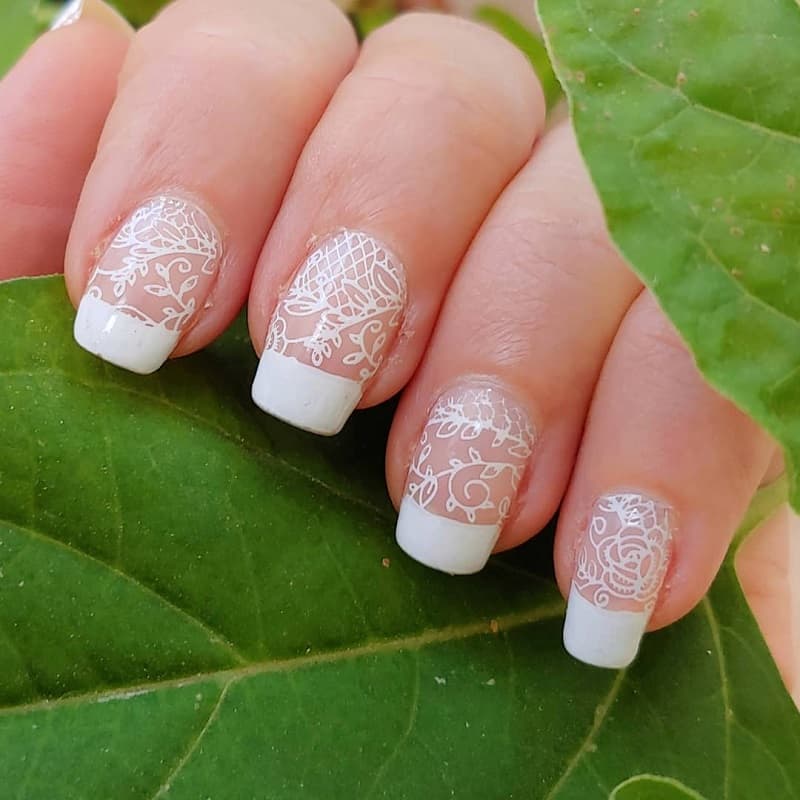 lace french tip nails
#10: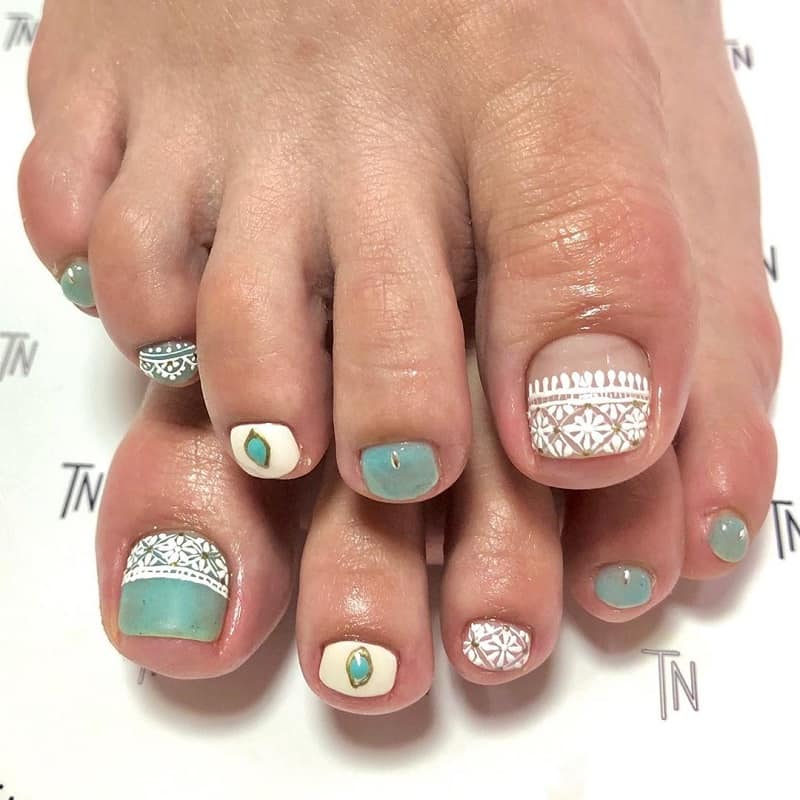 lace toe nails
#11: Black And Classic Lace Nail Design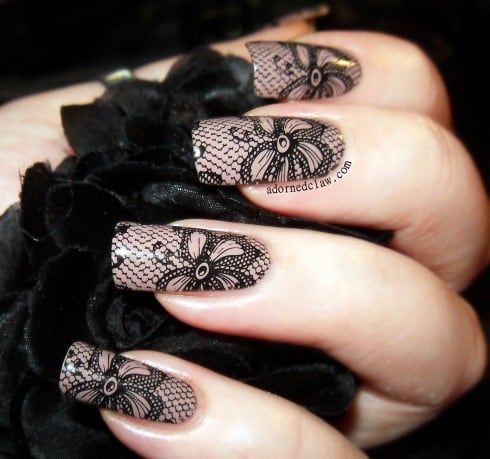 Black designed lace is a true win-win combination. It gives you elegance, class, and attracts people's looks. They will look astonishing when shaped in a square or pointy way, but don't get them done oval, because then the lace loses it's straight lines and looks round instead of just being long, straight, slim and chic.
#12: Thicker Lace Nails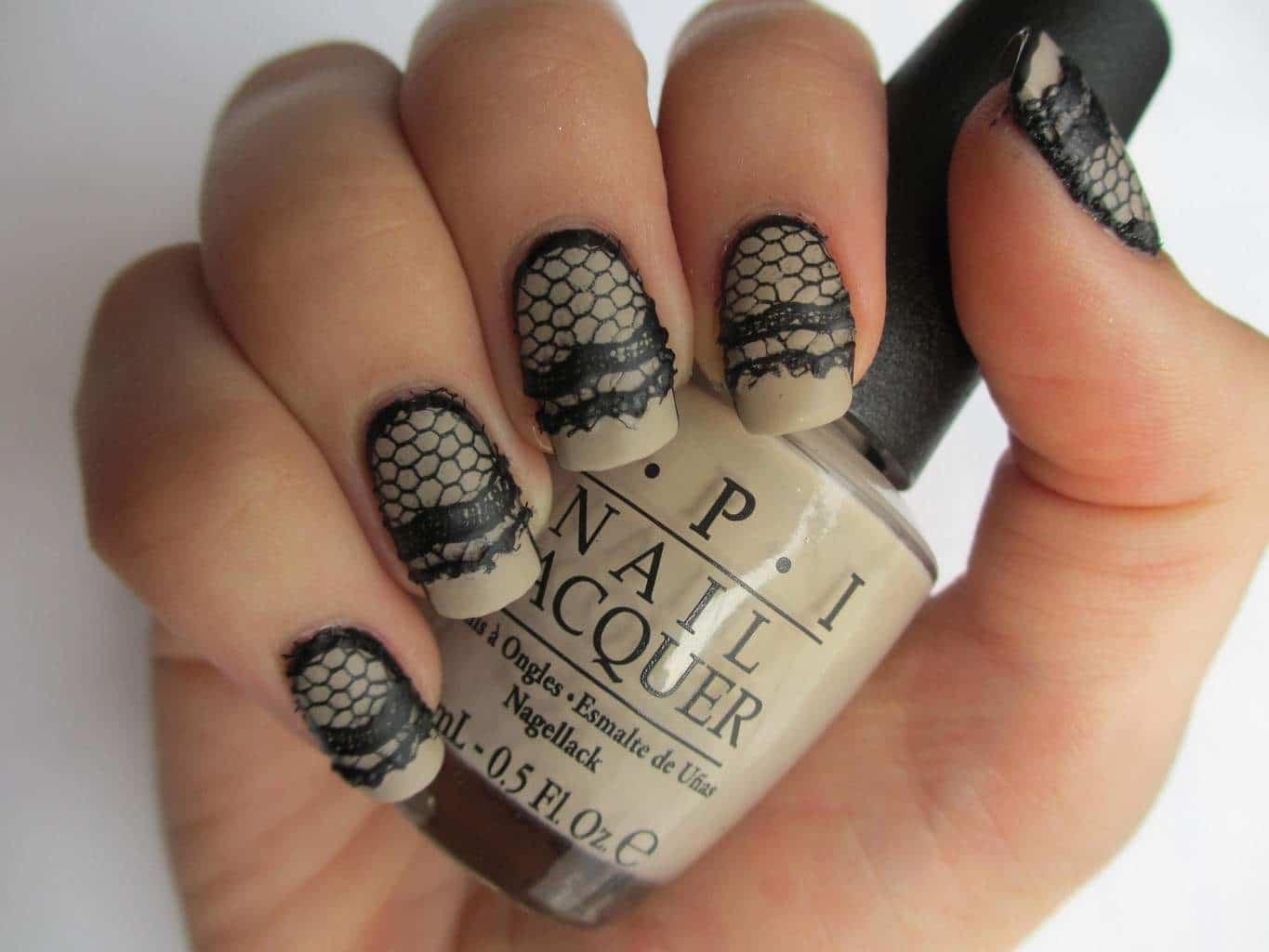 OPI's nail color"Stranger tides" really gives a chic vibe to this lace nail design. The lace is a little bit thicker than in the previous picture and can be a great choice for those who will do their nails by themselves because it doesn't acquire that precise hand.
#13: Wedding Lace Nail Design
This lovely white lace nail design is perfect for your wedding day! Imagine wearing a long lace wedding dress matched with these nails. You will feel like a true princess since you've successfully matched everything from head to toe.
#14: Rainbow Lace Nails
When I say rainbow, you say yes, please! This multi-colored nail design is perfect during spring time or ideal for festivals. They are actually a true art when you look at them, because the colors melted perfectly, and there is just a tiny little lace detail.
#15: Low-key Lace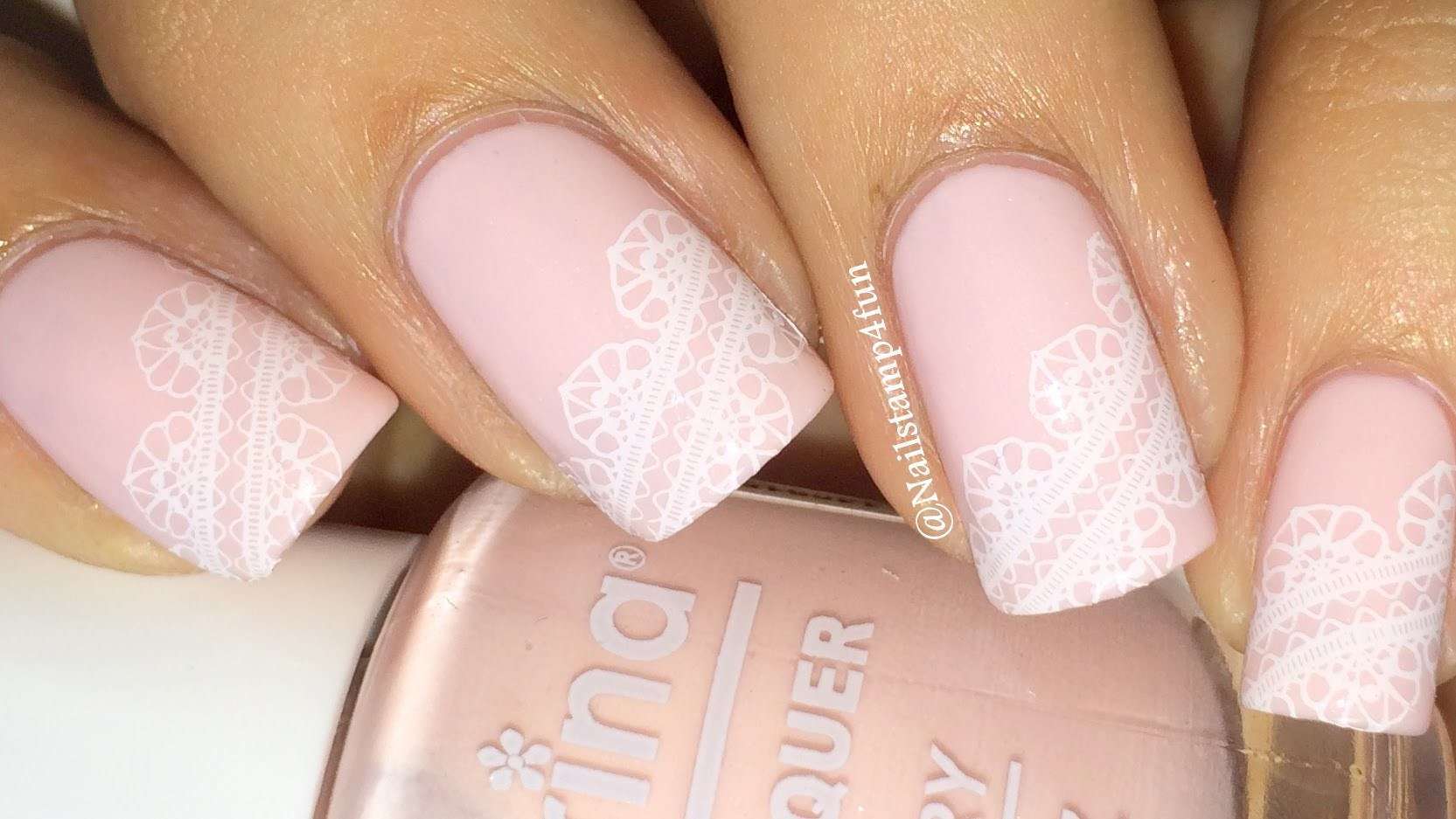 This lace nail design is perfect for those who have just entered the beauty world. As we said, if you are used to just being in your own comfort zone doing your nails in only one way, it is time to change that! These super cute short pink lace nails are just what you needed. They don't deviate a lot from any monocolored nails, and they have this fainted lace on top which is something for starters.
#16: Blue Feather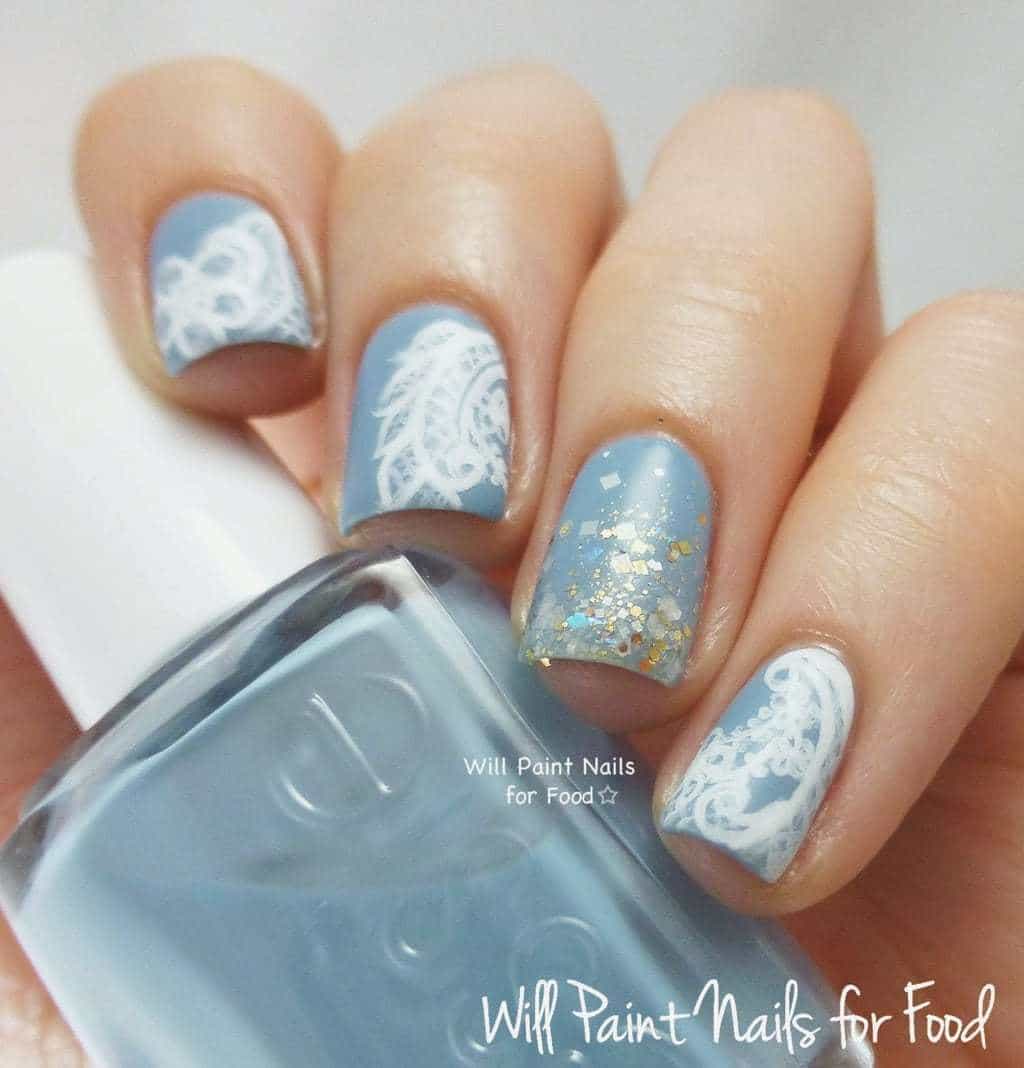 Blue base with white lace on top? Count me in! If your favorite color is blue, or you just like these soft pastel colors, then you are in luck because they are trending and are a total hit. One more reason why they are on our list is that they are so angelic, and could bring you some charm.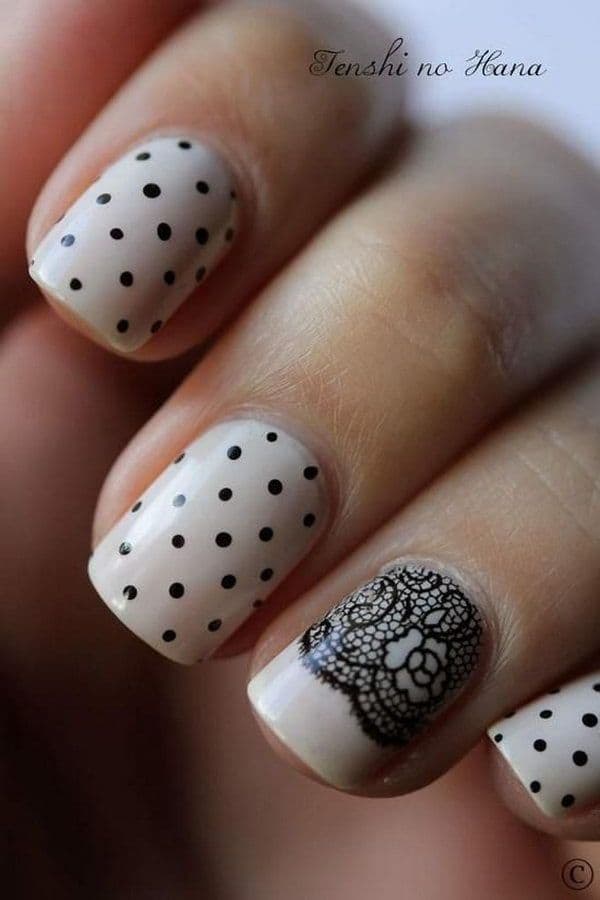 If you ever want to feel like it's the 60's again, just do this lace nail design on your nails! White base coat with black dots and a sexy lace make your nails look so refined.
#18: Short And Pink
One more example for beginners. Here you can see that even if the nails are short, they still look pretty. Try these out at the nail salon and confidently rock your natural nails.
#19: Minty Lace
When we say mint you automatically think about something fresh, right? Well if you go for this nail design you can definitely say that your nails are cool and fresh.
#20: Purple Lace Nails
This purple color lace nail design is so detailed that the only way to get them exactly like this is if you either go to the salon or buy the stickers. Either way, you will have all eyes on you, and the design looks like it came off of a geisha's dress.
#21: Pick The Flowers
If you are a flower lover and a child of nature this lace is the one for you. Because of all the details, you should probably go to the salon for these since chances of you recreating these are quite low.
#22: Bronze Lace Nails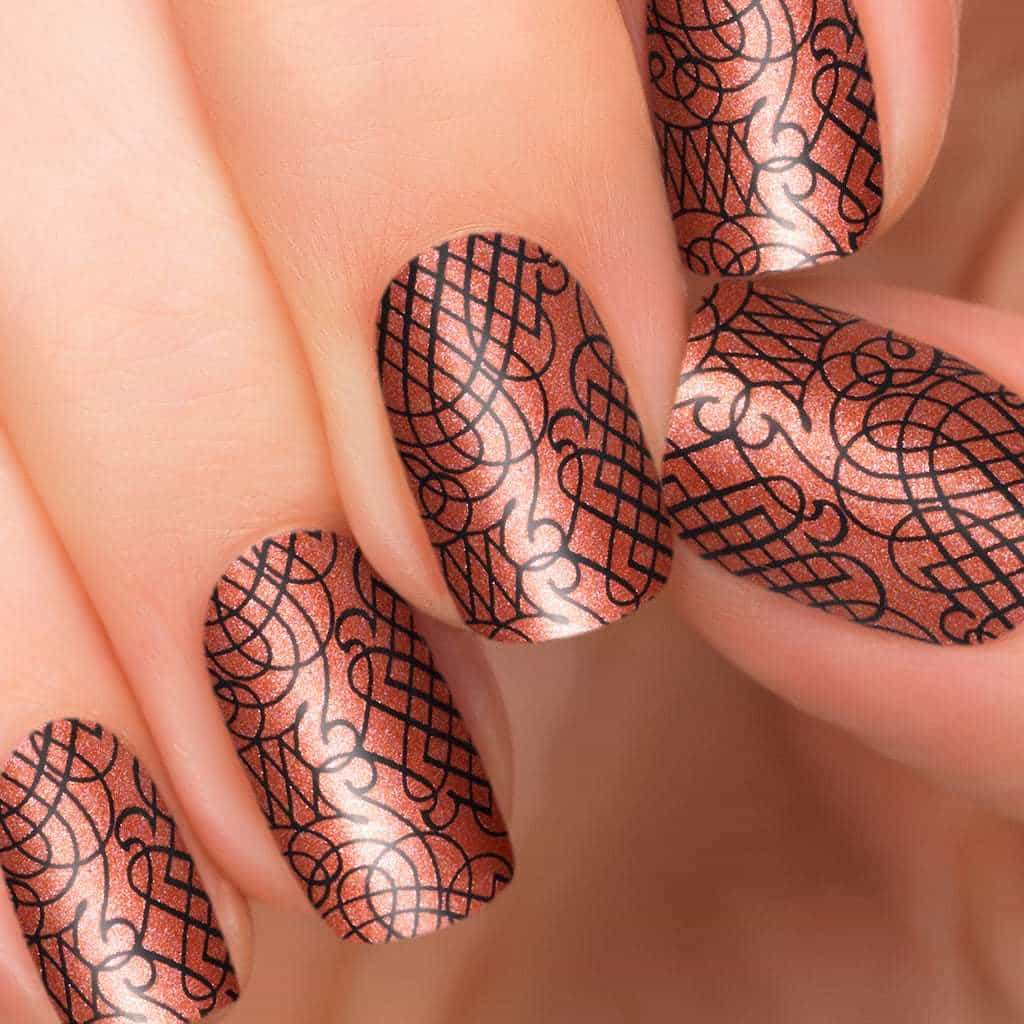 Perfect for prom, sun kissed bronze nails with black lace on top are a unique design. These will look great especially on someone with a darker tan.
When you're really in a rush and don't like spending a lot of time or money, go for the glue down method. Usually, there are about 20 nails per one package in case your nails fall off easily, or the glue that came with them isn't that effective. The gluing down process takes about only five minutes, and that is the fastest option for sure.
#24: DIY Lace Nail
If nail salons don't appeal to you and you are the DIY type of person, then you should do the nails by yourself. In the next two pictures, you can see how cute they can look even if it is done by your hand.
How to: This is a paper or a string pattern that you should have with you. Color the lace with your favorite color and slowly and gently press down the material onto your nails.
Don't get worried if you've applied too much of nail polish, and it ends up all-around your fingers. Just use acetone to remove unwanted access. And that is how you get these natural lace nail designs on your own.
#25: Mad Red Lace Nails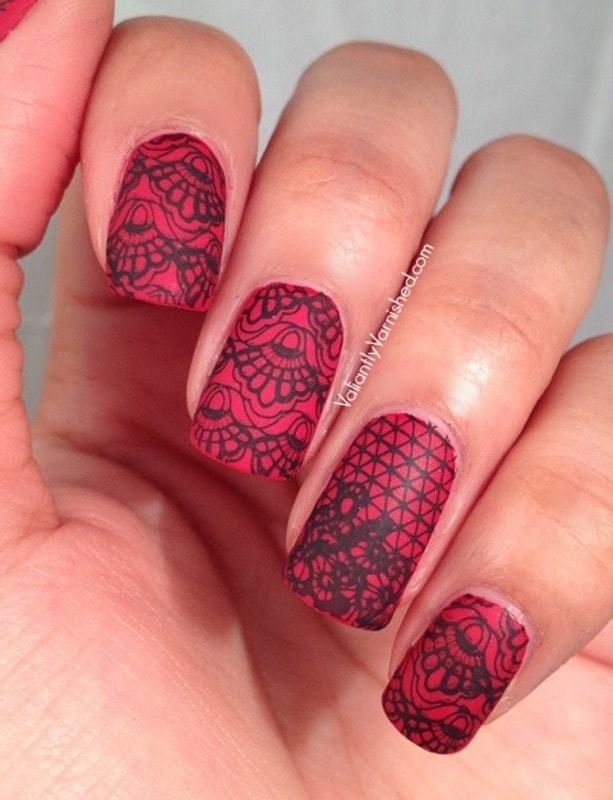 Don't think we forgot about these! This list wouldn't be complete if there wasn't a true bold red with black lace on top. These nails are smoking hot and a token of women who know what they want.
#26: Short And Square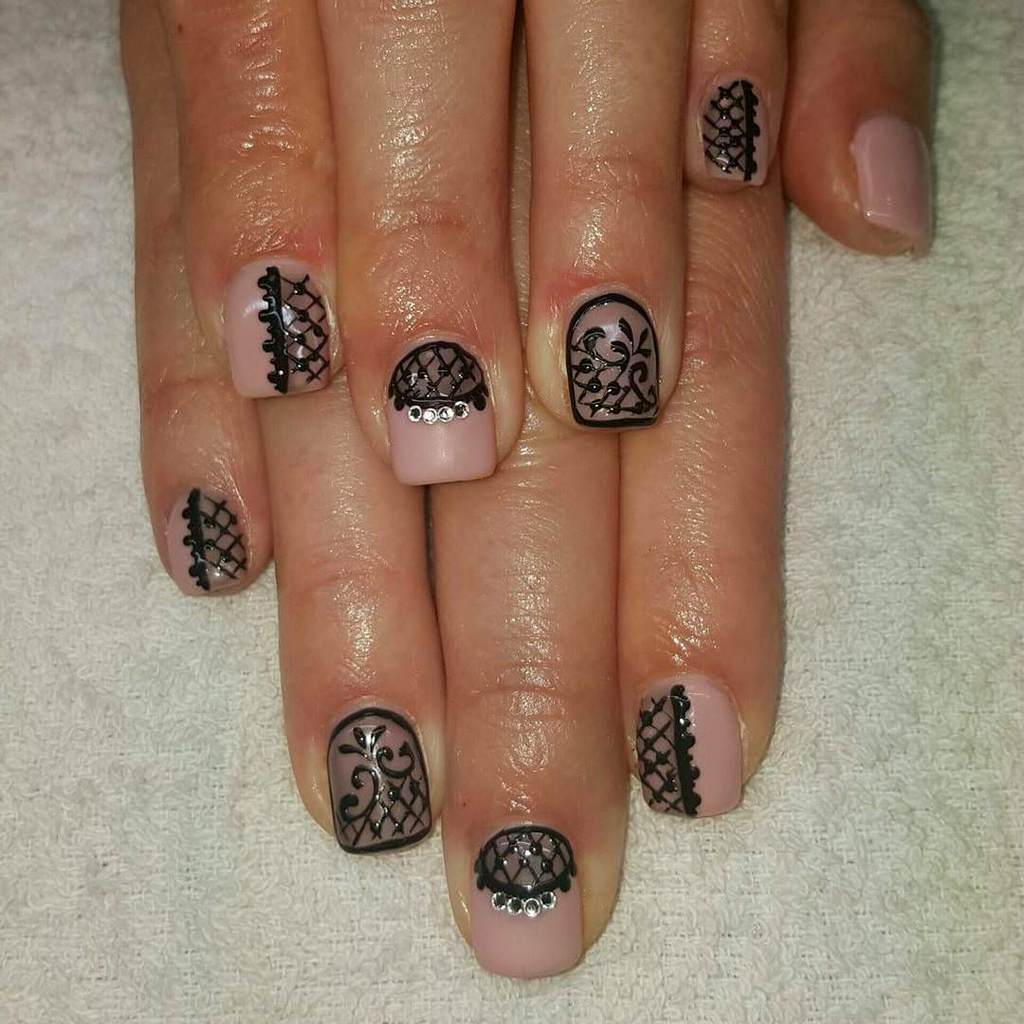 Short and square lace nails are very popular. Especially if you don't want to get fake nails, you can do this in the privacy of your home with just some effort and time investment.
#27: Super Long Nail Design With Lace
So astonishing. The length of these nails with some accessories and a white lace could be a perfect combination for your prom day, wedding days or pretty much anything formal. Be sure to get recognized while wearing this beautiful design on your nails.
#28: Purple Lace
This light purple color is so soft and gentle, so by adding lace, you will look spicy and mysterious at the same time.
#29: Cheetah Lace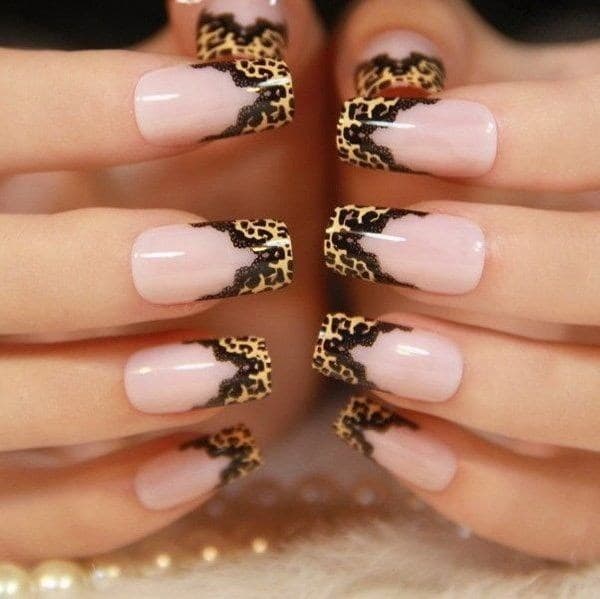 This lace nail design is for the brave ones. The cheetah pattern is one of the most daredevil ones out there. Women who like to dress up in tiger and Leo prints can not go unrecognized. And if you add a hint of lace to it you are a true bold woman.
#30: Yellow China
Yellow is the color of sunshine, hope, and happiness. So just by wearing yellow, you can represent such piece and harmony, and if you add lace which represents innocence and sophistication all combined together are such a unique and not everyday thing. If you do go for this lace nail design, we believe that you will put some harmony and joy around the people you are with, while looking all sophisticated. Total win for everyone.
Some Lace Nail Designs That Can Catch Your Eye
Since lace is so elegant and gracious looking, make sure you treat your nails with care and with the right nail and hand treatments. Be a bold and brave trendsetter. Good luck with choosing just once lace nail design as they are all so perfect and charming!