Pairing polka dots with Minnie mouse nail design will catch attention instantly for all the legit reasons. As we all have grown up watching Minnie mouse wearing those pretty polka dresses playing with her better half mickey.
We can say that polka dots and Minnie mouse nail designs are made for each other. And nobody will complain as they look so good to be true!
Cute Polka & Minnie Mouse Nail Designs
Among the hundreds of polka dot and Minnie mouse nail designs, below are some of our favorites.
#1. The Pearl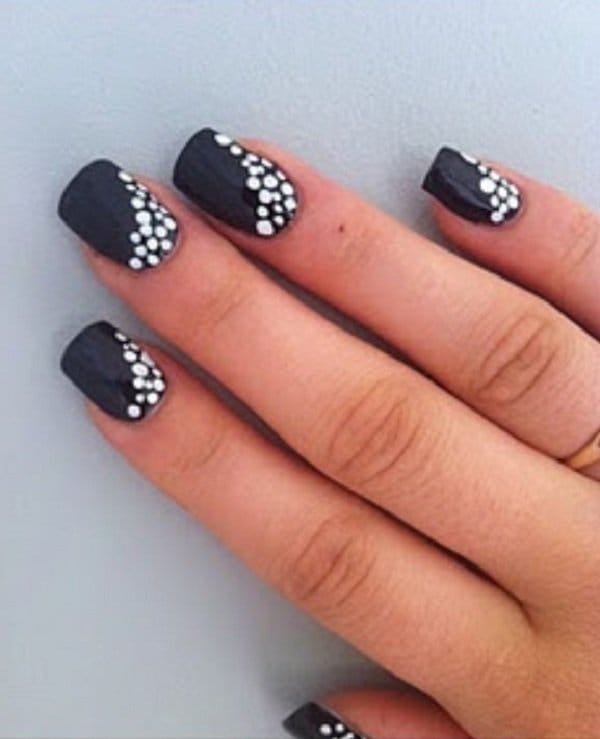 In the dark and black nights, there appears a shiny white light at the edges of each corner in the dim room. However, this light is coming from something precious and valuable that everyone was searching for in order to be rich, this thing is the pearl! In this polka dot nail design, the white dots represent the pearls that shine up the black dim base.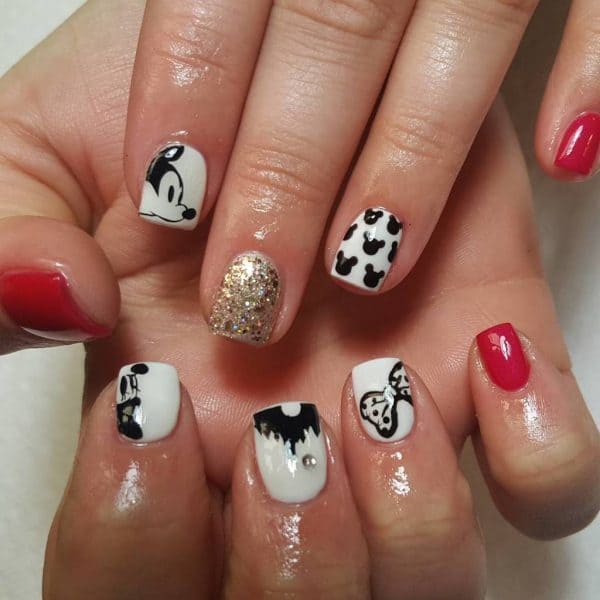 Minnie Mouse is a well-known character that we are used to watching on Disney channel. Well, this character appears here but in separate parts that are distributed on the nails of the hand by using the black and white colors to draw the bow tie, the face, and others, all together to make up a cute nail design.
#3. The Maid Uniform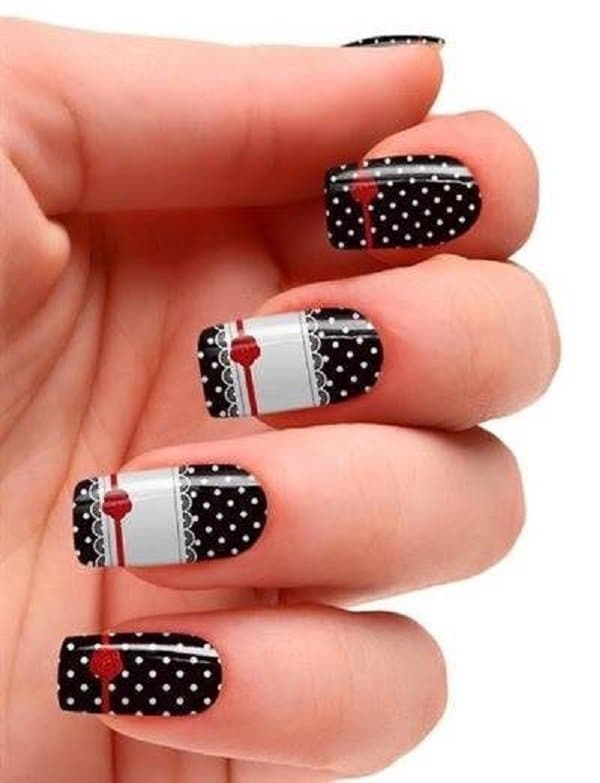 The above nail design looks like the standard uniform that all maids wear while working. It is made up of the black base and white small polka dots, having a white iron and a red tie in the middle. This is one polka dot nails that fits a maid uniform or any black and white outfit.
#4. Anchor Style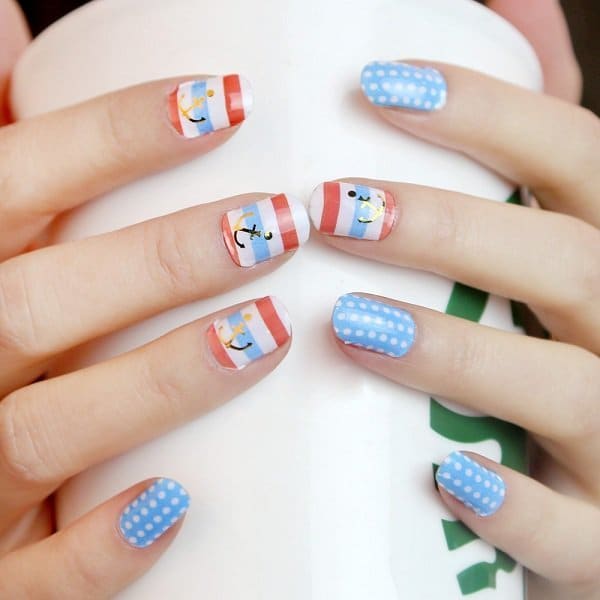 For a sailing day, you probably wanna look young, cute, and girly so that you can be fresh and ready for sailing. To obtain that you can use a blue base with white cute polka dots that give your nails the adorable look, in addition to the stripes of red, blue, and white in the middle finger where a golden anchor is added to have the sea spirit.
#5. Minnie Mouse
If you are a big fan of the Minnie mouse cartoon character, this design now gives you the chance to have this character on your nails. Wear a red nail design with polka white dots that makes you younger, but with having a white base in the ring finger designed by red dots and the top of Minnie's head.

The dream of all kids is to visit Disney land that is full of Disney characters and especially Minnie and Mickey mouse that are loved by billions of people. However, if our dream is to visit the Disney land, you can express this by wearing this nail design that is made up of the black, white, and red colors with some silver decorations in the ring finger.

The red and white colors usually remind you with the color of Minnie's bow tie that she always wear in her black head. This nail design is made up of the polka dots found in the bow tie in the index fingernail, and the bow tie itself in the ring finger to make up a polka dots and Minnie mouse nail design.
#8. I Love Mickey Mouse

"I love Mickey mouse!". That is what Minnie always said when she talked about Mickey! However, this is also labeled in the middle finger with a white color and a black base, in addition to Minnie's face in the thumb finger and the hand of Mickey in the ring finger.
#9. Mickey Stamp
If you like to present Minnie mouse in your nail design in order to look childish and cute, all you have to do is to fill your nail design with the mickey head shaped stamp in order to have the mickey touch all over your nails. Minnie would love that!

Unlike any Minnie mouse nail design you've seen before, this nail design is made up from a silver glitter nail polish base with some Mickey decorations on the top in the middle and index finger, silver tips in the pinky one, and a black base with the amazing D shape that specializes the Disney channel having the white color.
Summing it all up, the woman trying to wear outfits, makeup, and hairstyles that make them look younger is not enough, they should also try to wear a cute and girly nail design that is able to give them the young adult look they are searching for. Moreover, this can only happen by wearing one of the 10 polka dots and Minnie mouse nail designs found in the above list that will blow your minds. Hope you like them!