Long square nails are considered one of the most dramatic and glam styles of nails because of their full width, strength, and durability. The trendy square shape provides definition to the nail, making it noticeable.
However, ladies who are considering giving long square nails a go should remember that the design isn't always practical.
Their length can make every day tasks a little difficult if you aren't used to them, so it's recommended you try temporary long nails to make sure you can handle them before going for longer-lasting ones. Once you're used to them, you'll want to try every design we've listed below!
Splendid Long Square Nail Designs
We have pulled together 30 impressive and attractive designs for long square nails. All of these designs are beautifully done and specially chosen for long square nails, so you can rest assured your finished style is one to covet.
#1. Powderpuff Girl Nails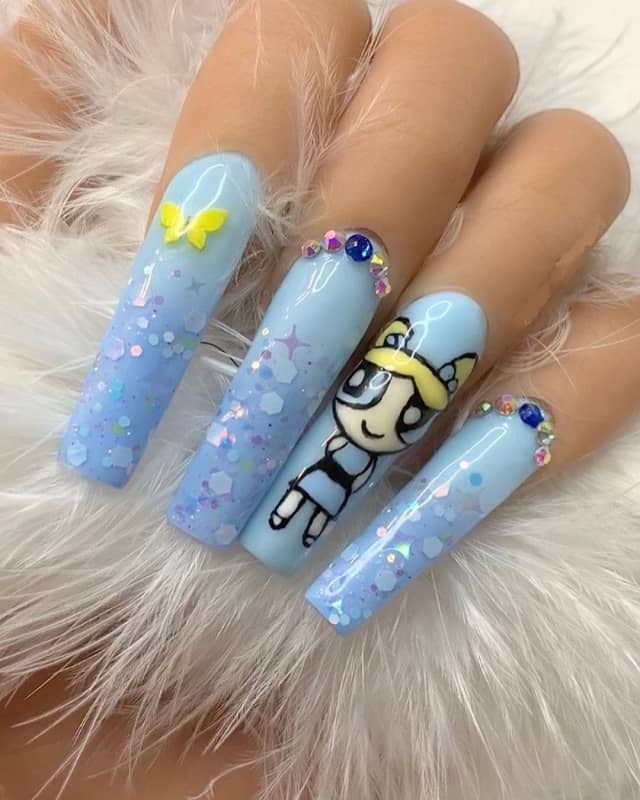 These cute light blue long square nails feature a light blue with shapely glitter and colorful crystals. On the ring finger, a powderpuff girl drawing shows the wearer's love for the show.
#2. Sunshine Yellow
It'll always be a bright sunshine-y day when you have bright yellow coloring your long square nails. No need for anything more decorative when your color is this bold.
#3. Baby Pink Gel Nails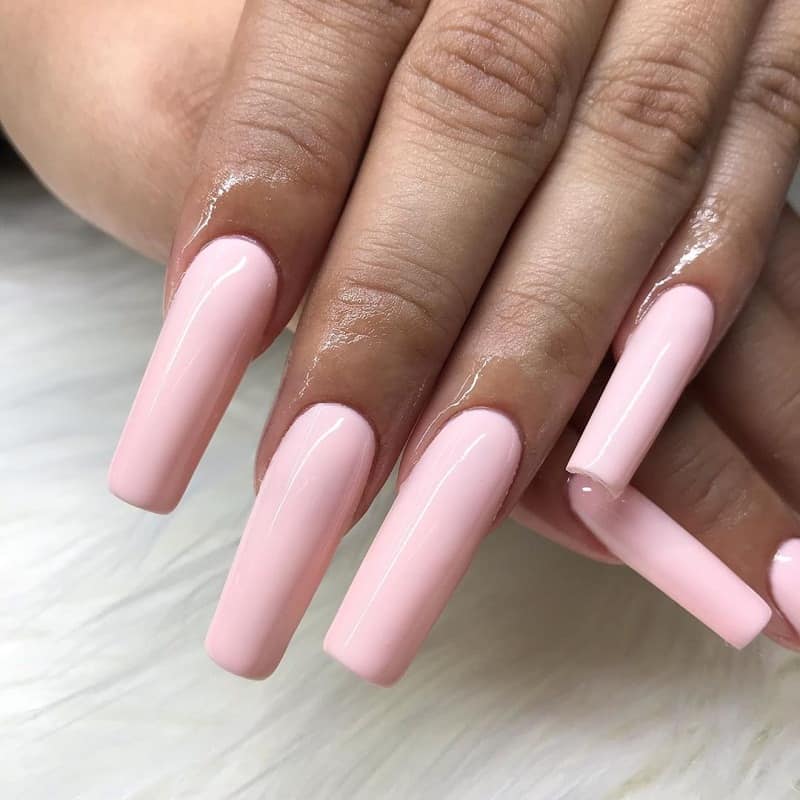 For a soft, luxe feel, paint long square nails with light pink gel polish. Their femininity and shine is what everyone will remember after seeing you.
#4. Hot Pink Ombre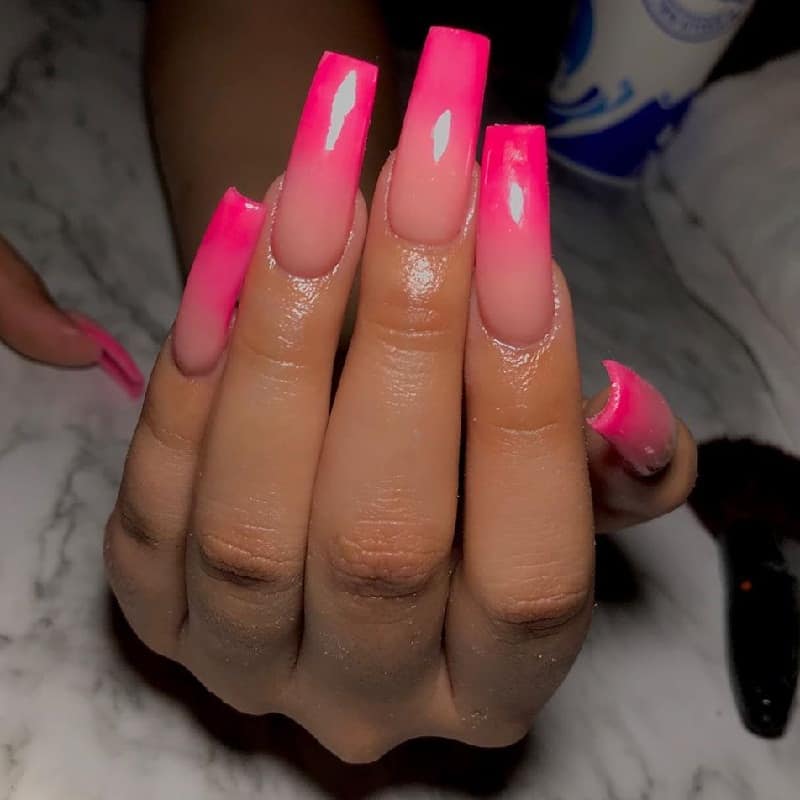 Bright colors like hot pink are a beautiful color for that LBD you're wearing this weekend. Rock the shade on an ombre design for long square nails.
#5. Orange and Rhinestones
If it's Halloween, you need to add some orange to those nails! Coat them with the bright shade, then add tiny crystals and thick rhinestones for sparkle.
#6. Lime Green
This lime green is so bright, it practically glows in the dark! Any ladies who consider themselves electric and eclectic need to try this color on long square nails.
#7. Summer Melt
The large mint green spots on light orange/salmon-colored nails seem to "melt." This is one easy design you can do right at home.
#8. Royal Blue Matte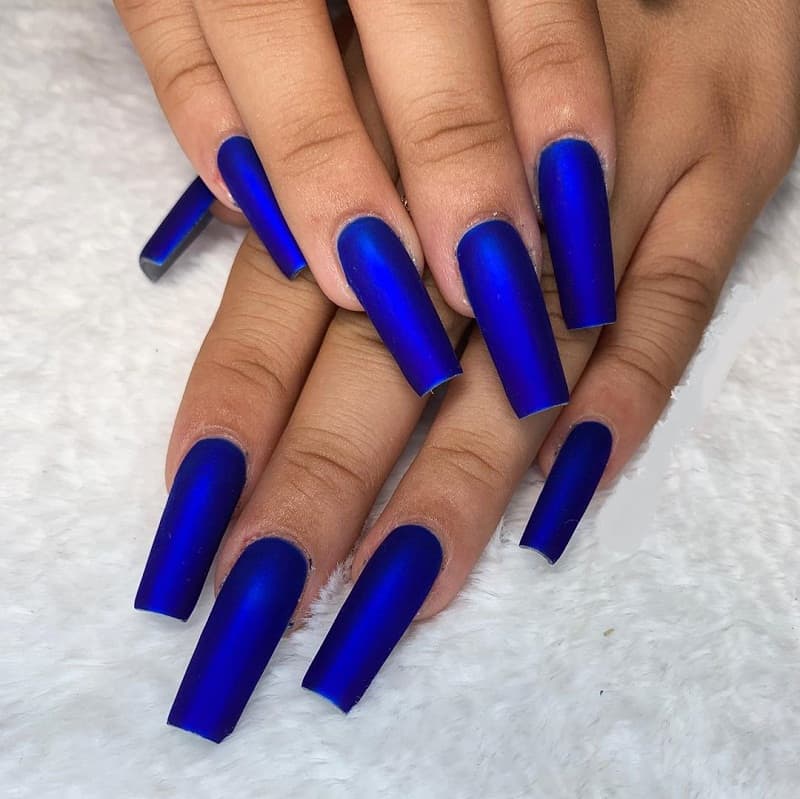 A matte royal blue decorates nails here. Perfect for ladies who love all things blue and want a moody nail design to match.
#9. Rainbow White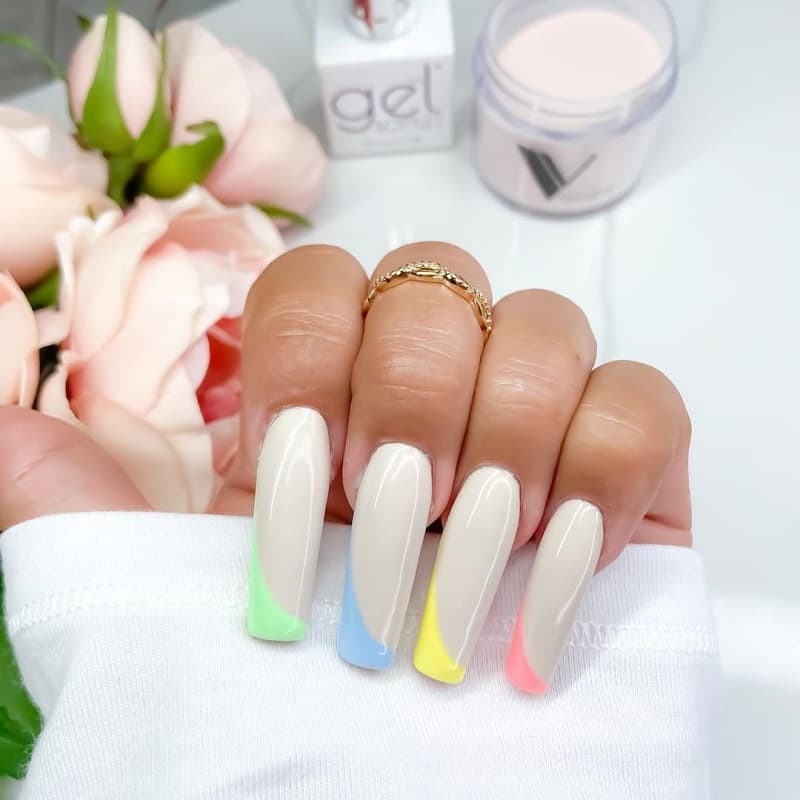 After painting your nails a soft white, use the colors of the rainbow to make a thick curved line at the bottoms.
#10. Light Blue Spring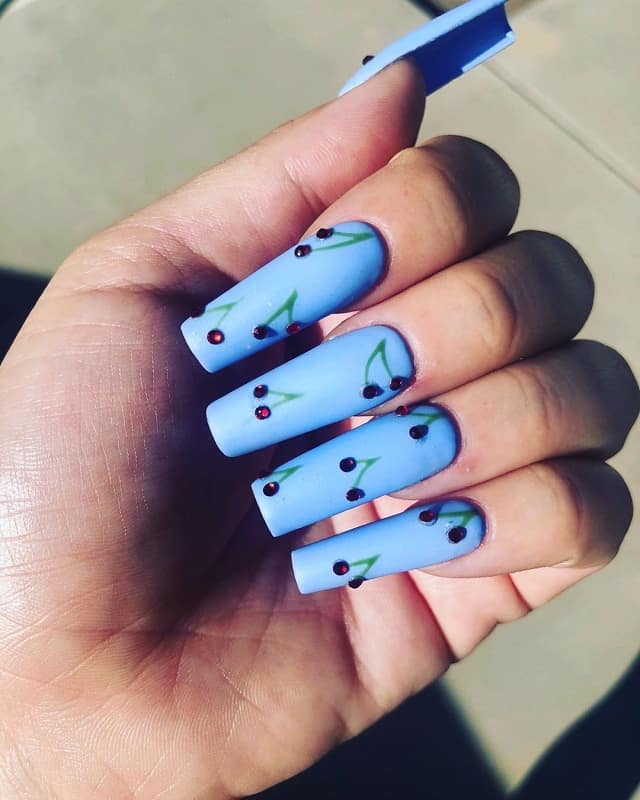 To symbolize the transition of winter to spring, paint your nails a soft light blue. Then add cute little cherries on stems using red crystals and green polish.
#11. Long Square Acrylic Nails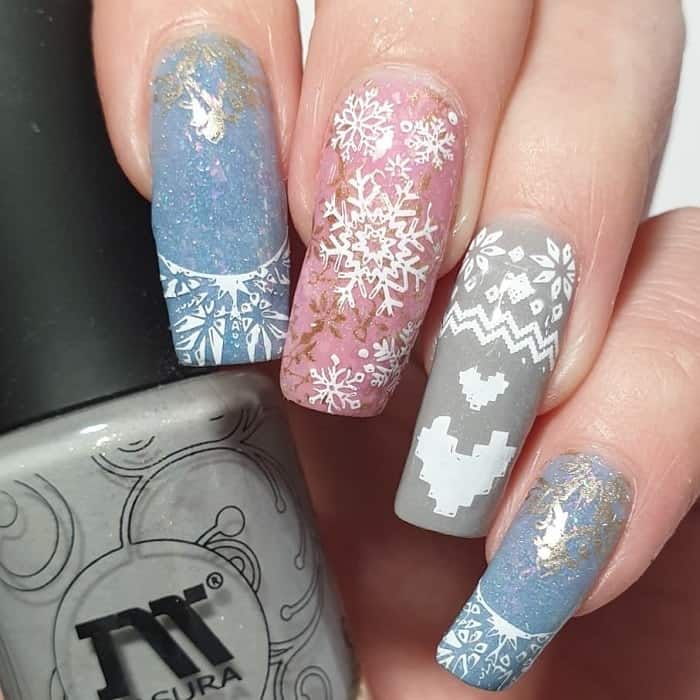 A wintry design like this is more advanced than others but can be done with an airbrush or carefully applying nail stickers to your long square nails.
#12. Long Skinny Square Nails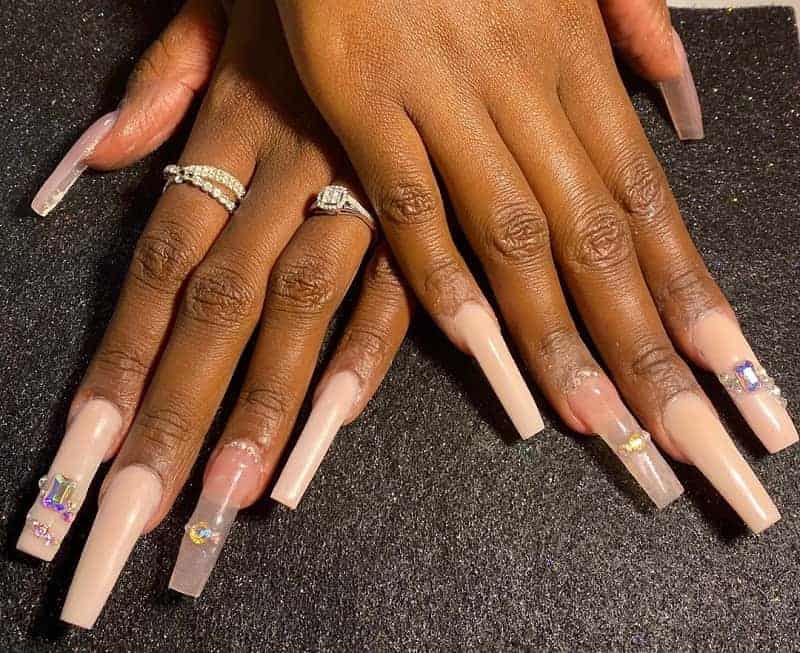 Skinny long square nails feature beige as the main color, and no color on the ring fingers. However, the design is still noticed with colorful rhinestones.
#13. Long White Square Nails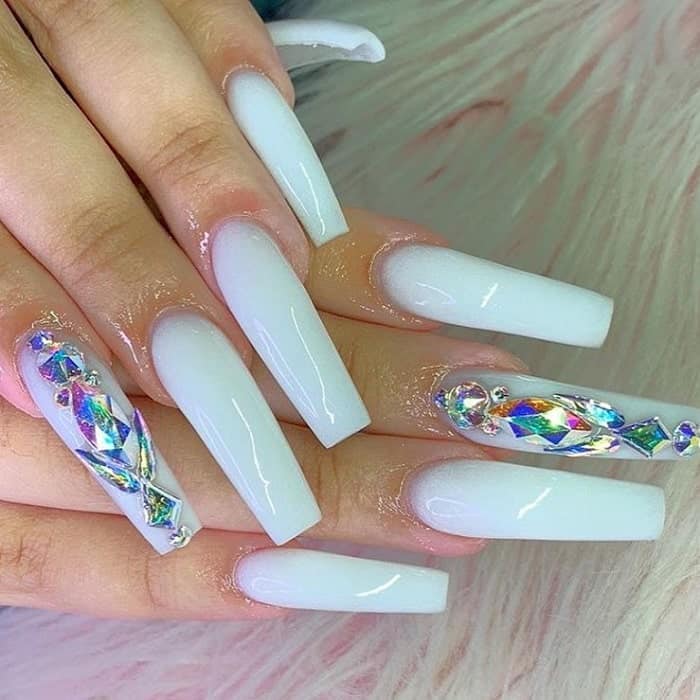 A luxe white gel nail polish coats the design here. For accent fingers, stack thick holographic stones or stickers to give shine.
#14. Long Red Square Nails
Bright red is the classy color many women choose for long square nails. Make the ring finger nail shine with soft orange and green spots and a glittered zig zag line.
#15. Natural Long Square Nails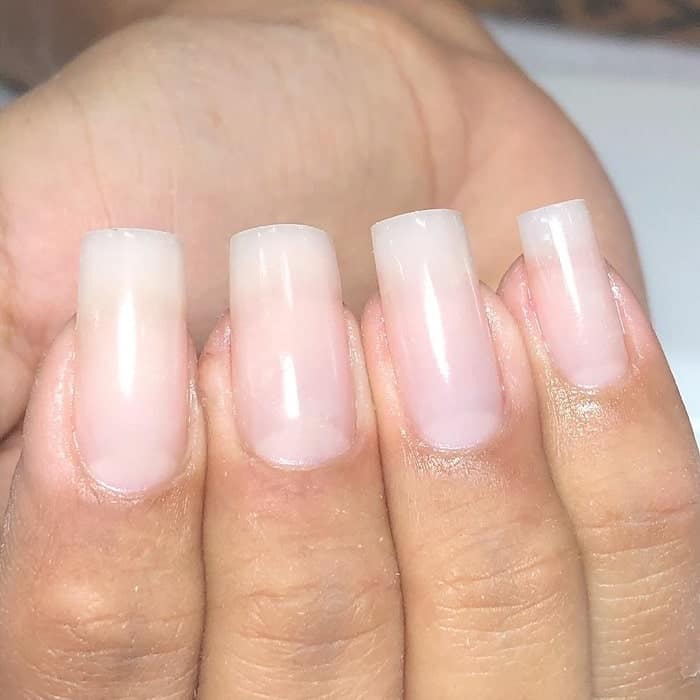 If it's easy for you to grow long nails, embrace them by turning them into a square shape. There's an understated beauty in plain nails.
#16. Long Square French Tip Nails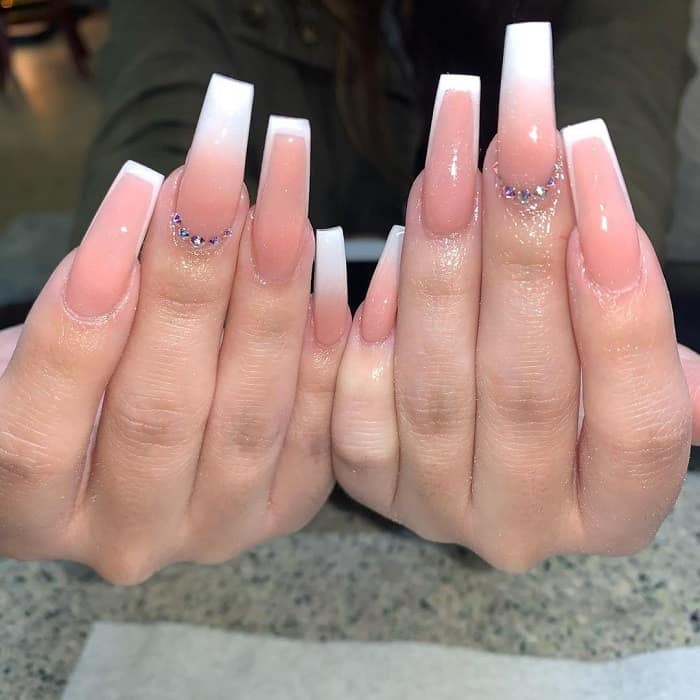 Women who are fans of French tips will love how the design can be enhanced on long square nails. Just make the white tip thicker.
#17. Long Square Clear Nails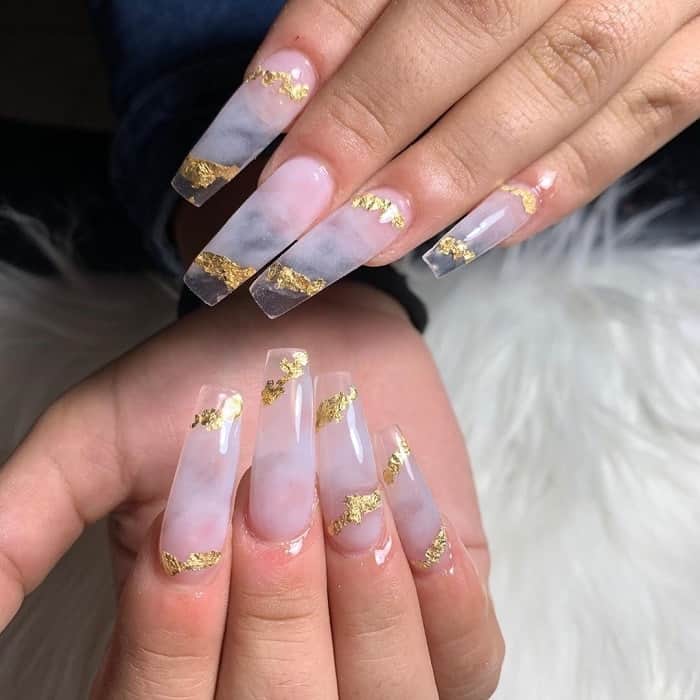 A smokey clear polish coats the long nails here. Chunks of gold foil are used near the cuticle and at tips.
#18. Long Square Nails for Christmas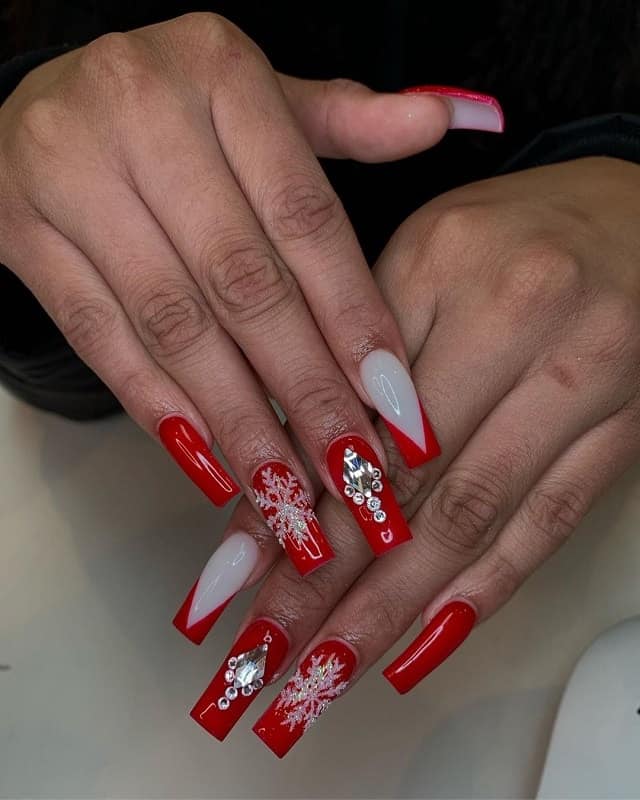 Rock Christmas colors all December with a rich red. White sparkly snowflakes and rhinestones create festive designs on the middle two fingers.
#19. Purple Long Square Nails
We love a soft lavender no matter the nail shape. To make long square nails extra delicate and feminine, use silver foils to layer on the ring finger, and colorful crystals to line the cuticle.
#20. Long Black Square Nail Design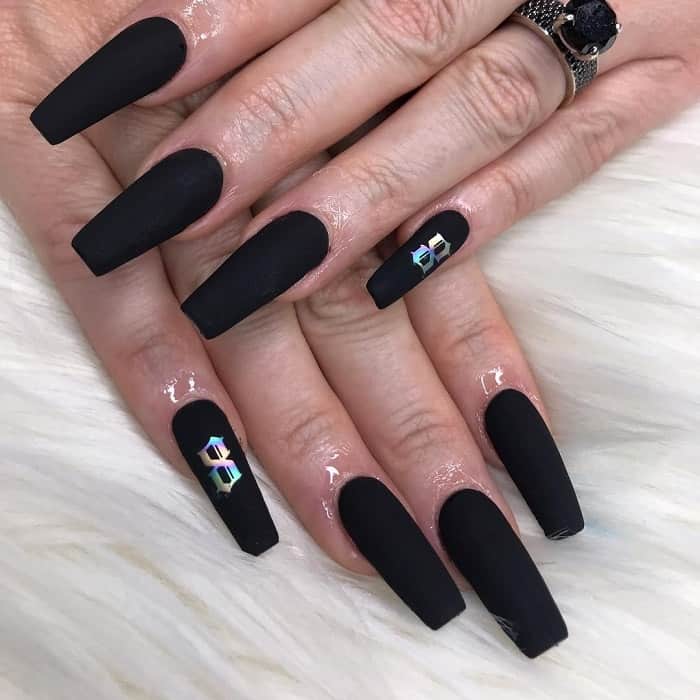 For goth vibes or that Halloween design, just opt for a matte black. You can use silver Roman letters or numbers to decorate a pinky nail.
#21. Long Nude Square Nails
Nude nails are the epitome of class, but that doesn't mean you can't sparkle them up! Paint the tips with beautiful glittering gold.
#22. Long Square Oval Nails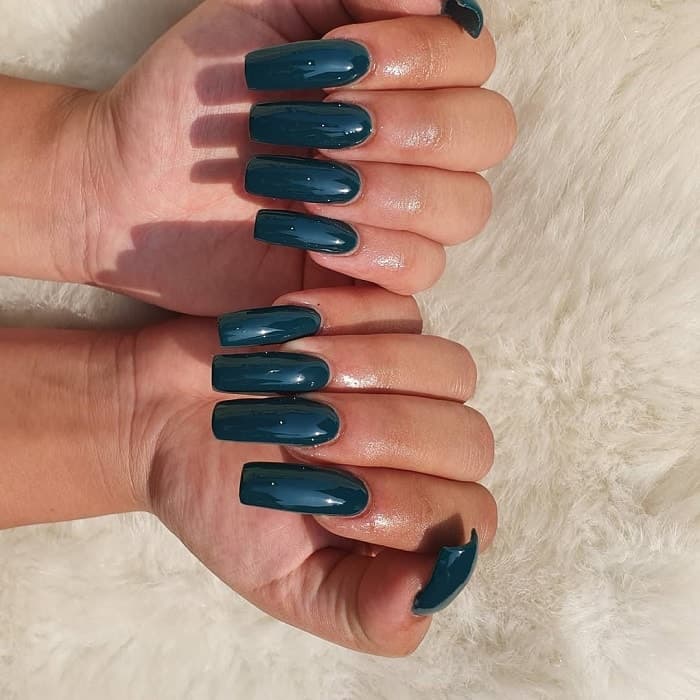 Long square oval nails are gorgeous with just one layer of teal. Be sure to add a top coat for shine.
#23. Long Square Matte Nails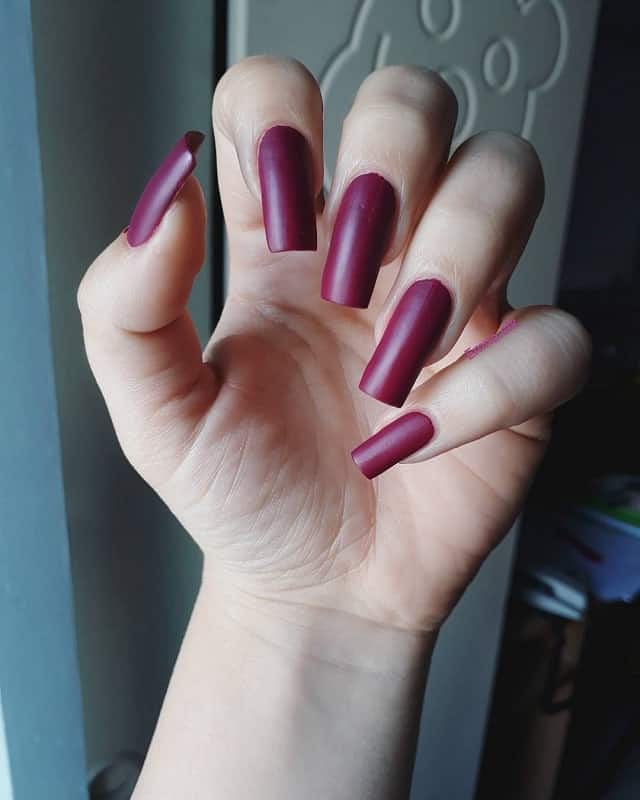 If you're looking for a stylish nail design but don't want the shine, just opt for a matte magenta.
#24. Long Square Ombre Nails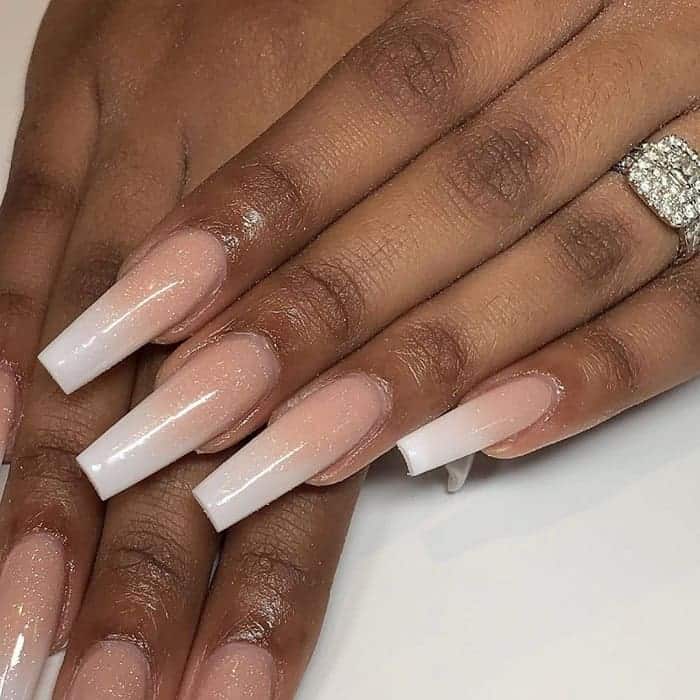 Not all ombre is created colorfully! Just take a look at these clear-white ombre nails with their golden glitter.
#25. Extra Long Square Nails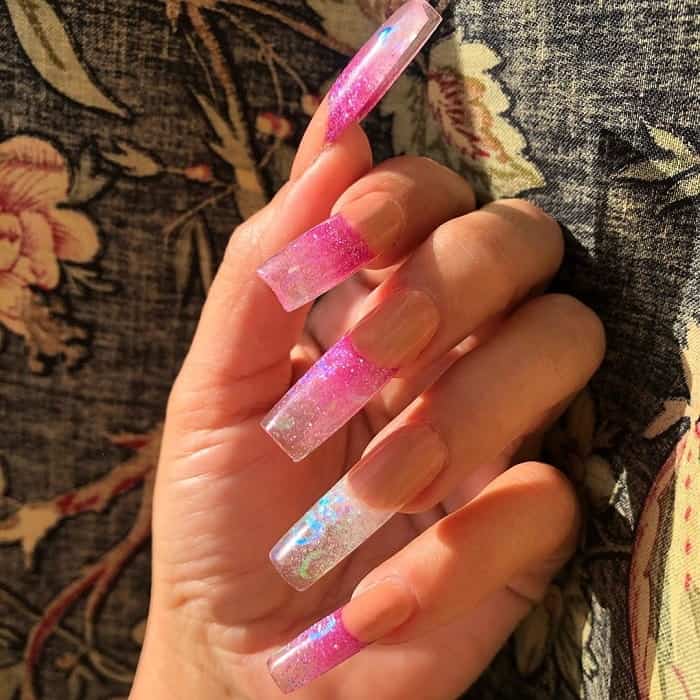 Feel instant glam with long square nails that flaunt a hot pink ombre. A sprinkling of glittered polish makes this nail art Barbie-approved.
#26. Light Pink Long Square Nails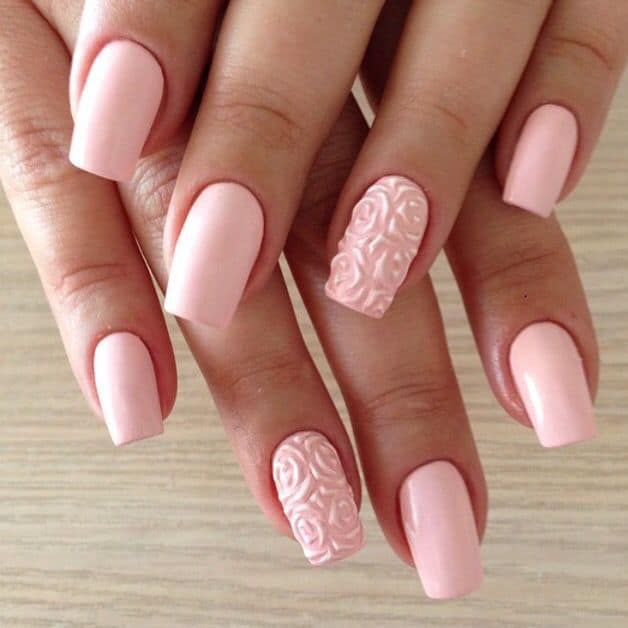 This is a blend of plain nail design and a flowery design on the plain nail canvas which looks like icing on the cake.
Just fill in the surface of long square nails with any matte color and design some of the nails exactly like the way a pastry cake is iced with different designs.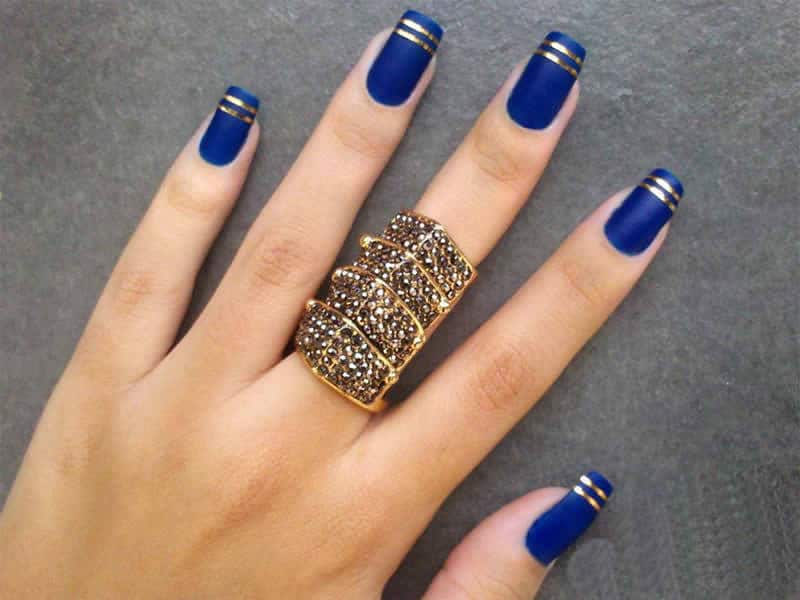 Blue always makes a statement wherever it is used. If your blue long square nails are edged with two shiny golden stripes, how dashing it will look? Use matte for the blue surface and use acrylic golden color for a shiny look.
#28. Storm on Your Nails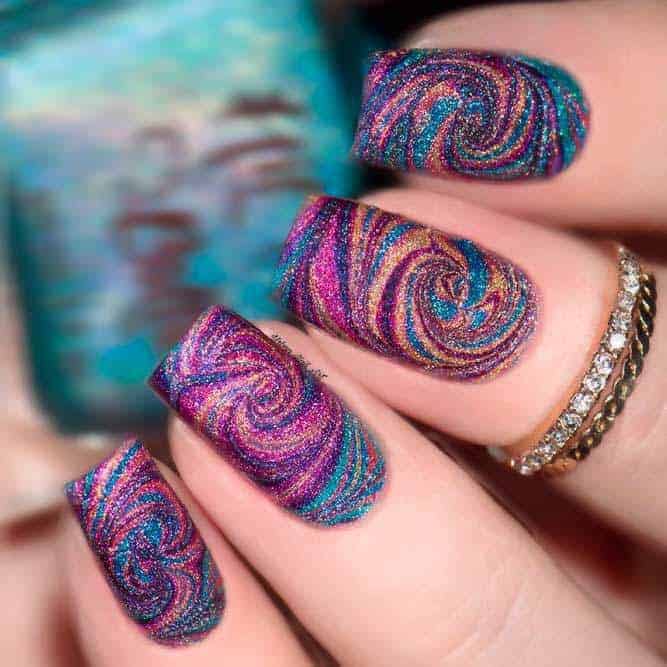 This gorgeous design for long square nails features swirls of purple, pink, and blue. To have this design you must have expert hands as there are different glittery colors whirling like a storm in the middle of your nails.
#29. The BW Charm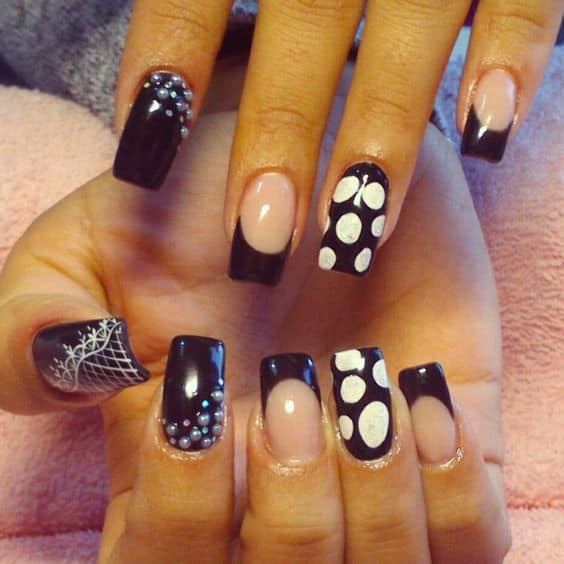 Black and white have a forever shared relationship. Apply black fully on your nails or at just the tips, then use white for spots or floral designs. This will give a contrasting but incomparable look to your nails.
#30. Text with Textures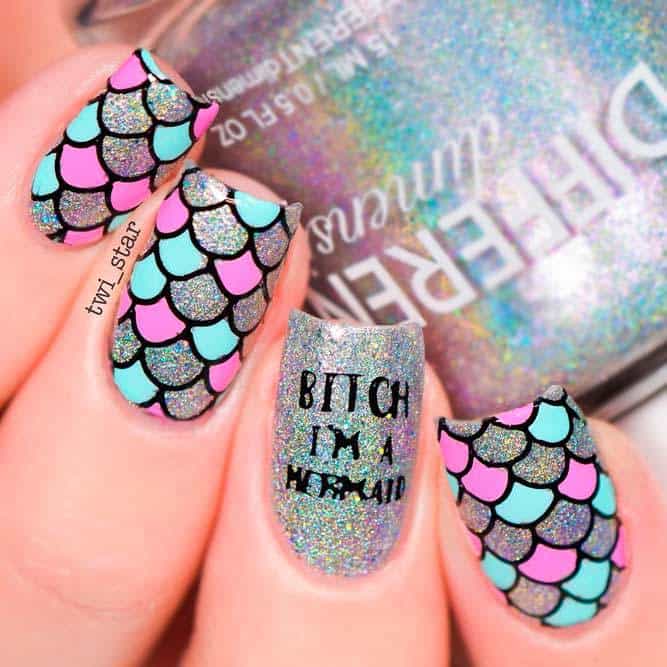 Two or three shining colors mixed with glitter give a dazzling look to long square nails.
Draw colorful scales and fill them in with light blue and pink. For these mermaid-themed nails, you can leave one nail scale-free and use word art.
Follow the designs above and blend them with your own creativity for a gorgeous set of nails.