These music note nail designs have never looked so hip! Are you a fan of music? Who isn't? These nail creations will awake a maestro that is inside of you and get you right onto the dance floor!
Rocking Music Note Nail Designs
We present you with 25 music note nail designs that will make you cheerful, put a smile on your face, and look so groovy while you rock them.
#1: Music Note Nail Stickers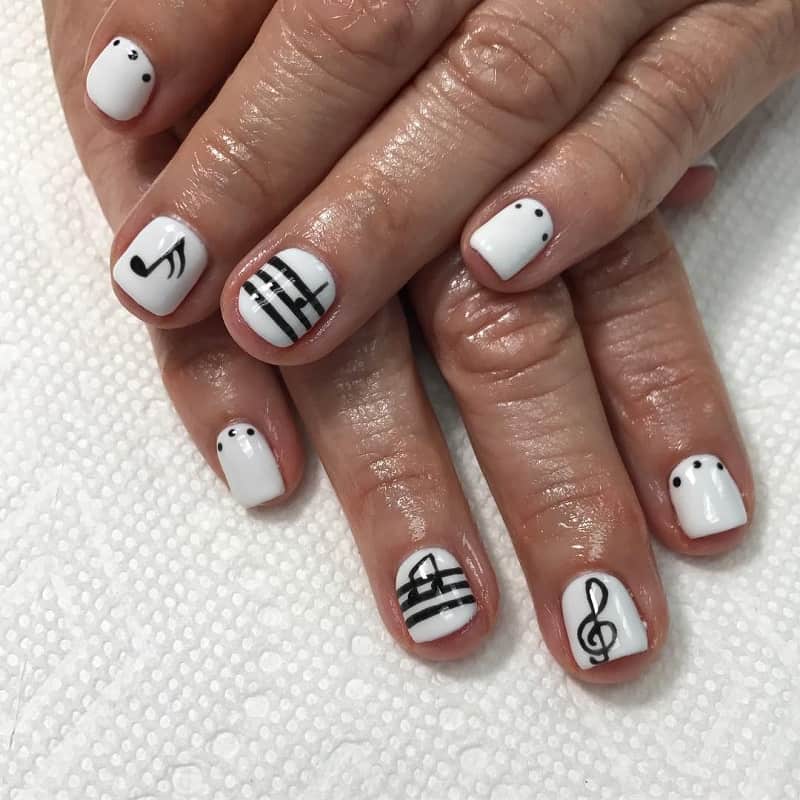 After painting short rounded nails white, apply nail stickers. Black music notes and sheet music lines stand out perfectly.
#2: Acrylic Nails Music Notes
A medium length rounded almond nail is classy when painted beige and given cute music notes and instruments. You can draw these yourself using black, white, and shiny brown, or have your nail tech do it.
#3: Fake Nails with Music Notes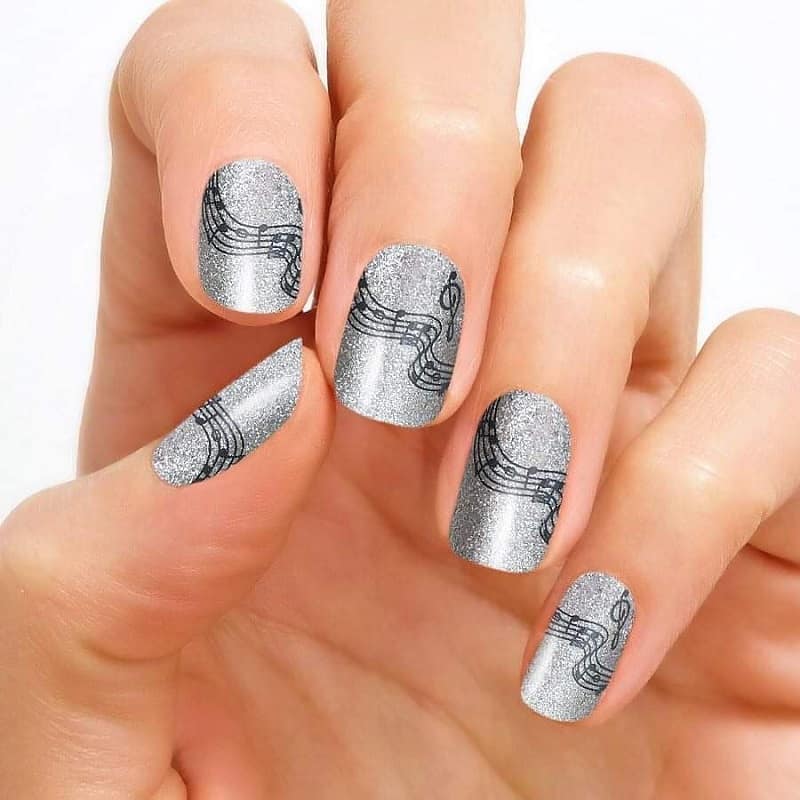 To get these sparkly silver nails, look for press-ons that are music-themed. You can also just paint the nails in sparkly silver and apply music note nail stickers.
#4: Gel Nails with Music Accent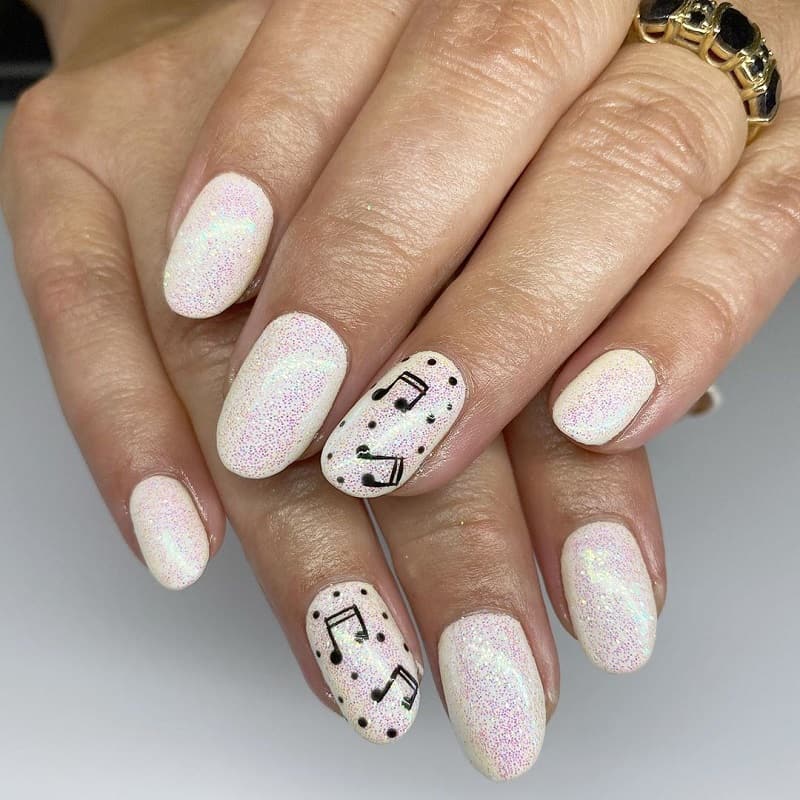 Another stunning sparkly music note style are these glittered white nails. For the accent finger, apply black music notes, filling in the spaces with black polka dots.
#5: Bright Yellow with Decals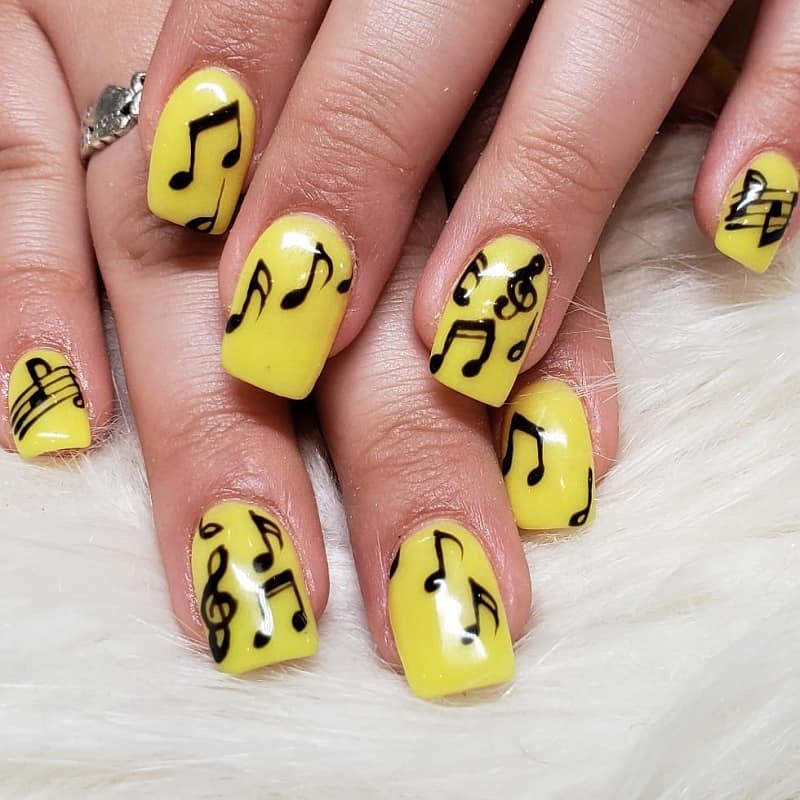 Bright yellow nails will surely make black music notes pop. Whether you use acrylics, natural nails, or press-ons, just apply your decals and you're done!
#6: The Classic Piano Nails
This is the nail design with a classical piano on top that looks calming and unique. While having this nail design know that the piano is actually a relatively new instrument! The first one was constructed in 1698 in Italy. That might sound old to you, but other instruments such as the flute have been around for thousands of years, while the piano has been around for only 319 years.
Exclusive Stiletto Nail Designs
#7: Music Note On Green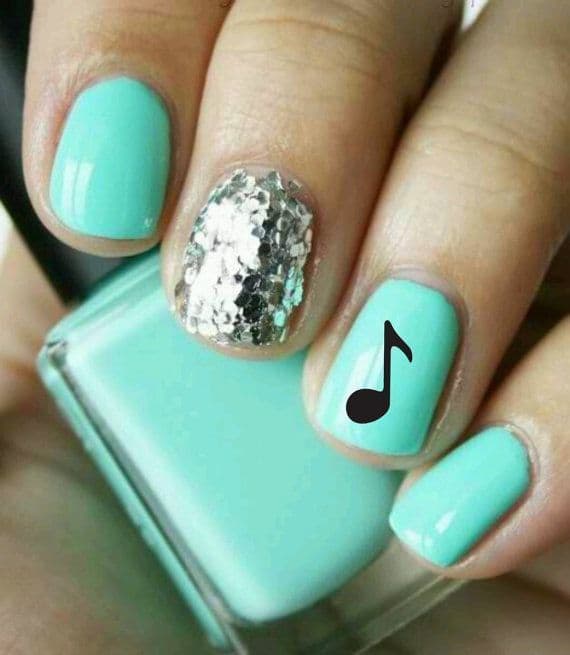 These nails are lit! And as the Fall Out Boy says "Light them up, I'm on fire!" Light blue with some added jewelry and a single black music note looks peaceful and calming since the blue color has that kind of effect on people. You can also try these green nail arts.
#8: Stand Out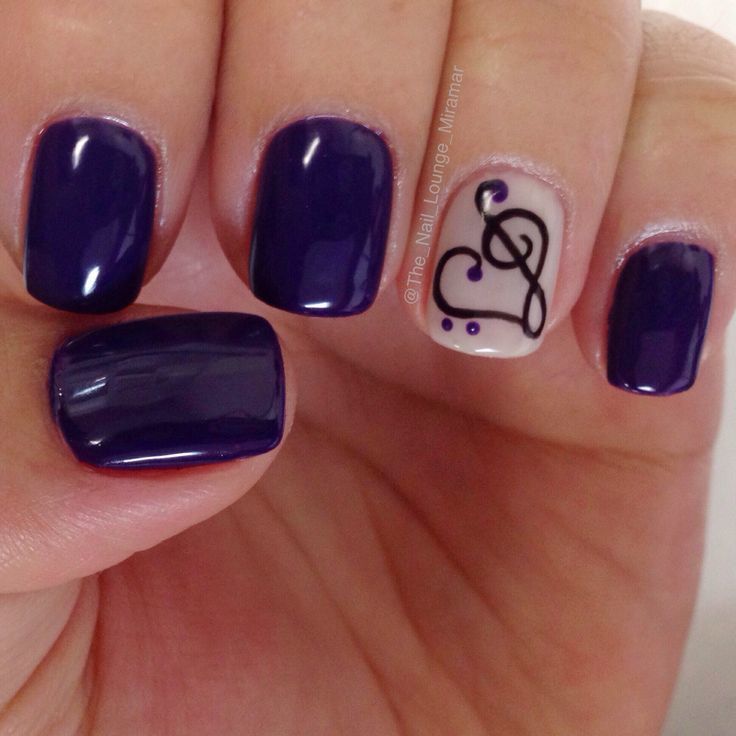 Treble clef in a heart shape is so dignified and sweet looking. It is a musical symbol used to indicate the pitch of written notes. In this case, this note is obviously screaming "I wanna Dance With Somebody Who Loves Me!"
#9: French Clef Music Nails
A clef means key in French. So in this music note nail design, you can see a lot of French details. French manicure paired up with the music notes, a clef, and a lot of passion for music (especially classic one). Have your nail technician on a speed dial since everyone will be stopping your every five minutes to ask for your nail technicians number and the next available term.
These Beige Nails Are Beautiful
#10: Party Mode Music Note Nail Design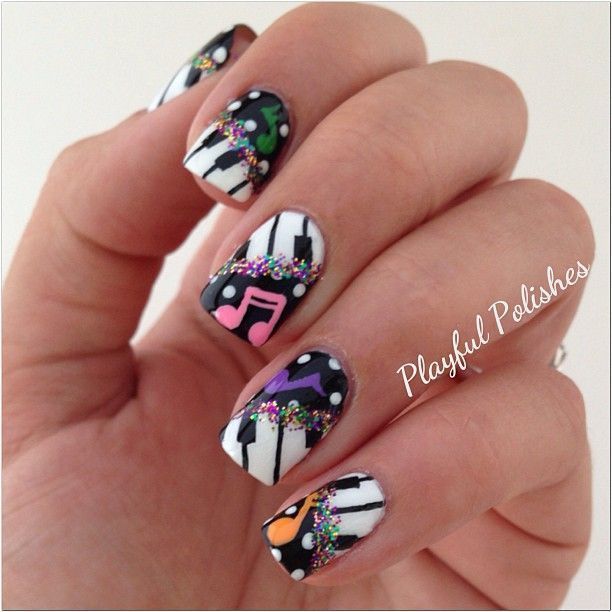 These music note nail designs look like they've had a fun Saturday night out and are coming back home from a party. A drink or two too much, but hey no judgmental people allowed! Hop onto this train and have fun in the club saying "DJ please don't stop the music", Rihanna, 2009. (Feeling old now?)
#11: Rainbow Of Music Note Nail Designs
Cheerful, colorful, vibrant, these nails will get a lot of attention. A bit of splish and splash won't hurt you, so get out and start partying. The dance floor is all yours and doesn't forget to "Have The Time Of Your Life." Is it getting too much for you to handle? But hey "Dirty Dancing" won an Academy Award for the Best Original Song, remember that before you start being judgmental.
#12: A Bit Of Everything
You can see the OPI nail polish in her hand, and that's not a surprise from our end since OPI has been stepping up their lacquer game. Make your nails extra cute with different colors, and paint them differently, you will definitely have fun playing with these colors.
#13: Play, Pause, Rewind Buttons on Nails
Okay well, these aren't exactly the music note nail designs, they are more upbeat and modern version of the sheet notes. We all know about these buttons and we can say that they look mesmerizing when paired up with these colors.
Black and white music note nail design has got that innocent childish vibe, which is perfect for little kids party or birthdays. This is a great example of how short nails can look cute too.
Nautical Nails: 25 Designs for Sea Lovers
#15: Maestro

Magical, majestical and maestral. These light colored music note nail designs are perfect for the attention seekers out there. Someone really tried their best to achieve this nail art. Effort and hard work should really be appreciated.
The purple color is often associated with royalty, luxury, power, and ambition. Purple also means wealth, extravagance, creativity, mystery, independence, and magic. So know that you are a magical mysterious music goddess with these music note nail designs!
#17: Precised Who?
These matte messy nails are cute for your little tea parties, sleepovers, or some chill moments with your friends. Since these nails look innocent your daughters or little sisters and nephews could also wear these and go unrecognized but yet feel stylish.
#18: These Are A Music To My Ears
Light blue with some sparkling dust and a music note design looks charming and original. These square shaped nails should be your go-to option when going somewhere fancy. Don't be surprised if someone asks you "Why So Blue"? And be ready to sing along with them to the Paul Mccartney song.
#19: Colorful Music Notes on Nails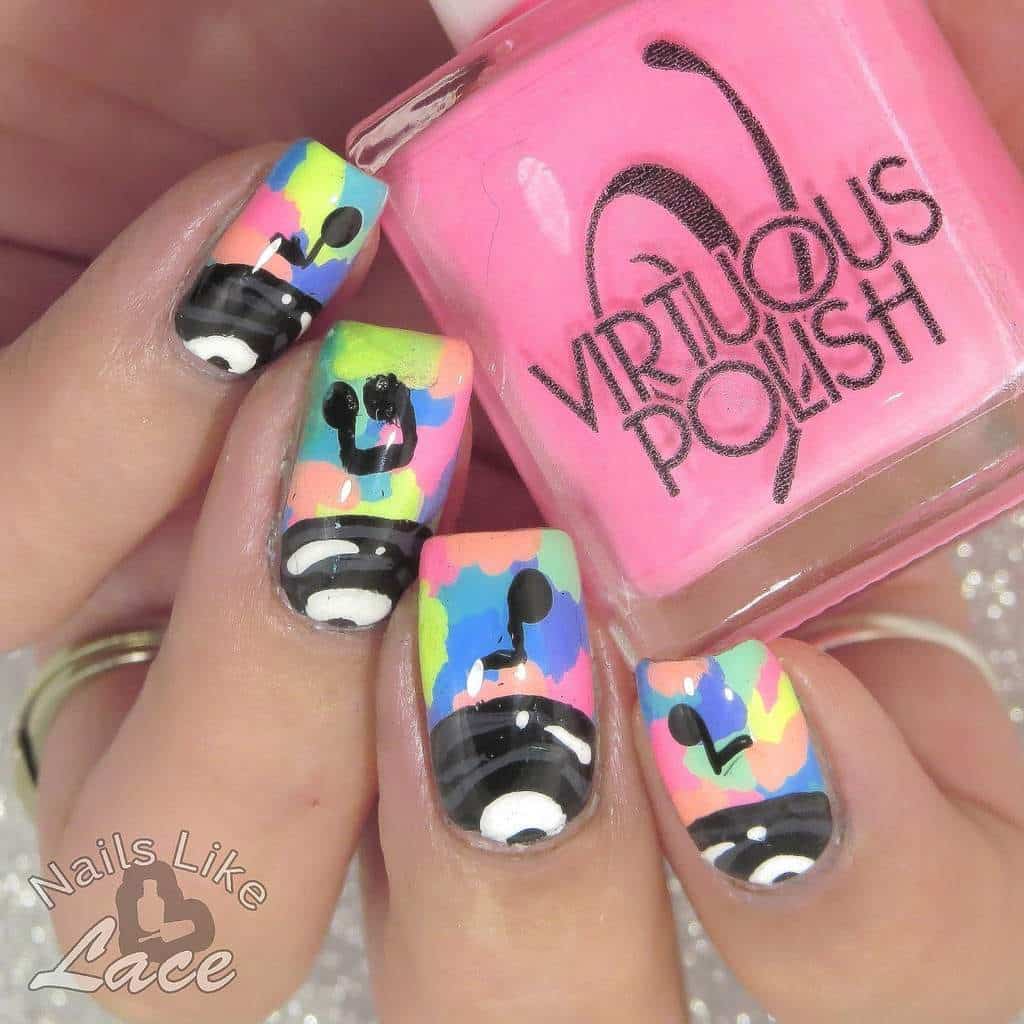 Looks like someone had fun at the art class. Remember that "We can always, we can always, party on our own" as Pink would say.
Blissful Colorful Nails for 2023
#20: Make It Or Break it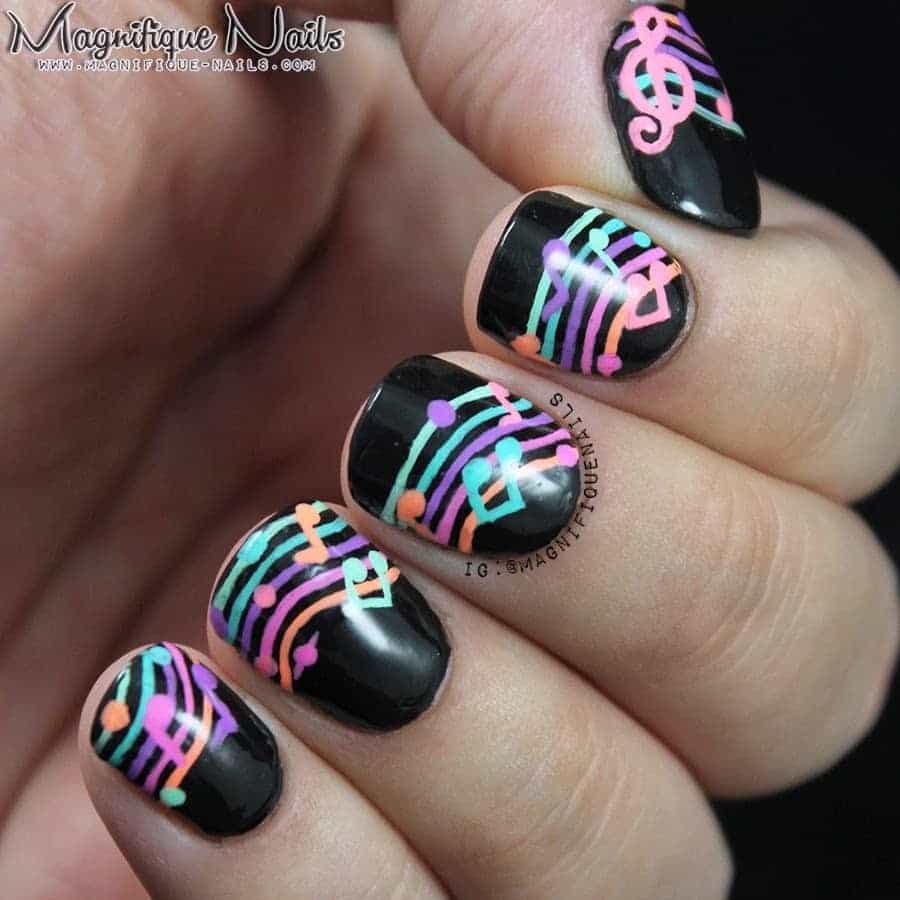 We don't mean break it as in break your nails. We think that this music note nail design will bring you some joy and luck since they have all the pretty light colors on top.
#21: White High Pitch Nail Design
Light blue with some music note details looks yummy. Lighter colors are for feminine and ladylike women out there, who like to give out the soft and elegant vibe and go low key as much as they can.
#22: Dark Music Nails
Dark base with light music note nail design can be a hit for a summer night out or a true statement for rave parties since the lighter colors will shine in the dark. So get your glowing sticks and let's kick it!
#23: Miss Goody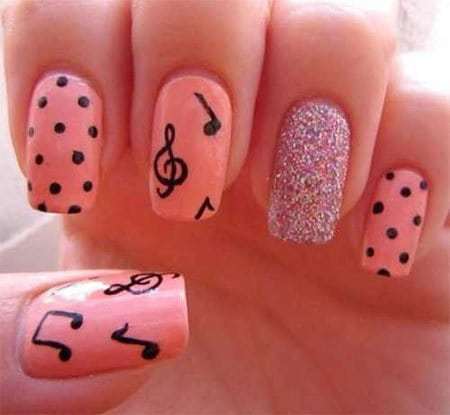 Sugar, spice, and everything nice! These were the ingredients for our irresistible light colored nails with some of the black colored nail designs with the music note on top. This nail option is so light and cute and perfect for our little musical princesses out there.
#24: Grey Is Okay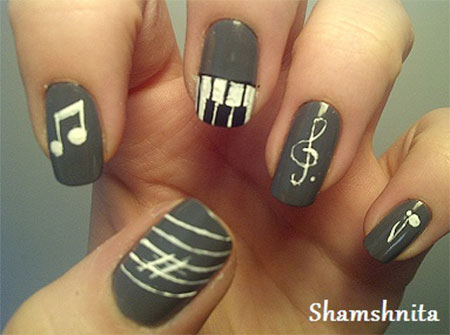 In this example, we can see that the dark and neutral base can look mysterious and pretty. These nails are very magical looking, so play your dark, mysterious and secret role when shaking people's hands and getting to know them. Have fun a bit, and don't take everything in life too seriously. Take a look at these grey nails.
#25: Vintage Music Nails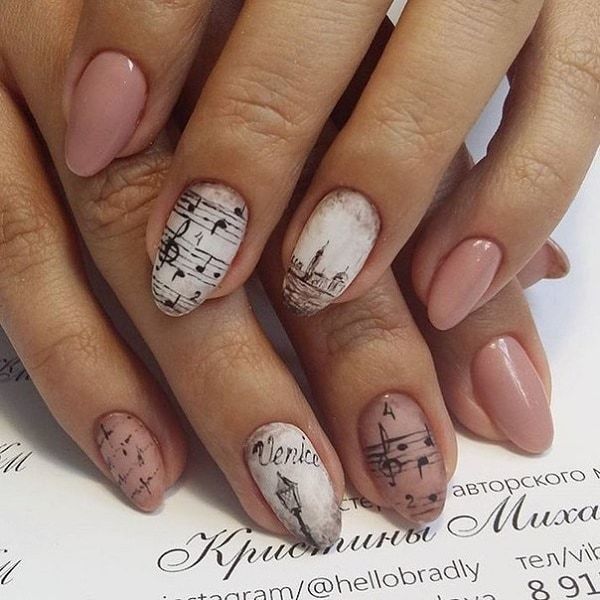 These French and Italian stunning nail design gives out that smooth and fresh feeling just by looking at them, and imagine wearing them! These light pink nails with a music note nail design look so Parisian and stunning! ASAP to the salon and get yourself some of the relaxing treatment with our creative nail ideas.
Cute and Trendy Toenail Designs to Copy
More Amazing Music Note Nail Designs to Fall in Love
Season changes quickly and choices need to be made.. Give yourself a minute or two to determine which one of these is your favorite nail creation out of all! We know it is tough, but you can do it! Based on the season you are in, or by the mood you're feeling, simply just relax and start cross checking one by one from our list. Slowly but surely you'll get there!