101 Top Stiletto Nail Designs to Turn Heads Quickly
The Stiletto nail design trend was born in the 50's, and growing today more than ever. With the help of celebrities such as Rihana, Kylie Jenner, Lady Gaga etc It has become one of the hottest nail styles among young nail lovers. Art symbolizing strength and fierceness in the form of nails is certainly an attraction for us girls.
Coolest Stiletto Nail Design Trends
Extreme looking long oval nails with a pointed tip, mostly fake; acrylic, solar… those the lucky who maintain their long nails have the real ones. However, beauty this time comes with a cost, this dangerous design will end up rendering your hands almost useless, unless you wanna peal your skin scratching!
#1. Hot Pink & Zebra Stiletto Nails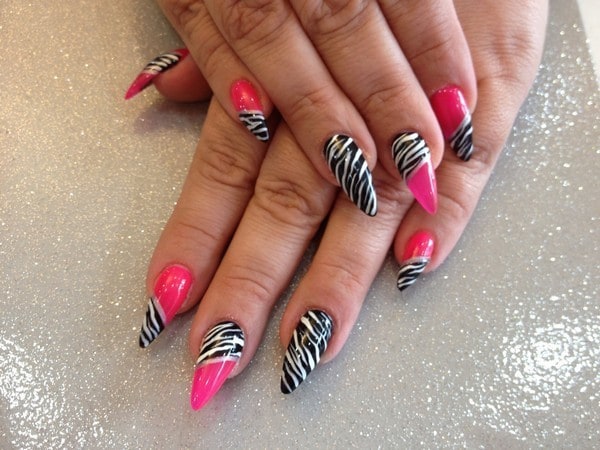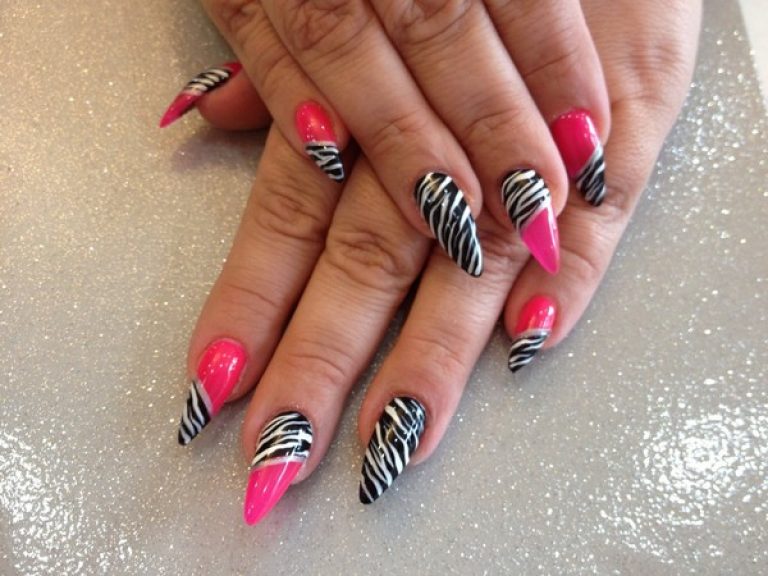 Hot pink stiletto nails are very popular and you can try it with a creative touch! Zebras might not have claws, but you can certainly get zebra print on your claws. Start with a clean layer of hot pink with penetration of black and white zebra stripes on these soft tipped stiletto nail design.
#2. Black Tiger Claws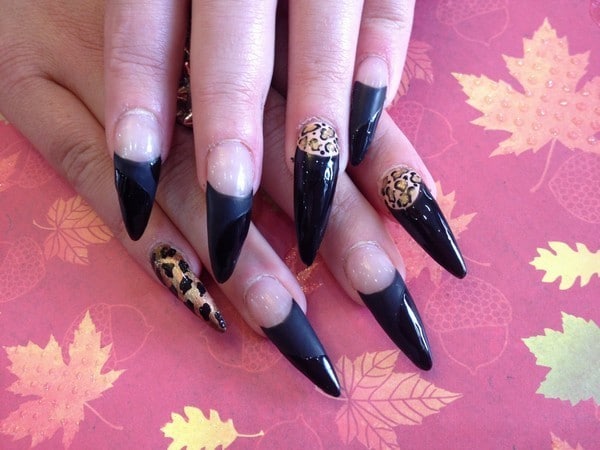 Black stiletto nails look elegant and we love this beautiful style. As if this style isn't daring enough, leopard black nails for complete cat-woman claws for an even more daring fierce design.
#3. Abstract Danger

Varnish your pointy sharp tips with complimenting warm colored drawings on top of a transparent glossy coated nails. A stiletto nail design certainly unique and creative, perfectly matches your warm autumn outfits.
#4. Burgundy Elegance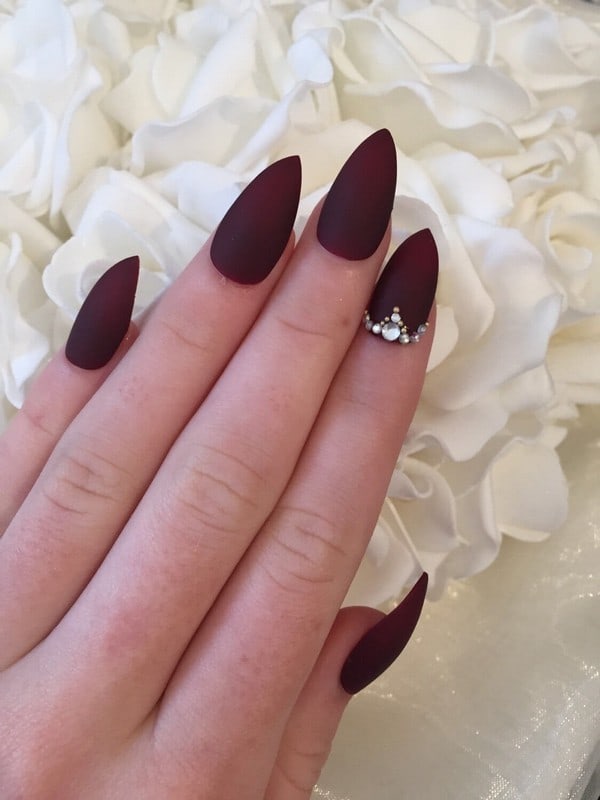 A Royal sophisticated appearance with dark burgundy polished stiletto nail style dramatized with the addition of a matte coat and accessorized with rhinestones at the base of the accent index finger.
Wanna try henna in stiletto nails? This video tutorial will help you:
Suzie demonstrates how to build a Stiletto Nail with acrylic and then creates a beautiful Henna design.
#5. White & Colorful Stiletto Nail Design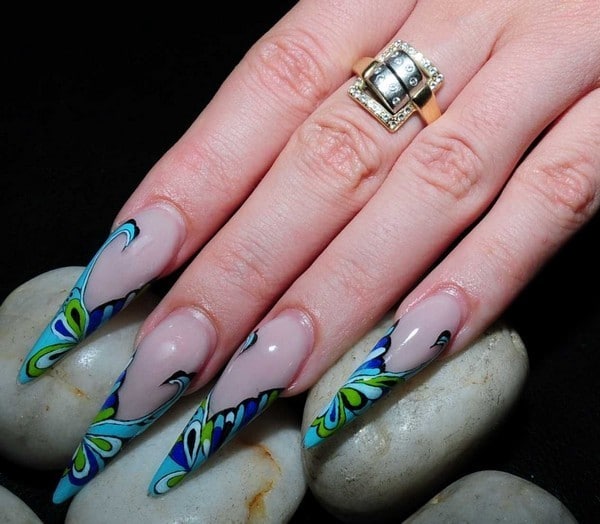 Cool nail colors like blues and green have been proven to be the world's most beloved and favored colors, for what soothing effects they reflect upon us. So, it's always a smart choice to get creative with these shades on your long pedicured canvas.
#6. Floral & Fierce

Sooth down your long bold stiletto nails with this cute girly floral pattern on top of a warm orange and purple backgrounds.
#7. Smokey Matte Black Stiletto Nail Art

Create stiletto nails with a smokey vibe using silver and black glitter stiletto nail design to get a full look matching your smokey eye makeup.For an extra fierce appearance add smudges of matte black polish giving you a leopard vibe.
#8. Bronze Brush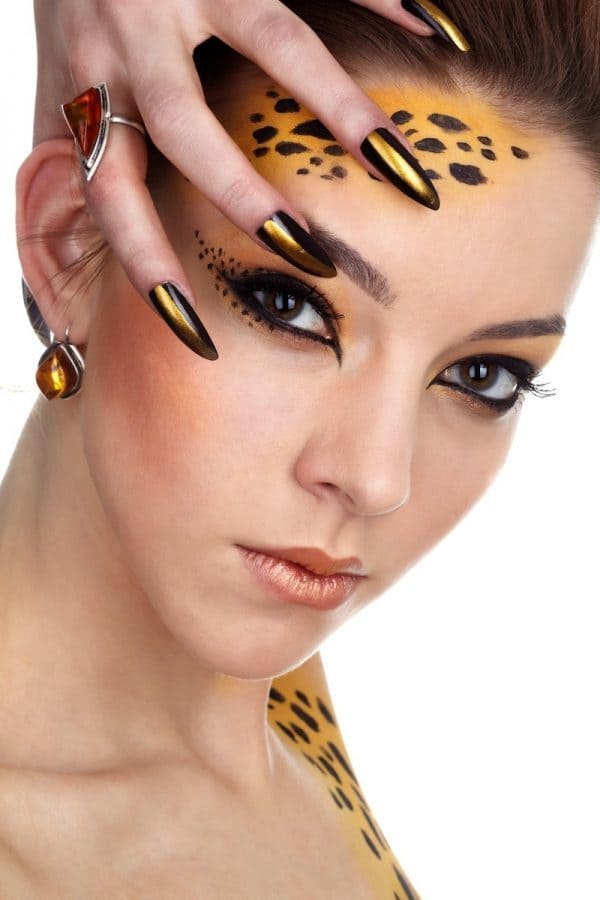 A divergence from the basic black stiletto nail design, with a simple brush of seductive bronze polish across the axes of your long sharp nails.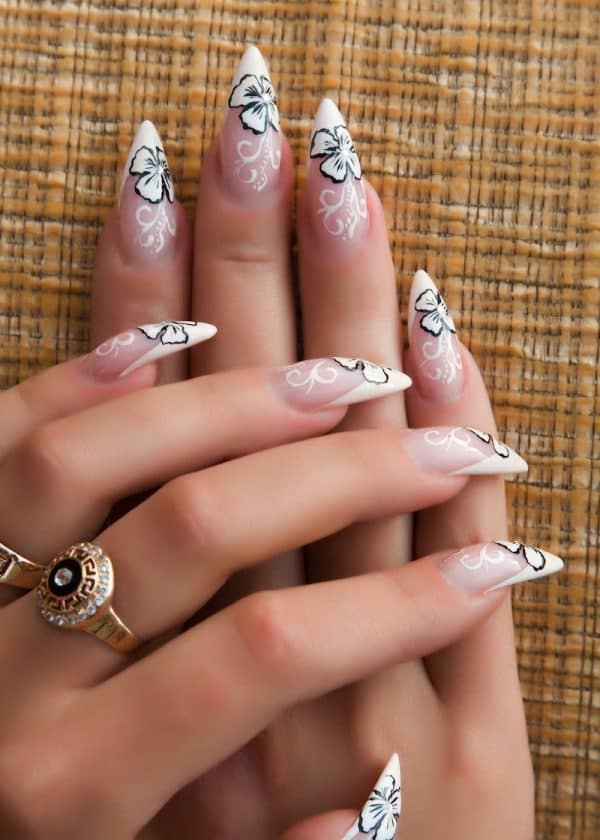 Personalize the traditional basic French design with a nude base and white tips, with the addition of your favorite floral paintings at the edge of each tip.
#10. Nights In France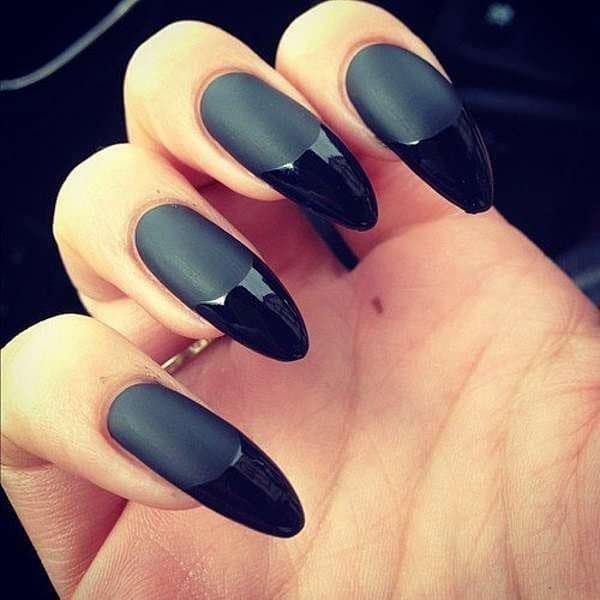 This matte black stiletto nail is our favorite. Black; the color of elegance and French style; matte base with glossy beds.
#11. China Town

French with a hint of Chinese… No, I'm not speaking about soy flavored crepes, I'm talking about these attractive French stiletto nail design with traditional Chinese floral drawings.
#12. Red Valentine's Stiletto Nails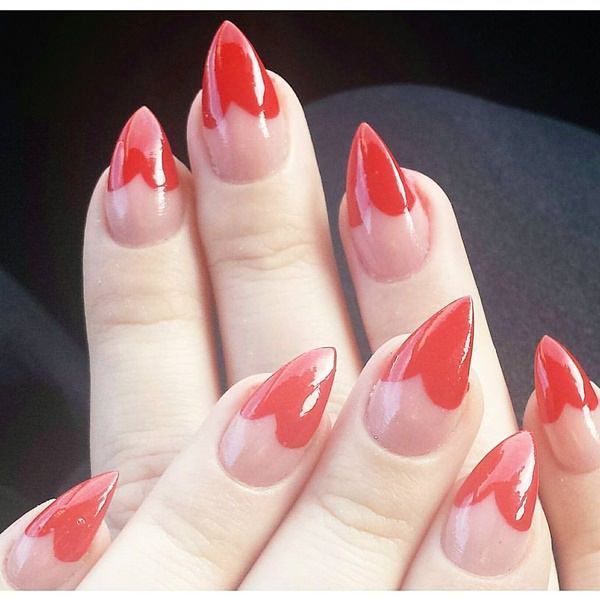 Kiss the tip of your sharp stiletto nails with red glossy hearts. A stiletto nail design perfect for a romantic date on Valentine's day!
#13. Rihanna Navy

Navy blue and stiletto nails… Can a nail design seem more Rihanna-ish?! So, if you're a fan of Rihanna, blue, or stiletto nail style, these simple nails will certainly catch your breath.
#14. Drunk On Wine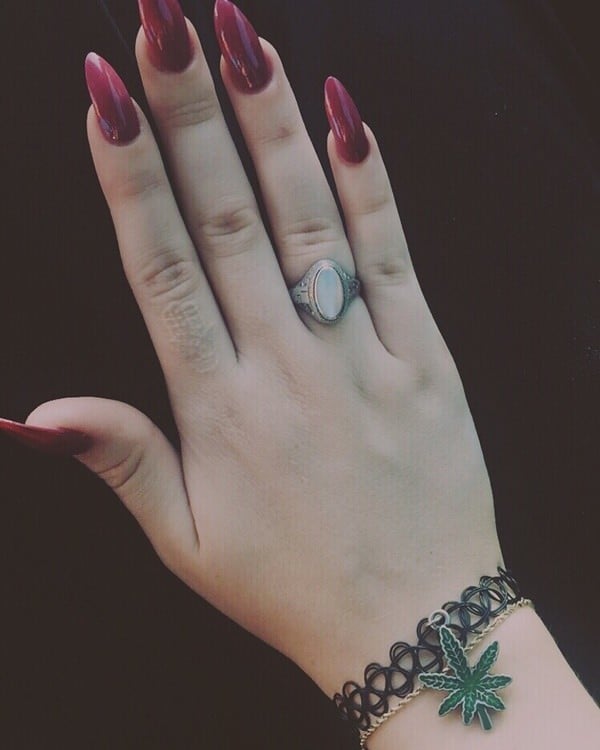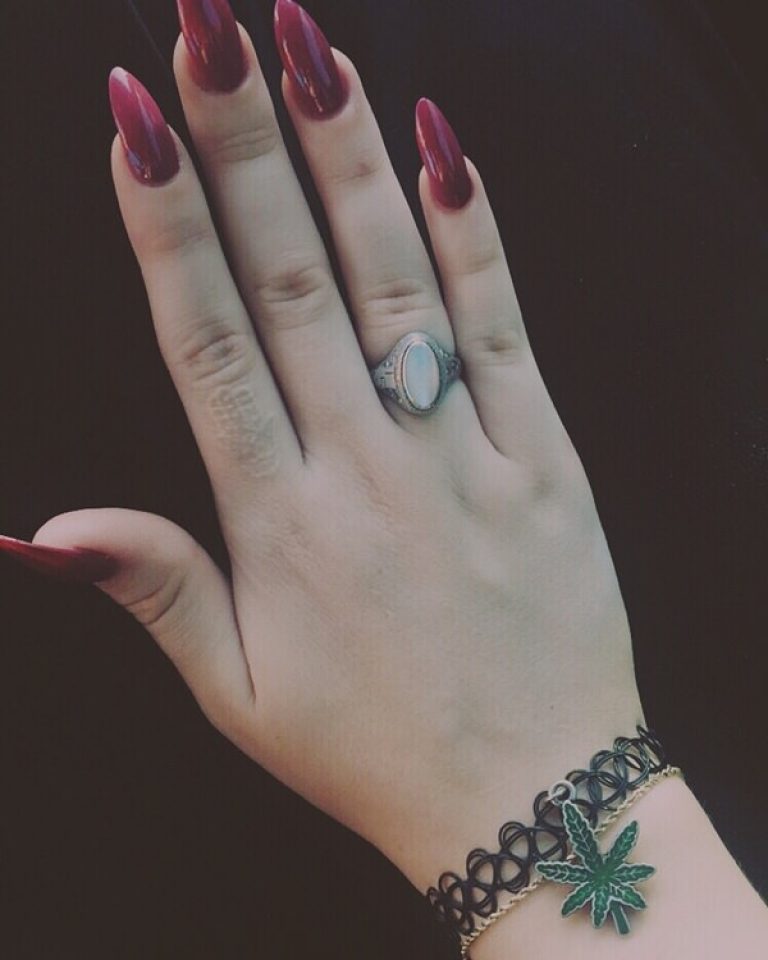 Once you try this sparkly wine red nail polish on your nails, you will certainly get addicted to this color.
#15. Bold Black Stiletto Nails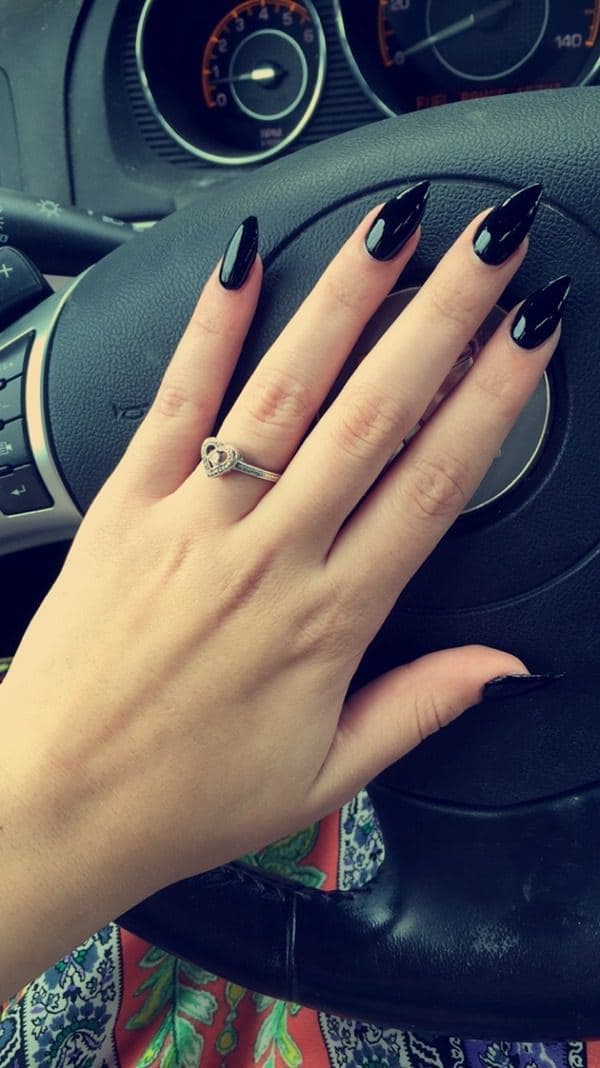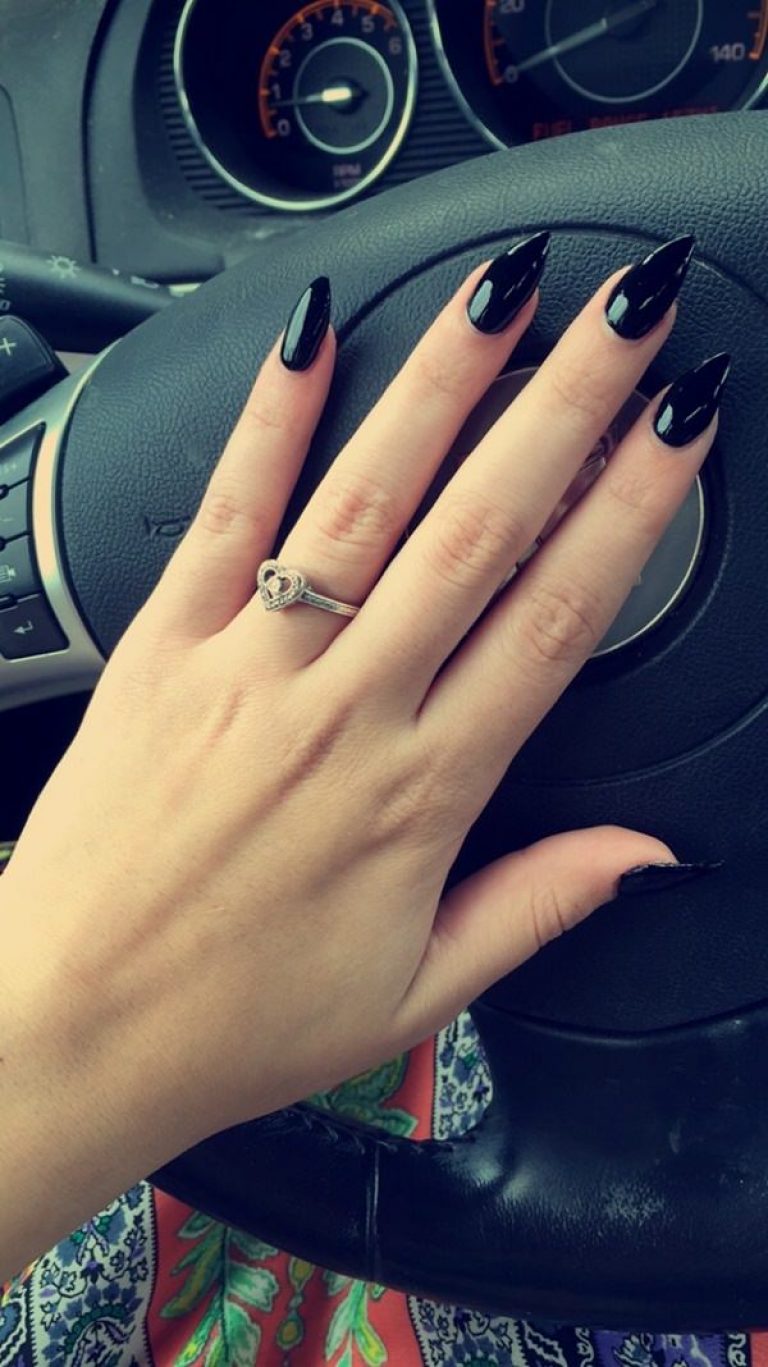 Might be the easiest sexy look anyone can master, a coat of glossy black manicure on your stiletto pedicured nails is all it takes.
#16. Dark Drops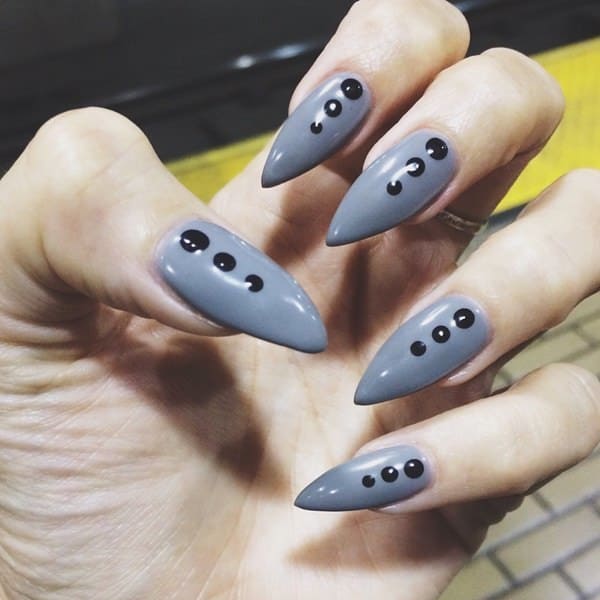 Try something new, try something edgy but simple, try this flint-grey nail polish with simple drops of black polka dots. Perfect stiletto nail design to flatter your winter outfits.
#17. Clean & Simple
Sometimes a pastel color, is all it takes for a stiletto nail design to dazzle on its own.
#18. Short Werewolf Stiletto Nails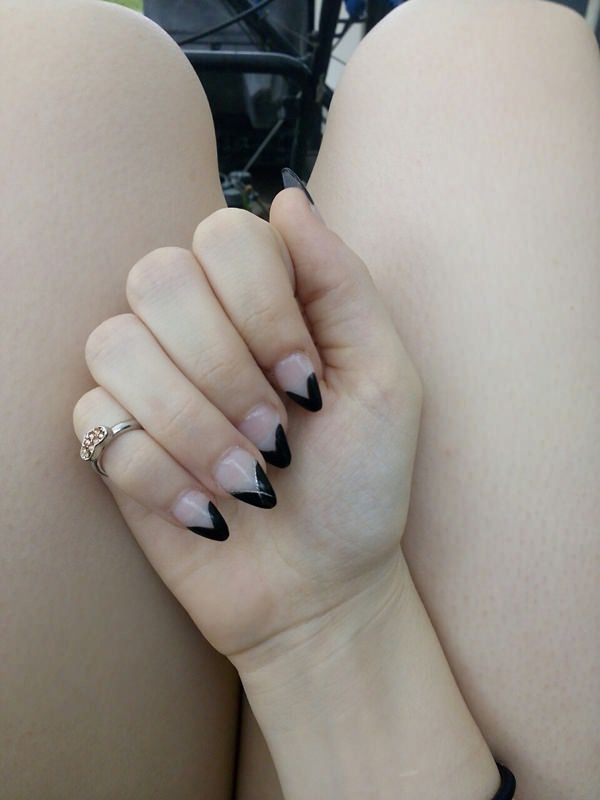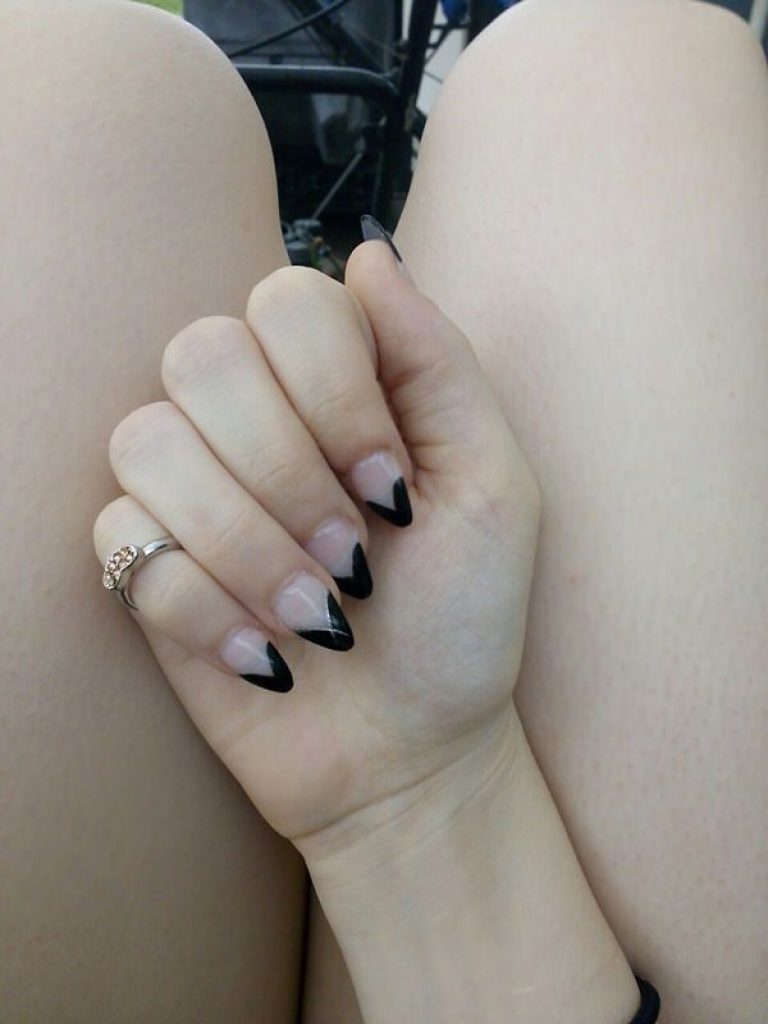 Typical claw design, made with short black stiletto nail beds on glossy transparent base. Suiting every girl obsessed with the mystical world, werewolves in particular.
#19. Swirly Black

Get from plain to gain with such stiletto nail design, and gain everyone's attention with these different designs on different nails. Finally, accent the design with basic matte black stiletto polish.
#20. Floral Stiletto Nail Design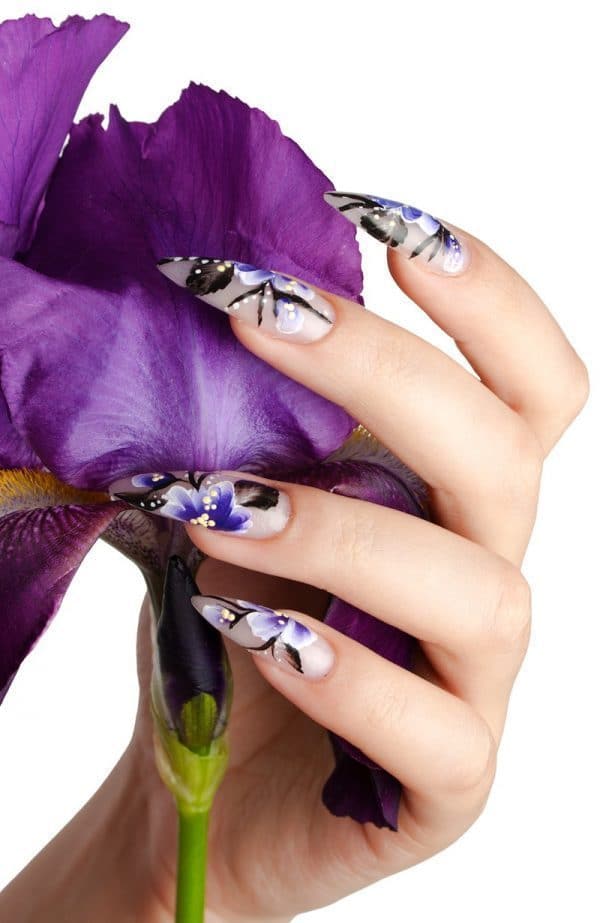 Capture everyone's attention with these beautiful artistic drawings hanged on the walls of each and every finger.
#21. Soft Stiletto Nail Design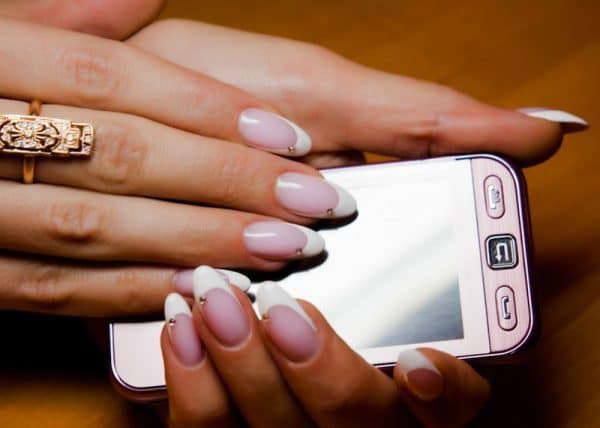 Round stiletto, simple french, a touch of sparkle…That's all it takes to be elegant.
#22. Winter Garden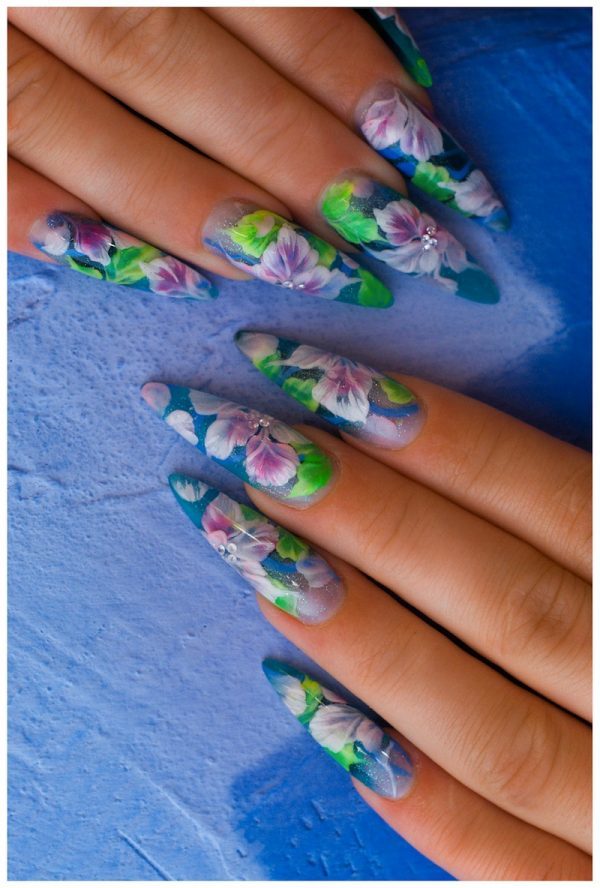 Varnish your nails with a winter floral garden in cool colors, and show off your long sharply pedicured nails.
#23. Free-hand Design
Boost your mood with this fun cheerful stiletto nail design, using hot red, gold, black, white, and glitter to create this creative free-hand design.
#24. Metallic &Patterned

Round pedicured stiletto nails coated with metallic shimmering nail polish, and finished with leopard patterns. Can this look get any more dangerous?
#25. Ice Queen
Sharp as a knife, and cold as ice. Get sparkling frosty blue nails for a sharp cool appearance.
#26. Glossy Red Plus Black Stiletto Nails
The perfect couple black and red gathered in this modern french nail design for a shouting loud stiletto nail silhouette.
#27. Roses Are Red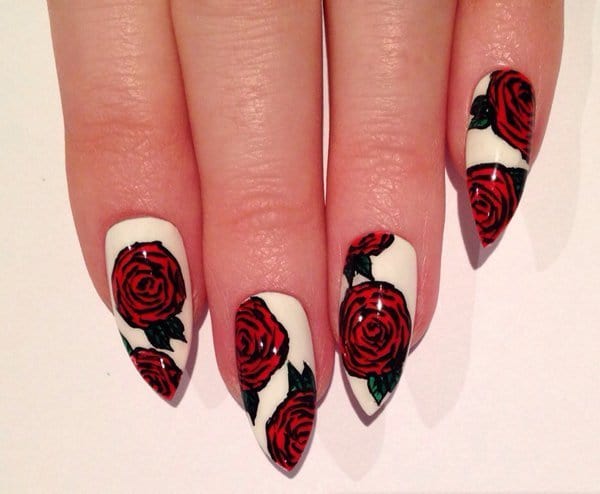 Draw " Beauty and the Beast's" enchanted rose on your clean white base coat, to get beautifully polished nails in a beastly stiletto style.
#28. Rock' n Black

Give in to your inner rock star and get her into the spotlight, with this hardcore rock'n roll inspired black studded stiletto nail design.
#29. Striped Nail Beds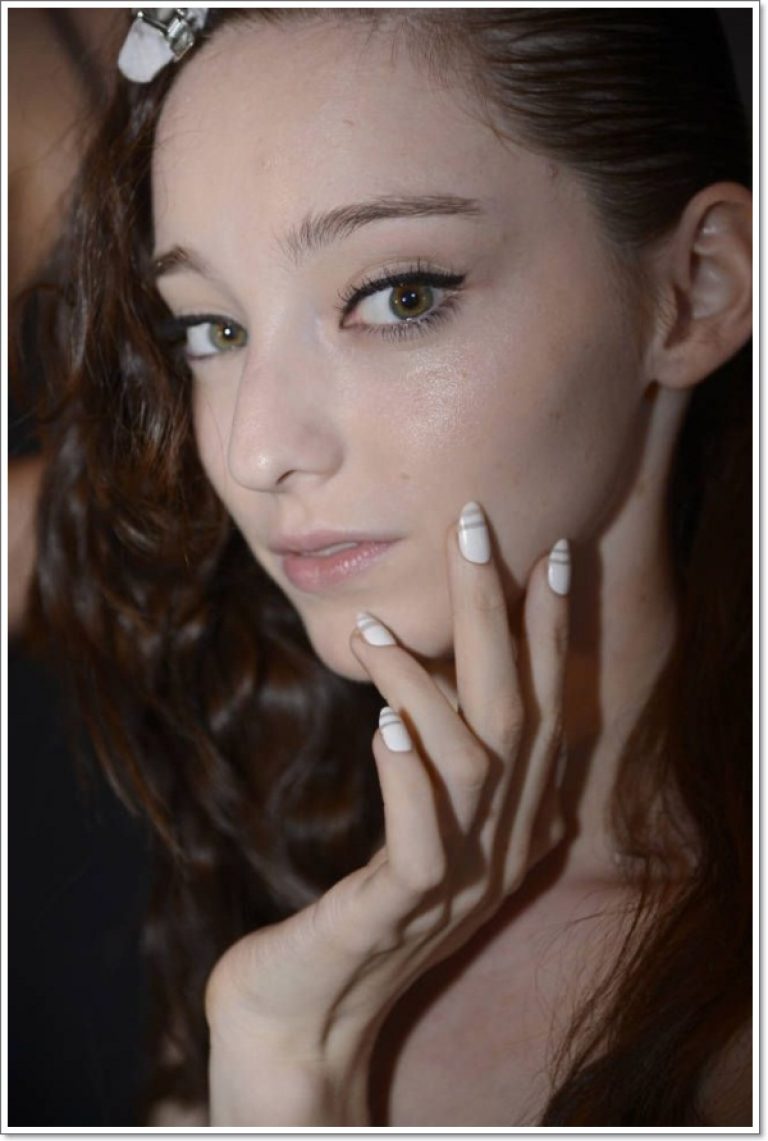 One of the rare short stiletto nail designs that might be perfect for everyday looks, thanks to the soft edges, short length, and natural pastel beige shade with colorless stripes at the tips of your nails.
#30. The 80's Vibes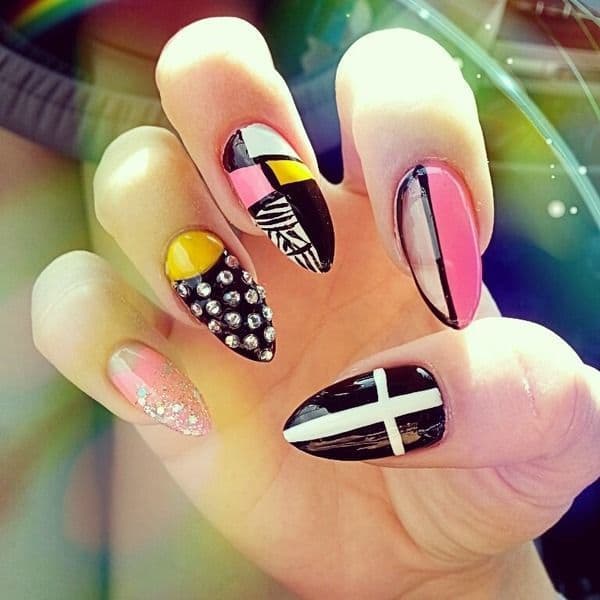 Channel "The Sex and the city"'s young "Carrie Bradshaw" and bring back those colorful 80's colors, fun cocktail patterns, and studded leather with this fun flashback stiletto nail design.
#31. Versace Nails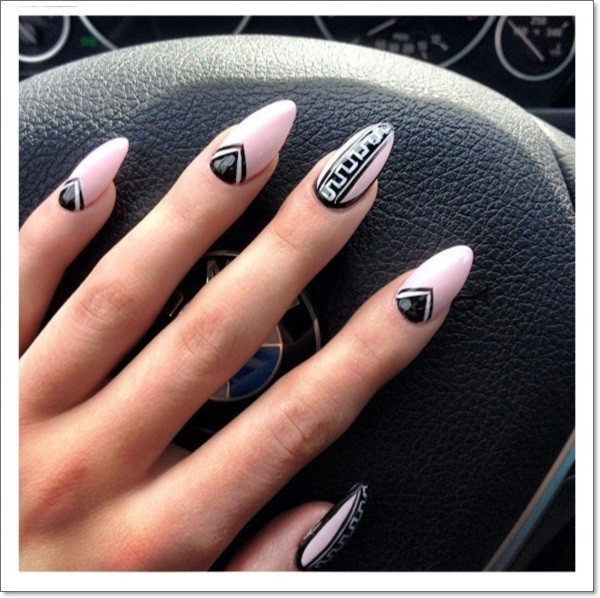 Get your Versace nails… Stylish stiletto choice for those couture lovers by channeling Italian fashion with this powder pink and elegant black combination. Accented with "Versace"'s trademark design with these geometric white brush lines.
#32. Coal black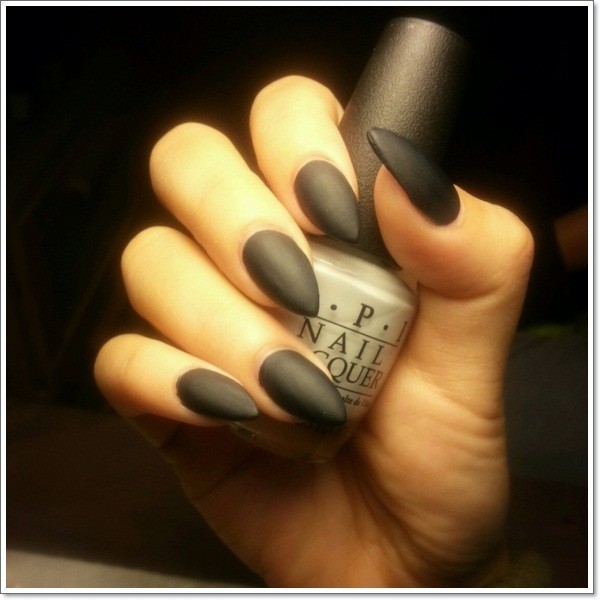 Choosing matte black nail polish is always the right choice to get an extreme fierce appearance.
#33. Dazzling Nude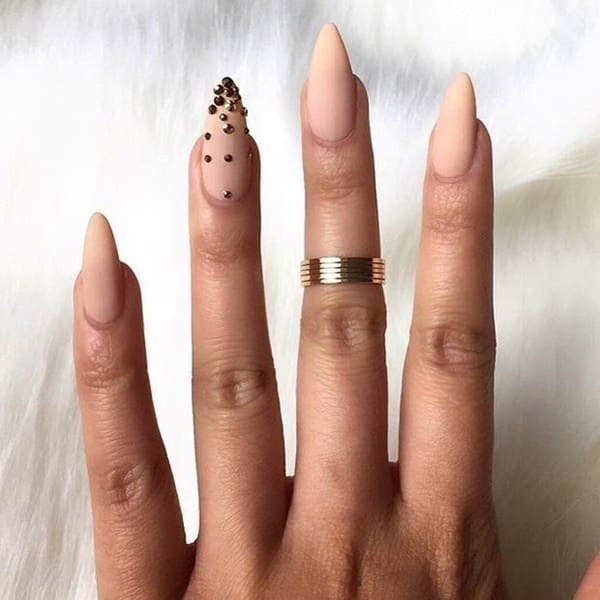 Flawless and clean matte cream manicured stiletto nail art, with the tiniest gold strass on the ring finger's tip for a casual edgy appearance.
#34. Bright Blue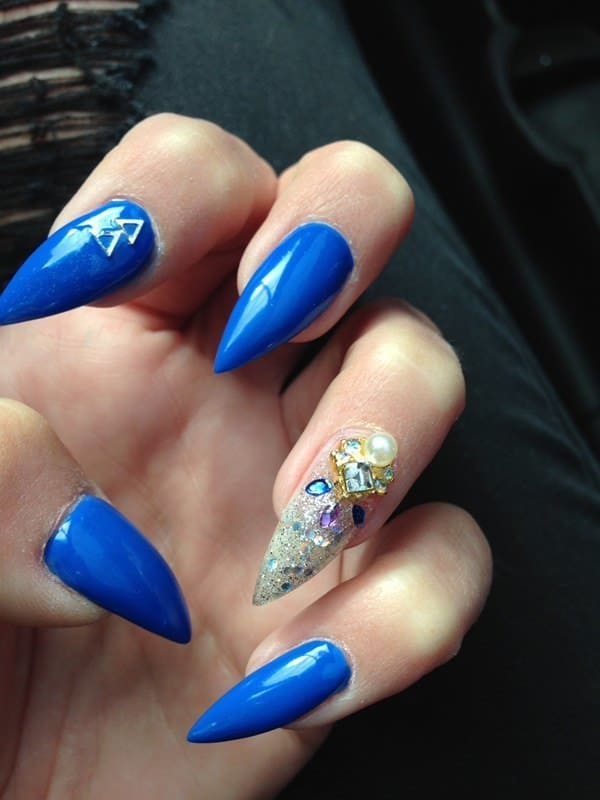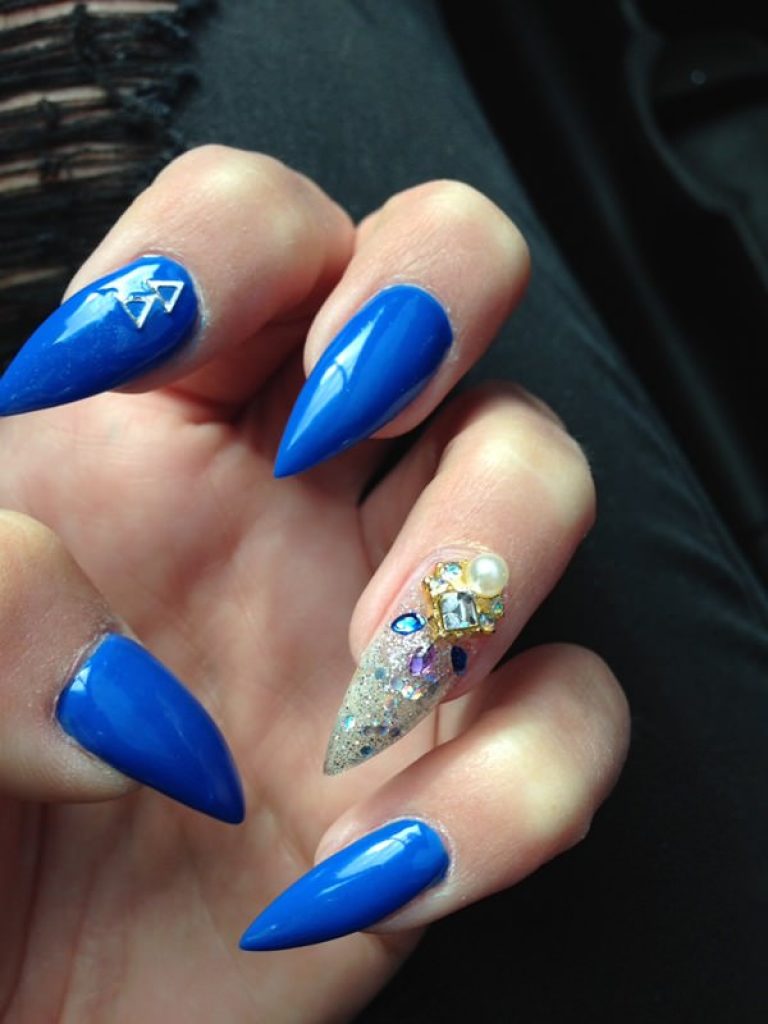 Such a shade truly stands out by itself, and with little dazzling gems and sparkly glitter on an accent nail. It just can't get any better.
#35. Precious Stones For Nail Polish!
Pearl, turquoise, and gold. What more! a treasure unveiled on these nails. Variety of shimmering colors, golden ornaments, and sparkly rhinestones to create this fascinating stiletto nail design.
#36. Sweet Baby Pink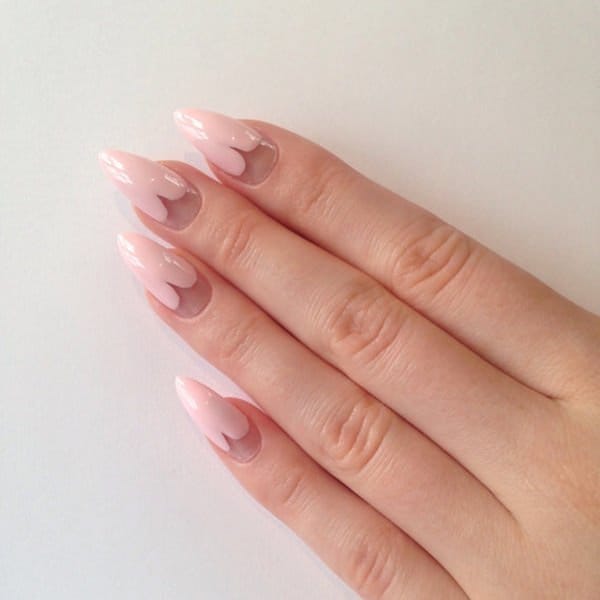 Why coat all your nails with your favorite shade, when you can play with positive and negative space with this design and create heart shaped pink tips.
#37. Black Gothic Love Stiletto Nail Design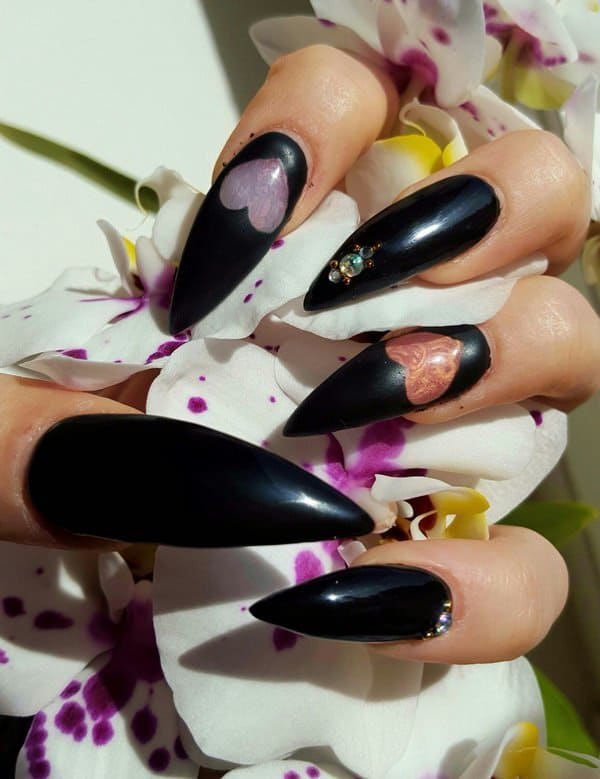 So extreme, yet somehow so lovely, black claws with creative heart paintings to balance fierceness and femininity in the same design.
#38. Night's Sky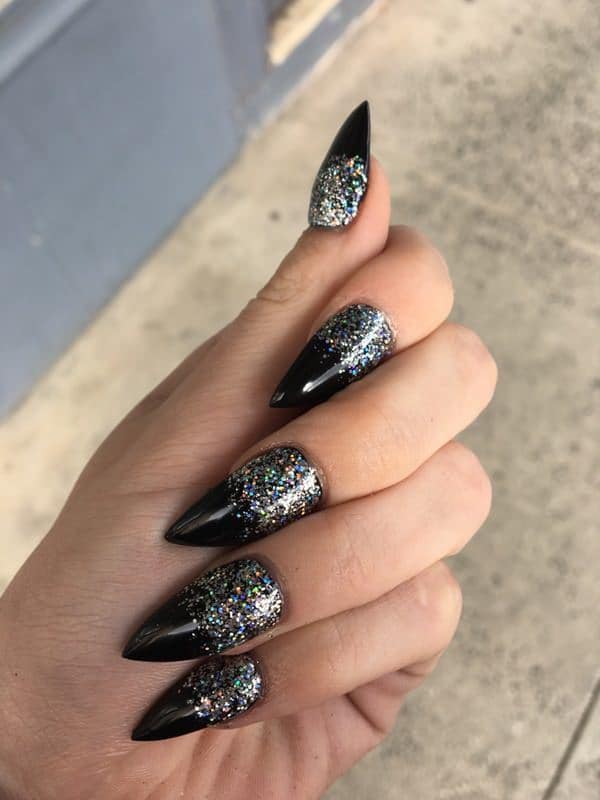 Start with a black stiletto nail design, then, ombre the underside of the nail with silver gradients to mimic summer's starry night sky on your beautiful long nails.
#39. Free hand Nude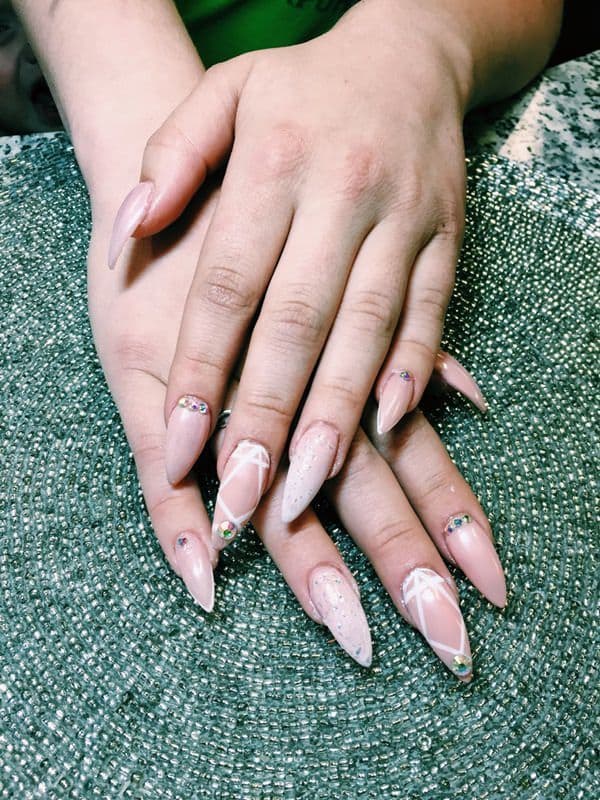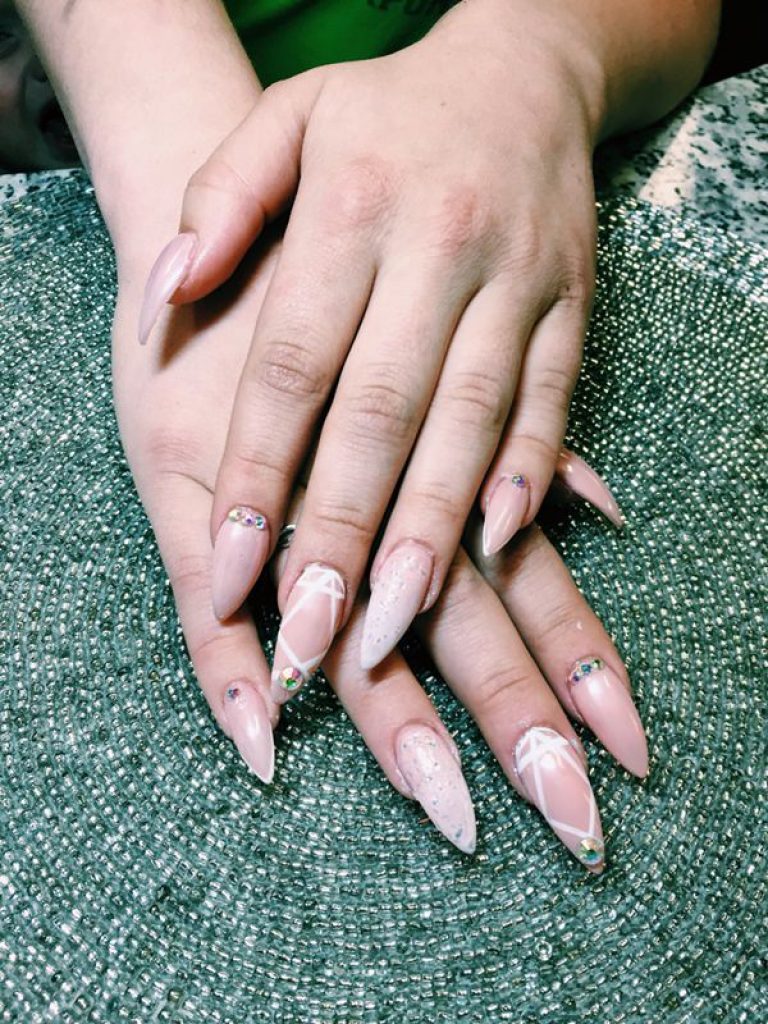 Possibilities with nude nails are never-ending, get free with lines, gems, and glitter, and accessorize your nude stiletto nail design as you prefer.
#40. Rusty Ring Finger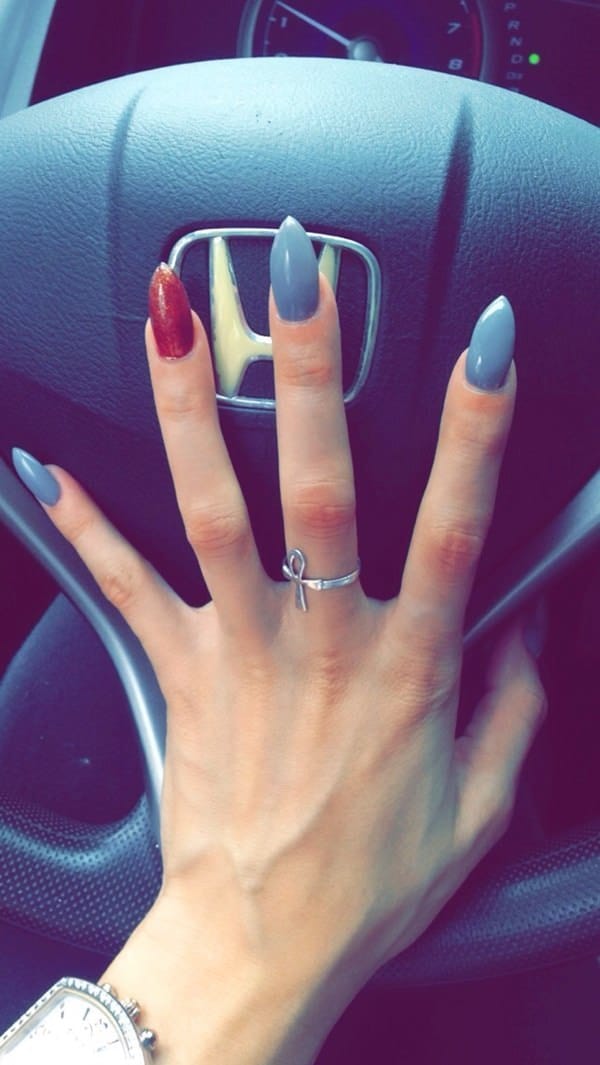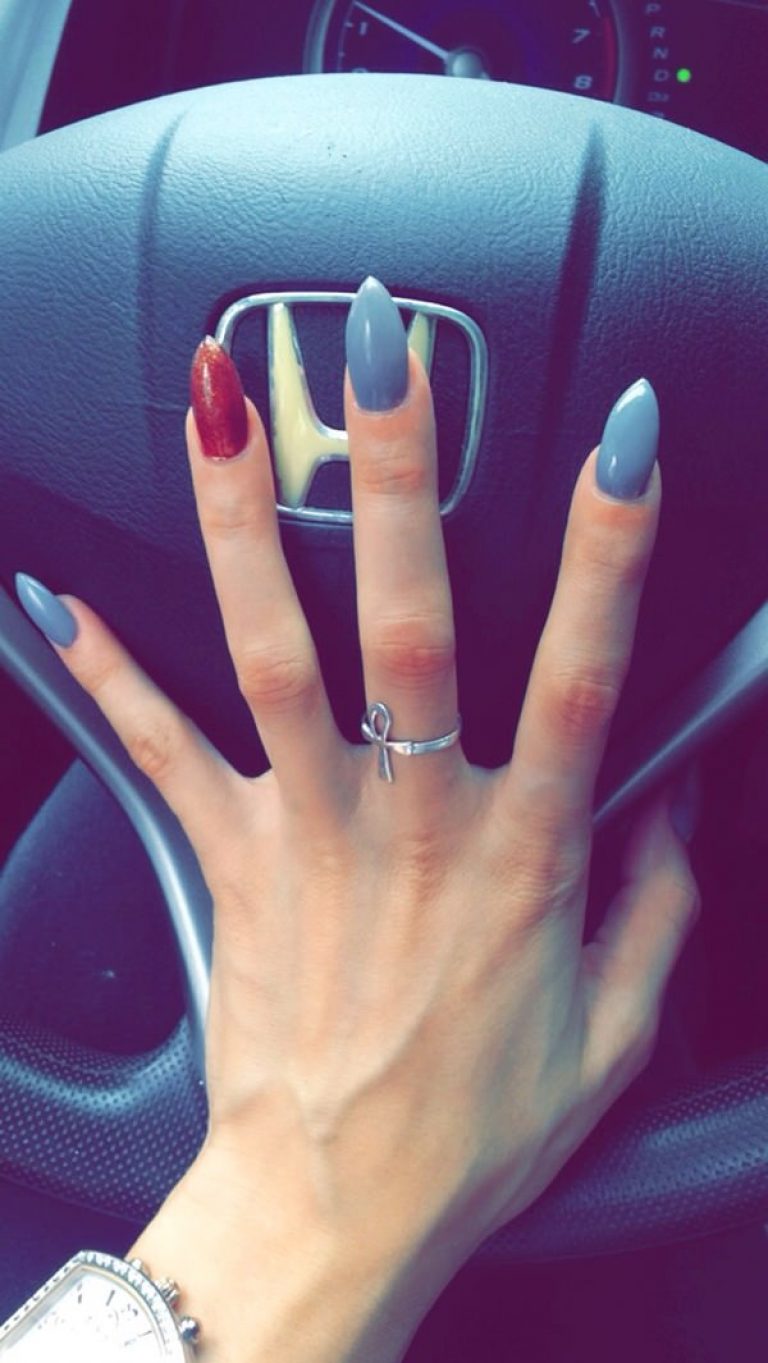 Pop a single nail with an intriguing shade of nail polish to contrast the whole design, and get sharp pedicured and manicured nails.
#41. Mesmerizing In Cream
Accent your long sharp nails with rose-beige shade nail polish studded with large gems on a certain finger of your choice.
#42. Gold Mine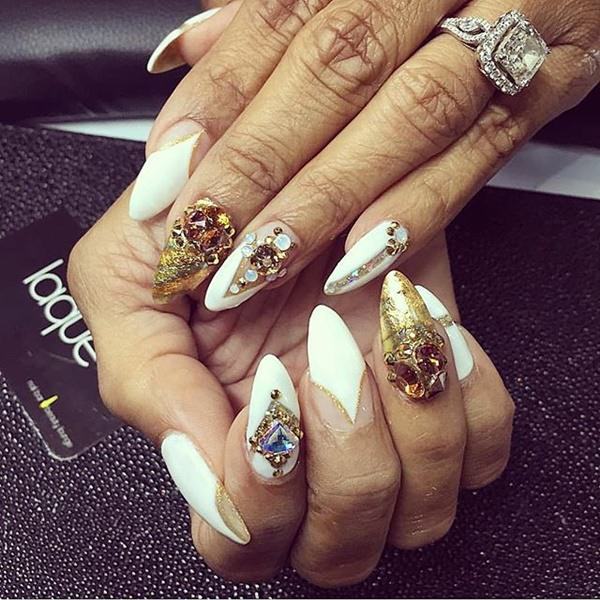 There are various options and styles to follow when it comes to stiletto nail styles, however when you find it hard to decide on a certain design, just mix it up a little and try them all!
#43. Dijon-Gold Stiletto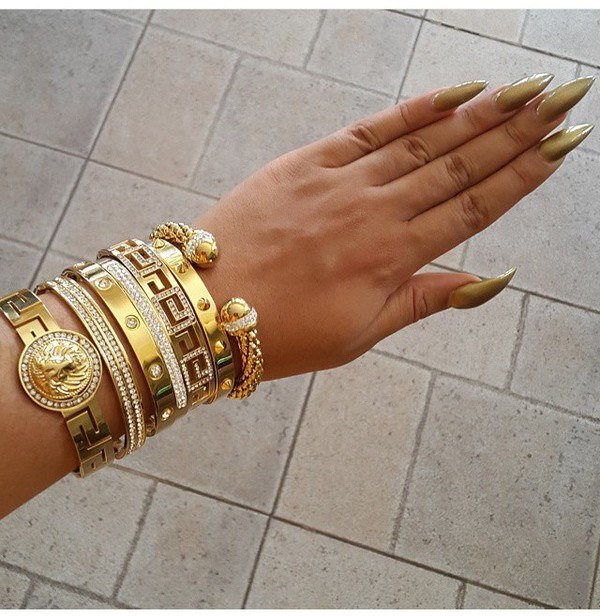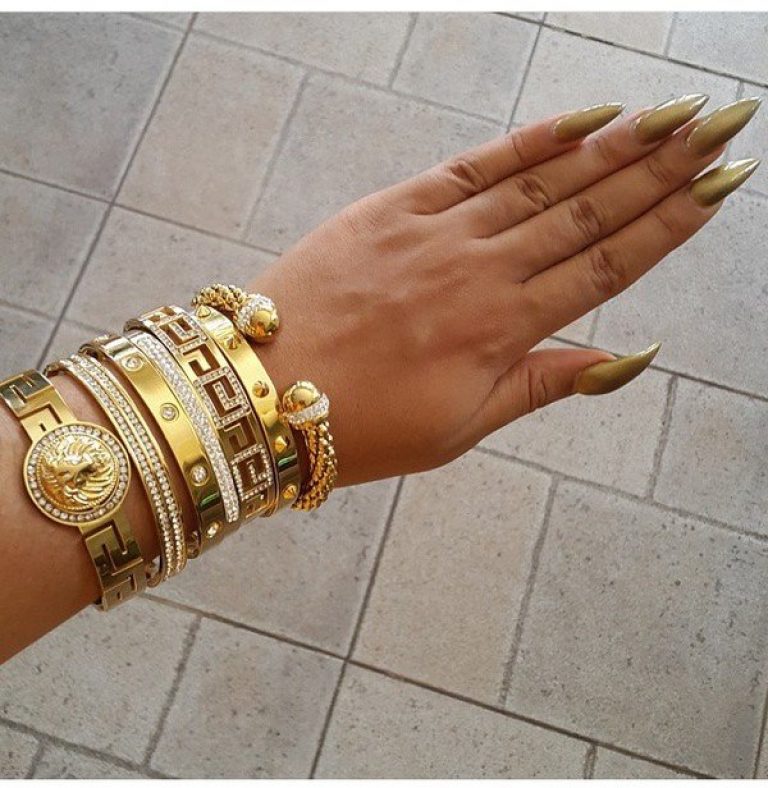 Ask for dijon-gold long sharp nail design to match your stacks of bold huge gold jewelry, for an all in all complete appearance from your head to your toe.
#44. Stiletto Ombre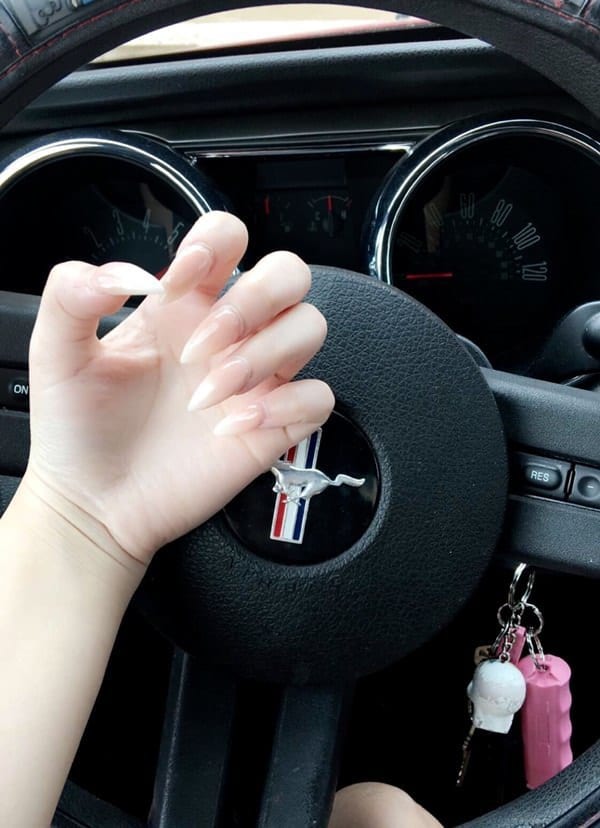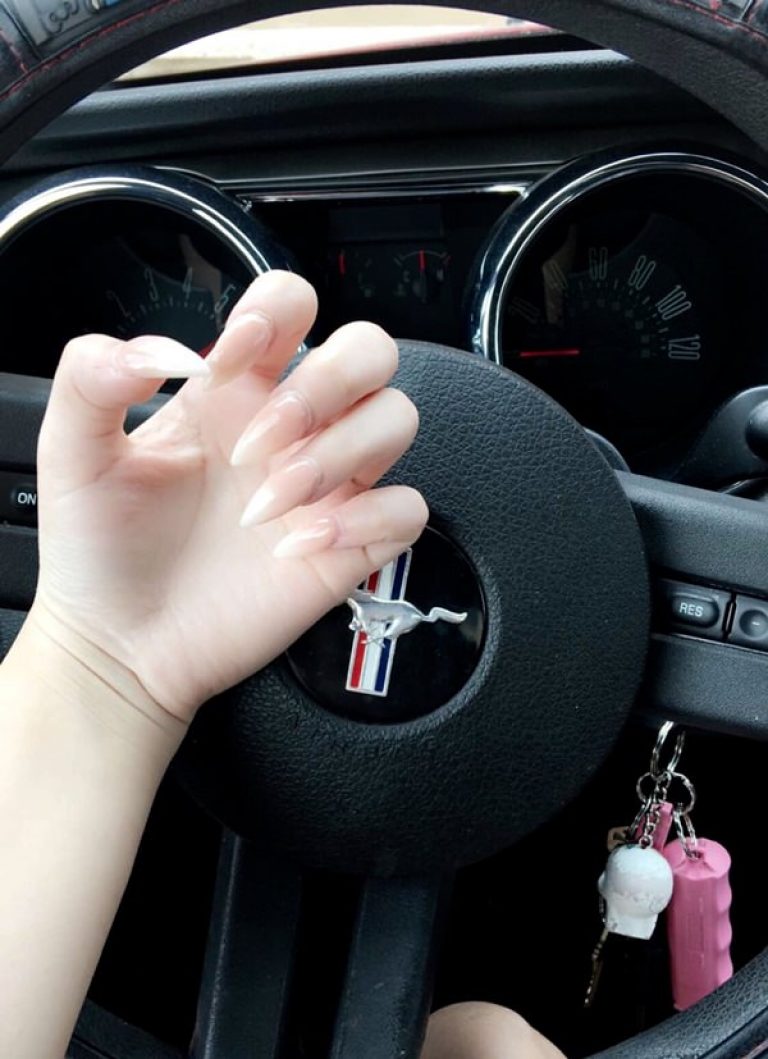 Highlight your sharp nail beds in white, after contouring their base with salmon pink nail polish for a light ombre stiletto silhouette.
#45. Symbol Of Strength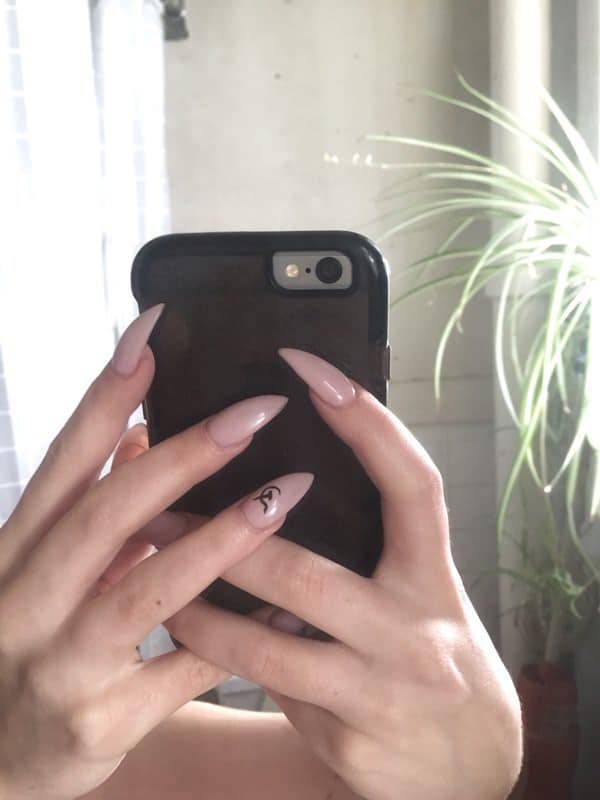 This nude stiletto nail is beautiful. Nude is always a popular choice among nail lovers, I mean common they're classy, cute, and go well with any outfit. And, not to mention what an ease it is to just polish your nails with that light beige coat! And there's nothing wrong with choosing this coat as a background for a symbol that you admire or represents you.
#46. Bold & Beautiful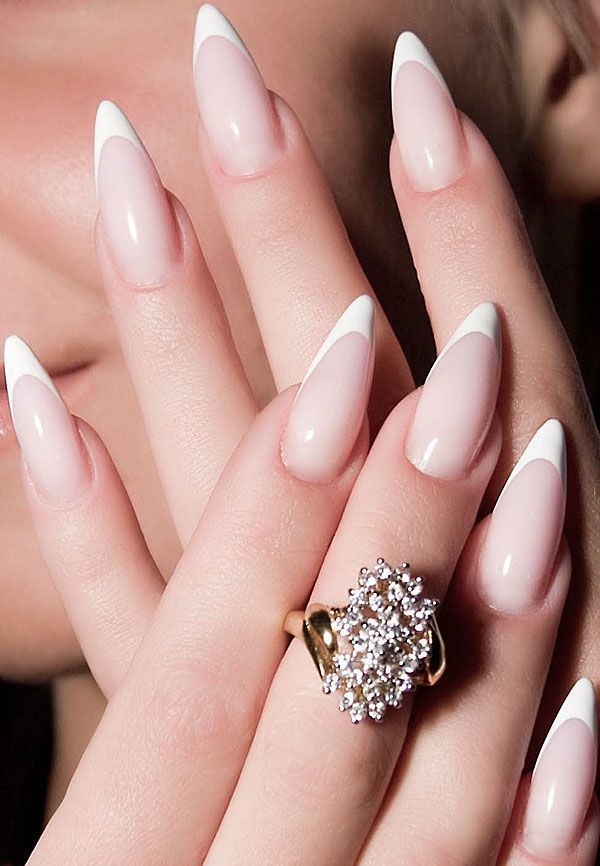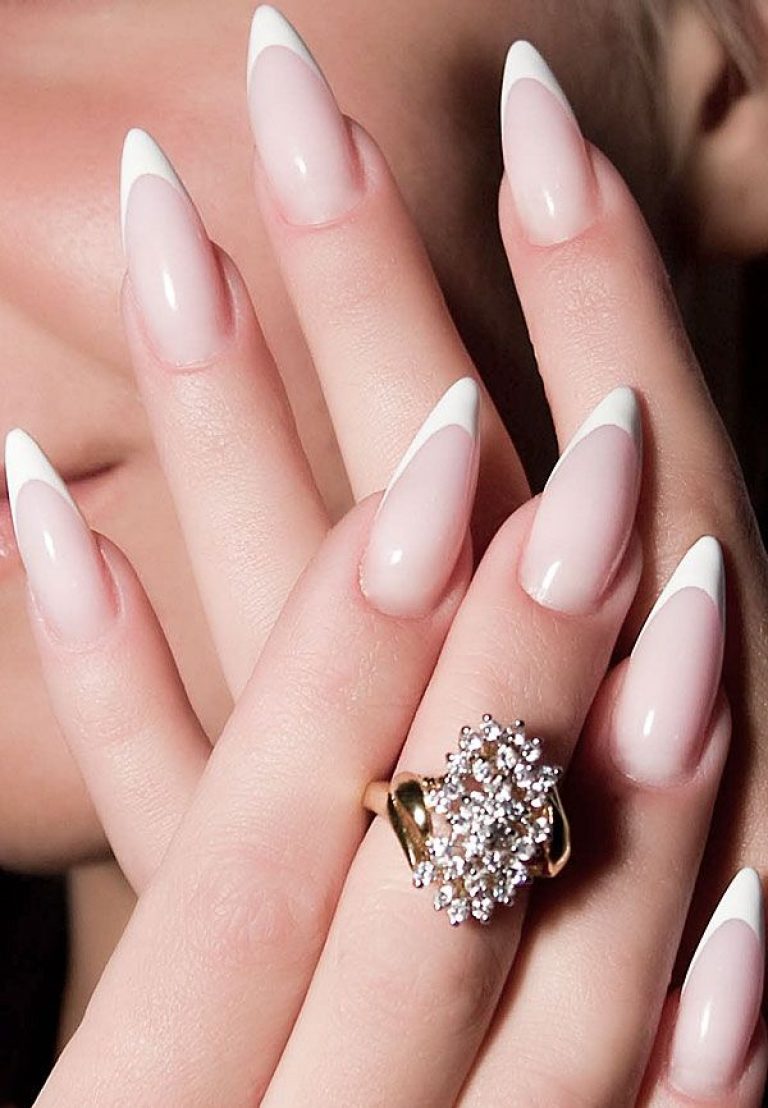 You might think these are simple plain french nails, but these aren't just french, they are stiletto French!
#47. Special Stiletto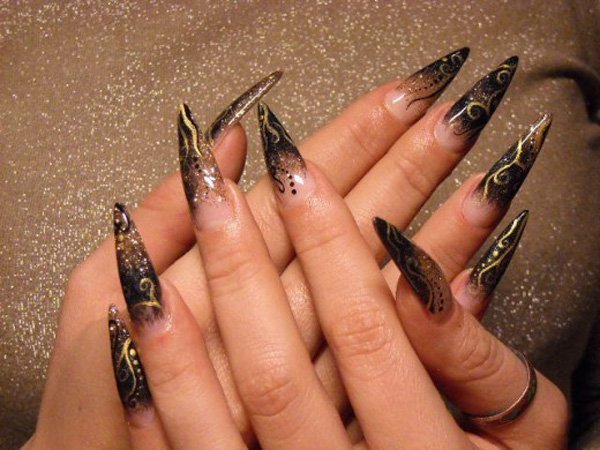 Come up with your own unique design, for a one of a kind long stiletto nail design.
#48. Gold Chains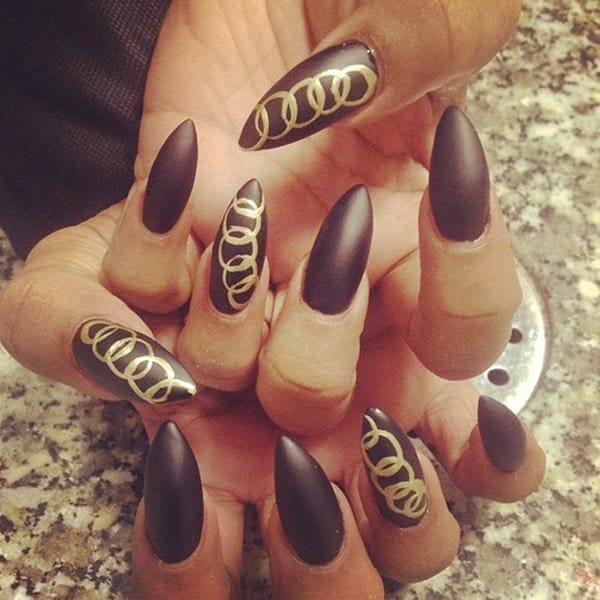 When aiming for a bold look, don't back up, but continue and add a fun fierce variation of gold chains on you accent ring and thumb nails.
#49. Personalized French

Of course, you can always add a little something that represents you into the design. Here you can add a drawing or a print of your favorite flower for example at the tip of your french nails and personalize them.
#50. Feminine French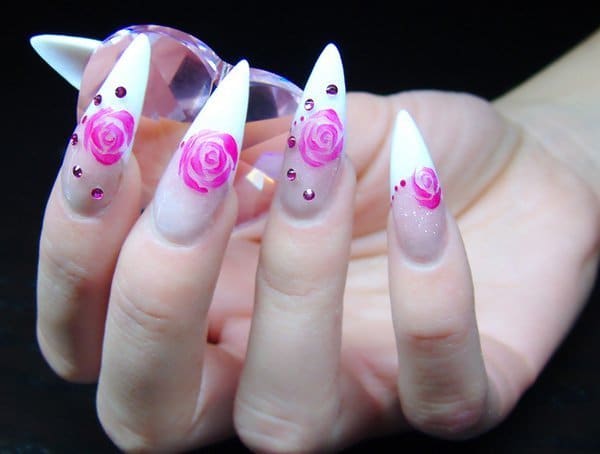 Never underestimate a simple personal addition to your traditional nail design, such as these girly pink rose prints and strass to accentuate this feminine French stiletto nail design.
#51. Matte and Acrylic
Matte and acrylic both can be used in a single hand to make a different look. You can use a maroon base coat for every nail but use matte on some of them and use acrylic on the others. A glittery shine will be achieved if you use some shiny glitters along with the acrylic.
#52. Shining Green
This is really a gorgeous design to have. The combination of black and green adds a new dimension to your nails. Use glittery green color for a lovely to watch appearance. You can use a white base coat for a finger to attach a scorpion to the picture if you wish. This design will complement your black or green outfits at the party.
#53. Peace with Peach

If you want to find peace in peach color, this is the perfect design. Peach color soothes our eyes, it is such a pleasant color to look at. Your stiletto nails will have a peaceful look on this design. Use peach color and glitters on some of the nails. Put some silver and gold rhinestones on them. You can color the nails with different color tones of peach if you want.
#54. White Nail Arts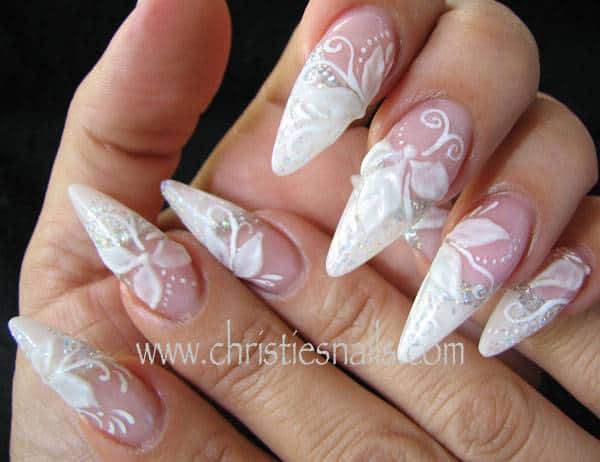 White nail arts are very elegant. Most of the girls are crazy for the delicate touch of white no matter what are the occasions. Here is a perfect white design for you. Draw some nail arts on your nails which express the purity of white all the way.
#55. Dashing B&W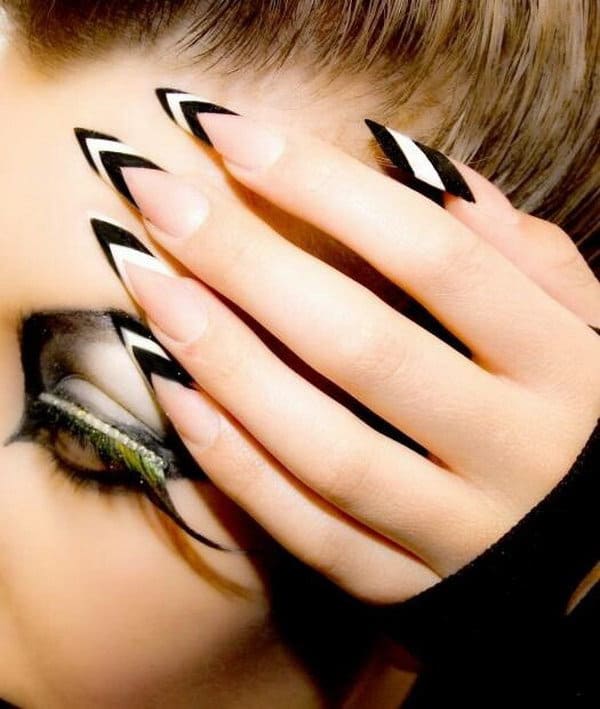 The bond of black and white is something beyond description. These two colors give a dashing look whenever they are used together. Here we are suggesting you a design which will make the best use of your stiletto nails. Use shiny black and white to give the best look. Yiu can draw the margin of the nails in angular shape, Use white in the middle of two edgy black shades for the perfect look.
#56. Patterns And Glitters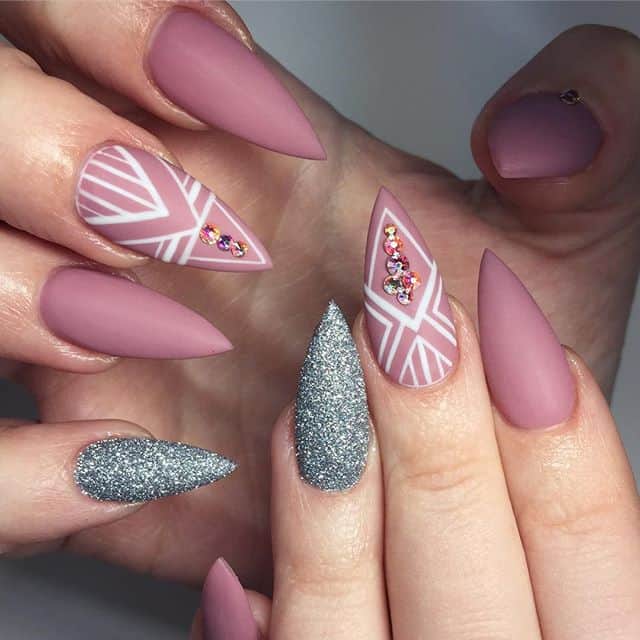 A light matte color and silvery glitters can come in handy to give an adorable look. Use light pink or purple base on the nails and draw some patterns on them. Fill other fingertips with silver glitters. Put some rhinestones on the patterns to complete this design.
#57. Gold Foils
Gold foils used on the surface of orange base coat give the most vibrant look to your stiletto nails. The design is simple yet very impressive. The procedures are easy to accomplish. Use orange base coat on every nail and pour gold foils on top of them. Here they are! Shining like bright stars.
#58. Black Magic
The magic of black is magnificent. Black designs win everyone's heart by its charm. Here is a magical black design for you. This type of design needs matching dresses to look extremely well. If you wear a black dress with the similar artistic design and have these stiletto nails on your fingers, nobody will be able to avoid your out-of-the-world look.
#59. Glowing Blue
Some colors are always appealing. Blue is one of them. If you want to have a glowing blue look on your fingers, this design is absolutely for you. Use blue acrylic colors for the nails. Royal blue would be the best choice in this case. Mix some glitters with another comparatively light blue and apply them on some of the nails. Your stiletto nails will glow in blue as you have expected.
#60. Silver Shine
This is a simply gorgeous design for you. Very simple to have, very gorgeous to be looked at. The process is very simple. Use white as the base coat. Then glue the silvery glitters with the help of a silver nail polish. Your design is ready to be displayed to the world.
#61. Owls on Your Stiletto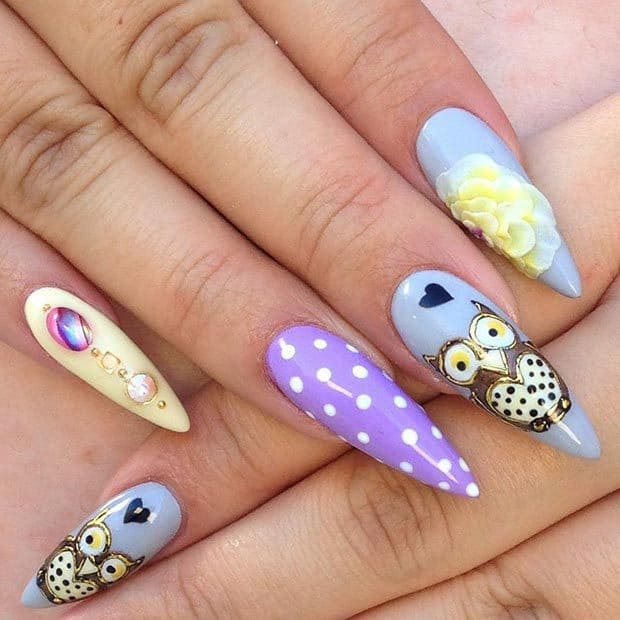 This is a funky design. Owls mean a lot of things according to different contexts. No worries! If you are not bothered with these mythical meaning, you can go all the long way for these wonderful designs. Draw some owls on your stiletto nails edging them with a golden color to give a shine. You can use rhinestones or flower on some of the nails for variation.
#62. French Ombre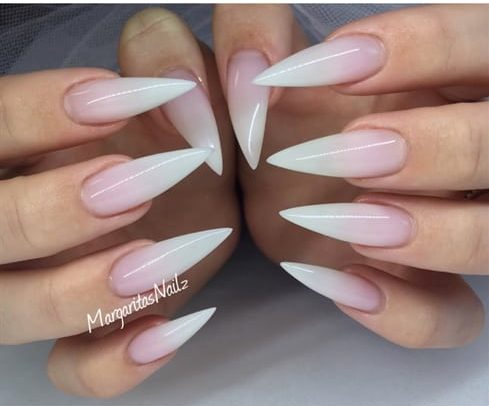 French nails are mostly the combination of light pink and white colors. You can have an ombre design blending these two colors together. Apply the colors in the ombre style so that there remains no difference line among the colors. The beauty of ombre is the colors get mixed together as if they were made to mix with each-other.
#63. Neon Green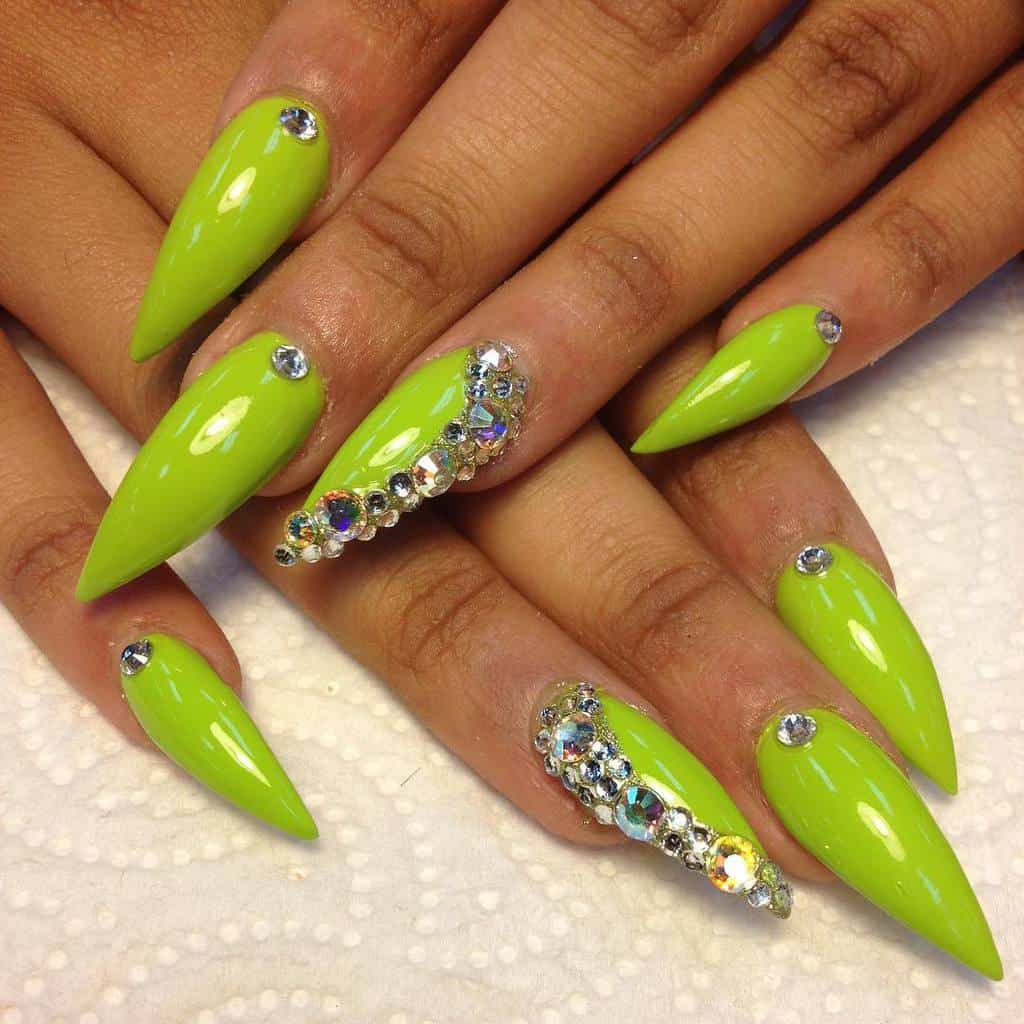 Neon green associated with stones can give a different look to your fingers. Use neon green base coat for all the fingers. Then put some rhinestones according to your choice. Well! Your stiletto nails are ready to impress a lot of hearts.
#64. Pinky Pointy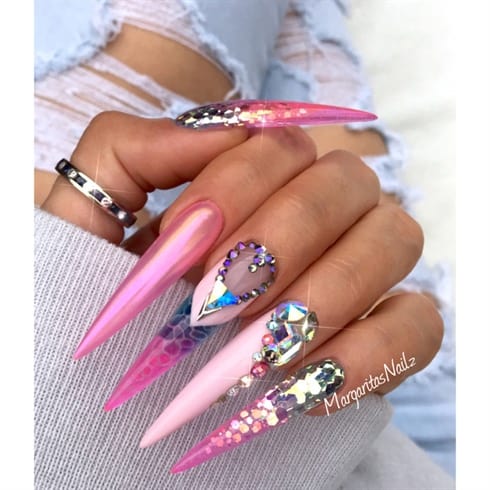 These pink and pointy extensions are something to crave for. Though these are not cheap, girls are crazy for such costly beauty. And your money is worthy of being spent to have this mind-boggling design. Use some stones to draw a love shape on your lovely pink extensions. Use glitters to make them shine. Your wonderful pinky pointy stiletto nails will stun the people around you for sure.
#65. Colorful Bliss
Colors along with glitters are the ultimate pair to design your nails. You can give a shiny and colorful look to your nails by these two items by using your sense of fashion. Here is a colorful guidance for you. You can use any color you like and any kind of glitters to have this colorful bliss.
#66. Pure Black
Pure black is pure beauty. Your stiletto nails can be adorned with only black if you are a great fan of black. Use a shiny black acrylic for this design. But careful when using black as black stiletto nails represent bold and straightforward personalities.
#67. Red Alert
If you want to give a red alert to the people surrounding you, this is a must try. These nails are so long and pointy that people might get hurt if they don't keep a safe distance from you. Using a bloody red color can worsen the situation to a large extent. That is the funny part. You can use rhinestones or diamond-shaped rubies to add beauty to the fierceness. Wear this design and spread the red alert.
#68. Summer Sunflower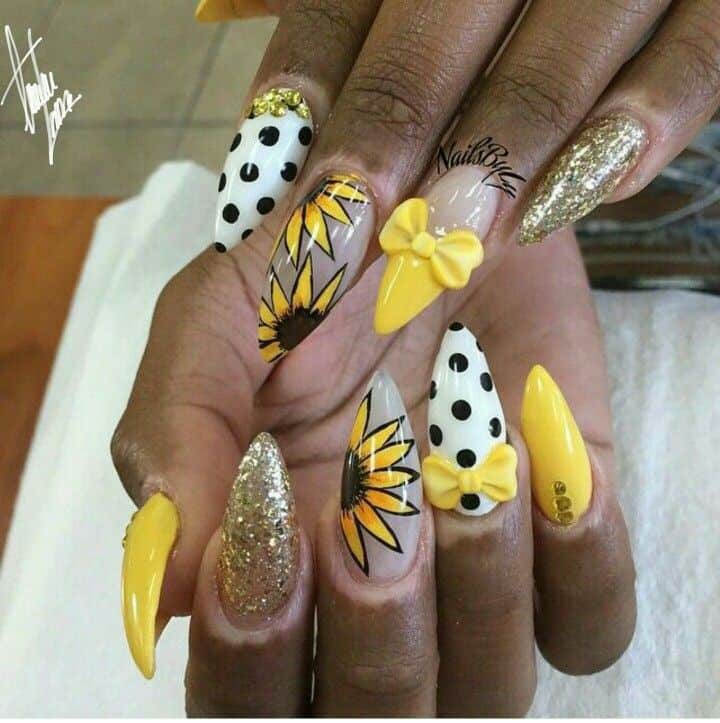 This summer design is beautiful. Sunflower resembles a warm summer day. So, if you want to carry a piece of a hot summer day on your fingertips, this design is for you. Draw a sunflower on transparent acrylic base. Use yellow colors on some of the nails. You can use a yellow bow with dotted black like the design depicted in the picture. You can also use gold glitters and stones to make a difference.
#69. Spider Web
The multiple uses of black will give your stiletto nails an exceptional look you have never thought of. Try this design. Black spider webs are drawn with the uses of negative spaces. Other black patterns reached to a whole new level by means of perfect combination. Drawing some shapes on your fingers or wearing rings will do the rest for your stiletto nails. You can try this unconventional design to remove monotony.
#70. Artistic Nail Arts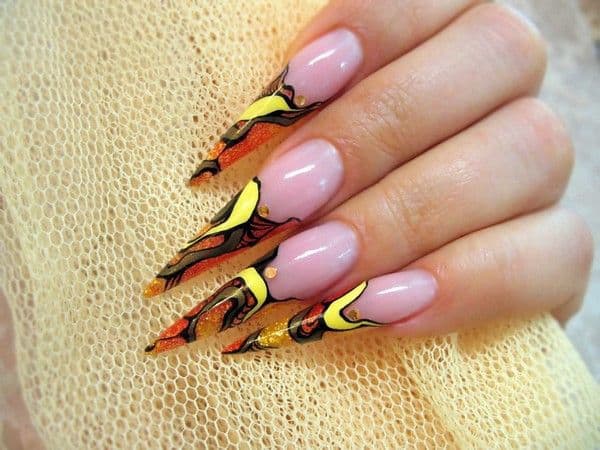 The demand of art will never be abolished. If you are a person of aesthetic taste who love art and culture very much, this design is entirely for you. Artistic nail extensions are used to imprint this look on your nails. You need professional hands for the perfect design. Don't worry, practice makes a woman perfect. So, if you are dedicated enough, you will be an expert in no time.
#71. Wedding Stiletto Nails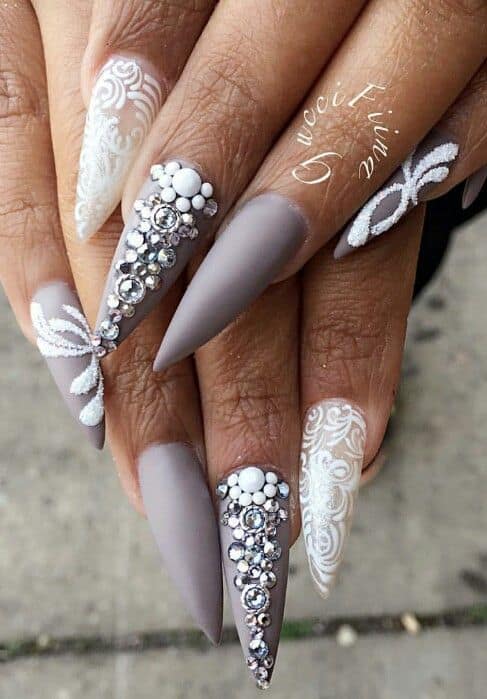 The wedding is one of the most cherished days of a girl's life. If you are a stiletto lover and want to design your nails for the wedding party, this is the desired design for you. Use a mild matte as the base coat and use glittery silver rhinestones to give a shiny look. As most of the wedding dresses are white, you must use white for this design. You can draw a white flowery design to make the best nail design you could have for your wedding.
#72. Tribal Vibe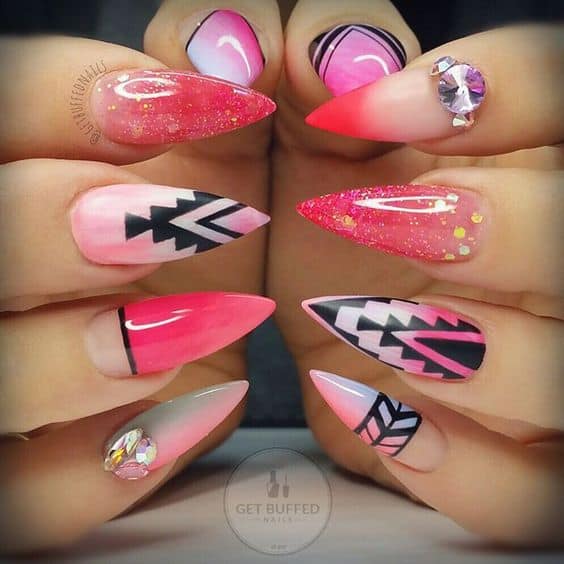 You can blend your design with the concept of modernism and the culture of the tribal people. Peach and pink colors are used here as the base color and some patterns are drawn with black color. These patterns have the touch of tribal lifestyle and these colors and the glitters stand for modernism. This is a perfect design for the old schools who are living in the modern age.
#73. 3D Floral Art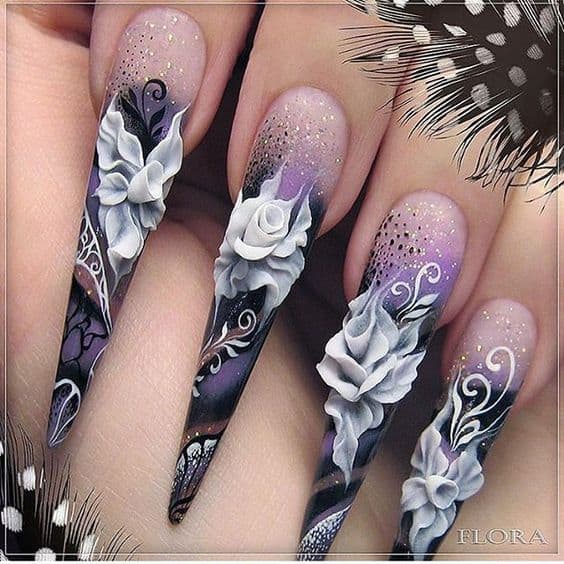 This is a design for the 3D art lover fashion geeks. 3D art has become very popular for their realistic presentation. So, If you want to make your designs look lively and real, you can go for this incredible 3D art design. The pattern or type of design is never specific but you can draw floral designs if you love flowers.
#74. Graceful Gloss
Want a glossy look on your fingers? This design is rightly for you. Adorn your stiletto nails with graceful gold and beautiful stones. Golden color mixed with a bit of red can give the best glossy look to your fingers. Use acrylic nails for a shiny surface and use stones to complement the shine.
#75. Stilettos for Halloween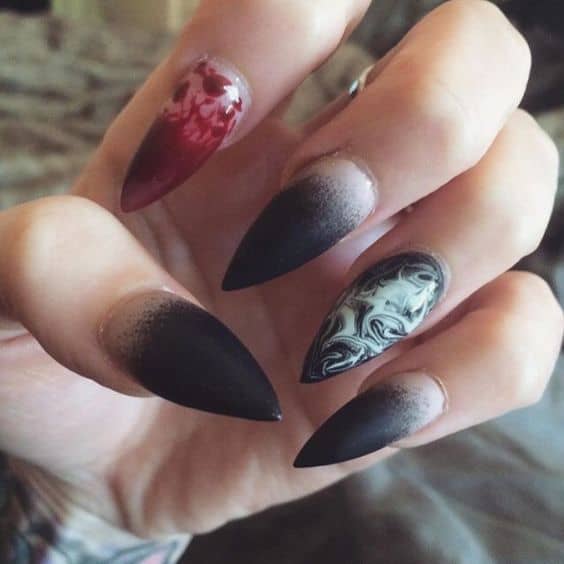 Stiletto nails are perfect for your Halloween party. These nails are often uttered with the word 'witch' for the pointy attribute. So, having them at a Halloween party will be considered as a bonus. Draw something associated with evil and blood. If your nails can express the notion of ghost and fear you are successful in your endeavor.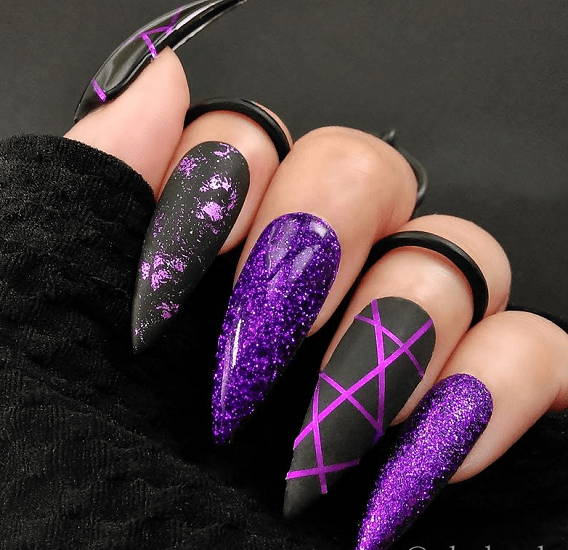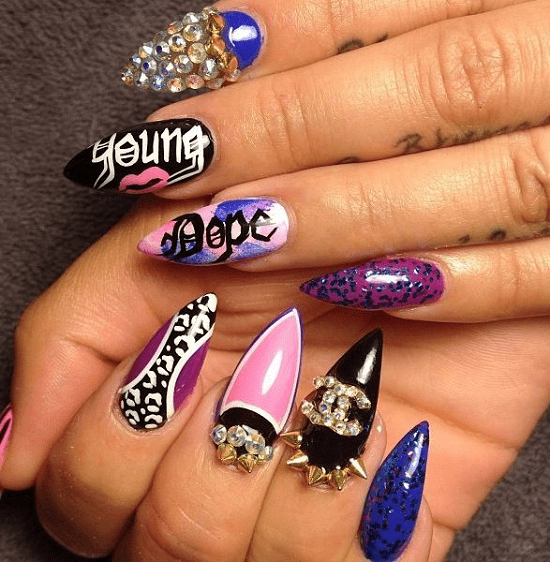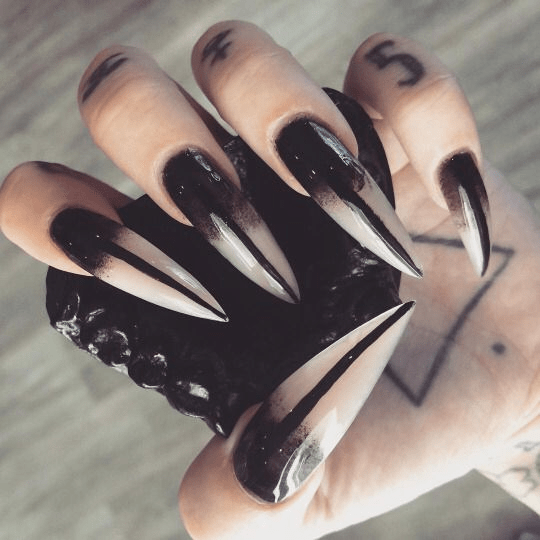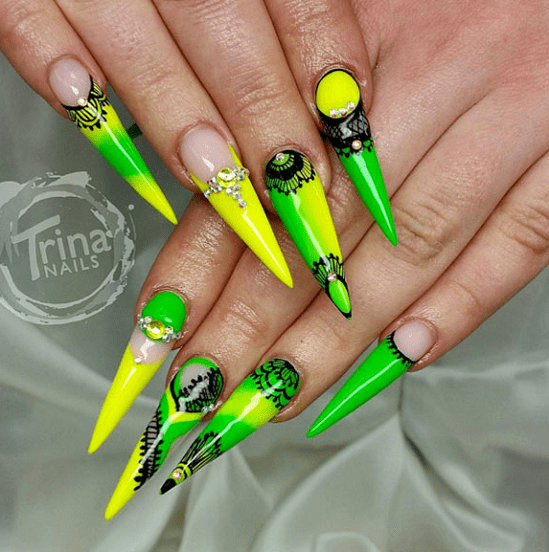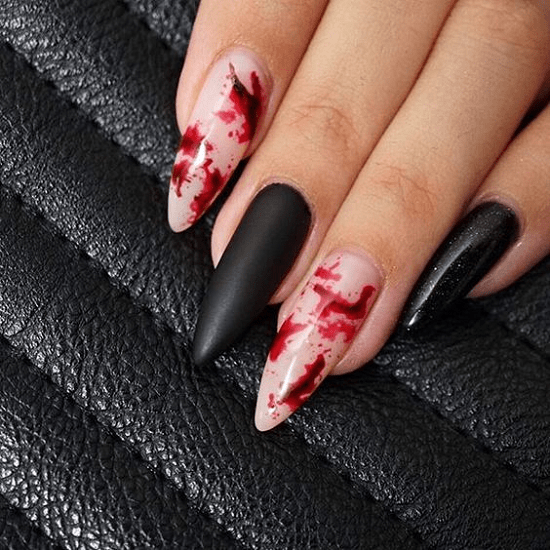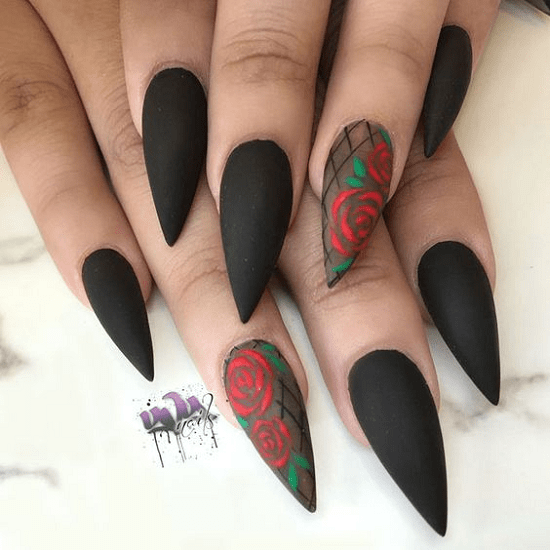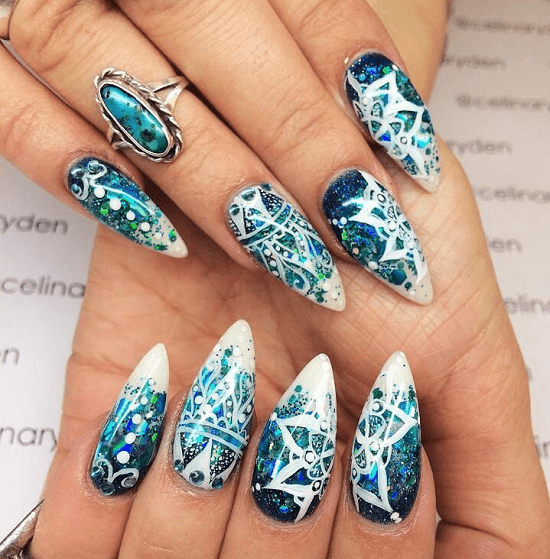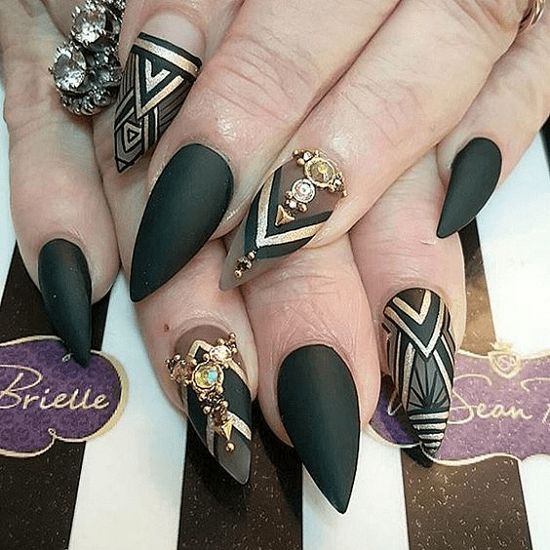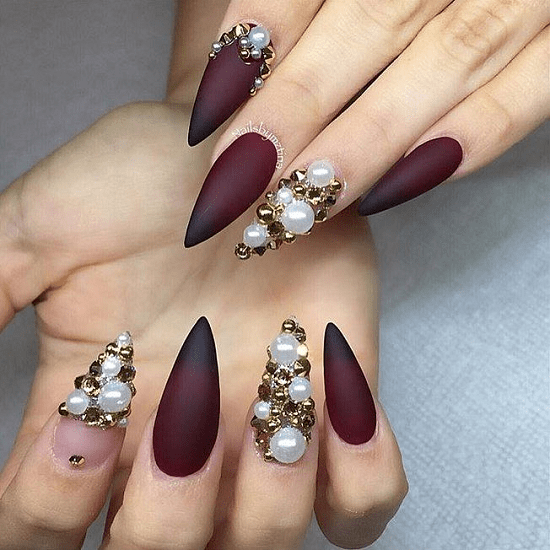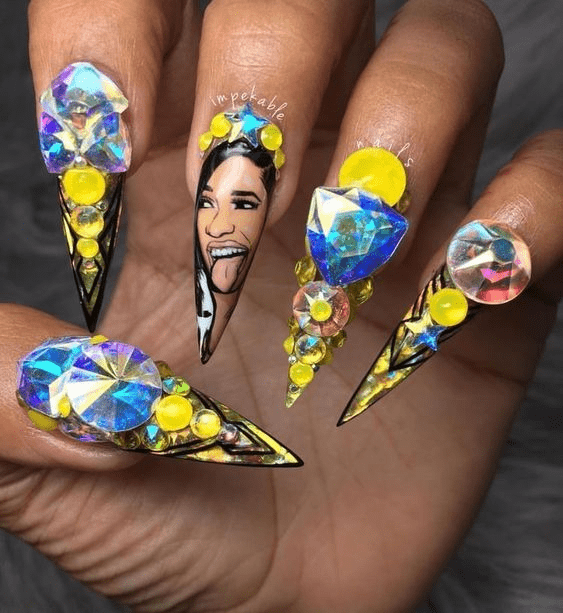 So, if you're looking forward to spreading the message and trying this dazzling but dangerous design. Or, you're searching for new stiletto nail styles to try, this list will be of great help fulfilling everyone's taste and suitable look for any event or occasion.