25 Hottest Spring Nail Designs to Celebrate The Season
Young girls like to style unique and gorgeous spring nail designs to celebrate the spring season. When spring approaches, you ladies start to think about the coming sunny days that are going to shed lights on your fashion styles, so in order to have that spring joyful look, why don't you think of focusing on spring nail designs?
Beautiful Spring Nail Design Ideas
As Lilly Pulitzer says:" Despite the forecast, live like it's spring!". It's spring arrival ladies and this the only chance you got to show how sexy, joyful, stylish, girly, cute, and how friendly you are. This season hides in it hundreds of meaning but all those are positive meanings, so why don't you try to be as positive as the spring season is?
That's a piece of cake, because the below list of 25 spring nail designs show you girls how your own stylish appearance in a fashion world, especially your creative nail designs in the spring season, can make you live like it's spring, like the world is just colorful enough for you to be positive and have that joyful mood you always wanted to have on a sunny fresh spring day!
#1.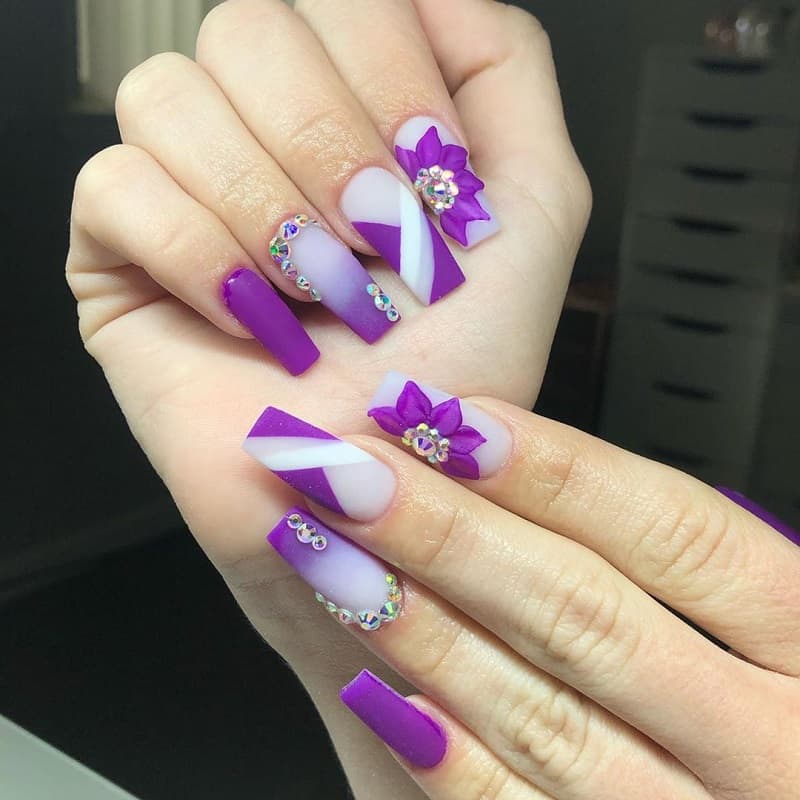 spring coffin nails
#2.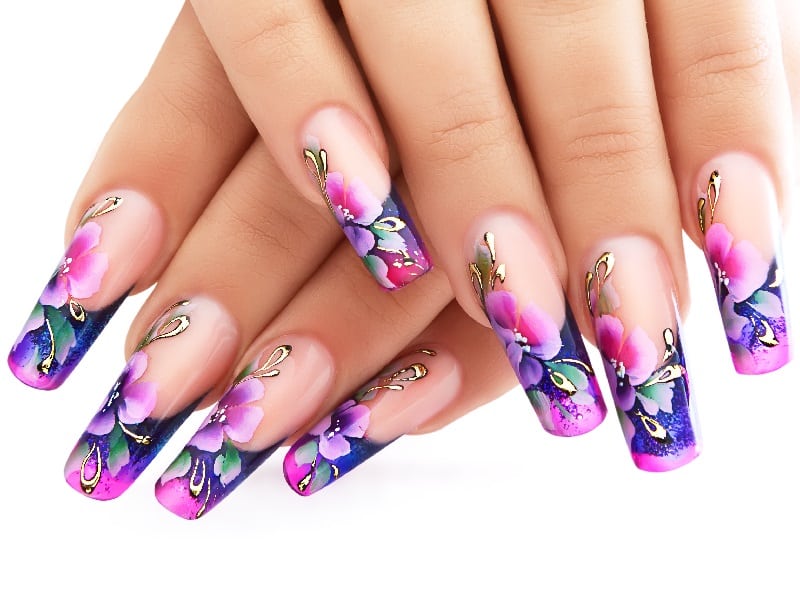 spring gel nails
#3.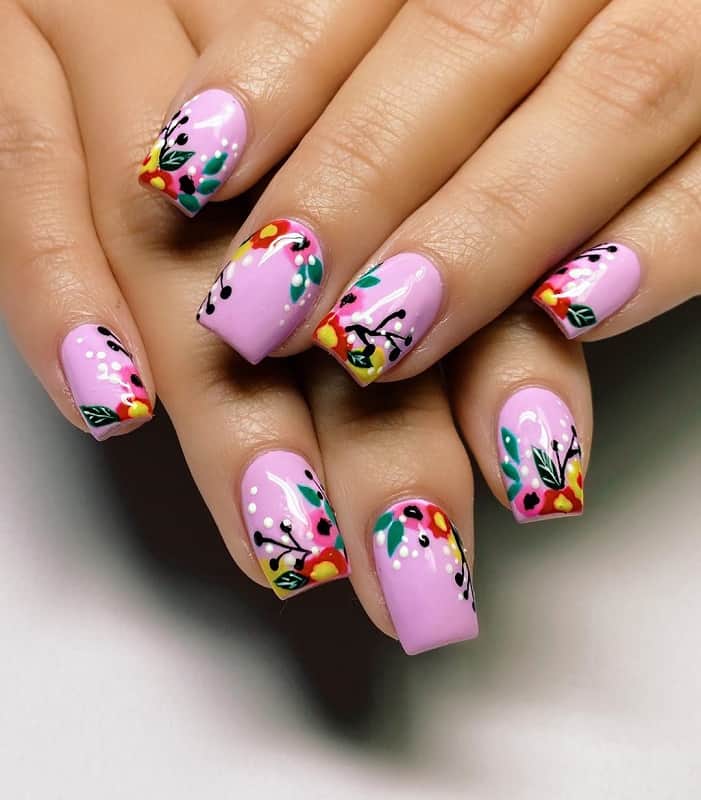 spring pink nails
#4.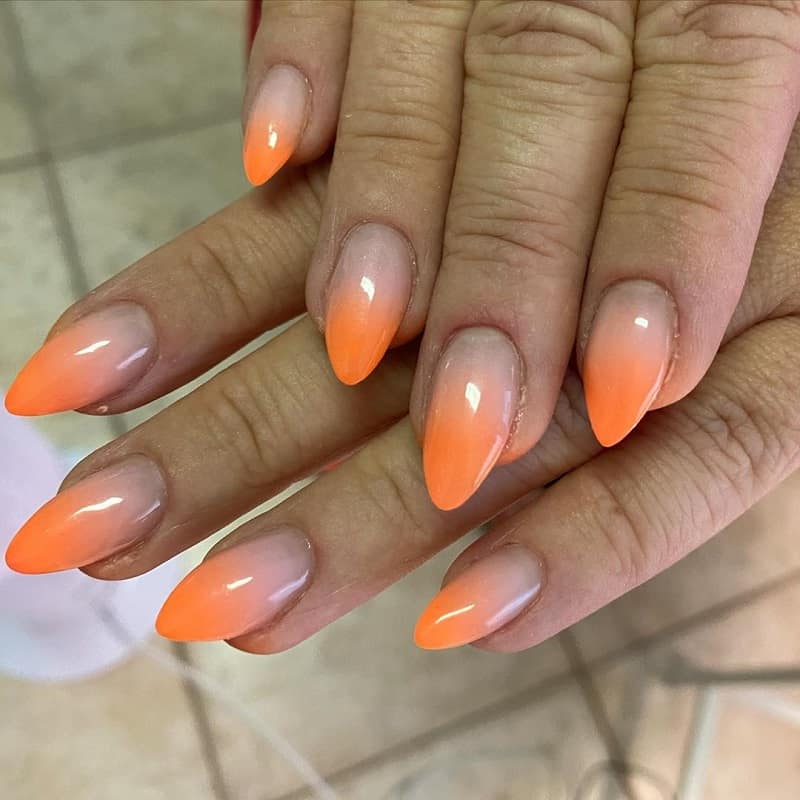 spring ombre nails
#5.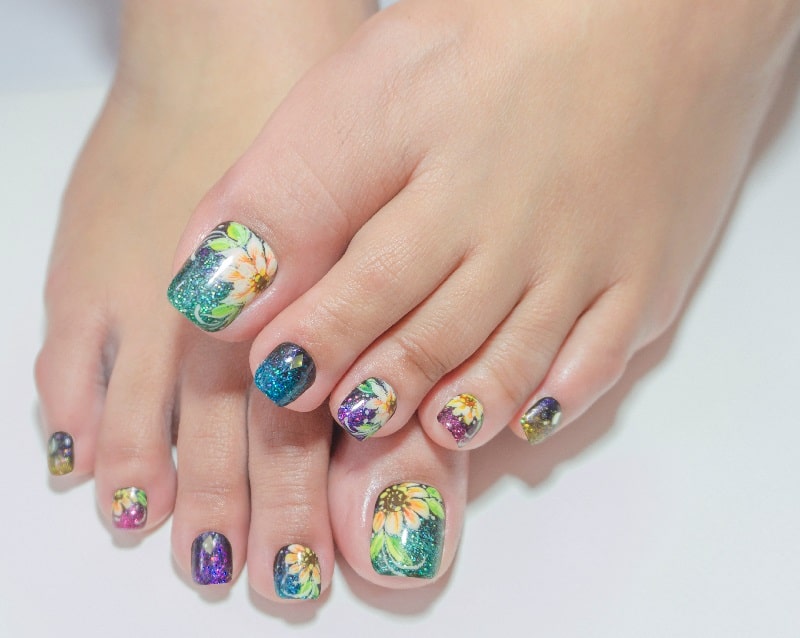 spring toe nail design
#6. Live Like It's Spring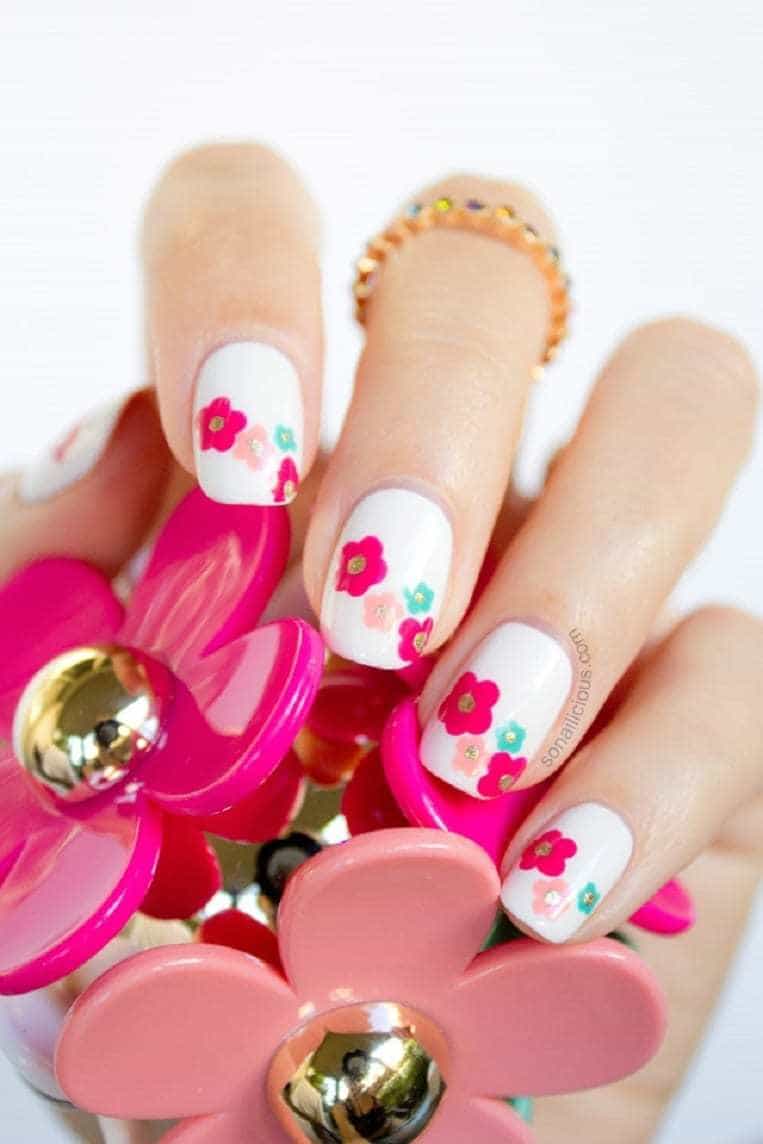 In a normal clear white nail design, you better give your feminine nails a little touch that provides you with the spring spirit you are searching for from a long time ago. All you have to do is to add some pink and blue jasmines on the tip of each nail that seems like some flowers are sprouting from the tip of your nail greeting the spring season!
Ravishing Summer Nail Designs to Rock
#7. Triangular Style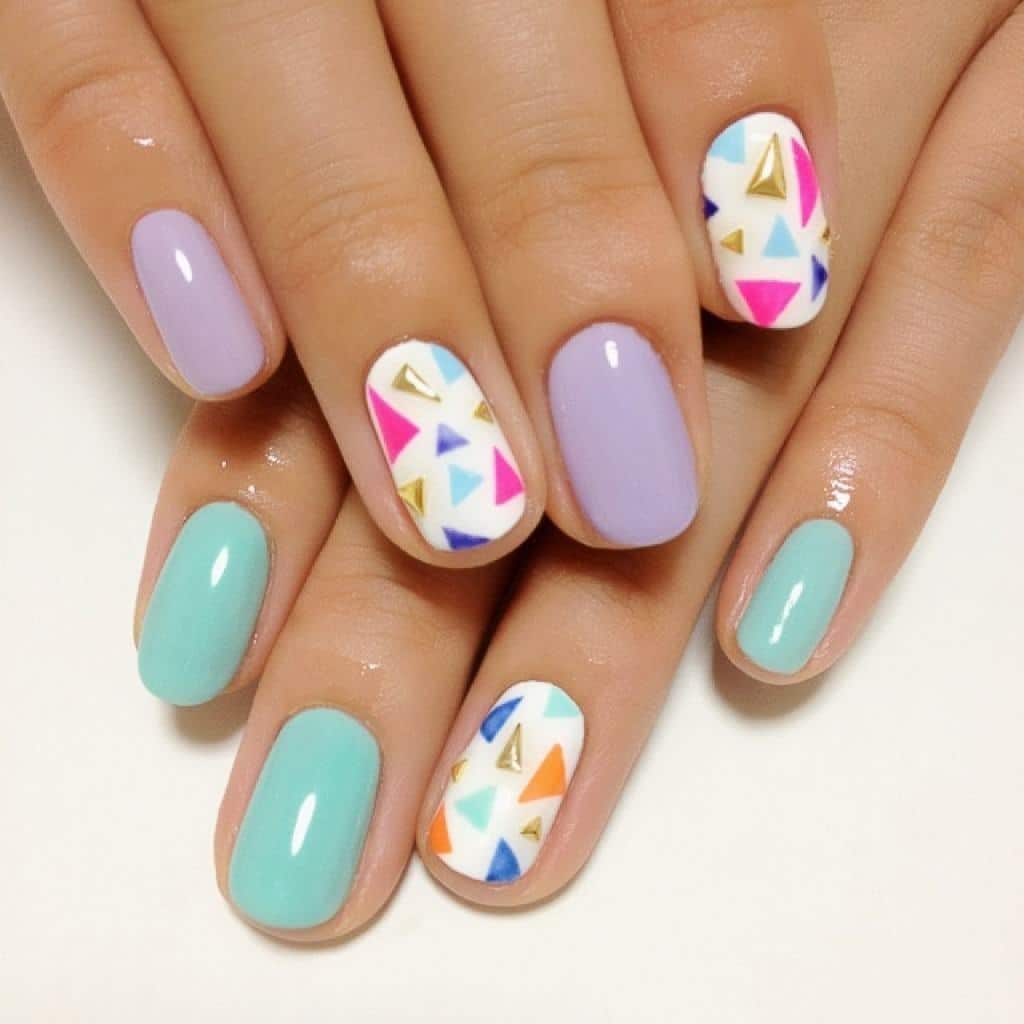 Unlike all other spring nail designs, this one does not contain any squares, not swirls, not flowers, but triangles. Apply a unique color of nail polish on all nails except the ring fingernail that is made up from a white base decorated with colorful triangles that represent the colorful images the spring season makes up.
#8. Cherry Blossoms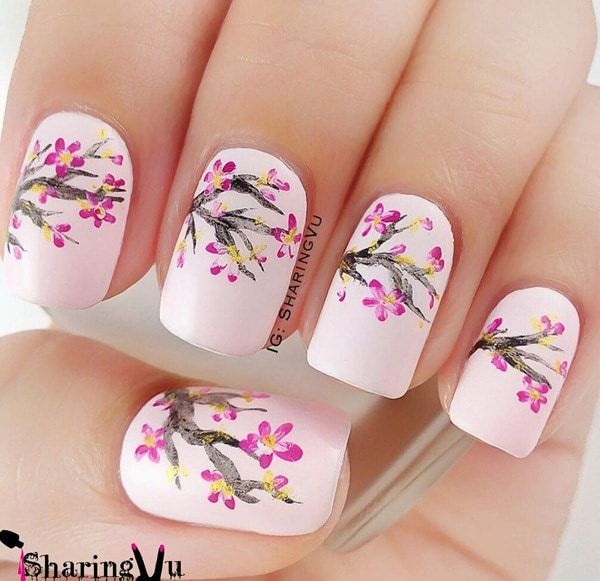 Nothing shouts out "cute" more than cherry blossoms! This is the smallest type of flowers with the cutest color, satisfying smell, and a breathtaking view. So if you really wanna look lassie and cute on some sunny and fresh spring afternoons, you gotta try this spring nail design!
Charming Toe Nail Designs Women Love
#9. Navy Wavy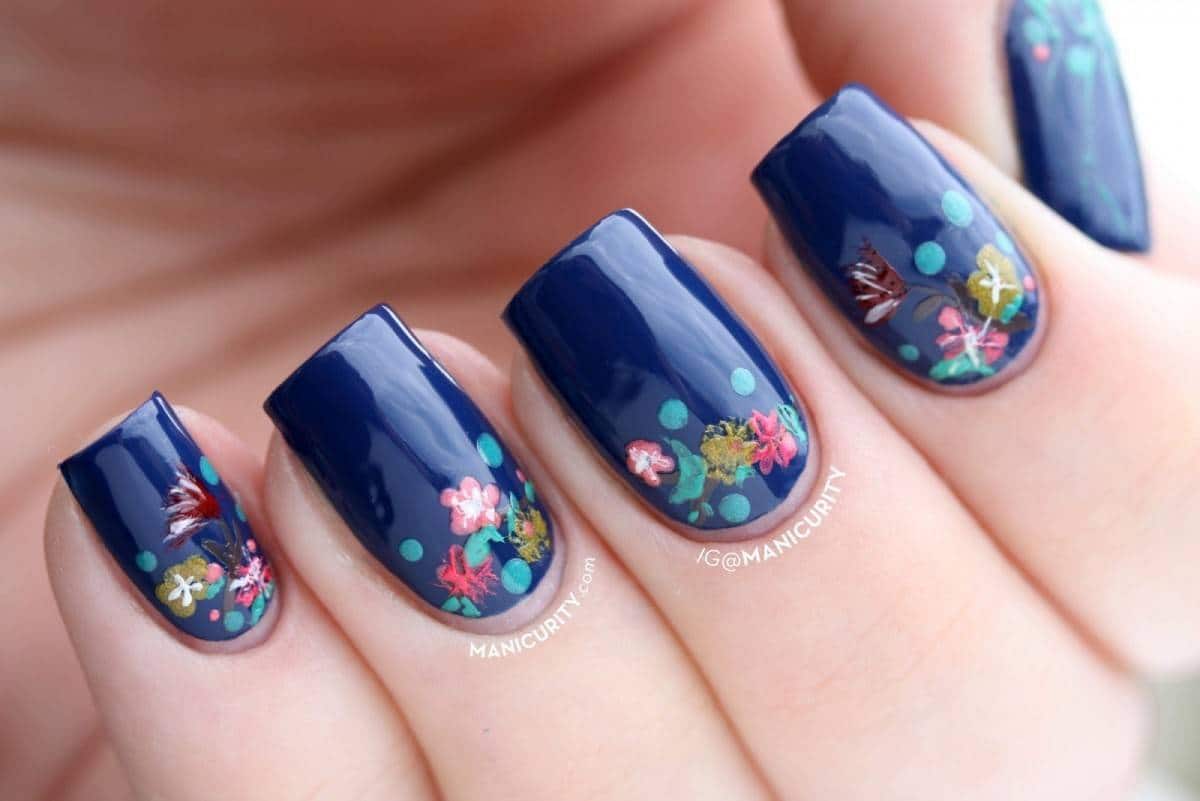 Bored from bright backgrounds in your nail designs? It's okay ladies because this design shows you a perfect example of how to look classy but with a dark colored background such as the navy blue color decorated with a loft of separated flowers of different kinds and colors at the bottom of each nail.
#10. Squared Illusions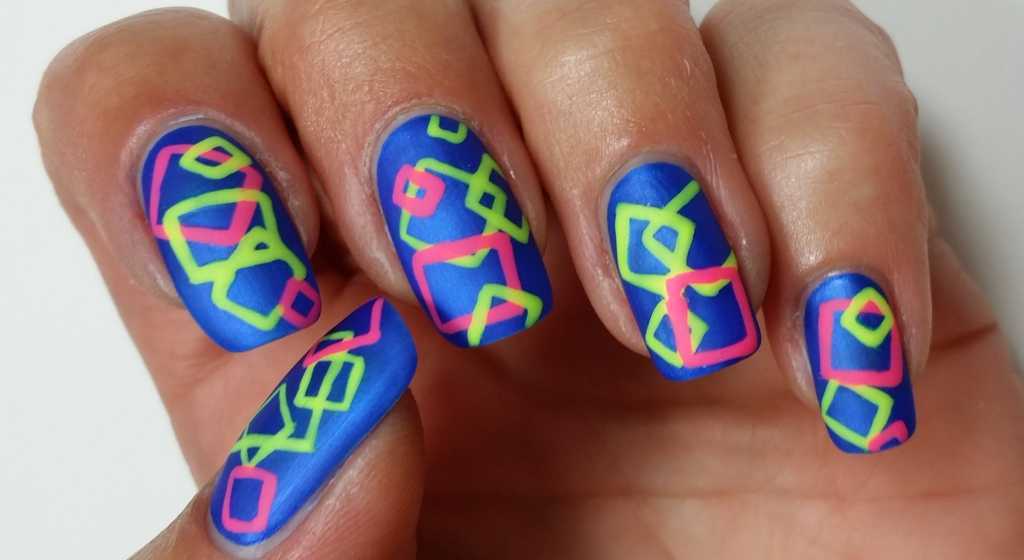 Enjoy your joyful spring nail design that is made up from a matte zaffre blue colored base, decorated with some huge colorful squares made up from the neon green and pink colors. This one can be worn on everyday occasions such as friend hangouts and other similar occasions.
#11. Pattern Frenzy
Sick of having a single simple pattern in your nail designs? No worries, this patterned nail design got all you need under control. It manages the coordination of colors and the organization of two colors at the same time and gives you girl the dazzling look you ant to have!
#12. Chevron Tips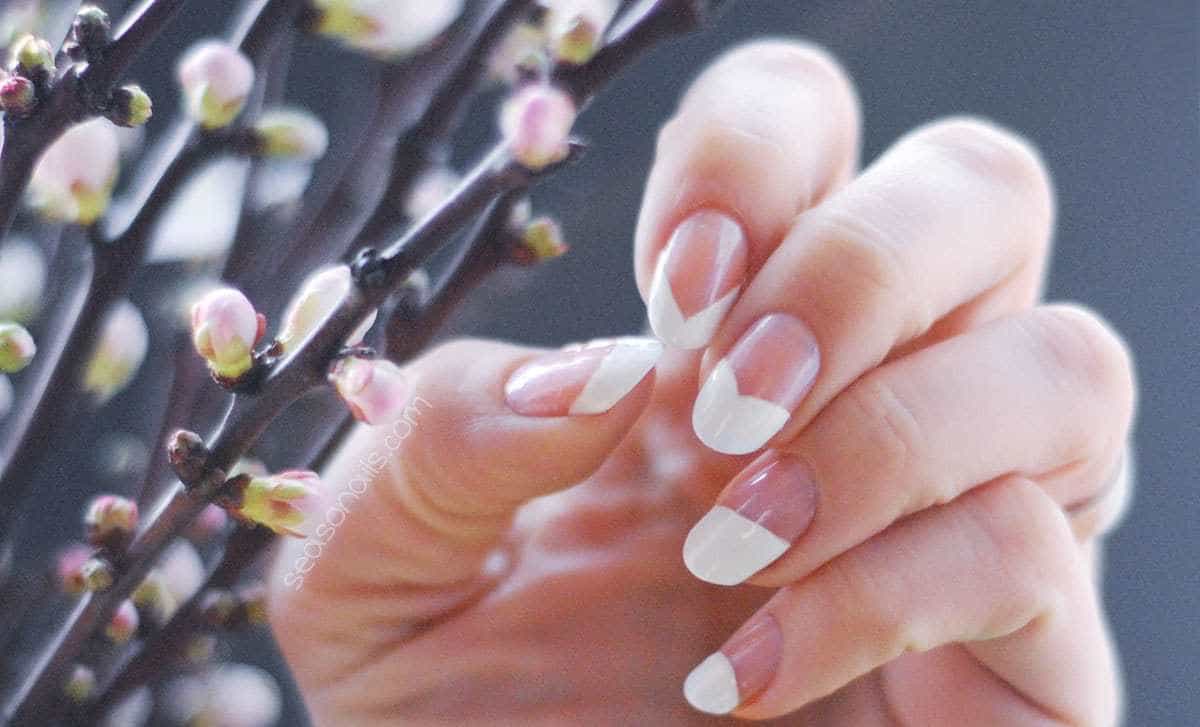 Thanks to french tip nail designs, you women now always find a way to look special and cute especially in spring days by wearing a white chevron-tipped spring nail design with a simple transparent base that fits with any outfit you choose to wear and with any occasion you are going to attend.
#13. Just Like A Balloon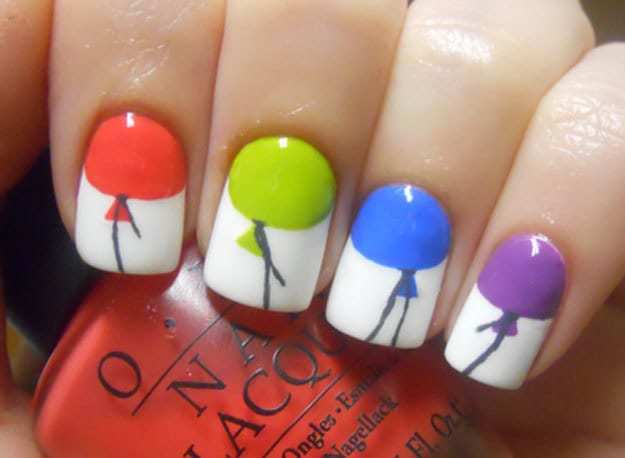 Just like a balloon, travel the world like a dancing balloon while wearing this energetic and colorful spring nail design! It is made up from a clear white base wherein each a nail a balloon is drawn at the bottom with a different color to represent the joy the spring season leaves inside you ladies, and that this joy is similar to the happiness of a kid when he/she see a flying balloon in the air!
#14. Follow The Leader
In this nail design, the shiny silver tiny star is the leader where it grabs all pink arrows and parts just like a magnet grabs iron, and just like women wearing this fancy spring nail design are going to attract those men's minds!
Boldest Black Nail Designs to Stand Out of The Crowd
#15. Sailing Anchor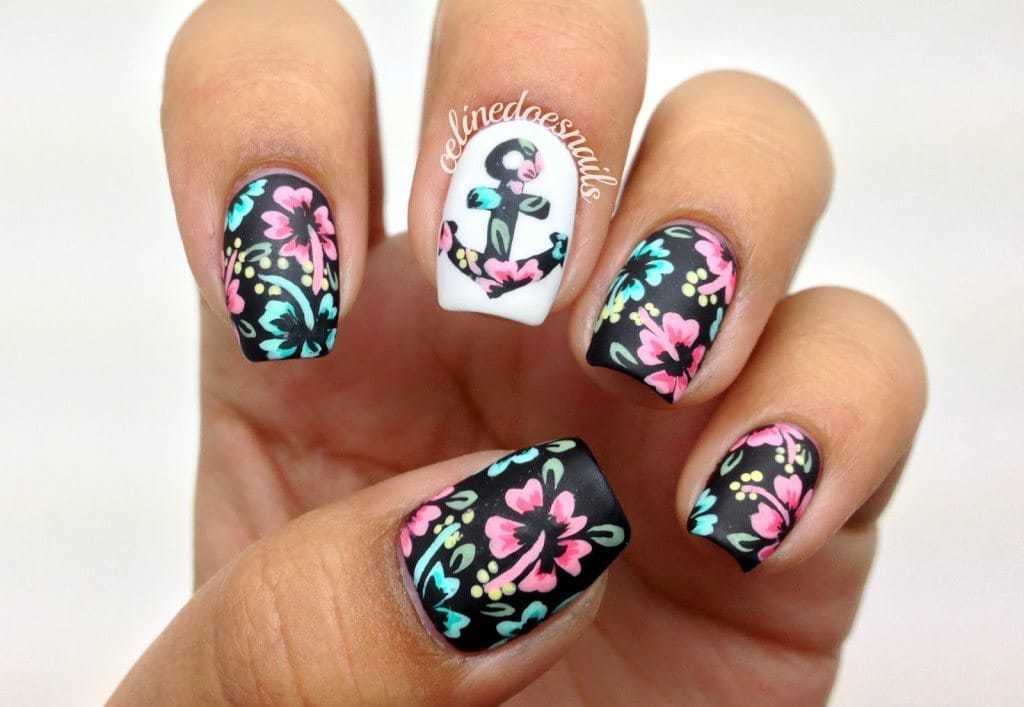 In the ocean and in the world of flowers you ladies are sinking, in love of those colorful plants, you are drowning! Yes, flowers have stolen your hearts ladies and since spring is here, it is time for you to express your floral love by applying this floral pattern in addition to the anchor in the middle finger which is a sign of falling in love with flowers.
#16. Spring Vibes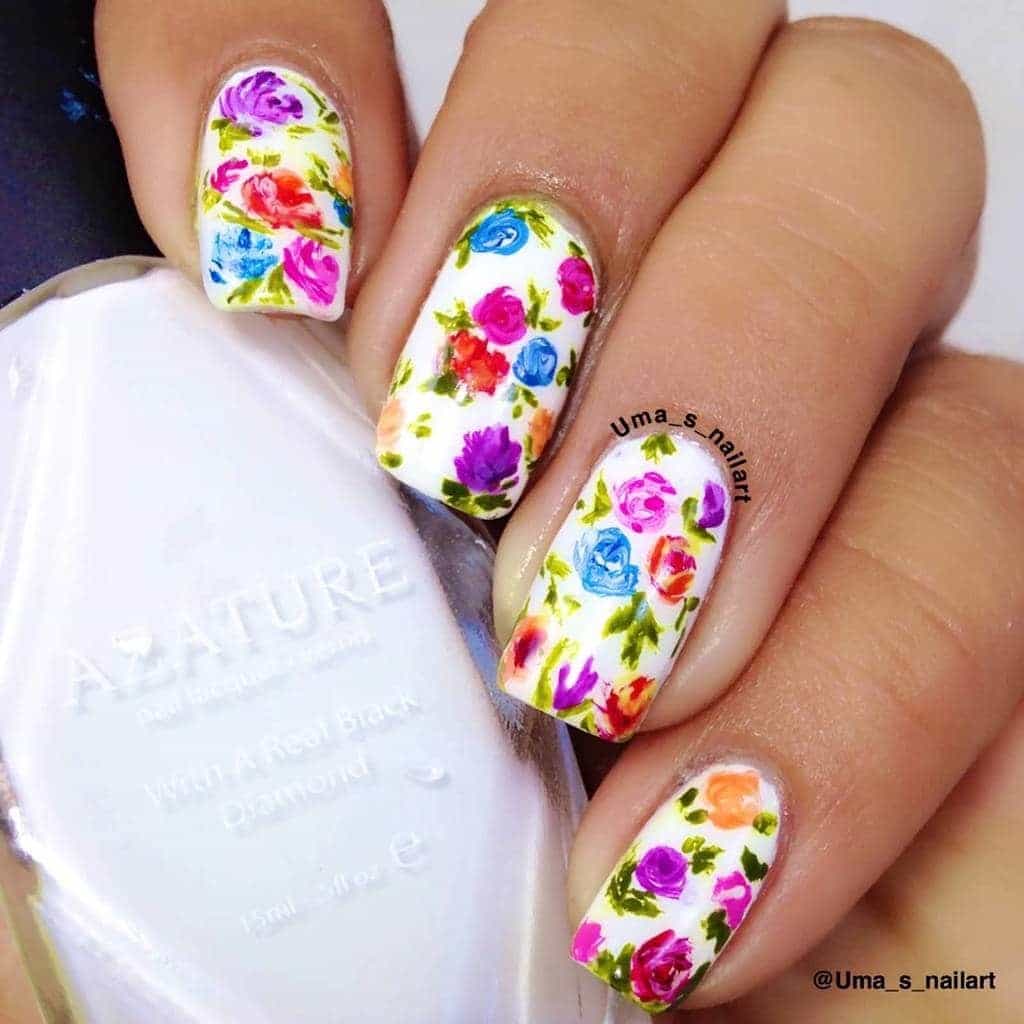 Talking about the spring season, we all start thinking about those green images but what first pops into the minds of you ladies is the idea that this season is rich in blooming flowers. So if you are waiting for spring arrival in order to enjoy the flower view, all you gotta do is to wear this floral spring nail design that gives you the lassie look you are in love with!
#17.  Between The Lines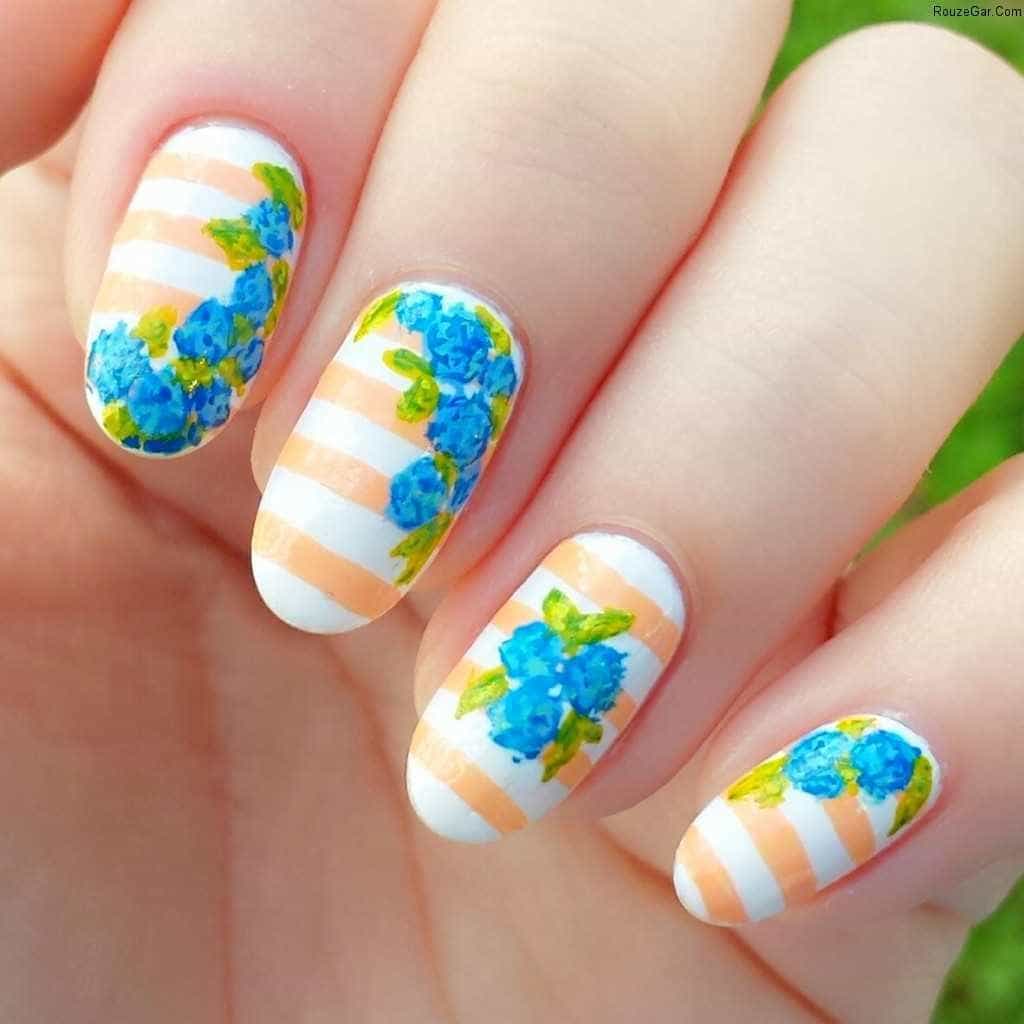 Who said patterned nail designs are going to prevent you girls from leaving your floral touches in your nail designs? The above design proves that wrong, where the striped base elegantly matches the blue floral design on the top!
#18. Converse!
In such spring weathers, wearing a sandal would make your feminine feet fell cold and a pair of boots would make you feel hot. So as a solution, you teenagers are now wearing all kinds and colors of the trendiest Converse known worldwide! So if you are a girl that is in love with this invention, don't regret wearing this colorful spring nail design!
#19. Princess Mode On
Living in a life of a princess, you always gotta involve those girly colors such as purple and pink in every single detail of your life. So if you wanna have the princess look but at the same rime a funky and classy one, try wearing this spring floral nail design full of lassie vibes and royal moods.
#20. Lazy Daisy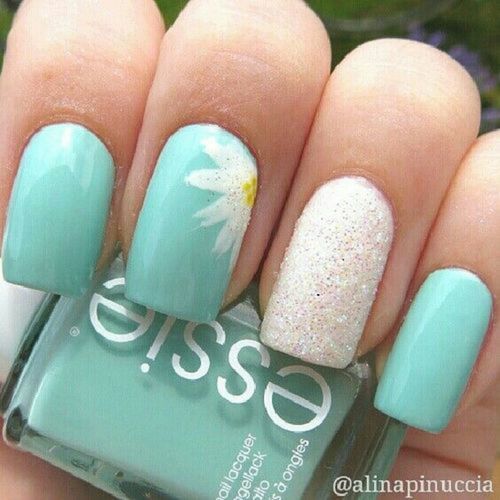 It is the prettiest, the cutest, and the calmest kinds of flowers. Yes, it is the daisy you all girls adore! The bright white color that the daisy owns surrounded with that yellow shiny spot gives it the shine of a sun and the charm of the snow especially when surrounded with such an elegant shade of blue to make up the most classy spring nail design.
#21. Minnie And Minnie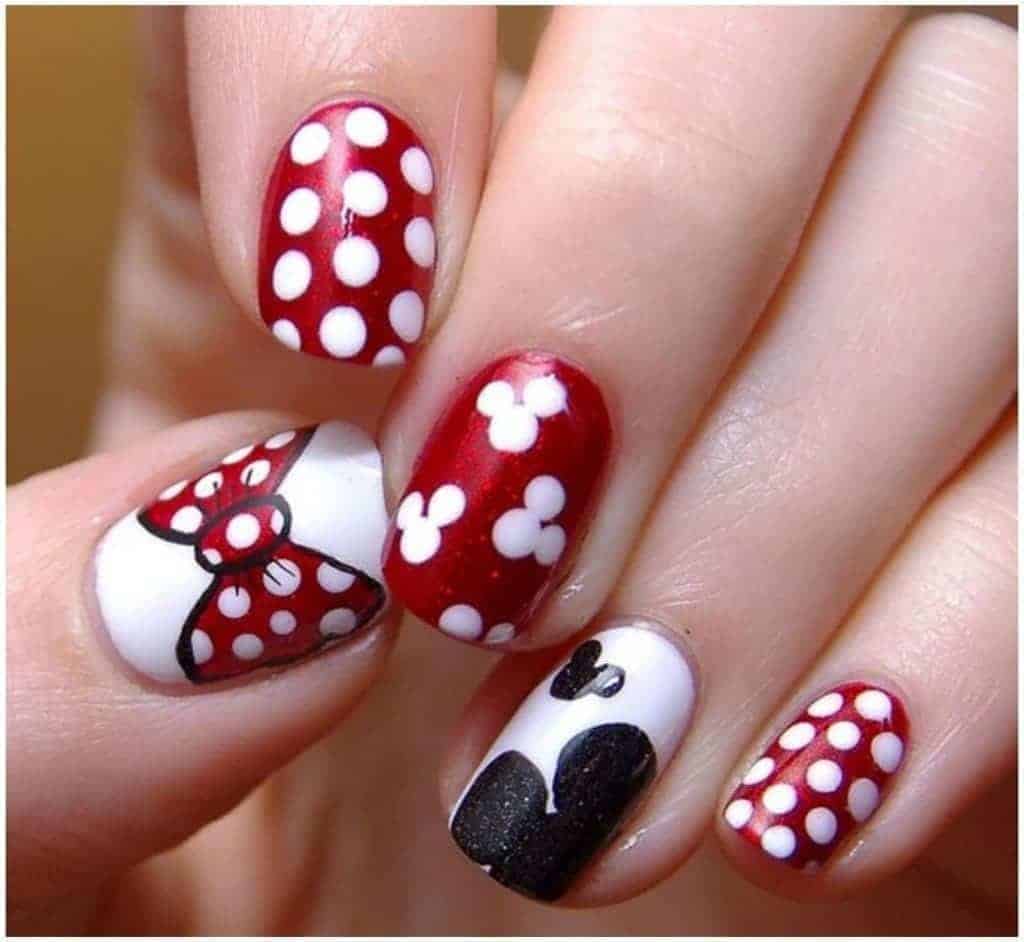 Mickey mouse nail designs are great if you love that cartoon character. They are the remembered cartoon characters in all places, occasions and seasons.
#22. Friendly Busy
Surrounded by those green fields, colorful flowers, and clear blue sky, why don't you think about a friendly hangout in the environment? But before starting to prepare the food and stuff, hurry up to your bedroom ladies and wear this spring nail design that your girlfriends are going to adore and be in love with.
#23. True Elegance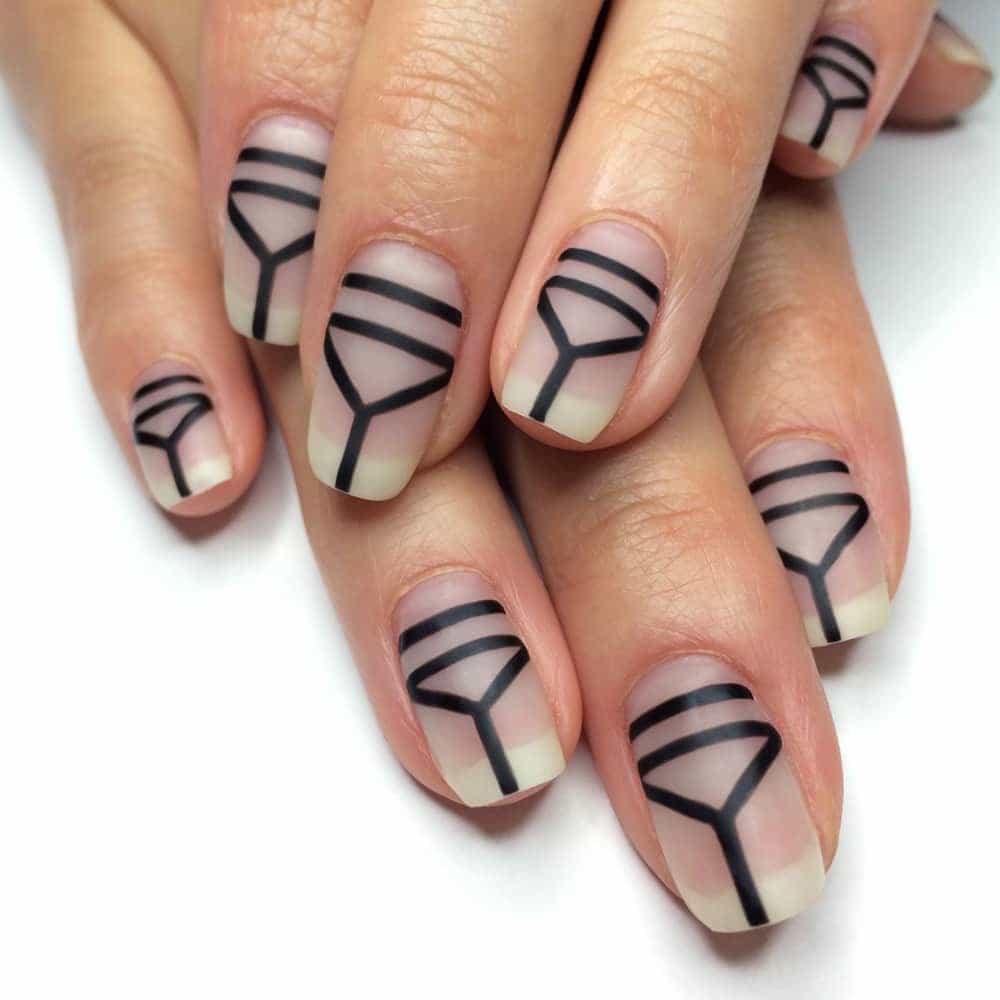 Despite all colorful and floral nail designs, this elegant nail design is going to show you how you ladies can look elegant and sexy at the same time just by trying it on!
#24. Floral Touch
In the middle of that flamingo pink cute nail design, give your nails a floral touch made up from a thick black column where two tiny white daisies with a red center are drawn making up a lassie nail design that can be worn on a sunny spring day.
#25. Violet Lilac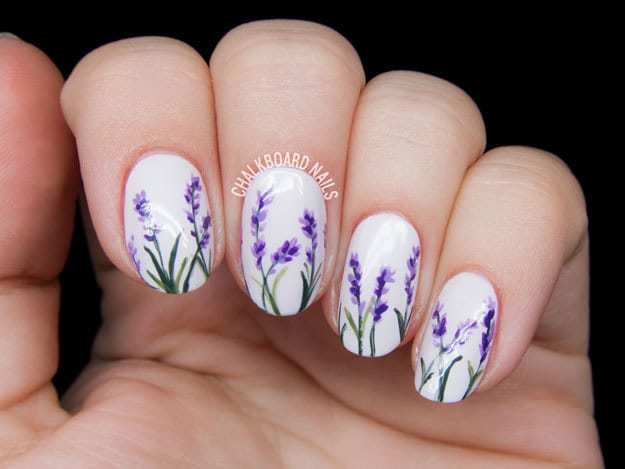 For you flower lovers and for the purple color lovers this spring nail design is made to cheer you girls on a shiny spring day and to give you the lassie, cute, and fancy look you never found in any other nail design.
Best Flower Nail Design Concepts
More Spring Nail Designs to Try
Summing it all up, spring is the season where colors appear and sadness fades leaving the touch of joy and love in the heart of each one of you. And if you want to greet this season in a tender way, try wearing one of the above designs shown in the list of 25 spring nail designs that are going to make you look lassie and confident enough in walking through people with dazzling and stylish looks!