Gold nail designs inspire wealth and luxury. Spice your look with a manicure that makes you feel like you are part of the royal family.
Gold Nail Designs
These gold nail designs are perfect for any fancy occasion, especially when you need your hands to look picture perfect. In this case, a gold polish with glitter or some rich constructs is a life savior.
1. Rose Gold Nails
If you think that pure gold nails are too much for you, choose a color like rose gold for your nails. Your hands will look impeccable and you'll still look glamorous.
2. Red And Gold Nail Art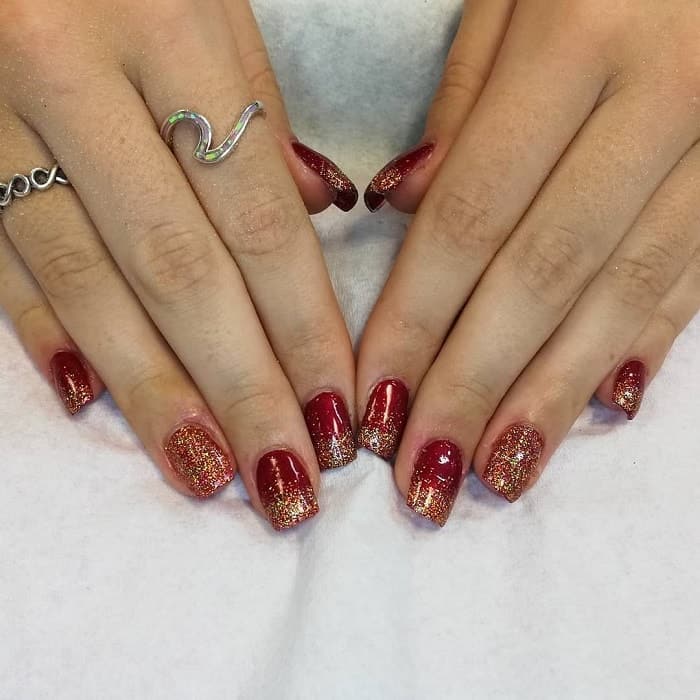 They say that your hands are like a mirror, they show you who you really are. With these red nails with glittery stardust, you will inspire confidence and wealth.
3. Gold Gel Nails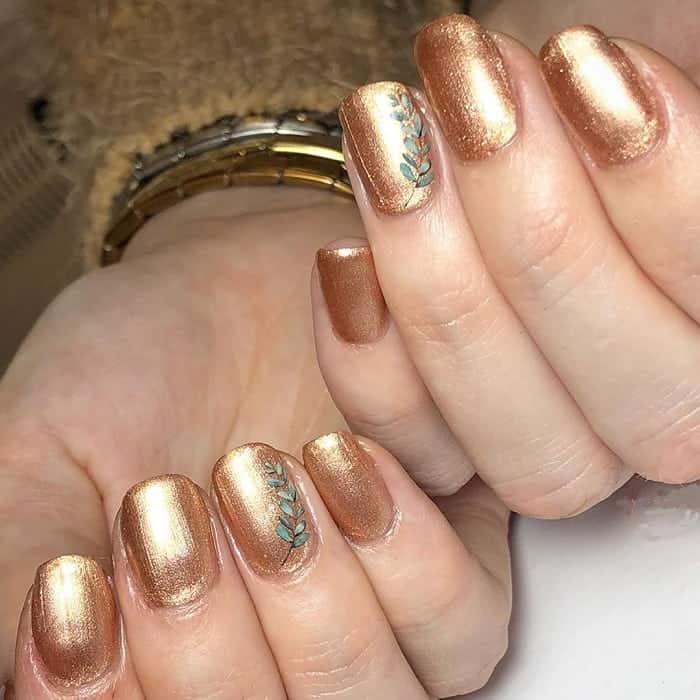 This subtle gold nail polish is the perfect choice for an everyday outfit. It doesn't look extremely sophisticated and it's a magnificent choice for everyday use.
4. Gold Nails for Prom
Prom is probably the most important moment in any girl's adolescence and this is why your nails must look fabulous. Create some pointy gold nails with an abstract design that will blow everybody's mind.
5. Gold Acrylic Nails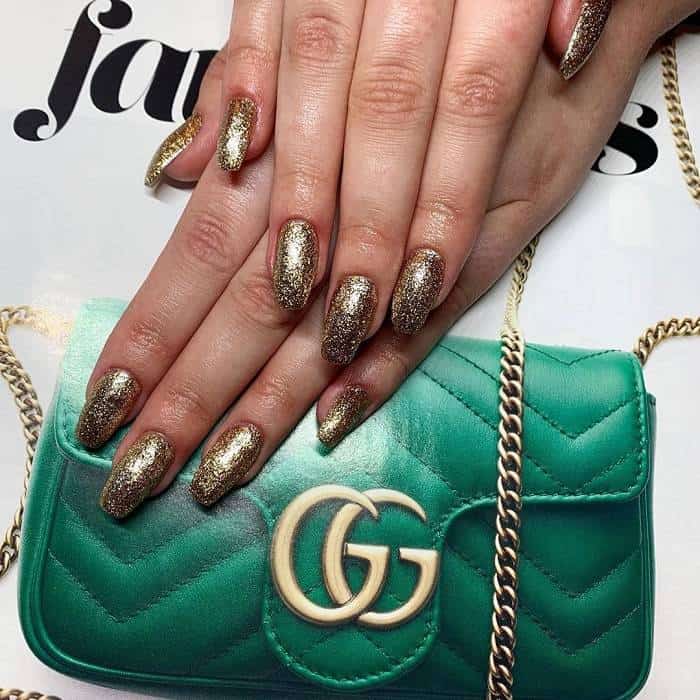 Highly textured nails look amazing on a square oval nail shape and those solid sparkles are stunning and give your nails a lot of impact.
6. Burgundy And Gold Nails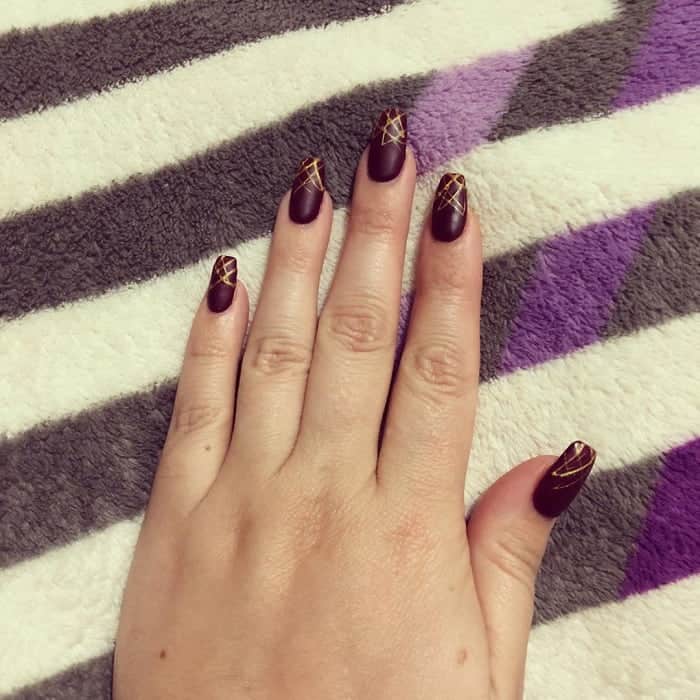 7. Gold Flake Nails
8. Gold Ombre Nails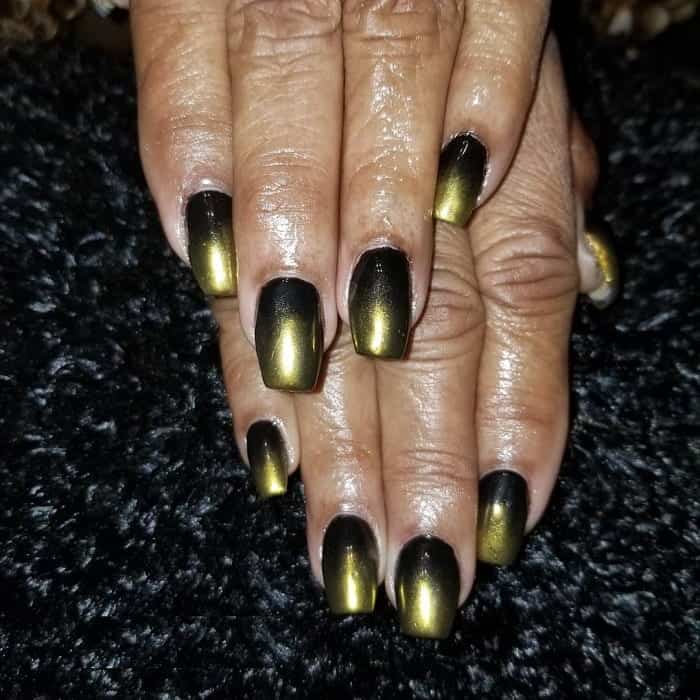 9. Gold Chrome Nails
10. Maroon And Gold Nails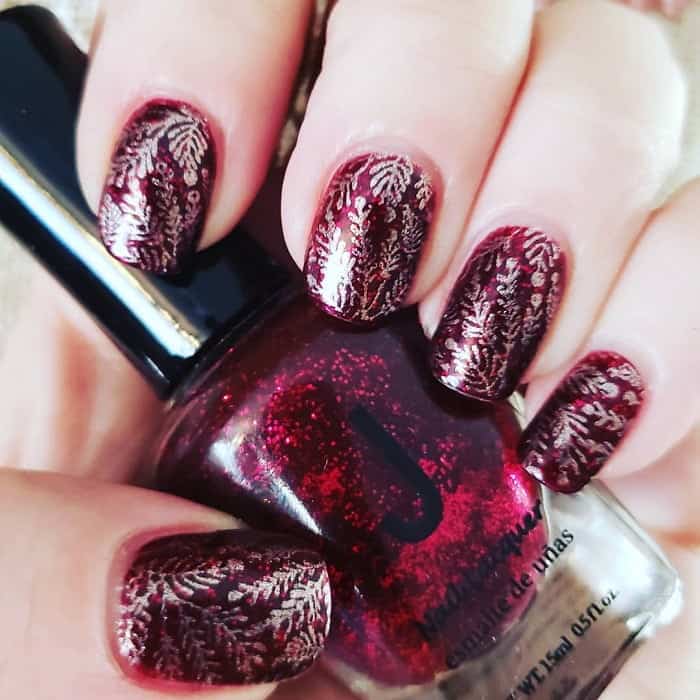 11. Purple And Gold Nails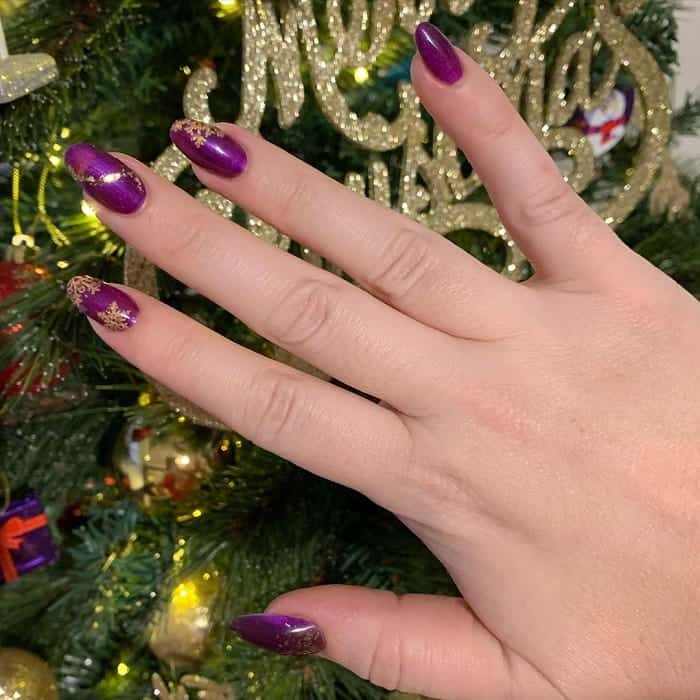 12. Gold Star Nails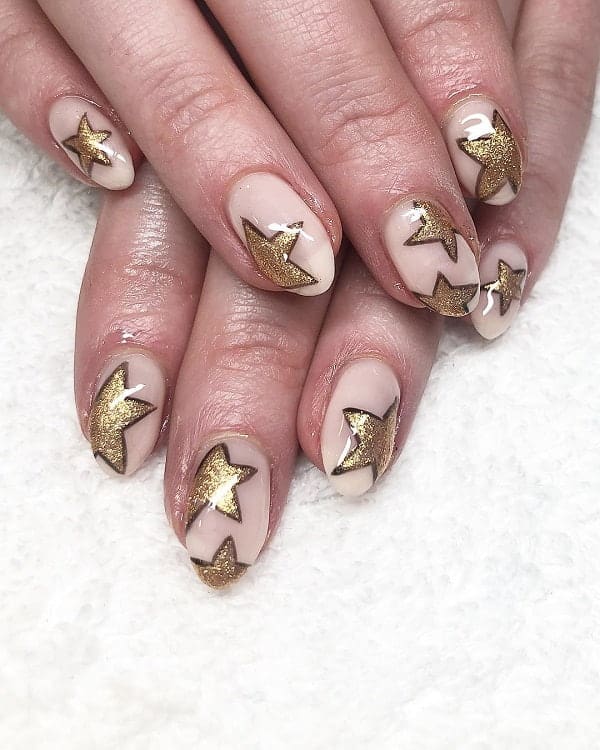 13. Green And Gold Nails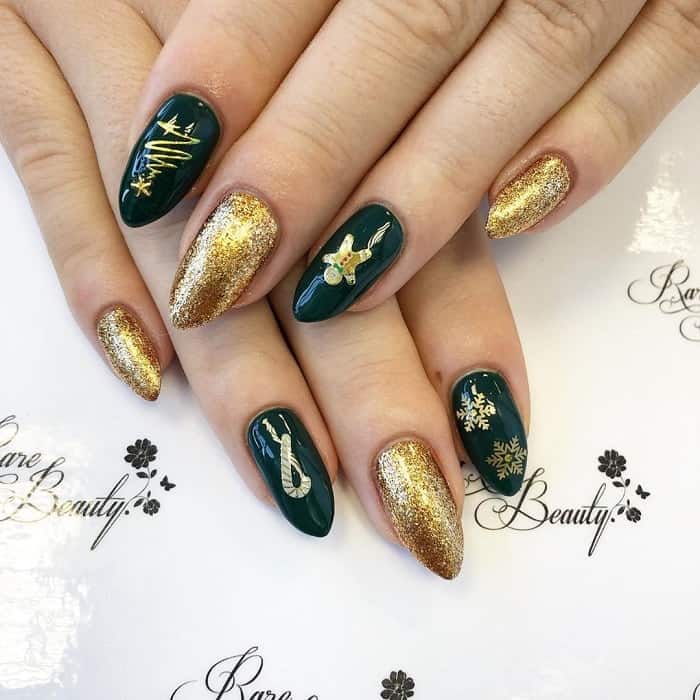 14. Nude And Gold Nails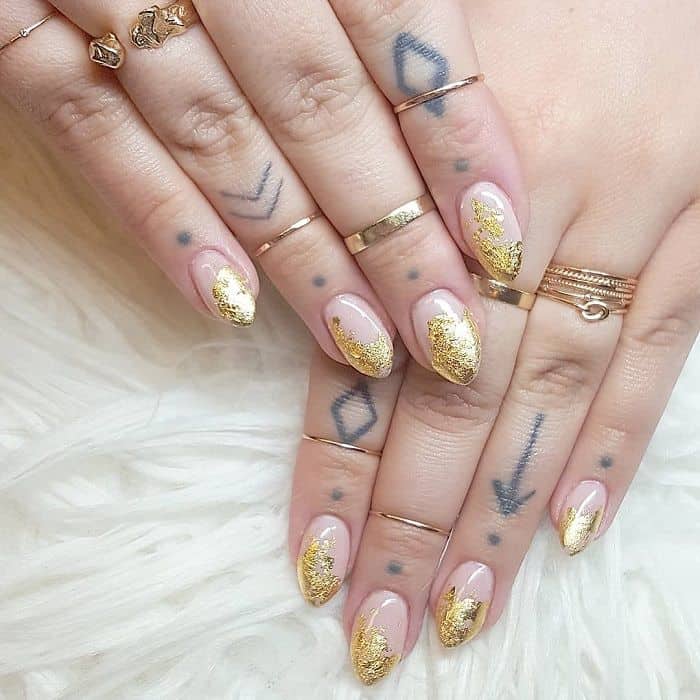 15. Gold Coffin Nails
16. Gold Sparkle Nails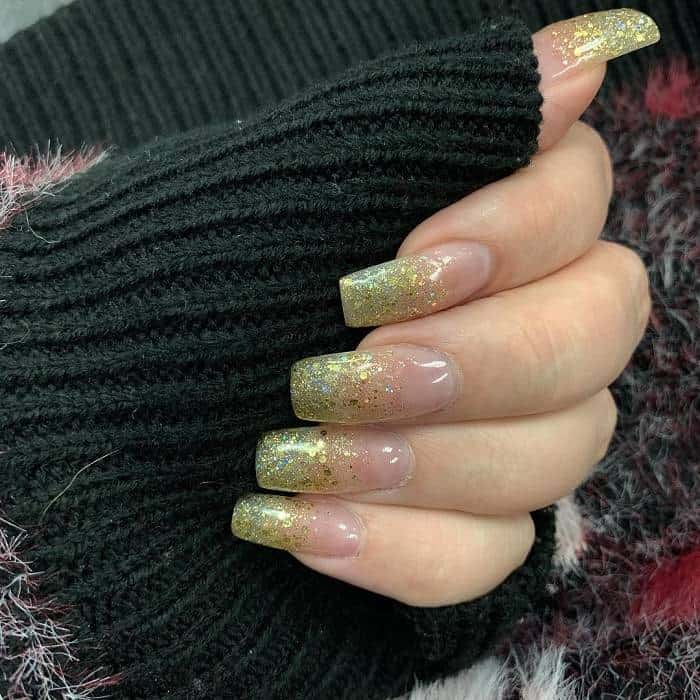 17. Gold And Silver Nails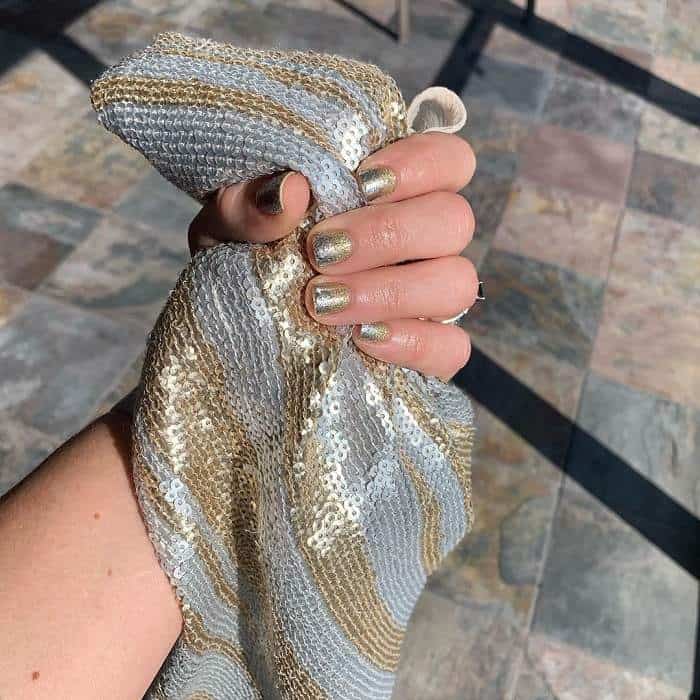 18. Yellow And Gold Nails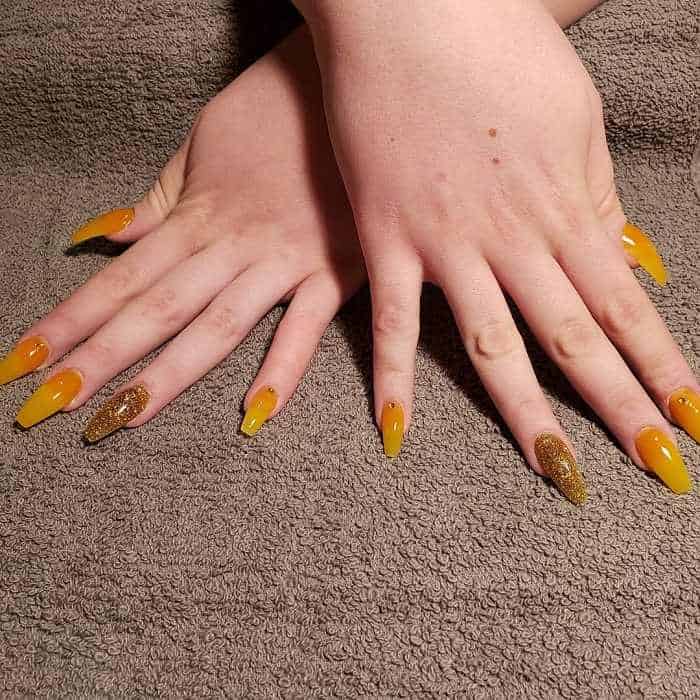 19. Metallic Gold Nail Polish
20. Orange And Gold Nail Design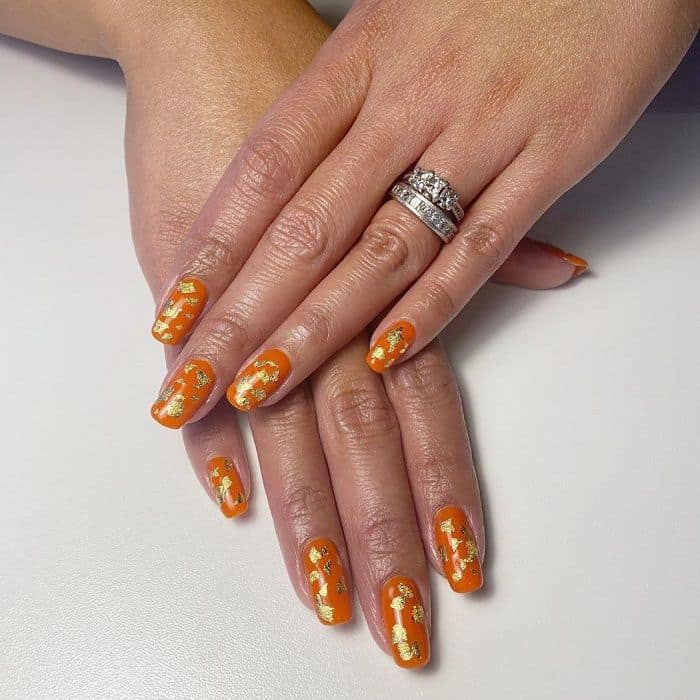 21. Gold Matte Nails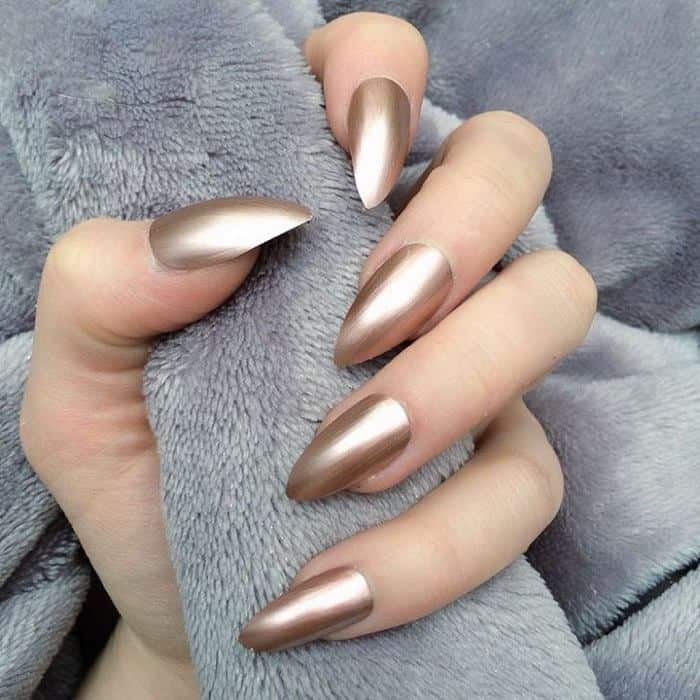 22. Brown And Gold Nails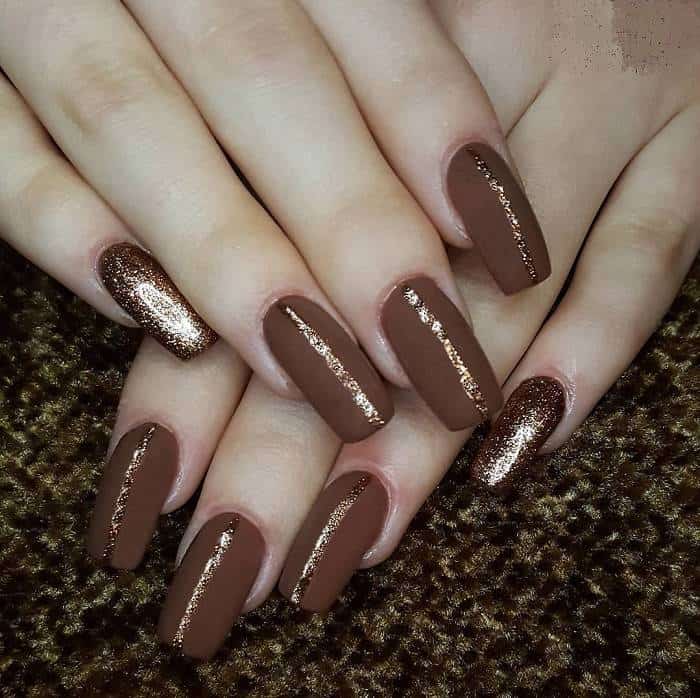 23. Gold And Teal Nails
24. Gold Toe Nails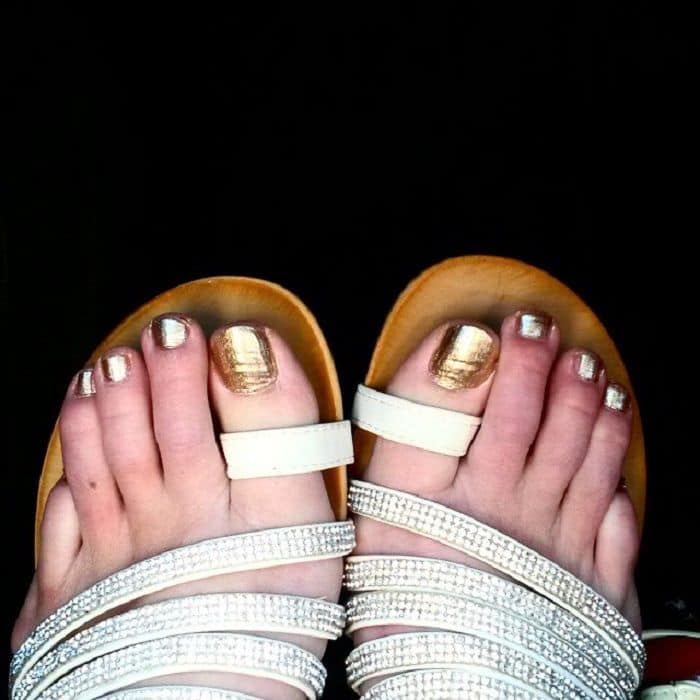 25. Gold Wedding Nails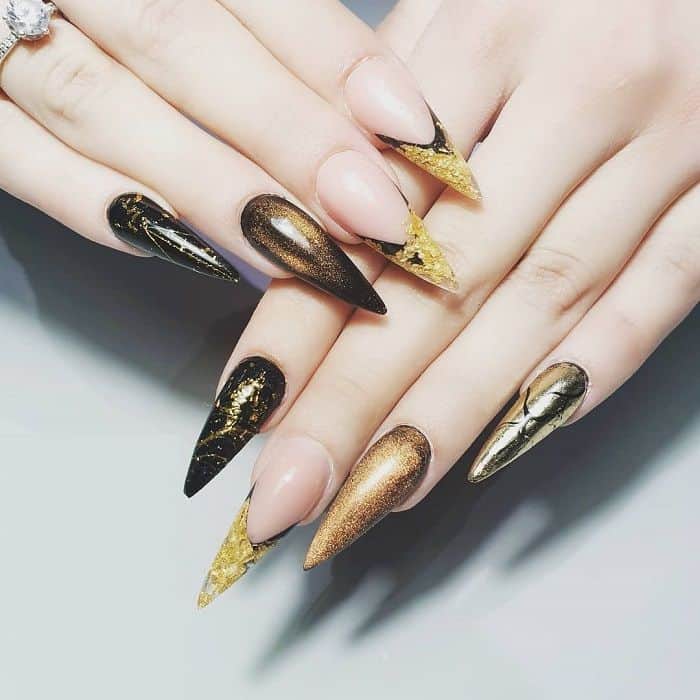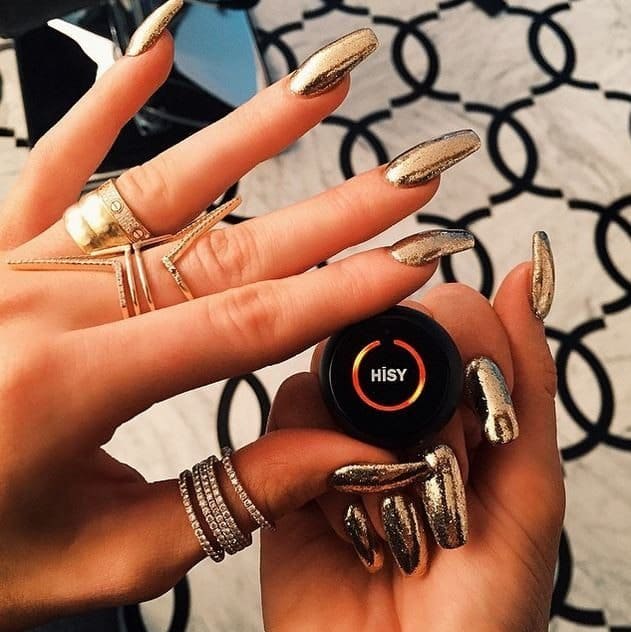 The type of gold glitter used in this design is not a normal one, it is a soft one! This kind of glitter tricks you the minute you look at it, you can see it shimmer like glitter but once you touch it you can't feel the glitter that makes it shine in that way.
However, such a kind of gold nail design can be worn on a fancy occasion to give a splash of chicness to the outfit you are wearing.
27. Fading Gold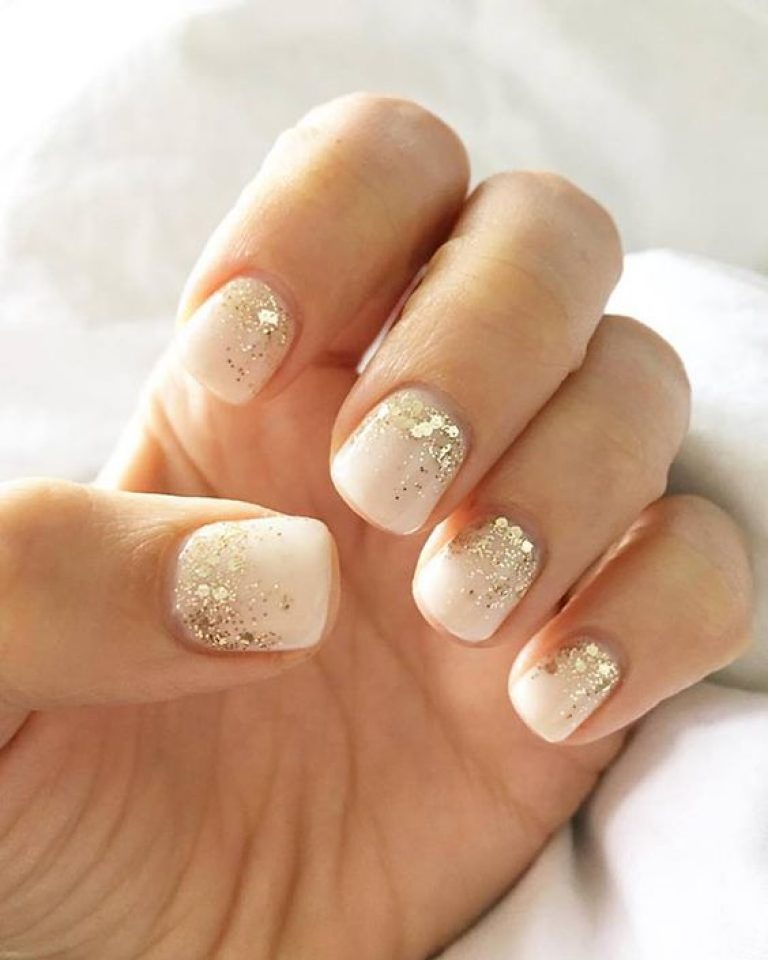 The above design is a simple one that can be worn on any type of occasion and at any time of the day. The white clear base with the concentrated gold glitter at the bottom of the nail that starts fading gives a special touch to a woman's hands.
28. All Gold Glitter Nails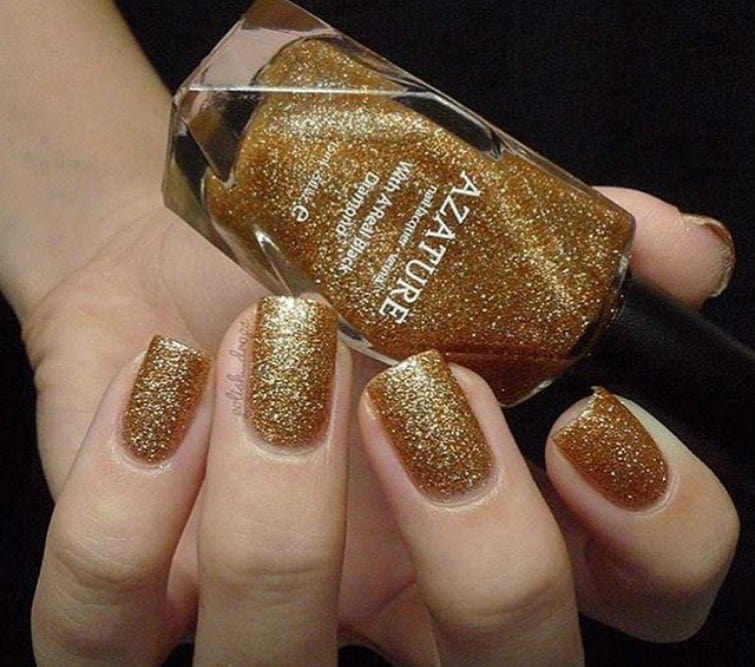 Going shiny and glittery in gold nail design is something usual. Often, the gold nail polish is always glittery and used for decorating nails, so wearing a glittery nail design is the most kind of gold nail designs used.
29. Tiger Pattern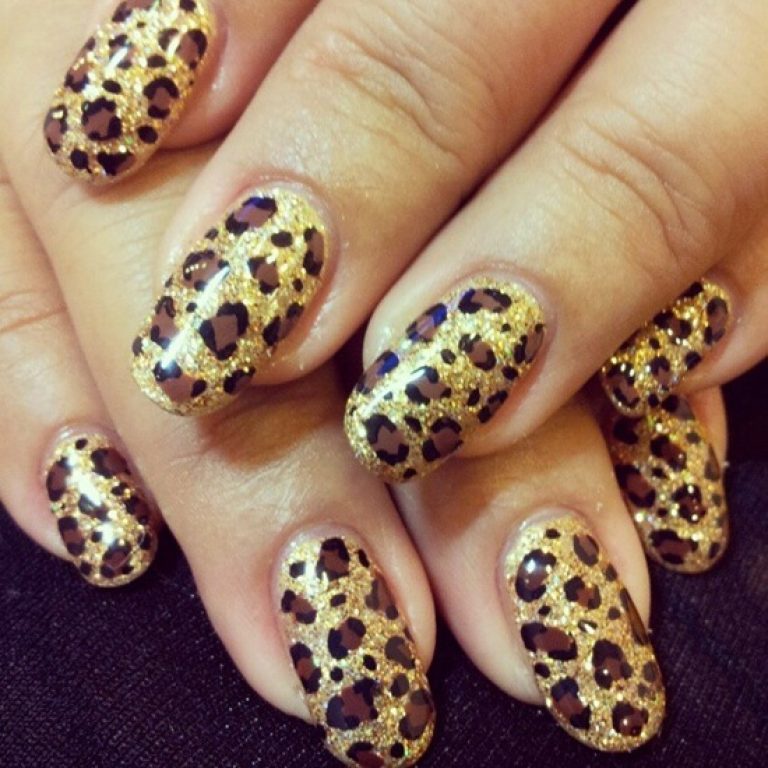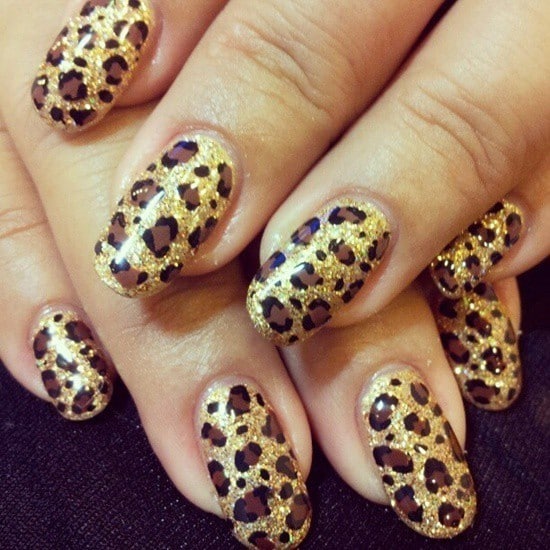 Use the glitter gold base with the brown and black colors in order to have an acute tiger pattern that decorates your nails with one of the best and the cutest nail designs.
30. Cloudy Chance Of Gold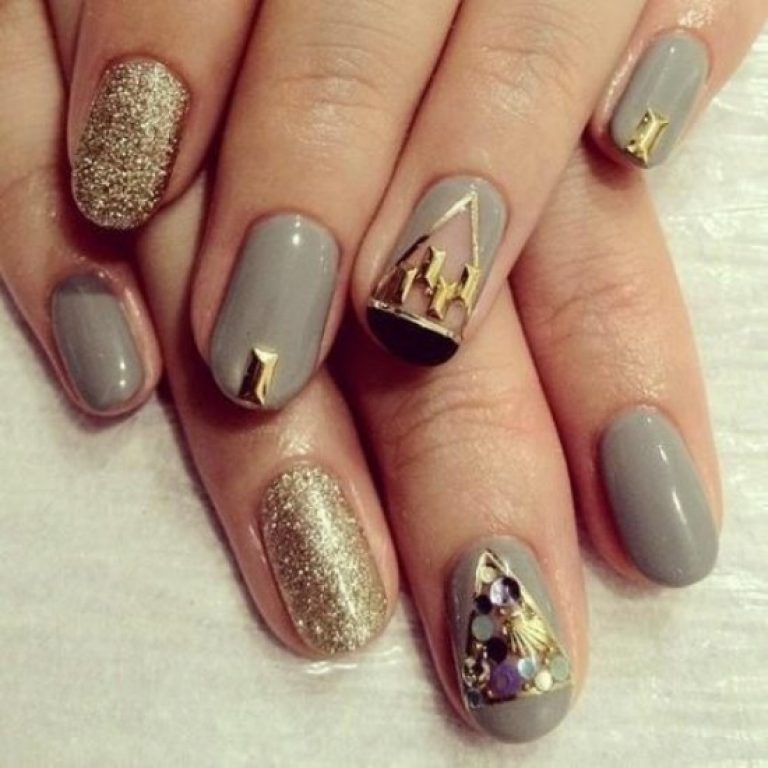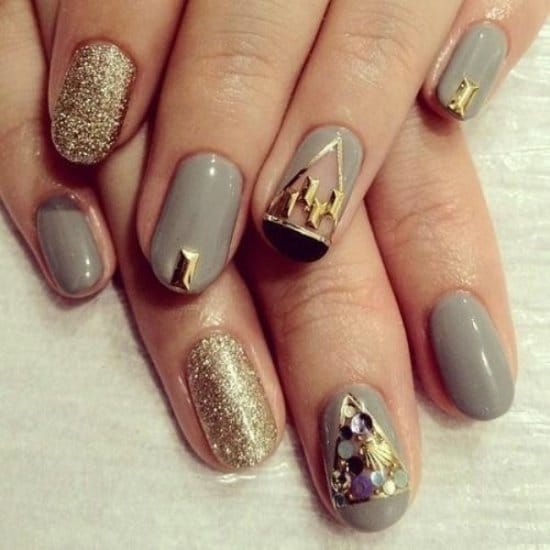 The cloudy gray nail polish in the different nails, in addition to the gold glitter, polished ring finger make the best mixture. Moreover, the way the gray nails are designed with the golden color gives the design a special taste.
31. Black & Gold Nails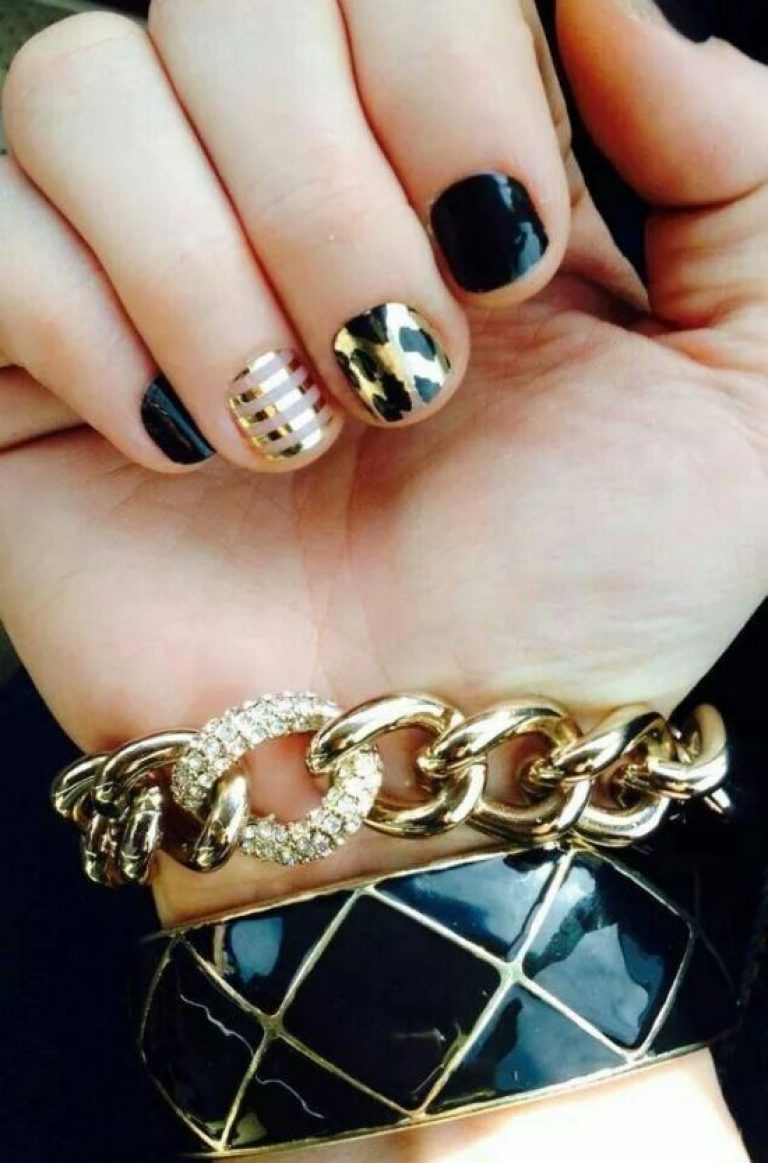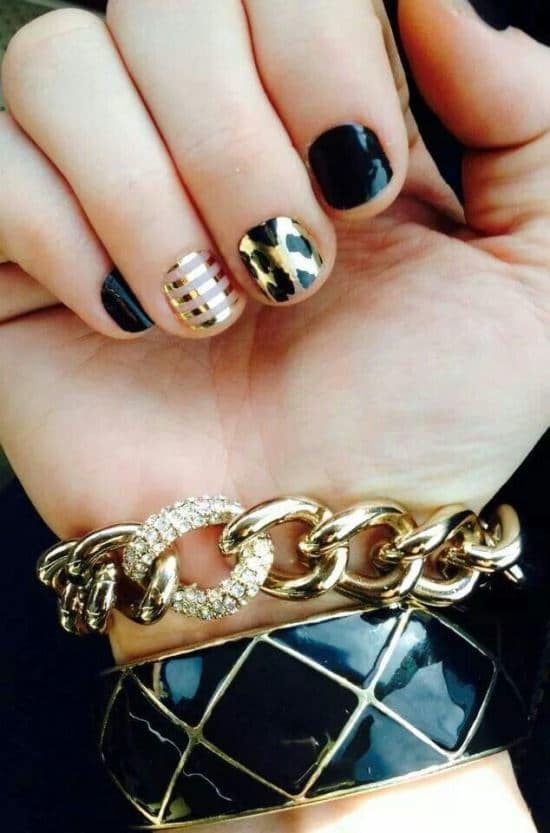 It does not always have to be white and black or white and gold, it can also be black and gold. Using the golden color to decorate the middle and ring finger in black nail design is a good choice.
32. Granola Gold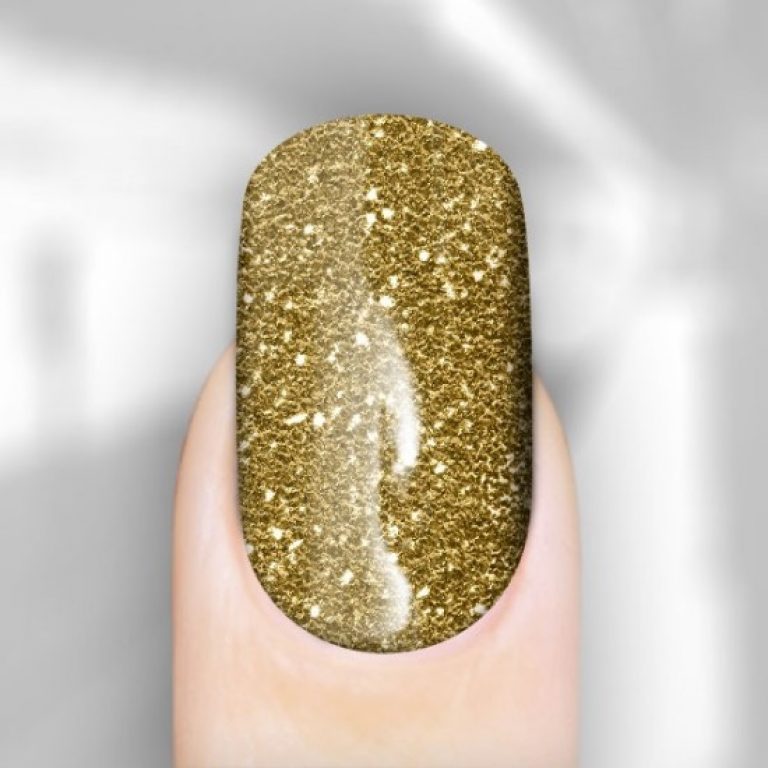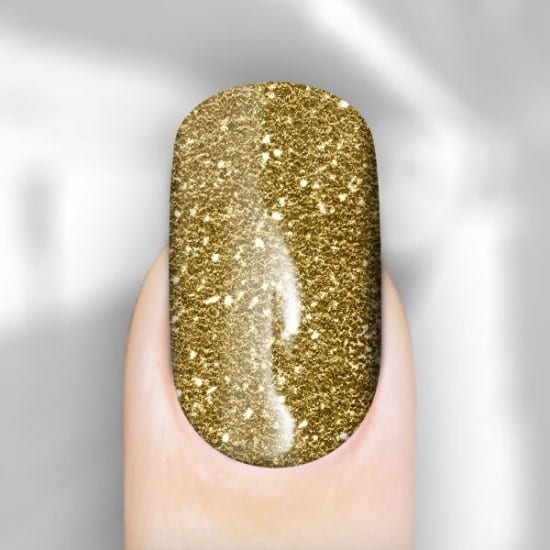 There are many shades of gold, one of them is the granola gold. Granola gold is not often used by a woman in her nail designs, so using it in this design and in the glittery state can be something new in a positive way in the world of fashion.
33. Golden Pathway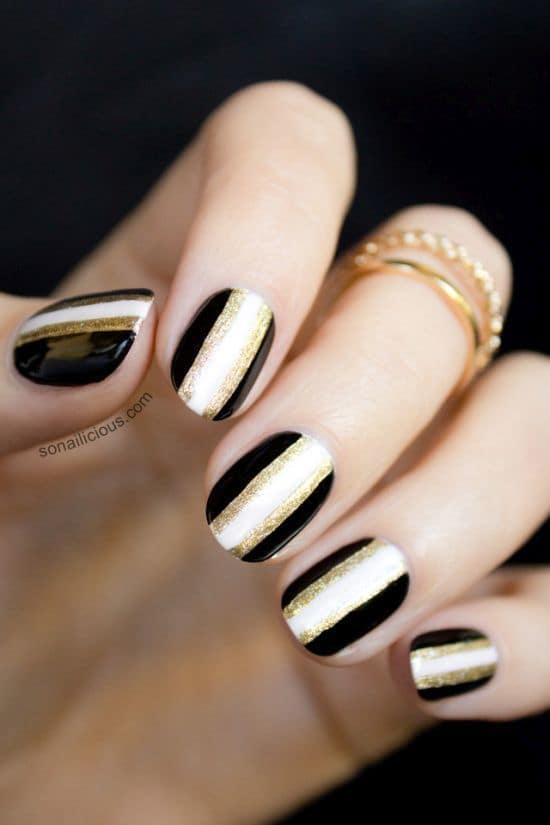 In a simple black nail design that everyone knows, you are going to need a cool touch to change the design from old to gold. The golden pathway in the middle of a black nail is the best choice to give life to a simple black design.
34. Sand Gold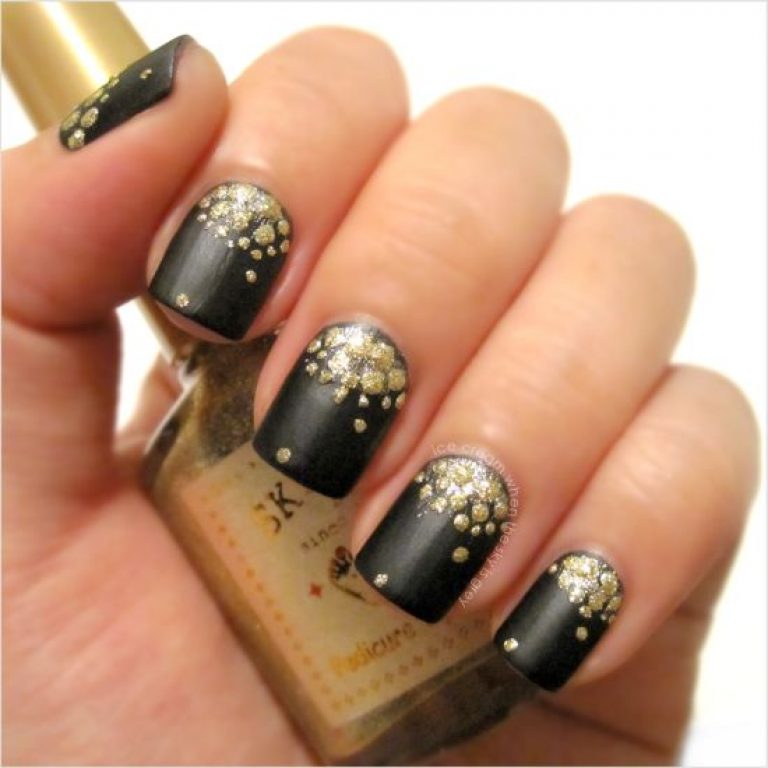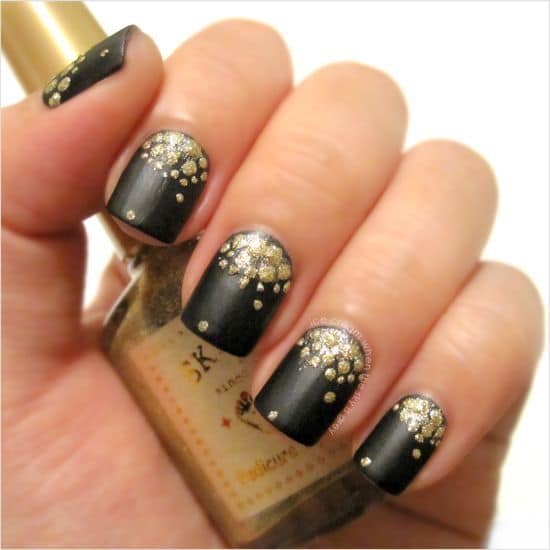 The matte black is decorated with the dots of the sand gold color at the bottom of each nail and one dot at the top side of each nail.
35. Golden Garden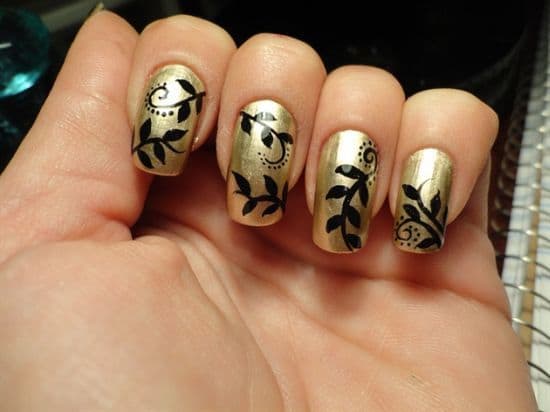 Leaves are always represented in a green background in order to show that they grow in gardens and green spaces. But in this design leaves are represented in a black having a golden background.
36. Not Simple

At the first look, you can say the design is very simple, but when you realize how the gold glitter is fading and disappearing in the white color, you will notice that this design is not a simple one.
37. Golden Chevrons

Going to a party but wondering how to make your white nail design be the best one? No worries! All you have to do is to add a gold chevron to your ring and index finger, but according to the middle finger, you can just leave it polished with gold nail polish.
38. White and Gold Nails

Go simple in gold nail styles. Polish all your nails with white except the ring finger with metallic gold, leaving two golden decals at the end of each white nail.
39. Golden Tips

French tipped nails are usually of a transparent base and white tips. But in this design, we are breaking the routine by using something stronger which is the white base and golden tips.
40. Stripes

In a classic nail design of the white color, you need a shiny golden ring nail and two golden stripes on the top of each white nail.
41. Squared Gold Nails

Square nails are those that most women have. So if you shape your nails in a square shape, don't regret wearing this gold nail design, it's the best!
42. Gold Stiletto Nails

Stiletto nails show fame and uniqueness, and the golden color does too. So if you are willing to have a unique look and an amazing one, you gotta try this gold nail design made of a white base and a gold pattern at the top, bottom, and side of the nails.
43. Holographic Gold

As any simple white and gold nail design, in this design, we are decorating the middle nail with golden chevrons and the ring one with golden color leaving the other free from any design.
But this time, the ring finger isn't polished with any kind of golden glitter but with holographic gold.
44. Shiny Glitter

The golden glitter in this design is used properly in the ring finger, in the shape of a triangle at the bottom of the middle finger, and at the sides of the pinky tiny finger.
45. Anchor Style

Stop being cliche by always going white and gold. Why don't you enter a third color between these two? The pink color used in the ring finger having the anchor shape on it totally fits with the rest fingers designed with the golden shimmer-fading and disappearing into the white-based nails.
46. Stripes & Chevrons

Why have only chevron or stripes when you can have both in the same nail design? You can have chevrons on your middle finger and stripes in the middle of the rest.
47. Short Ones

Short nails don't prevent you from having an amazing gold nail design. For example, the above one shows a variety of styles in one nail design, showing that you can go creative in a golden color even when working with short nails.
48. Sport Chic

Are you that kind of a woman that likes to wear a sport-chic nail design? Well if you are, the above design is a perfect one, it's a simple white clear design with two golden stripes in the ring finger and one stripe in the index finger.
49. Hazel Wood

Hazelwood gold isn't not usually used in nail designs. Using it now as a tip for your nails and a color for the ring finger is one of the best colors a woman can choose in her gold nail designs.
50. Fancy Nancy

Go fancy by wearing this nail design rich in shiny decals and glittery gold.
51. Gold At The Bottom

To give life to this simple white nail design, all you have to do is to add a spot of glitter shimmer at the bottom of each white nail in your tiny woman's hand.
52. Chevron Glitter

Design a glitter chevron in the middle of the middle finger of a white base and border it with a thin black color. And to make the design more classy and add lights to it, you can polish the ring finger with golden glitter.
53. A Piece Of Cake

The above design is a piece of cake! It's so easy and can be done in a few minutes, besides the golden dots on each finger and the golden polish in the index finger make the design cute but easy to apply on nails.
54. Golden Nails

Having golden fingers isn't something hard. You can polish your index finger with golden glitter, design your middle one in the fading style, the ring finger with a weird golden pattern, and the pinky one with a golden tip.
55. Golden Stilleto

Apply a white design on your index stiletto nail finger of the left hand and on your ring finger in the right hand having a golden color base, and design your pinky with gold tips, your middle one with fading gold, and the index finger in the right hand and the ring finger in the left hand with simple glittery golden base.
56. Gold & Tiffany Blue

Golden tips with a white base are not always all you want. Sometimes you gotta need a blue color in a gold white nail design so that it fits your blue dress, however, the way the golden glitter starts fading from the tips to the middle of the nail is amazing, not to mention that the way the blue dots are distributed in each nail is a good choice.
57. Good Is Not Enough

Rating your nail design as a good one does not satisfy most of you woman. So to have a perfect nail design that pleases you, all you have to do is to decorate your nails in a different way.
Design the pinky finger with fading gold glitter, the ring finger with white and golden stripes, the middle one with shiny decals, polka dots of a gold base in the index finger, and two golden dots in the thumb.
58. Magenta Style

Gold is the best color used to design any nail polish you are using, magenta is one of them. Styling up your magenta nail design with golden stripes and decals makes the perfect combination of magenta and golden glitter colors.
59. Gold and Blue Nails
Blue is the warmest color, also it's the calmest one. Combine this oxford blue with the golden color is the combination of two calm and loud colors that make a perfect mixture.
60. Baby Pink And Oat

Oat gold color is one of the best shades of the golden color, and when mixed with the baby pink in the ring finger it makes a perfect combination for a cute nail design you would like to wear.
61. Freaky Emoji

Black and gold are both the best colors that can represent chicness and fame. Besides all the weird patterns in the following design, the only finger that grabs my attention is the finger with the emoji pattern nail design made from the golden color and having a black base to create one of the best and cutest gold nail designs.
62. Glitter Shimmer

Be the star tonight by wearing this gold shiny glitter design that will attract everyone's eye and make you be the queen for owning the best stylish gold nail design.
63. Fading Pink and Gold Nails

Try wearing a fading pink color in order to combine the golden color with it in the index finger, and the other fingers with fading pink and a rapid line of golden shiny stickers.
64. Transparent Trick

Transparent bases are just a trick in any nail design, at first you reject to have them cause you think they make your design a poor one, but once you try it on and especially with golden glitter tips, you are going to realize that it is better than colorful bases.
65. Golden False Nails

Each nail of the following nails is designed with random and fancy shiny white and golden decals of different shapes. But the thumbnail has a special touch, the white floral touch.
Some Must-Try Gold Nail Designs
As you can see, the golden touch fits with all colors in any nail design and is the best one use for decorating, styling, and for giving life to any simple nail design.
So if you like the golden shades, and you are wondering how to have a perfect nail design that gives you the chance to have the best fancy and chic look for any occasion, well the above list of 65 classy gold nail designs is all you need.