From the beginning of the nail art industry, red and gold have been continuously used by every nail artist around the world.
The application process and the patterns of the designs might be different, but these two color combinations can create gorgeous nail arts!
Red And Gold Nails for A Classy Look
If you want to stun the people with your elegant nails, paint your nails with red and gold! Both of these colors are bright and attractive and you'll get noticed even if you want to stay undercover.
A good deal of glitters and rhinestones can be used in red and gold nail designs to bring a luxury look. Bring your creativity to enhance the beauty and shine of your nails. Let's see some examples of how you can design your nails with red and gold.
#1. Red and Gold Acrylic Nails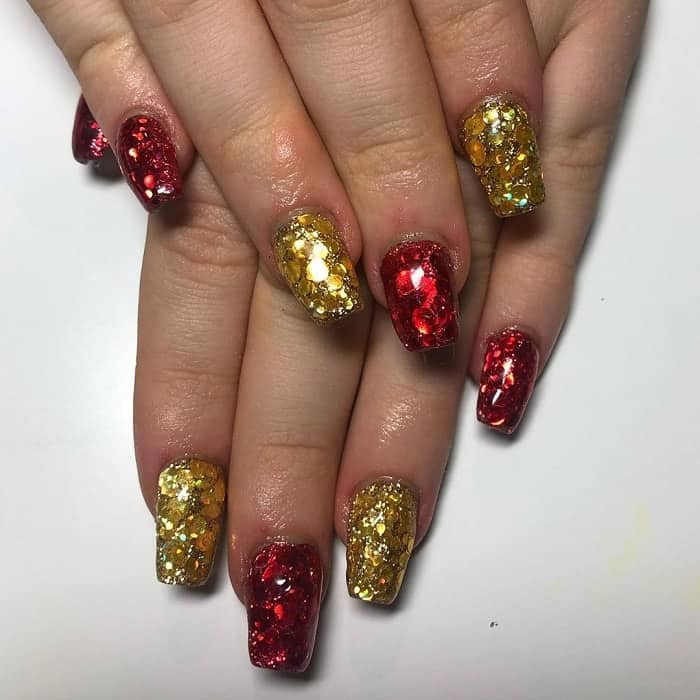 For this nail design, sequins play a huge role. Build your nails with acrylic gel and choose two nail polishes, in red and golden colors. They should have a similar texture and contain sequins.
#2. Red & Gold Coffin Nails
If you are aiming for a luxurious look for your hands, paint your nails in a bright red color.
On your ring fingernail create a design that resembles a thin leaf of gold. Use some golden rhinestones to style the rest of your nails.
#3. Red + Black + Gold Combo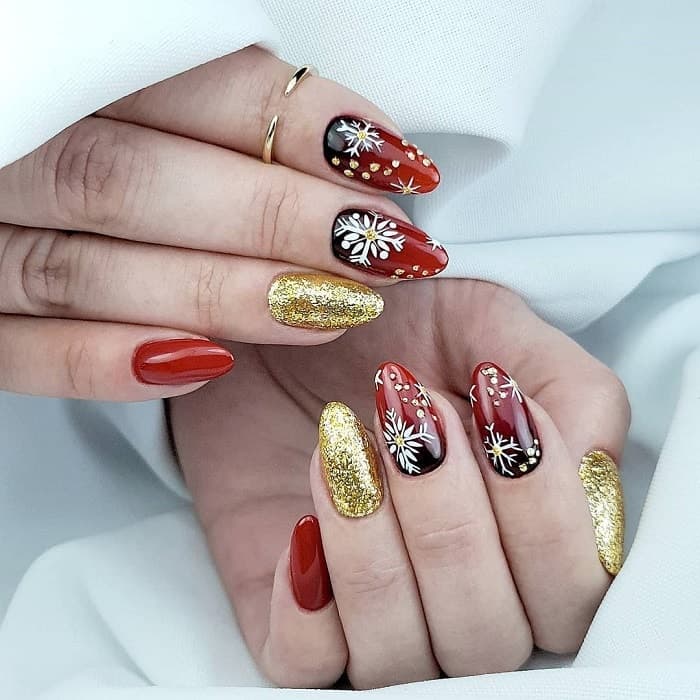 If you love decorating your Christmas Tree, you will adore this nail design! Inspired by Christmas, it combines a red ombre, sparkling gold nails, and jolly snowflake motifs.
#4. Red and Gold Nails for Christmas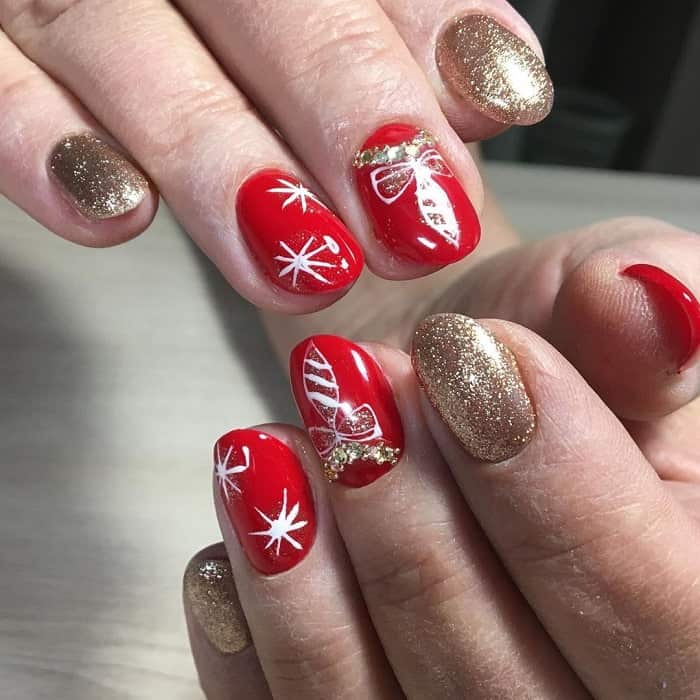 This is another gorgeous alternative for your nails during Christmas time. Use some glittery gold and red polish to style your nails. You can even create bows and snowflakes and decorate them with rhinestones.
#5. Dark Red and Gold Nail Art
Choose a red burgundy color for your nails and decorate them with rhinestones and mesmerizing golden designs.
#6. Red and Gold Nails with Glitter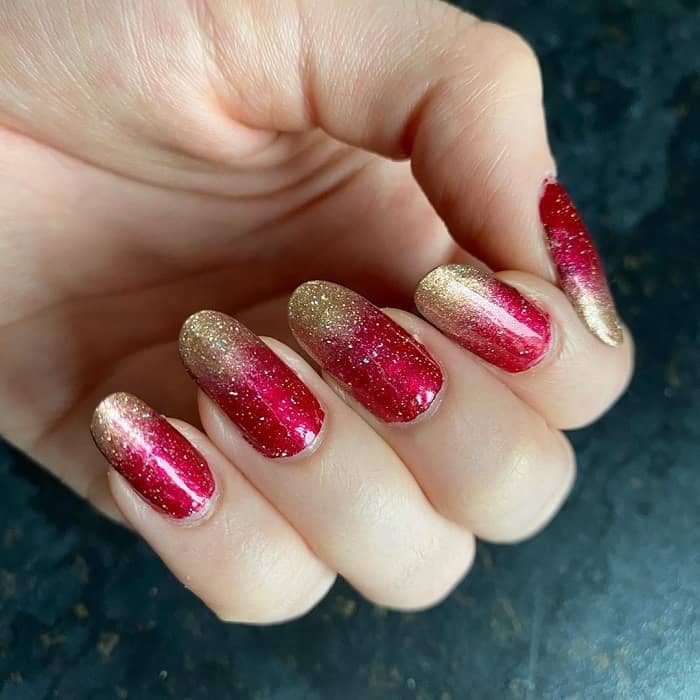 #7. Matte Red and Gold Nail Design
#8. Red & Gold Long Nails
#9. Red and Gold Nails with Diamond
#10. Red and Gold Almond Nails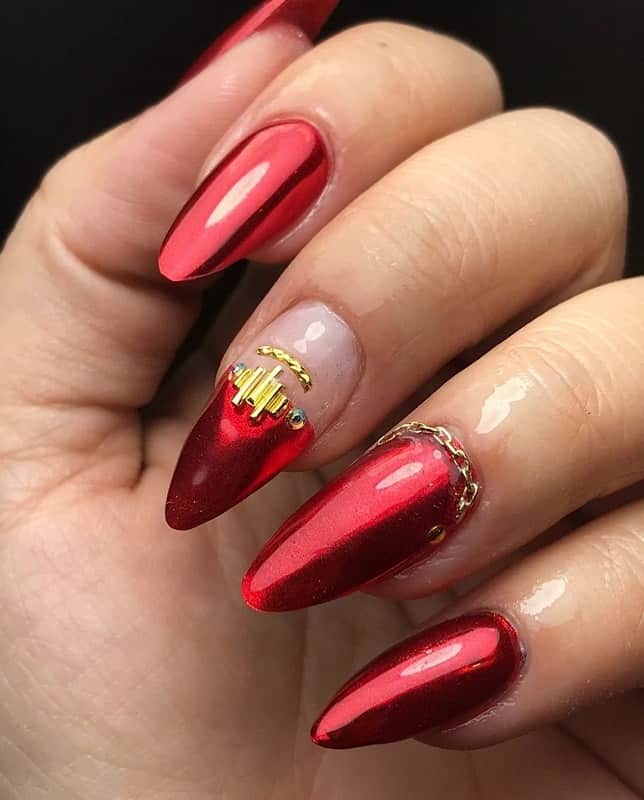 #11. Shine in the Middle
The combination of gold glitters and the red color is a universal one. You can use gold glitters in the middle of your red nails to have this design.
#12. Red And Gold Nail Art Designs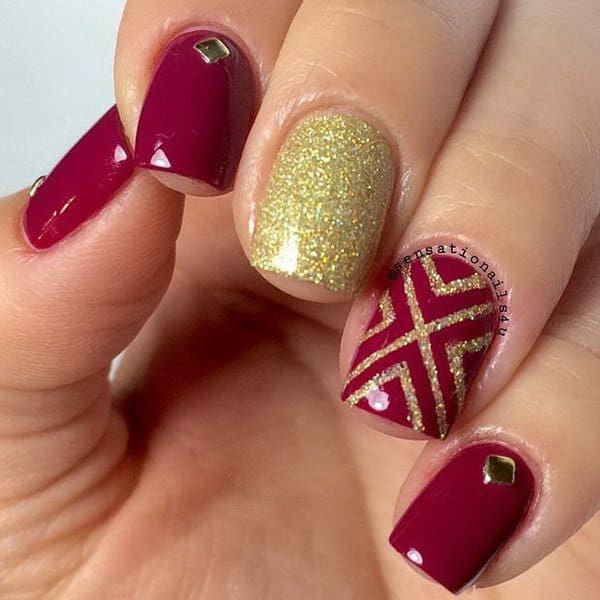 Red color has a number of different shades. You can paint your nails with this shade of maroon and add glam to the nails by using a golden stud and glitters.
#13. The Better Half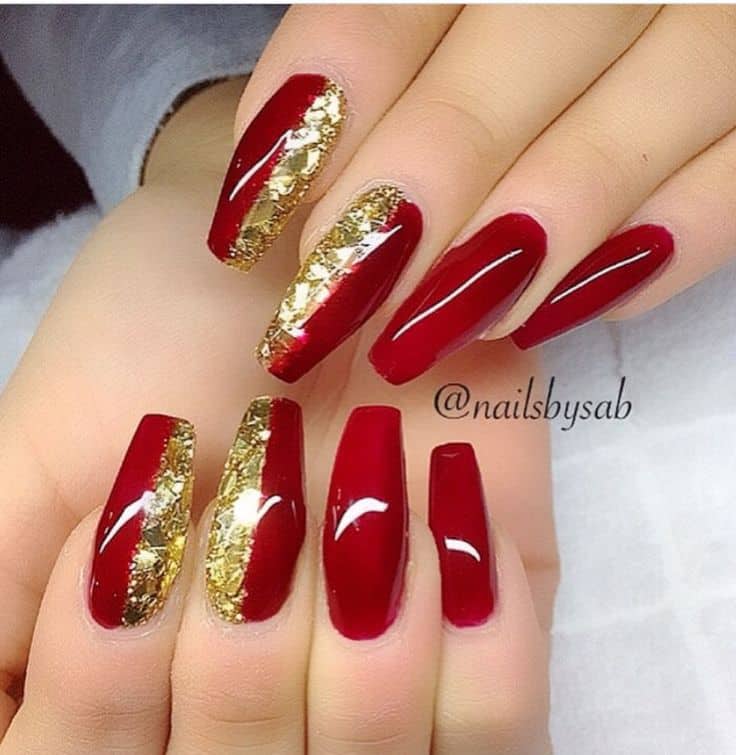 This is one of the shiny red and gold nail designs. You can paint half of your red nails with shiny gold to have these extra shiny and glossy red and gold nails.
#14. Gold Accent Nail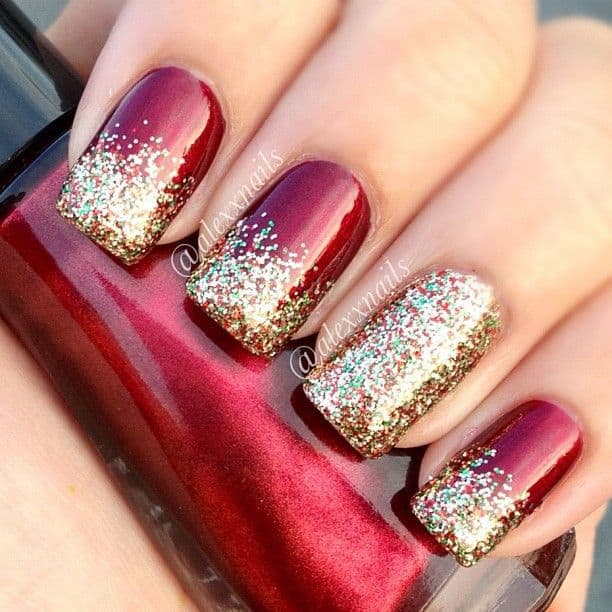 Accentuate your gradient red nails with gold glitters to have this design. Apply ombre glitters on each of your red nails. Fill any of them up entirely with gold glitters.
#15. Golden Tape on Red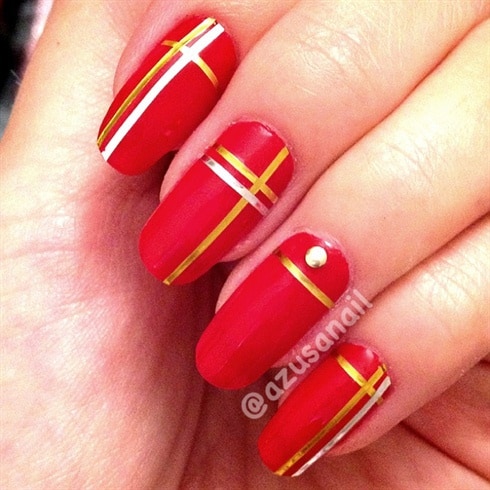 Paint your nails with red color. Then place some golden striping tapes in an organized way so that they make a beautiful pattern. You can add one or two studs to complement the design.
#16. Golden Tips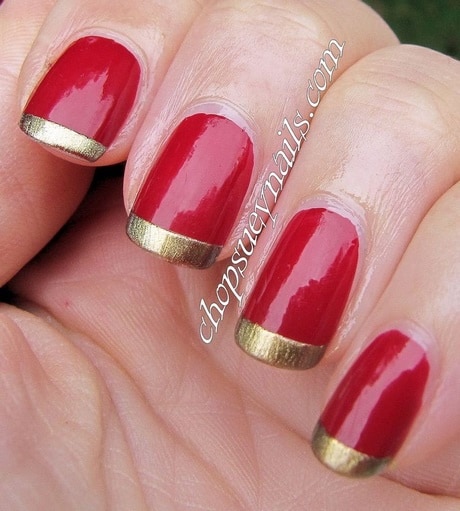 Red nails are beautiful themselves and a gentle and graceful touch of gold makes them outstanding. You can paint the tips of your red nails with red to have these red and gold nail designs.
#17. Stripes And Accent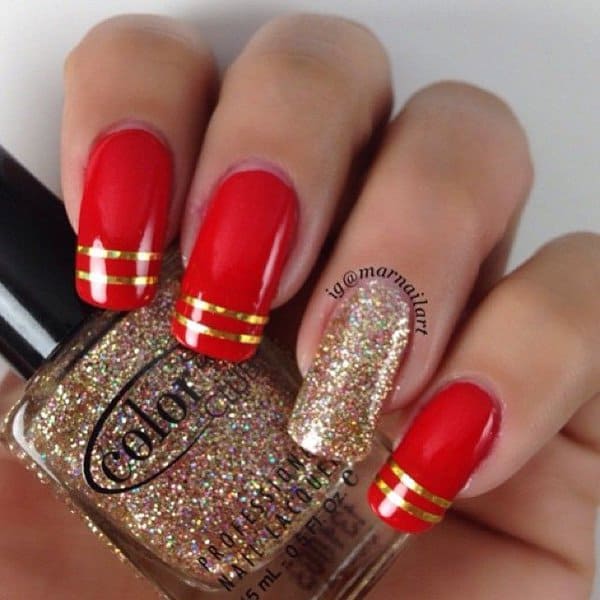 Two different things can be used in the same design. You can add golden stripes to your gold accent nails while having this type of red and gold nail design.
#18. Red and Gold Short Nails
If you love shinier nails, this is the best thing for you. Place some extra shiny gold glitters on your red nails to have such ultra-shiny red and gold nails.
#19. Gold And Jewels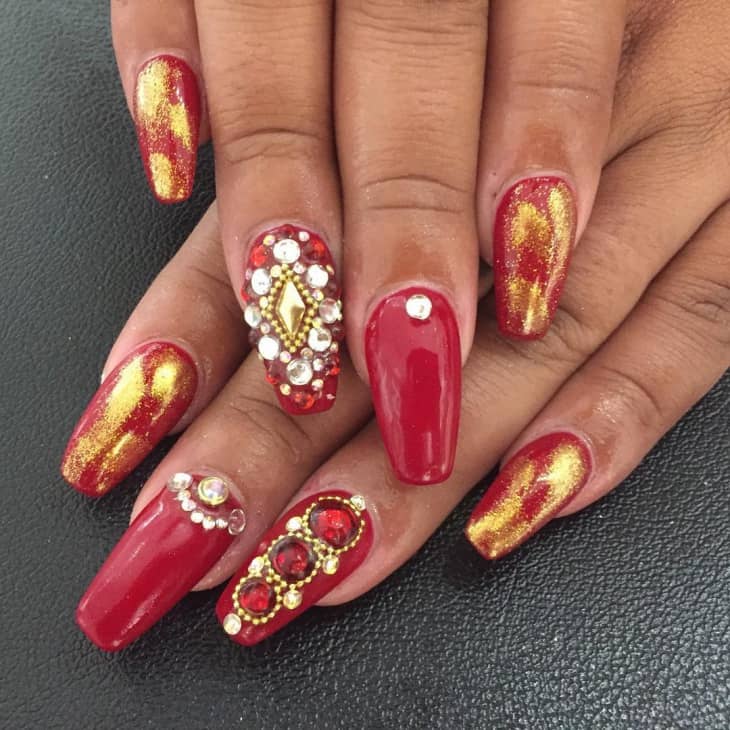 Going to attend a gorgeous party? Then you are in need of gorgeous bling in your nail. You can try this gold and jewels nail art to rock the party floor. This could be the best red and gold nail designs you have ever had.
#20. Swanky Red And Gold Nails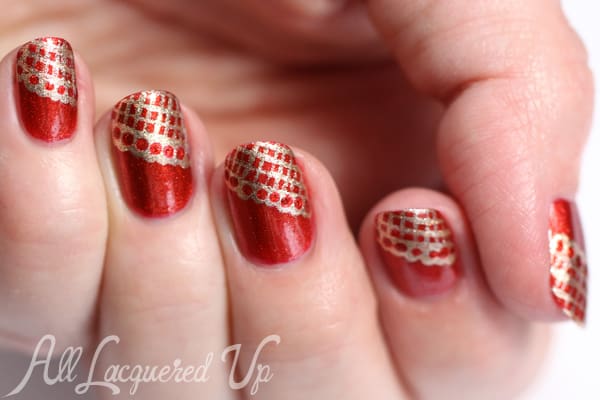 If you are searching for something noticeable, this design is for you. The patterns of this nail art are simple but eye-catchy. You can have these swanky red and gold nail designs very easily.
#21. The Quadrants
You can divide your nails into four quadrants. Then design each of the quadrants with either red or gold to have this kind of reed and gold nail designs.
#22. Holographic Chevrons
You can use both holographic glitters and chevron patterns in a single design to glam up the red and gold nail designs.
#23. Red Nail Designs for Wedding
You can use the amazing combo of red and gold in wedding nail designs. Paint your nails with neon red then place some studs on them to create bow like patterns.
This simple design will do good while having red and gold nail designs for the wedding.
#24. Red And Gold Ombre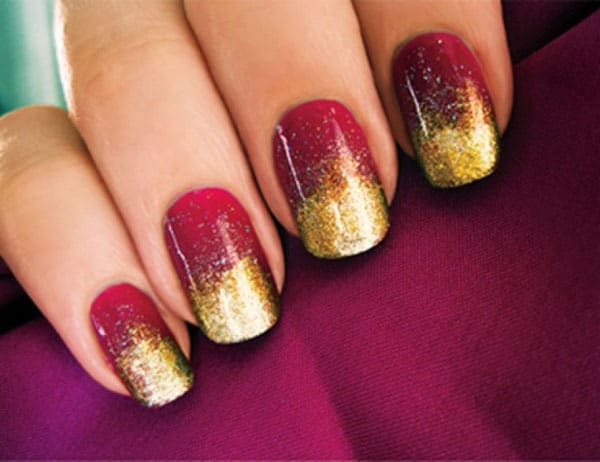 Ombre nails are popular among girls for their impressive look. You can use red and gold in an ombre style to have good-looking nail art.
#25. Red + Gold + Silver Stiletto Nails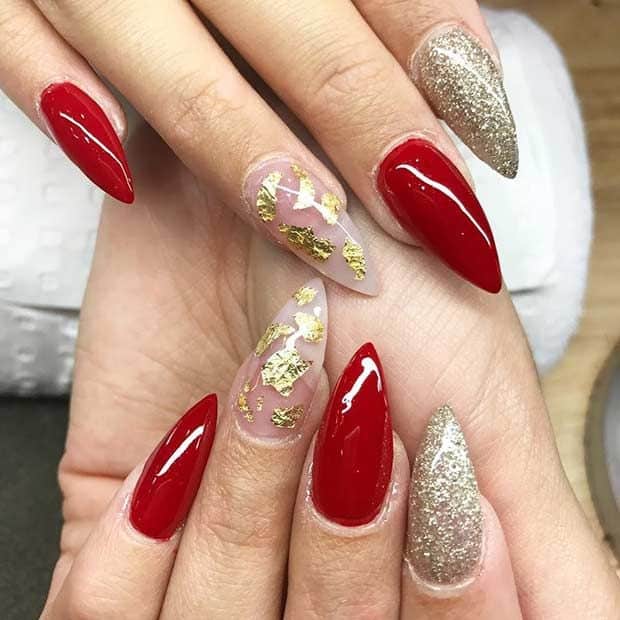 You can use gold foil and gold glitters along with your red stiletto nails to have a stunning nail art like this one. Red and gold nail designs will complement your stiletto nails.
Try These Amazing Black & Gold Nail Designs
If you want to adorn your nails with the magic of red and gold, just pick one of the above nail designs with your own creative touch and look like at your best.