Nautical Nails Designs: 25 Nail Arts for The Seabound
There is something emancipating about the sea; the rolling waves, the dipping bow of the craft and the glorious wind. For seafarers, these mean a lot more than the mundane humdrum of life on land.
Nautical nail art is thus a tribute to the way of life of an avid seafarer. That does not disqualify the landlubbers! You can totally sport a nautical nail art if you wish. Who knows, it might just encourage you to take the ocean's way of life!
Nautical Nail Arts- A Palette of Blue & White
The two shades that are an absolute must for an authentic nautical nail art are blue and white. The darker the shade of blue the better. You may also go for a lighter shade, although you need to pair it well with white so as to create the right effect.
At the end of the day, the nautical nail art needs to embody the spirit of a sailor, so it really is up to you, how you achieve that end. Let us take a look at some of the most eye-catching nautical art patterns for your nails.
#1.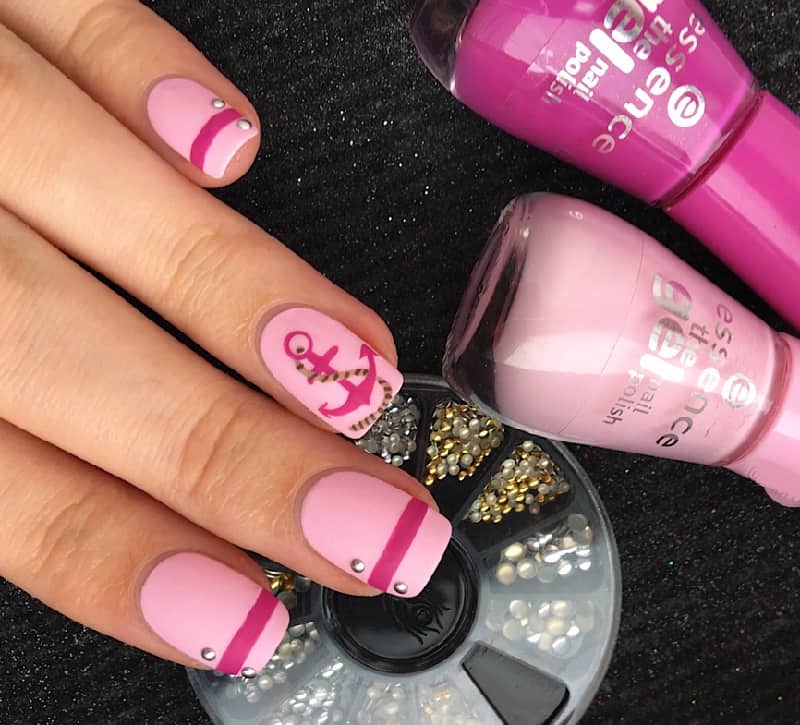 nautical pink nail designs
#2.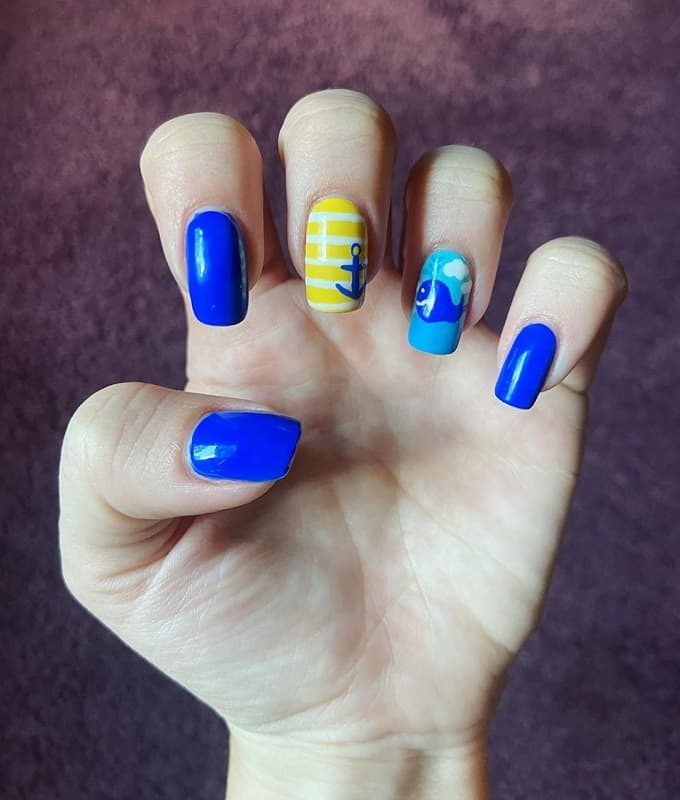 summer nautical nail designs
#3.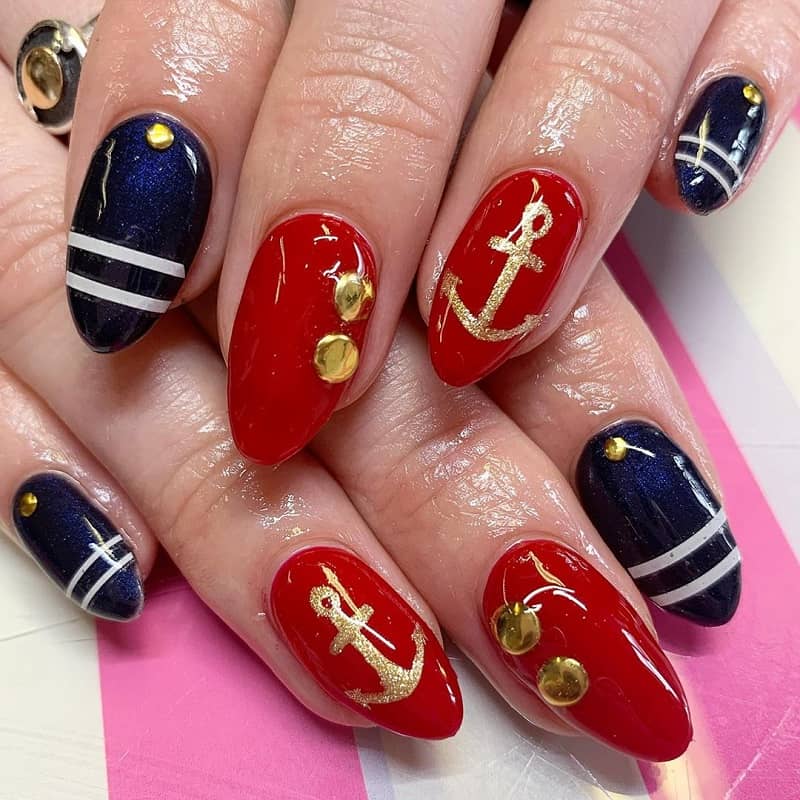 nautical acrylic nail designs
#4.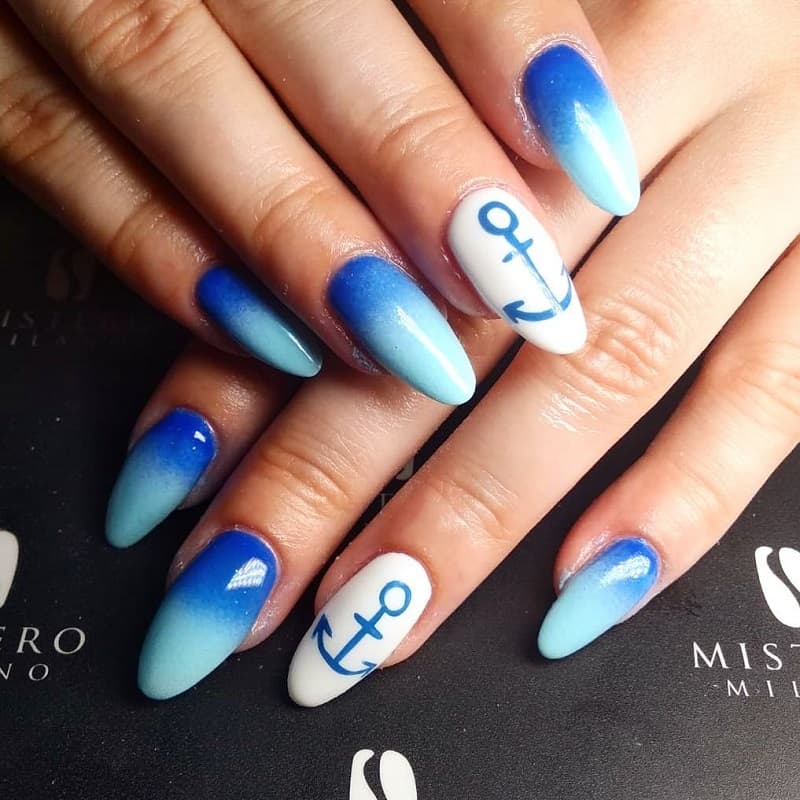 nautical ombre nail design
#5.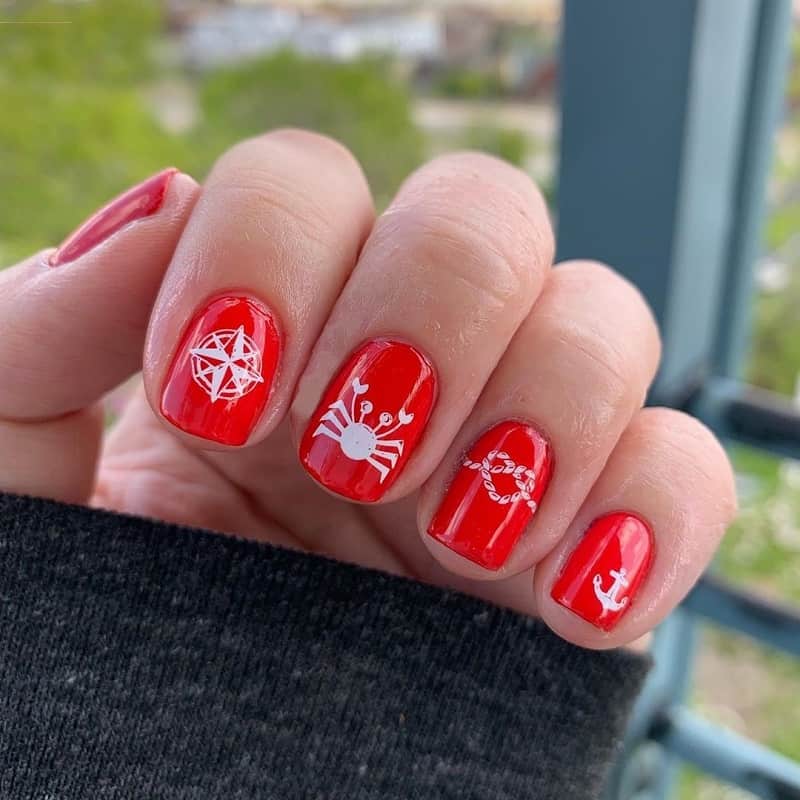 nautical star nail designs
#6.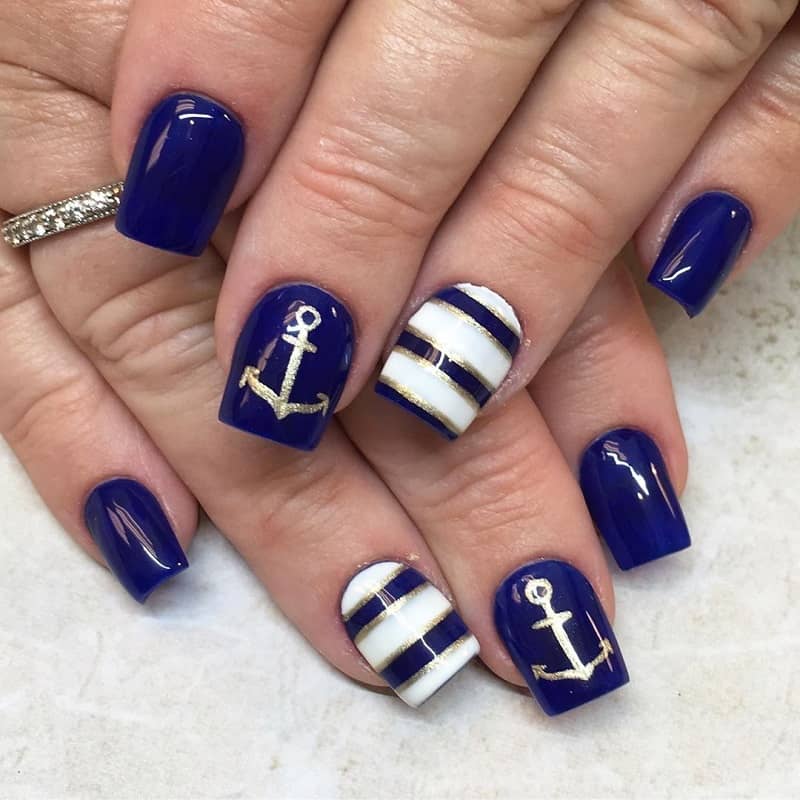 nautical gel nail design
#7.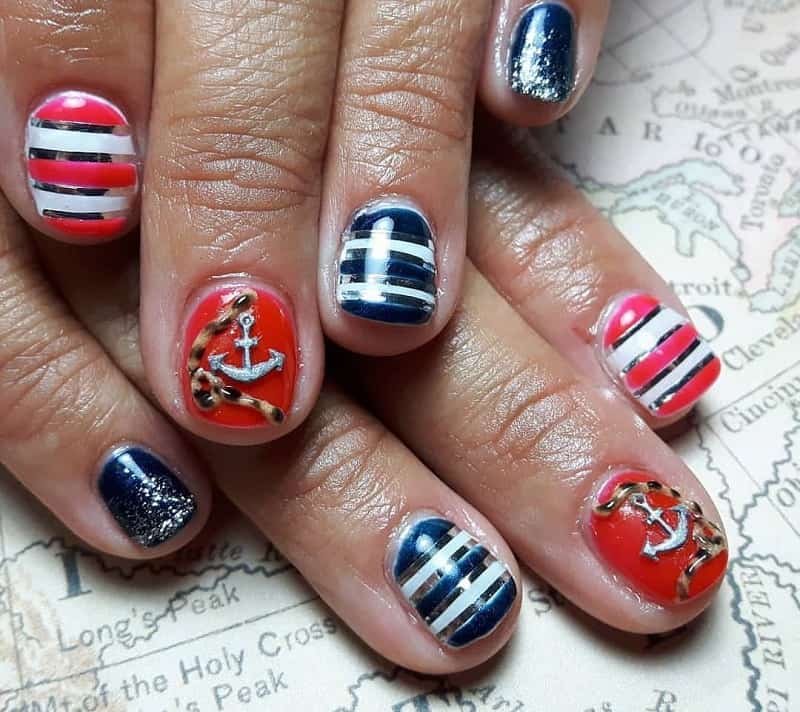 nautical 3d nail design
#8.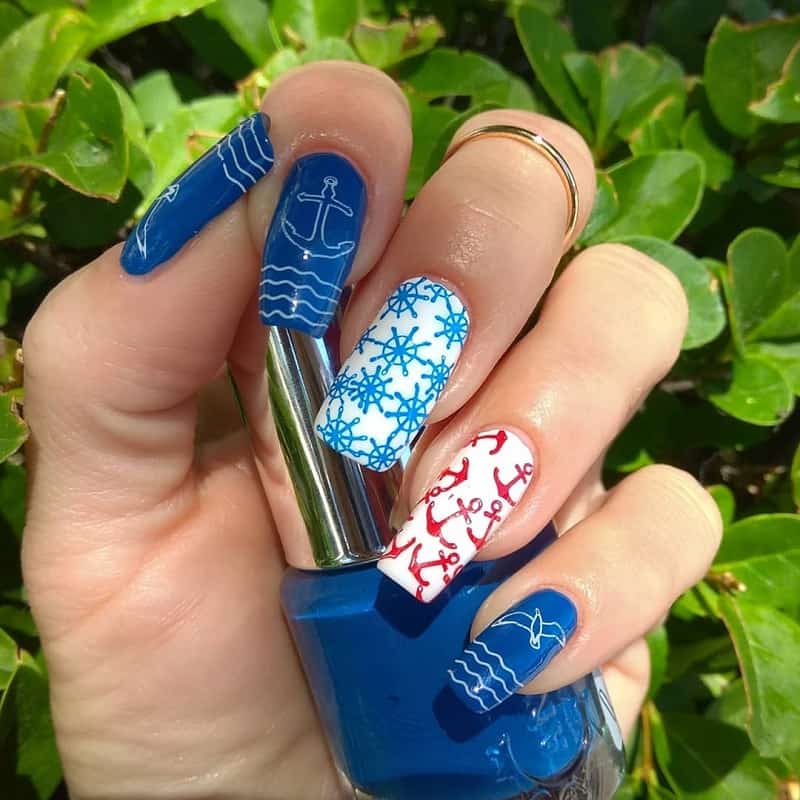 nautical nail art stickers
#9.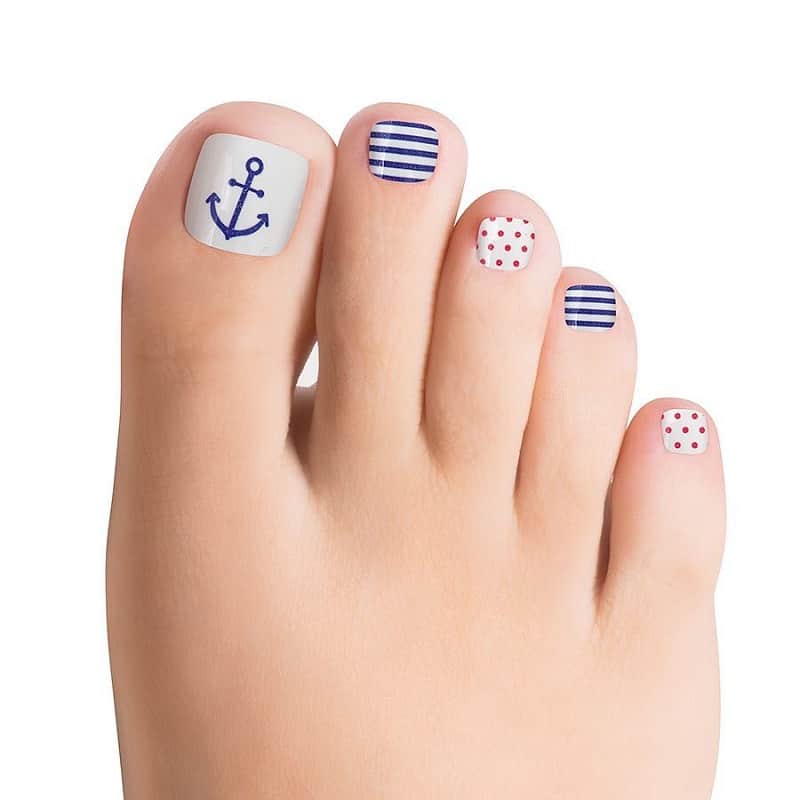 nautical toe nail designs
#10.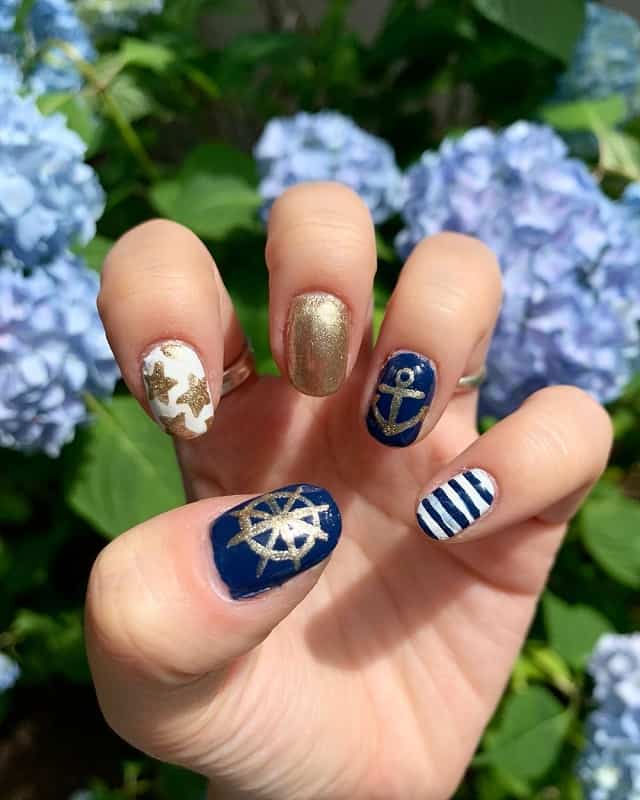 nautical nail art stencils
#11. The Anchor
Nothing says nautical better than anchors. For this obvious association, anchors – either in the form of many tiny anchors or one well-shaped, thin-lined anchor – is often painted on a single nail in each hand.
What you plan to do to the rest of the nails is up to you. Preferably a blue base goes well with the pattern and the anchor itself should be painted in straight confident lines.
15 Delightful Dolphin Nail Art To Slay The Summer
#12. The Anchor Chain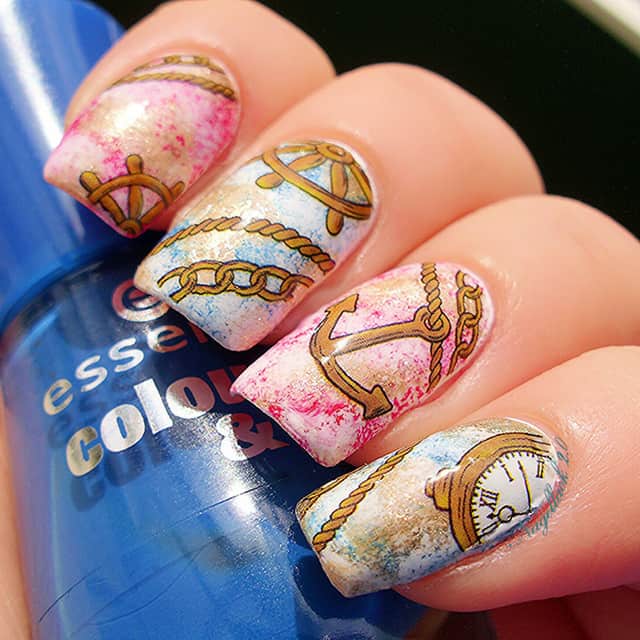 The anchor, painted along with the anchor chain is slightly more elaborate, but a more convincing form of nautical nail art.
Albeit, it is seldom possible to fit both the elements in the same nail, so some manicurists paint the anchor on one nail and the chain, as a continuation, on the neighboring nail. Painting the chain of gold is a good idea.
#13. The Ship's Steering Wheel
Another symbolism associated with the nautical design is the ship's wheel. It is a detailed circular pattern, which must be painted with the utmost care, as it can be easily messed up, considering the multiple spokes involved.
Paired with the anchor, the steering wheel is a complete nod to the seafarer's way of life!
#14. Stripes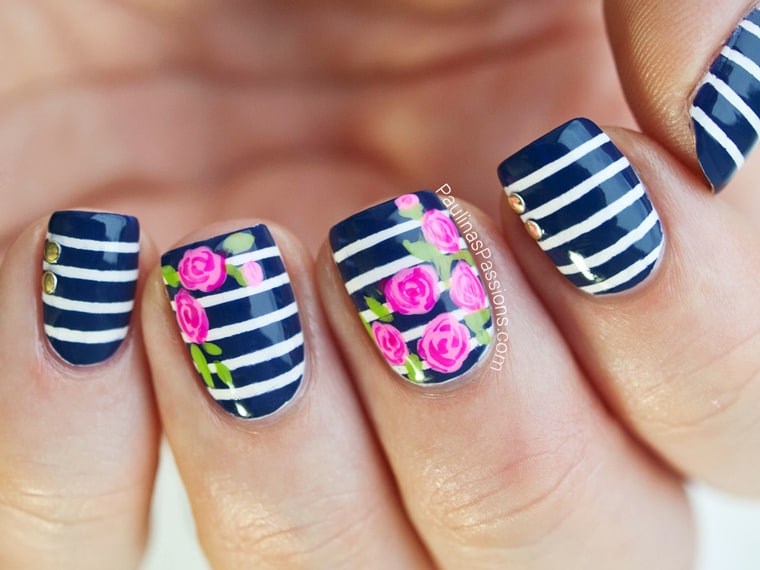 Stripes, in general, may not always signify nautical nail design, but with the right color combination, viz. blue and white, it can be meant to do so. Typically, nautical nail art involving stripes should include broader blue parts and narrower white parts.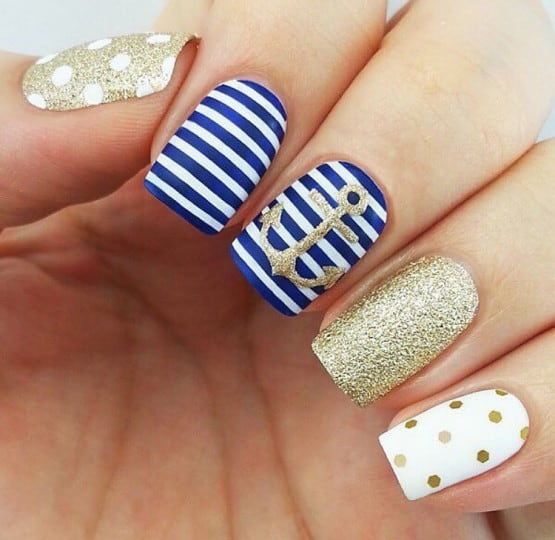 Polka dots are an answer to everything when it comes to nail art, even nautical design. You can paint blue dots on white or vice-versa, but be sure to pair it up with stripes on some nails, and maybe one anchor.
In case you are out of blue, you can use almost any other combination of paint; the polka dots manage to maintain a balance between a normal and nautical look.
#16. The Compass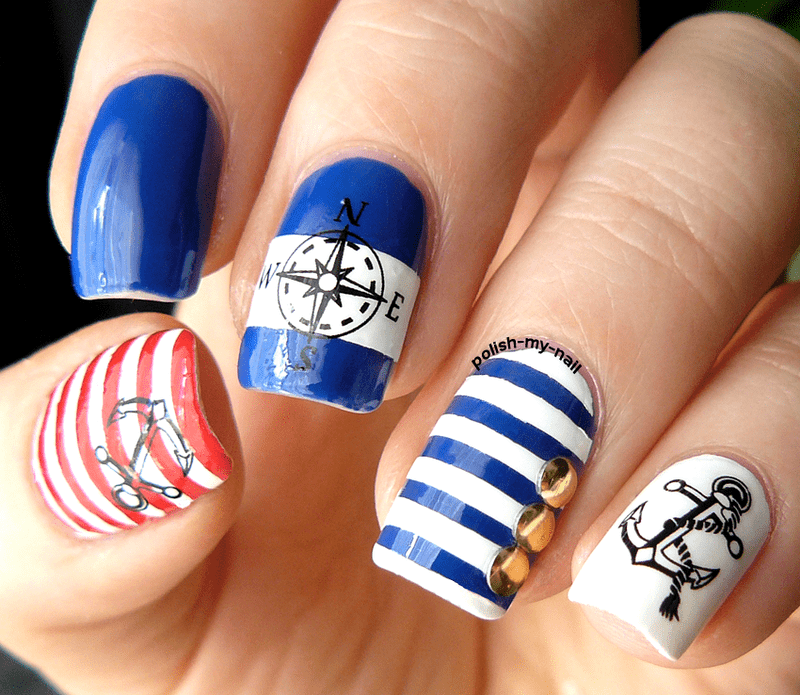 If you are bored of anchors, chains, and wheels, choose a compass. Although it could also signify other forms of exploration, you can connect it to the sea by choosing a palette of blue and white, and gold as an alternative.
Compasses, like steering wheels, are quite complicated and detail-oriented patterns and need to be painted very carefully.
#17. The Red-White-Blue Combination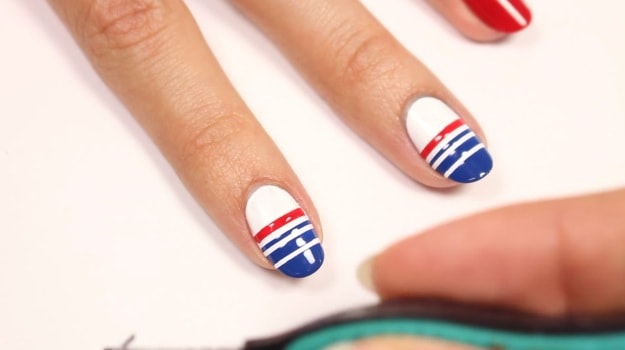 A naval design does not necessarily mean that you ostracise any other color. Admittedly, the presence of blue becomes somewhat mandatory, though some manicurists pay more attention to the patterns painted, rather than the color scheme.
Hence, red is also often included in nautical nail designs. Though often confused with a stars-and-stripes pattern, the red adds a pop of color and jollity to the design.
Red Nail Designs to Fall in Love With
#18. The Sea Pirate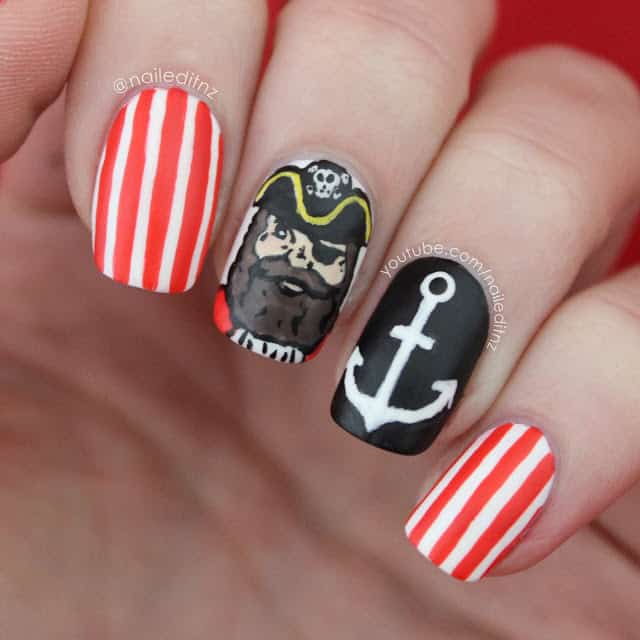 If you want to be light-hearted, then add a funky, eye-patch pirate on a nail. A jaunty hat and an iron hook are other symbolisms for a sea pirate and go very well with anchors. However, be careful not to overdo the pattern, as the design may get too heavy for a single nail.
#19. The Rope and Lifebuoy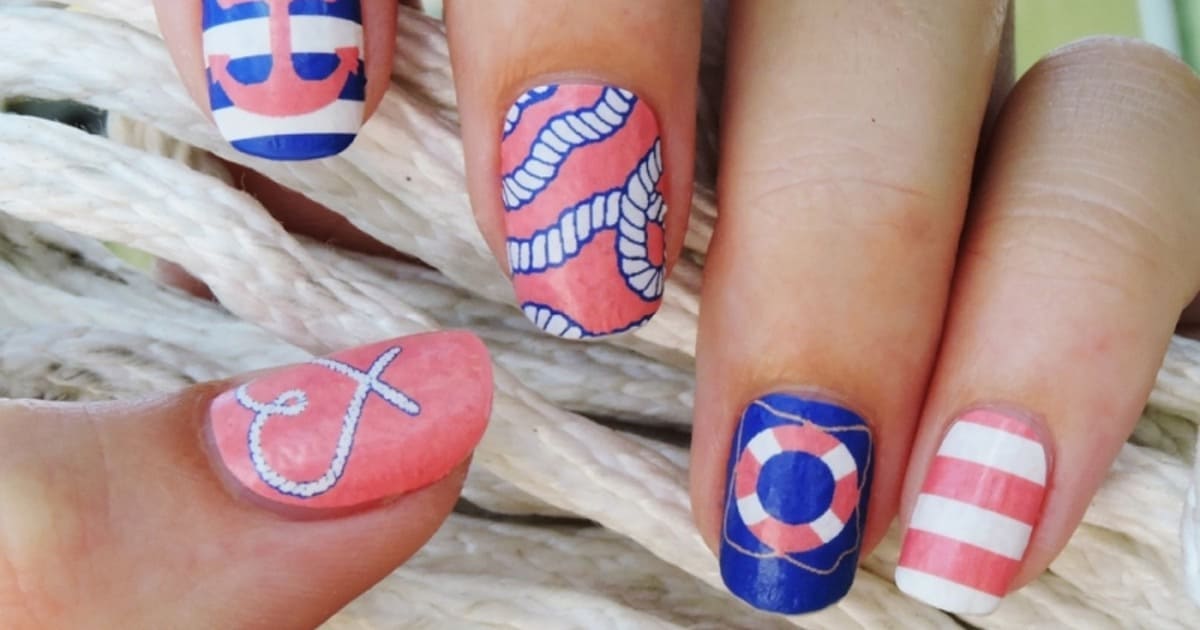 Painting a twisted rope and a lifebuoy is a cool alternative to the more tradition anchor and wheel. Also, the lifebuoy's red and white combination can be a welcome break from all the blue background.
While doing nautical-inspired nail art, it is preferable not to increase the number of colors to more than three, hence this design is well under the red-white-blue palette.
#20. The Octopus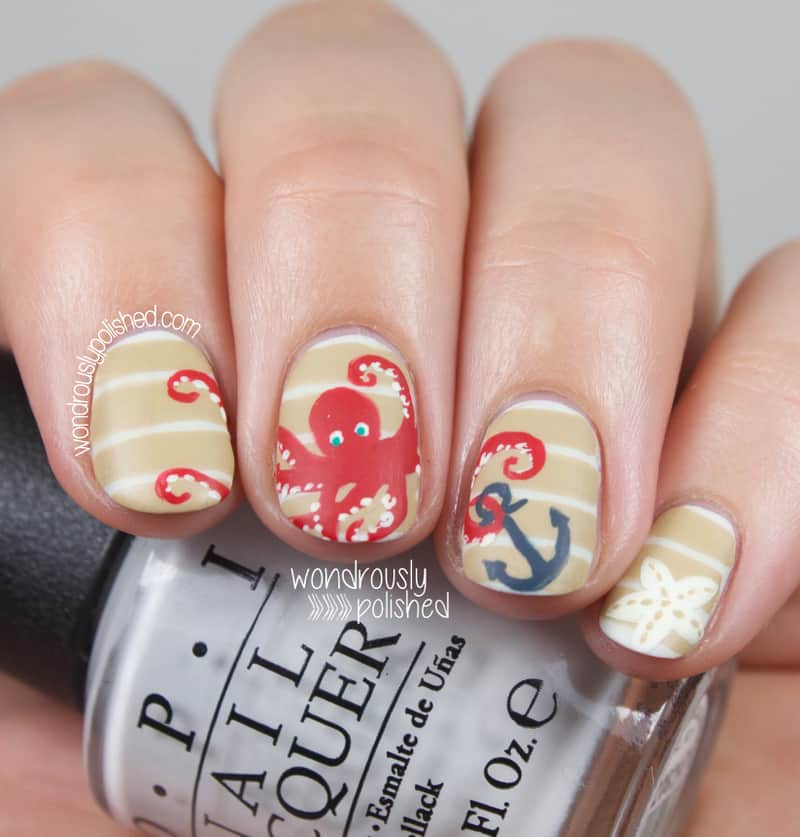 You may not necessarily want to come across an octopus while on the sea, but you can't deny the fun it adds to your nails when you paint one.
Octopuses can be drawn very comically, which makes the nails look striking and fun at the same time. Also, they stick to the idea of nautical patterns.
10 Stamping Nail Arts & How to Do It Correctly
#21. Chevron Waves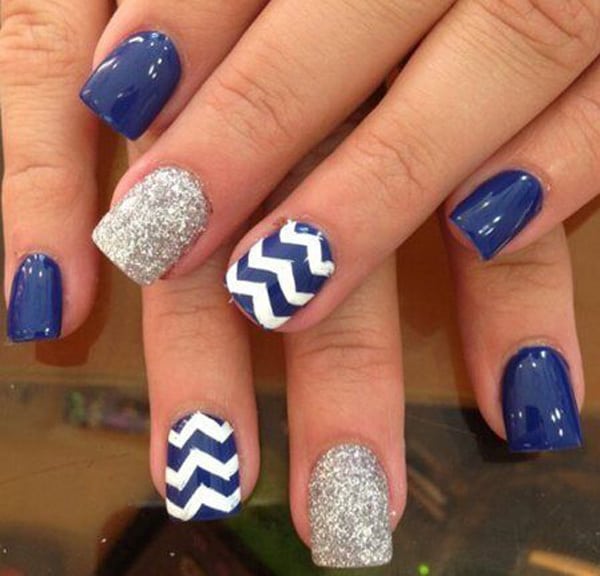 Sometimes, you may accidentally end up with nautical nail art. This is what happens when you choose to paint nail with chevron patterns, in alternating shades of blue and white.
The chevron appears like a structured form of sea waves and can carry its own well enough You need not complicate the pattern any further.
#22. Sailor's Shirt-Stripes with Hearts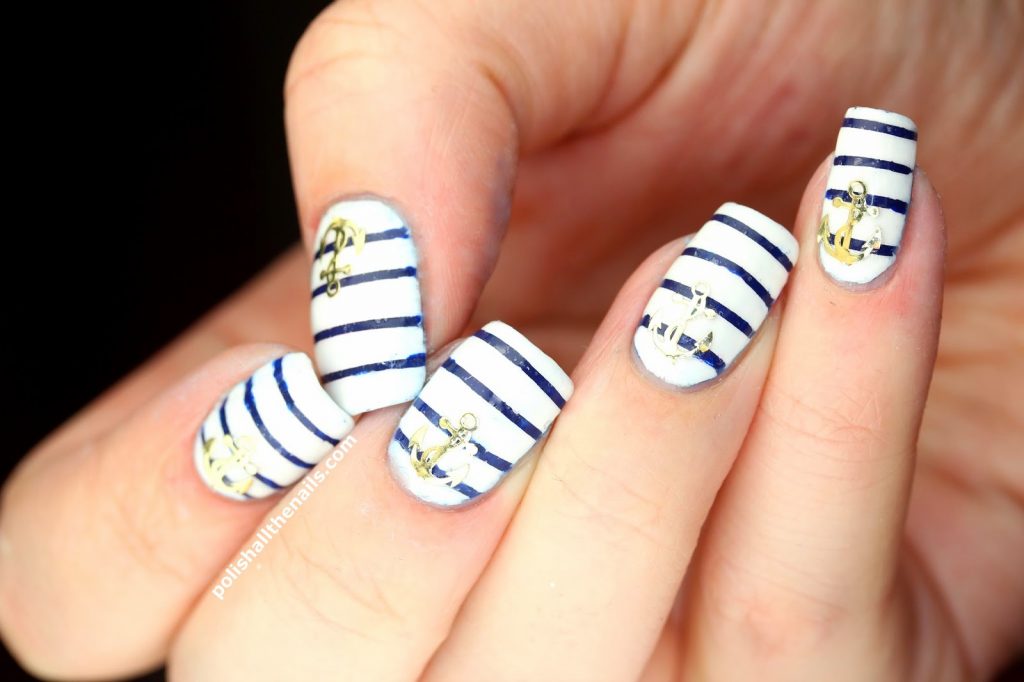 If you have already tried out all these patterns and are now looking for some change, think of the sailor's uniform when at ease. A black and white horizontally striped pattern is a good throwback to the days spent at sea.
In this pattern, however, unlike the traditional nautical stripes, stick to broader white stripes, while the darker stripes can be thinner, and tending to bluish-black. You can spice up the nail design by painting little hearts on the stripes.
#23. The French Manicure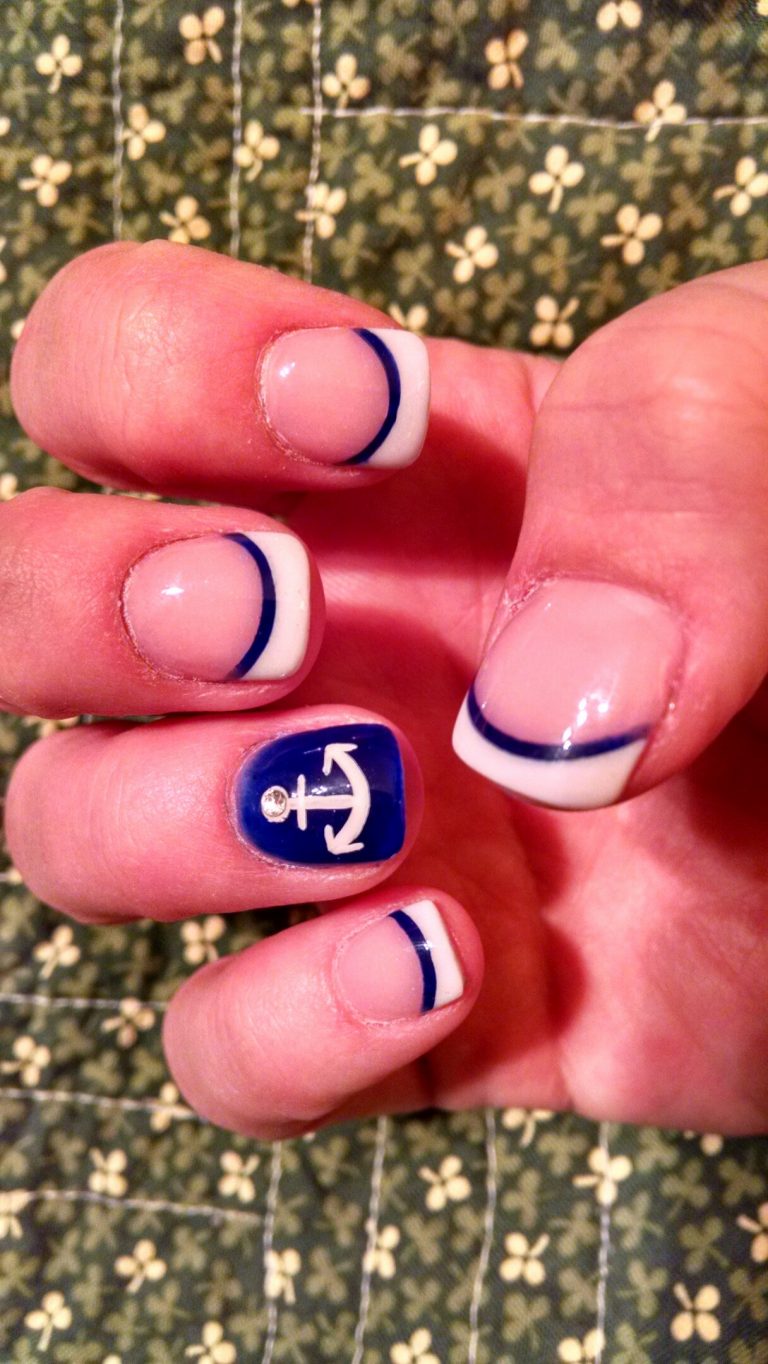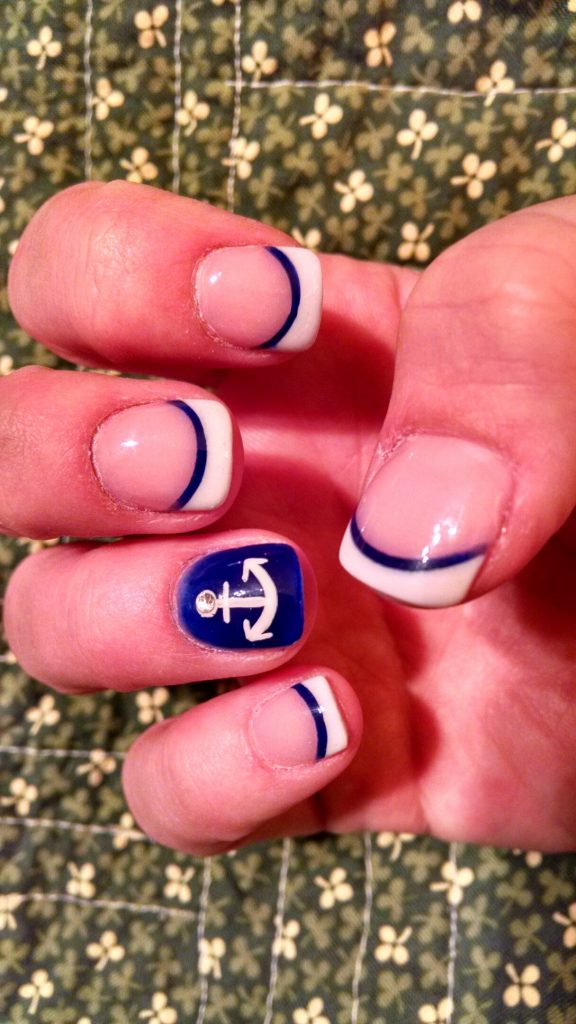 Nautical nail design need not be loaded with suggestions. You can also keep it very basic, with simple colored nail tips.
Painting the nail tips in alternating bands of blue and white does the trick well enough. Alternatively, you can paint the nail in navy blue, light blue and the tips pearl white. The effect can be quite stunning.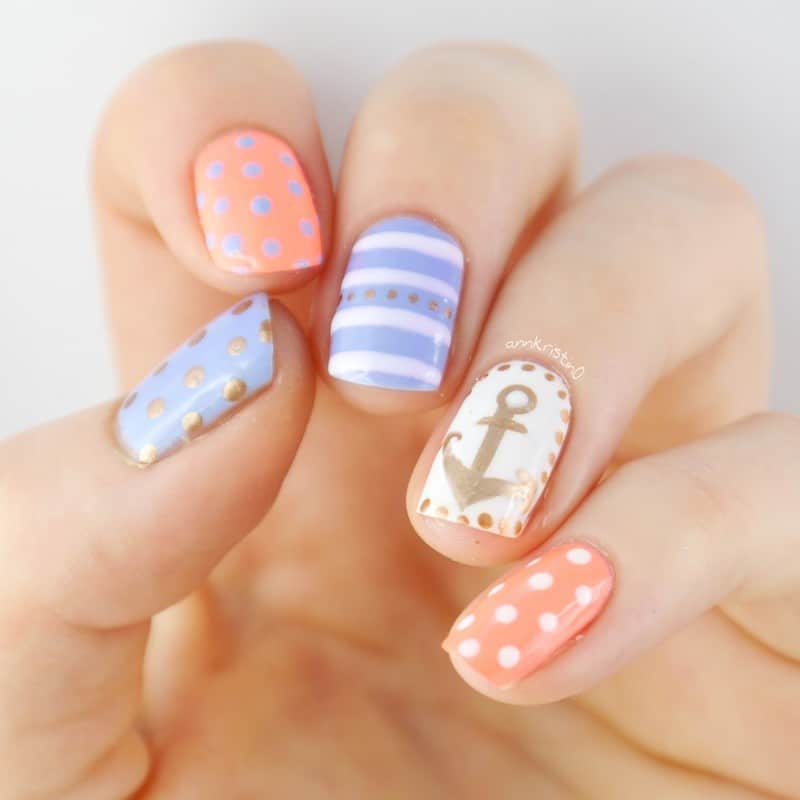 You need not always go for a high-finish, glossy marine art. In fact, nautical patterns in pastel shades can be equally appealing and in some cases, also a little more mature. The muted stripes and matte finish looks elegant and is easier to maintain.
#25. The Starfish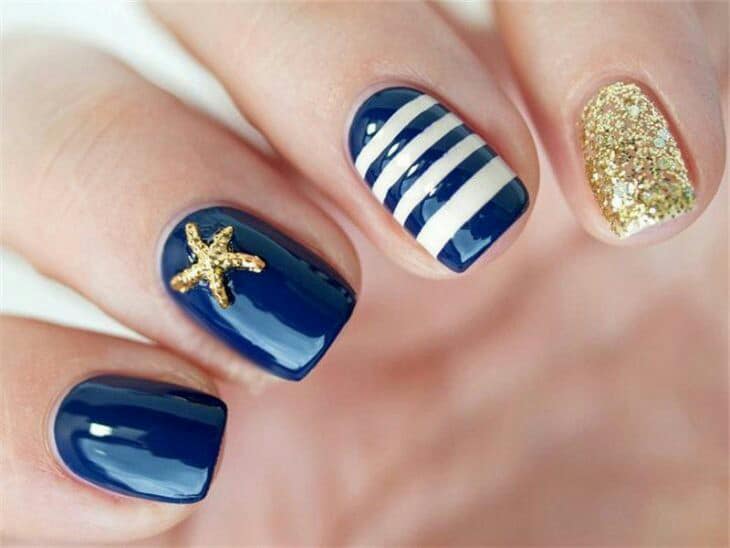 And, if you are out of ideas and still want to have some fun, paint alone starfish on your nails. Gold or red is usually the choice of color in this case, although, the base should be kept blue or white.
Like the octopus, the starfish too is cute and relatable to the sea. Also, it is relatively easier to paint than an octopus.
20 Breezy Beach Nail Designs to Try This Summer
Nautical nail designs is a fun design for a day out at the sea on a yacht or even a night at the pub. With a clever play of colors and their combination, it is possible to create a very seaworthy piece of art!