When you have nautical art right at your fingertips, that ache in your heart might just lessen a little bit when you can't pay the sea a visit.
The two shades that are an absolute must for authentic nautical nail art are blue and white. With these two at your fingertips, creating a scenery of sky or sea is easy.
Keep in mind the details of a nautical scene that can make or break nail art: anchors, ropes, ships, whales… there's no limit! Pair them with stripes or polka dots for the ultimate nautical nail art.
Seaworthy Nautical Nails
Here are some of our most favorite eye-catching ideas for nautical art. Mix and match or create your very own design with inspiration from the designs below.
#1. Nautical Pink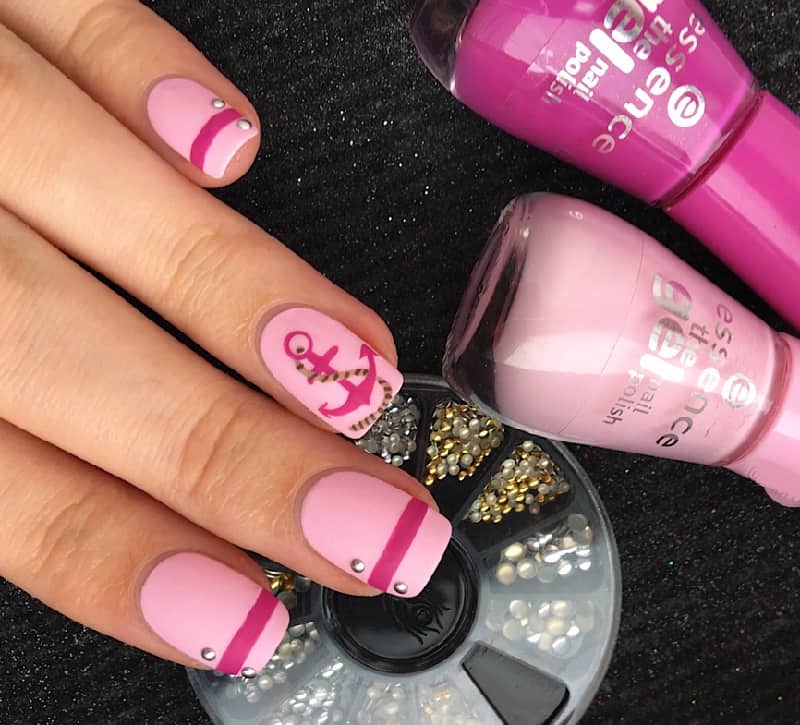 Light and dark pink matte nails with silver crystals or dots make a nautical nail design more feminine. To stick with the theme, add an anchor with rope or a cute little ship.
#2. Summer Nautical Nails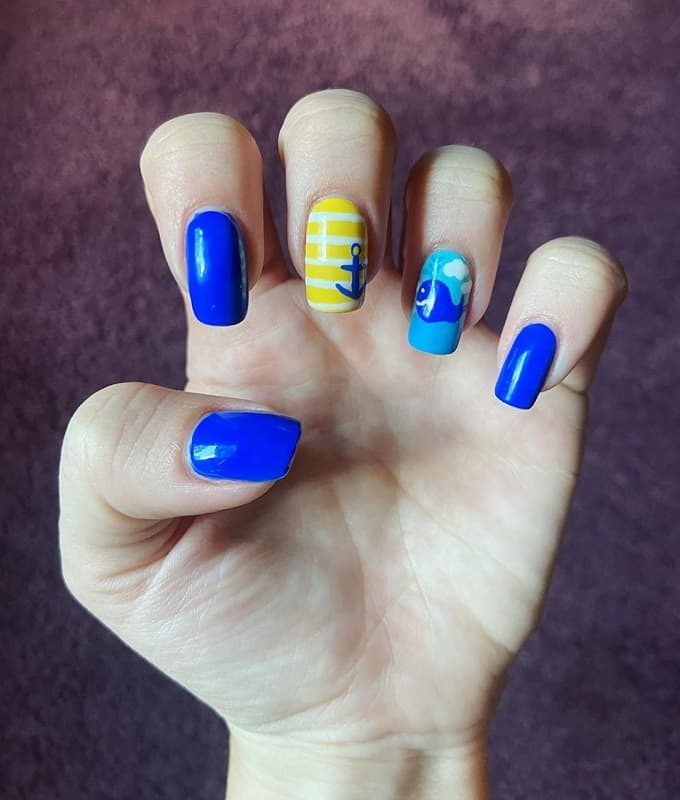 A vibrant shade of medium blue immediately transports us to the sea. Instead of red, make the center fingernail bright yellow with white stripes. The ring fingernail is where you'll feature a cute fish or whale.
#3. Red and White Acrylics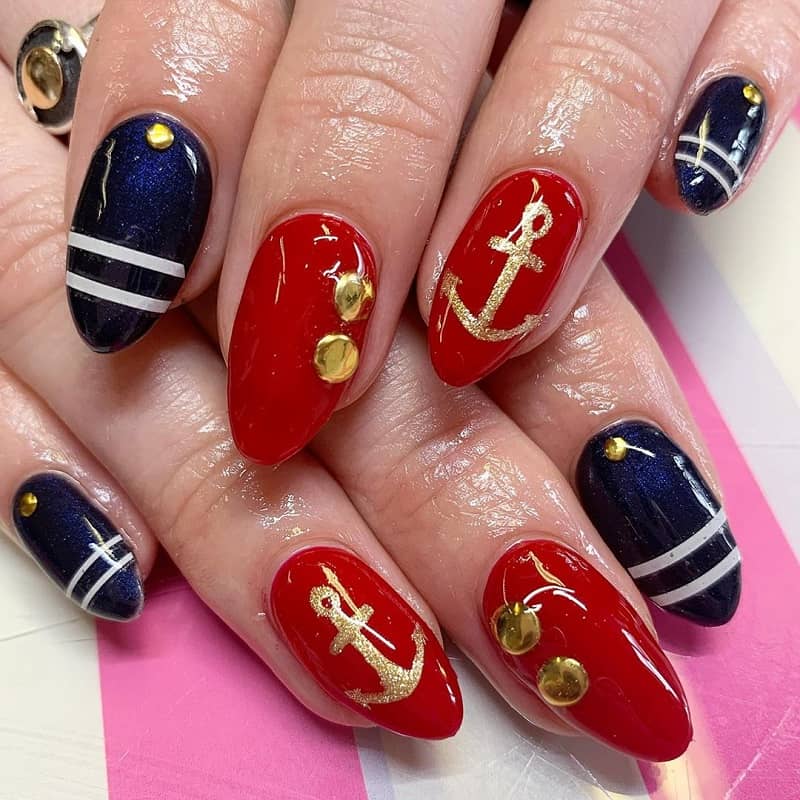 Alternate your nautical acrylic nails in red and white or do the two middle fingernails in red framed by dark blue. Gold charms can be added to either color nail. We love the buttons and anchor seen here.
#4. Nautical Ombre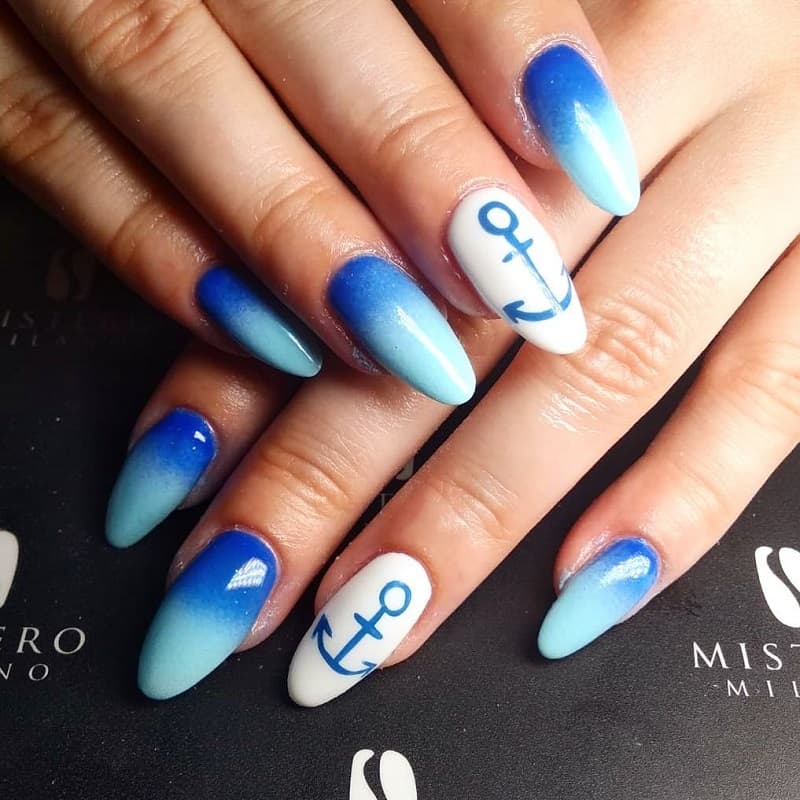 The sea is calling, but right from your fingernails! A refreshing ombre on long oval nails features dark blue, medium, then very light blue. A blue anchor is easy to create on a plain white nail.
#5. Short Red Nautical Nails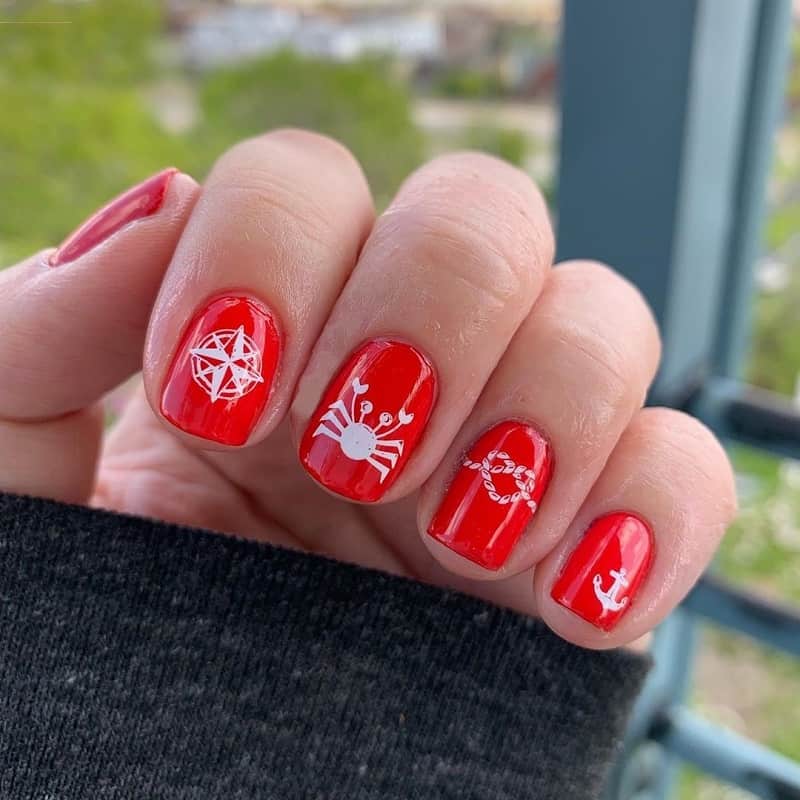 No need to miss out on nautical nails just because yours may be short! We love a short squoval nail with bright red polish and white sea art like anchors, rope, a fun crab, and the classic compass.
#6. Dark Blue Gel Nails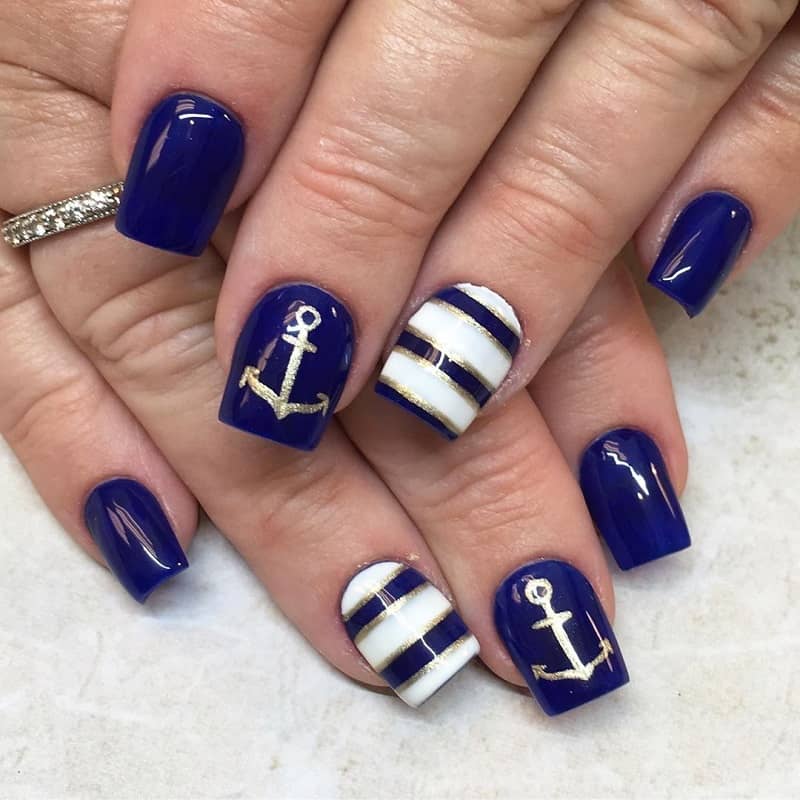 Navy blue nails, some with thick white stripes, are a key-in for nautical feels. Sparkly gold polish is the secret to shimmer. Use it for an anchor and to outline thick blue stripes on the white accent nail.
#7. 3D Nautical Nails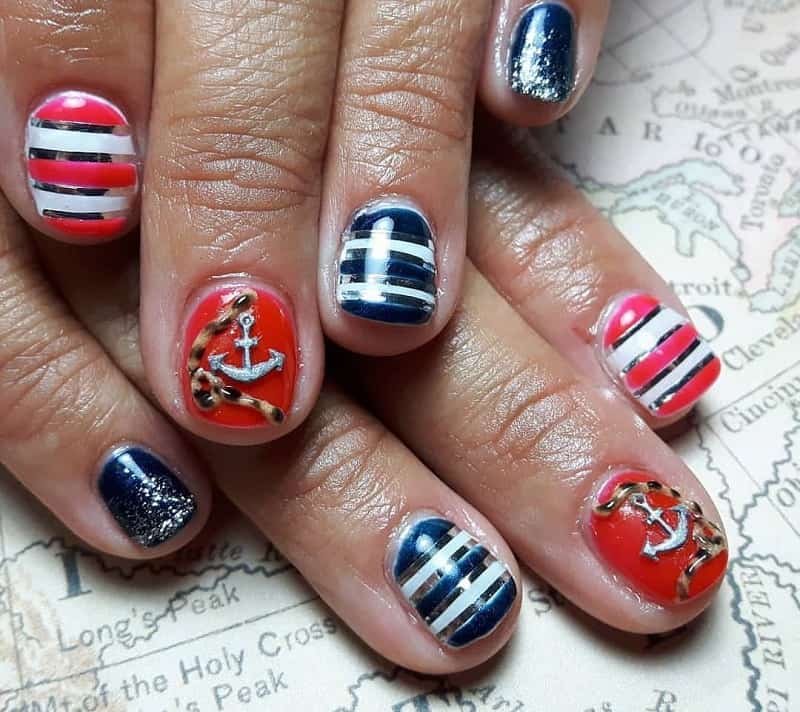 A tiny silver anchor is the touchable charm on the nautical art for short round nails. The details with colorful stripes and glittered pinky nails makes this design Insta-worthy!
#8. Nautical Stickers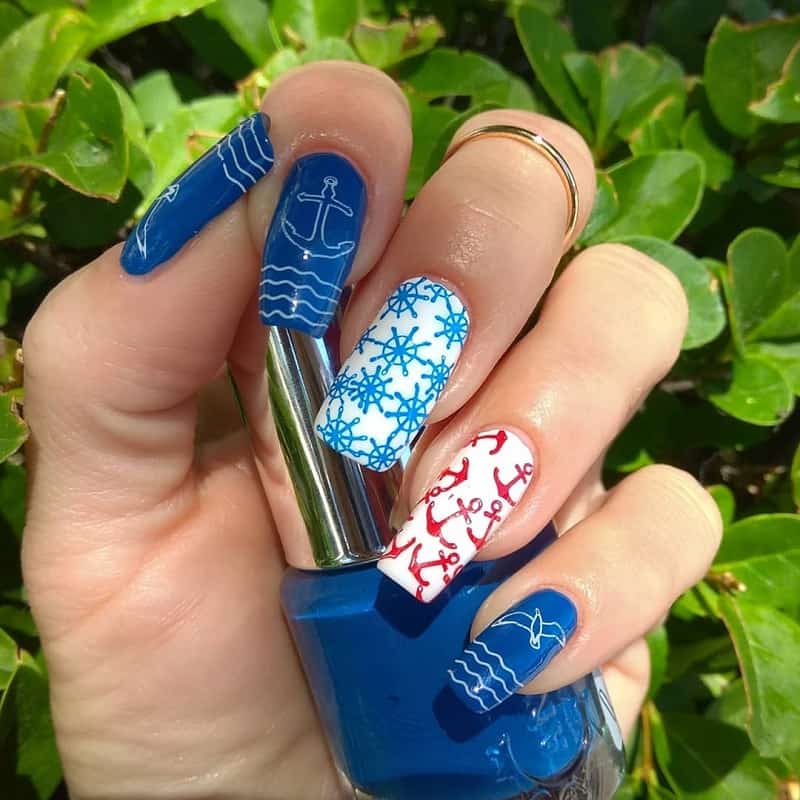 For an easy at-home design, use nautical-themed nail stickers. Apply them to white and blue nails for art on every finger!
#9. Nautical Toe Nails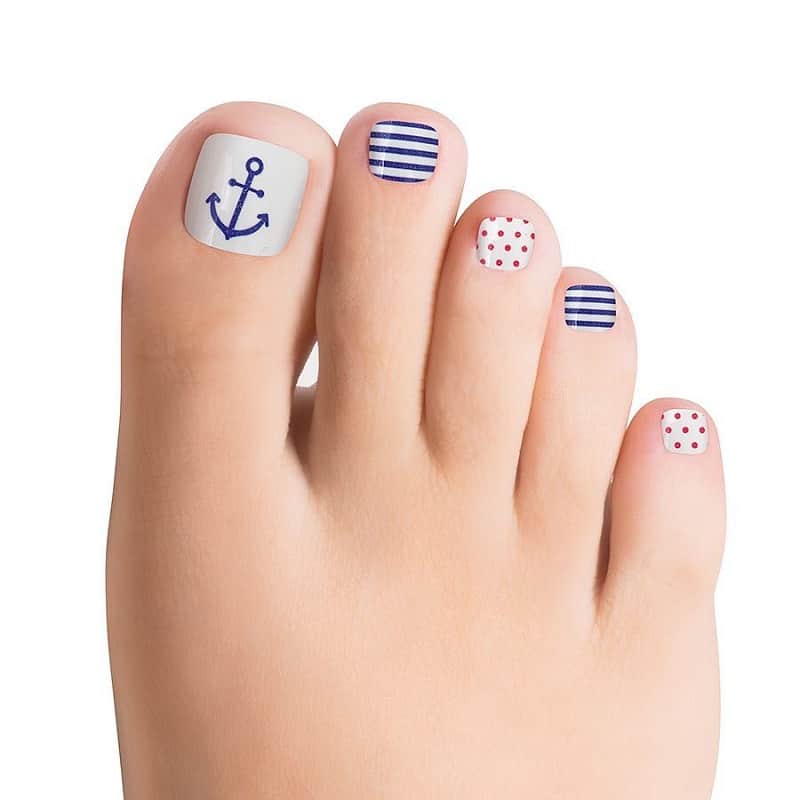 If you'll be snapping a bunch of shots of your toes in the sea, a nautical pedicure is a must. Try white nails with dark blue polka dots or stripes on the small nails. On the big toe, a large blue anchor stands out.
#10. Nautical Nail Stencils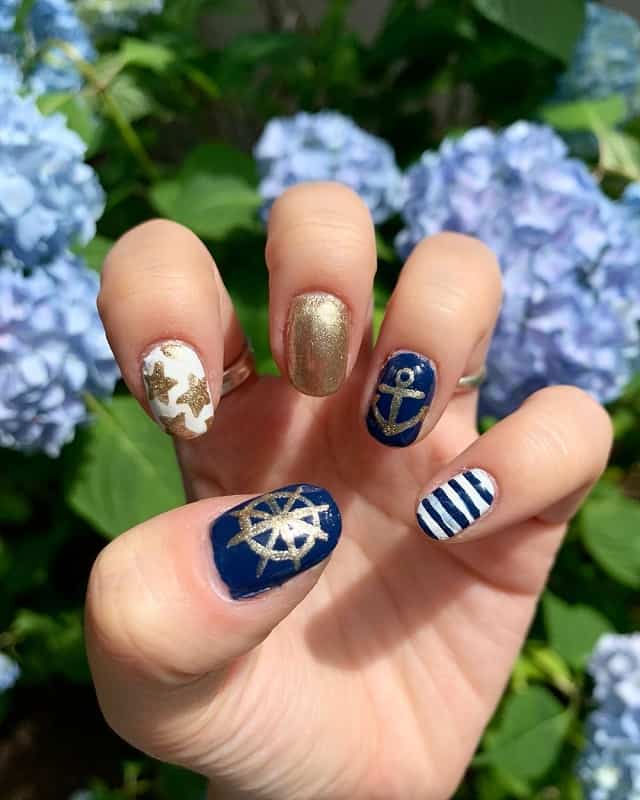 Another way to do nautical nails at home is with stencils. After coating nails in blue, gold, red, or white, use the stencils to fill-in anchor or star shapes with gold polish.
#11. The Anchor
Nothing says nautical better than anchors. For this obvious association, anchors – either in the form of many tiny anchors or one well-shaped, thin-lined anchor – are often painted on a single nail in each hand. For the other nails, opt for dark blue and thick white lines.
15 Delightful Dolphin Nail Ideas To Slay Summer
#12. The Anchor Chain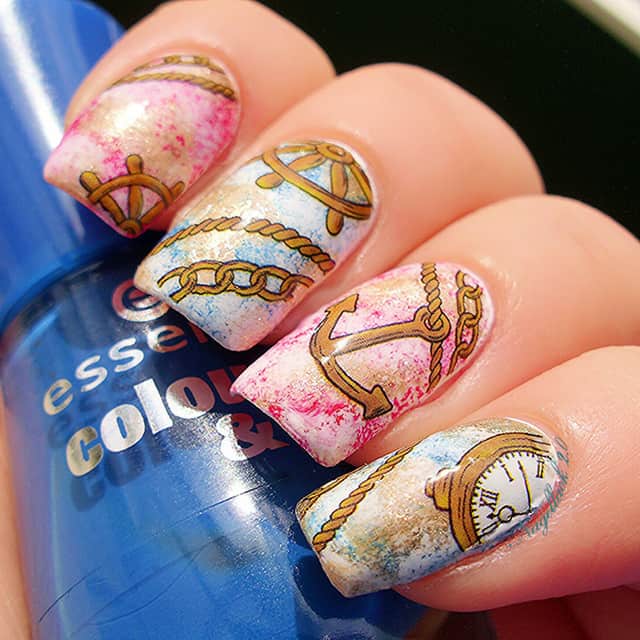 An anchor with its chain is more elaborate and these long squoval nails are no where near short on detail. The foiled blue, pink, and gold splotches on white nails are a lively background for nautical nails.
#13. The Ship's Steering Wheel
If you have a steady hand with the nail polish, add a ship's wheel in rose gold or classic gold to solid and striped blue and white nails. Not good with hand drawn art? Pick up a few nail stickers to stick on!
#14. Stripes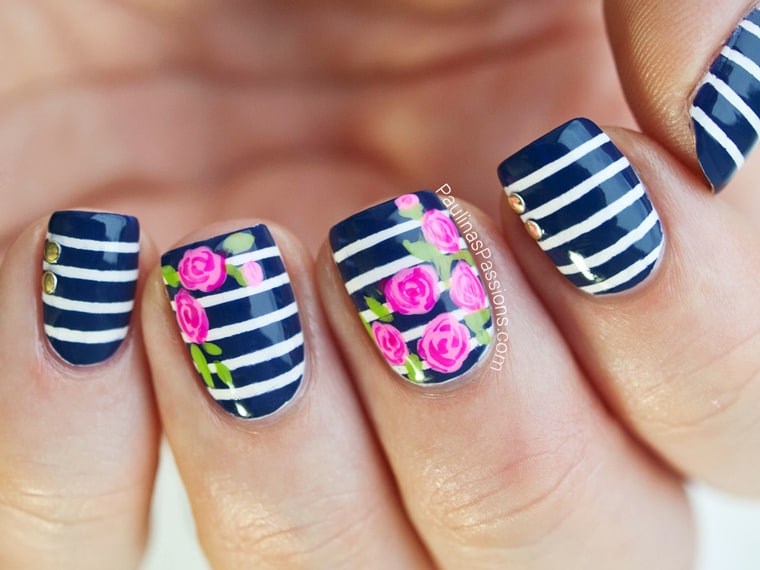 Not a fan of anchors, compasses, and other nautical symbols? Switch it up by adding hot pink flowers surrounded by green leaves on blue and white striped nails.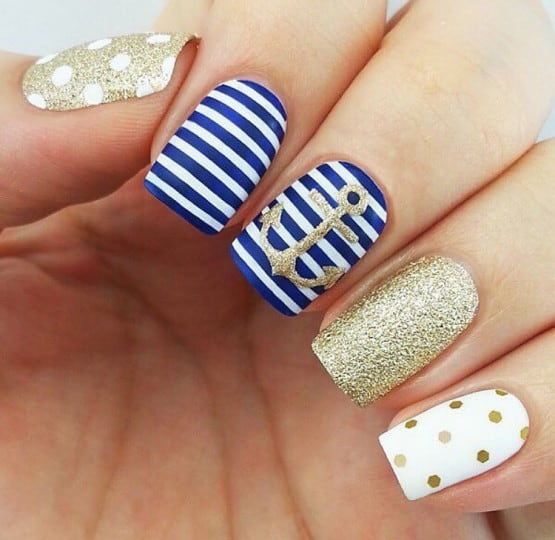 Polka dots are the answer to everything when it comes to nail art, even nautical designs. Blue or gold dots on a white nail is easy to do and they pair well with dark blue stripes.
#16. The Compass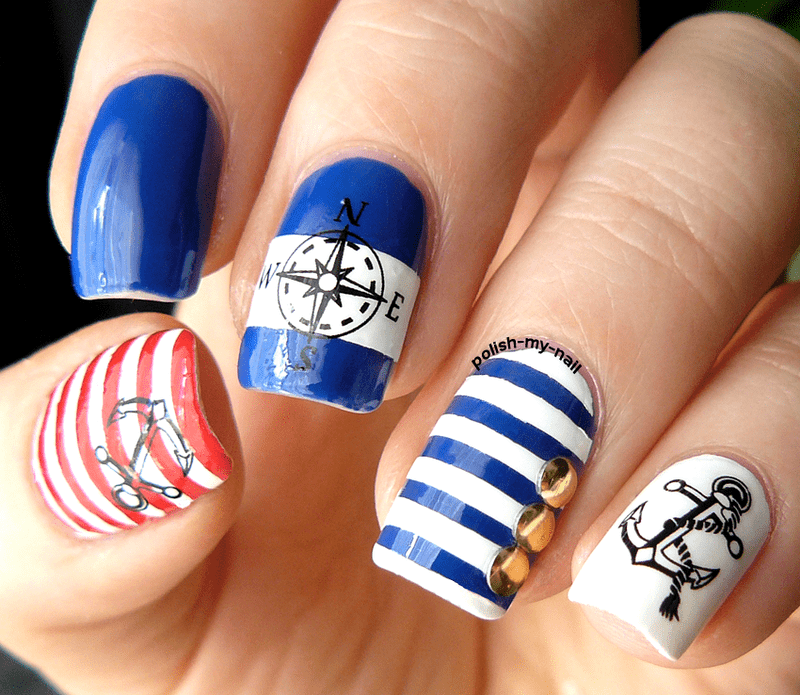 Bored of anchors, chains, and wheels? A compass is perfect as the star of your blue, white, and gold nautical nails. Find it in a nail sticker or try your own hand!
#17. The Red-White-Blue Combination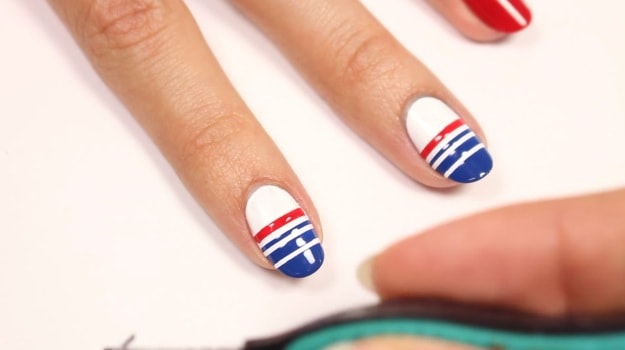 A naval design doesn't mean you can't use any other color. Include red with a mixture of blue lines on a white nail. The red adds a pop of color to the design.
Red Nail Designs to Fall in Love With
#18. The Sea Pirate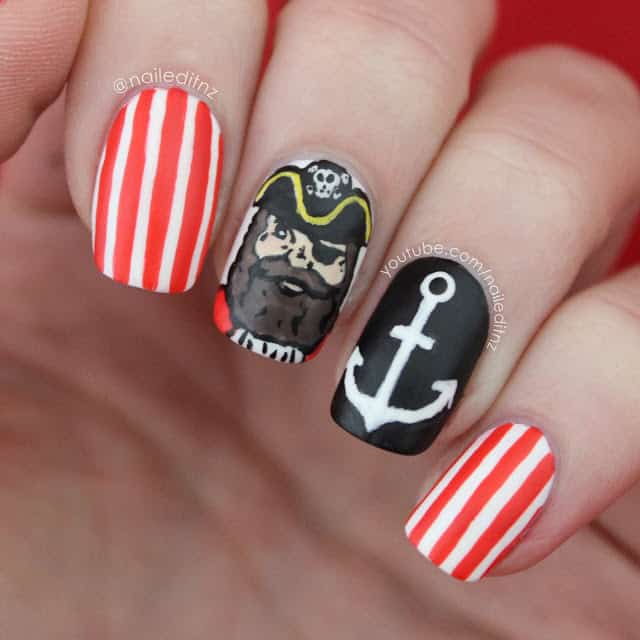 If you want to be light-hearted, then add a funky one-eyed pirate for accent to red and white vertically striped nails. You can also use a jaunty hat or an iron hook for pirate-themed nails.
#19. The Rope and Lifebuoy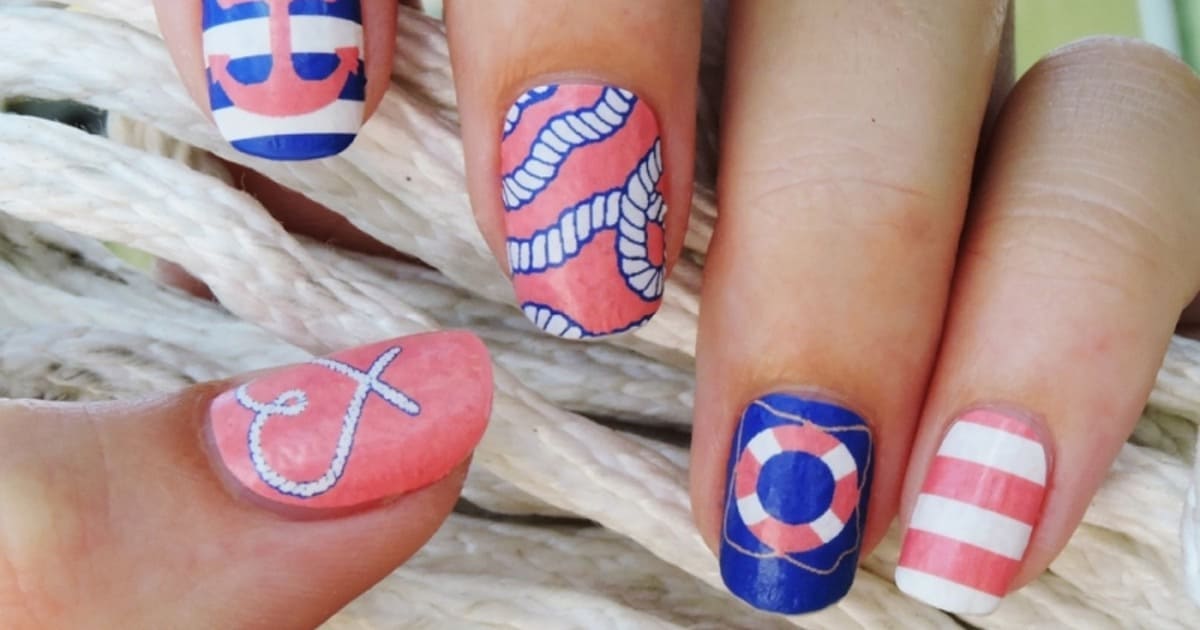 Painting a twisted rope and a lifebuoy is a cool alternative to an anchor and wheel. The lifebuoy's salmon and white colors are a welcome break from an all blue background.
#20. The Octopus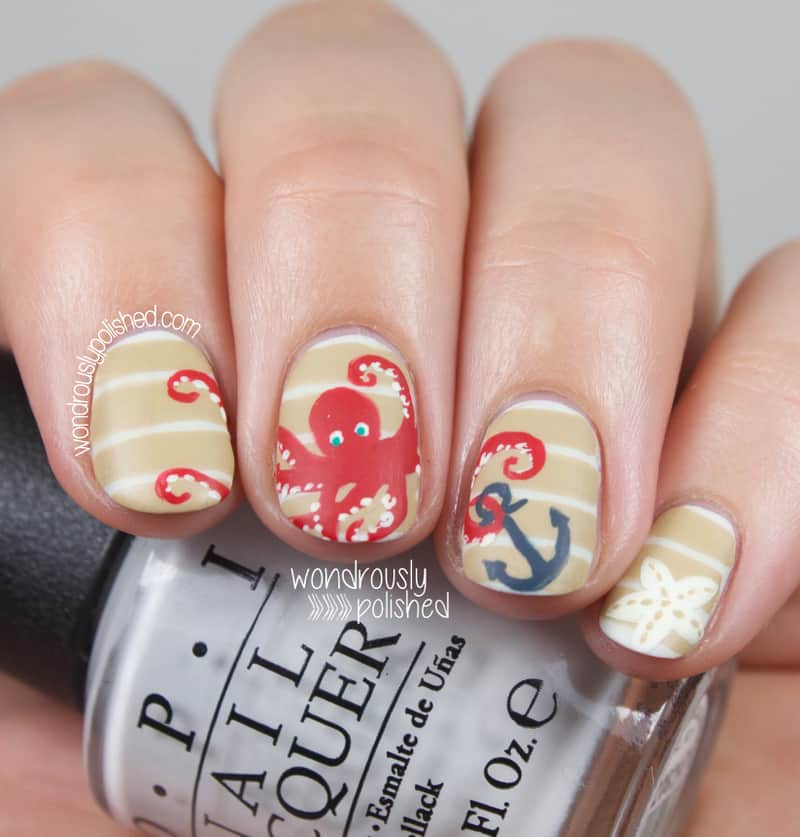 You may not necessarily want to come across an octopus while on the sea, but you can't deny the fun it adds to your nails when you paint one. Octopuses can be drawn very comically, making for fun nautical nails.
10 Stamped Nail Art Ideas & How to Do Them Correctly
#21. Chevron Waves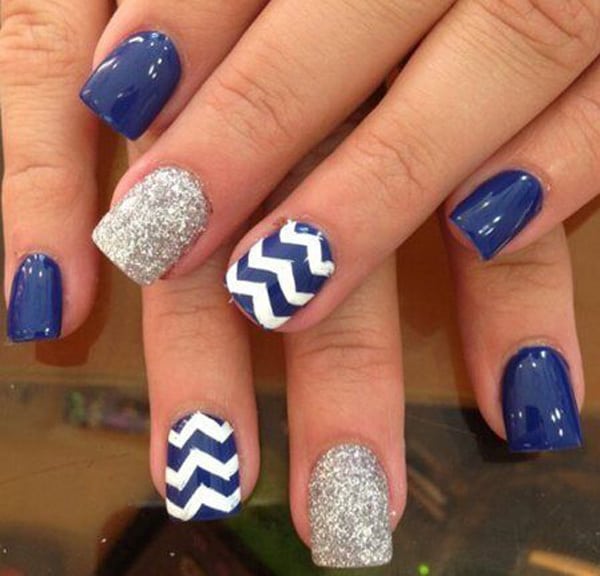 A dark blue base is the start to eye-pleasing nautical nail art. Paint the nails with chevron patterns in alternating shades of blue and white. We love how chevron looks like a structured form of sea waves.
#22. Sailor's Shirt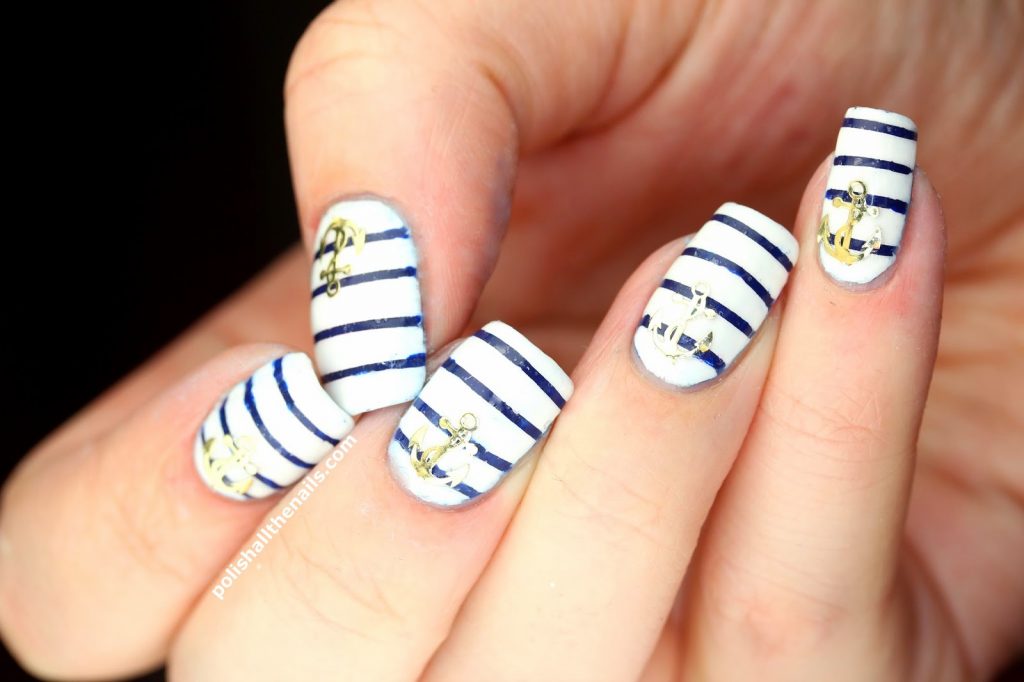 For more nautical nail inspiration, think of the sailor's uniform. Instead of traditional nautical stripes, opt for broad white stripes with thin dark stripes. Gold anchors are an adorable 3D detail.
#23. The French Manicure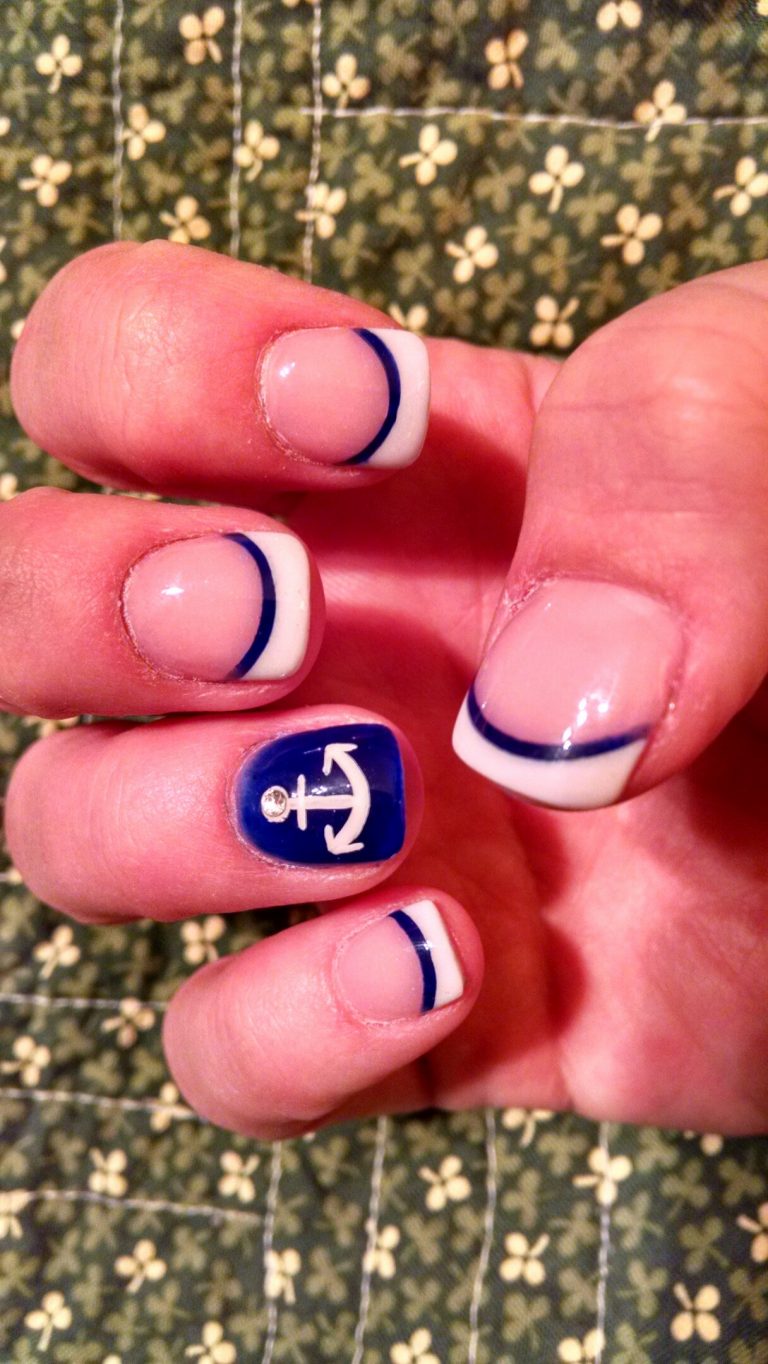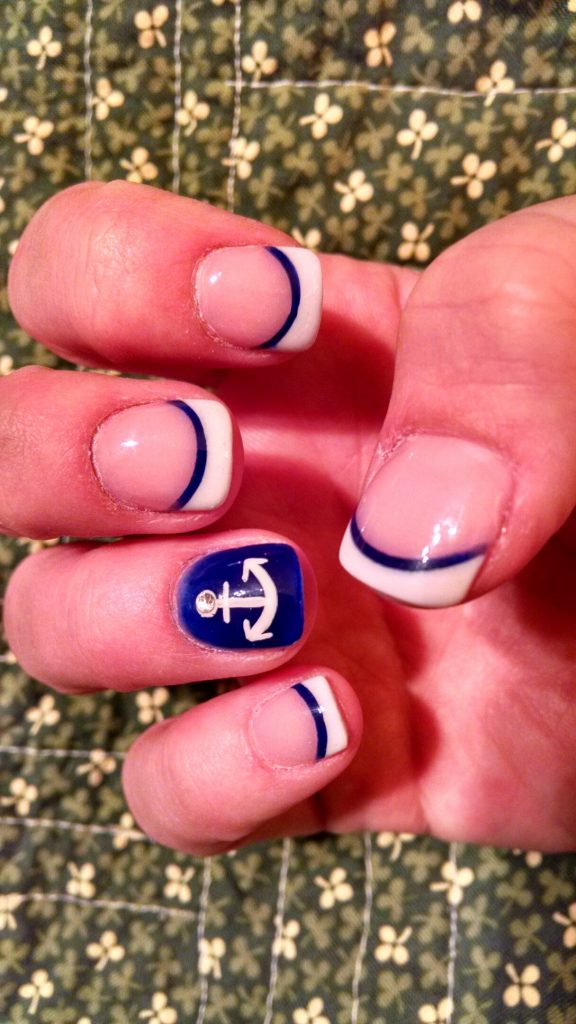 Sometimes a simple nautical nail design is better suited for you. Make a minimalistic statement with blue and white colored nail tips. Alternatively, you can paint the nail in navy blue, light blue, and the tips pearl white.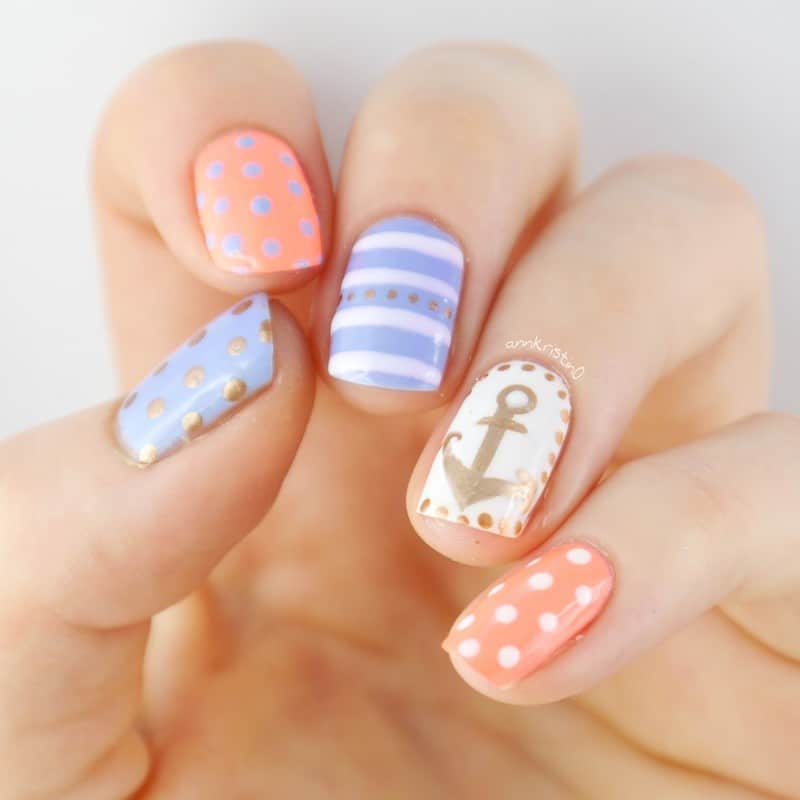 You don't always have to opt for high-finish, glossy marine art. In fact, nautical patterns in pastel shades can be equally appealing. The muted stripes and matte finish is elegant and easier to maintain.
#25. The Starfish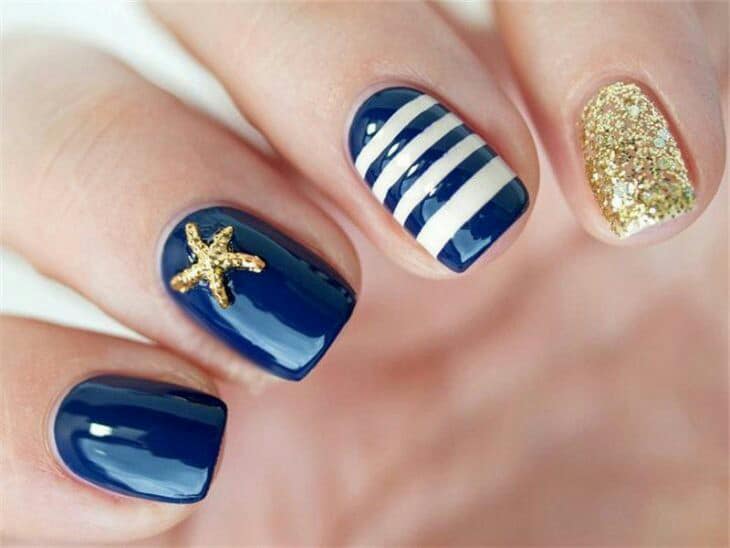 Gold details like starfish are a gorgeous 3D addition to dark blue and white-striped nautical nails. For a bit more gold, paint the pinky or pointer nail in glittery gold.
20 Breezy Beach Nail Designs to Try This Summer
Nautical nail design are a must for days at the sea on a yacht or in your favorite chair at the beach. With clever color combinations and your own creative designs, it is possible to create seaworthy nail art!