Nail design trends come and go every year, but we all know there are always some that stick for each year. For 2022, we've found 50 awesome nail designs to liven up your fingers and ignite your creative side. 
Nautical scenes, Halloween, and more await you below! Bonus: they will work no matter your nail length. 
Nail Design Trends
Check out the gorgeous nail designs below for inspiration to your 2021 nails.
#1: Awesome Autumn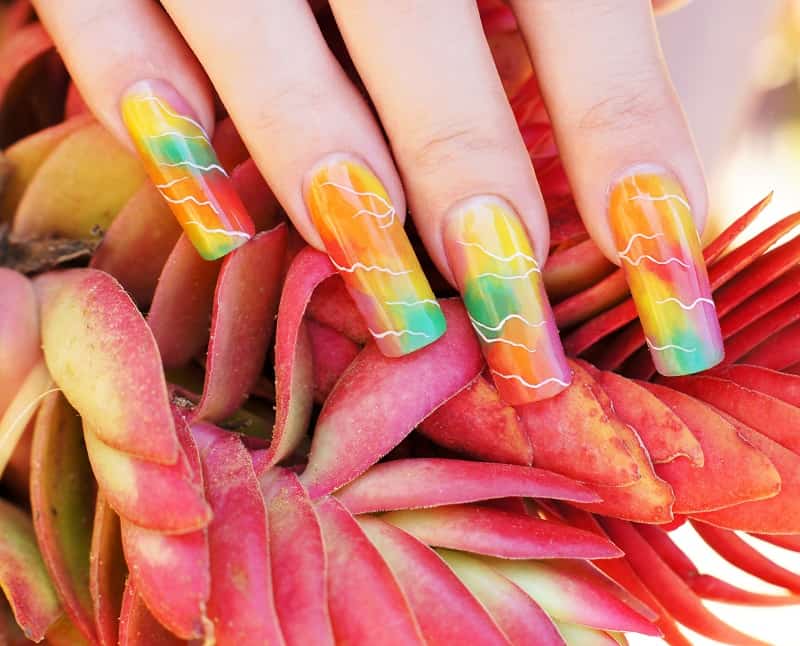 Fall in love with fall all over again with a nail design to match. Use bright orange, pink, green, and yellow on long square nails and squiggly white lines for soft waves.
#2: Marbled White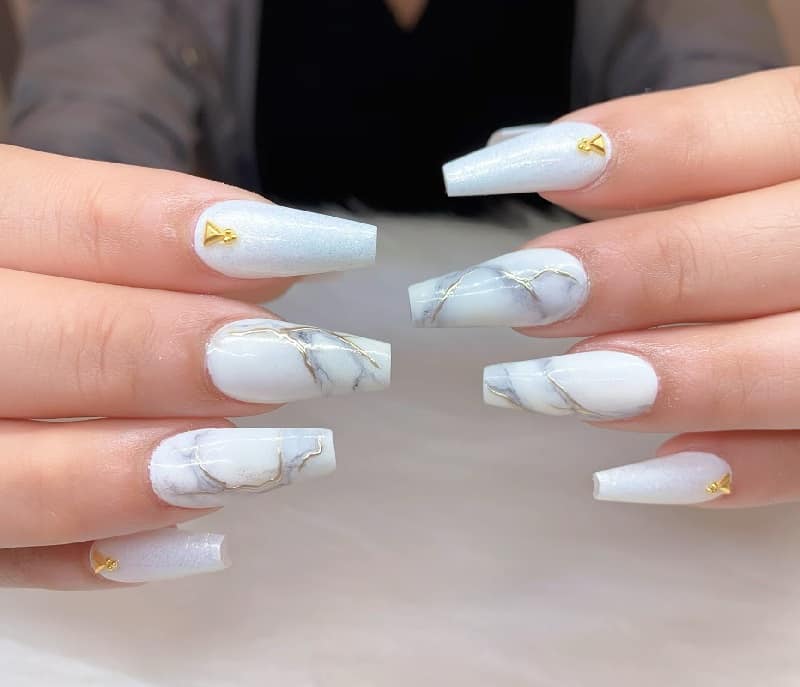 These marbled white coffin nails sort of remind us of granite countertops, but in a more glam way since they feature a gold fly detail near the cuticle and flecks of gold in the marbled nails.
#3: Sparkly Winter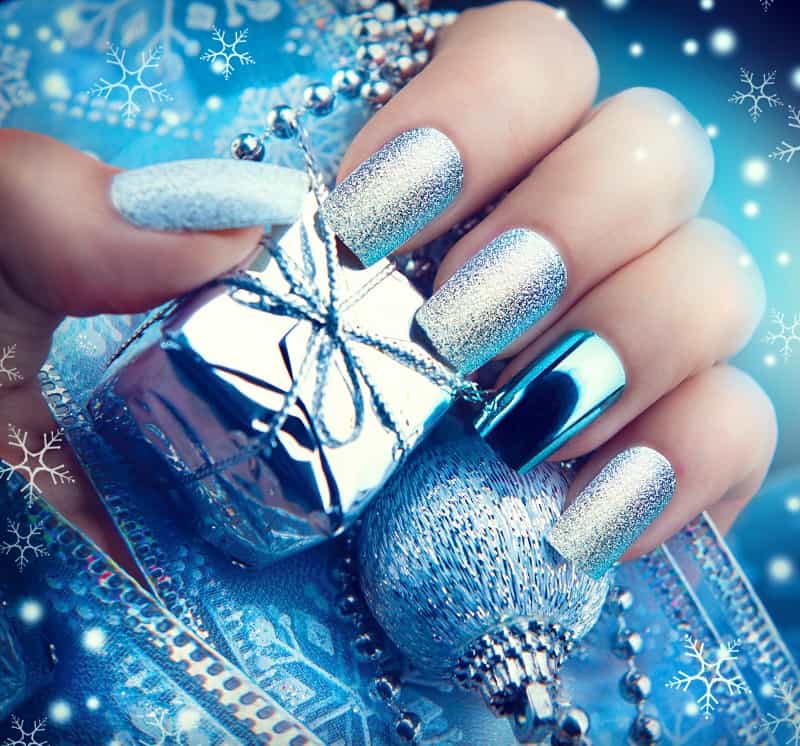 Why do a plain light blue nail for winter nails when you can add a little sparkle with glitter polish? Add a dark blue chrome nail on the ring finger for accent.
#4: Dainty Daisies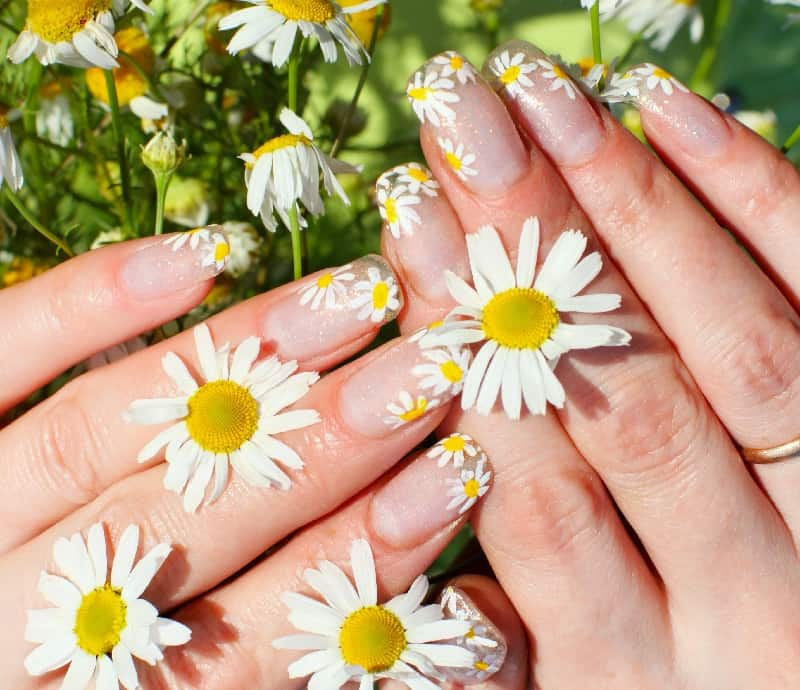 When it's springtime, on long rounded nails opt for clear polish with a glitter undertone. Then apply daisy stickers or nail decals to the tips of the nail for a cute pop of yellow color.
#5: This is Halloween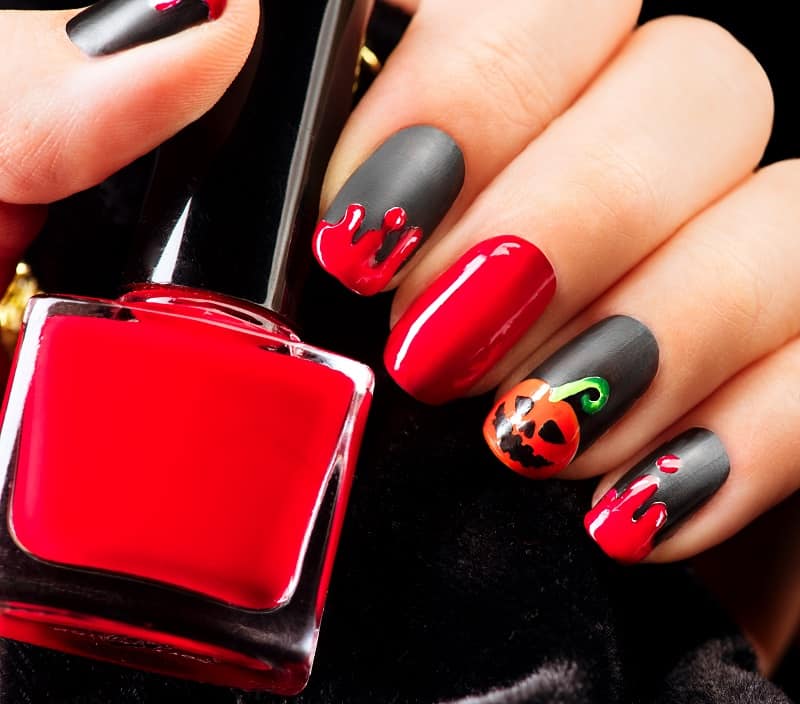 Matte black is a spooky addition to shiny red Halloween nails. A pumpkin nail decal adds to the theme while "dripping" red blood gives a fright.
#6: Bright Yellow and Butterflies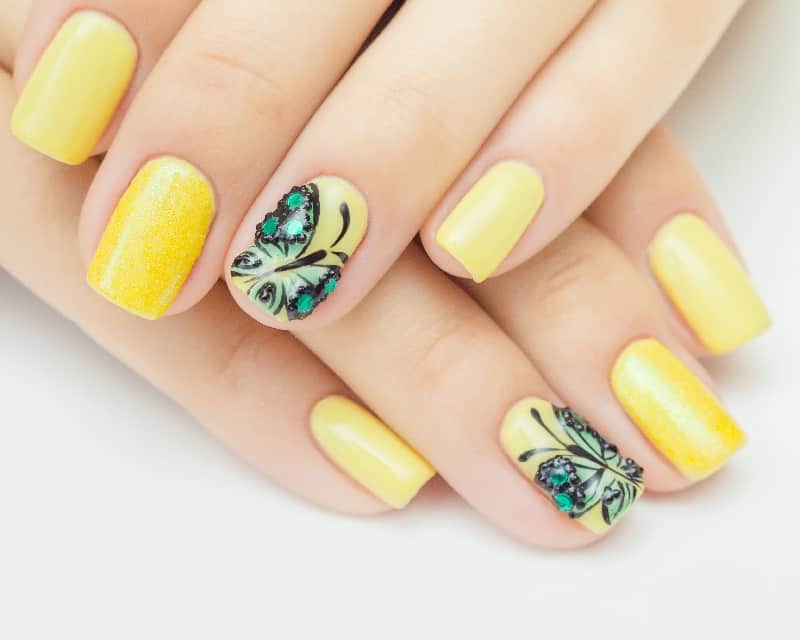 A gorgeous emerald green butterfly outlined in black pops on bright yellow nails. Wear these square shaped nails in the summer for a pop of sunshine.
#7: Maroon Nails with White Brush Strokes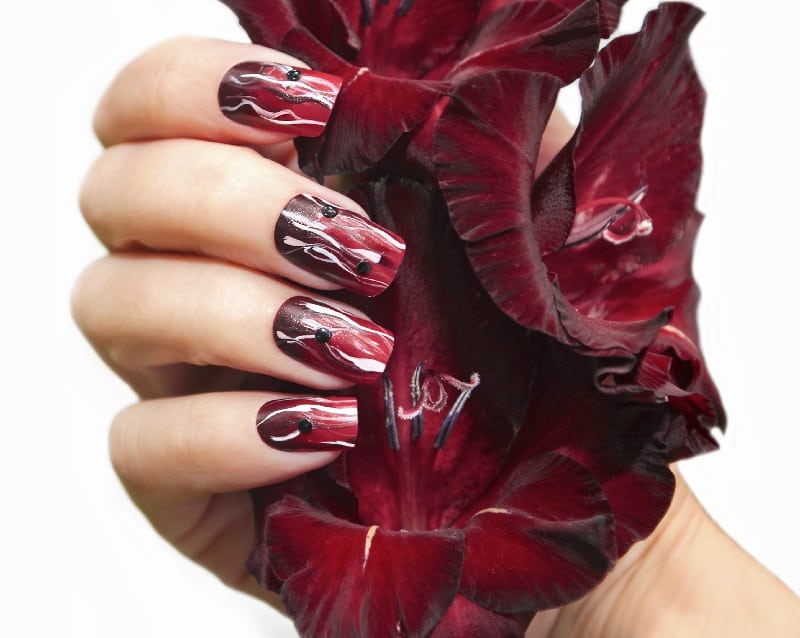 After painting long square nails maroon, use your white nail polish brush to draw squiggles down the nail. Little black buttons or crystals are a fun accessory to add.
#8: Nautical Nails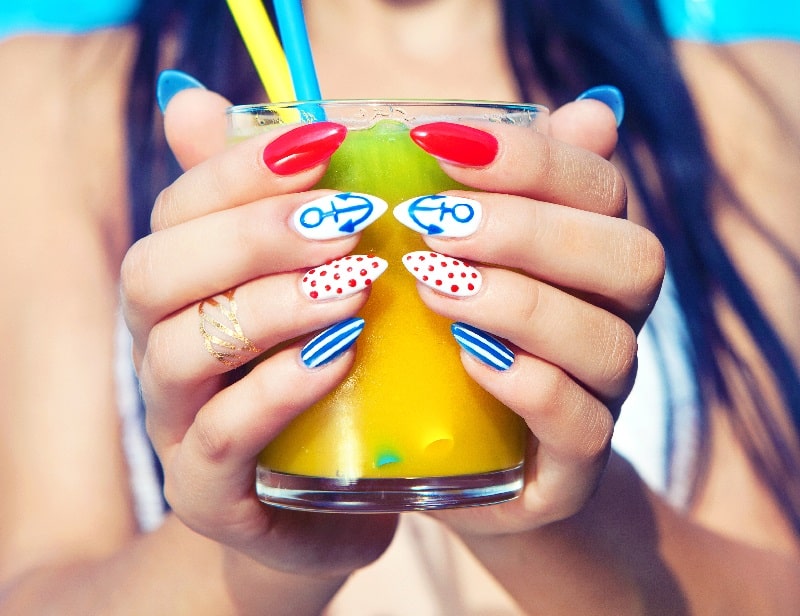 If you or your teenager want a fun nail design, try nautical nails. Red, light blue, and white decorate rounded nails. A cute anchor charm will make it 3D.
#9: Plain and Simple
The classic French nail manicure will always be a trend. In 2022 this nail design has been most loved and worn by workaholic women and real ladies. Be sure to get this manicure as often as you can, because if you didn't know; men love it the most!
Coolest Nail Design Trends to Stand Out
#10: You Are My Cup Of Tea

This rounded nail design with dark and mysterious tones looks hot and wanted. Some edgy twist on the ring finger is exactly what this mono manicure needed. Make sure to get these nails for a house party by the end of this year.
#11: Purple Nails
If purple is the way you like to sway, this amazing nail design is calling out to you. This manicure has been one of the best hits. You've probably seen these nails or their replica on some of your friends, but mostly on the Red Carpet and Hollywood stars. They are perfect for fancy nights and runway models.
#12: Hit The Party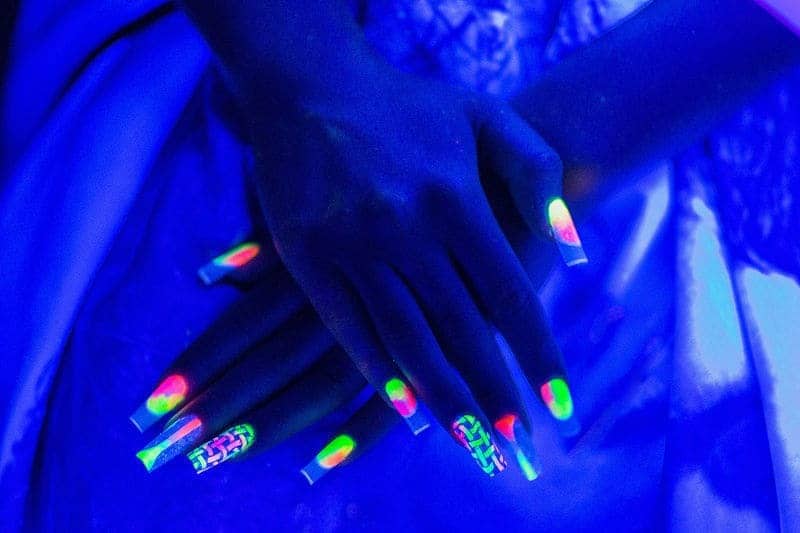 Glow in the dark manicure? Yes, please. This whole year has been fulfilled with festivals and parties. If you are going to a club with this manicure you will definitely get a lot of attention. This might be perfect for you party animals, or women who have been avoiding something this bold throughout the whole year. It is time to change that and to have a wild fiesta.
#13: Royally White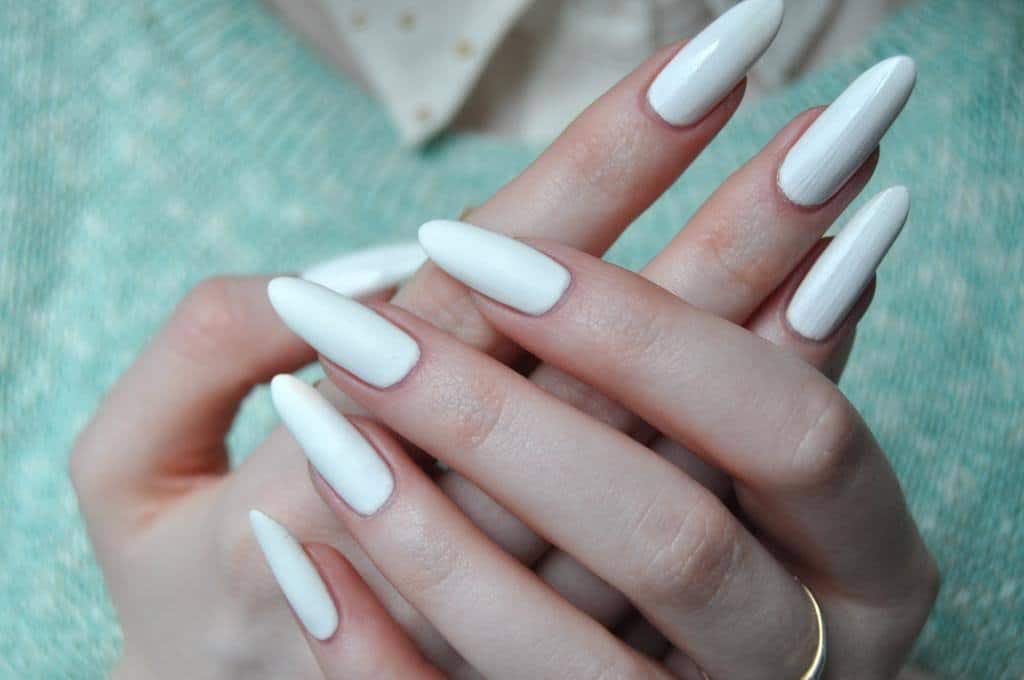 Royally white nails are super trendy in 2022. Whoever is a fan of long nails with lighter colors has probably had them done like this a few times by now. The best part is that you can wear this manicure to any event and look smoking hot.
#14: Light Chrome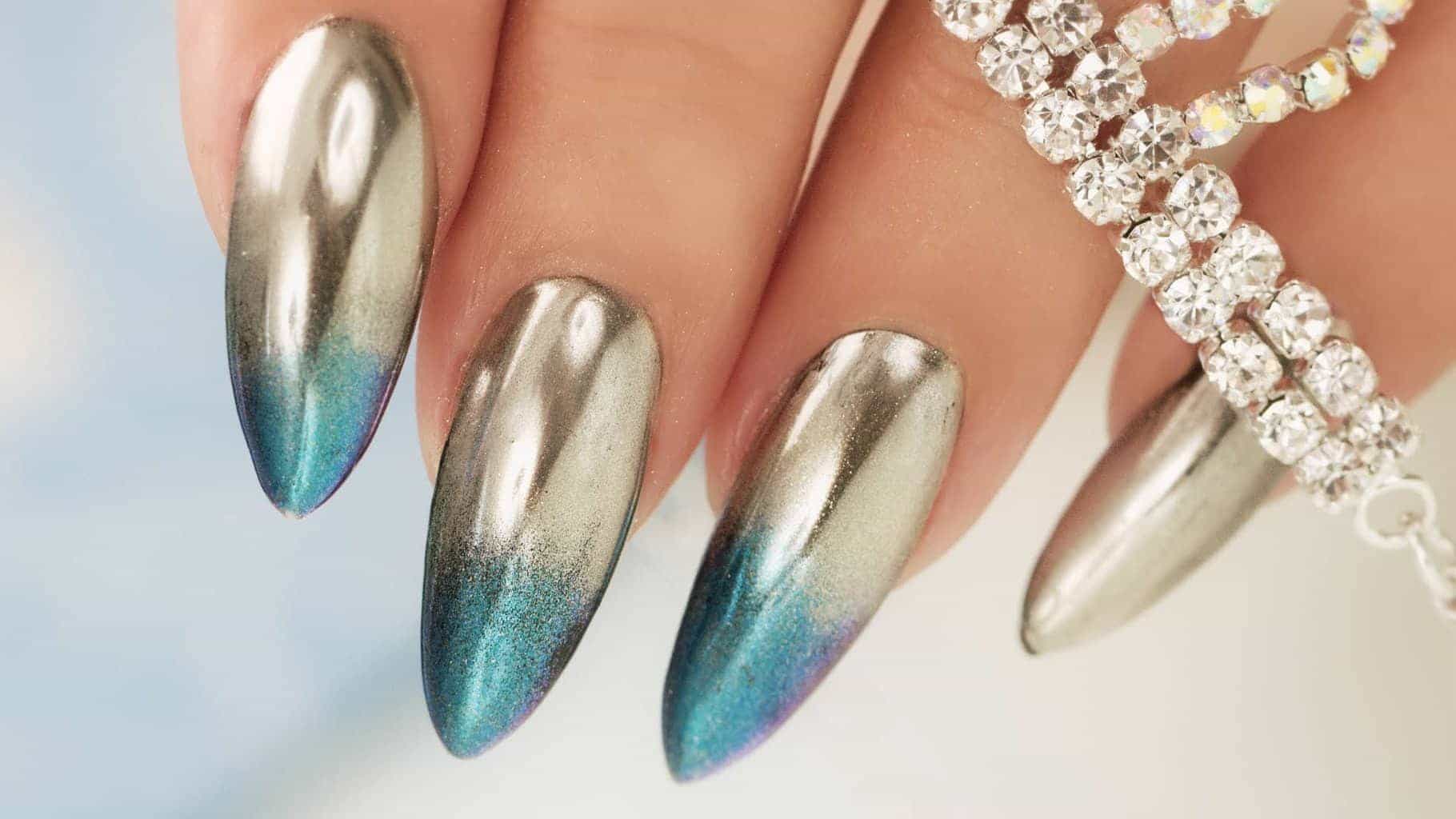 Everyone has been loving chrome, that is undeniable. However, the length and the colors that you choose to go with are differentiating these types of manicures. In this case, a lighter and more subtle ombre effect is super bold and cute at the same time. Imagine having these during the summer? Everyone will be fascinated by the beauty of your nails.
#15: Mad For Chrome
Are you a bigger chrome fanatic than the previous picture is showing? If so, let's get your nails fully mono and chromo! This trend has been seen everywhere, and mostly in pink and golden chrome tone.
If you are a flower child and you love everything that blossoms lets make your nails super hip. This nail design has been cherished and mostly seen during the Spring. Super brave and bold women will definitely do this manicure once again no matter which season it is.
#17: Purple Nails
These purple nails with stunning flowers should be legally banned. How can anything look this pretty, it is sore for my eyes! That's why you should be wearing them only for some special events, such as prom or gala weddings. They are definitely not appropriate for your supermarket visitations.
#18: Retro Orange Nails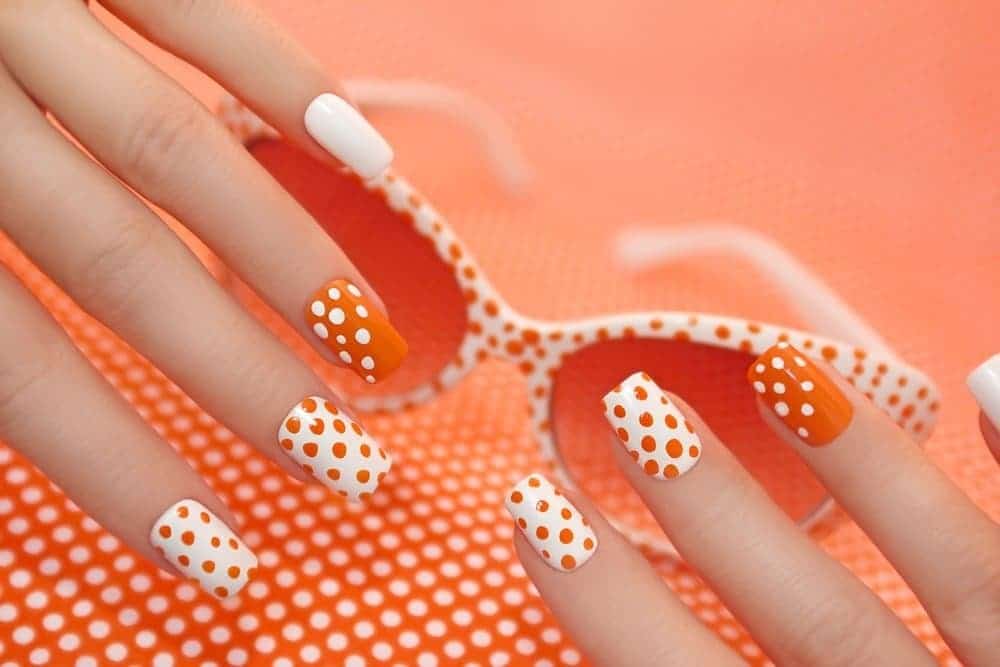 Polka dot will always be in fashion, and we can see why. These trendy nails with orange color are super appropriate for summer. Imagine being on a beach, tanning, and holding a cocktail in your hand; with these orange nails popping out. Statement pieces everywhere!
#19: Black & White Nails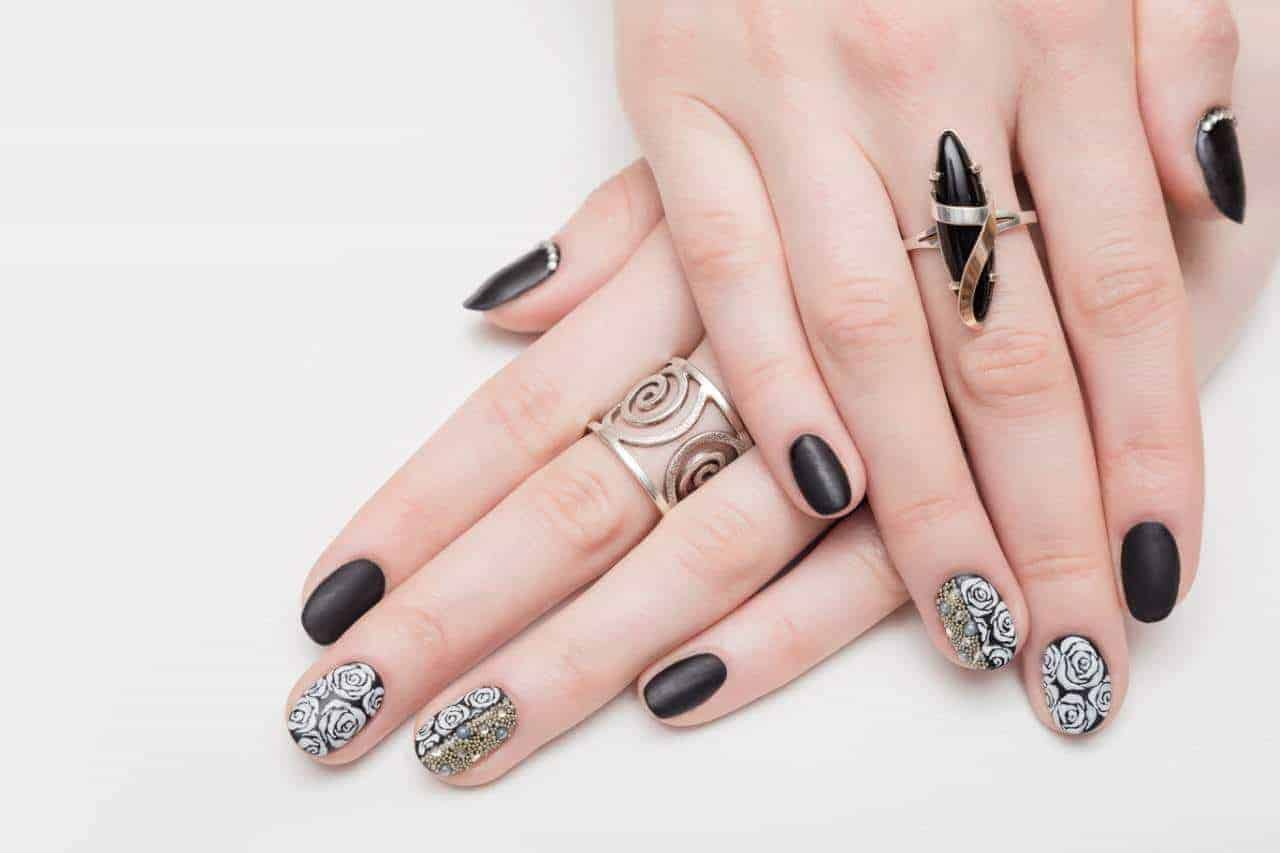 Women tend to avoid black and white colors a little too often. They believe that they look dead and unwanted. But, if you add a rose sticker with some statement rings as these ones you are in for a good time! These can suddenly be your work nails or your date night nails; the choice is up to you.
#20: Your Baby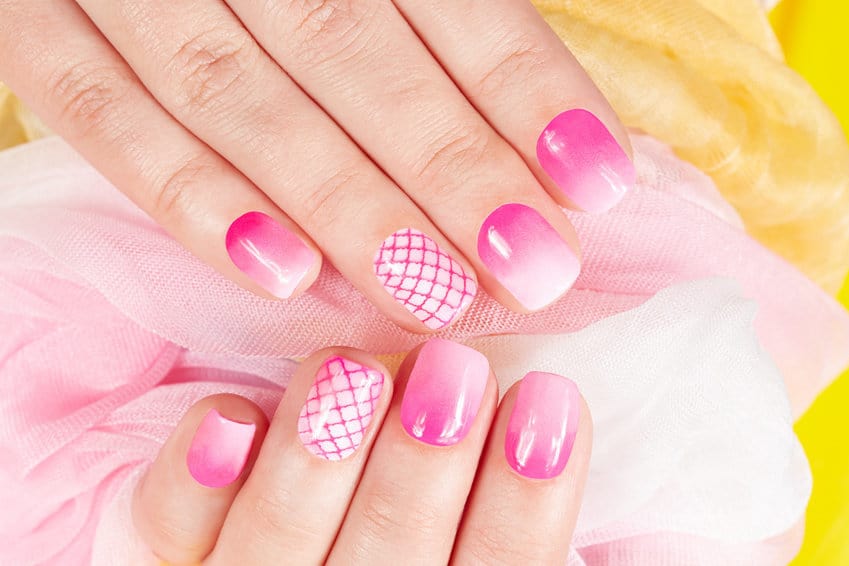 A perfect example of super bold and vivid nails, unlike the previous ones. We can totally agree that these look like they came out of the "Candy Shop" music video. And believe it or not, it's been 12 years since this song came out. I feel old.
#21: Peacock Is Pinky
Remember the "Peacock" song that Katy Perry sings? This manicure looks like it's been inspired by that song. Super cute, bright and detailed manicure is something that women are drawn to easily. Speaking of draws, you better find someone who is brave and precise enough to draw this for you. You don't want your peacock to end up looking like a dead, beat up fish.
#22: Marvel
We are seeing some Captain America and Wonder Woman colors. And how couldn't we? The Marvel comics have been killing it this year, and that's why these nails have a special place on our list.
The Best of Disney-themed Nails
#23: Subtle Watermelon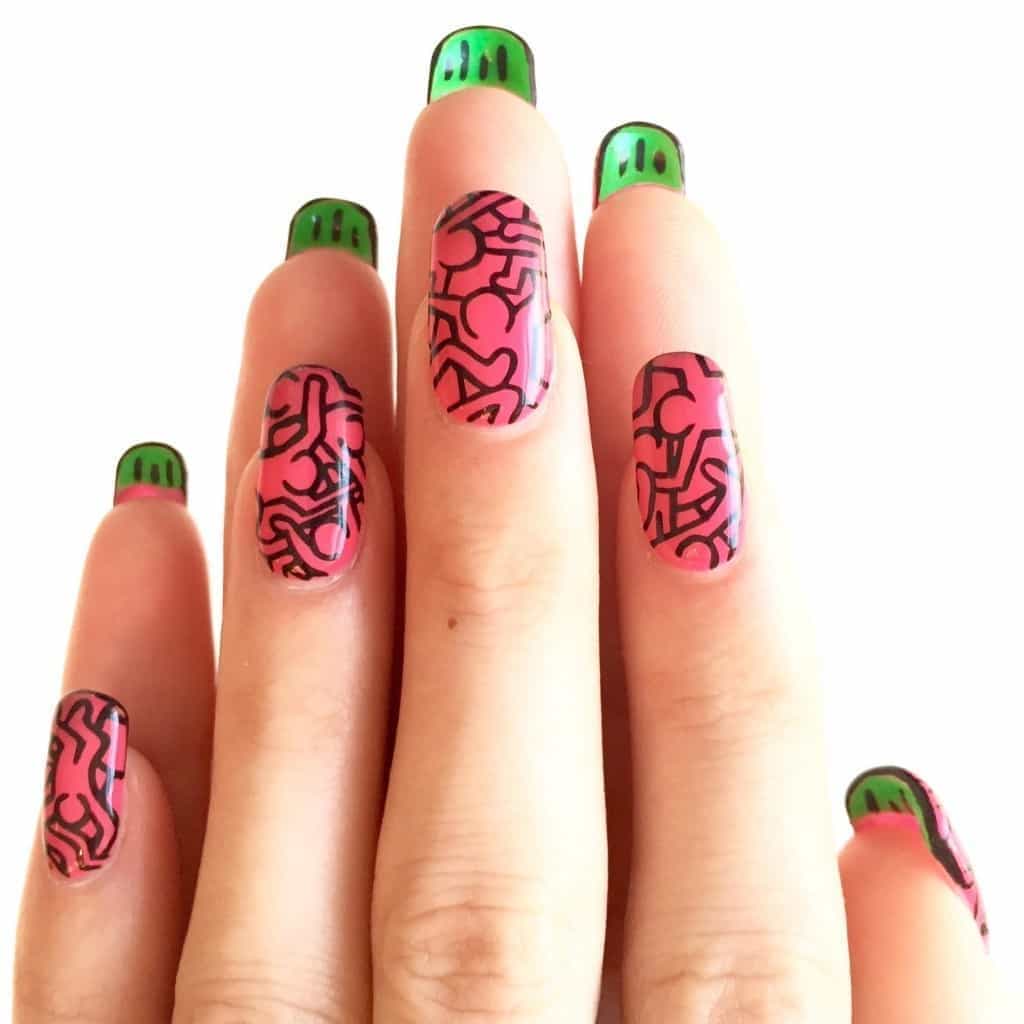 This little subtle watermelon art is something you don't see every day. As you've probably noticed, these nails have been painted on both sides. You've probably seen this trend during this year, but not in these colors and this print. Women mostly tend to get them in white or pink colors, the inner part of the nail that is. That's because that way the nails look the sharpest and cleanest.
#24: Golden Glittery Nails
Are you a party animal? How about a golden color lover? Or what if you are a party animal who is a golden color lover? You are in luck since these nails have everything you need! They are long, gold, bold, classy and just right for the sexiest and prettiest women. If you go to a party with these nails be ready to hand out your nail ladies number, a lot!
#25: Not A Subtle Watermelon
Some of you ladies are not fans of subtle manicures, and we get you. If you are looking for something bold and juicy, this watermelon art should be your choice. These stiletto nails, as well, look like they've been inspired by Katy Perry's music videos. And that totally makes sense since Katy Perry has been killing it on the stage lately.
#26: Mean Tiger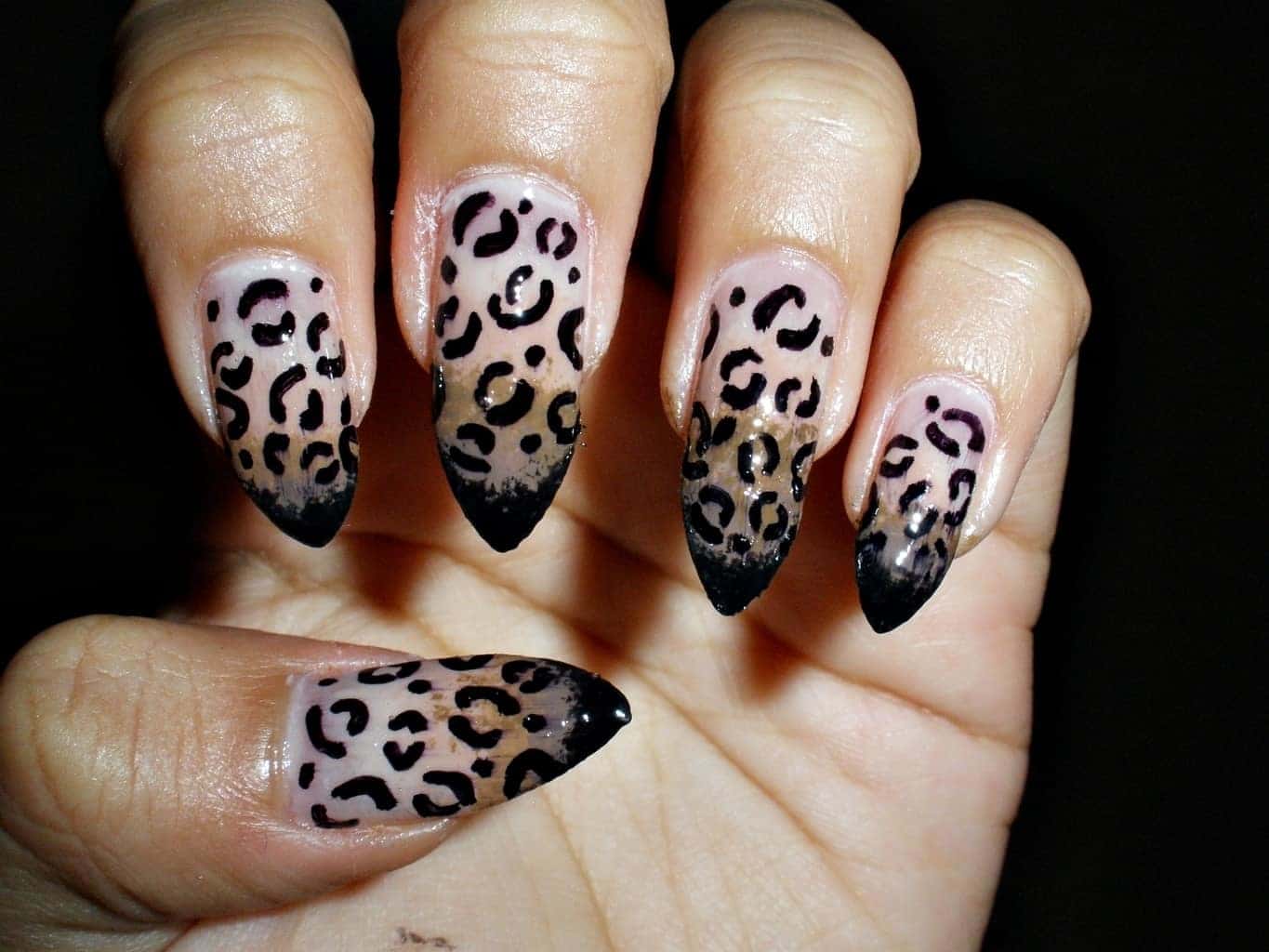 Are you a woman who likes to be bold and rawr's a lot? Luckily for you, fur and cheetah will always be in fashion, as well as in 2022. This nail design has been lit and just right for posh princesses who love to steal the spotlight.
#27: Little Tiger
Now if you are more on the quiet side, that doesn't mean you can't have cheetah nails. This mini version has been loved worldwide and styled by a lot of older women as well. They are trendy and adorn mostly because of their low maintenance and short appealing look.
#28: Too Stylish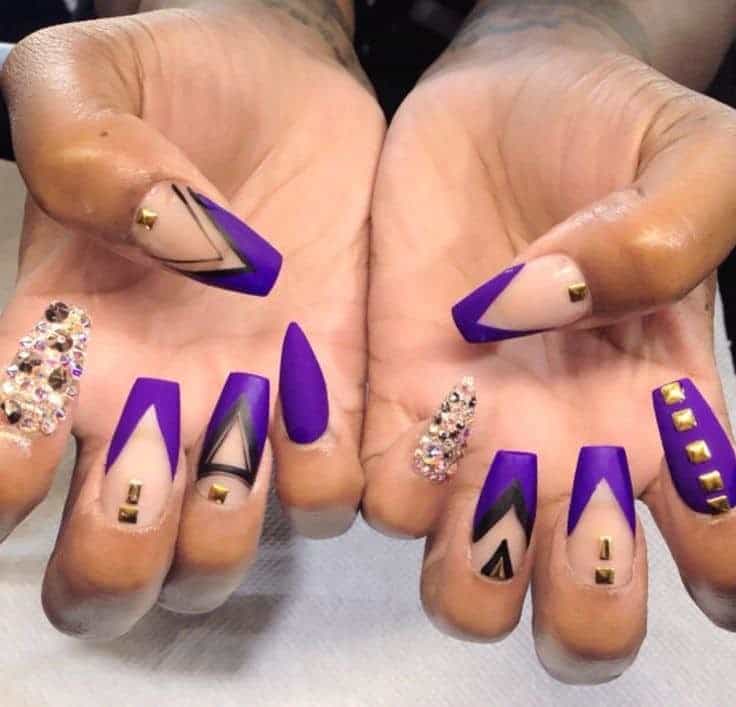 Actually, when I think about it, there isn't anything that is too stylish in this world. Yeah, these nails do look a little bit extra, but definitely not too stylish. They have been a trend this year mostly because of the Kardashians and their brave and strong nail game. However, your nails don't have to necessarily end up looking like these. If you are a fan of weird shapes, long nails, and super sparkly ones, you know what to do and where to go.
#29. That Glow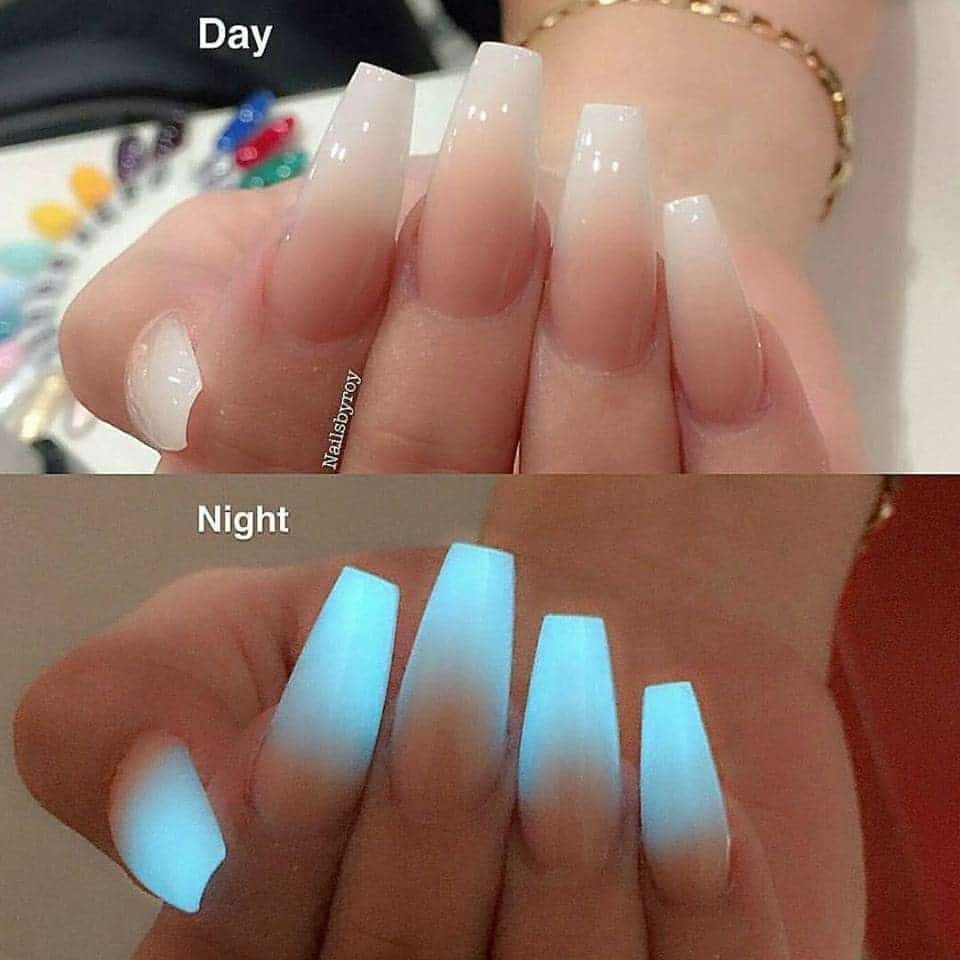 The most amazing party nails ever, right? Imagine showing up to a party and glowing like this. These nails are perfect for a rave. Who needs glow sticks when all your 10 nails are light?
How to:
You'll be needing: a pair of scissors, your base coat, and a glow stick.
 First, you cut your glow stick in half really carefully.
Watch out for the liquid, not to poor anywhere else besides into your nail polish.
 Add the glow, and stir the liquid with your nail brush. Preferably, if your glow sticks are pink, you should have a light pink or white nail polish, just for the closest and successful color matching. Shake your nail polish after you've added the pop of glow to it, and start applying.
The final step: Get out and shine.
#30. Sweetheart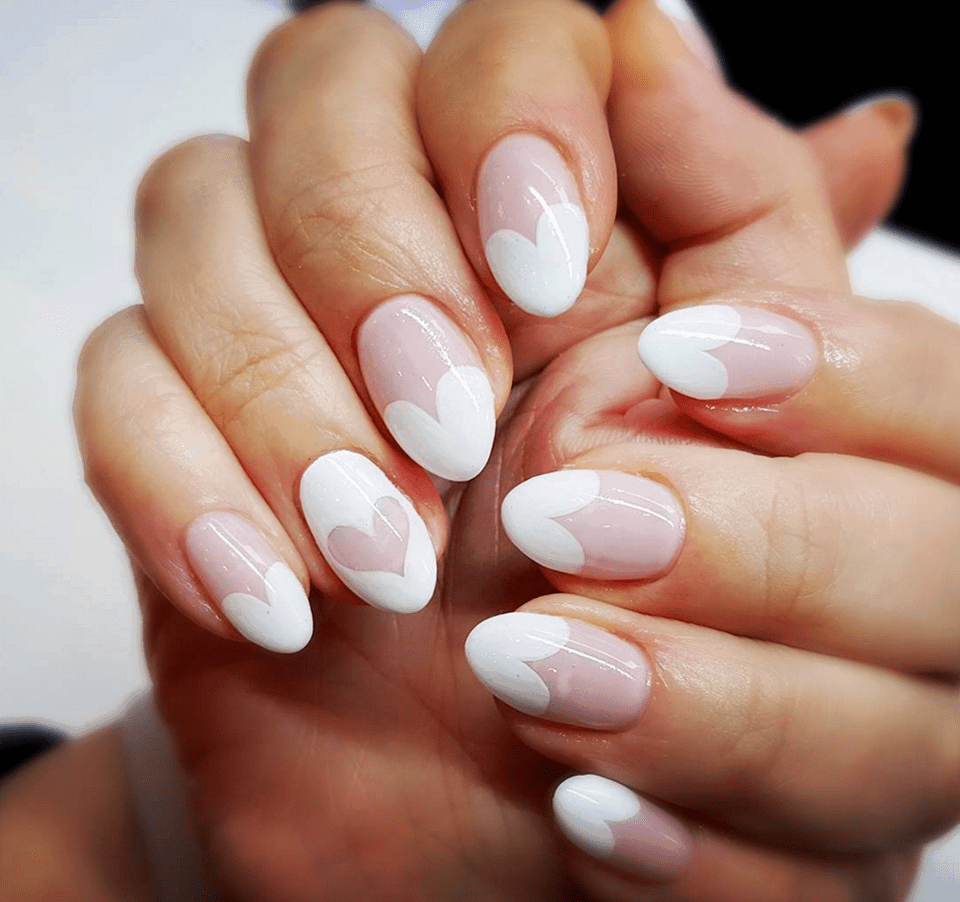 There is no chance that you will go unrecognized with these perfect for Valentine's Day nails. They are so cute, ladylike, and not hard to do at all.
How to:
Instead of going for a square or ballerina shape, you should go for the rounded ones. They just make your hearts at the end pop better and look more gentle and feminine than they would if you had a rough sharp pointy end. After shaping them, a simple base coat, a white polish, and a steady hand will get the job done.
Tip: If you are not as steady as you should be, then use a toothpick to draw out the ends of your hearts, and then just fill in the middle with your brush.
#31. Shiny Choo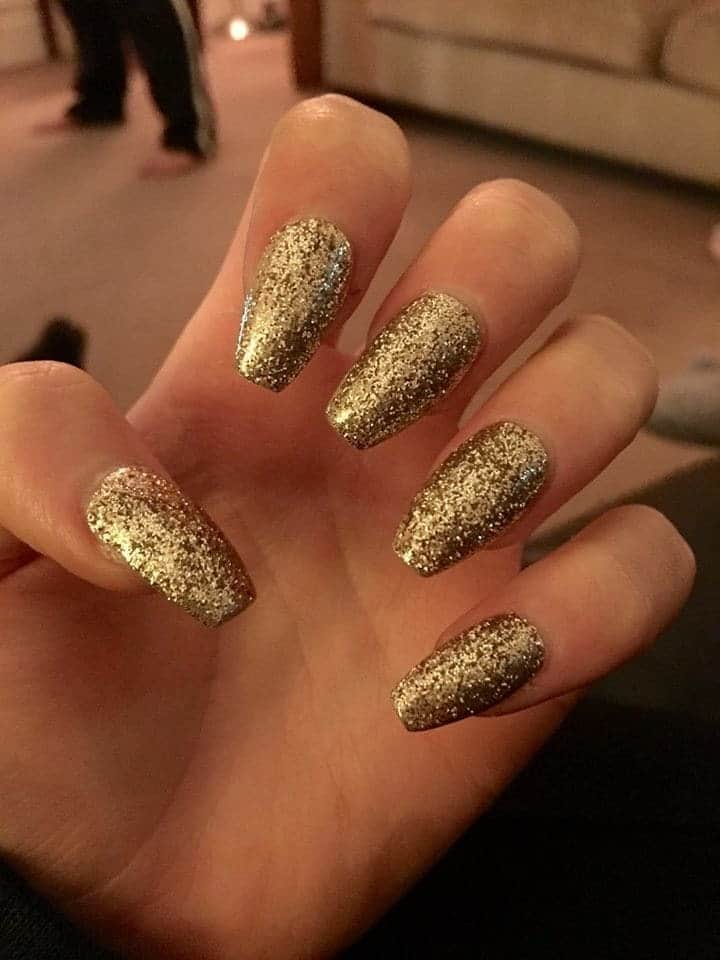 These are the real diva glam nails. If you are all about that shine bright like a diamond moment, this mani is the next one on your list.
How to:
After applying two layers of your nail polish, start dipping your fingernails one by one into glitter. Don't let the second coat dry. That way they will stick faster and more even since your whole finger is in the container.
#32. Blackest and darkest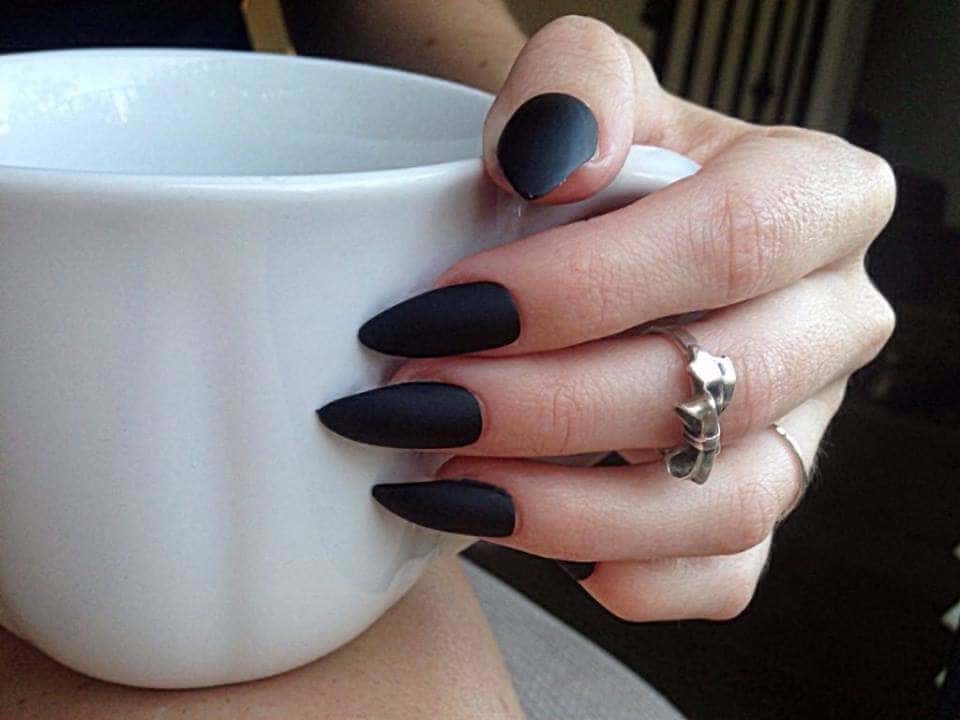 Do you like your nails like you like your coffee? During this year you will probably have a moment where you will want to look a little bit more mysterious and dark, so these are the perfect combination for you to try in 2022. They should be extra long, matte and black will look fabulous with any accessories.
Matte Nails to Go With The Flow
#33. Don't try hard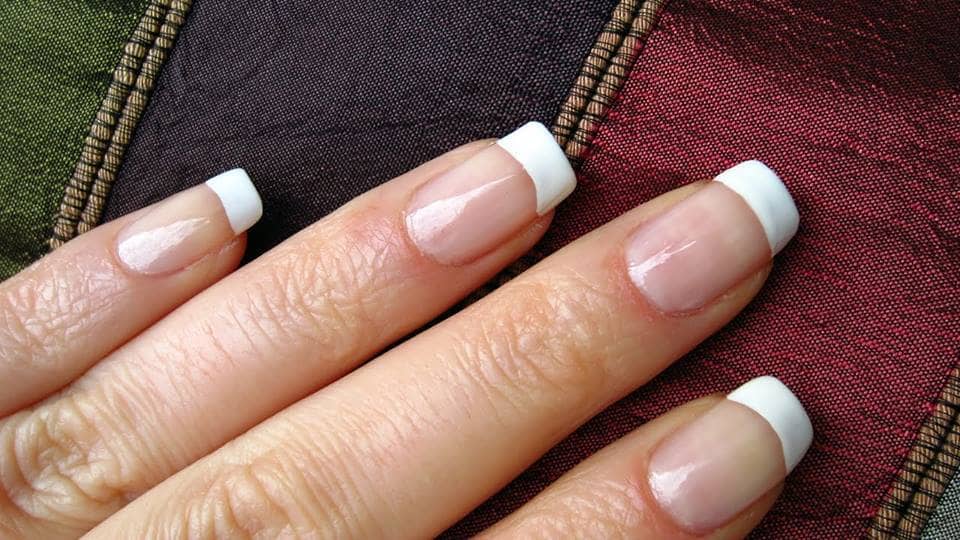 Your natural nails should also be a statement in 2022. Even though women have been doing acrylic nails a lot in the last couple of years, they shouldn't care less about their natural nails, quite the opposite, they should nurture them more.
#34. Jewel it up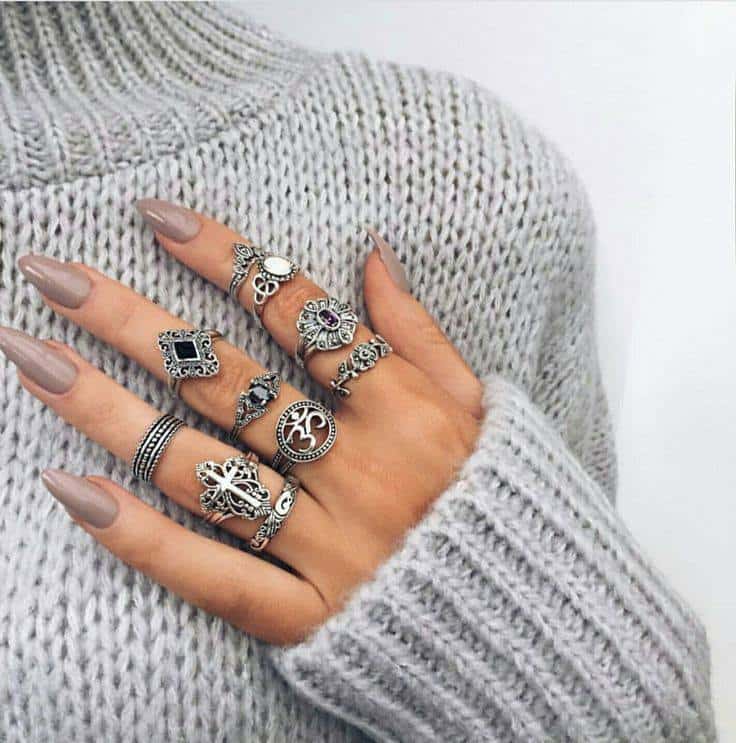 These almond nails are those simple but yet so stunning to die for creations. At one point throughout this year, you should have really bold shaped long nails, and they can go well with any jewelry.
#35. Match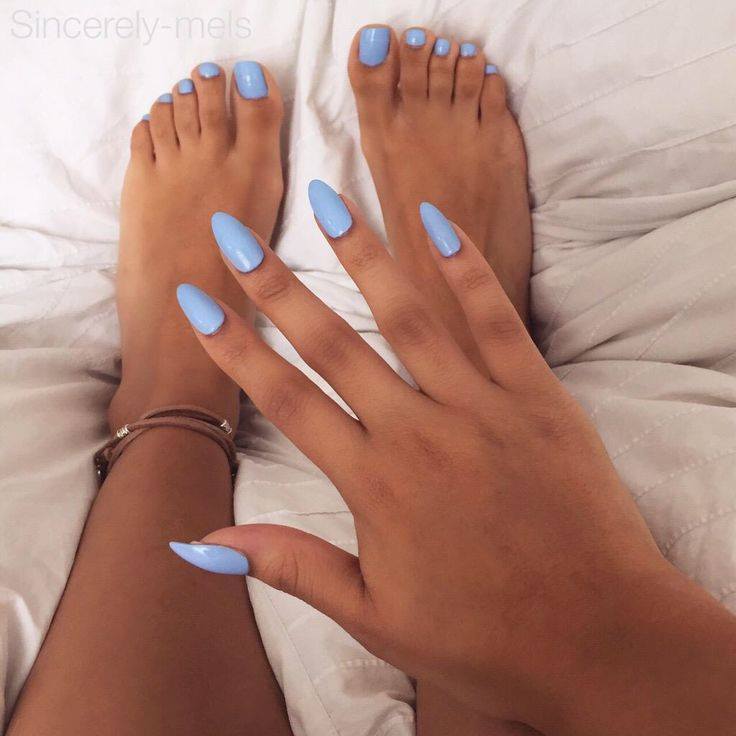 This is the best summer nail design choice! Since you're constantly outside wearing skirts, dresses, heels and sandals, you can finally start showing off your matched nails.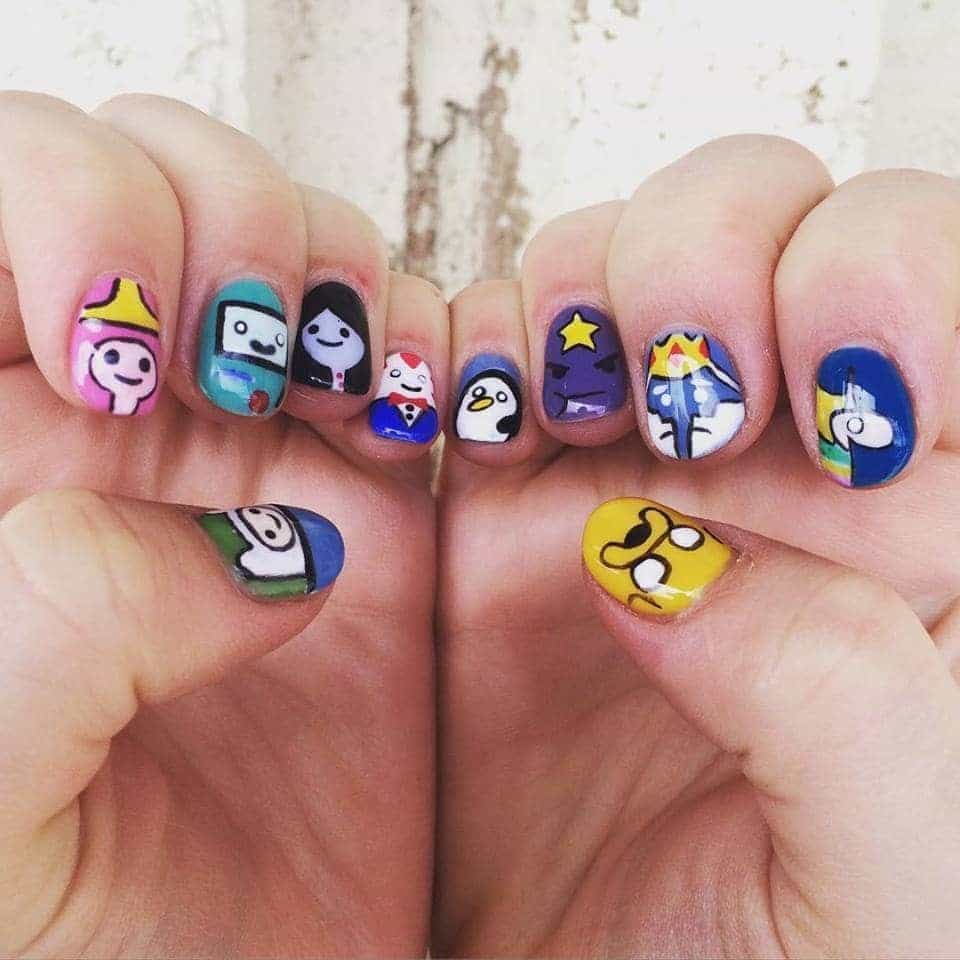 The hardest and most fun way to design your nails. Can you feel that Cartoon Network vibe just by looking at these? One thing is for sure- everyone will notice you with this creative design, but that makes it the hardest technique on our list.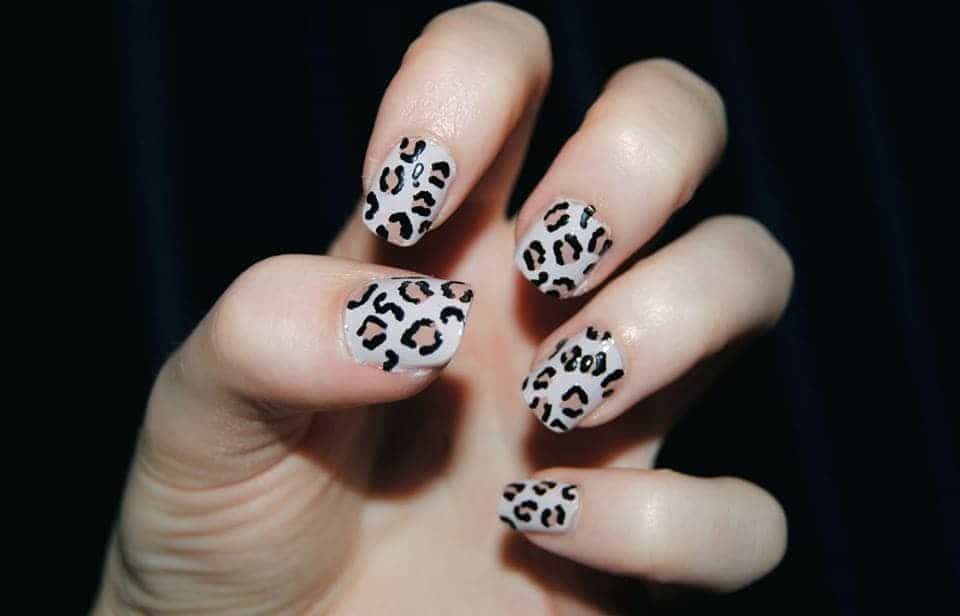 Stunning and dangerous! Brings out the wild side of you, looks fresh and makes you feel like a party animal!
#38. Dot Dot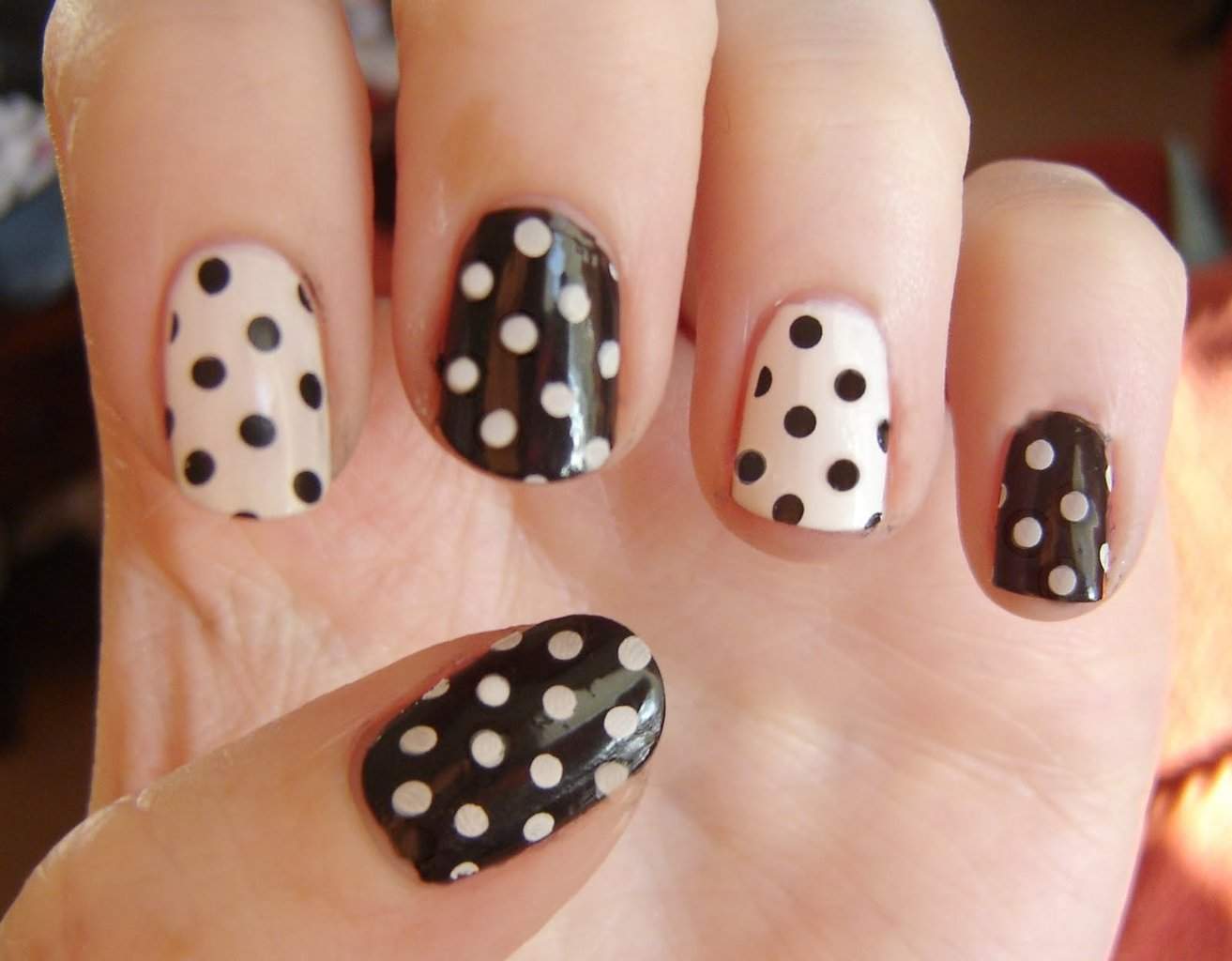 Do you feel the 70's vibes yet? Polka dot nails have been the cutest and easiest trend in the past five years, and they always find a way to get back on to the stage. It is not the 70's, but in 2022 a few black and white dots will do their magic and give you a breeze of a retro summer.
DIY Nail Design Inspirations
#39. Butterfly Nail Art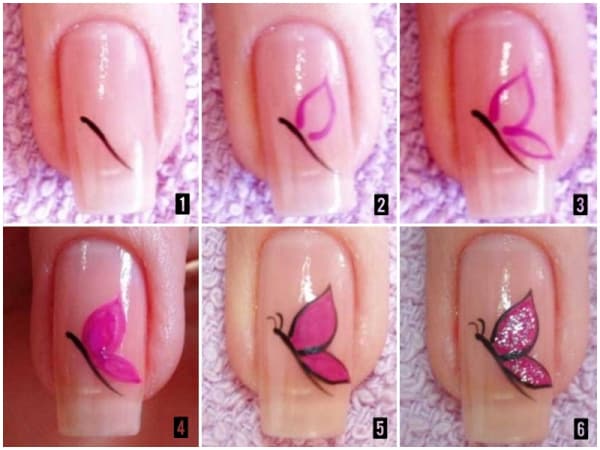 You can have these butterfly nail art done by following simple 6 steps. Use nude colors as the base then draw butterflies in deep pink colors. You can use glitters too.

This design is so gorgeous. You can use a simple net to paint the nails in seashell patterns. Follow the steps accordingly to get this design done. 
#41. Converse Nail Art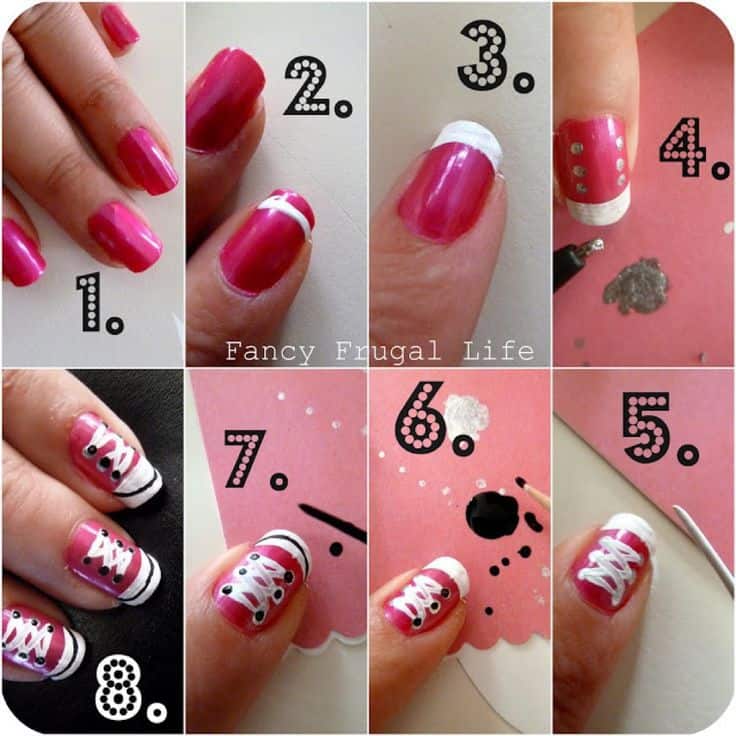 This nail design looks so cute and funky but the process is so simple. Select a base color then draw the converse on your nails with white color. Your baby girl will love this nail design.
#42. Tribal Patterns
The tribal pattern on nail has become popular lately. You may wonder about how these patterns are drawn! Here is the answer to all your queries.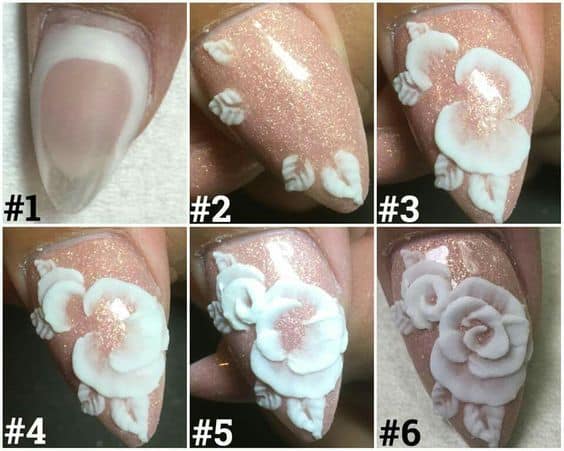 3D nail art looks so real that people get confused when they see them. Here is a tricky tutorial showing you how you can have 3D nail art. You can try this white flowery design as per the picture.
#44. Colorful Nail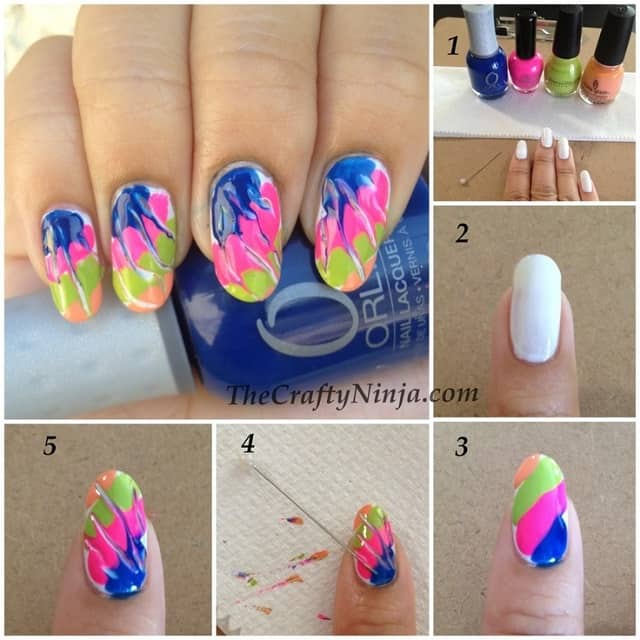 When you see this delicate design you may never think that the application process is so simple. These delightful color nails can be achieved by using a needle upon the thick nail polish. See the instructions given in the picture.
#45. Chevron Nail Art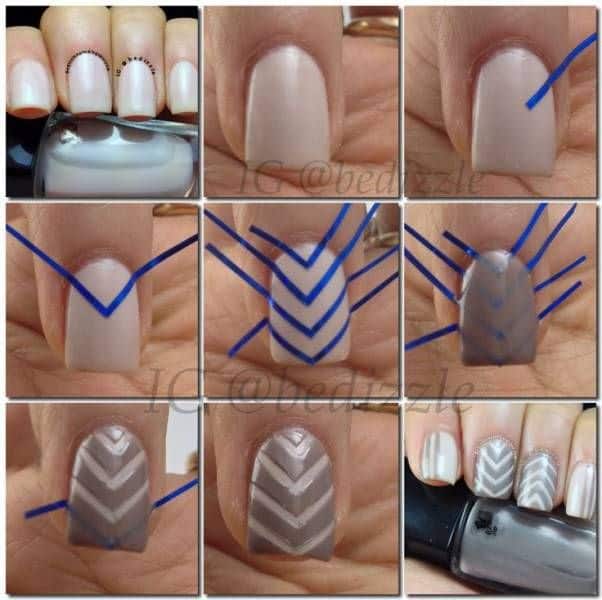 Chevron nail art can be done so easily by following these simple steps. Place these thin tape as per chevron shape is concerned on the base coat of the nails. Then apply nail polish on them, Remove the tape and your chevron nails are ready.
Ombre nails have always been on my bucket list. I waited to expose the application process of these nails in one of my articles. Here it is. You can use a piece of sponge to paint the color shades perfectly in the ombre style.
#47. Tape Nail Art
Using tape is a great secret in the nail art industry. I have unfolded the mystery in this article. You can use tapes to draw many excellent patterns for your nail art. Here a simple design has been shown so that you can understand the procedure.
#48. Water Marble Nails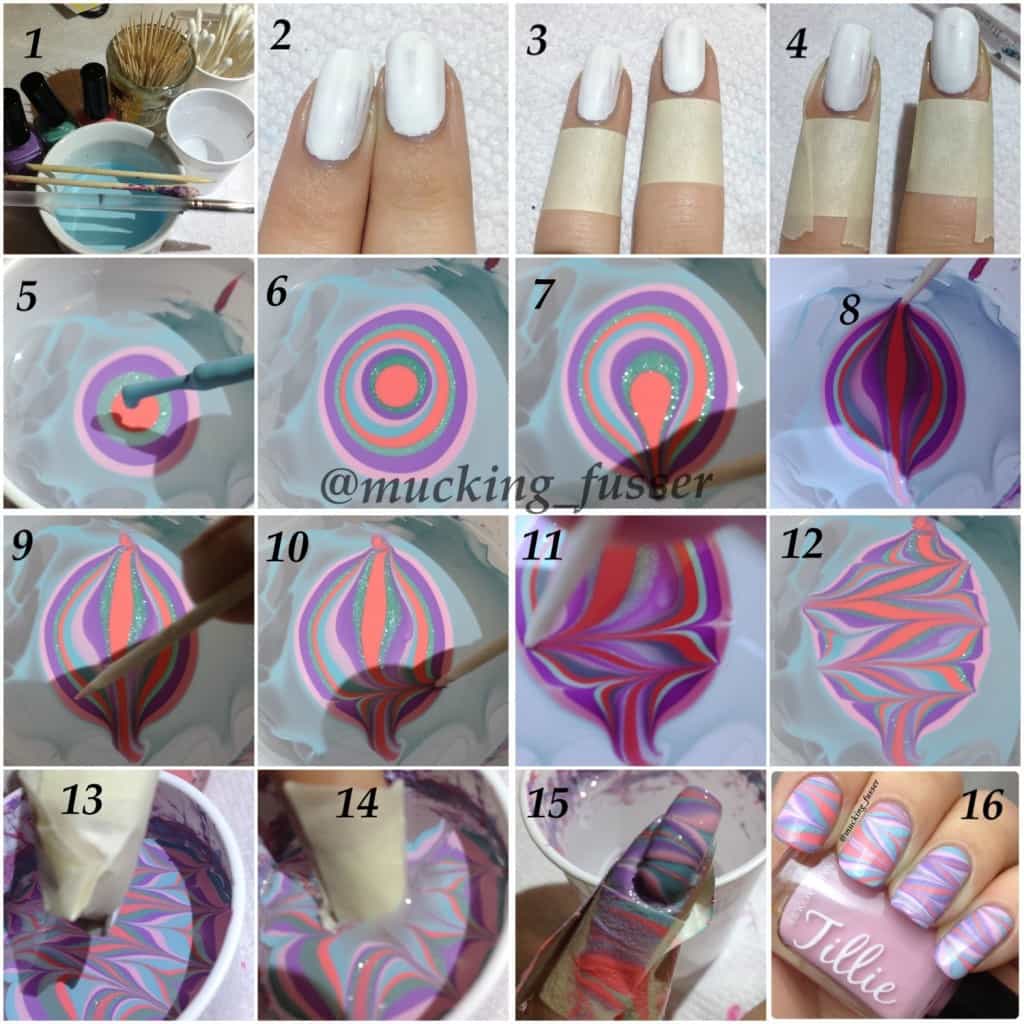 This special kind of designs, water marble nails have become the buzzword in the nail fashion world. These designs look so exotic but the process can be done at home. You don't have to use water in this nail art. There is another way of having marble nails without water. In that case, you have to draw the swirls yourself by using a toothpick.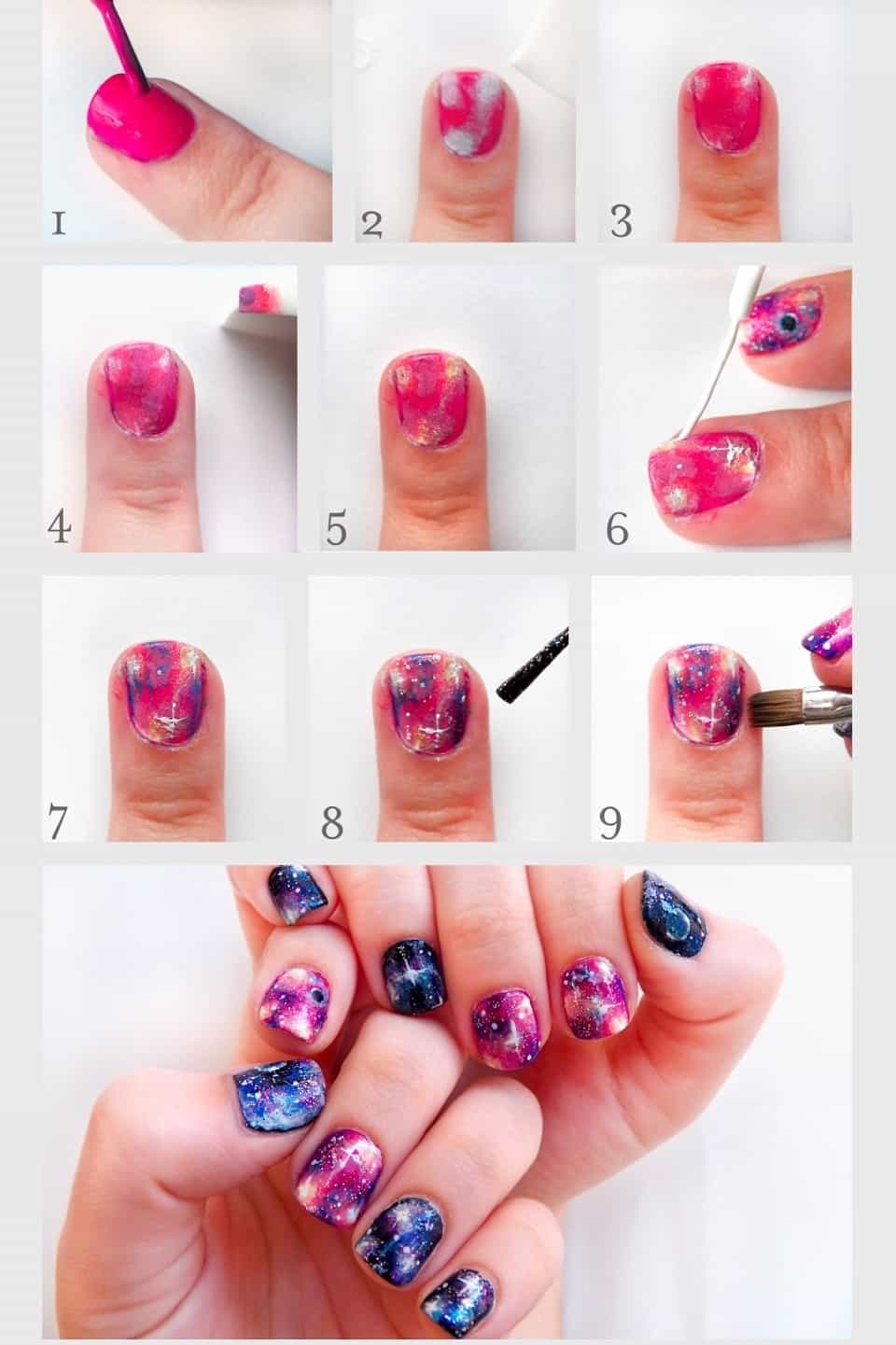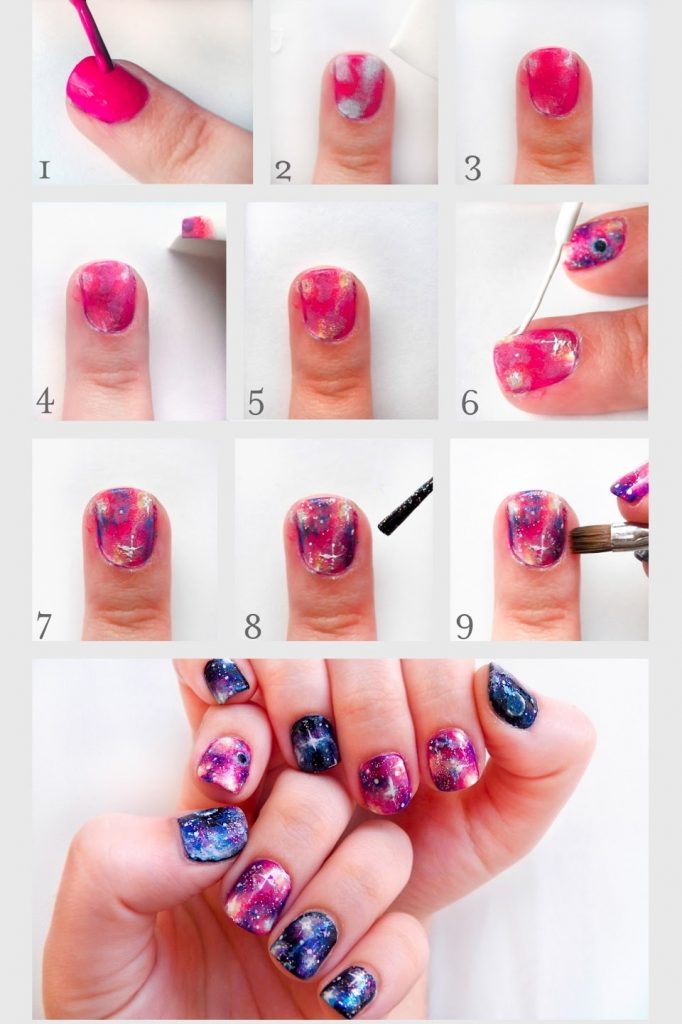 Get lost in the infinity of the space looking at Galaxy nails. Having these nails is a bit tough. You must be very patient while doing this nail art. Try not to mess the mixture color pigments and glitters.
#50. Christmas Nail Art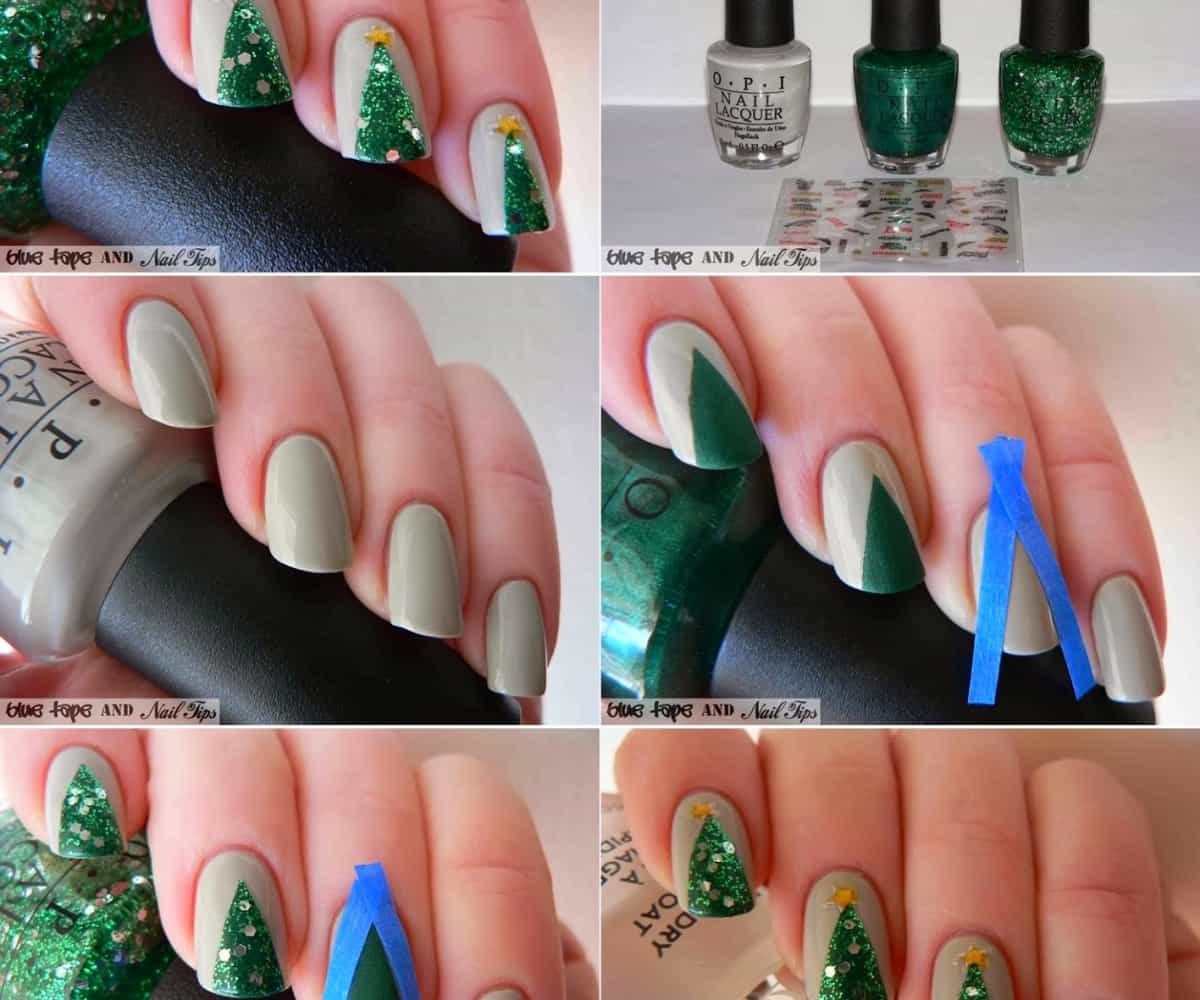 Christmas nail art is a hot cake now as the biggest religious festival of the Christians are ahead of us. So, it will be wise if you learn the art of designing Christmas nails. Here are the instructions to have the Christmas nail art done easily in simple steps. You can use glitters and green color for the Christmas tree and rhinestones to resemble the lighting.
Hottest Nail Designs for Trendy Women
The trendiest and best-looking nail designs have been listed in the list above. We can agree that they are all super pretty and beautiful, but it is up to you and your preferences to know which design to go for. But have no fear when choosing, and just remember that whichever you do choose to go with has previously been a trend at one point during this year.