Neon ombre nail designs are a manicure that will never pass unnoticed. Therefore, this is a great option for women who are bold, sassy and want to stand out on any occasion.
And a manicure is definitely something that will attract all the looks. So use neon colors that match each other, your personal style and outfit, and get ready to be admired with every step you take.
When building your ombre, you will need at least two colors to create that transition. If you want to add more and make it more like a rainbow, that is certainly going to flatter you and upscale your mani.
You can go see a nail tech or you can do an ombre at home, using a small sponge that you will dip in nail polish and dab on the nail until it has the intensity you crave for.
Best Neon Ombre Nails Designs
You are definitely in the right place if you want to find the most exquisite and outstanding models and ombre manicures. Yellow is probably the most common neon colors used for nails, and it can be also blended with other nuances.
Create floral, abstract or sunset lookalike styles and step up your manicure. Also, don't forget about the decorations singe 3D constructs, glitters, stickers and stamp designs can really improve the outcome.
Check you the examples below and turn your manicure into a piece of art!
1. Square Neon Ombre Nails
Extra long nails are mind blowing, and if you're using a neon lime green color, nobody will be able to resist admiring your manicure. Always use oil for the cuticle to smoothen and make the nail look flawless.
2. Pointy and Square Short Nails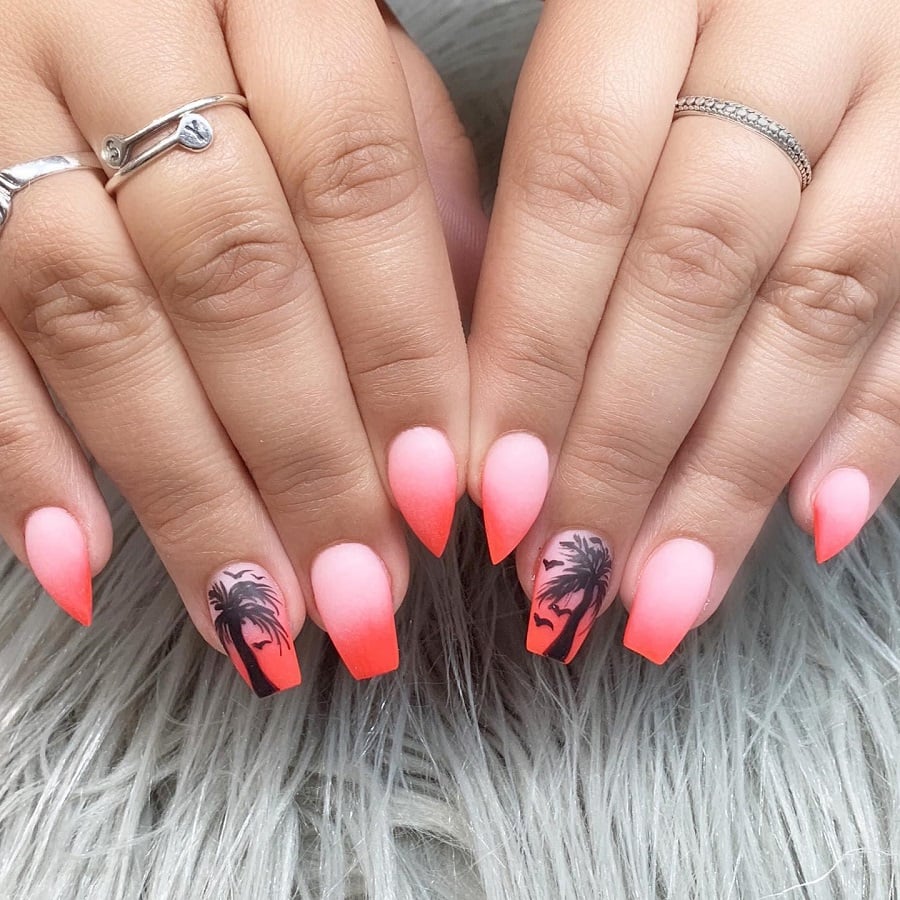 Combining shapes is a regular practice and a trend that everybody adores. Use the square shape for nails that will have paintings or more intricate designs.
Start with a pale pink nuance and get to a stunning pink red, just like a beach sunset tone.
3. Neon Yellow Nails
Nails must have a natural aspect, therefore you need to pay attention to the construction when building them. You want them straight, not crooked like that thumb.
Make them stand out even more by using a top coat with glitter and sequins for the index fingers.
4. Teal Green Ombre Nails
If you love a good ombre for your nails, than you need to add this design on your to do list.
Keep those nails long, in a square shape or build them with acrylic gel. Use eye-popping colors like teal and lime green. Reverse the ombre for each nail.
5. Indian Neon Ombre Nail Design
Indian henna hand and finger tattooed look their best if you're also sporting a great manicure.
For this ombre, you will need three colors to build that amazing gradient. Choose a fuchsia color to start from and end up with a vibrant yellow.  Decorate the area around the cuticle with a few small rhinestones.
6. Matte Almond Nails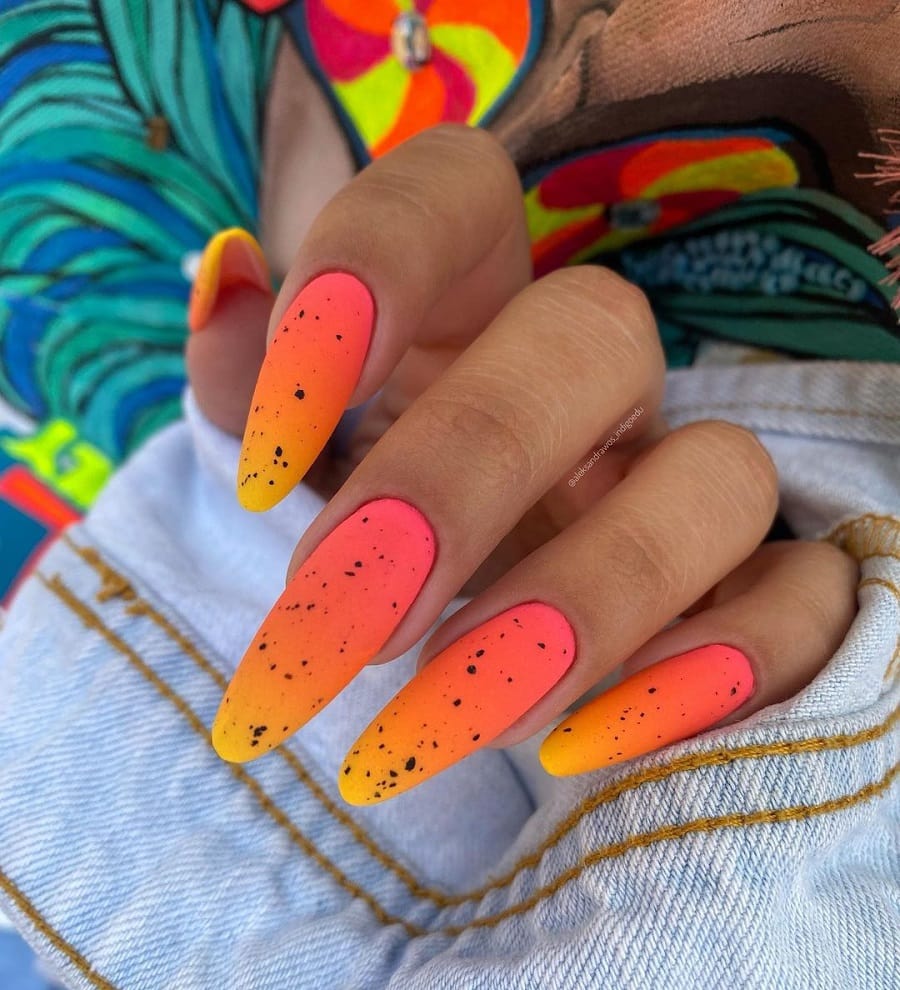 Neon ombre nail designs are absolutely gorgeous when the transition between the colors is this smooth.
Use a sponge to blend the colors and, one the polish is dried, sprinkle some black dots to build contrast and texture. Apply a matte finish.
7. Pale Ombre Nails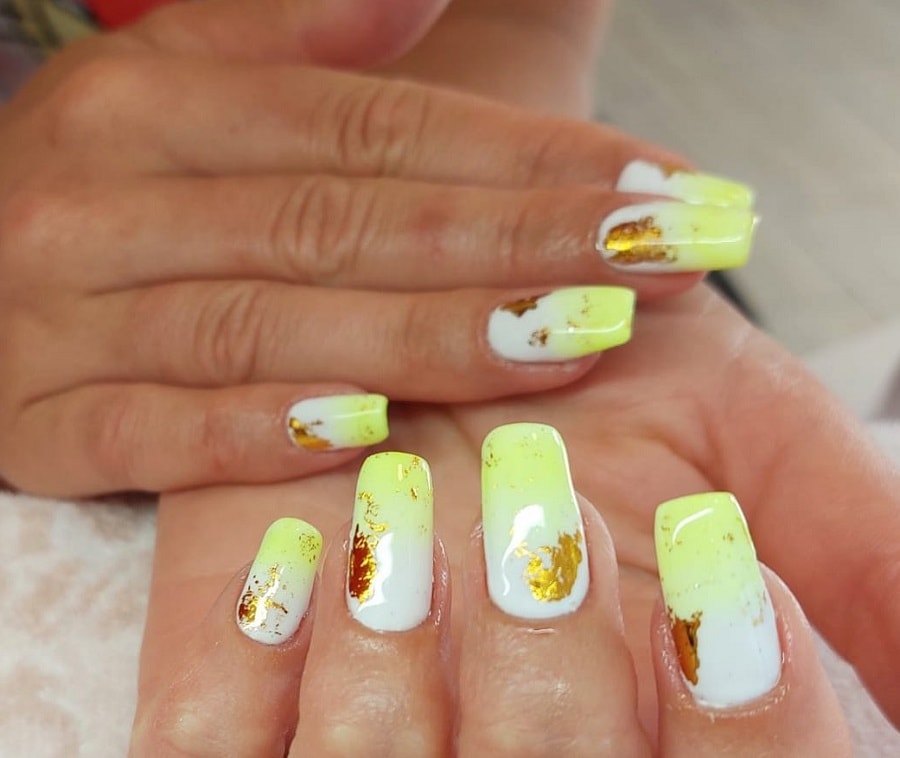 Square pale ombre nails are so easy to do. Go for a white base color and with a sponge dipped in yellow polish, dab the product on the tips.
Apply a top coat and golden foils for more glam.
8. Rhinestone Nails
These nails are not for everyone, but if you're feeling bold and what to stun with your manicure, this is probably the best combination.
Go for long coffin nails, a bright yellow ombre and decorate each nail with rhinestones.
9. Coffin Pink Ombre Nails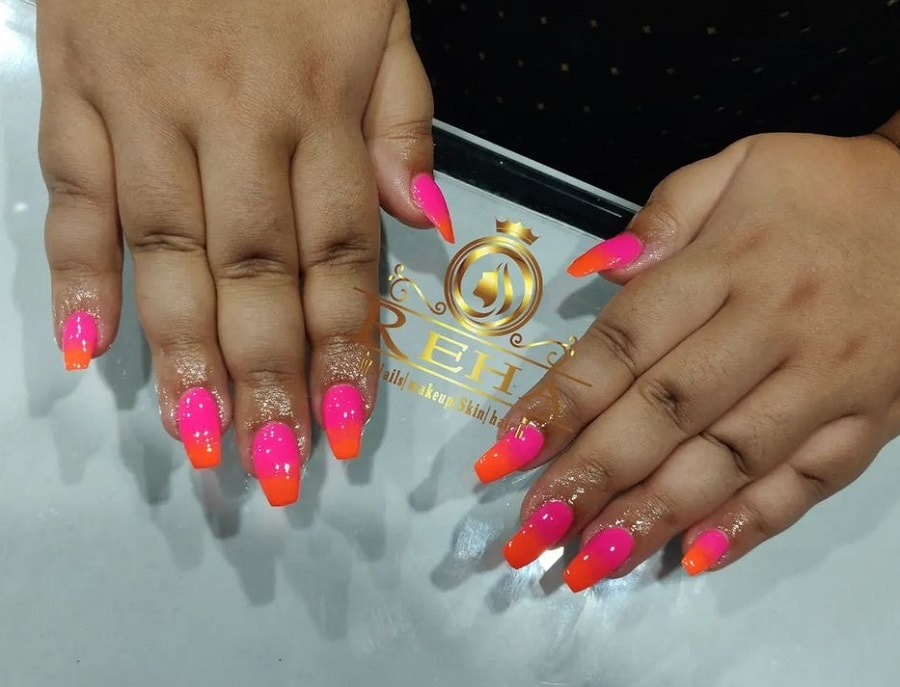 Orange and pink neon ombre nails are intense, vivid and will add value to your hand and outfit.
So get a coffin shape and mix these two colors. To get that particular shine, use a top coat.
10. Multicolored Ombre Nails
For this explosive manicure, you will not only use the ombre technique but also loads of vivid colors.
For each nail get a vivid distinctive nuance like green, purple, yellow, orange and pink. Choose a nude base that makes these colors look outstanding.
11. Floral Ombre Nail Design
Get a square shape with slightly rounded corners and do a breathtaking orange ombre.
For the ring finger, choose a different approach and paint the nails in a nude nuance. Draw a leaf in the same orange color and decorate it with golden foil.
12. Short Fuchsia Nails
Neon ombre nail designs with a glittery top coat are a fabulous choice for a woman who craves a mani that makes a fuss.
Go for a full color and for two of the nails, style an ombre with the same fuchsia color.
13. Sunset Matte Ombre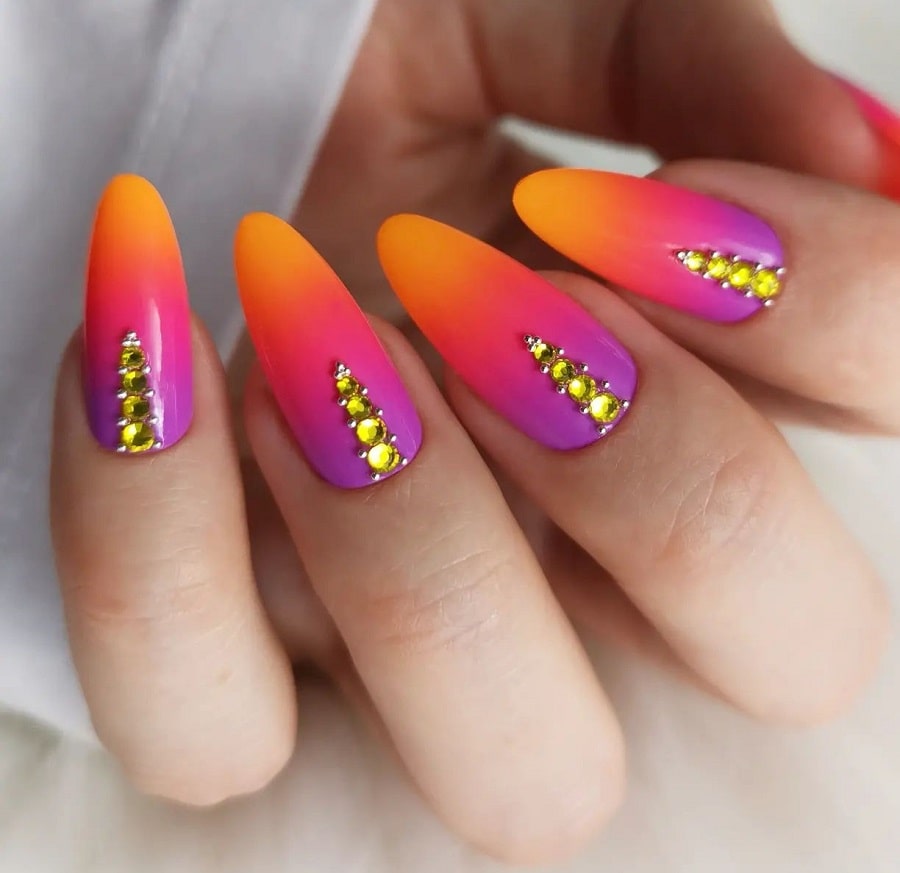 If you're going on vacation at the beach and want a manicure that matches the decor and views, replicate that stunning sunset you see each day from the beach.
Start with a purple polish that turns into a dark pink and eventually into an orange color. Decorate with golden pieces.
14. Spiral Nails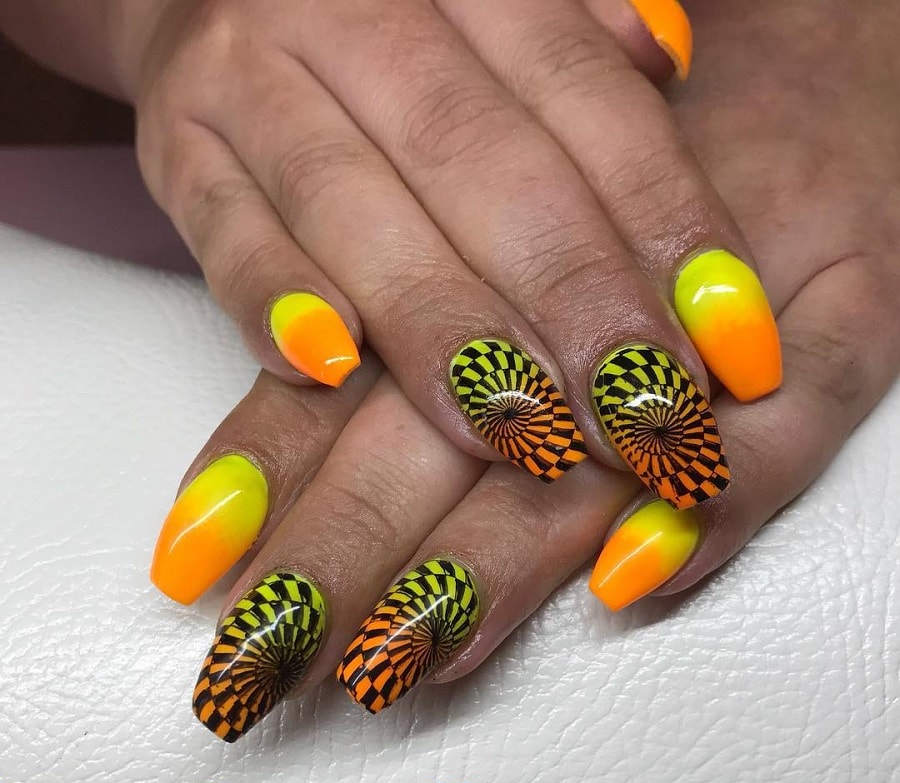 Even if this design might seem hard to recreate, worry no more because we have the best trick for you. You don't have to paint those spiraling stairs or patterns. Just use a stamp or a sticker on a yellow orange ombre.
15. Matte Pale Orange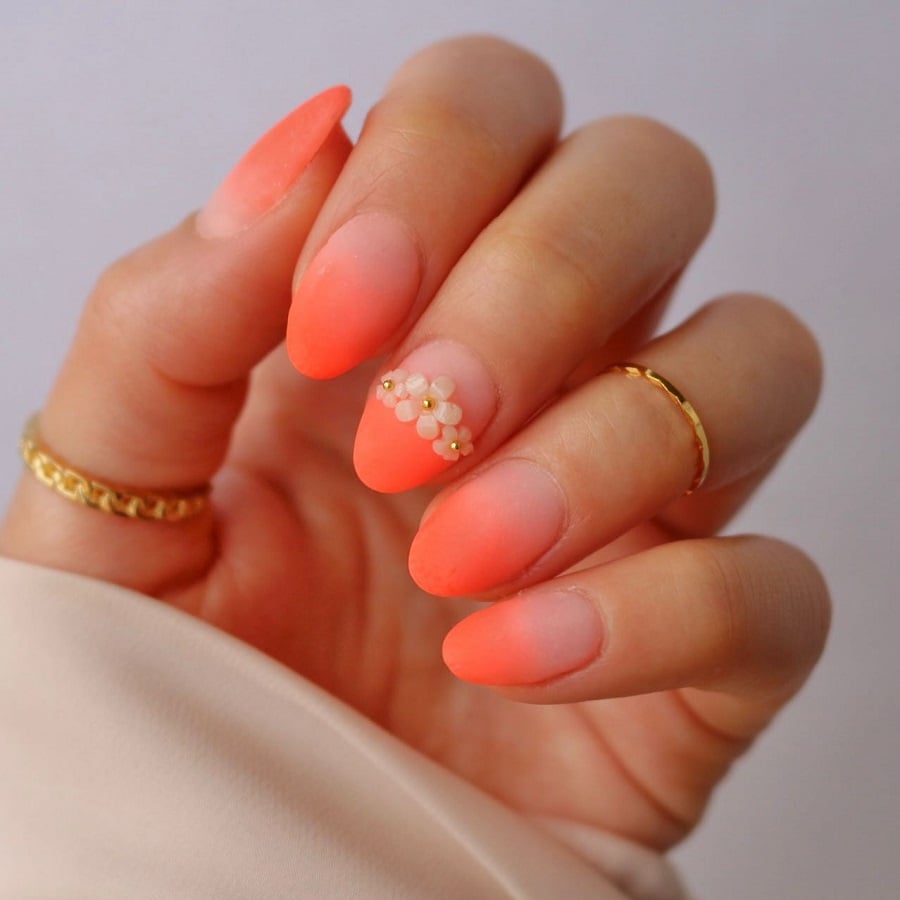 Matte short neon ombre nail designs are perfect for a romantic girl that wants a mani that works for most outfits.
Even if the color is so vibrant, those nails are delicate and glamorous. Create 3D flower constructs with acrylic gel to decorate the middle finger.
16. Leopard Nail Design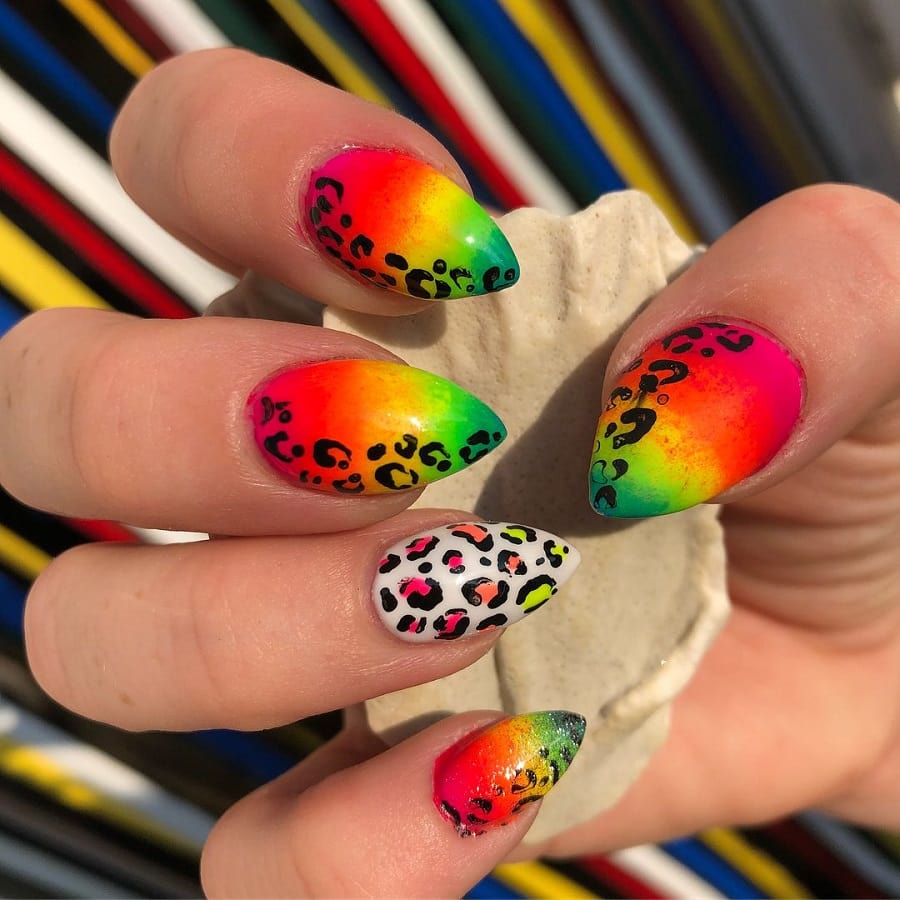 Leopard prints are never out of fashion so you should consider this design if you want a vivid outstanding manicure.
Do a multicolored ombre for most of your nails and, using a stamp, apply the print on one side of the nail. For the ring finger, switch the technique and do the print on a full white polish.
17. Square Nails with Stickers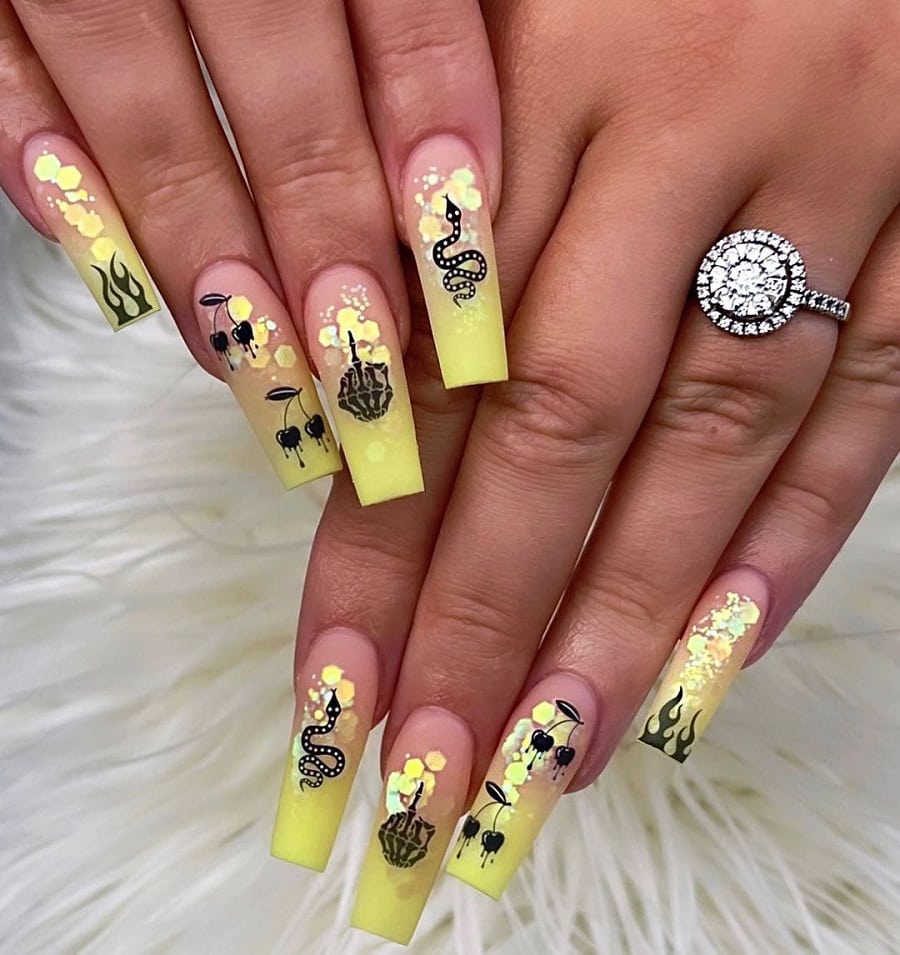 Using acrylic gel, build your square nails and get a matte yellow stunning ombre. On top of that, add some golden sparkles and sequins and fancy the nail with minimalist black stickers.
18. Short Square Ombre Nails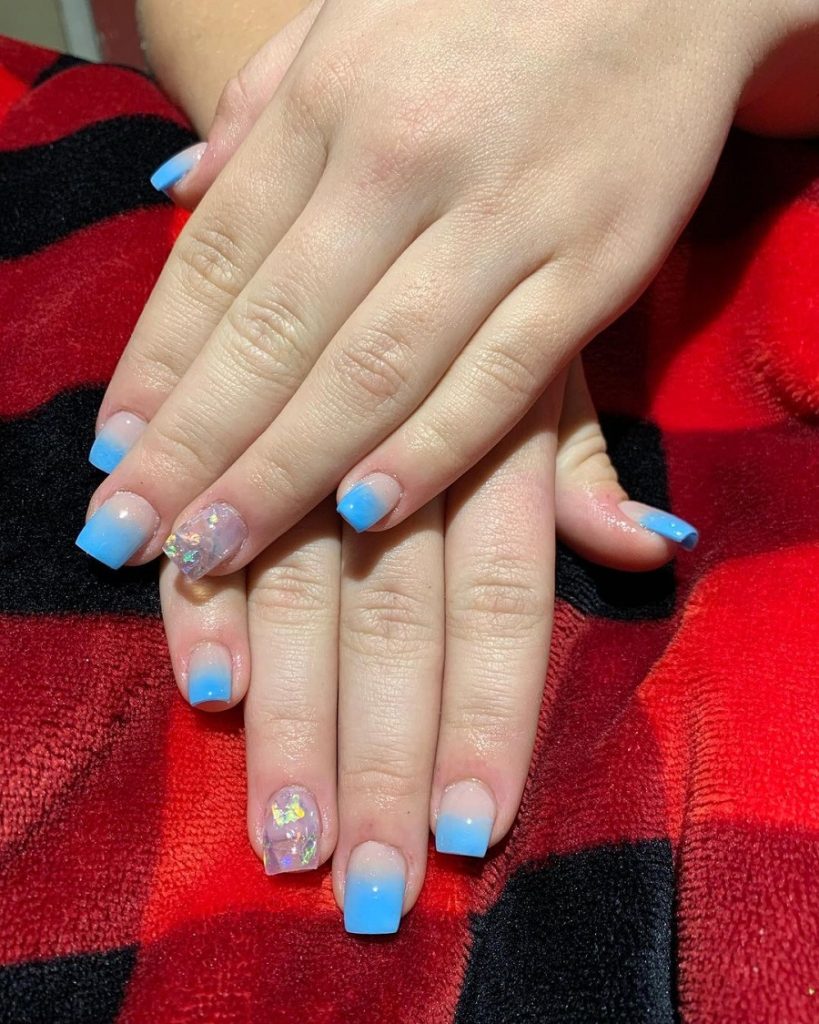 Neon ombre nails are flashy and amazing and can be pulled off even on short square nails. Spice things up by using a clear nail lacquer with sparkling pieces for the ring finger.
19. Multicolored Lines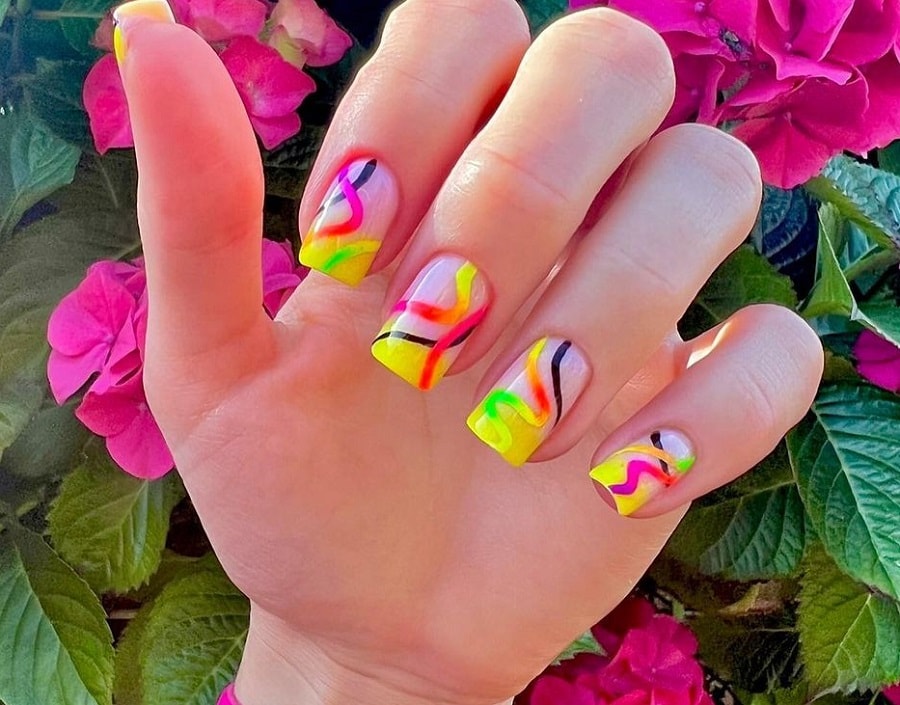 Multicolored lines give your nails a playful and joyful vibe and can be easily obtained. You can find these sorts of stickers online and you will easily apply them on your nails using tweezers.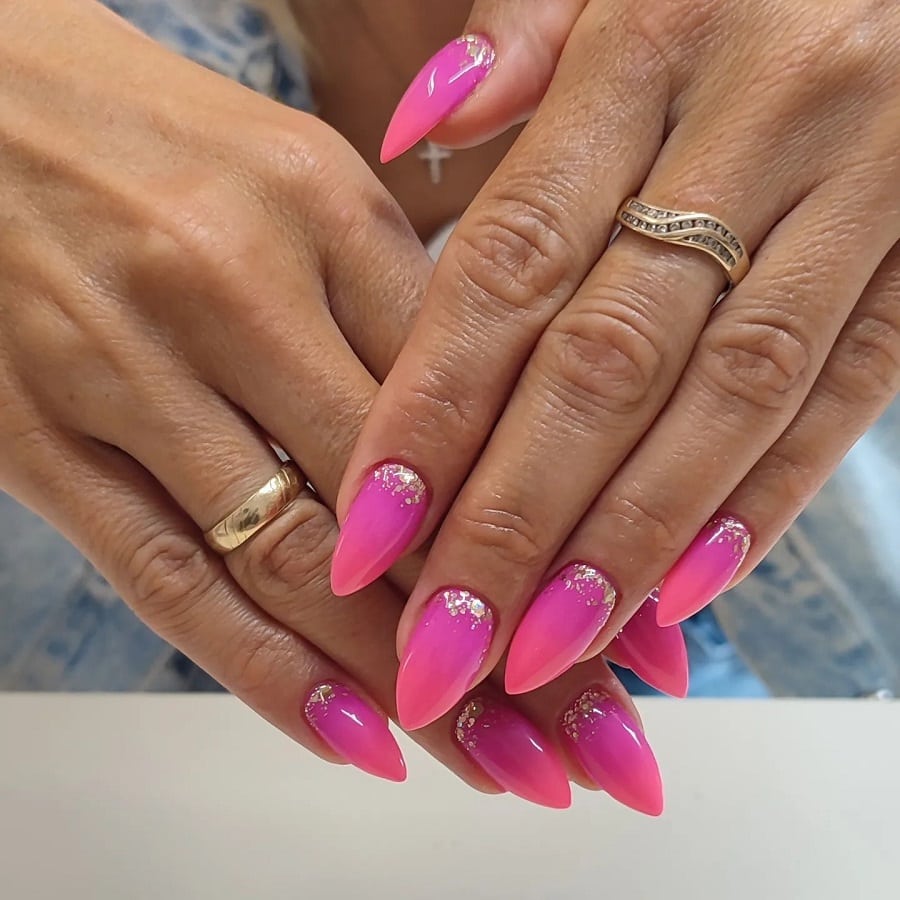 Once you add golden glitter and sequins, you can transform any manicure into a glamorous one. So choose a pointy shape and keep your nails short. Go for a smooth ombre that uses different shades of pink.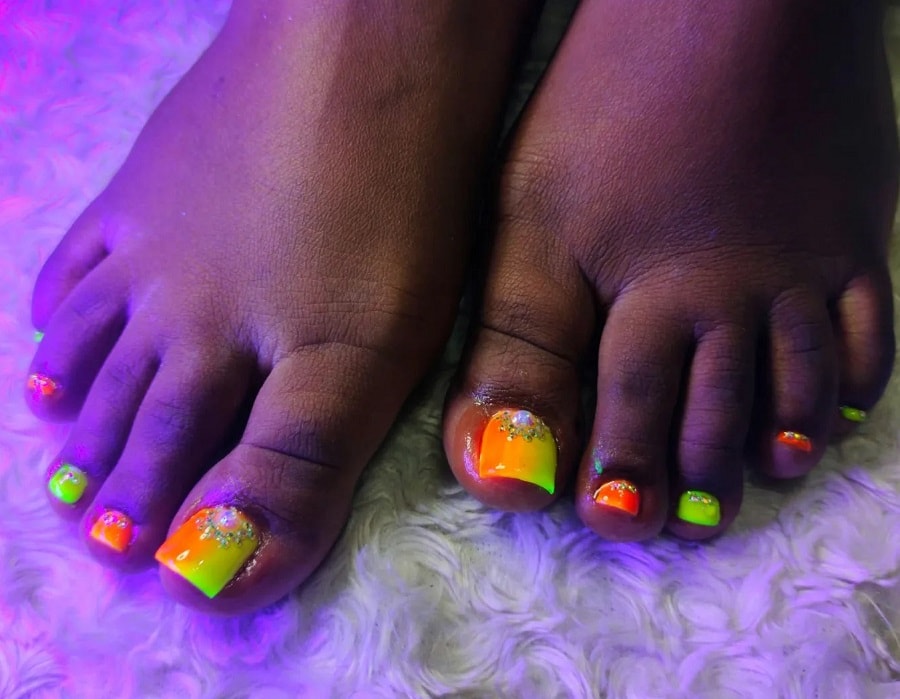 Your pedicure is as important as your mani, so don't ignore it! Get a square shape for your nails and instead of doing the ombre from the cuticle to the tip of the nails, create it from one side to another.
For the smaller nails, paint them differently, in full orange or yellow lime.
22. Pale Yellow Ombre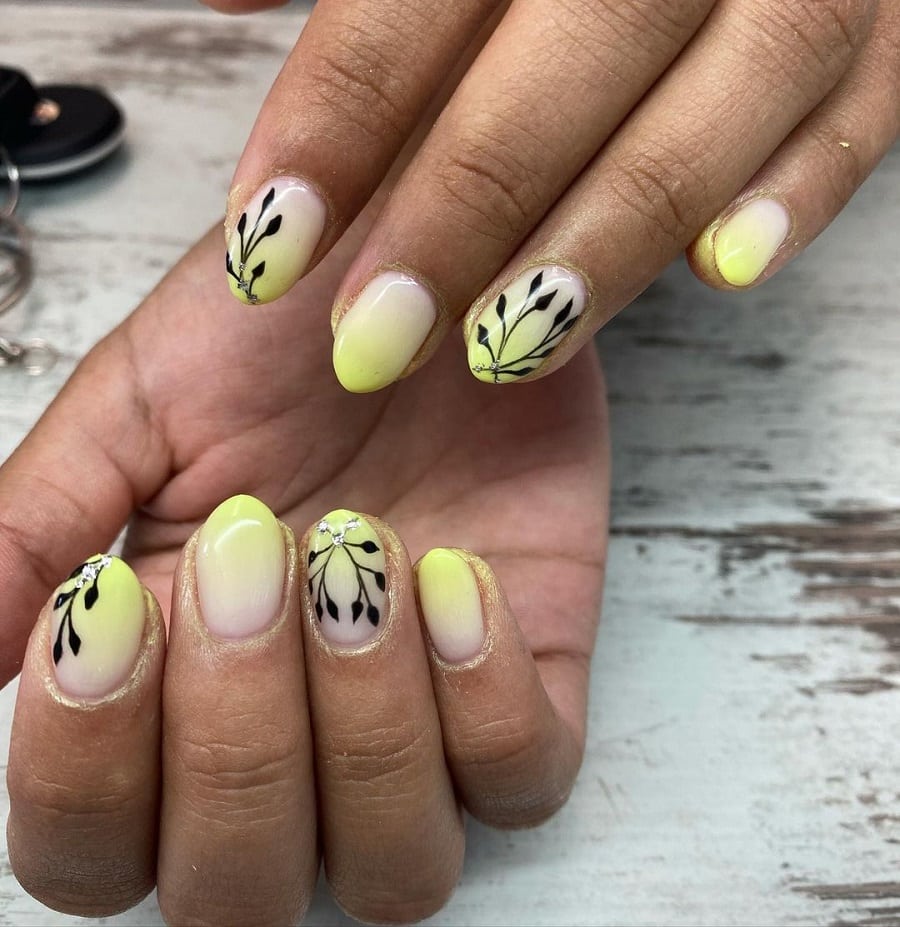 A pale yellow ombre looks stunning on dark skin. Go for a simple fade, an almond shape and short nails. Paint small tree branches or flowers with a liner and black paint. Apply delicate decorations for the tips.
Neon ombre nail designs are not going anywhere and if you love cool looks, then you need to try this style ASAP. Hope you loved the examples and tricks provided in this article, so let us know in the comment section which was your favorite.