You are a strong independent woman that loves to show this with any move you make? These red nails design will complete your look and will make you feel like the whole world is at your feet.
Mind-blowing Red Nail Designs You Can Try
Producing nail art that can make people change emotions is a rare skill that very few people can master.
The good news is – you can do it too with the below red nail designs!
#1. Red Coffin Nails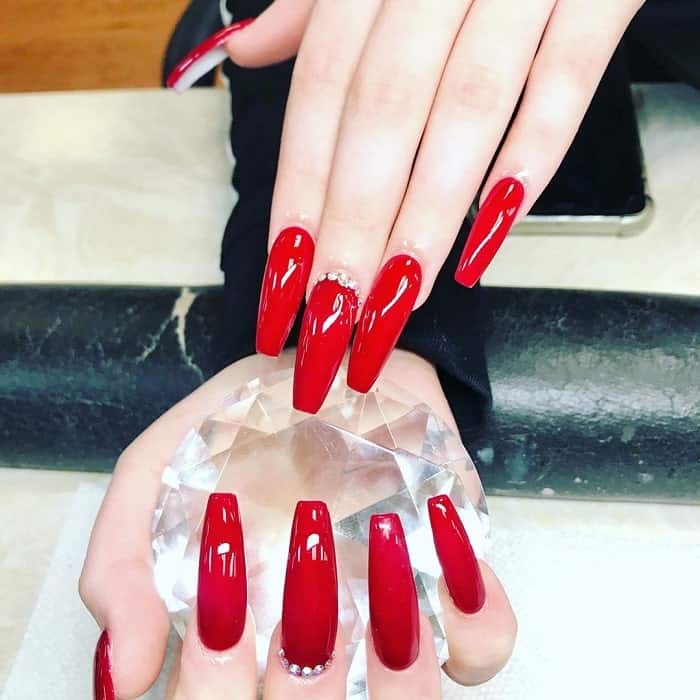 These ultra-long coffin nails will give that femme-fatale look that you love. They inspire power and boldness and look gorgeous with some tiny rhinestones.
#2. Dark Red Nails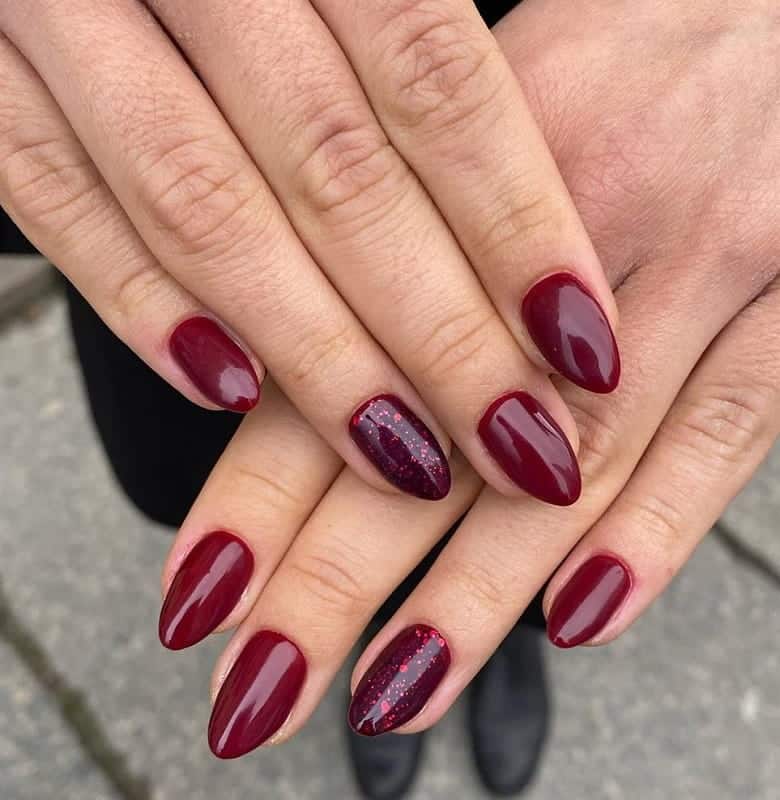 Dark red wine red color is pretty versatile because you won't have to worry about the outfit you are wearing. They look perfect with any dress, jumpsuit or jeans.
#3. Red + White + Blue Combo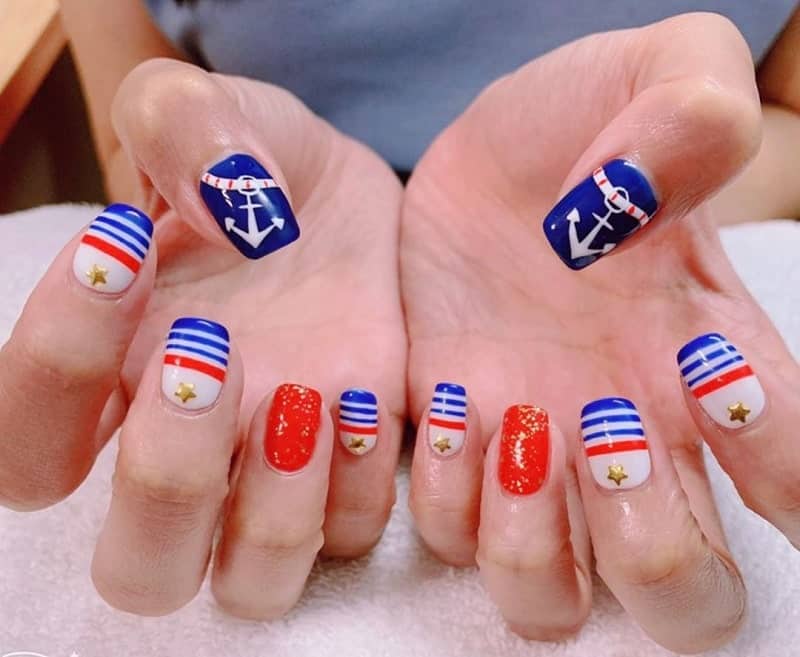 A navy short nail design mixes cobalt blue with electric red and white. Use some gold stars to complete the construction and add transparent nail polish to brighten the colors.
#4. Red Chrome Nails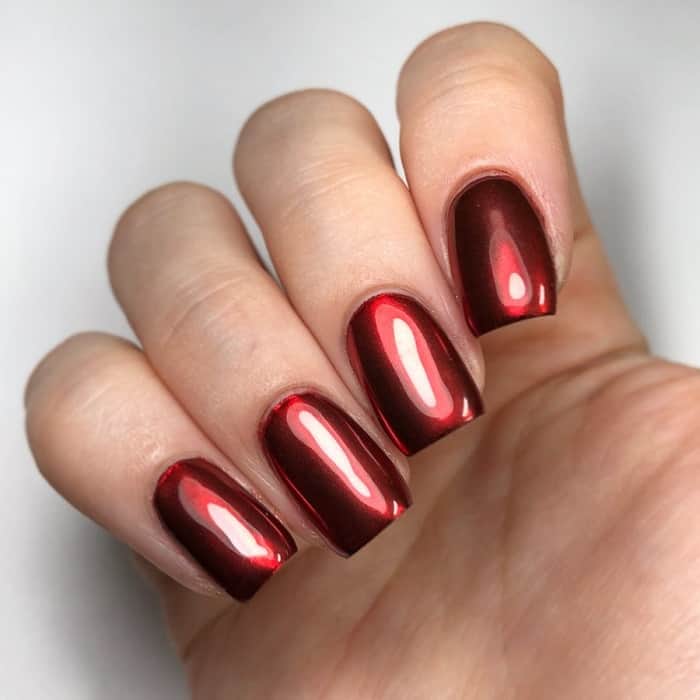 Dark chromed nails will rock your nail designs! If you want to easily obtain this look, use a normal polish and add chromed powder. Make it stick with transparent nail polish.
#5. Long Red Nail Design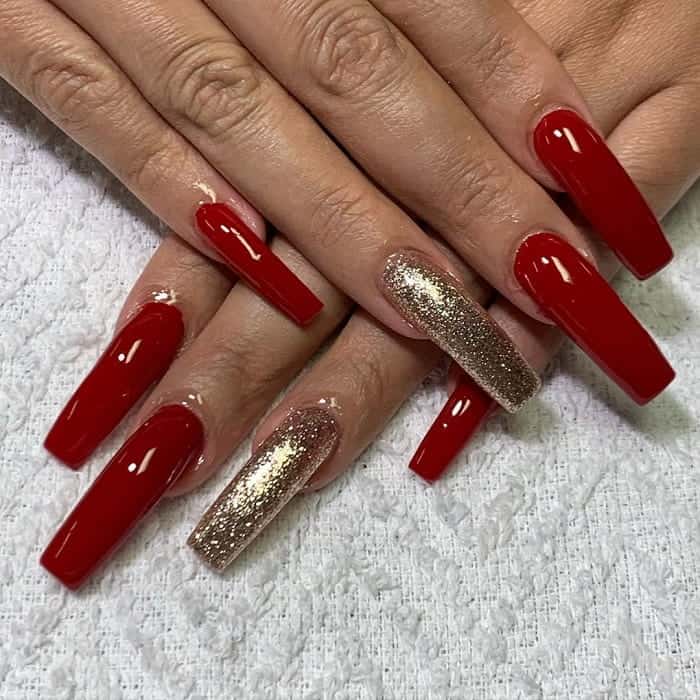 For these red long square nails, you need to make an acrylic gel construction. Even if they are hard to handle, your nails will last even for 2-3 weeks.
Use a gold glitter nail polish for one of your nails if you want this design to look stunning.
#6. Short Red Nail Art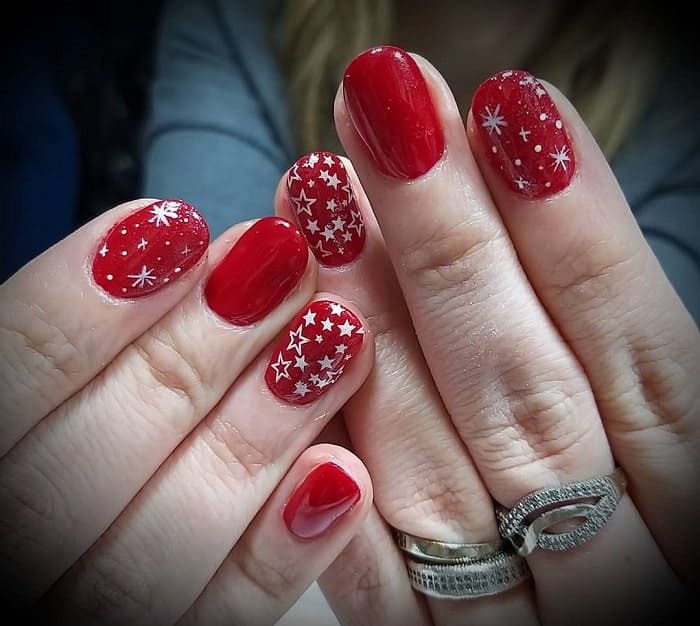 #7. Red Gel Nails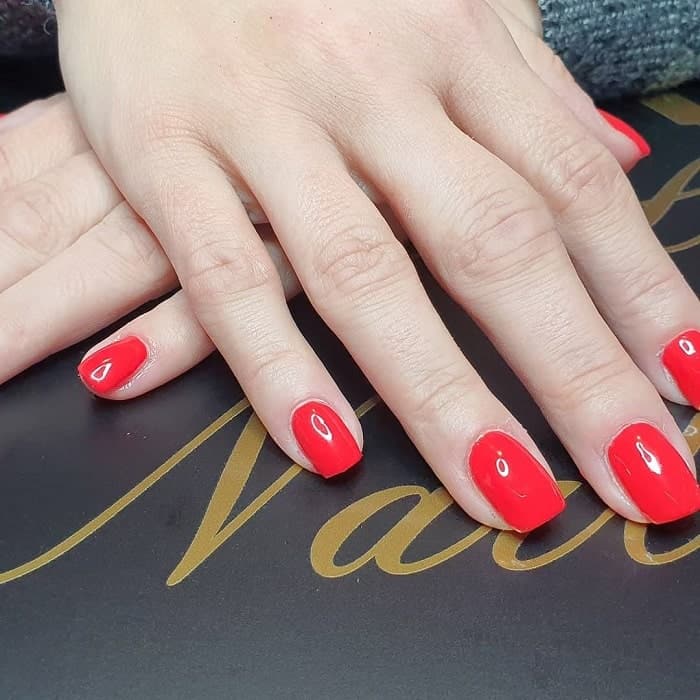 #8. Red Almond Nails
#9. Blood Red Nails
#10. Neon Red Nail Design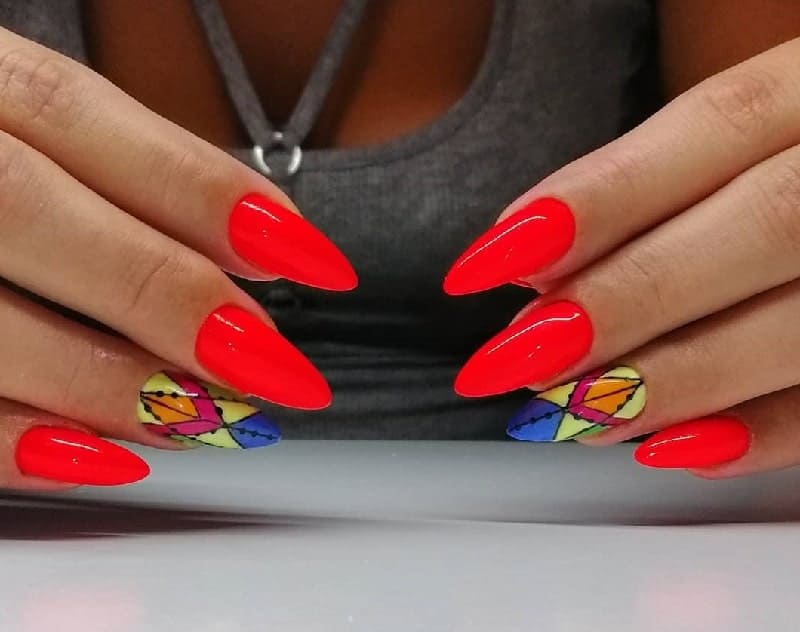 #11. Red Holographic Nails
#12. Red and Yellow Nails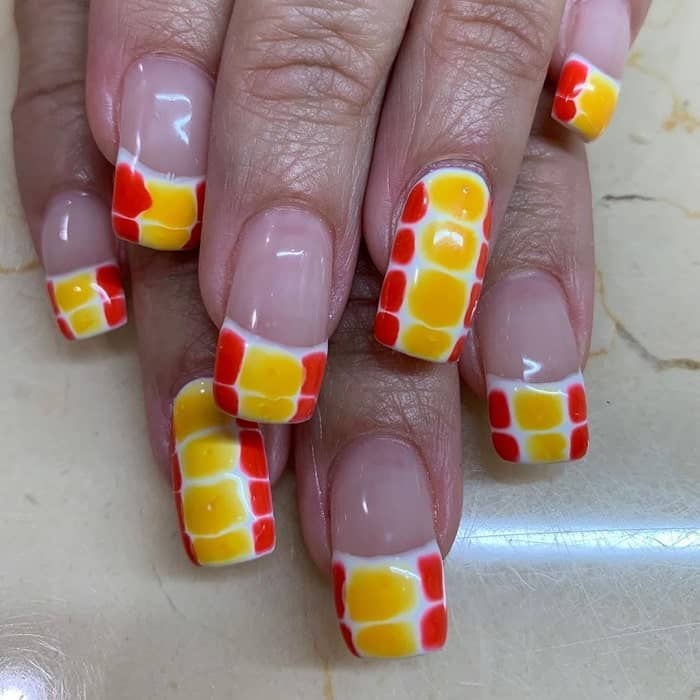 #13. Red Bandana Nails
#14. Red Square Nails
#15. Red and Green Nail Art
#16. Red and Purple Nails
#17. Red Cat Eye Nails
#18. Red Oval Nail Design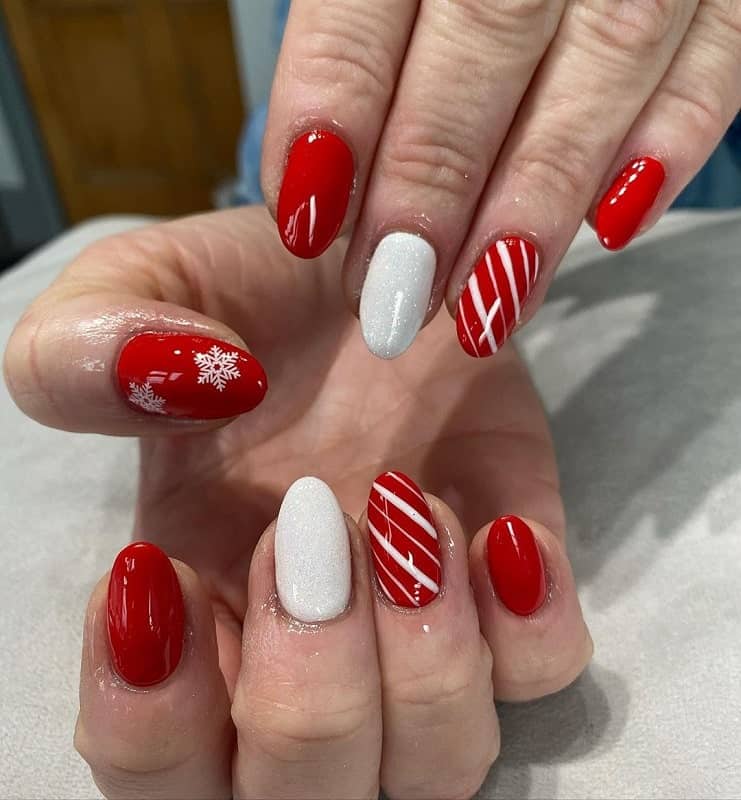 #19. Burgundy Red Nails
#20. Red Nails with Diamond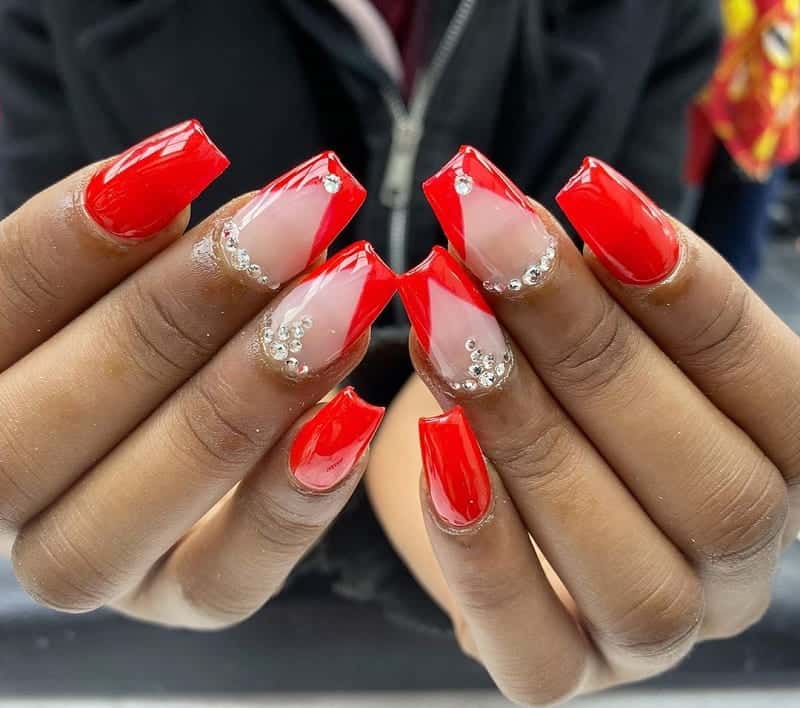 #21. Candy Red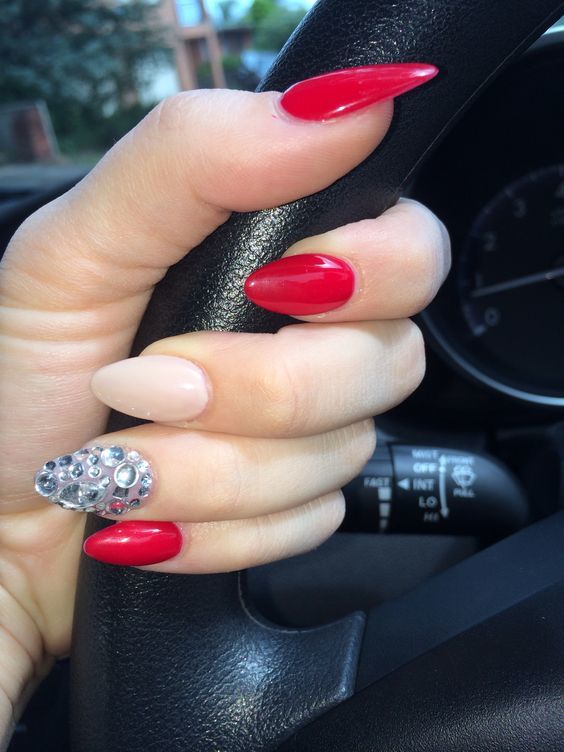 Candy is every child's best friend. It's the only source of happiness as a little child and therefore it would definitely bring good memories to the man who witnesses you.
Along with an accent nail overwhelmed with silver decals of various shapes and sizes that give him the impression that you are the right source of happiness for him as a grown-up.
#22. Red & Black French Tips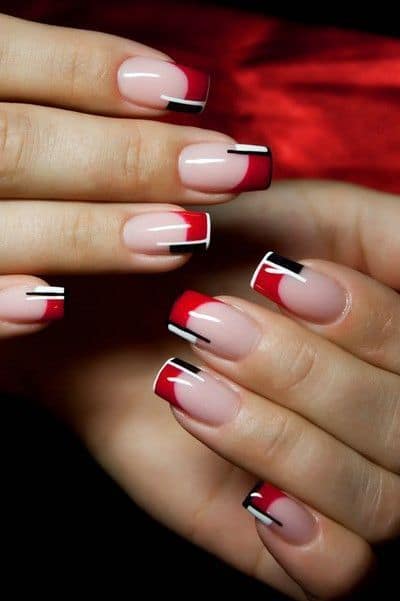 Black is the color of depression yet sophistication, when combined with red it turns the attractive button -ON- and you become the girl of the hour before you notice it!
Coolest Red & Black Nail Art Designs
#23. Blush Lush
Acrylic nails are fake ones you showcase as your new nails for the day. They come in every color and every shade but the blush shade of red is exceptional for it is guaranteed to make anyone blush from the first sight!
Ever heard of love from first sight? It's just a myth. Love from the first blush red is the true story!
#24. Gold & Red French Tips
Shine in the spotlight with this completely recognizable red nail design that you are able to notice from a mile away!
#25. Matte Red and Black Nail Art
Be fierce and sexy with this elegant yet not too serious style. It can give you the serious at work but an animal in bed impression! Check out some brilliant matte nail design ideas.
#26. Laced With Grace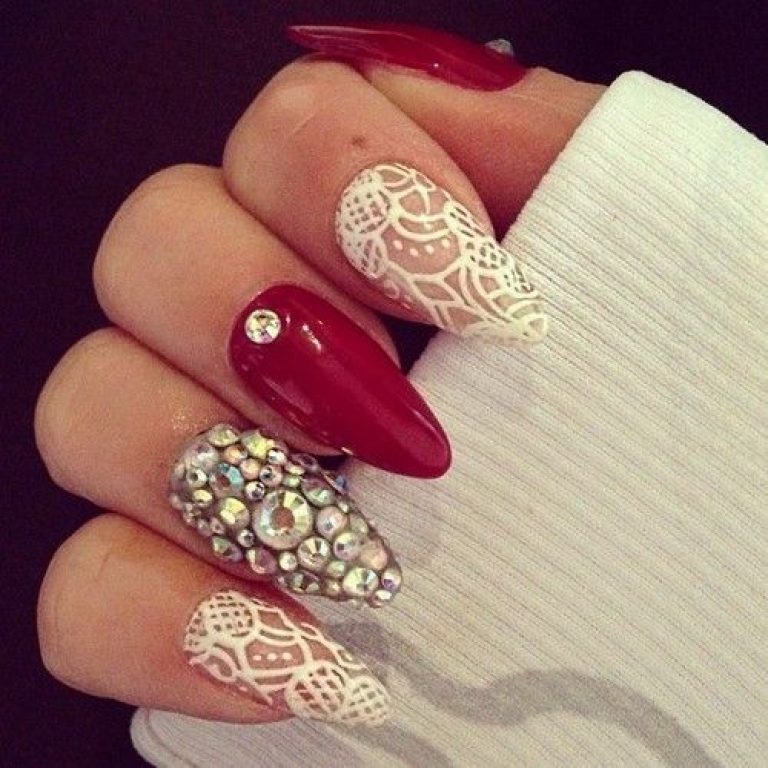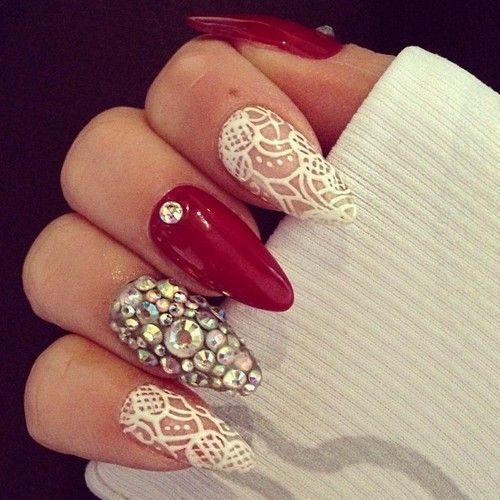 If you're looking for a picturesque design then you might have a soft spot for this one!
Check out the lace-themed nails intervening between the red stiletto nails to make them more provocative. Assign an accent nail to hold all those silver decals you're so excited to try on!
#27. Ruby Red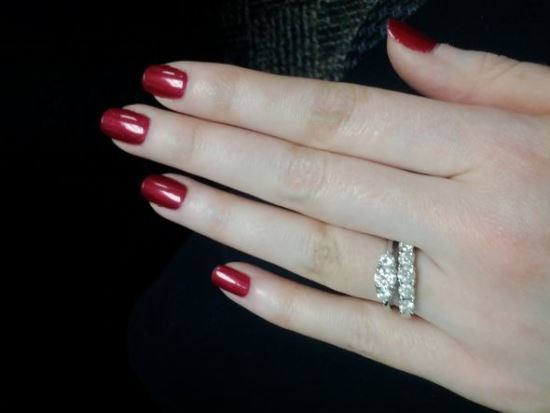 Rubies are another type of jewelry that leaves every girl satisfied with a smile plastered on her face.
When applied like nail polish they no longer satisfy girls alone, now even the male gender is no longer strong enough to resist its appeal!
#28. Shimmer In Glitter
This one is great for parties with a keg stand and celebrations that your friend finally got asked out by her all time crush.
The glitter only sets up the mood for the party mood and everything just flows with ease from that point. It works for short nails as well.
#29. Zebra Nails
Flaming red is hot enough for everyone to glance away from whatever they are doing and have their eyes fixed on you.
However, animal prints always make it impossible for any guy to resist your sexy appeal especially if it's the mighty black and white zebra taking over the territory of your accent nail.
#30. Pinkish Red With Beige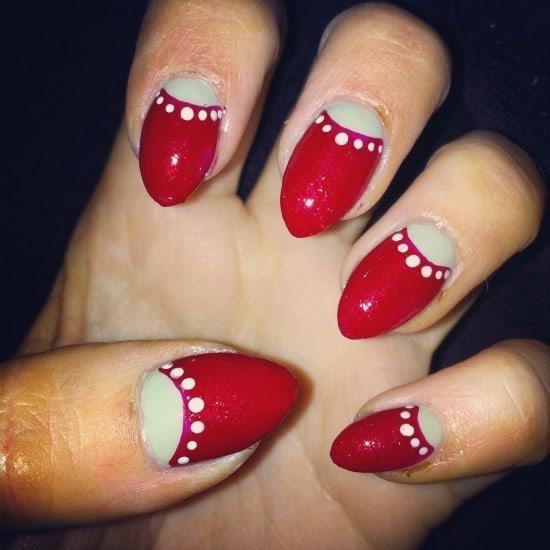 Using only one color can make your nails plain and not so interesting, even if it was the ruthless red color.
Be sure to always add the color that would make it more interesting yet not strong enough to draw away attention from the basic color you want to shed light on.
Some recessive colors can be beige, white, light yellow …
#31. Flaming Red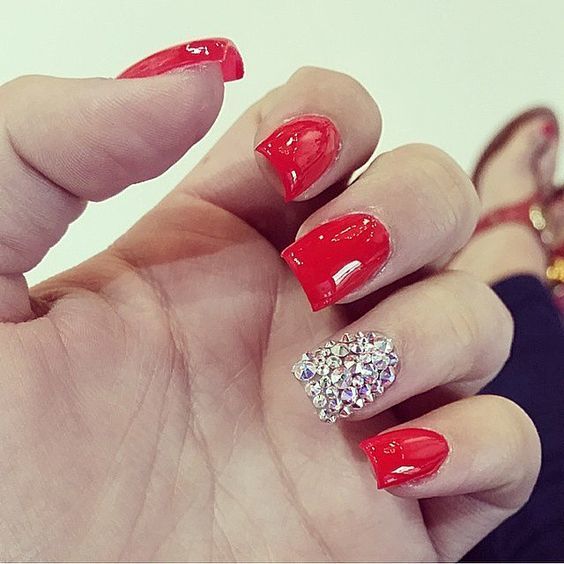 If you're mad at someone and you would like nothing more than to fan their flames and make them even madder and jealous then this style is made for you!
All the studs on the accent nail convey more of your madness.
#32. Glitter Varnish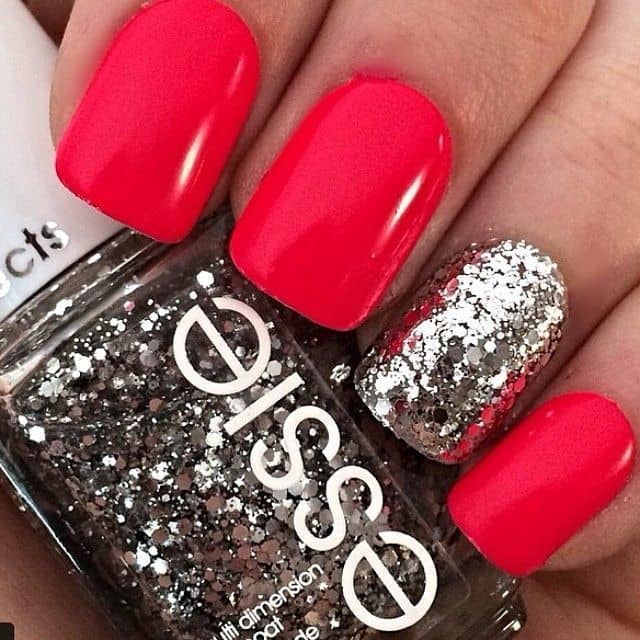 Say goodbye to being tired of not being noticed and hello to all the popular attention you can get with this easy yet glamorous design!
Gorgeous Black & White Nail Designs
#33. Glitter Tips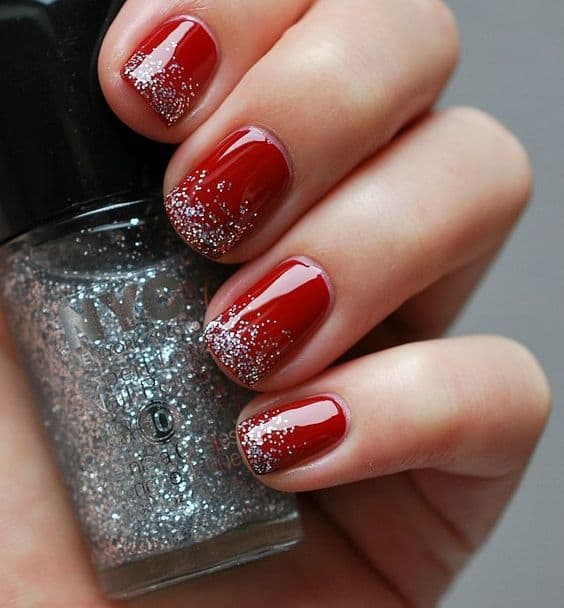 The nice thing about these nails is that they don't need extra effort and that they aren't overboard for a casual day out yet they aren't under-estimated for a formal one either!
#34. Halloween Spirit
Celebrate Halloween with this "Snow White" inspired nail art. It is that same skull from when Snow white's evil queen dips the apple in the toxic potion and all the evil effect is revealed!
Get spooky. Get real. Red is not only the color of passion for love, but it is also the passion for everything you care about and if Halloween is just another favorite day of the year of yours then you don't need to think twice about it!
#35. Rose Red For Busy Bees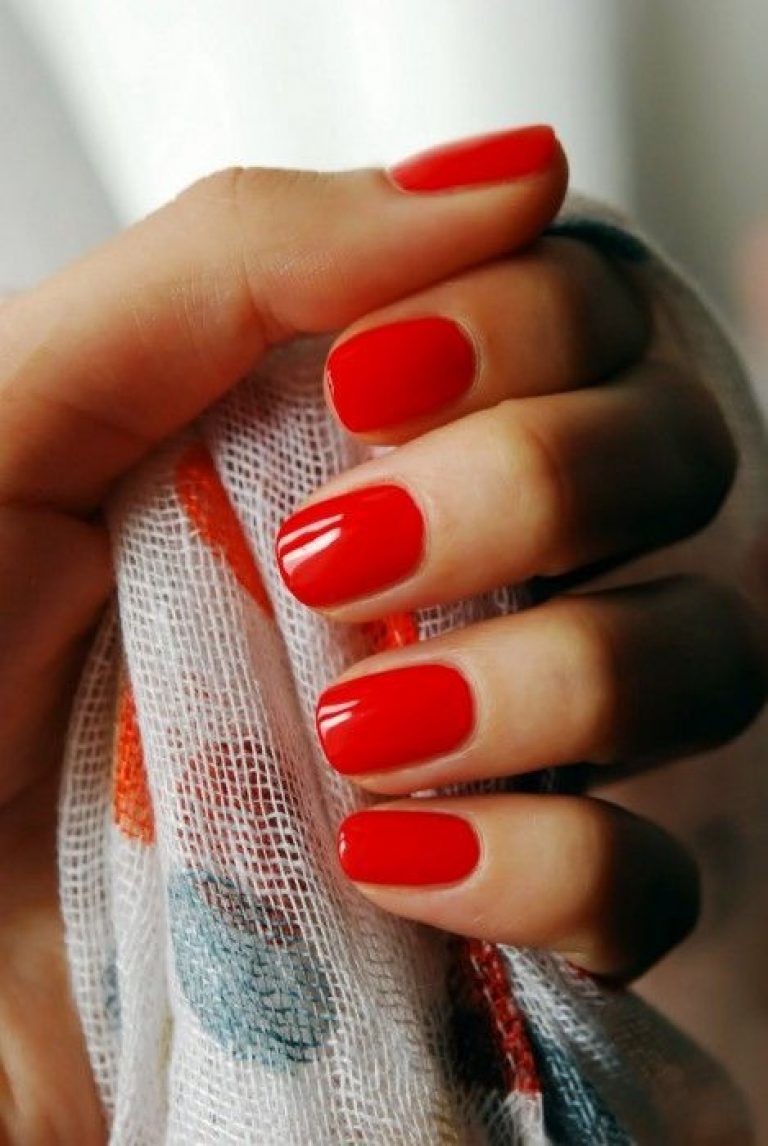 It is not easy for any working woman in the 21st century to look both glamorous and fabulous while working her nails off to shine as a serious colleague at the company worthy of authority and more power! That's why plain red nails are simple and so easy to apply.
While you can leave all the work for the red hue to work its magic and make you look as attractive as ever, you can have all the time you need to catch up with important tasks at work without losing your beautiful appeal!
#36. Crimson Red
This is a design great to wear on a date and doesn't need too much work. It is perfect for valentine's day and any other romantic occasion.
#37. White Linings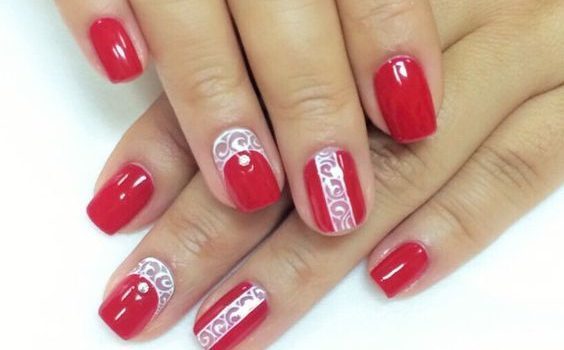 There's always something that highlights your day and brightens it up. Well, for red nails that would be the white color being the shining armor waiting down there to save the day.
It not only saves you from trouble but also makes your time worthwhile (if you know what I mean).
#38. Lipstick Red With Thin Silver Tips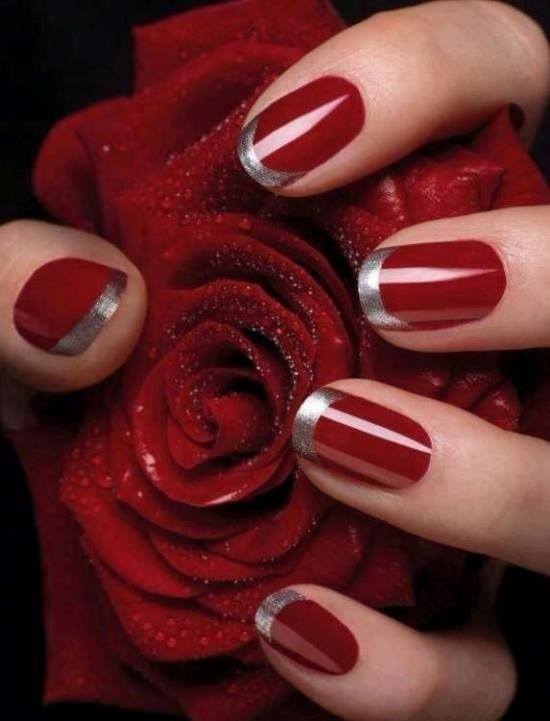 Silver tips not only shine in the moonlight but also make a great companion to the red nail polish at the opposing end of each nail. It looks sweet and uniquely chic!
Wanna Try Black Nail Designs? Check These
#39. Japanese Floral Theme
Cherry blossoms have always been more than appreciated by the Japanese culture.
They symbolize peace and that's what every guy would want to be sure he would get before he can make her any serious promises.
Scribble those floral ideas to life ob your nail beds and give that impression everybody longs for!
#40. Love Shack Baby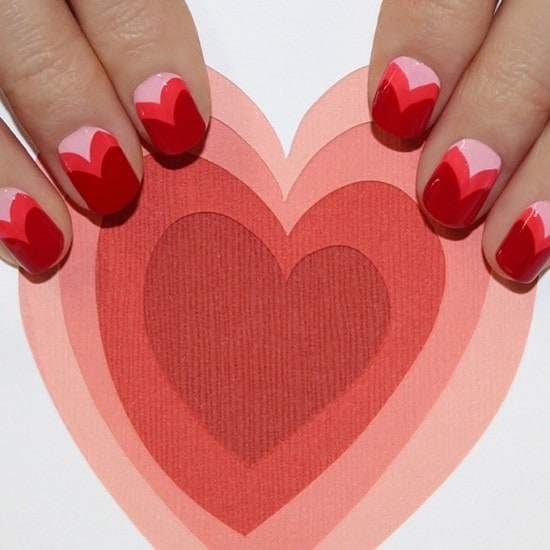 When you see the red color, the first thought that invades your mind (especially if you're a hopeless romantic) is that it's the color of love and compassion.
It's the color that gives everyone the warm and fuzzies and maybe that's why it's the color made for valentine's day.
Make that nail art with love while you take advantage of the heart shape to employ different shades of red on one nail.
#41. Fake Nails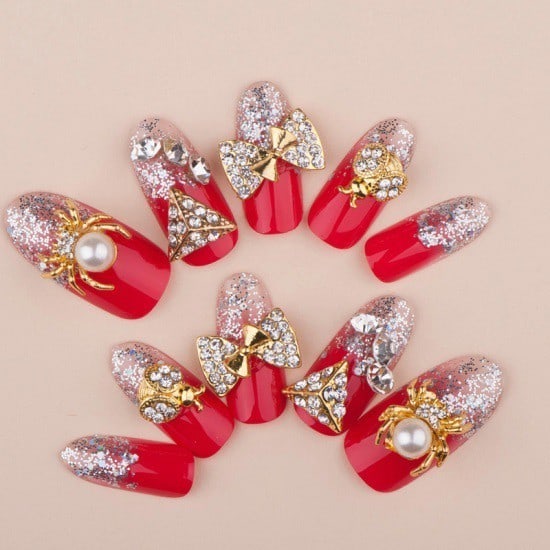 Fake acrylic nails are something you might want to put in mind whenever you want to go to a wedding or a highly extravagant social event but you don't have the time to be ready for and everybody knows that celebratory nails don't come easy nor fast!
#42. Yours Truly, Red Nails
Wedding vows are the most important part of your wedding day and as sincere as they might sound, they might not feel as compassionate as when they are made.
While you hold out your hand for your special someone to finally put a ring on that finger without a red nail design to make him 100% sure you're the one he wants the rest of his life with.
#43. Love Is In The Air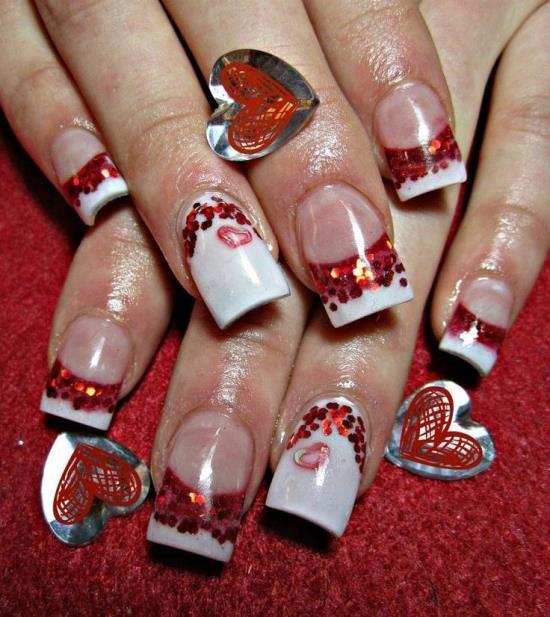 When you can feel butterflies in your stomach the first thing after you spot someone that's not just your stomach telling you they want more of that cookie you were eating at breakfast.
It's definitely because you're falling hard for that special someone and you'll gonna have to drop them a hint to make them sure before they have the courage to ask you out, and what better way to do it rather than a lovely red nail style filled with all the hearts details you can find!
#44. Stiletto Red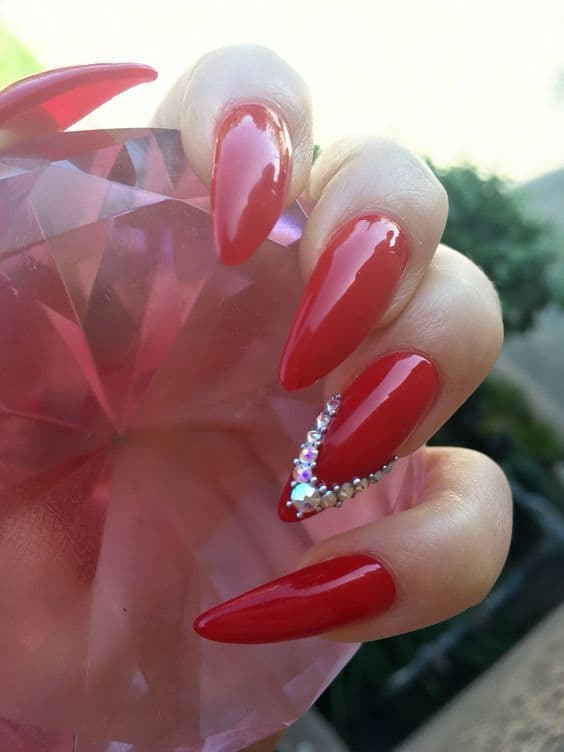 Wanna look sharp yet not too crazy? Try out this style and don't be afraid to spice up the accent nail with silver decals to make it pop!
#45. Stripped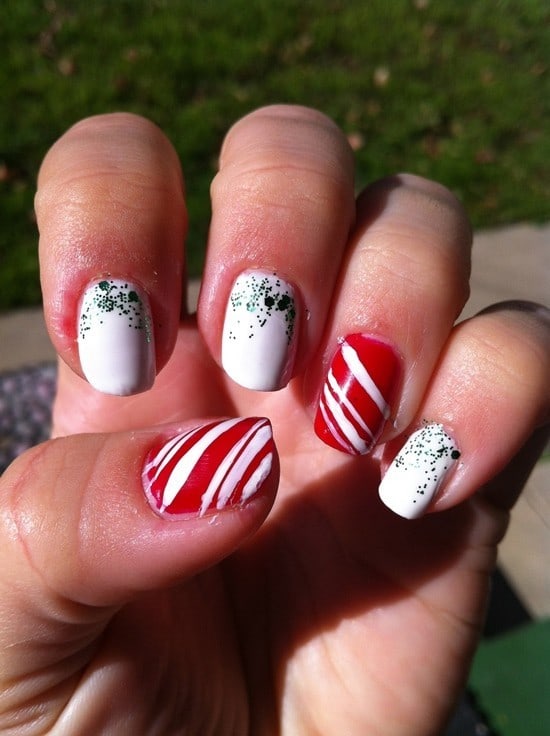 Stripes are a classic way to decorate nails. But when it is white stripes on a red nail coat it is, for sure, irresistible.
Avoid repetition and paint the others with a recessive color like mentioned before.
#46. Everything Is Red
You can just go all red and all red only with this red nail design. French tips in red, red glitter, red base coat, and red decals if you want to accessorize!
#47. Vermillion Stiletto Red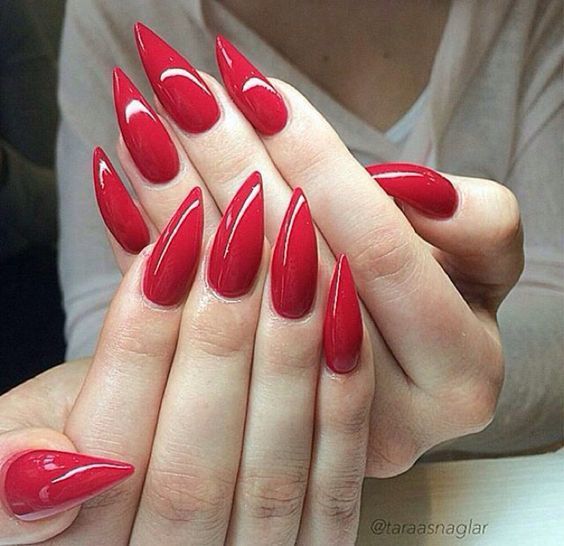 If you really love tall nails and would want to look them more fabulous and glamorous than ever then you might want to think about the red stiletto style shown above that goes with every occasion 365 days a year and 30 days a month!
#48. Not Too Orange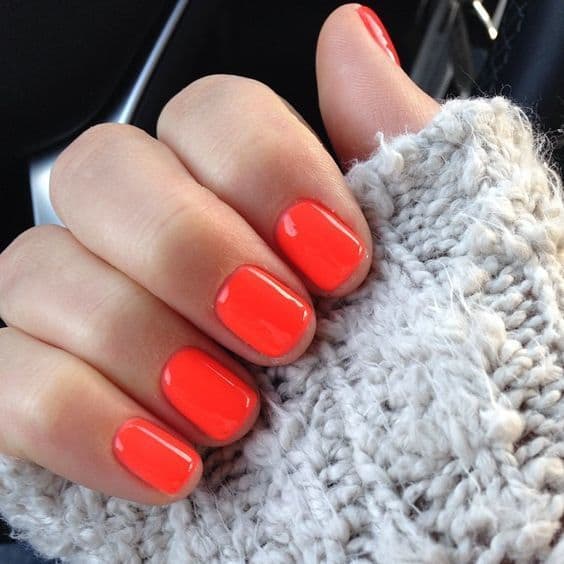 If you've already tried every shade of red in the book but you still don't want to move far away from that insidious color, then you can push it to the limit with this orange-like shade of red that is not popular enough to be worn by anybody else.
#49. The Chevron Effect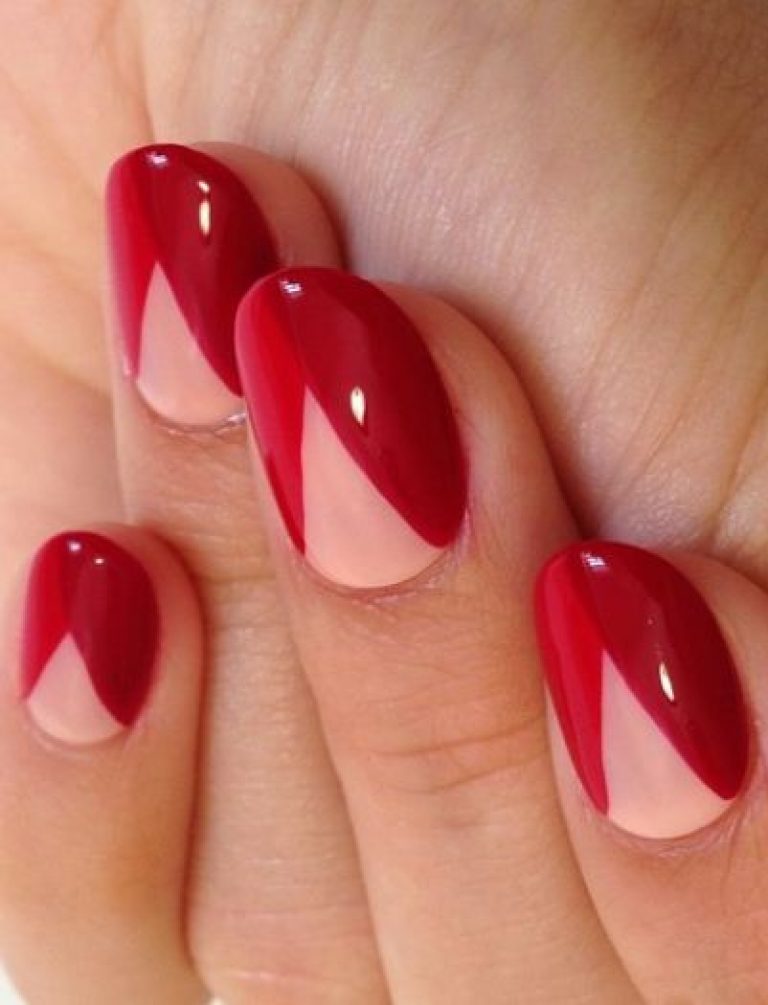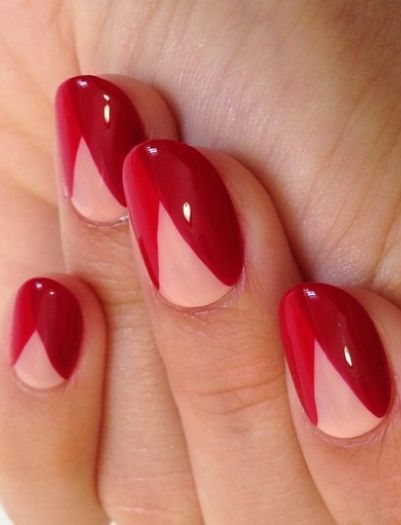 Pretty and witty is the perfect feminine combination. Go girl power! Show everyone that you don't need any guy to make you feel confident enough about yourself to accomplish what you plan for!
#50. Decal Belts And More
Decals are like the nail design version of the finishing touches of an artist with his new paintings.
It is a very delicate phase and of anything goes wrong then the whole masterpiece is ruined!
However, it is so worth the risk because they are the ones that make it rate higher or lower by a factor of 10!
Make a heart shape with these small but important details, wear them as a belt for your nail bed, or just scatter them here and there for a more stylish look!
#51. Red & Floral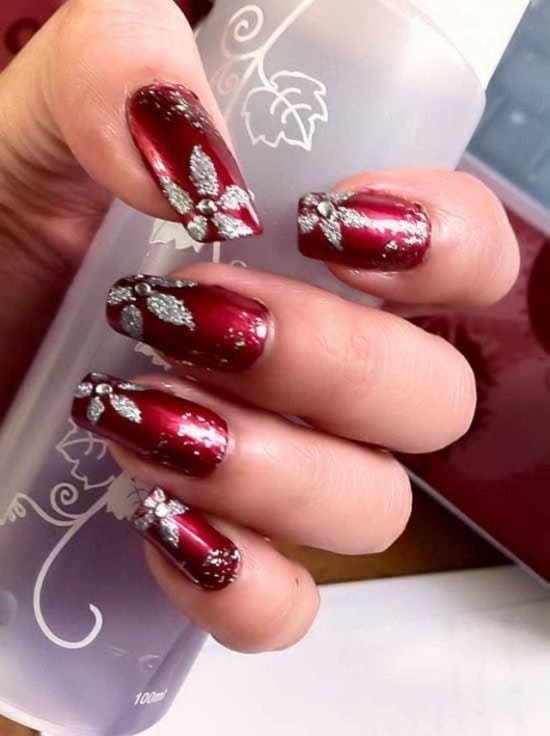 Polish brushes are not only for painting nails with but these are made to create magical nail art!
Draw whatever your heart tells you to because it's the key to your happiness even if it was silver florals on a wine red base coat!
#52. Shine Bright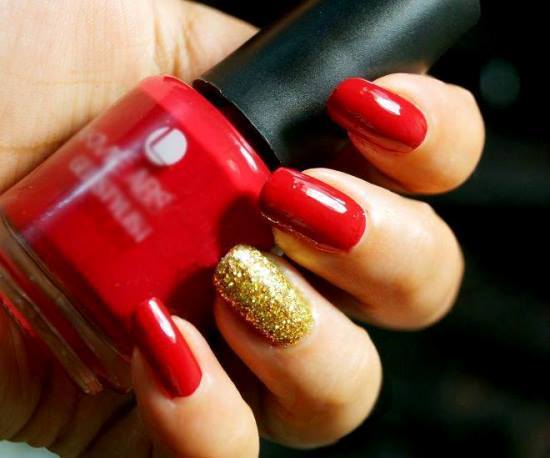 Shine bright like a diamond between all the other not-so-important jewelry around you. Be the most significant and favorable of them all!
#53. The Heart Wants What It Wants
Hearts are really complex and hard to understand. The key to a guy's heart is his stomach. Well no, not anymore!
The only key nowadays is good looks and conversation. Pop up a conversation using these flashy intimate nails!
#54. Christmas Jolly
If it's the season to be holly, then celebrate it with the Christmas jolly and get yourself ready for the party mojo with the glitter red tips and the candy came on your accent nail!
#55. Gothic Red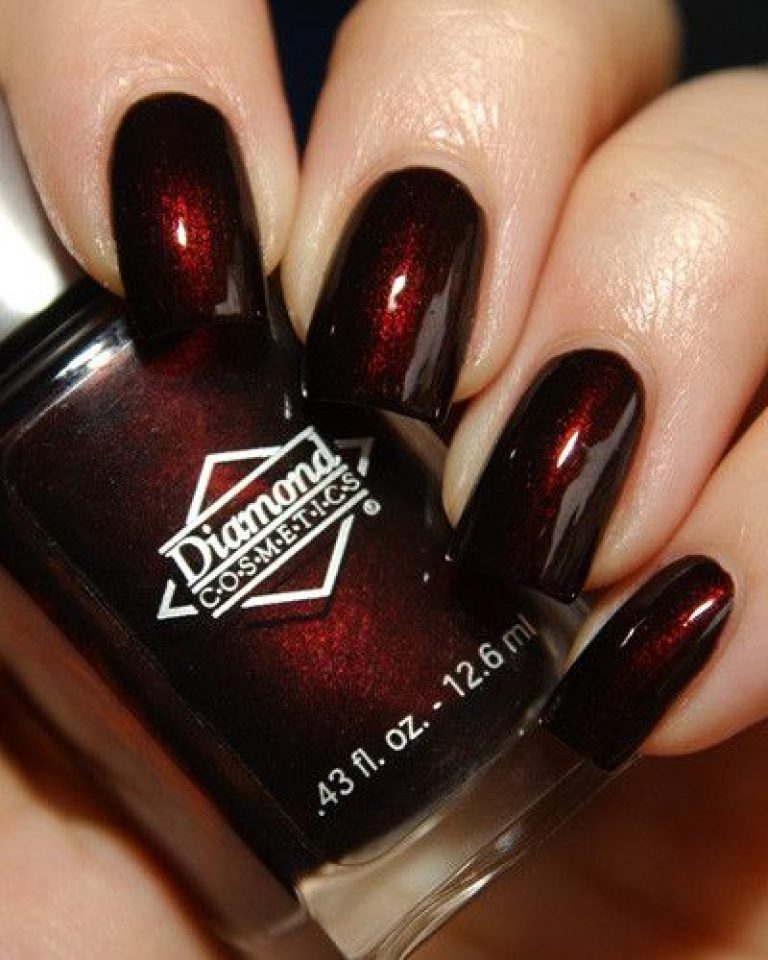 Be mysterious and dangerously gorgeous with this gothic red nail design that would totally make you stand out in the crowd and be noticed as the girl with the soul full of secrets yet to be unraveled!
#56. Marvelous Maroon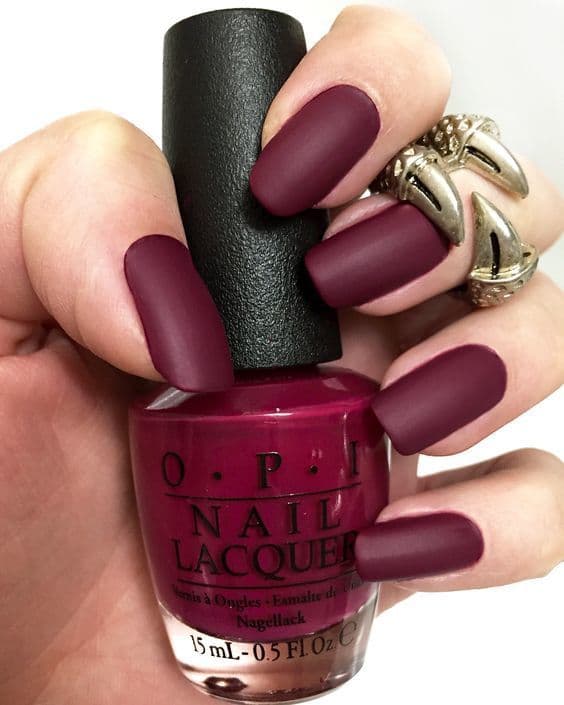 Get everyone's jaws to drop with this exceptional nail style that despite looking so simple and easy to apply, never reveals it's true attractive nature until it feels more than okay to be close to you and let you in.
#57. Magical Merlot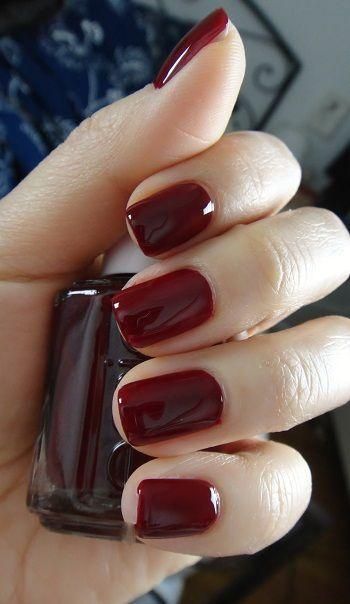 Everybody is familiar with Merlin, the great's magic. However, not everyone knows that merlot read works like a love potion for all guys out there.
Charm everyone with those magical looks but be careful not to harm anyone along the way!
#58. Heart Tips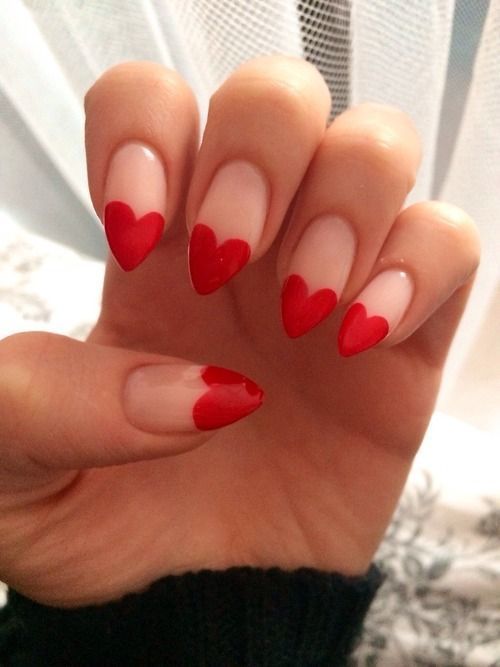 If you're a girl who falls in love easily like her heart just lies down on her finger tips then this might be the right choice for you.
Besides looking visually unusual and special, this design is cute and timeless!
#59. Yes I Do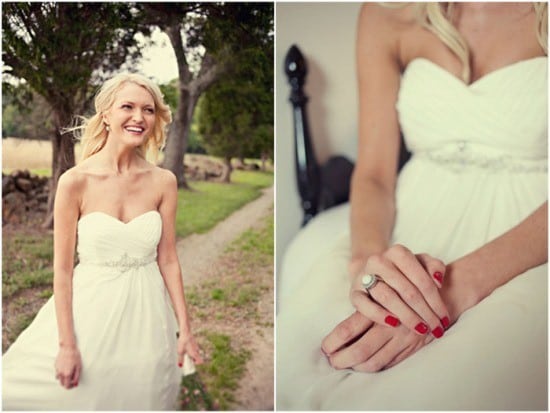 Say yes, not only to the dress but also to the highly attractive red nail design sitting there on her nails right before you are asked if you want to marry her for sure! She's the one for you and you know it!
#60. Red & Silver Tips
French tips are such a cliché sometimes and it's great to find a way to get away from them and be different.
Since nail tips make up great targets for stylish designs then you might want to think of something that will grab their attention for sure.
Try out this style above with silver glitter and flower prints and tell us all about your unforgettable experience!
#61. Tall & Rectangular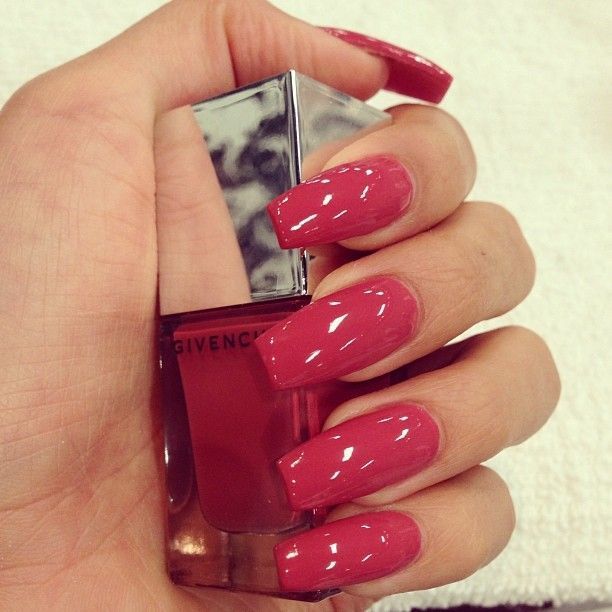 Like everything else, nails come in all shapes and sizes. Pick out the best size for you and combine it with your favorite shade of red to easily get a design you'll be happy with.
#62. Wiggly Jiggly
Red jello is not only a tasty dessert, it also makes a great inspiration for all red nail designs out there!
#63. XOXO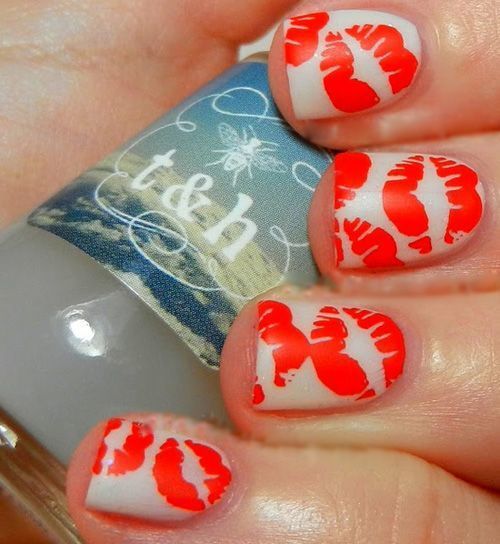 We are told to always leave them wanting more, but what if we don't want to stop? Kiss him with passion and tender but don't let him have it all at once!
Make it up for yourself with this lips themed nail art. There's nothing a nail style can't fix!
#64. One Shade Is Not Enough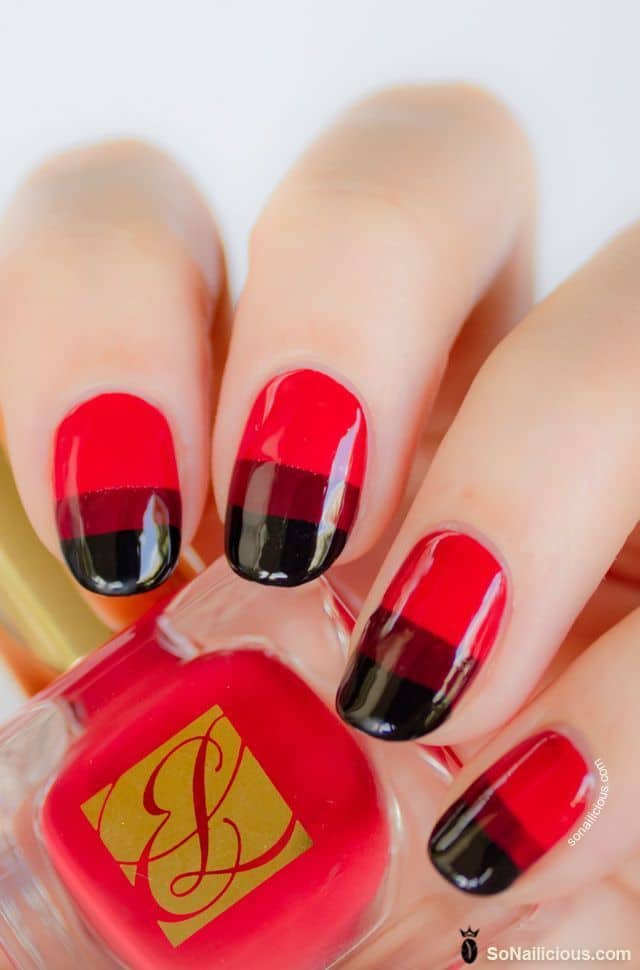 In order to look beautiful, you might want to think about going beyond one shade of red. Go for an ombre blend-in look or just ombre styled nails with different shades to make it more attractive!
#65. Rhinestones & Red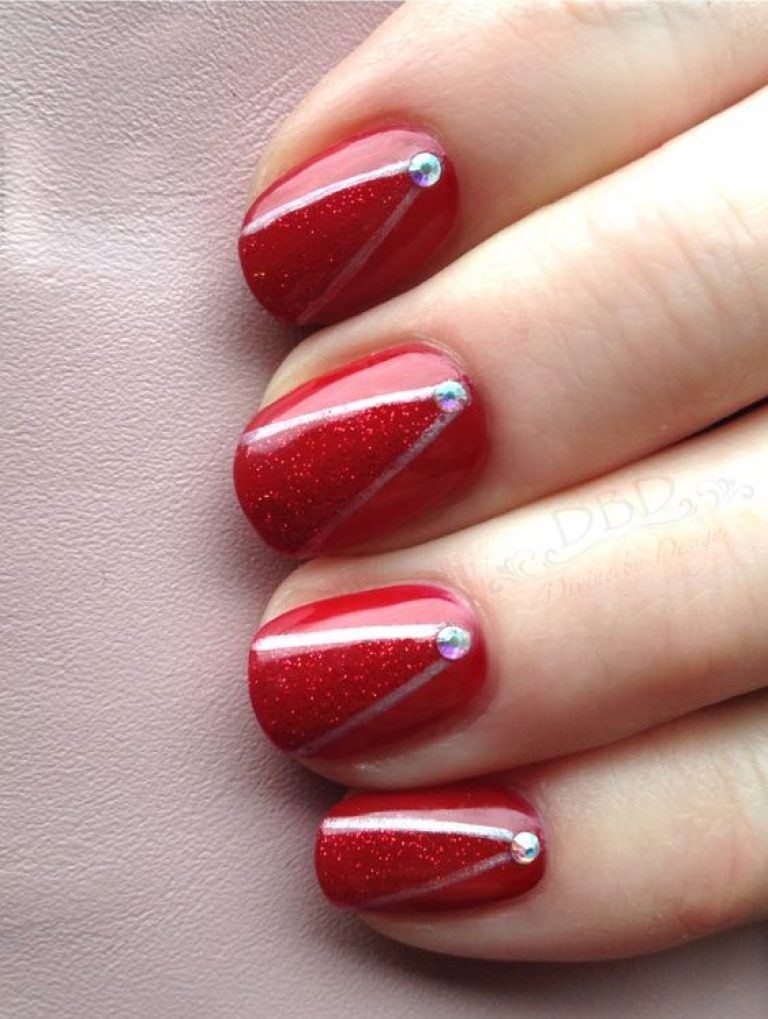 Rhinestones make your nails look more expensive and feminine. On a red base coat, that is both glossy and glittered you might have the full package.
#66. Majestic Red Pattern
Patterns are another way to make up a good nail art especially if it was something royal-related! Red is known for being the color of reign and power.
So applying a majestic pattern using the red hue might not be a bad idea at all!
#67. Red IS The One For You
By being the world's most attractive and breathtaking color, you certainly can never go wrong with a red nail design splashed on your nail beds!
#68. Red, Black, & White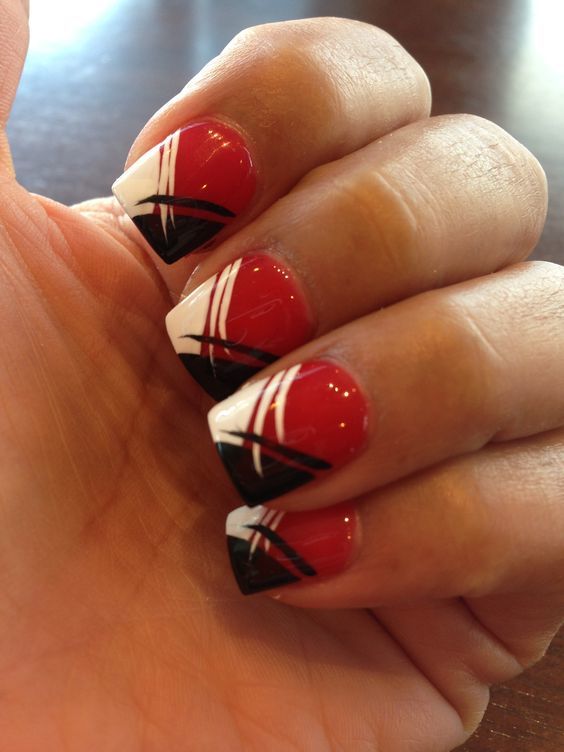 There is no combination on earth known to the human fashion race better than the well was known and famous red, white, and black trio ready to conquer the world with their mighty social appeal!
Use black and white as the assets to decorate your tips with as the red hue serves as the base coat in your masterpiece!
#69. Cherry Red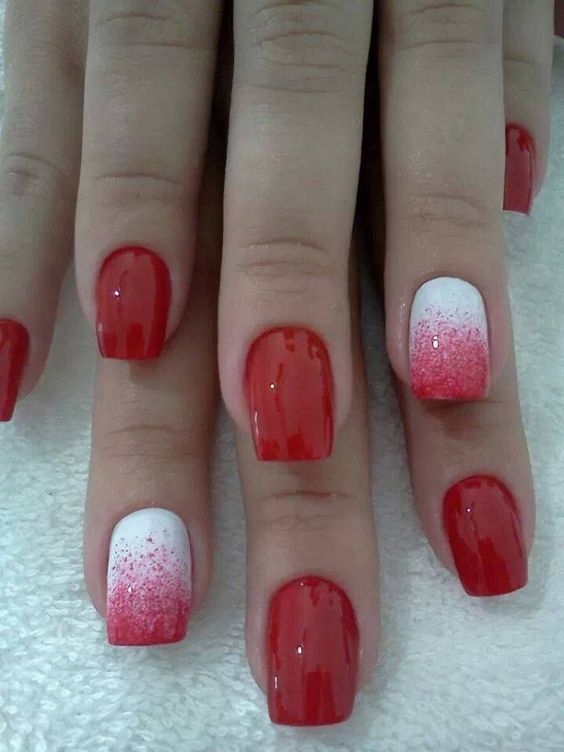 Cherries are the delicious fruits we wait for all the way until summer to taste.
If you can't wait until summer to drop by, then you can compensate with a dashing cherry red shade on your nails along with an artistic sprayed on accent nail like the one shown above as an example.
Have Short Nails? Try These Exclusive Designs
#70. Little Lady Bug
Ladybugs are the cutest little insects that you scream "OMG THEY'RE SO CUTE" every time you see them.
If you want to have the lady bug's effect then use it as a creative idea for your red nail design and take advantage of the nail tips to draw the googly eyes all over them!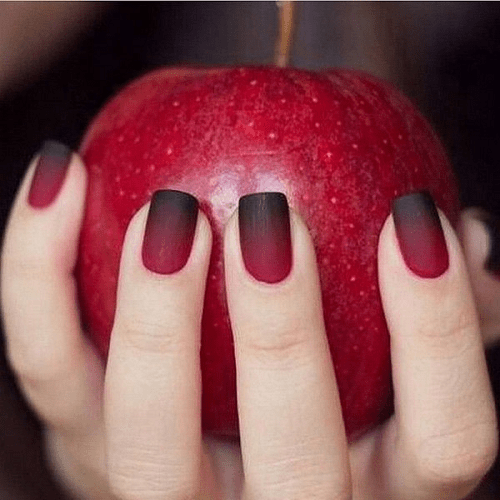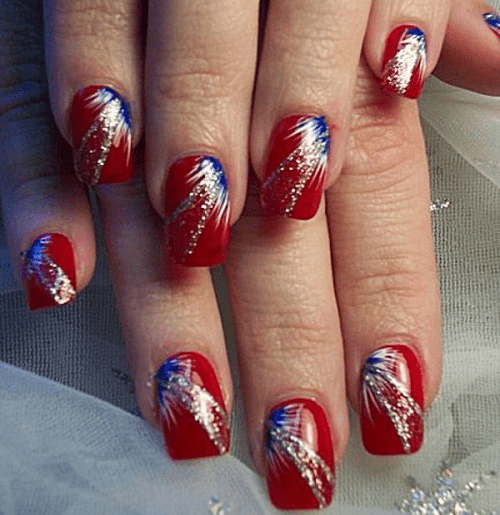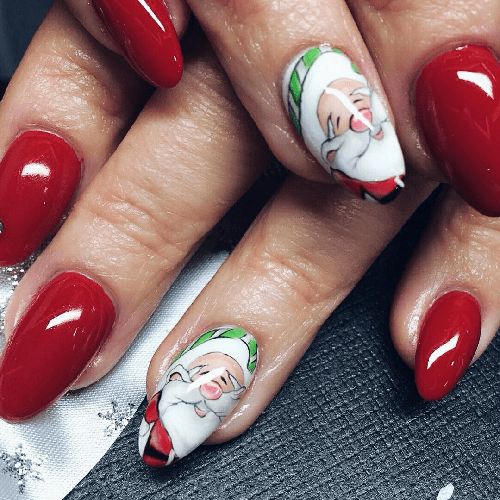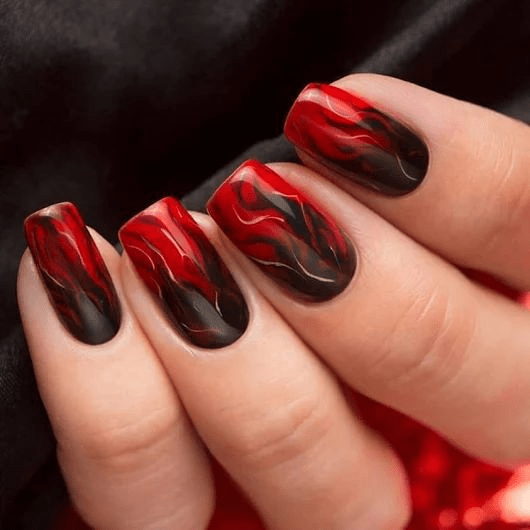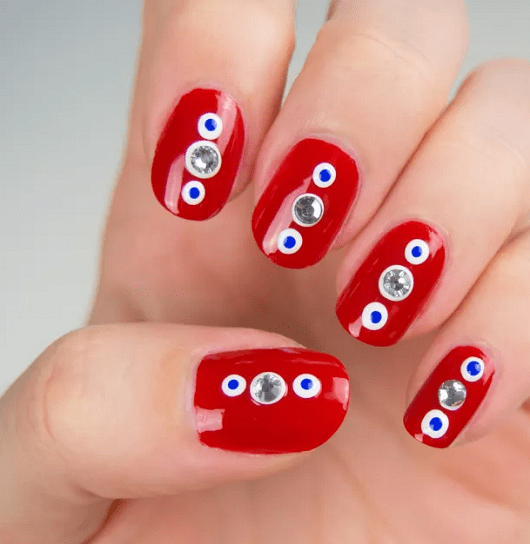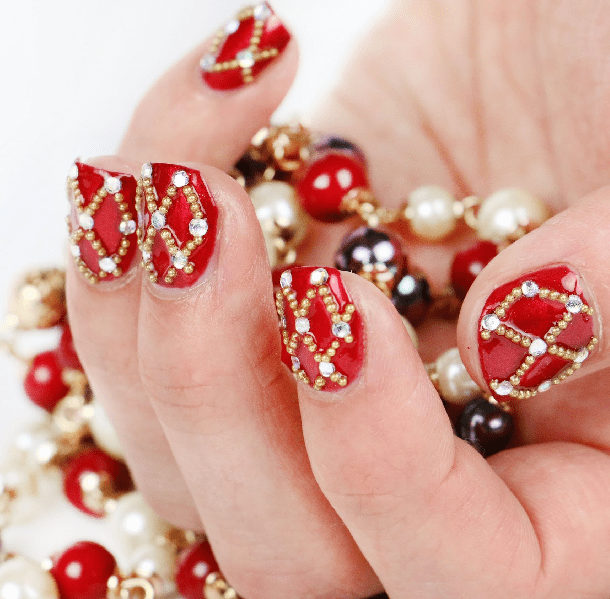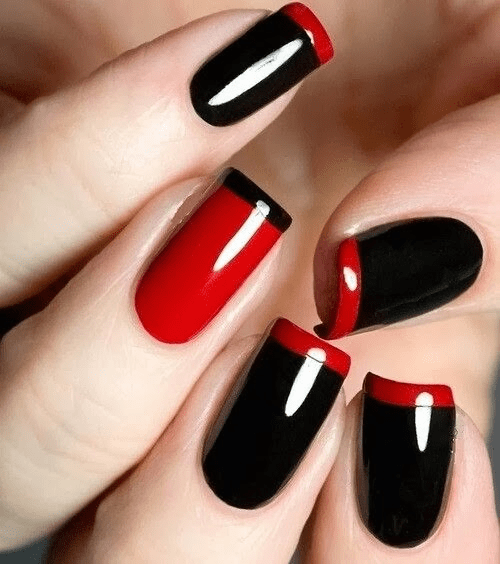 All in all, red nail designs have this uncanny ability to play with our emotions as if they are tiny toys.
Every style should be complemented wisely with the occasion being attended because, after all, people's emotions are not toys and you should know that you're playing a dangerous game when you pick the red hue to showcase in your masterpiece!