Nail polish designs are different kinds and different shapes. However, a nail design usually beautifies an outfit and gives life to a woman's hands. This list of 50 nail polish designs will give different ideas to help you come up with your own unique design.
Popular Nail Polish Design Ideas
Have you ever wondered about how to make your special and favorite outfit more beautiful? Well, the answer is her! All you have to do is to choose a nail polish design that is suitable for your outfit and that makes you look cute, girly, and awesome. And since choosing a suitable nail polish design that suits you is sometimes something hard, we made this list of 50 cool nail designs in order to make things easier for you. No worries, it contains all styles, colors, and it takes all ages into consideration!
#1. Mustache on nails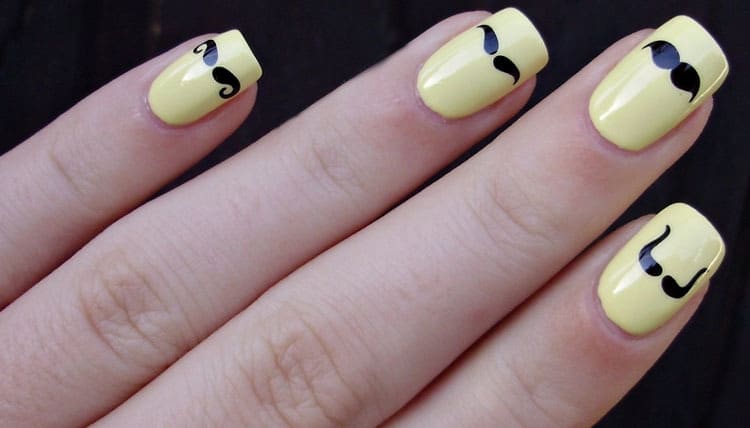 Are you a girl that loves her boyfriend with a mustache? Well if you are, you can try this nail design on that is made up of a bright yellow base with a different mustache style on each nail!
Popular Acrylic Nail Art Designs to Try
#2. Blue Clue
Blue is the calmest color, it is the color of the sky and the sea. However, the blue color is the most loved color between people all around the world. So if you are a blue lover or you are a calm girl, don't miss the chance of wearing this simple blue nail design because it totally reflects you and it is all that you want.
#3. Colorful Tiny Balls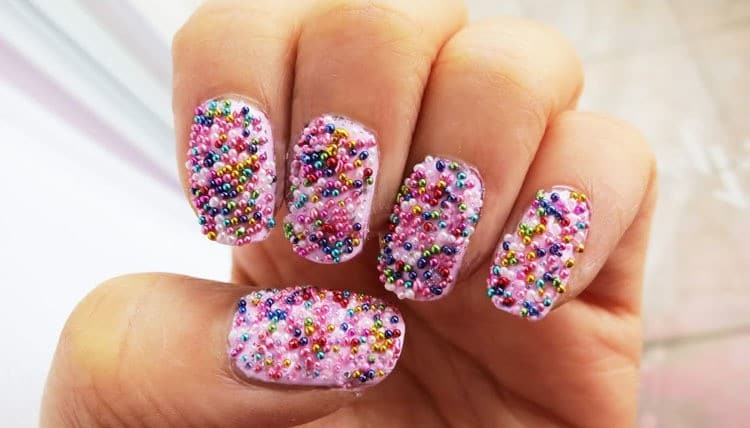 We are used to a glitter and shiny decoration full of glitter nail polish and shiny decals when it comes to designing a simple nail polish design. But what we are not used to is decorating our nails in a different way. For example, this cute simple pink nail design is decorated by gluing a big amount of colorful tiny balls all over each nail.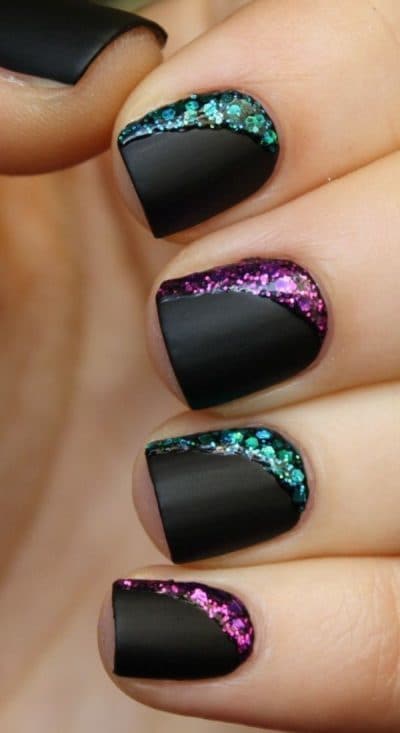 Black is the color of fame and chicness, so in a matte black nail design, you must try to have a glittering touch that specializes your design from other simple black nail designs that everyone knows and wears. You can have this touch anywhere you would like.
#5. Mirror Blue
When you look at this nail design you see that it looks like mirrors glued all over your nails, but when you look at it well you realize that it is a normal blue nail design but with the help of a silver touch mixed with blue, it makes a reflection similar to the reflection of a mirror but this time it is a blue one.
#6. Midnight Blue
Is it a winter cold night and you are visiting a midnight occasion wearing a fabulous blue dress? Well, this nail design goes with that midnight blue dress you are wearing because it is made up of the same color and suits the weather by adding these white snowflakes to the ring finger.
Black and White Nail Designs for Girls
#7. Mirror Mirror On The Wall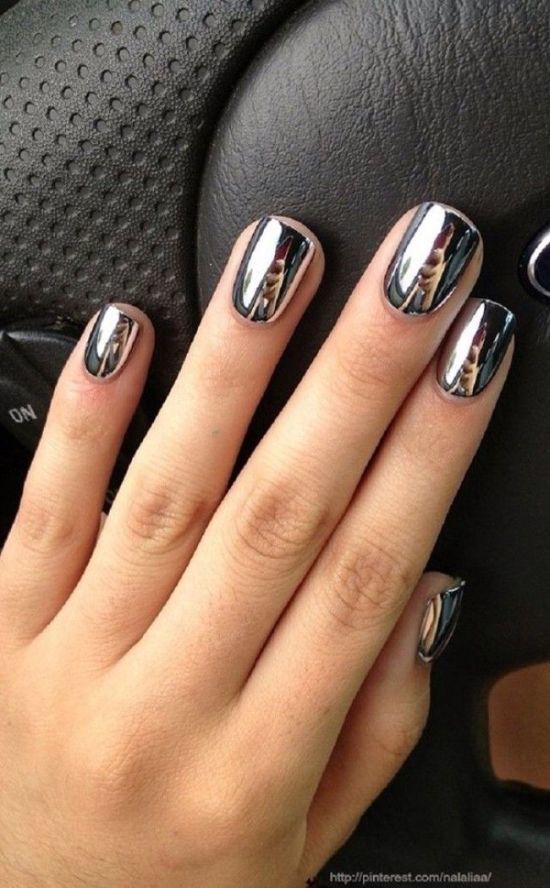 This nail design totally looks like a mirror, it has the same color and the same reflection any mirror has. And now you can always as the mirror in your nails the following: Mirror mirror on the wall, who is the prettiest one of all? And the answer will always be you!
#8. Sharp Touch
In a simple white nail design, you need a little move that makes your nail polish design special. All you have to do is to add a sharp move with the help of a golden nail polish at the bottom of each nail.
#9. Golden Vibes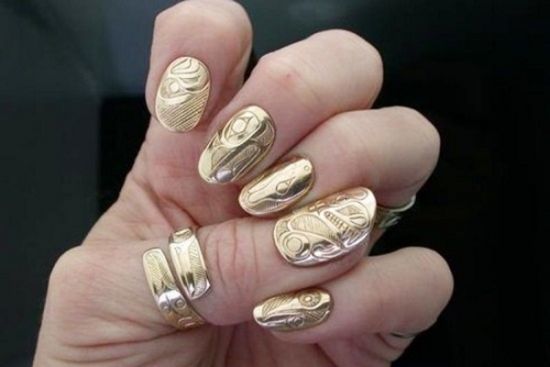 Are you visiting a royal occasion but wondering how to make your look more chic and beautiful? Well now, and with help of this golden nail polish design, you do not have to wonder about anything anymore because this nail design makes your dress shine with chicness and makes you look classy.
#10. Cross Style
Black is the chicest color between all colors. It is the darkest one and it shows fame and beauty, and in a simple black nail design, you need a small golden touch in order to make your design special. All you can do is to add a golden cross on each finger in order to increase the beauty of the black nail polish design.
#11. Colorful Glitter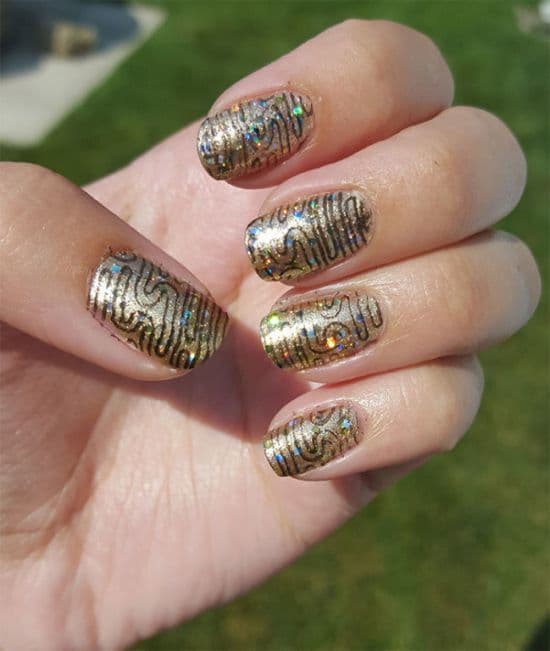 Usually, and in any normal nail polish design, we have a colored base with a golden or silver glitter on the top for decoration. But in this nail design, we are not being cliche anymore because things are in the opposite way this time by having a golden base decorated with a colorful glitter.
#12. Neon Lights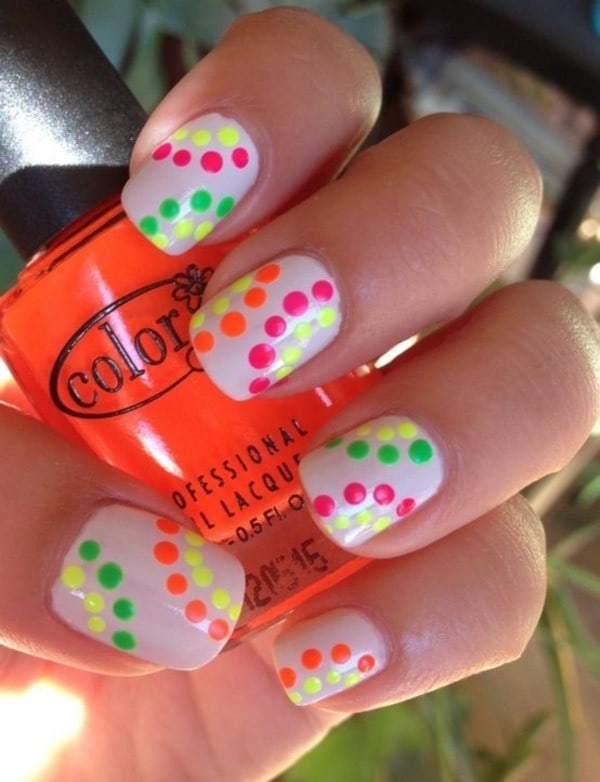 Burn up like neon lights by wearing this neon nail polish design. Decorate this simple clear white nail design with polka dots of different neon colors such as yellow, green, orange, pink, and others.
#13. Vampire Style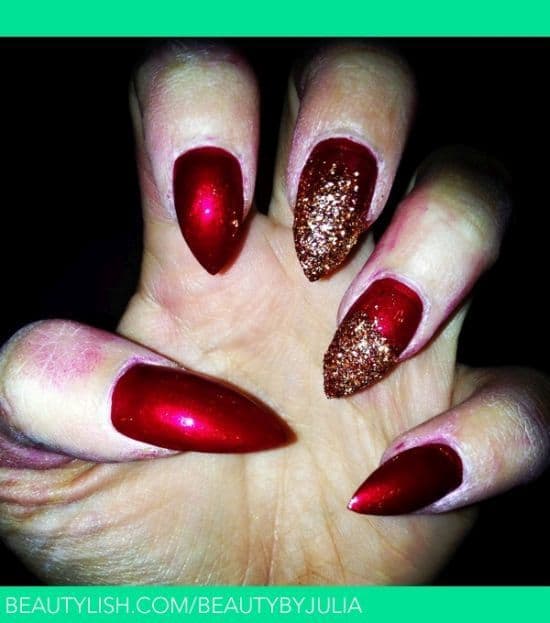 Are you going to a Halloween party and wondering what character should you copy? Well, why don't you choose to wear a vampire costume and wear this bloody red nail polish design with it, because vampires love blood and with this stiletto bloody red nail polish design your costume will look perfect, scary, and realistic!
#14. Zaffre Chevrons
Are you one of the blue color fans? If the answer is yes, you can try wearing this nail polish design on. It is full of the navy blue color, it's simple navy in the index finger, silver glitter in middle one, a combination between blue and white in the ring finger in the shape of navy blue chevrons, and simple clear white in the pinky finger.
#15. Pearls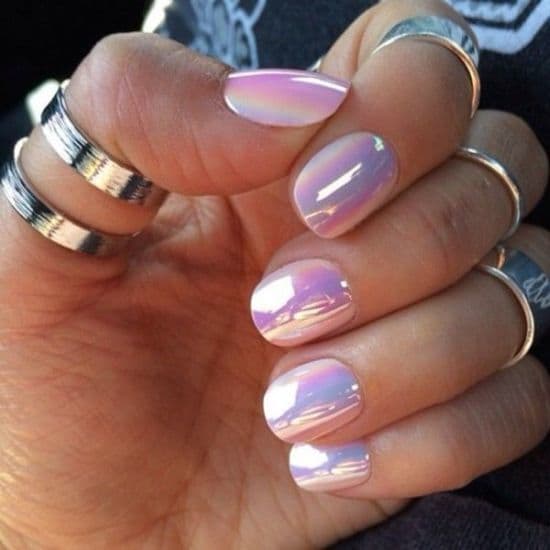 The above nails look like pretty pearls that are expensive and meaningful. However, the color white that starts to turn into pink in sometimes, and purple in other times, is an awesome choice of the color to be used in a nail polish design, and don't forget that it fits with everything!
#16. Tangerine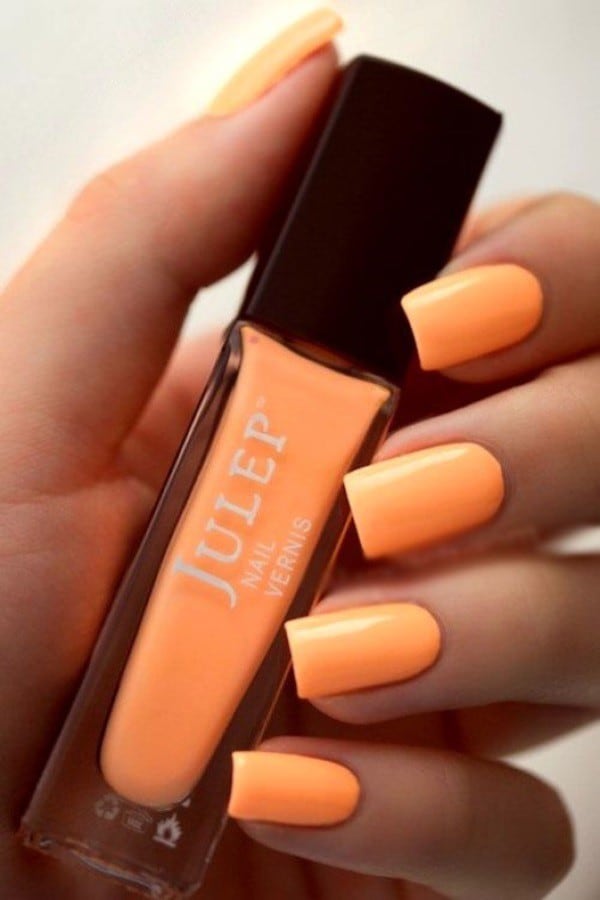 There are many people who hate the orange color, but many others love it. So if you are a tangerine orange color fan, you can wear this orange nail polish design to show that this is your favorite color.
#17. Winter Vibes
On a cute and warm sleepover in winter days, you can wear this nail design that goes with your girly pajamas because it is full of winter colors such as warm, silver gray, and bright purple.
#18. Wine Red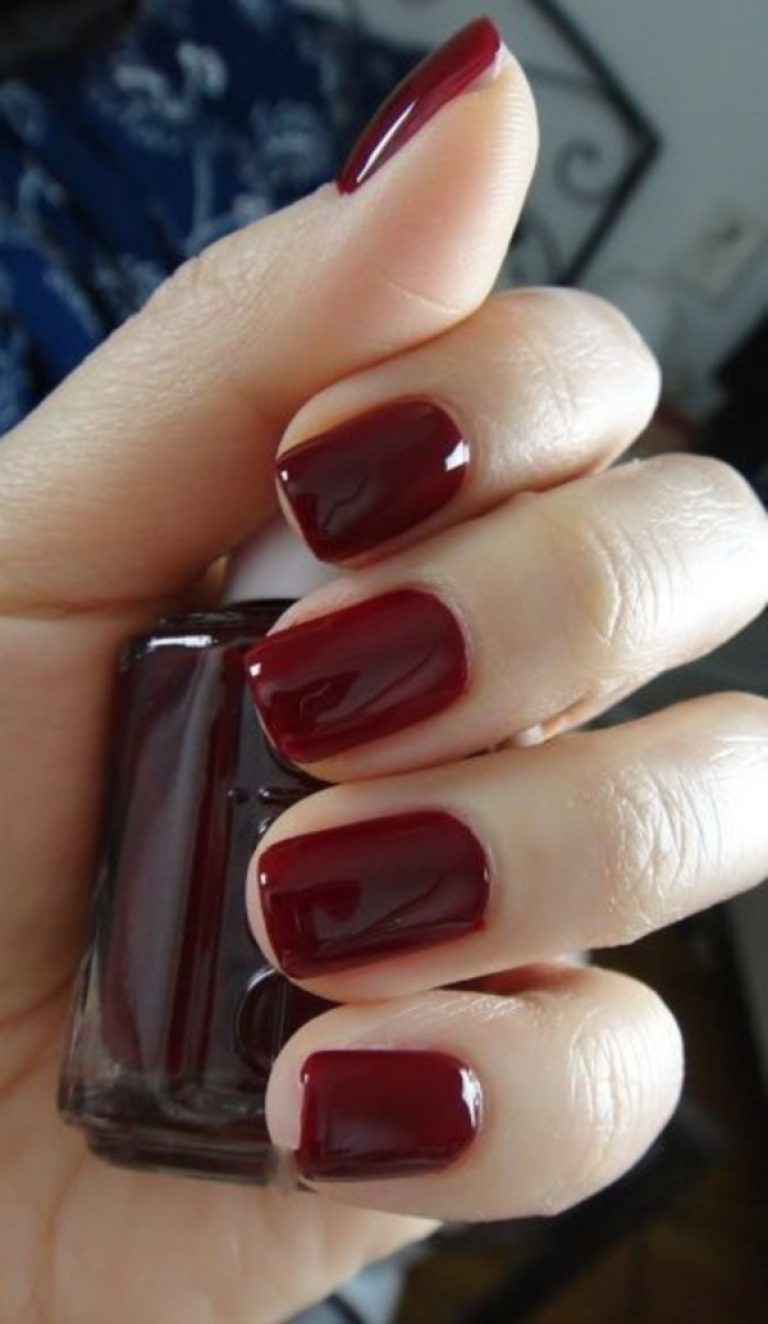 If you are wearing any outfit that has a color that goes with a dark red color, you would better wear a simple red nail polish design and choose the wine red shade because it is very classy and chic, however it goes with many styles and colors, and it suits all ages a woman passes through.
#19. Mauve Purple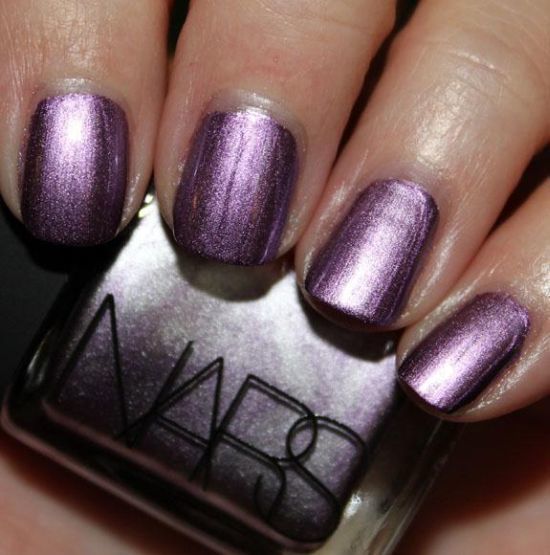 Purple is a beautiful color in all its shades, the bright ones, and the dark ones. Anyway, the mauve purple shade is considered one the bright shades of the purple color, so if love the purple color, wear this mauve nail polish design in order to show your purple love that some people do not know.
Another classy shade of the purple color is the eggplant purple, but this shade is considered as one of the dark shades of the purple color. However, you can break the simplicity of this color by adding golden scratches all over each nail.
#21. Dark Then Bright
In the above nail polish design, you are provided with the style of going from a dark color till you reach a bright one, and this is done by using the classic black. gray, and white colors. You start with black as the darkest color in the tip then you go down to a brighter shade of black which is the gray color, then finally to the brightest color which is the white color at the bottom of the nail. You can separate the colors with a silver shiny line.
#22. Snowy Garden
Use the crocodile green as a base and decorate all nails with leaves with the white color on the edges. Summing all that up, you can finally observe a green garden but a snowy one because the white color on the sides looks that a snowfall happened and we can notice that from the snow covering the green color of the leaves.
#23. Flaming Red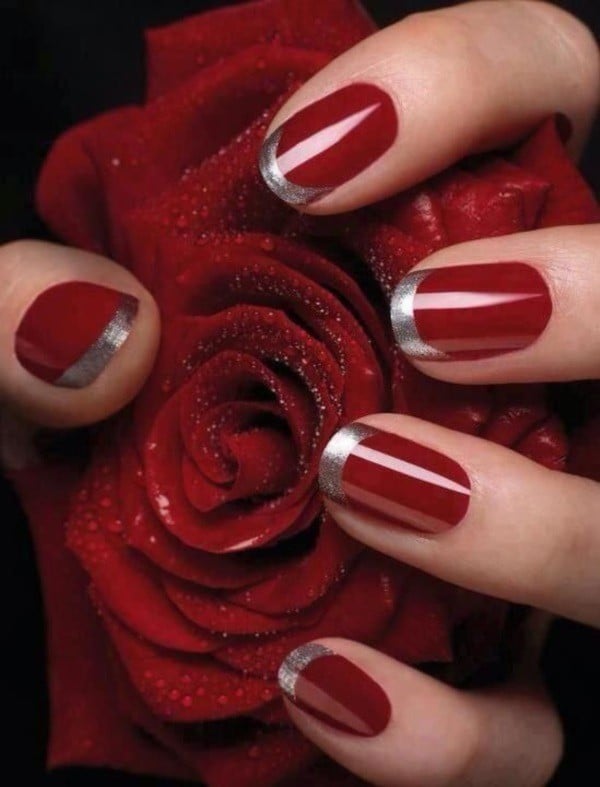 If you want to look as hot as fire then call 911 cause this design is so gonna light up many flames of jealousy tonight. You better watch out, cause this silver tip is adding a dashing fuel to tonight's flame and giving you an attractive and sexy feminine look you always wanted to have.
#24. Weird Tipped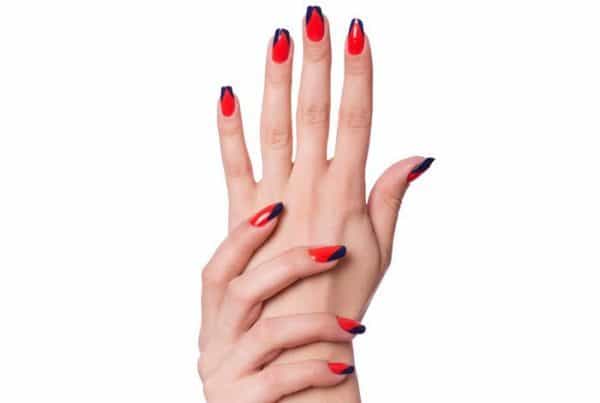 Rose red is one of the strongest shades of the red color. And when this color is used as a base for your nail polish design, you gotta break its strong look with a dark color. However, you can do this by using the midnight blue color in making tips with a weird shape you woman are not used to see in your girly nail designs.
#25. Acrylic Nails
If your nails are not tall enough and you have to wear a certain nail design but your nails are too short for you to do that, all you have to do is to paste some acrylic nails and then decorate them in the way you always wished to but never did because of your short real nails.
#26. Girly Bloom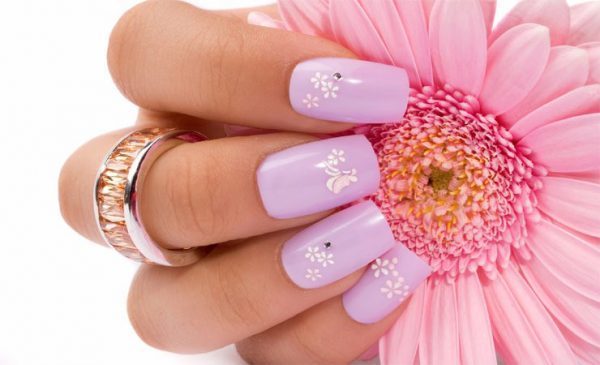 If you love the purple color and you are a woman that adores the floral touches to be everywhere in her life, you can wear this nail design that is made up of the mauve purple base and some pink cute and girly blooms drawn on each nail.
#27. Avant-Guard Style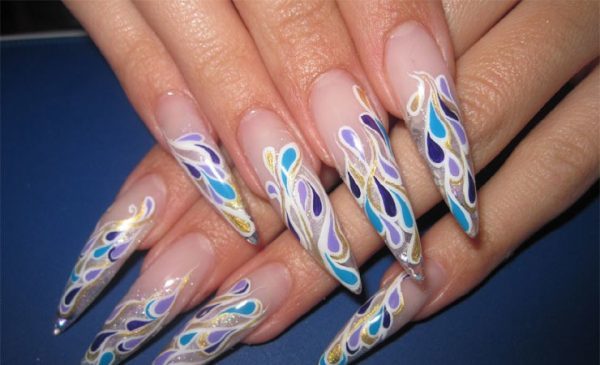 If you are wearing a new and trendy outfit, and you feel that your outfit looks weird, unfamiliar, and so Avant guard, this nail polish design made up of acrylic nails and avant-guard style.
#28. Sprinkles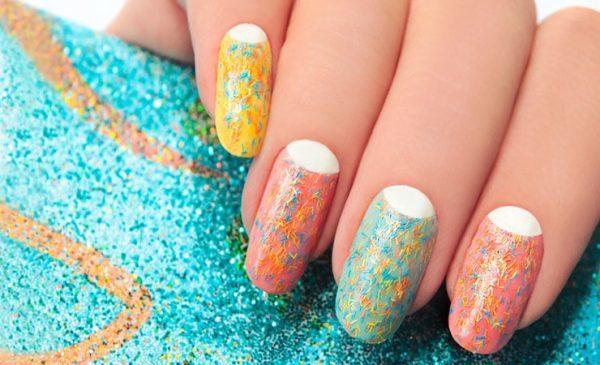 If you do not like to decorate your nail polish design with glitter or any shiny decals, now and with this nail polish design, you can decorate your colorful blue, yellow, pink, or any other color of nail polish with sprinkles that contain all colors and are the sweetest ones of all in taste and view!
#29. The Big Day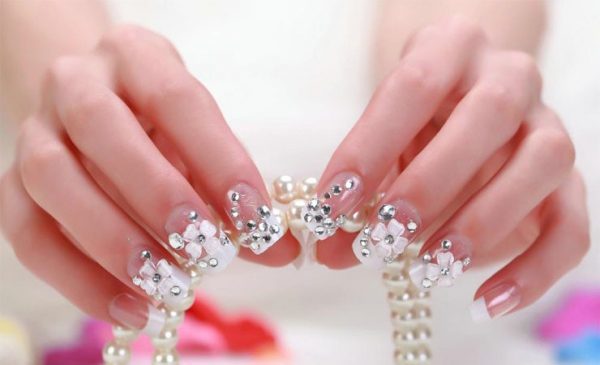 Is your big day approaching, but you still did not decide what nail polish design to wear? If this is true, you can relax because this bridal nail design is definitely all you need! It is a simple french tip nail design that we all know but what makes it special is those flowers added on the middle and ring finger nails, in addition to the shiny silver decals.
#30. Fading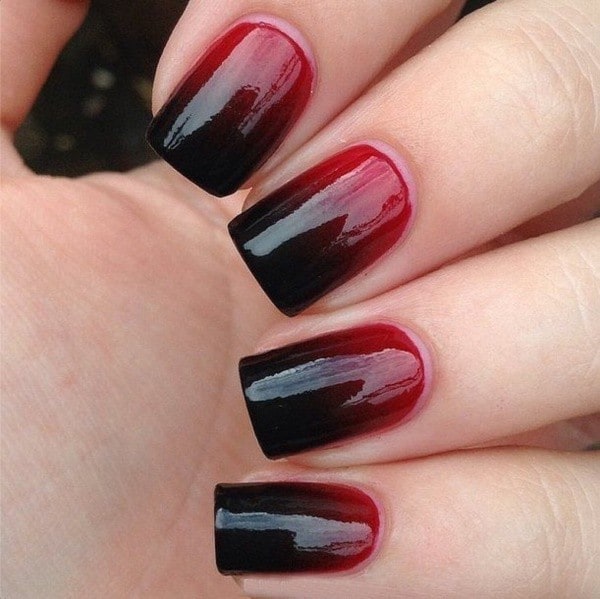 Fading nail polish designs are the best! Especially this one that starts with a very dark shade of the red color that looks too similar to the black color and then starts to fade to become brighter to read a candy red color.
#31. The Triple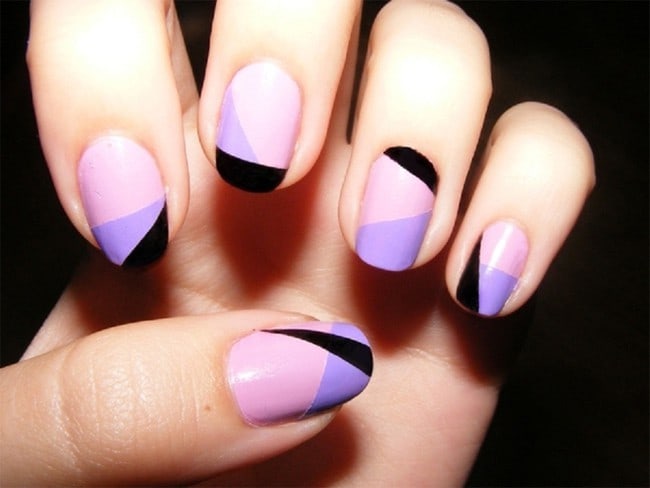 You are used to a single color in a nail design, sometimes two but you have never seen a nail polish design with a triple making the perfect combination! Well as you can see the purple, pink, and black colors are merged together in different ways in order to make a cute and girly combination.
Have you always wished for a girly, pink, and puffy nail design that makes you look cute and childish? Well, this nail design gives you all you want. The thumbnail is a pink base with a big white heart, the index fingernail is made up of a baby pink base and girly polka pink dots, the same happens in the pinky finger nail but with white polka girly dots. However, the middle finger contains oblique pink lines, and the ring finger contains a girly cupcake full of shiny decals.
#33. Full Of Chevron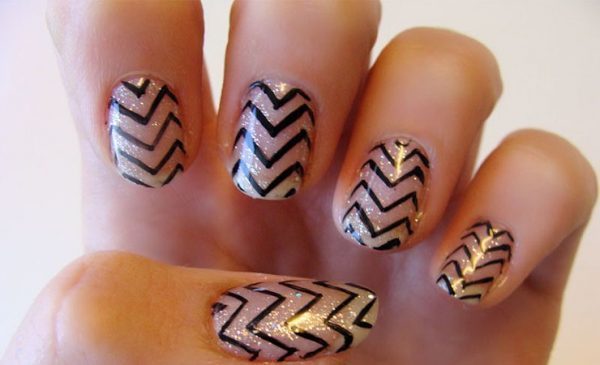 For party animals, glittery backgrounds aren't enough. To be satisfied you are free to add chevron to your design to bring life to it and make it suitable for a party mode but do not forget that colors should really be associated together!
#34. Much Love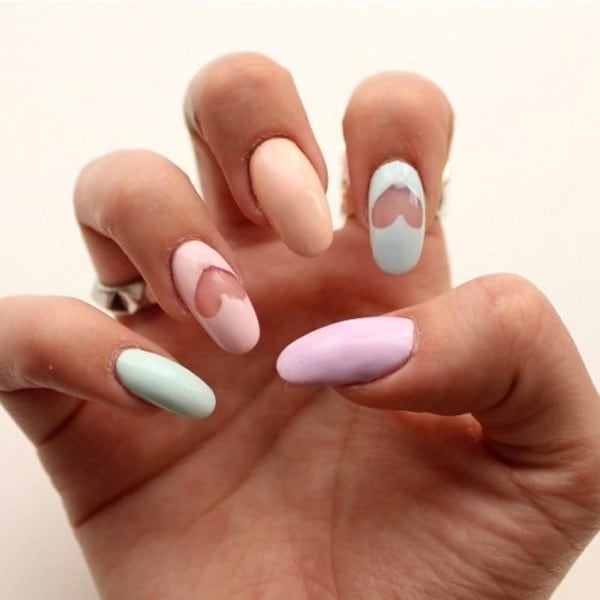 This nail polish design is very cute and simple. Each nail has a different color such as green, pink, blue, orange, and purple. However, the orange and pink nails have a transparent heart at the middle part of them which is so cute and lovely.
#35. Floral Style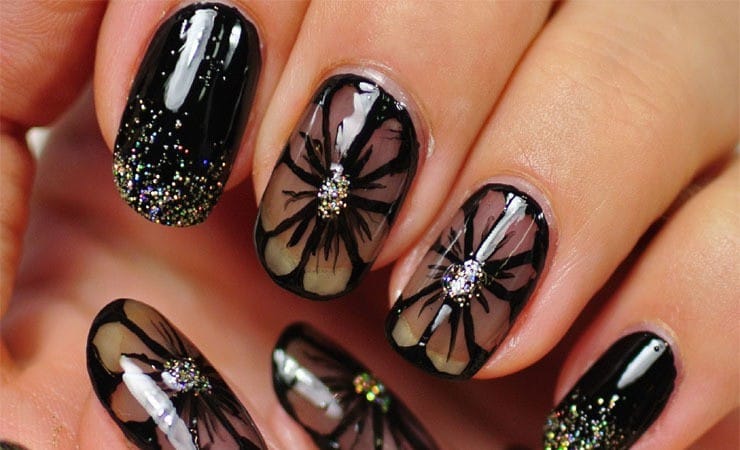 This time we are not adding some small little cute flowers on each, this time the whole nail is a flower, it is designed as a flower itself made up of the black and transparent nail polish with some colorful glitter in the pollen part of the flower.
#36. Watermelon
You are definitely one of the watermelon lovers, actually, we all are! Everything about it is sweet: its taste, its color, everything!
#37. Lollipop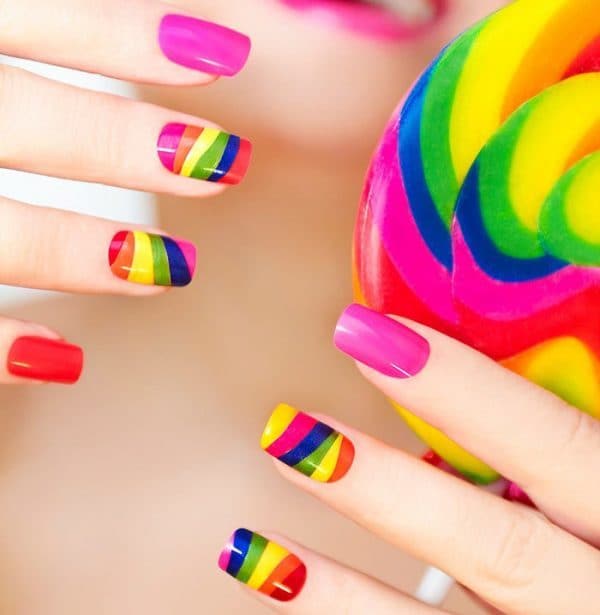 If you love candy and lollipops, all you have to do is to use the colors of a lollipop in a nail polish design, merge them all in some nails, and in others leave them with a single color of any nail polish, but do not forget that the color must be taken from the lollipop colors.
#38. Girly Fades

You can use any color in a fading nail polish design style, but you are not going to find a color used in a fading nail design better than the pink girly color.
#39. Blue And Pink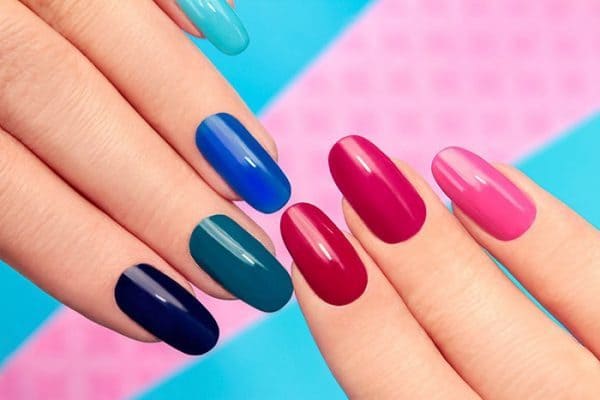 If you are wearing a black or white outfit or any color that goes with any color, you can use two colors and have each one on a single hand such as having the pink color in one of its five shades in one hand, and the blue color on another had and sure with its shades.
#40. Floral Heaven
Do you really like flowers in all kinds? If you do, have a transparent base and choose any kinds of flowers you would like to have in your nail design and draw them on the white nails, but don't forget to add some green tiny pearls.
#41. Basics
If you are very interested in arts, you can wear this nail design made up from the basic colors that were first used and discovered in the art schools. You can wear this to show that you know about the history of art!
#42. Cute Vibes
This nail polish design is made up of cute colors used in the bases and cute polka dots with girly colors and some glitter. It is just all cute and girly!
#43. Bow Tie Style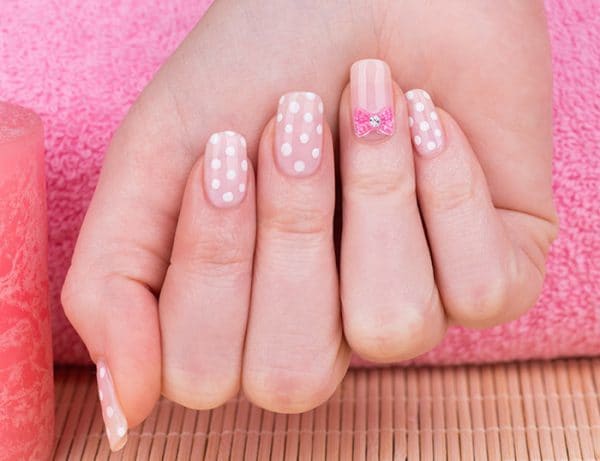 In this simple pink and cute polka dots styled nail design, all you need is a girly pink bow tie to be added in the ring finger nails in order for it to be a perfect one.
#44. I Love You
"I Love You" this what the letter in the above cool nail design says. This nail design can go perfectly with valentines day and many other romantic days, occasions, or relationship dates.
#45. Christmas Is Here!
When Christmas knocks on doors, you feel that your home decorations and outfits are not enough to show the spirit, all you have to be satisfied is to wear this Christmas red and green nail design.
#46. Naked Tree
It is called a naked tree because it is free from its leaves, fruits, or flowers. However, the black, pink, and white colors make a good color fusion.
#47. Alienated
Are you obsessed with aliens and you totally think that they are real? If you are, try this alienated nail polish design on full of eyeballs and alien antennas.
#48. Bee Queen
Be a queen by wearing this black and yellow nail design, and at the same time these two colors used together and in the shape of stripes in pinky and thumb fingernails can also make you be the queen of all bees.
#49. Bridal White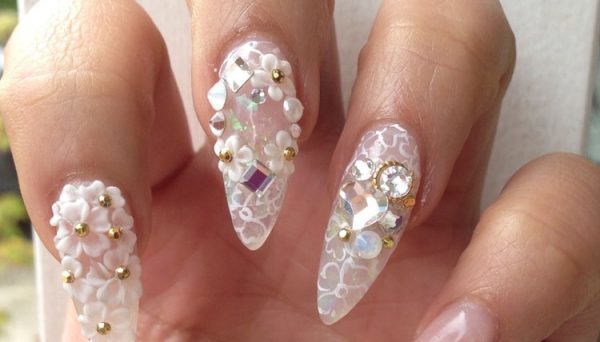 You do not have to worry about what nail design to wear on your wedding day because this nail design is all what you need.
#50. Up To Date
Adding a date to your simple french white tip design you women are all used to is a good idea to give importance to a day you would like to remember. This kind of nail polish designs can be worn on ceremonies, birthdays, and others.
Some More Cool Designs That You Can't Ignore
In conclusion, nail polish designs have a variety of styles, kinds, and colors. However, you cannot neglect that any nail polish design that goes with your outfit can always make you and what you are wearing better and a more beautiful woman. So if you need any help in choosing a suitable nail design that fits you, you can use the above list of 50 awesome nail polish designs you would adore to wear. Hope you like it!