If the only dark nail colors you're familiar with are black and blue, you're missing out! Burgundy is making its way into beautiful trendy nail designs and we're here to show you how gorgeous the color can be.
The most common ways to wear burgundy nails are with sparkly accessories like rhinestones, but a plain matte nail can be just as appealing. No matter your length and shape, there's a stunning burgundy nail design waiting for you.
Why Choose Burgundy Color Nails?
The best part about choosing this color is that you can wear it sexy, smart, or just casual. French manicured nails are not the only statement for a smart-looking businesswoman"no more.
Hot burgundy paired with the right outfit can be a statement color for every workaholic woman, just depending on your wardrobe and accessories.
So, if you do go for a dark burned-out red color or the color of wine, know that there are many different styles of designing, and wearing it.
Best Burgundy Nail Design Ideas
Below is a list of our own 50 favorite burgundy nail designs you'll love!
1. Short Burgundy Nails with Lace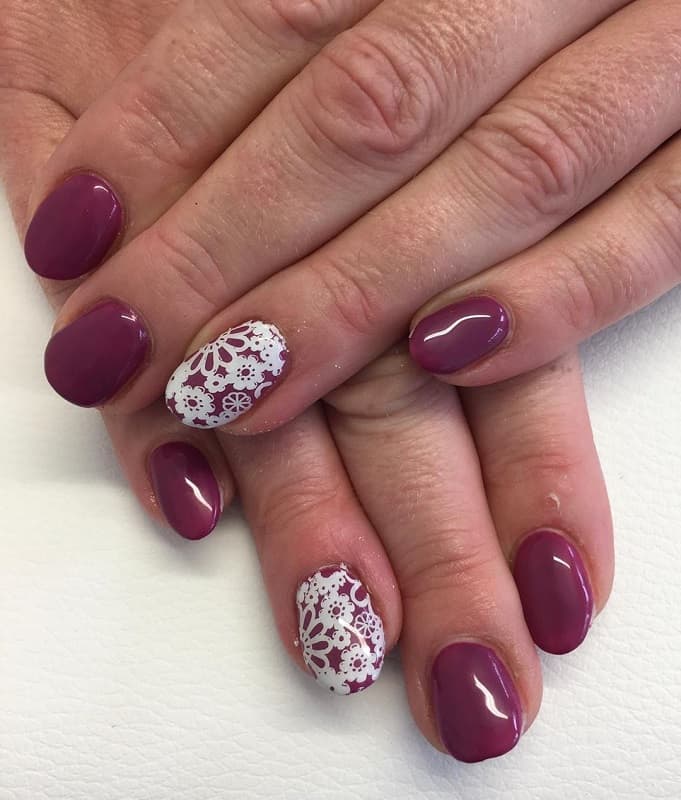 For short round nails, a lacy design is the perfect delicate touch for an accent nail. Use a nail sticker with a lace print or trim your own design and glue it on with a top coat for seal.
2. Burgundy with a Purple Tint
To lighten up a burgundy shade, add a tinge of purple as a base coat to let the lightness shine through. We love how they make long oval nails look.
3. Springtime Burgundy
There's no reason you can't use a dark color for a spring nail design. Burgundy on long squoval or square nails looks great with a colorful floral design on the two center nails.
4. Burgundy and Blue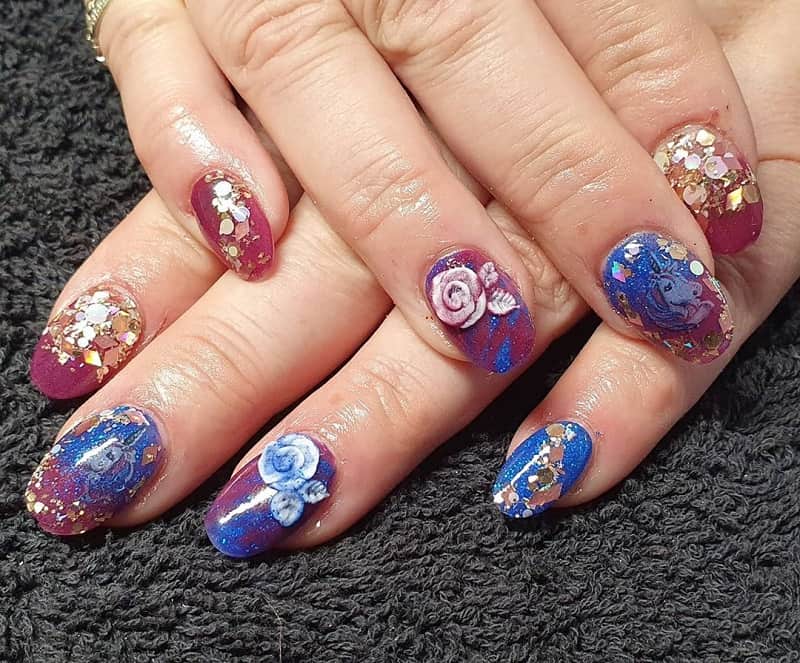 Make a truly whimsical nail design by starting with a burgundy base on long oval nails. Use glittered blue and gold polish for a dash of sparkle, then attach 3D flowers for touchable style.
5. Nude and Burgundy
If you love the appeal of a nude nail design but want to see what happens with burgundy, add the color at the tips with a silver or gold glittered outline. You can also mix nail shapes to bring the whole look up a next level.
6. Burgundy Coffin Nails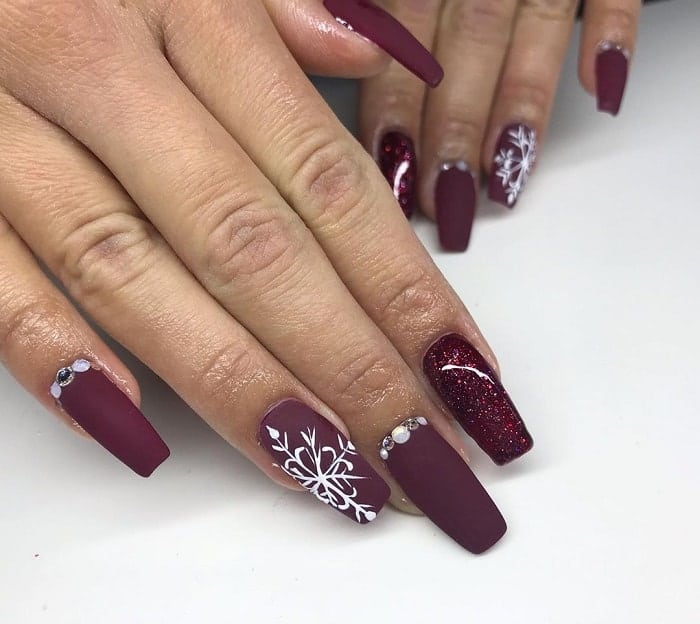 Put a feminine touch on those coffin nails with several coats of matte burgundy. Stones in different sizes and colors will decorate the tops and a bright white snowflake or flower pops against the dark shade.
7. Burgundy Stiletto Nails
Make a statement with a glam burgundy nail design on long stiletto nails. Their pointy shape will emphasize the shade's matte effect.
8. Burgundy Pointy Nails
Another glam nail design for long stiletto nails, if you prefer a shiny nail, are these glossy burgundy nails. Choose plain burgundy in a shine or a polish with glitter.
9. Burgundy Toe Nail Design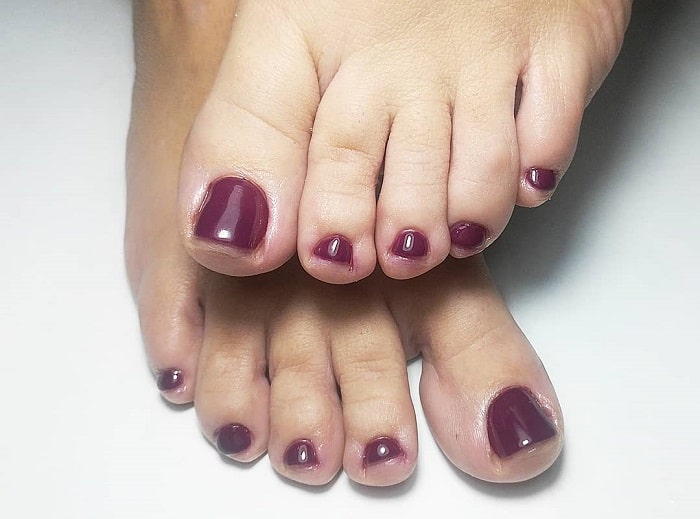 Don't give all the love and color to just the fingernails! Treat your toenails to the sultry color too so you have a matching burgundy manicure and pedicure.
10. Short Burgundy Nails
Prefer short nails? Give them a rounded shape before painting them with a gel burgundy polish. On the accent nail, you can use matte with a thin silver line and rhinestone.
11. Burgundy + Silver Nails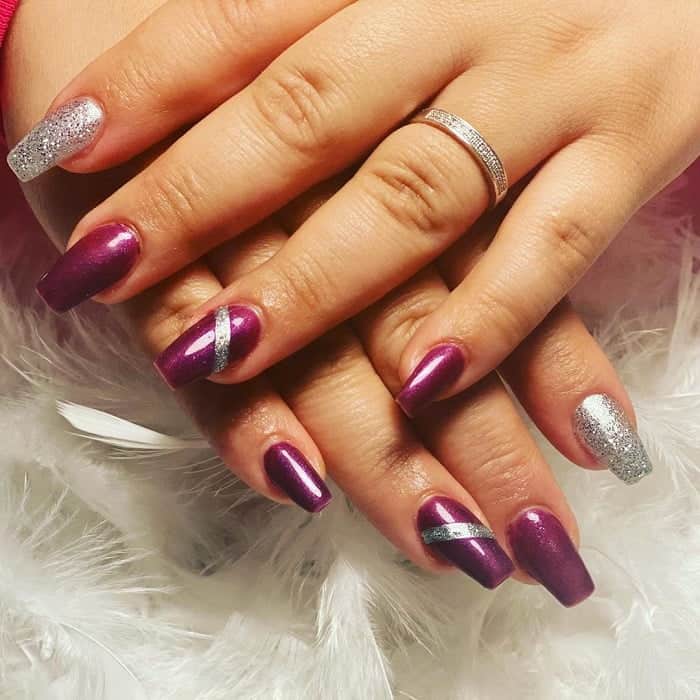 A sparkly silver seen here with long square burgundy nails is perfect for special nights out or New Year's Eve where shine and sparkle are the attire.
12. Light Burgundy Nails
Not a fan of dark colors? Choose a shade of light burgundy. No special accessories are needed for long almond nails.
13. Burgundy And Rose Gold Nails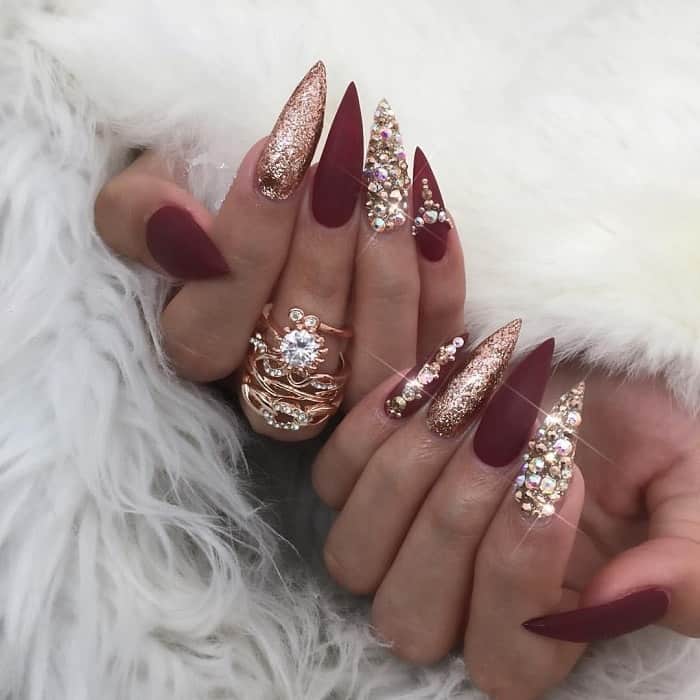 There was a time when all ladies were obsessed with all things rose gold. Well, that trend never went out of style!
It just got an upgrade when it was paired with burgundy and heavy jewels on long stiletto nails.
14. Burgundy Acrylic Nails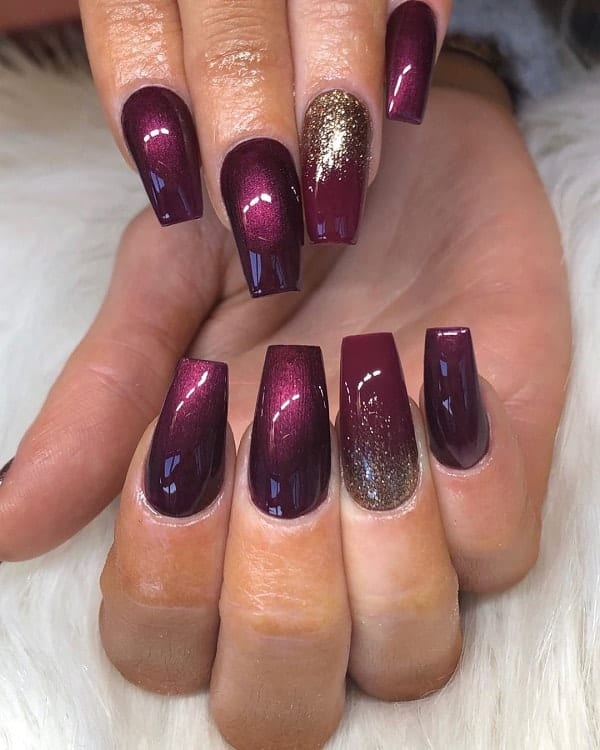 If you're a true nail lover, you're used to acrylics, so the next time you visit the nail salon, get burgundy acrylics! These long square nails are ultra glossy and we love the gold glittered top on the accent nail.
15. Burgundy Red Nails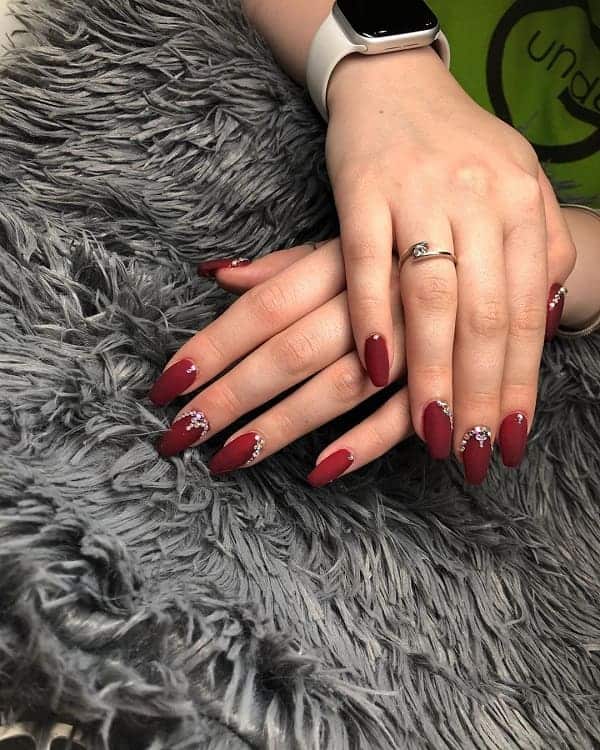 For ladies who always choose a classy red for a manicure, alter that shade just a bit with burgundy! With the right placement of silver crystals at the cuticle, your new favorite go-to color will be burgundy.
16. Burgundy Chrome Nails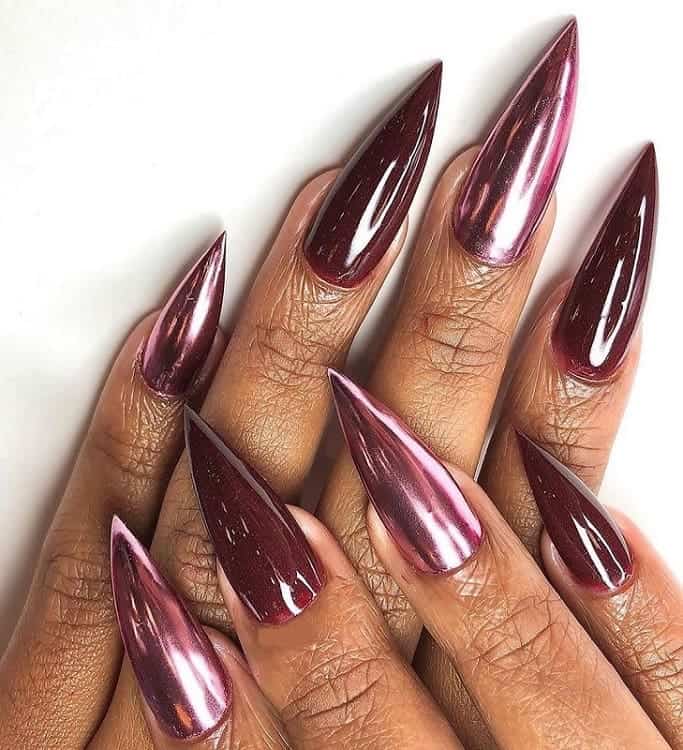 Chrome nail polish makes any design that much more dramatic, so why wouldn't you try it on burgundy nails? These long stiletto nails are extravagant, just the style for an equally extravagant woman.
17. Burgundy Nails with Diamonds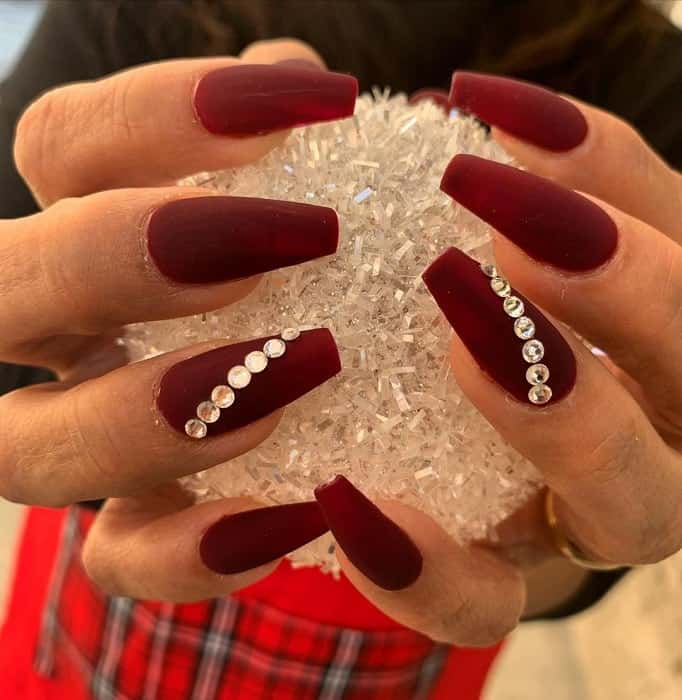 For a nail design you can do at home, paint nails burgundy before adding medium-sized silver crystals in a diagonally curved line on the ring fingernail.
18. Burgundy Marble Nails
You know us, we love a good marbled nail design! Choose light pink marbled nails to go with matte burgundy for a beautiful blend of feminine colors.
19. Burgundy Wedding Nails
Not into traditional colors for weddings? A deep burgundy nail is super romantic for long oval nails with silver accents. For even more sparkle, paint the pinky nails glittered silver.
20. Burgundy and White Nails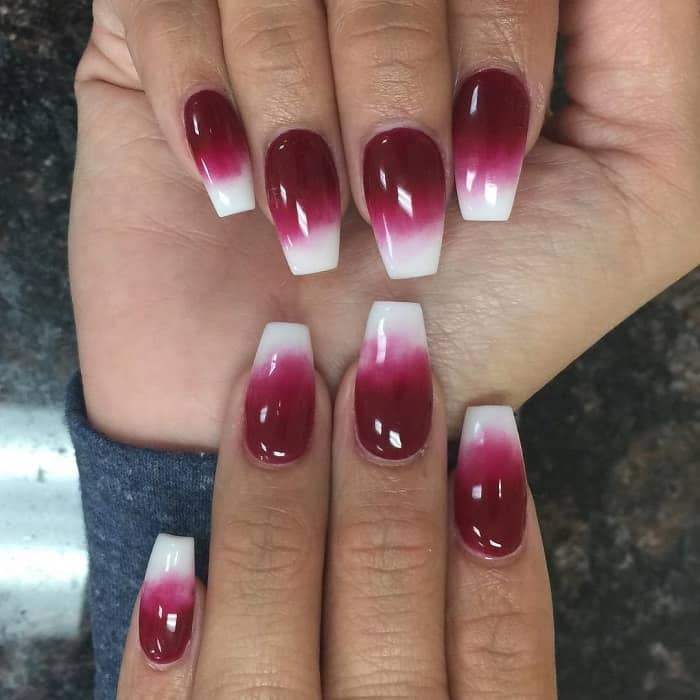 A friendly shade of burgundy is shown here on long ombre square nails. Sometimes pairing a light color, like white, is the key to a softer burgundy nail design.
21. Burgundy Squoval Nails
On short squoval nails, burgundy matte is perfect for a simple yet stylish design. Be as steady and precise as you can. Matte polishes are a little bit harder to work with since they dry faster.
22. XXL & Matte
This is the second most famous burgundy nail design. Square-shaped and matte nails are stunning on their own, no fancy details are needed.
23. Tribal Burgundy Nails
For those who like to spice it up a lot, this is the best design for them. If you are bored with the classic and mono nail designs, then why not go bolder?
This tribal nail idea is the best choice for you especially for the spring season when it's time for spring festivals, Coachella, or just some " let's chill in the backyard" moments.
How to: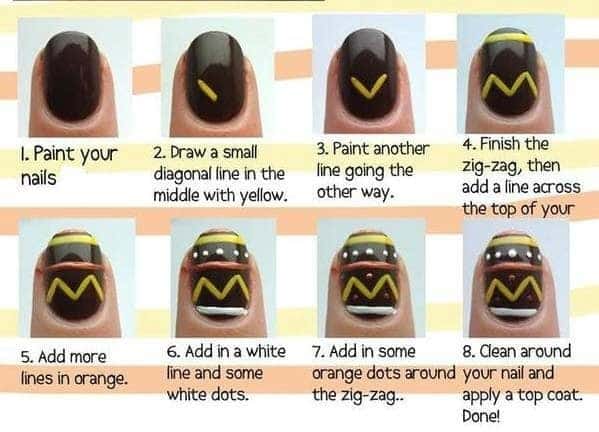 Well, you've got the hang of it by now. First, you start off with a base coat, two layers of the burgundy nail polish, and then it gets a little bit tricky, that's why we have a picture so it is self-explanatory:
24. A sprinkle of sparkle
These are just perfect for Christmas and New Year's Eve. No matter the length, the shape, the shine, or the matte effect, they are irresistible.
When mixed with the right golden tones, golden glitter especially, you'll feel extravagant.
How to:
Add one layer of your matte nail polish, or two layers of your sheer polish if you like shine over matte. Then, you apply the golden gel with a small flat brush wherever you like, in order to make them glamorous.
After they dry down completely make sure you put the top coat over it, just to ensure the long-lasting effect.
50 CUTEST TOENAIL DESIGNS FOR ANY PICKY GIRL
25. French Tip in Burgundy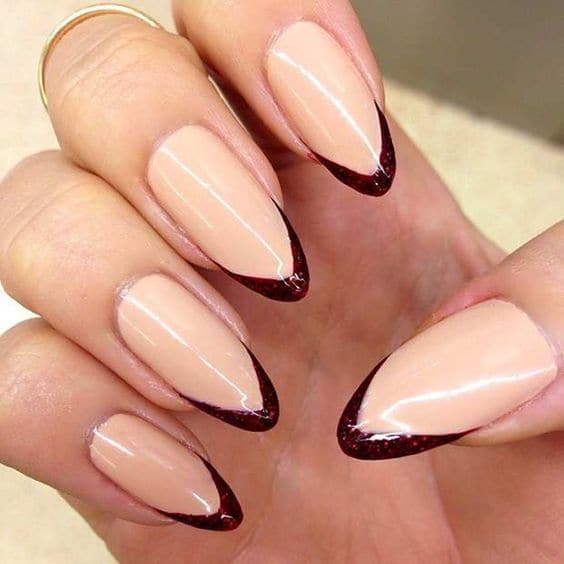 Instead of a traditional white French tip, opt for a beige or nude nail and line the edges with plain or glittered burgundy.
26. Stones Galore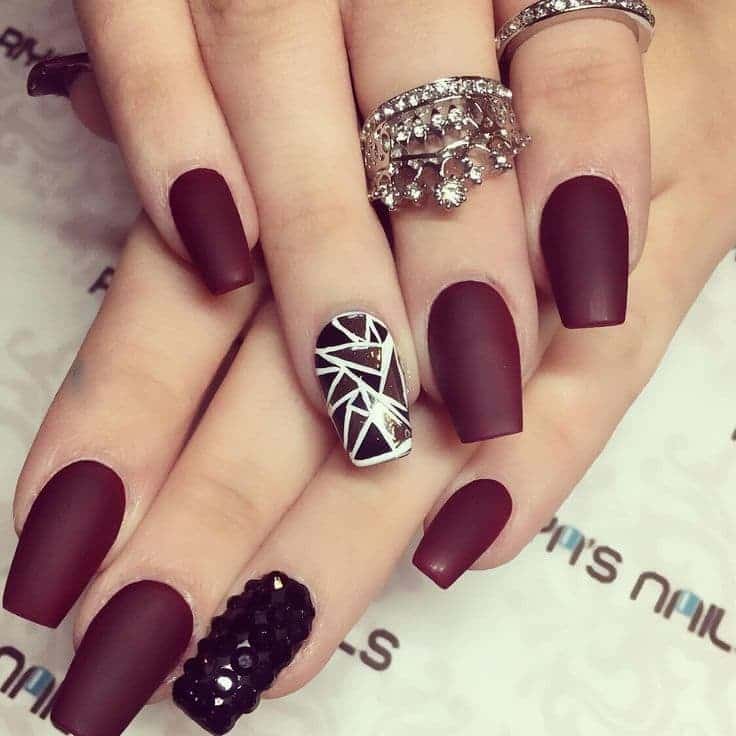 If you are that gal who likes a little bit of pizzazz, then this is your nail design. You can style them round, pointy, or square, but make sure to add the jewels to the accent nails. Pick stones for one nail and triangle-shaped pieces for the other.
27. Floral Border
Wine and flowers- does it get more sensual? The perfect wine color with elements of flowers on your nails makes it look romantic, chic and cute, and most importantly, any woman can pull it off.
It can be your night-out nail combination, your business nail combo, your gym nails… It just looks cute, simple and it is so effortless.
How to:
After painting your nails in dark red, you draw tiny dots with the smallest precise brush on the corners and apply one flower sticker in the middle.
You can browse through your local store, or even find the stickers extra cheap on eBay.
28. Burgundy Gel Nails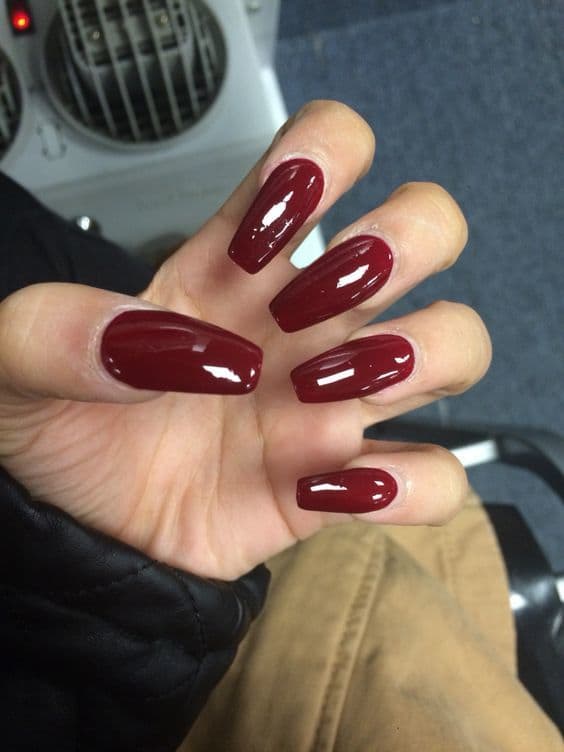 Since not all women like a matte polish, a glossy burgundy nail may be just your style if you want that shine for a wedding day, prom, birthday, or graduation.
There are no rules when it comes to beauty, but preferably the longer the nail, the shinier.
A little bit harder for beginners, so it is recommended that you go to a nail technician for this one. Ombre nails have become a trend in the last few years, and have been on top of our charts quite a lot.
30. Cherry pop
Not handy with the nail polish drawing? Pick up some nail decals or stickers in these cute cherry designs. Add them to white nails framed by burgundy nails.
31. Simplicity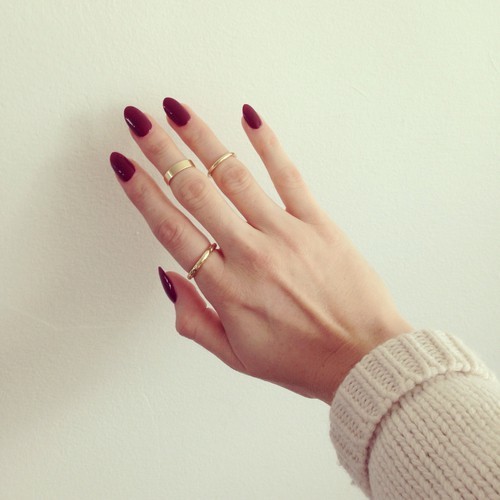 Instead of going too shiny and full of fashion creative touches, try simplicity with just a few coats of burgundy on long oval nails.
Different Shades of Blue for Different Moods
32. Burgundy and Gold Nails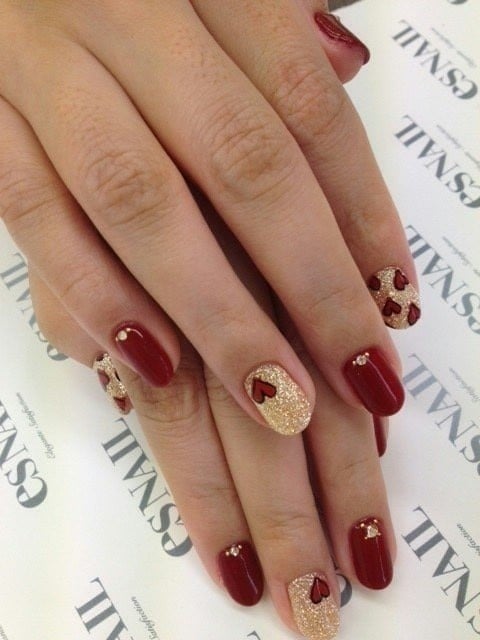 One of the color shades that are similar to burgundy is the bloody red which is best used in nail designs with the fresh shine off the golden glitter nail polish!
Adding a small red heart on the golden part and tiny golden decals on the red part would be useful in giving this burgundy nail design its sparkling look!
33. Simplicity
Prefer a simple nail design? Emphasize the crescent shape of your nails by leaving them plain and painting the rest of the nails with a few coats of burgundy.
34. Golden Tips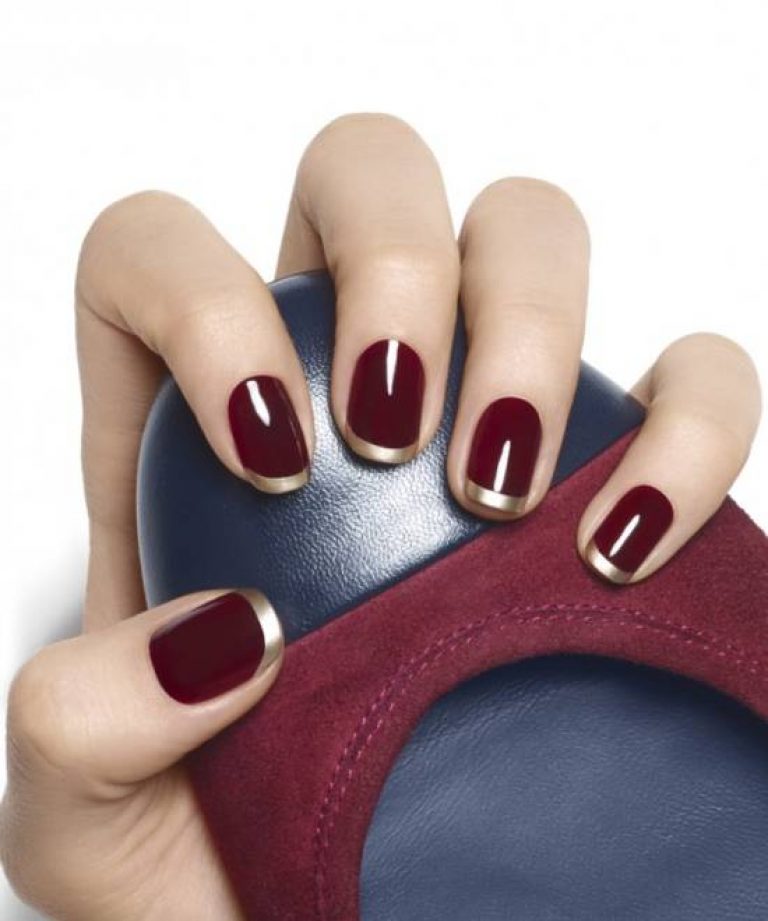 Decorate your beloved burgundy nails with a touch of a shiny gold at the tips of each nail. A few coats may be needed to get the thick shine.
35. Sheer Red
Nail polish is made up of many different kinds, one of which is sheer. As you can see, it's perfect for classy night parties since it has its unique shimmer, not to mention the very small silver stones that give the nail its sparkle.
36. Burgundy Almond Nails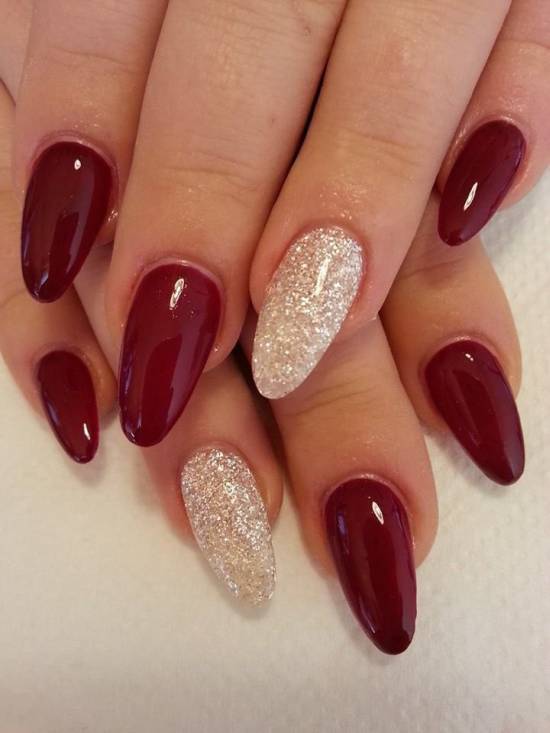 Almond shaped nails are the best, especially when they have that jelly look with the red color. The ring fingernail shows off shimmering white glitter, a great color to accent burgundy.
37. Chevrons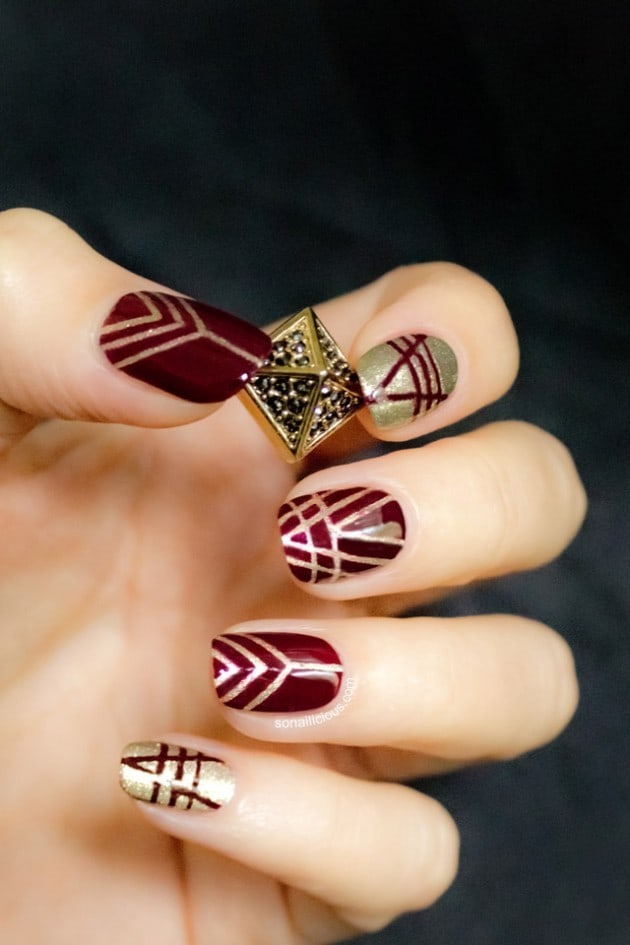 This gold and burgundy nail design features thin chevrons on each nail. Thin lines will help make the nail bed look wider and larger.
38. Ombre Burgundy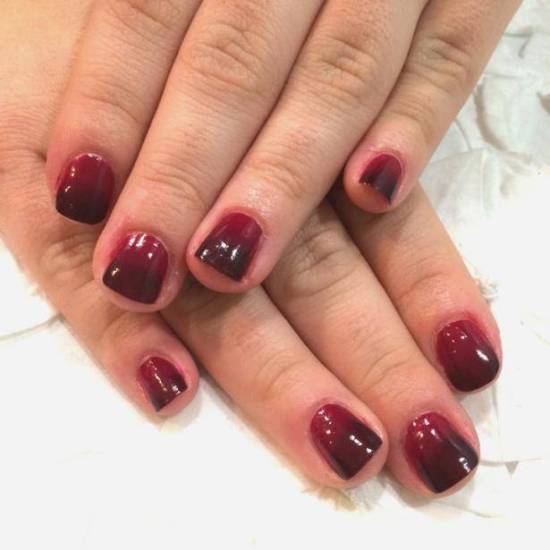 In this ombre nail design, dark bloody red fades to a light candy red. Consider choosing this nail design. foryour short round nails.
39. To Infinity And Beyond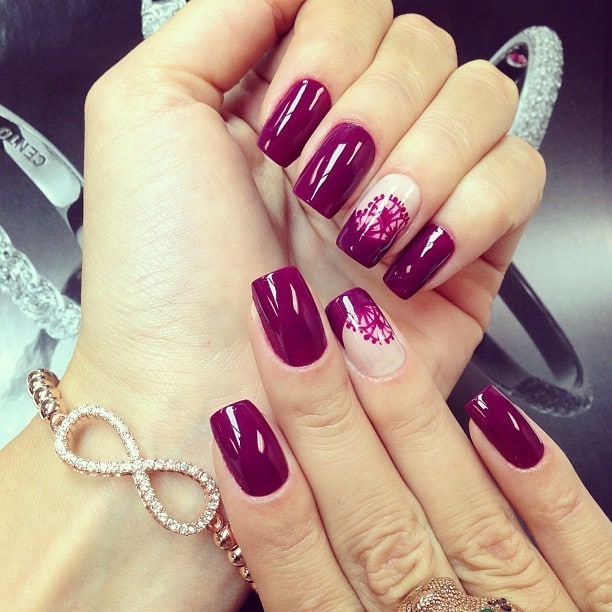 Jam violet burgundy is one of the sexiest colors ever known. It gives you the hot and attractive look you always wanted to have. Wear the color with a white accent nail featuring a lighter flower design.
40. Burberry Pattern
In this nail design, the burgundy nail polish on all nails does not grab the attention as the masterpiece on the ring finger does.
In this finger, one of the most popular and most beautiful patterns of Coco Chanel is drawn with black, red, white, and tan.
41. Burgundy and Black Nails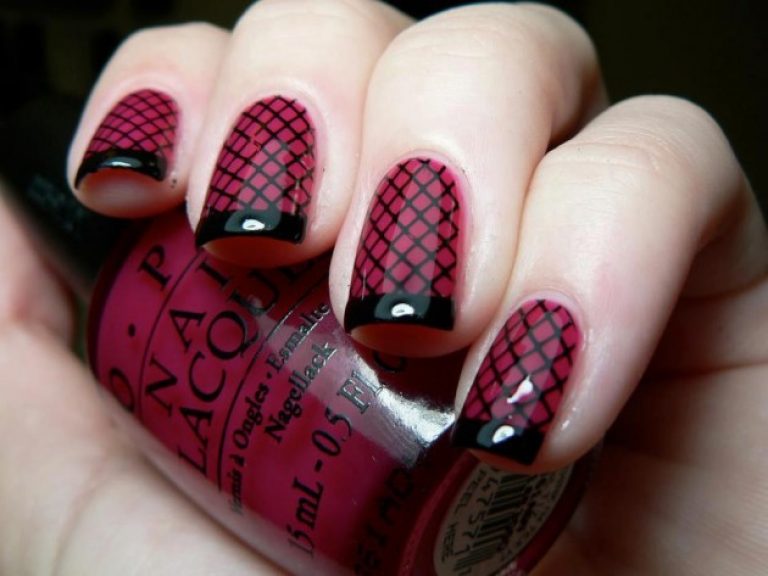 Liven up burgundy nails with thin black lines extending diagonally in each direction. Pull it all together with a thick black tip.
42. Gold on Maroon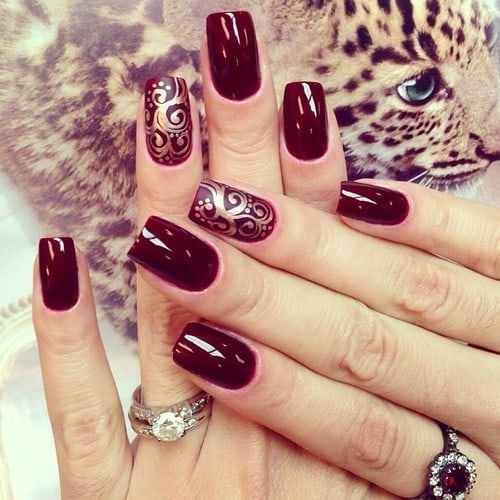 These short square maroon nails feature one classy accent nail of matte with a gold swirled line design. Get it with a nail sticker or design it yourself!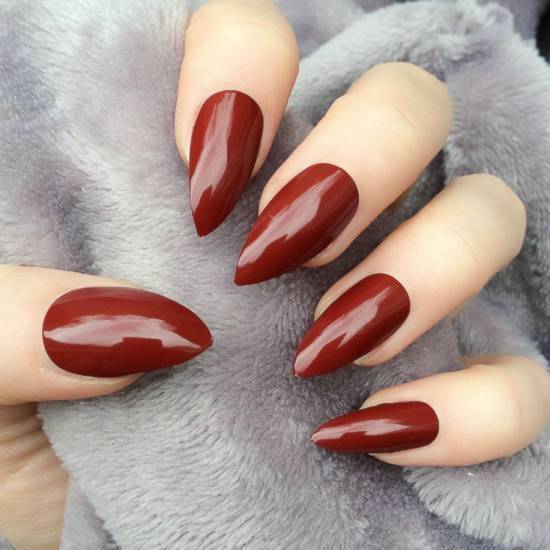 Auburn is the most classy shade of burgundy. It has that flaming look that you wanna wear in all occasions, whether it's daily life or a date night with the girls.
44. Dark Burgundy Nails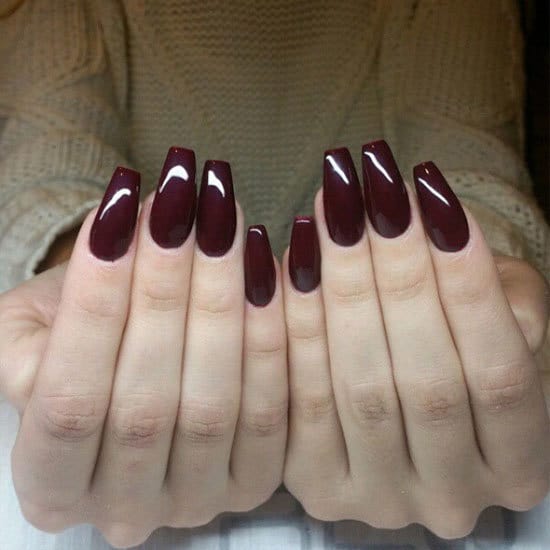 Wanna look sexy and wild at the same time? Try wearing this dark burgundy nail design made up of the rosewood classy color often found in squared oval-shaped nails.
45. Fabulous and Classy
Coco Chanel says, "A girl should be two things, fabulous and classy." As many ladies know, fabulous and classy are two adjectives that hold many common meanings and when one of them occurs, it will randomly cause the occurrence of the other.
If you wanna look classy and fabulous, try this burgundy nail design.
46. Glossy Maroon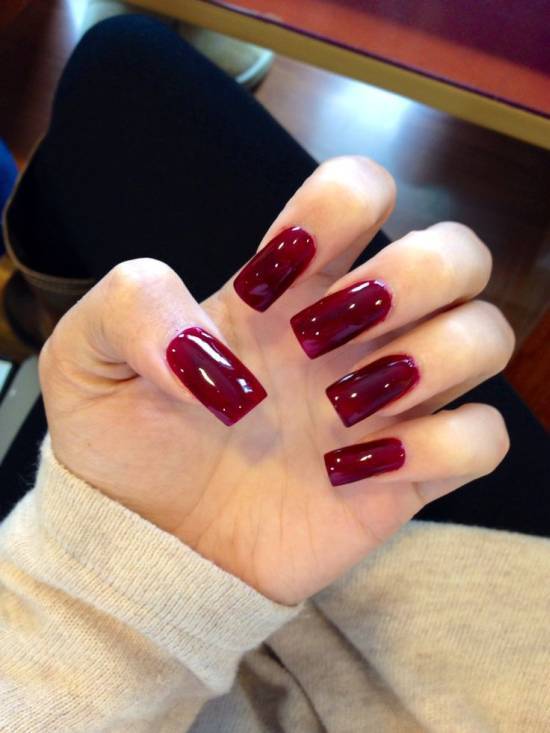 It can be hard to differentiate between maroon and burgundy, but choosing a glossy maroon will help you out there. Try the color on long square nails.
47. Matte Burgundy Nails
It's a fact that you don't have to go all shiny and glittery in order to look classy, and sometimes simplicity is the only way to elegance and beauty. If you wanna look stylish and feminine, wear this matte burgundy nail design.
48. Burgundy Nails with Glitter
Many ladies think having a shiny and glittery look is the way to get a fancy nail design. In that case, try this look, made up of shiny and glittery decals of gold and white to light up your nails and bring them back to life!
49. Floral Burgundy
Flowers are adored by women! However, the best gift that can ever bring a woman to her best mood are the special flowers she adores. If you're a flower lover, you better try this matte and floral nail design!
50. Goth Tipped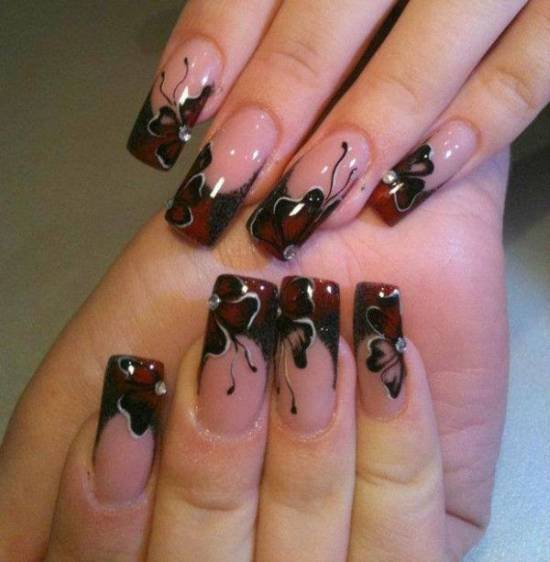 No one can deny that the tips of this nail design are all goth and Halloween-themed. If you have such an occasion on a dark black night, this nail design would be the best to wear.
Amazing Burgundy Nail Designs to Fall in Love
Summing it all up, burgundy nails are sexy, classy, and look hot the way we always wished for. Match one of the above nail designs with your dress and let the complements flourish!