Almond nails are feminine, easy to shape and elegant. Even shaping them isn't hard at all! Let's explore some stunning almond nail design ideas to give your nails a beautiful look.
Creative Almond Shaped Nail Design Ideas
Almond nails are best for long and slim fingers. The half-pointy shape of the tips of the nail suits long fingers, it looks awkward on short and fat fingers. Here are 50 almond nail designs to inspire your thought.
#1. Red Almond Nails
#2. Almond Nails for Summer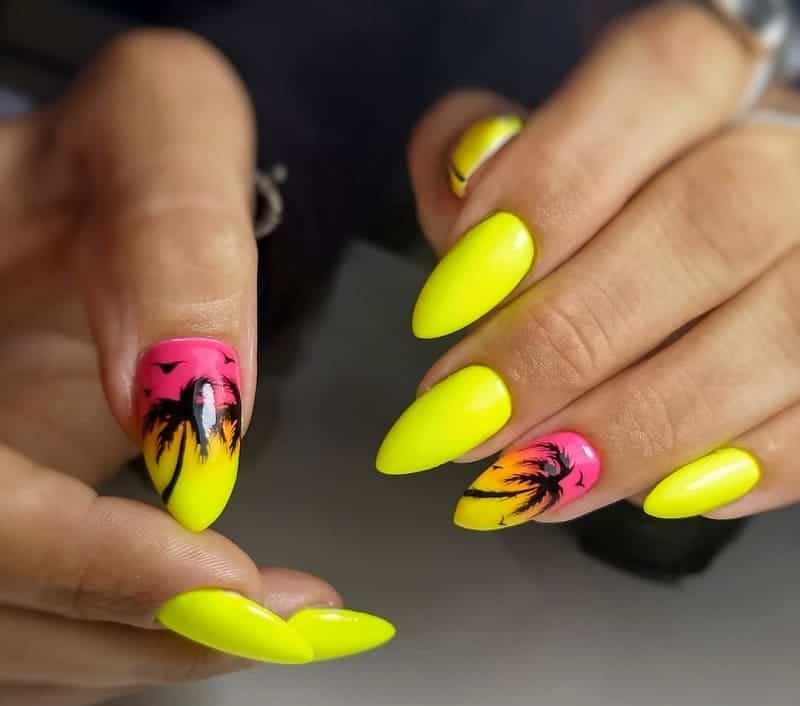 #3. Almond Acrylic Nails
#4. Long Almond Nails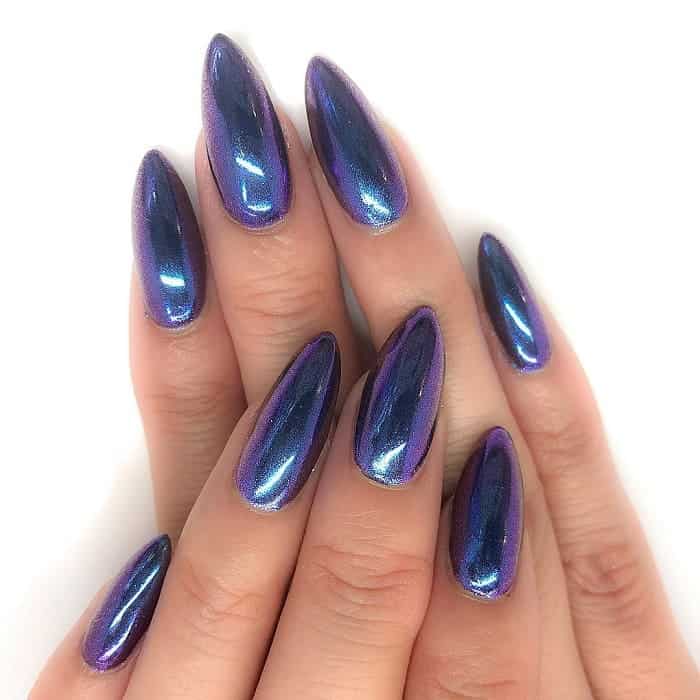 #8. Medium Almond Nails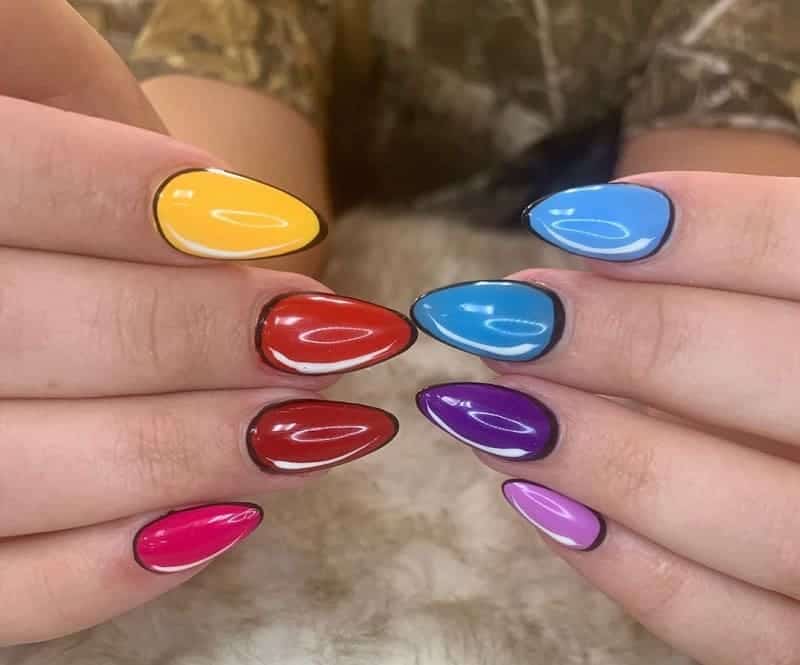 #6. Ombre Almond Nail Design
#7. Almond Gel Nails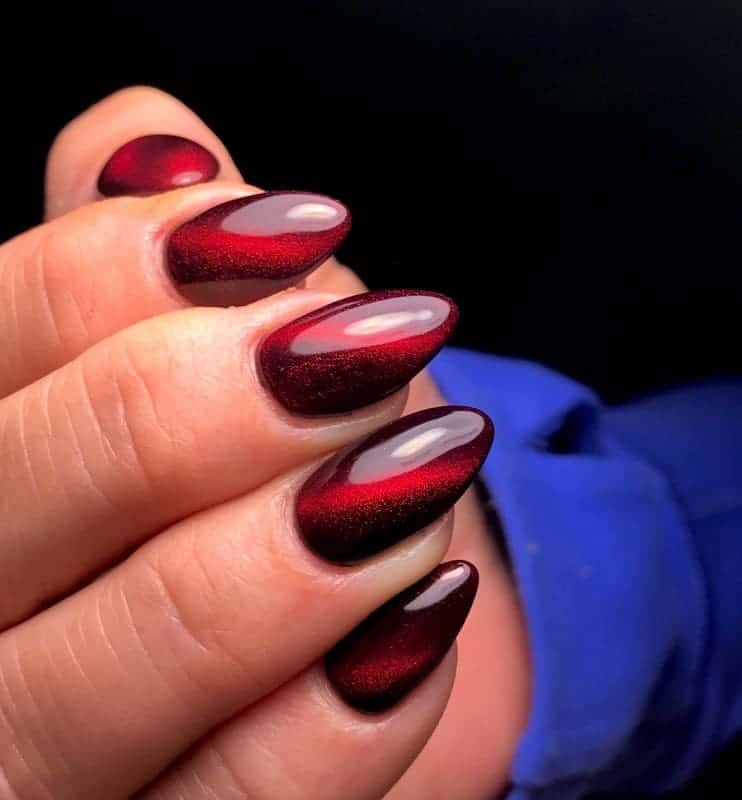 #8. Almond Nails with French Tip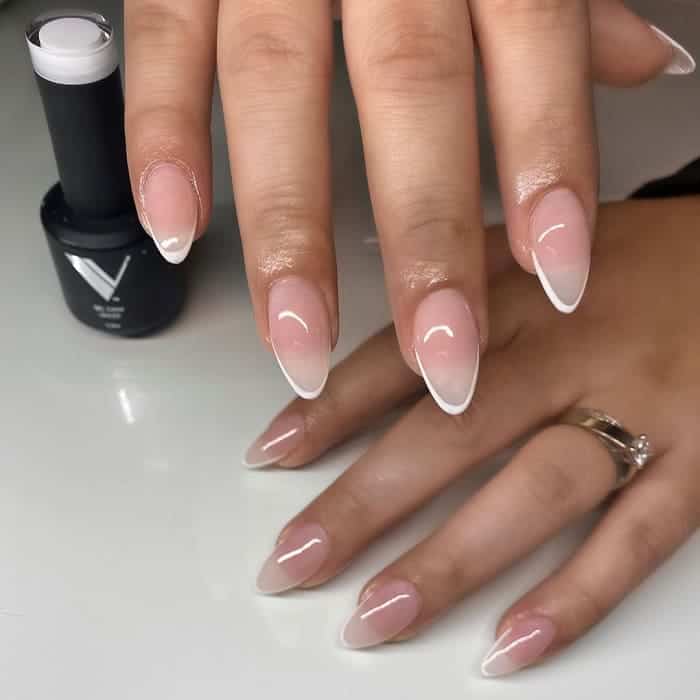 #9. Natural Almond Nails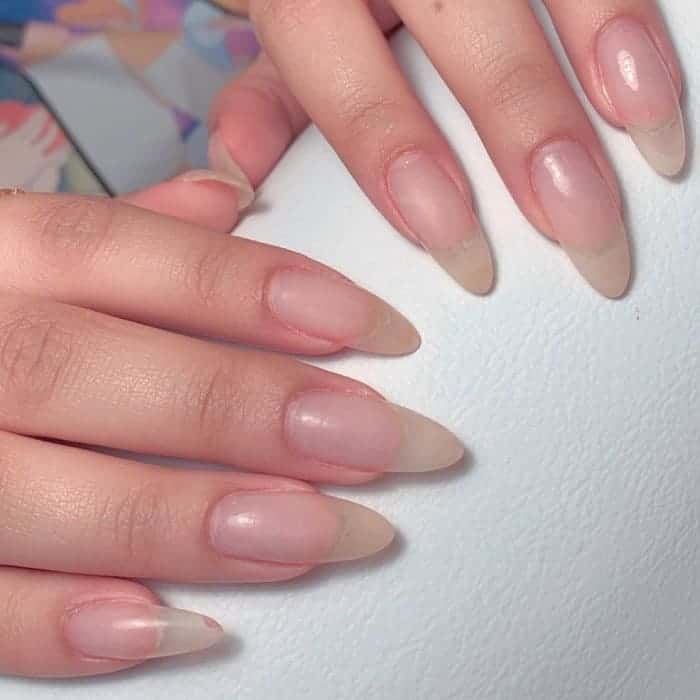 #10. Yellow Almond Nails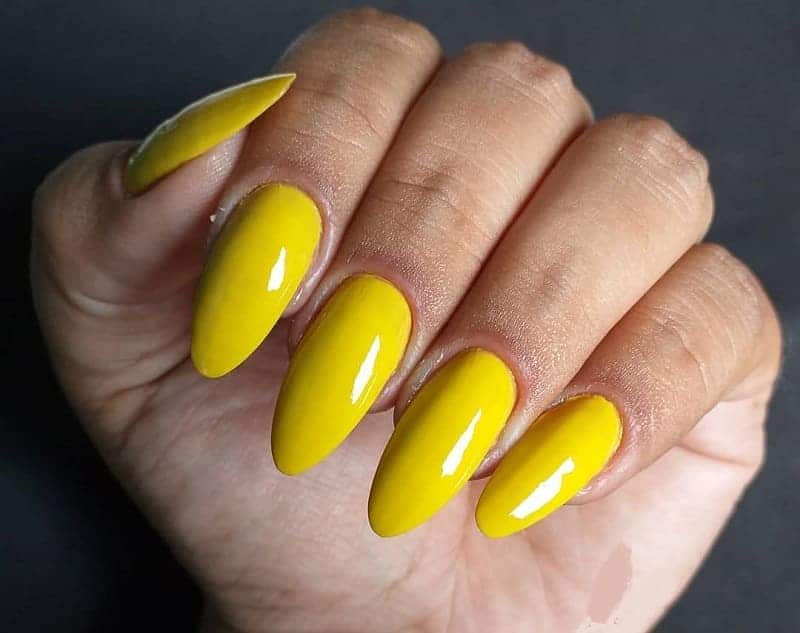 #11. Purple Almond Nails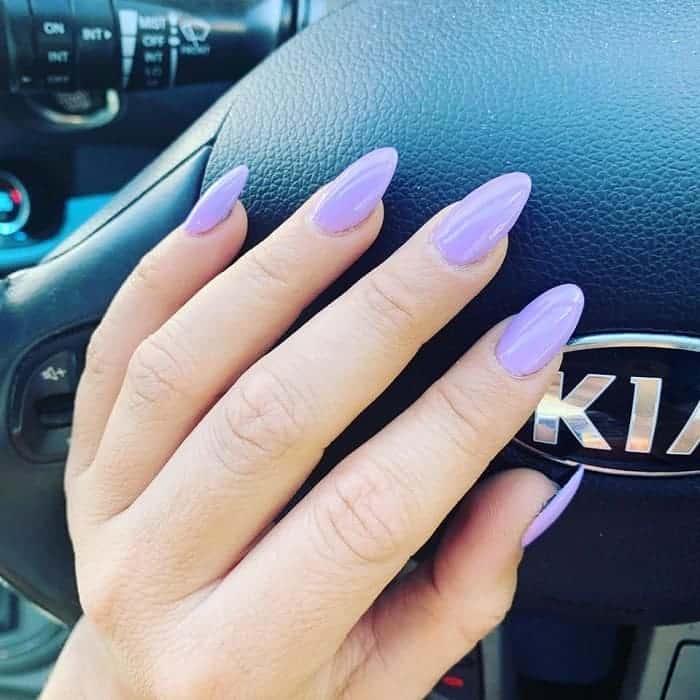 #12. Clear Almond Nails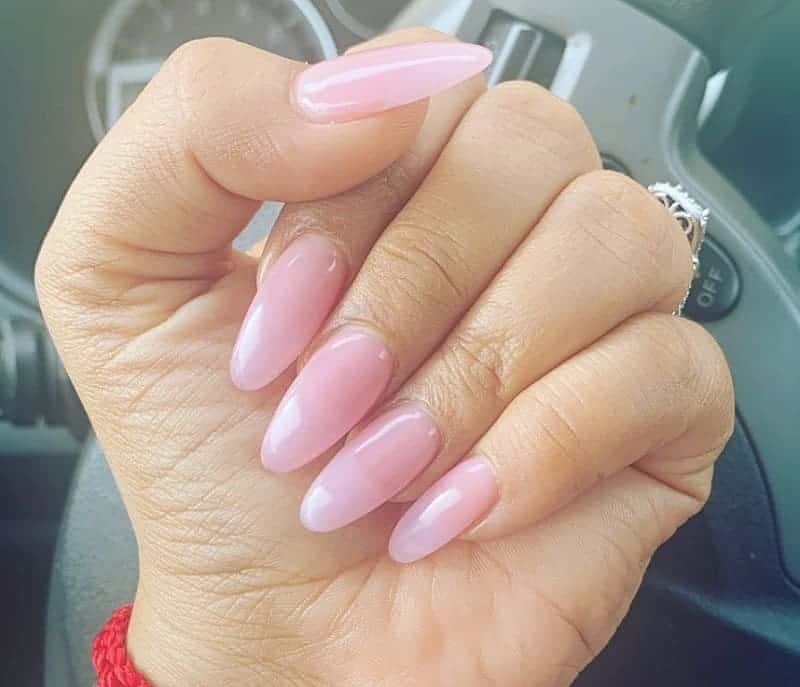 #13. Almond Nails with Glitter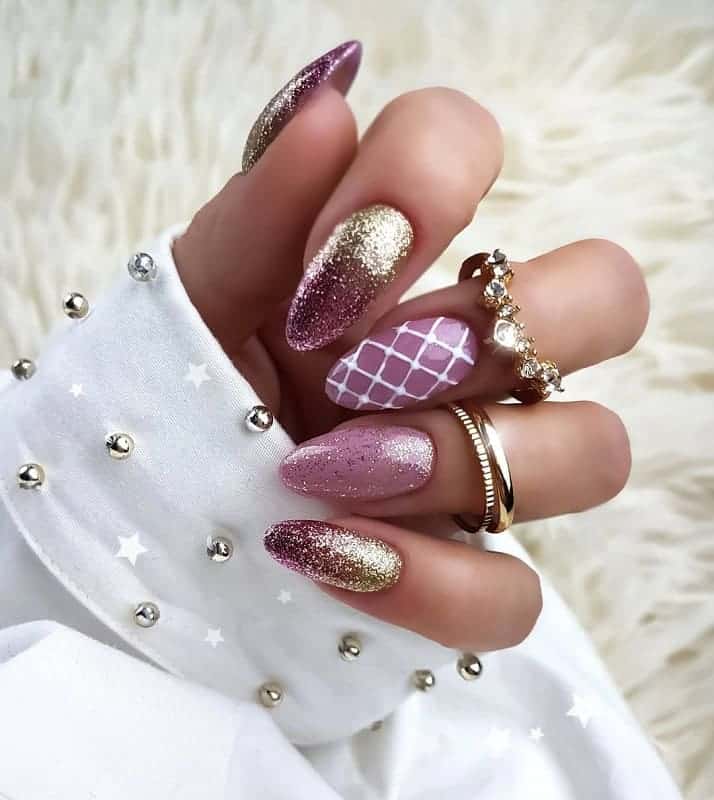 #14. Grey Almond Nails
#15. Brown Almond Nails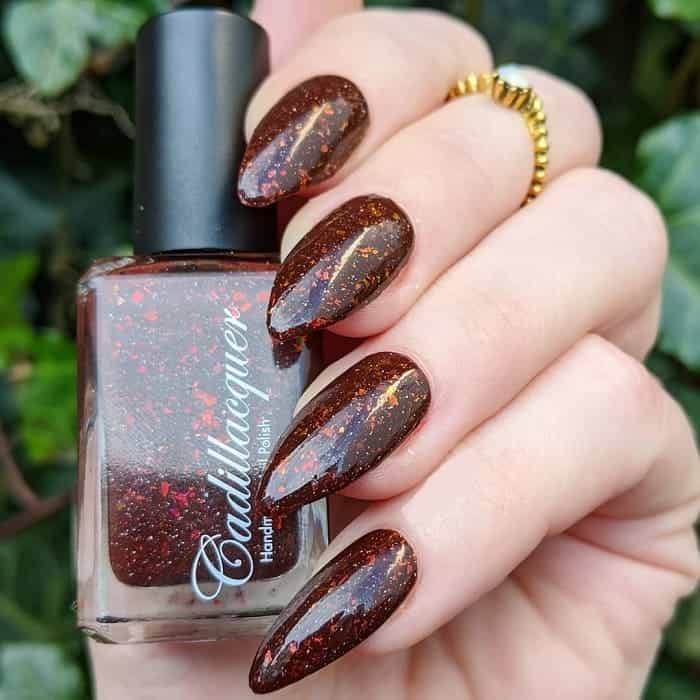 #16. Neon Almond Nails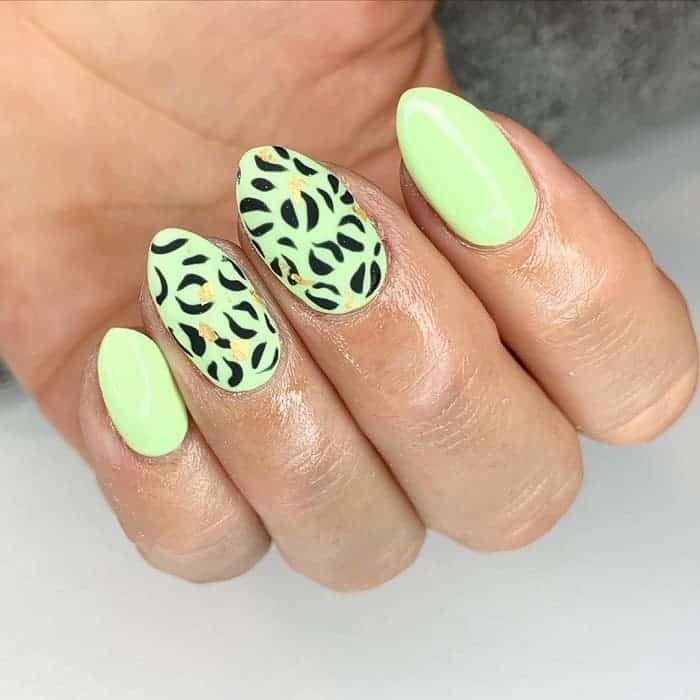 #17. Rose Gold Almond Nails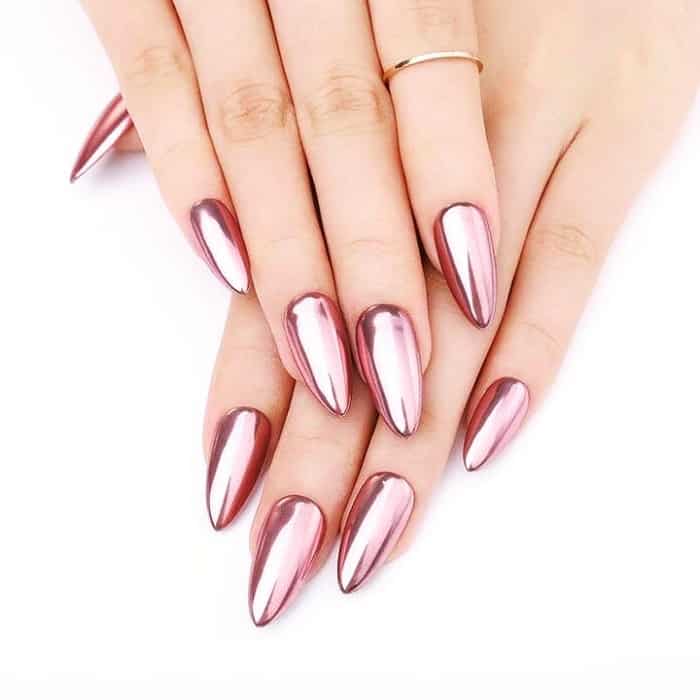 #18. Almond Sparkly Nail Design
#19. Beige Almond Nails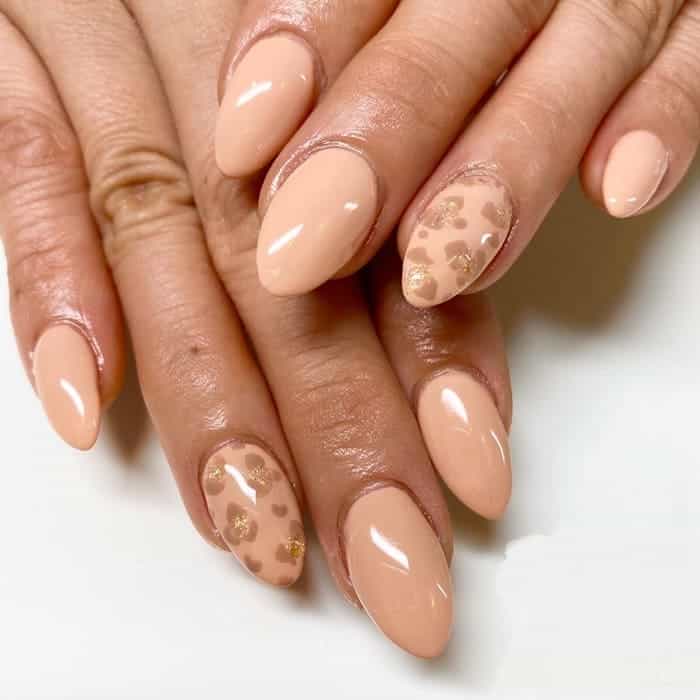 #20. Almond Shaped Nails with Rhinestones
#21. Short Almond Nails
This short almond nail is an example of a natural nail style. If you are lucky enough to have long and thick nails, then why bother visiting the salons and spending money and getting them plastic?
These nails are as pretty as any other ones out there, if not even prettier considering the fact that they are all-natural, and we should tend to have more naturally beautiful things in this world, so let's start off with your nails, k darling?
Get on Trend With Long Almond Nails
#22. Oui, Oui
A simple yet elegant almond nail design we love. Businesswomen tend to do their nails exactly like this the most, and it is understandable why it's like that.
They are a guarantee of a successful business opportunity, and they also look smoking hot.
#23. Mad For Mono
A simple pink gel on your almond nail design looks chic and innocent. These nails are a hit during the prom season, so make sure to rock these nails for your prom. Just switch up the color, depending on the color of your dress.
#24. Pure Black Almond Shaped Nails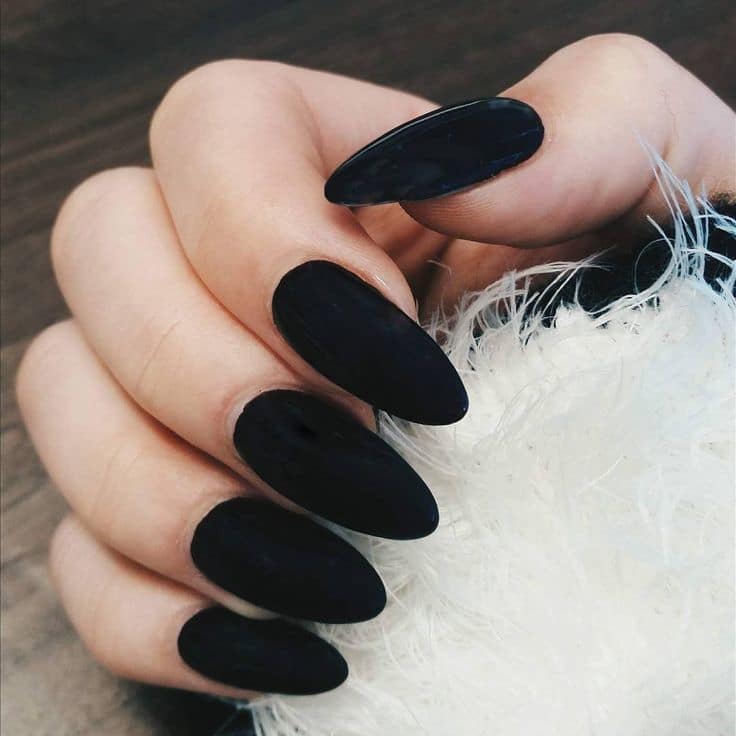 We all have that one girl around us who a-l-w-a-y-s has black nails. Black color can look elegant and is a symbol of mystery, but it also depends on what you wear.
If you pair it up with a little black dress, elegance will be the first word that comes to people's minds when they look at you.
But, if you go for pants, tops, shoes, backpacks or pretty much anything that's casual, people will think that you are mysterious and have something to hide. So be careful.
#25. Meow
You can literally see your own reflection in these. Silver, short and trending at the moment, these almond nail designs will get you a lot of attention, and possibly a number or few from some cute guys.
#26. Pink Almond Nails
Come on Barbie, let's go party! These vibrantly pink almond shaped nail designs can't get unrecognized. All of you women out there who love pink and have been a Barbie fan ever since 1959, what are you waiting for?? To the salon, we go!
#27. Blossom Bubbles and Buttercup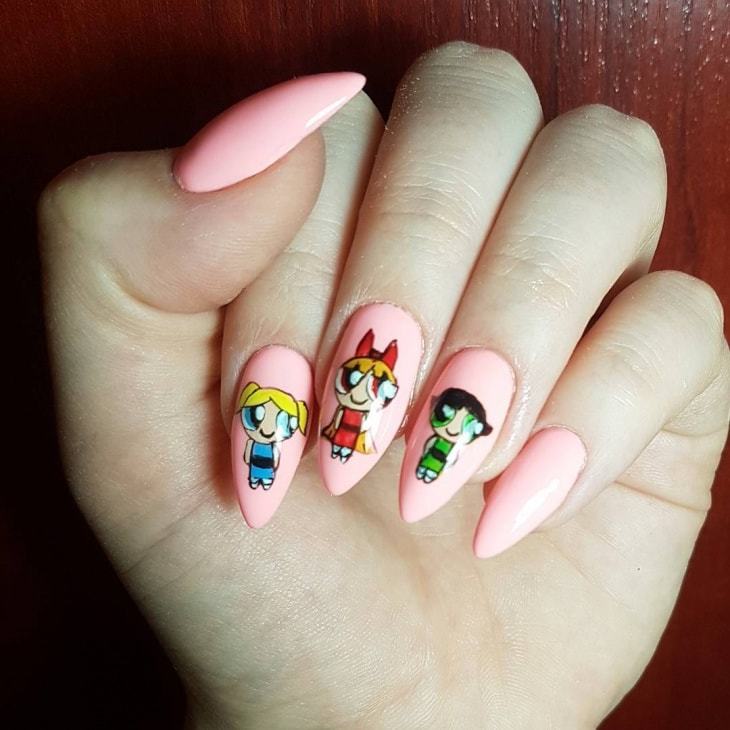 Talk about nostalgic and about the perfect little ingredients to make your almond shaped nails. These nails are for the biggest cartoon lovers out there who are still in love with this amazing TV show. Blossom was my favorite, and yours?
#28. Queen
This almond nail design is a true representation of a queen. White color means pureness, and little gems look like a crown, so make sure your head is up high when rocking these!
#29. Grr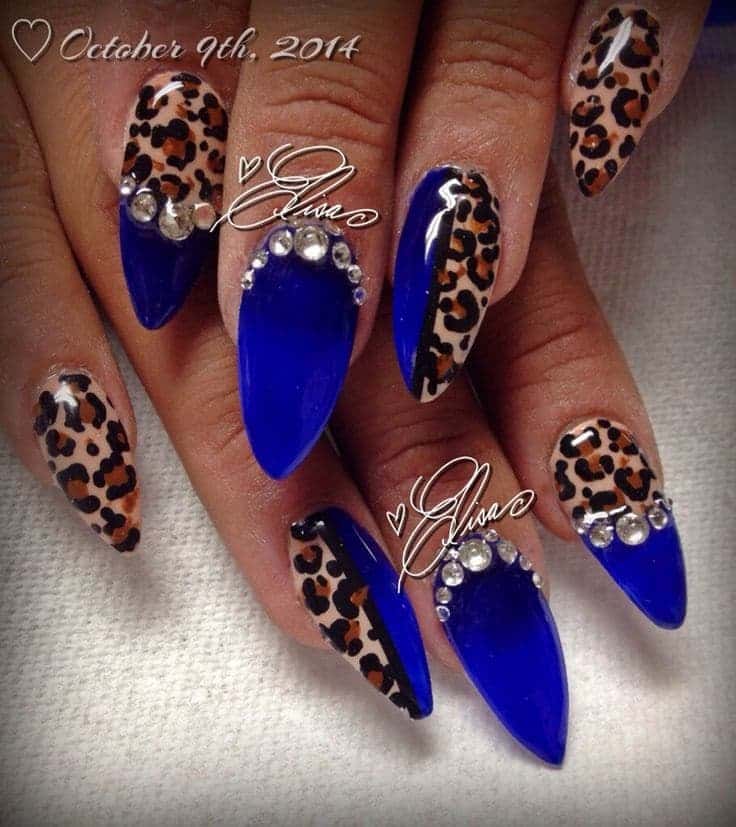 Royal blue and a leopard print, my two favorite combinations in the world! Go to the right nail technician for these ones, since they can be done in a really good way, or they can go horribly wrong.
If you are very skilled you could try to do it yourself, but no matter the process, make sure you're having fun later when showing them off.
#30. Cinderella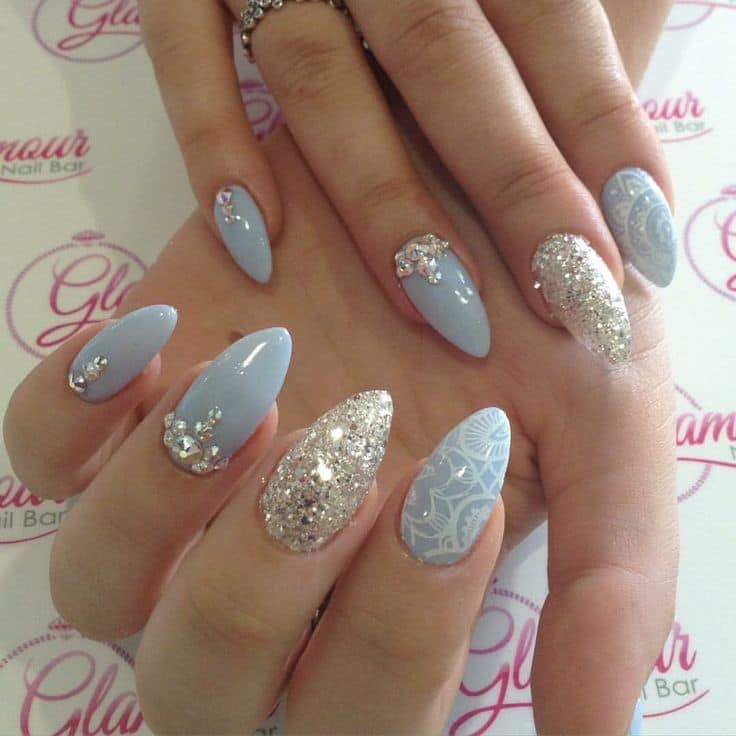 If you have strict parents, make sure you're home before midnight! These exquisite Cinderella inspired almond nail designs are perfect for your prom or birthday parties.
#31. Yeah I Like It Extra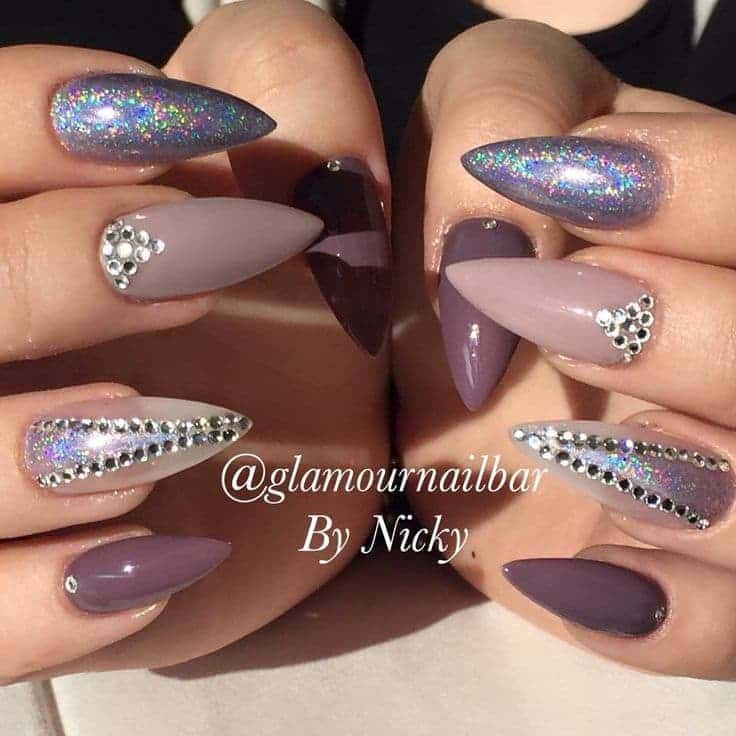 Nothing ordinary or every day in this picture. These almond nails are for every bold woman out there, who love to be in the center of attention.
#32. Instagram It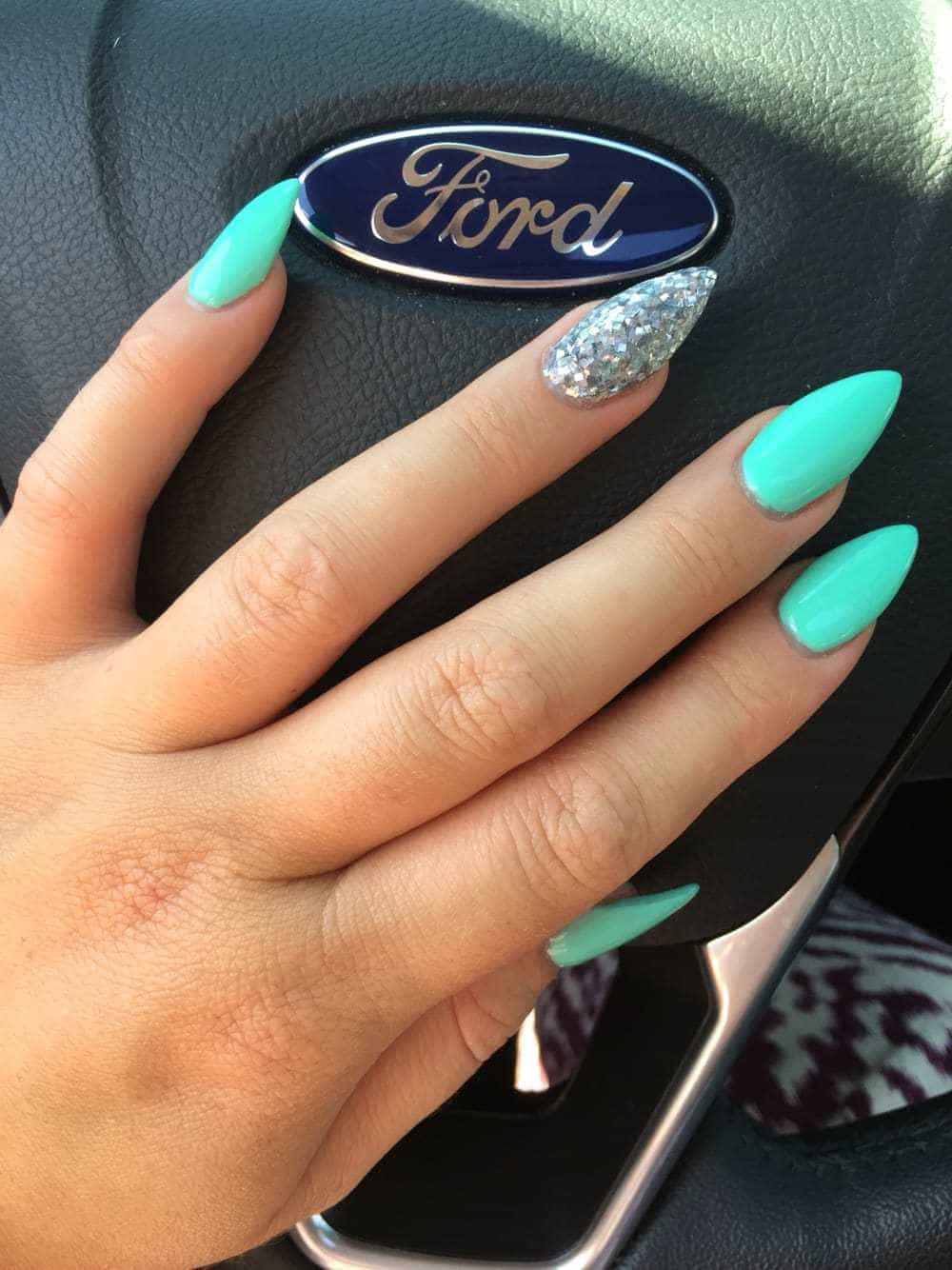 You know your almond shaped nails are on fleek when you have to take a picture in the car, on your steering wheel, and then Instagram it.
We've all done a few of these, let's be honest, but how can we help ourselves when the opportunity is hard to pass on, especially if there's a mean car nearby.
#33. Discreet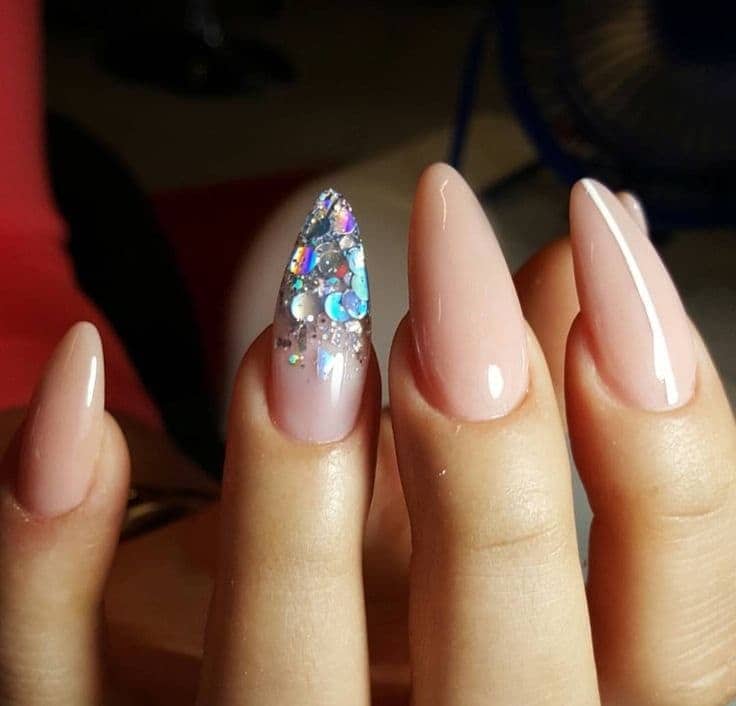 If you are not an attention seeker, but a lover of subtle bling then these are for you!
This almond nail design is just in between being all glamorous and every day, but make sure you dress them up or down depending on the occasion you'll be needing them for. Either way, they can do both which is a big plus.
#34. Blue White
Rose patterns are for our ladies who like it elegant. White and blue colors look extravagant and ladylike, and just perfect for your glamorous events.
#35. Matte Almond Nails
If you are a jewelry lover and also an almond shape lover, then make sure you do your nails exactly like this. This green-ish greyish shade looks so mysterious since it is so in between the two colors, and is the best choice when pairing with the silver jewelry.
#36. Shower Your Love
If you have an impulsive hearty full of love and affection, this design is for you. Express the immense love you have for the people around you. Shower your love through your almond shaped nails.
#37. Maroon Space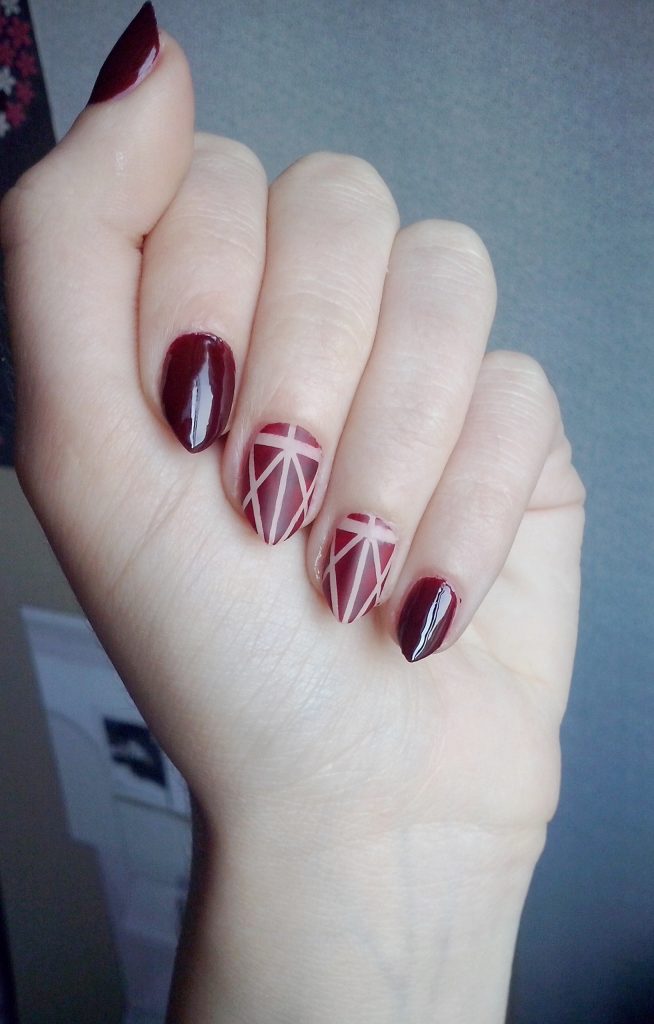 These almond nails look beautiful in maroon colors associated with different patterns. Use radiant maroon color on the base then create the patterns by keeping negative space.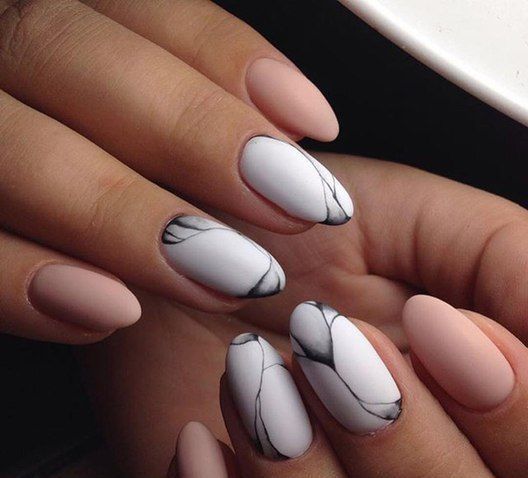 Almond nails look gorgeous in marble designs. You can apply marble design on some of the nails and keep the rest nude to have these almond shaped nails.
#39. White Almond Nails
White color creates a notion of holiness in our minds. You can have these names on occasions like wedding, prayers and other social programs. The moderate use of golden glitters gives the design a luxe look.
#40. Gold And Blue Almond Nails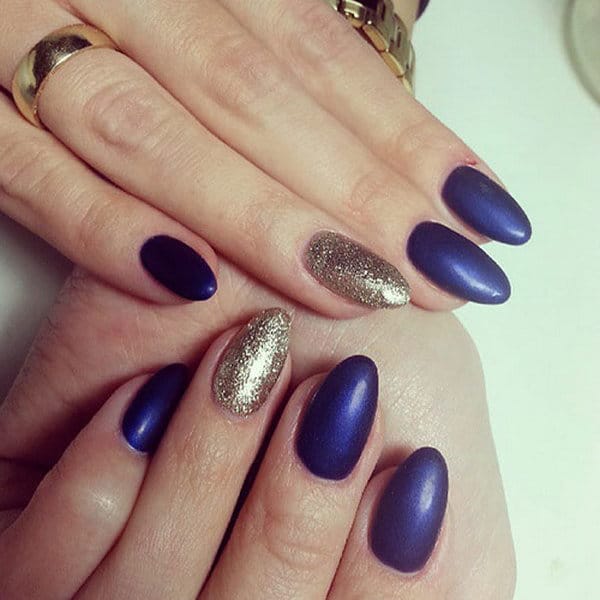 The blend of blue and golden will complement your almond shaped nails. Use blue matte and golden glitters on your almond nails to have this design.
#41. Nude Almond Nails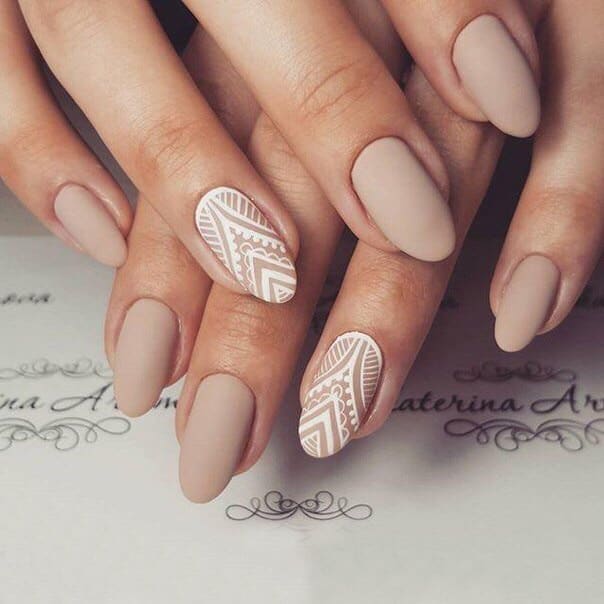 This design is simply beautiful. At first, choose a nude color matching your skin tone. Then draw white patterns like the picture on them. Almond shaped nails are ready to be exposed.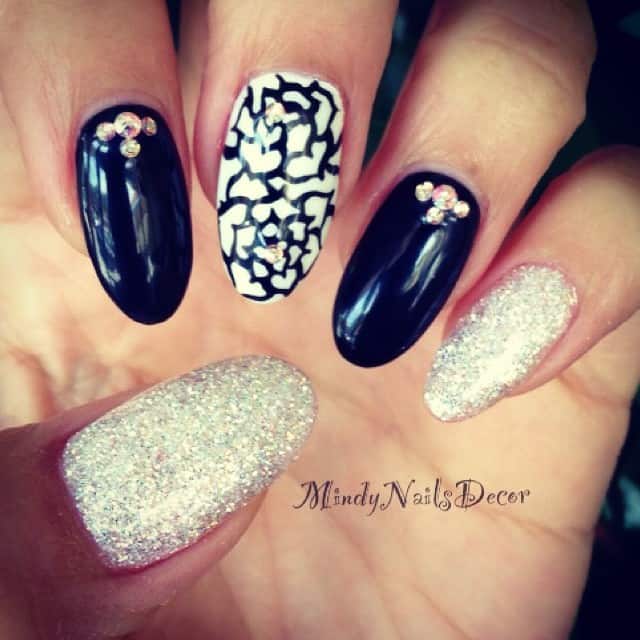 Black and white share the relationship of Tom & Jerry. They are opposite to each other but never get detached. These two colors together have been used in millions of designs. You can have them too on your almond shaped nails.
#43. Green Matte
This green design looks stunning on the almond nails with the presence of floral designs. You can use a green rhinestone on the center of the flowery design. This green matte seems compatible with the design.
#44. Gold Glitters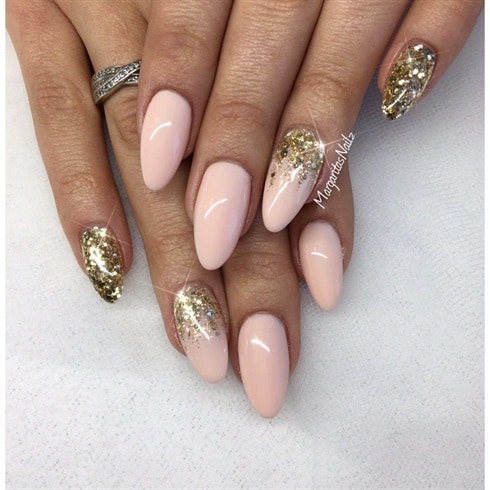 Gold glitters can be used on light pink base to give it a glitzy look. These gold glitters will shine brightly on your nude nails.
#45. Peaceful Design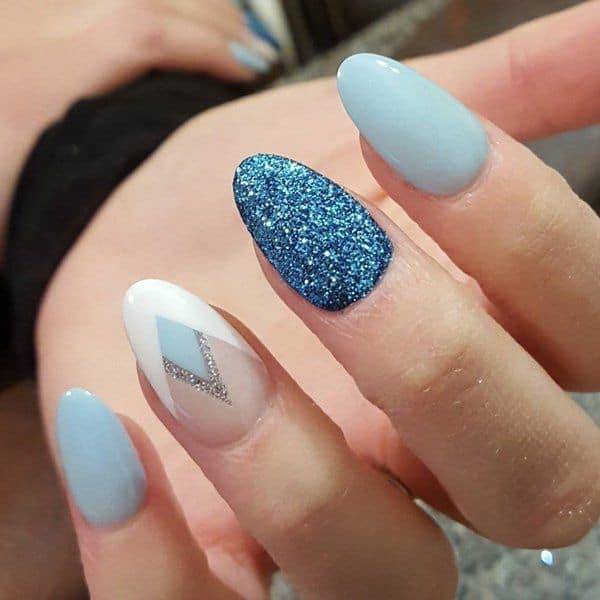 Want to be a peacekeeper? Then this design is for you. These colors, as well as the patterns, are so healing to the mind. I feel blissful whenever I look at them.
#46. Lady of the Rings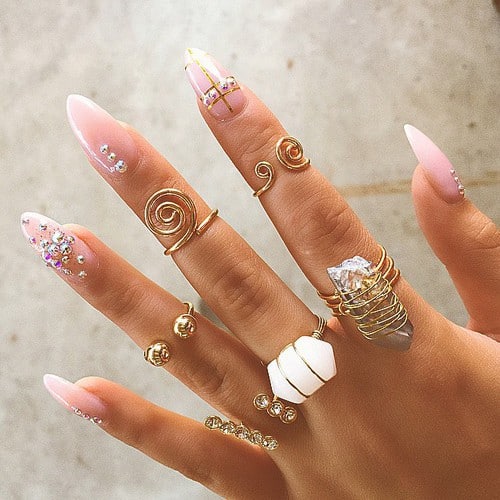 You cant be lord of the rings but whats stopping you from being the lady of the rings? If you have craving for rings and want to adorn your nails with the almond nail designs, this is the right fit for you.
#47. Lonely Bow
A lonely bow on your nude nails can refer to your loneliness. If you are like the one who is alone in a crowd, you can try this design to let the world know that. Wearing rings will be a bonus to this design.
#48. Sparkling Beauty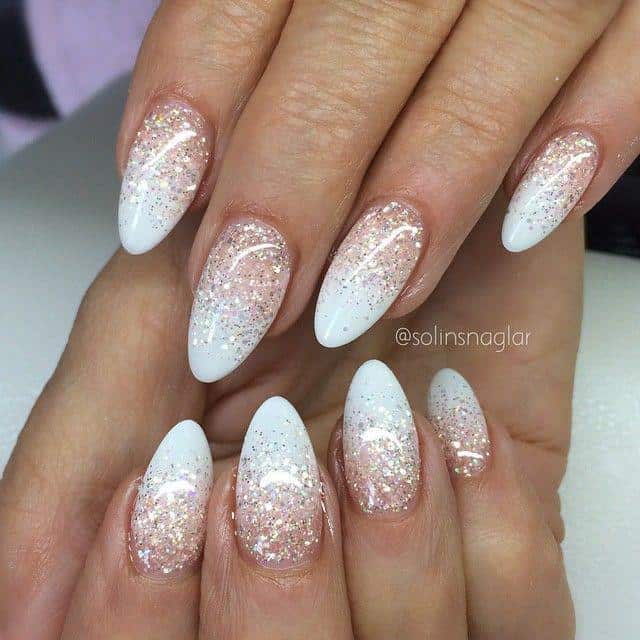 This sparkling design is for them who love to shine like a diamond all the time. You can mix gold and silver glitters together to enhance the sparkling glow.
#49. Summer Nails
Using bright colors is considered as summer nail designs. You can have this colorful design on your almond shaped nails too. Choose the color carefully so that the design doesn't get ruined.
#50. Black Silver Ombre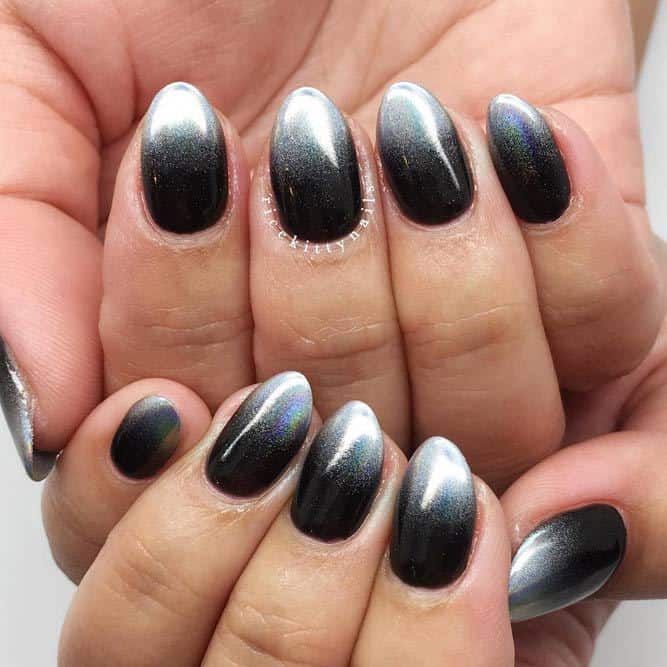 The elegance of black and the shine of silver is blended together in this design. Black and silver can be used in ombre style to have a beautiful design like this one. You can try this ombre nail on your almond shaped nails.
Shape Up Your Nails Like An Almond!
Some Catchy Almond Shaped Nail Designs to Try
On our almond nail designs list, there is a little bit of something for everyone, and if you are a tough nugget, ask your friends for help, since figuring out is a little bit harder when it comes to almond nails. But we know that whatever you choose, it will be a total win!