Want to know one of the best color combinations for nail designs for proms, weddings, and other special occasions? While blue and silver nails are an unexpected choice for those fancy events, that's what makes them so perfect for a bold style!
It's a given that blue and silver nails would be worn in the winter months to match the cold weather much of the world experiences, but when you break out the colors for your nails on other days, the style is truly unique. Get on this trend now by making sure your next manicure is blue and silver!
Beautiful Blue and Silver Nails
When you choose a blue and silver nail design from our list, you can be sure you'll be sporting the latest and greatest trends!
1. Sparkly Blue and Silver Coffin Nails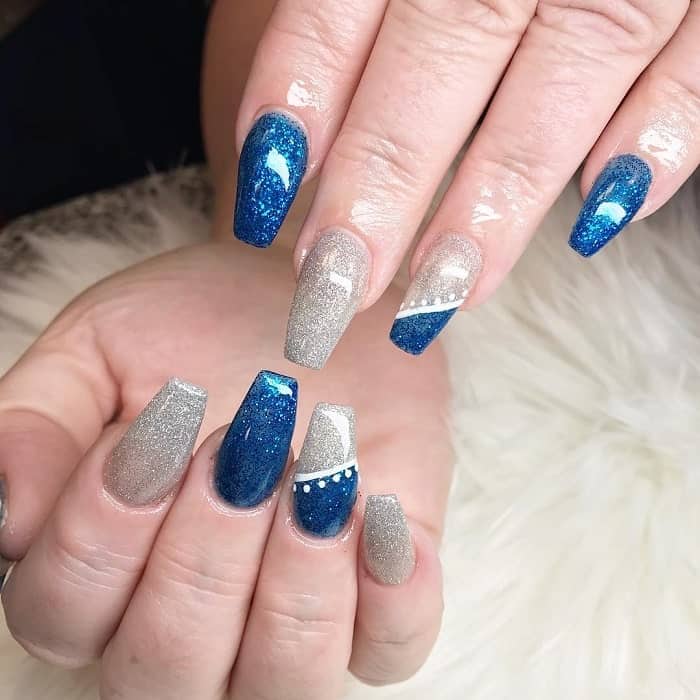 Need a little sparkle for a special occasion? These glittered blue and white long coffin nails won't let you down! The ring fingernail stands out with its half blue half white nail design defined by a thin white line and six tiny dots.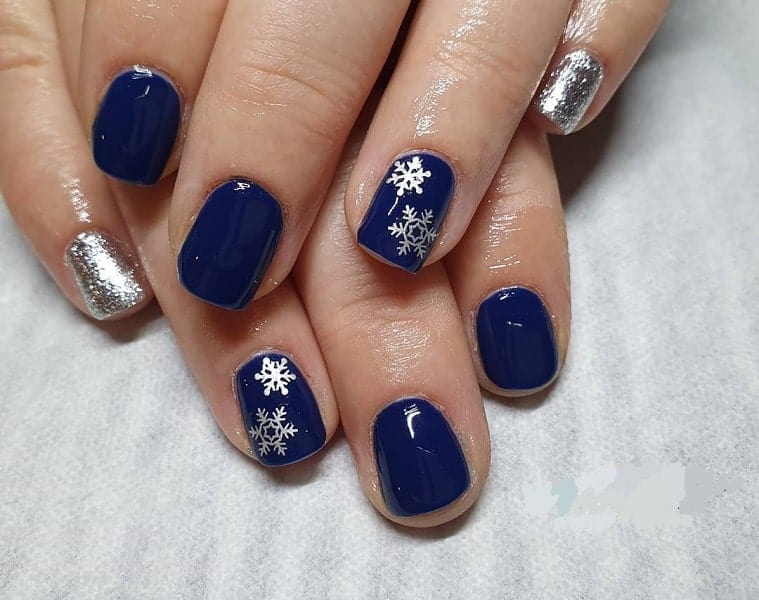 For those short nails of yours, file them into a squoval shape before painting them with a dark blue. Then add silver snowflakes to shine and pop against the dark background. It's the prettiest winter nail design!
3. Silver & Royal Blue Nails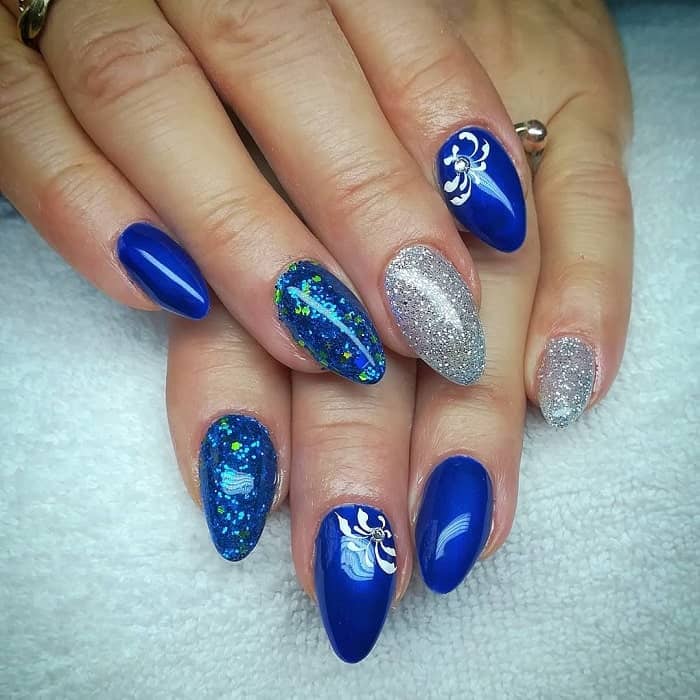 A royal blue is both deep and bright. With silver to enhance its shine, you can create this beautiful design for short stiletto nails. We love the mixture of a subtle light green with blue glitter on the pointer fingernail.
4. Light Blue and Silver Nails
Long square nails are the perfect length and shape for displaying a beautiful light blue. Completely cover your accent nail in silver polish and add either silver polish or silver stones at the crescent of the center fingernail.
5. Dark Blue and Silver Nails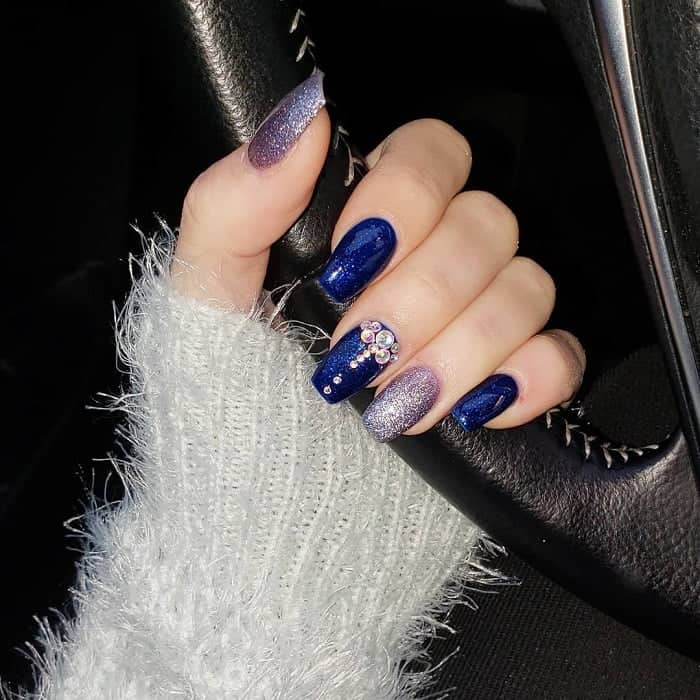 A dark glittery blue is a bold choice of color. With silver accents in tiny and medium-sized rhinestones, the shimmer is much more enhanced.
6. A Hint of Black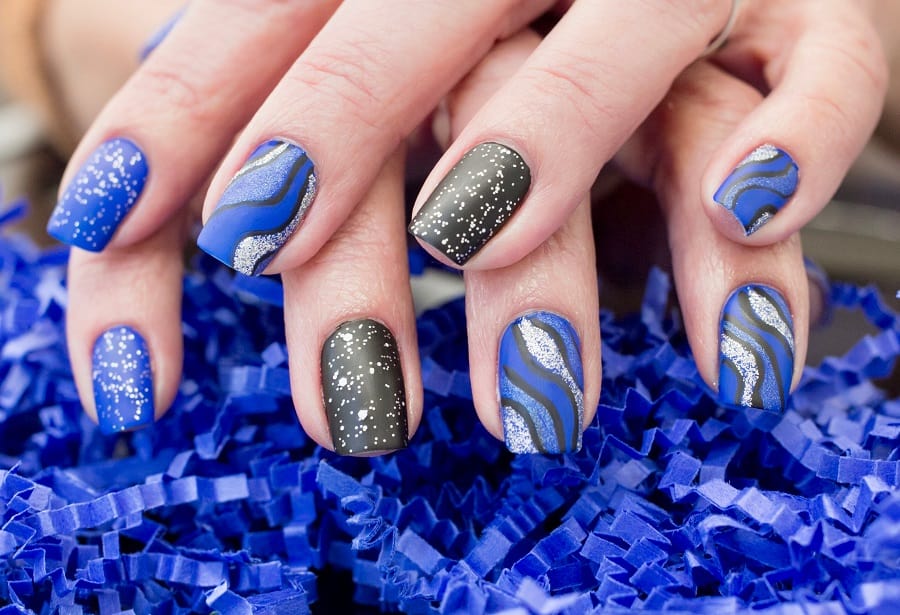 Make those blue and silver nails pop with a hint of black. Add glitter on plain blue and black ones creating a starry night effect. Paint swooped lines on the remaining short square nails for a marble effect. Eye-catching!
7. Navy Blue and Silver Nails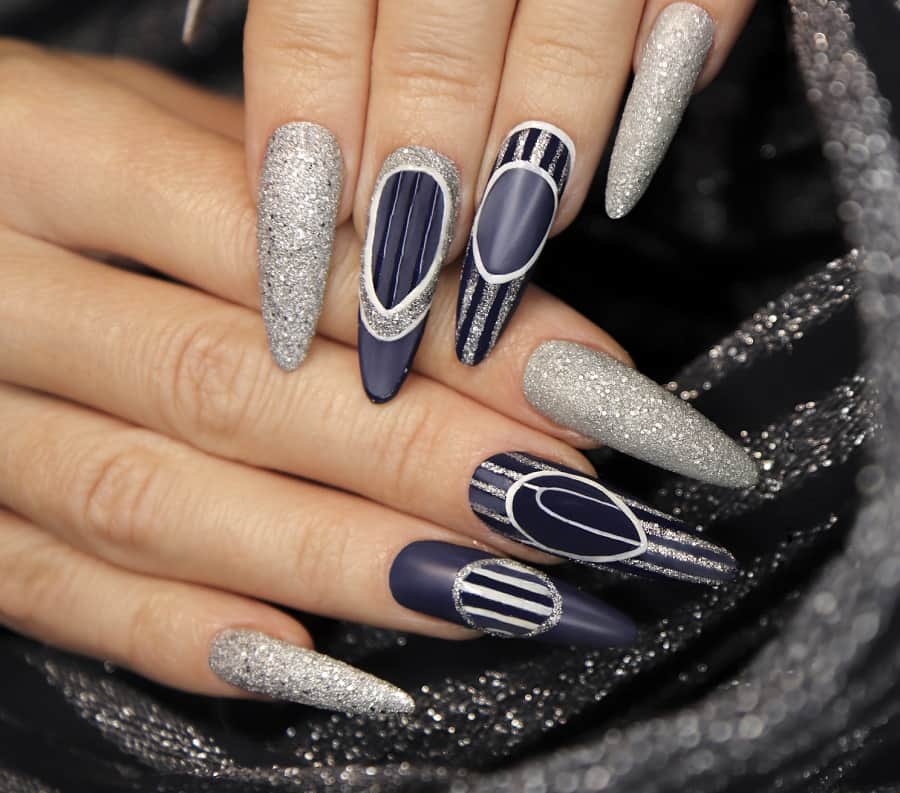 Love long nails? Try stiletto or almond-shaped ones and cover them in sparkling glitter while the middle ones have a matte navy/midnight blue base. Paint lines and circles using silver, white, and glossy blue nail colors with a fine brush. Voila!
8. Silver Swirls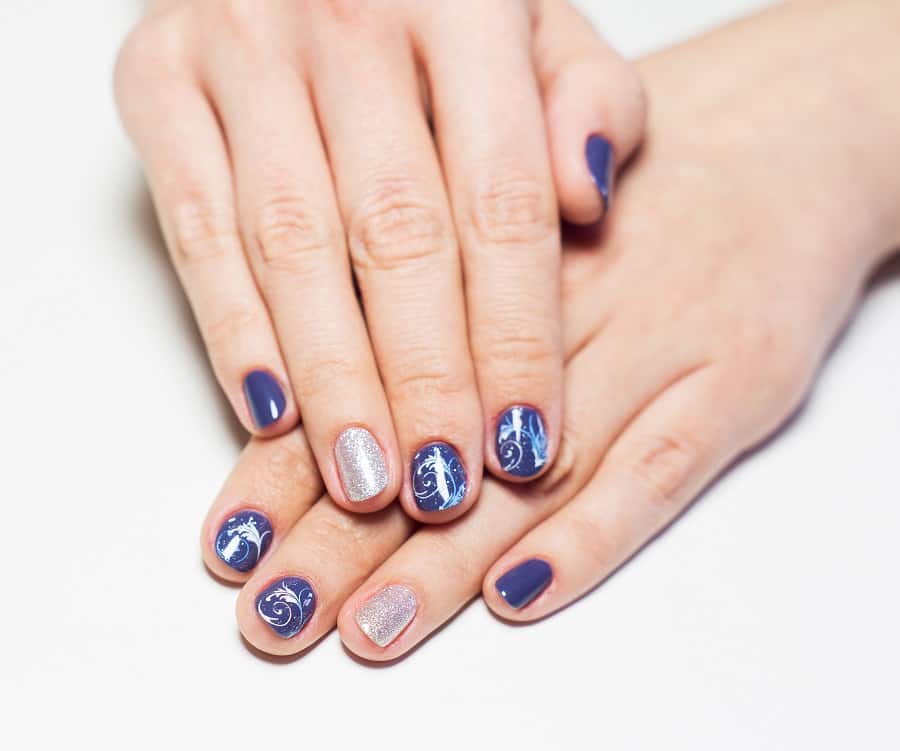 Blue is a go-to shade to spice up short natural nails. Cover the accent nail in silver glitter and create silver swirls on the blue ones by whirling around a very fine brush or use a nail art stamping kit instead. Easy breezy!
9. Gradient Nails
Paint each nail in a different shade to achieve gradient nails also known as multi-colored nails. Recreate this look with sparkling silver, dark blue, bluish purple, and plain white nail colors used individually on the nails. Top off with some chunky glitter.
10. Chic Triangles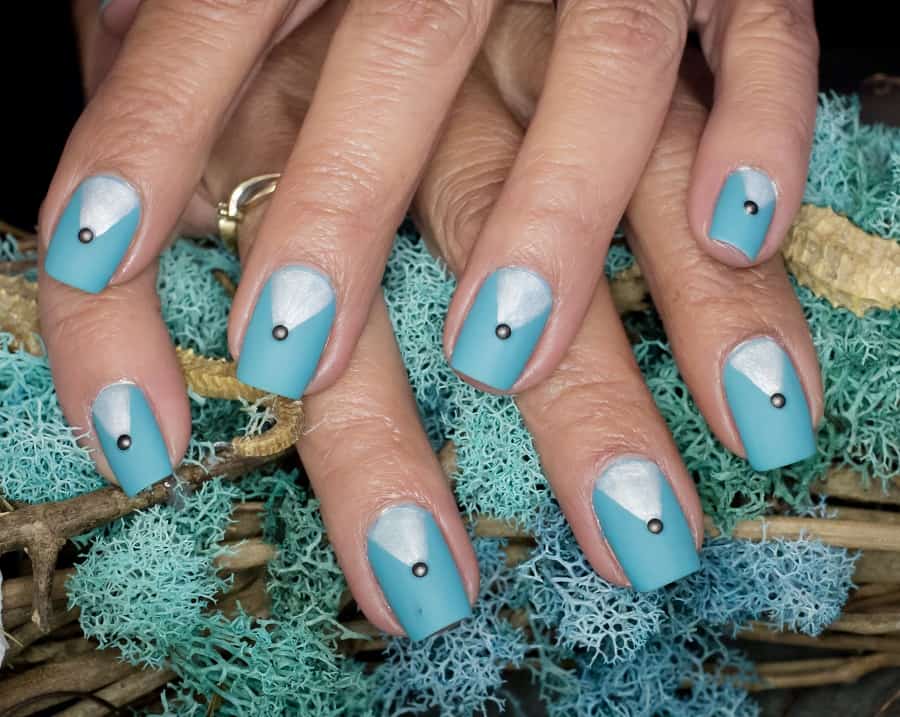 Make your hands stand out with a vibrant matte aqua nail color. Draw silvery white triangles pointing towards the square-shaped nail tips. Finish off by adding a single black stud on the top corner of each triangle. Done!
11. Classy French Tips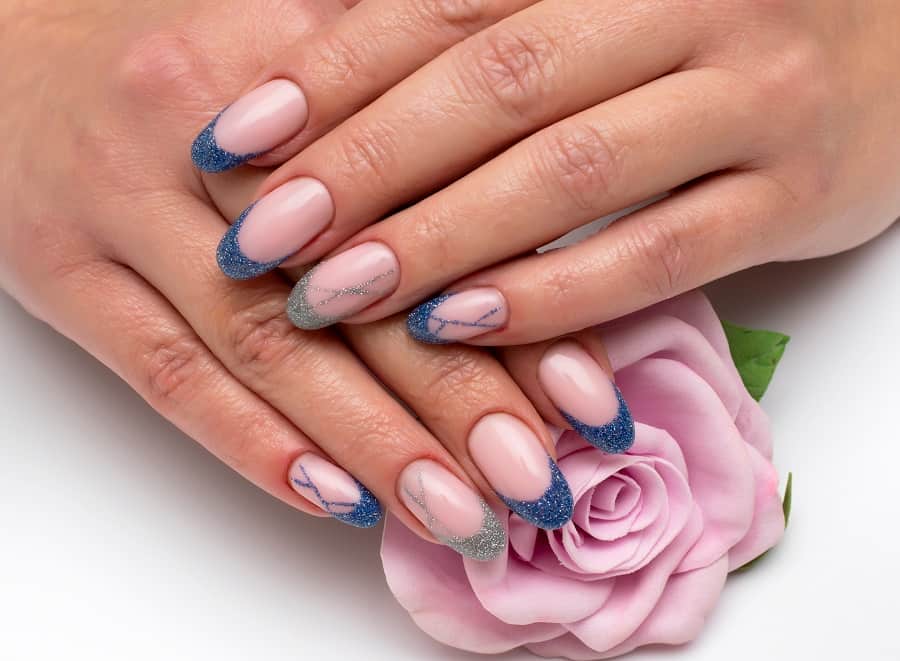 Classy and timeless, French tips can be created with almost any nail color. Go for a nude pink base and add stripes of silver and blue glitter on the tips. Add details with fine lines or leave it simple. Your choice!
12. Flickering Silver Foil
This gorgeous navy blue and silver nail design is the simplest to achieve among all. Paint the nails and put the foil when the polish is still a bit tacky. Remove it to reveal a splattered design underneath and finish off with a top coat.
13. Two-Toned Color Block
Another stylish yet effortless nail design to try at home. Use some tape to achieve the perfect color blocking on the nails. Place sky blue polish on the bottom with a silvery gray top or try the other way round.
14. Pretty Little Hearts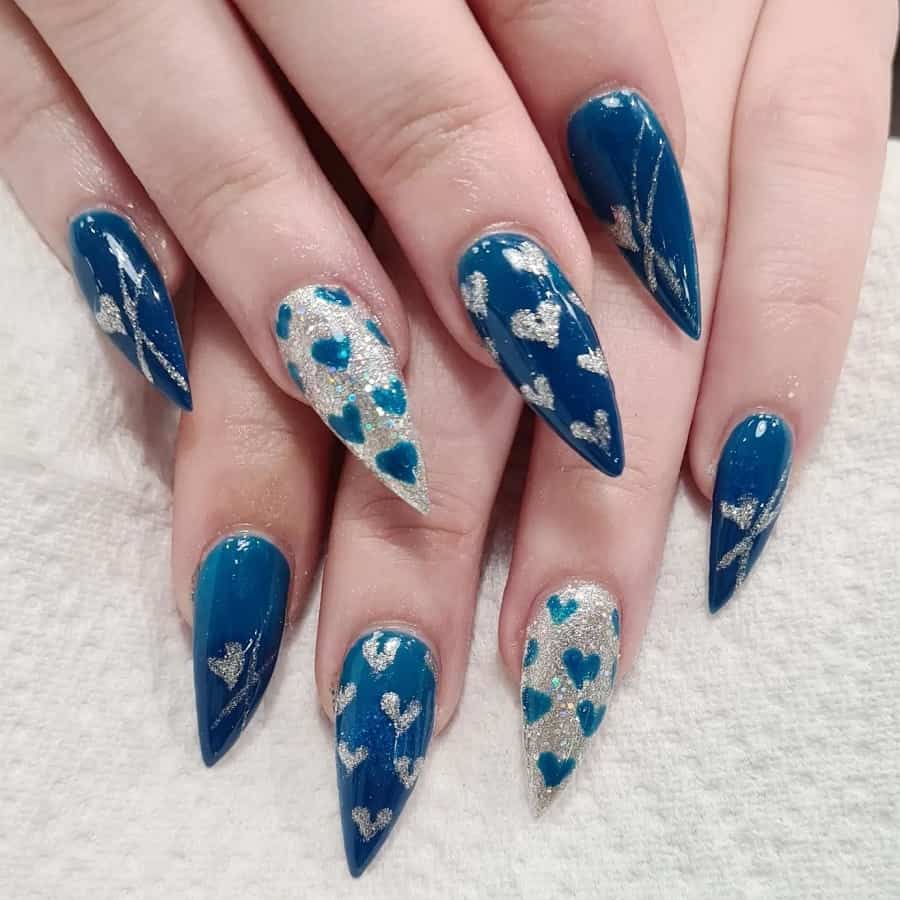 Celebrate the love around you with these cute little hearts. Add silver hearts on a blue base and vice versa. The trick is simple, place two dots and drag them to meet at the bottom. Repeat till no space is left!
15. Winter Vibes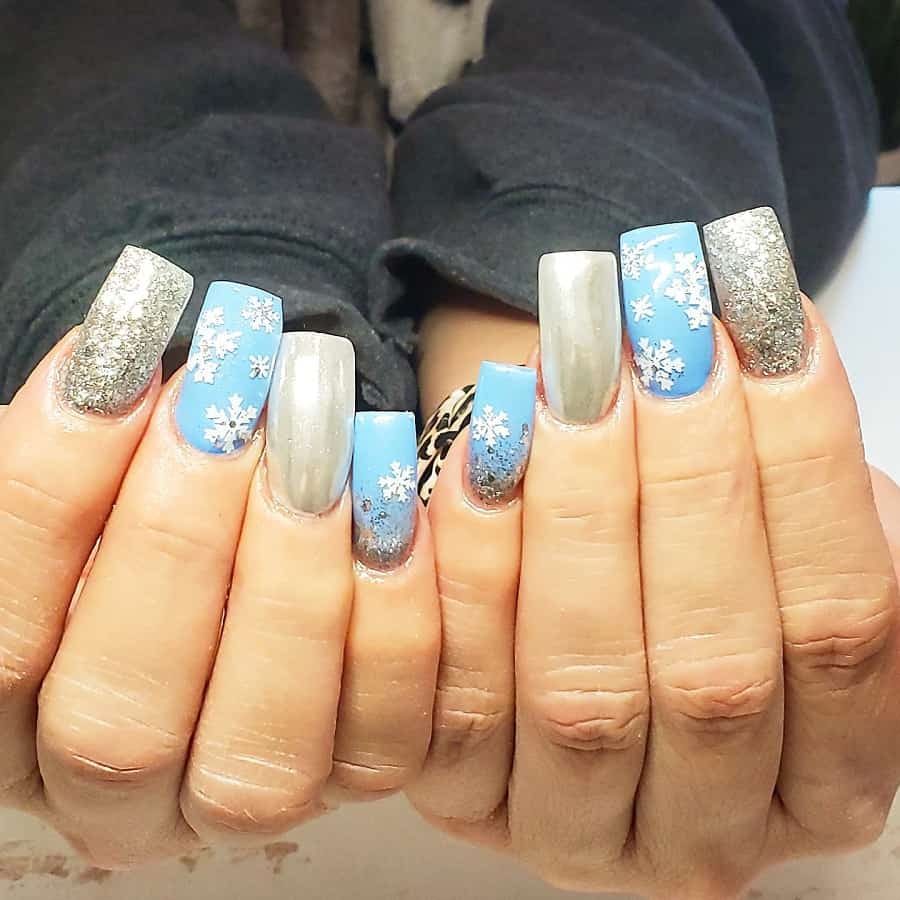 Blue and silver nails create the perfect winter vibes. Copy this look on long square nails using silver foil and light gray polish. Add flickering snowflake-shaped glitter on a sky blue base and wow!
16. Baby Blue & Silver Nails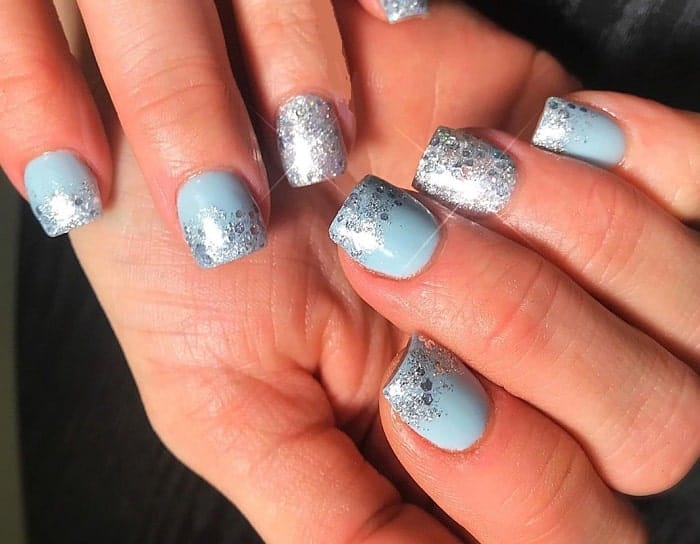 Sky blue nails with silver glitter tips make for the cutest spring or summer manicure. This cheery nail shade suits light and pale skin tones and displays beautifully on short square nails.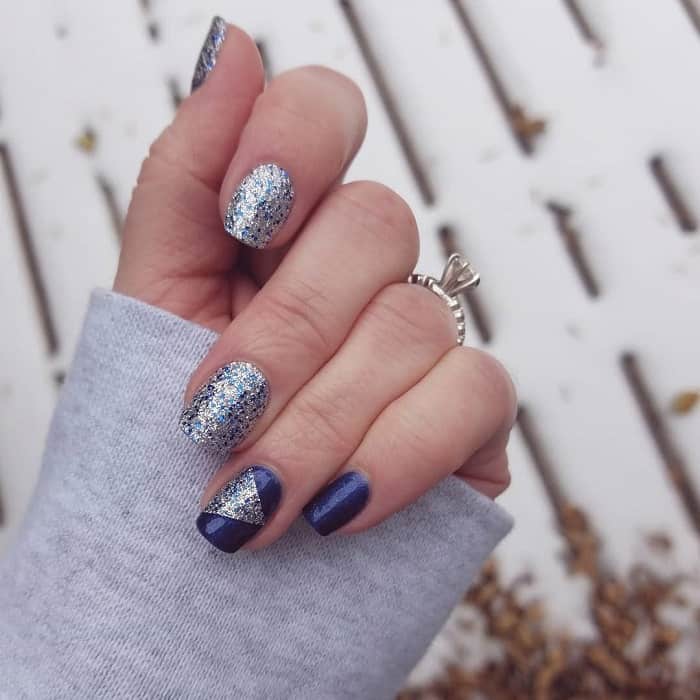 You could go with pink nails for prom, but look how gorgeous these blue and silver nails are! Use a glittery or traditional dark blue polish to make silver shapes light hearts or sideways triangles pop.
18. Blue and Silver Christmas Nails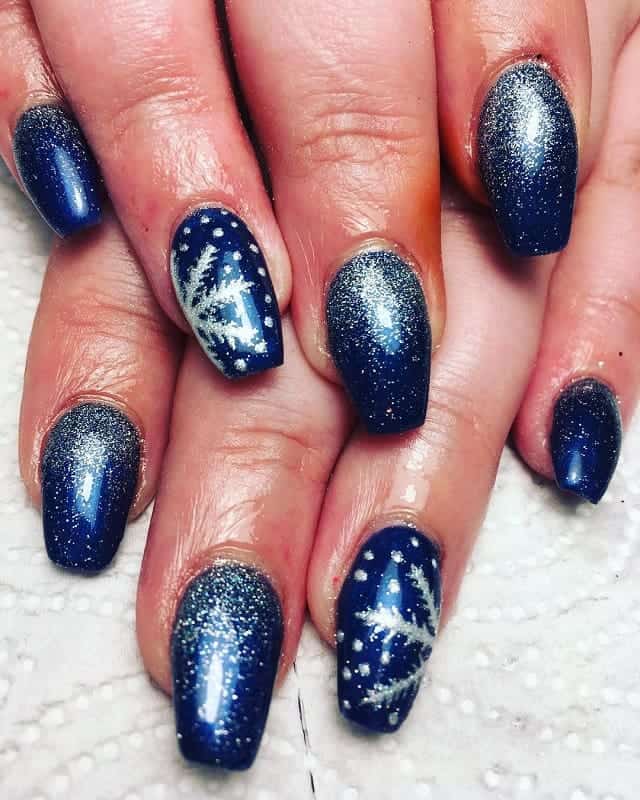 The ultimate winter nail design will combine blue and silver. The style above features dark blue coffin nails with a sprinkling of silver in dots and snowflakes.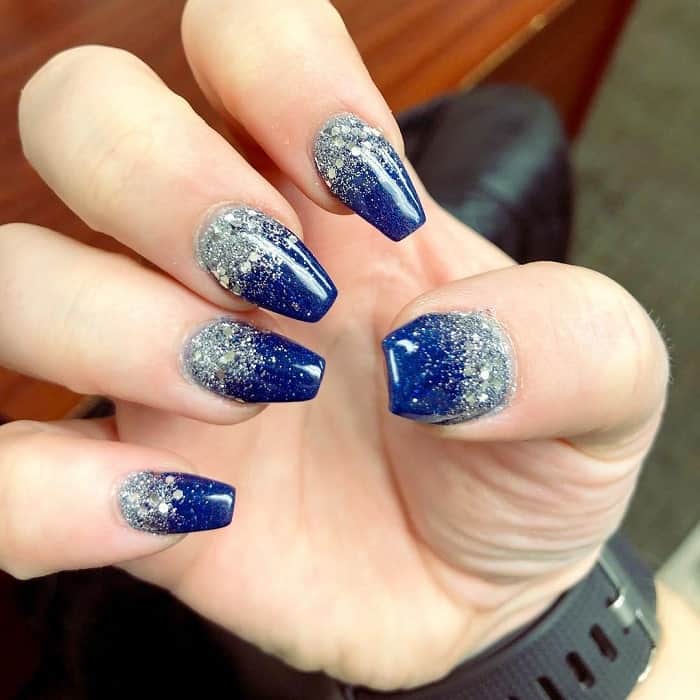 To make your wedding day non-traditional, opt for a glitter ombre nail in dark blue and silver. The tops are layered with a generous coat of silver polish and rhinestones, accents that are sure to match your wedding dress!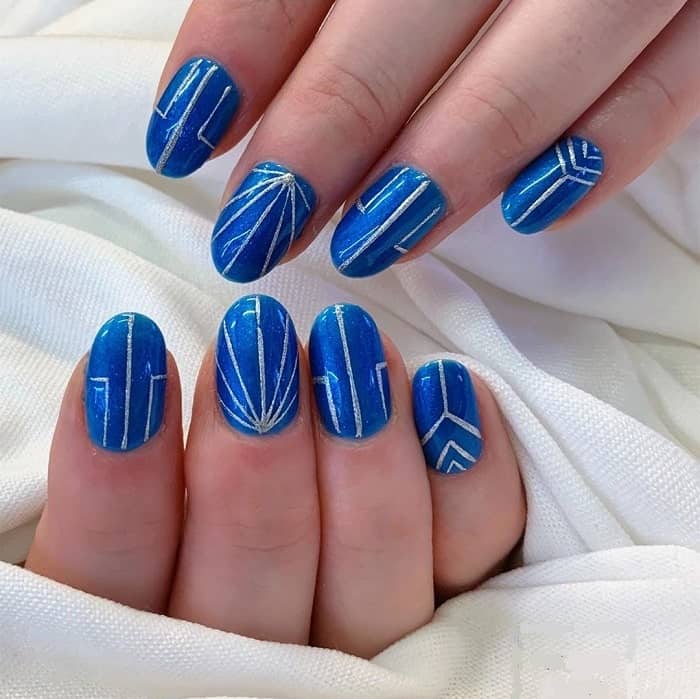 If you have a steady hand with a nail polish brush, be brave and go with these medium blue oval nails with thin silver line designs. Chevrons, boxes, or rays sprouting from the cuticle are all easy to do!
Whatever shade of blue you end up choosing for your nails, silver is going to make it stand out!
If you're not good with drawing on accents yourself and you don't want to visit the salon, you can purchase nail decals and stickers in silver and blue. They're easy to handle, affordable, and ensure you won't miss out on all of the trendy blue and silver nail designs!