Want to know one of the best color combinations for nail designs for proms, weddings, and other special occasions? While blue and silver nails are an unexpected choice for those fancy events, that's what makes them so perfect for a bold style!
It's a given that blue and silver nails would be worn in the winter months to match the cold weather much of the world experiences, but when you break out the colors for your nails on other days, the style is truly unique. Get on this trend now by making sure your next manicure is blue and silver!
Beautiful Blue and Silver Nails
When you choose a blue and silver nail design from our list, you can be sure you'll be sporting the latest and greatest trends!
1. Sparkly Blue and Silver Coffin Nails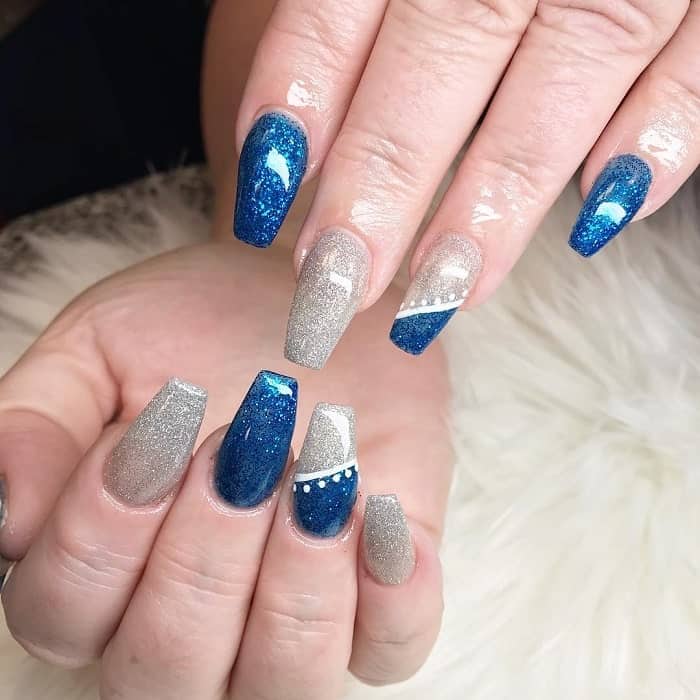 Need a little sparkle for a special occasion? These glittered blue and white long coffin nails won't let you down! The ring fingernail stands out with its half blue half white nail design defined by a thin white line and six tiny dots.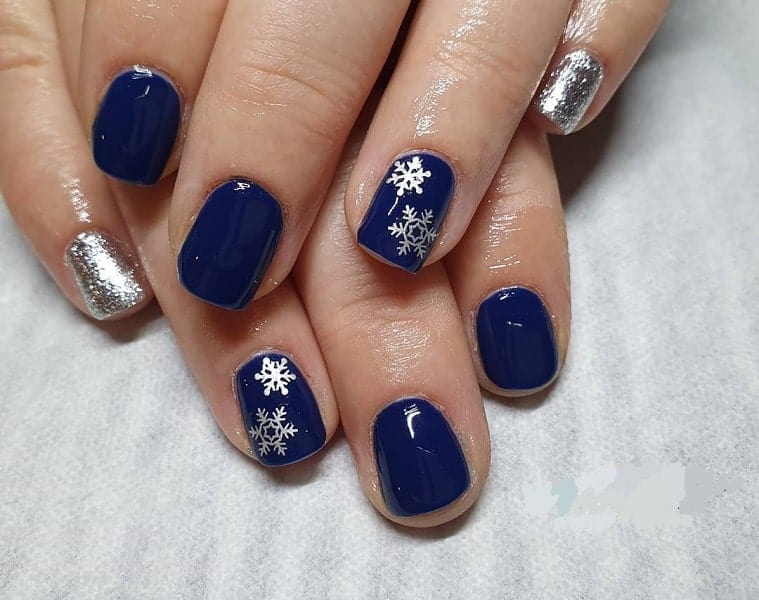 For those short nails of yours, file them into a squoval shape before painting them with a dark blue. Then add silver snowflakes to shine and pop against the dark background. It's the prettiest winter nail design!
3. Silver & Royal Blue Nails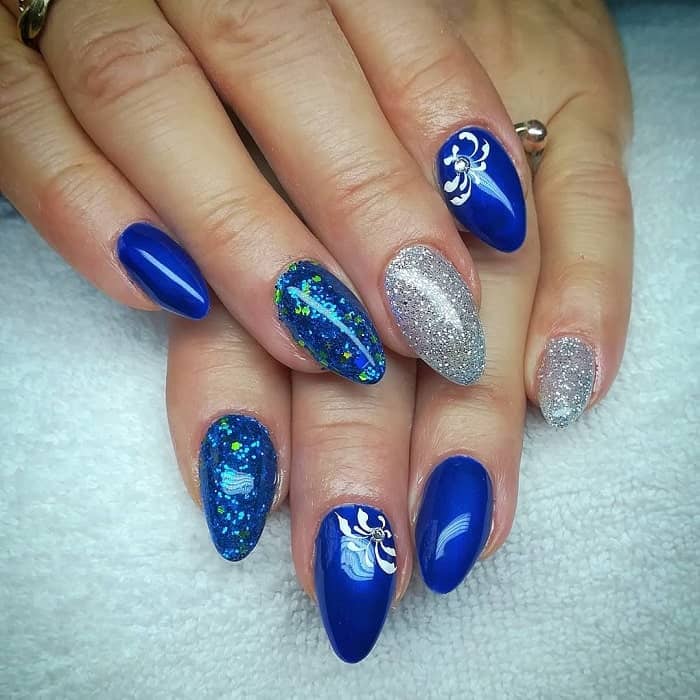 A royal blue is both deep and bright. With silver to enhance its shine, you can create this beautiful design for short stiletto nails. We love the mixture of a subtle light green with blue glitter on the pointer fingernail.
4. Light Blue and Silver Nails
Long square nails are the perfect length and shape for displaying a beautiful light blue. Completely cover your accent nail in silver polish and add either silver polish or silver stones at the crescent of the center fingernail.
5. Dark Blue and Silver Nails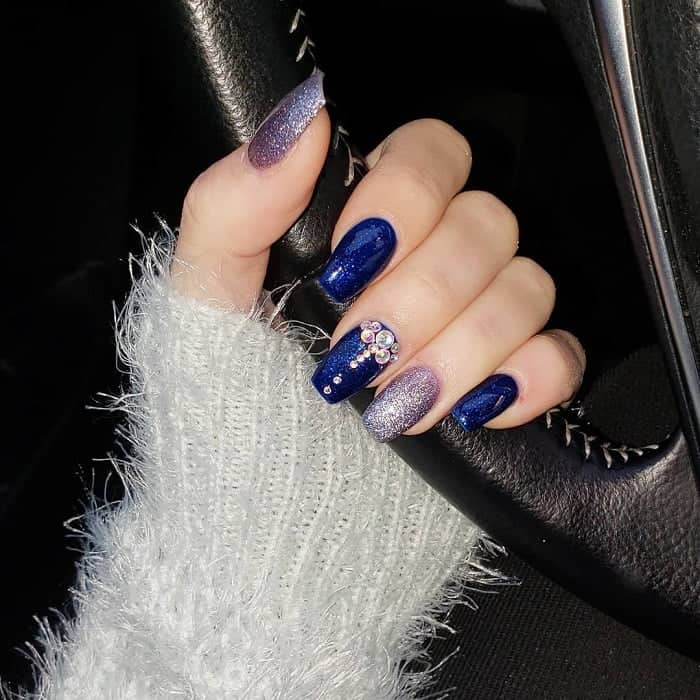 A dark glittery blue is a bold choice of color. With silver accents in tiny and medium-sized rhinestones, the shimmer is much more enhanced.
6. Baby Blue & Silver Nails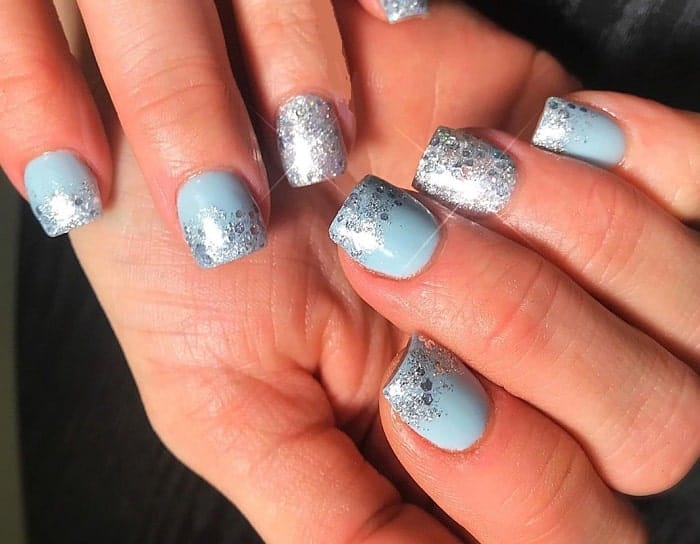 Sky blue nails with silver glitter tips make for the cutest spring or summer manicure. This cheery nail shade suits light and pale skin tones and displays beautifully on short square nails.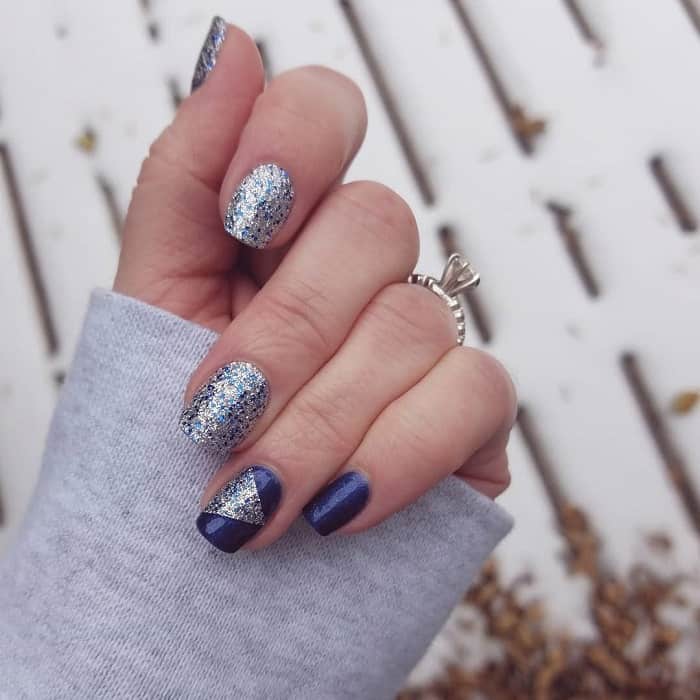 You could go with pink nails for prom, but look how gorgeous these blue and silver nails are! Use a glittery or traditional dark blue polish to make silver shapes light hearts or sideways triangles pop.
8. Blue and Silver Christmas Nails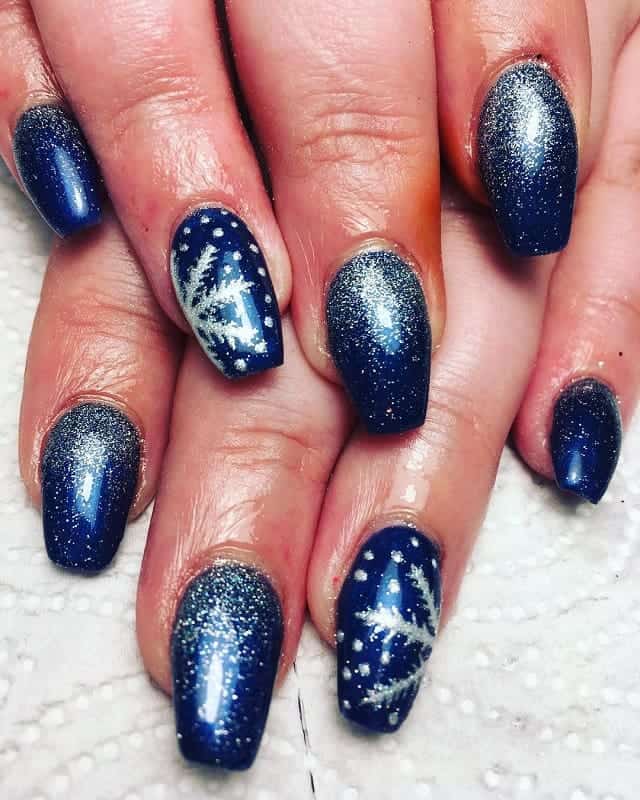 The ultimate winter nail design will combine blue and silver. The style above features dark blue coffin nails with a sprinkling of silver in dots and snowflakes.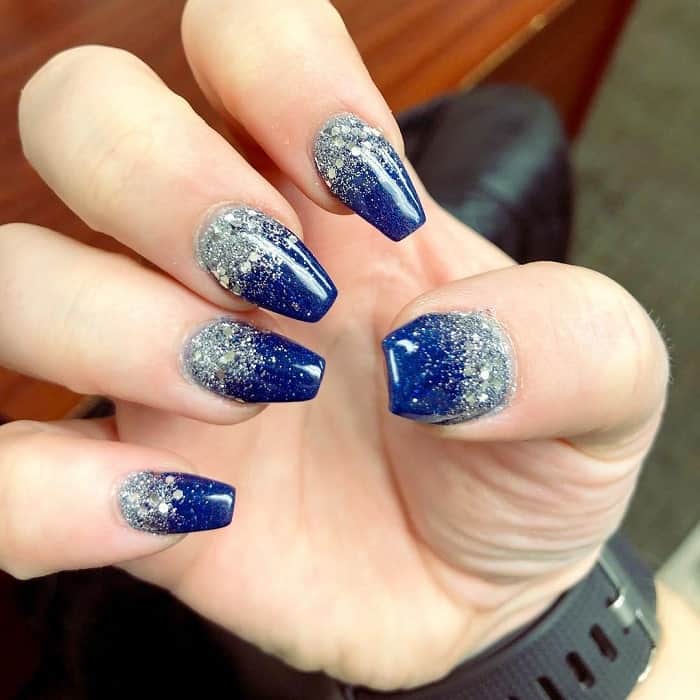 To make your wedding day non-traditional, opt for a glitter ombre nail in dark blue and silver. The tops are layered with a generous coat of silver polish and rhinestones, accents that are sure to match your wedding dress!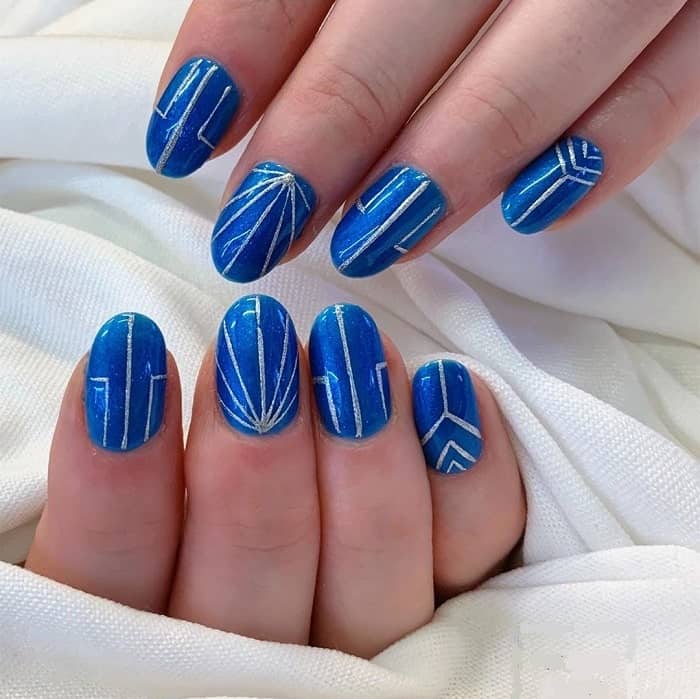 If you have a steady hand with a nail polish brush, be brave and go with these medium blue oval nails with thin silver line designs. Chevrons, boxes, or rays sprouting from the cuticle are all easy to do!
Whatever shade of blue you end up choosing for your nails, silver is going to make it stand out! If you're not good with drawing on accents yourself and you don't want to visit the salon, you can purchase nail decals and stickers in silver and blue. They're easy to handle, affordable, and ensure you won't miss out on all of the trendy blue and silver nail designs!