If you're truly dedicated to trendy nail designs, chevron nails need to be on your list. A chevron refers to the inverted V shapes created on nails; sometimes there are multiple on one nail, and other times only one or three are used.
The demand for chevron nails patterns is increasing day by day and it's easy to see why. Dark colors like black, white, grey, and silver can be used to create bold, edgy chevron nails, while vibrant colors like pink, orange, and blue make more fun, light-hearted designs. Of course, you can mix the two color categories and create a completely new design!
The great thing about chevron nails is they're easy to do on your own. We'll show you how and the most gorgeous chevron nail options.
How to Do Chevron Nails at Home
Chevron nails can be achieved at home by following a few easy steps. Choose to purchase stencils in chevron shapes or use simple house tape to mark off the shape on your nails. It may be helpful for you to have the following materials on hand:
Some Regular Tape
Pinking Shears
Toothpick
Nail Polish
Top Coat
Ready to begin?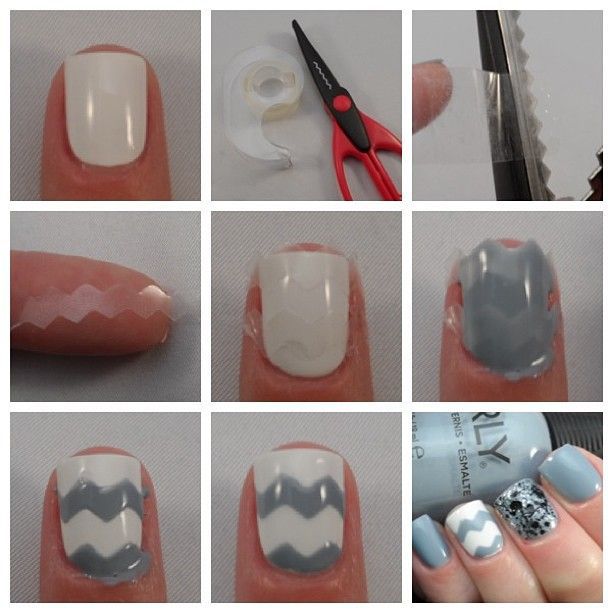 Cut tape into thin strips. Pinking shears instead of scissors better cut a zigzag edge.
Cut strips in shorter sizes to place on nails. Try to space them out evenly.
Make sure to press down the sides firmly. A toothpick may help.
Paint over the tape with a thin coat of polish.
Remove the tape while the polish is still wet, wiping any extra polish from cuticles.
Let dry and apply a top coat afterward to protect your new chevron nails!
Chevron Nails To Rock The Party
Now that you know how to do chevron nails, you just need to choose a design!
#1. Chevron Acrylics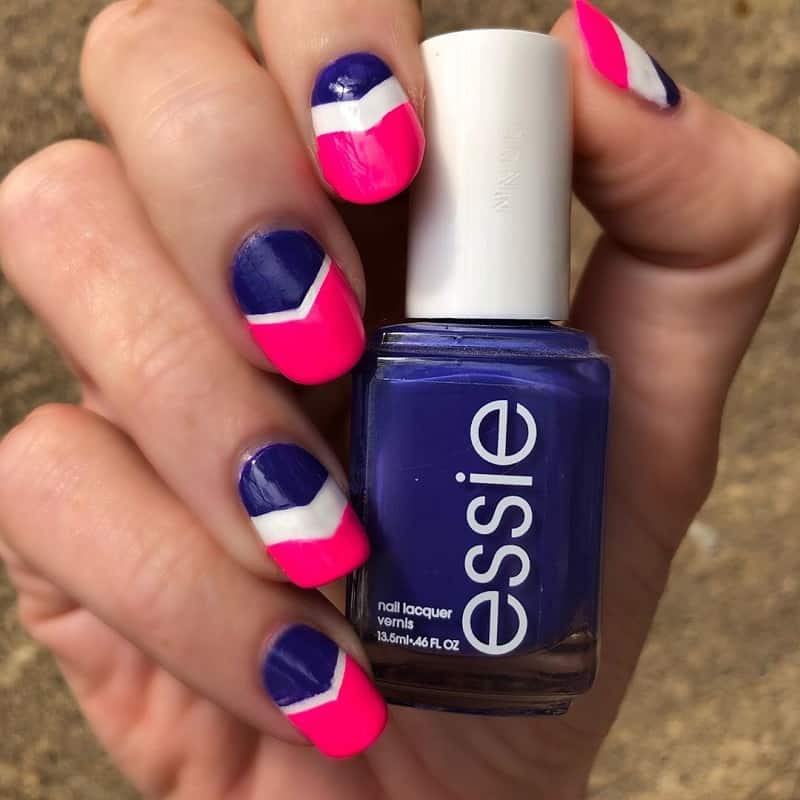 A bright neon pink is gorgeous with dark blue and white chevron. Make the pink and blue sections thicker than the middle, or alternate the thickness of each section on different nails.
#2. Vivid Chevron Nail Stickers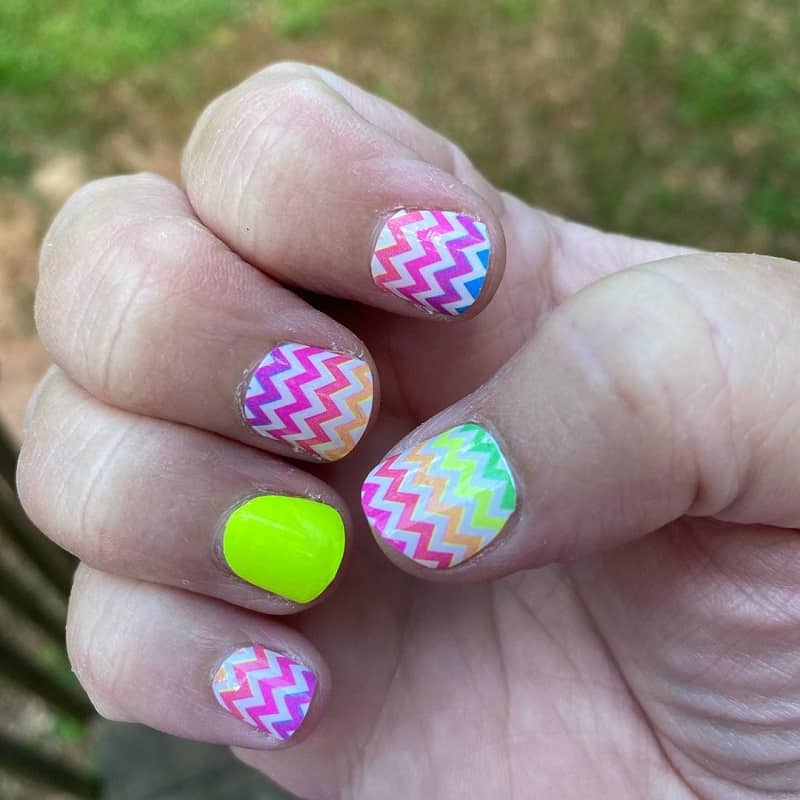 When it's summertime and the weather calls for warm, bright colors, opt for nail stickers for your short nails. Just look for a chevron pattern and file the sides for a perfect shape.
#3. Blue Chevron Toenails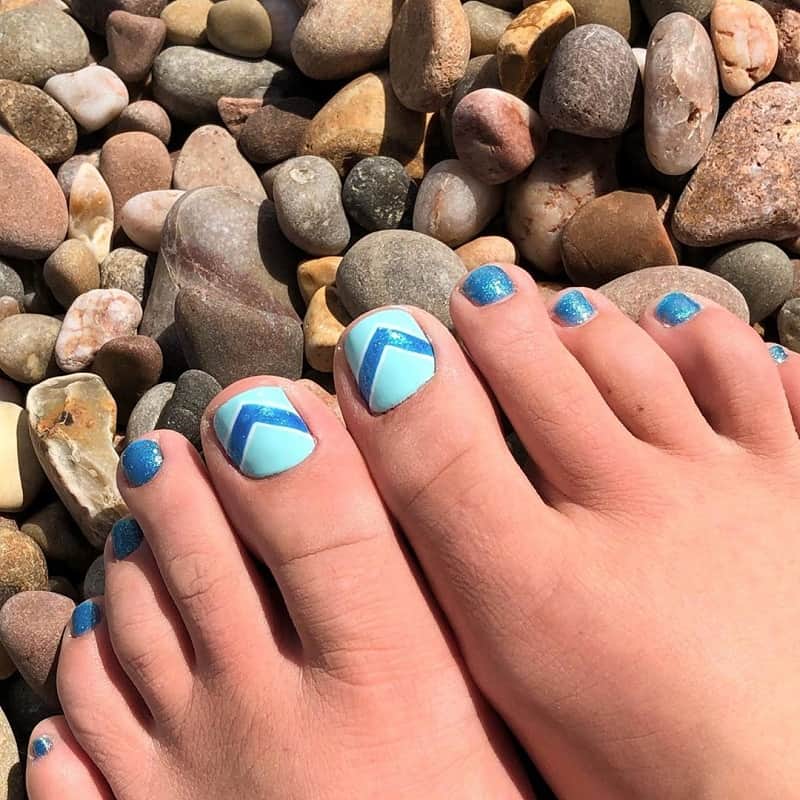 Make sure your toes get noticed at the beach this summer by choosing a glittery blue polish for small toenails, and making the big toe the star of a dark blue singular chevron on a light blue base.
#4. Halloween Chevron Nails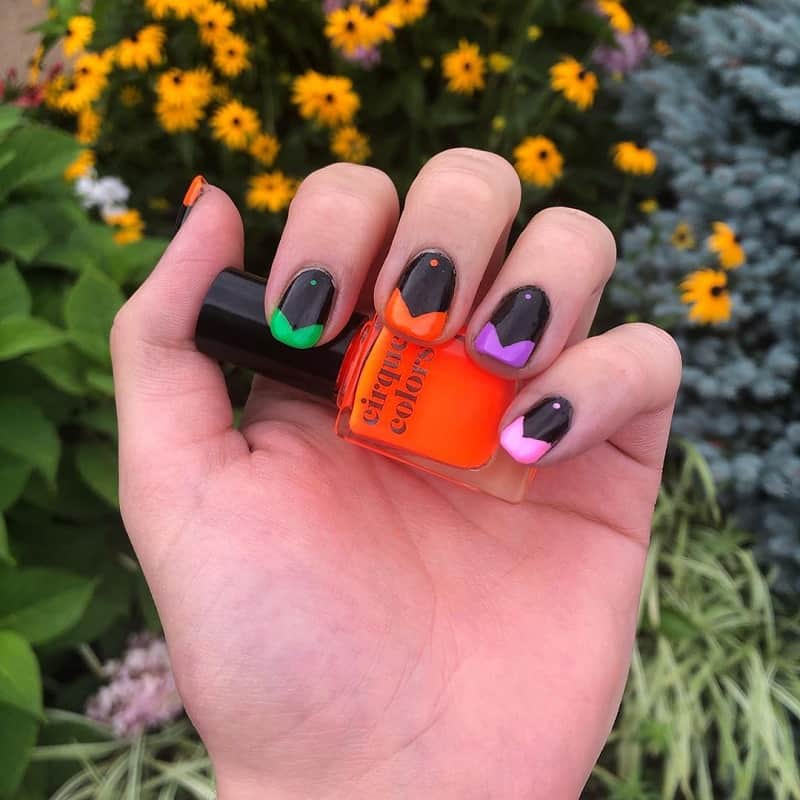 Look how edgy these black nails are with their colorful chevron tips! Use a tiny dot in the same color as the tips at the top of each nail to bring the design together.
#5. Super Thin Chevron Nails
A thin chevron nail design is eye-catching and detailed. We love how red, orange, and yellow chevrons are featured here on medium square white nails.

If you're more of a minimalist when it comes to nail designs, you may like these white nails with their light purple chevrons.
Show Off Creativity with Abstract Nail Art
#7. Colorful Vs
We love the way these long rounded nails feature a dark base of teal with different colors as the chevrons. Make your design pop by using glittered polish as one of the chevrons.
#8. Black And White
Black and white are universal color in every design. Use them both with silver glittered polish for an edgy chevron nail design.
#9. Pure White

White chevron patterns on nude nails is very classy. First, place V-shaped stencils on unpolished nails. Then paint your nail with white and remove the stencil to expose chevron nails.
#10. Chevron Letter Nails
There's no other way to make your chevron nails truly yours unless you had your first or last name initial to the pointer finger. Finish the other nails off with chevrons and other patterns.
#11. Baby Blue
Baby blue is an awesome color for defining nail designs. Use the color on white nails for your cute chevron nails. A ring on the ring fingers will complement this design.
#12. Radiant Chevrons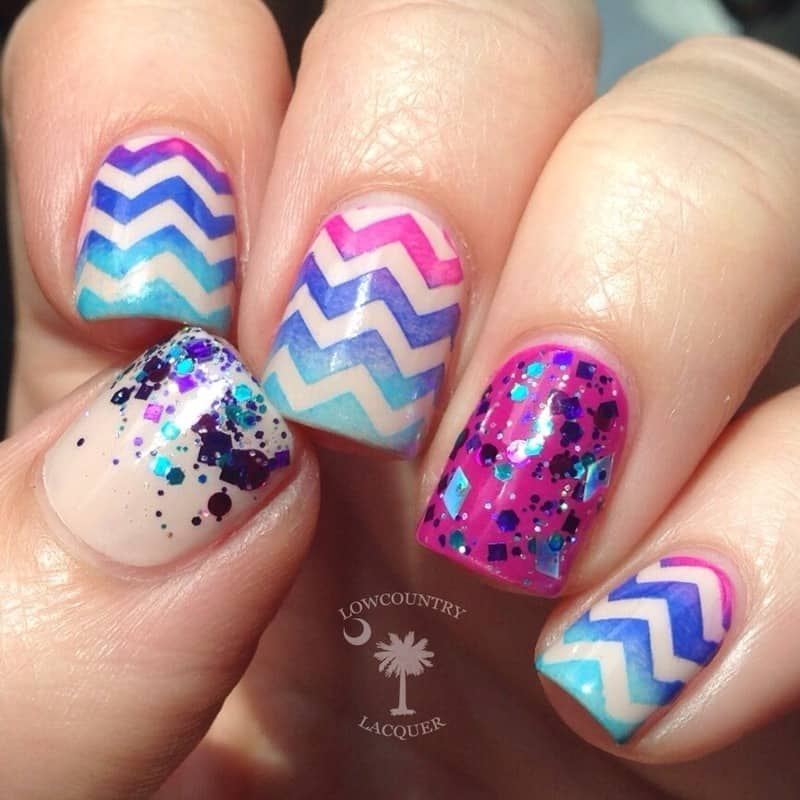 If you don't like dull colors, this design is for you. Use some radiant colors and glitters for these chevron nails.
Nail Designs to Welcome the New Year
#13. Neon Ombre Chevron
Neon colors make chevron nails eye-catching. Try a light pink to dark purple ombre on long round nails with a white chevron pattern. A cute gold pineapple makes this design tropical.
#14. Chevron Combo
This is a combination of silver glitter, black and white chevrons, and light red nails. Be brave and bold when it comes to your chevron nails – play with lights and darks for edgy designs.
#15. Glossy Nails
If you want some glossy and colorful nails, you can try this chevron nail design. Make sure you have multiple colors in glitter, then carefully apply the chevrons.
#16. Diagonal Chevron Nails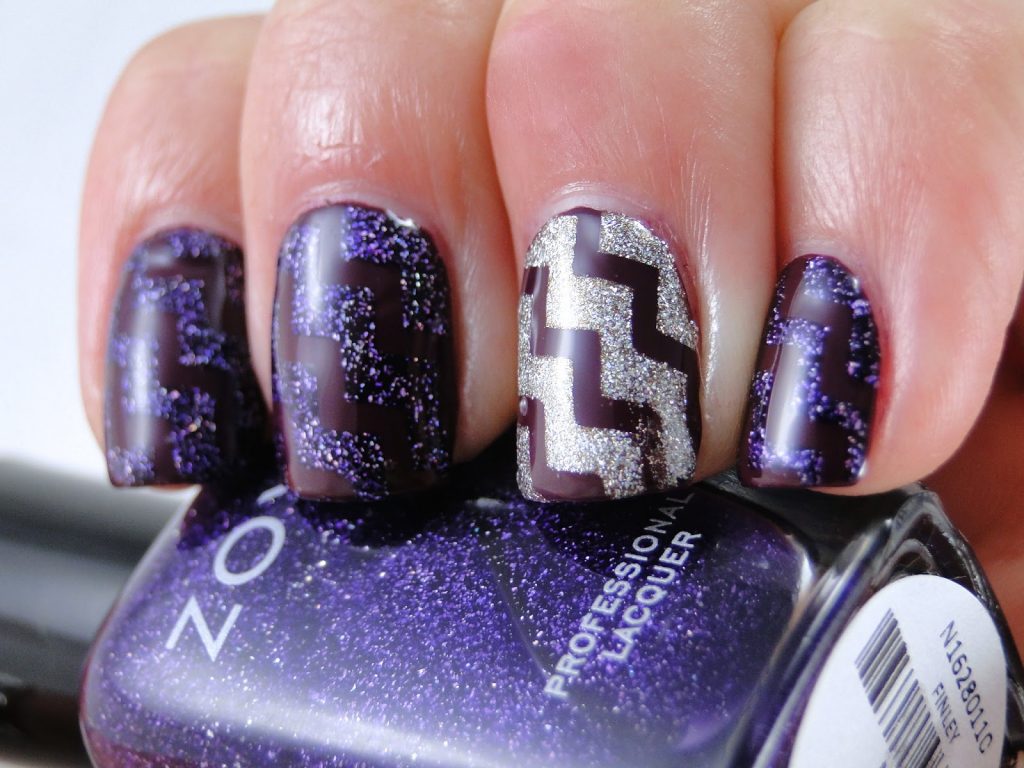 You don't have to draw vertical or horizontal chevrons all the time. Diagonal chevron patterns can add a new dimension to the designs of chevron nails. A fashionable color and aesthetic application of glitters will produce a wonderful outlook.
#17. Tiffany or Brown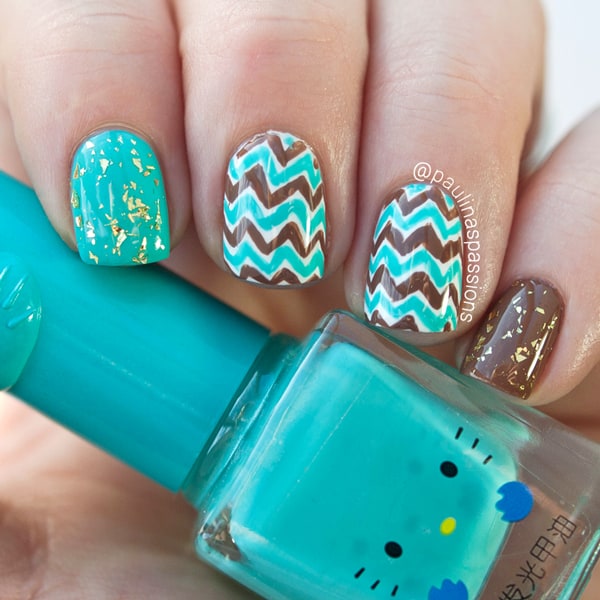 We bet you never thought to use brown on your chevron pattern! This design features an obviously hand drawn brown chevron pattern on light blue. Paint the other two finger nails with tiffany blue and brown. Gold foils are a fun additional of sparkle.

The charm of gold is perfectly depicted in this design. You can use gold nail polish and glitters on purple nails for a contrasting look.
#19. Blue Chevron Mania
Blue is a royal color and shiny blue is an easy way to make chevron nails look luxe. For the best color pairing, use bright white as the base color.
#20. Teal Ombre Tone
Personally, we're huge fans of blue ombre nails with glittered chevron. Switch up your chevron nails by only doing the pattern on every other nail.
#21. The Other Angle
You can design chevron patterns from any angle: top, bottom, or sides. Change the angle to try something new. We love these hot pink chevron nails with white stripes and glittered lines and triangles.
#22. Pile of Colors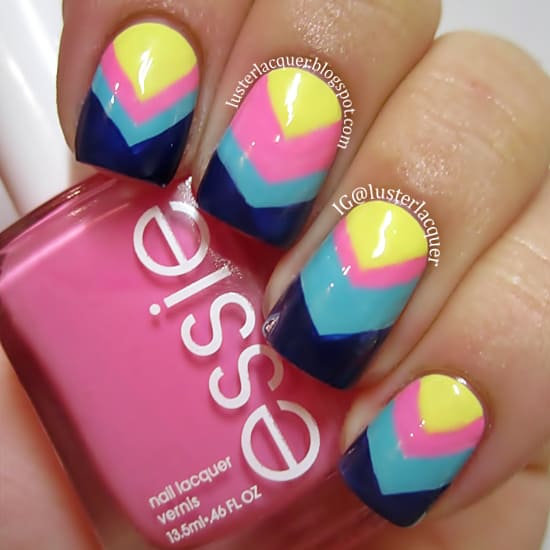 Using more than three colors is a bit unusual in chevron nails, but makes the design that much more fun. Choose eye-catching colors like yellow, pink, sky blue, navy blue, etc.
#23. Cute Elephant
How cute is this tiny sage green elephant with light grey chevron nails? Use it your own favorite animal on a plain white nail.
#24. Steep Chevrons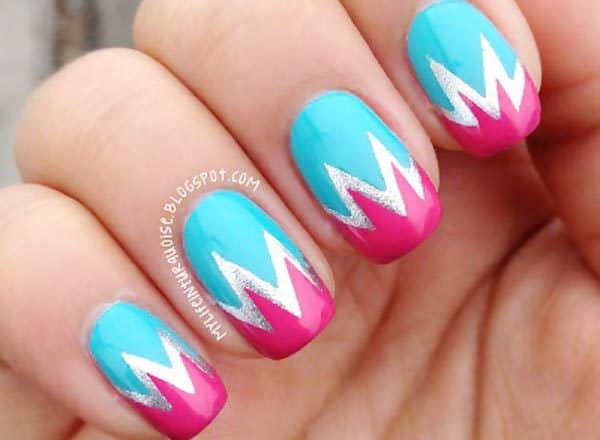 If you are bored with the usual shape of chevron patterns, here's an edgy switch-up. Silver glitter polish creates steep chevrons to connect hot pink and light blue.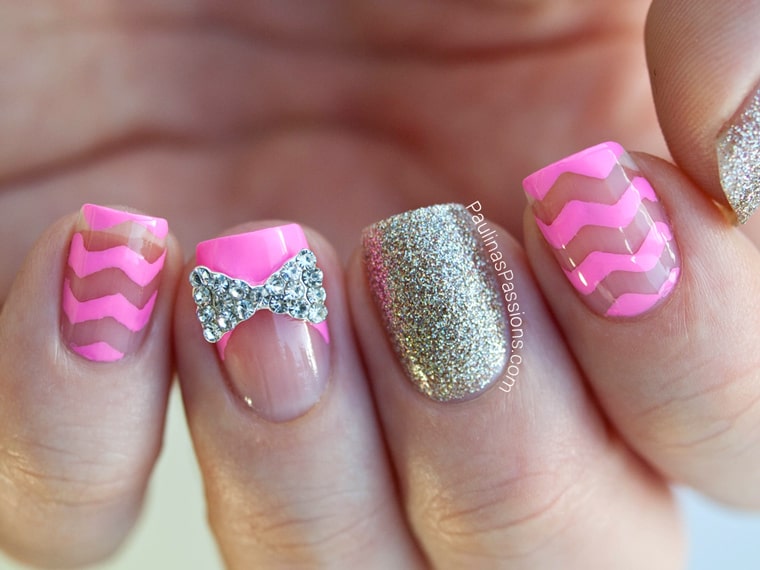 A pink chevron design is adorable with the presence of a stoned bow. First, adorn your clear nails with pink chevron patterns, then add a bow and a silver glittered nail.
Beautiful Hand Painted Nail Design to DIY
Elegant Chevron Nail Design Ideas That Can't be Ignored
Chevron nails are commonly used and it's easy to see why. Its easy process and ability to feature many colors make it a favorite nail art technique. Be sure to let us know which colors you chose for your chevron nails!