25 Divine Chevron Nails & Know How to Slay One
Chevron refers to the inverted V shapes of any pattern. This pattern has become hugely popular in the fashion world lately. The demand for chevron nails patterns is increasing day by day in any kind of designs such as home decor, outfits, wall painting, nail designs etc. These designs are popular because of the easy application process and variety of colors and the size of the patterns.
Chevron nails look amazing if the color combination is compatible with the design. You can use mild colors like black, white, grey, silver or you can try vibrant colors like pink, orange, peach, blue, golden, red etc. The fun part of having chevron nails is it is very easy and simple to do it yourself(DIY). You can easily have these nails by following our instructions.
How to Do Chevron Nails at Home
Chevron nails can be achieved at home by following a few easy steps.  There are many ways to have chevron nails but using stencils seems the easiest to me. In this process, a tape is used to imprint the chevron patterns on the nails. The process is very plain but you need some tools to do it efficiently. The following materials are needed to complete the chevron designs.
Some Regular Tape
Pinking Shears
Toothpick
Nail Polish
Top Coat
When you are done with the arrangement of the tools, you can have chevron nails by applying the steps as follows.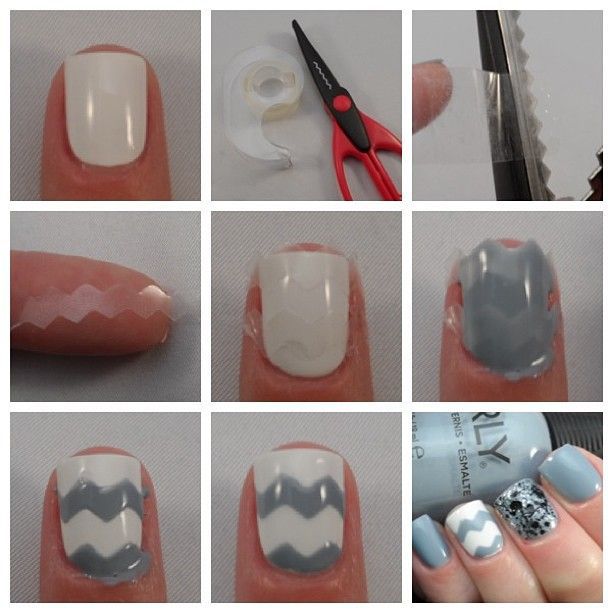 Cut some regular tape into thin strips. You can use pinking shears instead of scissors because pinking shears can cut zigzag edge.
Cut the strips in shorter sizes to place them on your nails. Try to space them out evenly.
Make sure to press the sides to prevent any leak. You can use a toothpick in this regard.
Paint over the tape. Don't forget to keep it thin. A thick coat will cause some problems when you'll remove the tape.
Remove the tape while the polish is still wet. And wipe the extra nail polish from cuticles if there is any.
Let it dry and apply a top coat afterward to protect the chevron patterns.
Chevron Nails To Rock The Party
You have already known how to do chevron nails on your own. Now, it's time to use the knowledge in practical life. You can have thousands of chevron nails using different colors and ideas, modifying them in various ways. I am going to discuss a few designs here in this article. Let's see what we have got.
#1.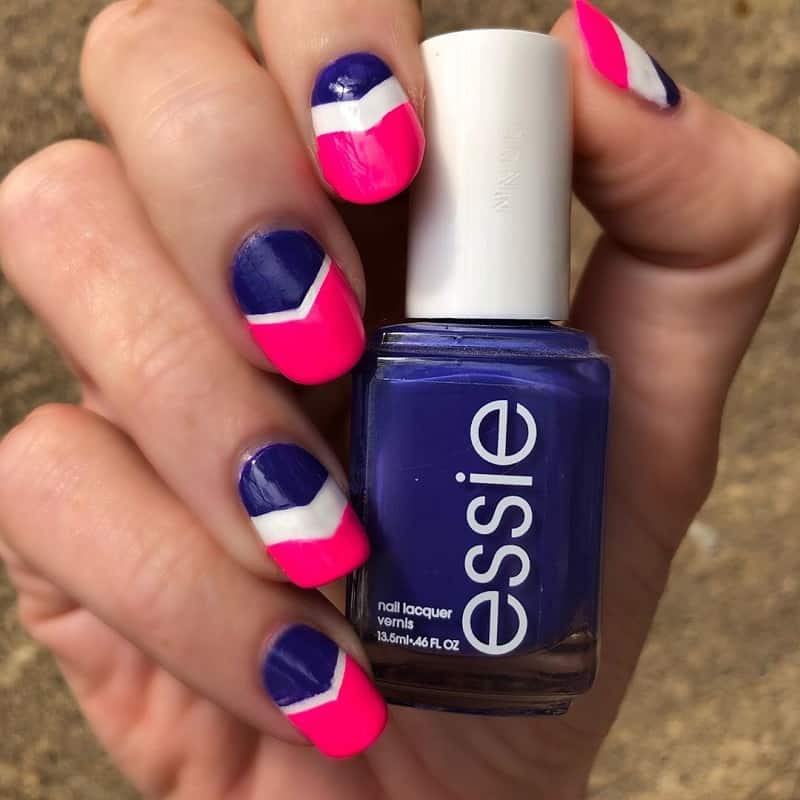 chevron acrylic nails
#2.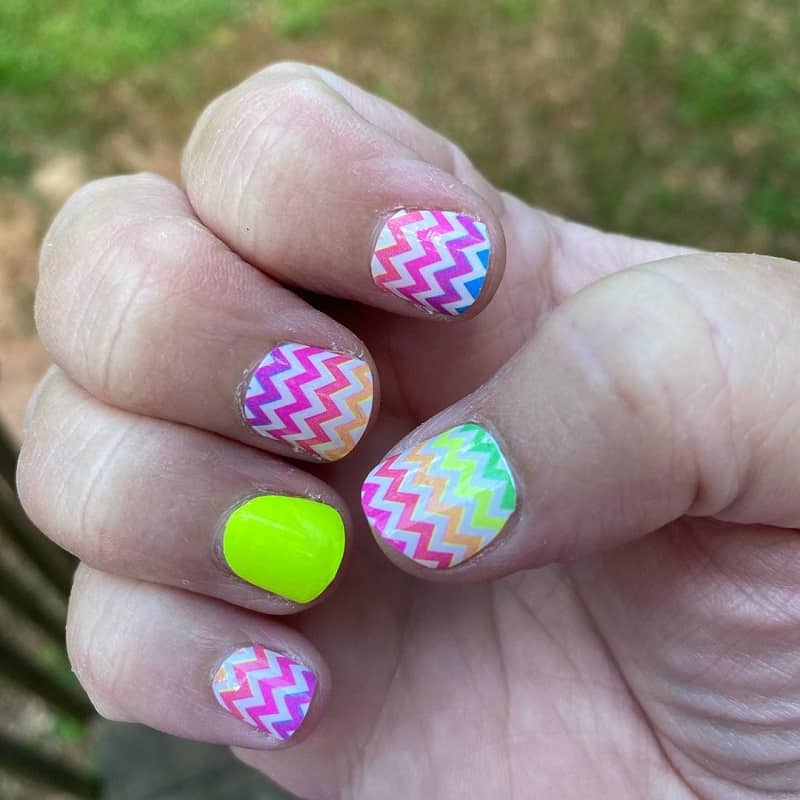 chevron nail stickers
#3.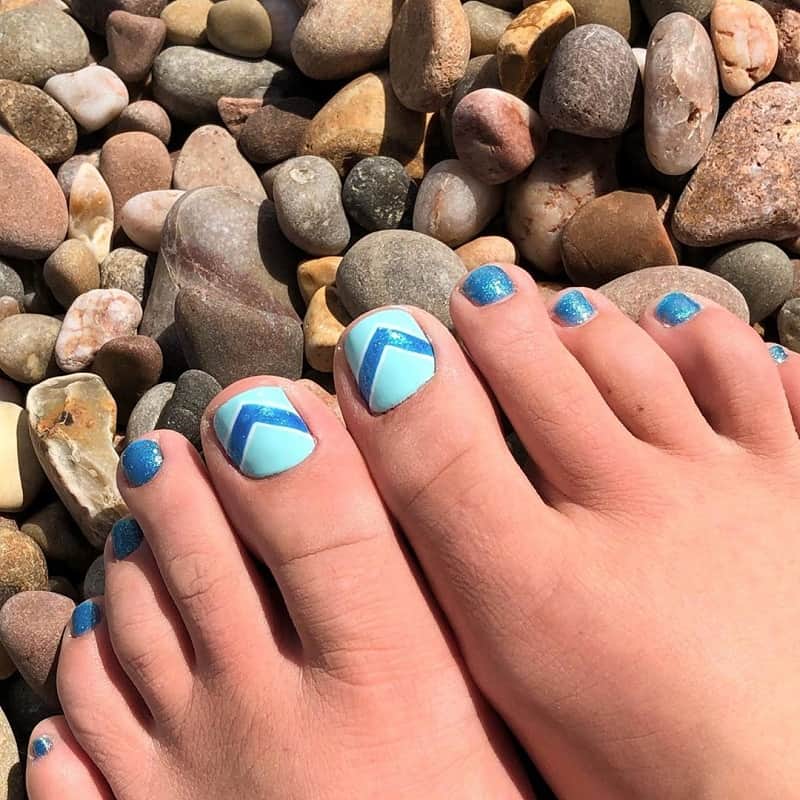 chevron toe nails
#4.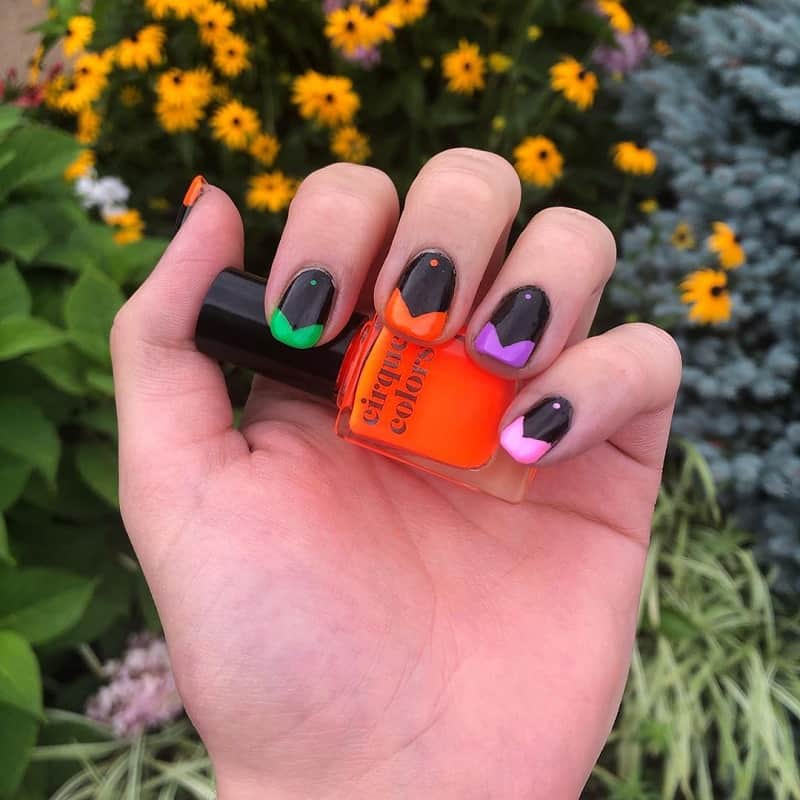 chevron short nail designs
#5.
fall chevron nails

This is a plain chevron nail design. You can use light purple chevron patterns on your white nails to have these chevron nails.
Show Off Creativity with Abstract Nail Art
#7. Colorful V
It's not mandatory to use repeated v-pattern. You can have only one V for your chevron nails. And color can be your own choice.
#8. Black And White
Black and white are universal color in every design. You can fit them wherever you want. A white chevron pattern in between silver and white color can give a wonderful outlook to your nails. Silver glitters will do the magic for the chevron nails.
#9. Pure White

White chevron patterns on nude nails can also be a good option to have as chevron nails. The ways are simple. Place the V-shaped stencils on your nails. Paint white nail polish over the nails. Remove the stencils to expose the chevron nails.
#10. Chevron Letter Nails
Like your name very much? This design will create a space to write the first and favorite letter of your name on chevron nails. You can blend chevron patterns with other patterns too.
#11. Baby Blue
Baby blue is an awesome color for defining nail designs. You can have chevron nails combined with baby glue glitters and stripes. A ring on the ring fingers will complement this design.
#12. Radiant Chevrons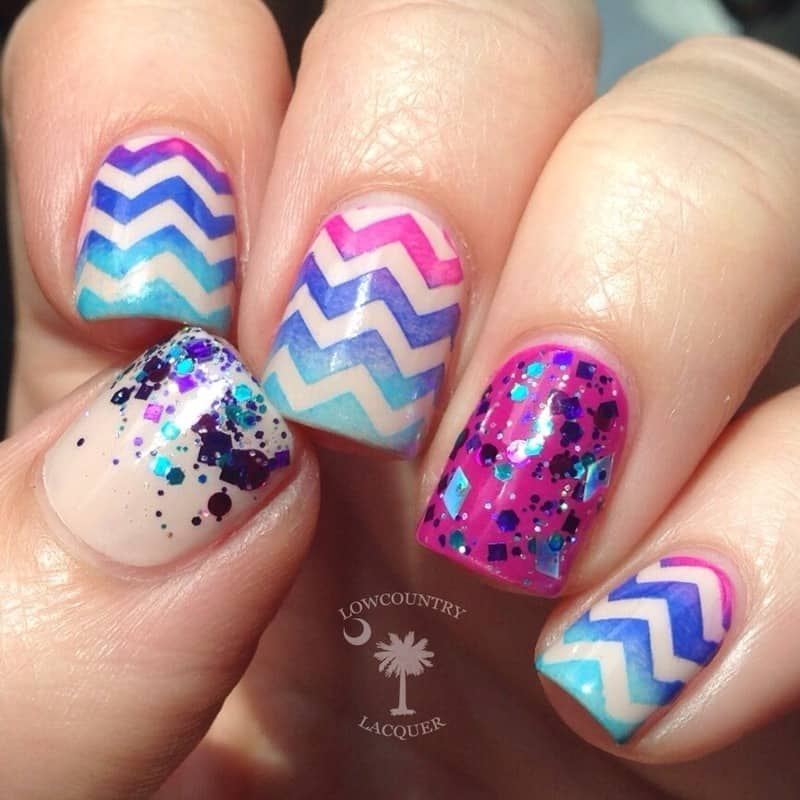 If you don't like dull colors, this design is for you. Use some radiant colors and glitters for these chevron nails.
Nail Design Idea to Welcome New Year
#13. Neon Ombre Chevron
You can use neon colors to give an eye-catching look to your nails. Peach and blue have been used so delicately in this design. A golden pineapple helps these nails look chicer.
#14. Chevron Combo
This is a combination of silver glitters, chevron nails, and peach nails. You can have this combo painted on your nails while having chevron nails.
#15. Glossy Nails
If you want some glossy and colorful nails. You can try this chevron nail design. It's very simple to have using thin glitters of different colors.
#16. Diagonal Chevron Nails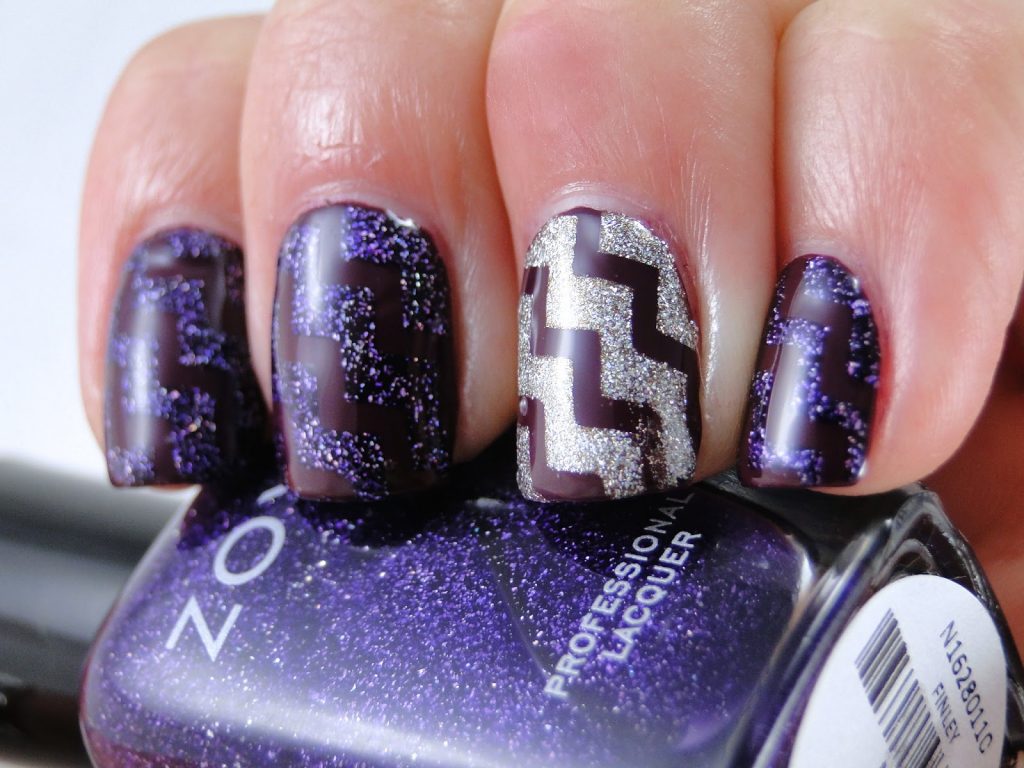 You don't have to draw vertical or horizontal chevrons all the time. Diagonal chevron patterns can add a new dimension to the designs of chevron nails. A fashionable color and aesthetic application of glitters will produce a wonderful outlook.
#17. Tiffany or Brown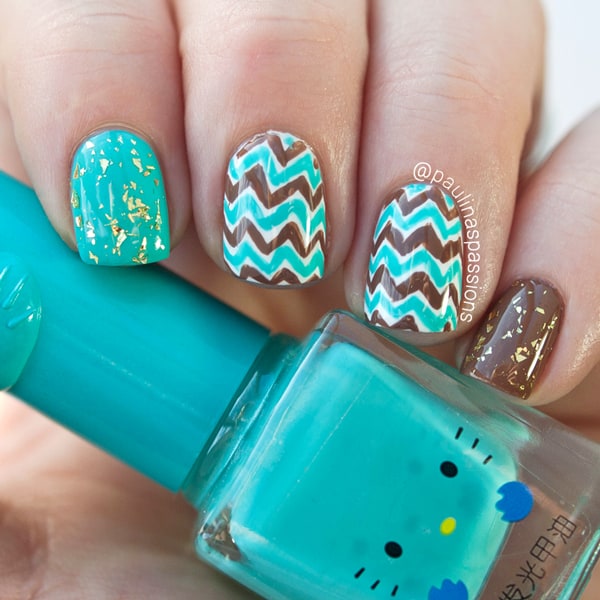 Use brown or chocolate color for chevron patterns. Use chevron patterns on the two middle fingers and keep other two finger nails painted with tiffany blue and brown. You can use tinsels to give a shiny look to the chevron nails.

The charm of gold is perfectly depicted in this design. You can use gold nail polish and glitters on purple nails for a contrasting look.
#19. Blue Chevron Mania
Blue is a royal color. Shiny blue looks so luxe in any designs. You can have your chevron nails designed with blue chevron patterns on white nails.
#20. Teal Ombre Tone
This design is so cute. Golden chevron patterns on ombre teal nails look so beautiful. And a heart shape on the ring finger looks astonishingly awesome.
#21. The Other Angle
You can design chevron patterns from any angle. No matter what if the pattern starts from the top or bottom or side of the nailbeds. Let's change the angle to try something new. The combination of white, silver and pink nails look awesome together.
#22. Pile of Colors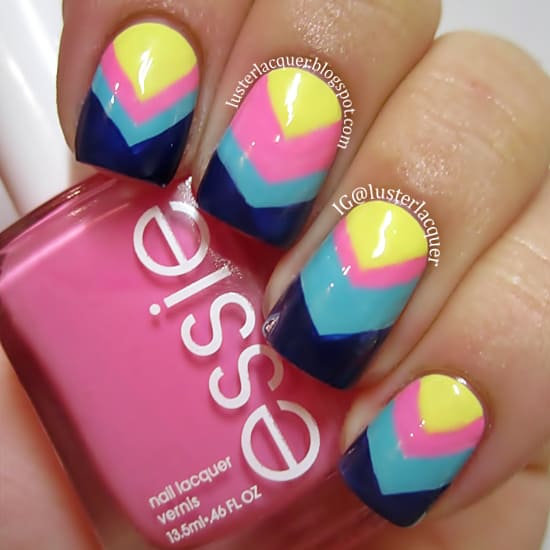 Using more than three colors is a bit unusual in chevron nails. But, you can paint your nails with these eye-soothing colors like yellow, pink, sky blue, navy blue etc. A V-shaped chevron will look good in these colors.
#23. Cute Elephant
I can't resist myself from sharing this design. This cute tiny elephant looks so cute that none can avoid it. You can accentuate your silver chevron nails by painting this cute elephant in between them.
#24. Steep Chevrons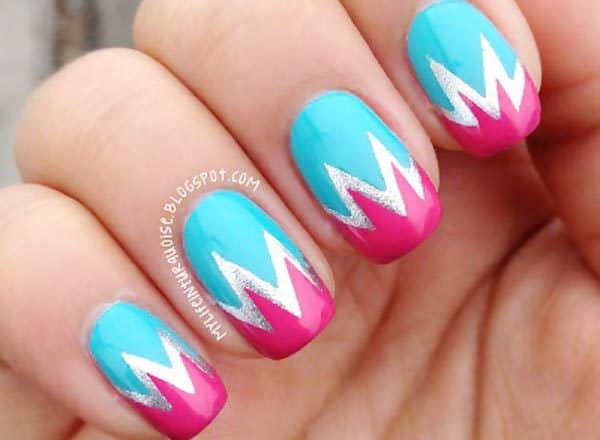 If you are bored with the usual shape of chevron patterns, here are something deep and steep for you. You can use silver glitters to paint these steep chevrons in the connecting point of pink and sky blue colors of your nailbeds.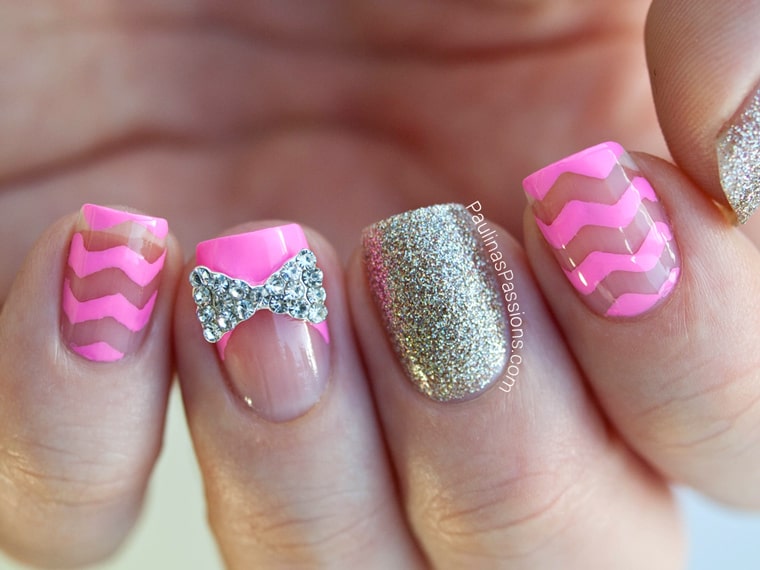 You can glam up a simple design by adding a bow on top of that. These pink chevron designs also look beautiful with the presence of a stoned bow. First, adorn your clear nails with pink chevron patterns then add a bow and silver glitters on the nails to have a chic look.
Beautiful Hand Painted Nail Design to DIY
Elegant Chevron Nail Design Ideas That Can't be Ignored
Chevron nails are commonly used in nail arts in almost every country. This shape became popular so rapidly because of the decent look and easy process. You can try out our designs from this article. Hope it will help you decide the perfect chevron nails for you.