15 Wonder Woman Nails To Feel Like A Super heroine
Wonder Woman is another popular production of DC Comics. This fictional character first appeared in American comic books in 1941. American writer William Moulton Marston created this character for the comic book All Star Comics#8.
Wonder Woman is known as Princess Diana of Themyscria, Daughter of Hippolyta. Wonder Woman jointly founded the Justice League joining with other superheroes. Wonder Woman has been featured in its first solo movie in 2021. Wonder Woman is bestowed with superhuman power. You may not have super powers but you can surely have Wonder Woman nails on your nails.
Wonder Woman Nail Art for Comics Fans
If you are a comics lover and a fan of Wonder Woman then what are you waiting for? I am going to discuss a few marvelous designs for you. You can use the colors and patterns of the costume of Wonder Woman. And other things such as her boomerang tiara, indestructible bracelets,  sword, and shield can be painted on the nails.
You can also use Wonder Woman nail decals or stickers to imprint the face of Wonder Woman on your nails. Here are some easy Wonder Woman nails to adorn your nails.
#1.
#2.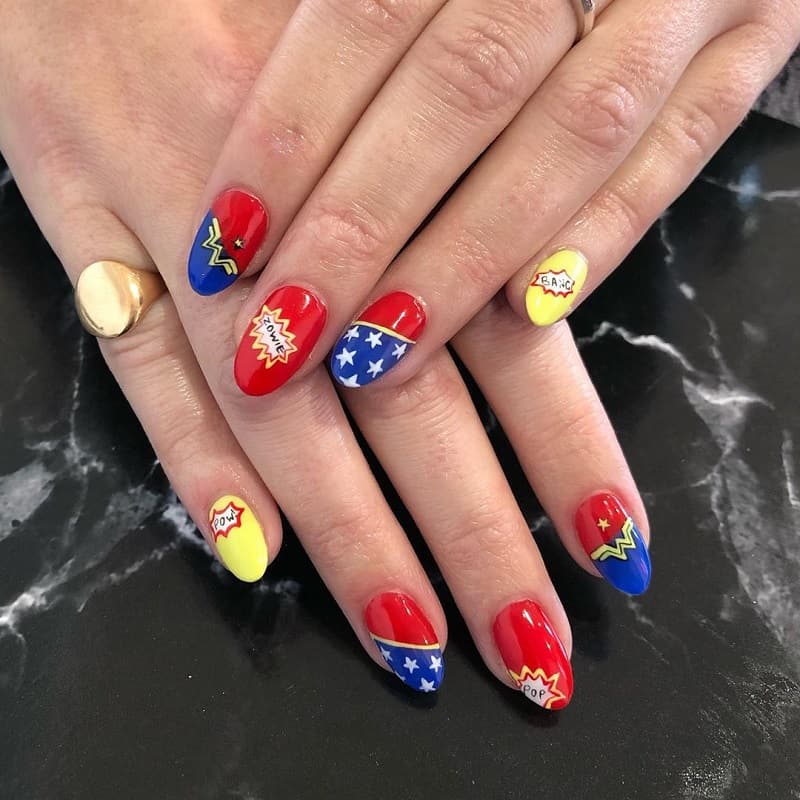 #3.
#4.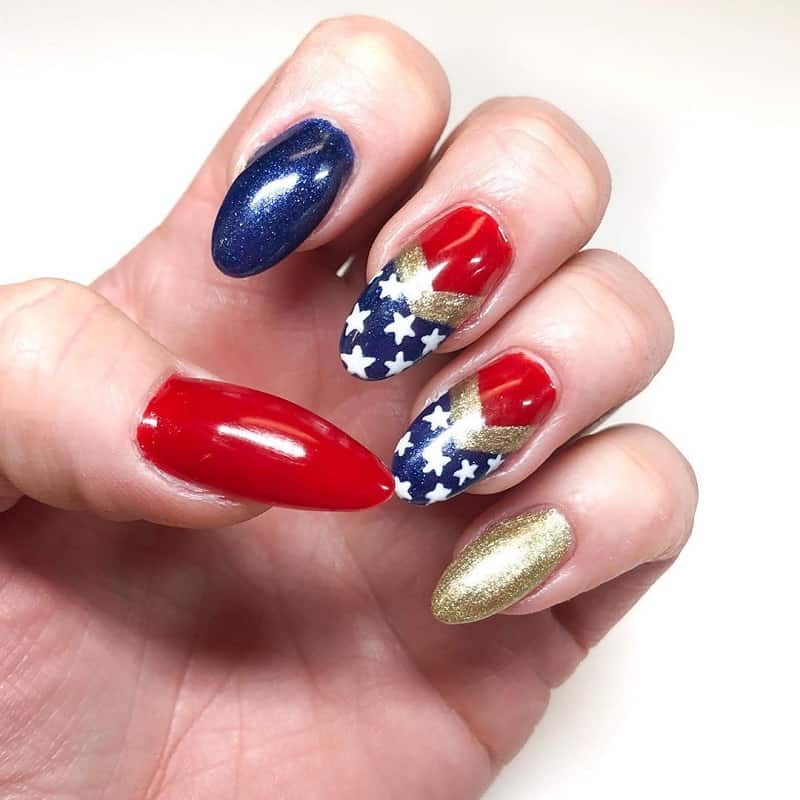 #5.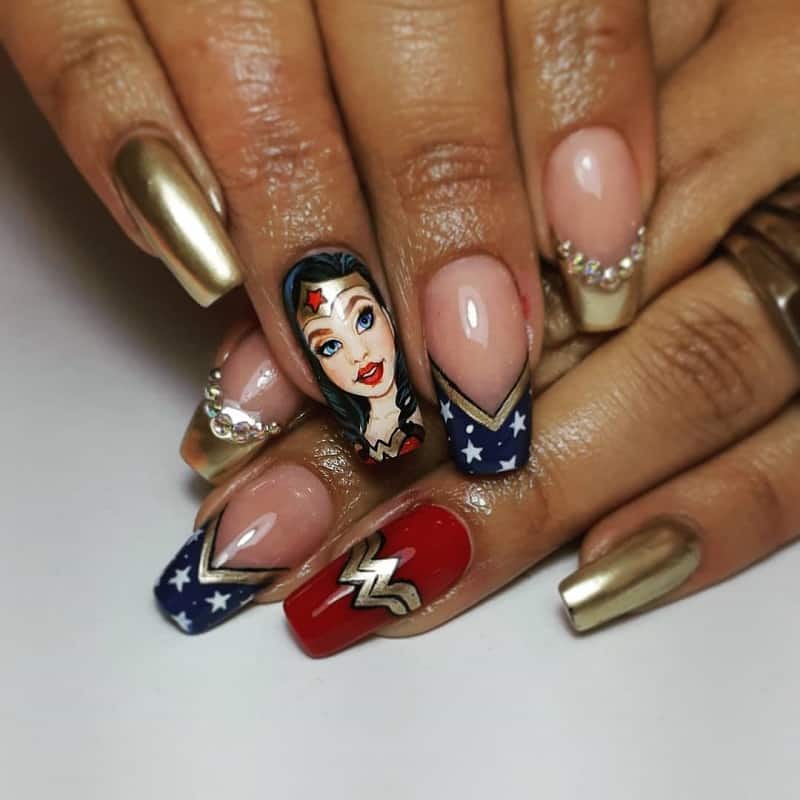 wonder woman nail art stickers
#6. The Superstar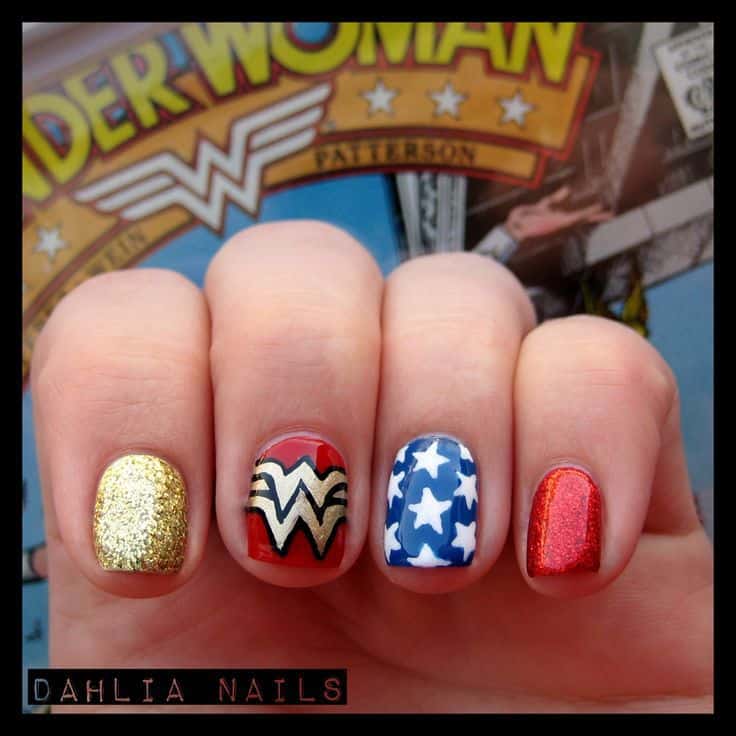 A superheroine is, of course, a superstar. You can draw the stars and Wonder Woman logo for having Wonder Woman nails. The golden glitters and red glitters add the extra glam to these designs.
Unconventional Harley Quinn Nails
#7. Visual Sound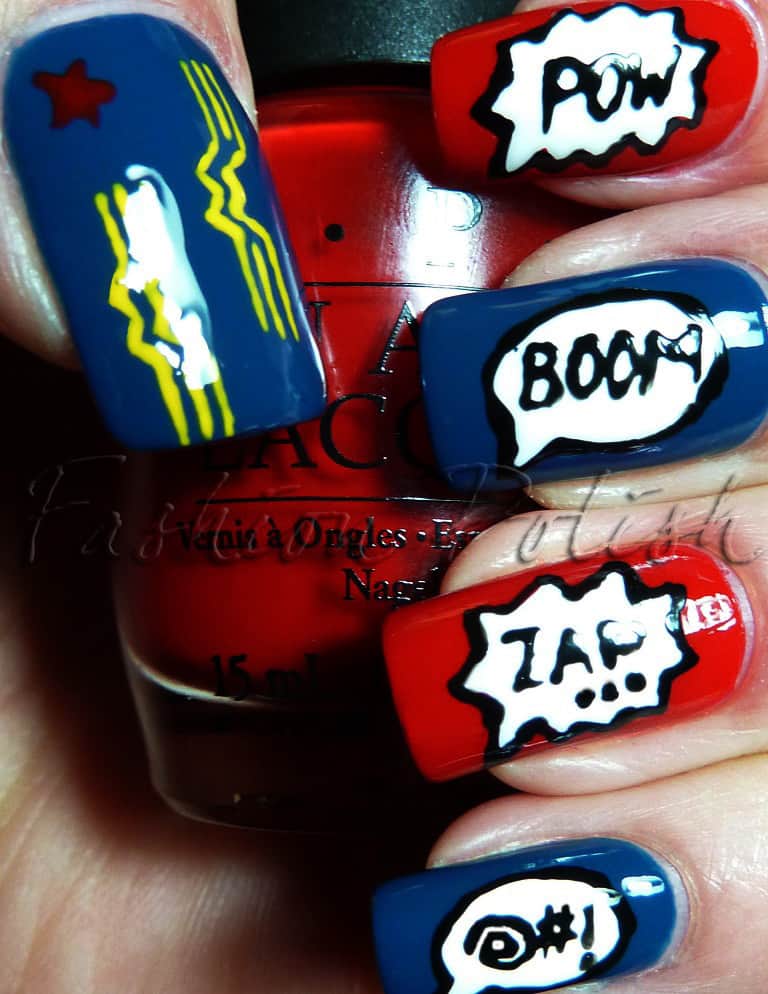 As you can't make us hear the sounds of her actions in nail designs, you can write it to help us visualize. A glimpse of the heroics of the Wonder Woman is painted on these Wonder Woman nails.
#8. The Special Tiara Nail Design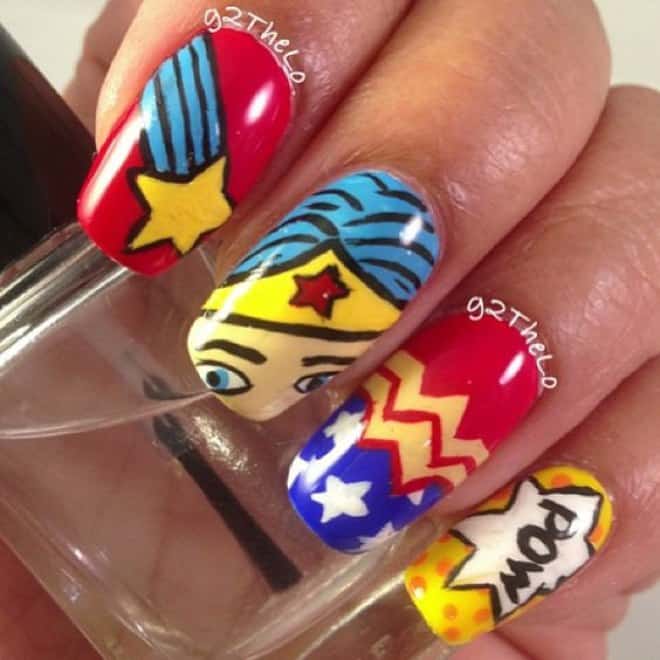 Wonder Woman has a tiara which works as boomerang weapon. You can paint this boomerang tiara while doing Wonder Woman nails.
#9. Easy Wonder Woman Nails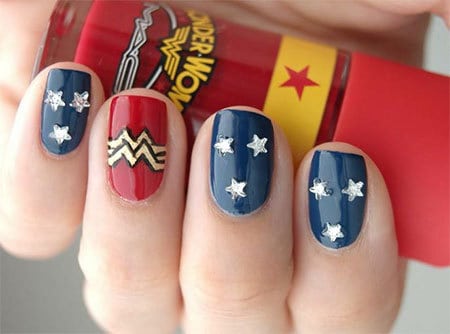 This is one of the easiest Wonder Woman nails you could ever have. Attach some stars to your navy blue nails and draw the golden logo of Wonder woman on red base to have this design.
#10. Neon Red
If you like it brighter and shiner, this is the right fit for you. Use neon red color to focus on the red hotness of the Wonder Woman. You can draw the identical star patterns and Wonder Woman Logo to complete the design.
#11. Pretty Woman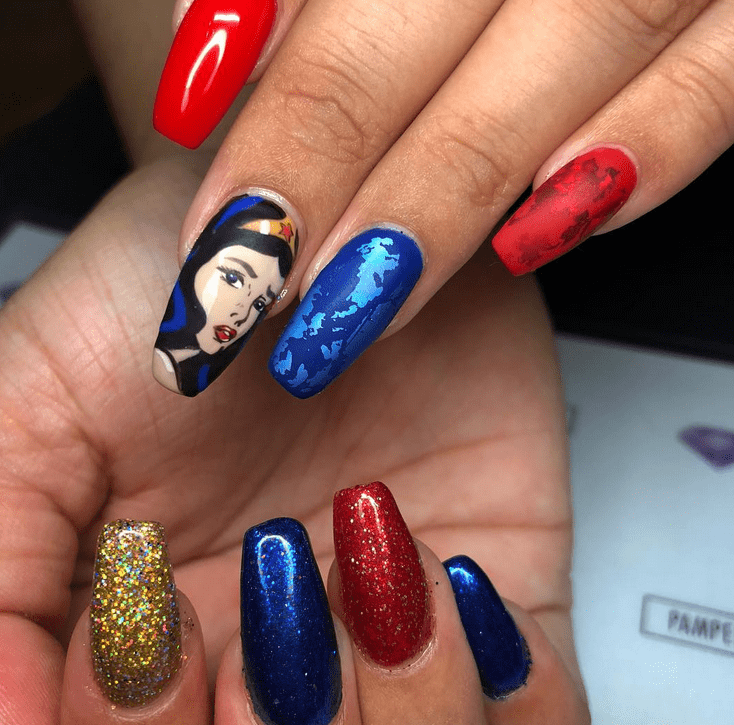 Wonder Woman is not only a powerful woman but also a pretty woman. You can paint her pretty face or use templates or nail decals to have her pretty face drawn on your nails as Wonder Woman nails.
#12. The Variety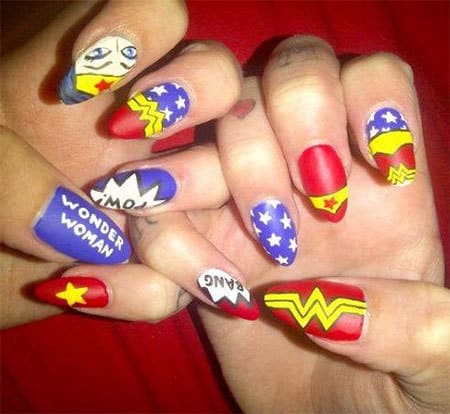 These almond nails look stunning on Wonder Woman nail art. You can paint each nail with different patterns and themes to add variety to the Wonder Woman nails you are going to have.
#13. Wonder Woman Logo
You can have Wonder Woman nails just by painting the logo of Wonder Woman nails. The logo is also very simple to be drawn. So, there will be no difficulty at all.
#14. Peeking Wonder Woman
These nails are one of the chicest Wonder Woman nails out there. The red color and the stars which are drawn within it creates an aristocratic ambiance in the nails. The logo and image of Wonder Woman make it a perfect Wonder Woman nail art.
#15. Stiletto Wonder Woman Nails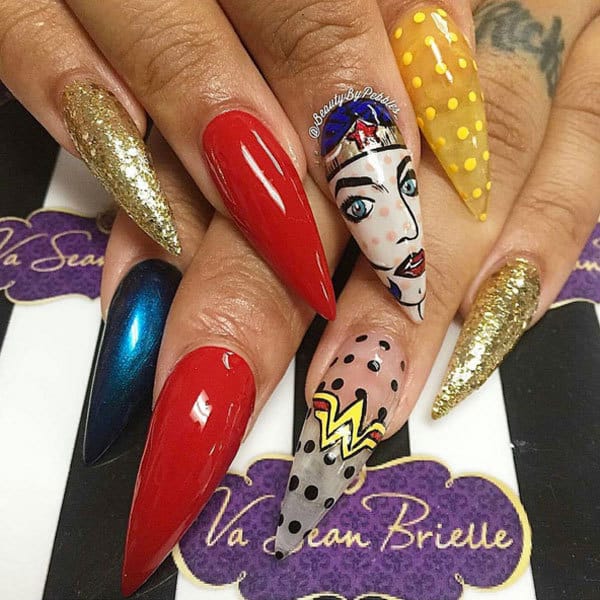 Stiletto nails are bold and expressive. Painting the image of Wonder Woman will increase the boldness more. These red and golden nails add the extra shine to the nails which they deserve. The Wonder Woman logo will complement the whole set of Wonder Woman nails.
Superhero Nail Art: Tour to Fantasy World
Comics character somehow has a large space in the fashion industry. Wonder Woman is the only dominating superheroine in the comics world. We have brought the best Wonder Woman Nais in a single place for your convenience. Hope you'll be benefitted by our nail designs.