30 Fabulous New Years Nail Designs to Welcome in 2021
New Year comes to give us a bittersweet experience of life. On this occasion, we mourn for the departure of the previous year and, at the same time, feel happy for the happy days ahead of us in the new year. But, at the end of the day happiness prevails over the sadness.
We all embrace the new year with a festive mood. When its all about celebrating any festival, girls feel perplexed while choosing the right nail design for this very occasion. That's where you need us to guide you to the gateway of wonderful new years nail designs.
New Years Nail Designs to Jazz up The Festivity
New Year's Eve is celebrated exclusively worldwide. Every English speaking country along with other countries who follow Gregorian calendar join together with joys to observe this very day. So, having the right nail designs has great importance to the girls.
Most of the new year's nail designs are blended with fireworks, parties and, of course, beer and wine.  And the festivity is depicted through various tinsels and shiny stones. Read out this article to have the best new year nail designs arranged at a single place.
#1.
rose gold new year nails
#2.
new year stiletto nails
#3.
black matte new year nails
#4.
pink new year nails
#5.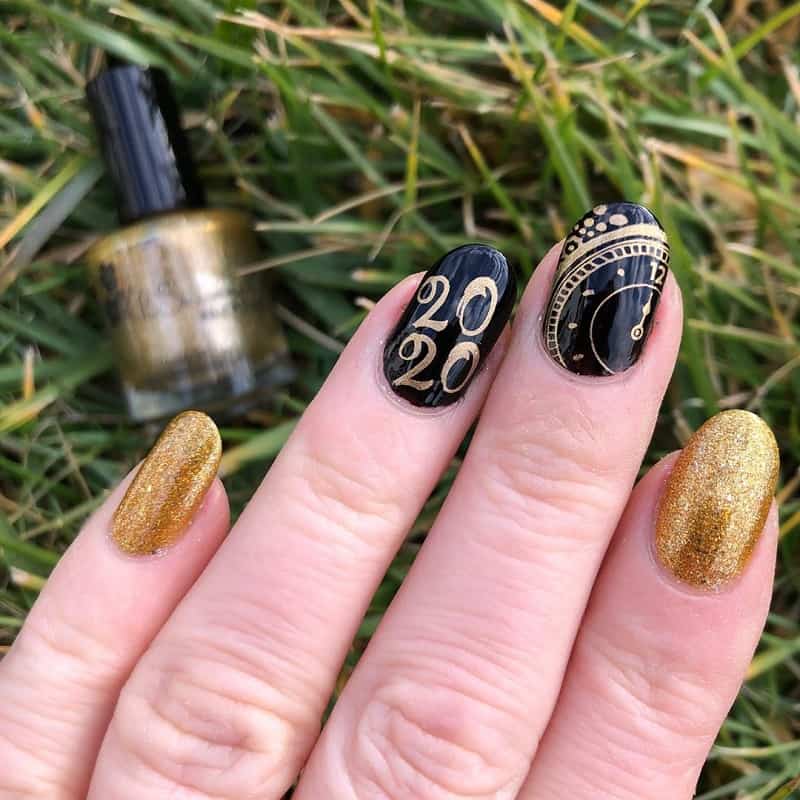 new years fake nails
#6. New Years Coffin Nails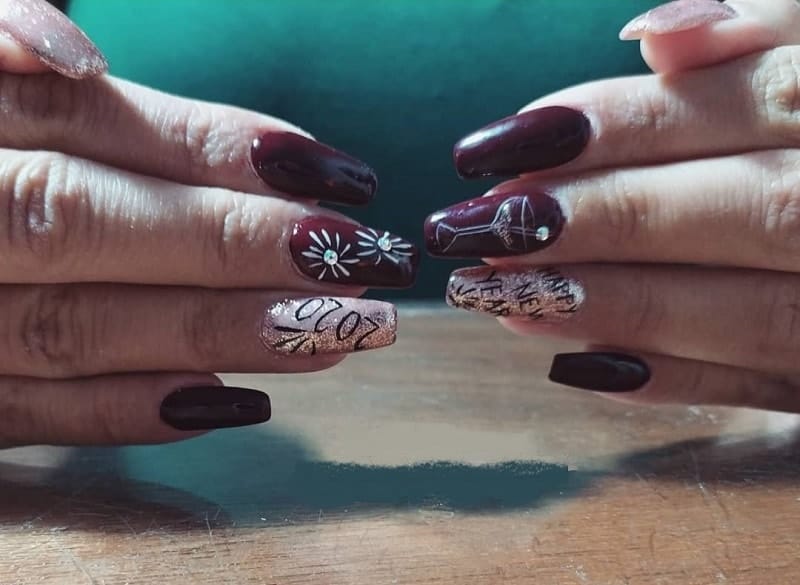 #7. Gel Nail Design for New Year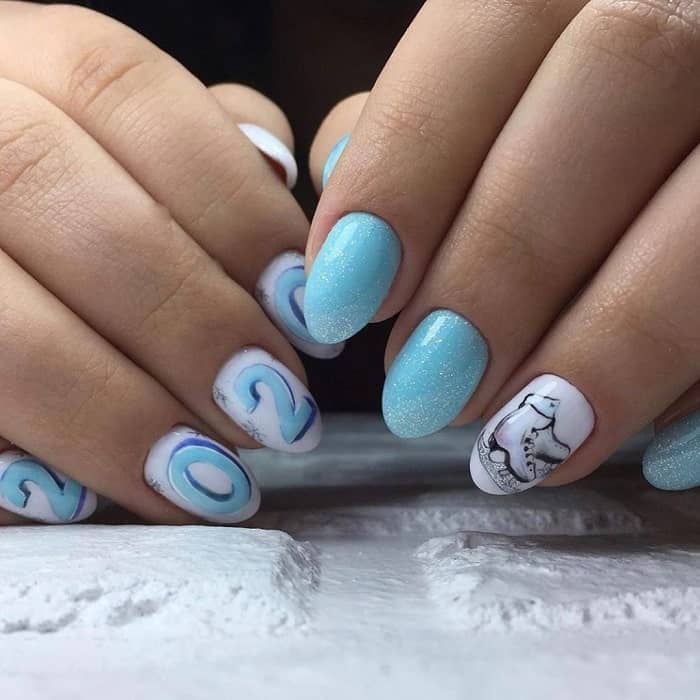 #8. Chinese New Year Nails
#9. New Year Toe Nail Art
#10. French Nails for New Year Eve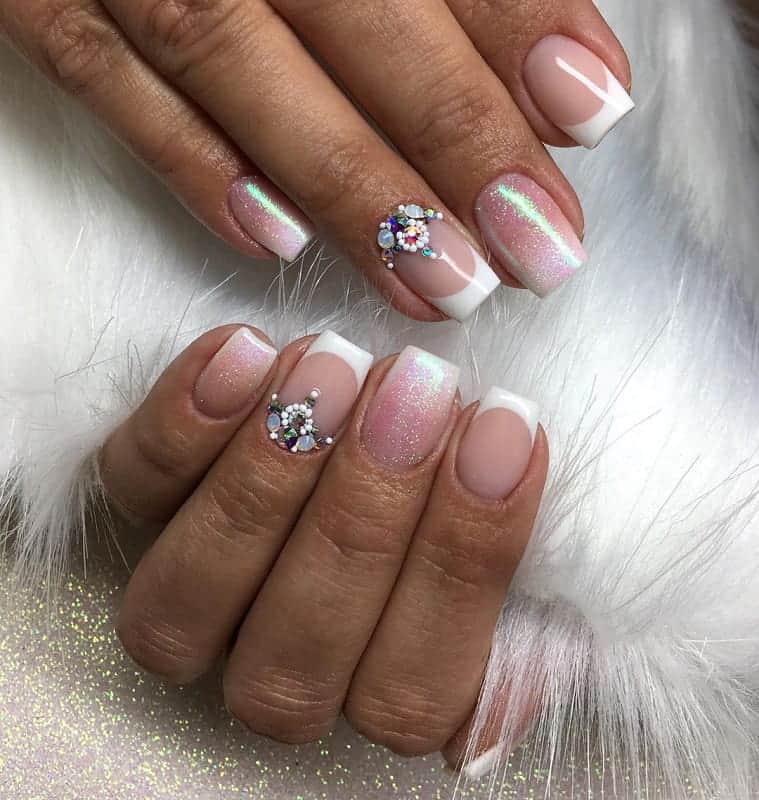 #11. Party and DJ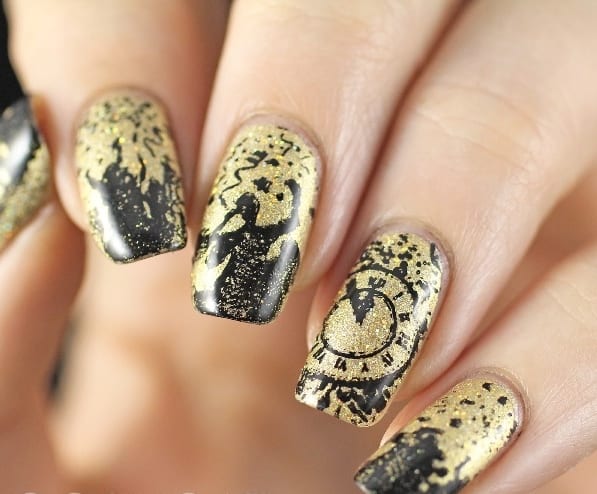 Attending parties with best buddies is a common thing in new year celebration. And parties are dull and gloomy without the dynamic effects of DJing. So having the image of a party or DJ Show will be the perfect theme for your new years nail designs. And you can draw a clock showing the time 12 am to indicate that it's the new year's eve.
Peachy Nail Designs for New Year Eve
#12. Colorful Explosions
Fireworks are an integrated part of new year celebration. These fireworks are the representation of the festivity of any occasion. Having your nails drawn with fireworks is a perfect fit for nail designs on new year.
#13. Golden Nails for New Year Eve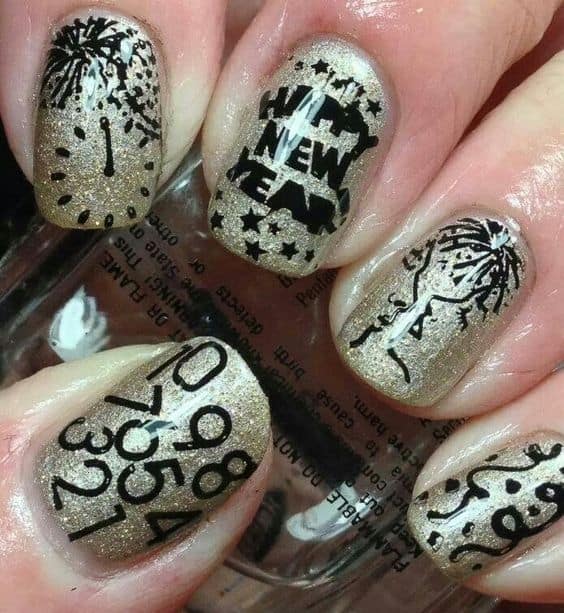 You can draw fireworks and clocks to portray the celebration at the moment of the final countdown. A golden glittery color can be used as the base color and black colors can be used to draw clock and fireworks. You can also write "Happy New Year" on a nail and numbers from 10-1 to refer to the countdown.
#14. The Clock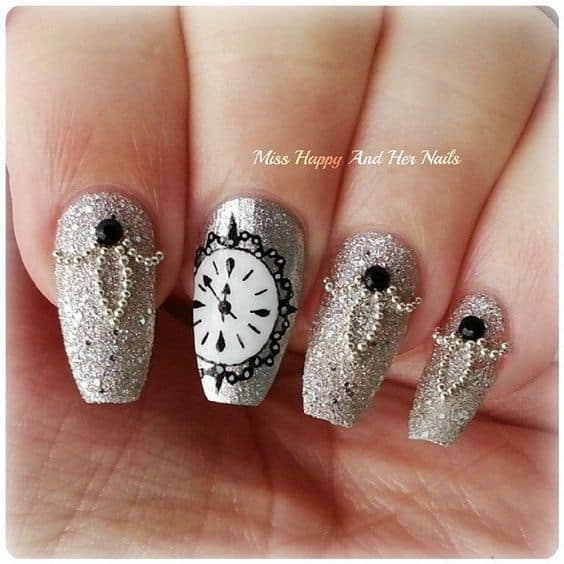 This is a simple but significant design for happy year nail designs. Use silver glitters to fill the nails except for the middle finger. Draw a white clock with black hands indicating to the arrival of the new year. You can use rhinestones too.
#15. Short Nails for New Year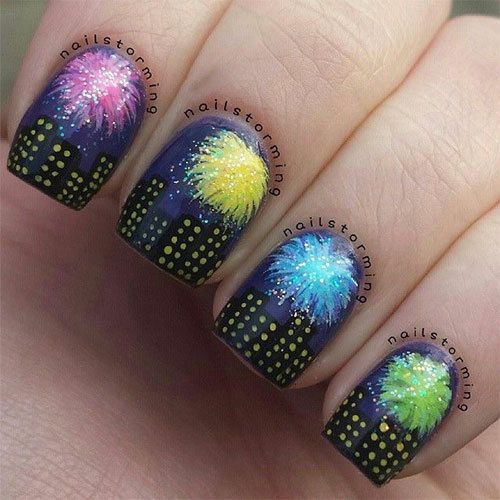 These nails are so pleasant to see. They are spreading a sense of festive to the environment. You can use radiant colors to draw these fireworks on the black surfaces. Use glitters for a glitzy look.
#16. Acrylic Nails for New Year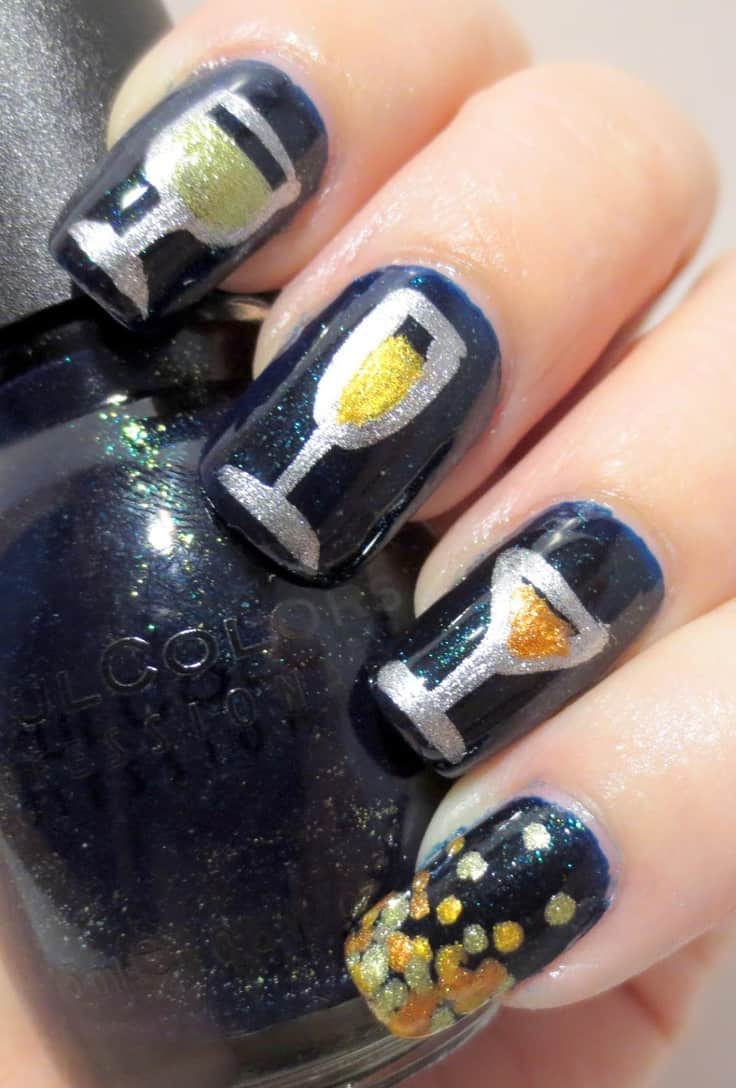 If you are celebrating the happy new year and not drinking wine or beer, you are doing it very wrong according to western culture. Since this norm is identical to the new year celebration party, you can use it happily for new year nail designs.
#17. Beyond The Horizon
Imagine that you are on the top of a high rising building and the sky is full of fireworks. How would that look? You will get lost in the horizon of explosive beauty. Now, draw your imagination on your all black nail beds.
#18. You And I
If you have someone very special and want to spend the new year's eve with him, this is the perfect design for you. Draw images of two wine glasses leaning against each other to have this design. Use shiny silver colors and golden rhinestones on the base.
Sparkle with glitters. You can use colorful glitters to give the look of fireworks on your nails.
Festive Nail Designs for Birthday Party
#20. Happy New Year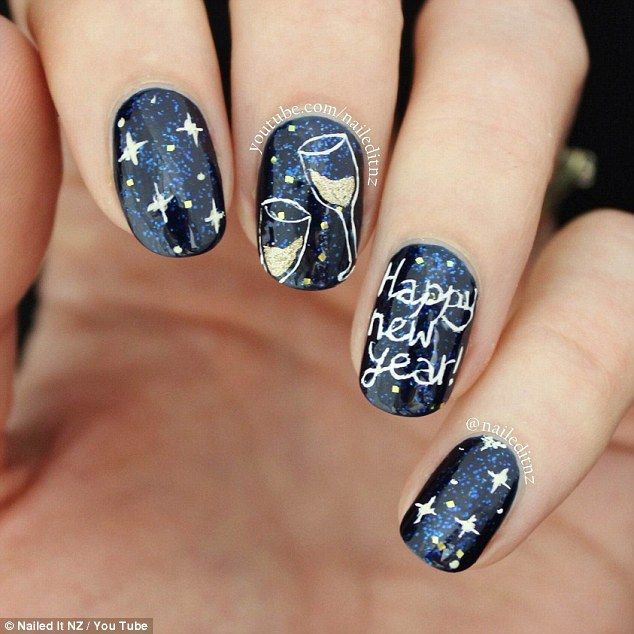 Firstly, draw a sky full of bright stars on your nail. Then write those three magical words "Happy New Year" to celebrate this very day. Your nails will do the talk for you.
#21. Golden White
Draw the themes of new year celebration with the golden charm on a white base coat. You can draw a clock and wine glasses with black color and use golden glitters in between for your new year eve nail designs.
#22. Blue Fireworks
Blue can be used in almost every design. New years nail designs are not spared too. Draw white rays indicating fireworks on the blue surfaces of your nails. You can use a stone to determine the central point from where the rays are coming.
#23. Love for Wine
You can express your immense for wine on an occasion like this. There is no one to keep surveillance of you. But, keep in mind that excess of anything is very bad.
#24. Party All Night
This design is an outstanding way to depict the theme of new year celebration.  A new year celebration comprises of fireworks, drinks, party and festive look. This design covers them all. So, this is what looks like the absolute new years nail design.
#25. Red Nails for New Year
You cannot deny the presence of red on a happy occasion. Use red as the base coat and draw some fireworks on the nails. You can use blue color and gold and silver glitter for this new year nail designs.
#26. Vivid New Year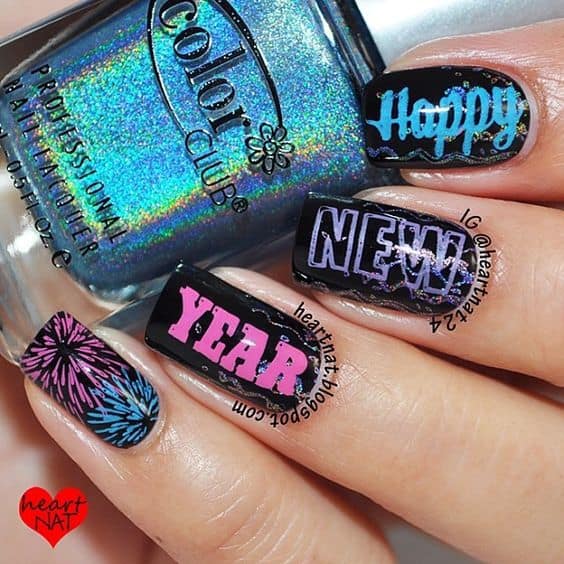 This design is simply gorgeous. If you wear these nails you don't have to say anything, this design will convey the "Happy New Year" wish to the people whoever see these nails.
#27. 12 O'clock
This is a different new years nail design to have on your beautiful nails. Draw a piece of clock giving the time 12 o'clock  and some images of high rising buildings on your nude nails. You can also depict the dress code for the party on your new year nail design.
#28. Silver Glitters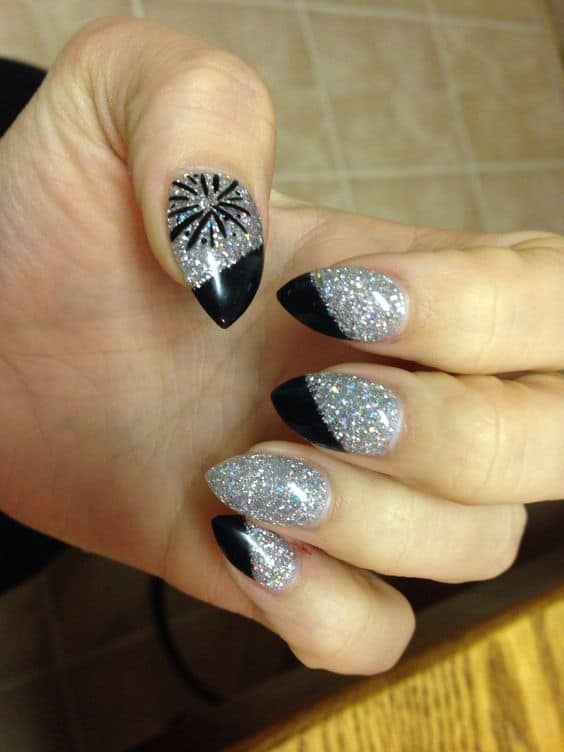 This is a very simple new years nail design. Fill the surface of your nails with silver glitters. Then use black to draw the fireworks. The use of black and silver gives it a delicate look.
#29. New Year Calling
New year themed nail designs look gorgeous in black and white stripes. You can draw a part of the clock on the striped base coat. Use golden stones to express the festivity of a new year's eve.
#30. Party Is On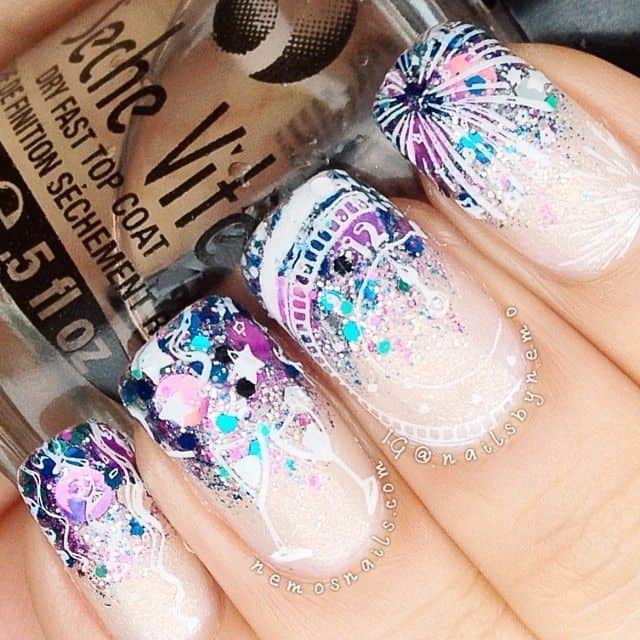 These new year nail arts resemble precious elegance. You can use colorful star-shaped tinsels to give a glittery look. Wine glasses, clock, and fireworks; three most popularly used image have been used in this design. These are perfect new years nail designs to rock the party.
Fun & Flattering Funky Nail Designs
Take a Look at Some Cool New Years Nail Designs 
New year comes only once a year. So it is very important to make it memorable in every possible way. Don't leave your nails without any designs on this very occasion. You can choose or modify any of our designs and ideas given in this article. Hope that you will have a blast this year. Happy New Year to the people hailing from every corner of the world.