On the hunt for a New Year's nail design that will blow everyone away, match your killer outfit, and get you feeling in the mood for festivities? We've got 30 fabulous ideas that will cover all three and more!
The key to the perfect New Year's nail design is the sparkle. Since the special evening's traditional colors are silver and gold, find these shades in a sparkle or shimmer and use them to define your chosen nail design or just add that extra something.
Toasting champagne glasses, clocks, dancing lovers – you'll love all the awesome New Year's nail designs you have to choose from!
Festive New Year's Nail Designs
Been there, done that as far as New Year's nail designs go? Get ready to see a whole new set of hot nail designs sure to get you in the festive mood!
#1. Rose Gold New Year
Start the New Year on the right foot by winding down the last evening of the year with a sparkly nail design. This shade of pink is feminine and sure to catch the light wherever you are.
#2. Matte Stiletto Nails
A long stiletto nail is practically a must to get your New Year's nail design off to a good start. Mix matte black with an almond-patterned brown nail, and line the cuticles with black crystals.
#3. Coffin and Stiletto Nails
Having a hard time choosing between coffin and stiletto nails? Wear them both on New Year's Eve – it's a special occasion! Use black and gold to create your amazing design featuring the new year numbers painted on the ring or middle fingernail.
#4. Light Pink
Put an interesting spin on traditional New Year's nails by opting for a light pink instead of black. Using a thin brush, draw diagonal lines for a sparkly abstract design.
#5. Black and Gold Fake Nails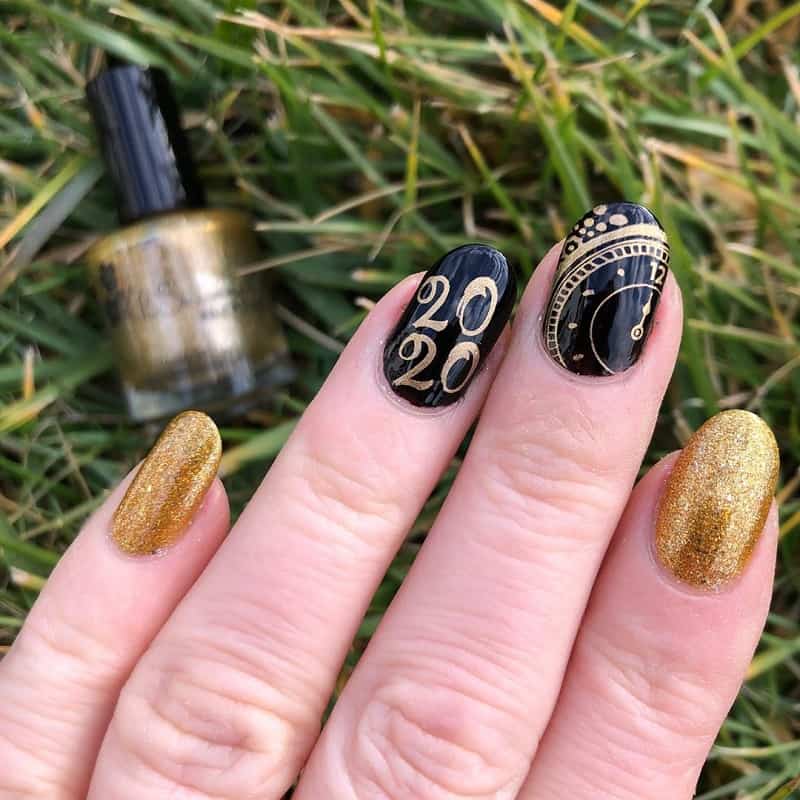 Maybe you want a temporary New Year's nail design that's easy to remove the next morning. In that case, choose themed press on nails in black and gold.
#6. New Years Coffin Nails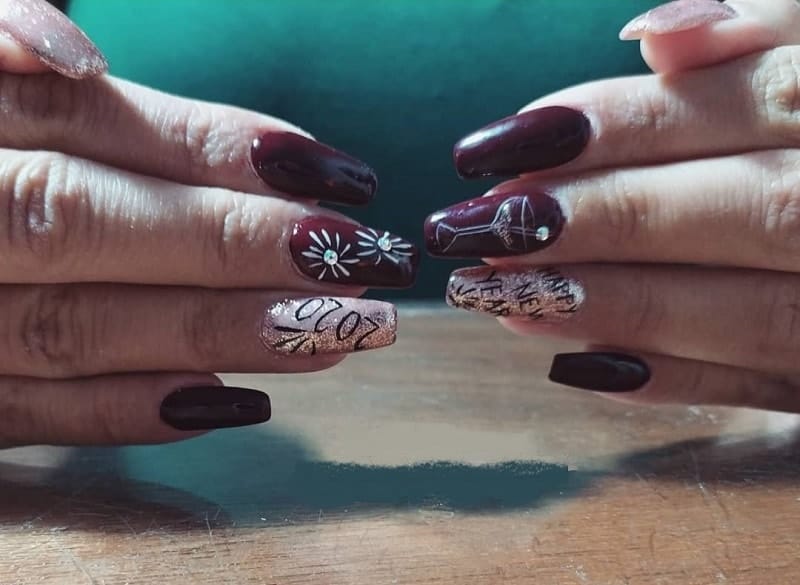 If you love girly colors like maroon, use it with silver for your New Year's nails. White will work for fireworks which you can sparkle up with a crystal in the center. Nail decals with 2022 or other word art will be easy to apply.
#7. Gel Nail Design for New Year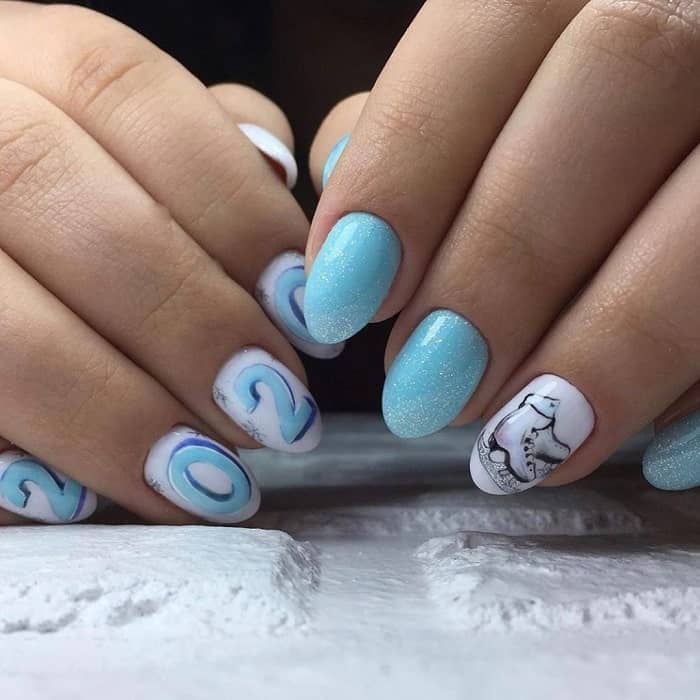 Who says you have to go dark for New Year's nails? Let's try a bright blue with some sparkle! When you have a white base, blue numbers will pop much better.
#8. Chinese New Year Nails
Are you big into the Chinese New Year and the new animal it comes with? You can create Chinese New Year nail art with either red and gold polish or this girly light pink shade with nail stickers in Chinese writing.
#9. New Year Toe Nail Art
The New Year's fun doesn't have to stop at your fingernails! Bring the action down to your toes. These ones use bright colors and black lines for definition.
#10. French Nails for New Year's Eve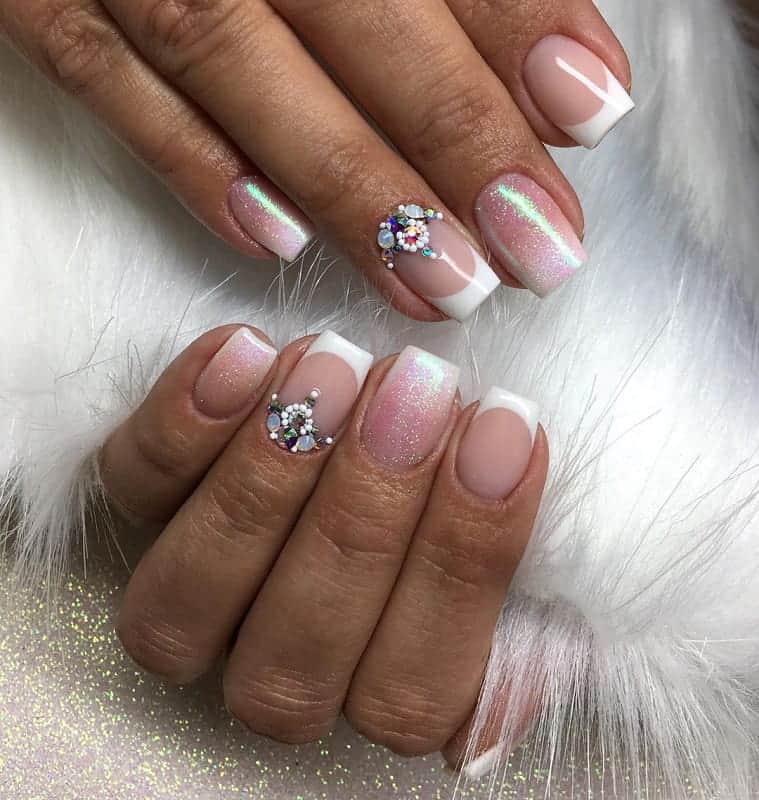 No matter what the occasion is, a French manicure is never a bad choice. Mix the classy style with glitter ombre for sparkly New Year's Eve nails.
#11. Party and DJ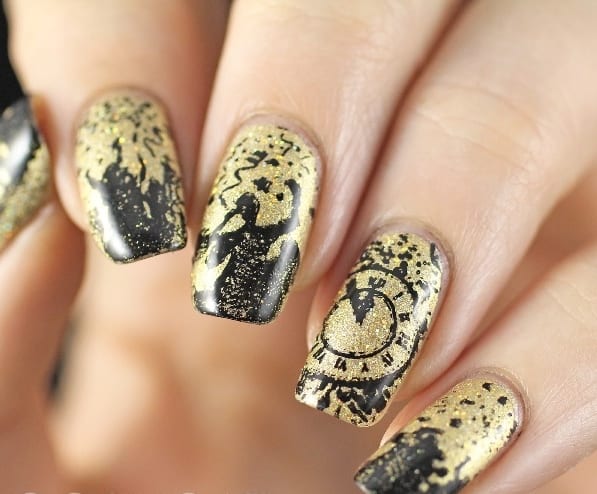 Many people attend New Year's Eve parties with friends to mark the occasion. You can depict your party scene on long squoval nails with black scenery on sparkly gold polish.
Peachy Nail Designs for New Year Eve
#12. Colorful Explosions
Fireworks are an easy way to get New Year's nails. We love these dotted multi-colored ones that pop over a pure black night sky on short square nails.
#13. Golden Nails for New Year Eve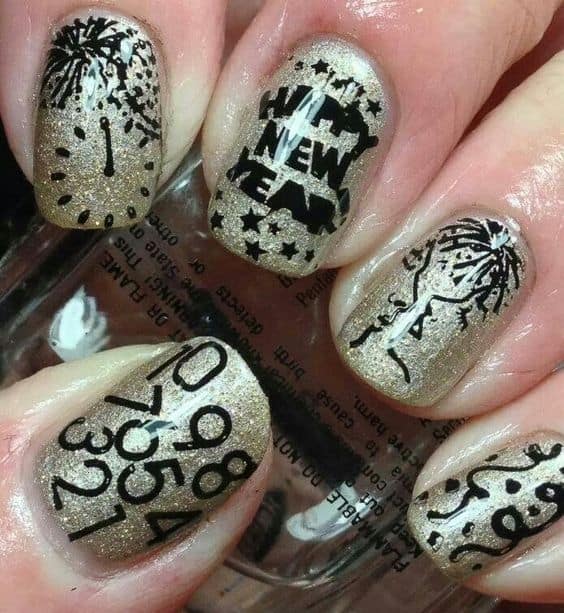 Fireworks and clocks easily portray the celebration of a New Year's Eve final countdown. A golden glittery color is used as the base here and black is used for clock numbers, kissing faces, and confetti.
#14. The Clock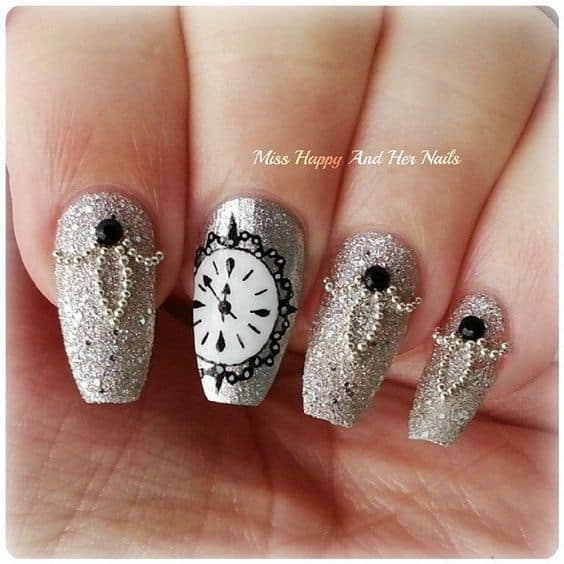 This statement New Year nail design features silver glittered polish on all nails except for the center one where a large white clock depicts approaching midnight. Use silver pearls or crystals to make your nail art 3D.
#15. Short Nails for New Year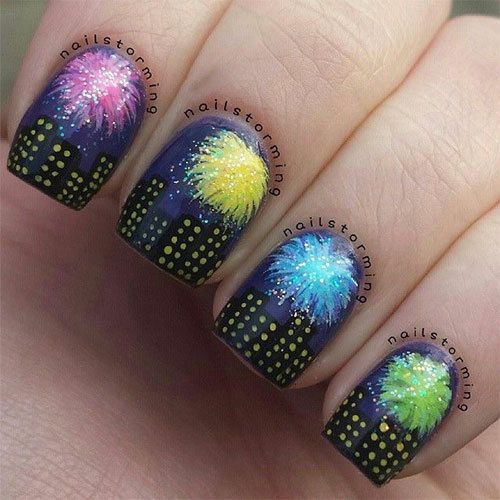 The colorful fireworks seen on these nails get us in the celebratory mood. Bright pink, yellow, blue and green will make them pop on a dark blue background above lit up city buildings.
#16. Acrylic Nails for New Year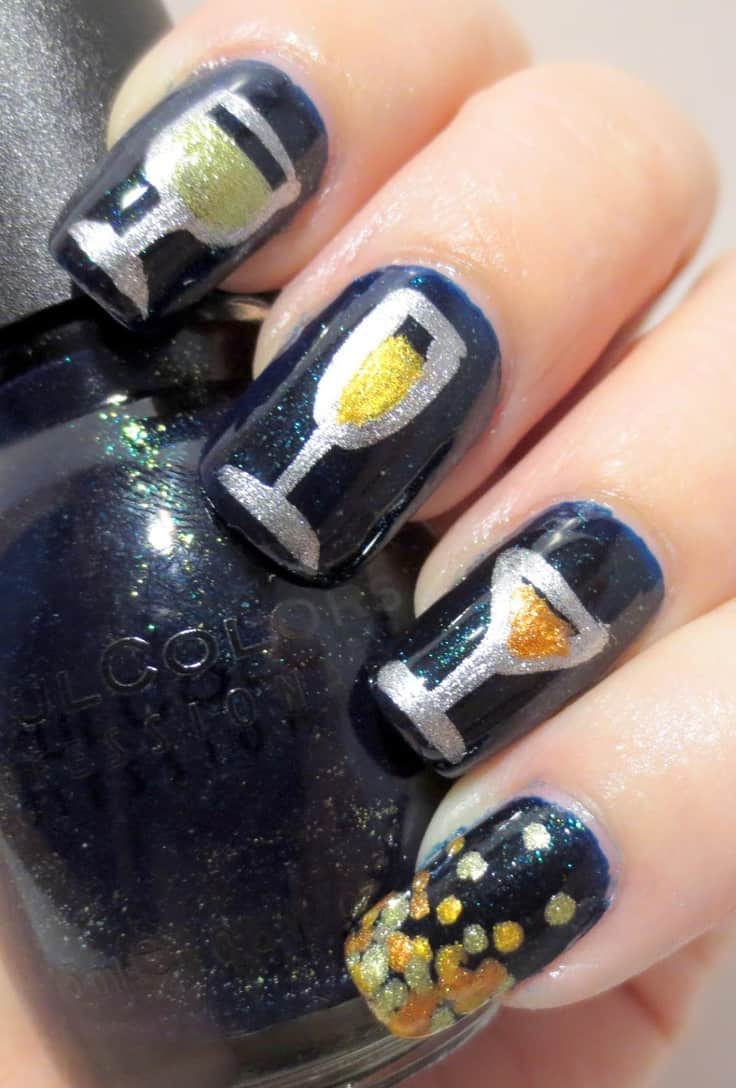 Making a lot of toasts with glasses of champagne is one staple of New Year's Eve. When you toast with friends, everyone will love your dark blue and black manicure featuring glasses surrounded by gold and silver polka dots.
#17. Beyond The Horizon
Imagine that you are on the top of a high rising building and the sky is full of fireworks. How would that look? You will get lost in the horizon of explosive beauty. Now, draw your imagination on your all black nail beds.
#18. You And I
On silver nails, draw two toasting champagne glasses on each nail. You can either dot on the bubbles or use tiny gold crystals.
We love these gold short square nails with their zebra stripes and confetti glitters. For a festive New Year, you need these beauties!
Festive Nail Designs for Birthday Parties
#20. Happy New Year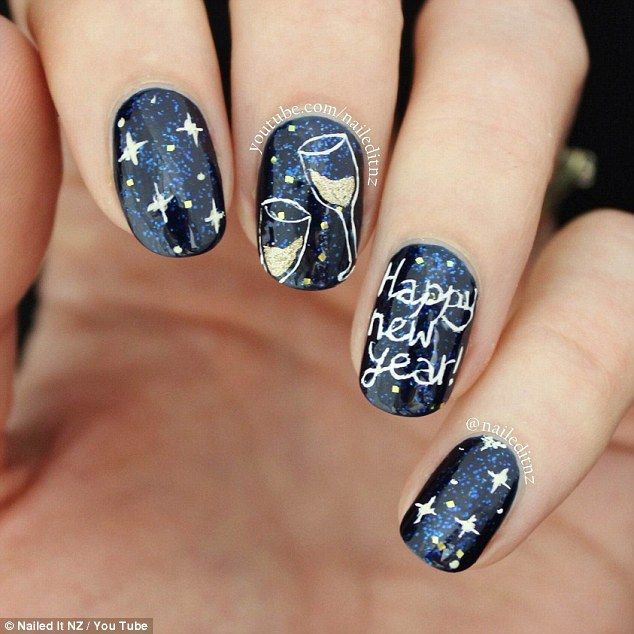 On dark blue sparkly nails, add gold foils for the New Year's night sky. Use your own hand to draw a cursive "Happy New Year" on the accent nail.
#21. Golden White
Draw the themes of a New Year celebration with golden charm on a white base coat. A clock and champagne glasses outlined in black help a glitter center stand out.
#22. Blue Fireworks
Blue can be used in almost every design, including a sexy New Year nail design. Draw white rays for fireworks on the blue surfaces of your nails, using large crystals for the burst.
#23. Love for Wine
A glass or two of champagne would be perfect for an accent nail on New Year's nails. Use gold and silver glittered nail polish to decorate the other nails.
#24. Party All Night
This design is an outstanding way to depict the theme of new year celebration. A new year celebration comprises of fireworks, drinks, party and festive look. This design covers them all.
#25. Red Nails for New Year
You cannot deny the presence of red on a happy occasion. Use red as the base coat and draw some fireworks on the nails. You can use blue color and gold and silver glitter for this new year nail designs.
#26. Vivid New Year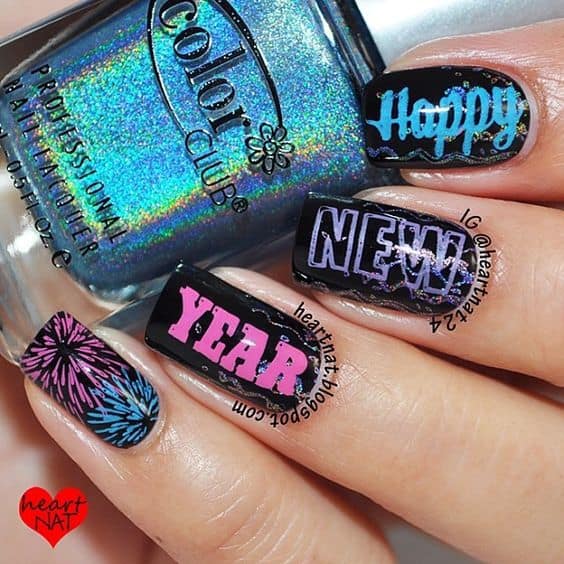 This design is simply gorgeous. If you wear these nails you don't have to say anything, this design will convey your "Happy New Year."
#27. 12 O'clock
If you're heading out to a New Year's party, draw a partial clock depicting 12 o'clock and a fancy tuxedo. Even some high rise buildings will match your evening's theme.
#28. Silver Glitters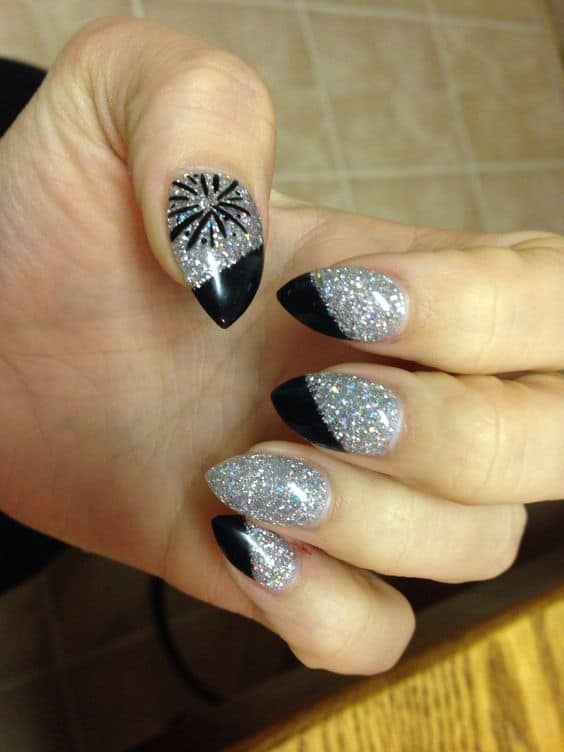 This is a very simple New Year's nail design. Fill the whole surface or just half of your nails with silver glittery polish, then use black to draw the fireworks.
#29. New Year Calling
New Year themed nail designs look gorgeous in black and white stripes. You can draw a part of the clock on the striped base coat. Use golden stones to express the festivity of the evening.
#30. Party Is On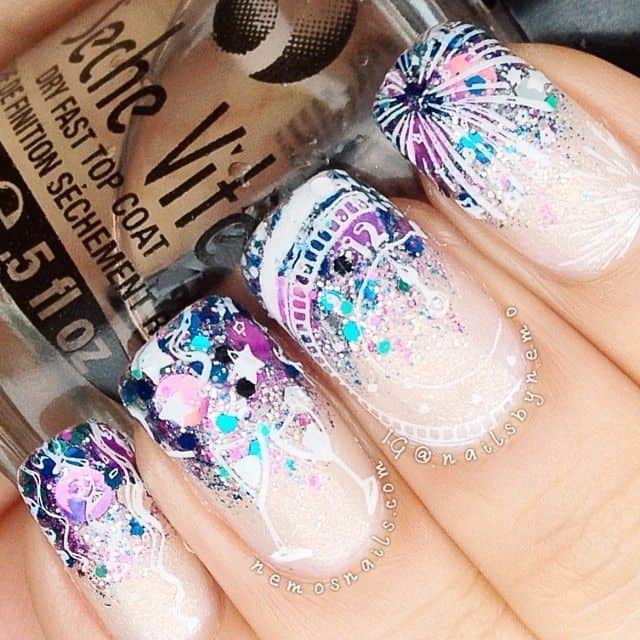 Colorful star-shaped tinsels are a gorgeous touch to New Years nails. Use white nail stickers in wine glasses, clocks, and fireworks to add themed art to your nails.
Fun & Flattering Funky Nail Designs
Take a Look at Some Cool New Years Nail Designs
With the above New Years nail designs, your special evening will be both memorable and fashionable. As long as there's plenty of sparkle, you'll fit right in no matter where you are!