Inspired by classy and ravishing wardrobes, houndstooth nail prints gained a lot of followers, mostly because they can be easy to recreate. The pattern is outstanding, ideal for those who want a manicure that is innovative and a real attention grabber.
The design is versatile, great for any nail type and length and creates a mindblowing contrast between the base polish and the pattern. It requires some drawing skills to identically recreate the shapes, but that doesn't mean you can't find a few tips and tricks to speed up the process.
Best Houndstooth Nails Design
However, if you're not up for a complicated procedure, there are more accessible alternatives that will look better than the hand-painted design. You can choose to apply nail stickers or use stamps.
Check the article below and learn how to recreate this sophisticated and famous pattern!
1. Black and Yellow Houndstooth Nails
Even if it might seem complicated to get such a mesmerizing manicure, you must know that the technique used is easier than it seems.
Get short squared nails and paint them black and pale yellow. You can buy your favorite size of houndstooth stickers and apply them in seconds using tweezers.
2. Black and White Pattern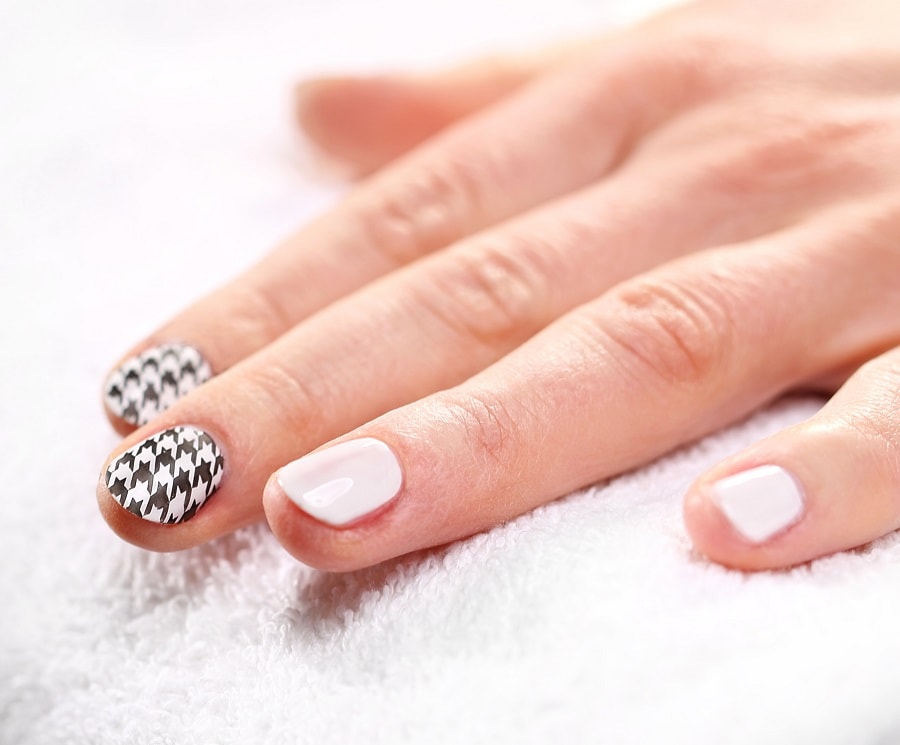 Stickers are the best way to create flawless houndstooth nails, especially when you want all the elements to have the same size and shape.
Moreover, applying the foil will take less time than painting everything from scratch. Also, it makes less mess than the stamps.
3. Short Stamp Houndstooth
Black and white is probably the most common color combination for this pattern. It resembles the chess board, and you can find it on several textiles, as it's quite popular in the clothing industry too.
Cut the nails short, in a rounded shape, and use the stamp to apply the pattern.
4. Red Houndstooth Nails
You will need to cut your nails short to recreate this wonderful design. Paint them white and with a pale red polish. Use tweezers to apply the sticker with the pattern.
Fully cover the nail for some of the nails, while on others, you will apply the sticker only on half of the nail.
5. Christmas Nails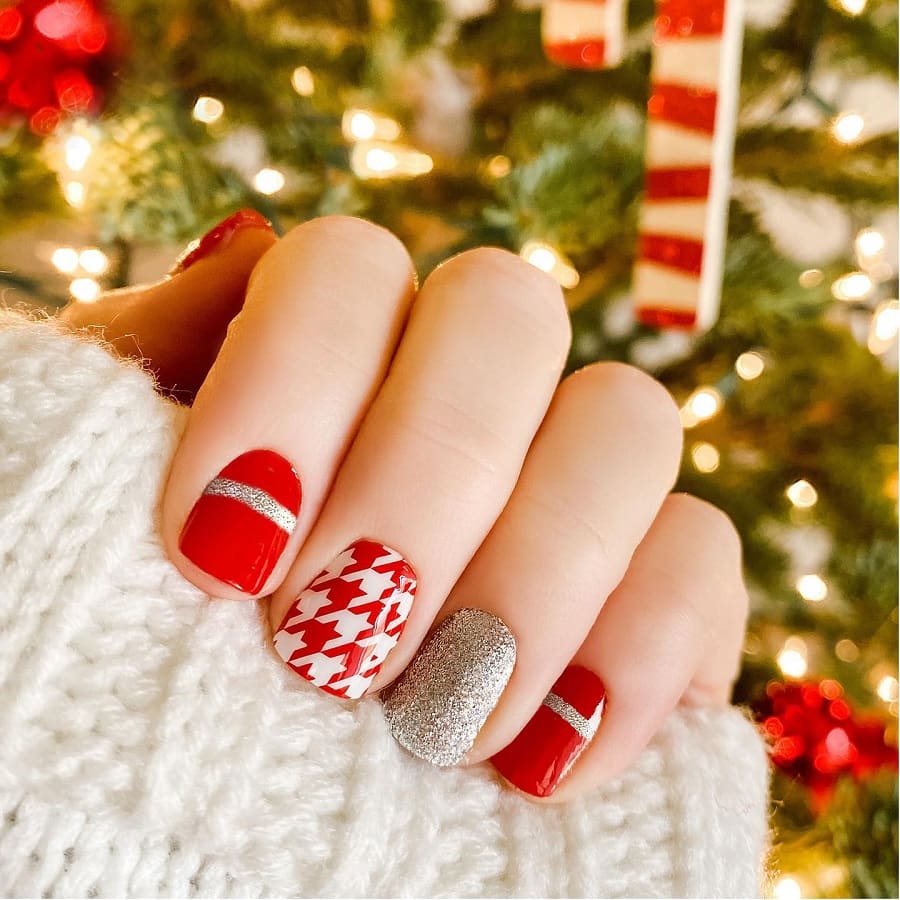 Well, this is a proper example of Christmas nails. The houndstooth pattern gives you a cozy vibe, and the red nail polish is applied perfectly. The golden glitter wonderfully completes the manicure.
6. Half Nails Pattern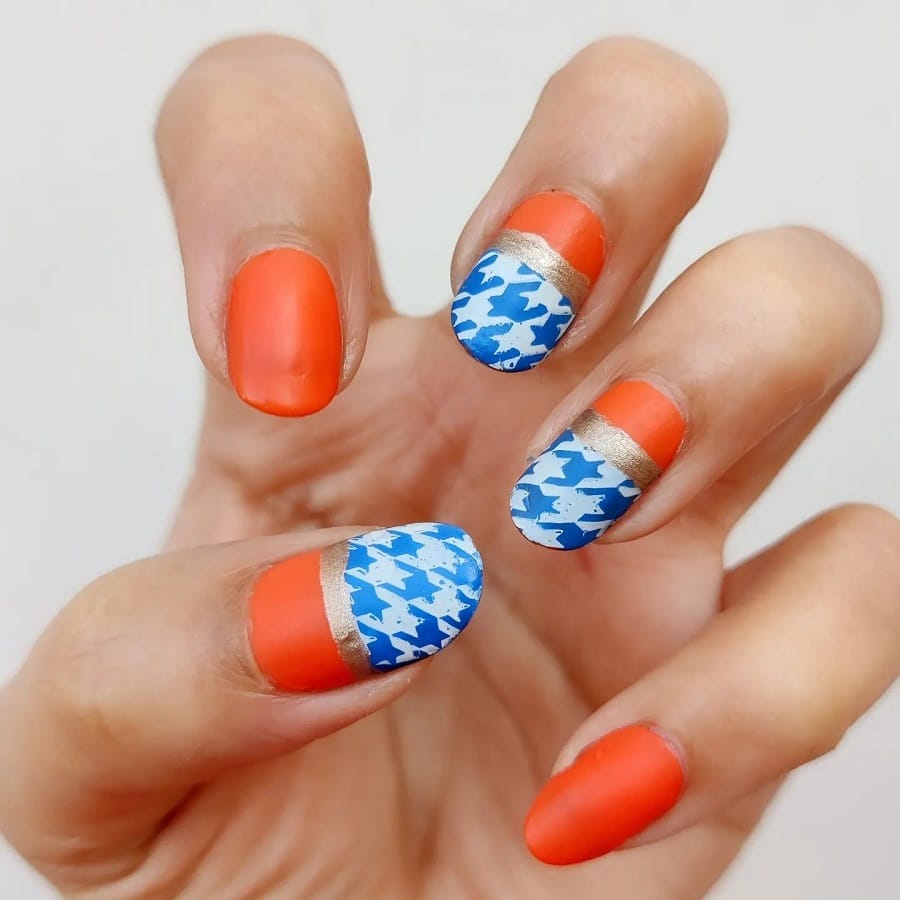 When handling the stamp, you need to make sure you apply it right and do not ruin the pattern. If it's an intricate model, a simple miss can ruin all your work. Before doing a complex matte manicure, test the stamp and get used to applying it. 
7. Glittery Houndstooth Nails
Houndstooth nails with glitter are perfect for festive moments, parties, or unique events and occasions when you want to look your best. Get a squared shape nail and paint it with glittery polish. Use the stamp and apply it to the nail to preserve that granulated look. 
8. Glitter and Patterns
There are no restrictions when using your creativity for a manicure. Get flare-shaped nails and paint them red, glittery green, and white. Apply a nail sticker on two of the nails and draw a big letter on one of the fingers.
9. French Tips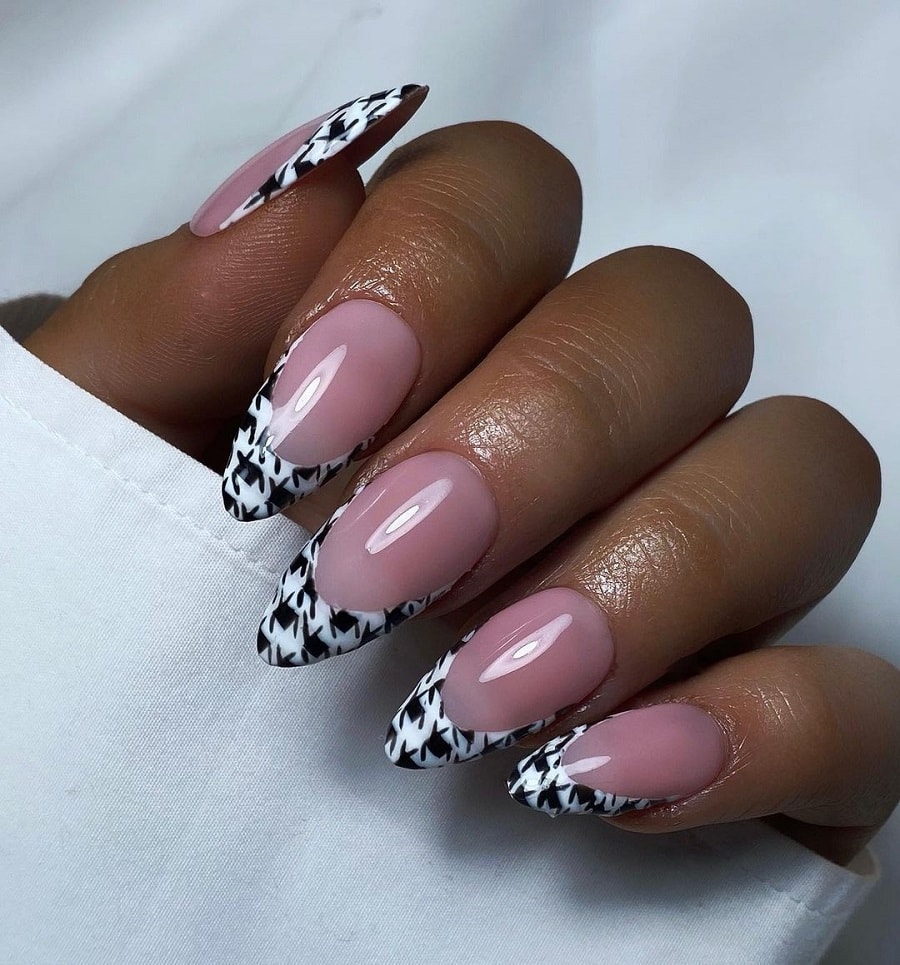 These beauties look absolutely flawless! They have a medium almond shape with a pale pink base. The French white tips are manually painted, so the houndstooth design stands out beautifully.
The last step is to apply a top coat for a shinier appearance.
10. Short Red Nails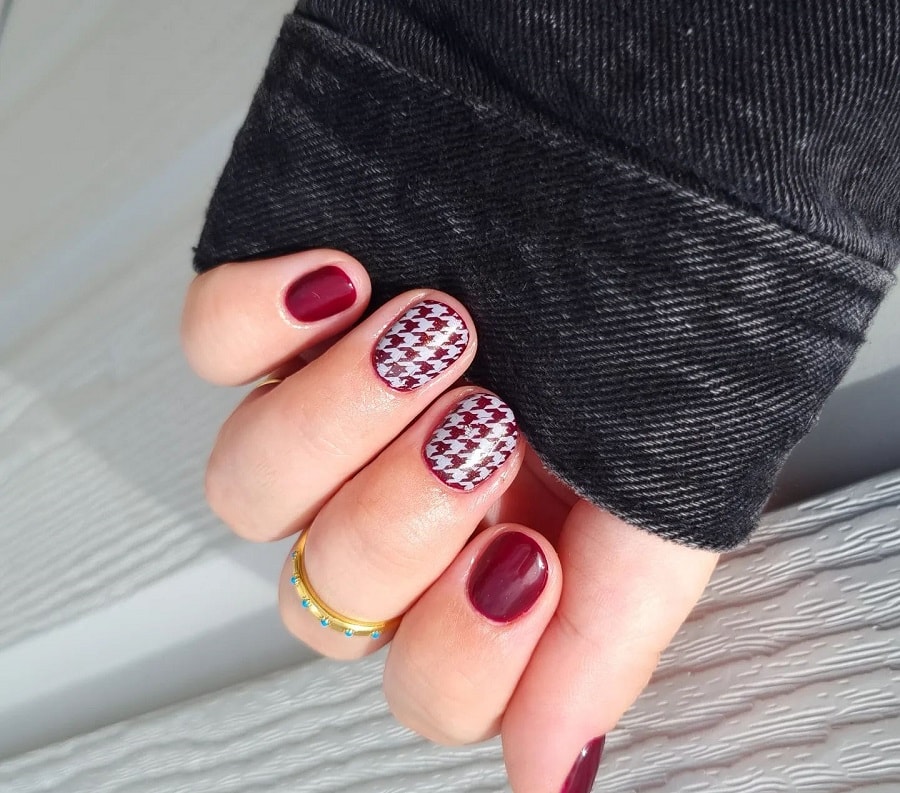 One of the best things about these houndstooth nails is that you can do them at home. Cut your nails short, in a round shape, and use a dark red wine color. Use the stamp to create a white pattern on the middle and ring finger.
11. Romantic Nails
Houndstooth nails can look so romantic and it all depends on the decoration and colors used for your manicure. Keep the nails short, use pale mauve and pink colors and decorate with glitter and rhinestones, all with golden nuances. 
12. Pointy Stamped Nails
Long stiletto nails are everyone's favorite, and if you also add this beloved pattern, you can't fail any look.
Color the nails with yellow polish and use a stamp and a black color to fill up the nail. It might seem easy to use the stamp, but you have to make sure you don't overlay the model otherwise, it will look far from elegant and cool. 
13. Shiny Toe Nails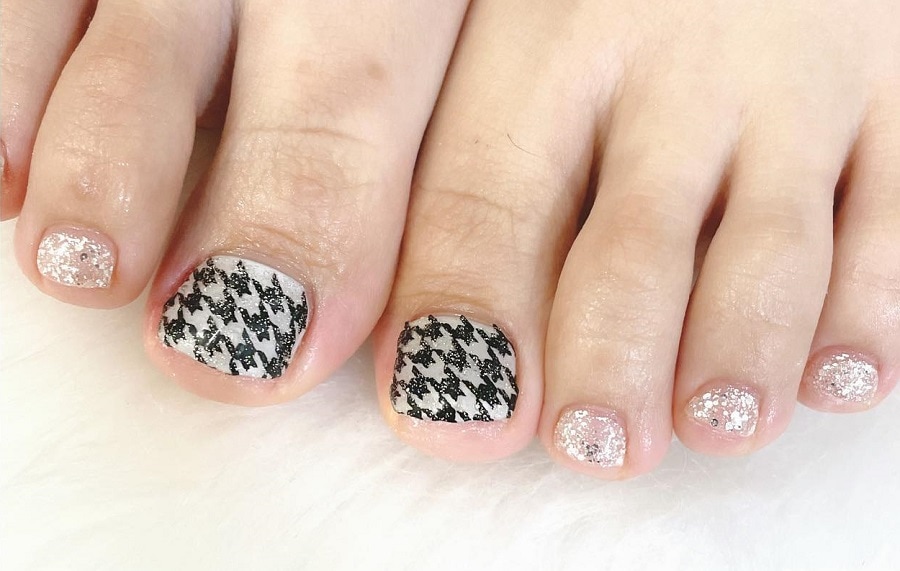 Using the pattern, this model can be easily recreated with a stamp and a plate. After you have applied the base polish, use a black color and spread it on the plate. Apply the stamp on the plate, then on the nail.
14. Elegant Red
Houndstooth nails that combine a simple black-and-white pattern and red polish are the definition of sophistication and elegance. Get squared-shaped nails and mix the polish with the model on one of the nails. 
15. Heart Design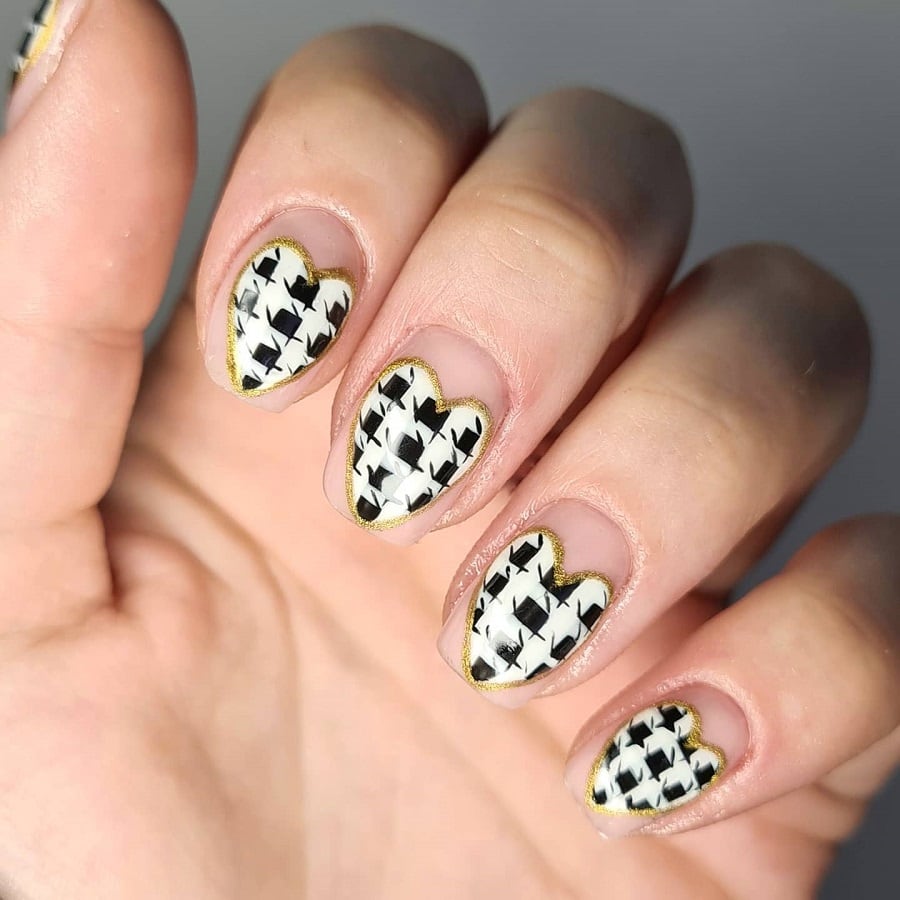 For this particular design, you will need to hand-paint your pattern. First of all, apply a clear nail lacquer. Using your liner brush, draw a heart with white polish and fill it up.
To get the pattern, draw square shapes and a few lines, like those presented above, to recreate the model. Outline the heart with gold glitter.
16. Pink Flowers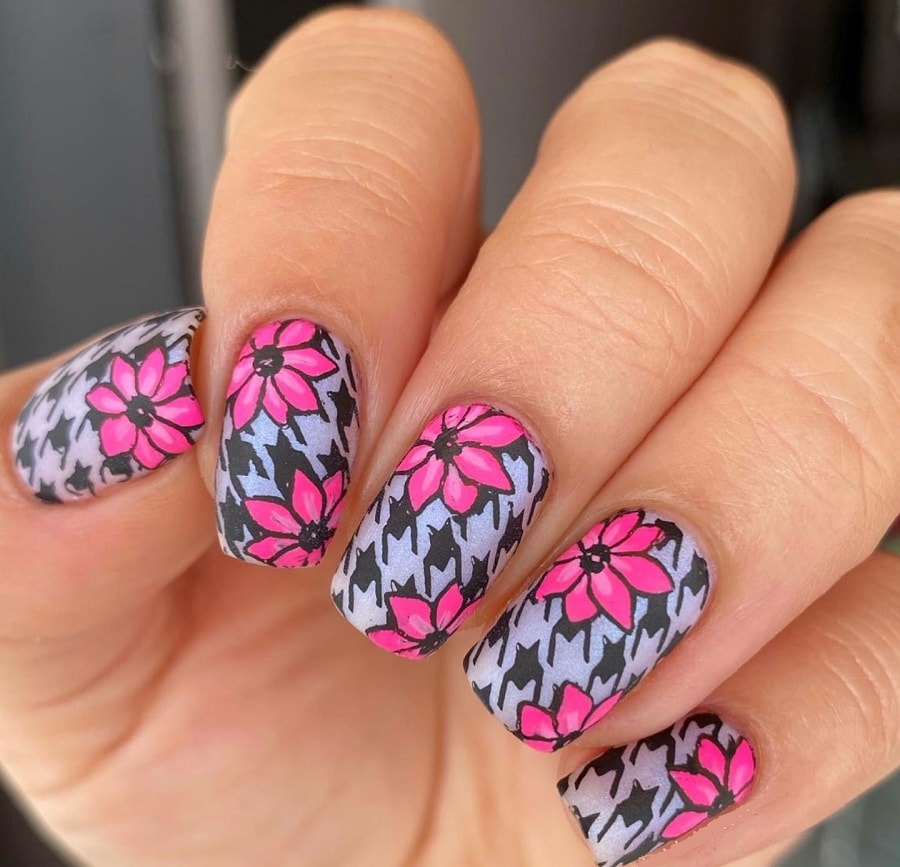 Houndstooth nails with an extra floral pattern are so cute and vibrant. If you know you have the skills, draw the pattern and the flowers. You can also combine techniques and make the pattern with a stamp. 
17. Almond Blue Nails
First of all, you must build your nails with acrylic gel. Keep them short and file them to get an almond shape.
Paint them blue and use black polish to hand paint each piece. Add a top coat and let them dry.
18. Rainbow Houndstooth Nails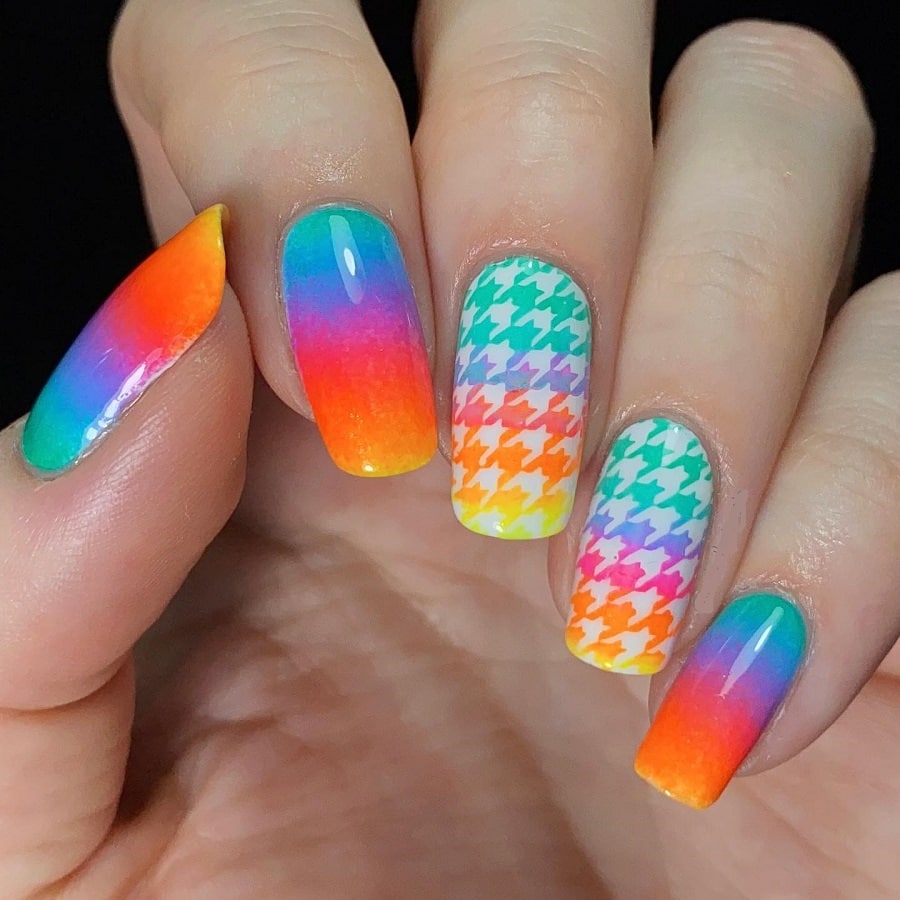 These amazing rainbow nails look incredible even without the pattern. You will need at least 4 nail polishes to create the ombre and a sponge. Apply a top coat and let the nail dry.
To get that stunning pattern, use a plate with the houndstooth pattern and a stamp. Also, after applying, ensure you have the right tools for whipping off the excessive polish. from your fingers
Houndstooth nails have that elegant and exquisite feel and look. They are suitable for all sorts of outfits and manicures and leave plenty of room for your creativity. Try them and let us know how you made that amazing pattern!