We're sure you've seen our recent article about Wonder Woman nails, but now it's time for Harley Quinn to shine! If you have been there done that with Wonder Woman, try your nails at Harley Quinn! The badass DC Comics character, whose actual name was Dr. Harleen Quinzel, first came to light in Batman: The Animated Series. Cheers to bold, beautiful super women!
Part of what will make you go crazy for Harley Quinn is that she went crazy for the Joker. She memorably ends up helping him break out from an asylum and becomes his devoted partner in crime. Her hot psychotic-ness is actually what draws many of us ladies to her.
Bold Harley Quinn Nail Ideas
If you love Harley Quinn's crazy personality, there's no better way to show it than on your nails! Whether you flaunt Harley Quinn nail art for Halloween or just as a cool all-the-time design, there are many crazy cool ideas.
#1. Glittery Teal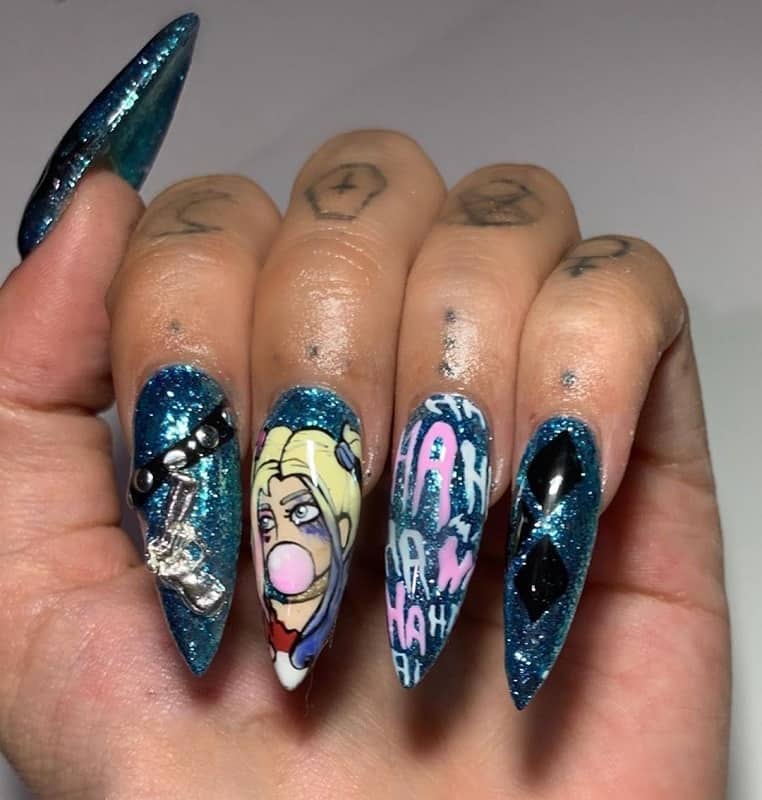 If you typically choose pinks and reds for your nail polish, switch your state of mind to glittery teal for the backdrop to this Harley Quinn nail art featuring her face, some 3D shapes, and "hahaha" word art.
#2. Opposites Attract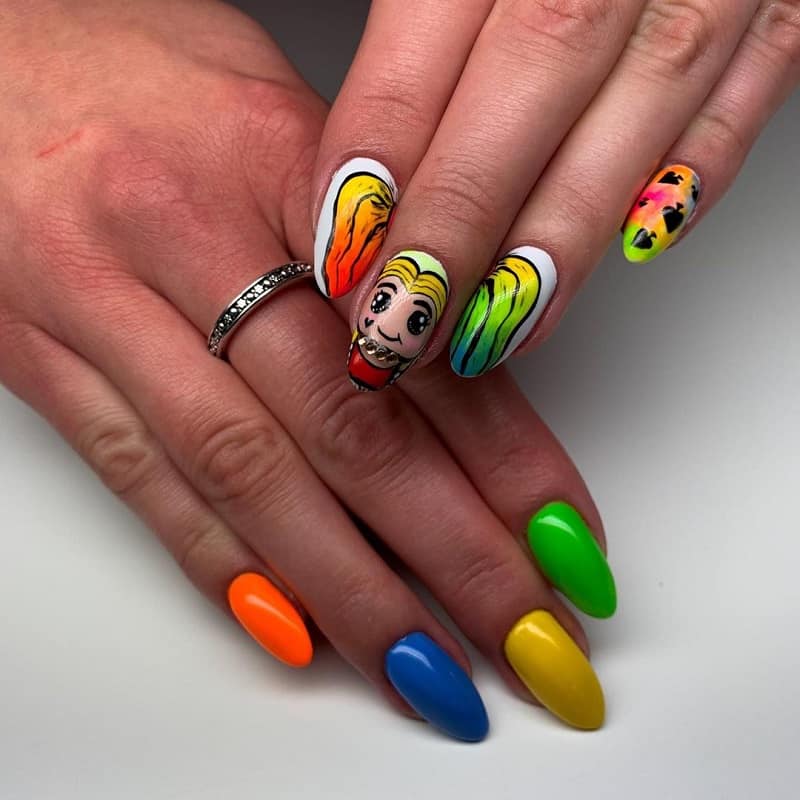 Rainbow colors decorate the nails of one hand while more intricate Harley Quinn art decorates the other hand's nails. We love the way the rainbow colors are displayed differently yet beautifully on each hand.
#3. Clear Speckles with Stickers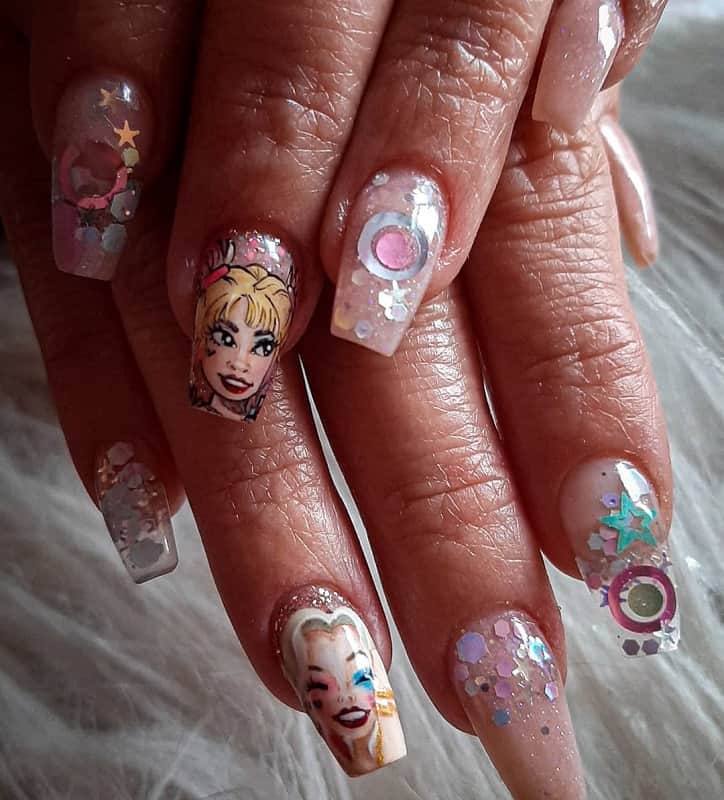 It's not the typical red and black that polish up these nails, but the clear speckled nail polish works well for the Harley Quinn stickers that top them.
#4. Blue and Red Harley Quinn Nails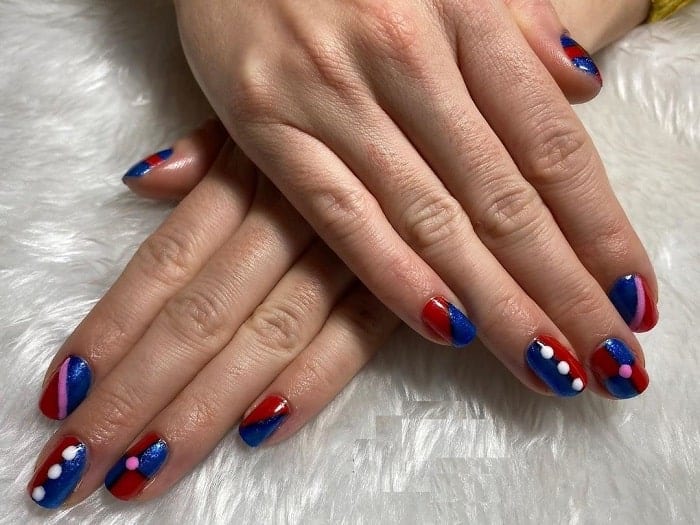 Paint half your nail red and half the nail dark blue, adding a pink stripe or dot in between on every other nail. White dots can be used on the middle finger of each hand.
#5. Harley Quinn Coffin Nails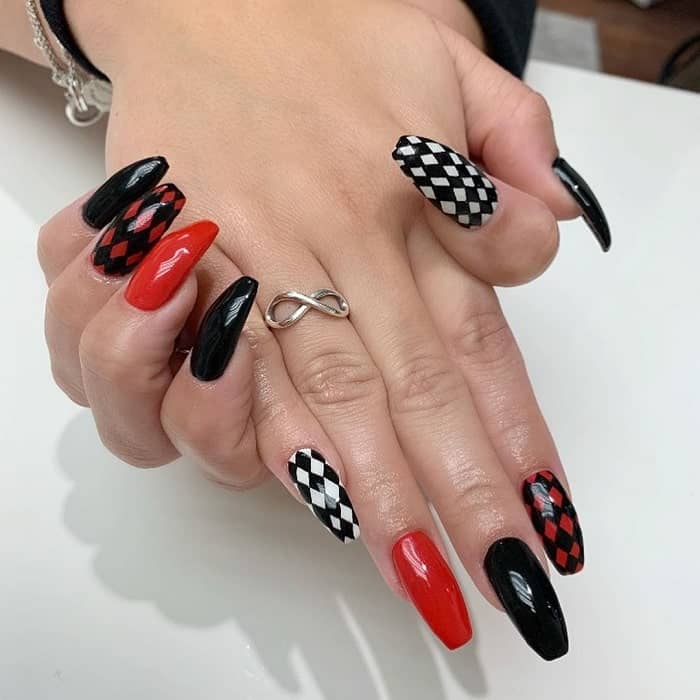 Coffin nails on their own already make a dramatic statement, but when you add red and black checkers, this Harley Quinn nail art is a show stopper.
#6. Harley Quinn Nails for Kids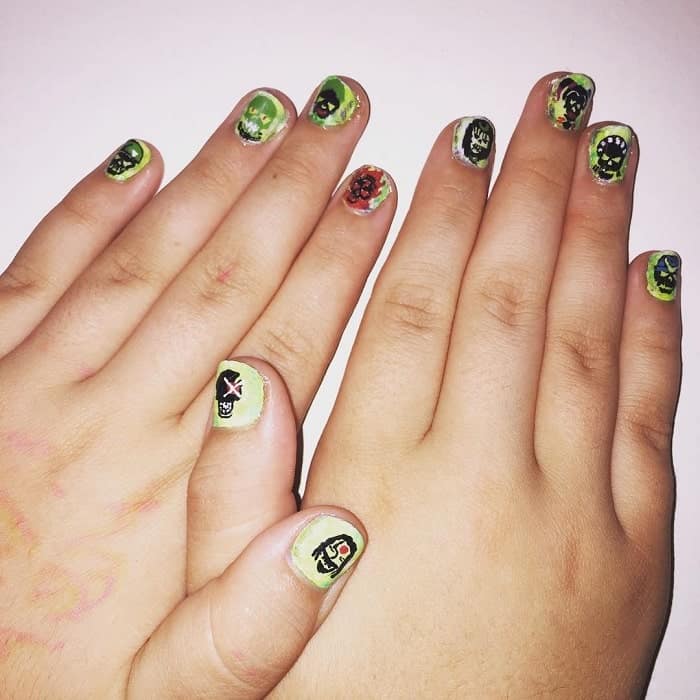 If you have a little girl who loves Harley Quinn but has short nails, show her this punk nail art. A lime green is the base but black polish is used for skulls and Harley's face.
#7. Daddy's Little Monster
Harley Quinn addresses herself as daddy's lil monster in the movie Suicide Squad which was released in 2023. Since then this has become a signature quotation of Harley Quinn and has been used in various outfits. You can also write this line on your Harley Quinn nails.
Be A True Metal Queen with Skull Nail
#8. The Jester Hat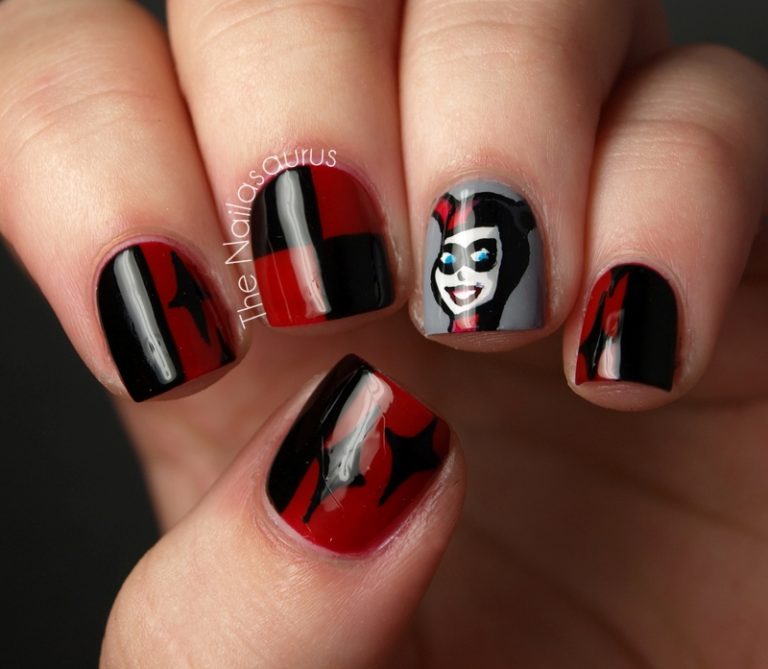 Nobody has ever used the jester hat as Harley Quinn. She wears this funny hat but acts like a terrifying character. This paradoxical idea is first depicted through her character. You can give special attention to this hat.
#9. Harley Quinn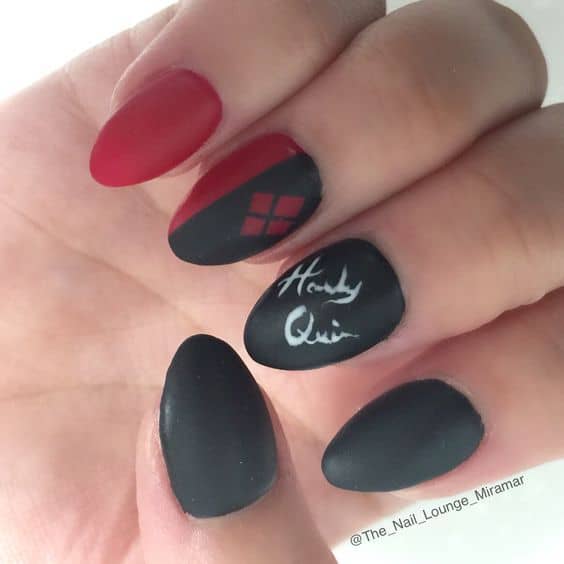 Harley Quinn, enough said, the name says it all. You can use red and black color to paint the nails. Just write her name on any of the nails to have Harley Quinn nails like this one.
#10. The Gestures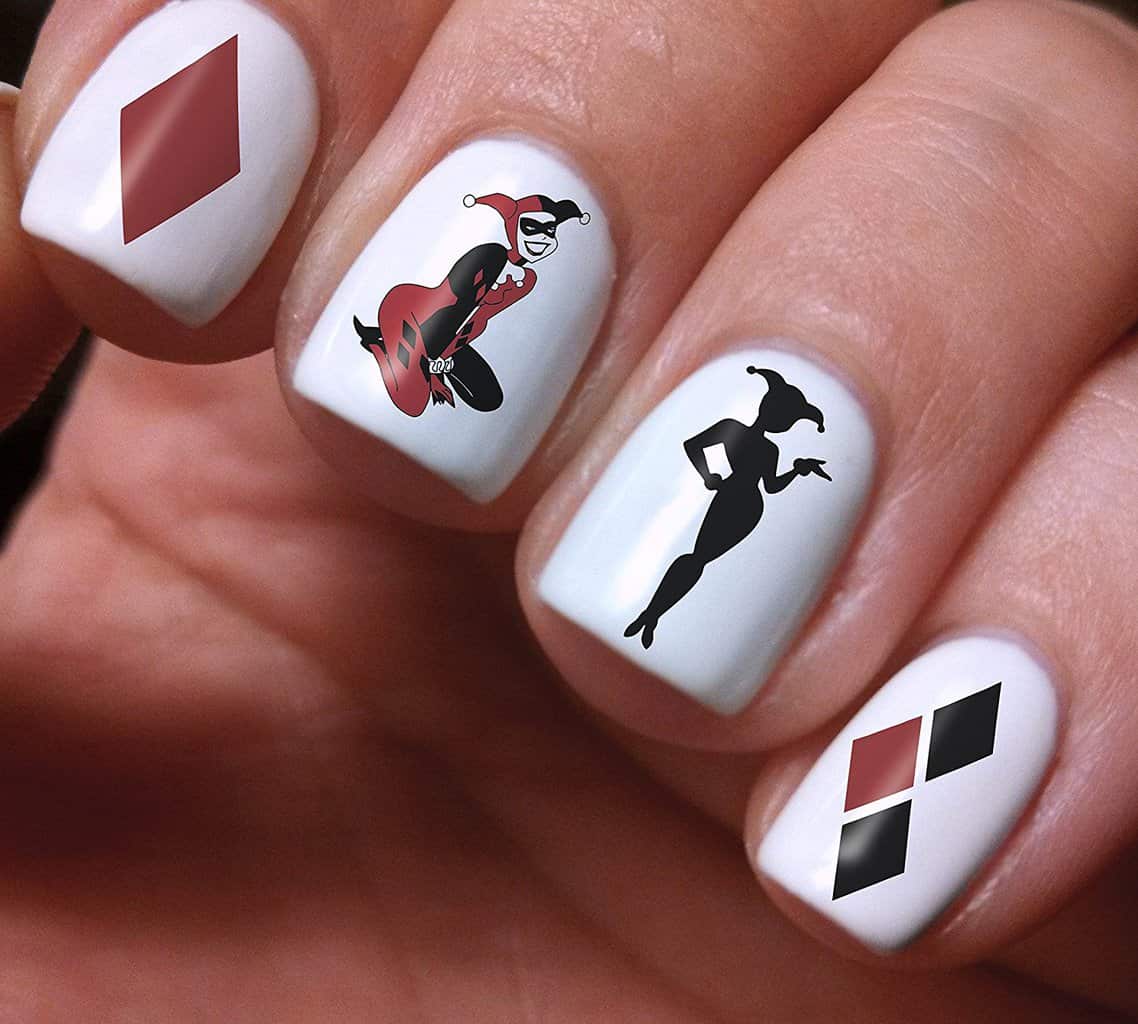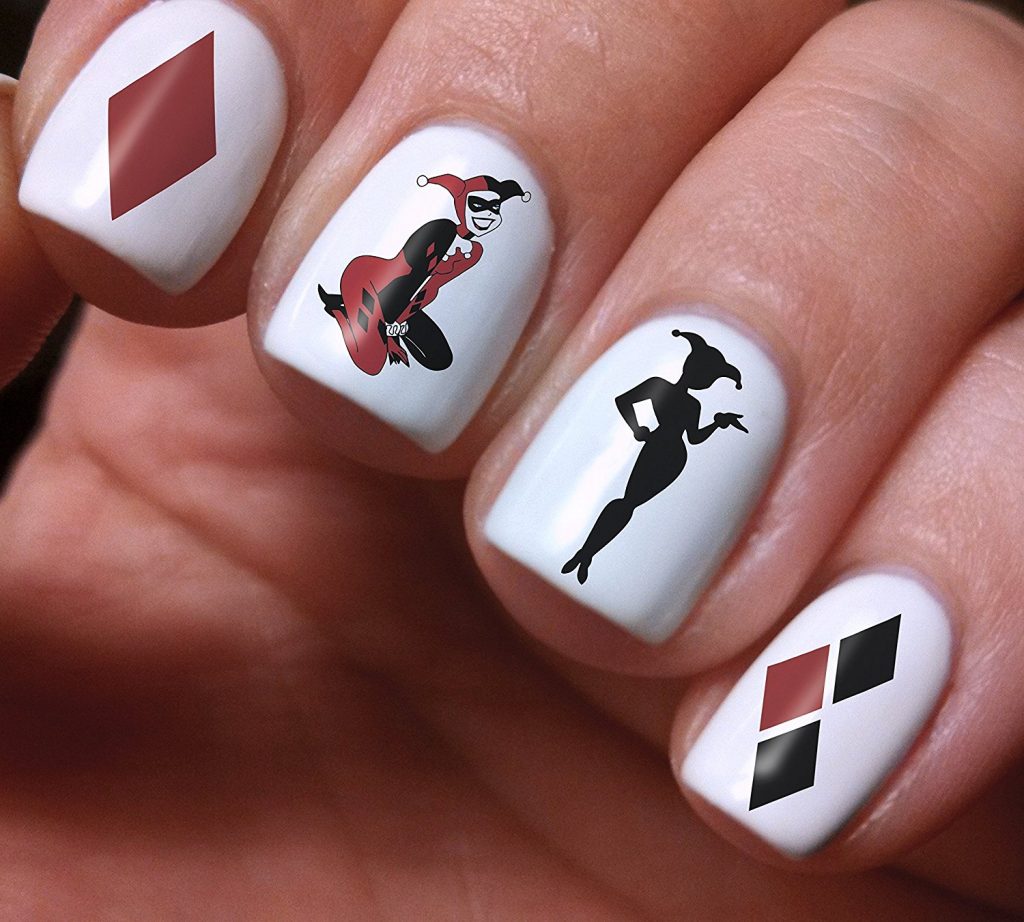 Harley Quinn has a distinct body language as a significant comics character. Her stance is unique among other lady villains. You can illustrate her movement and gestures in your Harley Quinn nails.
You can use the bright and bold red and black colors to paint your nails. As these two colors are the main components of Harley Quinn's nails, you can have these while designing Harley Quinn nails.
#12. Mr. Joker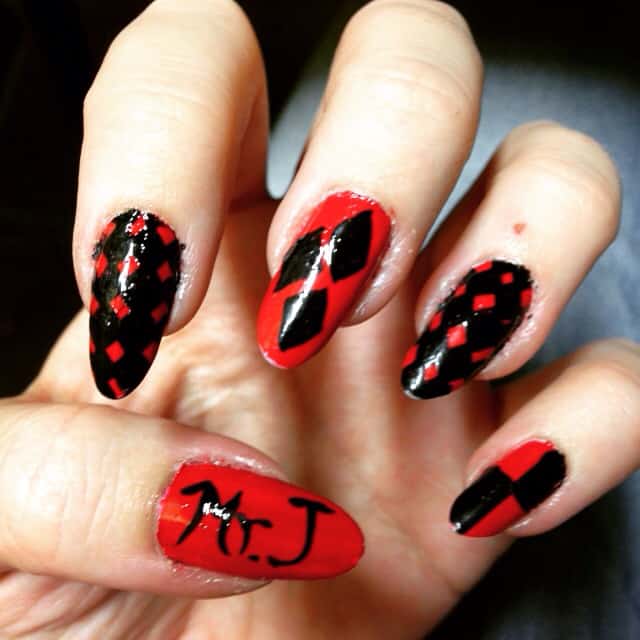 Mr. Joker is the beacon of love for Harley Quinn. She loves Joker more than anything. You can write to Mr. J in between the red and black color of your nails.
#13. Suicide Squad
After many animated series finally Harley Quinn becomes live in the movie Suicide Squad(2016). Though the costume was a bit modified for this movie, the character was the same badass as before. You can have this design drawn on your Harley Quinn nails.
Funky Nail Design To Rock Every Party
#14. Crazy Lovers
You can paint the images of both the Joker and Harley Quinn to illustrate the crazy couple on your nails. The image of the Joker will complement the Harley Quinn nails.
#15. Harley the Queen
Harley Quinn is the queen of the Joker's kingdom. Her attitude is also like that of a queen. You can depict her intense look and gorgeous stance in your Harley Quinn nails.
#16. Red And Black Harley Quinn Nails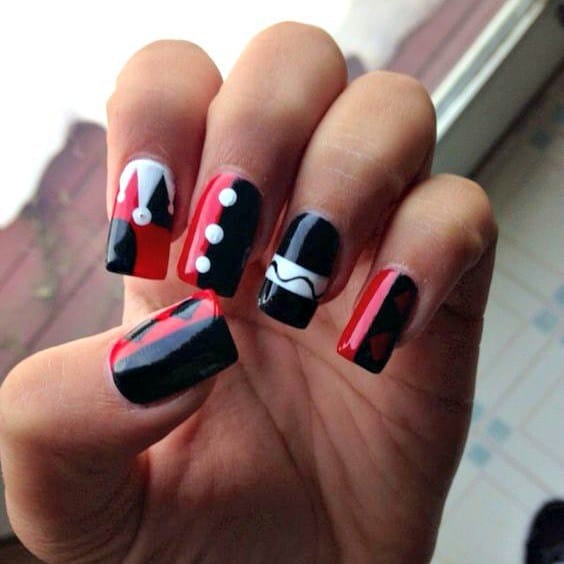 You can use red and black colors in many ways while drawing Harley Quinn nails. Use white color to add diversity to these nails.
#17. The Ponytails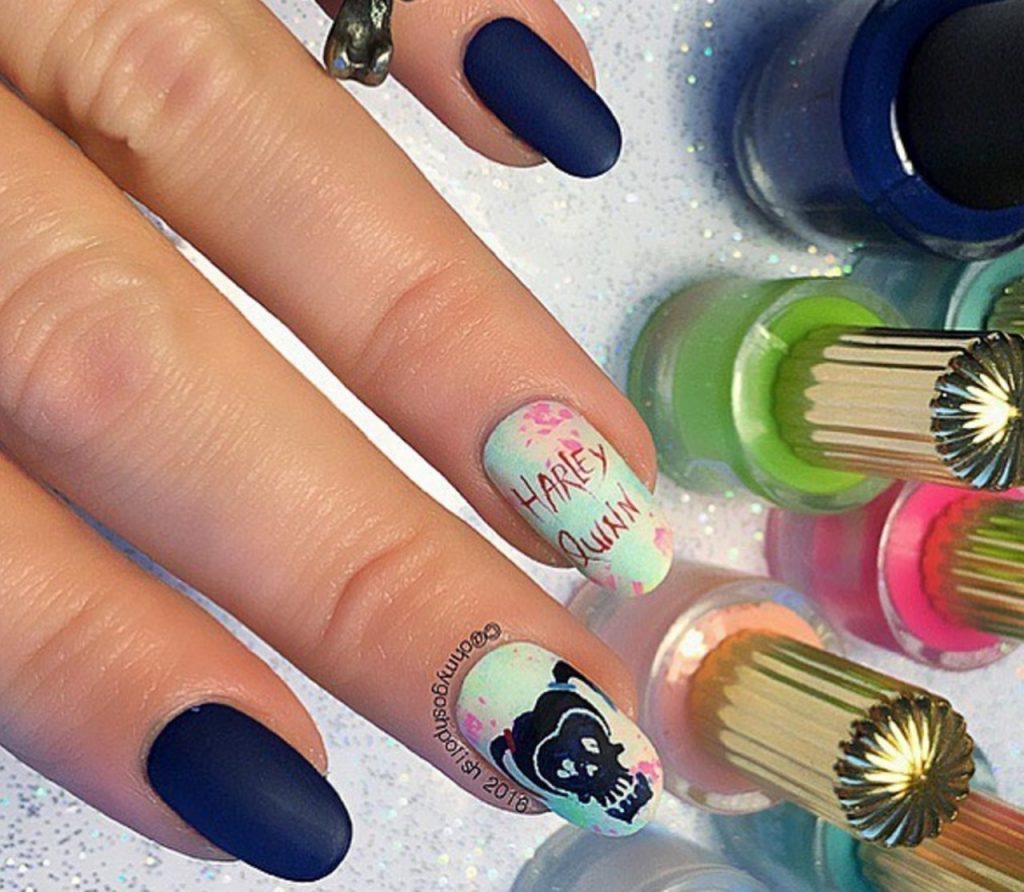 The most recent look of Harley Quinn is a bit different from the previous ones. She has two long ponytails in this current look. You can depict them in your Harley Quinn nails.
#18. Famous Quotes
Ha Ha Ha is the main expression and reaction of the Joker to the different adverse situations in the animated series and the movie. You can inscribe this along with other quotes from Harley Quinn character to paint the Harley Quinn nails.
#19. Her Puddin
This is a beautiful Harley Quinn nail design. She calls her beloved by a special name that is Puddin. Her craziness knows no bound when she calls him Puddin. If you are crazy about someone like that, you can have this design.
#20. Joker + Harley Quinn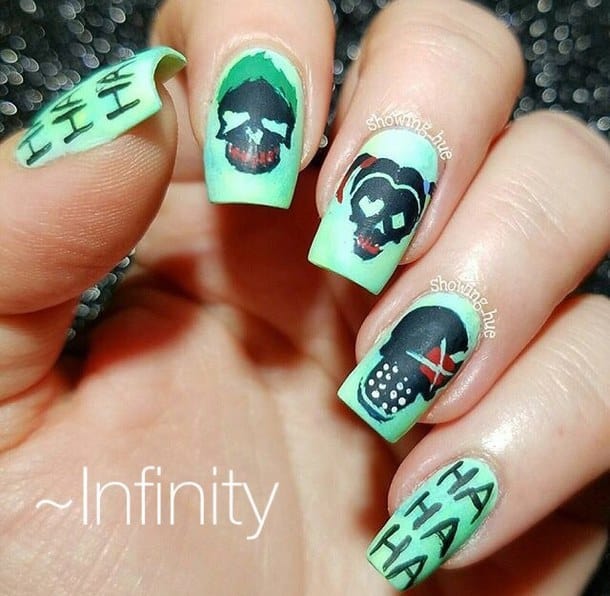 You can paint the images of Harley Quinn and the Joker together to have these nails. Use black color to draw the images on baby blue bases.
#21. Harley Quinn Inspired Acrylic Nails
Harley Quinn has changed into a villain only for the love of the Joker. She became an anti-hero from a promising psychiatrist. Everything happens in love and war. You can display this madness on Harley Quinn nails.
Show' em The Money With Dollar Nail Art
Harley Quinn is a desperate woman who goes crazy for a criminal. These characters are lovable only on-screen and fiction. Never follow them in real life. But there is no harm in carrying costumes or nails expressing your love for a character. So, have these Harley Quinn nails to say it loud that you are a fan of the queen Harley Quinn.