There are many occasions and holidays that require an eye-catching nail design and in that case, you definitely have to get silver acrylic nails!
Silver is a flashy color, especially when it's glittery, so it's perfect for pairing with pretty much any other color. Wear it as an ombre with a nude or clear base for your wedding day, make silver minimalistic lines on a white base, or pick your favorite color and polish the tips of your acrylic nails with silver!
However you choose to do your nail art, your silver acrylic nails will be both flashy and classy!
Fabulous Designs for Silver Acrylic Nails
For the best ways to wear silver acrylic nails, make sure you choose from our list!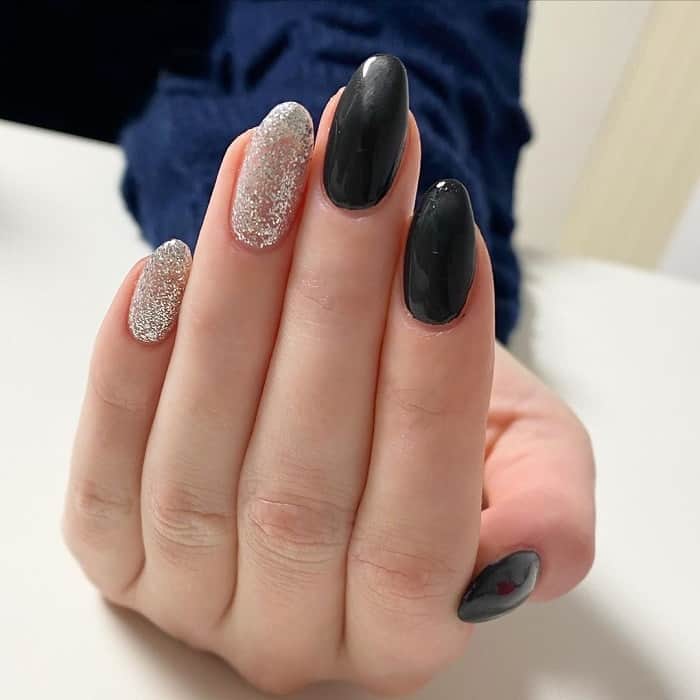 Shiny black and glittery silver are a beautiful match for acrylic nails in a stiletto shape. You can paint the ring and long pinky nail with silver and the other fingernails black, alternate the colors, or do another kind of pattern.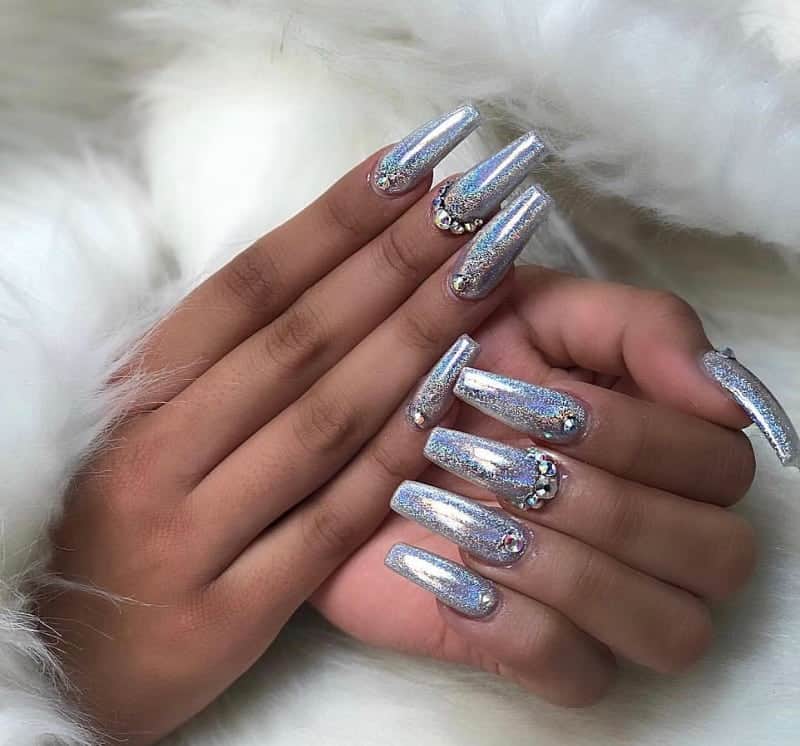 These extra long square silver acrylics are also extra glam! Place large stones at the top of the middle fingernail and just one stone at the top of the other fingernails for even more sparkle.
3. White and Silver Acrylic Nails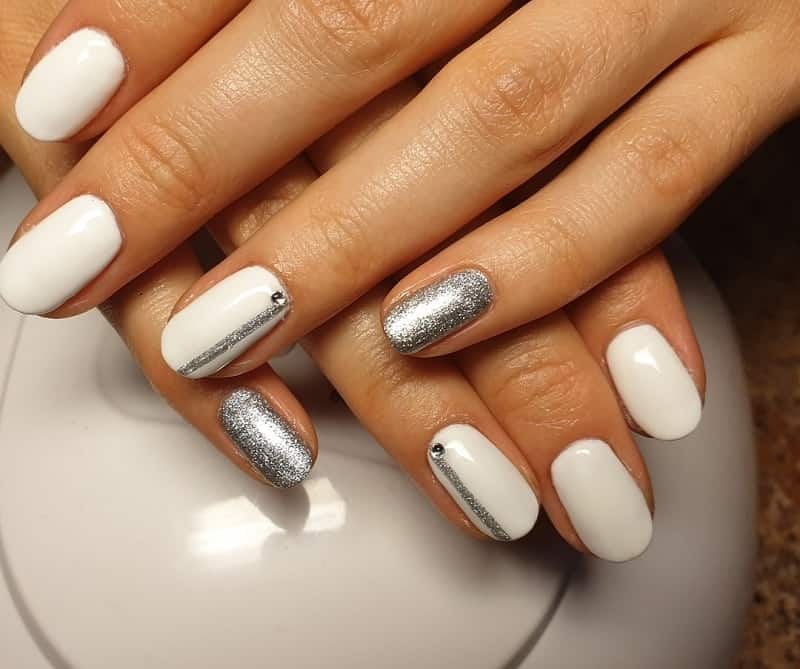 Talk about classy! We love the way these short round acrylic nails feature a pure white base with silver accents. The singular thin silver line and tiny rhinestone on the accent nails is a superb touch.
4. Silver Glitter Acrylic Nails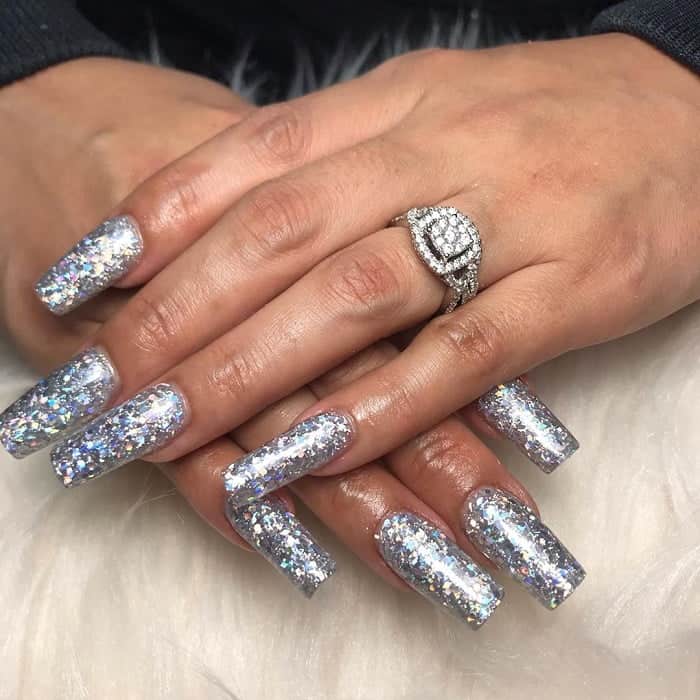 If you're the type to do your nails over the top for special occasions, extra long silver acrylic nails in square shape won't let you down! From the way the wedding ring on this hand looks, we're sure this would be a great choice for a wedding nail design.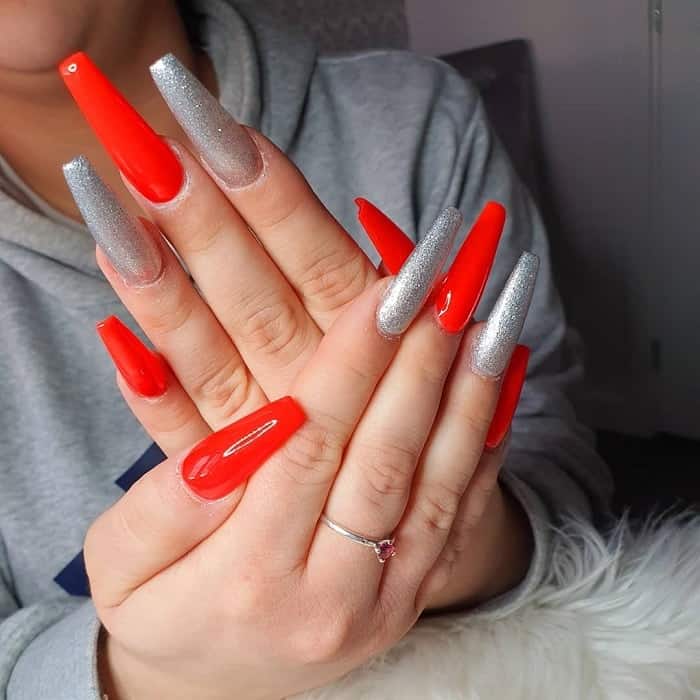 Extra long acrylic nails deserve an equally extra amazing nail design! Alternate silver and red on your nails to feature both colors equally. These colors together would be a great combo for Christmas nails!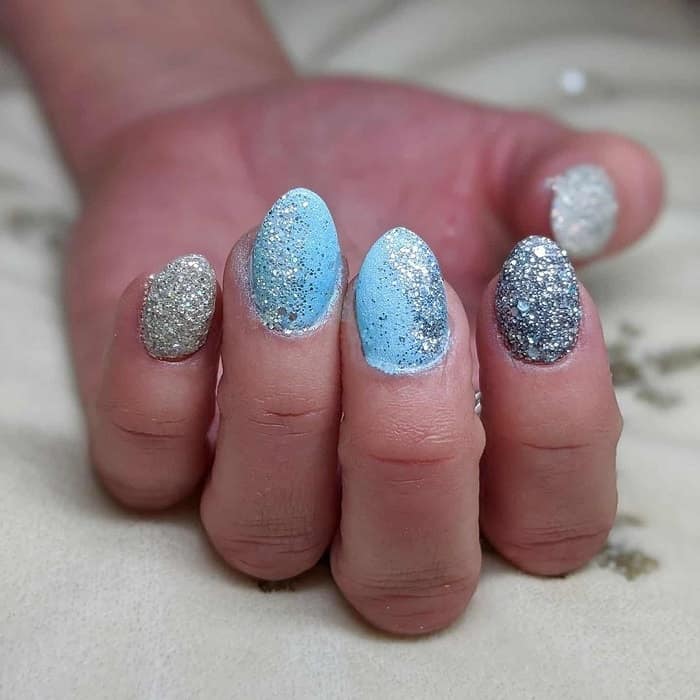 Bring the fabulousness to a short nail shape, like these short silver acrylic nails, with a light blue and glittery silver. You can easily add sparkle to the light blue nails as well with just a few dabs of glitter polish on just half the nail or just the tips.
7. Silver Ombre Acrylics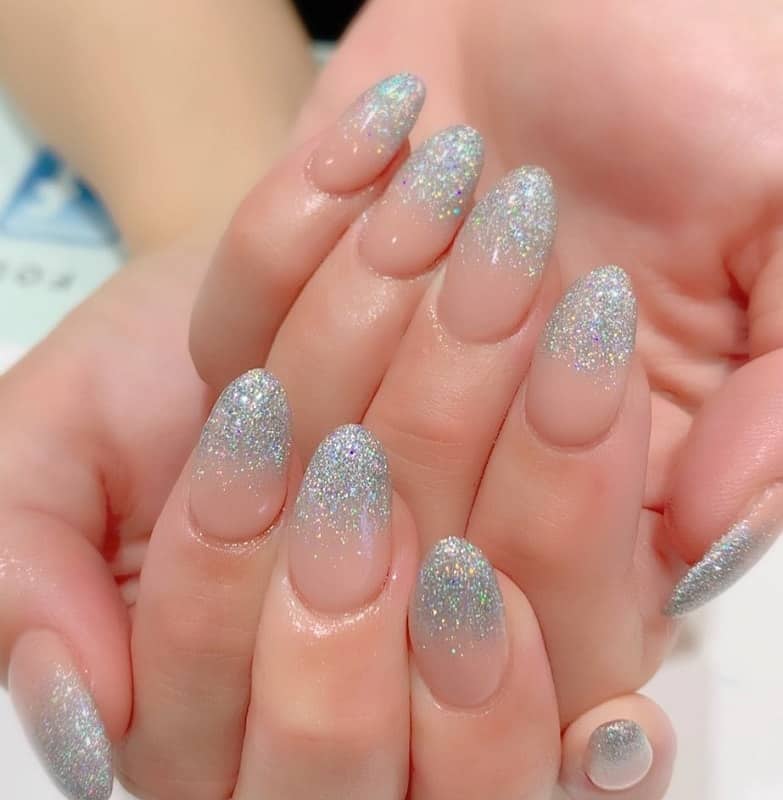 Looking for other options for wedding nails? How about these oval acrylics? Their nude to silver glitter ombre nail is very classy and the glitter will look great with your special day's jewelry.
8. Short Silver with Black Accents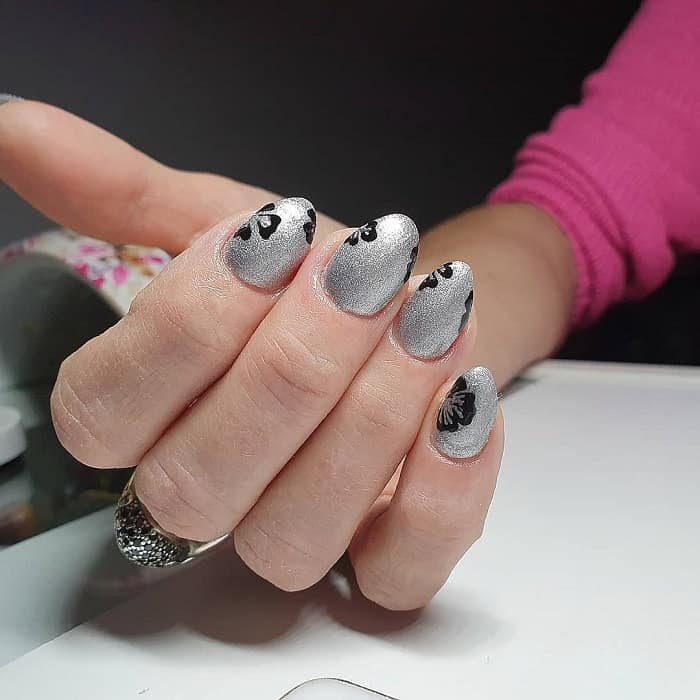 Black nail art will pop perfectly on silver nails. These short stiletto nails show how using nail stickers or decals on just half or part of the nail gives a fresh update to the usual placement of nail art.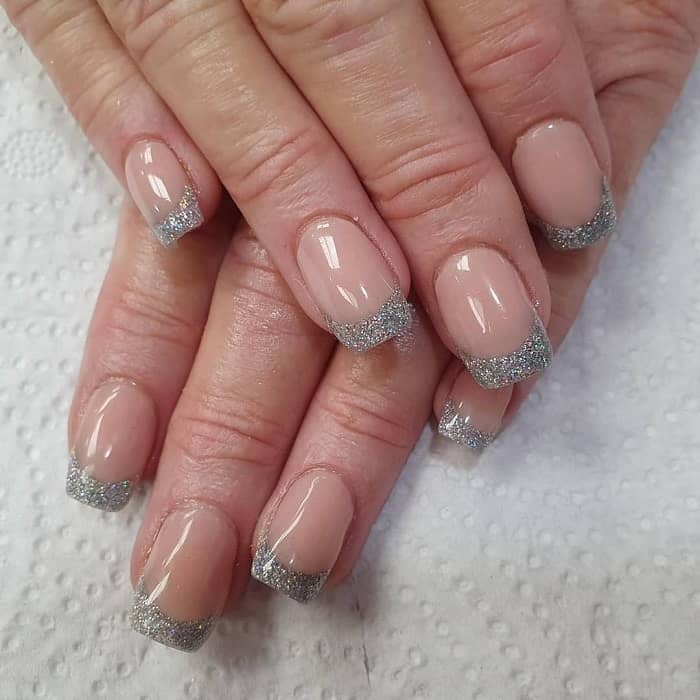 To accentuate your nail's shape and make silver the most noticeable part of your nails, use the color on just the tips. It's best to use clear or nude nail polish to feature the silver.
10. Gold and Silver Short Stiletto Nails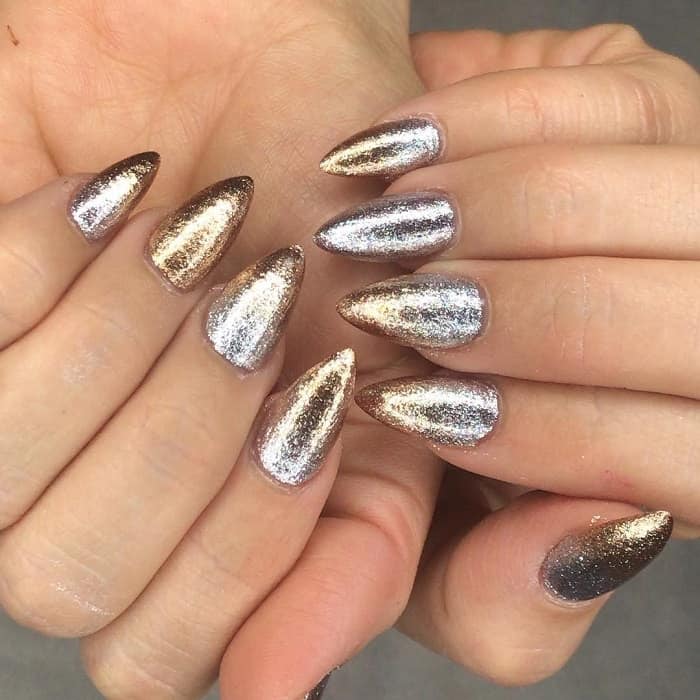 Sparkle it up this New Year's Eve with these short stiletto nails! Their silver to gold ombre shines beautifully and will easily catch the eye of whoever you watch the ball drop with.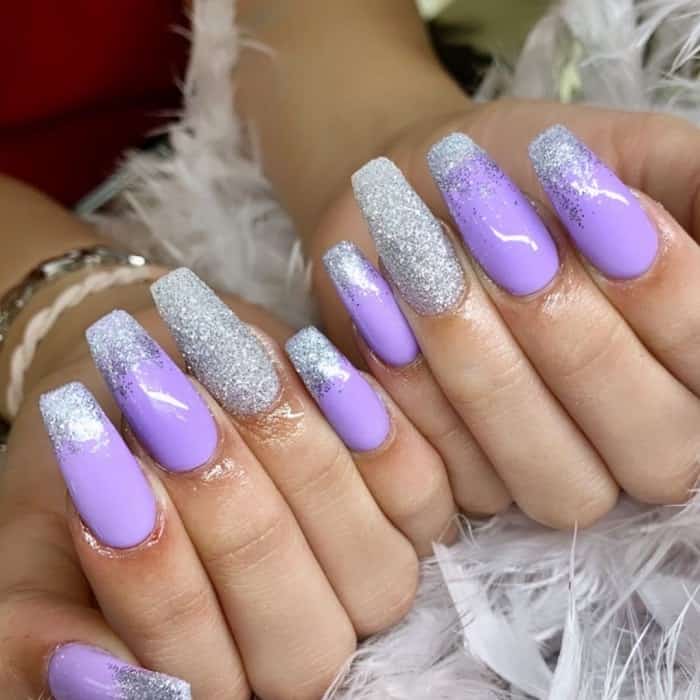 A light purple is soft, graceful, and stunning with silver on long square nails. For the best transition from lavender to silver, make sure to just dab on the silver tip and not make a blunt line.
See how many beautiful ways there are to wear silver acrylic nails? The key to using silver on your nails is to choose a glittered version which will show up better than a traditional or matte silver. Glittered versions are also better for special occasions like weddings and holidays.
You'll know what to do once you start painting those nails and we're sure the finished design will be gorgeous!