These owl nail designs will make your heart melt but your nails will be on fire! They are so cute and are hardly ever causing a problem to the humankind.
Unfortunately, they are not allowed as pets in the U.S, which is a sad fact considering how lovely they are. And this is also a shocking information since now you can not play Harry Potter all around your house.
But a fact that may lighten up your day is that the owls are allowed in Japan, specifically, in a cafe. There are some owl cafe's where you can hang out with owls while drinking tea.
Owl Nail Designs Are Too Cute to Handle
Now, after you've been informed on some ground about the owls, let's get to the prettiest and most fun part. It's styling time. Owl nails are also perfect for your kids as they are super cute. Look at our top 25 pictures of owl nail list.
#1: Owl Design for Short Nails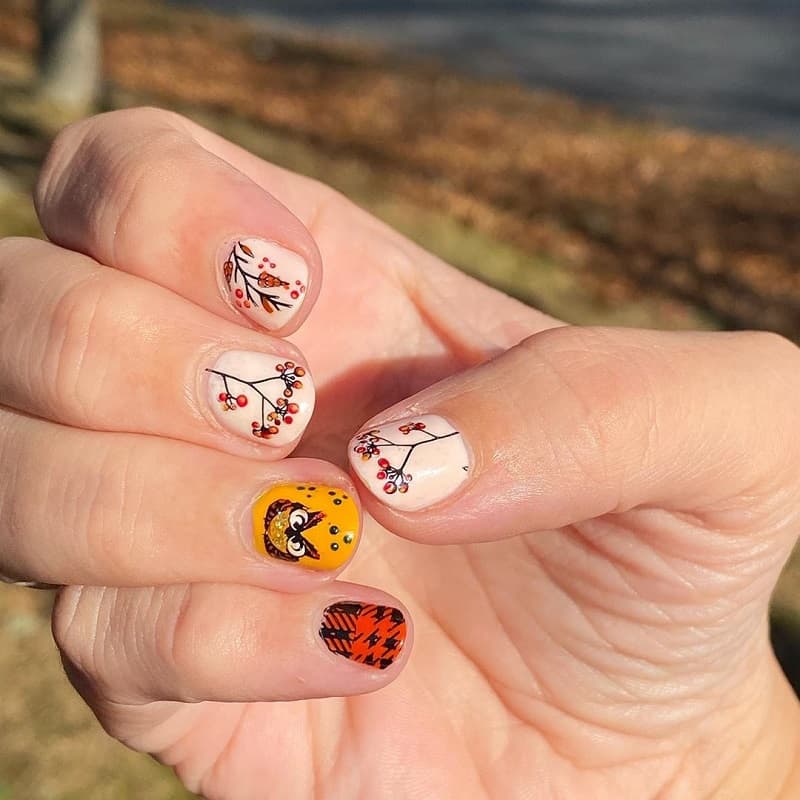 Small branches, autumn colors, and patterns, you can have them all with your owl fall nail design. Symmetry is not required so you can let your imagination loose if you want to wear these cute birds on your fingertips.
#2: Squared Owl for Toe Nails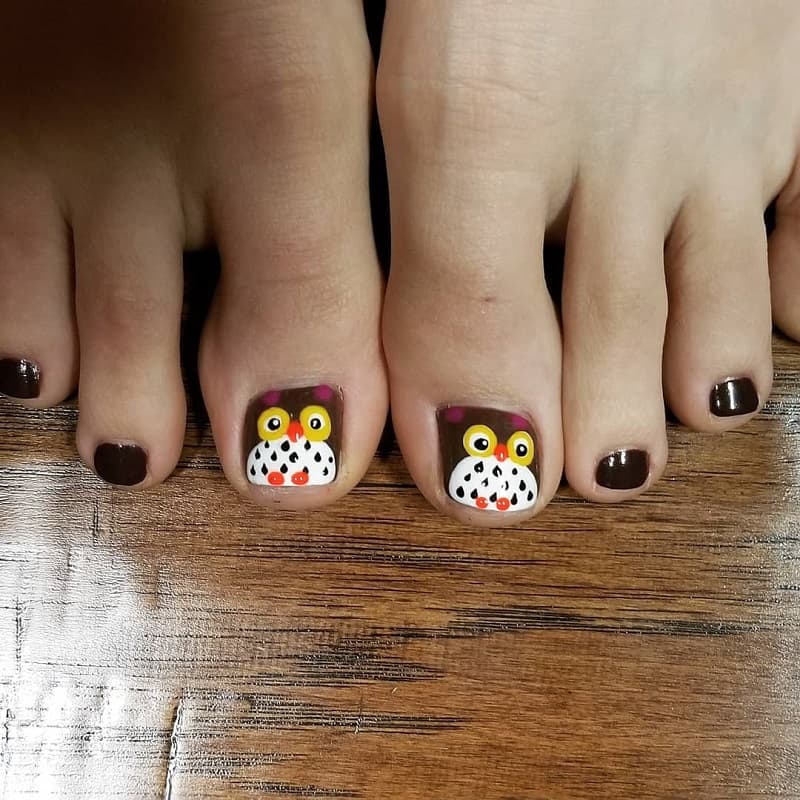 An owl toenail design will certainly pop out when wearing sandals or flip-flops. Also, if you choose to dye the rest of your toes black and apply color only on a larger toenail, your tiny little owl will have all the attention they deserve.
#3: Winter White Owl Design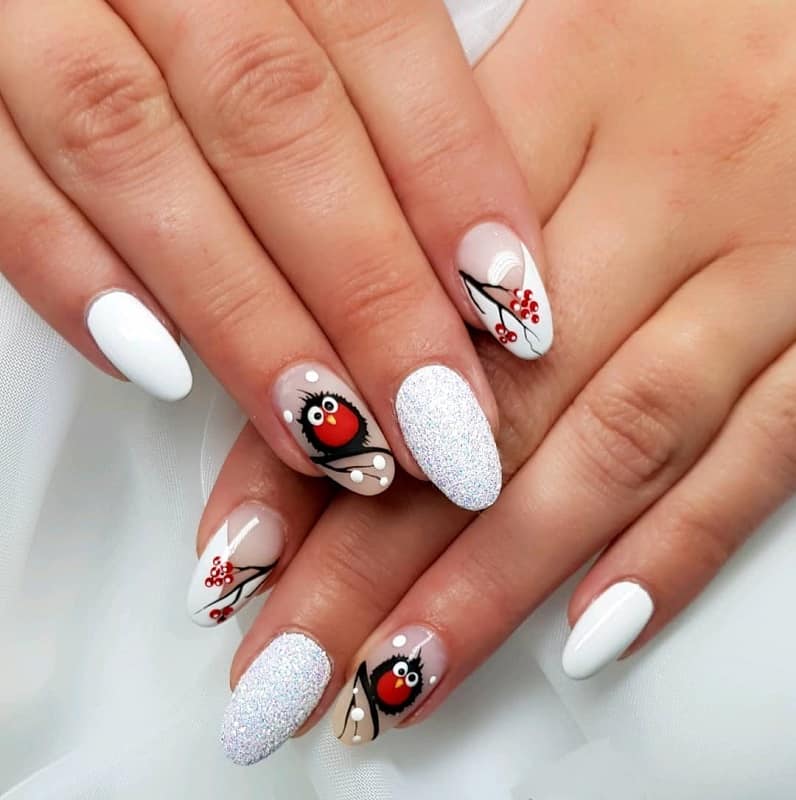 Construct a great Christmas and owl nail design by recreating snow even on your nails. Combine white and glittery nail polish and draw a cute owl and a few mistletoes to capture the winter and Christmas season better.
#4: Snow Queen Nails with Owls
Of winter is your favorite season you must get these owl gel nail designs! Opt for pale blue nuances on a coffin shape and start drawing an owl on each hand. For the rest, recreate that frozen aspect of snowflakes, use small sequins and you'll have that stunning Snow Queen pattern on your finger tips.
#5: Golden Owls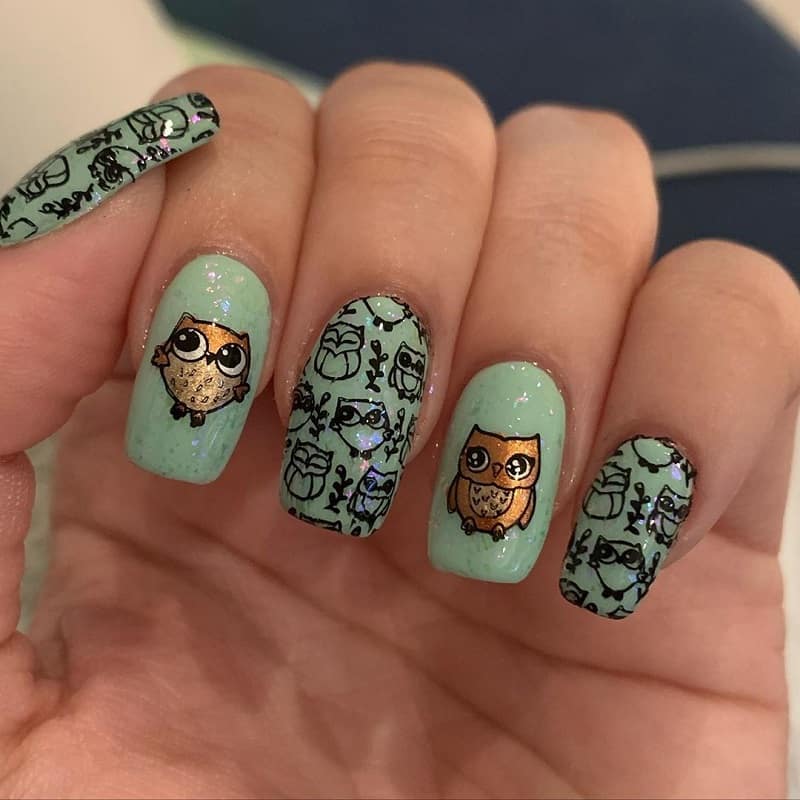 Golden owl design created on acrylic nails can look so cute! Opt for a pastel green color and draw small birds on some of the nails. On your pointer and ring finger, create two golden tiny owls that will look so adorable.
#6: Minty Grumpy Owl
This little grumpy furry friend looks mad, and that might be because we went for the light mint color, while owls prefer darker and more mysterious colors or just darker places in general. But we can't deny the cuteness of this matched nail creativity, so we will be excused this time.
Cute And Easy Nail Design for Kids
#7: Acrylic Chicness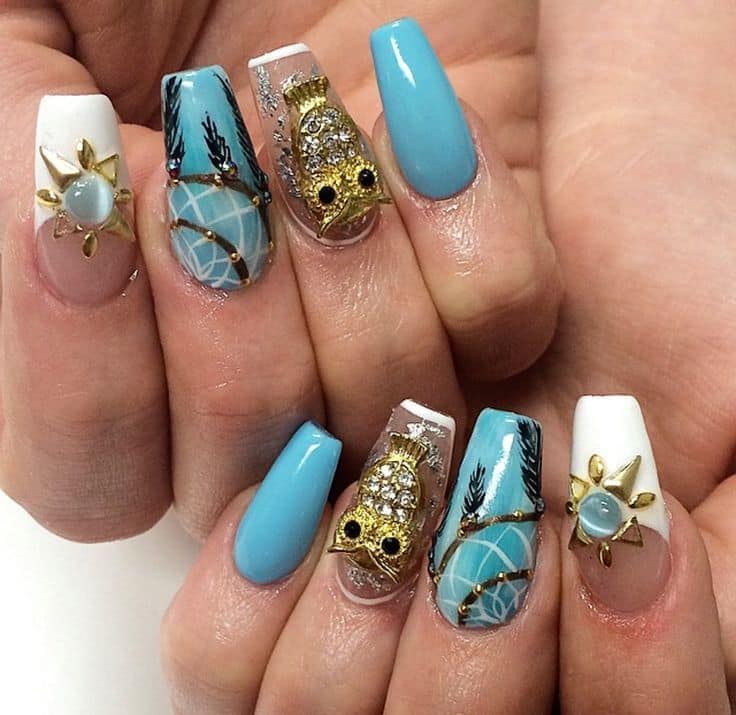 This real owl on nail looks unbelievable. Sea blue nail base had totally opened up this hot golden nail tone and made it look so stylish. While being super artsy these acrylic nails are also quite long, so be careful not to break them.
#8: A Party For Four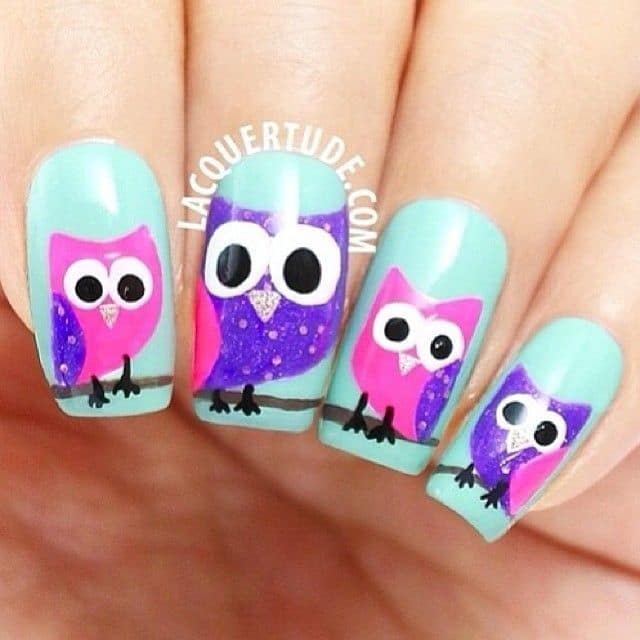 Whoo had fun at a party? (See what I did there?) These little four owls look super hip due to their mixed and vibrant colors. This owl nail art could be worn by our younger audience since the nails are so young looking and so cheerful.
#9: Brown Chill Moments
This nail manicure gets some extra points because the nails are not artificial. From time to time let your nails breathe and let them relax from all of the acrylics, tips, glue and all the other harmful materials. Have fun rocking your natural nails with this cute brown nail polish and with our calm and cute owl.
#10: Whooo Did That?
This little-feathered fella looks like he did something wrong, but because he is so cute and pretty we can't blame anything on him. A great example of a perfect owl design can be seen in this picture. Fun and flattering Green and brown tones are the best ones to go for when doing owl nails.
#11: Medium
As we said in our previous post, these colors are a total hit. This medium nail length with two owls on the nails makes you look young and presentable.
#12: Matte Blue & Marvelous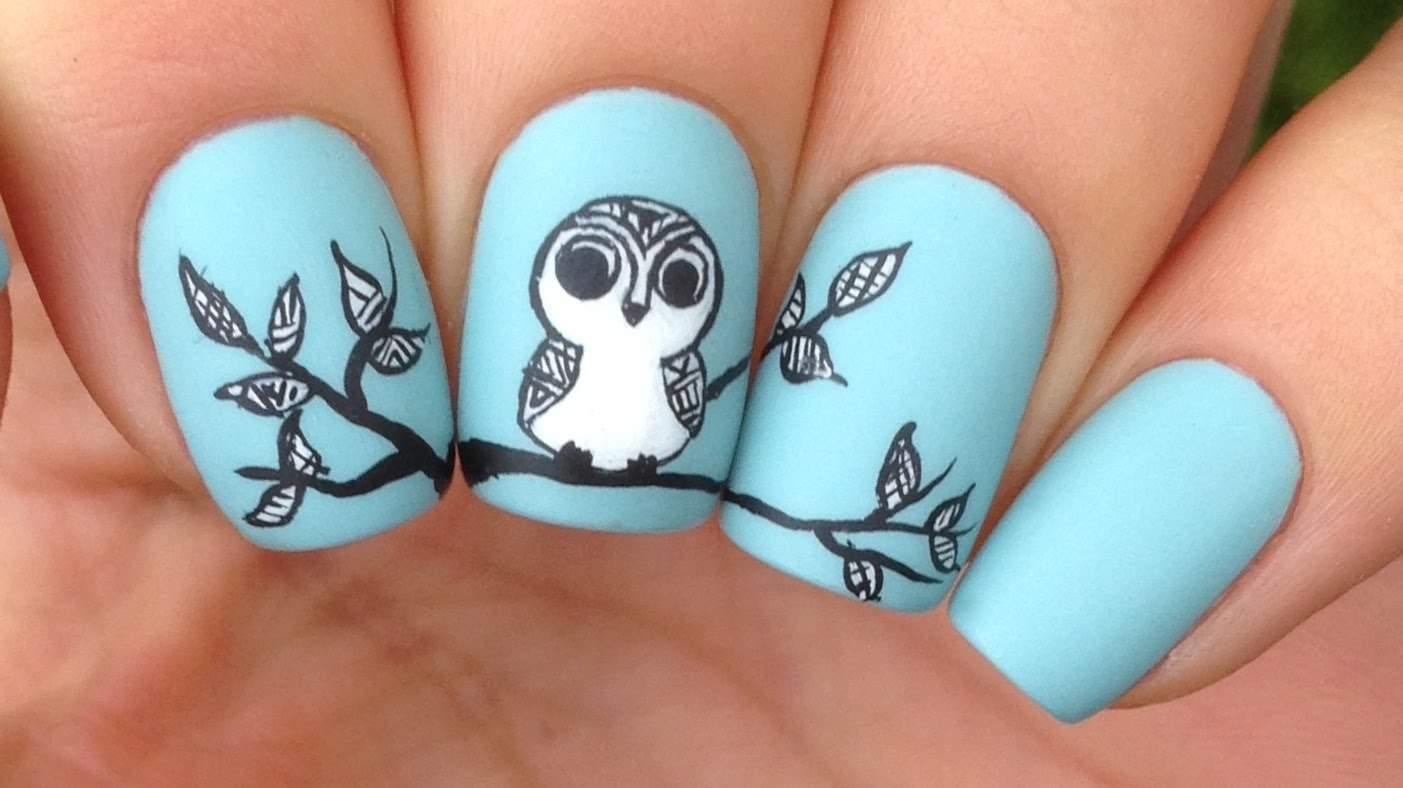 Fun fact: Did you know that not all owls hoot? Yeah, who would have known that! They can sometimes even whistle and bark. And almost always female owls have higher voices than the male owls. This precious blue owl nail design looks like he is one of those who has that high-pitched voice, and we couldn't care less because he is such a sight for sore eyes.
#13: Burgundy Love
Burgundy color is mostly worn during the Autumn or for the month of love aka February. But, who are we to tell you when will you wear them? If you feel like being really girly, lovely, and autumn, paint your nails burgundy and have fun doing your own thing.
#14: Settle Down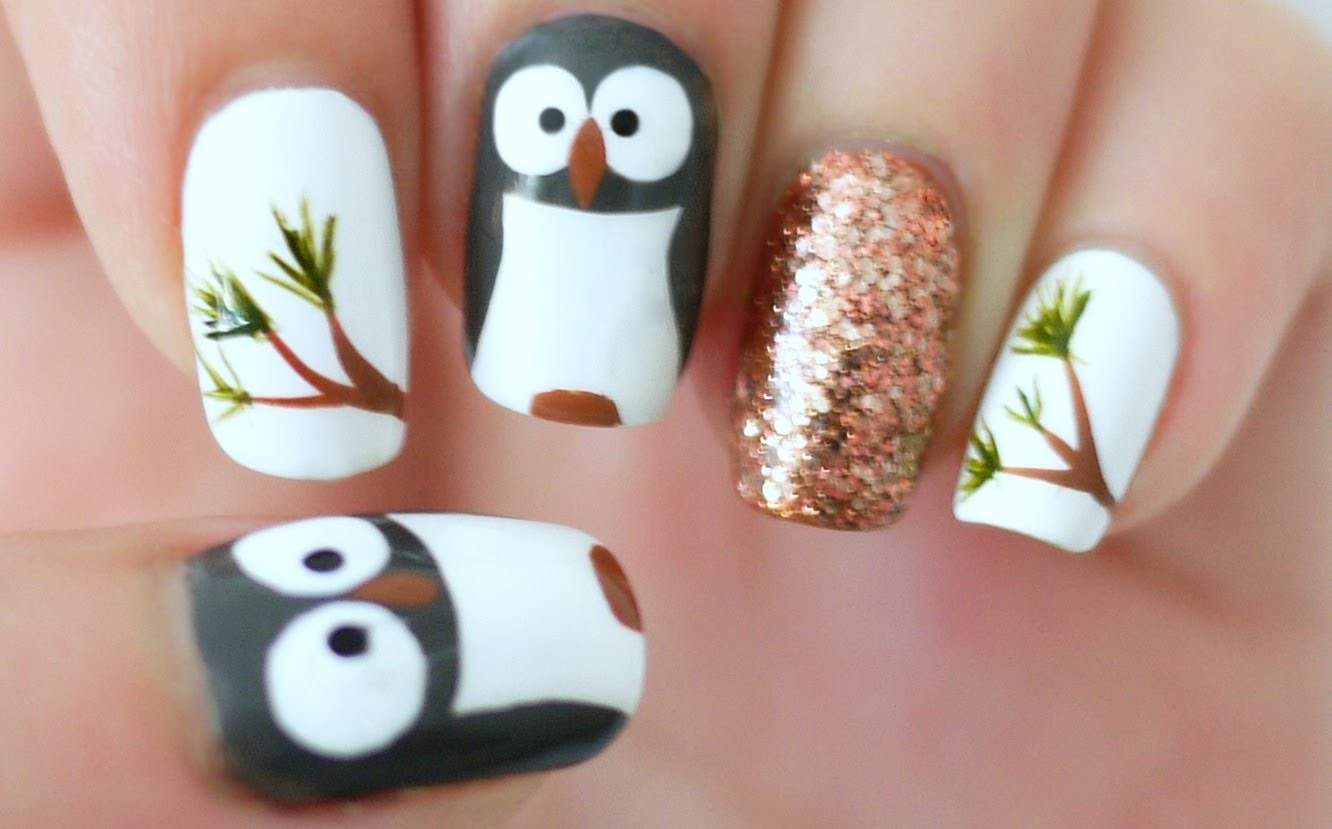 Since owls are mostly found in the woods we thought we could surround one little furry guy with its most favorite place to be. A simple drawing of a branch or leaves will really give that extra umf to the design.
#15: Little Fun
So many eyes on you! If you are a fan of quantity and not quality, get yourself this owl nails. Chances are, of you recreating the most precise and beautiful owl for more than two times and exactly the same on all of your ten nails, well, let's just give up on that idea. I'm not sure if even the most talented nail technician would be able to pull off 10 of the prettiest and detailed owls. Sometimes people prefer quantity over the quality, which is totally fine. You do whatever rocks your boats!
#16: Lovely As They Can Be
Looks like someone found themselves a partner. This design with those innocent owls looks so lovely and perfect if you have someone who cares about you. These nails are showing off a lot of loving moments, and you should share that love with someone special too!
#17: Black & White Owl Nail Design
Look at the size of these! These owls are super interesting and have been done creatively. Believe it or not, for most owl species, females are larger, heavier and more aggressive. Who would have known?
#18: Real Art
So this is the art that I've been talking about. Try recreating this for ten times. Yeah, didn't think so. If you have a strong wish to have something this fresh and unique on your nails, be ready to invest a lot of time because you will spend more than a minute at your nail salon. But you know what? In the end, it will be totally worth it because this owl is so magnificent looking, and sticks out a lot on our owl nail art list.
#19: Pink Me Up!
If the pink color is what you mostly go for, or you love it the most, then this manicure is the one for you! Filled with hot pink color, shimmer, gems, and hearts, this is the ultimate princess/Barbie looking manicure.
#20: Blue Is In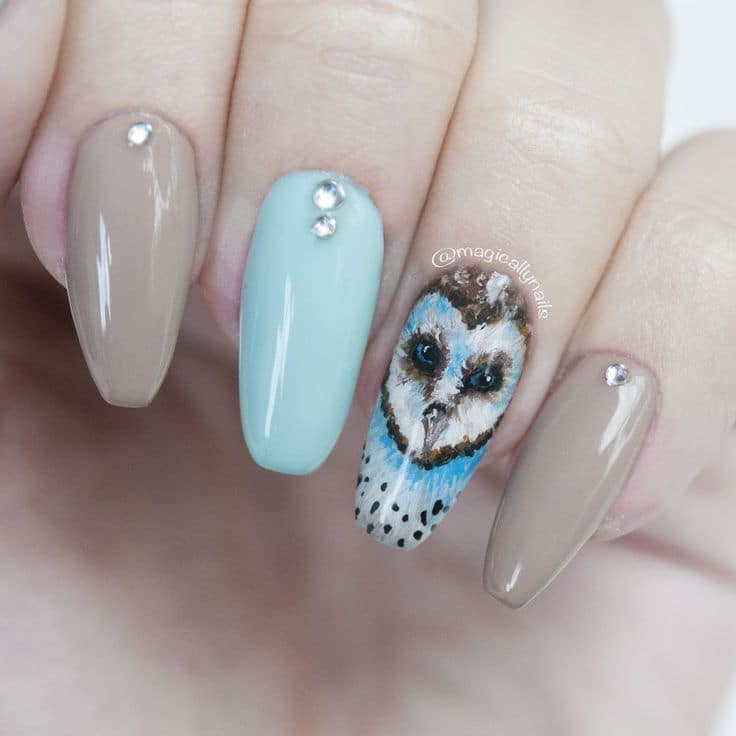 One more example of a true owl nail art! This realistic looking owl nail design will look better on mature women. The blue color in the back looks like a sky and our little fella is ready to spread his wings and fly away. We can say that he is in his happy place tho.
#21: Polka Owl
This list wouldn't be complete if there was no polka dot interfering. We don't mind it, we actually think it looks super relaxed and laid back. So if you are that type of a girl, get this owl nail design. It is so subtle looking and perfect for your everyday life.
#22: Winnie Love
Winnie The Pooh is a really cute children cartoon, and actually a really, really old cartoon. It all started in 1928 with a book. To make this nail design as creative as possible, we've added an owl, a tiger, a donkey, and Winnie. Piglet is probably hiding on the thumb finger as well. Make yourself super presentable and tight looking while wearing this masterpiece on your nails.
Disney Fan? – Show-off With Micky Nails
#23: Blue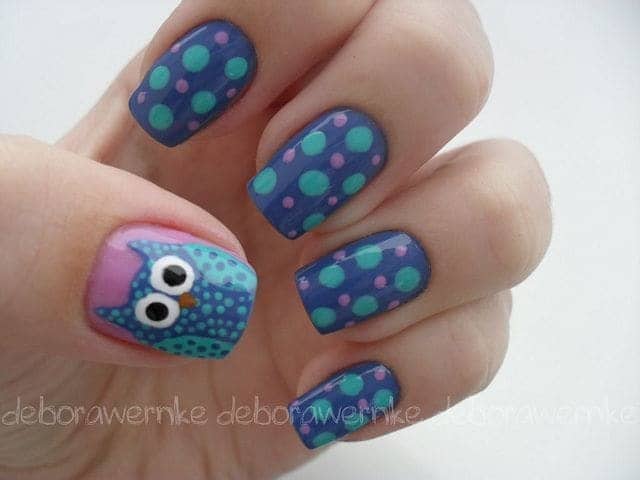 Blue color with an owl drawing brings us harmony, peace, and joy. This owl nail design doesn't look too serious or harsh, so it could be worn effortlessly and simple.
#24: Silver Shine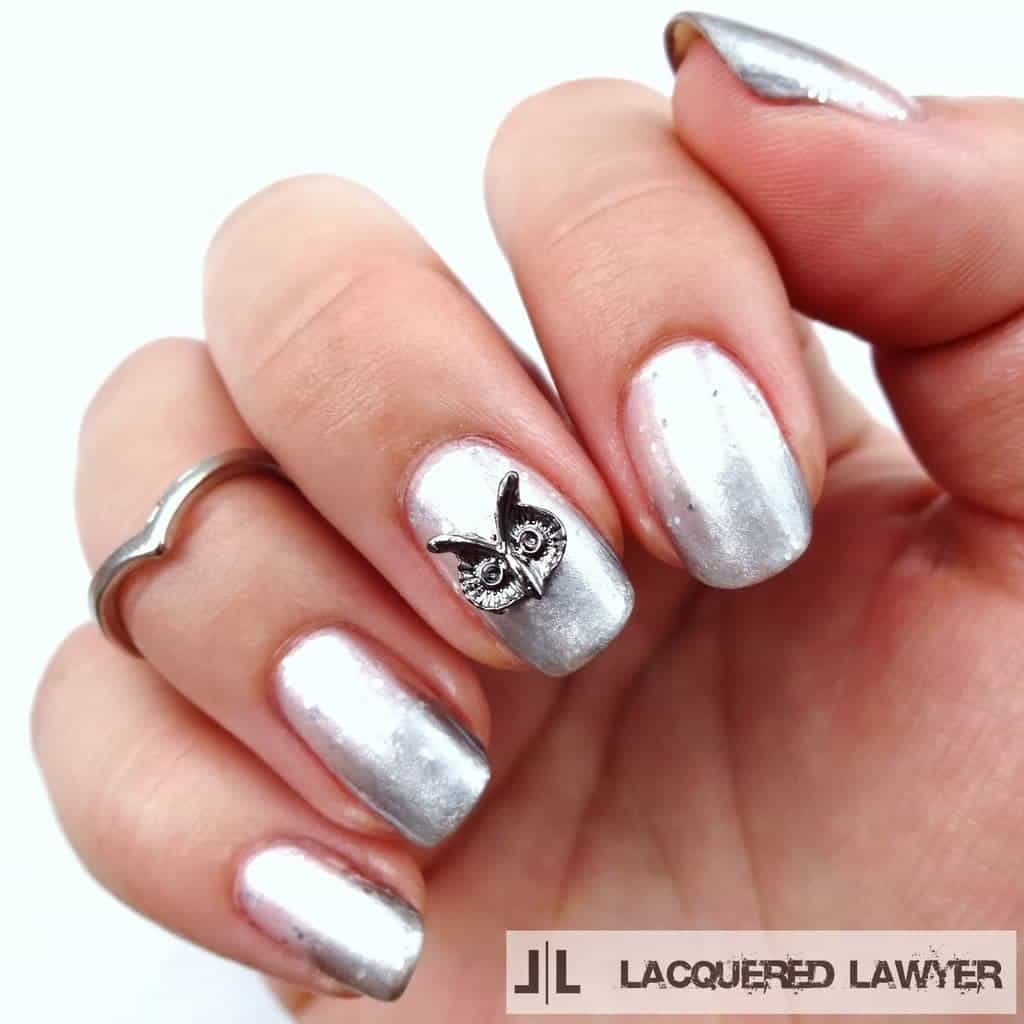 Harry Potter vibes, anyone? Super beautiful and royal looking owl nails, with a lot of character and silver moments, is what makes this nail design so charming. Make sure to wear a statement ring if you go for this all silver nail manicure.
#25: Geek Owl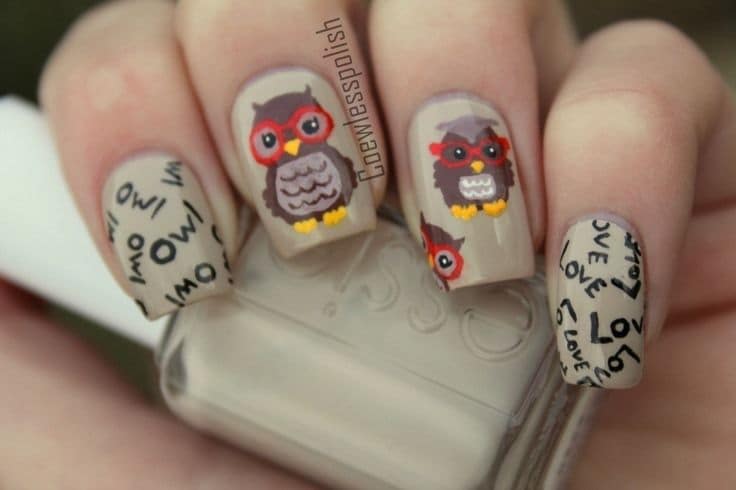 This little owl went to the market! Oh wait, or was it the piggy? Either way, this is the ultimate school nail design that you should let your daughters wear. The print is so innocent looking and your daughters will love it (or even you may fall in love with it.
Try More Theme- Skull nail design
Some Cherishable Nail Designs
So to wrap it up in style, how about you go to your nail salon and dominate with our creations? We believe that you will have a winning combination no matter what you choose.