Squoval nail designs should be your new favorite way of styling nails! The word 'squoval' actually comes from the words 'oval' and 'square', which are two different nail shapes.
If you want to achieve this shape, file your nails firstly square. When you notice that your sidewalls are straight tilted your file a little bit underneath the corners and shape them back and forth.
That way you will achieve that rounded oval shape. They are a lot like your natural nails and they are really easy to maintain.
What Does Squoval Say About Your Personality?
Believe it or not, every nail shape has a story of its own. So be careful when choosing your nail shape, since it can say more about you than you'd think.
Here is an example for some different nail shapes. As you can see, every nail has a meaning, so the squoval nail means that you are an assertive and an ambitious little lady, so yay for you! Embrace your features and your natural looking nail shape.
How to Get Squoval Nail Shape?
Watch the below video to simplify the whole process:
Creative Squoval Nail Designs
As squoval is a mixture of the oval and square nail shapes – after you file the nails square make the edges a bit round. Here are 35 squoval nail design ideas.
#1: Short Squoval Nails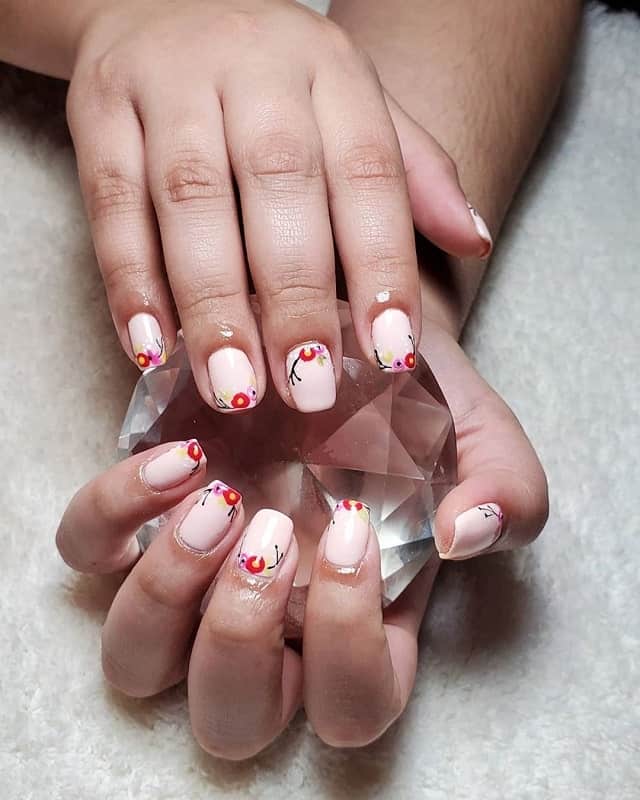 #2: Long Squoval Nail Designs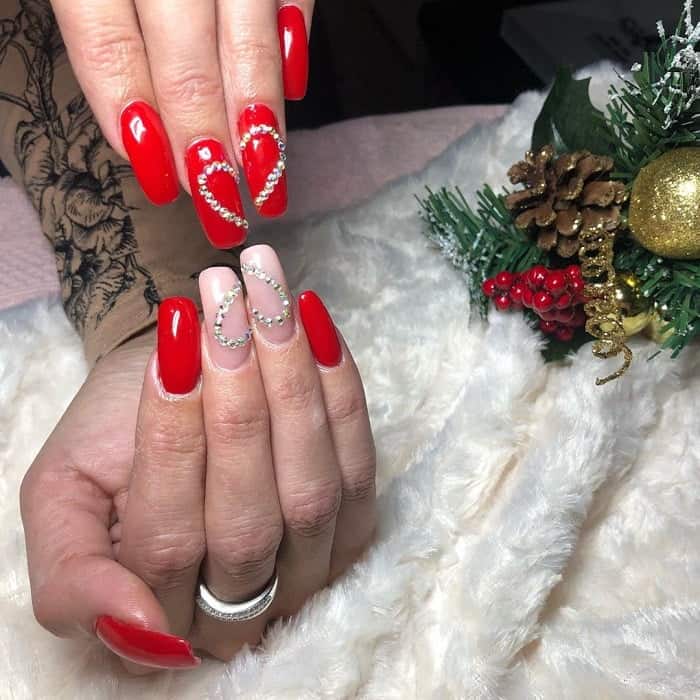 #3: Medium Length Squoval Nails
#4: Squoval Acrylic Nail Art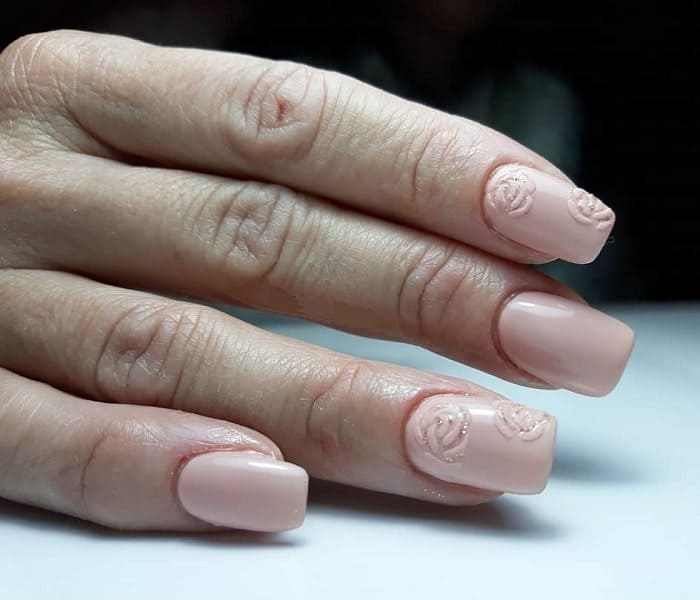 #5: Squoval Ombre Nails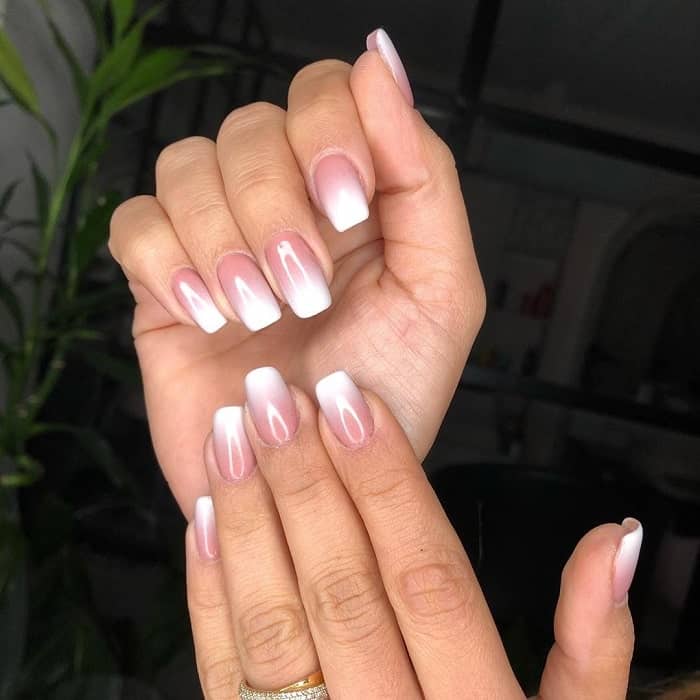 #6: Don't Call Me Plain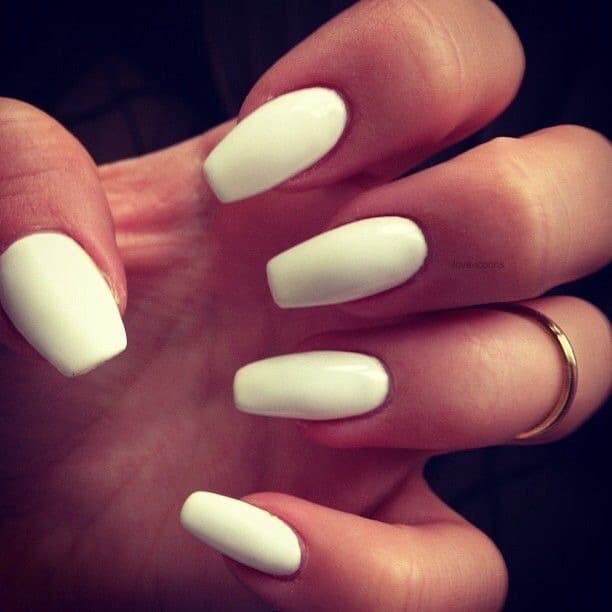 If you, my darling, like white nail color, you should know that you're not plain. White represents purity and if they are in the squoval shape, well, you already know what that means.
You are a pure honest telling girl who is ambitious enough to rock these, and you have a pure heart like an angel. So applause for you!
#7: Tea Lover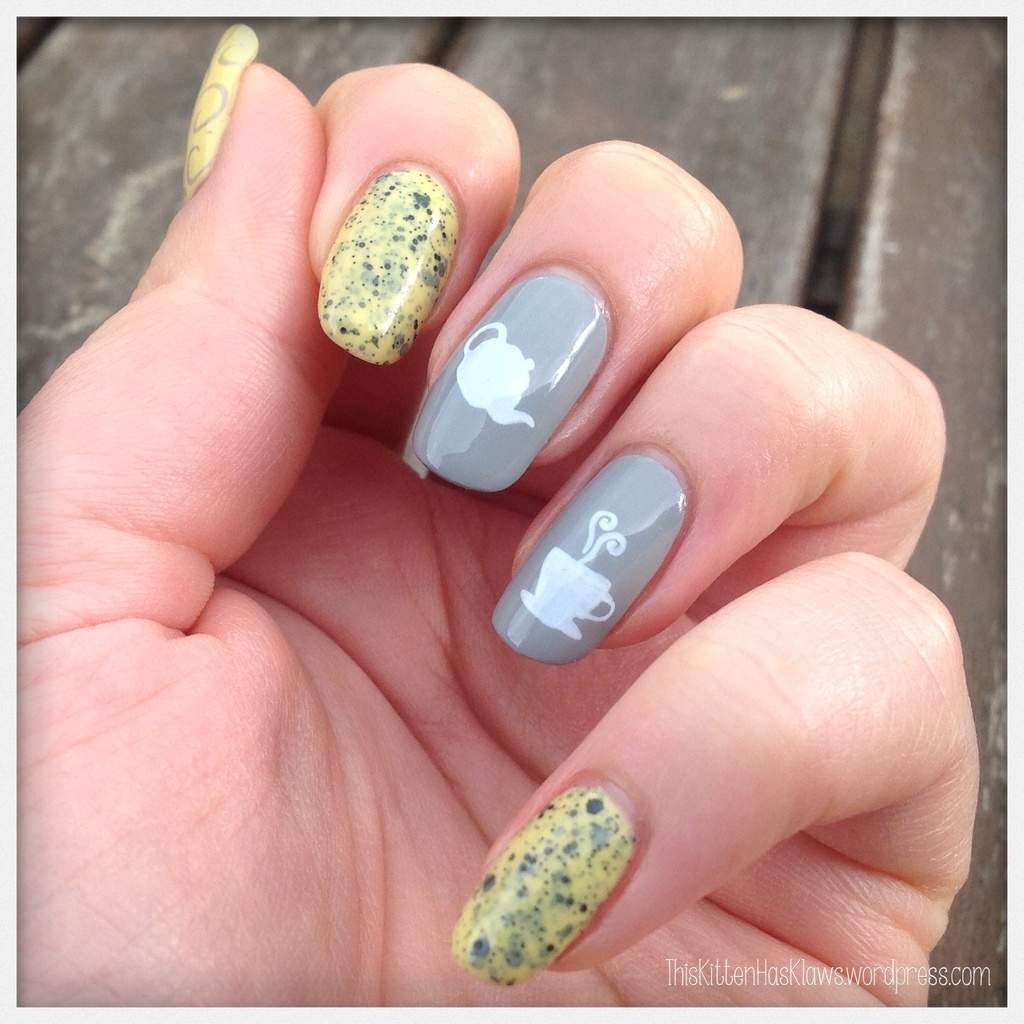 Umm, yes, please? Light square oval nail design with a tea sticker just makes me want to throw a tea party and be as wild and ambitious as Alice in Wonderland.
You will definitely be unique with these, so give them a green light and start rocking it.
Most Popular Black & White Nail Ideas
#8: Greenish Silverish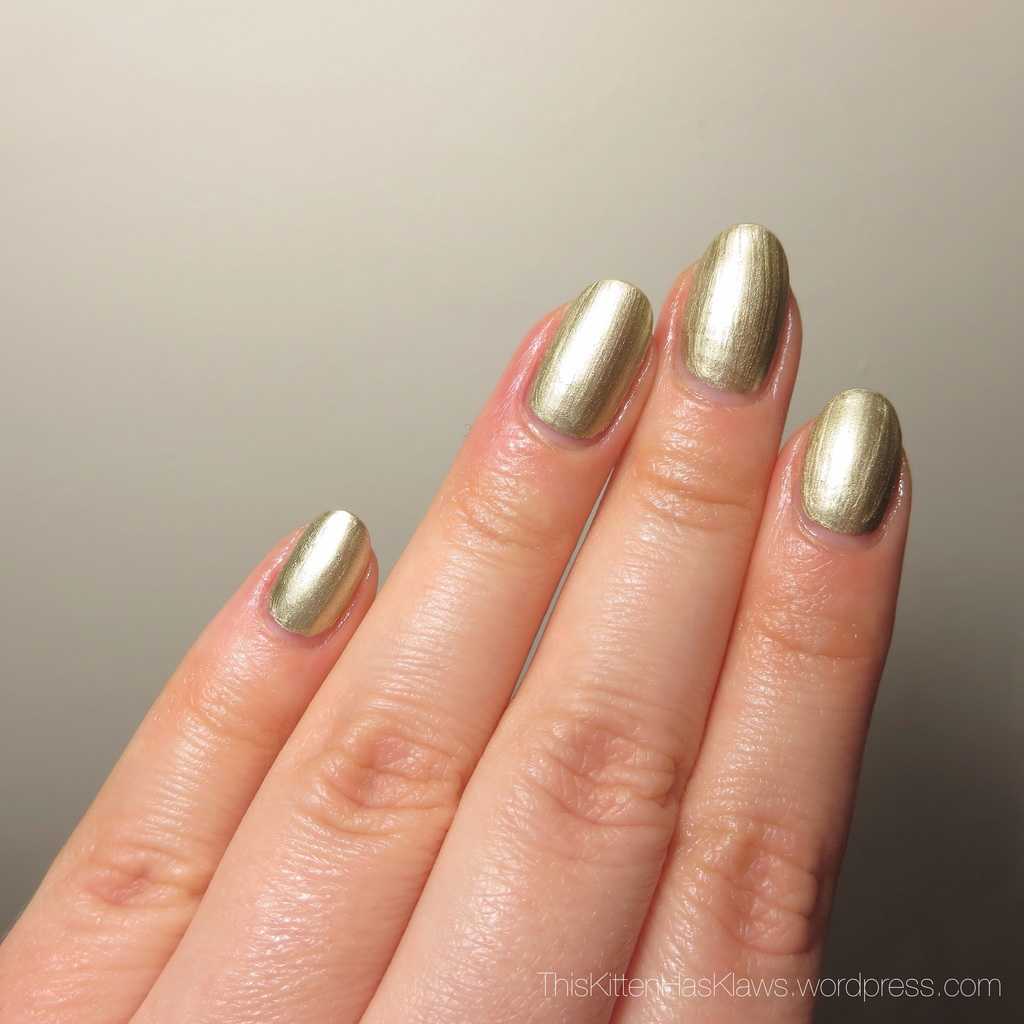 Sometimes colors don't need to be defined. Have an unidentified base and give your squoval nails a treatment they didn't expect with a color they didn't know about. These metallic and duo chrome polishes look really stunning.
Violet colors are a win when summer days come along. The short squoval shape looks so soft and gentle in total, but with these pastels, they look even softer, and who would think that this is even possible?! Try them out and the compliments are guaranteed.
#10: Ying Yang Yes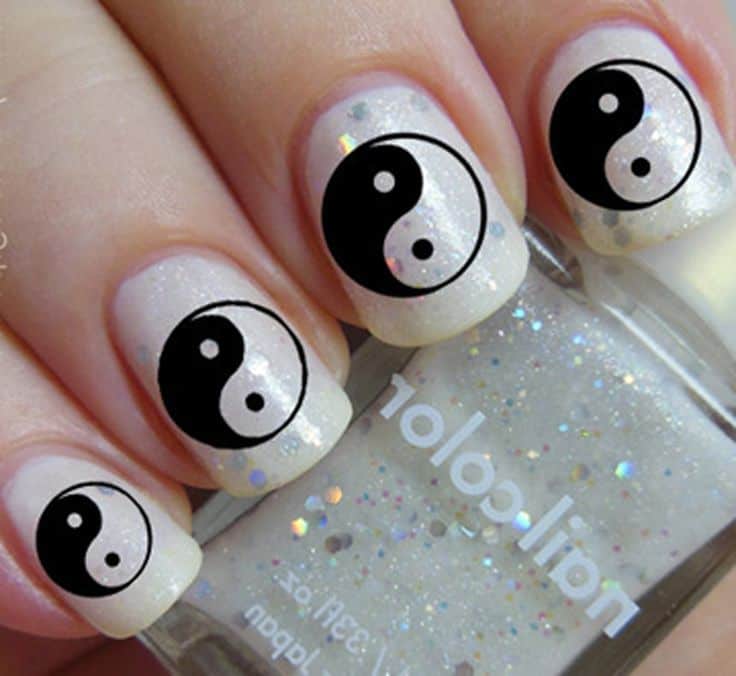 The yin which is a dark swirl actually stands for femininity, while the yang which is a white swirl stands for passion and growth.
Squoval shapes represent ambitiousness, so getting this design will have such a strong message and symbolism that everyone will want to know about. Slay them, girl, slay!
#11: Simple & Elegant With OPI Nail Polish
OPI is one of the best nail polish brands which are known worldwide. You can't go wrong with any of their shades, but we recommend their lighter shades, such as "I am Amethyst" and "My Very First Knockwurst."
#12: All White Everything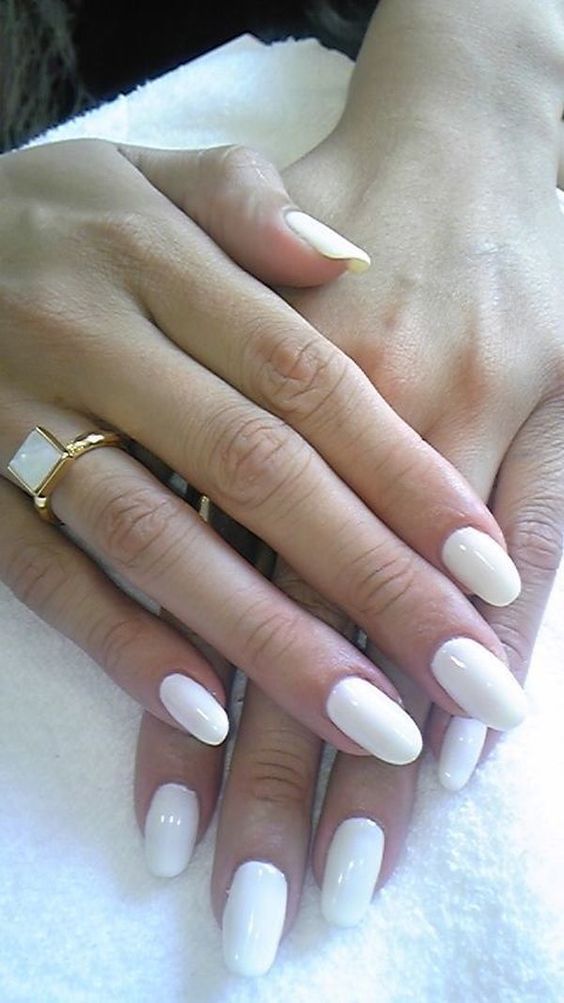 This soft and gentle squoval nail design looks so dignified and elegant. If you even add this cute ring with a white stone expect people to shower you with compliments.
#13: Black Gloss
Black squoval nail design is elegant and chic. Short black manicure is perfect for business meetings, and sudden dates, since guys really love simplicity, so have that in mind when doing your nails for the next date night or a business opportunity.
#14: Grass Is Green
Green actually stands for balance, spring, and rebirth. When you go to the salon and start figuring out which color is the best for you just know that people will look at you like you are a really down-to-earth and a balanced person if you go for the green colored nails.
#15: Coffee Time
Cappuccino squoval nail design has that morning coffee vibe. So count me in and pour me one for that extra energy!
#16: Olive Elegant Nails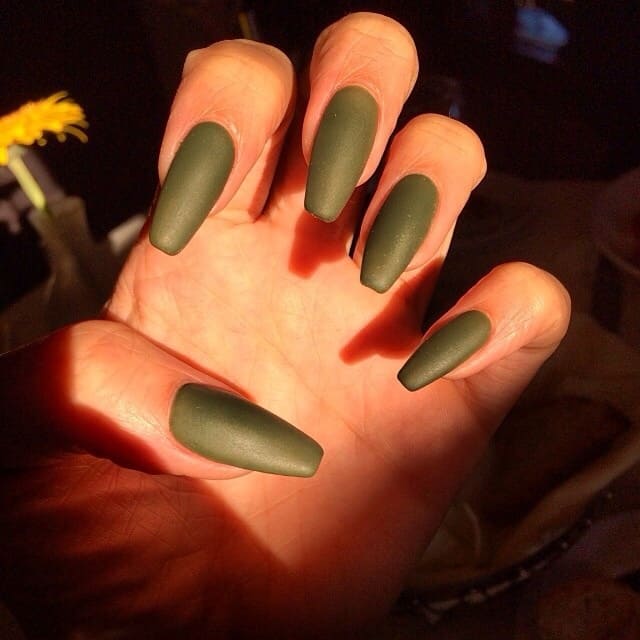 Olive color represents peace and looks really unusual. These acrylic squoval nails bring out a peaceful vibe to people who are around you.
For some reason, this color isn't that popular at the salons, so there is your chance to be a trendsetter with these beautiful nails!
#17: Call Me A Cutie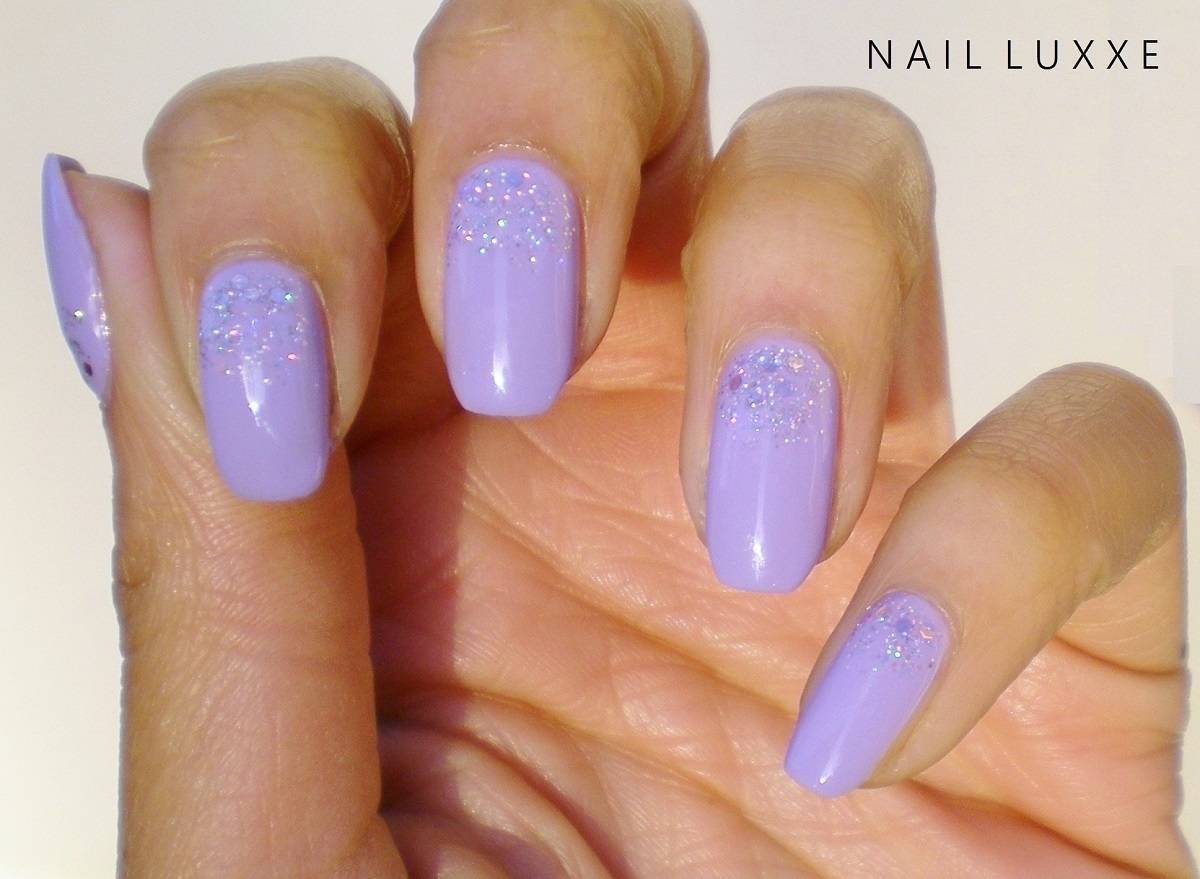 Blue/purplish tones are very cute and mostly worn by the younger audience, and especially for proms. Some sparkles on these nails will be a win when the summer starts.
Neon pink is poppin' right now, and probably always will be. Squoval nail design, colored in dramatic pink, makes everything stand out more and is worn mostly by our true Barbie princesses.
You know that little red dress you've been hiding in the back of your closet? This peachy red shade looks very fancy and is perfect for women who are off to some elegant events.
#20: Nude Is My Shade
Essie is well known for their nail lacquers, and we got to admit, they are killing it with the originality and the color shades.
Also, did you know that the nude color is the most worn one? Their shade "Ballet Slippers" was the most sold one in the previous year, so rush to Ulta and buy one before it's too late and they are completely sold out.
#21: Little Cinderella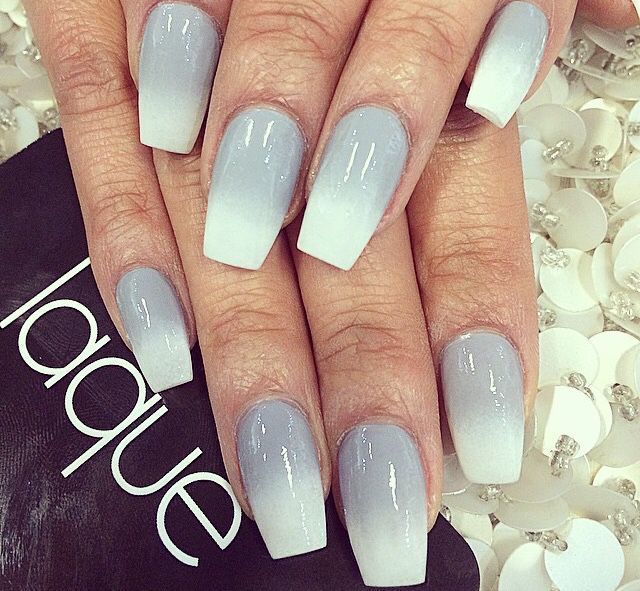 Perfect prom squoval nail designs! The blue color stands for loyalty, confidence, faith, truth, and heaven. Pretty much all of the qualities Cinderella had.
These middle-length nails fit our younger audience better since the color is so light, gentle and has no nail accessories.
#22: Big Cinderella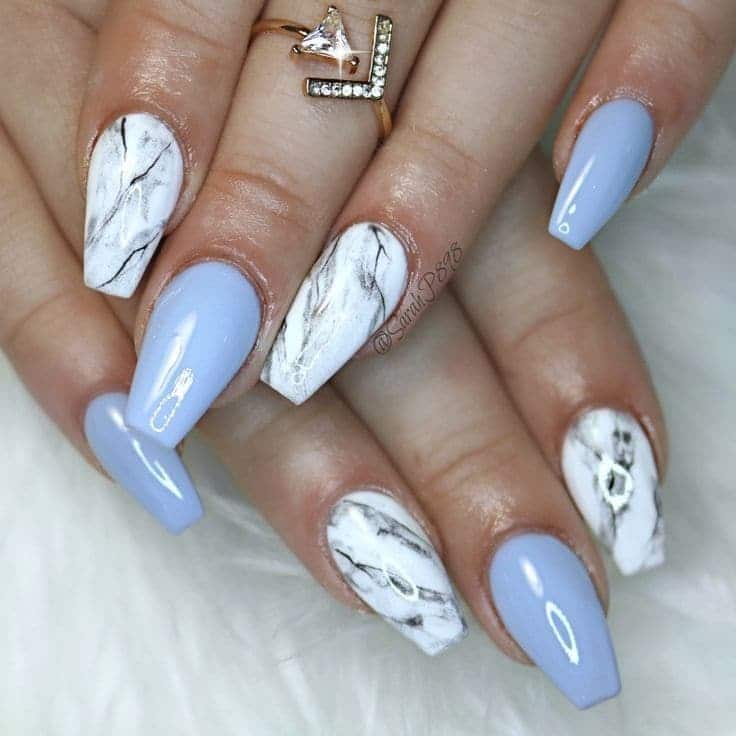 These are for our all grown up princesses who are allowed to stay past the midnight! This is an improved version of our little Cinderella.
As you can see the nails have some mean design that looks like real nail art, therefore these are perfect for your graduation parties, baby showers, or just some cocktail night outs with your girlfriends.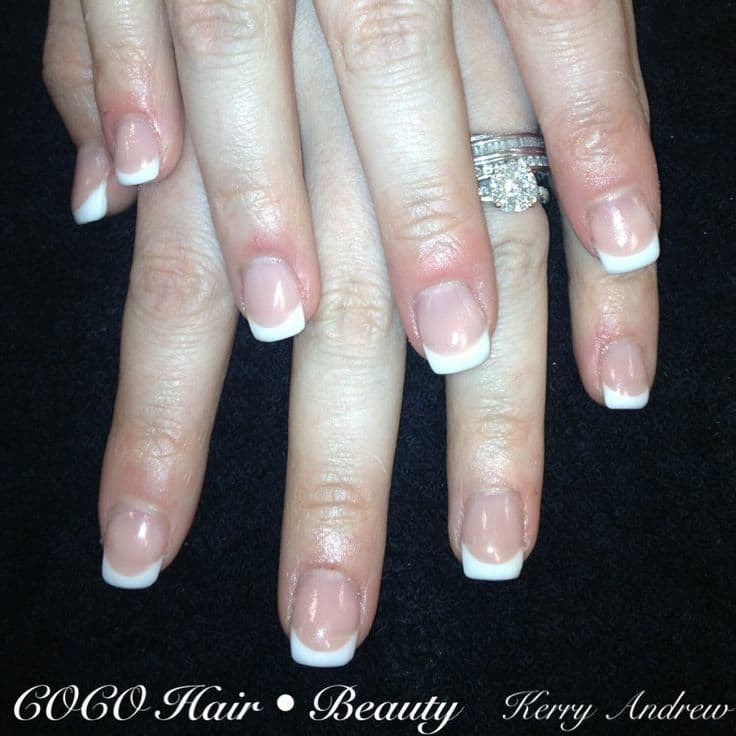 French manicured nails with squoval nail designs are a must on our list! You can switch the french part based on your color preference, but we do believe that the classic white will just get the job right.
#24: I Like It Green
Dark green, very, very long matte and a squoval nail design; what is this beautiful sorcery? Have a license prepared with you since you can't go unrecognized and unnoticed by pretty much everyone around you.
Work your fabulousness and have the best disco night with your friends while rocking these beauties. Here are some green nail ideas you may like.
#25: Not the Least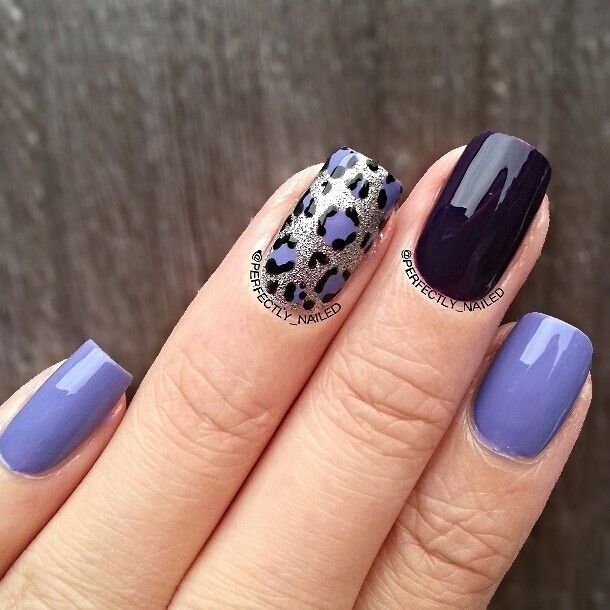 Last but not least on our list are these purplish cheetah nails. Squoval makes them look even more attractive than if they were round or oval, don't you agree?
So rush to the salon as fast as the inner cheetah that's awoken in you by this stunning design and have the cutest print as of today!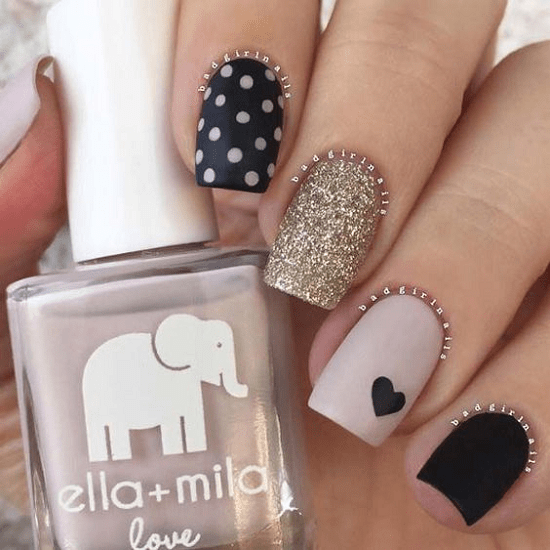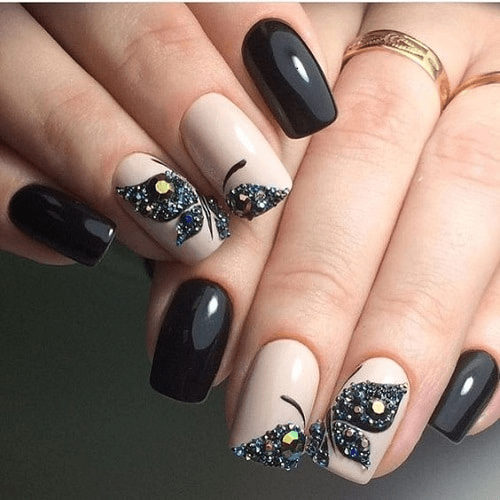 That's all folks (imagine a bunny eating a carrot). There you have original and fun nail designs that will sweep every one of their feet when they look at you, or even when you shake hands since you can't go low key with our nail creations ever.