Everyone works on themselves in order to appear in front of others in a good look, and always prefer to be extra chic than to look too ordinary.
So if you are one of those people and you are wondering how to look cute enough, you can wear a white tip nail design that beautifies your nails and appearance!
White Tip Nail Design Ideas
Now that we are both on the same page and we are both reading this, let me introduce you to some white tip nail designs found in the below list of 30 nail design.
1. Floral White Tips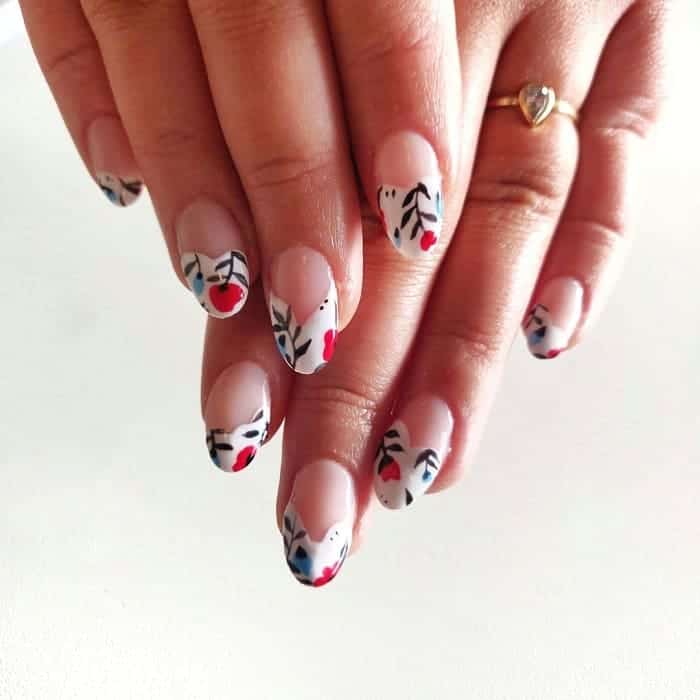 Your nail tips don't need to be outlined perfectly all the time. Add irregular swoops of white and fill in the upper part of the nails. Draw random flowers or use stickers to complete your quirky white tip nail design.
2. Red Nails, White Tips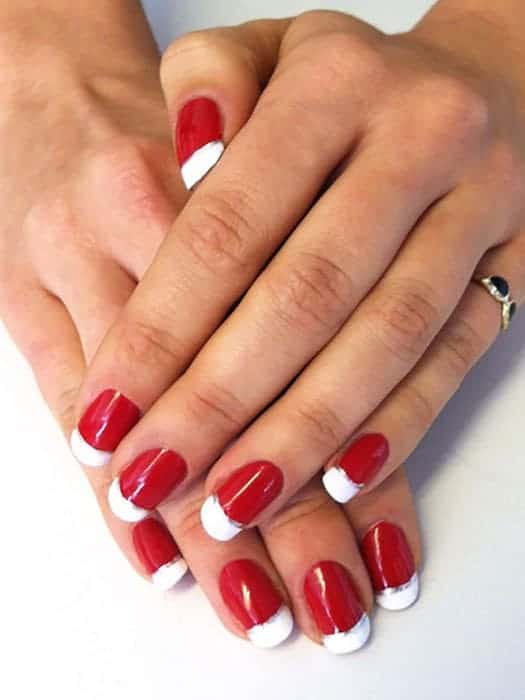 Refresh your plain red nails at home by painting the tips white concealing any chipped edges. Add silver or gold nail tape on the borderline between the two colors or use glitter polish to achieve the same effect.
3. Black and White Outlined Coffin Nails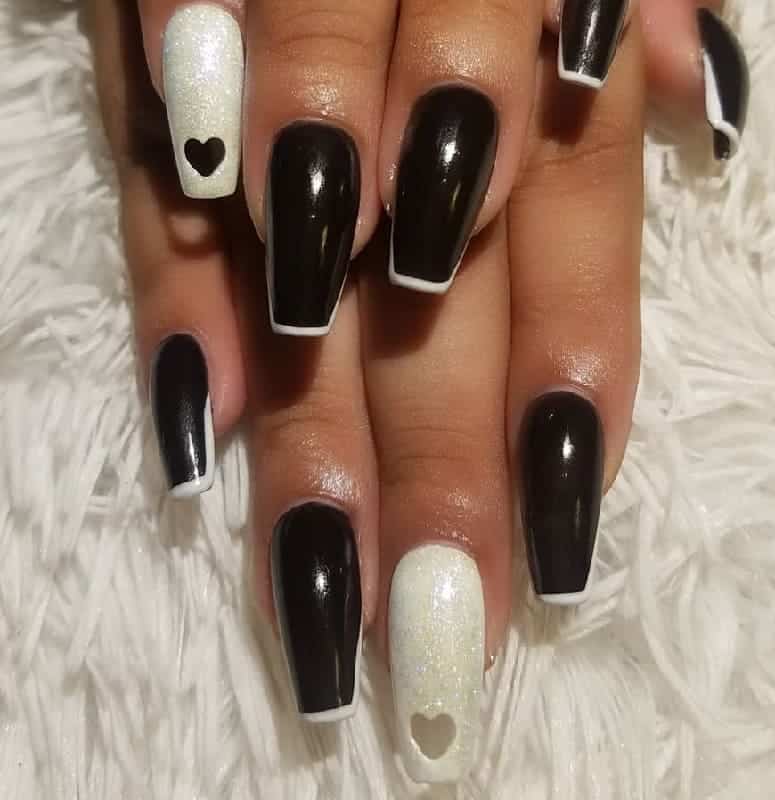 Make a style statement with these super chic yet basic coffin nails. Ask the nail expert for glittery white accents with hollow hearts near the tips and plain black nails. Outline the black nails with white lacquer and that's it!
4. Nude Ombre Nails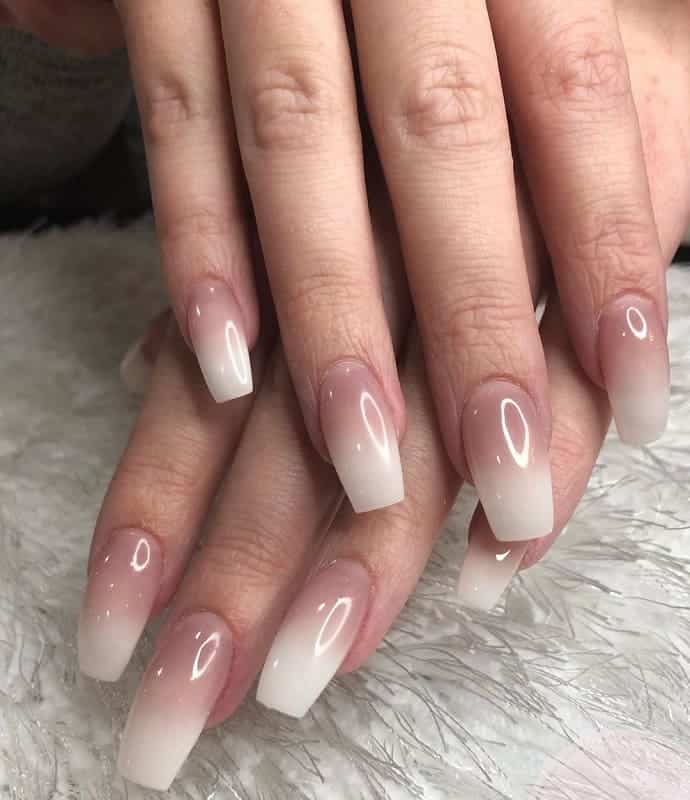 A nude-to-white ombre is a must-try for ladies who want their white nail tips to stand out from the rest. Add both colors side by side on a sponge before dabbing it onto the nails to achieve a seamless gradient.
5. Glitter Glam
A tiny bit of glitter goes a long way. Consider getting a glittery base coat in any color you want, although a silver one will look the best, and paint the tips of your coffin nails white. Done!
6. Delicate Snowflakes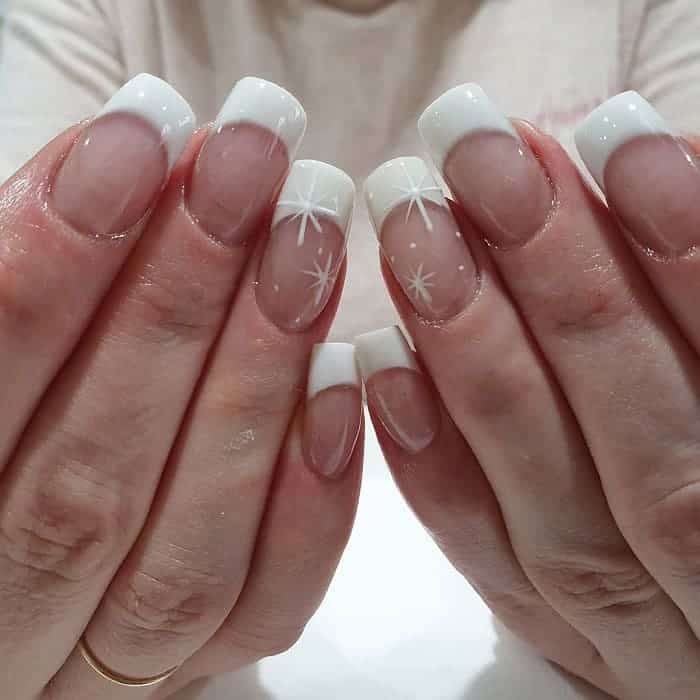 Get your nails ready for winter by adding delicate snowflakes on all nails or on the accents only. Place symmetrical dots and connect them using a thin brush. Add tiny rhinestones in the center for a fancier look.
7. Pink Gradient + White Outlines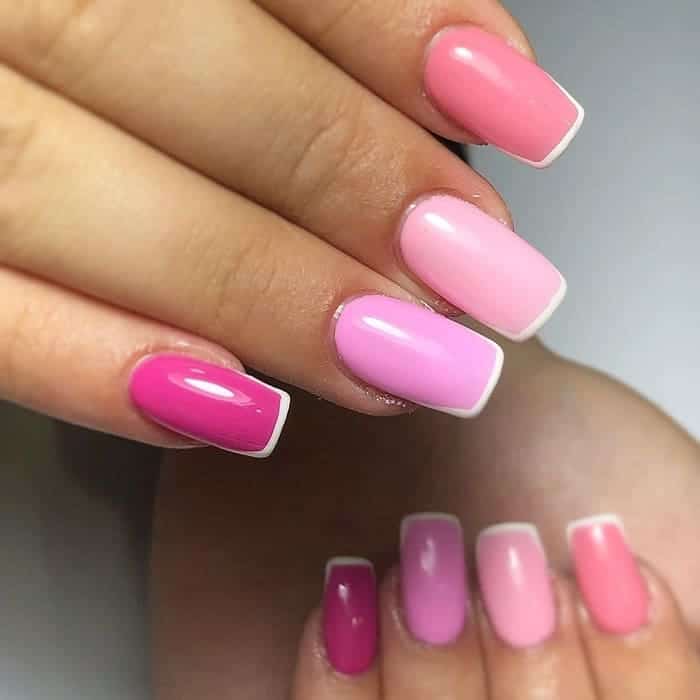 Pick out your favorite pink nail lacquers. Arrange them in order of increasing darkness and apply them accordingly to create a soft color shift on your fingertips. Outline the tips with white and you are all done.
8. Fancy Diagonal Frenchies
Let your long ballerina/coffin nails steal the show with this fancy white tip nail design. Go with a nude pink base and paint the tips diagonally with white polish. Add gold or silver flakes and seal them in place with a top coat.
9. Classic Manicure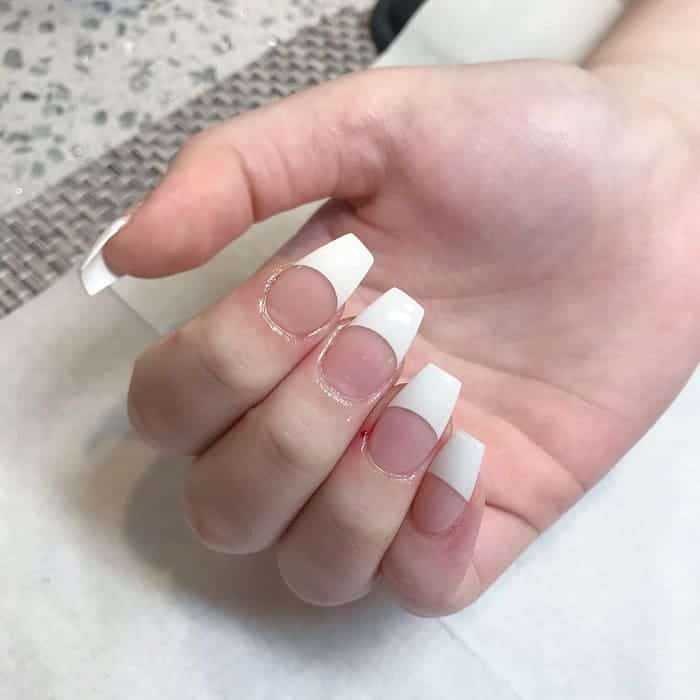 Keep it classic with a timeless French manicure. Whatever nail shape and length you opt for, use a thin brush to create a perfectly curved outline before filling in your tips with white. Use nail stickers in case of shaky hands.
10. Short Square Nails with White Tips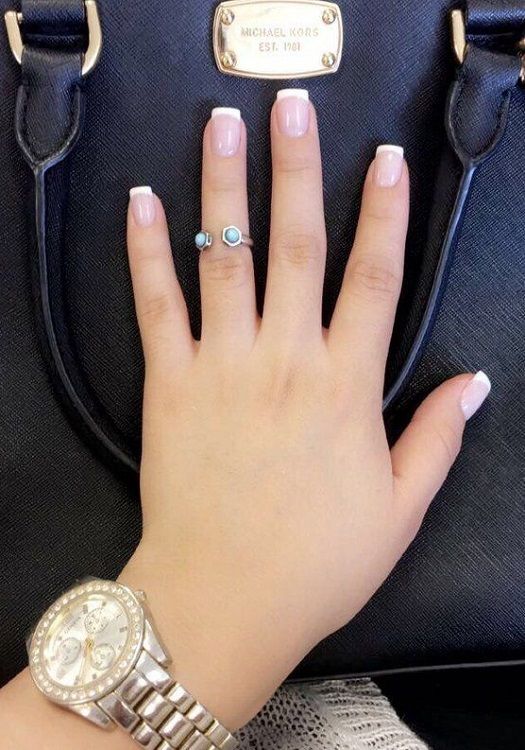 Long nails might not be for everyone but these short ones surely are. Ask for a round or square nail shape as they work best with short to medium nails. Paint the tips white with a nude base. Voila!
11. Natural Stilettos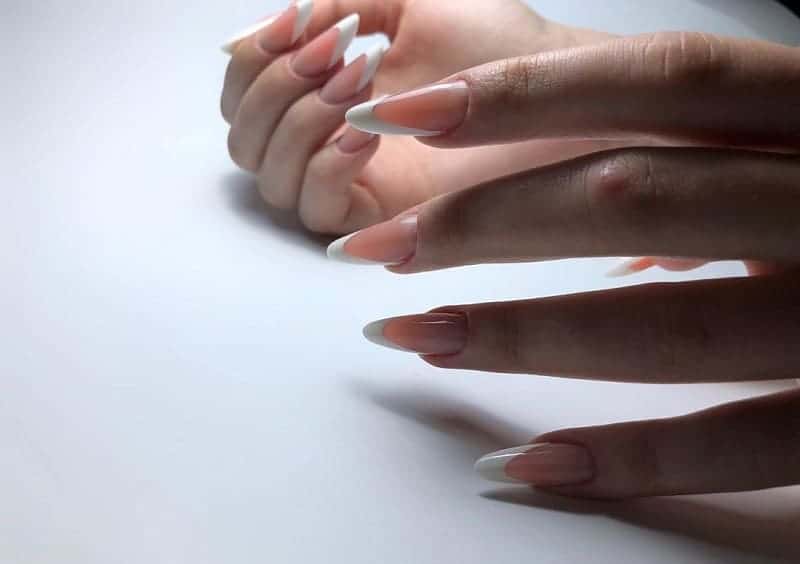 Make your edgy long stiletto nails appear elegant for a change. Start painting the edges midway of the nails moving towards the tips to achieve a deep curve that is sure to catch a lot of attention. Don't forget the top coat.
12. Clear Tips
Rock these cute semi-transparent jelly nails and you won't regret it. Mix your solid-colored nail polish with a clear one and add a single coat onto the nails. You can also opt for completely clear nails with white outlined tips.
13. White Tip Pedicure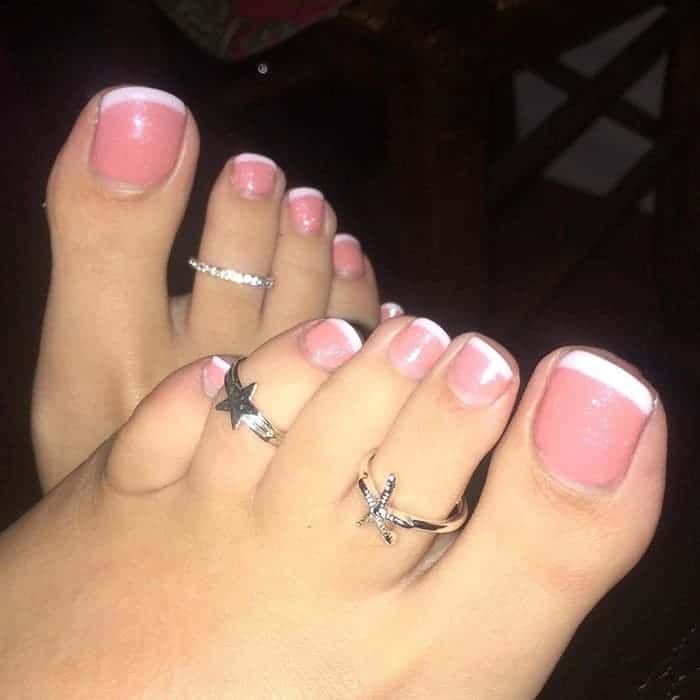 Pamper your feet at home by painting the toenails nude pink. Add stripes of white straight across the tips or opt for a more rounded shape. Toe rings will make your white tip nail design really noticeable.
14. Long Square French Nails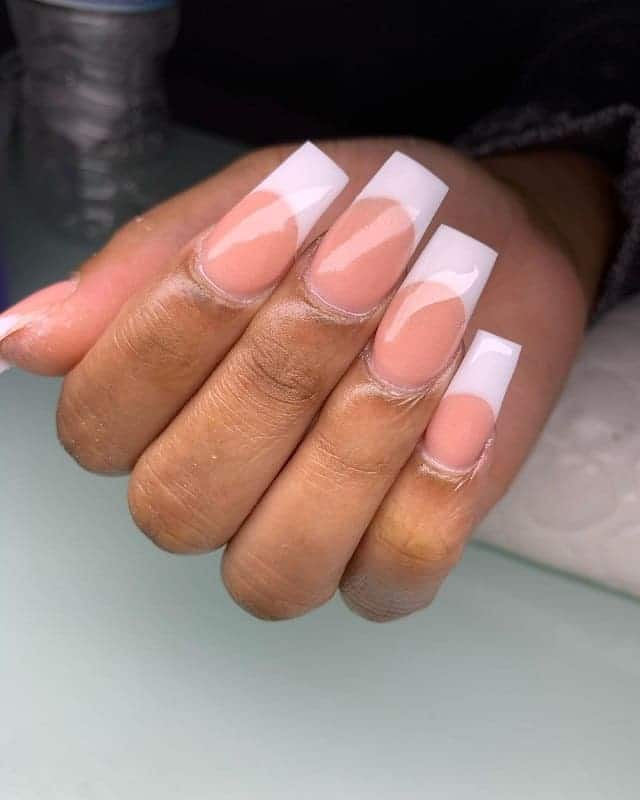 Ladies who want their thin fingers to appear a little broader for a change can get long square nails. Apart from the same old nude base with white tips, there's plenty of space left for any other chic nail design.
15. Color Pop on Almond Nails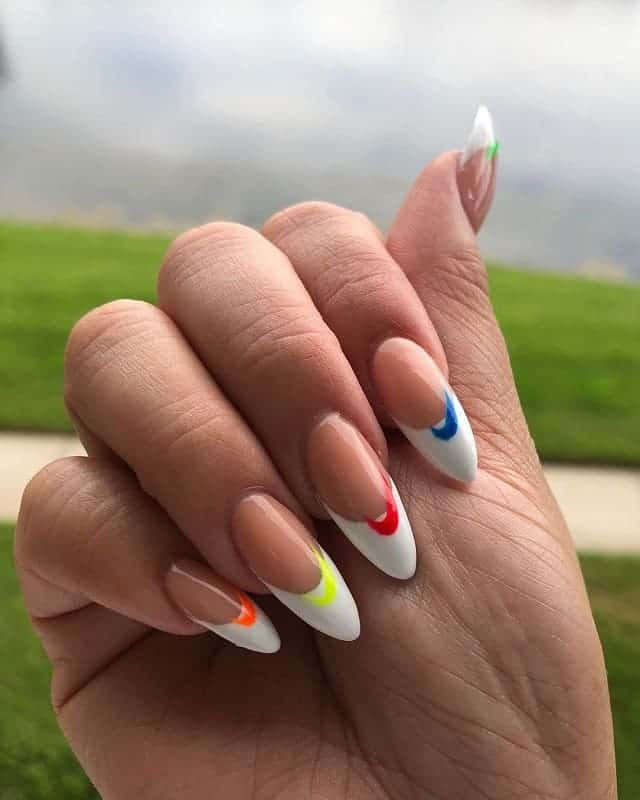 Bored of repetitive nude nails with white tips? Add a pop of color by drawing tiny hearts, swooshes, or any other shape in different shades. An almond nail shape will make your fingers appear long and thin.
16. Short Round White Tips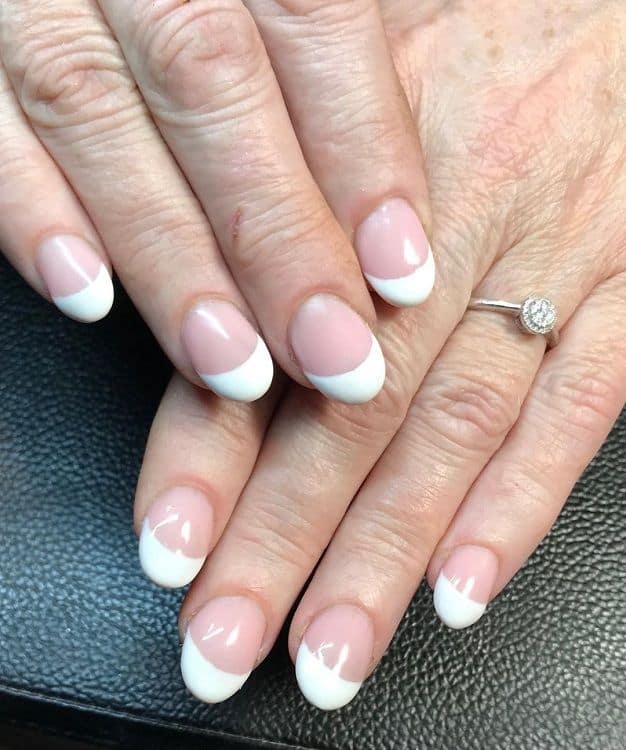 If you think white tips look good only on medium to long nails then think again as here is a nail design to prove you wrong. Give your short round nails a classic French manicure and you'll love it for sure.
17. Crescent Nail Tips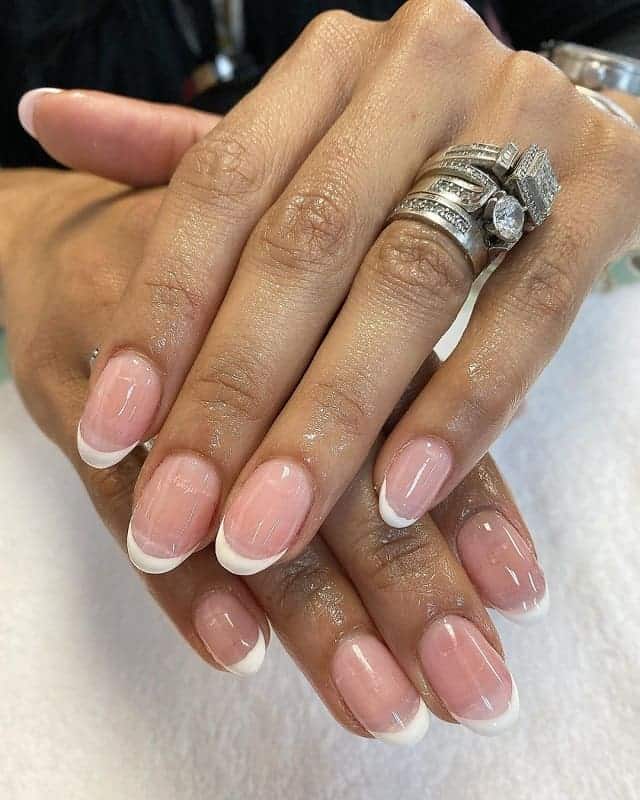 Turn around heads by keeping the width of those white tips really thin but still broader than a typical outline. Try the design on oval nails to end up with delicate white crescent shapes. A little practice is all you need!
18. Sexy V Tips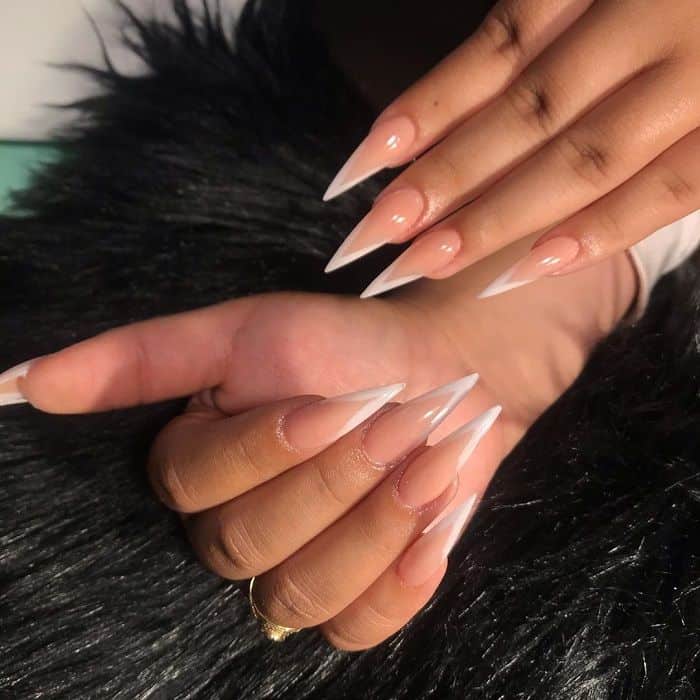 Take a bold step and get long pointy stiletto nails to turn your hands into dangerous claws. Paint the nails in a peachy nude tone with sharp V tips instead of the usual curvy ones to accent your nail shape.
19. Bling Nails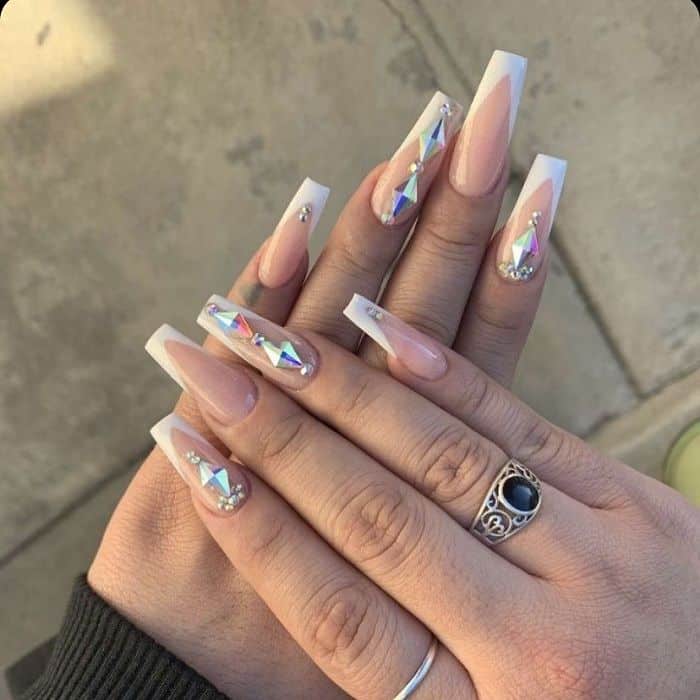 Talking about V tips, try them on long coffin or tapered square nails to drop jaws along your way. Decorate a nail or two or all of them with different-sized rhinestones and nail studs for a luxurious look.
20. Festive Coffin Nails
Rock this elegant nail design at a wedding or any other formal event to make your beautiful hands stand out. All you need is to ask for a glitter ombre with V tips on coffin nails. There you go!
21. Polka Dots and Stripes
Easy to Do Black and White Nail Arts
Another white tip nail design to try this Valentine's day. Use red polish to draw polka dots, stripes, and tiny hearts on your square white tips. Add further detail with silver outlines and top off with a clear coat.
22. Winter Vibes
If you love the red color but you think a simple red nail design is not enough for greeting the winter season, all you can do is have a white tip with a red base.
And decorate each nail with a drawing of a snowflake using a silver glitter nail polish in order to create a winter white tip nail design.
23. Black Trace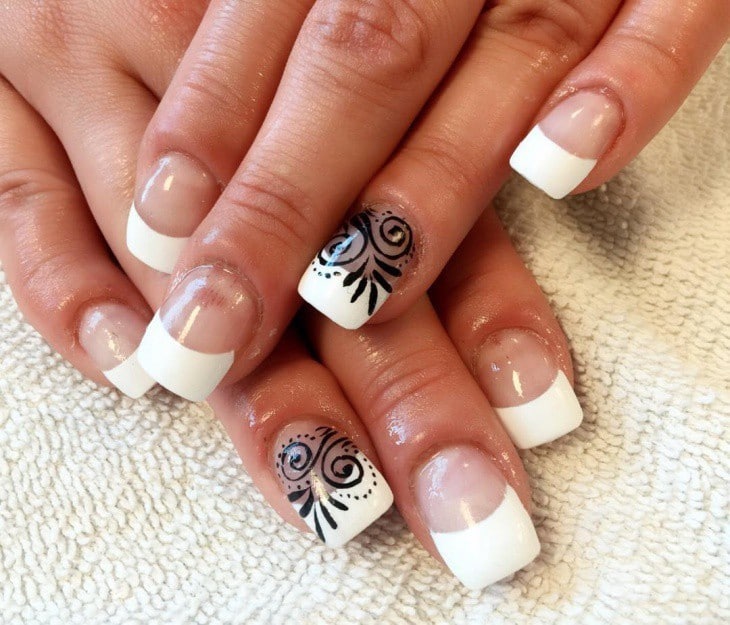 Do you wanna be simple but at the same time you want to have a special white tip nail design?
If yes, you have to wear a simple french tip nail design then add a black trace or touch or any pattern you like on the ring fingernail only, in order to make up a simple but nice white tip nail design.
24. Chevron Style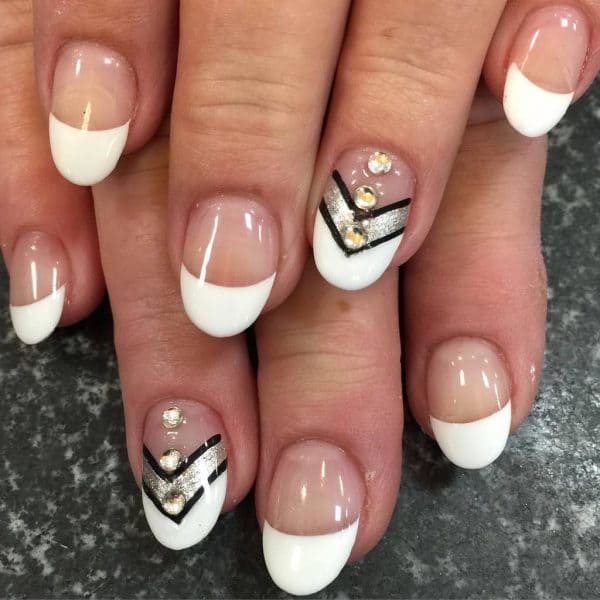 Chevron styles can be used in any nail design, even in a white tip nail design. Make up a simple white tip nail design, then in the ring fingernail, add a chevron marked with black, colored with silver glitter nail polish, and decorated with three white shiny decals.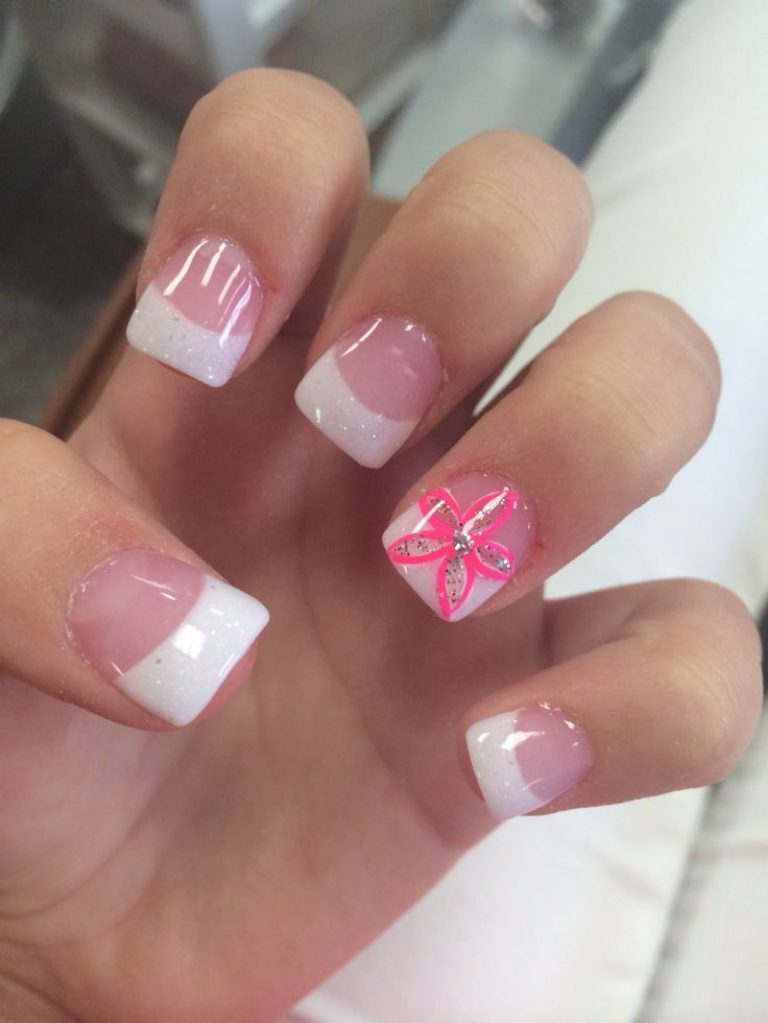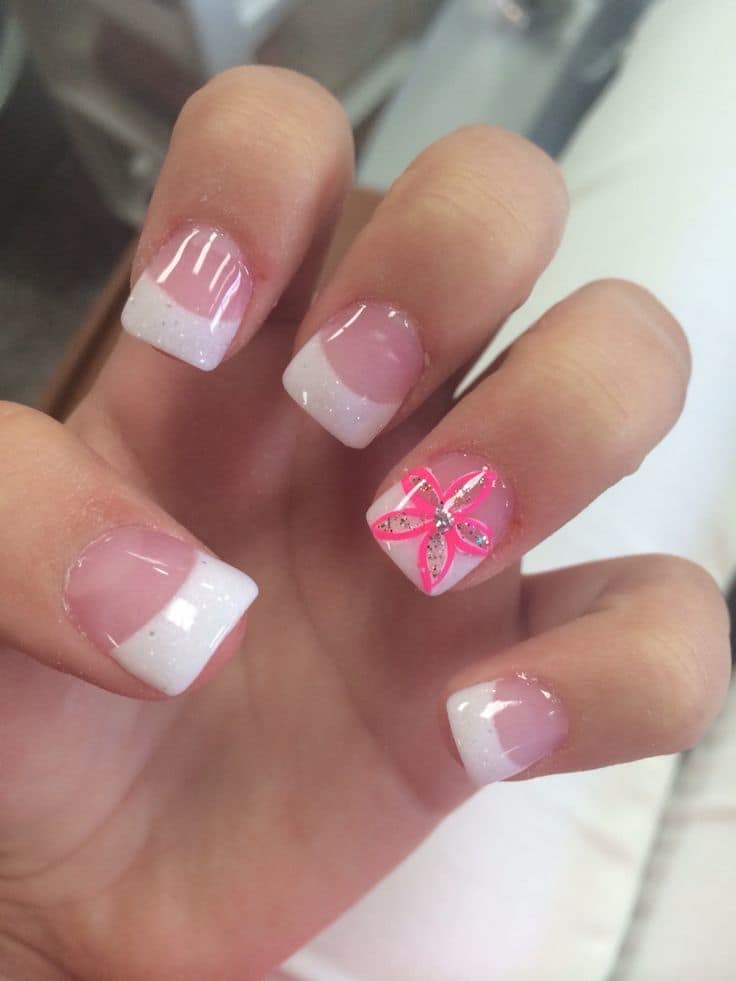 The flower has a power that is stronger than what your tiny minds think. It turned out that the flower does not only attract a woman, but it attracts everyone.
In this nail design, white tips are not what steal tour attention, but the neon pink flower in the ring finger with this shiny decal in the middle and silver shiny shades is what grabs anyone's attention.
26. Simplicity
Simplicity is the key to beauty. However, even if there is a certain small black pattern drawn in the ring finger, the nail design is still a simple one but this does not mean that it does not make up a delicate white tip nail design.
27. White Tipped Christmas Nails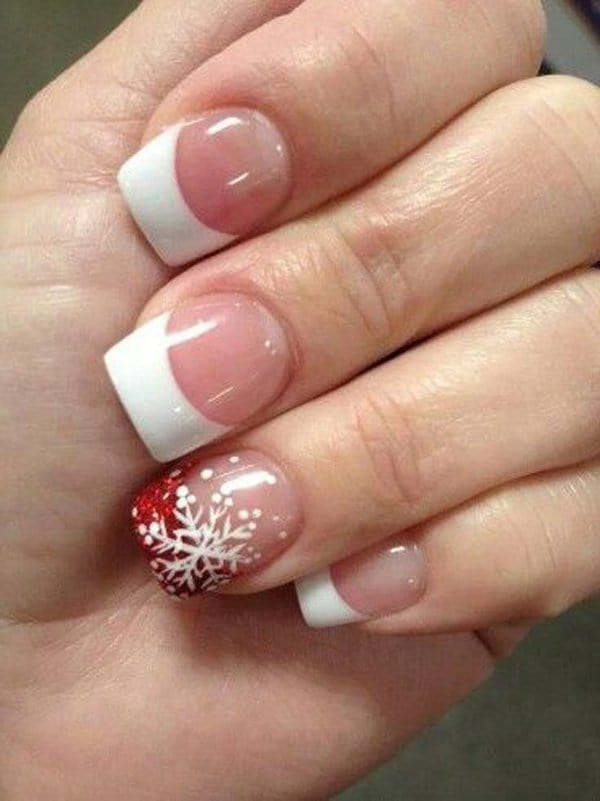 Christmas is here, and you feel that everyone has gone too far in outfits, nail designs, and others. So if you really wanna look special, you should wear a simple nail design because everyone has already worn a fancy one.
This can be done by having a simple white tip nail design with a red glitter shiny tip of the ring finger with a white snowflake.
Wedding Nail Designs for Your Special Day
28. Classy Bride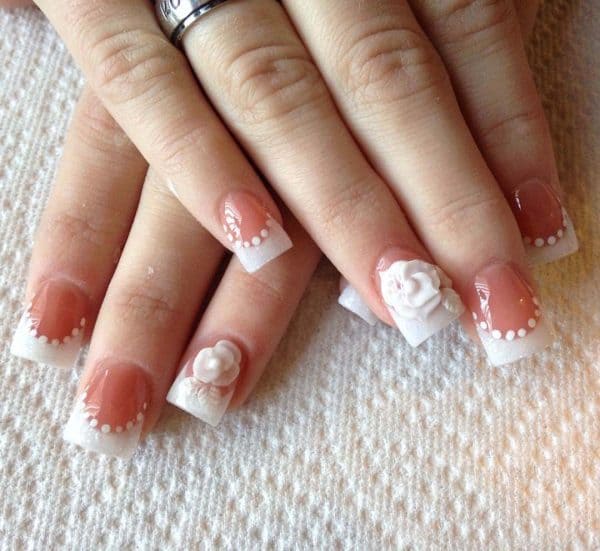 The bride is always confused about what to wear on her big day, her wedding day. She always tries to look in her best look and to be the most beautiful in her day.
In order to do that, the bride can wear this white and clear tip nail design that contains some white flowers giving a cute touch to the design.
29. Floral Cuteness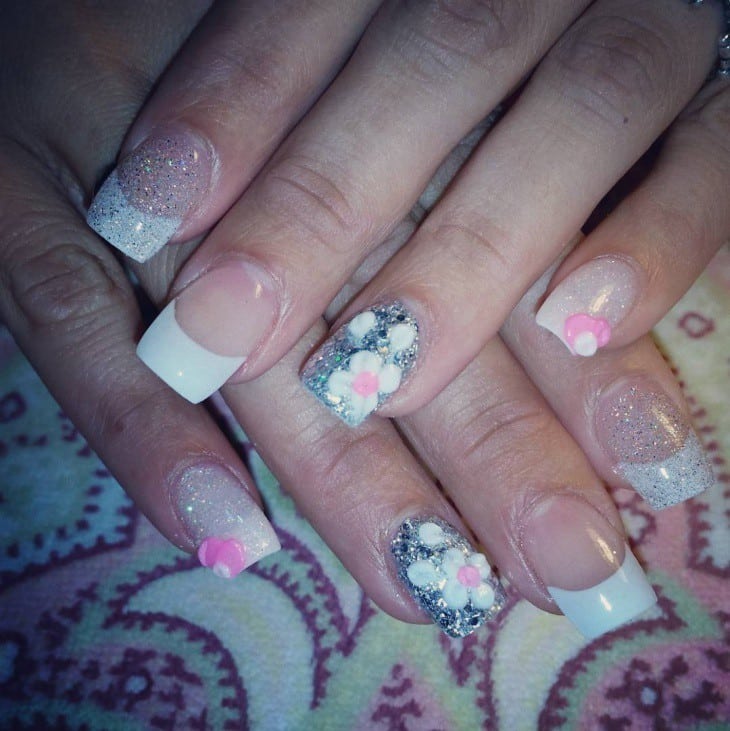 This nail design is totally cute. The flowers in the pinky and the ring finger are too girly and cute.
Besides, the white glitter on the index finger and the pinky finger with silver glitter on the ring finger and the french tip in the middle finger make a perfect mix.
30. Tree Shadow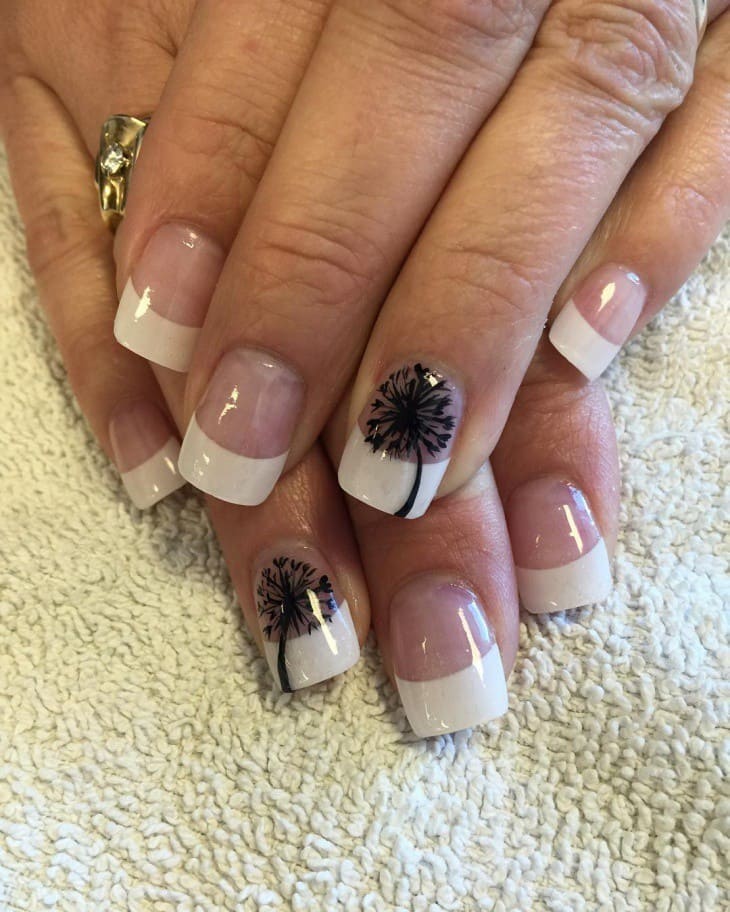 In a simple white tip nail design, you need a touch that brings your nail design to life and specializes it from any other ordinary white tip nail design.
This touch might be a black shadow of a tree that you can draw on the ring finger to make this finger the center of attention in your nail design.
In conclusion, white tip nail designs are not always simple and boring. Sometimes, some small touches done on any simple nail design demonstrate your nails into a piece of art that everyone enjoys staring at.
So if you want to look simple, classy, and girly you gotta wear one of the nail designs that are found in the list of 30 white tip nail designs. Hope you like them!