The fun part of designing nails is they can be inspired by anything such as movies, art, music, culture, festival, games and sports etc. You can do any nail art you want as there is no hard and fast rule for nail art.
You can be inspired by animation movies too. The Disney movie "Frozen" has contributed a lot to the nail art sector. Frozen themed nail arts broke out in the market right after the movie had been released. This movie portrayed the life of two sisters who love them very much.
That's why the story is intensely appealing to the girls. Their likeness for this movie turns out to be great nail art later on. You can also try out frozen nail designs if you have liked the movie or the characters so much.
Disney Frozen Nail Design Ideas
Frozen nail designs mainly portray the central characters of the movie in a cold setting. As the region shown in the movie was covered by ice, it may refer to winter nail art too. The good characters of Frozen are Elsa, Anna, Olaf, Kristoff, and Sven. Elsa is the matured sister of whimsical girl Anna.
Olaf is a funny looking happy snowman, who needs warm hugs. Kristoff is a local guy who lives up in the mountain and Sven is his reindeer who pull sleds for him. These characters are the main component of Frozen nail designs.
Sky blue and deep blue are the dominating colors of these designs because it was so in the movie. You can draw them altering each one with another. Let's look at how frozen nail designs work.
#1. FROZEN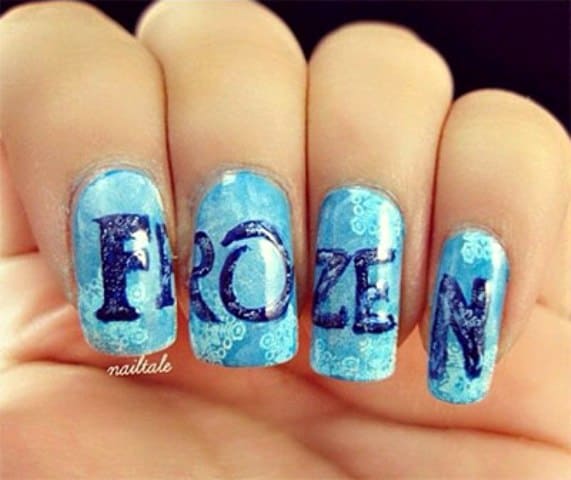 This design is self-titled. You can write the name of this movie in bold font on sky blue base of your nails. Write 'Frozen' in blue color for a contrasting look.
Celebrate Winter With Snowflake Nail Art
#2. Olaf And Sven

Olaf is a snowman and Sven is a reindeer, two unhuman characters of the movie. But they are very much loved for their funny appearance in the movie. These two are so cute and gives comic relief to the audience. You can draw the images of Olaf and Sven along with Elsa and Anna.
#3. Majestic Elsa

Elsa is the protagonist of the movie. The audience was mesmerized by the majestic charm of her character. You can paint her image on your nails to have frozen nail designs. You can also draw some snowlike patterns for this design.
#4. All in One

Your frozen nail designs will get perfection if you have this design. All the five positive characters are depicted here. Elsa, Anna, Kristoff, Olaf, and Sven; all of them are painted on a single design. This will be a hit frozen nail designs for sure.
Reindeer Nail Art: Santa Will Love Them
#5. Elsa And Anna
The story of 'Frozen' revolves around this two sisters. They love each other but have to keep distance between them to savor a secret. This design represents their different characters shown in the movie. Snowflake nail design for Elsa, feminine floral design combined with Anna.
#6. Happy Olaf

This design is featuring the blissful character of Olaf. You can illustrate his happy face with a colorful environment. This design can give you the whole idea about this cute character.
#7. Mysterious Eyes
This is very simple frozen nail design. Paint all your nails with two shades of sky blue, use some silver glitters on them. Then draw a pair of eyes of Elsa to complete your frozen nail designs.
#8. Olaf Making Faces

Olaf is seen on the screen in a different mood in different times. Sometimes he is extremely happy and sometimes very sad. Has facial expression were delightful to watch. You can paint your nails with some of his epic expressions. The faces of Olaf can make fabulous frozen nail designs.
Try These Thanksgiving Nail Art
#9. The Bonding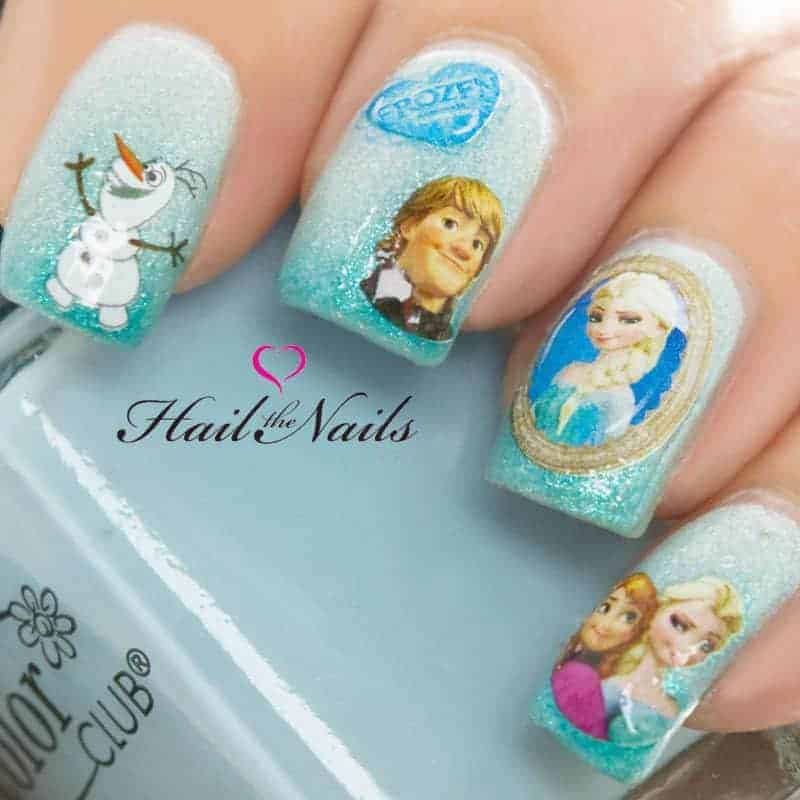 This design shows the bonding of the relationship of two sisters. And you can put Kristoff and Elsa together to depict the well-built relationship they share in the movie. And Olaf is always there to accompany you in frozen nail designs.
#10. Elsa And Olaf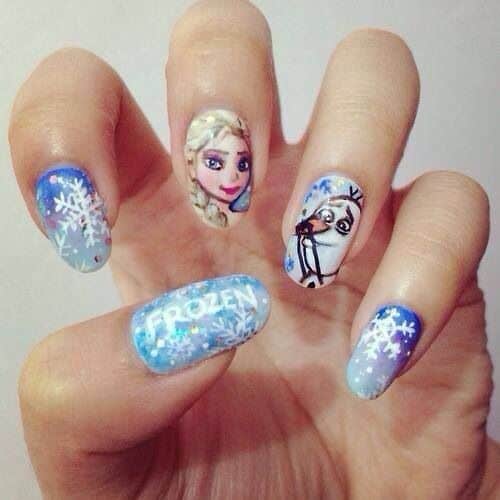 You can draw the images of Elsa and Olaf in a single design. This design can be associated with snowflake patterns to complement the frozen nail designs.
#11. Hair Braids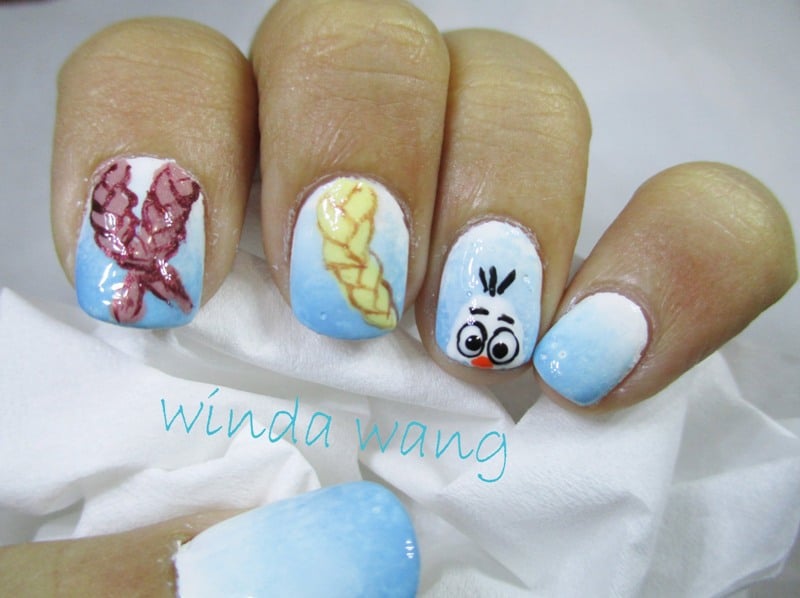 Elsa and Anna have a unique hairstyle in this movie. Braided hair is not normally seen in Hollywood movies. Elsa carries a golden yellow colored braid due to her superpower and Anna's hair color is the conventional one. You can paint the hair braids on your nails for this design.
You can use rhinestones with an image of Olaf and a snowflake pattern. Put the rhinestones on the light sky blue base and use some glitters for a luxe look.
A Disney Fan? Show Off with These Nail Art
#13. Broken Olaf

Olaf is a snowman and it gets broken at the end of the movie. You can paint the limbs of Olaf on your nude nails. This will be one of the different frozen nail designs.
#14. The Team

This design features the central characters of the movie. They are on the good team, protecting each other from all evil eyes. You can have this design for your frozen nail art.
#15. The Super Sistas

The super sisters' duo is the heart of the movie.You can draw their images along with the white edged nails to have these frozen nail designs done.
Start Off 2018 with these Nail Design
Inspired Enough? Try Super Easy Princess Elsa Nail Art. Video Tutorial on the Way
The premise of this movie was determined by the relation of two sisters. This movie has moved every sisterly soul out there. Since then, girls are giving extra attention to frozen nail art. If you want to have them, follow our instructions. I have discussed some gorgeous designs and ideas for your convenience.